More often when one hears gluttony, their mind instantly goes to overeating. But gluttony is more than that. Gluttony is about greed. It's about overdoing something due to greed.
So if there's a delicious meal and you just can't stop eating, so you eat till you can eat no more, that's not because you are a glutton, that's just you enjoying a delicious meal and you should really not feel bad for your indulgence.
But if there's a meal, and you eat to your satisfaction, but you don't want to stop eating because you would rather not have someone else enjoy it too, you want it all for yourself, then that is greed– that is gluttony and that is wrong.
This applies to everything else in life, not just food and eating. When you let greed consume you and you do things due to that greed, that makes it gluttony.
God wants us to eat to our satisfaction (Proverbs 13:25), he encourages us to do all that we do to his glory – whether we are eating, drinking, or doing anything, it should be done to his glory.
So all that we do should be done to glorify the Lord, but if greed becomes a part of your actions, that isn't to the glory of God (1 Corinthians 10:31). The bible describes the body as the temple of God (1 Corinthians 6:19), this means that taking good care of your body is a must. You shouldn't do anything that you know will destroy the temple of God.
So is gluttony a sin? Yes, gluttony is a sin. Is eating too much a sin? Well, that question is relative. What is too much? Everybody's body is different. So what you think is too much food for you, can be little food for someone else.
So what matters most is that, they are eating to their satisfaction. See the bible verses below for more on what the bible says about gluttony.
Bible verses about gluttony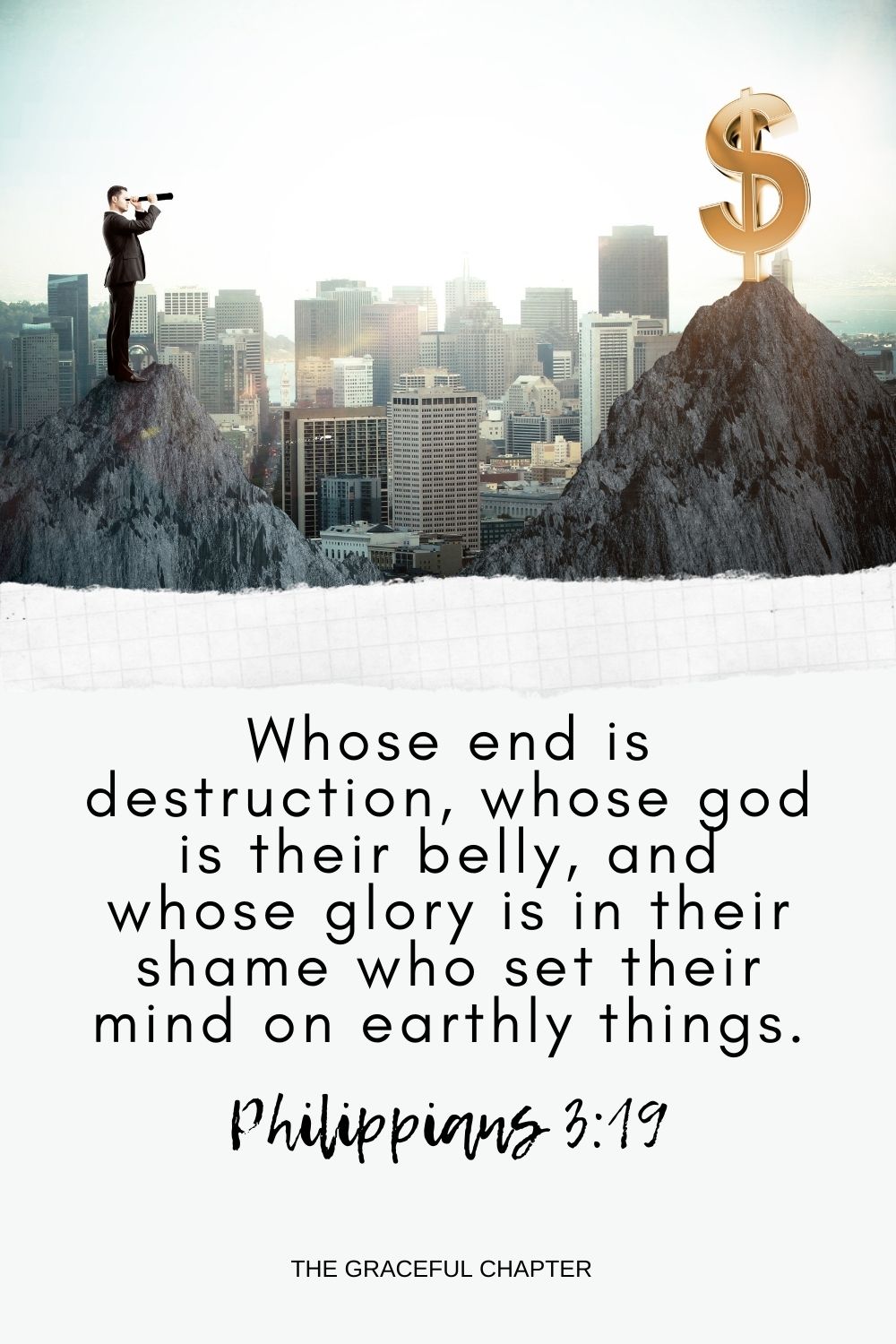 Whose end is destruction, whose god is their belly, and whose glory is in their shame who set their mind on earthly things.
Philippians 3:19
Do you not know that you are the temple of God and that the Spirit of God dwells in you? If anyone defiles the temple of God, God will destroy him. For the temple of God is holy, which temple you are.
1 Corinthians 3:16-17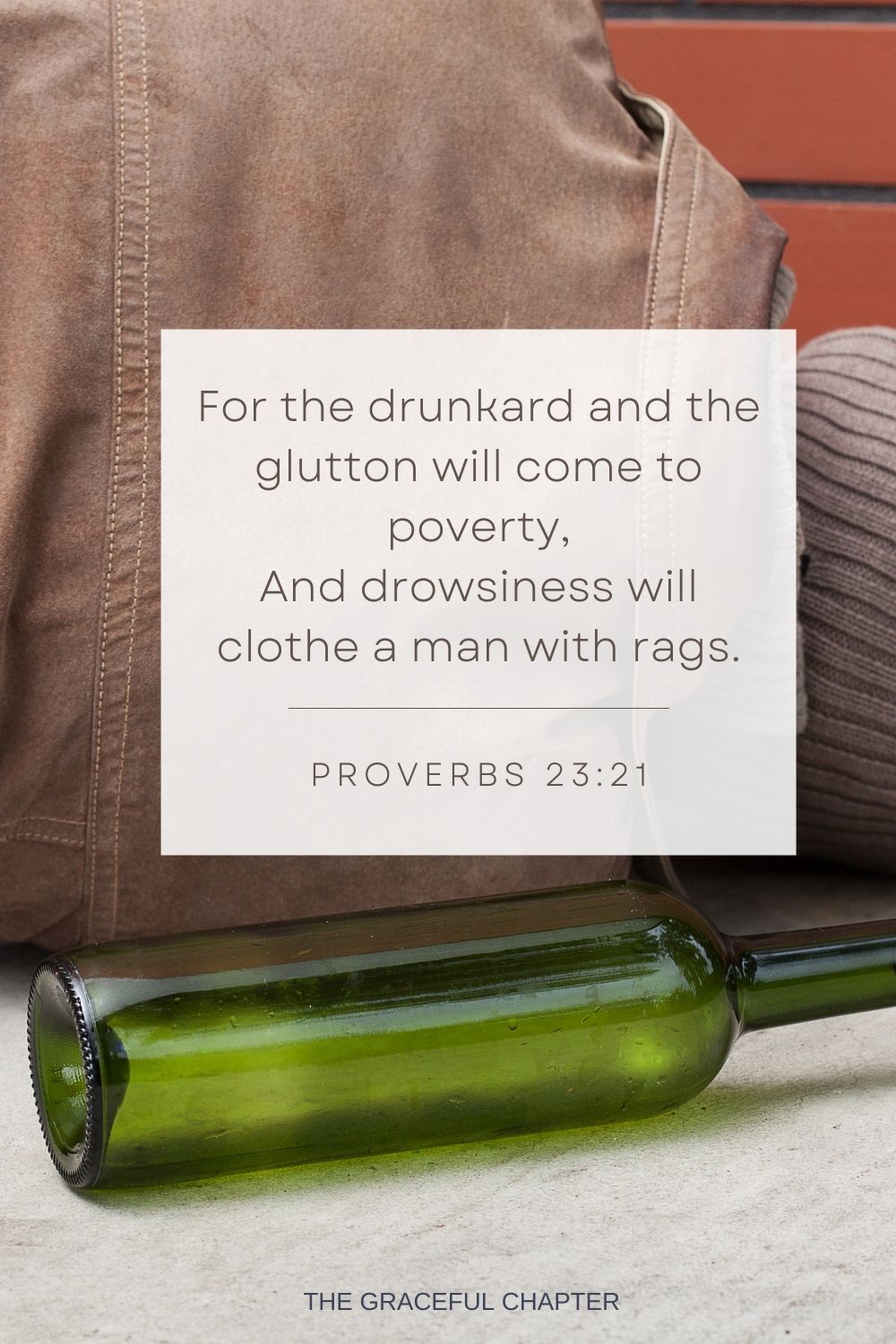 For the drunkard and the glutton will come to poverty,
And drowsiness will clothe a man with rags.
Proverbs 23:21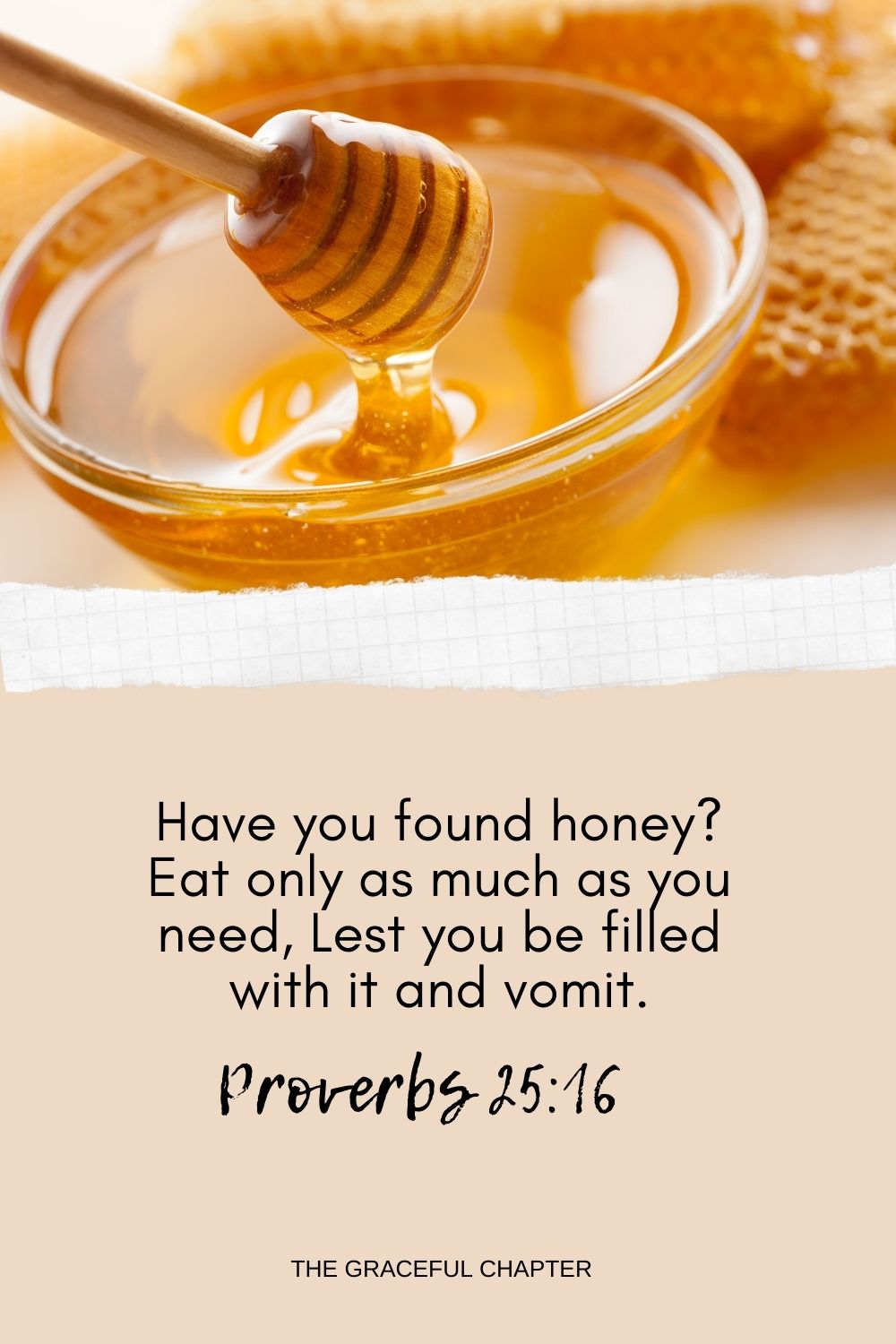 Have you found honey? Eat only as much as you need,
Lest you be filled with it and vomit.
Proverbs 25:16
And put a knife to your throat If you are a man given to appetite.
Proverbs 23:2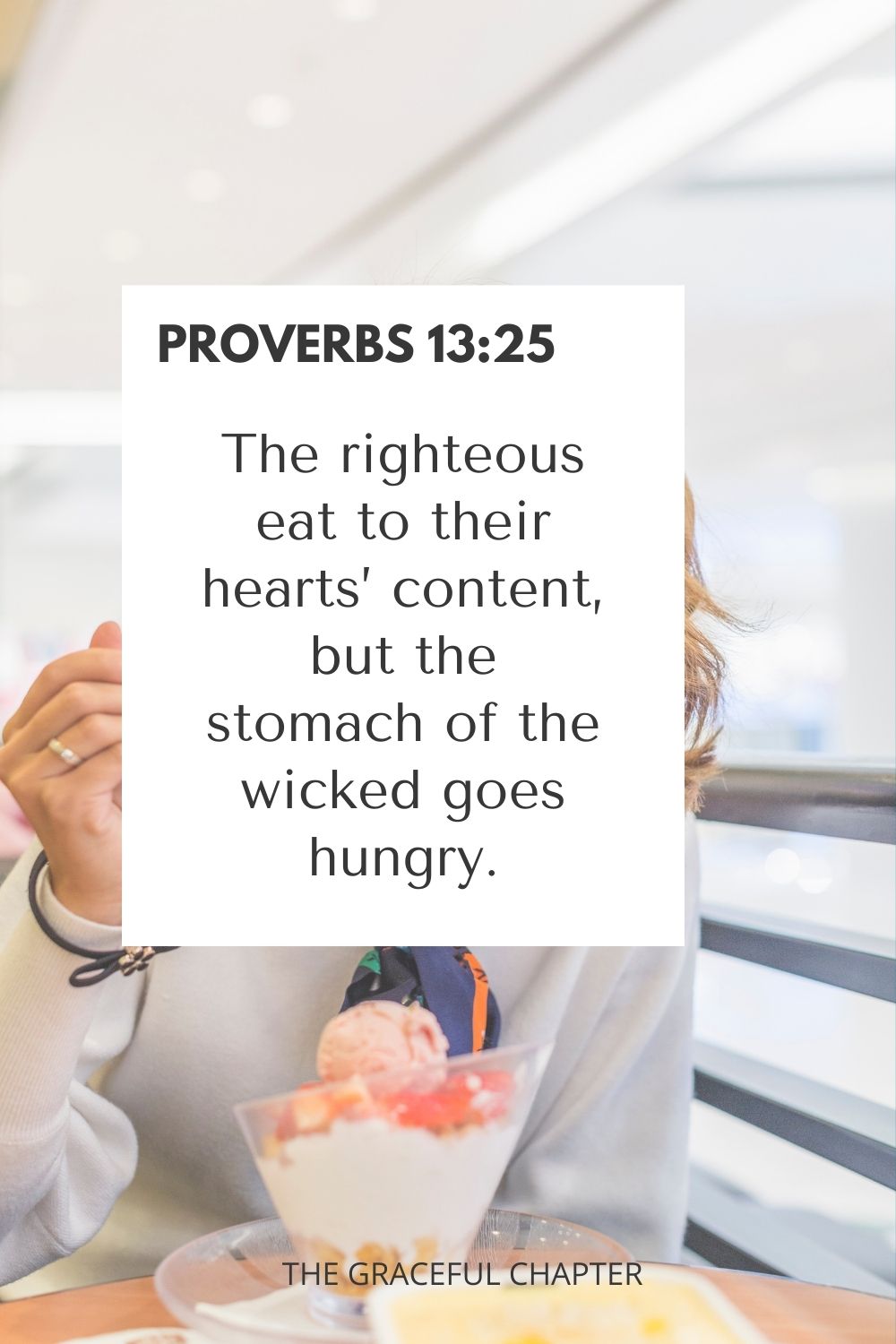 The righteous eat to their hearts' content, but the stomach of the wicked goes hungry.
Proverbs 13:25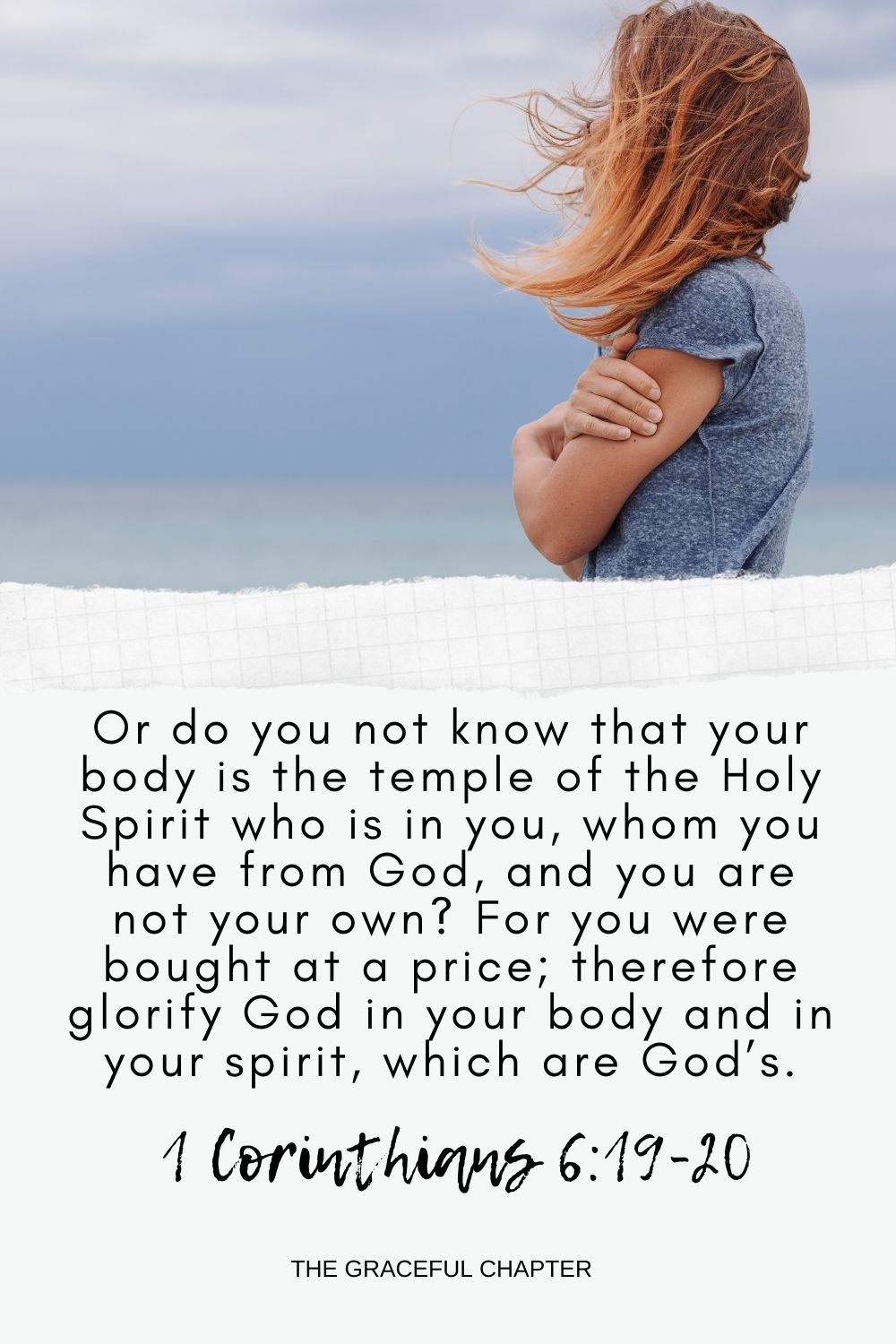 Or do you not know that your body is the temple of the Holy Spirit who is in you, whom you have from God, and you are not your own? For you were bought at a price; therefore glorify God in your body and in your spirit, which are God's.
1 Corinthians 6:19-20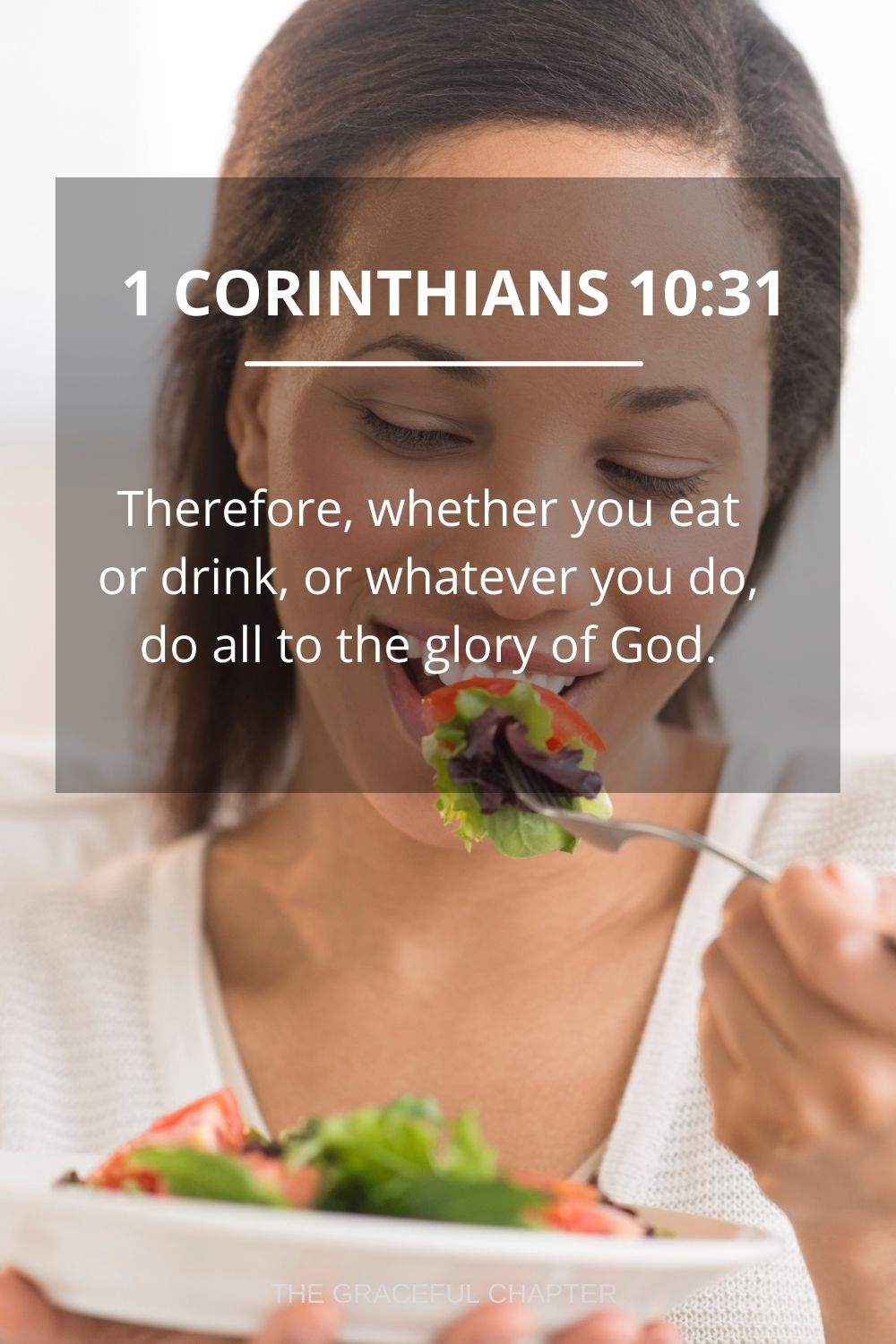 Therefore, whether you eat or drink, or whatever you do, do all to the glory of God.
1 Corinthians 10:31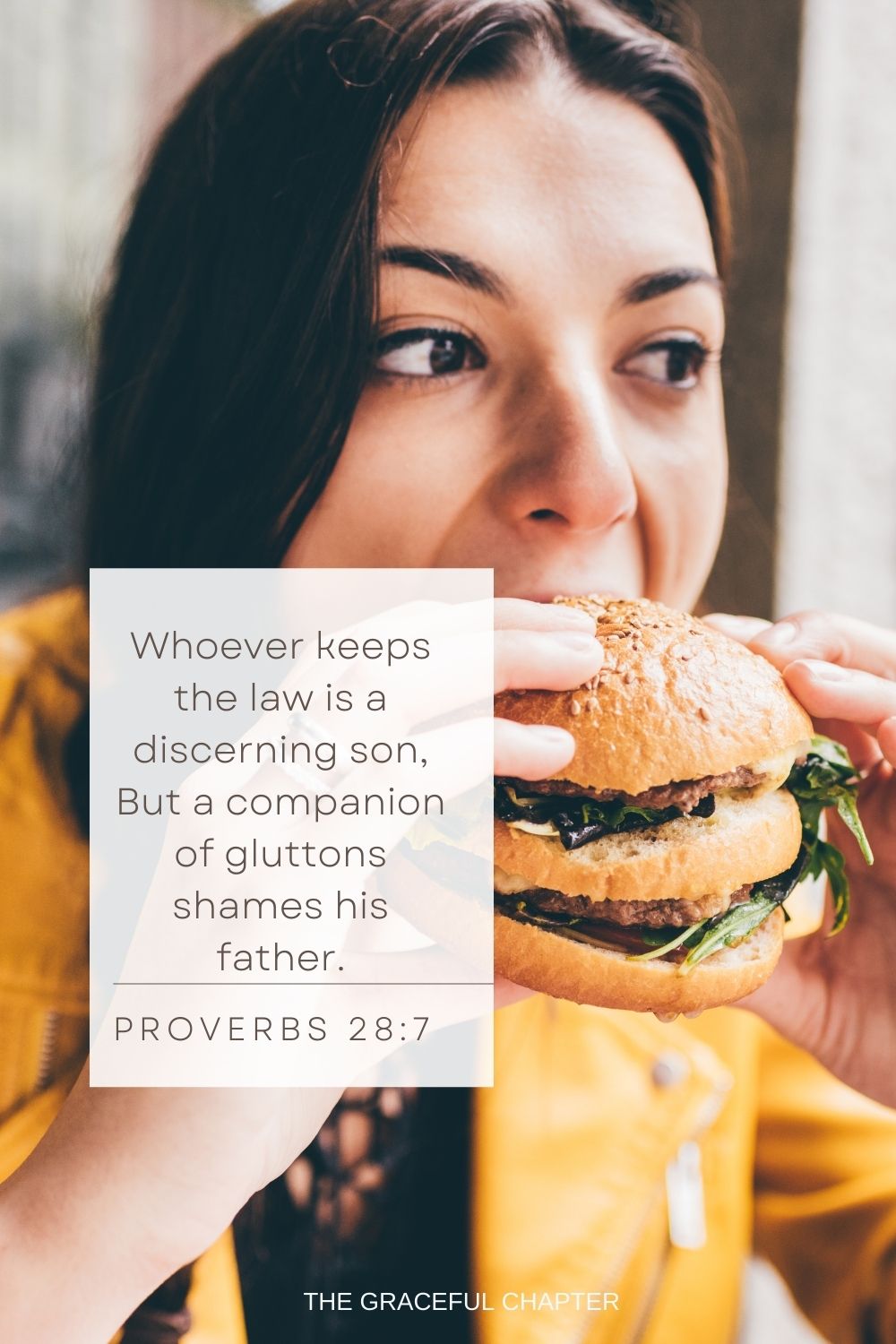 Whoever keeps the law is a discerning son, But a companion of gluttons shames his father.
Proverbs 28:7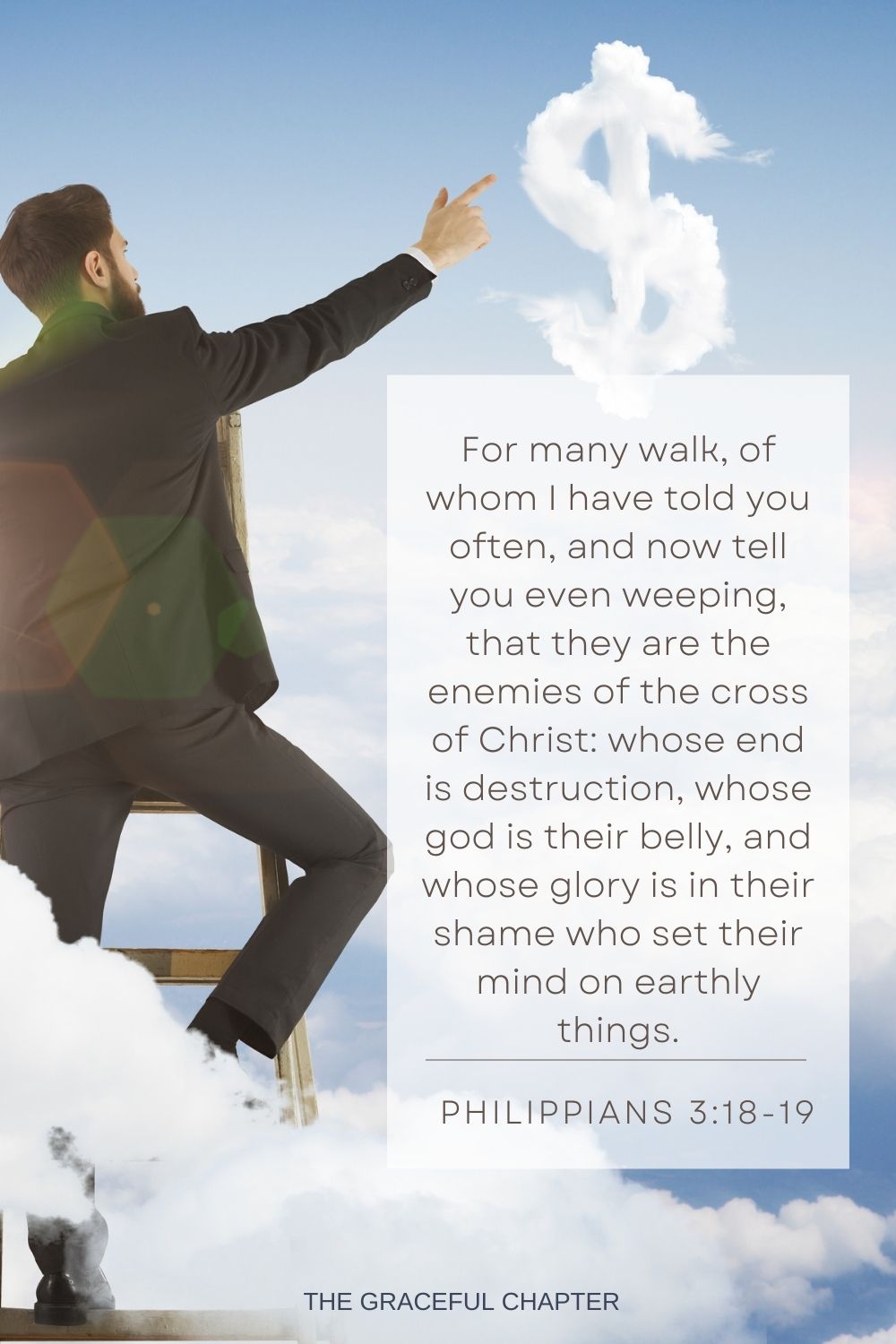 For many walk, of whom I have told you often, and now tell you even weeping, that they are the enemies of the cross of Christ: whose end is destruction, whose god is their belly, and whose glory is in their shame who set their mind on earthly things.
Philippians 3:18-19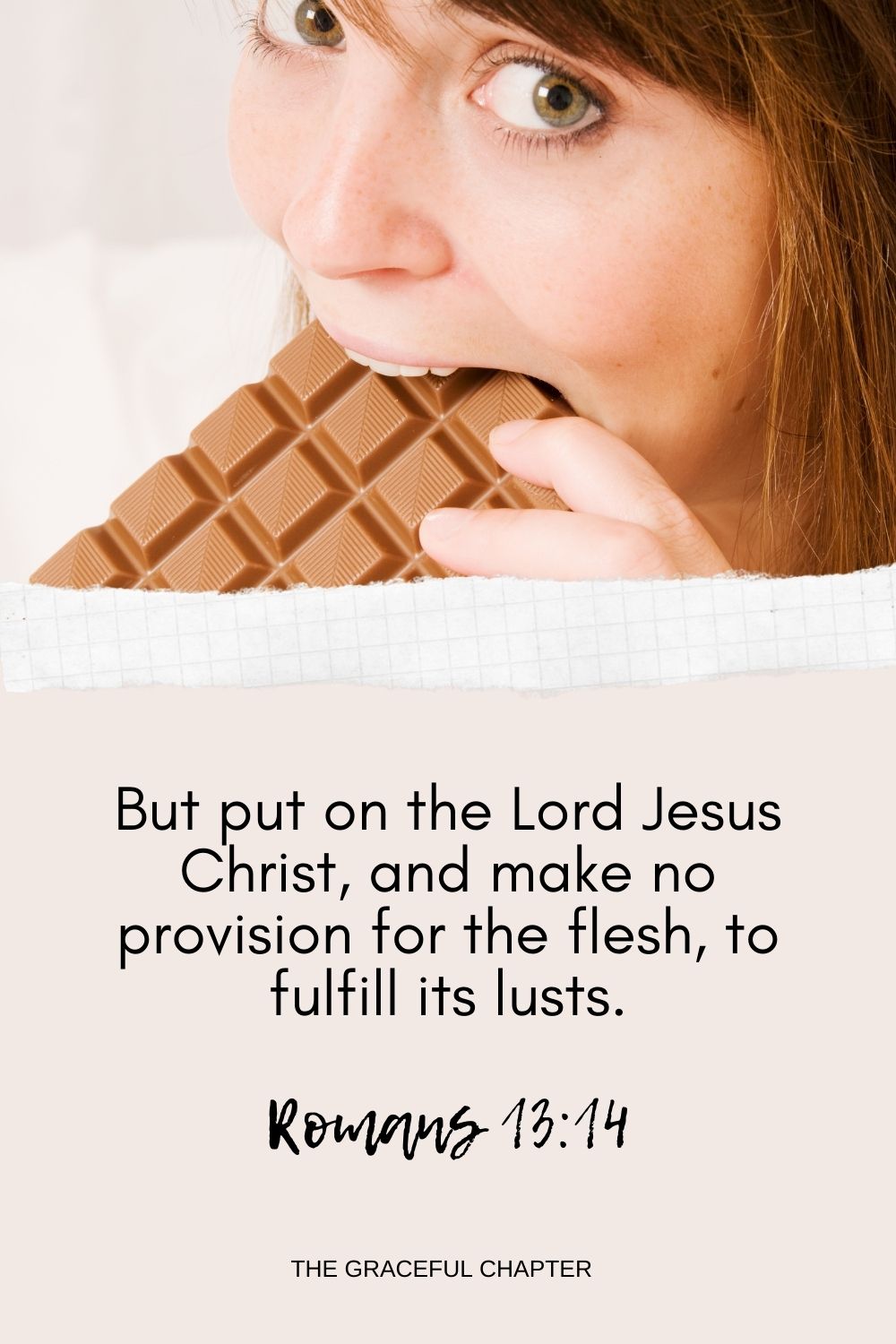 But put on the Lord Jesus Christ, and make no provision for the flesh, to fulfill its lusts.
Romans 13:14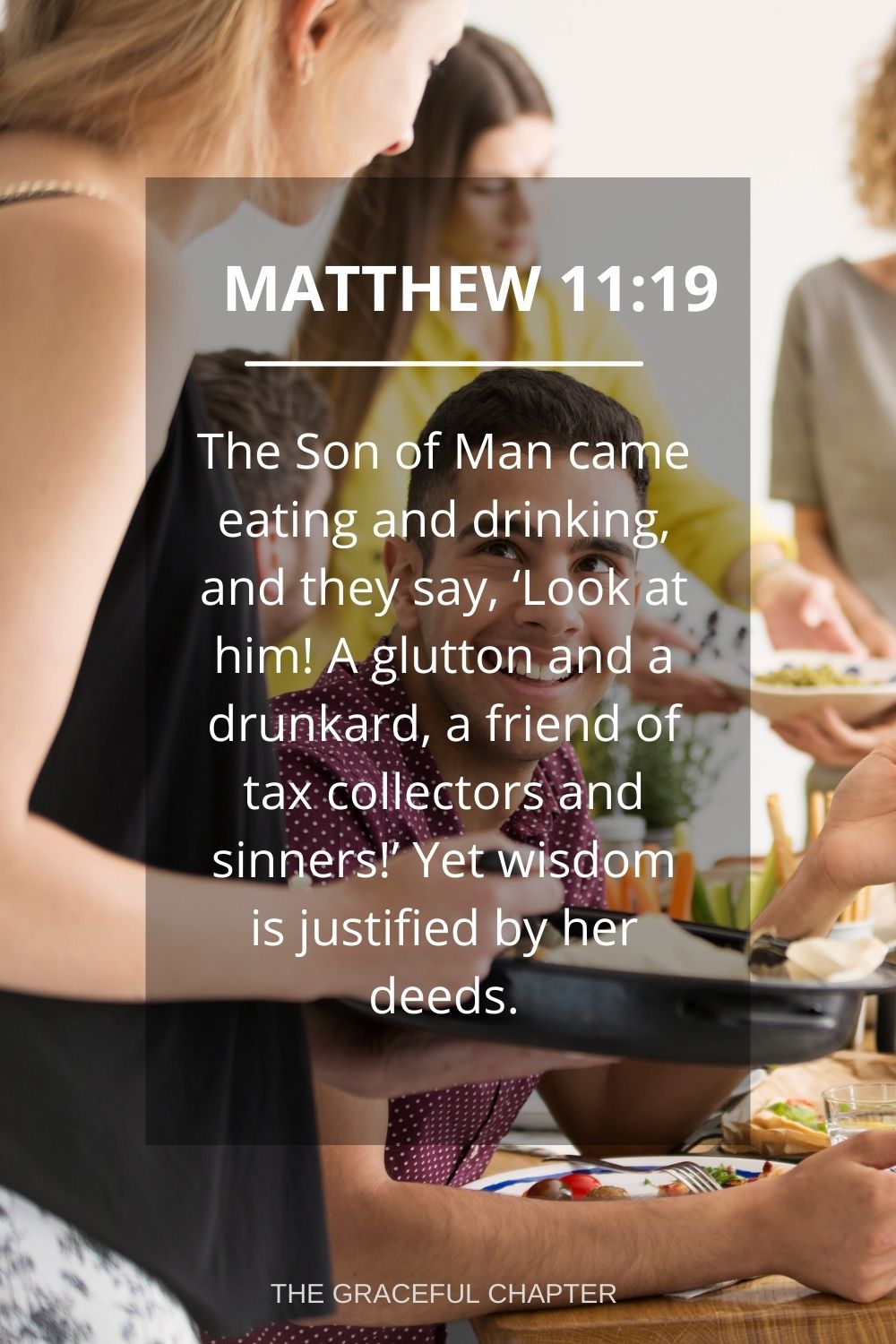 The Son of Man came eating and drinking, and they say, 'Look at him! A glutton and a drunkard, a friend of tax collectors and sinners!' Yet wisdom is justified by her deeds.
Matthew 11:19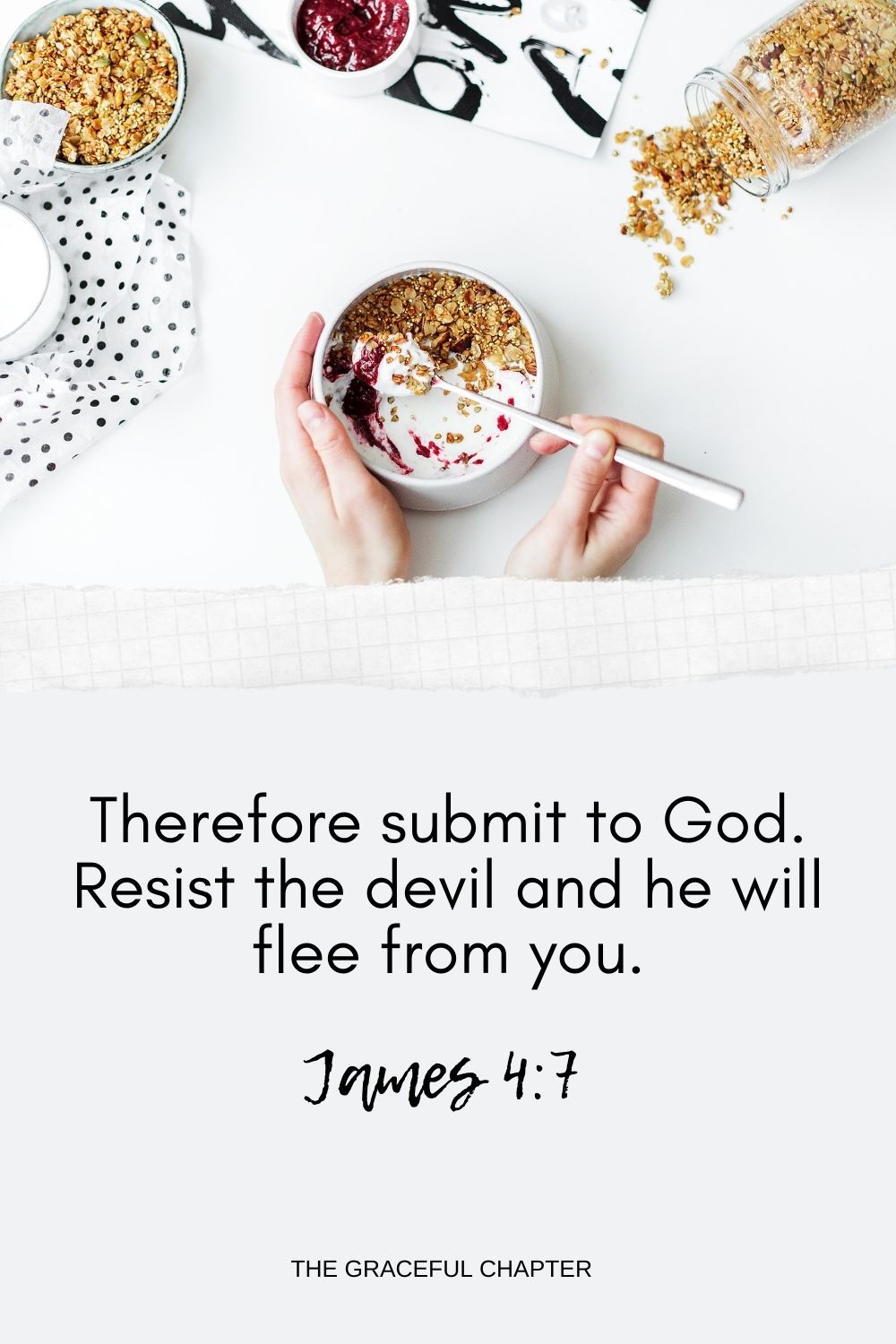 Therefore submit to God. Resist the devil and he will flee from you.
James 4:7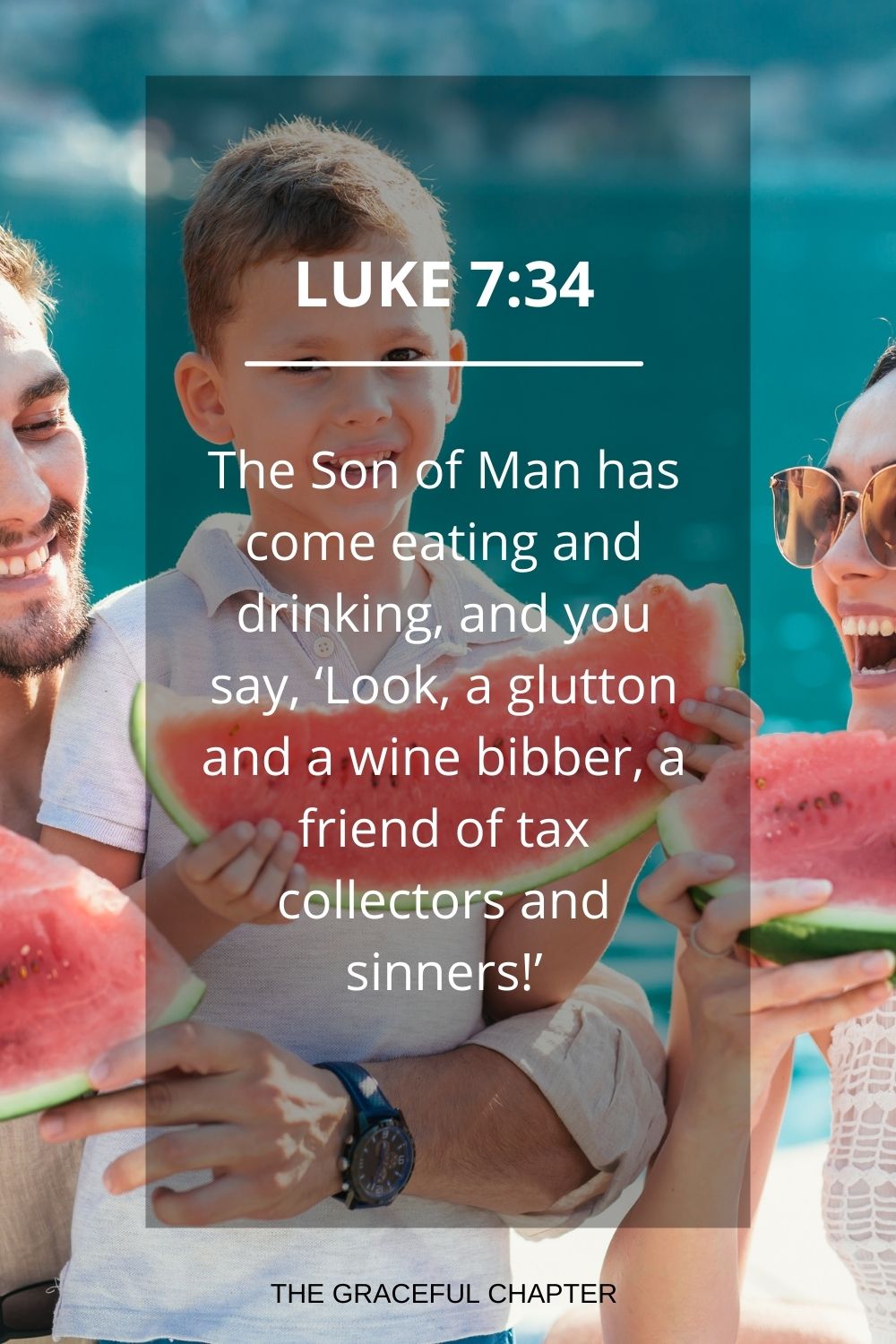 The Son of Man has come eating and drinking, and you say, 'Look, a glutton and a wine bibber, a friend of tax collectors and sinners!'
Luke 7:34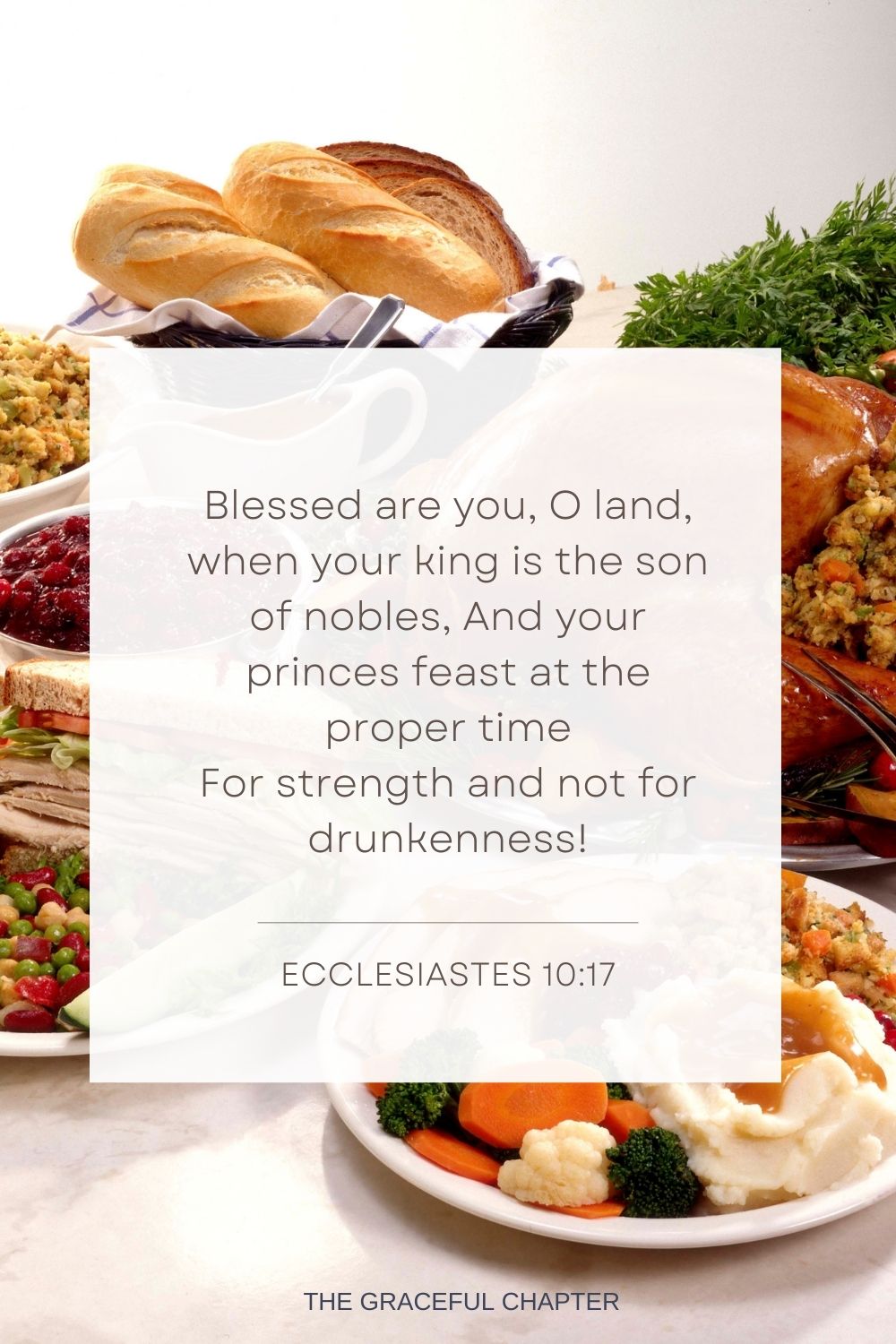 Blessed are you, O land, when your king is the son of nobles, And your princes feast at the proper time
For strength and not for drunkenness!
Ecclesiastes 10:17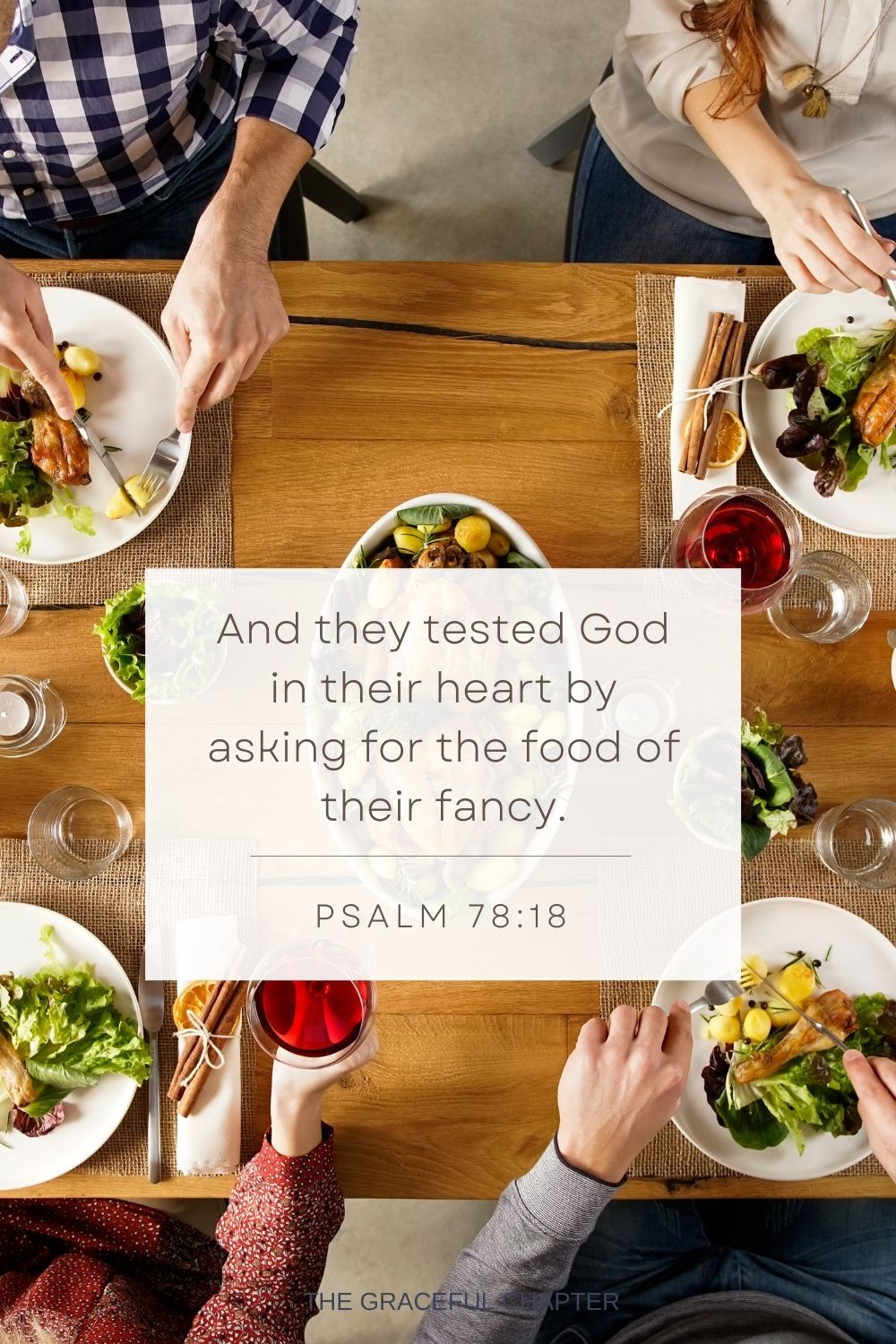 And they tested God in their heart By asking for the food of their fancy.
Psalm 78:18
I beseech you therefore, brethren, by the mercies of God, that you present your bodies a living sacrifice, holy, acceptable to God, which is your reasonable service.
Romans 12:1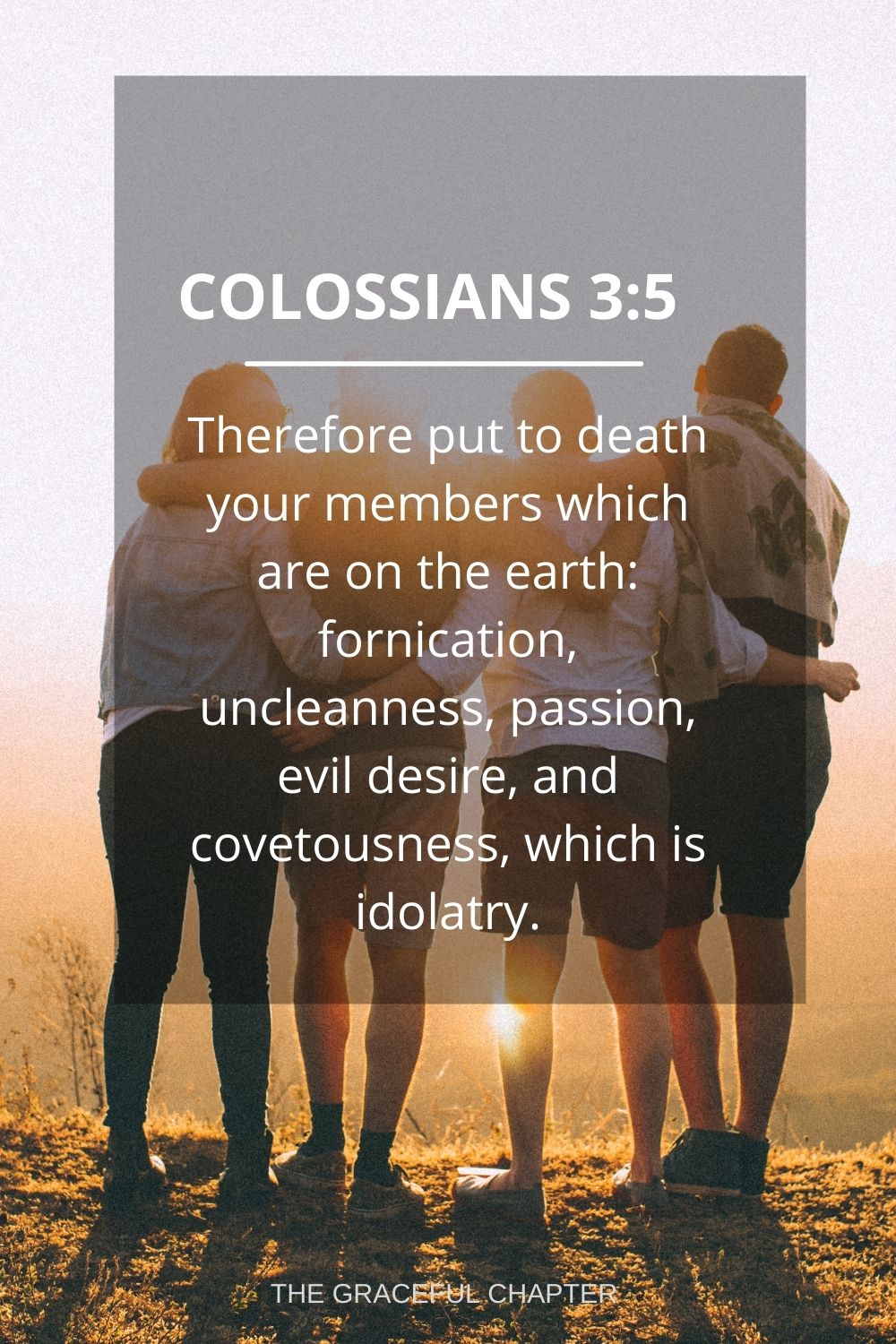 Therefore put to death your members which are on the earth: fornication, uncleanness, passion, evil desire, and covetousness, which is idolatry.
Colossians 3:5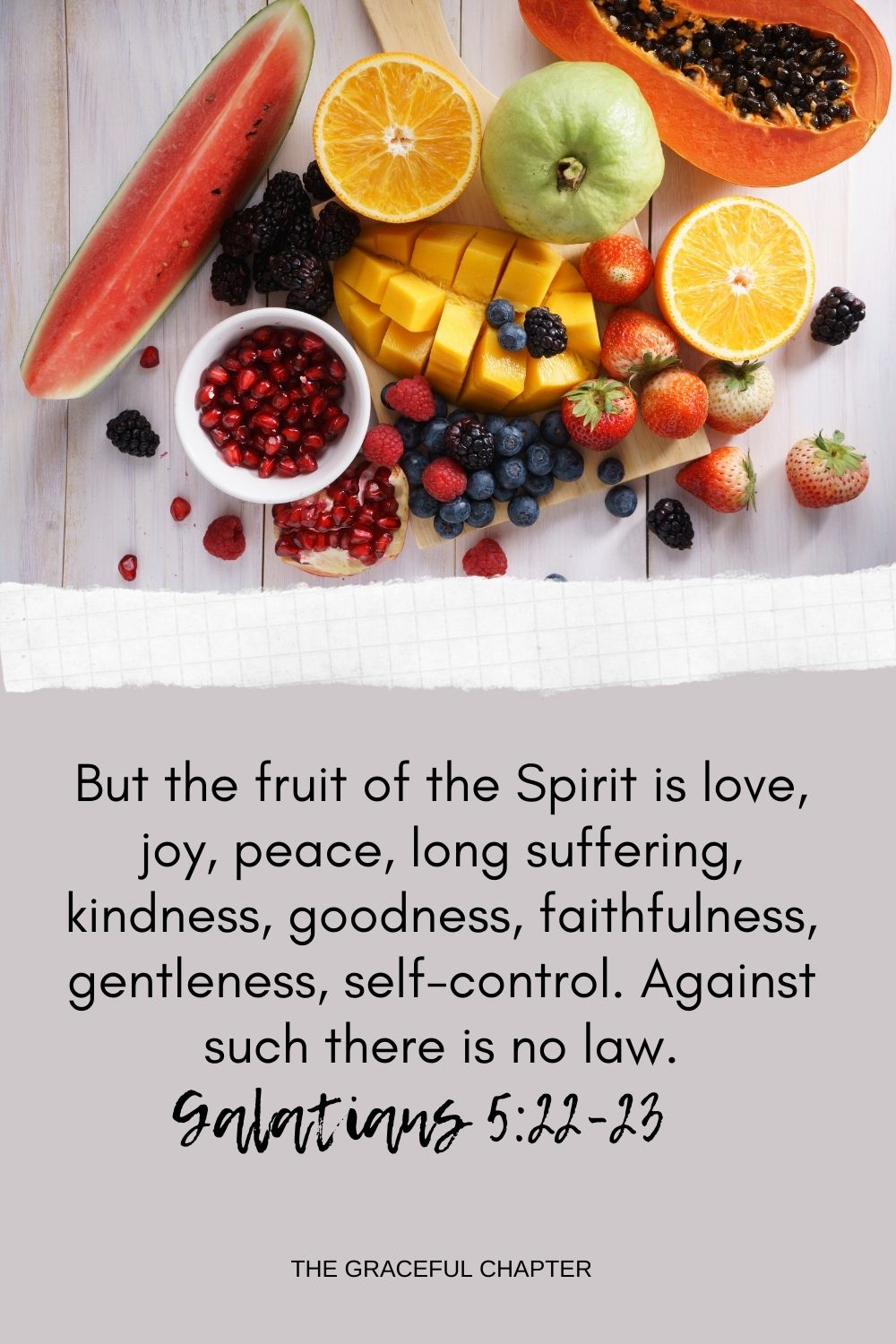 But the fruit of the Spirit is love, joy, peace, long suffering, kindness, goodness, faithfulness, gentleness, self-control. Against such there is no law.
Galatians 5:22-23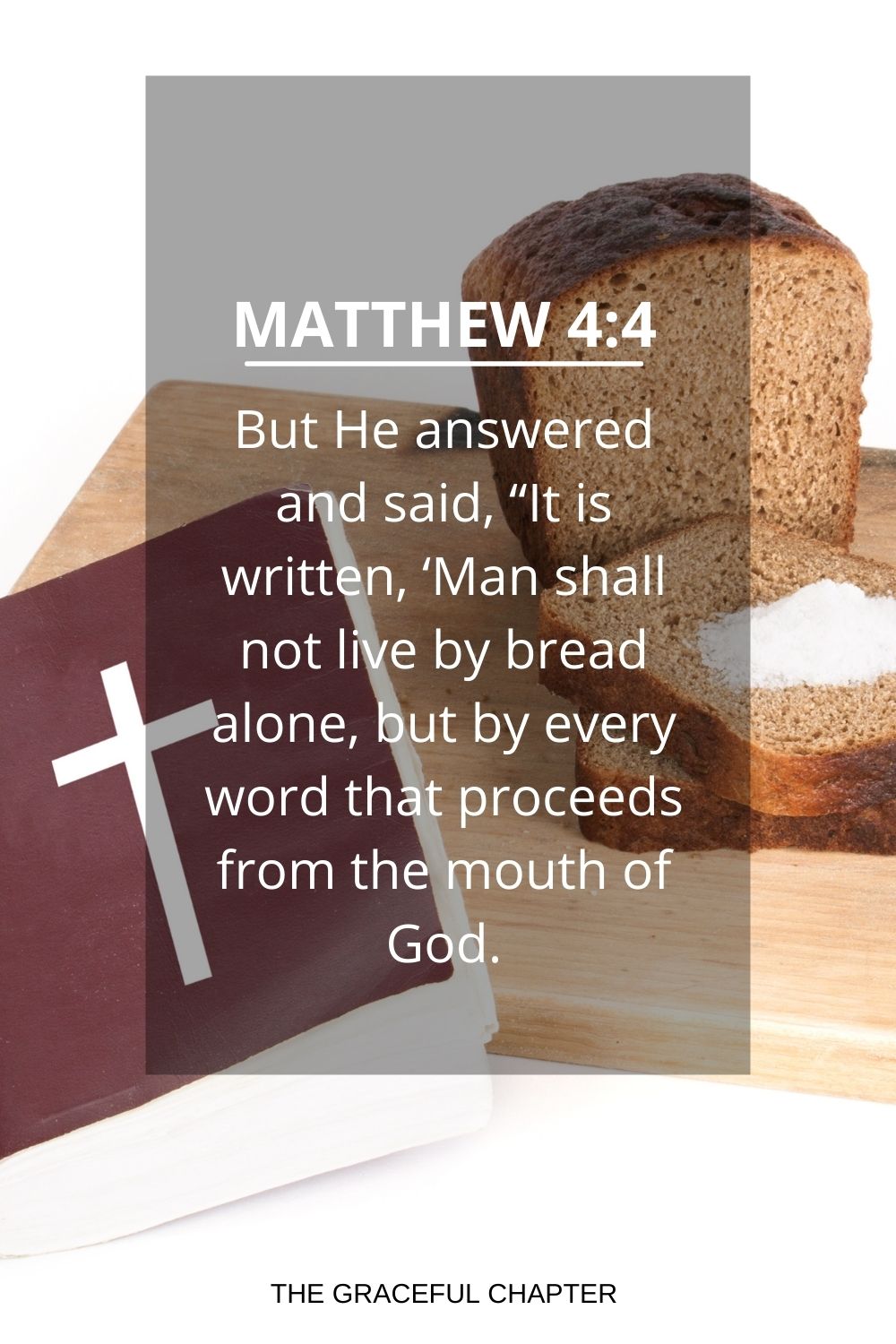 But He answered and said, "It is written, 'Man shall not live by bread alone, but by every word that proceeds from the mouth of God.
Matthew 4:4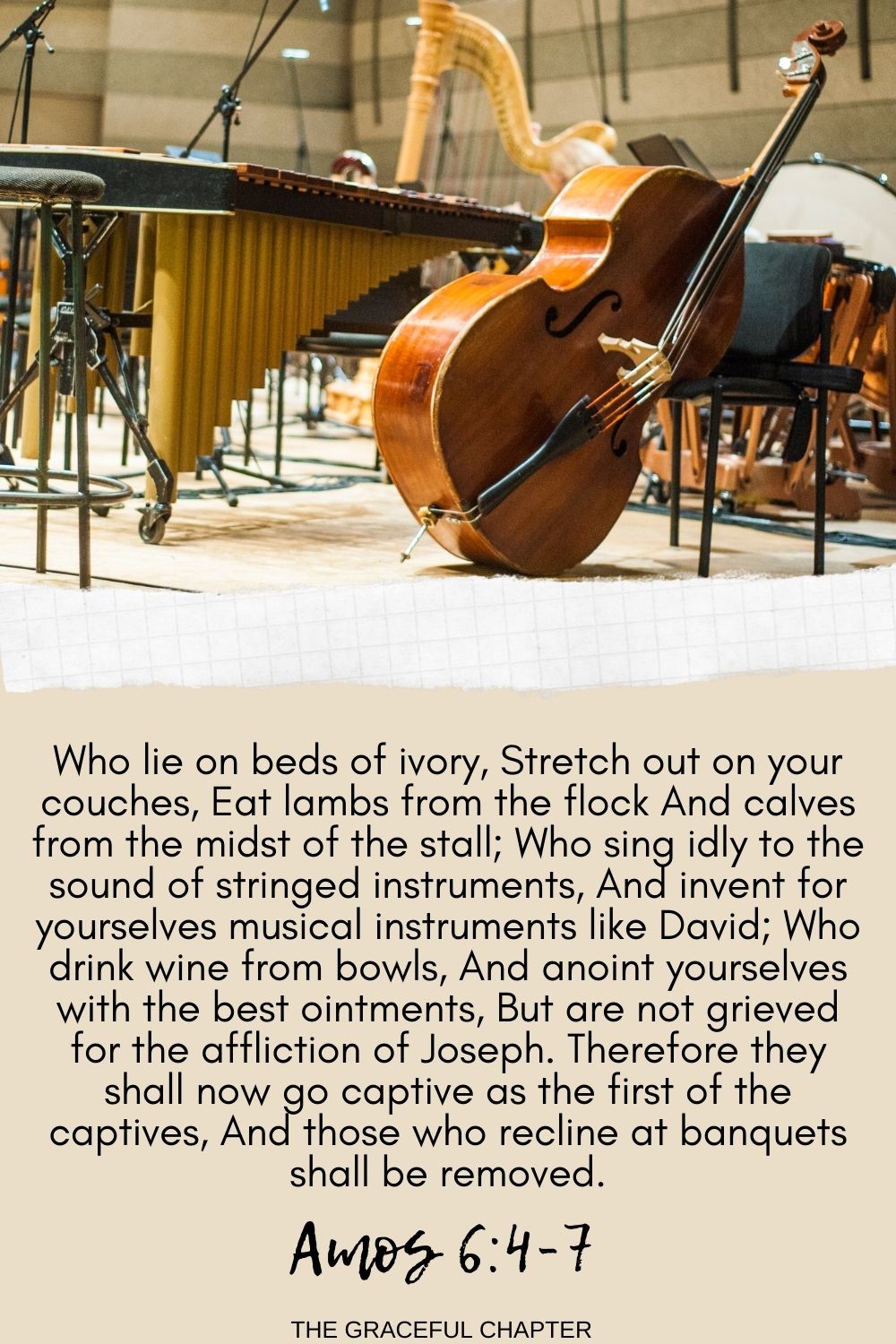 Who lie on beds of ivory, Stretch out on your couches,
Eat lambs from the flock And calves from the midst of the stall; Who sing idly to the sound of stringed instruments, And invent for yourselves musical instruments like David; Who drink wine from bowls,
And anoint yourselves with the best ointments, But are not grieved for the affliction of Joseph. Therefore they shall now go captive as the first of the captives, And those who recline at banquets shall be removed.
Amos 6:4-7
When you sit down to eat with a ruler, Consider carefully what is before you; And put a knife to your throat If you are a man given to appetite. Do not desire his delicacies,
For they are deceptive food.
Proverbs 23:1-3
 For all that is in the world the lust of the flesh, the lust of the eyes, and the pride of life is not of the Father but is of the world.
1 John 2:16
 Now the works of the flesh are evident, which are: adultery, fornication, uncleanness, lewdness, idolatry, sorcery, hatred, contentions, jealousies, outbursts of wrath, selfish ambitions, dissensions, heresies, envy, murders, drunkenness, revelries, and the like; of which I tell you beforehand, just as I also told you in time past, that those who practice such things will not inherit the kingdom of God.
Galatians 5:19-21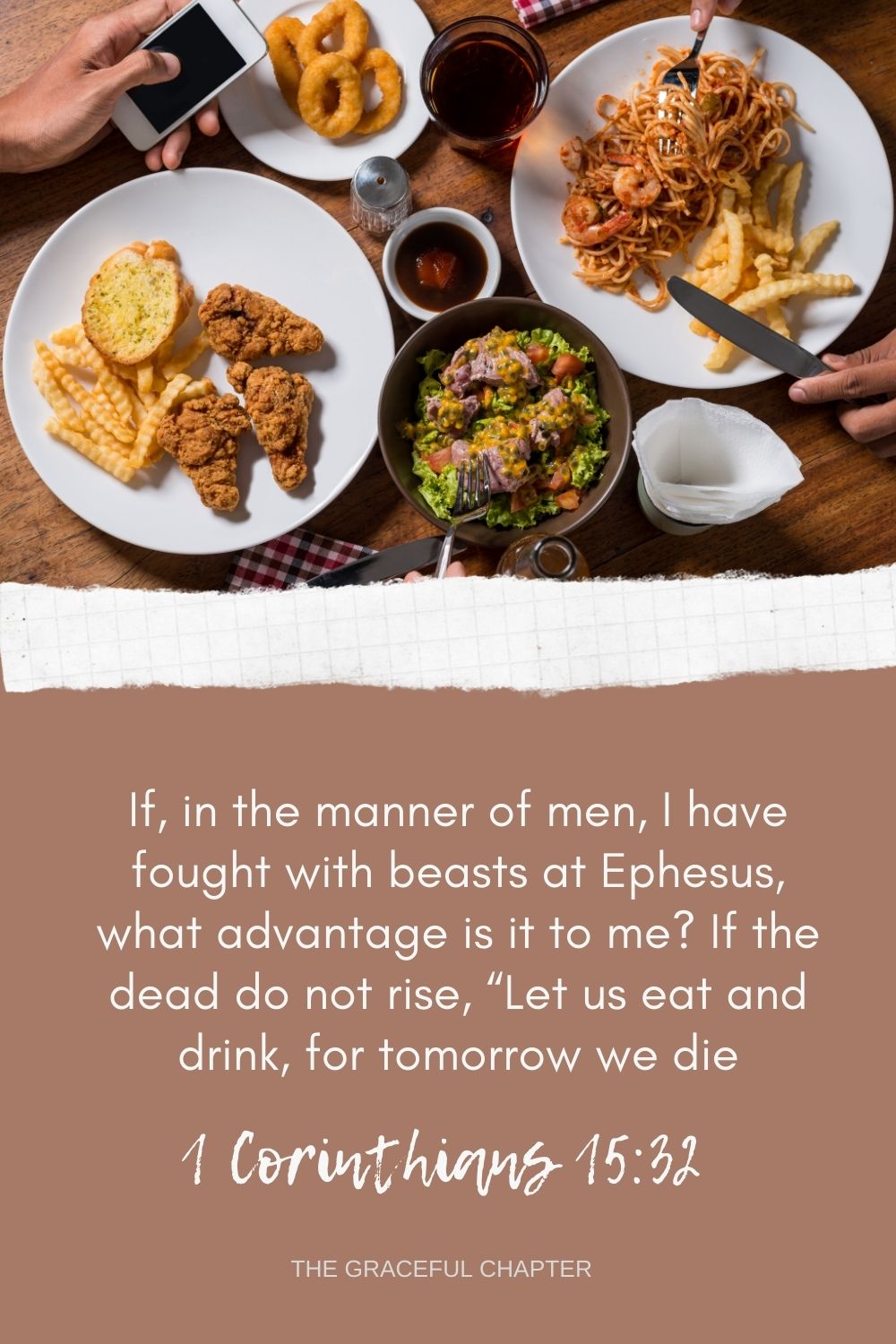 If, in the manner of men, I have fought with beasts at Ephesus, what advantage is it to me? If the dead do not rise, "Let us eat and drink, for tomorrow we die!
1 Corinthians 15:32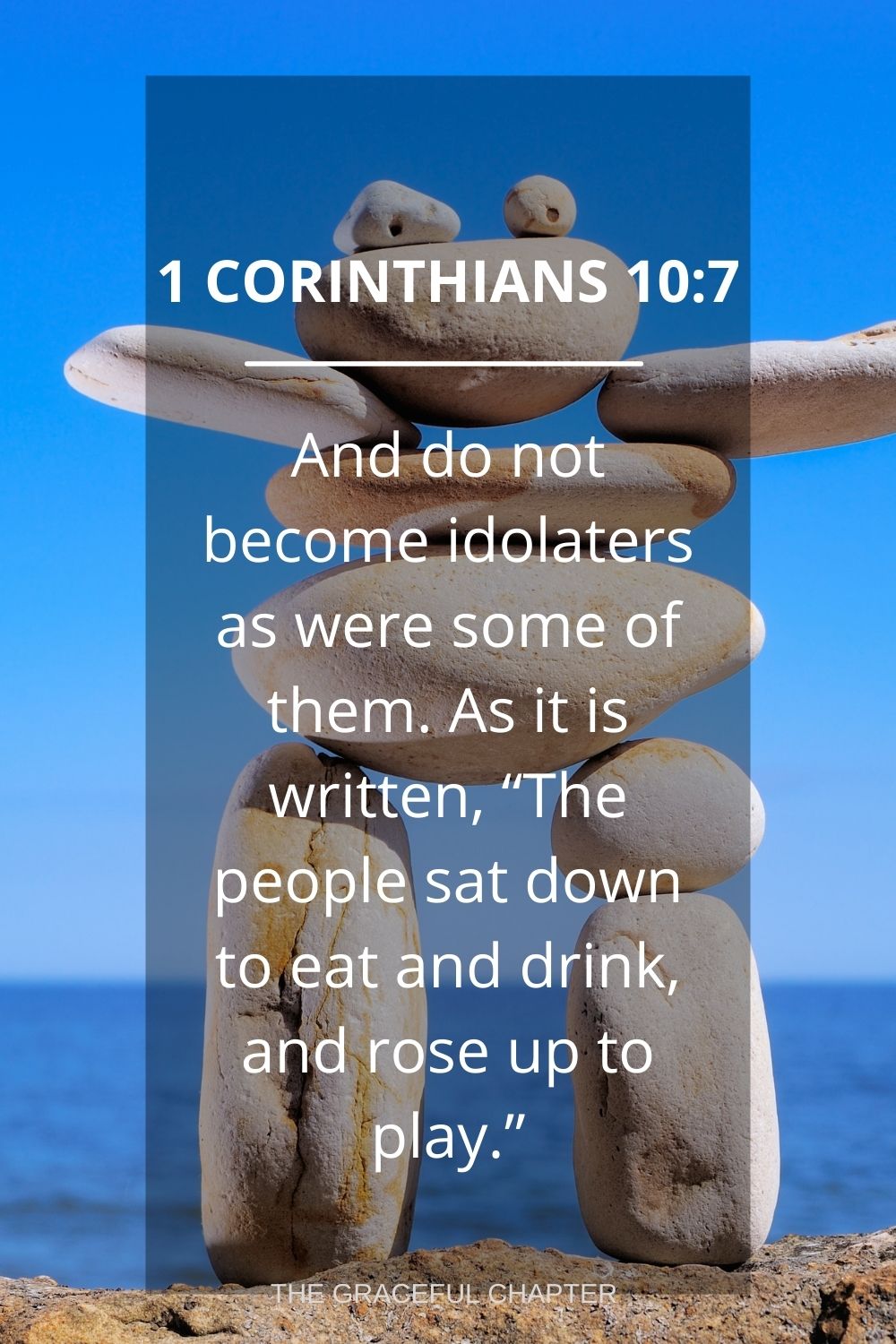 And do not become idolaters as were some of them. As it is written, "The people sat down to eat and drink, and rose up to play."
1 Corinthians 10:7
Related Posts
None found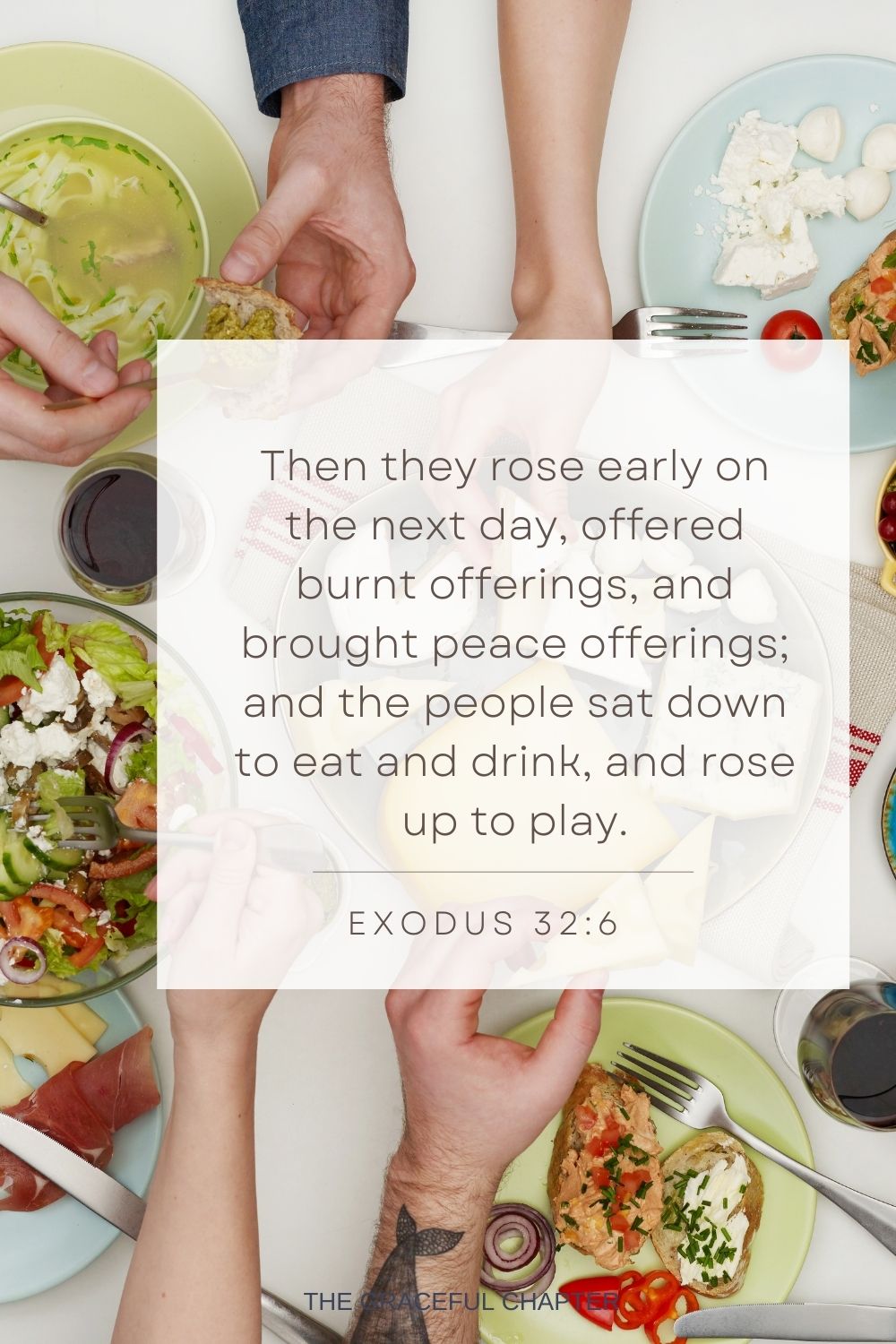 Then they rose early on the next day, offered burnt offerings, and brought peace offerings; and the people sat down to eat and drink, and rose up to play.
Exodus 32:6
But I discipline my body and bring it into subjection, lest, when I have preached to others, I myself should become disqualified.
1 Corinthians 9:27
Go, eat your food with gladness, and drink your wine with a joyful heart, for God has already approved what you do. Ecclesiastes 9:7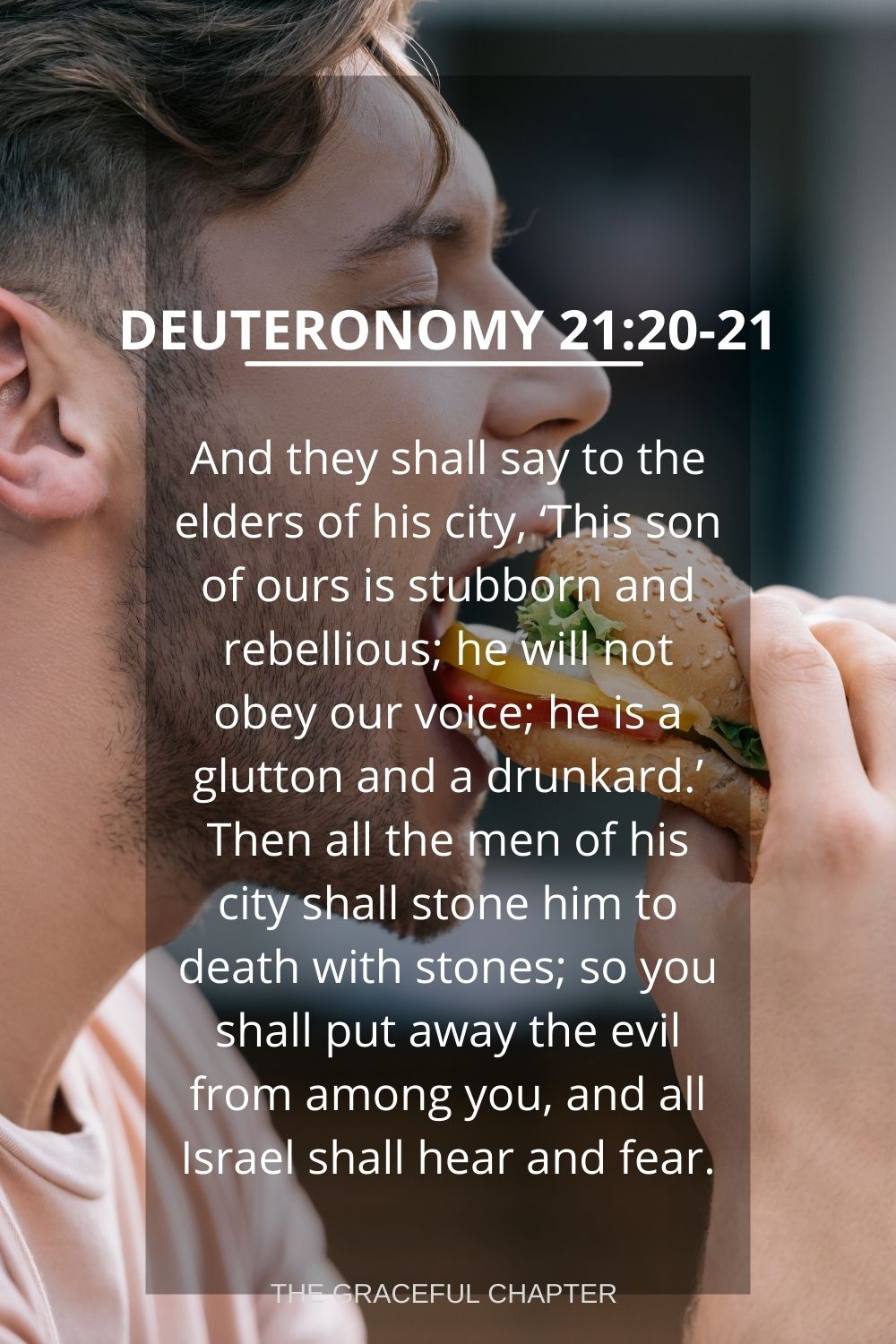 And they shall say to the elders of his city, 'This son of ours is stubborn and rebellious; he will not obey our voice; he is a glutton and a drunkard.' Then all the men of his city shall stone him to death with stones; so you shall put away the evil from among you, and all Israel shall hear and fear.
Deuteronomy 21:20-21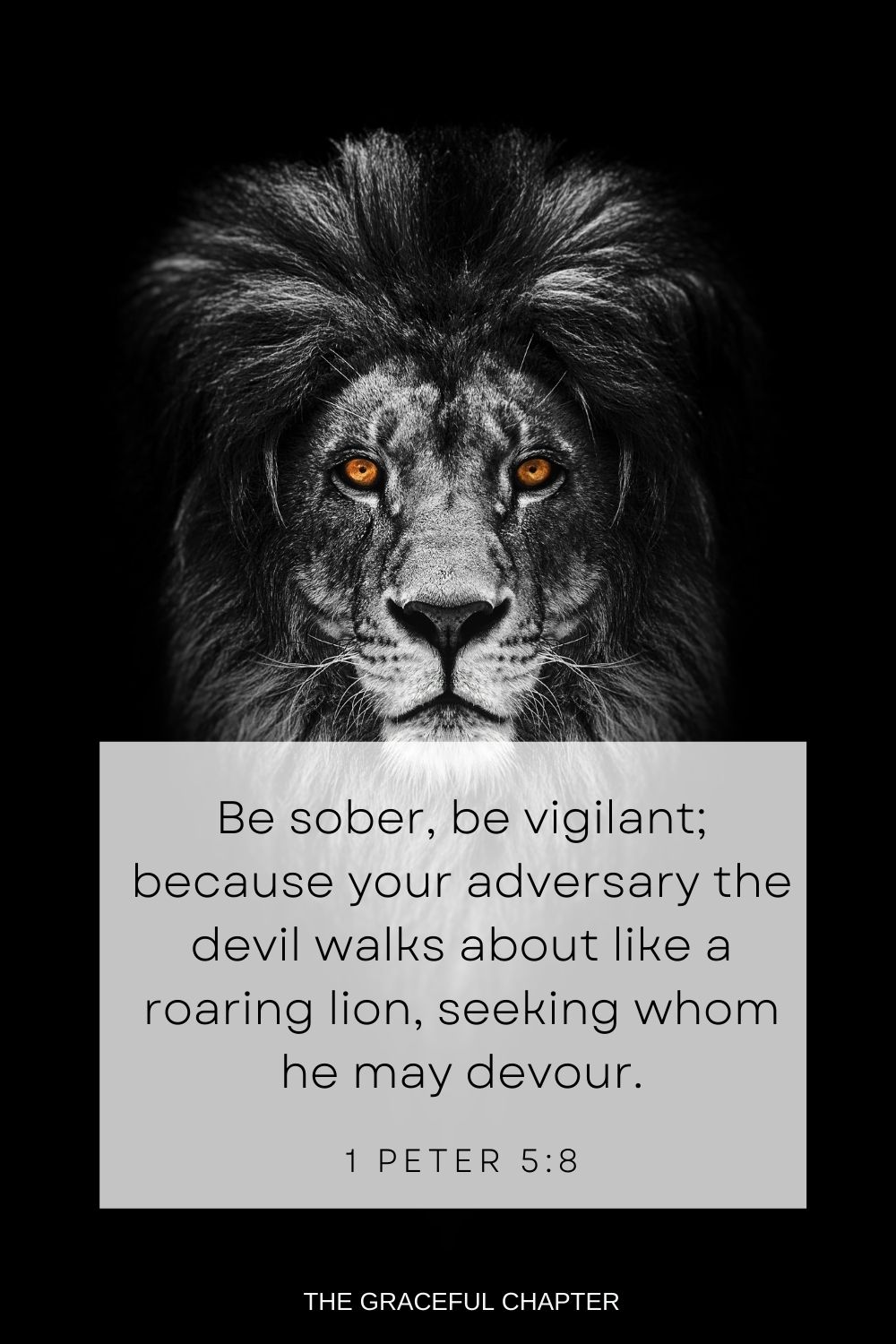 Be sober, be vigilant; because your adversary the devil walks about like a roaring lion, seeking whom he may devour.
1 Peter 5:8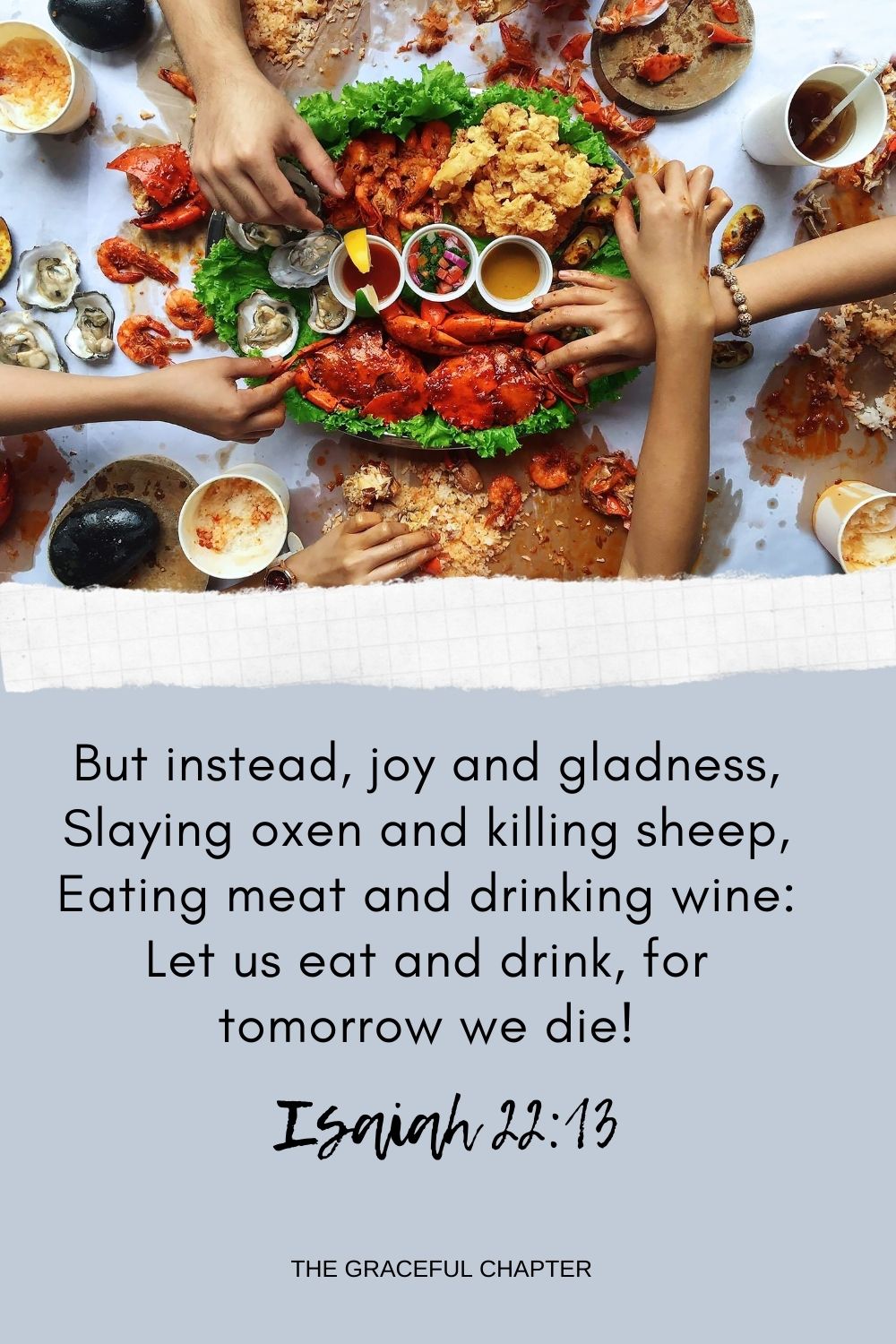 But instead, joy and gladness, Slaying oxen and killing sheep, Eating meat and drinking wine: Let us eat and drink, for tomorrow we die!
Isaiah 22:13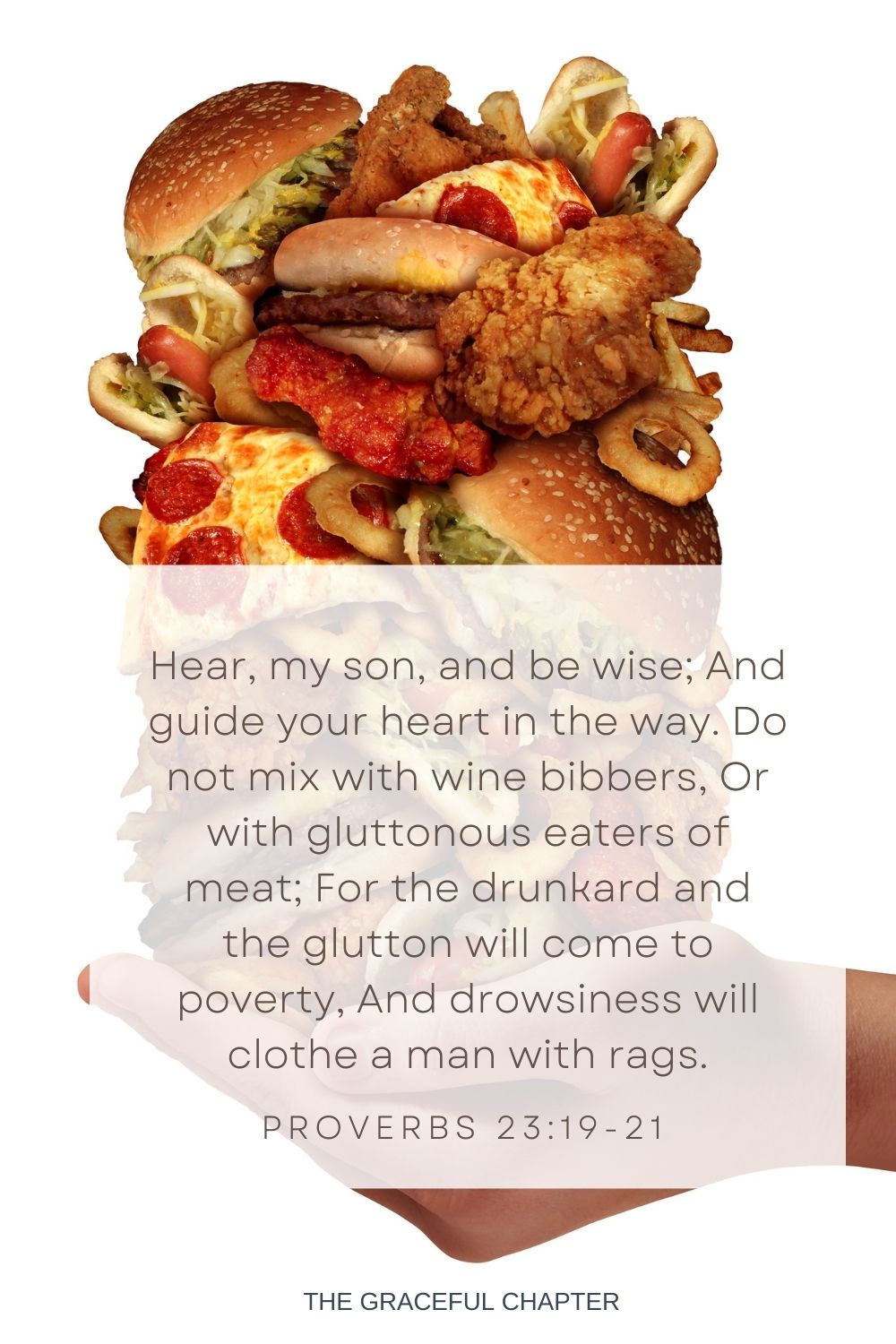 Hear, my son, and be wise; And guide your heart in the way. Do not mix with wine bibbers, Or with gluttonous eaters of meat; For the drunkard and the glutton will come to poverty, And drowsiness will clothe a man with rags.
Proverbs 23:19-21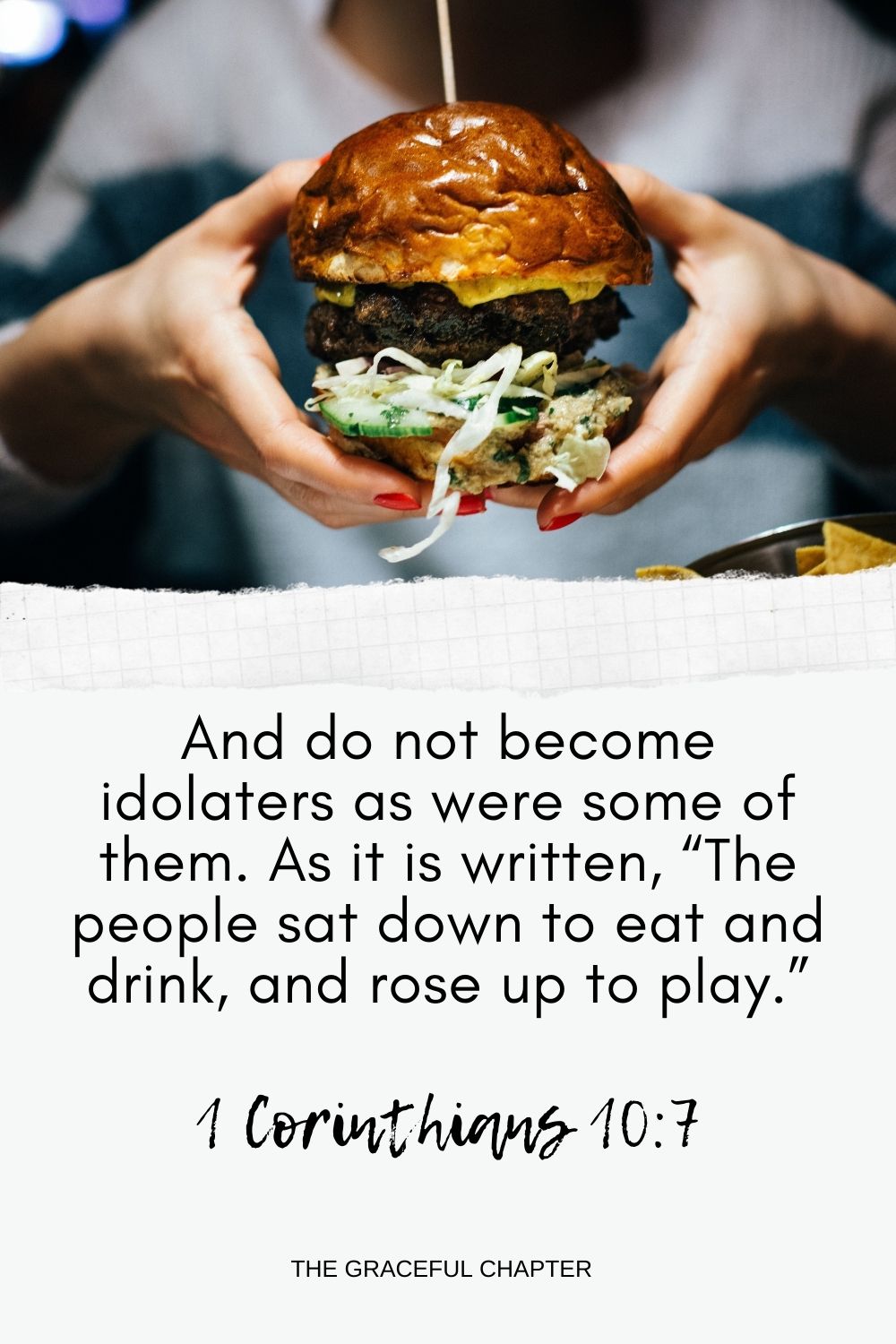 And do not become idolaters as were some of them. As it is written, "The people sat down to eat and drink, and rose up to play."
1 Corinthians 10:7
lest there be any fornicator or profane person like Esau, who for one morsel of food sold his birthright. For you know that afterward, when he wanted to inherit the blessing, he was rejected, for he found no place for repentance, though he sought it diligently with tears.
Hebrews 12:16-17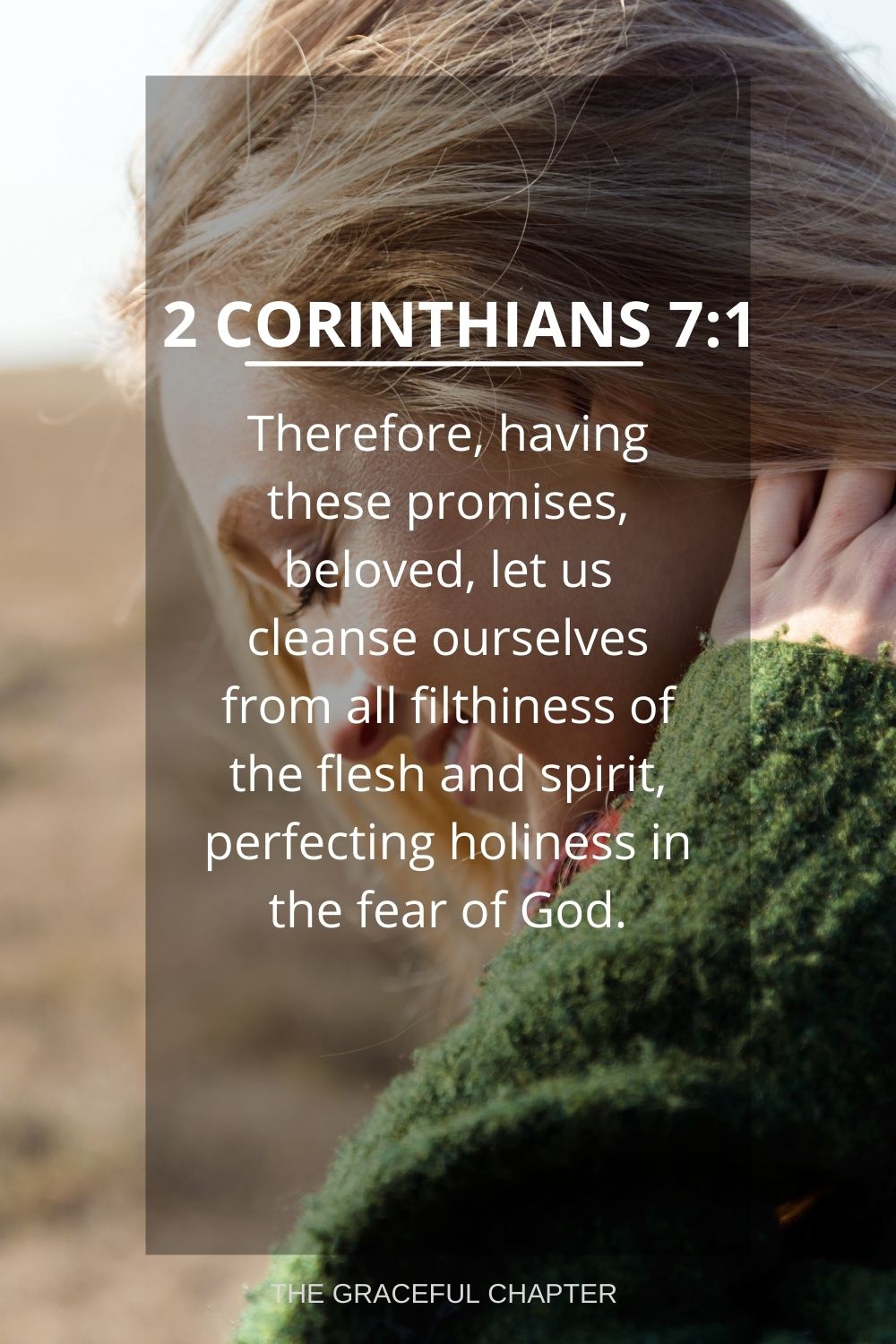 Therefore, having these promises, beloved, let us cleanse ourselves from all filthiness of the flesh and spirit, perfecting holiness in the fear of God.
2 Corinthians 7:1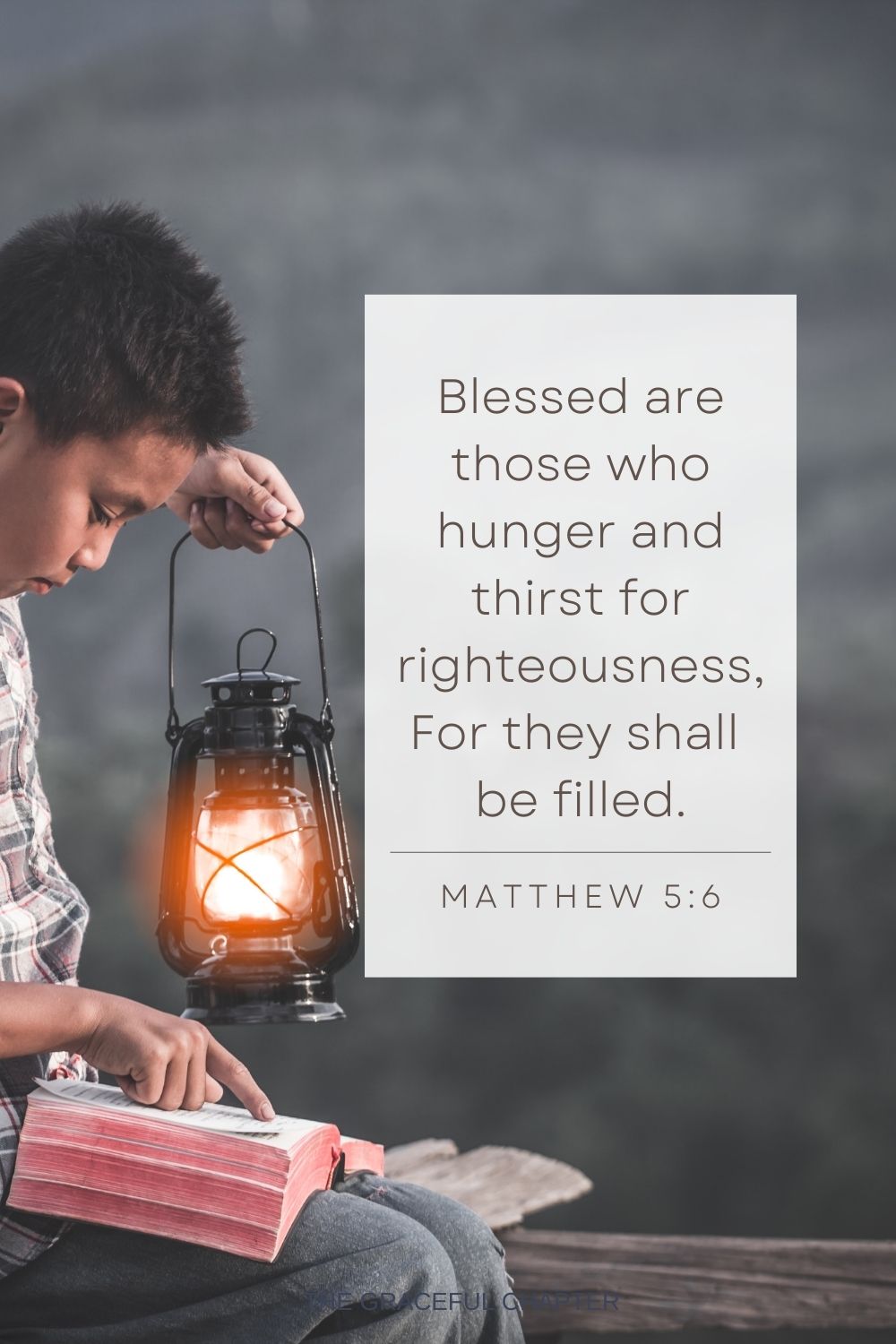 Blessed are those who hunger and thirst for righteousness, For they shall be filled.
Matthew 5:6
Look, this was the iniquity of your sister Sodom: She and her daughter had pride, fullness of food, and abundance of idleness; neither did she strengthen the hand of the poor and needy. And they were haughty and committed abomination before Me; therefore I took them away as I saw fit.
Ezekiel 16:49-50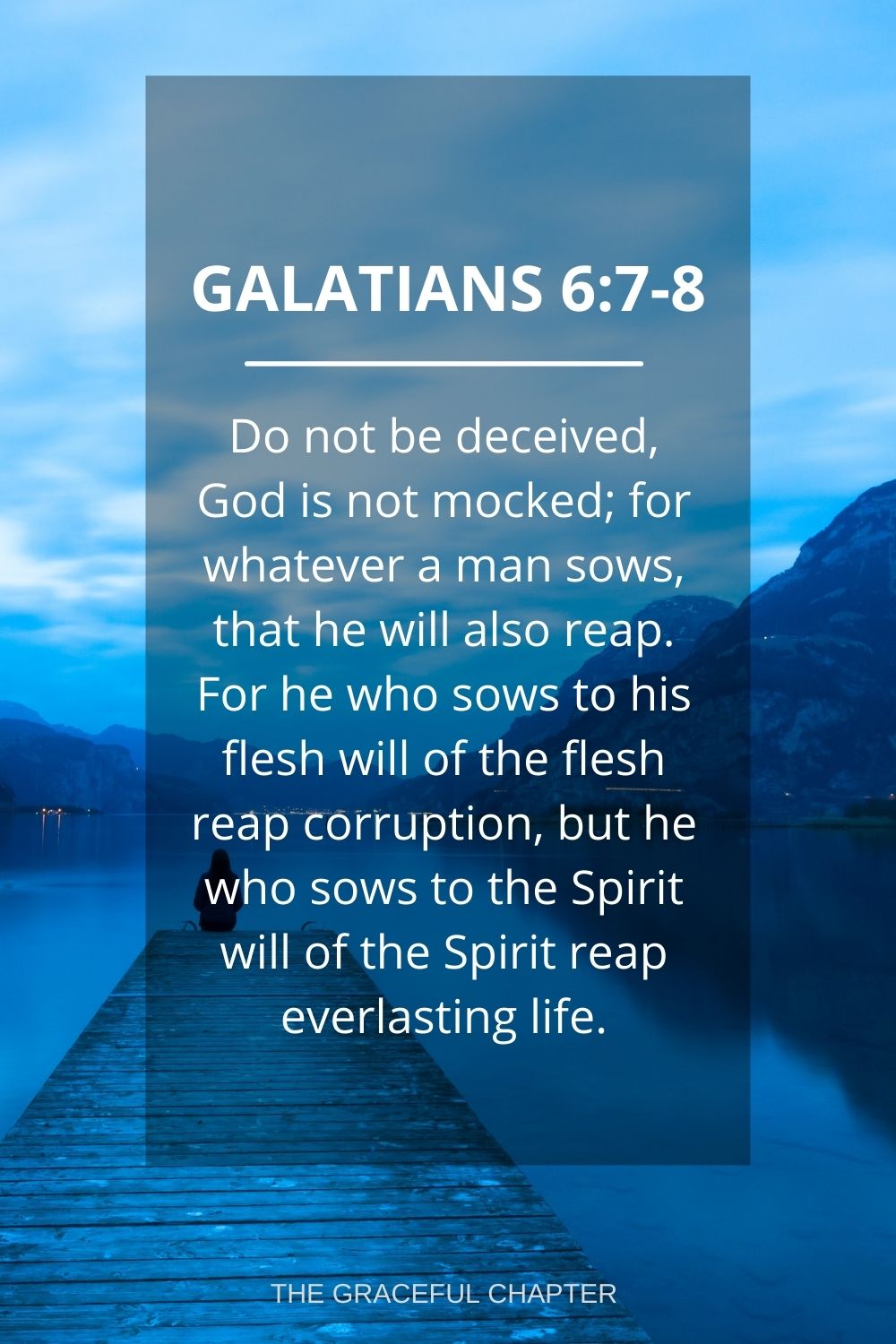 Do not be deceived, God is not mocked; for whatever a man sows, that he will also reap. For he who sows to his flesh will of the flesh reap corruption, but he who sows to the Spirit will of the Spirit reap everlasting life.
Galatians 6:7-8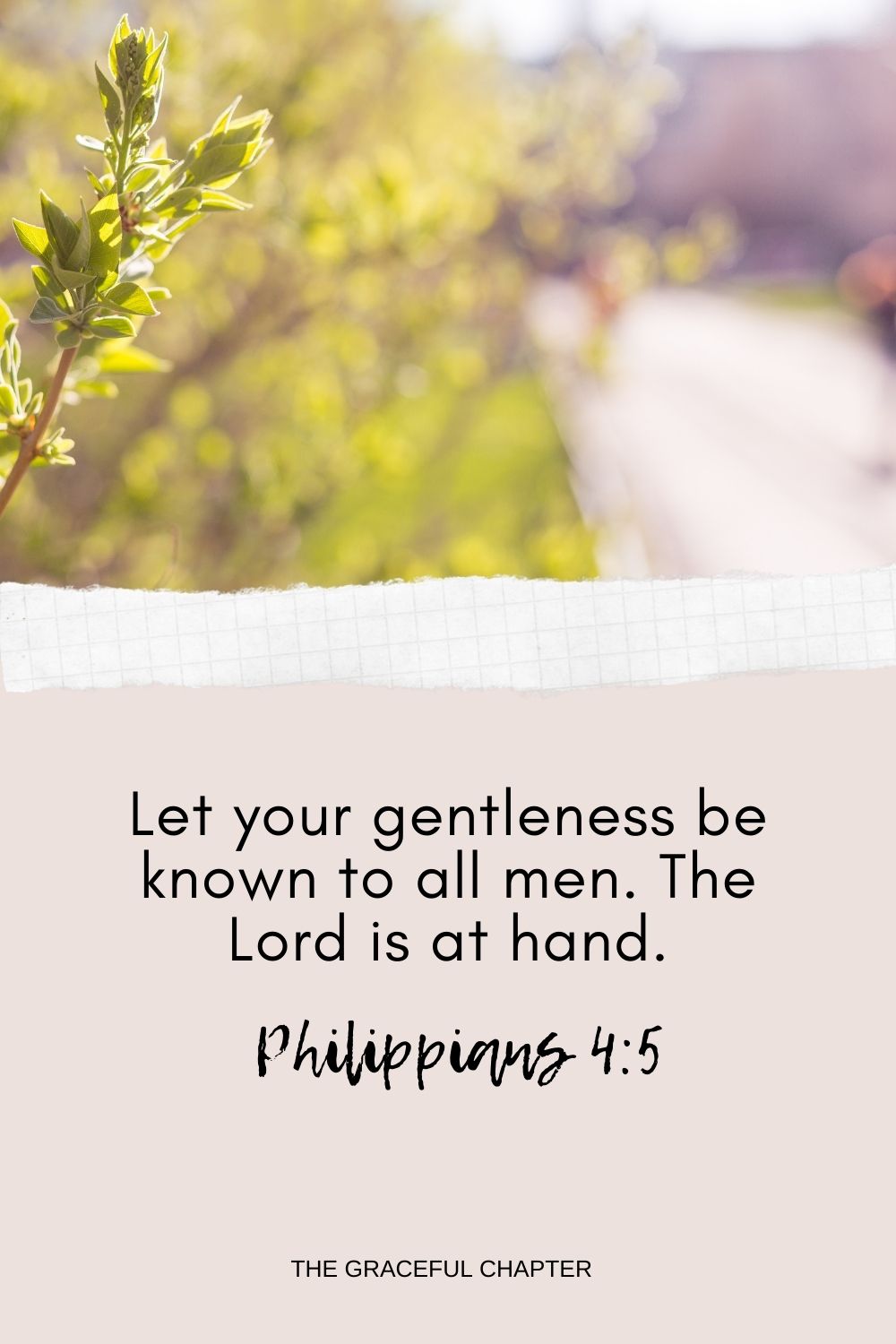 Let your gentleness be known to all men. The Lord is at hand.
Philippians 4:5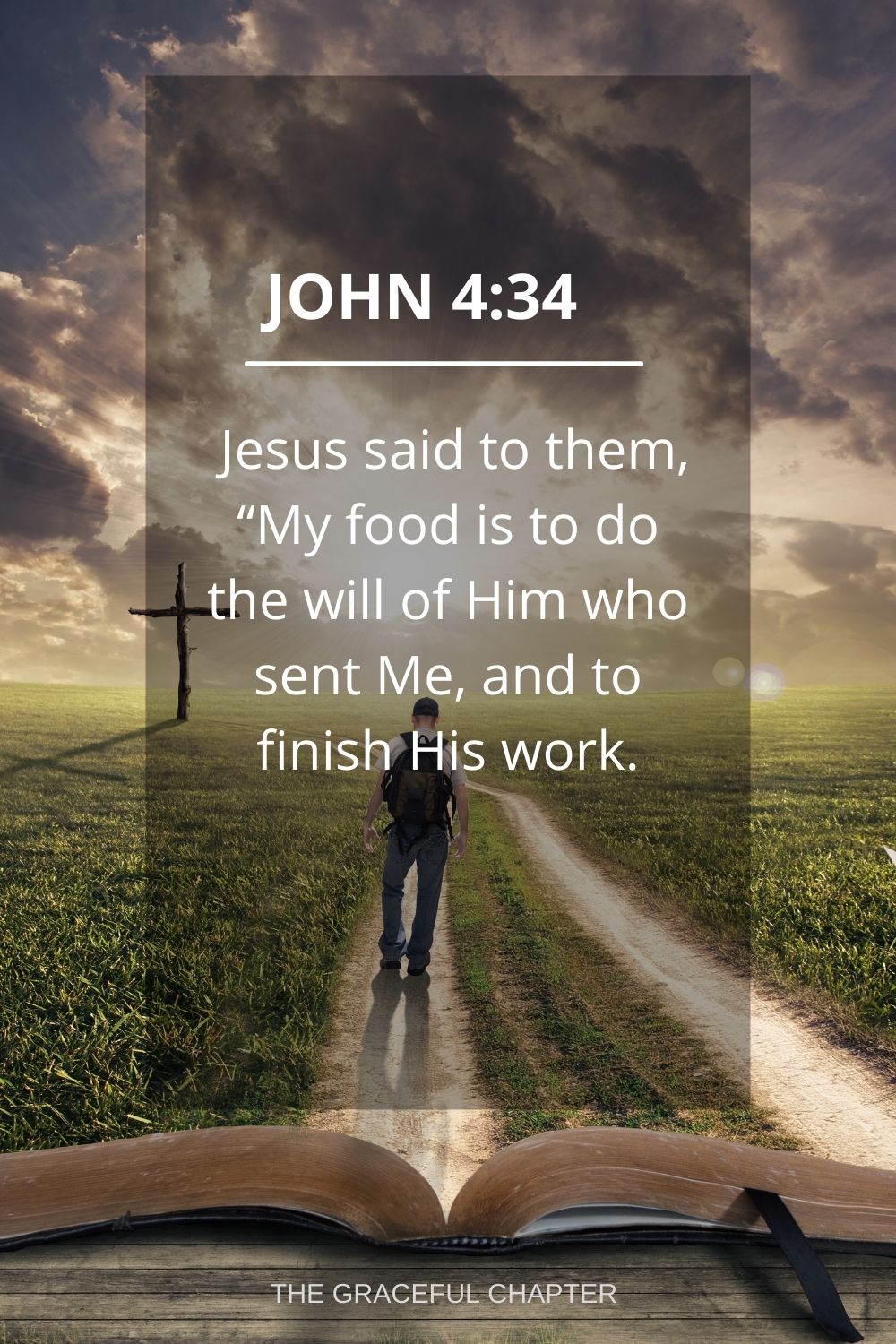 Jesus said to them, "My food is to do the will of Him who sent Me, and to finish His work.
John 4:34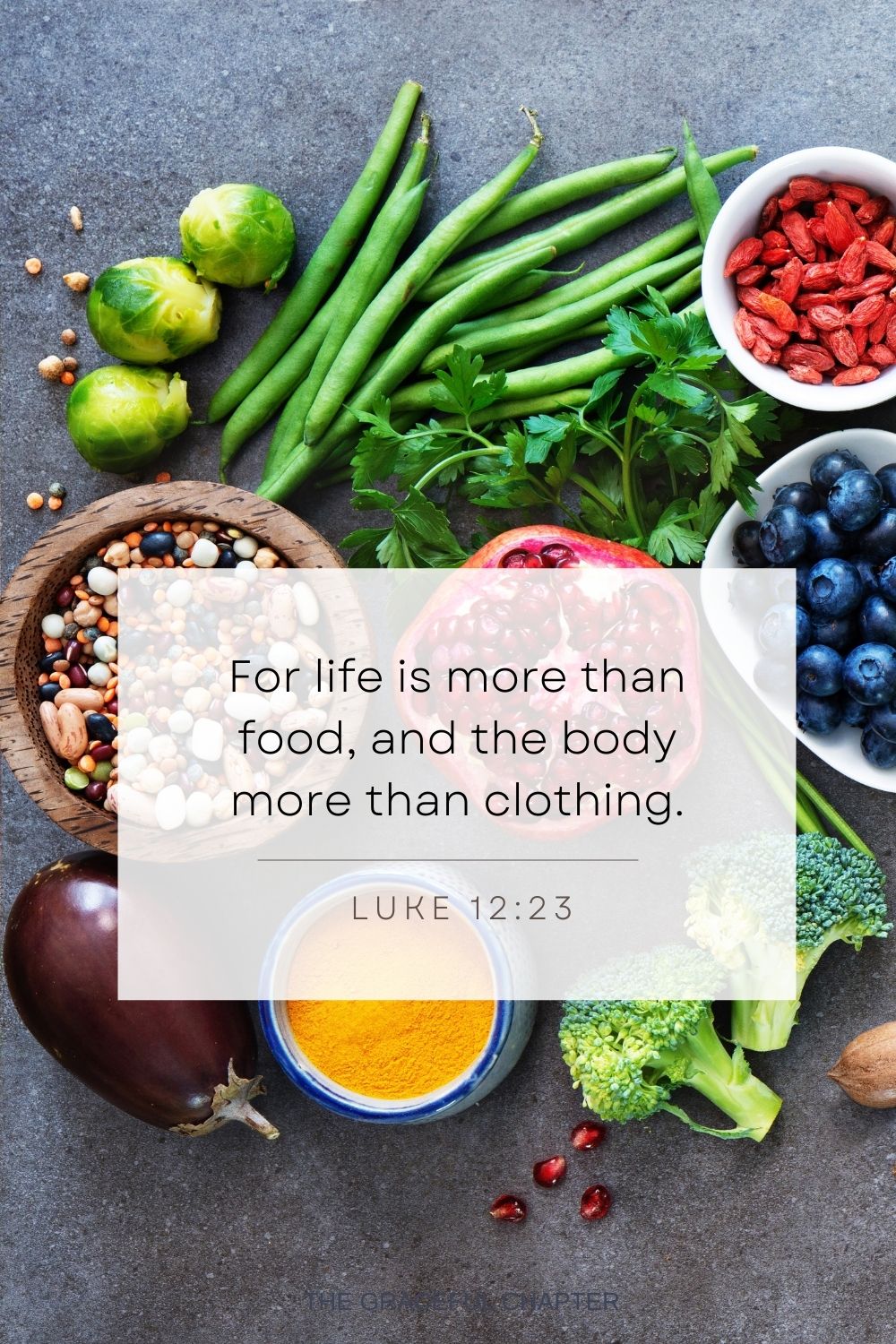 For life is more than food, and the body more than clothing.
Luke 12:23