These things I have spoken to you, that in Me you may have peace. In the world you [f]will have tribulation; but be of good cheer, I have overcome the world."

John 16:33
Depression can cause an absence of peace within you. When you are depressed, you do not see your life in the light that Christ has lit for you.
In Christ, you must have peace because Christ is the prince of peace. Since you are of flesh and live in the world, you will sometimes experience situations that will trouble your heart and cause you to be depressed.
The good news is that Christ through his death has already overcome any trials or tribulations that lay in wait for you. Knowledge is power. When you know the route you are on will lead you to victory, you are never concerned with external factors that will try to discourage or distract you.
Christ is the way, the truth, and the light, and so long as He is in your heart, you have nothing to fear or be depressed about.
Imagine your father assuring you that he has already overcome all the dangers that were haunting you on your way home from school. You will stride confidently towards home each day knowing that nothing on those streets can harm you anymore.
It doesn't mean that you will not see scary things from time to time, but it means that those difficult things which have already been declared powerless over you must not be able to cause you to fear.
Depression comes when our lives on earth are not going according to how we planned them. You can get depressed when your usual way of life is abruptly disrupted by some unforeseen circumstance.
But the gracious and all-seeing God that you serve has already assured you that He can see a lot further down the road than you can. And he says that do not be anxious or depressed because He has already overcome the dangers ahead of you.
Live your life knowing that every obstacle you face is not the end of your journey because there are more opportunities ahead for you and the Lord has already overcome your challenge.
Prayers for depression
Prayer for depression after bereavement
Father Lord in heaven
Please help me through this loss
It has shaken me to my core
I can't even focus on anything anymore
I keep crying when I think about it
I pray that you keep my loved one in your bosom
But help me get over this
I feel destroyed emotionally
Please give me strength
And help me recover from this
Amen
Prayer for grief and depression
Merciful Father,
I believe you have good reason for everything that happens
And I know that you are always in control and even when bad days
like this come, it is because you are preparing better days
But although I know all this, I can't help but feel sad and lost
I've lost a very important part of my life and this is a very hard blow for me
I'm hurting Lord, my heart is breaking and I can't hold back my tears
I come before you today for comfort
Be my comforter, dear Lord, be my strength
Help me through the days. I feel broken and helpless
And for now, I just want the strength to make it through this time of my life
I believe you have better days ahead for me
All I ask for right now, is the strength to make it to the better days
Thank you, Merciful Father, for an answered prayer,
Amen
Prayer for depression after a breakup
Dear Lord in Heaven,
Everything was going smoothly
We were making plans for our future together
Yesterday, I was happy in this relationship
Today, I feel like I don't belong anywhere
I feel emotionally shattered
You are the Lord , that heals the wounds within too
Please heal me, Lord and help me through this
We planned a future together in this relationship
And suddenly, that future is no longer in sight
Please grant me foresight
Let me not dwell on this too long
Hold my hand and show me my true worth
and let this make my life better from now on
Amen
Prayer for holiday depression
Dear God,
This time of the year is always hard for me
Everyone gets to spend time with their family and loved ones
But I don't get to and I feel so sad and alone during this time
It makes me just want to stay in doors all day because when
I step out all I see are happy families
Lord, I pray for joy during this time of the year
This is the season of joy and merry-making
Let me feel that sense of joy within me
Fill my soul with gladness
Fill my heart with peace
Let me not look at what I'm lacking
Let me not think of what I don't have
But instead draw my mind to you and your word
In Jesus's name, I pray,
Amen
Depression because of sickness
Dear Lord
I have seen all the test results
The doctors have doomed me to get worse
I am scared and shaken deep down
I feel my strength seeping out of me
But I want to trust in you
Give me a sign of your presence in my body
Quicken me to rise up from my sick bed
Give me a glimmer of hope and life
Take over my body and fill it with divine strength
and let me live to tell stories of your goodness
Amen
Prayer for depression due to poverty
Dear Lord in Heaven
I need you
My life is in total shambles
I have lost everything I worked for
People mock me from near and far
Some say I did something evil to experience this
This is affecting my mental health
Please come and make a way for me
I trust in your ways, Lord
And I know you have not forgotten about me
I do not want to do anything evil
Let me not be deceived by evil doers
Let me remain steadfast in you
Give me your grace to find a way out of this
and let my lips be a source of constant praise
Amen
Prayer for depression due to unemployment
Father Lord in heaven
I have tried all I can to find employment
Every door I knock seems to shut tighter and tighter
I need your intervention
Come and overcome these demons
I wake up and stay in bed all-day
thinking of how I will get food to it
No one understands my troubles
Only you can hear and save me
Please be my solution
Make a way in this deep sea for me
and save me from disgrace
Amen
Depression due to divorce
Heavenly Father
I thought this union would last forever
But it is turning my life upside down
My partner wants to ruin my life and take everything I own
They are vindictive and want to see me in ruins
I am emotionally down right now
I can't find the strength to move on
They won't stop until they see me destroyed
Please be my lawyer
Let your divine grace and favor follow me
And grant me peace in my heart after this episode
Amen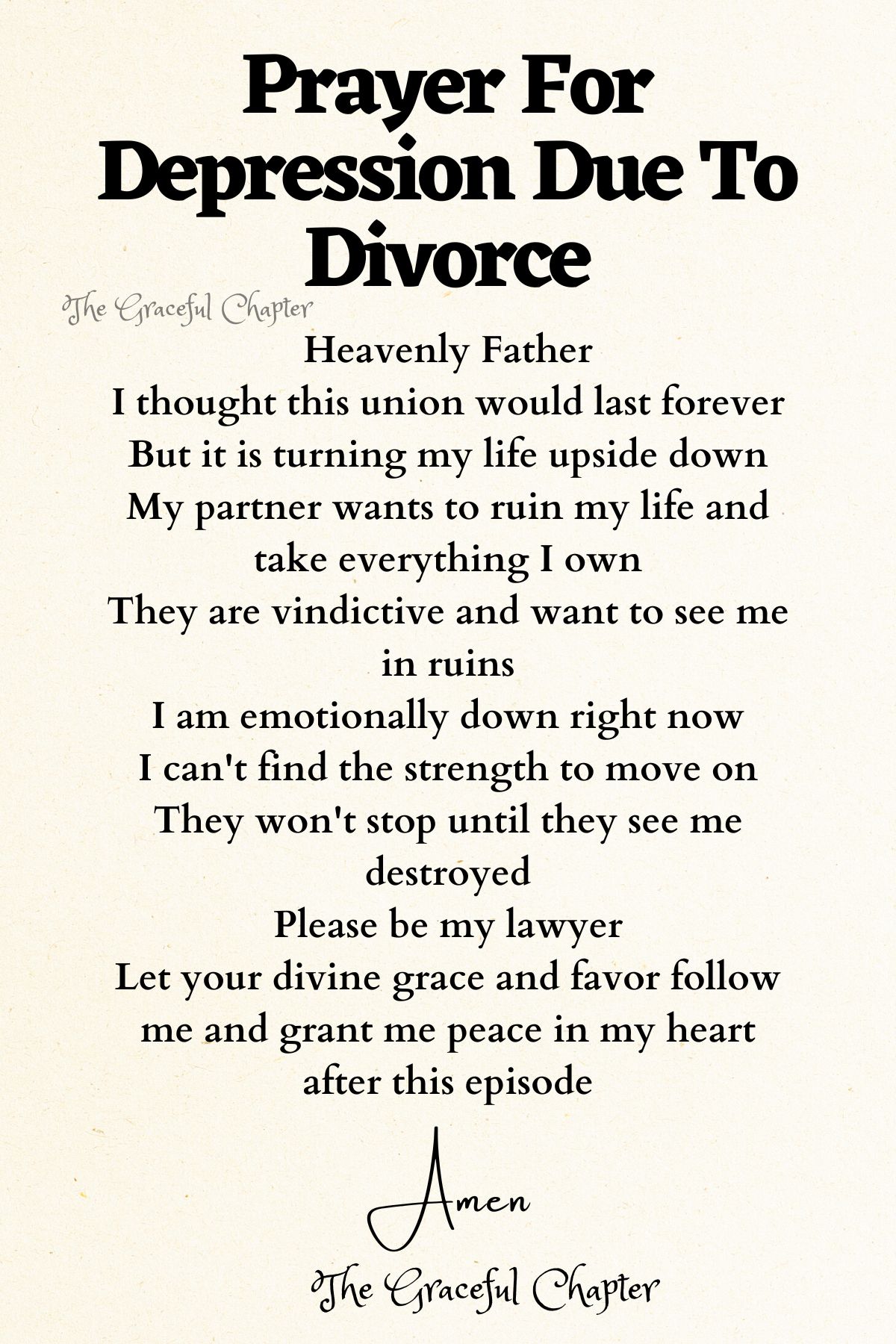 Prayer for depression due to childlessness
Dear Lord in heaven
It's been years since I've been married
I do not have a child of my own
People mock me everywhere I go
I do not find any reason to smile anymore
The joy in me keeps diminishing
I do not know what I did wrong
Dear God, please help me
Forgive any sin I committed to go through this
Let my future be bright with children
Let those who mocked me be disgraced
and let your divine light shine in my life
Amen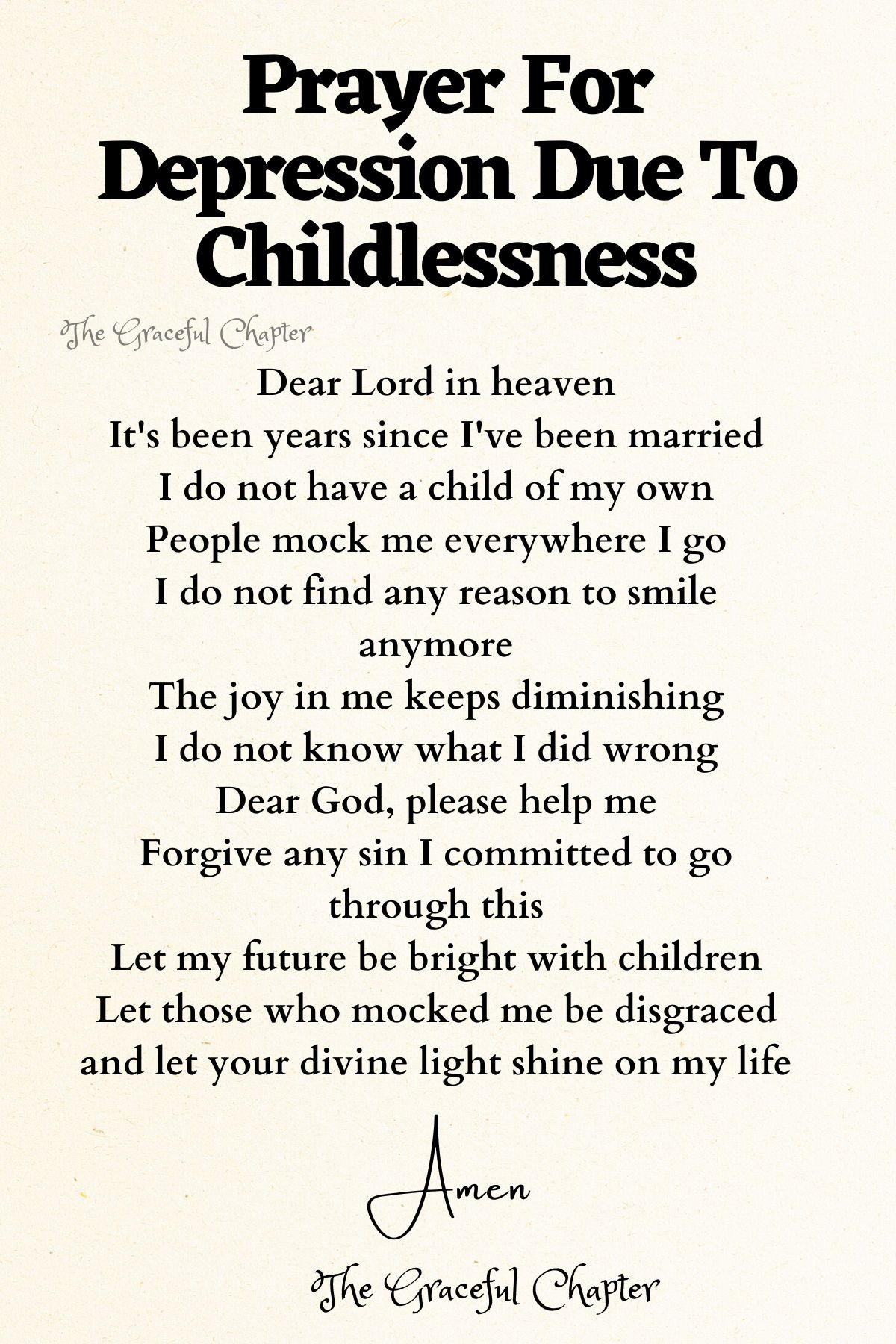 Prayer for depression after losing property
Father Lord in heaven
This loss has affected me immensely
I have to start my life from scratch now
I find myself staring into the distance and completely not present sometimes
My life has often been in danger because of this
My former glories have all disappeared
My life is in the balance and I am losing the will to live
Please help me find peace
Grant me relief from this pain
Take away my disgrace
and let my latter glories be greater than my former ones
Amen
Prayer for depression after disability or accident
Father Lord in heaven
My life has completely altered after the accident
I did not see this coming
Yesterday, I was whole and needed no help
Today, I am disabled and completely helpless
Please see me through this trial
You who made the mountain and the sea
You can also heal my broken heart and soul
Touch me with your grace and strength
Let me live a better life than I did before
Bring peace to my heart and let me see the brighter side
Fulfill me and let me not feel like an outsider
Amen
Do not allow depression to enter your heart. It is the devil's way of telling you that God has forsaken you and doesn't care about what you are going through. Do not listen to those voices.
The fact that you are drawing breath means that the Lord cares for you and has given you the strength to overcome any challenge. Do not allow fear to enter your heart. God wants you happy and that is why he has already overcome any evil or obstacle in your life. He will not burden you with more than you can handle.
"No temptation has overtaken you except what is common to mankind. And God is faithful; he will not let you be tempted beyond what you can bear. But when you are tempted, he will also provide a way out so that you can endure it.

1 Corinthians  10:13