Anyone who does not love does not know God, because God is love.

1 John 4:8
As Christians, we should learn to live in love all year round and not just during Valentine's Day. It is a day we are reminded of the ultimate sacrifice made by a priest so that people could express their love toward one another in holy matrimony.
Love is sacrifice. When you love something or someone it means you are always willing and ready to lay down your life for the salvation of that person. There are ways God shows his love towards all his children. He gives us life and all the essential things we need to live.
He loves us by forgiving our sins and drawing us close to him every day. He gives us gifts and opportunities to make our lives better. We must also show love to one another in all the ways that we can. We must learn to forgive, encourage, help, provide for and show mercy to those we claim to love.
And above all these put on love, which binds everything together in perfect harmony.

Colossians 3:14.
God loved us first so we must love one another too. When we were yet sinners and did not deserve his mercies and glory he forgave us and gave it to us anyway. Do not expect anything back when you give love because love is selfless. Love because your Lord loves you in abundance and continues to show you grace and favor.
When someone wrongs you in any way think about the number of times you sin against God and the number of times you expect him to love and forgive you. When you live in grace you also have to extend the same mercy toward others and that is what the Lord expects from his children.
Valentine's day prayers for my loved ones
Valentine's day prayer to forgive
Dear Lord
This valentine's day, I pray that you give me a forgiving heart
Help me reconcile with all those who have hurt me in the past
Help me bring them closer to me than before
Help us settle all our differences and celebrate our friendship
Let this day carry with it a symbol of reconciliation
Let the past unpleasantness be lost in this day
Let us continue to love each other until the day we leave this earth
Amen
Valentine's day prayers for reconciliation
Heavenly Father
Thank you for my life today
I pray that you bring my lover back to me this special day
Help us resolve whatever happened between us that made us think we don't need each other
Let us take back the angry words we said to each other
Help us realize how much we need each other
Bring back all the good memories we made together
Remove any obstacles that are keeping us apart
Break all the walls that are keeping us away from each other
Give us patience and grace to be able to truly love each other and stay together forever
Amen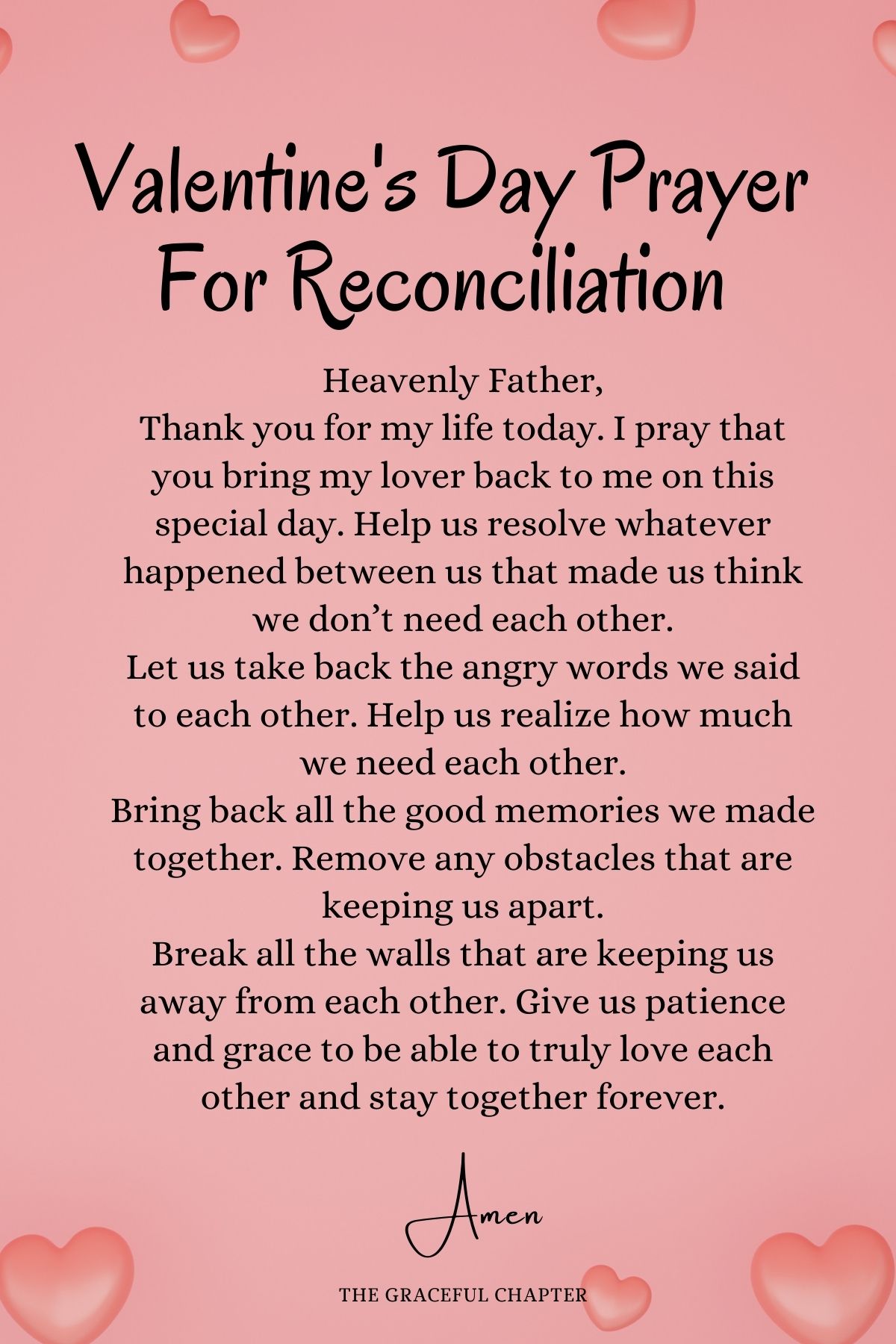 Valentine's day prayer for a soft heart
Dear Lord
I pray this day that you soften the hearts of all my loved ones
If I have done anything to hurt anyone that I don't know about,
I pray that you remove the anger from their hearts
Help them move on from it and embrace me in perfect harmony once more
Let the love that you have for us bring us together again
Let the grace that we enjoy from you cause us to settle all our problems
Give us the understanding to settle all our misunderstandings
Calm them down and make the love we once shared strengthen our bond once again
Amen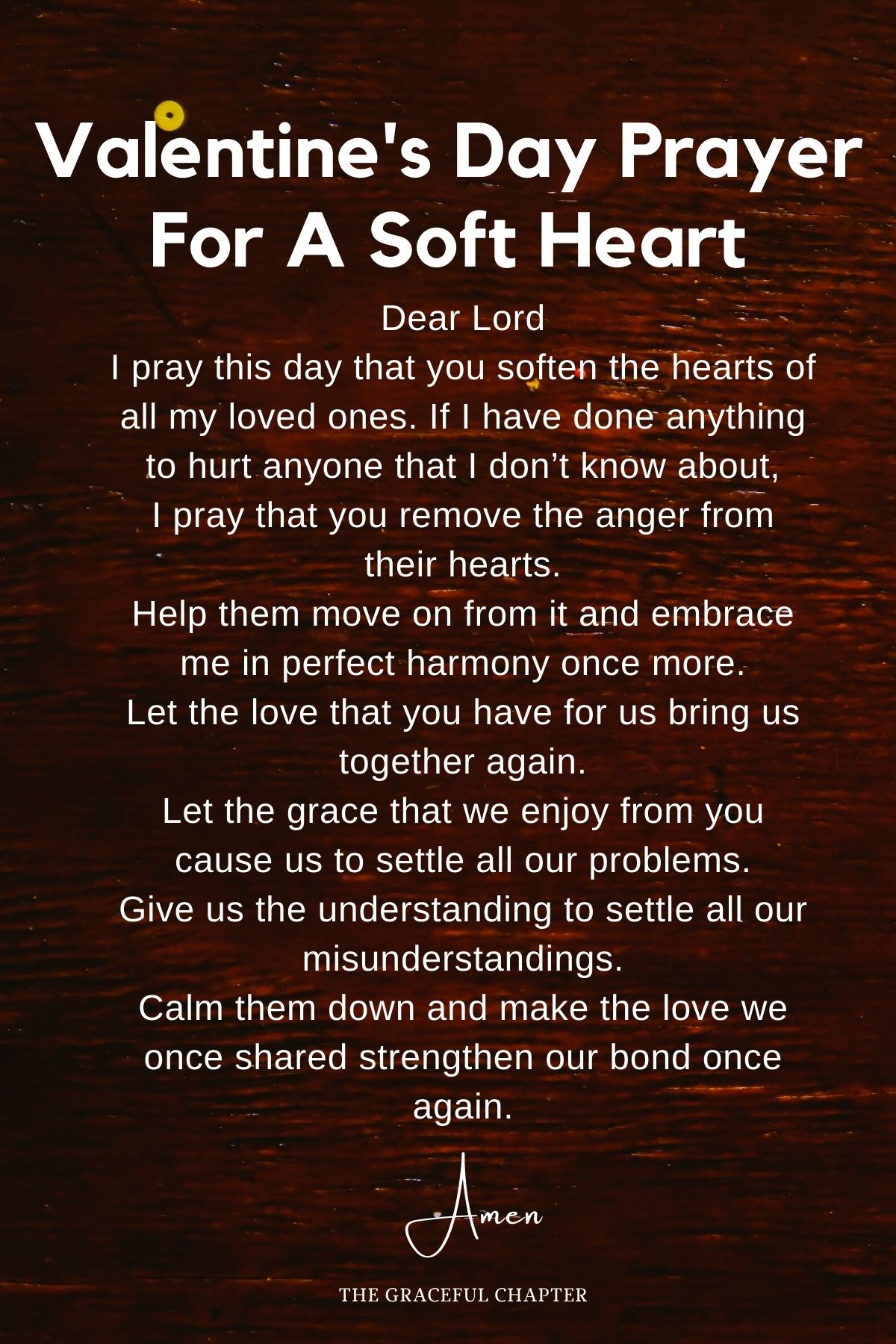 Valentine's day dinner prayer
Dear Lord,
Thank you for the lives of everyone here
Thank you for bringing us all together to enjoy a meal together
I pray for strength for each and every one of us
Grant us healthy lives and keep diseases away from us
On this valentine's day let us experience your love in abundance
Let us feel your goodness and mercy firsthand
Help us in our marriages, our business, and our lives
Give us the strength and perseverance to achieve all our goals
Help us overcome all adversities in our lives and
Give us hope, favor, and grace in excess
Bless us in all our endeavors
In Jesus' name,
Amen
Prayer for relationships on valentine's day
Heavenly Father
Today we pray for relationships
Whether old or new we ask that you give it peace and strength
Help it flourish and survive the tests of time
Grant them the understanding to tolerate each other's imperfections
Grant them their heart's desires
Let all the plans they have made come true without any disruptions
Build them up the way you want to
And let them stay in you and learn from your word always
Amen
Valentine's day prayer for wife
Dear Lord
I pray for my wife this day
I pray that you make her know and understand the love I have for her
Let her realize how she changed my life and made me feel things I never thought I would
Bless her in all she does and let her know how much I appreciate her
Give her peace in her heart and grant her favor in all she does
Let all her dreams be real and let her achieve all her goals
Continue to give her strength and good health to enjoy the love you have for her
make her fruitful in her work and her business
And grant her the grace to be able to balance her work and mom life
Let us continue to live and love in harmony every day
Amen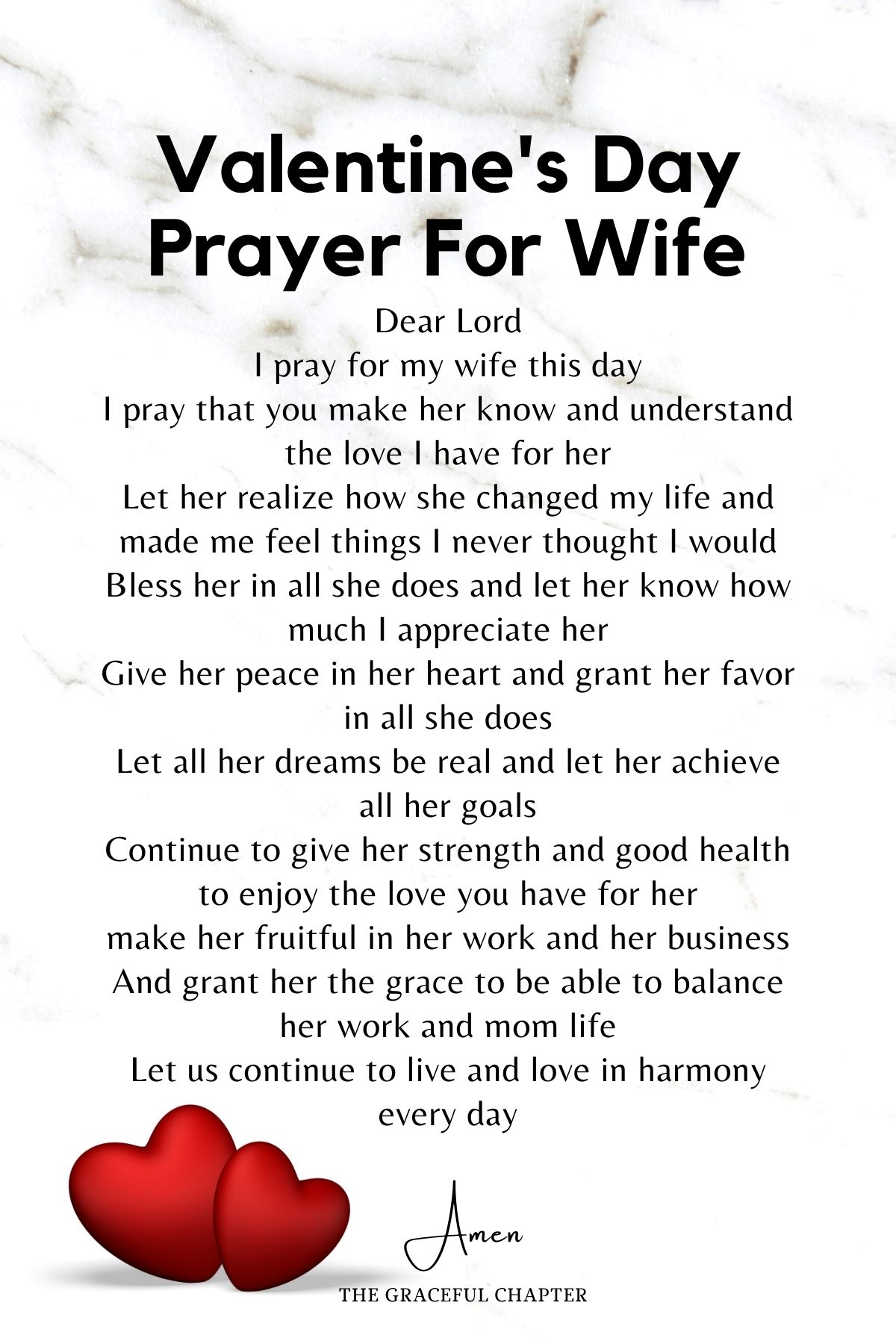 Related Posts
Valentine's day prayer for my husband
Heavenly Father,
I thank you for the life of my husband
Thank you for bringing him into my life
On this special day, let him know he's loved and appreciated
for all that he does for our family
Guide him in all his ways and always help him to make the
best decisions for his life and this family
Pour your peace into his life and remove any fears and anxieties he may have
Grant him divine strength coupled with divine favor in all he does
Bless his work and make him prosperous
Give him godly wisdom to be able to lead this family
Help him to always be a loving and understanding father and husband
Amen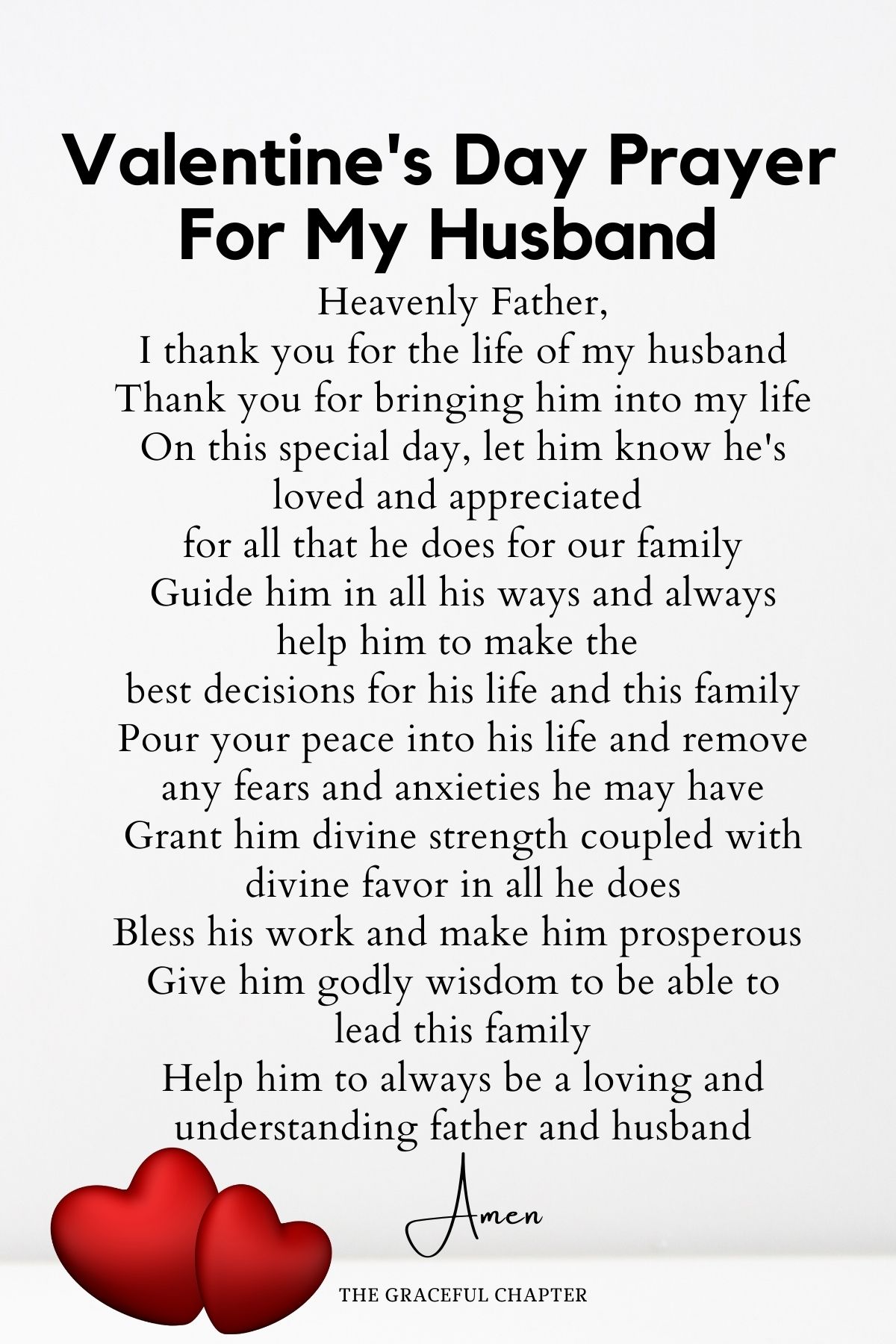 Valentine's day prayer for my children
Heavenly Father
This Valentine's day I pray for my lovely children
I pray that you strengthen them and make them know they are loved
Let them know that we are always there for them and
they can count on us when they need to
Help them grow in wisdom and strength
Bless them in their education and help them not attract bad company
Let the plans you have for their future come to fruition
Bless their friends and give them all their heart's desire
Amen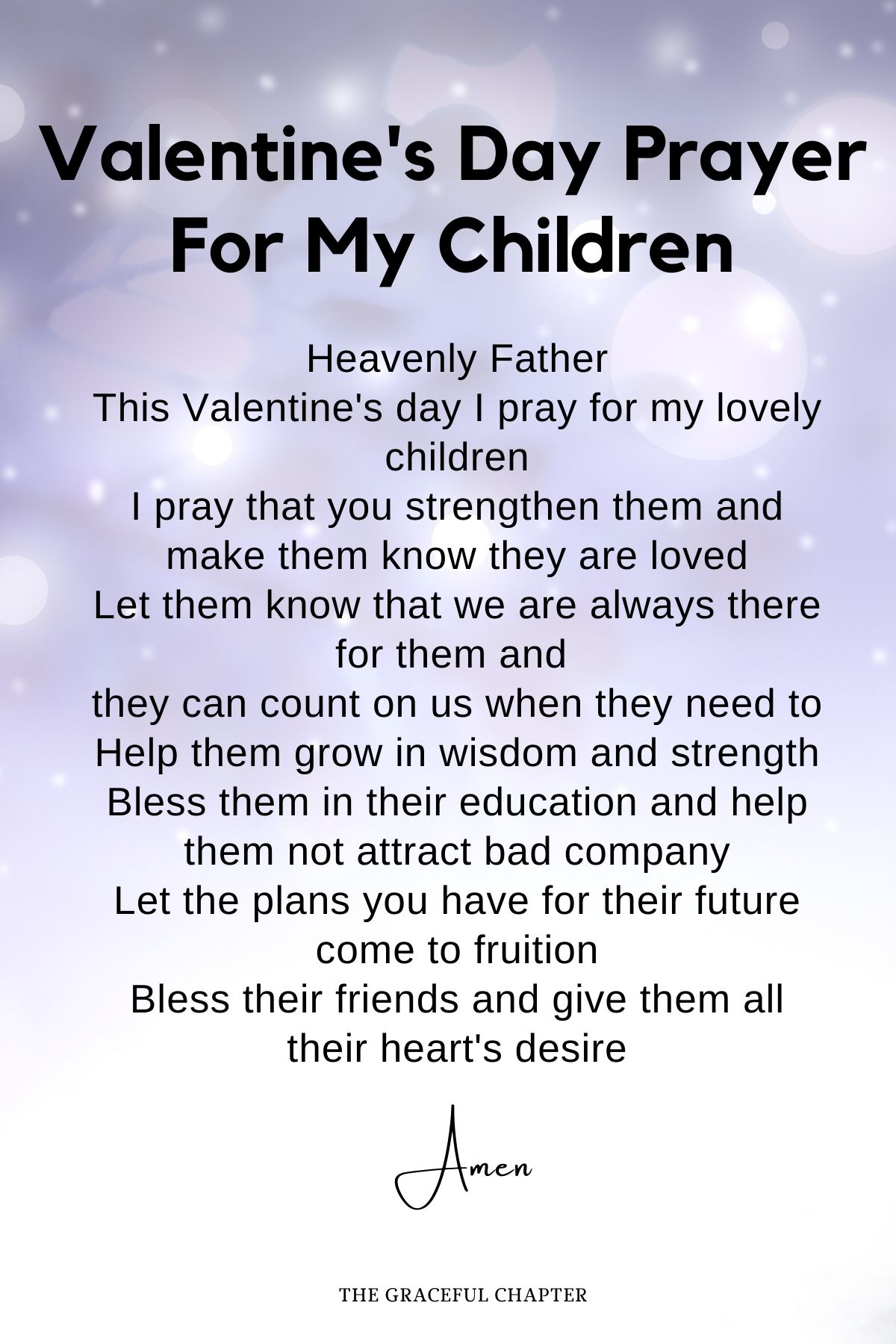 Valentine's day prayer for friends
Heavenly Father
I pray for my friends this day
Help them find love in their lives
Grant them the strength that they need to go through life every day
Give them good health
Give them the courage to overcome all their fears
Let them love their neighbors as themselves
Bless them to live for you all the days of their lives
Amen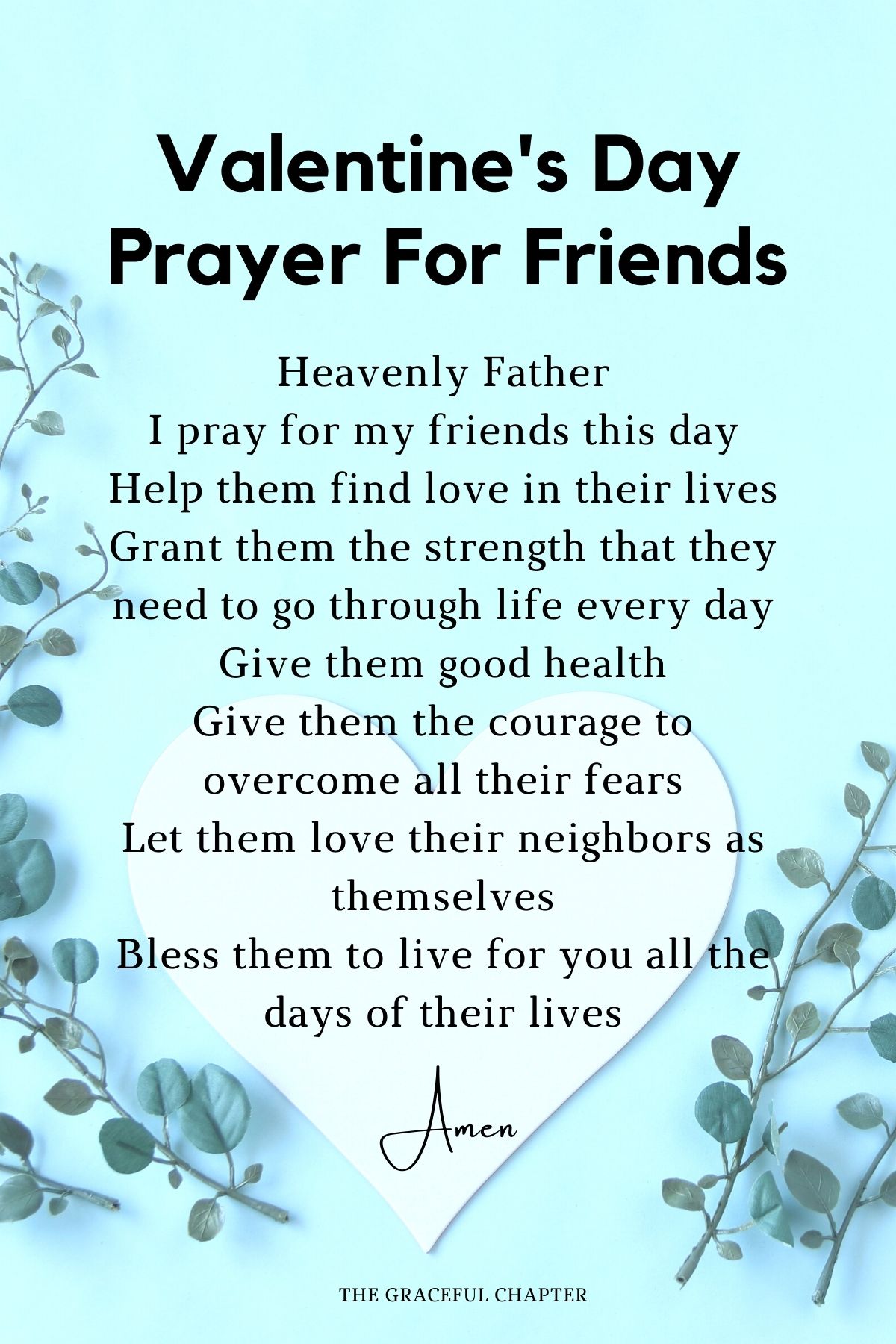 Valentine's day prayer for family
Dear Lord
I ask for your grace and favor upon my family on this day of love
Help us strengthen the bond of affection between us
Help us love each other in trying and testing times
We pray that the love that we share continues to grow stronger and stronger each day
Let us always be there for each other
Give us the strength and heart to forgive each other's faults and imperfections
Help us grow in love and strength in Jesus' name
Amen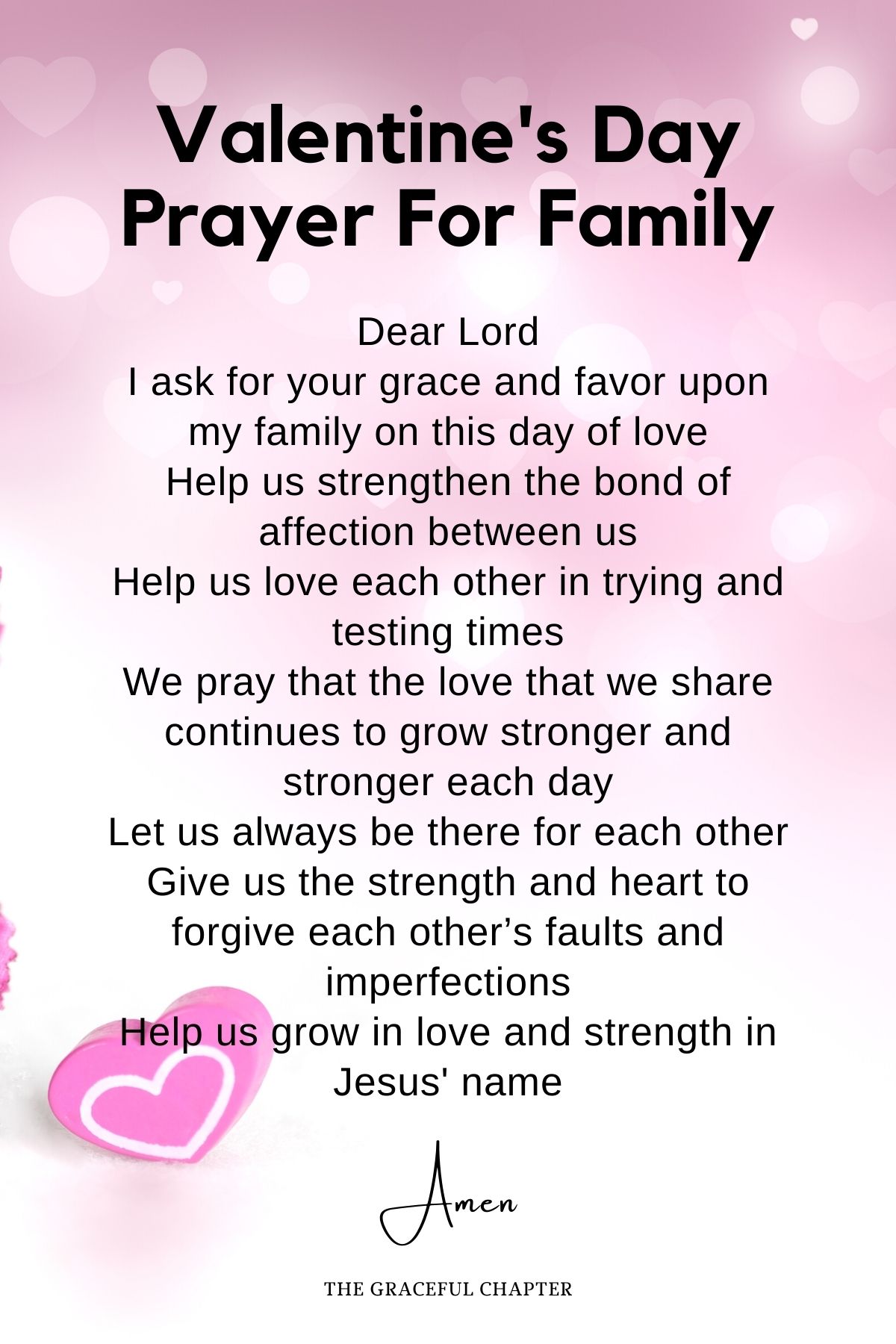 Valentine's day prayer for enemies
Heavenly Father
I pray for my enemies this Valentine's day
I pray that you replace the hate in their hearts with love
Help them learn to know the real me and not simply hate the idea of me
Bless them in their lives so they can focus on themselves
When they curse me, turn it into a blessing
Let their evil thoughts be turned into love
Grant them peace and understanding
Open their hearts and minds to appreciate life
and take all the vile and anger from their hearts on this day of love
Amen
Love is kind and gentle. Let love rule your life not just on Valentine's day but every day. God is love, so if we claim to know and live for him that means we must love all people and not just our friends. Ask him to help you forgive those who have wronged you in life.
Live in harmony with everyone and when people try to meet you with anger and hate, pour your gentility and love on them. Don't forget that water calms and quenches fire. As Christians, we must rule this world with love and help everyone live in peace and harmony. Let that be your mission on this valentine's day.
So now faith, hope, and love abide, these three; but the greatest of these is love.

1 Corinthians 13:13