Philippians 3:13-14: But one thing I do: Forgetting what is behind and straining toward what is ahead, I press on toward the goal to win the prize for which God has called me heavenward in Christ Jesus.
Examinations are supposed to be the ultimate test of character and intelligence after your training period. It measures our level of knowledge and gives an indication of progress and readiness to move on to new challenges.
As Christians, exams should excite us because it represents the final door to get through to experience your next level of perfection. God wants us to progress in excellence and distinction. He has already given us everything we need to succeed.
We have to understand that God has already prepared our place of success in our future. The script of your life has already been written. Our jobs are to play the roles and have faith in our Lord that He has already won the battle for us and we need not fret or be afraid.
Prayers for exams are meant to ask the father for his favor, protection, and strength through them. We ask him to remove all doubts and fears from our hearts ahead of the exams.
The evil one sometimes paralyzes us with fear and self-doubt during exams just to retard our progress and keep us from our ultimate goals in life.
Some people have fallen victim to this and have given up on themselves because they are too afraid to fail again. The Lord wants to tell you today that your latter glories will be bigger than your former one and your success lies ahead. Ask him for the strength to get over any obstacle so you can move into your new life of glory.
Prayers for exams
Prayer before Exams
Dear Lord
I pray for strength during this exam
I have done all I can to prepare for it
Only you know what is ahead of me
I pray for your grace and your favor
Grant me good health
Let me prepare very well for it
Give me the confidence to approach it and do well
I reject any evil plans of the devil to get me sick or incapacitated for this exam
Help me remember all the right things I need to pass this exam
Help me not get distracted by anything wayward
Help me face it with conviction and good conscience
In Jesus' name,
Amen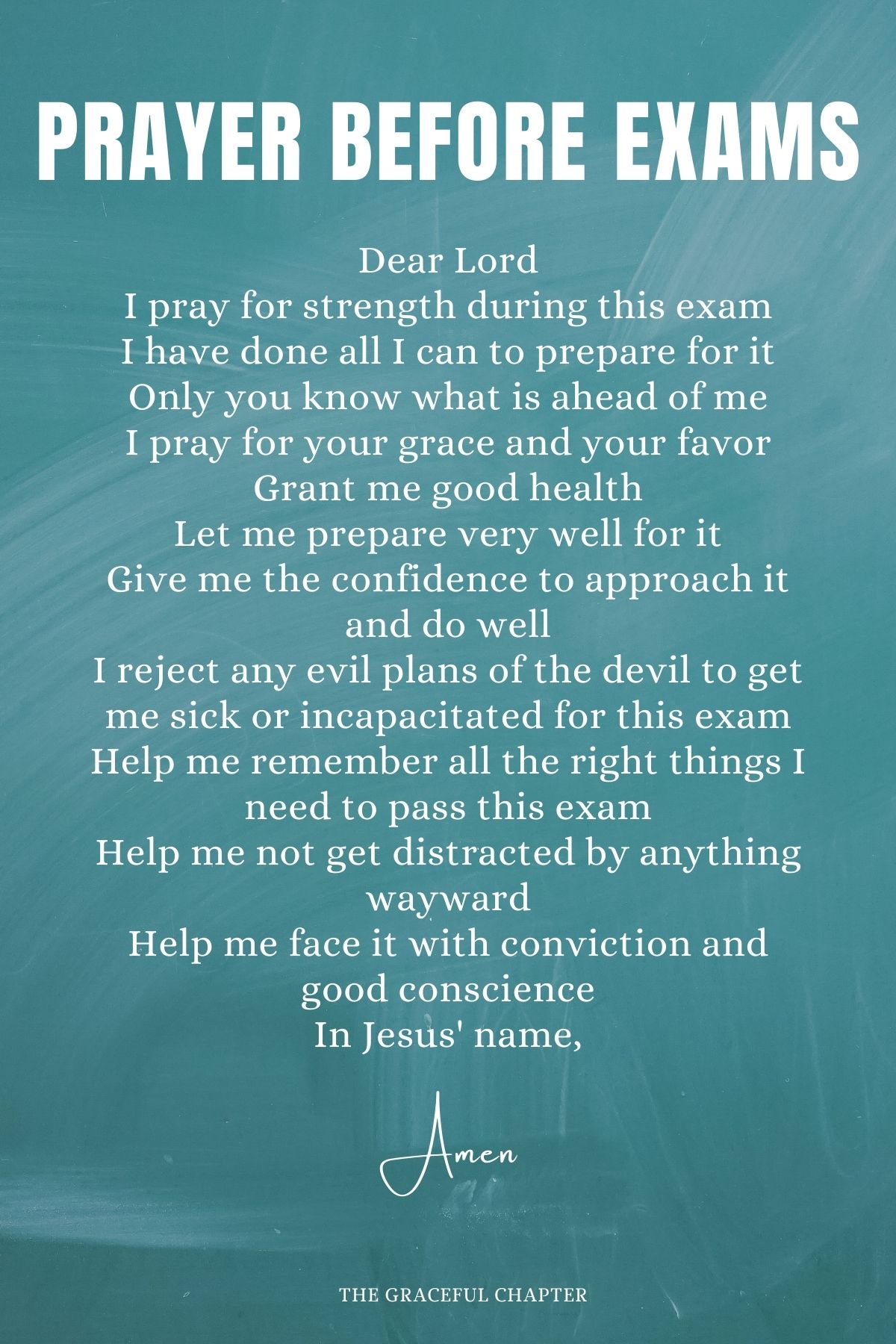 Prayer after Exams
Heavenly Father
Thank you for helping me finish this exam
Through the late-night studies and early morning preparations you carried me
You protected me when I traveled to and from the exams center
You kept me out of trouble when others around me tried to be mischievous
You took away the temptation for me to cheat
You helped me finish all my papers on time
You reminded me when I needed remembrance
Thank you for keeping me focused and confident through it all
Thank you for helping me complete what I started
Thank you, Lord I am truly grateful
Amen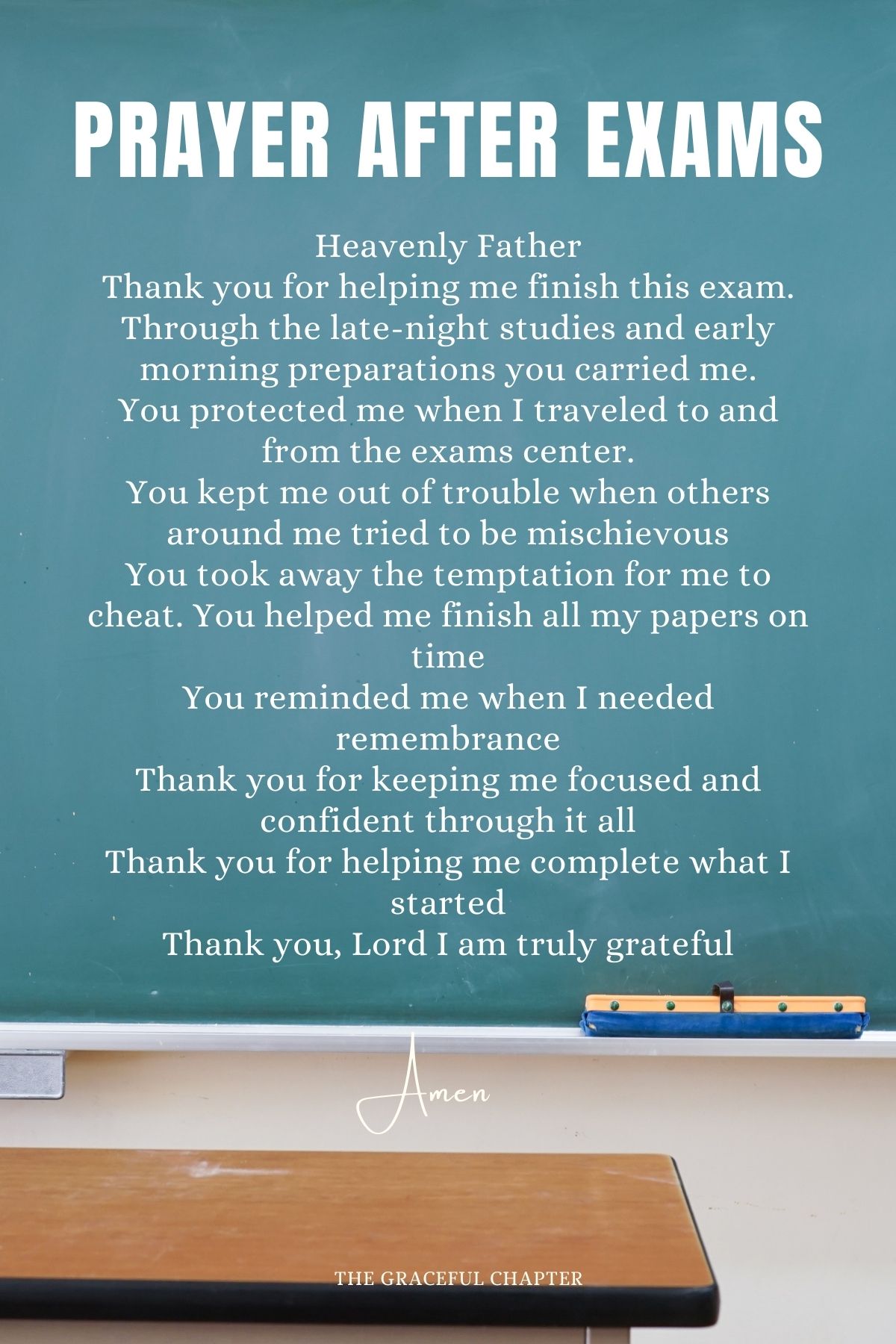 Examination Prayer for Students
Father Lord in heaven
I pray for wisdom and guidance today as I approach this exam
I ask that you give me courage and grace so I can pass this exam
Thank you for the protection you have given me in school
I pray that you help me remember all I need to sail through this exam
I have studied and prepared for it but I still need your direction to go through it
Help me resist all temptations to cheat
Help me remain focused and write the exam to the best of my abilities
I pray for strength and good health through this exam
I resist all ailments and weaknesses in my body before this exam
Help me stay confident and write what I know with spiritual conviction.
Amen
Prayer for Successful Exams
Heavenly Father
Thank you for how far you have brought me
Its time for me to be evaluated through examination
I pray for a successful examination
I pray against any unforeseen circumstances that may cause this exam to be called off or canceled
I pray for a perfect and harmonious exam
I pray for protection against hooliganism and inappropriate behavior
I pray for the invigilators and all the participants
Help each of them fulfill their roles without any consequences
We cancel the evil plans of the devil to mar this exam
Let order and peace prevail during this exam
And let it start and finish in success and perfection
Amen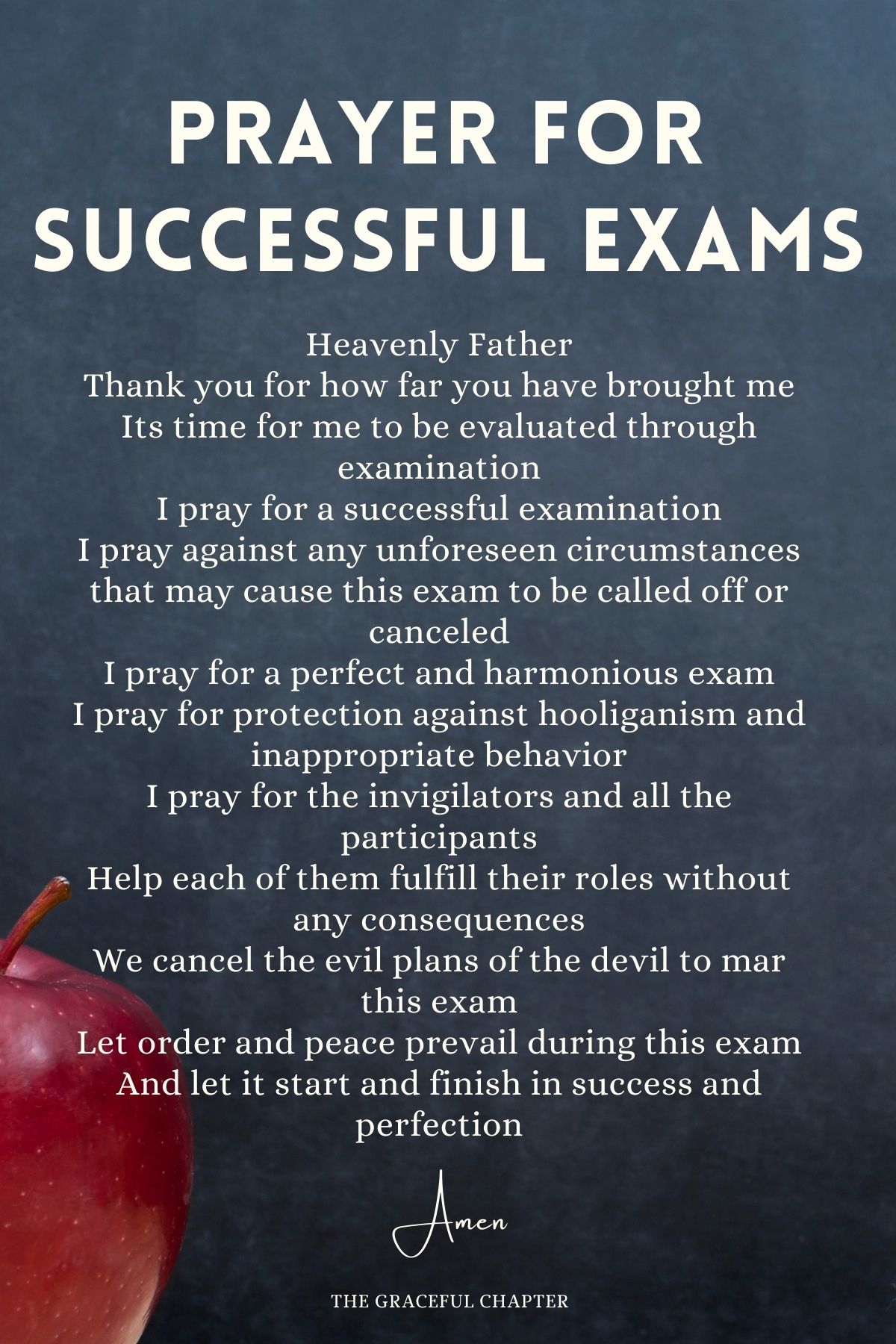 Prayer for Passing Exams
Dear Lord,
I pray to you today to help me pass this exam
I have been trying my best to prepare for it but I need your divine guidance and strength
I ask that you open my mind and my eyes well to solve every question with conviction, distinction, and perfection
I ask that you remove all self-doubt from me
Let not all my toil and studying be in vain
Help me pass with flying colors
Give me the courage to attempt the questions
Make me defiant in the face of adversity
When I feel weak, make me strong
When I feel ill, make me well
Let your spirit be with me through it all
and help me achieve success and reach my full potential
Amen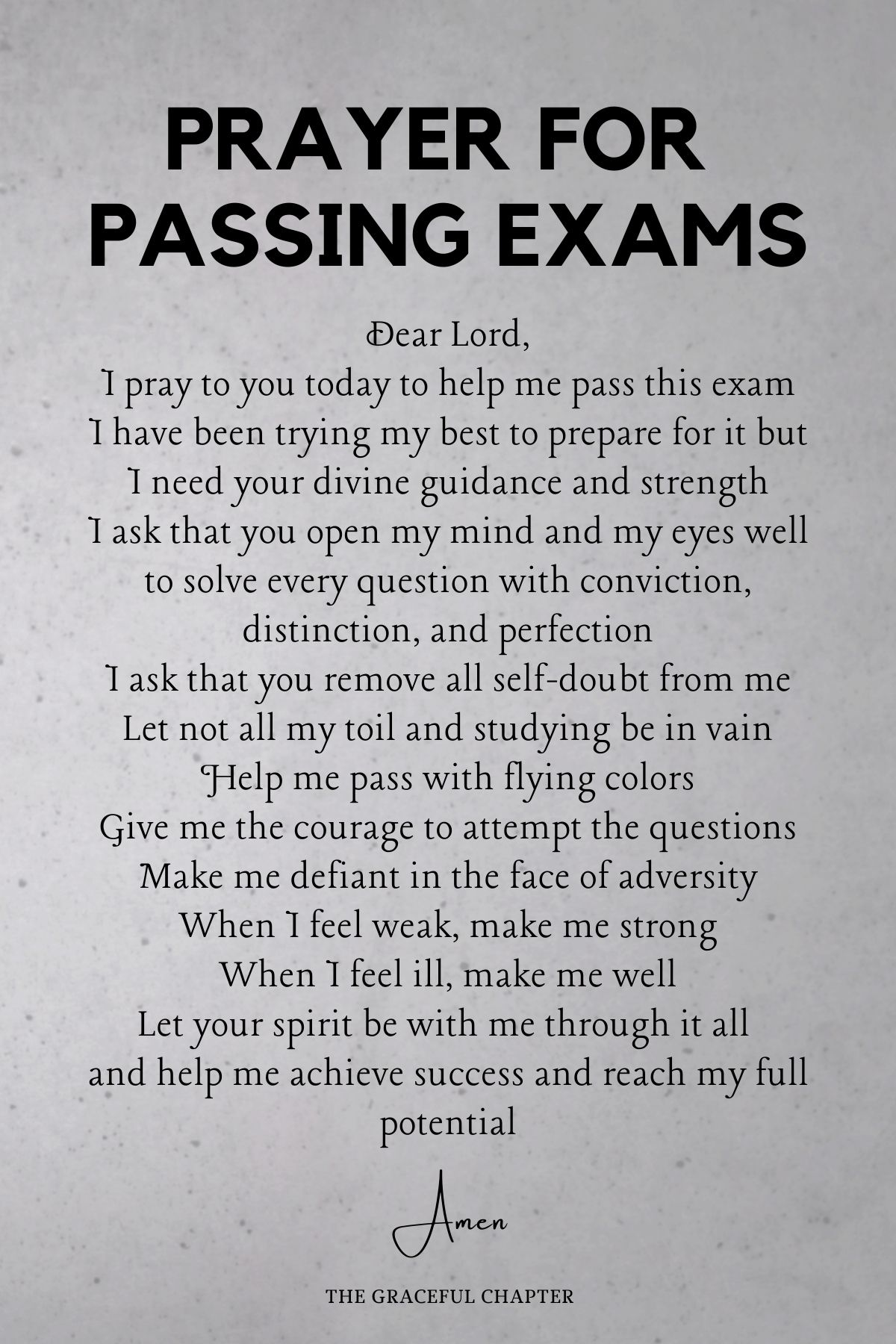 Related Posts
Prayer for Focus during Exams
Father Lord in heaven
Thank you for how far you have brought me with my studies
Through all the studying and the mock exams, you have carried me through
I pray today for absolute focus and concentration during these exams
I pray that you let me not be distracted by problems at home
Help me keep totally focused on this exam
Release my mind from all trivial issues
Clear my brain of any rubbish and fill it with the knowledge of things I must remember
Give me the wisdom to know what to focus on before each test
Help me discern between what is relevant and what is not
Remove all delusions from my life
Let me put my trust in you
Let me not rely on my own strength
And bless me to finish this race with excellence and distinction
Amen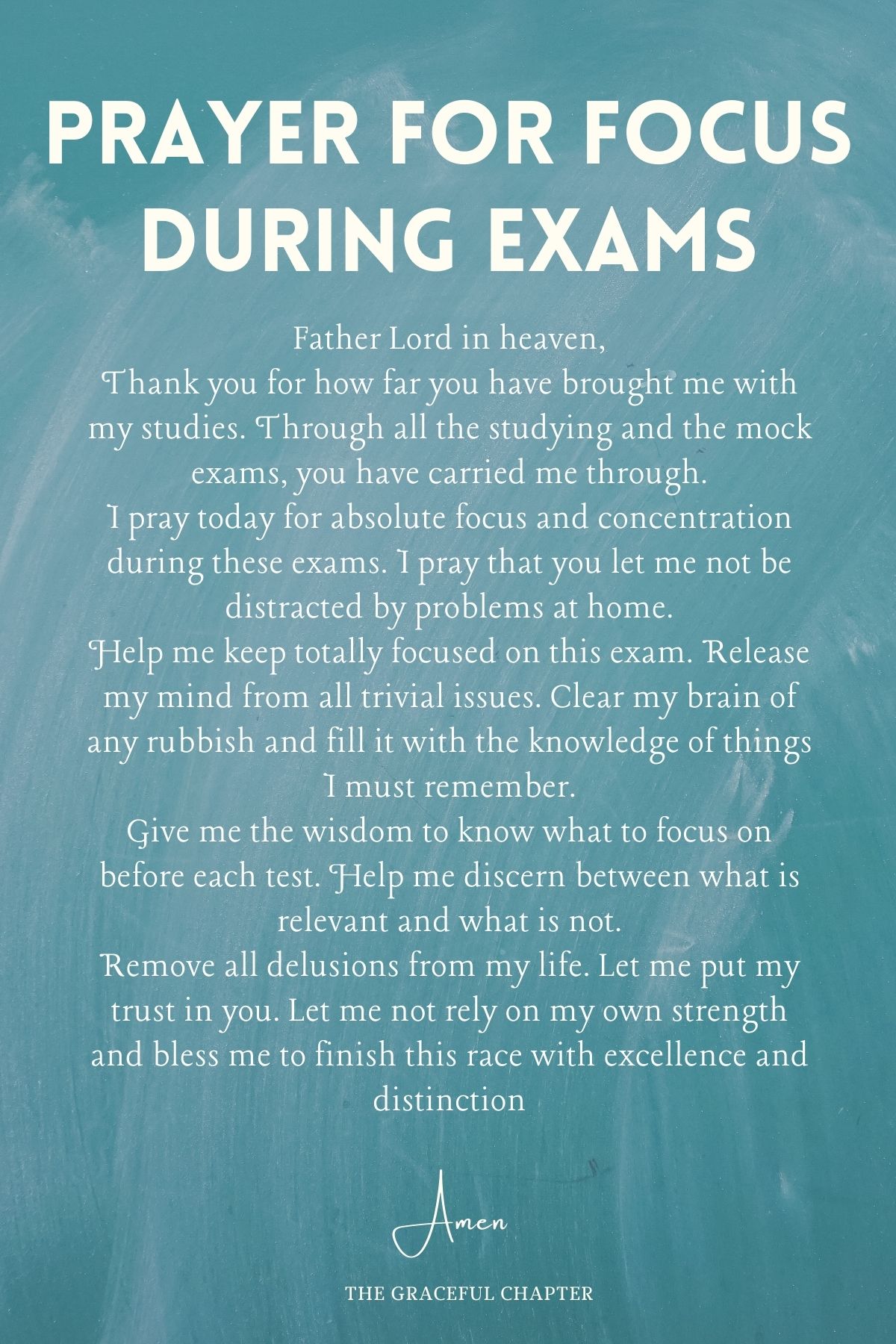 Prayer for Strength during Exams
Heavenly Father,
I pray for strength during this exam
I pray for defiance, stability, and fearlessness
Even if some don't go well, help me not give up
Help me rest on your word that says I will be glorious in the end
Let me not be shaken or moved by any difficult papers
Help me stand my ground and keep focused on all my papers
Bless me to not lose faith in you
Cause me to keep fighting until the end
Let me keep hope alive and breeze through this exam
Let me be courageous and never be perturbed
Thank you, Lord, for an answered prayer
Amen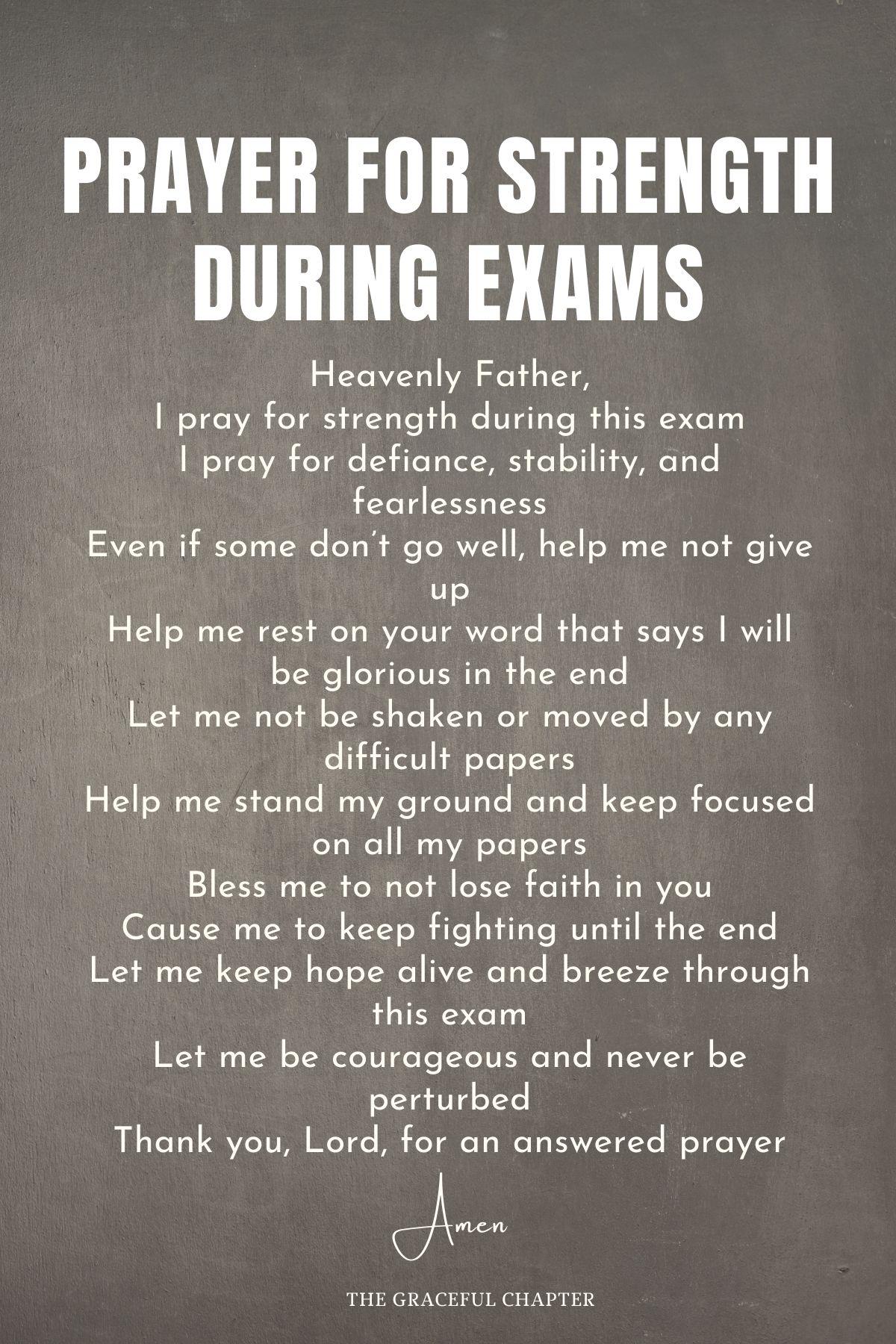 Prayer against Cheating during Exams
Dear Lord
I thank you for how far you have brought me
I pray for guidance and direction for this important moment of my life
I pray against any evil mechanisms of the devil
I pray for the strength to withstand any temptation to cheat
I ask that you keep my path clear of people who can have a negative influence on me
Let me not buy into any alleged leaked answers that will put me into trouble
Let me keep my dignity and pride throughout this examination
Let me be honorable through this exam
During the exam, let me not be tempted to cheat
Give me the strength to have courage in my own abilities
Strengthen my faith in you, so I don't shiver
Keep me under your protection and let me go through it smoothly
Amen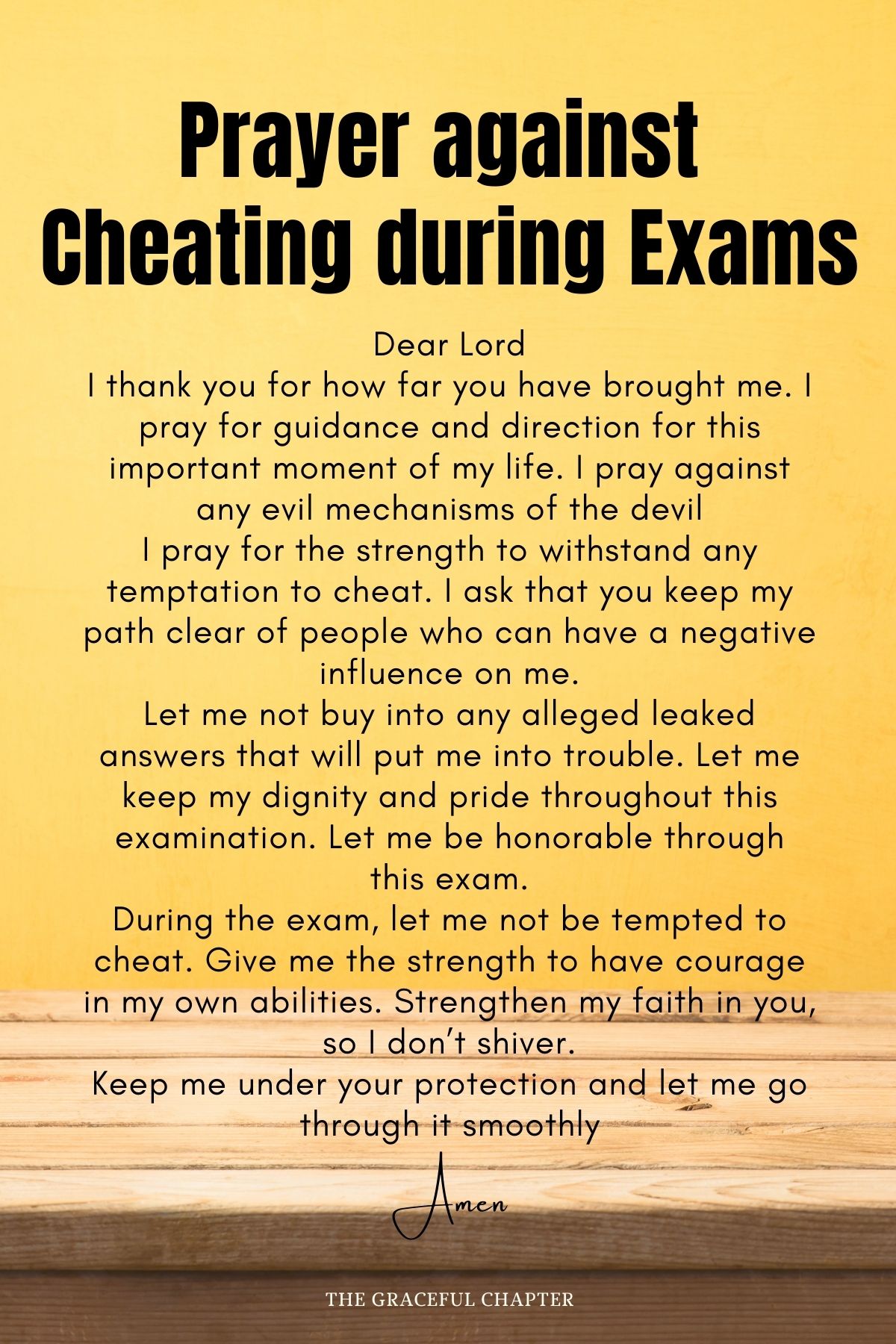 Prayer after Failed Exams
Dear Lord
I pray today for your assistance
I have repeatedly taken this exam and have not passed
I am almost on the brink of exhaustion
I feel like throwing in the towel
But I know that you have not forgotten about me
I pray for strength and the will to try again
I want to move over this hurdle in my life
I want to progress in glory and not be stuck in this place for a long time
Help me overcome this challenge
Show me the way and direction to succeed
Bless me to pass this exam
Let the money and resources I have wasted be worth it
Help me succeed and be the best version of myself
Amen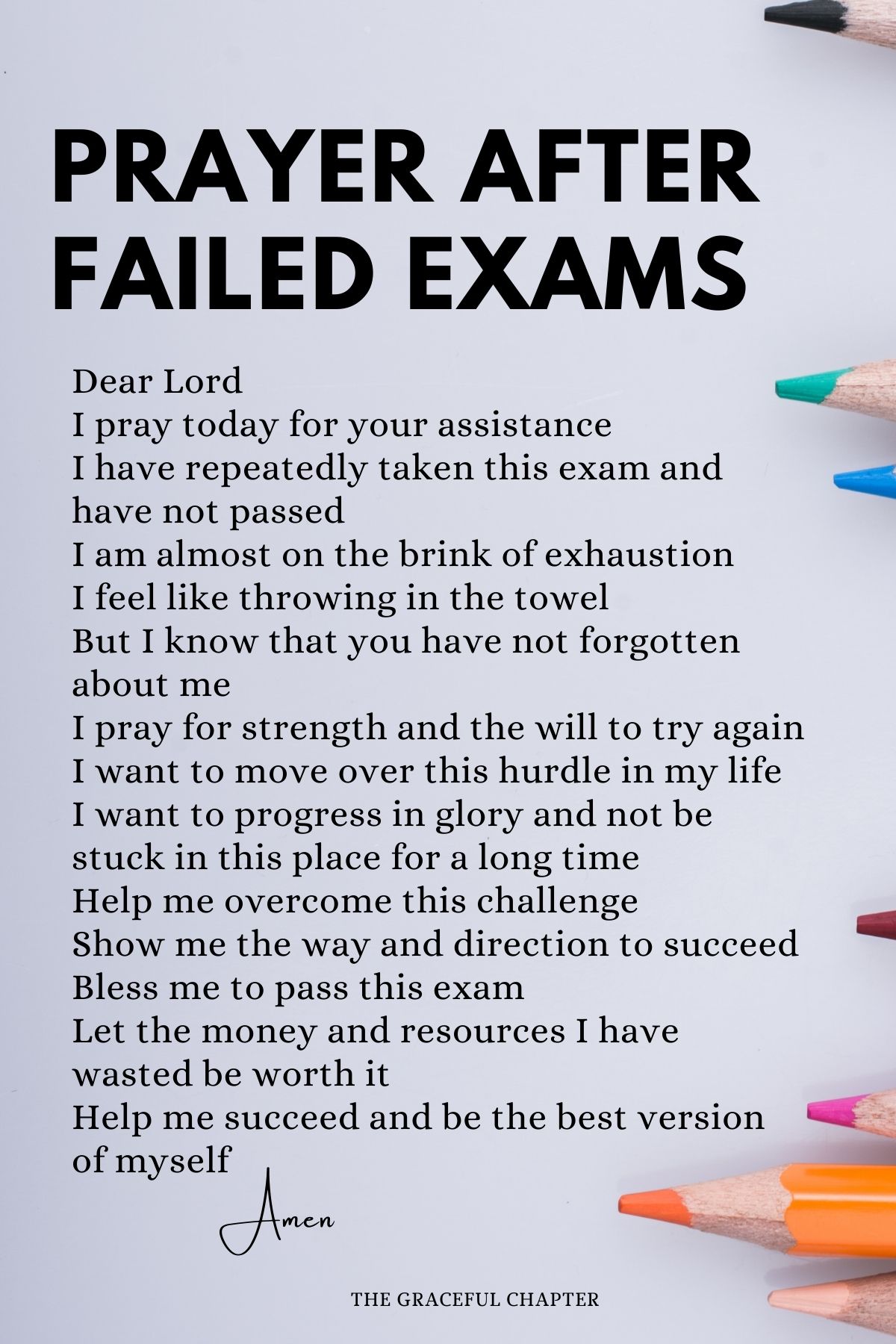 Examinations can get people stressed out, but always remember that God is by your side and he wants you to do well. Have faith in him and prepare yourself for the exam. Ask him to be your teacher and your companion. Go into the exam hall with confidence, focus, bravery, and faith. Know in your heart that he will not forsake or neglect you. Be convinced inside you that he will see you through.
2 Corinthians 4:7-11: But we have this treasure in jars of clay to show that this all-surpassing power is from God and not from us. We are hard-pressed on every side, but not crushed; perplexed, but not in despair; persecuted, but not abandoned; struck down, but not destroyed.
We always carry around in our body the death of Jesus, so that the life of Jesus may also be revealed in our body. For we who are alive are always being given over to death for Jesus' sake, so that his life may also be revealed in our mortal body.