A marriage is a spiritual union in the eyes of God. It is two people who have decided to leave a piece of them behind and join together in holy matrimony for as long as they shall live.
Marriage comes with a lot of uncertainties. The road of marriage is not a straight one. There are winding roads, strong winds, terrible weather, and very low visibility on the journey of marriage. There are people who do not survive the challenges and difficulties of marriage and end up breaking the contract.
People enter into marriage for all sorts of reasons. Some enter to gain, others enter because they are tired of being alone and others do it because that is what society demands. These prayers for your marriage are purposed to renew your strength each day during your lifelong commitment.
Ephesians 5:25 entreats husbands to love their wives the way Christ loves the church. Christ is the center of the church and his sacrifice means that everyone no matter who they are or where they come from is loved by him once they accept him.
Christ's love for us is unconditional and sacrificial. He bore our sins and was sacrificed to death so that we would live without blame. A marriage is a sacrifice of your life for somebody. To live together and share your body, mind, money, strength, patience, and future with somebody. Just like the church, Christ should be the center of your marriage.
He should be the reason for every decision you make. He should be your leader, your comforter, your protector, your mentor, your provider, your healer, and your mediator. Let Christ in your marriage. Seek God's divine presence every day and let the Holy Spirit take control of your marriage.
Prayers for your Marriage
Prayer for Patience in a Marriage
Dear Lord,
Thank you for bringing us together
We know that we are not perfect people
We know that there will be times when we think we hate each other
There will be moments when we feel we are not getting through to each other
We may believe sometimes that this marriage is a waste of time and we should have never gotten together
There will be times we may feel cheated on or deceived and not respected
In such times, we pray for patience and long-suffering
Give us the courage to get out of these sticky situations
Grant us the wisdom to understand that we love each other
Make our bond stronger than ever in such times and let us look up to you
Help us not take our stories outside and push us to only come to you for answers
Be our mediator and our motivation
Let us stay calm and trust in you at all times
Amen
Prayer for Trust in a Marriage
Precious Lord,
Thank you for the love that we share every day,
We love each other so much and every day together is like a dream come true for us
There is a whole world out there full of people who will want to plant doubts in our minds concerning our marriage
We will face temptations to stray or not trust each other
People will tell us not to trust each other
There will be pressure from people to try and plant deceit in our relationship

There will be money issues that may cause us to doubt each other
We will be apart from each other at certain times
Through all these things, let us remain loyal and trusting to each other
Let us not allow others to project their insecurities on us
Let us listen to each other at all times and confide in ourselves
Shield us from the evil plans of our enemies and be our barrier from evil intrusions
Amen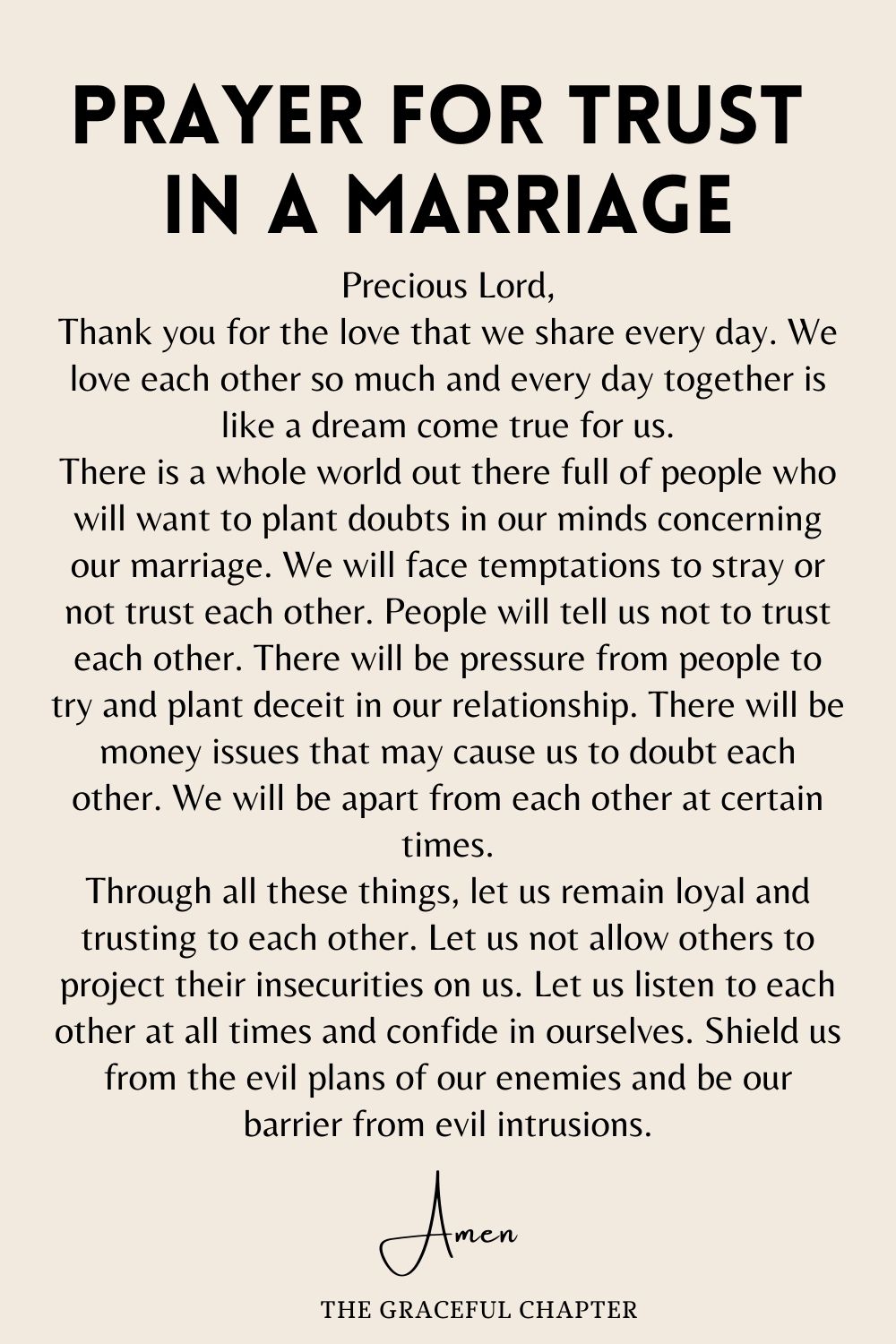 Prayer for Strength in a Marriage
Almighty Father,
Thank you for blessing our union
It has been a calm journey so far, but we know it won't be like this forever
We pray today for strength
Strength to resist the devil and his intentions for our marriage
To stand firm through all the difficult trials and tribulations
Through financial problems and sick days
When we are physically ill and cannot do the things we normally do
We pray that you strengthen us to stand by each other
When matters arise and threaten to derail our union,
we ask for your heavenly strength and courage
When we find ourselves with few options and we are desperate,
we pray that you help us remain united and stick together
Give us the power to overcome every impediment that we face
In the mighty name of Jesus have we prayed
Amen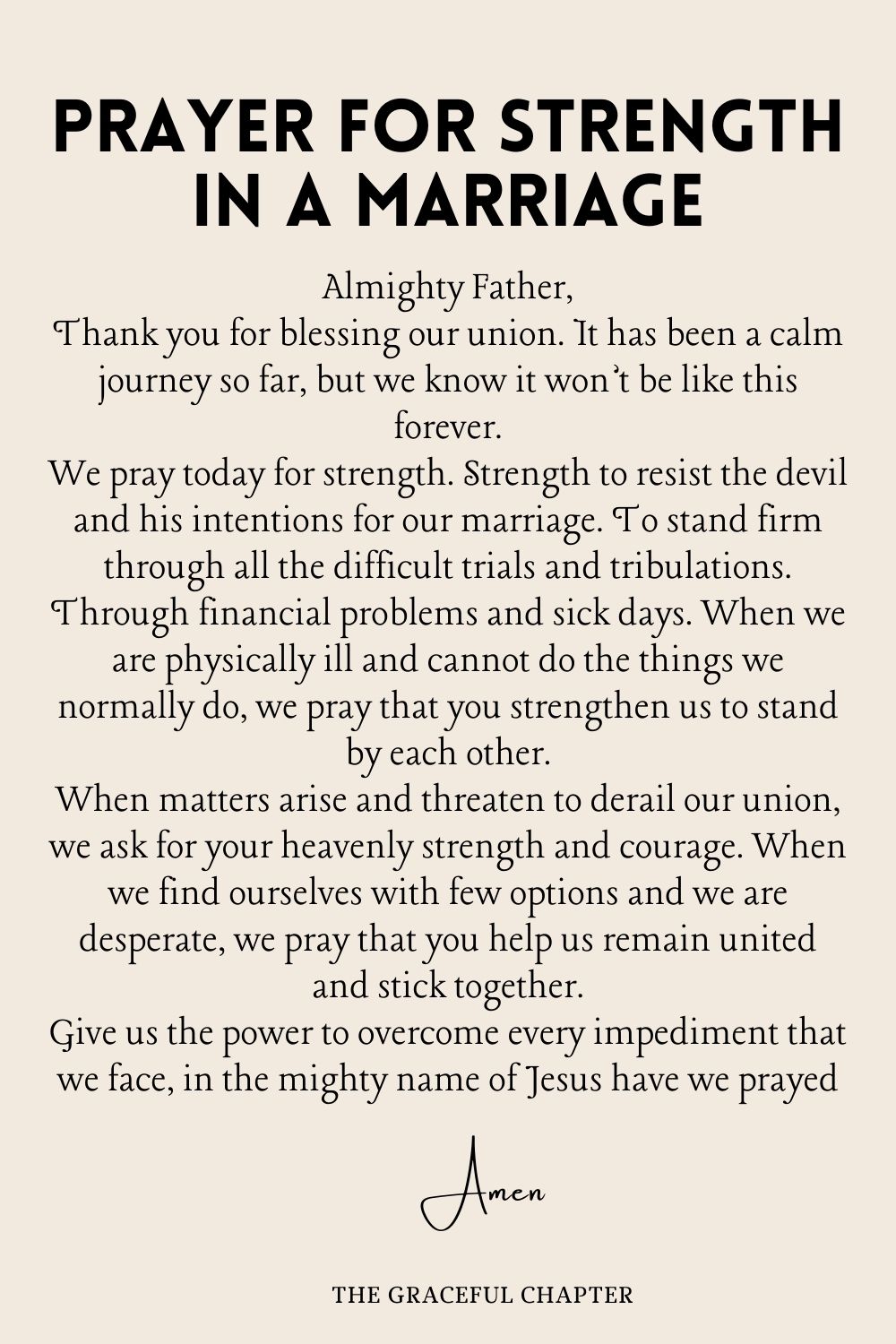 Prayer for Harmony in a Marriage
Heavenly Father,
Thank you for sustaining our marriage through all these years
Thank you for helping us stick together through thick and thin
There have been difficult periods but you have always been our refuge and strength
We pray that you continue to help us live in perfect harmony
Let us always be on good terms and never shut each other out
We resist any evil plan of the devil to put us asunder
Help us share every aspect of our lives together
Help us be each other's keeper and always be a shoulder for each other to cry on
In times of tears and sorrow let us comfort each other
Let us share happiness and joy with each other
If everyone in the world turns their backs on us let us have each other's backs
Let us believe each other even when no one else believes us
Keep us together till the end
Let us grow old and grey together
Let us experience and fully share the love that we have until the end
Amen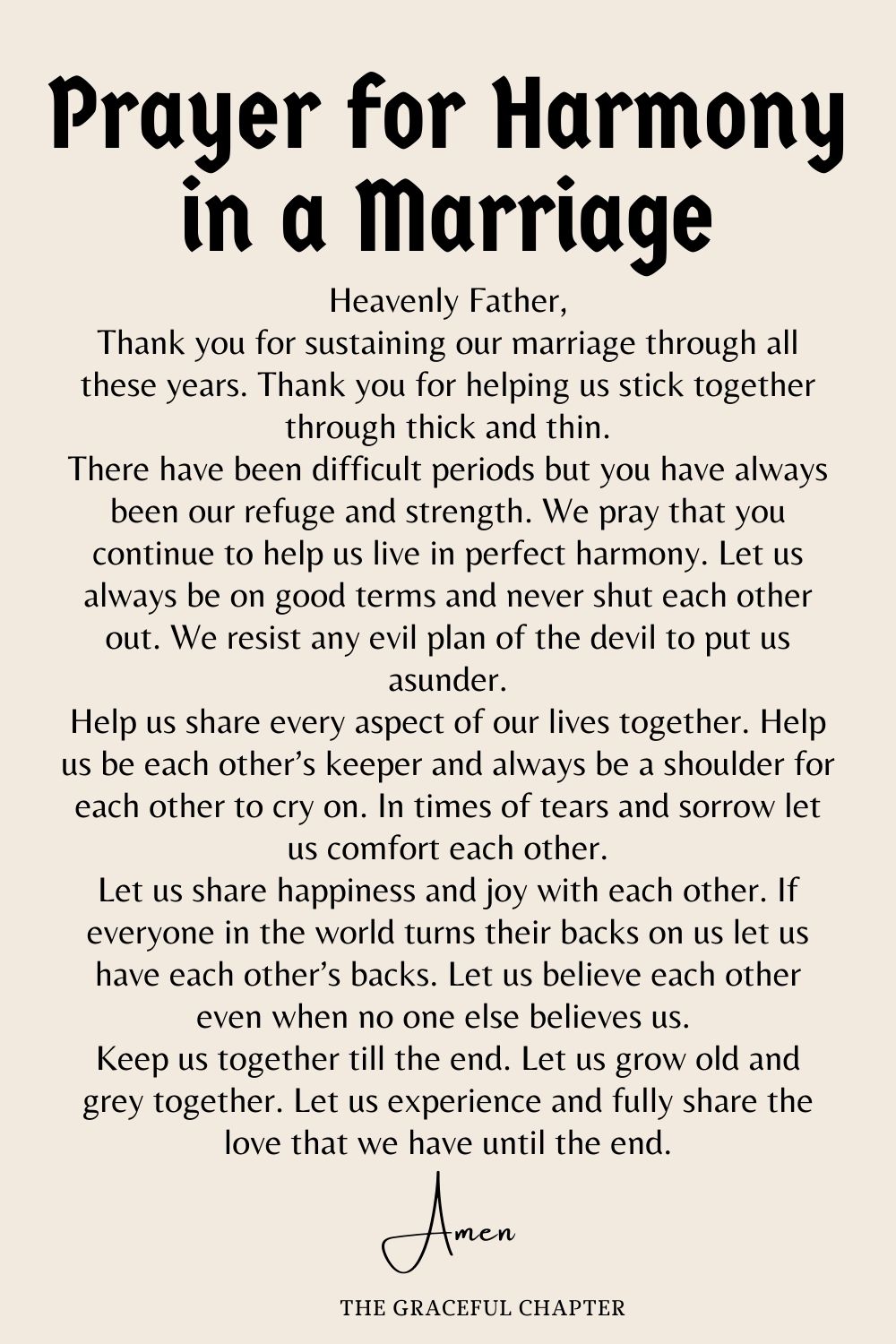 Prayer for Love in a Marriage
Gracious Lord,
I bless your name today that I have found the perfect partner for myself
Thank you for the family that we have built together
I pray today that let the love we have for each other never die
Just as you love the church, let us love each other
Let us be forgiving to each other despite our imperfections
We know that love is of God, love is kind, love is patient
Let us think these things whenever we see each other
Let love lead us and be our influence in everything that we do
Let the love that we have for each other be unconditional
Help us love our children just as you have loved us
Help us raise them in love, teach them in love
Bless our family bond and make it resist any division
Fill our hearts with love in Jesus' name
Thank you, Lord
Amen
Prayers for Fertility in a Marriage
Dear Lord,
We are grateful for our union and everything we have been through in this marriage
We have tried to get pregnant for a while but we still haven't
But we believe and have faith in you
You make ways where there seem to be no way
We pray that you grant us the fruit of the womb
Help us conceive and give birth
And when we do, help us raise that child
Be our provider and our teacher
Be our healer and protector
Help us raise them under your light and let them not depart from your word
We pray for all the couples with kids and without kids
Help them love themselves to believe in your word
And help them raise their children in your word
Remove any bad influences that are not consistent with your word from their lives
Let the fruits they bear be fruits of good and not evil
We know you love children, so help us raise them for you
Amen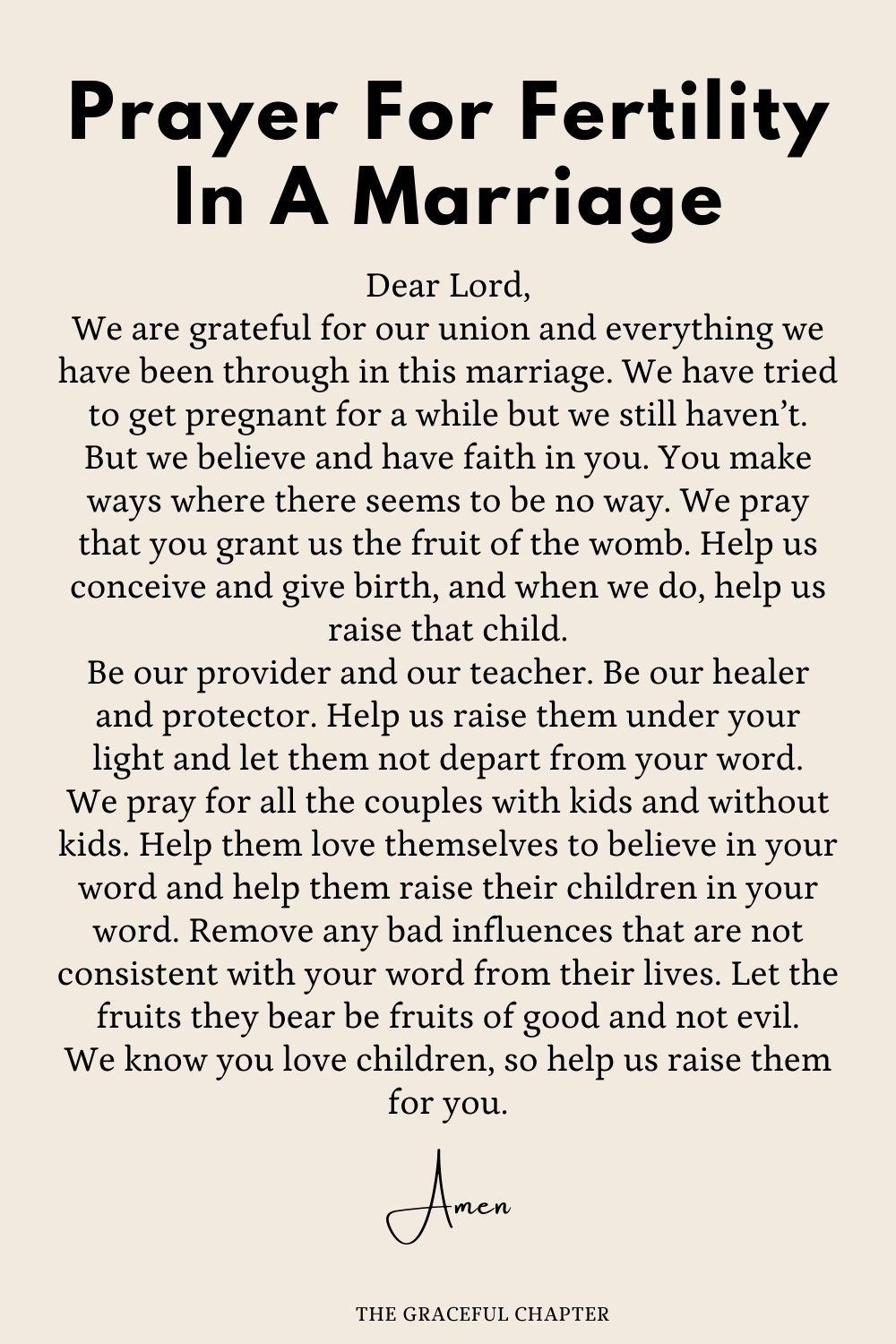 Prayers for In-Laws in a Marriage
Heavenly Father,
We pray for our marriage today
We are not just married to each other
Our families have been joined together by this union as well
There are a lot of people in our families who know about this union
Some may have good intentions for us but others may want to see us fail
We come against any evil imaginations from our families concerning our lives, our marriage, and our children
We know that some people do pretend to be happy for us but all they wish for us is destruction and separation
Some wish misfortunes and death on us
We resist all these forces in the name of Jesus
If there is an evil spiritual transfer through blood relation in the family
We bind it, in Jesus name
We disconnect our marriage from any curses that may have existed before our time
Save us from the plans of the evil one
And blind any evil eye that stares upon us in Jesus' name,
Amen
Prayers for Finances in a Marriage
Dear Lord,
We pray for our finances today
We have not had the best of luck with our business
We have lost money left, right and center
We have a big family to support
We have ambitions and dreams that we want to fulfill
We know that you are all-knowing and all-powerful
We pray that you turn our finances around
Help us reap well whenever we sow
Guide us to live our lives so that we bear much more fruit
Let every endeavor we undertake be a successful one
Open the floodgates of heaven and let financial prosperity rain on us
Let everything we touch turn into gold
Just as you used 5 loaves and 3 fish to feed a multitude of people
Bless the little we have and turn it into riches
Give us financial favor, Lord
In Jesus name, I pray,
Amen
Marriage involves more than just two people. It's about families joining together. Soon after marriage, new people will show up. There will be challenges in marriage but how you approach those challenges will determine the length of your marriage.
Let God be your counsel. Do not rely on humans to tell you how to behave in your marriage. Learn the qualities of our Lord Jesus Christ and apply them in every curve of your journey in marriage and it will be successful. May God help us all, Amen.