Life can get overwhelming at times and this can be anxiety-provoking. And whenever we feel like things are out of our control, our natural response is stress. Stress is something that we all battle at one point or the other for different reasons. But when this happens, when we feel like things are out of our control, it can be comforting to remember that we serve a capable God.
Jesus said in Matthew 19:26 that "With men this is impossible, but with God all things are possible." This is an assurance that there is nothing that is beyond the control of God. So when life gets overwhelming and you can't help but stress, remember that "with God, all things are possible".
How do you cope with stress?
Stress can be linked to so many health issues. So it is important that you find ways to deal with stress before it gives you more problems to stress about, like health problems. There are a number of things you can do to relieve stress. This includes exercising and getting some rest.
But even so, there are times when you can't even rest because you are so stressed. And instead of resting, you find your mind thinking about all the things that are wrong in your life. And before you realize, the time you've taken to rest is rather spent worrying and crying.
So how then do you deal with stress? Well, one very effective way to deal with stress is by seeking comfort in God. To do this, you can read some bible verses for stress and also pray. You can even pray based on the bible verse you read. The thing about reading your bible in difficult times is that it gives you instant relief from your problems.
Whenever the challenges in life overwhelms you and you turn to the word of God, it comforts you and gives you peace because it reminds you that someone greater and all powerful is looking out for you. It reminds you that God cares about you and loves you.
So when you find yourself in a stressful situation, take a moment to meditate on the word of God. Below are some bible verses for stress you can read in such times. You can even memorize your favorite verse and repeat it to yourself whenever you are overwhelmed.
May the Lord fill you with his peace and soothe your soul. May he give you wisdom and clarity to help you navigate this point of your life.
Bible verses for stress
1 Chronicles 16:11
Seek the Lord and His strength;
Seek His face evermore!

Psalm 16:8
I have set the Lord always before me;
Because He is at my right hand I shall not be moved.

Psalm 34:4
I sought the Lord, and He heard me,
And delivered me from all my fears.

1 Corinthians 3:11
For no one can lay any foundation other than the one already laid, which is Jesus Christ.

Deuteronomy 31:8
And the Lord, He is the One who goes before you. He will be with you, He will not leave you nor forsake you; do not fear nor be dismayed."

Isaiah 26:3
You will keep him in perfect peace,
Whose mind is stayed on You, because he trusts in You.

Psalm 73:26
My flesh and my heart fail;
But God is the strength of my heart and my portion forever.

Psalm 23:4
Even though I walk through the darkest valley
I will fear no evil, for you are with me;
your rod and your staff, they comfort me.

Hebrews 13:6
So we may boldly say: "The Lord is my helper;
I will not fear. What can man do to me?"

Romans 8:6
The mind governed by the flesh is death, but the mind governed by the Spirit is life and peace.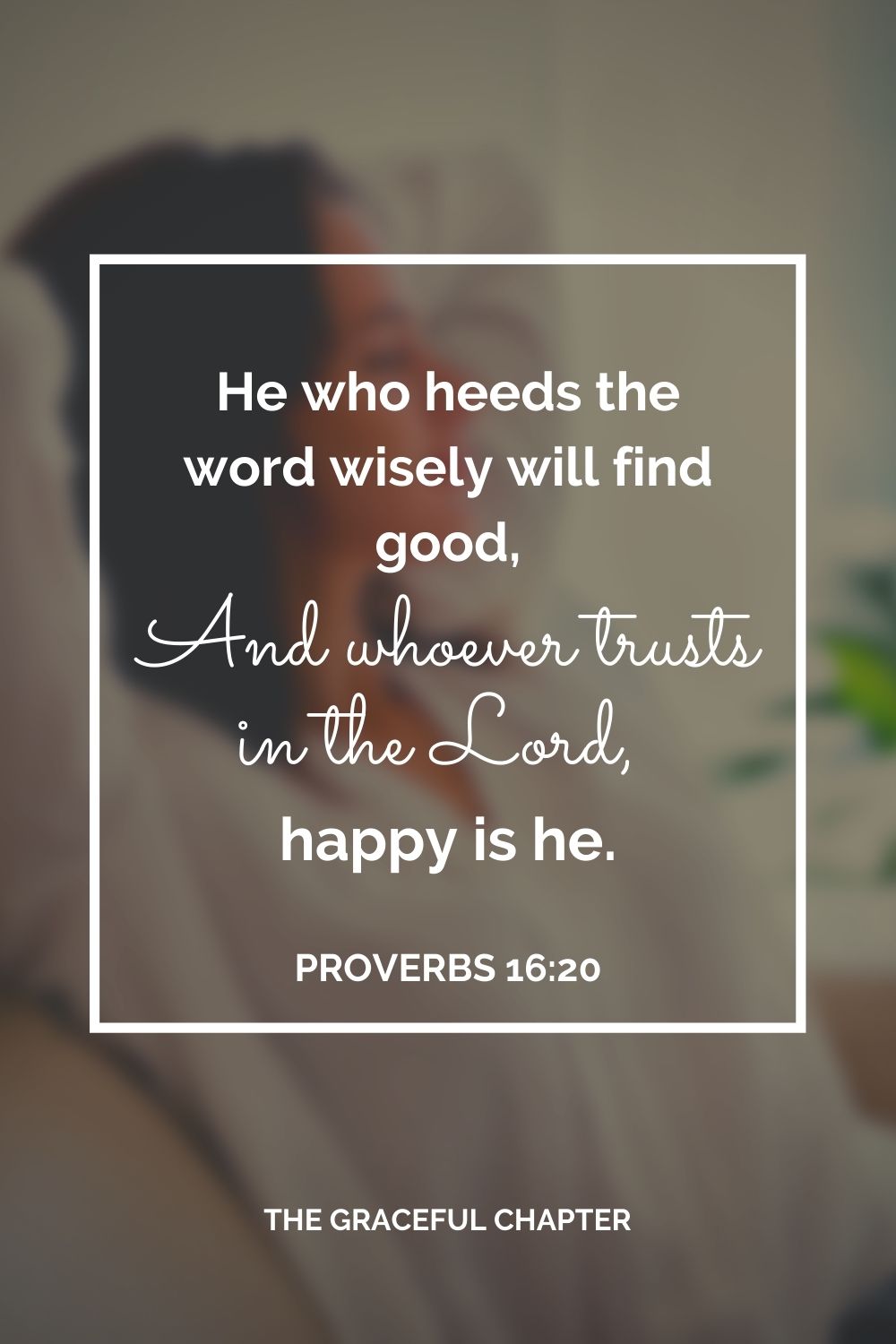 Proverbs 16:20
He who heeds the word wisely will find good,
And whoever trusts in the Lord, happy is he.

Psalm 56:3-4
Whenever I am afraid, I will trust in You.
In God (I will praise His word),
In God I have put my trust; I will not fear.
What can flesh do to me?

Psalm 118:13
I was pushed back and about to fall,
but the Lord helped me.

Psalm 118:7
The Lord is with me; he is my helper.
I look in triumph on my enemies.

Matthew 11:28-30
Come to Me, all you who labor and are heavy laden, and I will give you rest. Take My yoke upon you and learn from Me, for I am gentle and lowly in heart, and you will find rest for your souls. For My yoke is easy and My burden is light."

Proverbs 3:5
Trust in the Lord with all your heart,
And lean not on your own understanding;

John 14:27
Peace I leave with you, My peace I give to you; not as the world gives do I give to you. Let not your heart be troubled, neither let it be afraid.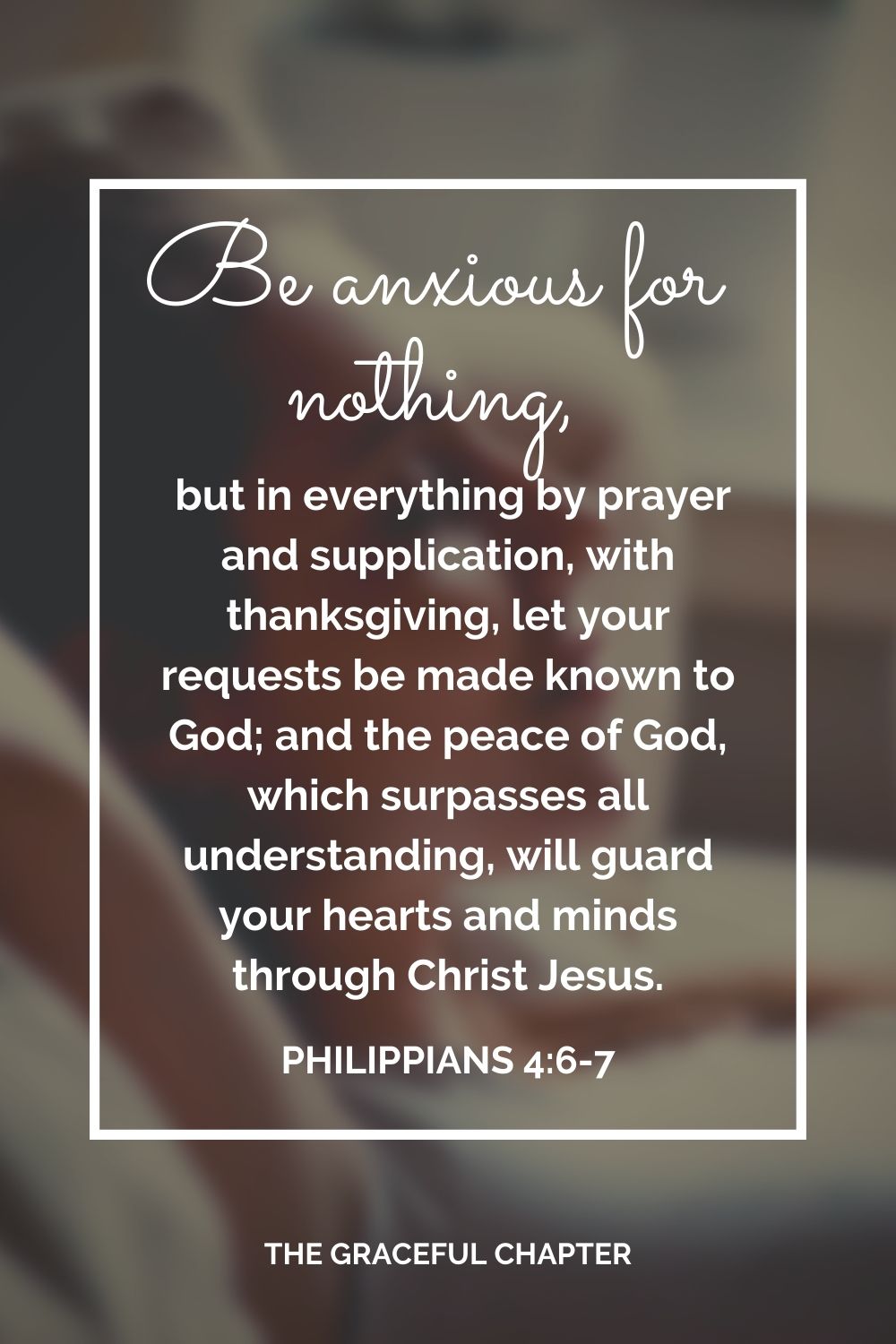 Philippians 4:6-7
Be anxious for nothing, but in everything by prayer and supplication, with thanksgiving, let your requests be made known to God; and the peace of God, which surpasses all understanding, will guard your hearts and minds through Christ Jesus.

Psalm 34:6
This poor man cried out, and the Lord heard him,
And saved him out of all his troubles.

Hebrews 13:5
Let your conduct be without covetousness; be content with such things as you have. For He Himself has said, "I will never leave you nor forsake you."

Psalm 73:23
Nevertheless I am continually with You;
You hold me by my right hand

Lamentations 3:22-24
Through the Lord's mercies we are not consumed,
Because His compassions fail not.
They are new every morning; Great is Your faithfulness.
"The Lord is my portion," says my soul,
"Therefore I hope in Him!"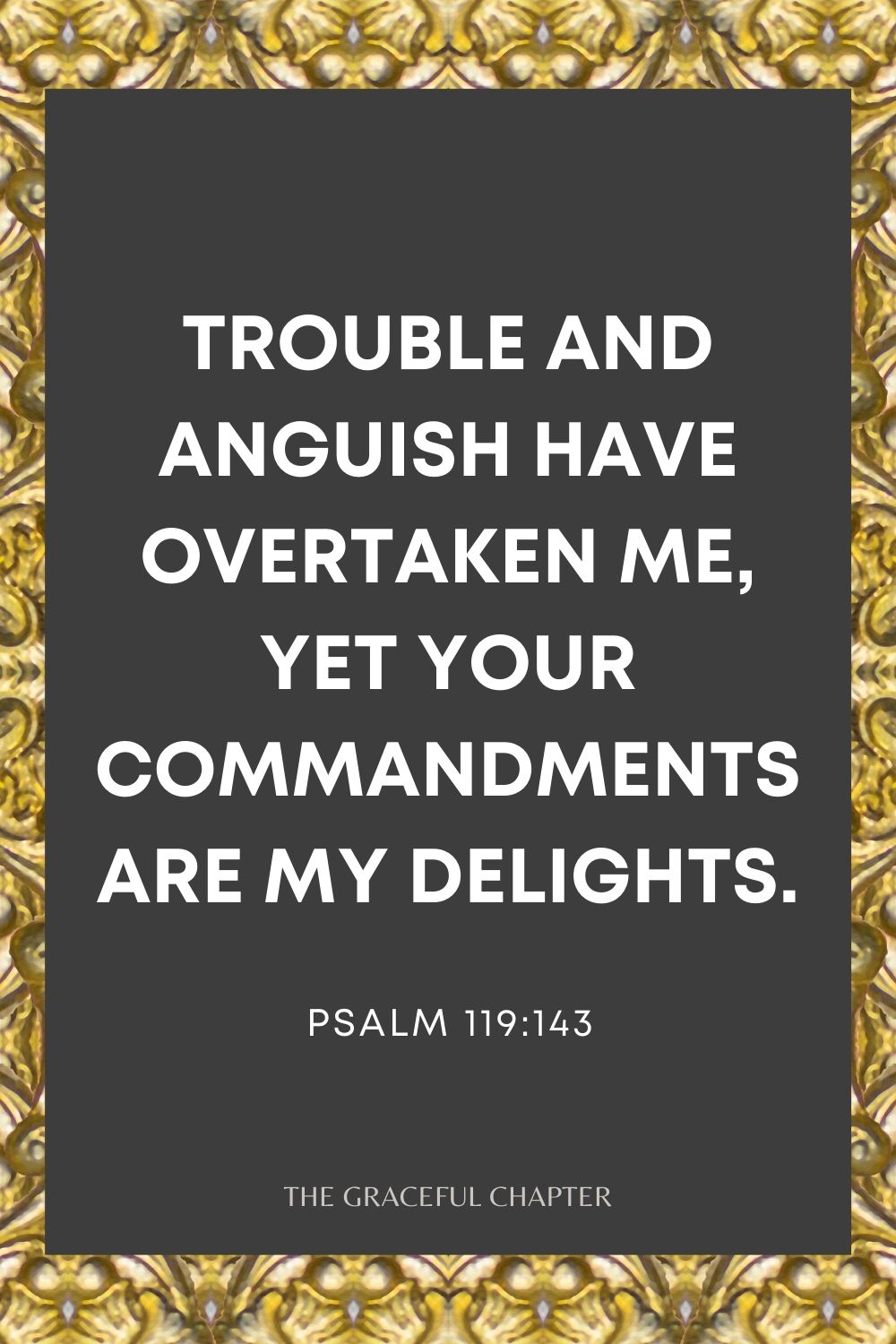 Psalm 119:143
Trouble and anguish have overtaken me,
Yet Your commandments are my delights.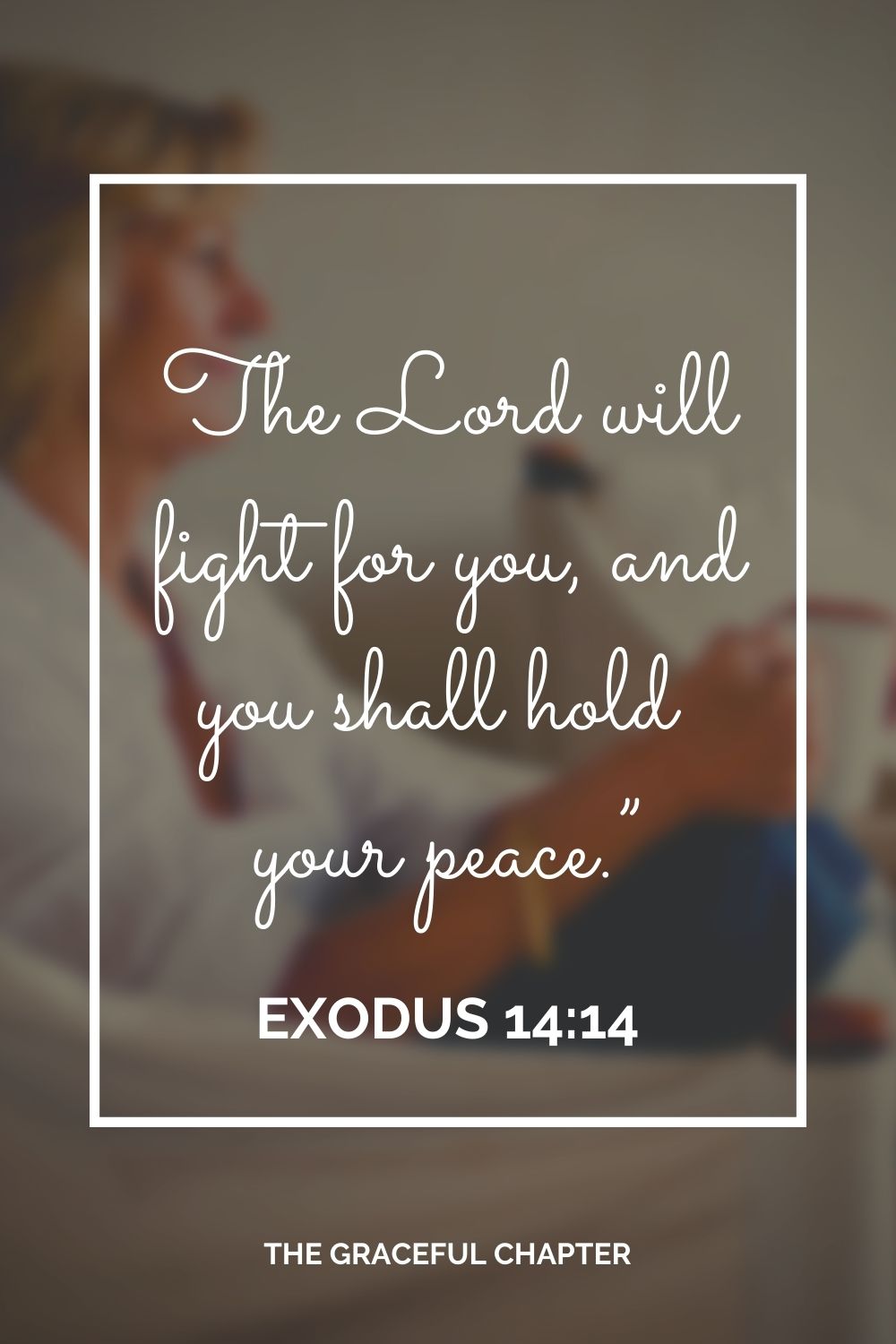 Exodus 14:14
The Lord will fight for you, and you shall hold your peace."

Matthew 6:27
And which of you by being anxious can add a single hour to his span of life?

Luke 12:6-7
Are not five sparrows sold for two copper coins? And not one of them is forgotten before God. But the very hairs of your head are all numbered. Do not fear therefore; you are of more value than many sparrows.

Psalms 63:3
Because Your lovingkindness is better than life,
My lips shall praise You.

Psalms 116:7
Return to your rest, O my soul,
For the Lord has dealt bountifully with you.

Jeremiah 17:7-8
Blessed is the man who trusts in the Lord,
And whose hope is the Lord.
For he shall be like a tree planted by the waters,
Which spreads out its roots by the river,
And will not fear when heat comes;
But its leaf will be green,
And will not be anxious in the year of drought,
Nor will cease from yielding fruit.

Luke 12:25-26
And which of you by worrying can add one cubit to his stature? If you then are not able to do the least, why are you anxious for the rest?

Psalms 28:7
The Lord is my strength and my shield;
My heart trusted in Him, and I am helped;
Therefore my heart greatly rejoices,
And with my song I will praise Him.

Psalm 42:5-6
Why, my soul, are you downcast? Why so disturbed within me? Put your hope in God,
for I will yet praise him, my Savior, and my God.
My soul is downcast within me; therefore I will remember you from the land of the Jordan,
the heights of Hermon—from Mount Mizar.

2 Corinthians 4:8-9
We are hard-pressed on every side, yet not crushed; we are perplexed, but not in despair; persecuted, but not forsaken; struck down, but not destroyed

Isaiah 41:10
Fear not, for I am with you;
Be not dismayed, for I am your God.
I will strengthen you,
Yes, I will help you,
I will uphold you with My righteous right hand.'

Related Posts
Proverbs 3:6
In all your ways acknowledge Him,
And He shall direct your paths.

Psalm 9:9-10
The Lord is a refuge for the oppressed, a stronghold in times of trouble. Those who know your name trust in you, for you, Lord, have never forsaken those who seek you.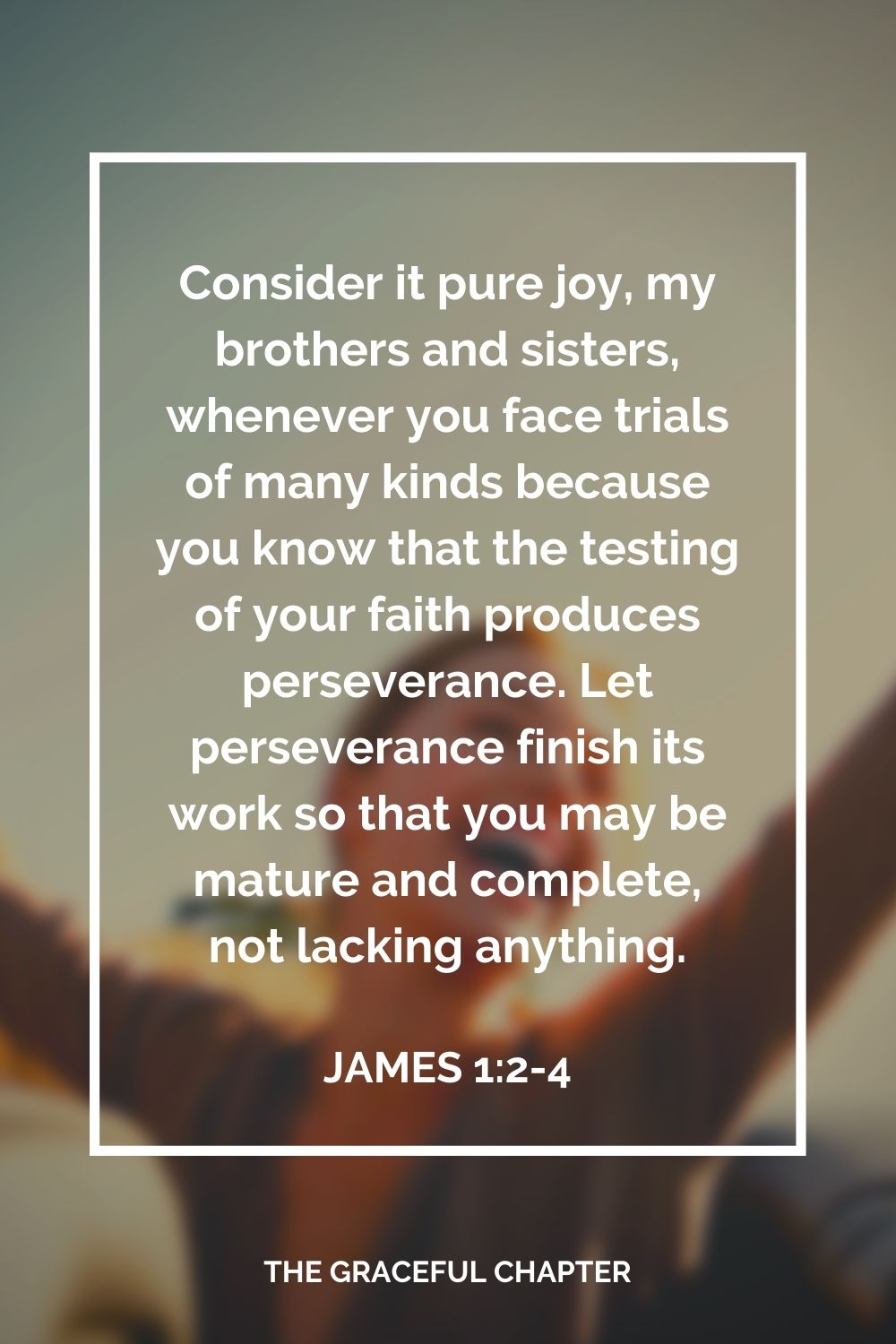 James 1:2-4
Consider it pure joy, my brothers and sisters,whenever you face trials of many kinds because you know that the testing of your faith produces perseverance. Let perseverance finish its work so that you may be mature and complete, not lacking anything.

Philippians 4:19-20
And my God shall supply all your need according to His riches in glory by Christ Jesus. Now to our God and Father be glory forever and ever. Amen.

1 Corinthians 16:13
Watch, stand fast in the faith, be brave, be strong.

Psalm 94:19
When the cares of my heart are many,
your consolations cheer my soul.

Romans 12:2
Do not conform to the pattern of this world, but be transformed by the renewing of your mind. Then you will be able to test and approve what God's will is—his good, pleasing and perfect will.

Isaiah 40:31
But those who wait on the Lord
Shall renew their strength;
They shall mount up with wings like eagles,
They shall run and not be weary,
They shall walk and not faint.

Psalm 57:1
Be merciful to me, O God, be merciful to me!
For my soul trusts in You;
And in the shadow of Your wings I will make my refuge,
Until these calamities have passed by.

Psalm 112:7
He will not be afraid of evil tidings;
His heart is steadfast, trusting in the Lord.

Psalm 37:5
Commit your way to the Lord,
Trust also in Him,
And He shall bring it to pass.

Matthew 6:34
Therefore do not worry about tomorrow, for tomorrow will worry about its own things. Sufficient for the day is its own trouble.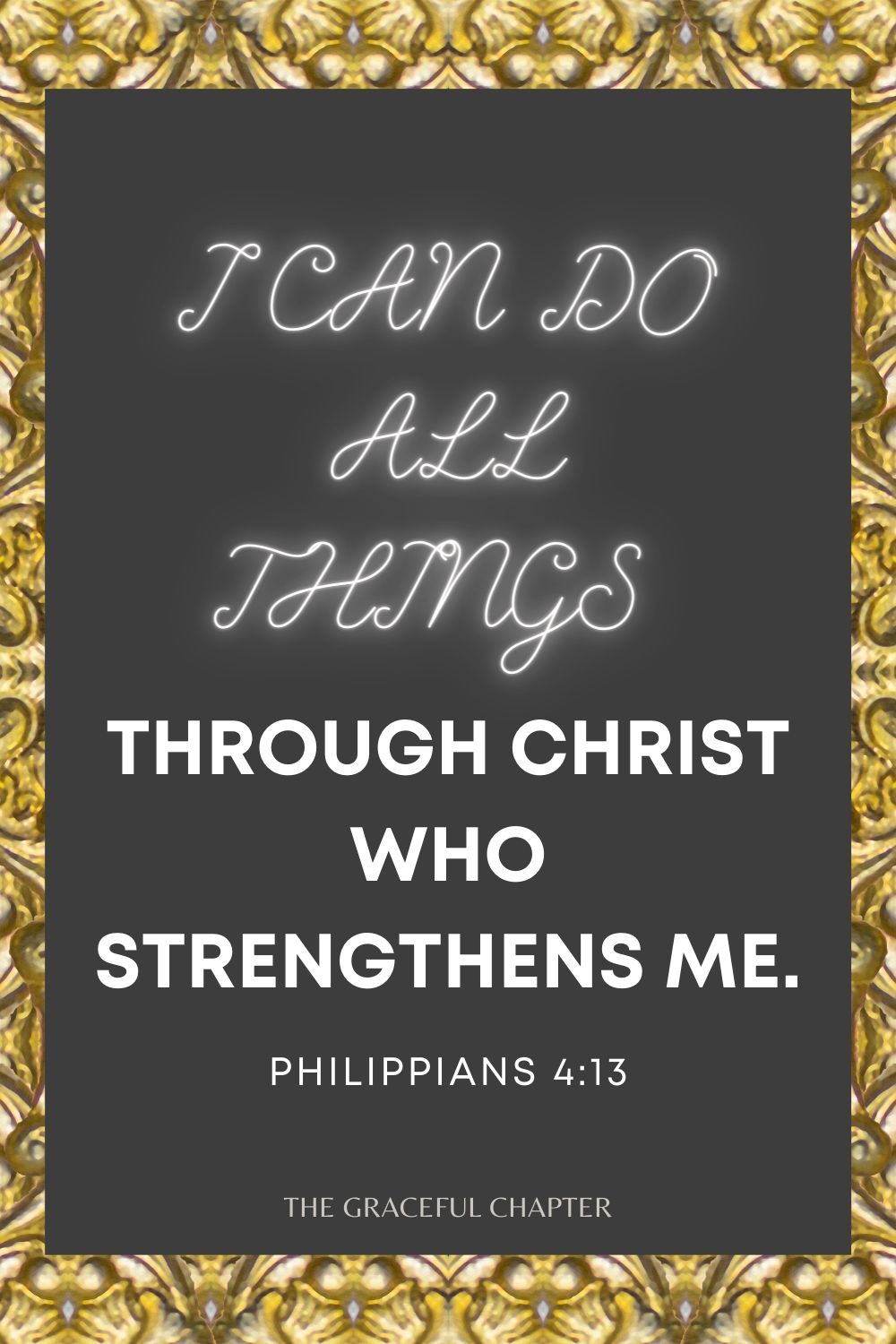 Philippians 4:13
I can do all things through Christ who strengthens me.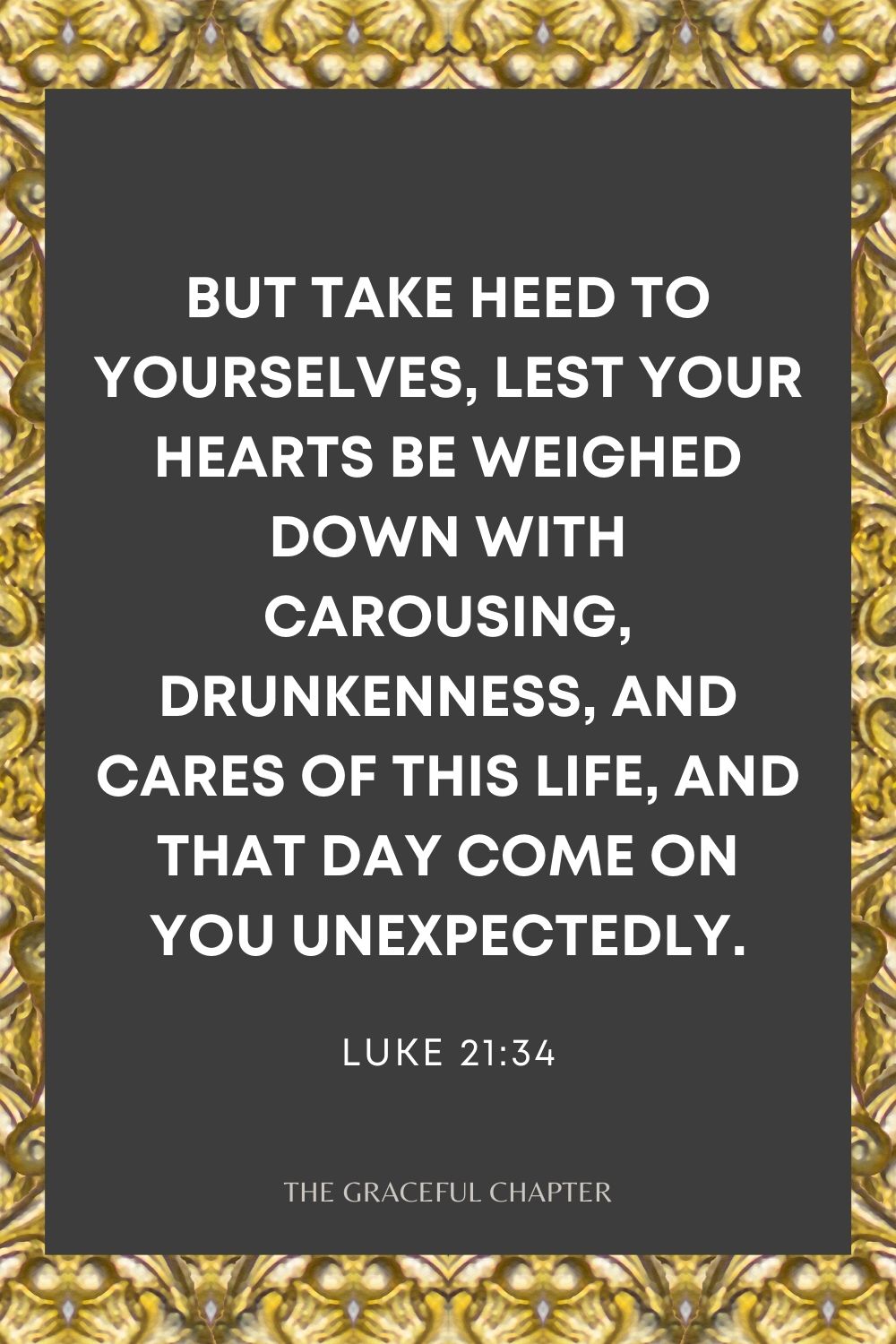 Luke 21:34
"But take heed to yourselves, lest your hearts be weighed down with carousing, drunkenness, and cares of this life, and that Day come on you unexpectedly.

Hebrews 4:16
Let us therefore come boldly to the throne of grace, that we may obtain mercy and find grace to help in time of need.

John 14:1
Let not your heart be troubled; you believe in God, believe also in Me.

Romans 8:28
And we know that all things work together for good to those who love God, to those who are called according to His purpose.

Proverbs 12:25
Anxiety in the heart of man causes depression,
But a good word makes it glad.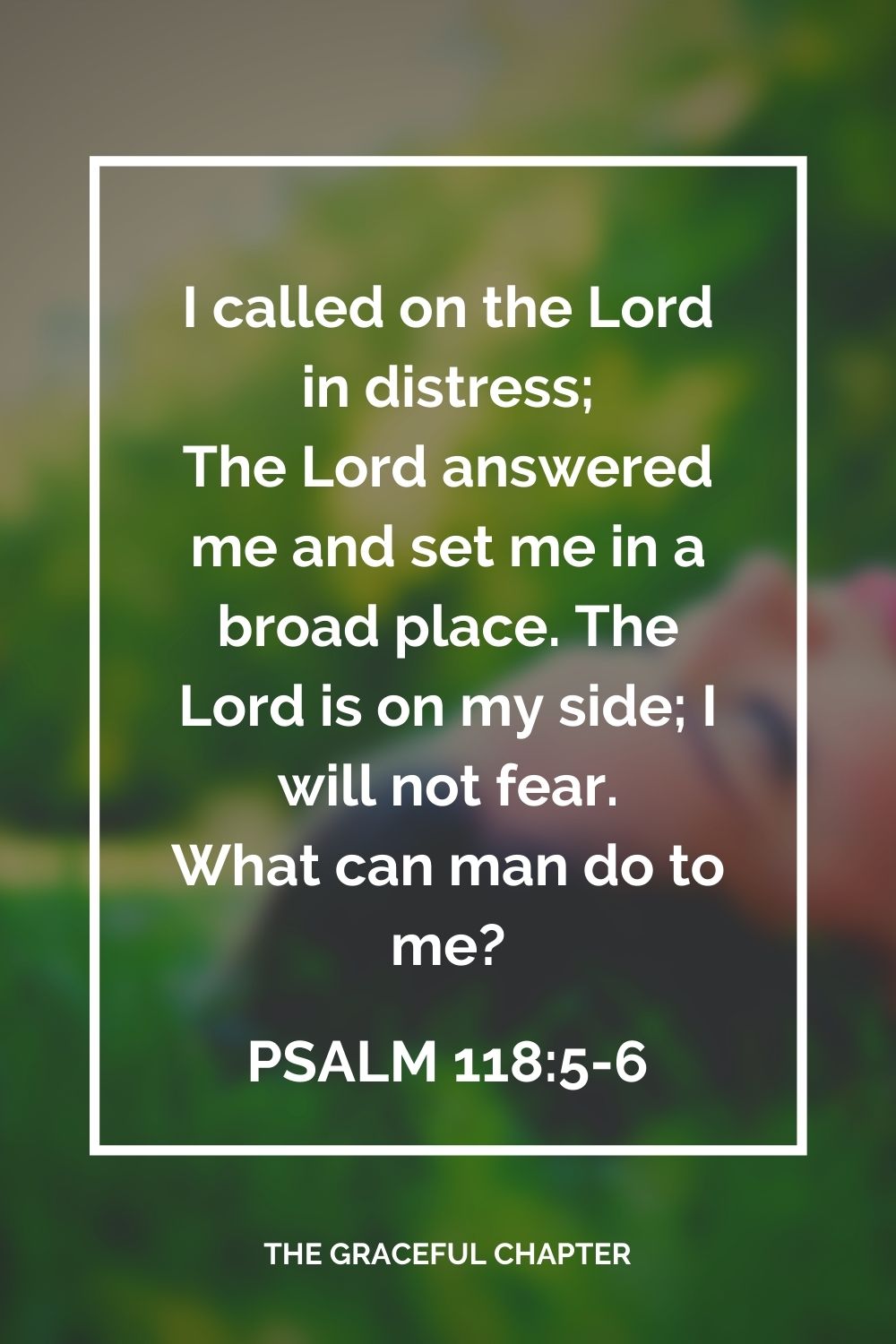 Psalm 118:5-6
I called on the Lord in distress;
The Lord answered me and set me in a broad place. The Lord is on my side; I will not fear.
What can man do to me?

Genesis 28:15
Behold, I am with you and will keepyou wherever you go, and will bring you back to this land; for I will not leave you until I have done what I have spoken to you."

Psalm 55:22
Cast your burden on the Lord, and He shall sustain you;
He shall never permit the righteous to be moved.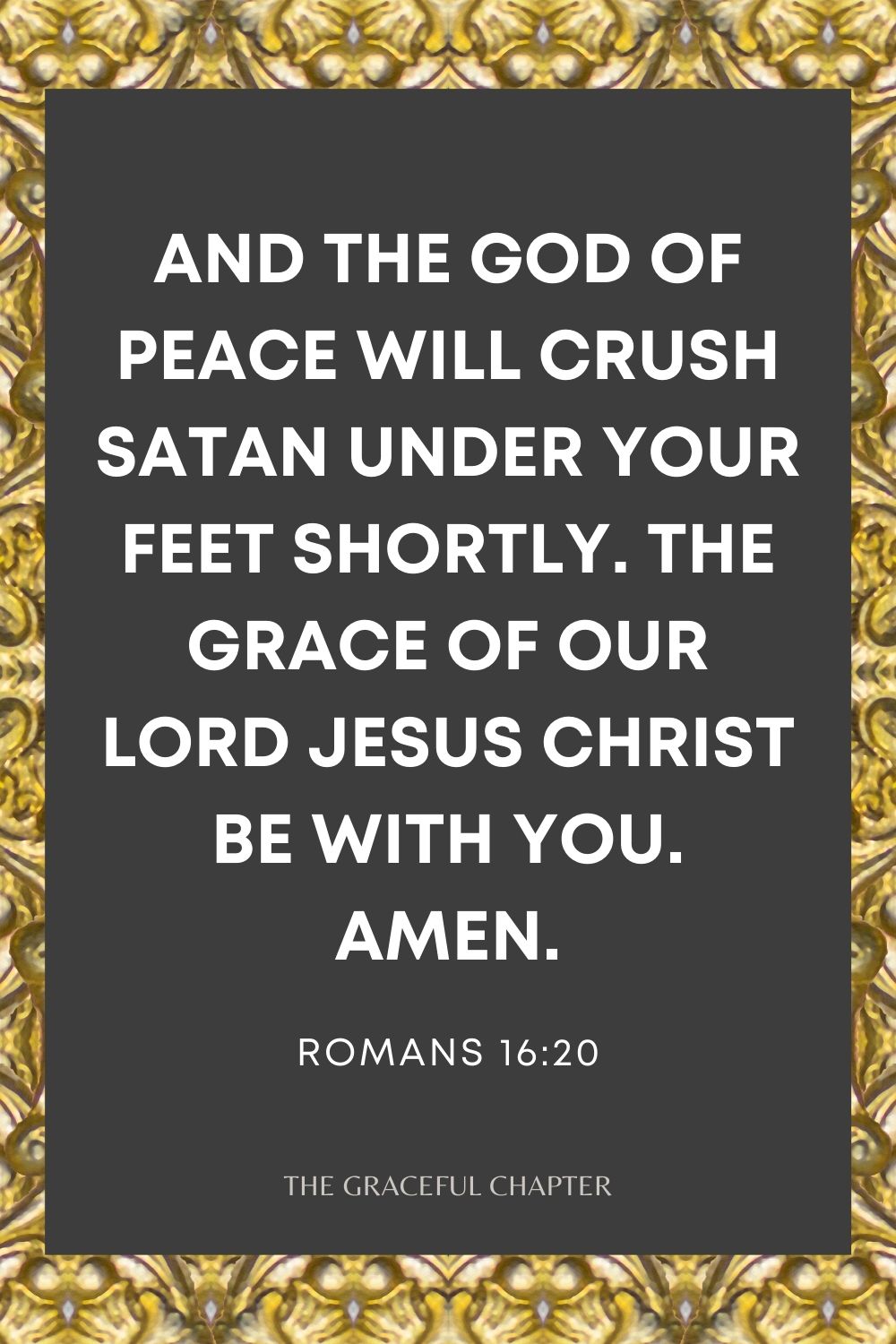 Romans 16:20
And the God of peace will crush Satan under your feet shortly. The grace of our Lord Jesus Christ be with you. Amen.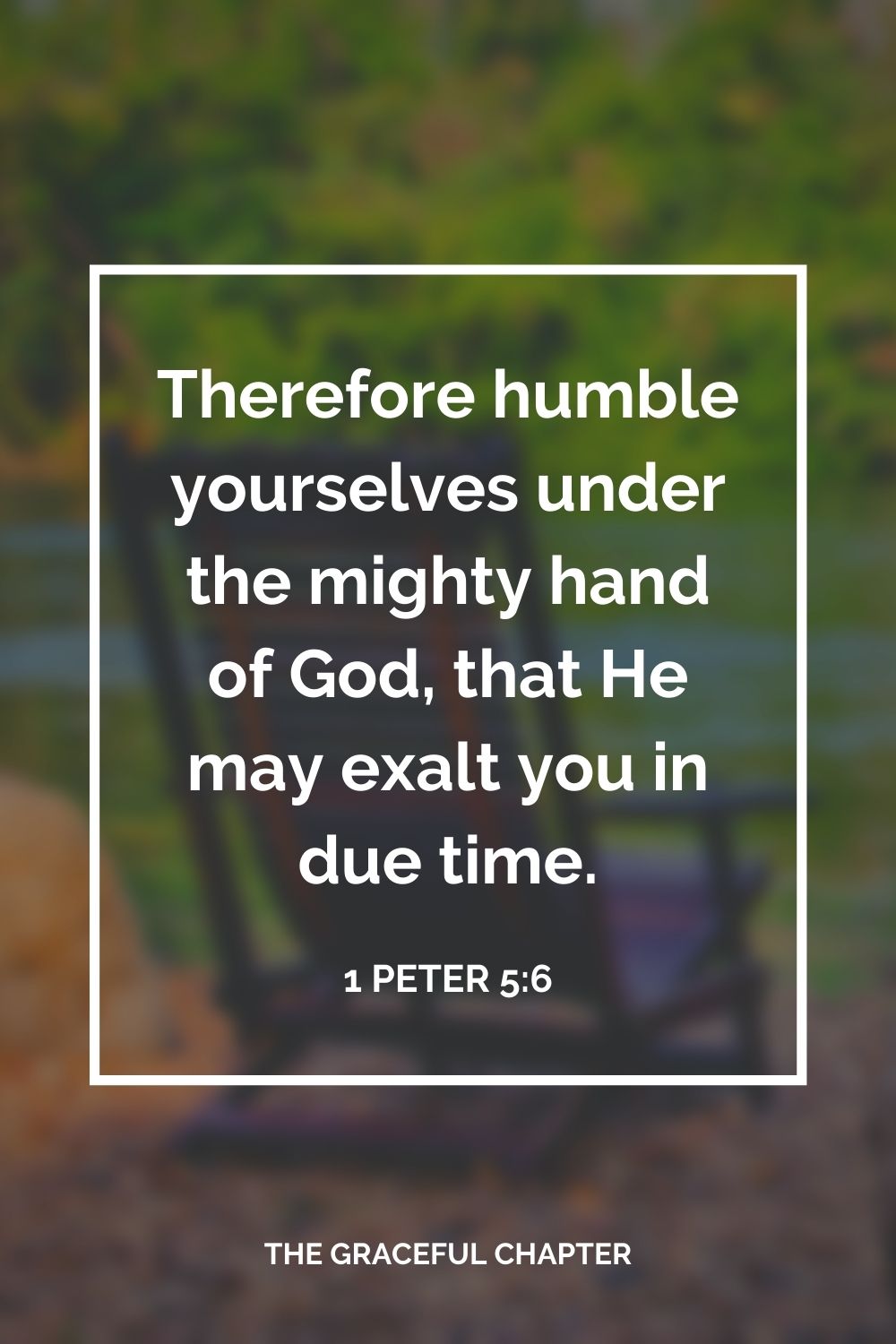 1 Peter 5:6
Therefore humble yourselves under the mighty hand of God, that He may exalt you in due time.

2 Samuel 22:7
In my distress, I called upon the Lord,
And cried out to my God;
He heard my voice from His temple,
And my cry entered His ears.

1 Peter 5:7
Casting all your care upon Him, for He cares for you.

Luke 21:19
By your endurance, you will gain your lives.

Prayer for when you are stressed
Loving Father,
I thank you for my life and all that you do for me
I thank you for your promise that you shall not leave me nor forsake me
I thank you for the comfort your words bring to me
Please forgive me for all the times that I worry and stress about situations beyond my control
Please forgive me for all the nights I toss and turn in bed because I let the pressures of my situation burden me
Father, I'm here today to cast all my burdens unto you
I'm here today, to surrender it all to you
Please teach me not to let things I can't control burden me
Help me to look up to you instead of focusing on what I can't control
Help me to be calm and take one day at a time
Fill me with Your peace and give me strength and wisdom,
So that I can confidently face the future knowing that You are on my side.
Thank you for listening to my prayer, in Jesus name
Amen