Isaiah 40:31 'but those who hope in the LORD will renew their strength. They will soar on wings like eagles; they will run and not grow weary, they will walk and not be faint.' This year is almost at an end. Each year we start by setting goals and resolutions for ourselves. At the end of each year, we look back on reflection to see what those goals were and how we achieved or did not achieve them.
See it as a race. After each race, you feel a little weak and tired. Sometimes you feel like you cannot run anymore. Other times you feel like you can do better than you did before if you push a little harder. In our walk with God, we should see ourselves as athletes who will not stop until they are victorious.
We should learn to work harder and harder without giving up. Sometimes during races, athletes fall down but get up and finish the race anyway. As Isaiah said if God is your hope, you need not worry because he will keep strengthening and pushing you until you are where you want to be. There are things to pray about in 2022 that will help you tell God what is important to you in the race coming up.
This year has been a difficult one for a lot of people. The pandemic has caused much pain and suffering to this world. As Christians, it is our responsibility to look out for each other and pray for ourselves in times of trouble. The world is still a broken place where children are dying of hunger; people are perishing in sin and disease.
While we think of our own lives and the changes we want to see, we must remember people next door who desperately need interventions in their lives. We must pray for those who have lost their way.
Some souls living on earth have been given to the devil so they can get material things in return. We must stand in and reclaim these souls as Christian soldiers. Set yourself a target this year and make it your prayer point occasionally. Seek God's face on a problem you have fought by yourself all this while and see where you are when the next year ends.  
Things to pray about in 2022
Prayer for Blessings and Favor
Dear Lord
Thank you for my life this year
It has been a winding road but you have brought me through
I pray for your blessings and your favor for the upcoming year
I don't know what's in store for me but I put my hope and trust in you
I ask that you protect and keep me through all my travels
In all my decision-making, give me wisdom and foresight to do the right thing
I pray for grace in everything I do
I ask for blessings for my family and friends
Let every dream I have for my life and my job be a reality this coming year
I receive healthy long life and abundant riches this year
I declare that only good things and good news shall come my way this year
Amen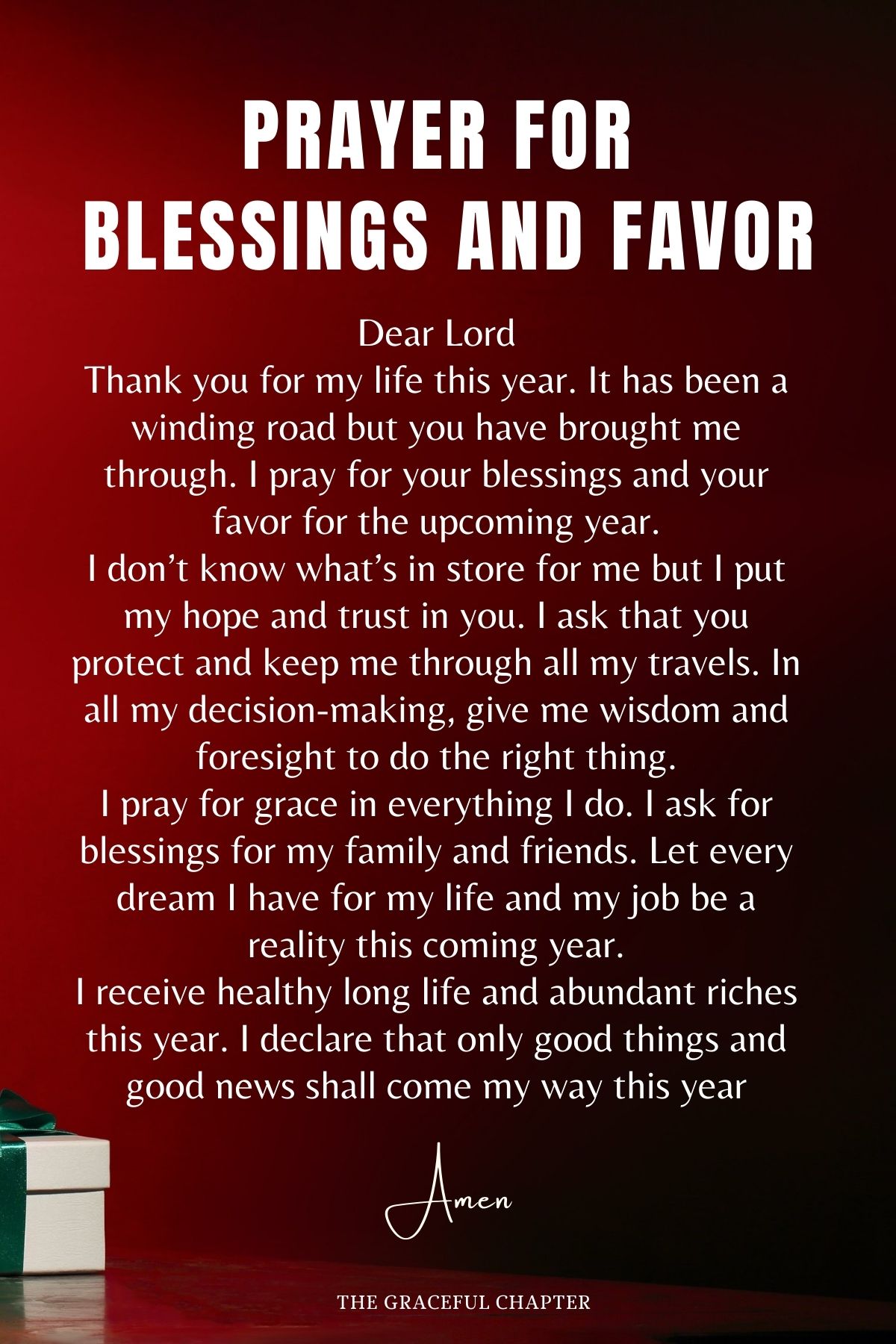 Prayer for Family
Father Lord in heaven,
Thank you for the lives of everyone in my family
I pray for their protection this coming year
I pray that we end the year with the same people that we started with
I pray for mercy, good health, love, and grace for everything that they do
I pray for togetherness and strength in this family
Let pride and success be the song that we sing each day of the year
Help them achieve whatever targets they set for themselves this coming year
Please answer their prayers in abundance
If any seek children, money, love, protection, or favor, please give it to them
Help them renew their strength in you all the days of their lives
Amen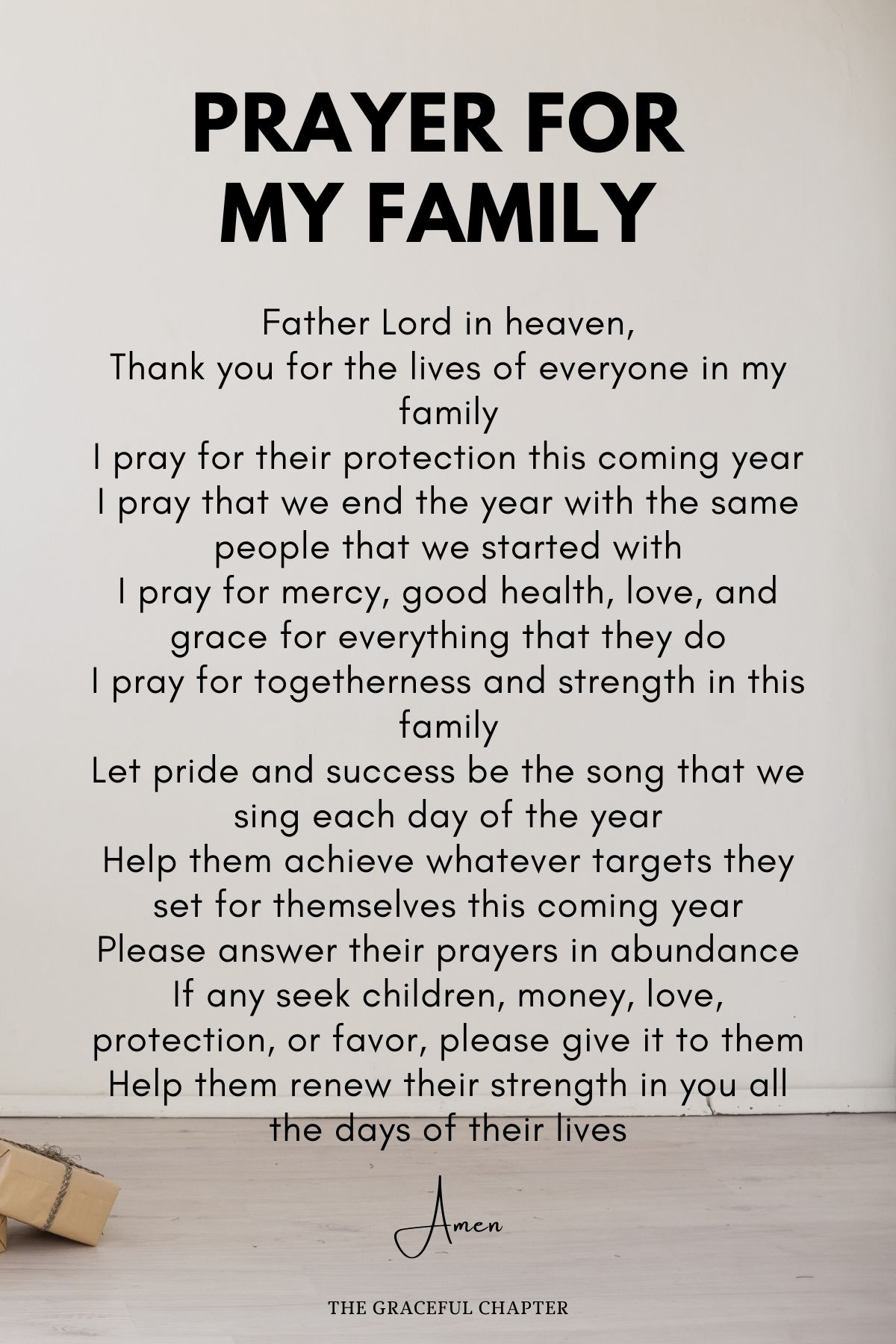 Prayer for Profession & Business
Father Lord in heaven
I thank you for my professional life this year
There have been ups and downs but you have seen me through them successfully
I pray for divine grace next year
I pray for opportunity after opportunity and promotion after promotion
I pray for unending success and climb up the corporate ladder
I pray for my business
Help it grow exponentially
Help it grow profitable beyond belief
Remove any evil obstacles from my workplace and business this coming year
Let me be a shining light in my industry
Let this year be my year of glory and financial stability
In Jesus' name,
Amen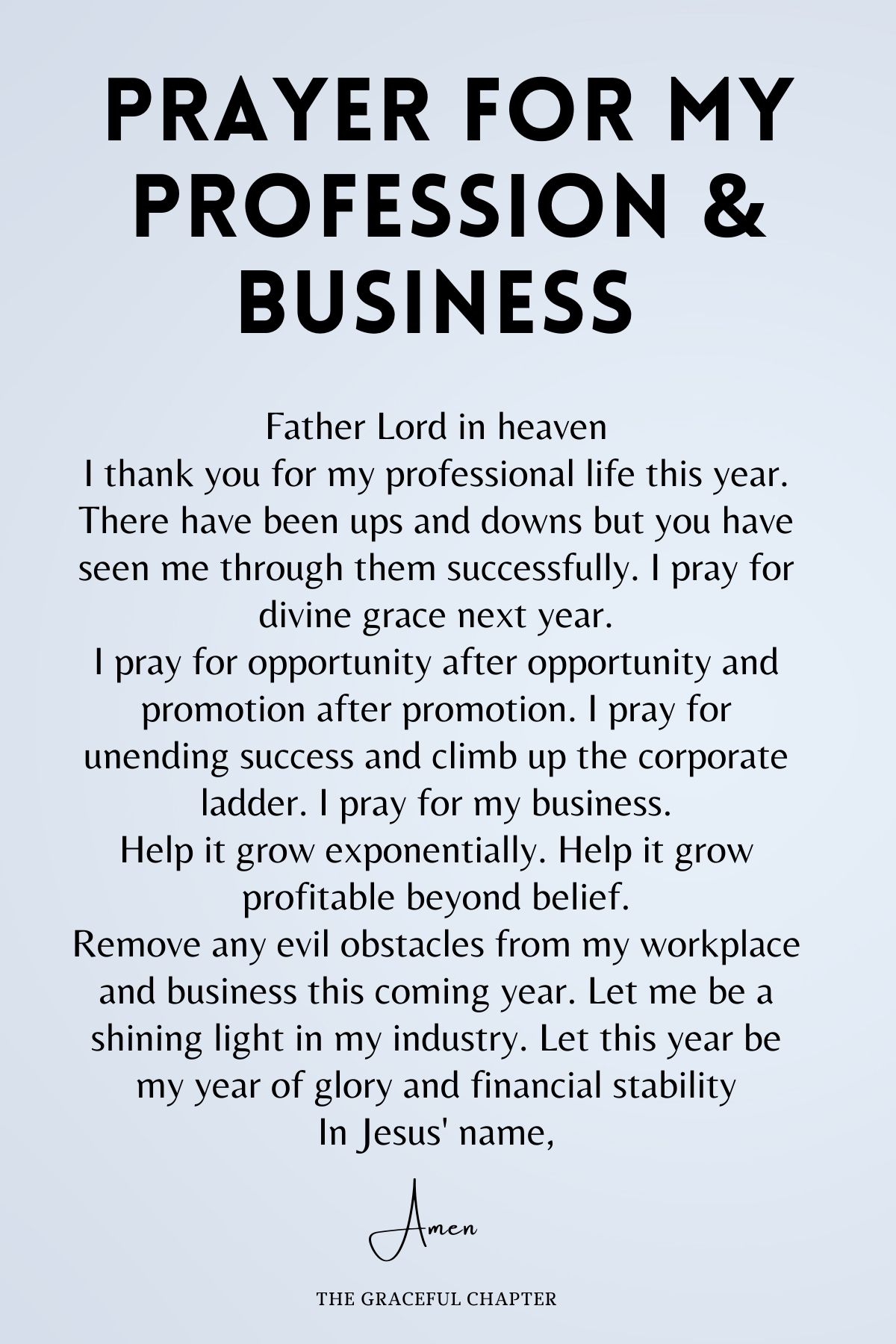 Prayer for Spouse
Dear Lord
I thank you for the life of my spouse
Thank you for bringing them into my life
I pray that you help me be a wonderful partner to them this coming year
I pray that you keep and protect them through all their endeavors
Help them achieve their goals
Let their dreams come true and let them renew their strength in you
I pray that you cause breakthroughs in their lives
Bless them with greatness and cause them to be happy in the next year
Turn all their frustrations into celebrations
Give them peace in their hearts and bring joy to their lives
Give them the strength and courage to go the extra mile and reap rewards aplenty
Amen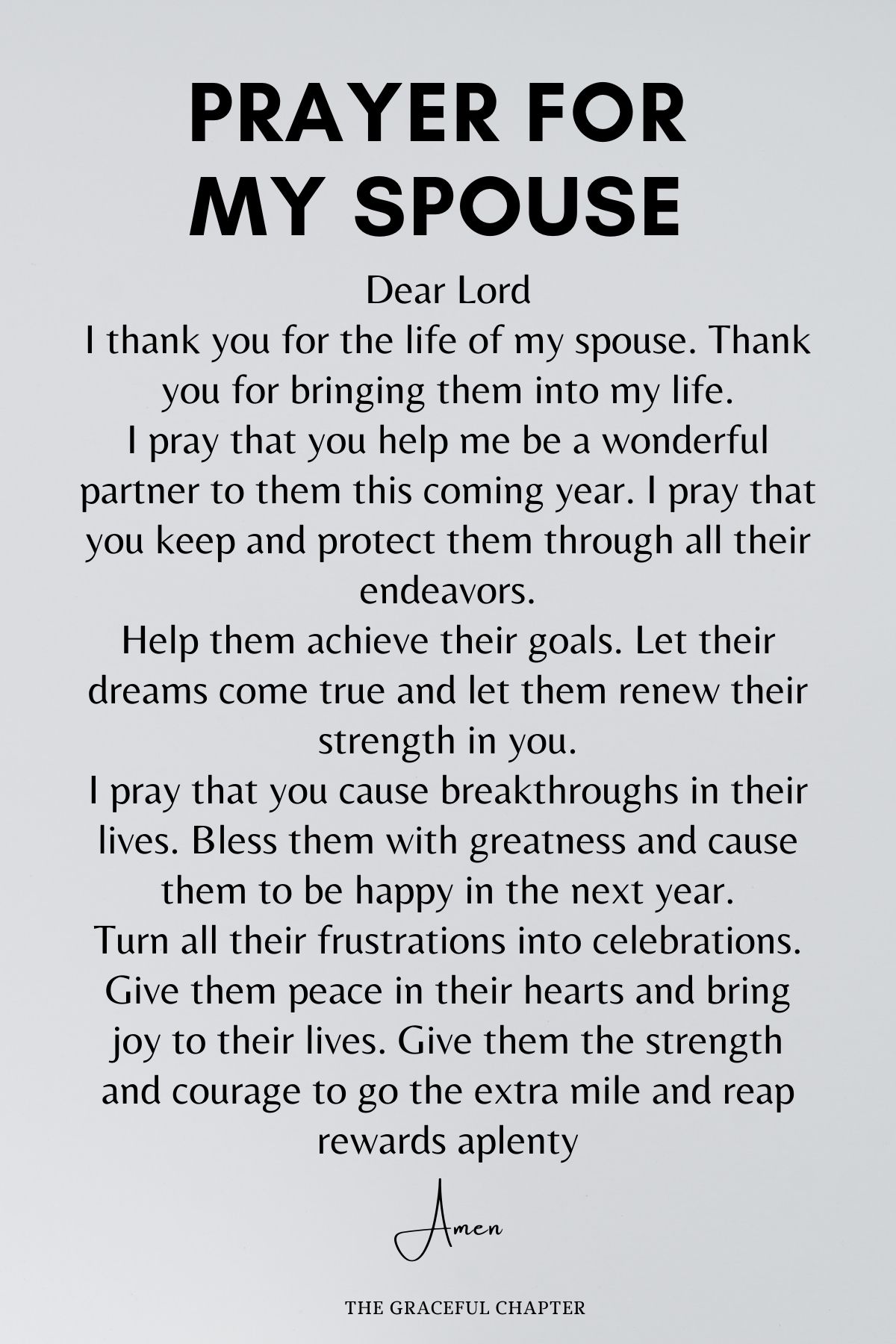 Prayer for Children
Almighty Father,
I thank you for the lives of my children
Thank you for blessing our family with them
We pray for them and ask that you care for them this coming year
We ask that you protect them from injury and sickness in the coming year
When they go to school please go with them
Let your watchful eye stay on them always
Let them not associate themselves with any bad company
Save them from evil eyes that look at them and evil plans about them
Grant them the wisdom and courage to be the best they can be
Let them know that we love and appreciate them very much
Give them the grace and the love they need to grow up in strength
Let them be drawn to you and your word
And let them be respectful and honorable in all they do
Amen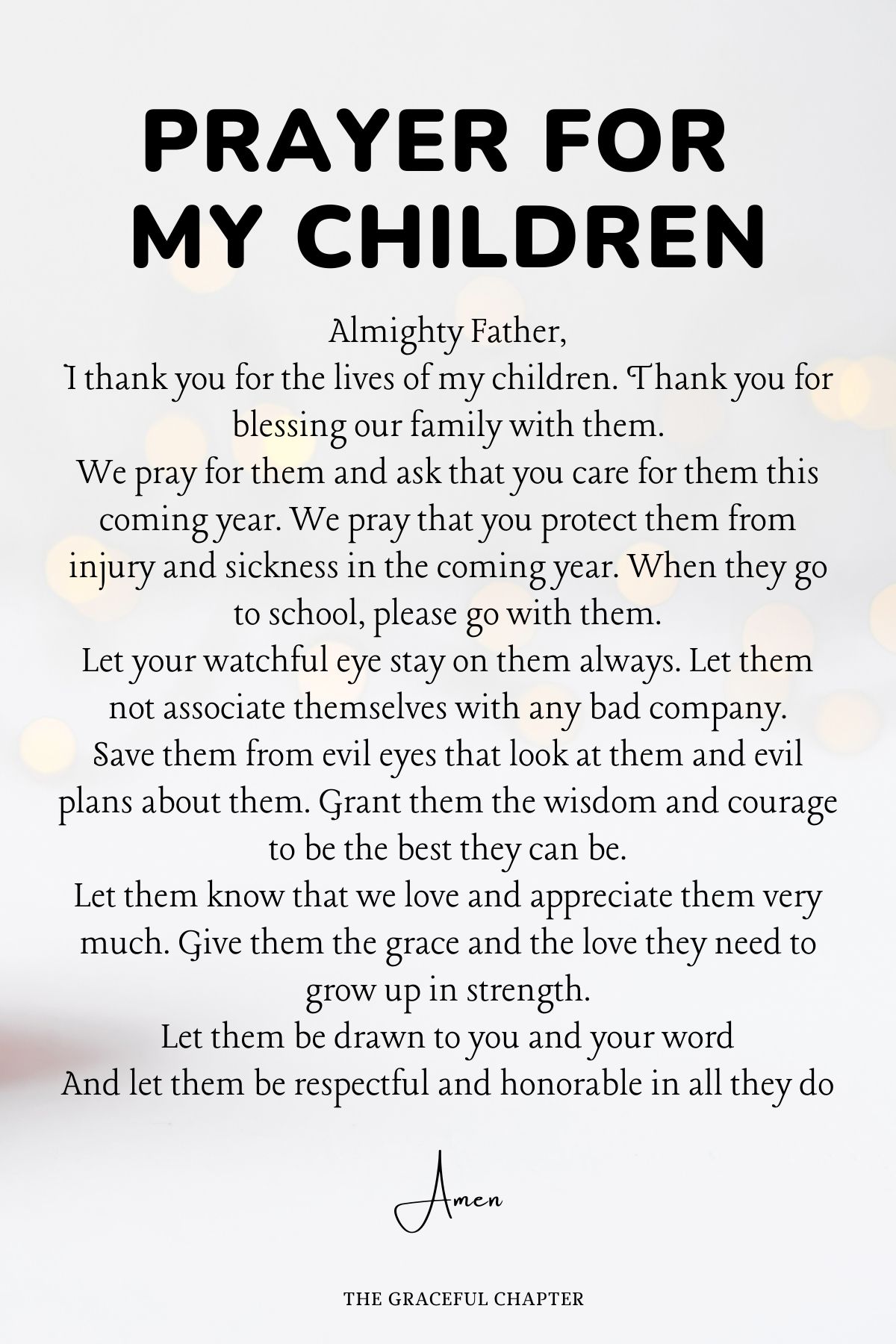 Related Posts
Prayer for Friends
Father Lord in heaven
I pray for my friends for the new year
Help them in all their endeavors
Grant them your special favor to face all the challenges of the new year
Let them have good influences on me
Let them be the reason why I rise and not fall
Bless them and their families
Bless their professions and businesses
Let all their goals be accomplished
Be the light in their lives this coming year
Be the rock they lean on in times of trouble
and bless them to live faithfully for you
Through Jesus Christ, our Lord
Amen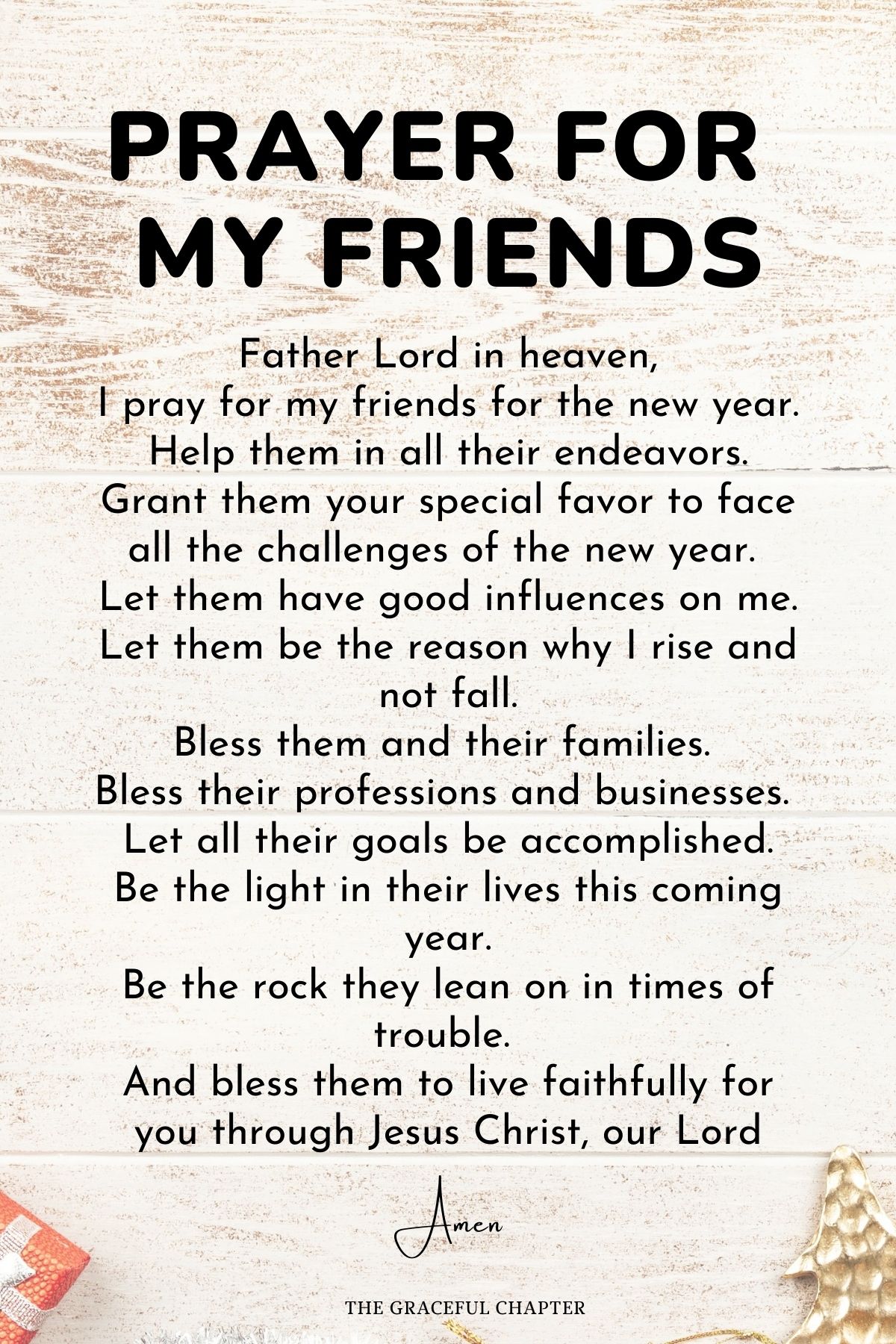 Prayer against Diseases
Almighty Father,
This has been a difficult year for a lot of families
There's been a pandemic that has claimed the lives of a lot of people
We ask that you remove any disease from this earth in the next year
We pray for divine healing in every corner of the earth
We burn all evil pandemics plotted by the devil for our world
We cast these diseases into the pits of hell
We ask for health and strength for all your children
We pray that you console all those who lost precious friends and family to various diseases
We pray that you replace what anyone lost this year in the coming year
Deliver us from sicknesses of any kind
Give us strong and healthy lives this next year
In Jesus' name,
Amen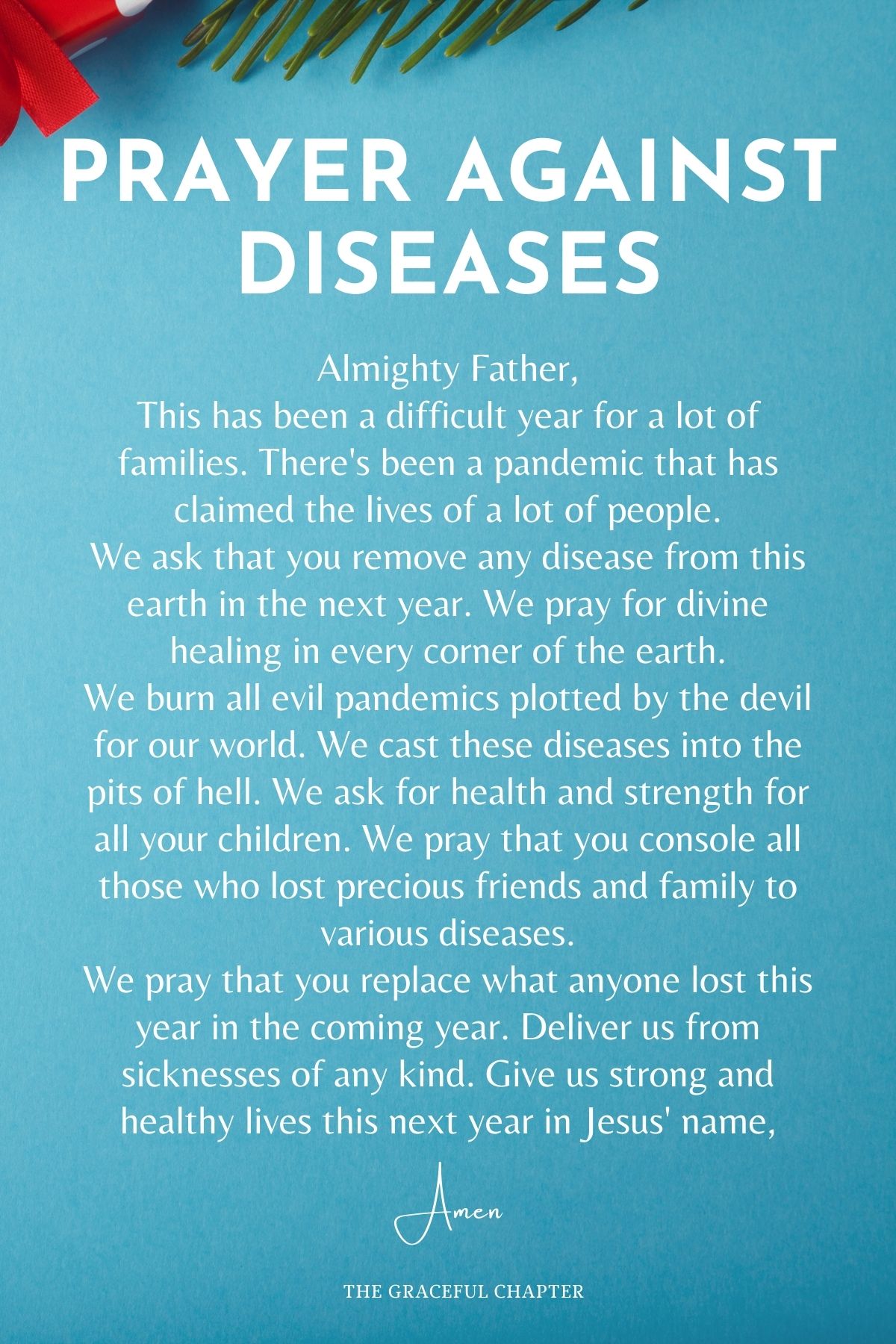 Prayer against Death
Merciful Lord,
We pray against death in the coming year
We pray that you preserve our lives until you are ready for us
We cancel all premature deaths, death by accidents, and freak deaths in Jesus' name
We ask that we live long and healthy lives and do not face any early demise
Protect us from evil people that seek to destroy our lives
Keep us away from traps and snares that look to destroy and end our lives
Let your spirit be our direction and grace
Speak to us and turn us away from situations that might lead to our destruction
Heal our mortal bodies and prevent any sickness or diseases that can kill us
Take care of us and keep us healthy in the coming year
Amen
Prayer for Goals & Resolutions
Dear God,
I pray for my goals and resolutions for the upcoming year
I pray that you help me accomplish everything I couldn't this year
Even if I wasn't close to any of them I pray for your strength and courage to not give up
Please provide me with the essential things I need to achieve my goals
I pray that you renew my strength and my spirit
Help me press and push on no matter the difficulty I face
Remove any depressing and disruptive obstacles from my path
Help me stay focused and on my toes this coming year
I commit my family and all that is dear to me to your care
Help me keep my faith in you and not stray from your promise
In Jesus' name, I pray
Amen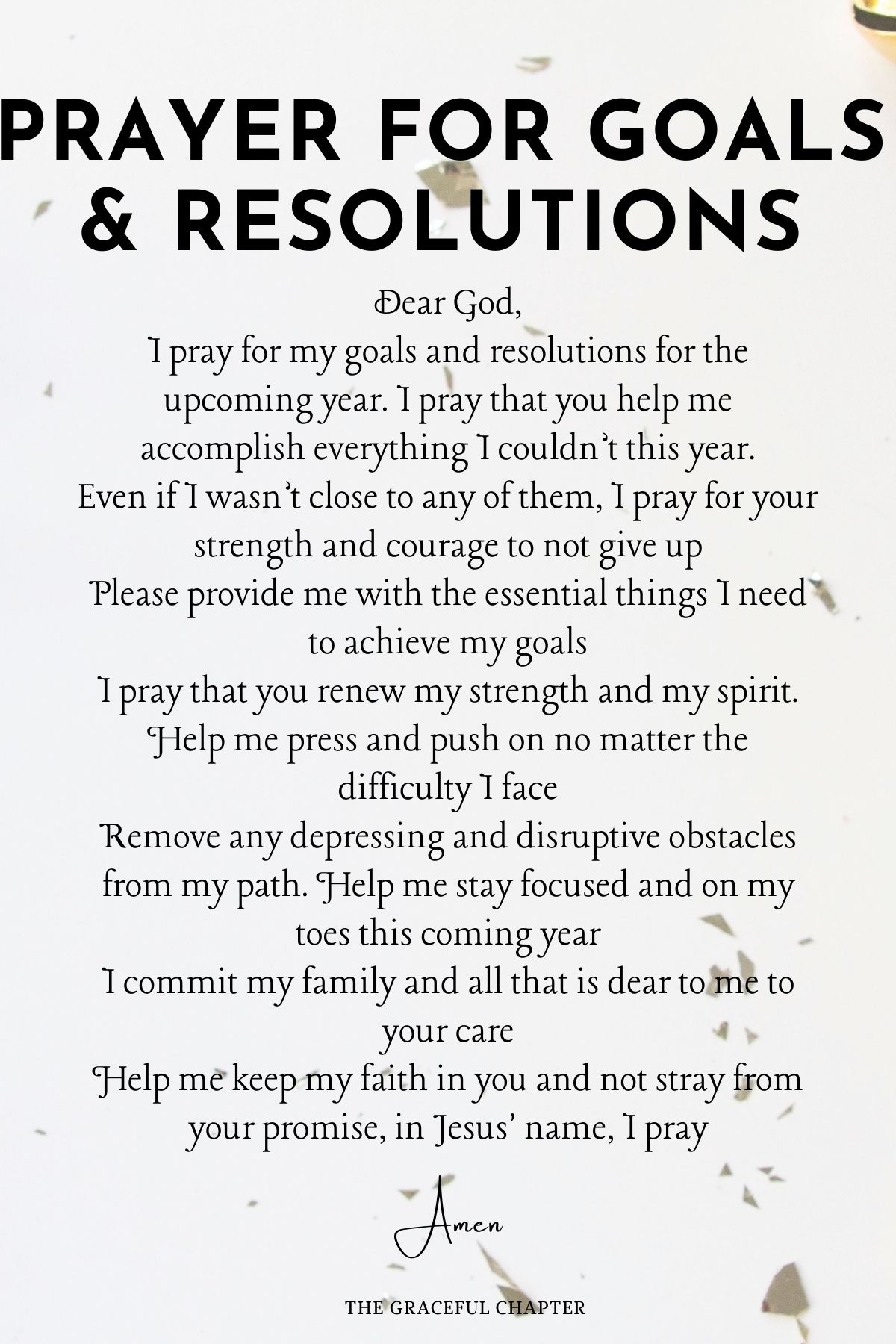 Prayer for the World
Gracious Father,
I pray for the world this coming year
I pray for a peaceful year free of war and destruction
I pray that you protect all the vulnerable people of this world
Feed the hungry children and save people in war-ravaged areas
Save us from any pandemics or evil leaders
Protect us from environmental disasters and keep us safe
Rain on our crops and increase our yield
Keep us safe from evil people who want to destroy and plunder
Help us through our lives with protection and love for each other
Let us protect each other and live in peace and harmony
This I pray in Jesus' name,
Amen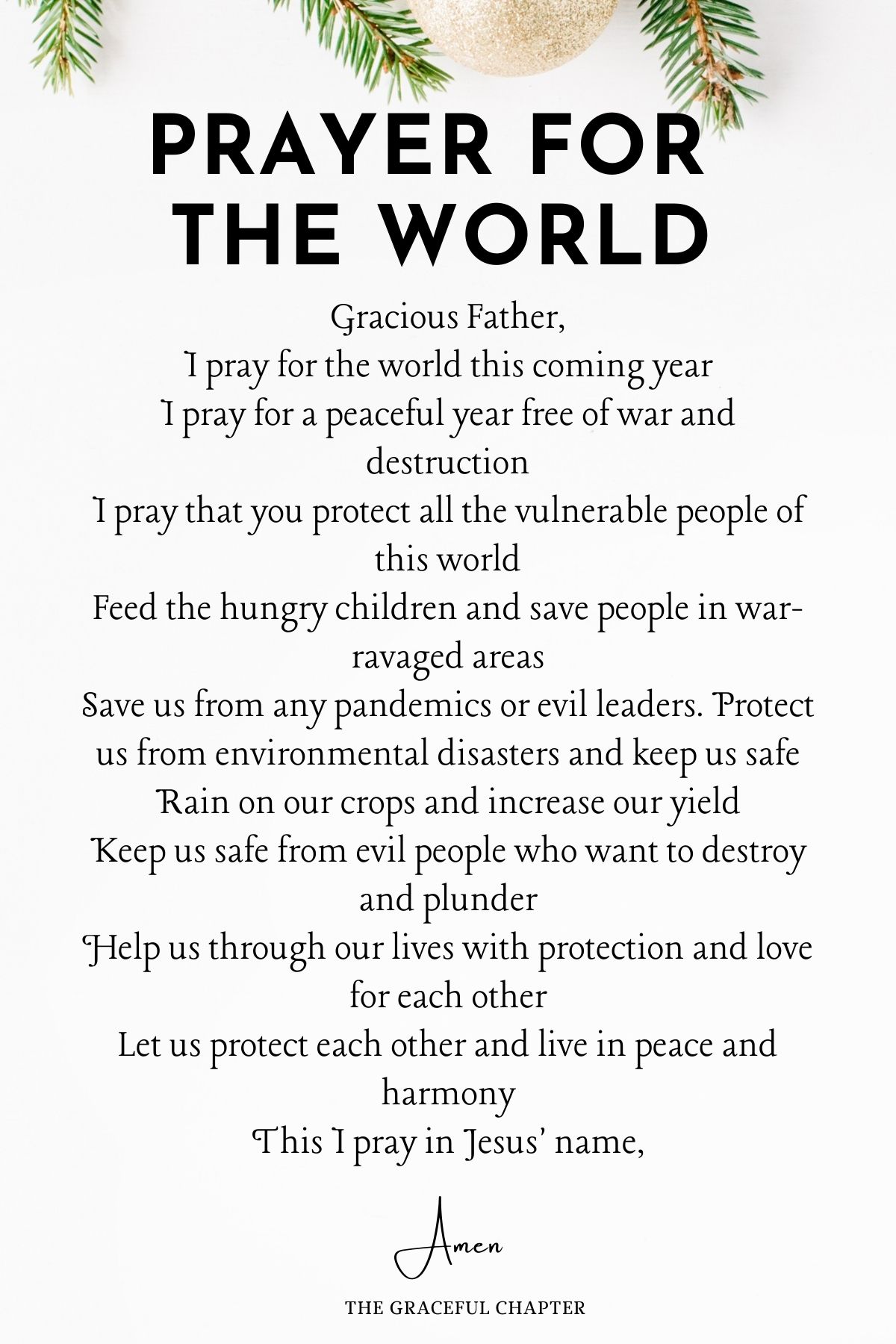 Next year is your next race. Don't be too down about what is already lost. Focus on what's to come. The devil will always try to break you with a worry or some kind of discouragement. The glory ahead of you will be greater than any pain you are suffering now. Do not give up and press on for your success. The fact that you are still here means that there is still a role for you to play in God's perfect plan.