Christmas is a beautiful time. It is the commemoration of the birth of our Lord and Savior Jesus Christ. It is a time of togetherness. Christmas is a time for family and a time for reflection. We reflect at Christmas the goodness, mercies, and the love of God.
The ultimate way you can show love is to lay down your life for another person. God did that for us by giving his own son unto death for the sake of our sins. Abraham proved his love for God by attempting to sacrifice his only beloved son.
On Christmas, we remember this wonderful gesture by God. Christmas prayers should be about giving thanks for all the things that have happened during the year.
Christmas prayers should also be about celebration. Celebration of a completed year, good health, and divine gifts received blessings we saw and did not see. We must also remember others during Christmas. The less fortunate, the less privileged, the disabled, the hungry, the homeless, the poor, and the sick.
Romans 5:8 tells us of God's love even when we were still sinners. This should make us realize that we are not perfect people and everything we receive is only privileged. We are not worthy of his love but he loves us anyway. Christmas is about selfless and sacrificial love. We show the world true love just as God has loved us.
Christmas Prayers
Christmas Thanksgiving Prayer
Dear Lord in Heaven
Thank you for this ultimate sacrifice
Thank you for remembering a sinner like me
Thank you that you have saved me from eternal damnation
Thank you for all the blessings we received this year
Thank you for your divine protection
Thank you for your endless mercies
Thank you for everything that happened this year
Thank you for the joy, sorrow, happiness, and anger
Thank you for our finances, for our children, and everyone in this family
We are grateful for your faithfulness
We are thankful for your favor even though we didn't deserve it
You are wonderful and our rock forever and ever
Thank you for this year
We bless your name, we praise you, we lift you up and we honor you
Amen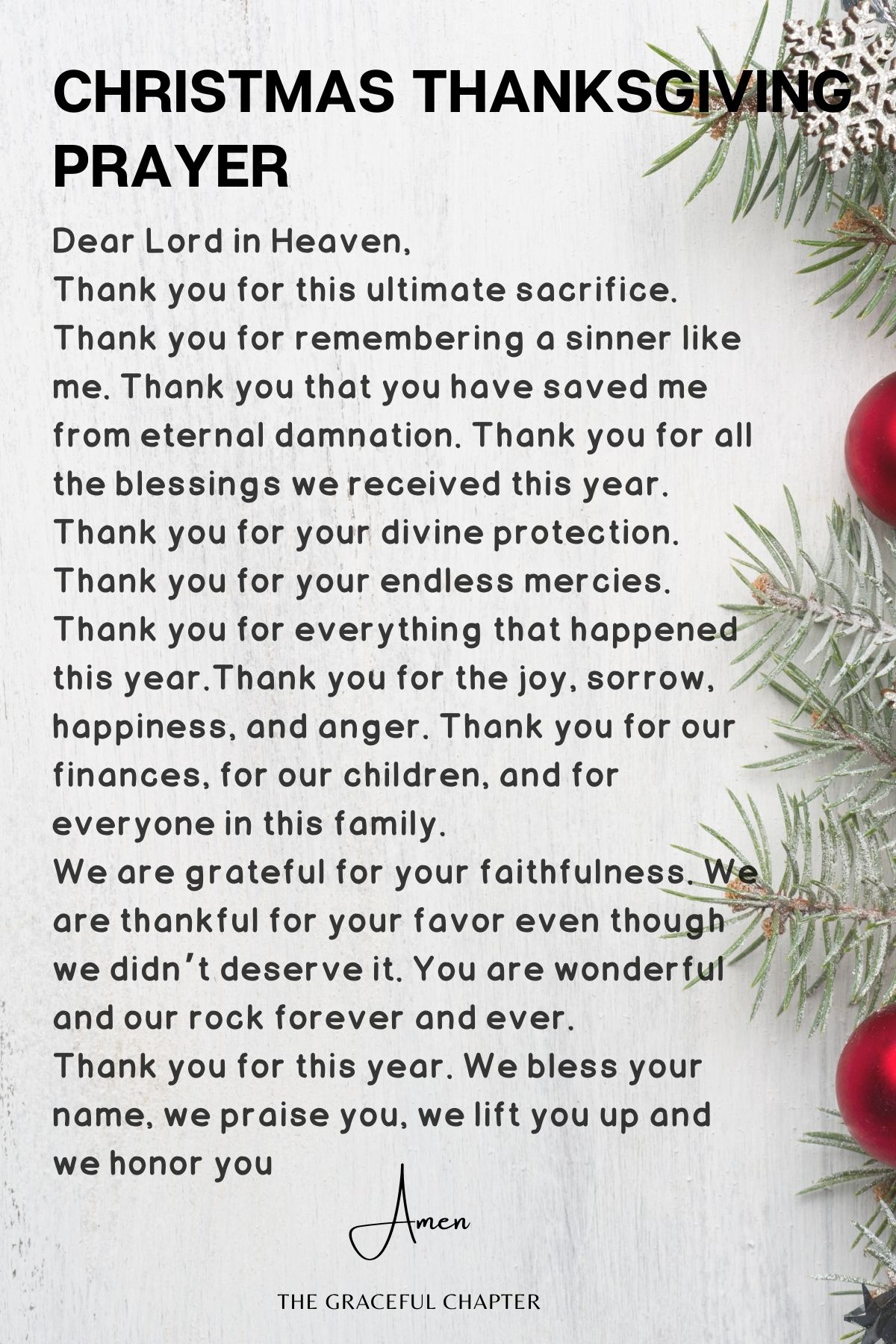 Christmas Remembrance Prayer
Heavenly Father
Thank you for all your mercies throughout this whole year
We appreciate the love you showed us each day
Today we want to remember those that are not with us anymore
It is the end of the year and though we started with them we are not ending with them
Only you know what is good
We are grateful for the time that they spent with us
We thank you that you gave them to us as gifts
We pray for their souls
Accept them in your bosom in heaven
Give them an eternal resting place
Let them know that they will not be forgotten and we are grateful each day for the wonderful lives they shared with us
The joy, the pain, the love, the happiness, and the life that we shared will forever be treasured in our hearts
Give them eternal peace
May their souls be forever at rest
Amen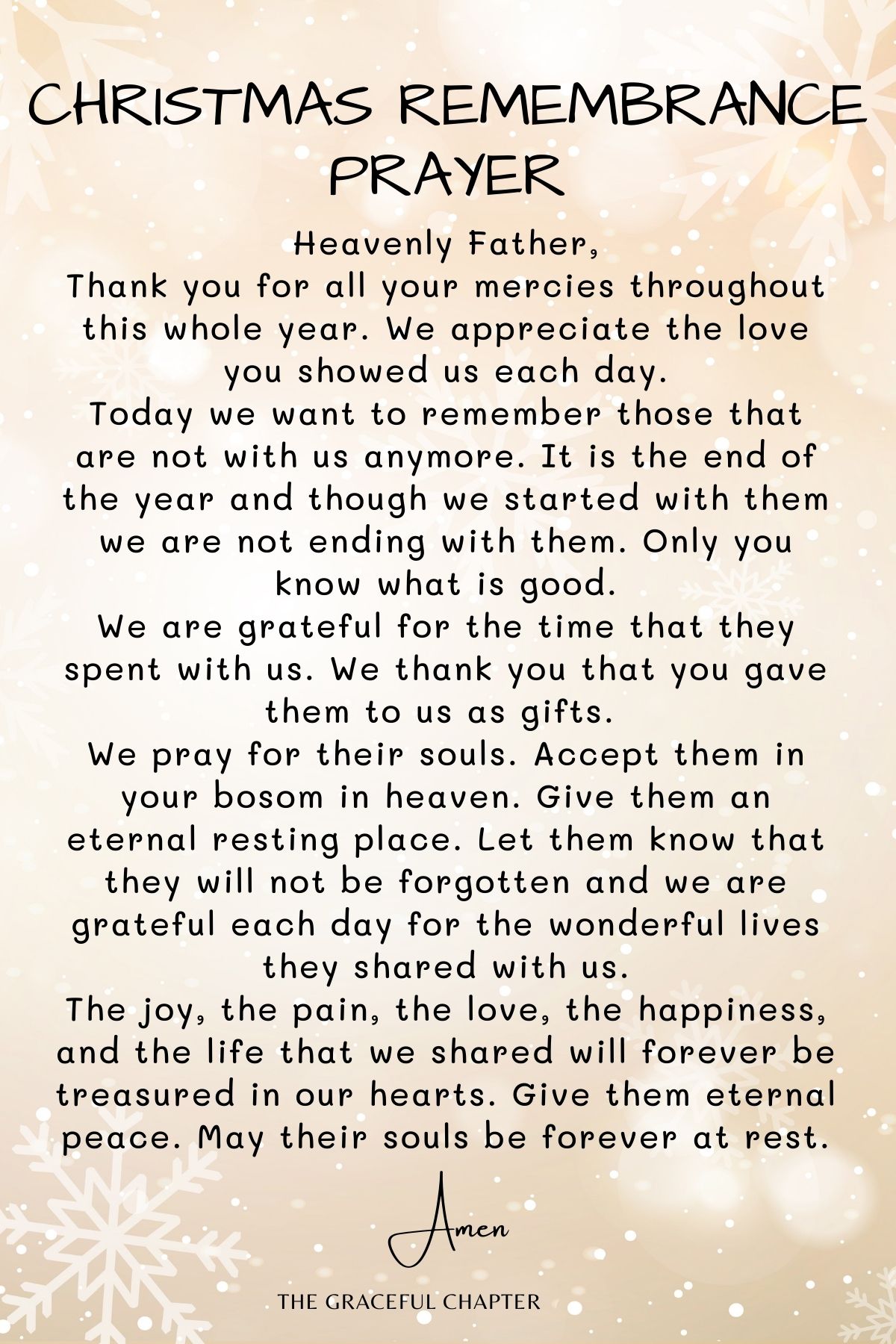 Christmas Prayer for the Hungry
Heavenly Father
Thank you for all the goodness and mercies you bestow upon us each day
We are truly grateful and accepting of all your kindness
Thank you for the abundance of food and water you pour upon us all year round
Today we pray that you remember those that have no food to eat
Please remember those who do not know where their next meal is coming from
People in war-ravaged areas who are hungry
People in poor areas who cannot afford a meal
People with no jobs who are frustrated with their lives
Let this Christmas mark a new start for them
Feed them like Jesus fed the hungry
Quench their thirst and make them whole
Street children who have to beg to eat
Neglected folks who are deemed useless to society
Grant them your divine help
Bring them manna from heaven
Fill their souls with hope and rain your mercies on them
In Jesus' name, I pray
Amen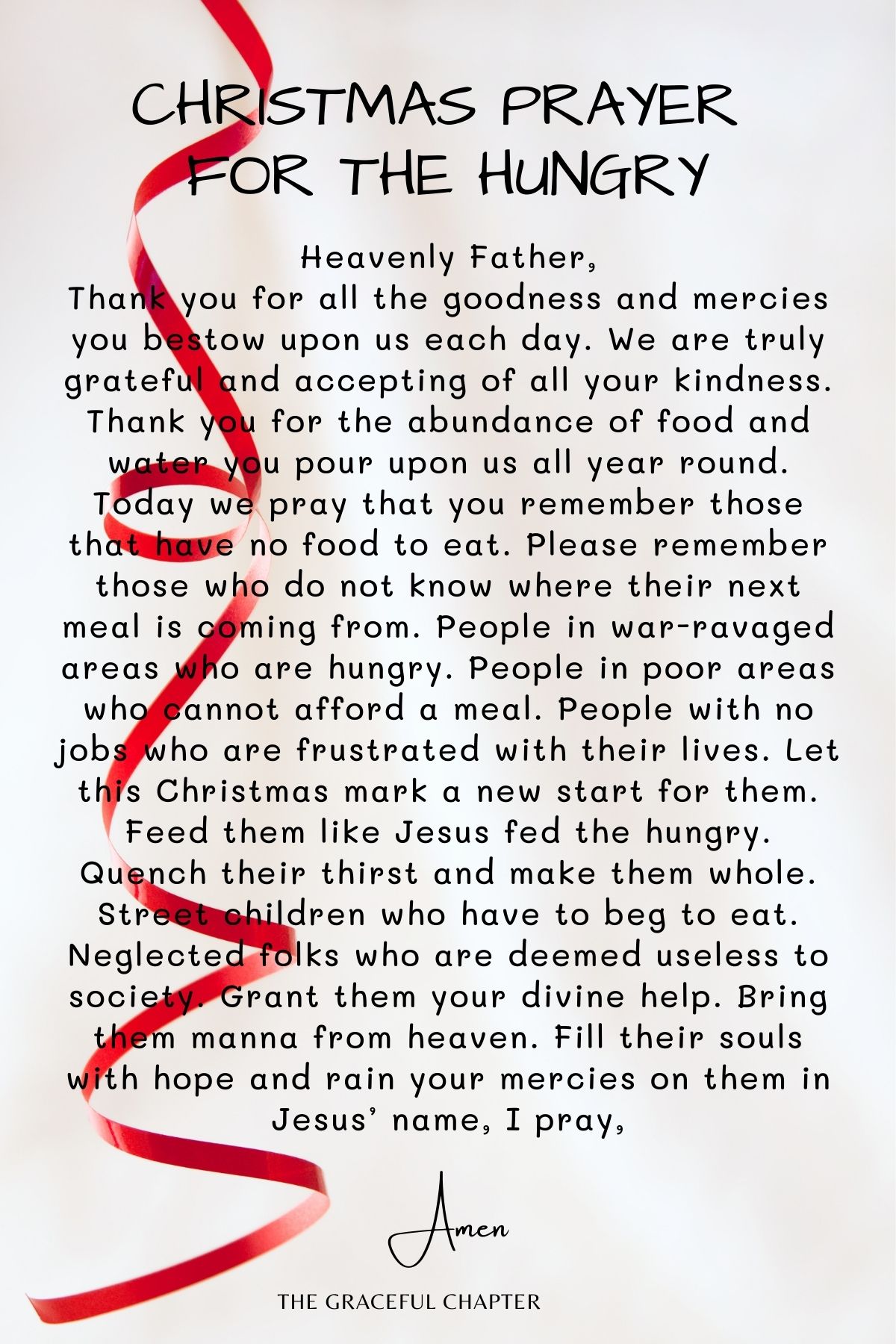 Christmas Prayer for the Poor and Less Fortunate
Dear Lord
Thank you for your gracious love and affection for us each day of the year
We bless your name for giving us occupations and money to fend for ourselves|
We know that other people are in serious predicaments
We understand that there are others who live in poverty
So today we remember them in prayer
Let the coming year be a year of plentiful harvest for these people
Plant favor, grace, and wealth in their lives
Let them approach the year with smiles instead of tears
We pray for breakthroughs in their lives
Whoever has lost a job let them find it again
If anyone needs an opportunity please give it to them
Let their pockets and plates be filled
Grant them the answers to their prayers
Let those who were laughed at be the ones laughing now
Let them cast away poverty and embrace riches this Christmas
In the mighty name of Jesus, we pray
Amen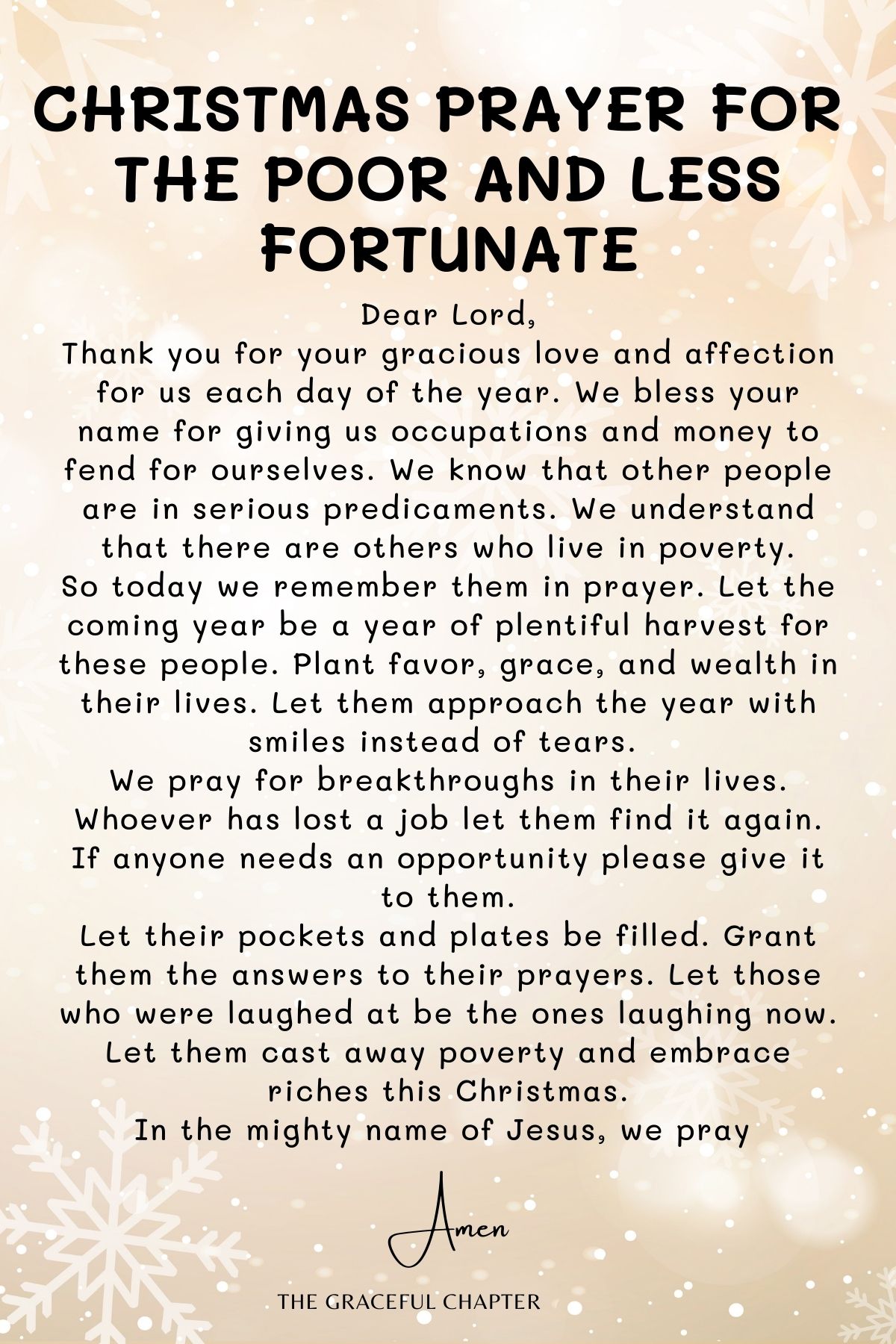 Christmas Prayer for the Differently Abled
Dear Lord
Thank you for protecting and sheltering us all year round
Through the traveling and the moving around you have been by our side
We pray today for the differently-abled
We pray that you inspire them to live their lives without fear or depression
You know the future and why things happen
However, they got in that state, we pray that you make them recover from that traumatic experience
Give them peace in their hearts
Give them joy and brighten up their lives
Remove evil thoughts from their minds and help them reject any defeatist thoughts
Give them the strength to carry on
Restore anything that they may have lost
Preserve their lives and draw them close to you
Be the voice in their ears
Be their shoulder to cry on
Comfort them and wipe away their tears
Let this Christmas fill their hearts with gladness and belief that will never ever be lost
Amen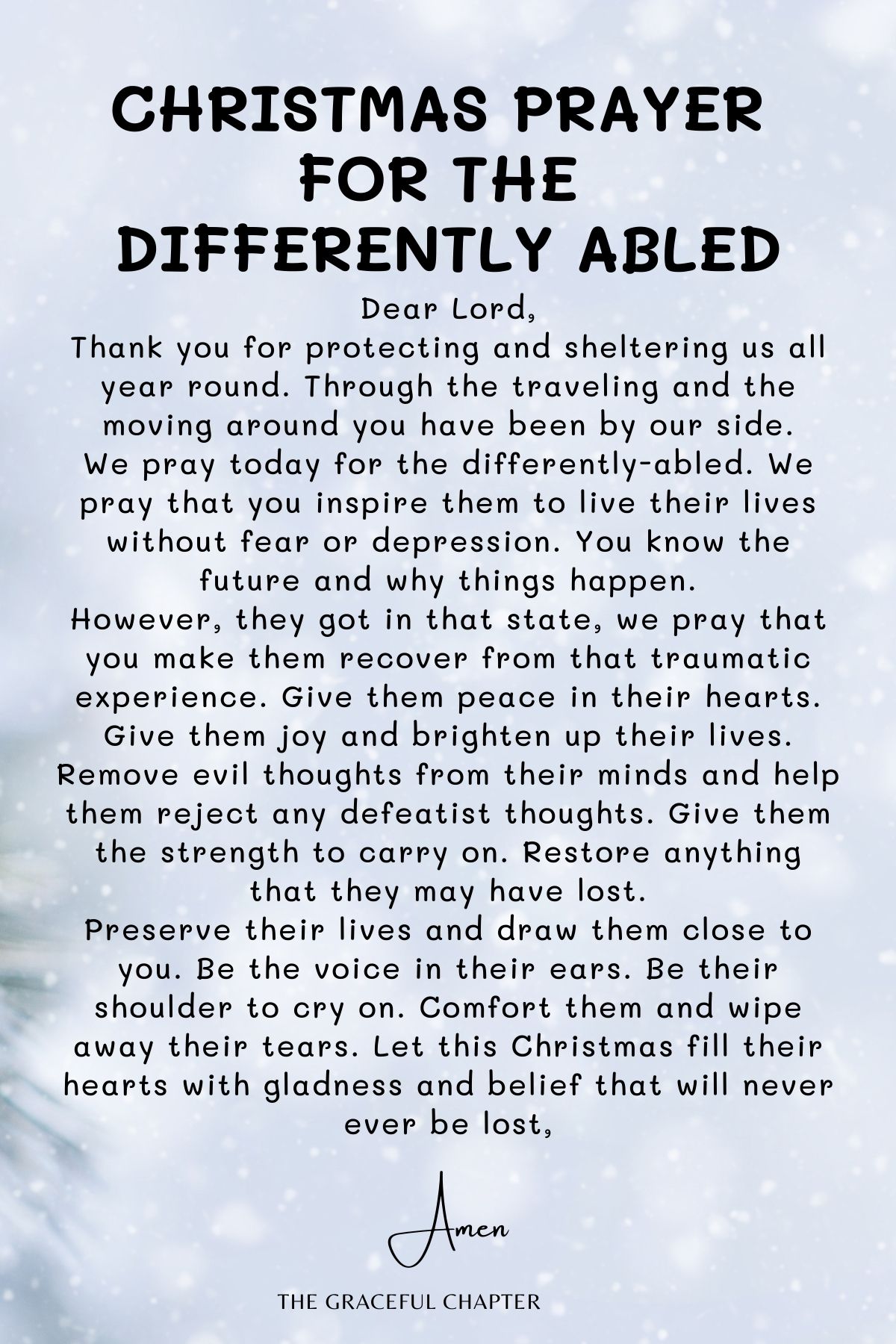 Christmas Prayer for the Homeless
Heavenly Father
Thank you for sustaining us this year
Thank you that you have fed us, clothed us, and given us shelter for our families
Today we commit people without families and home to your care
No matter where they are, we pray that you give them homes
Provide them with a place to lay their heads
Find shelter for them and their families
Today we remember in prayer, those sleeping on sidewalks, under bridges, and abandoned buildings
They are your children also
Please deliver them from these hardships
Open new doors for them
Let their children grow up in your loving care and shelter
Remove them from the dangers out there
Save them from the snares of the cold
Comfort and cover them with your divine blanket
Guard them with your Holy angels
Protect them from diseases out there and be their shelter
Amen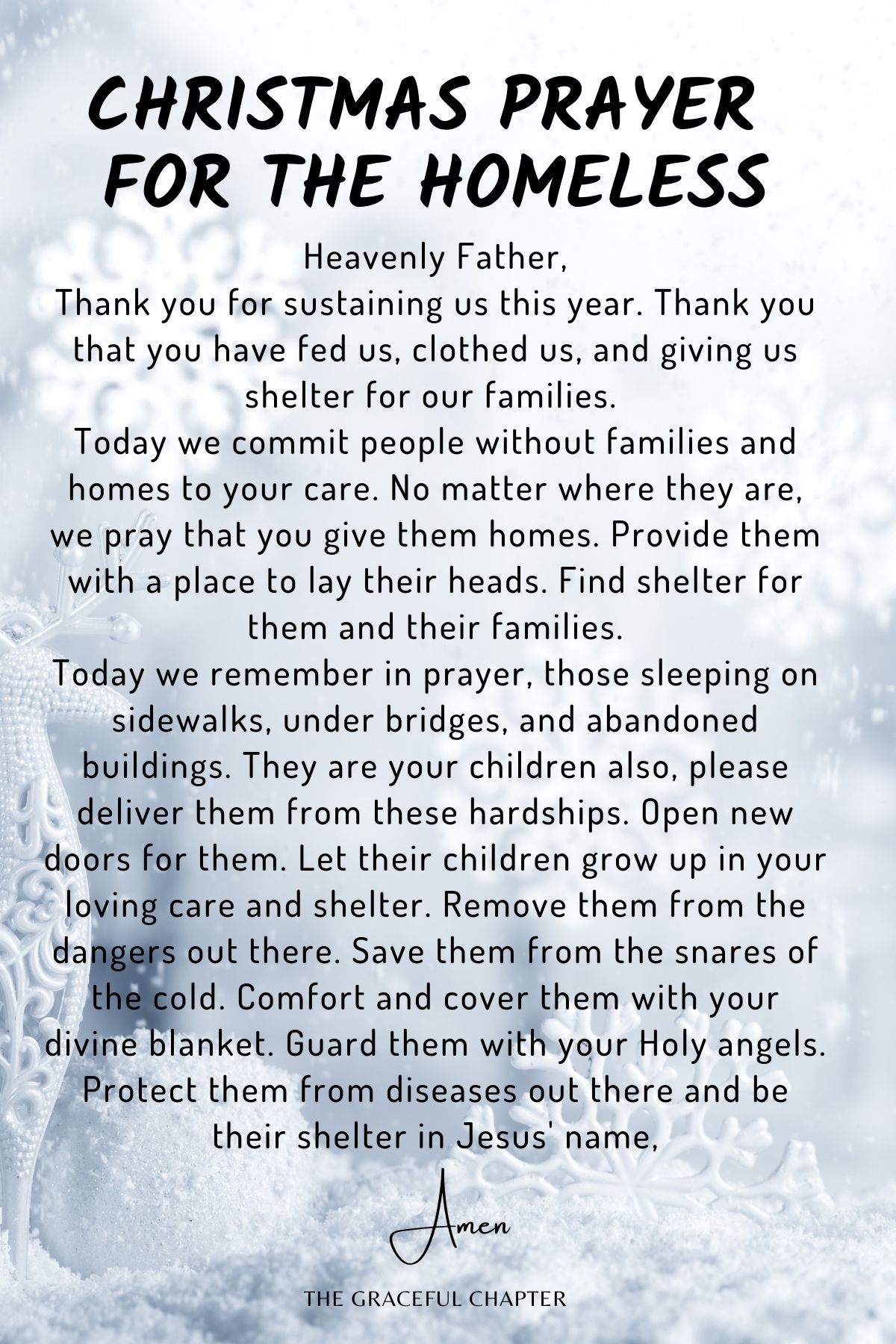 Christmas Prayer for the Sick
Heavenly Father
Thank you for the strength in our bodies
Thank you for sustaining our lives
The year has ended and we are alive and kicking by your grace
We pray for the sick
We pray for those admitted to hospitals and are incapable of being here today
Please heal them and make them strong again
If anyone has had a bad diagnosis we pray that you convert it to joyful healing
Bring smiles to every hospital room and replace pain with relief
Nothing is impossible for you, dear Lord
Restore life into those whose mortal bodies are dead
Rekindle the flames of those whose fires are dying out
Quicken with life hearts that are too weak to beat
Heal cancerous cells
Mend broken bones
Open blind eyes and ears
Let the lame walk again
Let this Christmas be a season to remember your healing miracles
In the name of Jesus have I prayed
Amen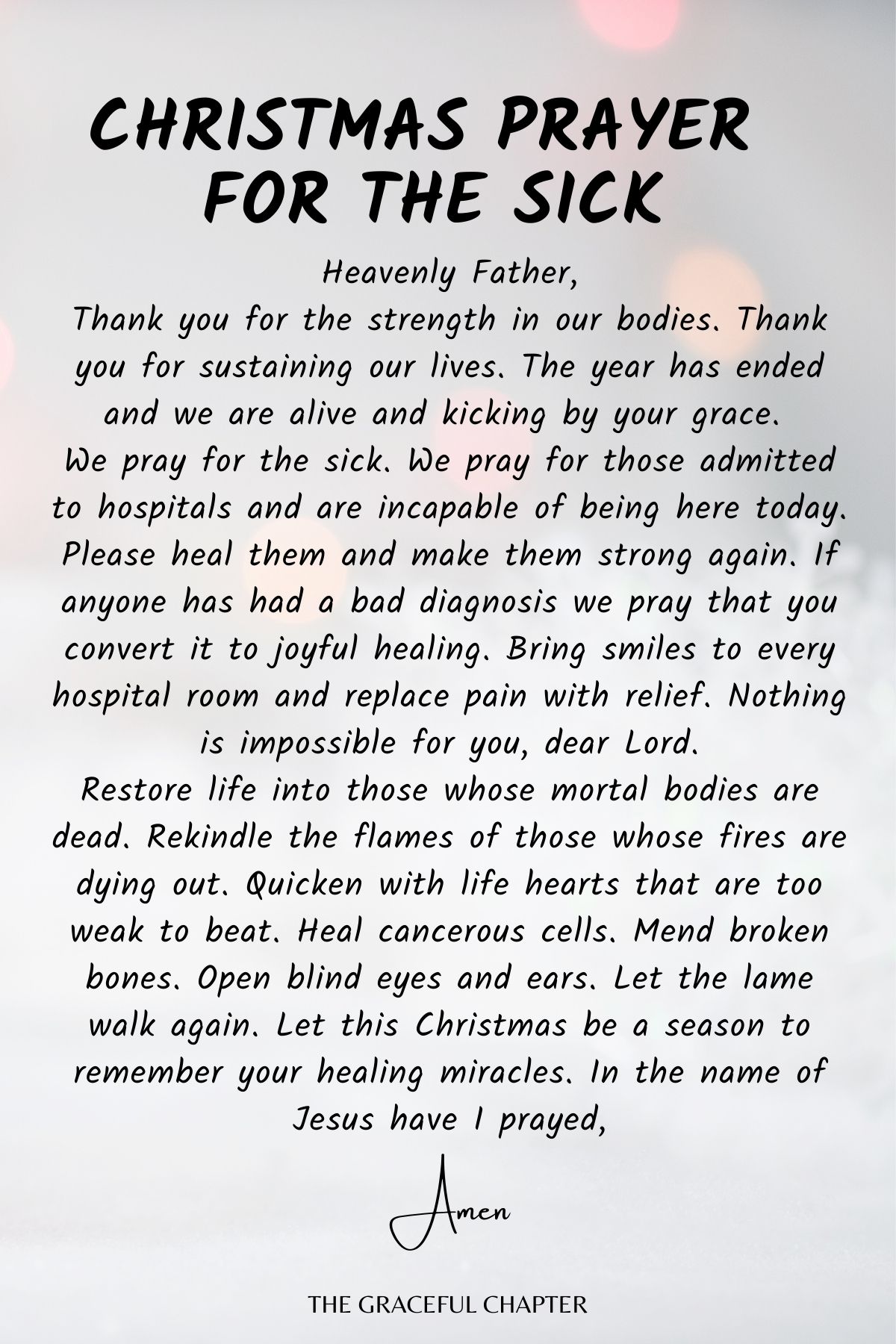 Christmas Prayer for the New Year
Father God in heaven,
We praise you and lift up your name today
Thank you for all your protection this year
Through the pandemic, crimes, and accidents you kept us safe
You have been faithful to us in our homes and places of work
You have fed, clothed, and sheltered us from evil
We pray for the upcoming year
Continue to be our father
Guard us away from any unforeseen disasters
Bless our lands and give us plenty of food and water
Let us accomplish all the things we failed to achieve in the past year
Let all our dreams come true
Answer all our prayers
Give the barren children, heal the sick, feed the hungry, and shelter the homeless
Let this new year bring new and exciting things into our lives
Bless our jobs and make us fruitful
Heal our land and make us whole
In Jesus' name, we pray
Amen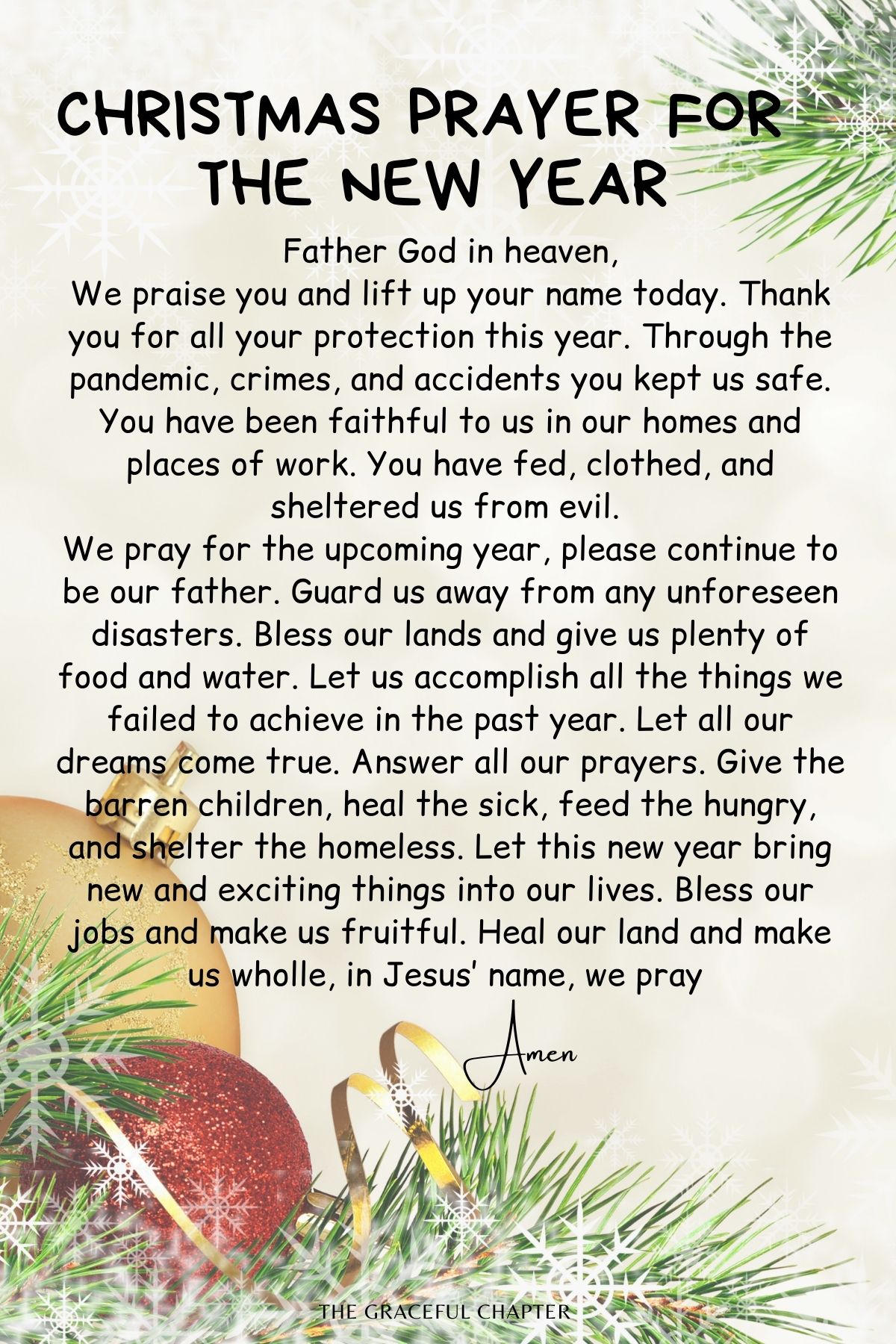 Related Posts
Christmas Prayer for Unbelievers
Dear Lord
Thank you for sending your beloved son to die for our sins
Thank you for saving us sinners from eternal damnation
We pray today for unbelievers
Show them your light and bring them out of darkness
Touch their hearts and make them realize what you have done for them
Show them the way to get to you
Cleanse them of their sins and lead them to your word
Soften their hearts and let them listen to your word in good ears
Help them so they don't perish in their sinful ways
Plant a seed of salvation in their lives
Save them from the ways of the devil
Blind them to the empty promises of the wicked
Shield their souls from the talons of evil spirits
Repent them from their evil ways
Bless them to accept Christ and live for you
Let them receive the good news with open arms and hearts
Give them the water of life
As you have done for us please do the same for them
In Jesus' mighty name,
Amen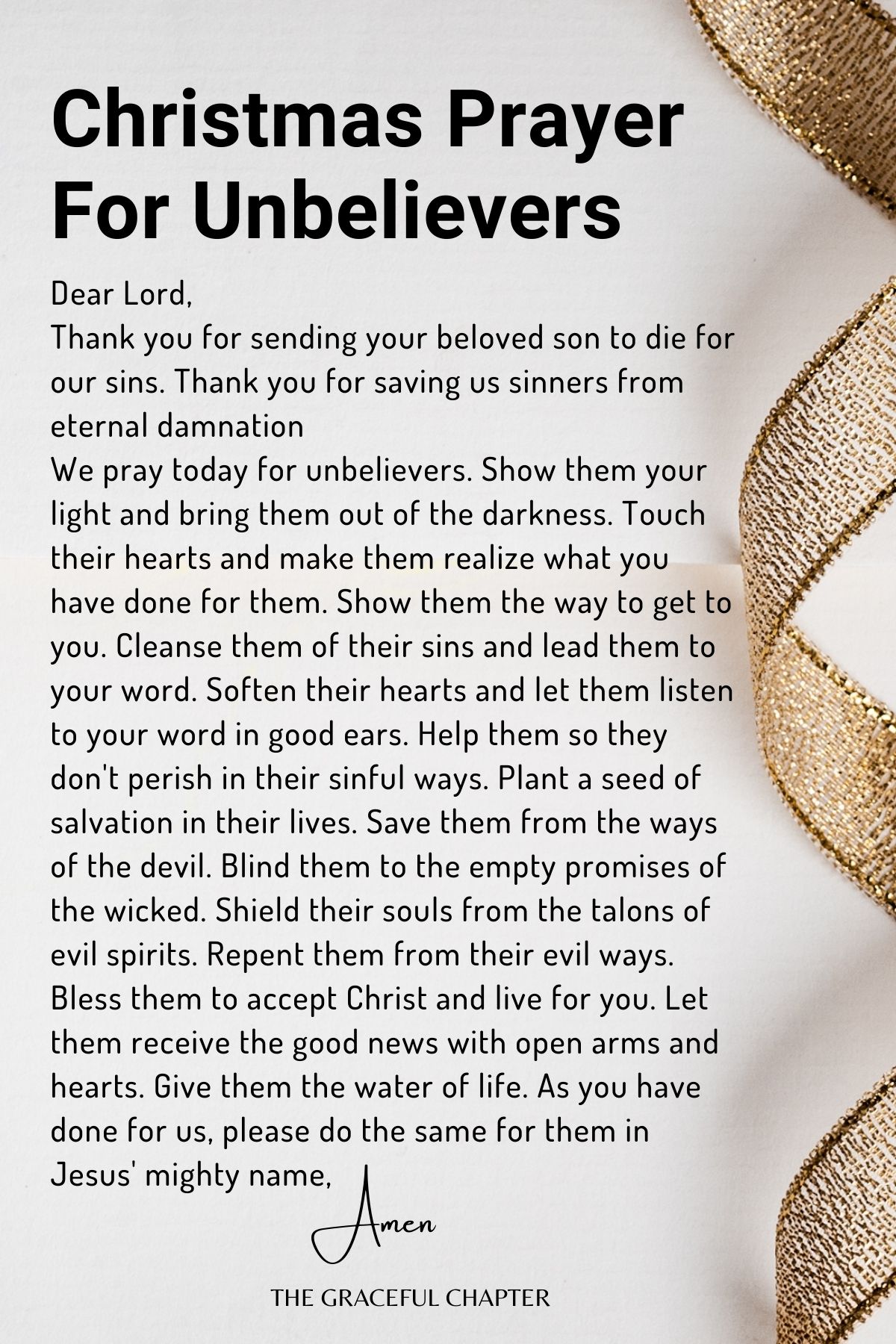 Christmas Prayer for Children
Father Lord in heaven
Thank you for the lives of our children
We pray today for children everywhere
Let them receive Christmas cheer
Fill their hearts with Christmas joy
Let your light shine on their future
Give them the strength to grow in you
Feed the hungry kids tonight and forever
Shelter the homeless kids
Let them reach their full potential
Heal the sick children of this world
Let them fully enjoy the life you have gifted to them
Bless childless couples with kids
Secure their future and make them a better world than what we have now
Amen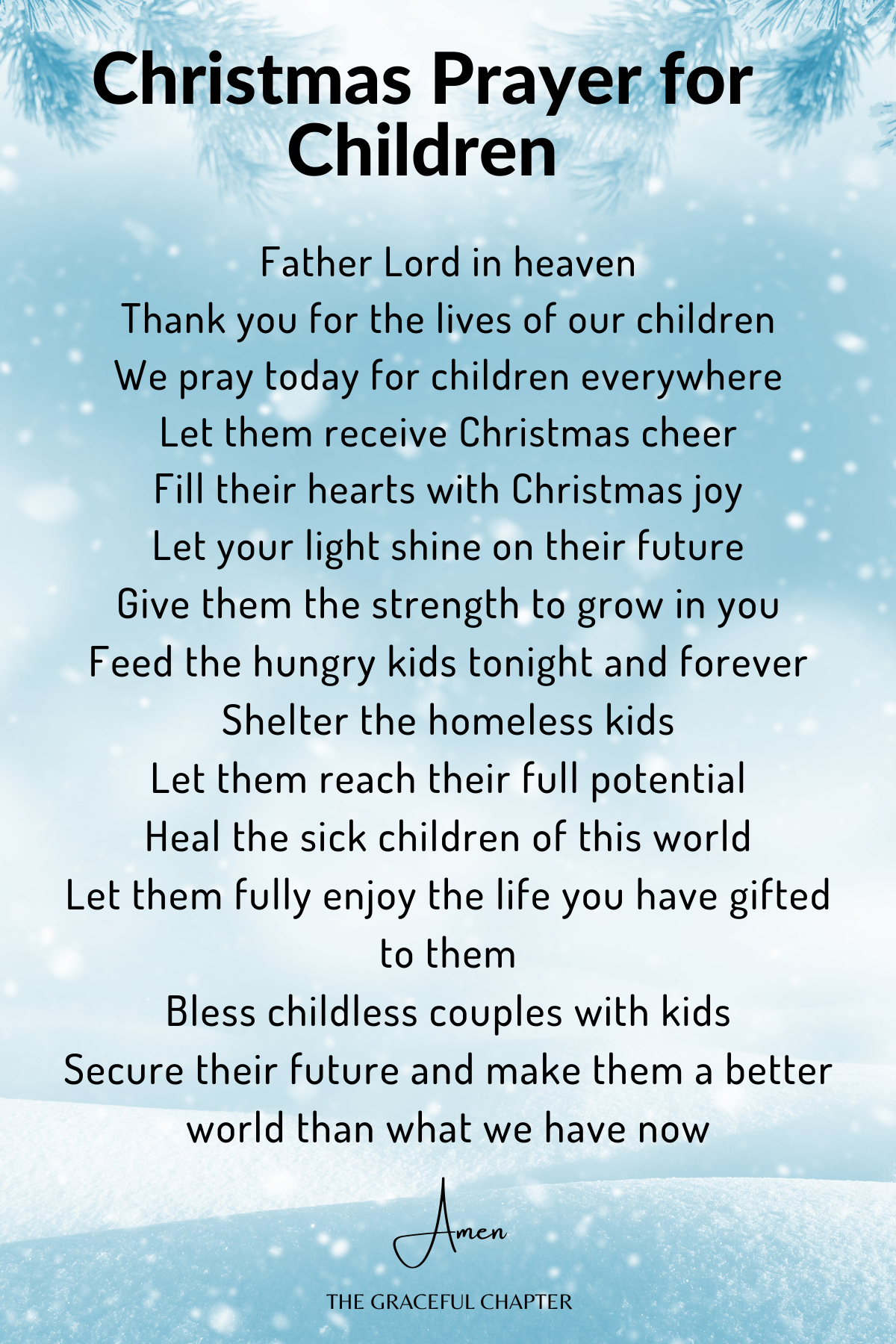 Christmas prayer for traveling mercies
Thank you, Lord, for protecting us to the last part of the year.
We are grateful for the gift of life.
It's time of the year to see our families, loved ones, make merry and receive gifts.
We sanctify anywhere we step to celebrate these holidays,
We commit the foods, drinks, and gifts in the blood Jesus shed on the cross.
Please grant us safe journeys and protect us from the plans of the evil ones.
Let us remember that Christmas is about the birth of Your son, Jesus Christ.
It is time for most people around the world to see their families, loved ones, and friends.
People will travel worldwide, I pray and commit every individual traveling this festive season to your care.
I pray you let Your angels guide and protect every traveler and grant them safe journeys to their destination.
I cancel any accidents and misfortunes on the way
I thank you for the preservation of life
I'm thankful for this season, the celebrations, and the merrymaking
Thank you for giving us the chance to celebrate another Christmas together.
Amen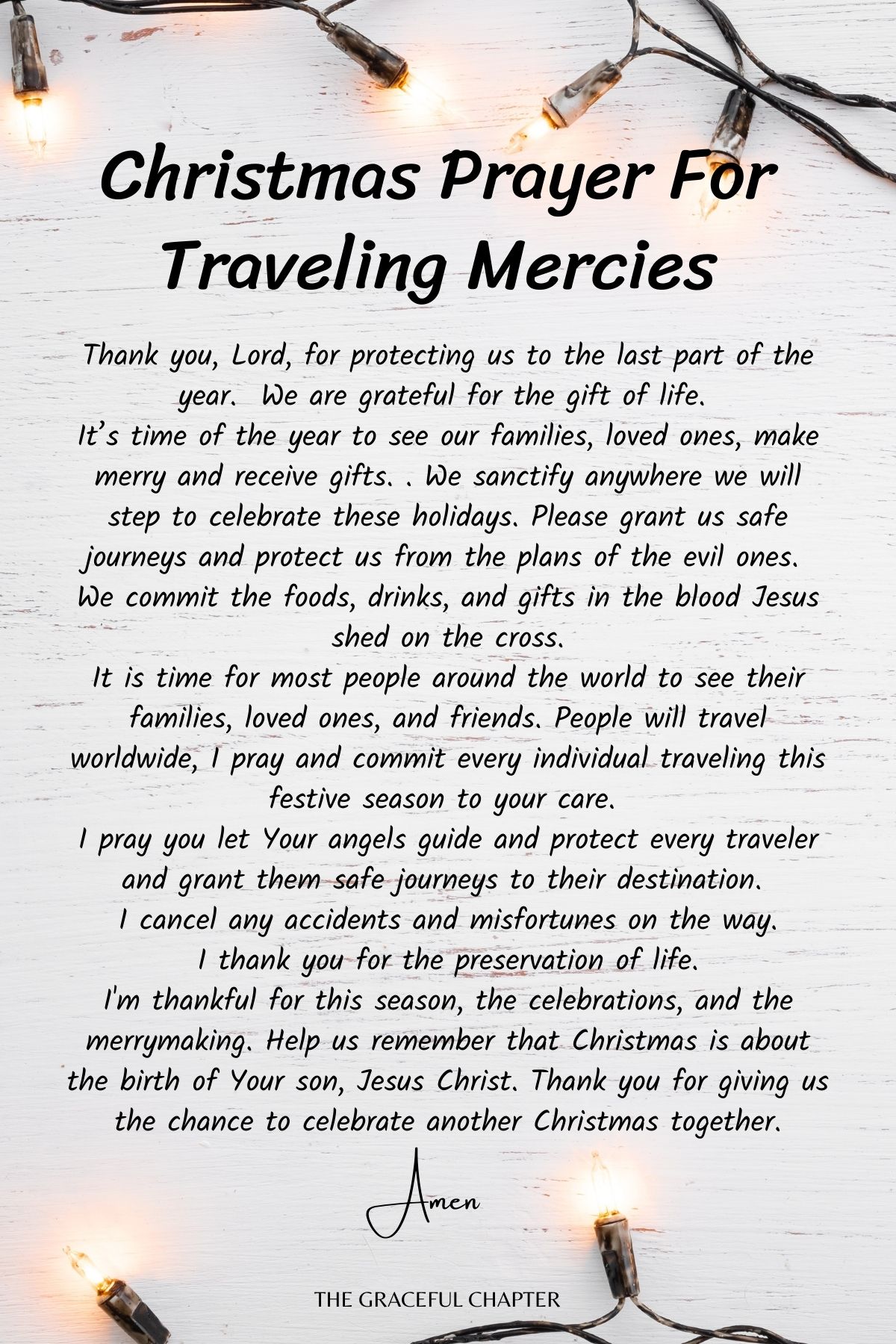 Christmas prayer for protection
Father Lord,
Thank You for another Christmas to celebrate the birth of your son, Jesus Christ.
The enemy rises against Your children this time of the year.
I, therefore, pray for divine protection over myself, my family, loved ones, and friends.
Please deliver us from any plans of the enemy in this festive season
I pray You give us good health and remove any sickness from us.
We commit our foods, drinks, and our environment into Your mighty hands.
Sanctify them with Your blood and let everything we consume this festive season give us strength.
Just as You filled Joseph and Mary's home with smiles and many precious gifts,
I pray You do the same for my home and every household in the world.
Amen
Christmas prayer for the sad and needy
My God,
We're grateful to be alive for the birth of Your son Jesus Christ.
Father, a lot of people are grieving in this joyous season due to the loss of loved ones.
Please remind them of Your undying love and fill them with peace in times of grief and sadness.
Comfort them, Lord, let your Prince of Peace Jesus be the center of their homes.
I pray for all those in need.
For those who want financial, emotional, and mental help during this Christmas,
I pray You come through for them.
Support everyone in need so we all have a good and memorable Christmas.
Amen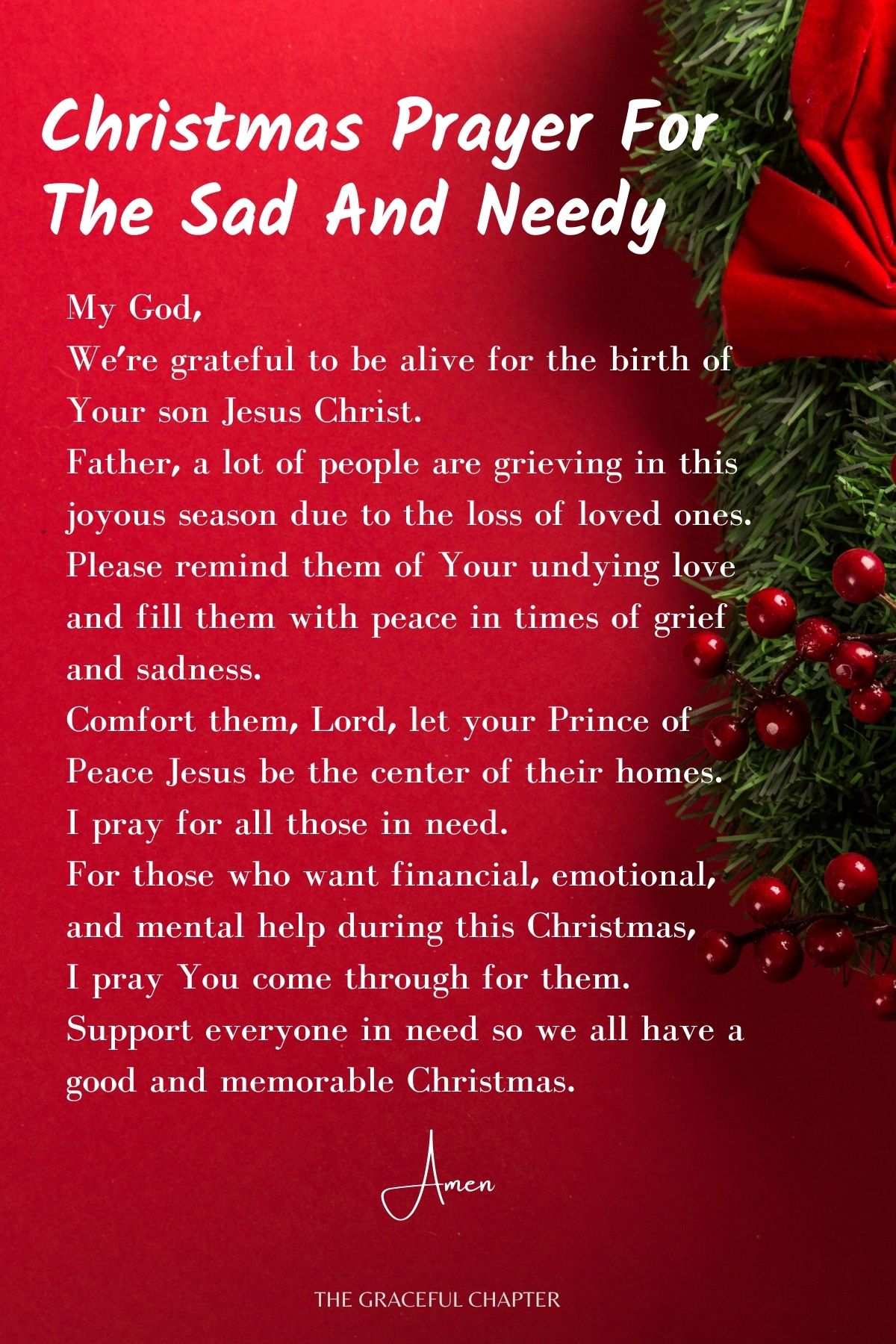 Christmas Eve Prayer
Heavenly Father,
As we finally approach Christmas tomorrow, let troubles be far away from us.
Father, may the purpose of this Christmas be fulfilled in our lives in Jesus' name.
Any weapon formed against me and any of my family this Christmas shall not prosper.
We will experience God's goodness tomorrow on Christmas Day.
Please renew us and take away our sins this Christmas.
Amen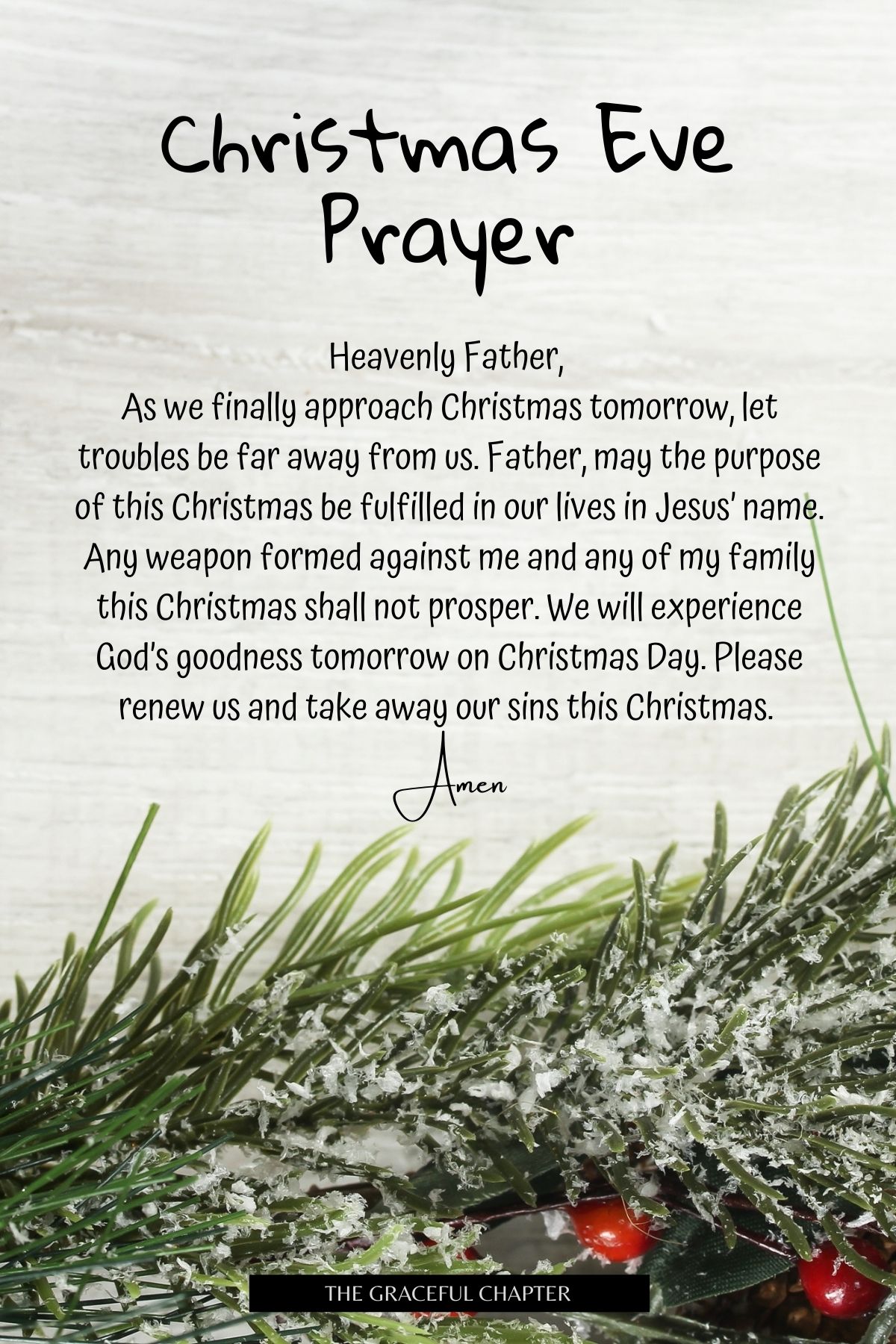 Christmas Day Prayer
Thank you, Father, for this beautiful day.
It's Christmas day and my home has been filled with so much joy and happiness I cannot explain.
There's an abundance of blessings, food, drinks, smiles, and every positive thing we asked for.
Thank You so much, Father, we pray today brings many beautiful memories.
Amen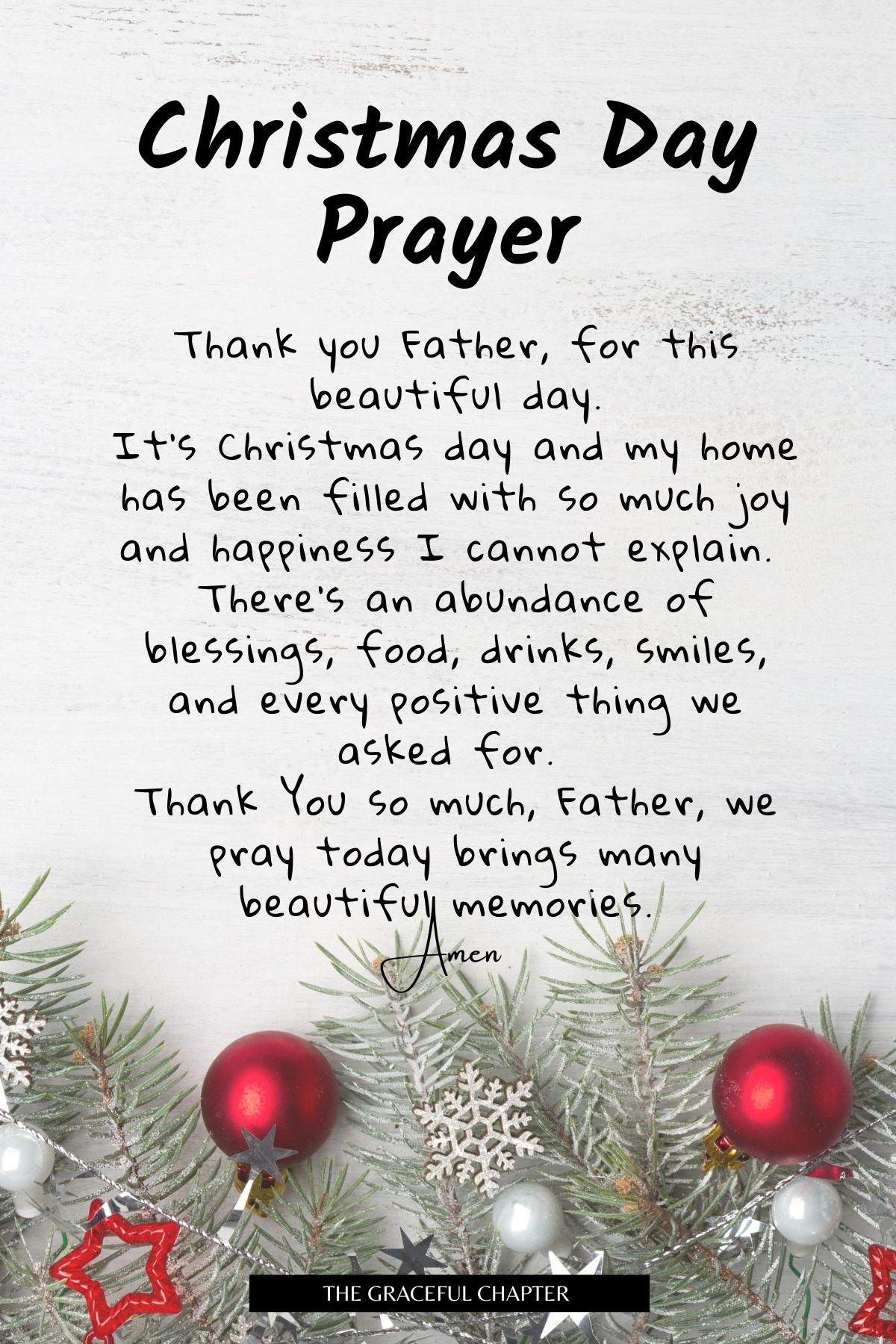 Christmas is a time for joy. Be at peace and be happy because the lord has interceded for you and claimed your soul for his own. You are sheep in his pen. He will guide you, protect you, shield you and give you a resting place. Christmas is a time of forgiveness and togetherness. Be blessed and spread the cheer to others.