Whoever does God's will is my brother and sister and mother.  

Mark 3:35
A brother in biological terms is a male family member who shares the same parents as you. In terms of Christianity and doing the will of God, a brother is anyone who does the will of the father.
When Jesus was approached by his disciples to stop teaching and go out to meet his family he told them that everyone who did his father's will was his family.
In Christ Jesus, we are not separated by biological blood. We are joined together as one under the same covenant of promise. The blood that was shed on Calvary was used to purchase us from under the rule of death. We were saved on that day and were no longer slaves to sin and the devil. This made us all family and Christ became the church. We are members of that church and must relate to each other as one family.
When you see a fellow Christian you are not related to biologically, know that you are related spiritually by a far stronger bond that transcends physicality. Your souls are joined together in Christ and you are heirs to a heavenly kingdom. We must therefore treat ourselves as a family because in Christ there are no tribes, races, or divisions.
We must learn to say prayers for our brothers.
A friend loves at all times, and a brother is born for a time of adversity.

Proverbs 17:17
A brother is born to help us through all our difficulties. One cannot be called a brother unless they feel physically connected to your pain. When times of strife come upon us, a brother understands and helps us no matter how difficult it might be.
Did you know we are on youtube? Kindly subscribe to our channel
When we are bereaved, we receive visits from friends to empathize and sympathize with us for a certain while. Our brothers stay with us longer than any friend ever would because they feel our pain in ways others simply cannot.
For these reasons, we must intercede for them at all times. We must be the hand they can hold during dark times. We should be there for them in council and understanding. Before you can call someone a brother, they must mean a great deal to you. As mentioned before brotherhood does not begin or end with blood relations but rather with the acceptance to sacrifice one's life for another.
Prayers for my brother
Prayer for my brother's faith
Dear Lord in heaven
Thank you for my brother's life
I pray that you continue to order his steps
Let him grow in your grace and your favor
Let no strife in life sway him from you
Let him keep faith and hope alive in you
No matter what circumstance may befall him,
keep him grounded in your spirit
Bless him in all his endeavors
and never let him depart from your guidance and protection
Amen
Prayer for my brother's marriage
Father Lord
Please help my brother in his marriage
Let them live in peace and understanding
Give them the tools to conquer all their fears
Grant them wisdom to resist the evils of the devil
Let their marriage be an example to others
Help them bear fruits and grant them their hearts desires
Be their mediator in times of conflict
Calm them down when tempers go high
Help them raise their children in you
and bless their union now and forever
Amen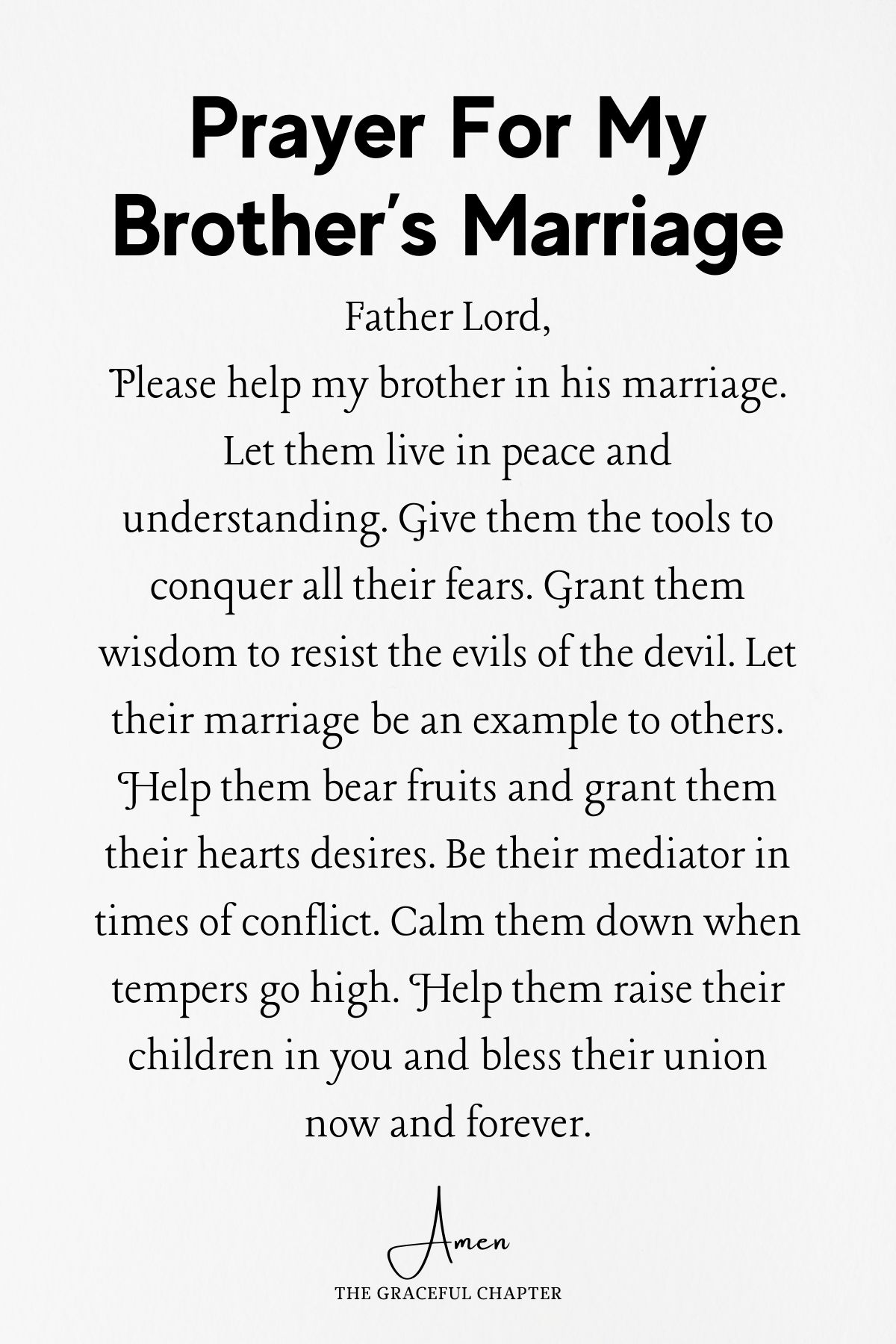 Prayer for my brother's children
Dear Lord
Fill my brother's home with children
Grant them wisdom and strength
Keep them away from traps set by the devil
Save them from bad friends who will lead them astray
Let them grow from strength to strength
Let them make their parents proud in all they do
Save them from sickness and diseases
Be their guidance and their protection
Hold their hands in times of trouble
Let them seek you in all their lives
and let them be a blessing to their family
Amen
Prayer for my brother's job
Dear Lord
I commit my brother's job into your hands
I pray that you let him go higher and higher
Help him fulfill his potential there
Remove all snares from his path
Grant him wisdom and understanding at the workplace
Take him out of any evil plans
Save him from envious coworkers
Let all his affairs be ordered in your name
Let all he touches be a success
Secure his future there
Let him be a blessing to all he encounters
and make him a memorable name there even after he is long gone
Amen
Prayer for my brother's business
Father Lord in heaven
I pray that you touch my brother's business
Help it grow beyond boundaries
Remove all negative energy from it
Fill his employees with strength and knowledge
Let all decisions they take there be fruitful ones
Strengthen the foundations of that business
Strengthen his hand against competitors
Save his business from negative economic conditions|
Bless his finances and help run his business successfully
Amen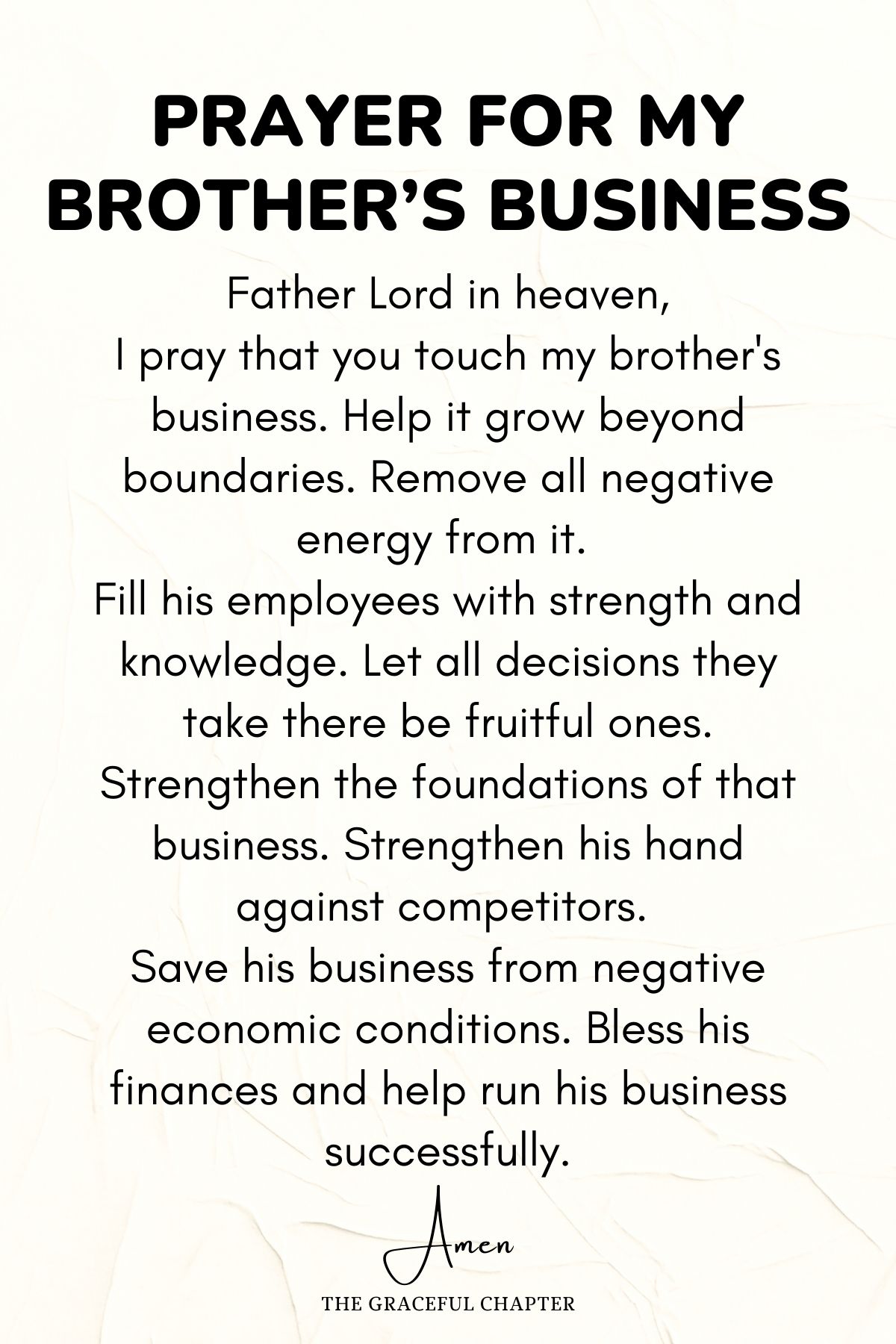 Prayer for a sick brother
Dear Lord
I pray for my sick brother
Please heal his ails
Let your healing power overcome any disease in his body
Cleanse him of all impurities
Fill him with hope
Take away all viruses from his body
Grant him divine healing
Fill his limbs with holy strength
Make him stronger than he has ever been
Heal him completely
and make him a living testament to your power
Amen
Prayer for a depressed brother
Dear Lord
Please help my brother in this difficult time
Solve whatever problems he may be going through
Let him look up to you
Let his trouble be brought before you
Make him strong and strengthen his faith
Lead him to your light
Bring the smile back to his face
Remove whatever impediment that is ruining him
Give him grace and favor
Hold him close to you
Give us the wisdom to understand and guide him
Let him not fade and depart from you
Amen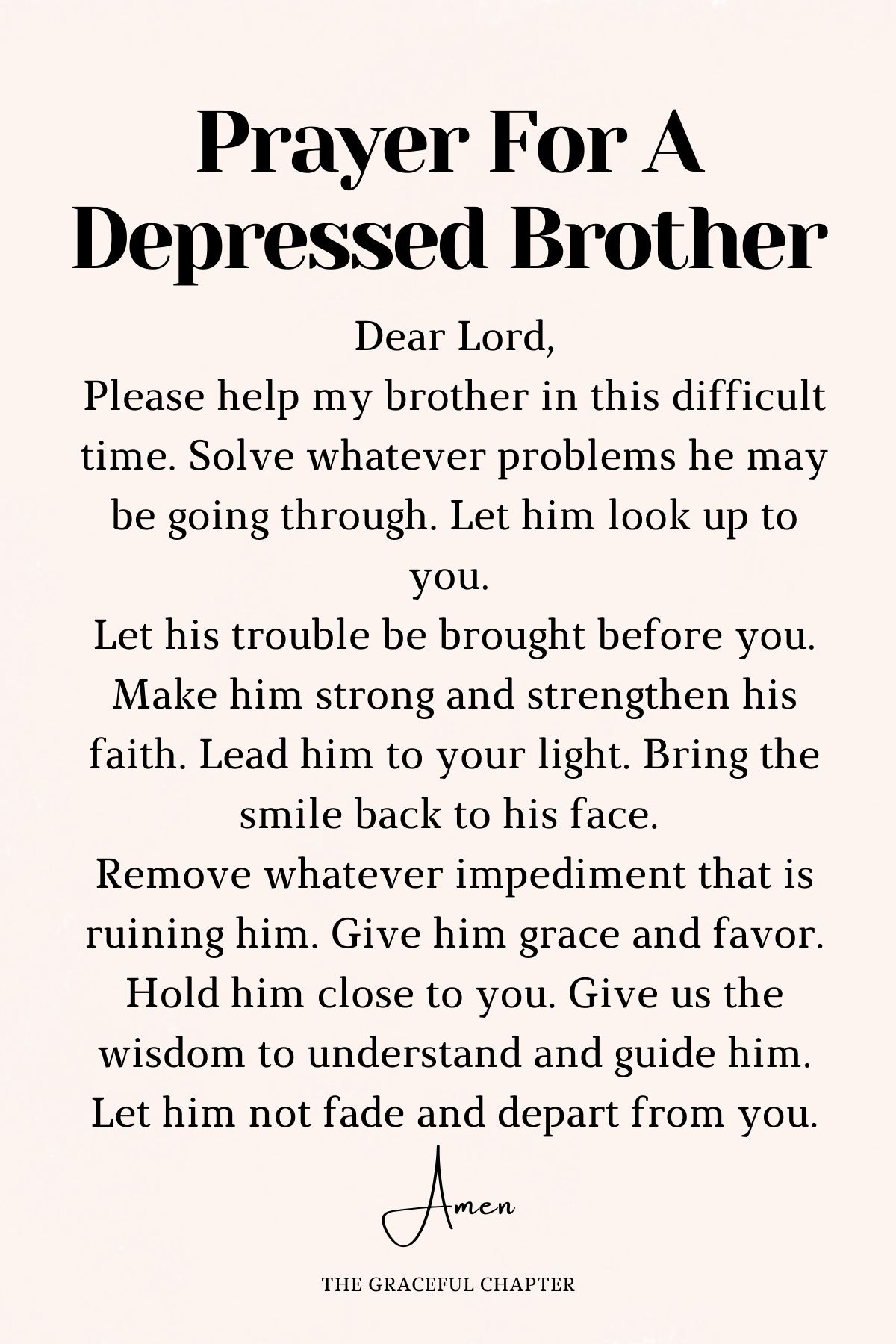 Related Posts
Prayer for a brother in distress
Father Lord,
I pray that you save my brother from this darkness
Give him hope in this dark moment
Help him find himself again
Open doors of opportunity for him
Take him out from this pit
Release him from the shackles of the evil one
Break the chains of addiction from his arms
Make him whole again
Bring back his glory years
Save him from his enemies
and make him a blessing to his family
Amen
Prayer for my brother's success
Almighty Father,
I come before you today in prayer for my brother
Thank you for his life and all that you do for him
I pray that you will continue to protect him
Help him to be successful in life
Let everything he does be prosperous in Jesus' name
I come against any evil plans for him
I destroy any spirit of failure and stagnation in his life
Let all that he does be blessed
Let him see your glory in his life, his business, and his marriage
Let success and prosperity be his portion today and always
In Jesus' name, I've prayed
Amen
Prayer for brother on drugs
Dear God,
Please help my brother
He's at a point in his life where he relies on drugs to get through his day
I pray that you will help him to realize that he doesn't need drugs if he has you
Be his strength, Lord, and help him to let go of this habit
Fill his heart with love for you
Fill his mind with thoughts of you
Let him yearn for you, Lord
Let him hunger and thirst for your word
Touch his life, Lord, visit him and make his heart your home
Help him to let go of this addiction that is destroying his life
and guide him to the life that you have planned for him
Amen
Prayer for a runaway brother
Heavenly Father,
I pray for my brother
He has fallen into bad company and because of that he doesn't come home anymore
Please keep him safe wherever he is
Be his guardian and protector
Help him realize that we love him and we want him home
Let him know that we are all waiting for him to come home to us
Let your holy spirit be his companion
Let it comfort him when he feels sad and alone
Let it teach him what is right and what is wrong
Help him to be able to discern good friends from bad friends
Let him know that he doesn't have to face the challenges in life alone
and we are here for him to help him through it all
Guide him back home to us, in Jesus' name,
Amen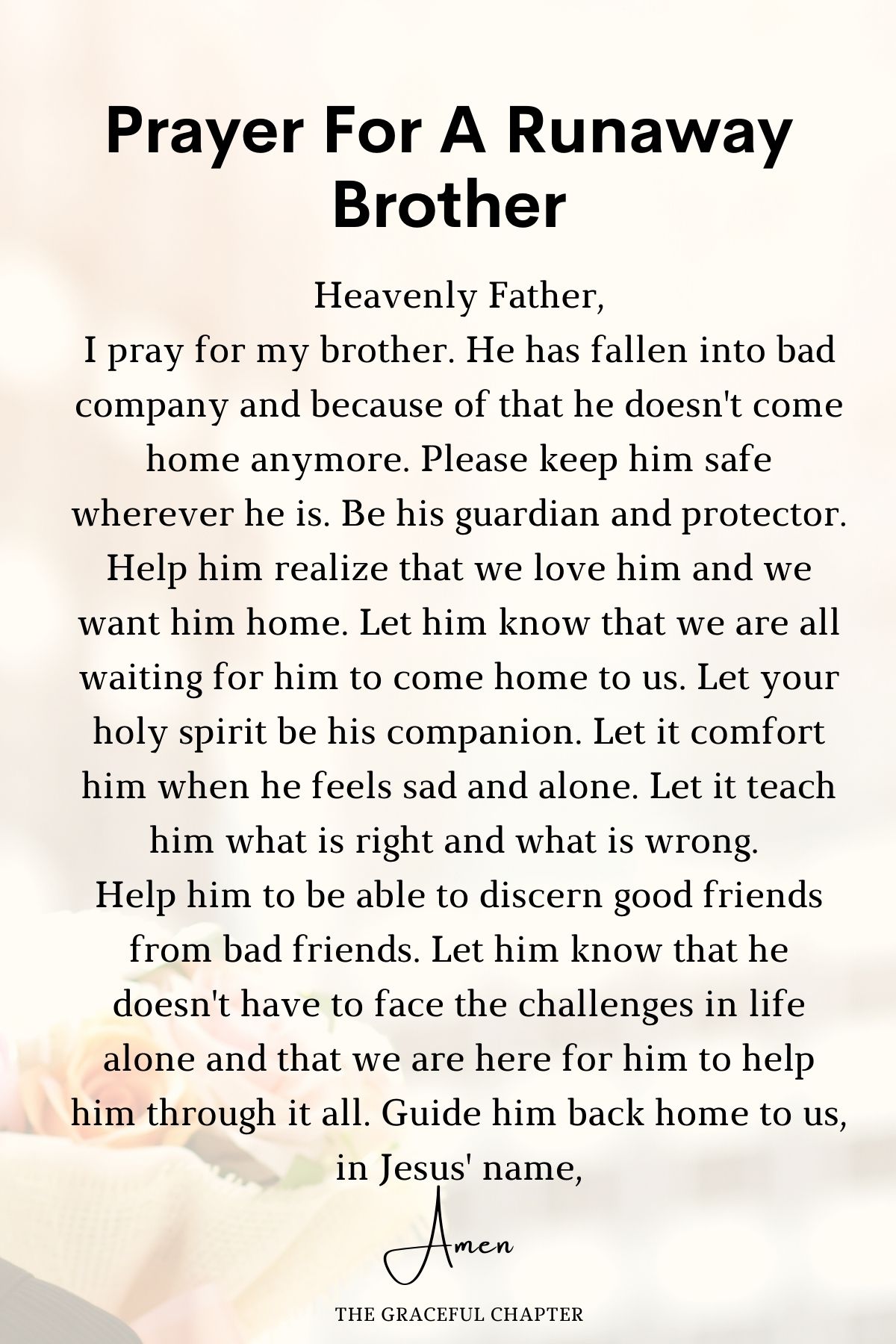 Prayer for estranged brother
Our Father in heaven,
I come to you in prayer for my brother
My brother and I haven't had a relationship in a long time
and I don't know anything about his life and what he is going through
I pray that you keep him safe, protect him from seen and unseen evil
Be his provider, his guide, and his family
Let him not lack anything in his life
Bless the work of his hands and make him prosperous
Protect whoever is in life and let him feel loved
Grant him peace and help him find joy in life
Guide our steps, Lord, and help us find our way to each other again
In Jesus' name, I've prayed
Amen
We must be our brother's keeper. We should always be prepared to sacrifice our lives for them just as Christ did for us. We should be there for them and always keep them in our prayers. We are only as strong as our weakest brothers and God expects us to live harmoniously with them.
If you know a brother that is going through difficulty that could destroy his faith in God, you must step in and save him. Help them any way you can to get them back on their feet. God expects this from us.
How good and pleasant it is when God's people live together in unity!

Psalm 133:1