When tempted, no one should say, "God is tempting me." For God cannot be tempted by evil, nor does he tempt anyone; but each person is tempted when they are dragged away by their own evil desire and enticed. Then, after desire has conceived, it gives birth to sin; and sin, when it is full-grown, gives birth to death

James 1:13-15
Those things that are capable of tempting us are born from our own evil desires. If you are attracted to diamonds it becomes possible for the devil to lead you to sin through diamonds.
When some farmers try to lure in their livestock, they normally use food or drink that the particular animal loves best. They then lead them into the trap and eventually kill them for meat and food. This is exactly how the devil leads us to sin.
He puts our wildest and most attractive desires in front of us and lures us to them. We are then enticed and tempted by those desires and we eventually fall to sin and then death.
God has blessed each of us with free will just like he did for Adam and Eve. They were then enticed to sin by their own evil desires with the help of the devil. This means that the final decision to sin rests on us.
For we do not have a high priest who is unable to empathize with our weaknesses, but we have one who has been tempted in every way, just as we are—yet he did not sin.

Hebrews 4:15.
Our hope as Christians is to build a very strong resistance to temptation. We need to change our physical desires of this world to the spiritual desires of our eternal home. We must not allow ourselves to be drawn to the things of this world.
The moment we admit a weakness to a worldly thing, the devil finds a route into our deepest desires. When evil thoughts enter your heart it is very difficult to ignore them. When we allow our thoughts to be dominated by them we find ourselves in sin eventually and then realize what we have done after it's over.
When the farm animal is ready for the slaughter, they regret following their desires in the first place. It doesn't matter how badly you physically want something, do not let it enter and dominate your heart. That makes it a deep desire which is then later exploited by the evil one.
Prayers against temptations
Prayer against temptation to steal
Father Lord in heaven
Take control of my heart and my desires
Let me accept and be content with all you give me and my family
Let me not covet or be jealous of anyone's property
Let me use that strength to fight for my own
Let me not secretly want anything that belongs to anyone
Give me patience and let me not be in a rush to get rich
I do not want to steal from anyone
I resist the evil desires that want to enter my heart
I reject any shortcuts that the devil may present to me
Give me the strength of will to do the right thing
Give me the wisdom to see through any traps and contraptions prepared to facilitate my downfall
Teach me to be at peace with who I am
I am grateful for all you give me
Let me continue to lean and depend on you all my days
Amen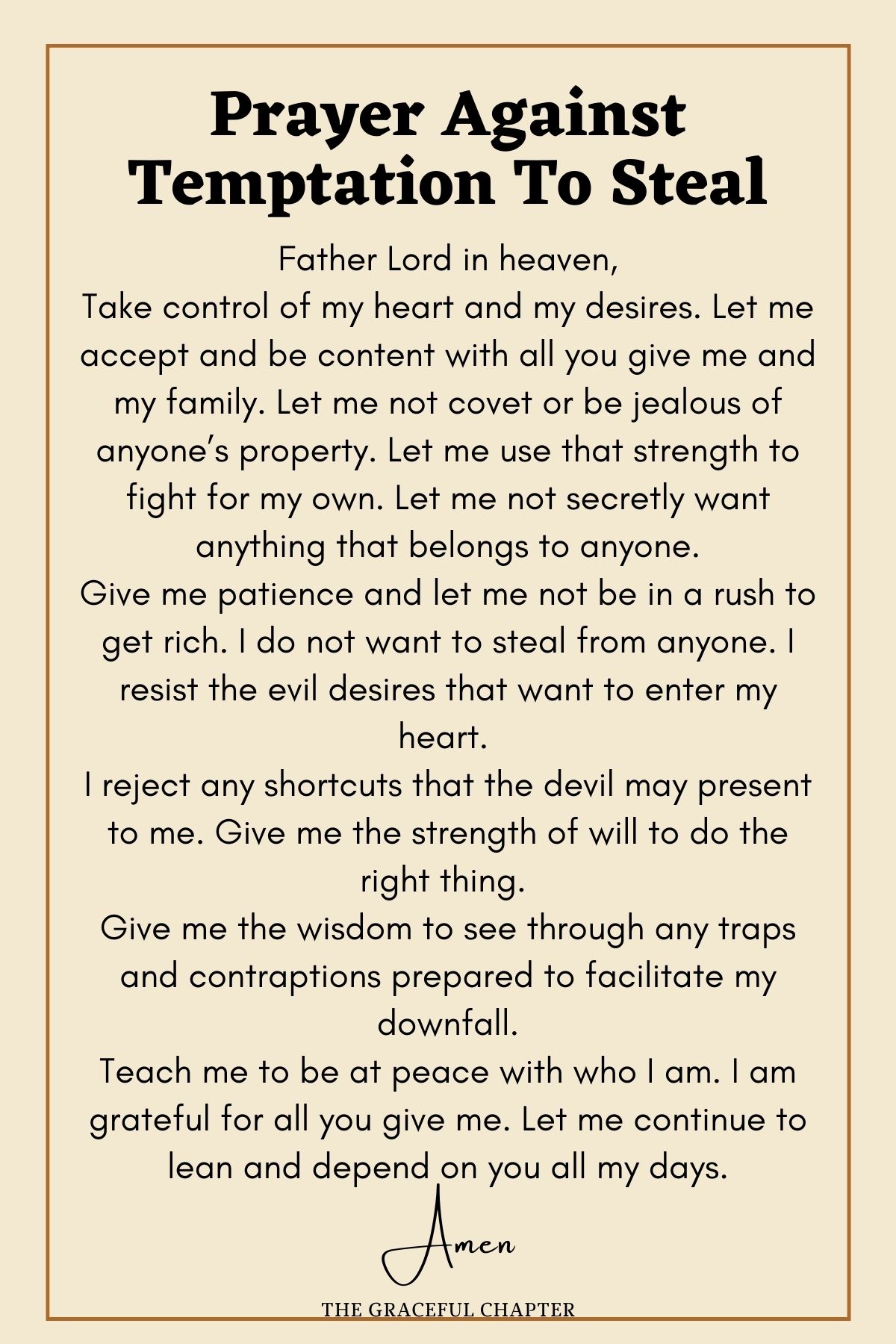 Prayer against the temptation to cheat another
Dear Lord in heaven
I pray for your grace and long life for me and my family
I ask that you remove all evil cheating thoughts from my life
Even when my mind tells me to cheat, let your spirit bring me back on track
Help me treat everyone with respect and accountability
Let me always be straight with people
Take the temptation to cheat to get ahead away from me
Teach me to consider people's situations
Let me always be truthful and forthcoming in my dealings
Keep me from being enticed by things I cannot acquire
Let me not step on people just to get where I want to be
Give  me the wisdom to use my own gifts given me
Help me be a decent person and let me live to please you each day
Amen
Prayer against the temptation to be unfaithful in marriage
Everlasting Father
Thank you for sustaining my marriage for all these years
Thank you for protecting us and being our mediator through all our crisis
I know that it is not by might that we are still together
I ask that you help me resist any temptation to cheat on my partner
Help me not lust after anyone but my partner
Let me not be lured in by physical appearances or financial benefits
Let me stay faithful and truthful to them all the time
Let me love them wholeheartedly no matter the situation
Even if we fight or have misunderstandings,
give me the strength and willpower to stay faithful to them
Let me hold my marriage in sanctity and never desecrate my happy home
Keep us together and in love always
Amen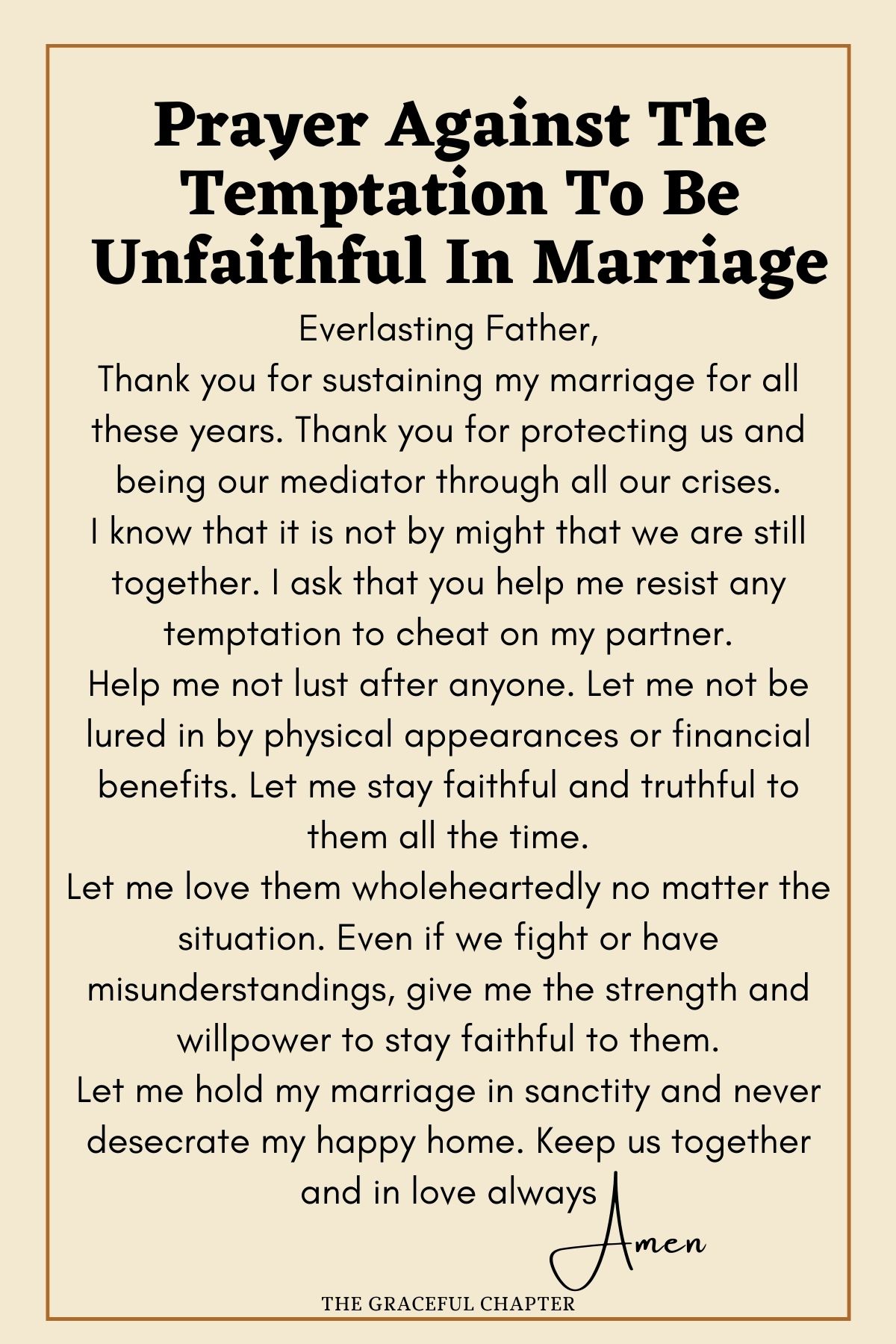 Related Posts
Prayer against temptation to kill
Dear Lord
Please take all evil thoughts out of my heart
Pour your cold holy water on my angry heart
Let me not hate anyone to the extent of wanting them dead
Let me not wish such evil on anybody
Give me the understanding to settle differences with people
No matter how they hurt me let me not harbor thoughts of murder on anyone
Give me a forgiving and loving heart
Teach me to accept people for who they are and not device plans to get them out of my way
Foster peace between me and everyone
Settle all quarrels between us
Mediate any arguments and misunderstandings
and help us live in harmony forever
Amen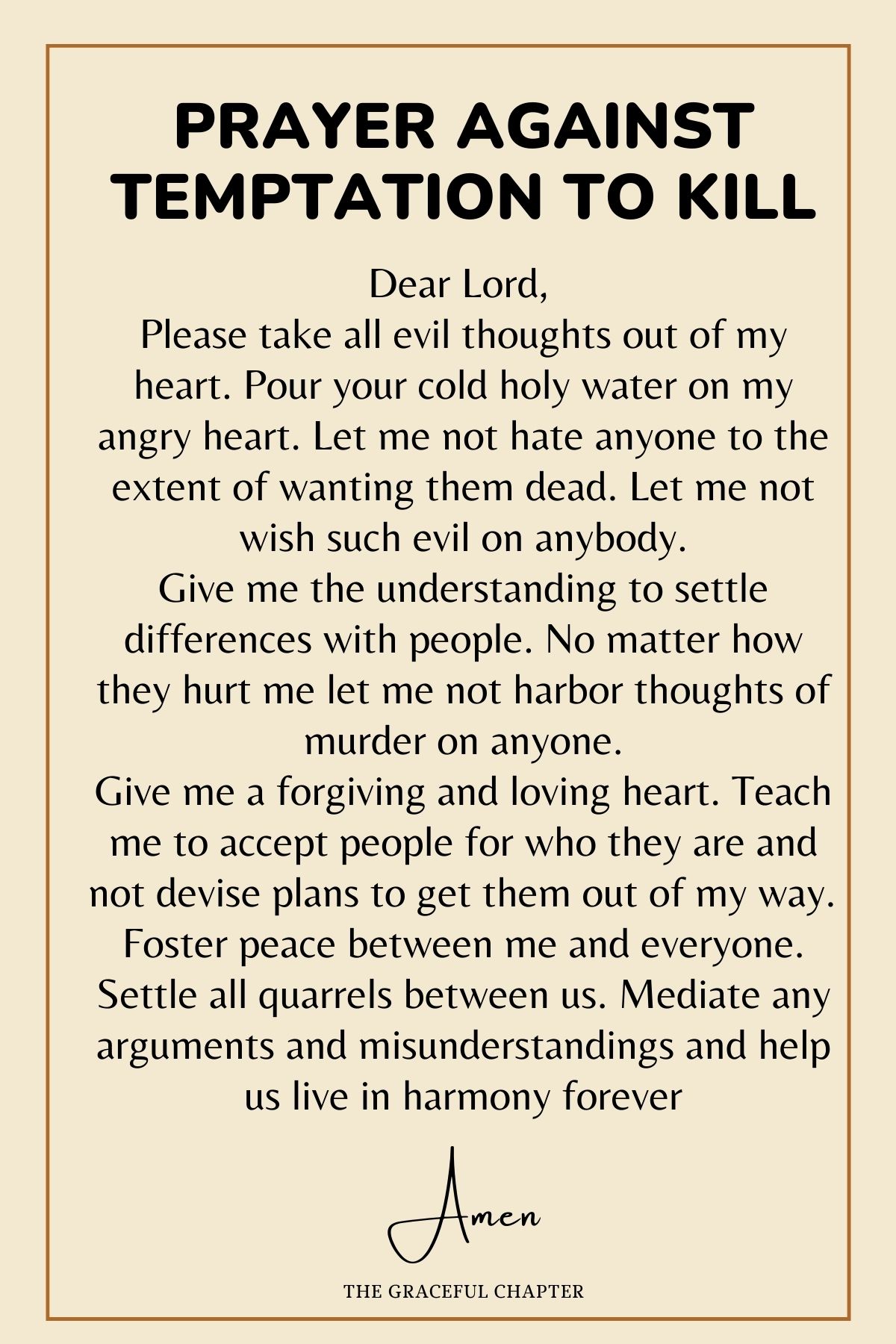 Prayer against substance abuse temptation
Dear Lord
Thank you for preserving my life
I ask that you strengthen my will to resist drug and alcohol abuse
I know the devil will try to deceive me with them
Telling me that they can help me escape my problems
Open my mind to see through his lies
Give me the wisdom to resist this temptation
Let me dwell and depend on your word and not the substances of this earth
Teach me to pray through and conquer my problems
Deliver me from places and friends that will lead me to this behavior
Order my steps away from problems and challenges that might stray me towards this temptation
Help me meditate on your word day and night
Free me from the bondage of this life
and let my life reflect serenity and decency
Amen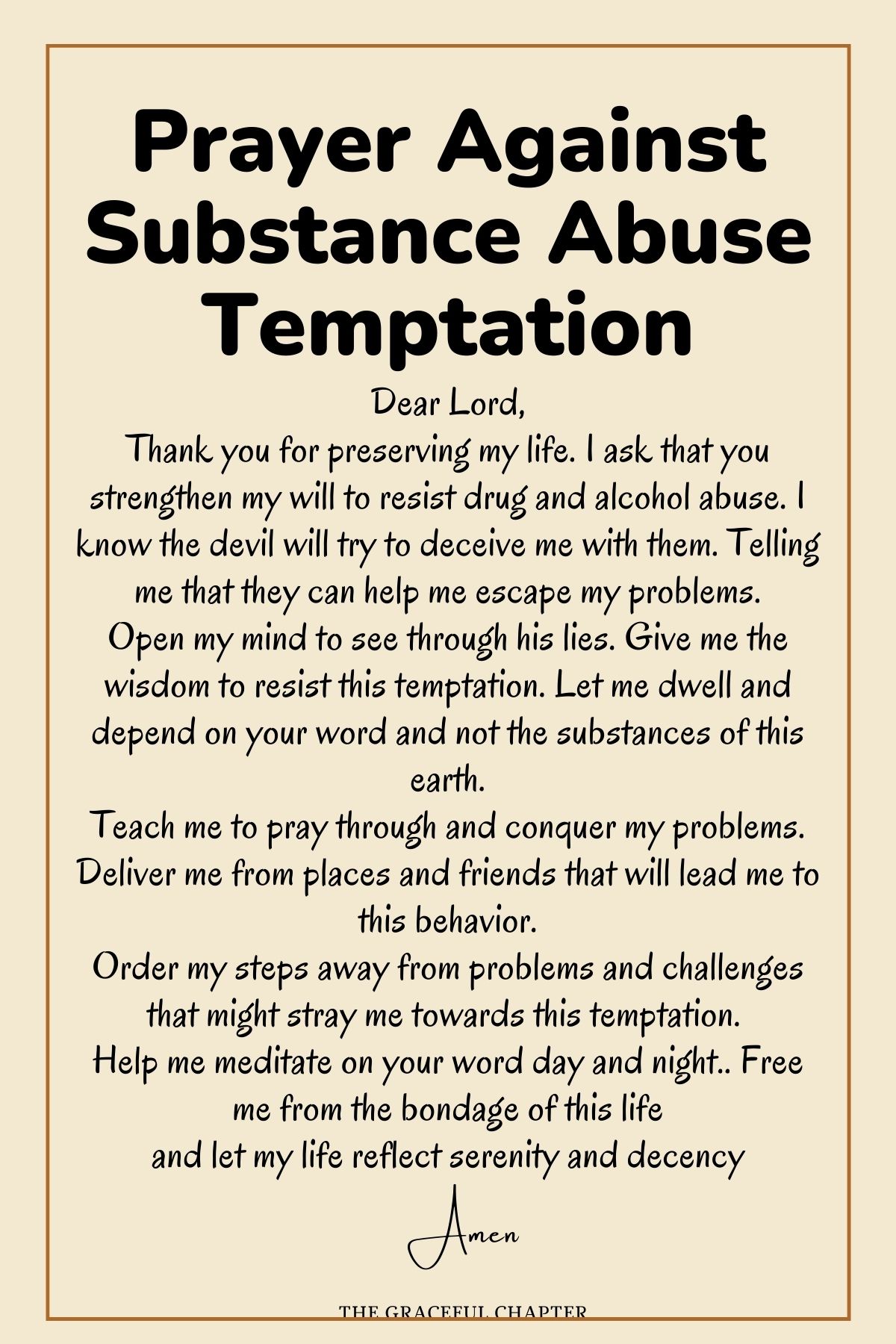 Prayer against temptation to lie
Dear Lord
Thank you for your everlasting favor upon my life
I bless you for the grace and love you show me every day
I ask that you remove deceit from my heart
When I try to lie to get out of problems please prompt me to stop
Let me not deceive anyone to get ahead
Let me be truthful and faithful in all my dealings
Let me live and die honestly
Make me trustworthy and not lie to those I love
Let me always be on good terms with people
Teach me to speak the truth even if it gets me in trouble
Let my honor be clear for all to see
Let the traits of Christ be in me
and let him be the light unto my path always
Amen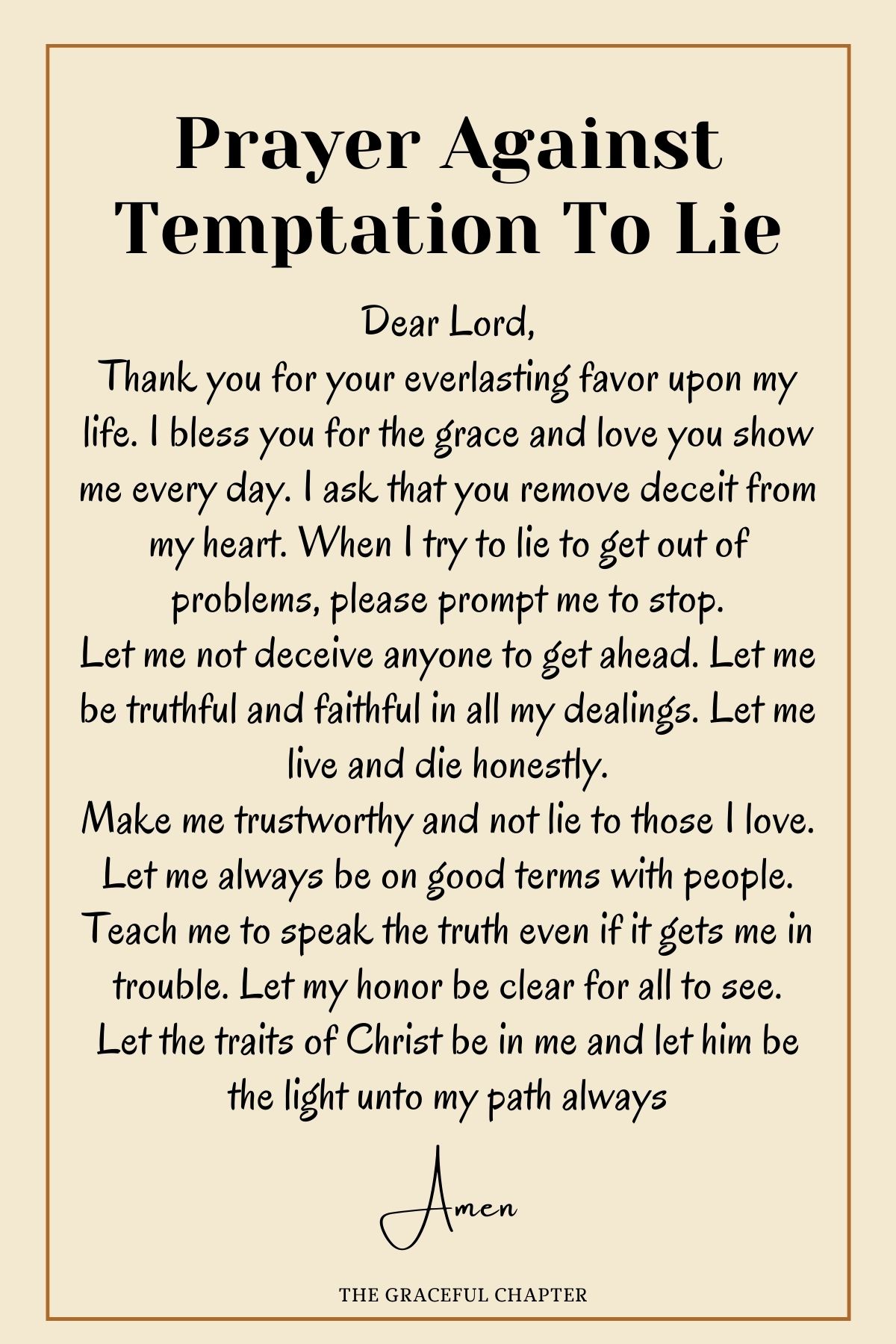 Temptations exist around us each moment of each day. The devil never sleeps but he keeps looking for our weaknesses so he can pounce on us.
We must train our bodies and souls to love the things of the spirit and not the body. We must be dead to the physical things so that we are not enticed into sin by them.
Brothers and sisters, if someone is caught in a sin, you who live by the Spirit should restore that person gently. But watch yourselves, or you also may be tempted

Galatians 6:1
Meditate on the words of Christ every day and learn to live his kind of life. Christ was tempted by the devil with things far greater than we face every day and yet he did not sin once but rather used God's words to resist temptation. We must do the same as Christians.