Children make every family happier. They cheer everyone up and are very enjoyable to be around. Children are delicate beyond all else. This is why it is important to pray for them always. Also, praying for them is a unique and loving way to wish well for them.
Through prayers, you are able to express your love for your little one. You can speak, think, or write passionate blessings for infants and their safety. God always listens to those who wish well for others. He always responds to his people's prayers.
It does not matter if it is your child or if it is the child of someone else, babies are priceless gifts from God. So our greatest wish for them is that they will grow up and become joyful, fit, and brave.
Prayers for infants who are yet to step into this world
May he forever sing your praise
Almighty God,
Thank you for this child that is developing inside my womb.
May my child get praised in the dome of the Heavens.
May he forever sing your praise.
Oh Lord, we praise you.
May your glorious name get held in awe and reverence forever.
May each day have happiness and fewer worries.
God, I thank you.
Amen.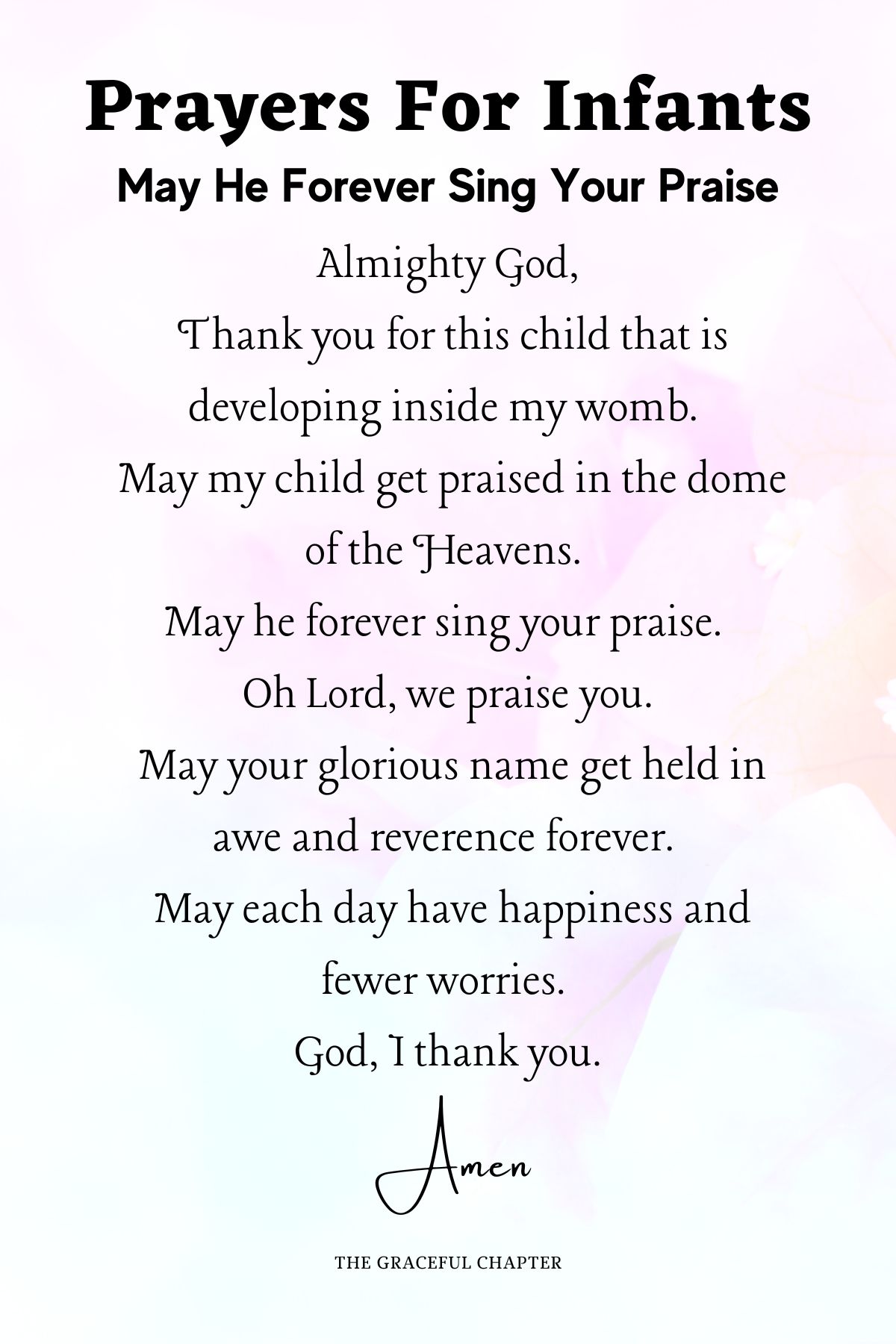 Let this child always be happy and kind
Precious Lord,
I pray for the child in my womb to be blessed.
O God of miracles, I ask that he or she never fall and always remain at the top.
Let this baby bring other people happiness and solace
Let this child always be happy and kind.
May goodness and serenity thrive in his or her life.
Let my child be well-liked by both you and others.
May he or she only associate with people who pursue knowledge and wisdom in you.
May you always take care of my child in Jesus' name
Amen
Prayer for a safe delivery for baby
My Lord,
I pray for a safe delivery for my baby
Let this baby go through delivery without pain and discomfort
Hold her when she is in distress
Help her in her time of need.
May your holy spirit shine on her during her birth
I pray against death during delivery
I pray against complications during delivery
May my child bath in your grace, faith, and Holy light.
May the angels watch over my child forever.
Amen.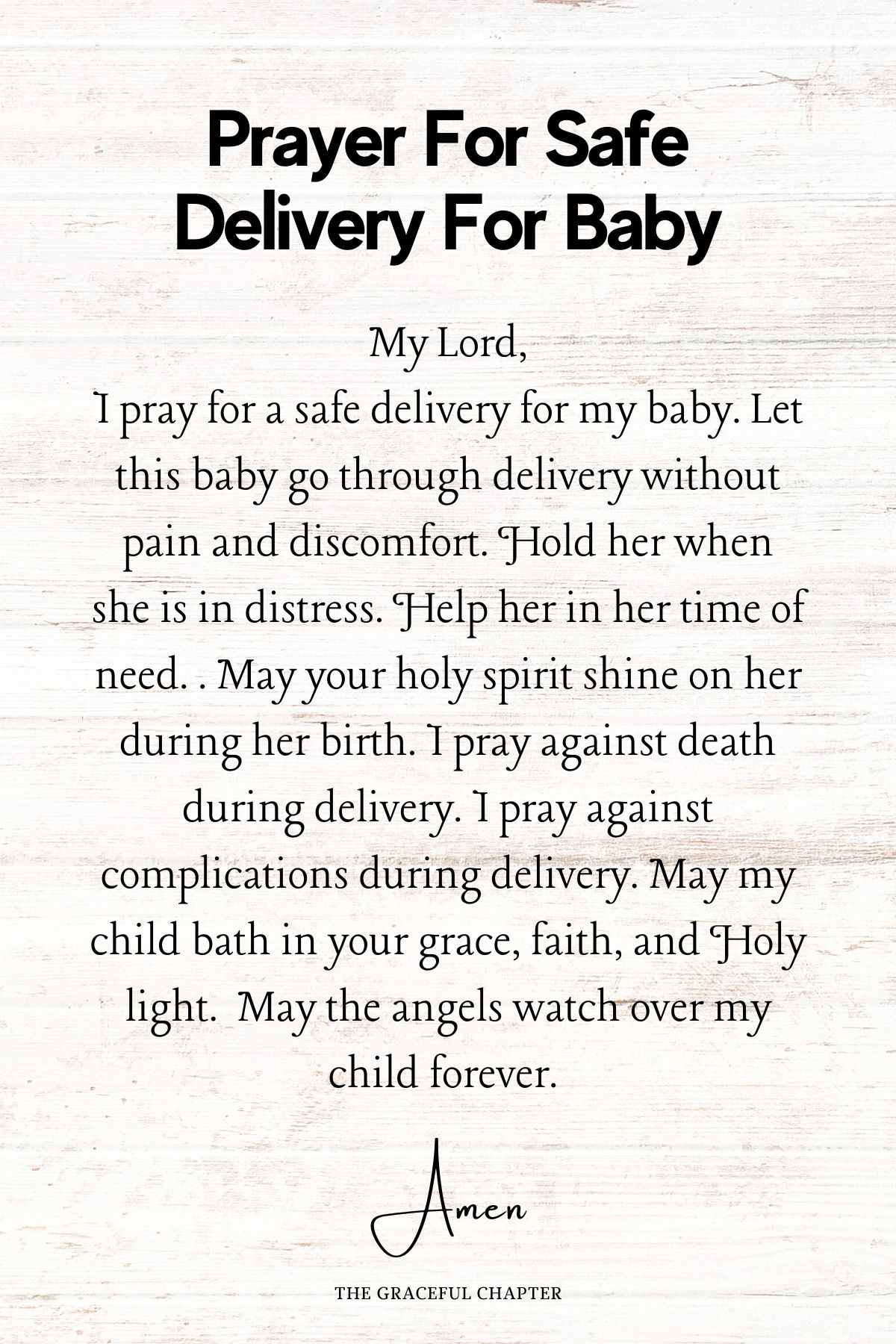 Prayers for infants for protection
Bless them and give them your protection
Dear God,
I pray that you keep my kids safe when they go about their days.
Bless them and give them your protection.
Hold them forever close to your heart.
Please do not let them suffer any harm or damage
Keep every one of my children under your protection.
Protect them from any schemes intended to hurt them.
Lord, be near to every one of them and guard all of them with your grace
In Jesus' name, I pray,
Amen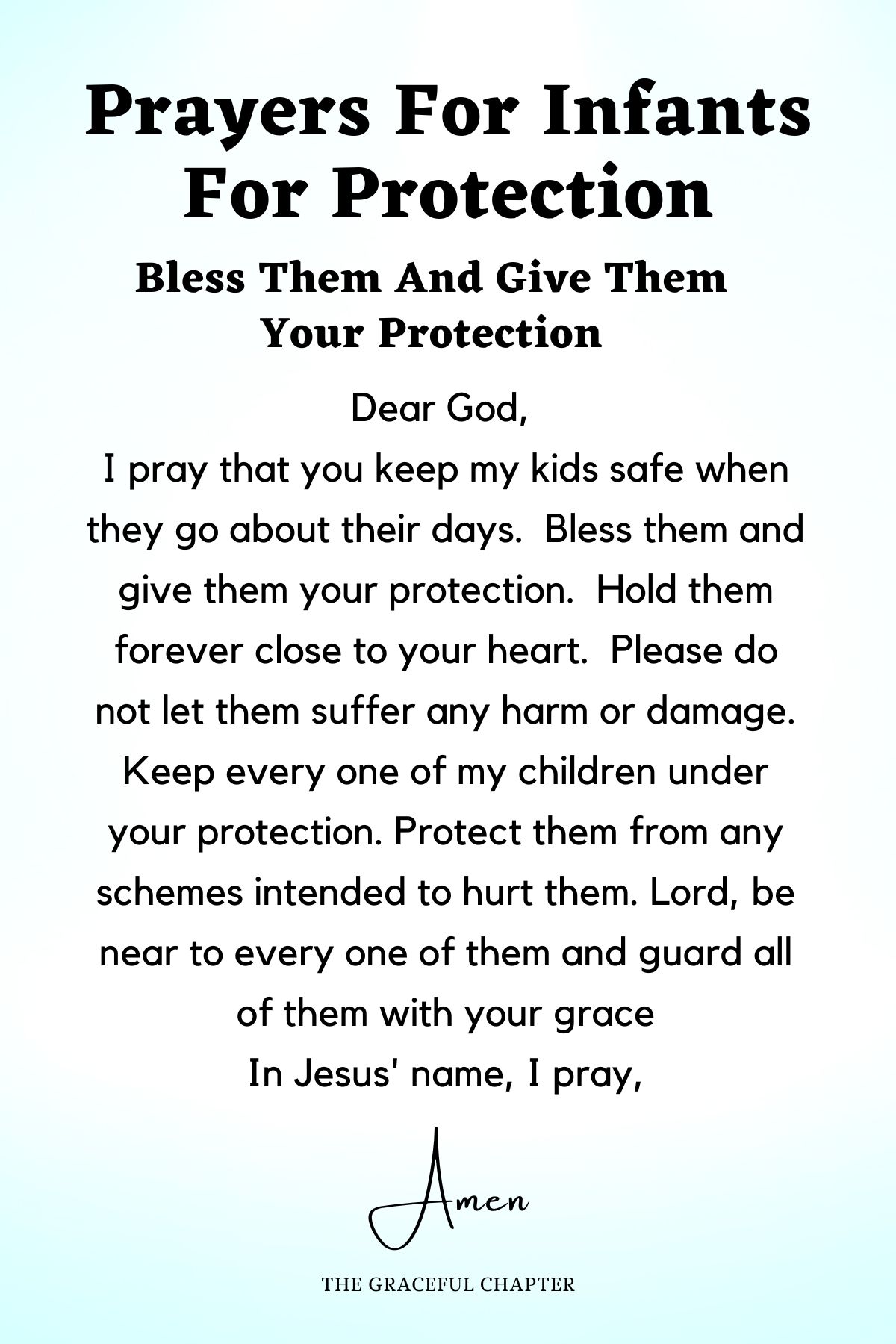 Recommended Resources
Be their pillar of strength
Father in heaven,
I pray to you in the hopes that you will keep my children safe on all of their journeys.
May you always be their savior. Be their pillar of strength.
Hold them when they lean to you for comfort and protect them from mishaps.
Please protect them from illnesses of both the soul and the body.
Guard them against predators and various forms of wickedness and evil people.
Please shower your grace and love on every one of my children
and let them sleep soundly in Jesus' name,
Amen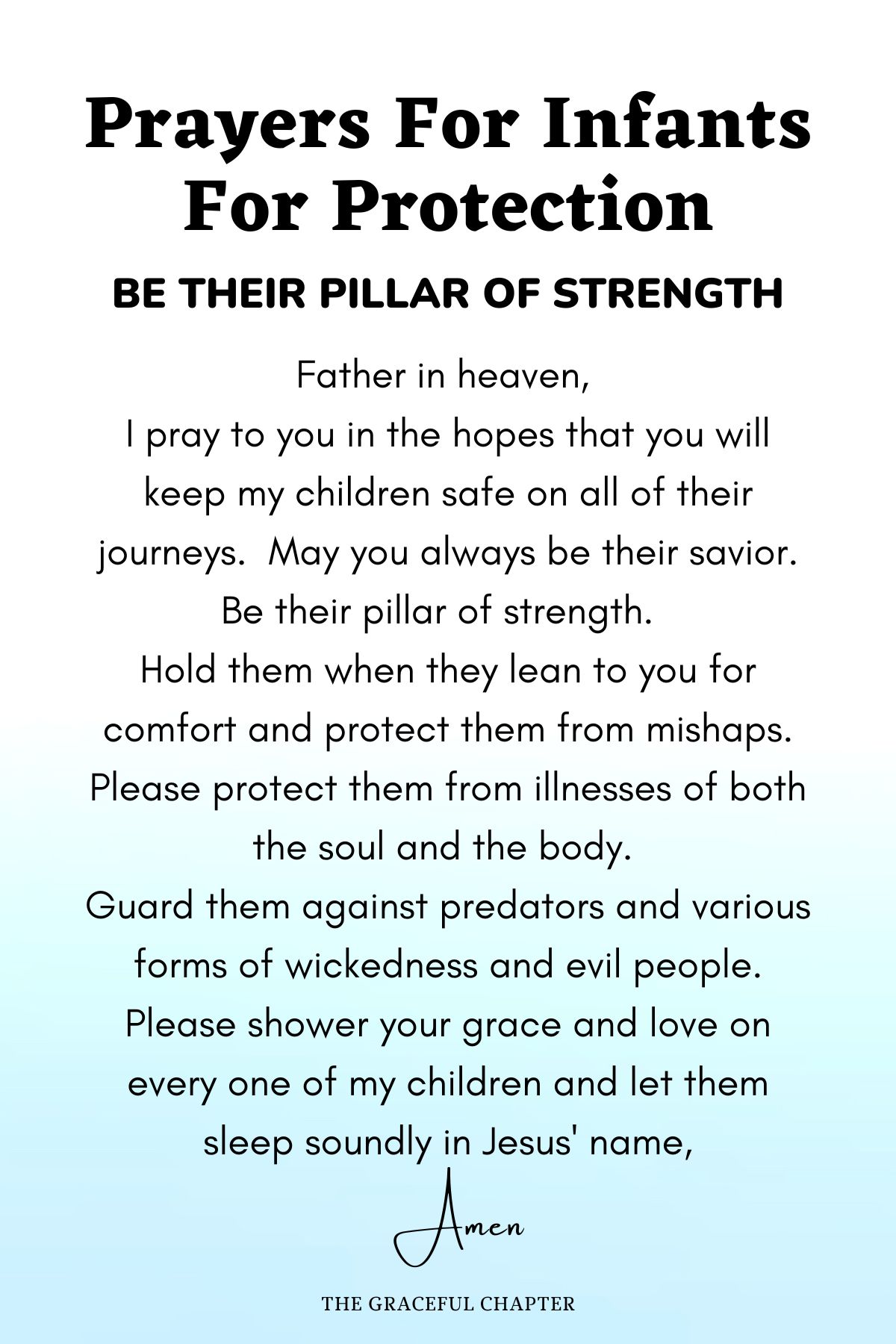 May your wings surround my child
Oh my Lord,
May your wings surround my child.
May evil get destroyed every time my child speaks.
May your blessing always keep my child in faith and in peace.
When he walks in darkness, let him always know that you are with him,
May goodness and love follow my child till the end and
let him dwell in your house forever and ever.
Amen
Related Posts
Prayer for a newborn infant
Oh Lord,
You have given me a blessing that I will be forever grateful for.
My child has stepped into this world guided by your grace.
I pray that your wings protect my child forever.
May my child not stray from the holy path.
May there always be light.
You are the light that stepped down into the darkness of this world.
Hold his/her hand while she learns how to walk on this Earth.
Be with him/her through every step in life
and let him/her grow in your love
This we pray in Jesus' name,
Amen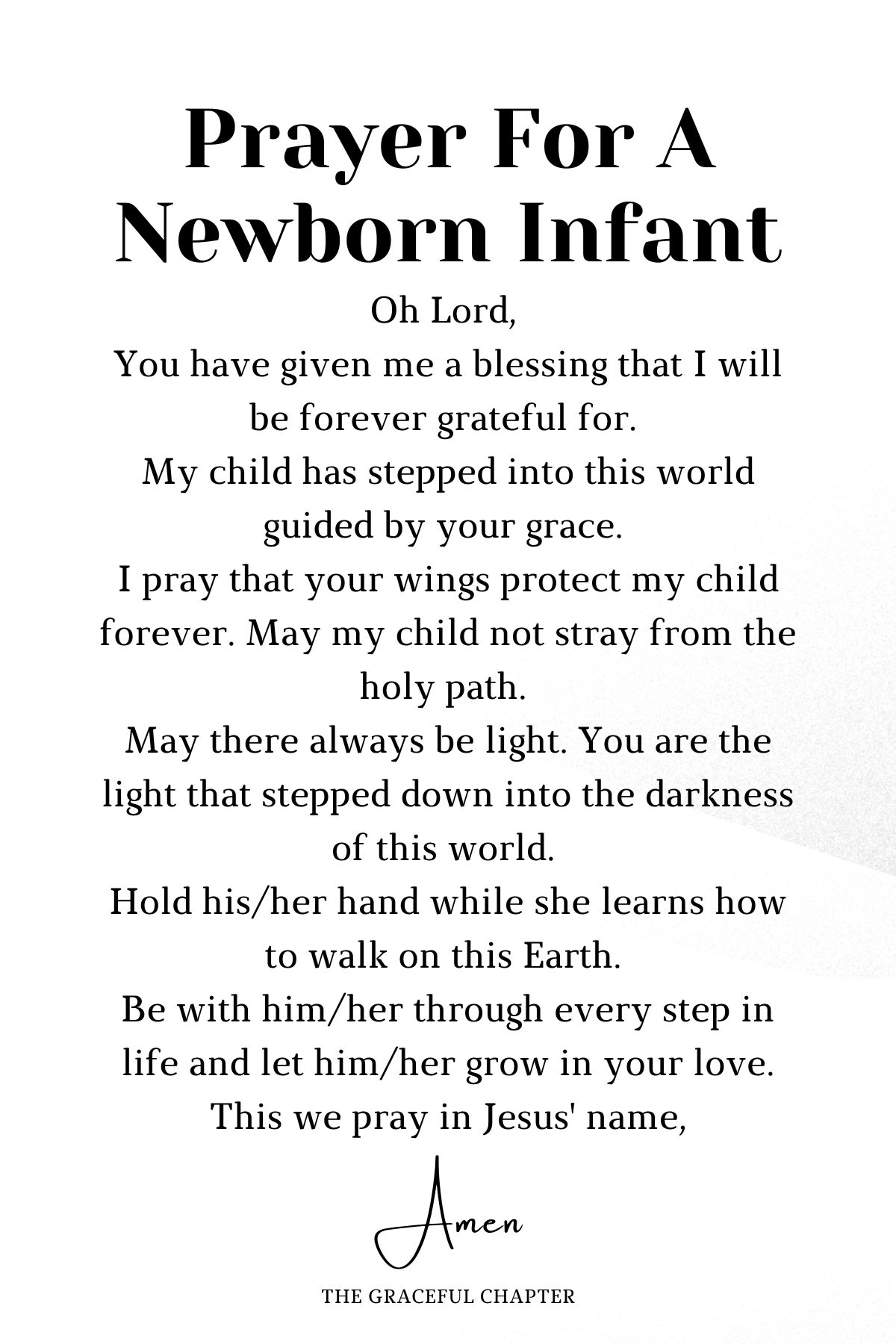 Blessings for a newborn infant
Everlasting Lord,
Thank you for the life of this child
May you give my child new strength
and guide him in the right direction as you have promised.
May he never be afraid, for he is the child of the Lord.
May you help me make the right choices for my child.
Help me to raise him right to bring honor to your holy name
Thank you, Lord, for your blessings on this child
Amen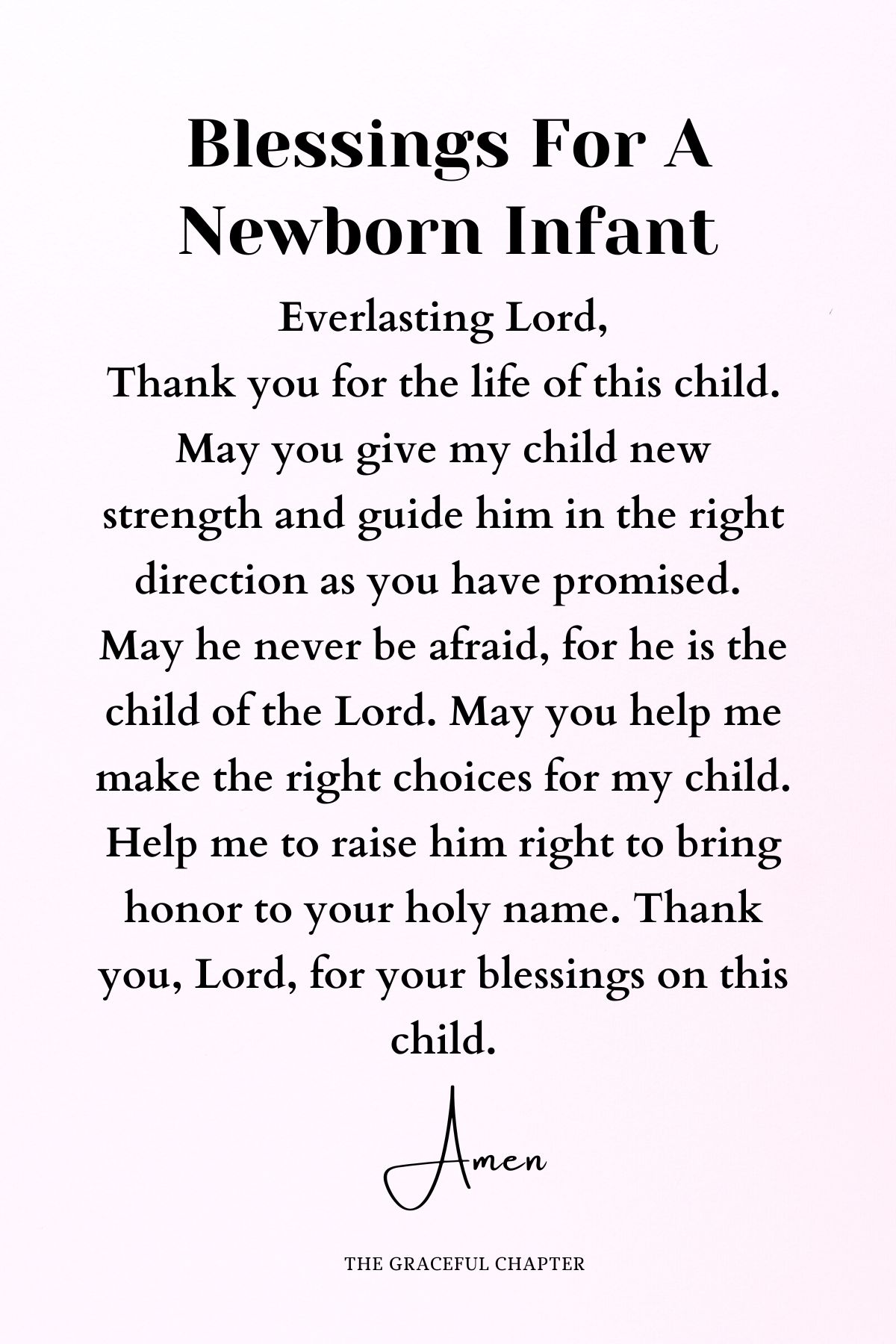 Prayer for good health for infant
Almighty Lord,
Just like you created Adam and Eve, you created my child.
May my child not fall prey to the sins of the world.
Pick my child up when she falls.
Show her the light and how beautiful your creation is.
Just like you healed the deaf, dumb, and the sick, heal my child when she is sick
Give her strength and good health
Guard her, cover her with your mighty wings
Lift her with your Holy Spirit
And let her grow in strength and confidence
Thank you, oh Lord, for listening to our prayers
through Jesus Christ,
Amen
In conclusion 
We worry about our children and keeping them safe from the perils of the world, but we have the blessing of praying for these infants. As we worry about these children, which is as often as breathing, praying to God eases our worries.
So whenever you find yourself in a situation where you are worried about your little ones, take a moment to say a prayer instead.
It's not necessary to close your eyes and adopt a serious expression while praying.  We're not required to stand or sit in a special position when praying. So you can always say a prayer for your little one no matter where you are or what you are doing.
You can pray while moving about, driving, or even at work. You can pray anywhere as long as you do it with complete faith.  
God does not see the place or position you are in while praying. God responds even when you do not say anything. He assists everyone who is in need of help. It's not necessary to make prayer difficult. Any straightforward words we offer to God are very much welcomed.
---
Author Bio: Neeti Kapoor
Neeti is a huge classics enthusiast and she's studying English literature. She enjoys trying different types of Indian curries or shopping for trending vintage aesthetic outfits during her free time. 
Connect with Neeti on social media:
Linkedin/ Pinterest/ Facebook./ Instagram/ Twitter