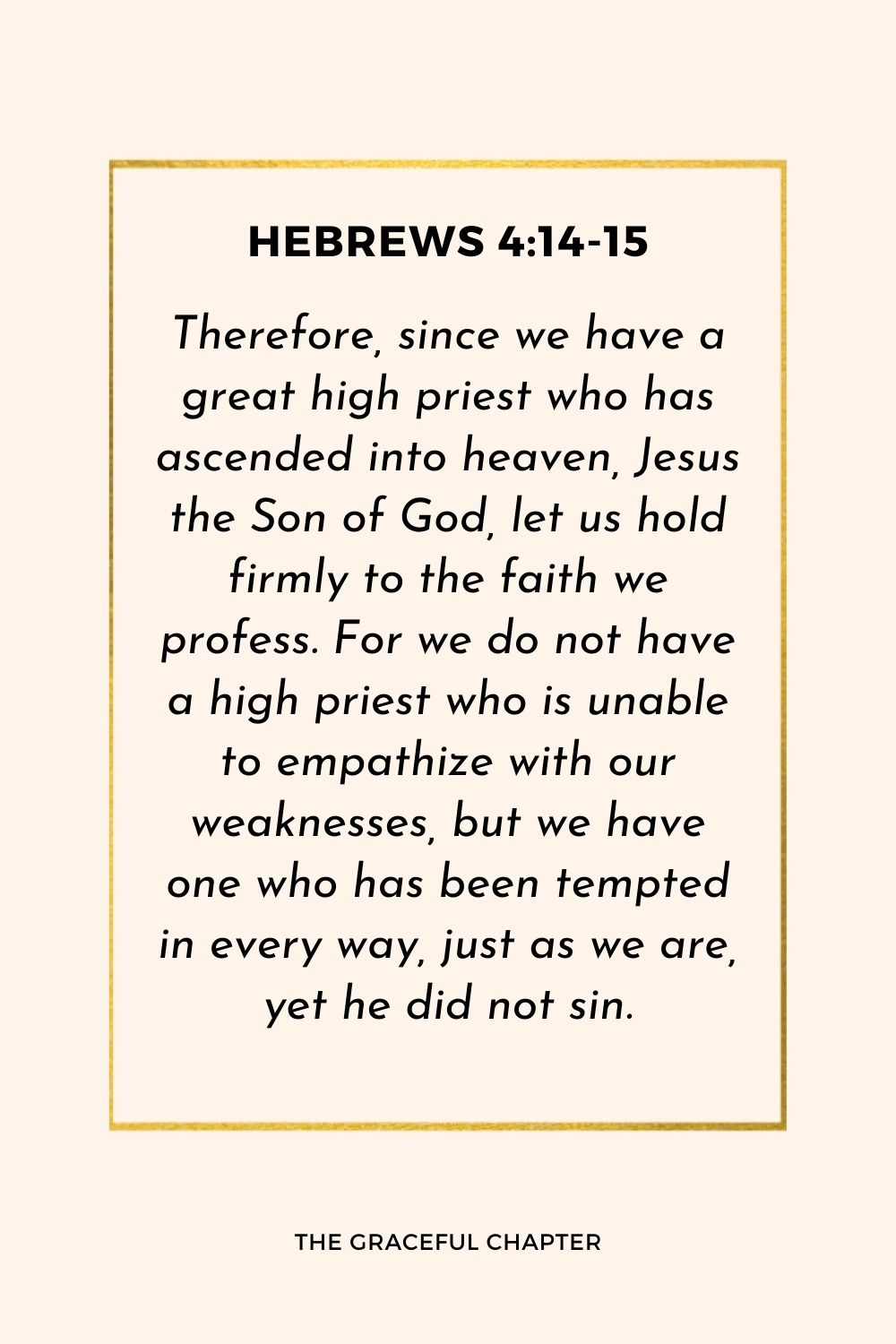 Verse – Hebrews 4:14-15
Therefore, since we have a great high priest who has ascended into heaven, Jesus the Son of God, let us hold firmly to the faith we profess. For we do not have a high priest who is unable to empathize with our weaknesses, but we have one who has been tempted in every way, just as we are, yet he did not sin.
Reflection – Hebrews 4:14-15 – Christ Endured for Us
Christ was the spirit of God in human flesh when he walked among us. There are some who claim that human living is too difficult for them so they do not believe in God. Some claim that the wickedness of man is proof that God does not care for his people and might even mean he doesn't exist.
Let us remember however that Christ embodied human flesh and went through pain and suffering that most people will never go through in their lifetime. He was tempted with all the riches in the world. He was betrayed and punished even though he did no wrong. He was spat on and beaten when his only sin was trying to save mankind.
Through all this, the bible says he did not sin once. As believers who profess our love for the Lord and claim to have Christ in our hearts, we should always remember that he went through all that we go through and he is sensitive to our weaknesses. He hears our cries and our pain.
He knows the world for its wickedness and expects us to make it through. The bible tells us in 2 Timothy 1:7, that He has given us the power and strength of his spirit to be able to overcome every bad situation we find ourselves in.
When you walk through the dark times of this world, know that your Lord has already passed there unscathed and you can too.
Related Posts
Declaration
I declare that the light in me is sufficient to shine through any darkness that I may encounter in this life. Christ has already overcome the world for me and I will not be moved by anything that tries to destroy my faith.
Prayer
Dear Lord,
Thank you for what you did for me
Thank you for dying so I didn't have to
Thank you for overcoming the world for me
Help me hold fast to my faith
Let me not be moved by the cares of this world
Make me strong in faith to overcome any adversity
and guide me to resist temptation
Amen