Beloved, do not avenge yourselves, but rather give place to wrath; for it is written, "Vengeance is Mine, I will repay," says the Lord. Therefore "If your enemy is hungry, feed him; If he is thirsty, give him a drink; For in so doing you will heap coals of fire on his head." Do not be overcome by evil, but overcome evil with good.

Romans 12:19-21.
The moment you allow yourself to seek vengeance, you have been overcome by evil. The 'turn the other cheek' comment by Christ was to let people know how God felt about sinners. The fact that God sent his son to die for our sins so he could reconcile with us shows that God was not willing to repay our evil with evil.
It would be so easy for him to wipe out the entire human race so he could create another one. God however is the God of mercy. He has shown us mercy despite our many sins and evil doing. When somebody hates you or is hell-bent on doing something to hurt and destroy you, they are your enemy.
There are people that will hate you for no sensible reason at all. Some may hate you because you are more successful than them. Others will hate you because you have something that they want for themselves.
Some will hate you because of your religious devotion and your complete disinterest in following the ways of the world. In all these scenarios, Christ has encouraged you to love those who hate you. Do not repay evil with evil and do not love only those who love you.
It is easy for even sinners to do this. When a sinner's friend is sick, they can go through all they can just to help them get better again.
As a Christian, it is very easy to only be good to those who are good to you. If that was what Christ wanted then it would have been pointless for him to embrace us as sinners and bring us to him so we could be saved.
When someone hurts you intentionally, do not take vengeance on them, and neither should you harbor any hatred within your heart. Let it go and free your mind from the burden of regret and hate. If someone who hated you falls into a trap, help them get out and leave an impression of Christ on them.
There is no punishment you can invoke on your enemy that will be greater than the vengeance of God. Leave it to God and pray for those who hate you so that they can see the light and abandon their lives of hatred.
Recommended Resources
9 Prayers For My Enemies
Prayer For Strength
Father Lord in Heaven,
I pray that you give me strength
Strength to ignore the lies that are being spread about me
Grant me the strength to not focus on negativity
Give me the courage to live my life to please and not anyone else
I know there are those who want me to fail
There are those who wish evil on me
There are those who covet what I've got and envy me
I ask that you destroy all their evil plans for me
Hold my hand and lead me to the future you have for me
And let me never lose the goodness and mercy you show me every day
Let me be still and always draw my strength from you
And bless me to never carry any hatred for anyone no matter what.
Amen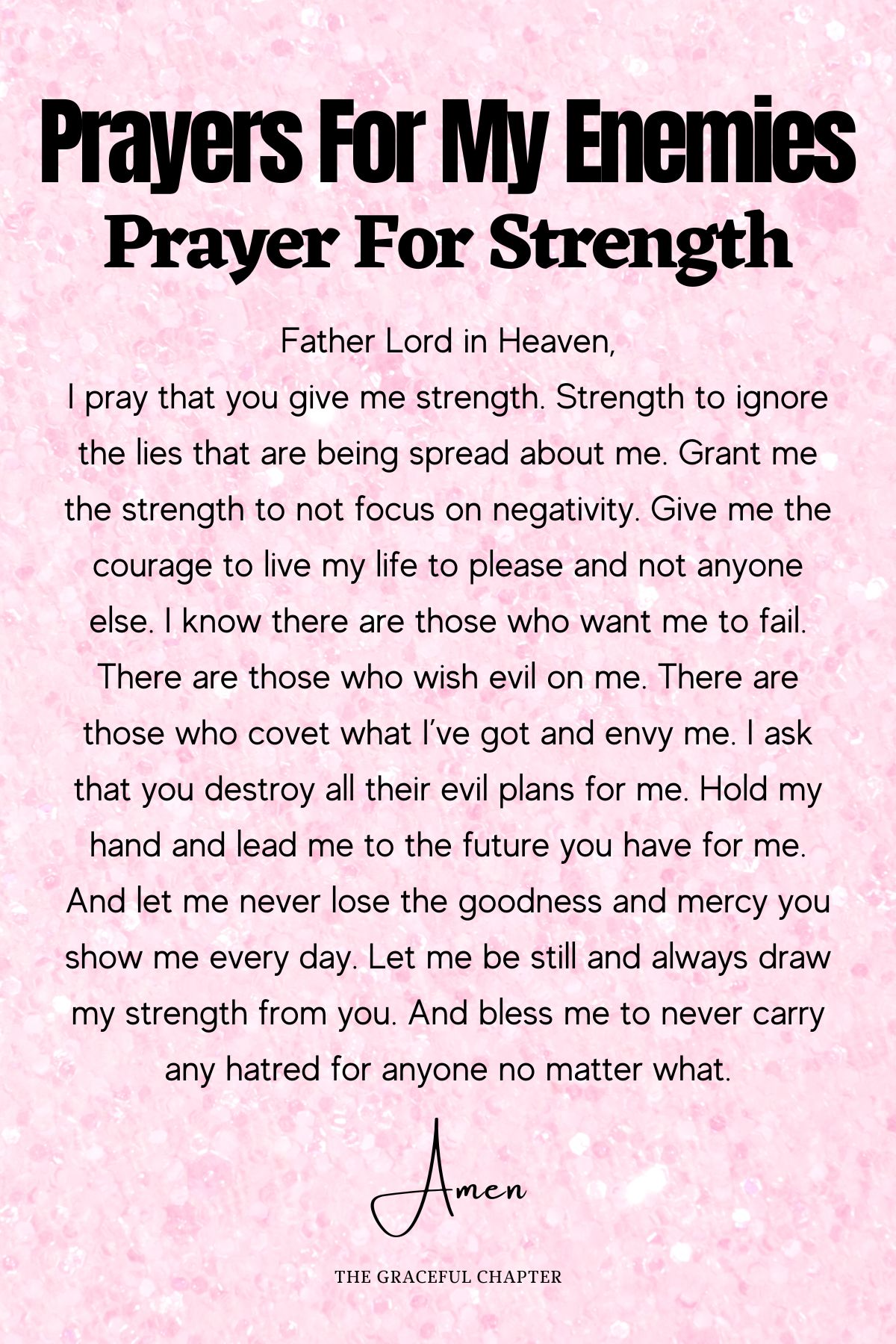 Prayer For An Enemy To Change Their Mind
Dear lord in heaven,
I pray for your divine intervention
I ask that you come against those who pray for my downfall
I ask that you touch them so they have a renewal of mind and spirit
Let them realize that I am no threat to them
Let them know that their hatred is wasted energy on me
Wherever they spoil my name, let someone defend me
If they try to destroy me, let them taste it first
Help them focus on themselves and their own lives
Let them find happiness in themselves and not in tearing me down
Let them realize their own potential and not be threatened by mine
Answer their prayers for their own wellbeing
And let them have a change of heart toward me
Amen
Prayer Against Vengeance For An Enemy
Dear Lord,
I resist the urge to repay evil with evil
I am very hurt and broken by what this person has done to me
This was a person I trusted with my life
I did not know that they would stab me in the back in this manner
I do not want to be filled with vile hate
I do not want my blood to boil and spill over
I do not want my anger to push me into repaying them with evil
Please calm my soul and give me peace
Let me be still and focus on your goodness
Though I have sinned against you constantly you have always loved me
Though my errors were many you sent your son to save me regardless
I pray that you restrain my anger and let it pass with the sunset
And let me see past this red mist and love them anyway
Amen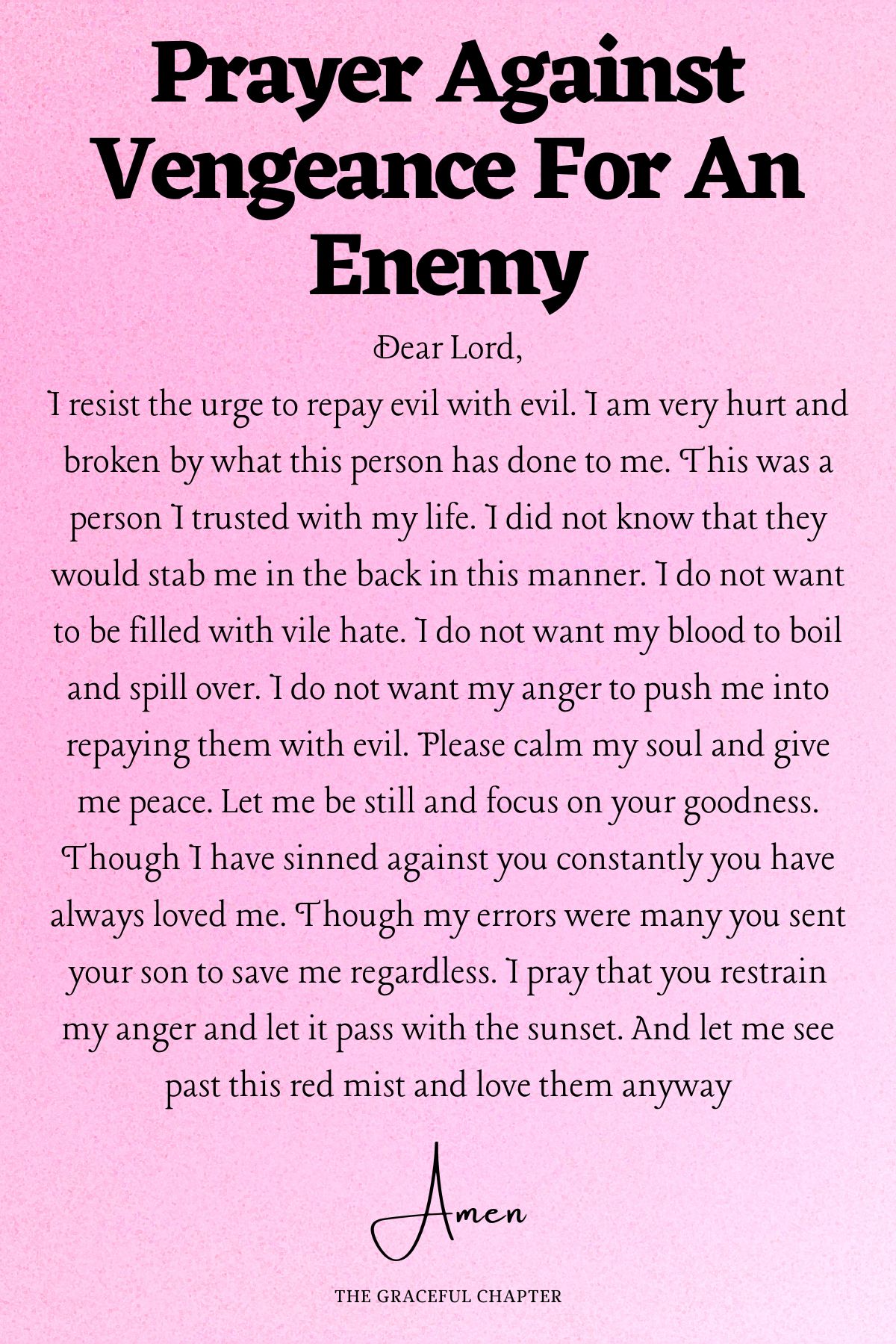 Related Posts
Prayer For A Vindictive Ex
Dear Lord in Heaven,
I know that I am not blameless in this
It took two people to mess up the relationship
But I also accept that I have hurt them deeply by leaving
I pray that you give them the strength to get through this
Let them not do anything to harm themselves
Give them perspective and let them realize your plans for their future
Let them not focus on the bad times but rather be happy for the good times we shared
Help us both grow stronger from this experience
Let us not harbor hatred in our hearts for each other
Let us be full of love and adoration for each other
Give them the ability to see past this disappointment
Let them accept what has happened and move on from me
And protect us from any harm the devil has planned for us
Amen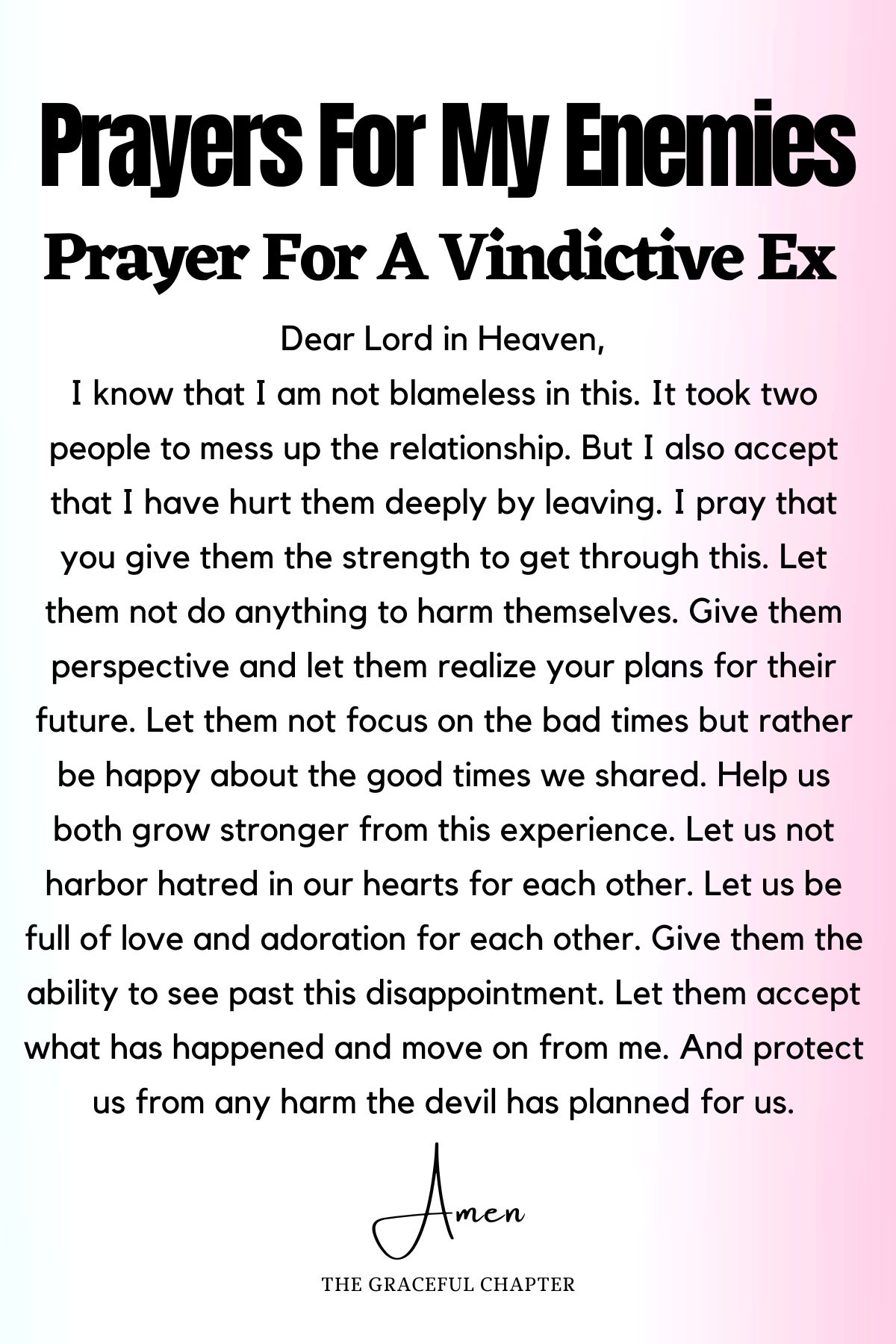 Prayer For A Hateful Parent
Father Lord in Heaven,
I do not know why my parent treats me this way
I do not know what I have done to deserve this from her
From the start, I have felt like an inconvenient burden for them
I do not wish to be so
I ask for your intervention here because I do not know what to do
I pray that you remind them of the joy I brought to them
Let them not continually find fault with me
If there is something I did to hurt them please cause them to forgive me
Carry away any hatred they may have in their hearts for me
Grant them tolerance to be able to accept me
Stop them from mistreating me and let them know my worth
Give me the strength to overcome this and help me not give up on this family
Amen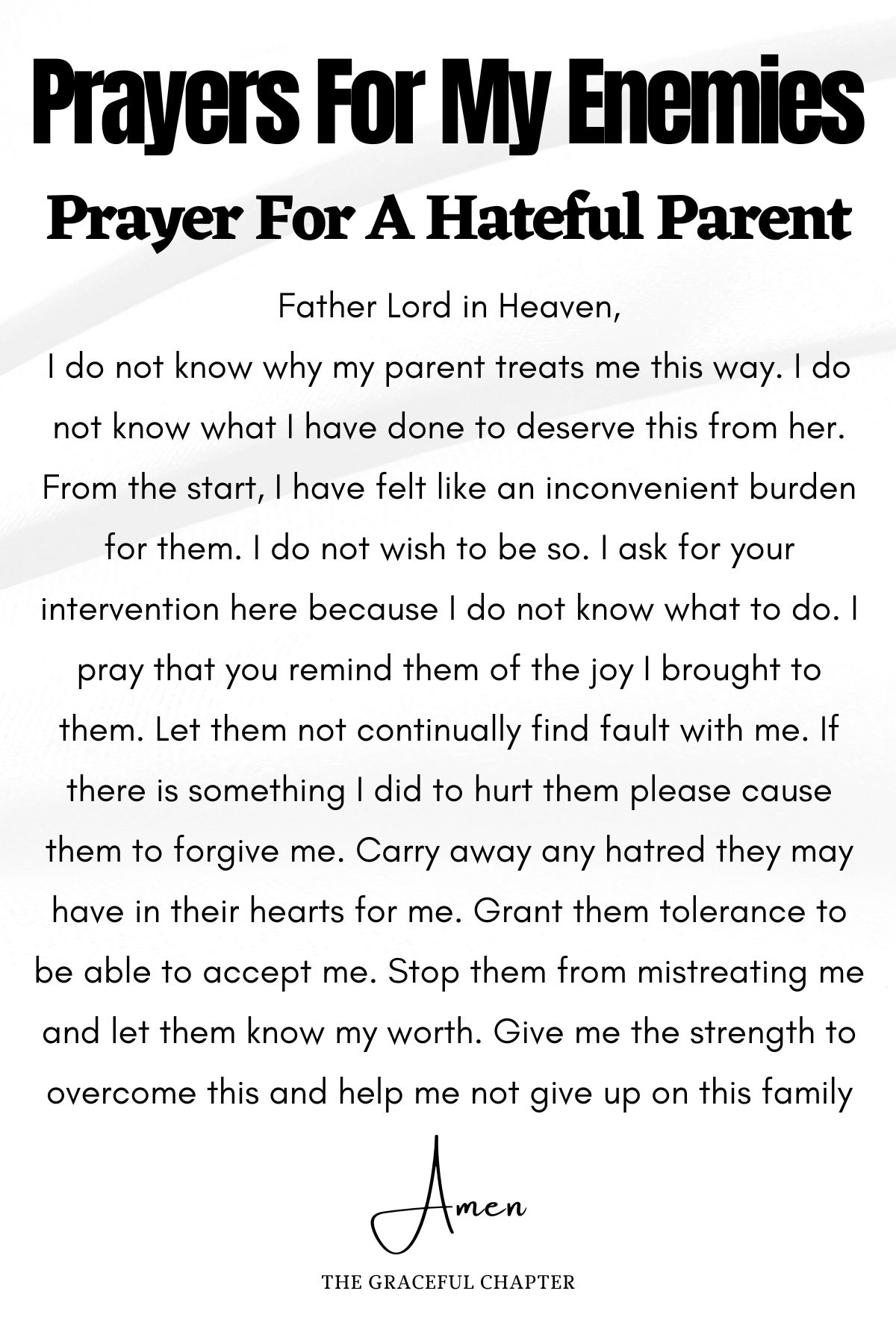 Prayer For A Hateful Sibling
Heavenly Father,
Please help my sibling realize that we are family
Let them not believe all the troubling lies people tell them about me
Stop anyone who is trying to drive a wedge between us
Let us find the love you created for us
I pray that you touch their hearts to let go of the past
Let them forgive any wrong that I did to them
Remove any ounce of hatred they have for me from their hearts
Give them the strength and courage to ignore instigators of hate
Let us find the peace and love that we once shared
And draw us closer to each other to be stronger than ever
Amen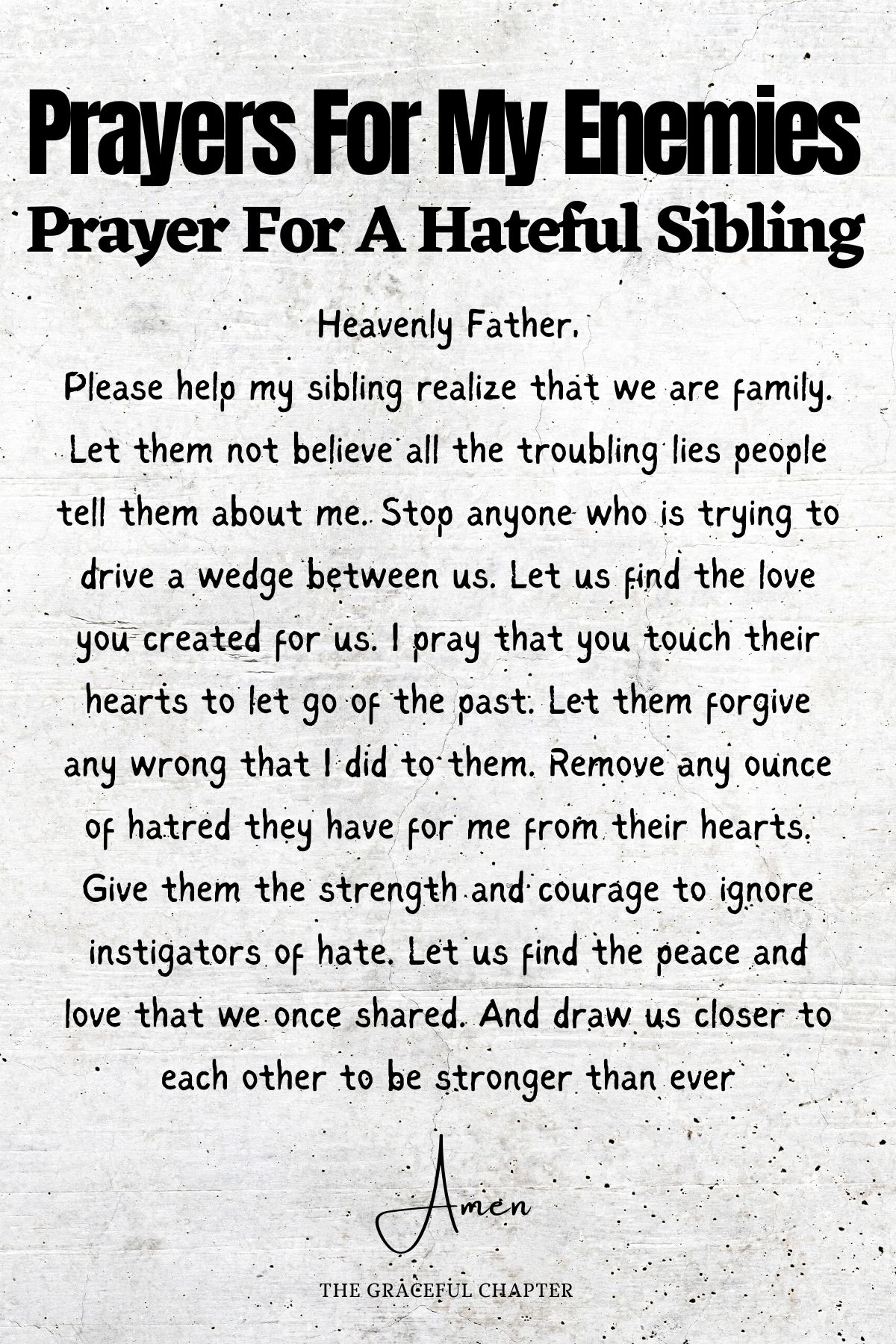 Prayer For A Hateful Coworker
Dear Lord in Heaven,
Touch the hearts of those I work with
Let them not harbor hatred for me
Let me be able to love and respect them no matter what they feel about me
Protect me from the attention of a hateful boss
Prevent them from having a negative influence on my career
Let me not fall into any traps they set for me
Please guide them to find peace in their lives
Let them not find any issues with me
Let the root cause of their hate toward me be removed
Replace the hate in their hearts with love
Let them find joy in their own work and not envy me for what I achieve
Keep their evil eyes off me and help them realize their own potential
Amen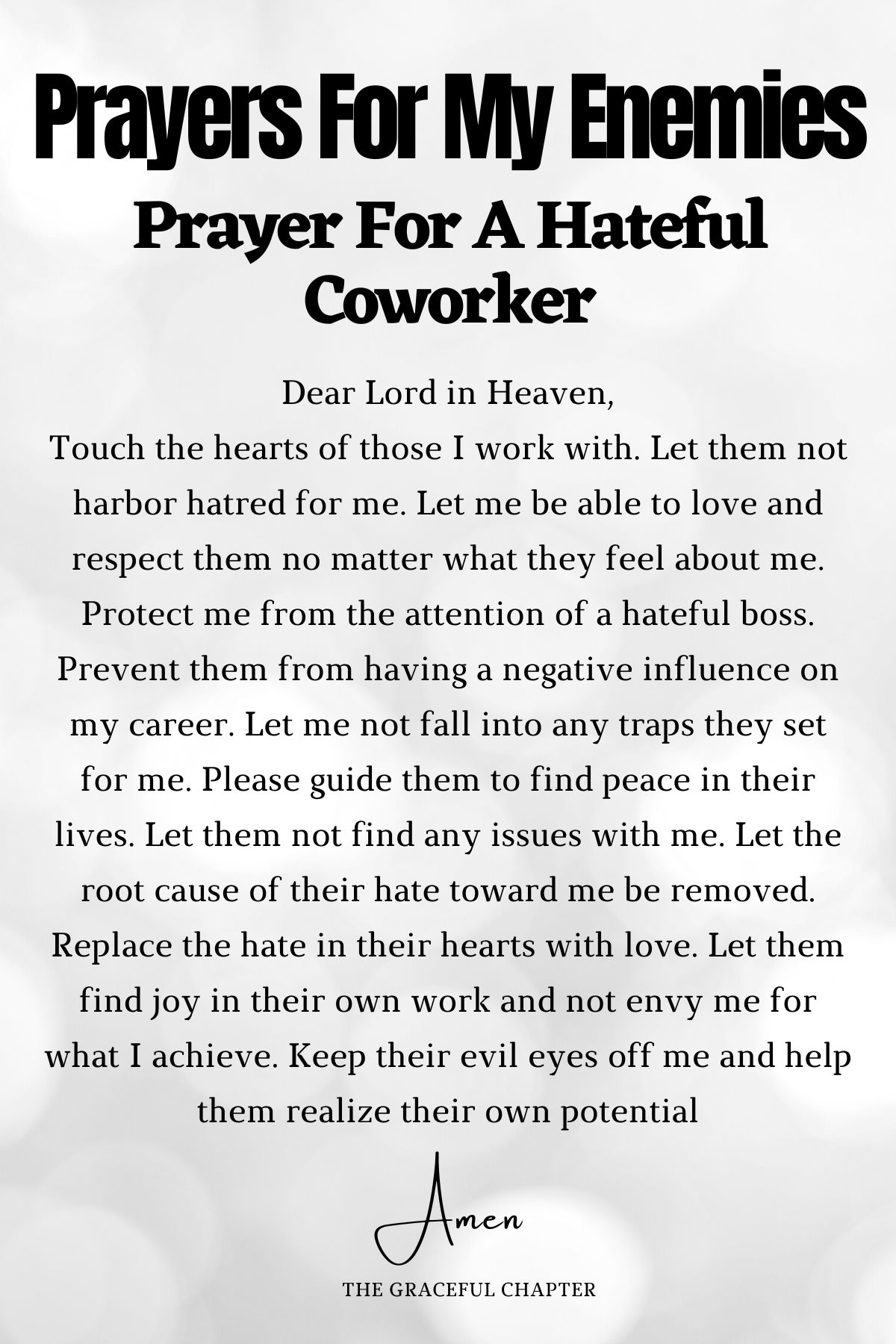 Prayer For Hateful Neighbor
Father Lord in Heaven,
I pray that you change my hateful neighbors
Help them resist the temptation of envy and covetousness
Protect me from the evil they wish on me and my family
Cover my family with your loving grace and protection
Help them find happiness in their own lives
Avert their evil eyes away from me
Help them abandon their evil ways concerning me
Save them from the devil's hold on them
Put laughter into their own homes
Let them not come after me
If they plan evil for me let it turn into a blessing
Let your favor be for me even when they wish destruction on me
And grant me the strength to forgive the evil they wish on me
Amen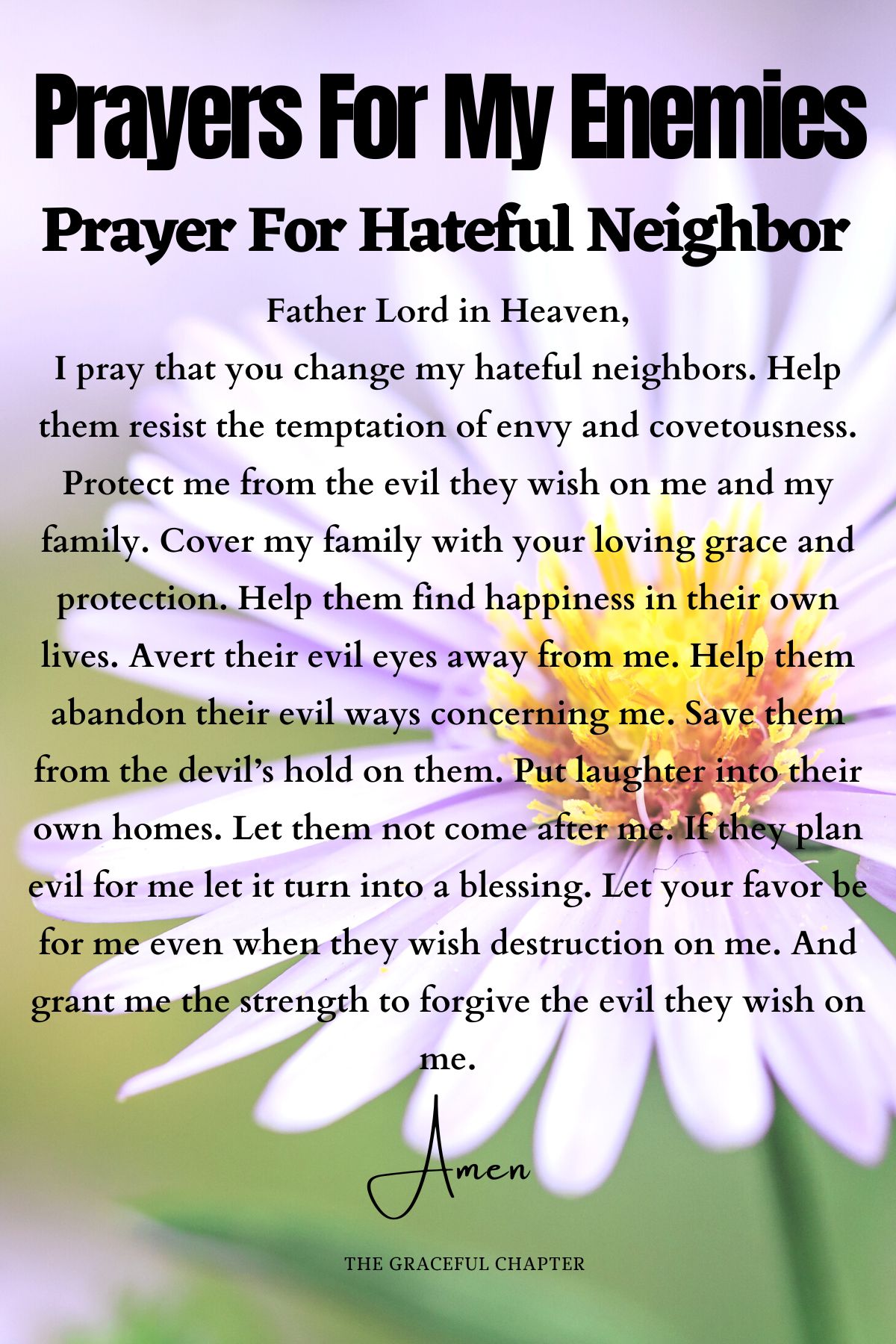 Prayer For Someone You Hurt
Father Lord in Heaven,
I pray that you help them forgive me
I know I hurt them in a way that was bad
Please give them the strength to forget what happened
We have all sinned against you but your grace protects us
Heal their wounds and let them not come after me
Save me from their evil intentions
Protect me like a child who knows not what they did
Forgive me and help them do the same
Help them move on from this
Grant them the peace that they need
Let glory rise from their ashes
Let them recover from this and not carry vengeance in their hearts
Amen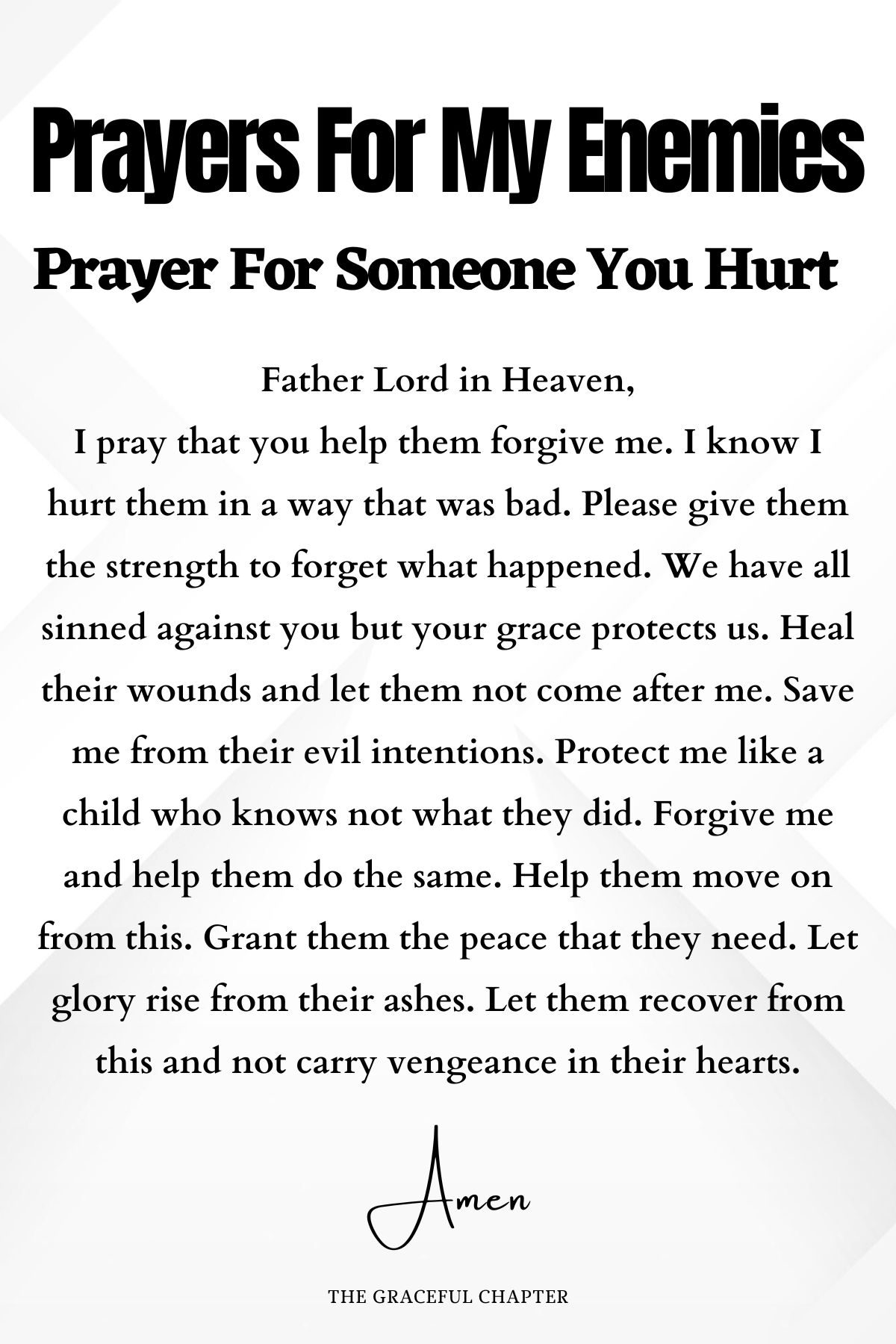 Jesus wants you to pray for those who hate you because, despite all your sins against humanity and God, He still prays for you. When someone hates you, you get a chance to quench a fire with cold water. Use the gentility that Jesus showed to love them despite their hate for you. This is what sets you apart from an unbeliever.
An unbeliever will go to great lengths to gain revenge over someone but you being a child of God must not do this. As the opening verse says, you must repay evil with good. That is the way of our Lord. Doing this means that we are made and live in the likeness of our Lord Jesus Christ.
"You have heard that it was said, 'You shall love your neighbor and hate your enemy.' But I say to you, love your enemies, bless those who curse you, do good to those who hate you, and pray for those who spitefully use you and persecute you.

Matthew 5:43-44.