I sought the LORD, and he answered me and delivered me from all my fears. Those who look to him are radiant, and their faces shall never be ashamed.

Psalm 34:4-5
Imagine carrying a big bag of problems on your back and at the same time trying to walk straight with a smile on your face as if nothing is going on. It is very difficult to do that. Mostly when we are troubled by something we cannot control, it tends to affect different aspects of our lives like work, home, family, health, and our fellowship with God.
Burdening ourselves with the cares of this world tends to send us into downward spirals. In Matthew 6:27 Jesus explains how out of control we are in this world by pointing out that we cannot cause a lot of change through worrying.
Our world is so full of chaos, disasters, and disappointments that it is very simple to sit and worry about things in your life. The good news for us though is that through the blood of Jesus we have been bought back from this world.
Our existence and what happens to us are no longer dependent on what happens to us here but rather on how we handle our relationship with our Savior.
Imagine being rescued from drowning in the ocean and being carried on your rescuers back through treacherous and scary ocean waves and strong winds. You will hold on so fast and tight to them so that there wouldn't be any chance of slipping and falling from their backs into the ocean again.
According to David, God rescued him when he sought Him and he is convinced beyond all things that as long as he continues to hold on to the Lord, he will never be ashamed.
We should learn to cast our burdens unto him because he cares for us so we don't have to (Psalm 55:22). When the Lord is your provider and sustainer, there is no need to stress. We just need to trust and delight in His abilities, knowing all the way that he will deliver us from any situation we may find ourselves in.
The things that we stress about are no match for the Lord we serve. He only needs us to stand firm and hold him close when the storms of life come.
As the song goes 'we have an anchor that keeps the soul, steadfast and sure while the billows roll, Fastened to the rock which cannot move, grounded firm and deep in the savior's love. Hold on to that anchor and we will never sink.
Prayers for stress
Prayer for stress and strength
Lord of mercy,
I come to you today for rest
Lord, my responsibilities in life are beginning to weigh me down
as I feel tired and overwhelmed
I pray for strength to keep doing what I'm supposed to do
I don't want to give up on my responsibilities
but I need the strength to keep going
When I'm tired, please give me rest
When I'm weak, please refresh my body and my spirit
Help me not to give up in life
Thank you, Lord, for the strength I have in you
Amen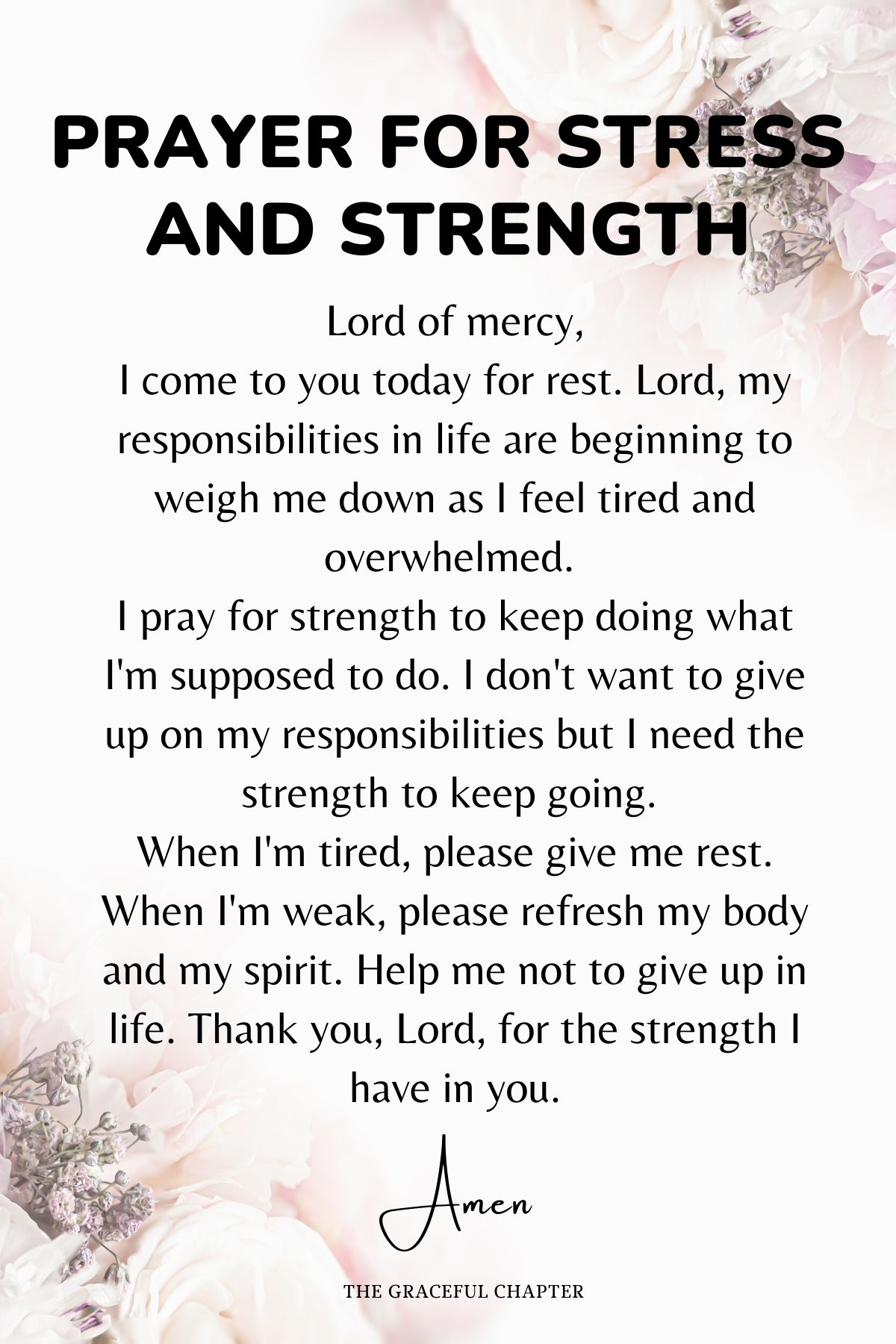 Prayer for stress and confusion
Dear God,
Come to my aid now, because I need you
I feel so tired and stressed in life that I'm having difficulties focusing
I pray for mental clarity
Help me to clear my mind of fears and worries
Give me peace and tranquility
Grant me strength and wisdom
Guide me in all I do and show me the right way to do things
Help me to let go of all the many things that I worry about
Grant me knowledge for the things I do not understand
Clear my mind of all confusion and grant me clarity in life
In Jesus' name, I pray
Amen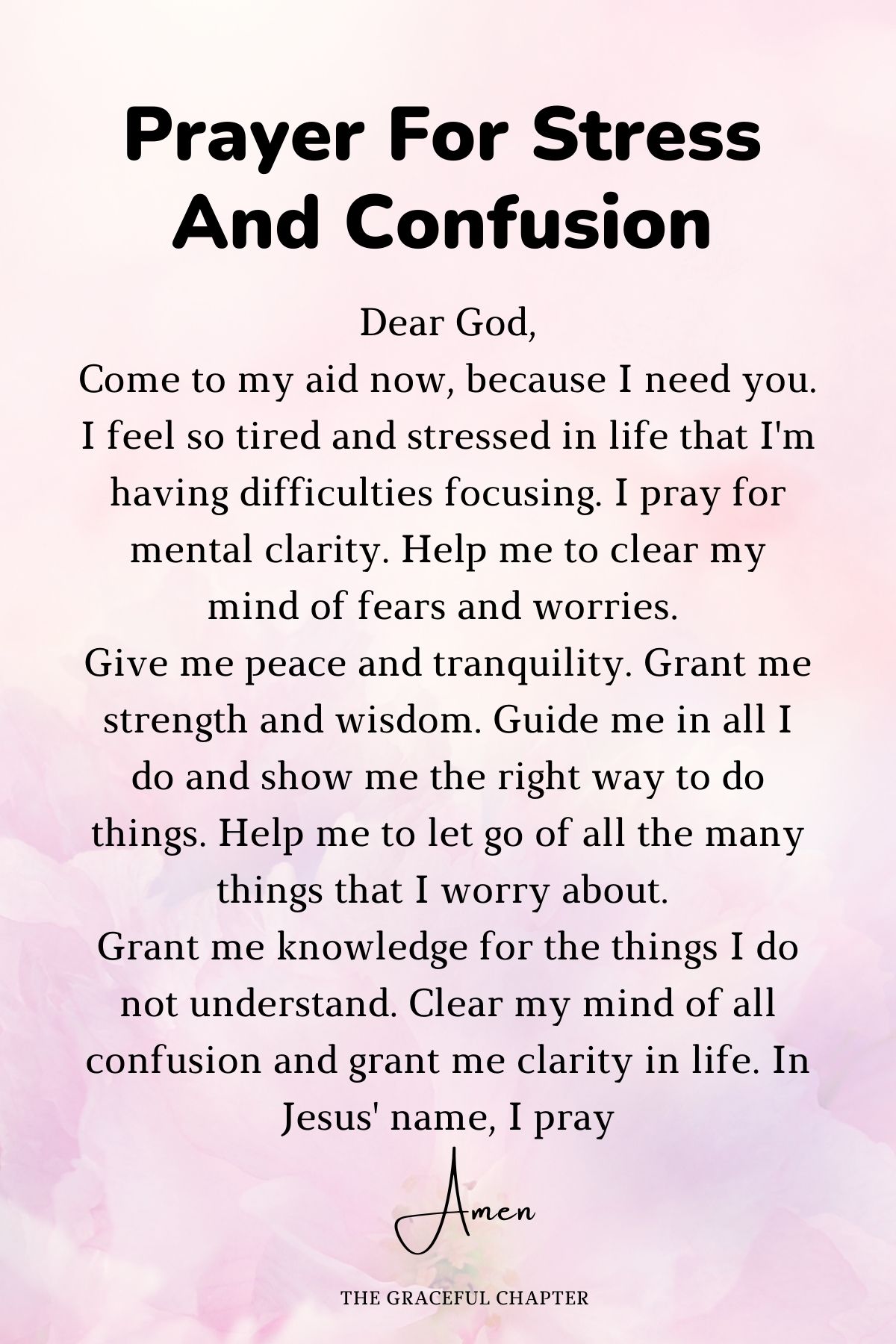 Prayer for stress and anxiety
Dear God,
I come to you today for comfort and peace
Forgive me for letting the stress and worries of life get to me
Help me to surrender it all to you
I open myself up to you, Lord,
Please take away all my stress and anxieties
Fill my heart with peace and joy
Teach me not to look at my problems,
but instead to focus on how mighty you are
Thank you, mighty Lord, for the comfort and happiness
you fill my life with
Amen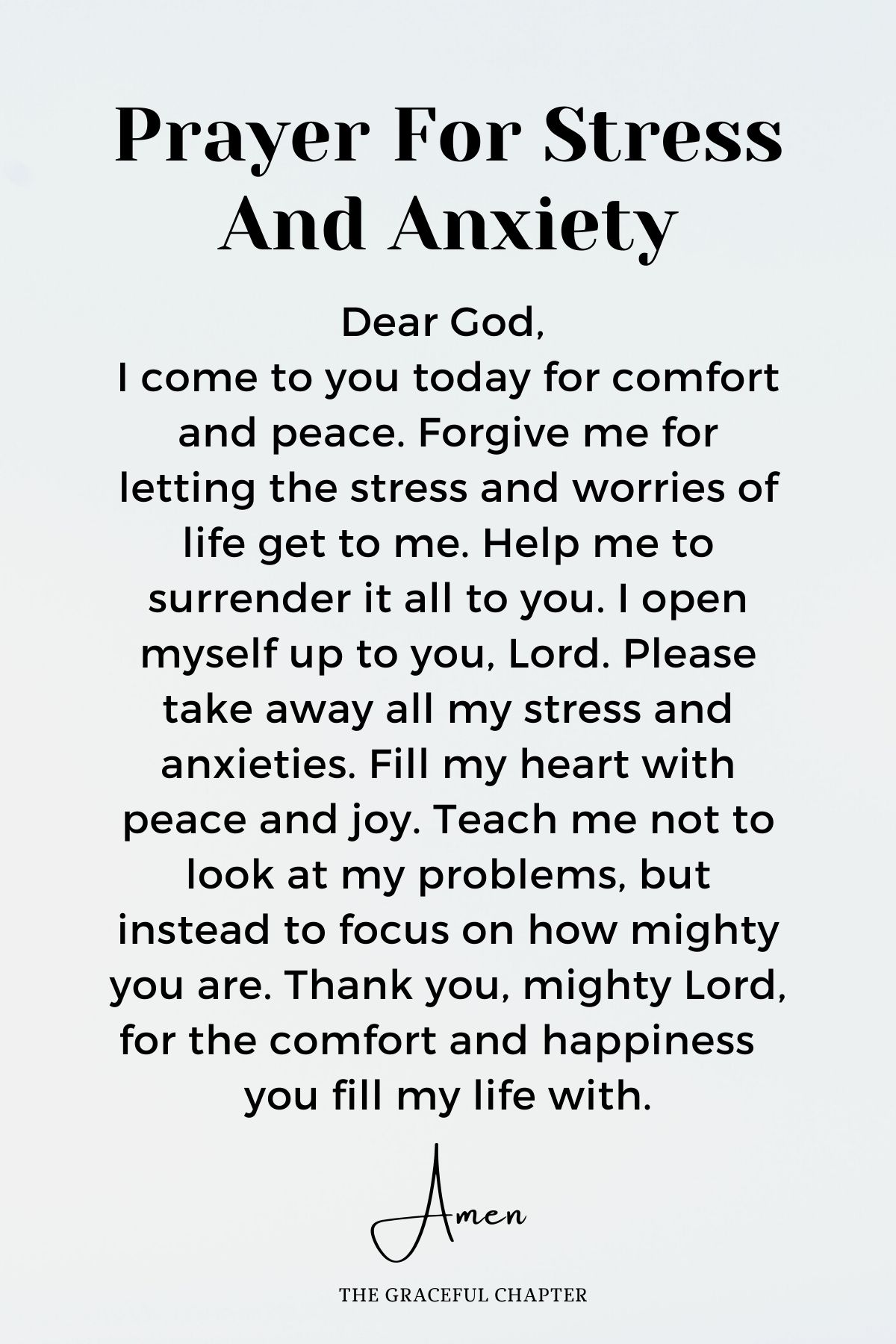 Prayer for stress and depression
Merciful Lord,
Thank you for my life and all that I am because of you
Today, I lay before you all my cares and concerns in life
Thinking about these things only brings me stress and sadness
I want to feel better, Lord, so please come to my aid
You said we should call on you and you will hear us and rescue us
Father, Lord, I'm calling on you today
Hear me, Lord, and come to my aid
Take away my fears and my concerns
Search through my heart, Lord and
take away all that makes me sad and depressed in life
Shine your light unto the depths of my soul
and overwhelm me with your joy
Thank you, Lord, for hearing my prayers through
your son Jesus Christ
Amen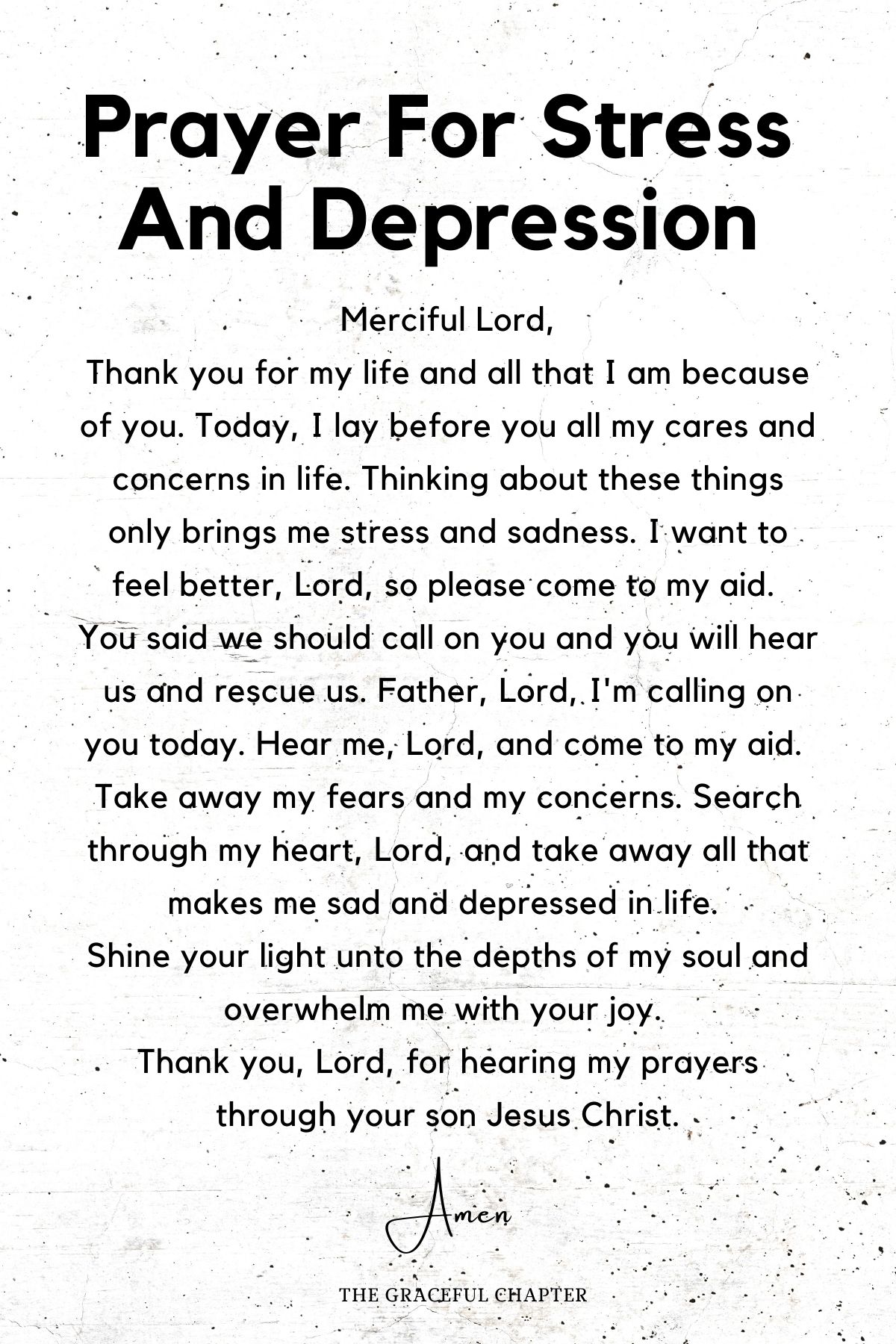 Prayer for stress at work
Heavenly Father
Thank you for this job you have blessed me with
I have conducted myself impeccably from the start
but trouble seems to follow me everywhere
Everything I propose gets a pushback
I don't get the respect that I deserve
There are traps being set all around me and I am filled with great fear
Take my hand, Lord, and make it steady
Carry these burdens off my head
and make me victorious through your comfort and intervention
Amen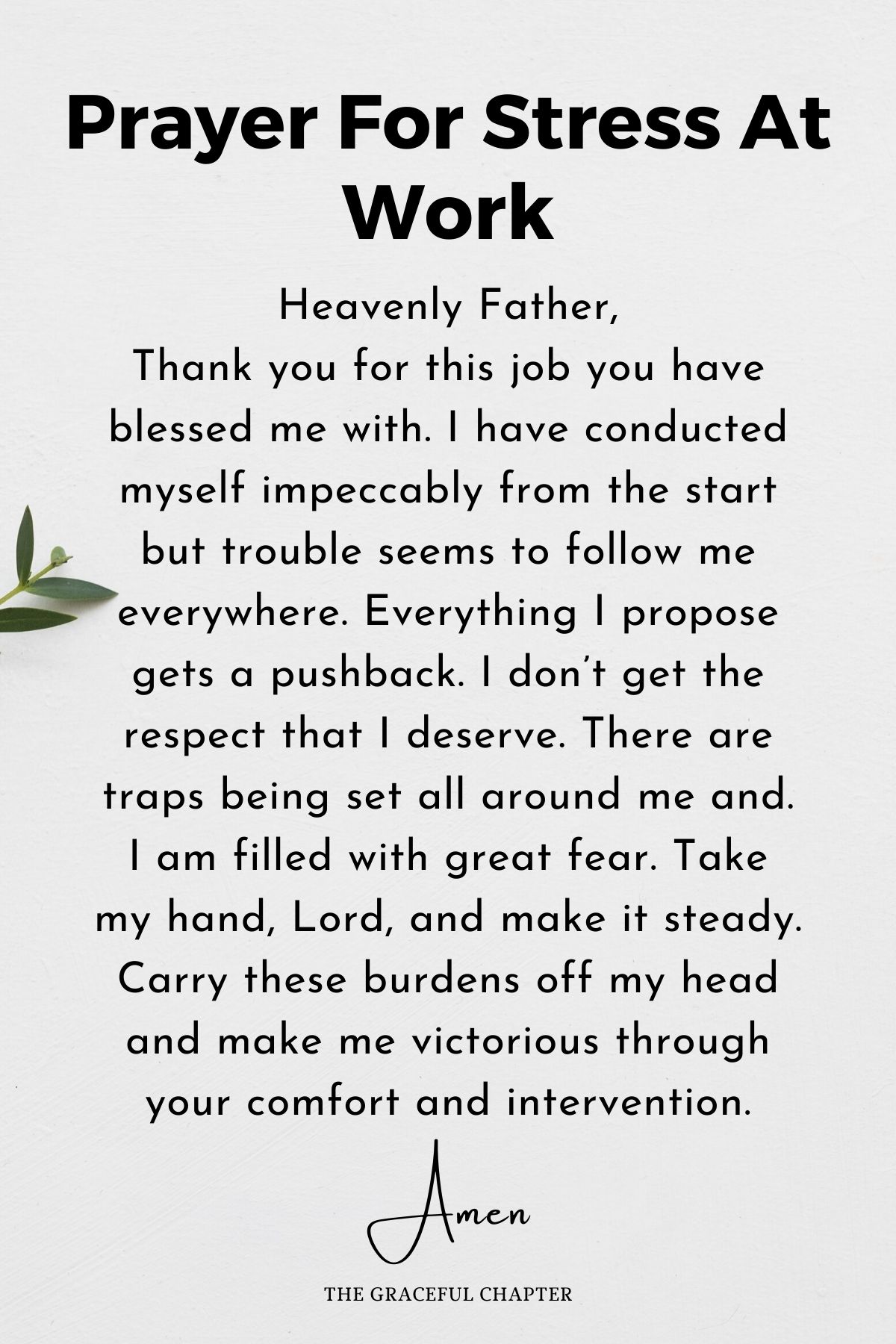 Prayer for stress in marriage
Dear Lord in heaven
I am grateful for my partner
I wouldn't change anything about them if I had the chance
but we have allowed the devil to enter our marriage
We are weary and are tired of each other
We do not relish spending time together anymore
We have become strangers in the same bed
We ask for your intervention
Remind us of how we once felt
Come and take control of this union
and remove all impurities from us
In Jesus' name
Amen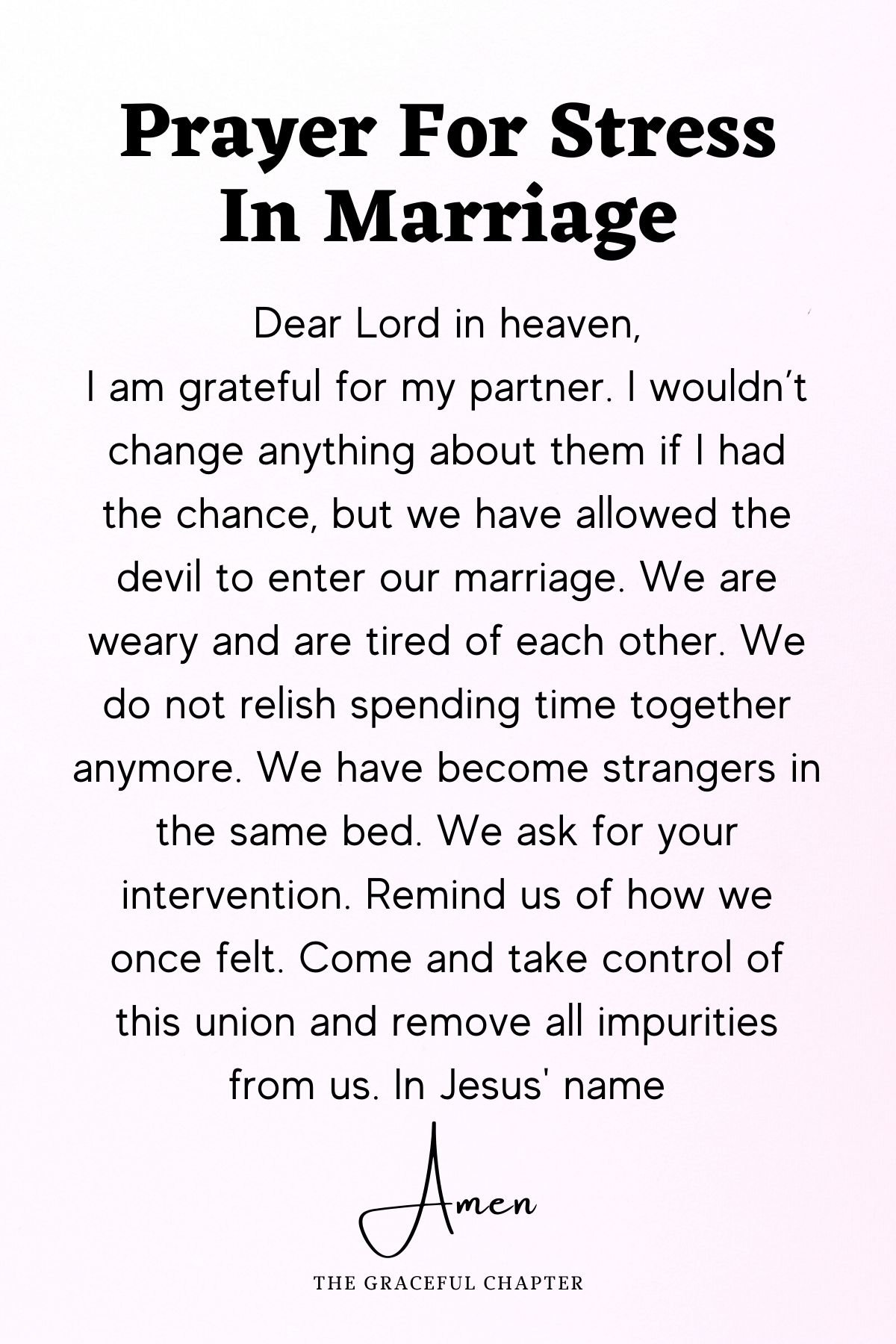 Prayer for pregnancy stress
Father Lord in heaven
It is almost time for us to meet our newborn
We are a nervous wreck because of everything that has gone before
We pray that you settle our nerves and make us strong
Take away any panic and fear from our hearts
Break all demonic holds and strangles from us
Remove all bad thoughts from us
Take our hands and lead us through this with strength
Let us receive our newborn without any problems
Give us peace in our hearts and let us receive this gift in glory
Amen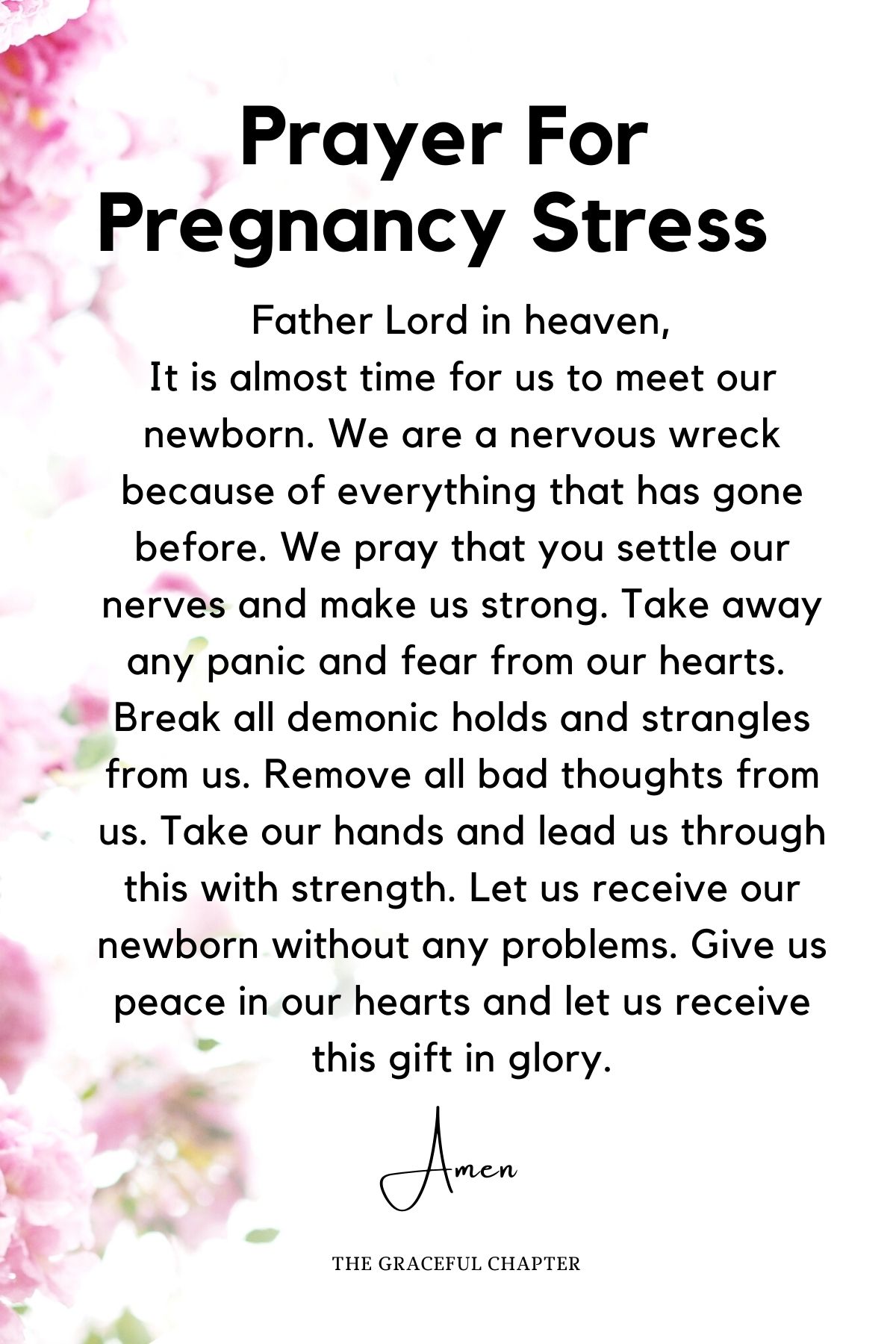 Prayer for financial stress
Dear Lord in heaven
We are in a difficult moment
We are struggling to make ends meet
We need leadership and guidance from you
We are sinking fast and we need your hand to lift us out of the storm
It is affecting us physically and we are starting to lose hope
Our hands are weak and we need you
Save us from this embarrassment
Lift us up from this hole and bring us to the table of grace and favor
Amen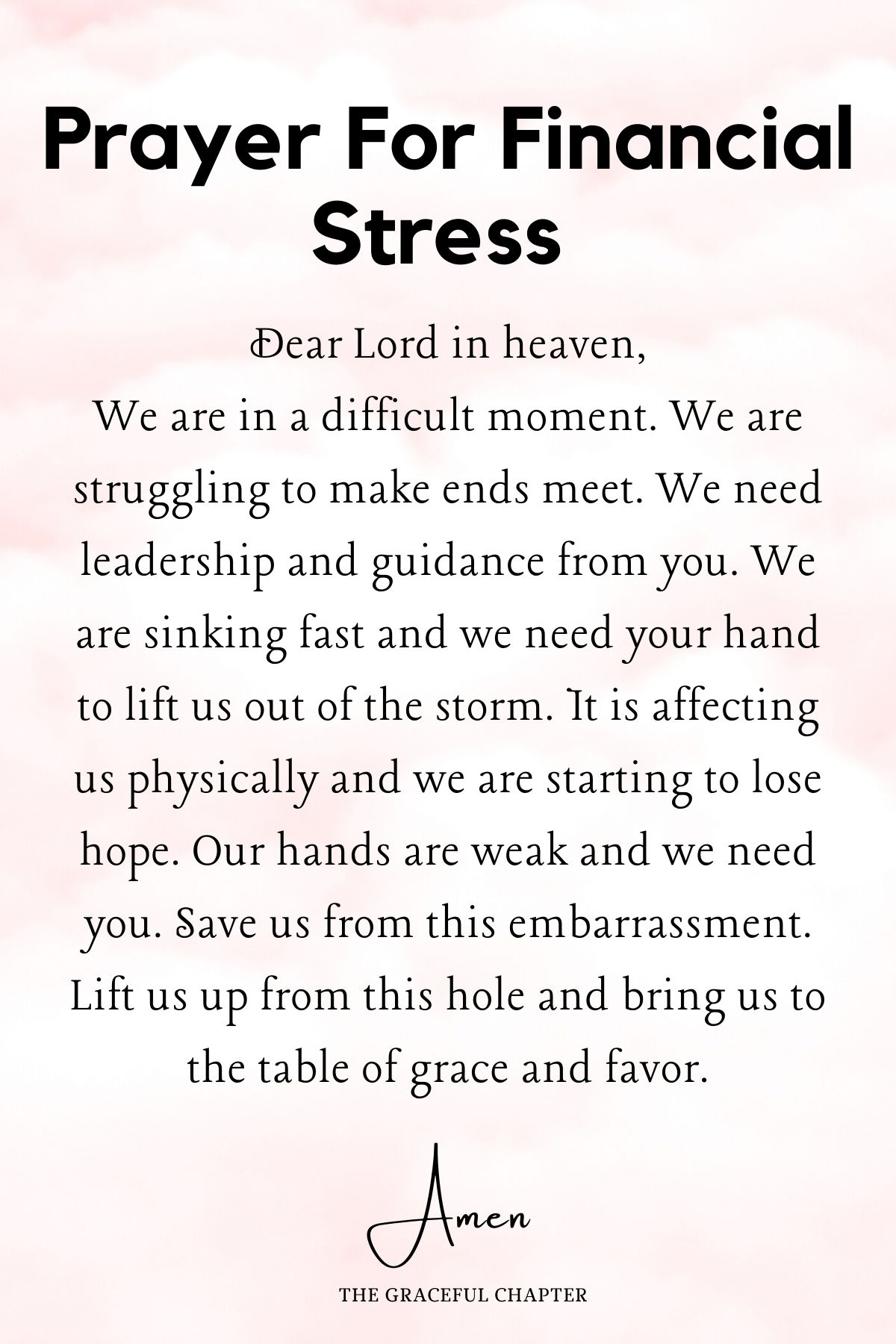 Related Posts
Prayer for stress and healing
Father Lord
Thank you for sustaining me till now
I pray that you release me from this disease
It has taken over my life
It is causing me to go bankrupt
All my plans are going belly up
I think about the unthinkable sometimes
I stress about what is going to happen to my children
I cry so many times
Please hold me close to you and give me my miracle
Restore my soul and make me whole again
Amen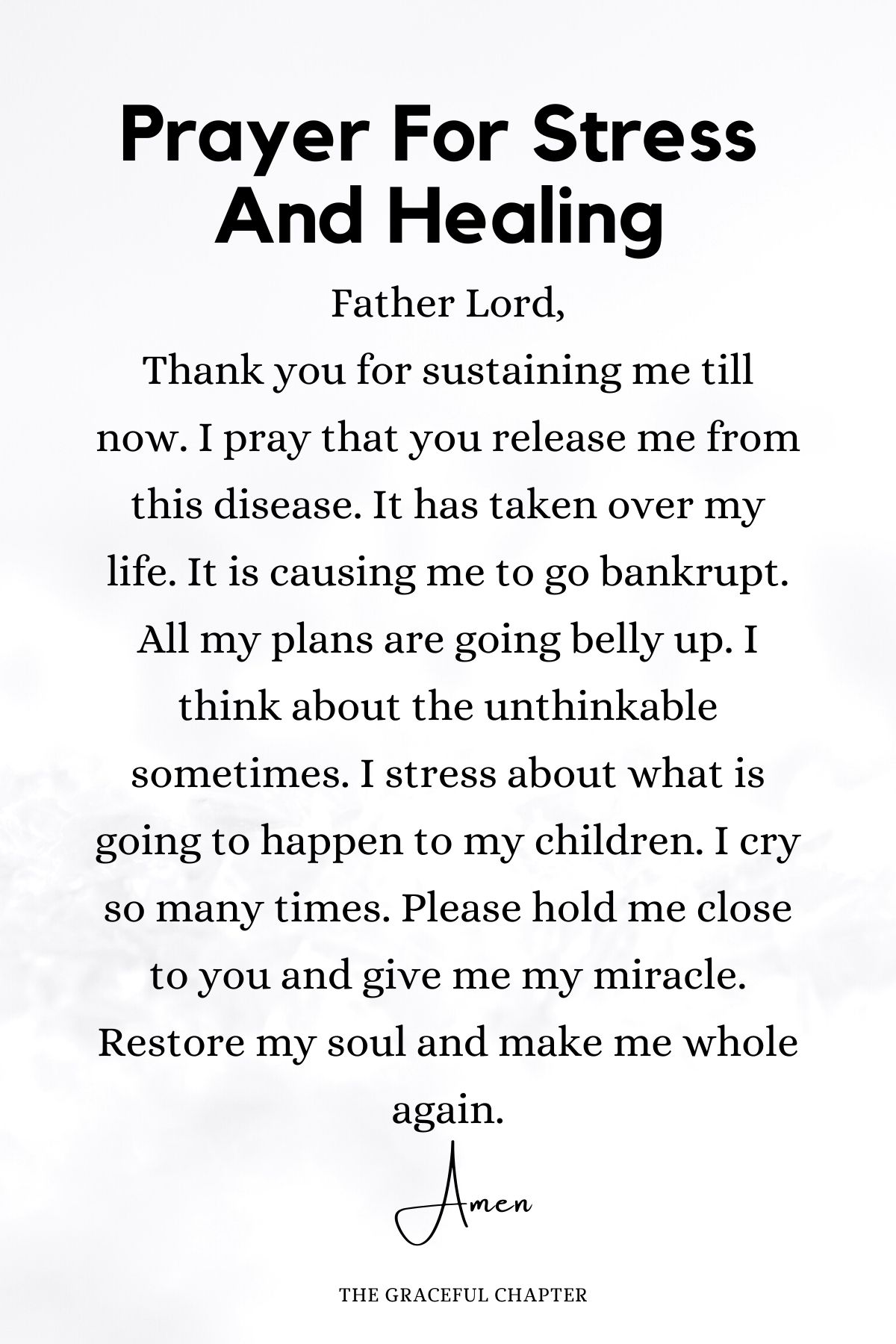 Prayer for stress in a relationship
Father Lord in heaven
Thank you that I have found someone for my future
Things are not going great though
Our plans seem to be falling by the wayside
It is beginning to affect us negatively
We are worried and weary of our next fight because it might break us apart
I commit our relationship to your hands
Help us live in harmony and peace
Let us cast all our cares unto you
and let our future be glorious in your honor
Amen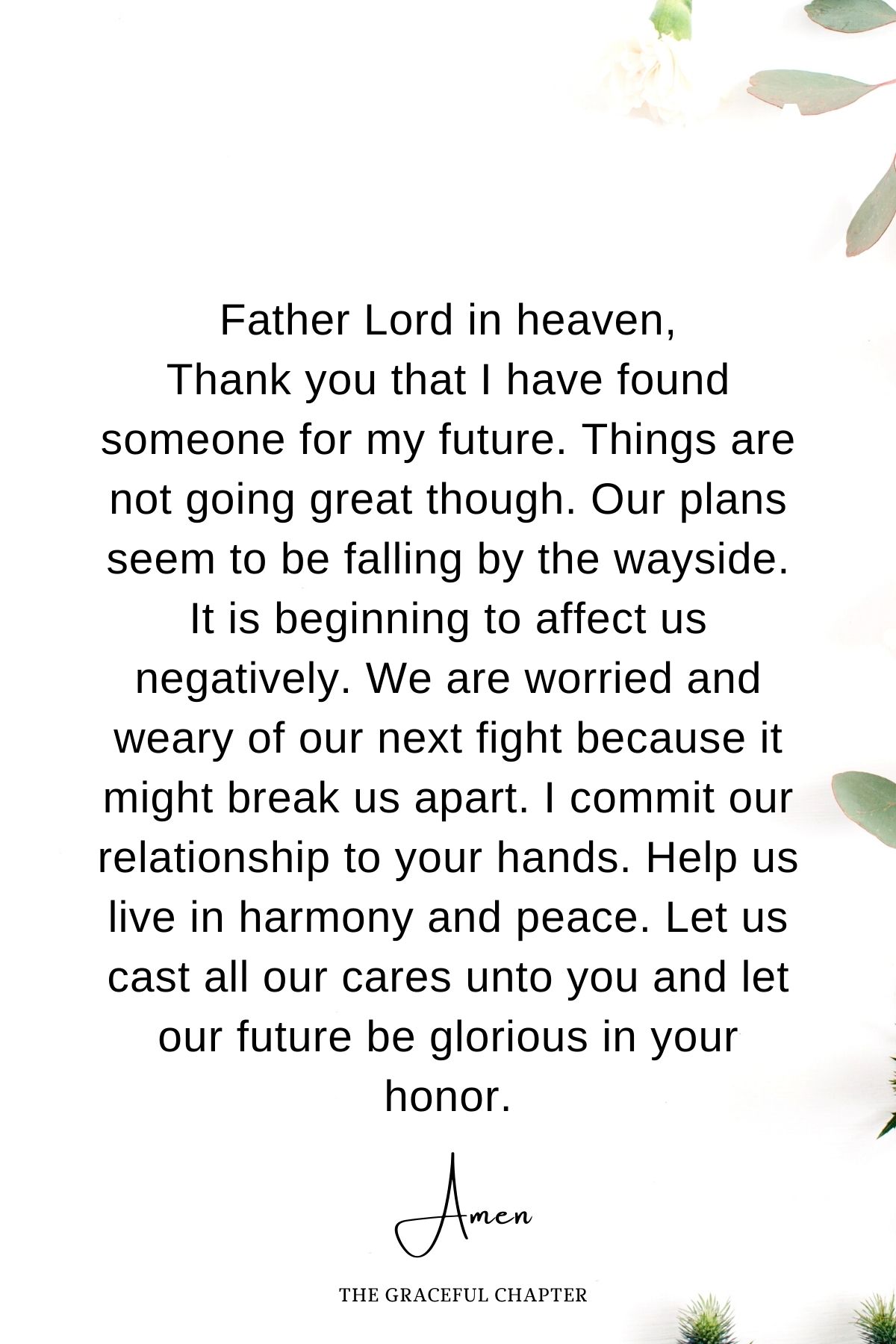 Prayer for stress in parenting
Dear Lord in heaven
Thank you for blessing us with these kids
We ask for your help in parenting them
We are not in control of them at the moment
They bring us trouble each day
People point fingers at us and call us bad parents
We need your intervention
Our stress levels keep going up because of these kids
Grant us the strength to care for them
Give us the patience to lead them down the right path
and let us be there for them in the way you want us to be
Amen
Prayer for stress when stranded
Dear Lord
I am stranded in a foreign land right now
I came here for greener pastures but right now I am lost
I am afraid and neglected
I do not know what to do next
I do not know anyone here and I am afraid of what might happen next
Please come and guide me, Lord
Help me through this situation
Save me from my enemies
Help me out of this panic and fear
Let me look back on today and give thanks and praise to you
and let me not fall in the wrong hands in Jesus' name
Amen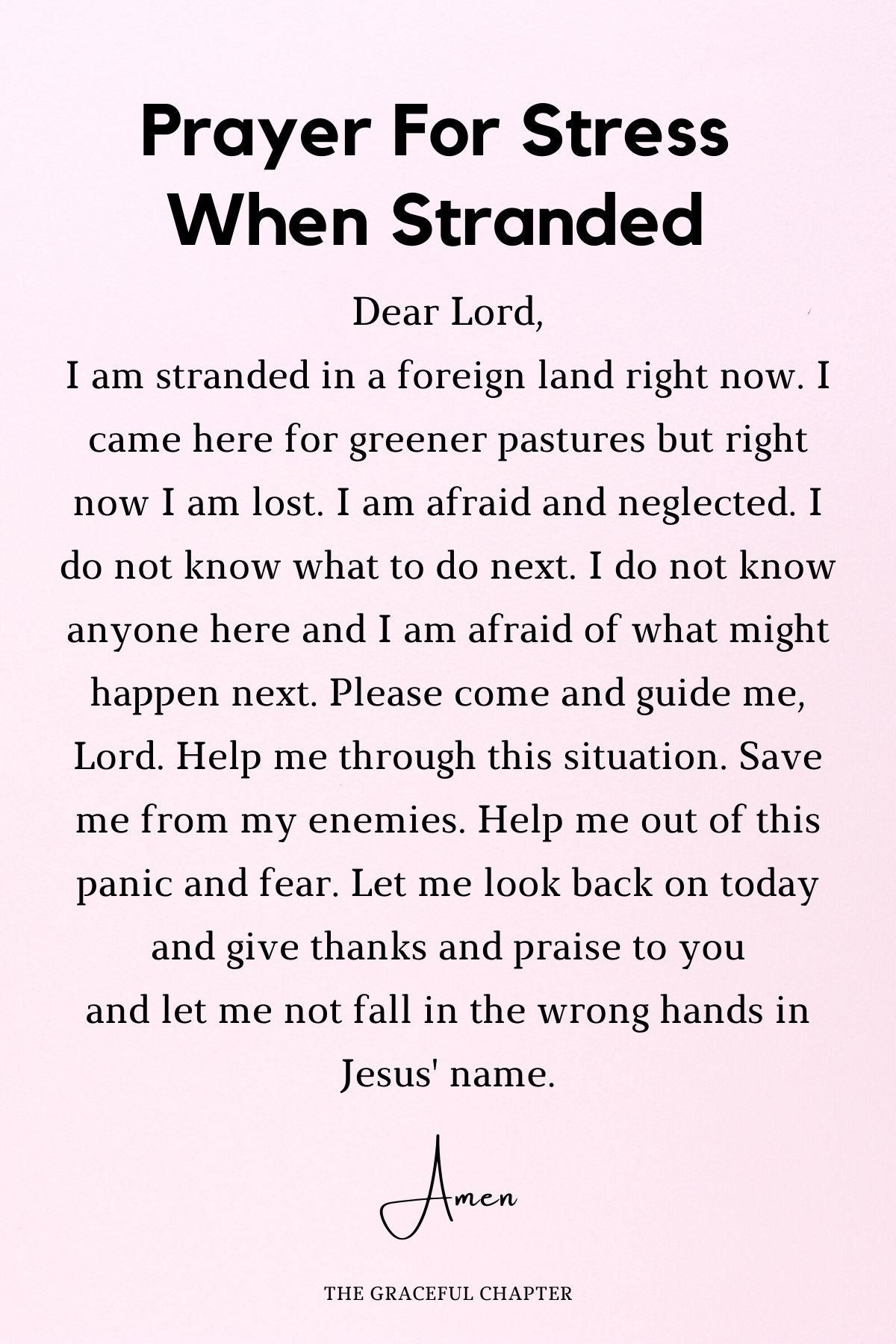 Prayer for stressful times
Rescue me, Oh Lord,
for I am crushed under my fears and responsibilities
Times are hard and I can't seem to get anything right
I pray to you for strength and faith
Help me to keep trusting in you
Let me hold on to my faith in you no matter how hard things get
Don't let this stress overtake me
but instead, give me the strength and courage to overcome
Fill me with hope and optimism for the future
Sustain me by your grace and bathe me in your glory
Thank you, Lord, for the victory I have in you.
Amen
It is in our human nature to worry about every situation. However, God wants us to know that as long as we call upon Him, He will always be there to take us out of that stress. We must understand that stress is the devil's way of cranking up the pressure on us so we break and fall into temptation. There is nothing that is too big for God to handle and he will never let anything come upon us that we cannot handle.
No temptation has overtaken you except what is common to mankind. And God is faithful; he will not let you be tempted beyond what you can bear. But when you are tempted, he will also provide a way out so that you can endure it.

1 Corinthians 10:13.