Prayer is a very important thing for a Christian. It brings you closer to God and helps to strengthen your relationship with him. Prayer also gives you comfort and a sense of security, knowing that there is someone mighty and powerful who guides and protects you.
You can check out this post to read more on why you should pray and how you can pray continually. There are so many scriptures in the bible about prayer, here are some of them to encourage you to pray more.
Bible verses about prayer
1 Chronicles 16:11
Seek the Lord and his strength; seek his presence continually!

Matthew 5:44
But I say to you, Love your enemies and pray for those who persecute you,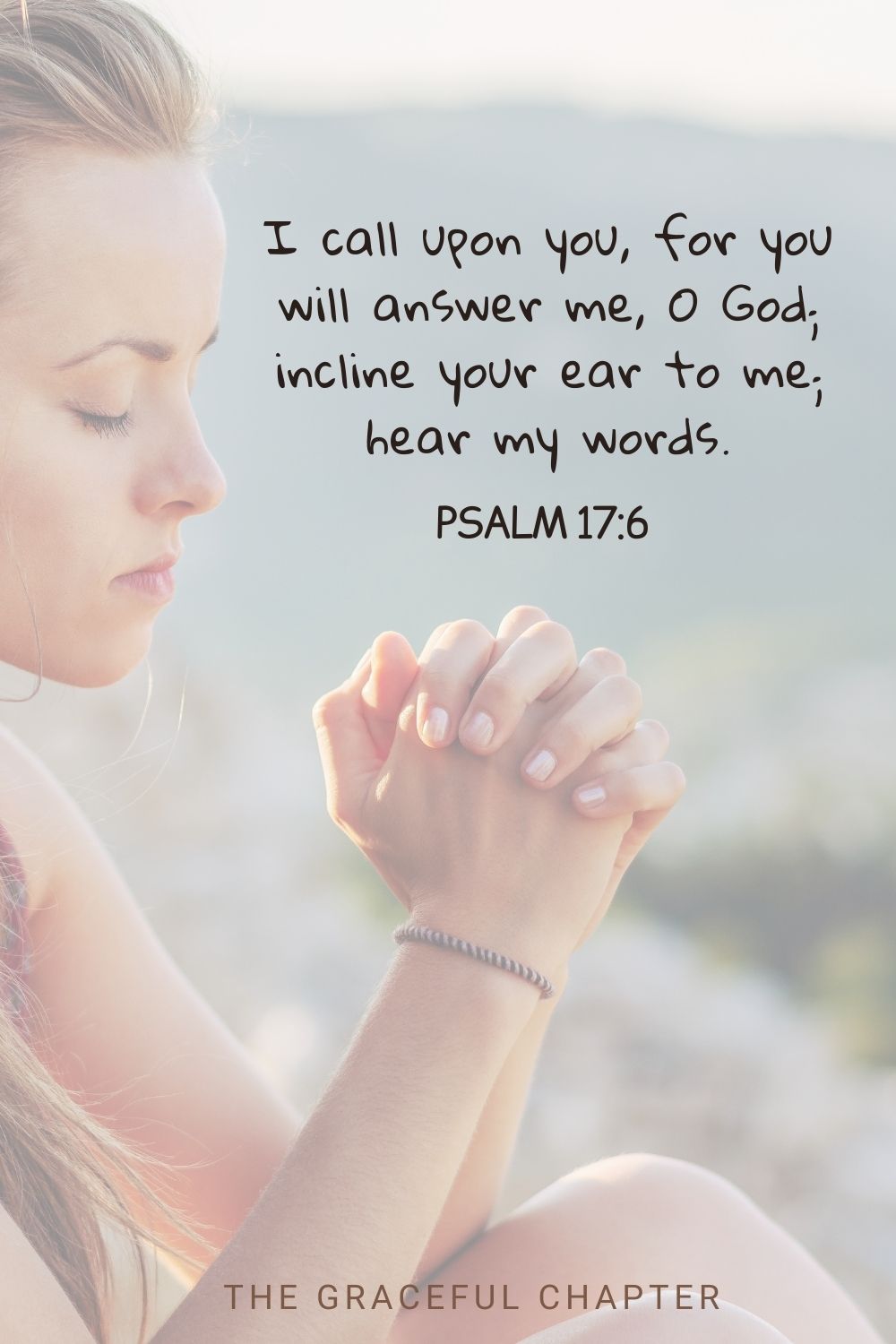 Psalm 17:6
I call upon you, for you will answer me, O God;
incline your ear to me; hear my words.

James 5:16
Therefore, confess your sins to one another and pray for one another, that you may be healed. The prayer of a righteous person has great power as it is working.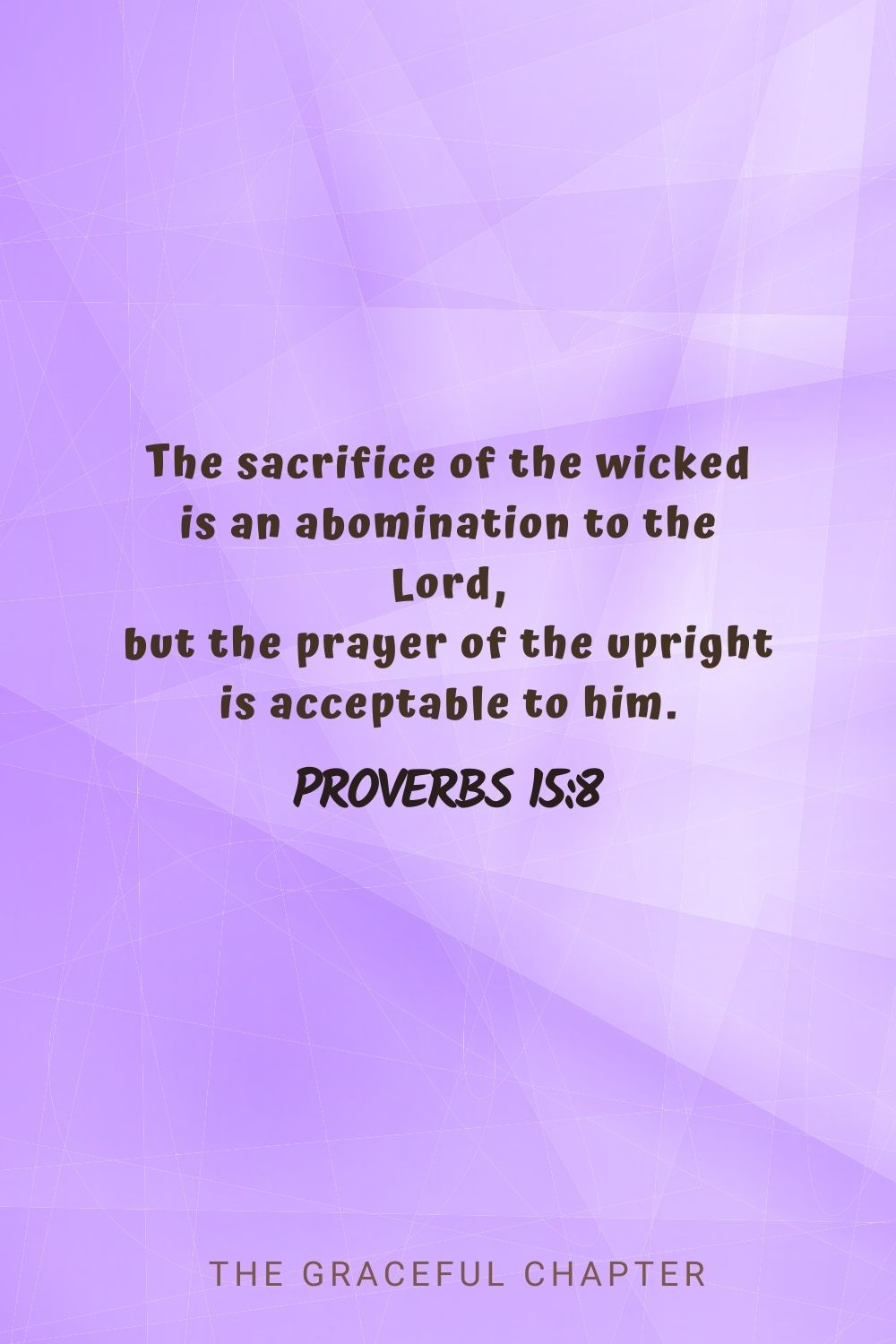 Proverbs 15:8
The sacrifice of the wicked is an abomination to the Lord, but the prayer of the upright is acceptable to him.

Psalm 141:2
Let my prayer be counted as incense before you,
and the lifting up of my hands as the evening sacrifice!

Ephesians 1:18
Having the eyes of your hearts enlightened, that you may know what is the hope to which he has called you, what are the riches of his glorious inheritance in the saints,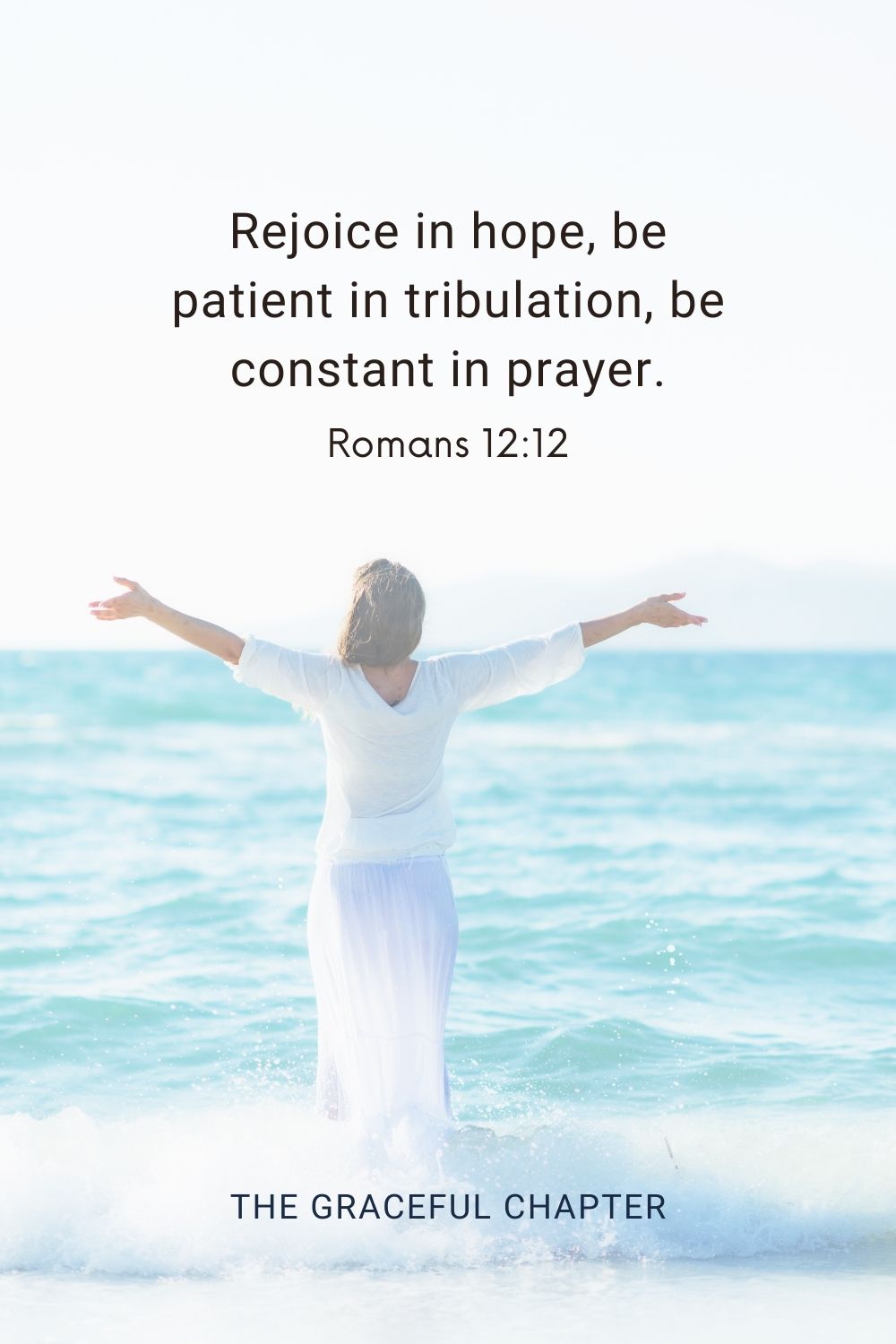 Romans 12:12
Rejoice in hope, be patient in tribulation, be constant in prayer.

Matthew 7:11
 If you then, who are evil, know how to give good gifts to your children, how much more will your Father who is in heaven give good things to those who ask him!

Romans 8:26
 Likewise, the Spirit helps us in our weakness. For we do not know what to pray for as we ought, but the Spirit himself intercedes for us with groanings too deep for words.

Psalm 4:1
Answer me when I call, O God of my righteousness! You have given me relief when I was in distress. Be gracious to me and hear my prayer!

Luke 18:1
And he told them a parable to the effect that they ought always to pray and not lose heart.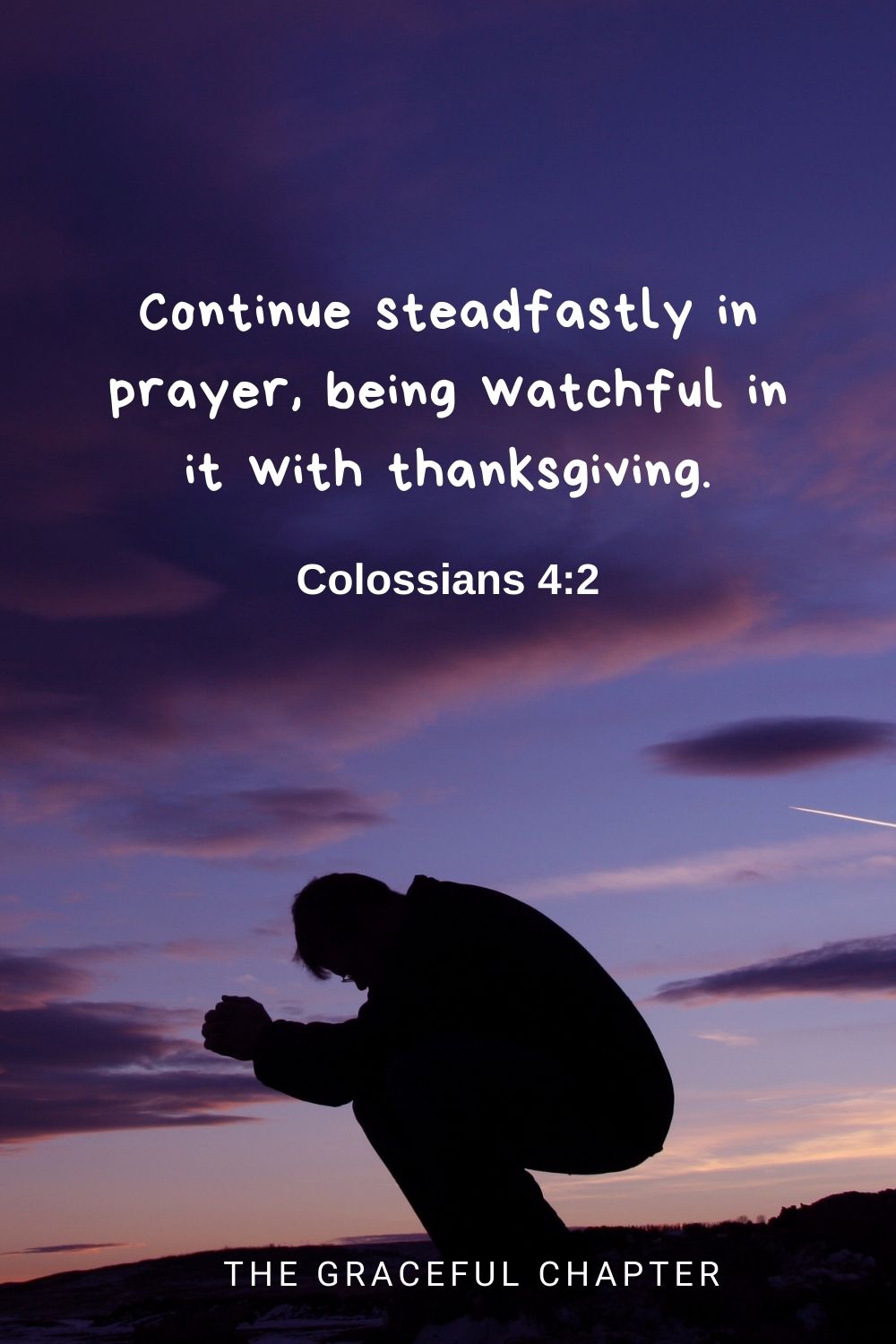 Colossians 4:2
 Continue steadfastly in prayer, being watchful in it with thanksgiving.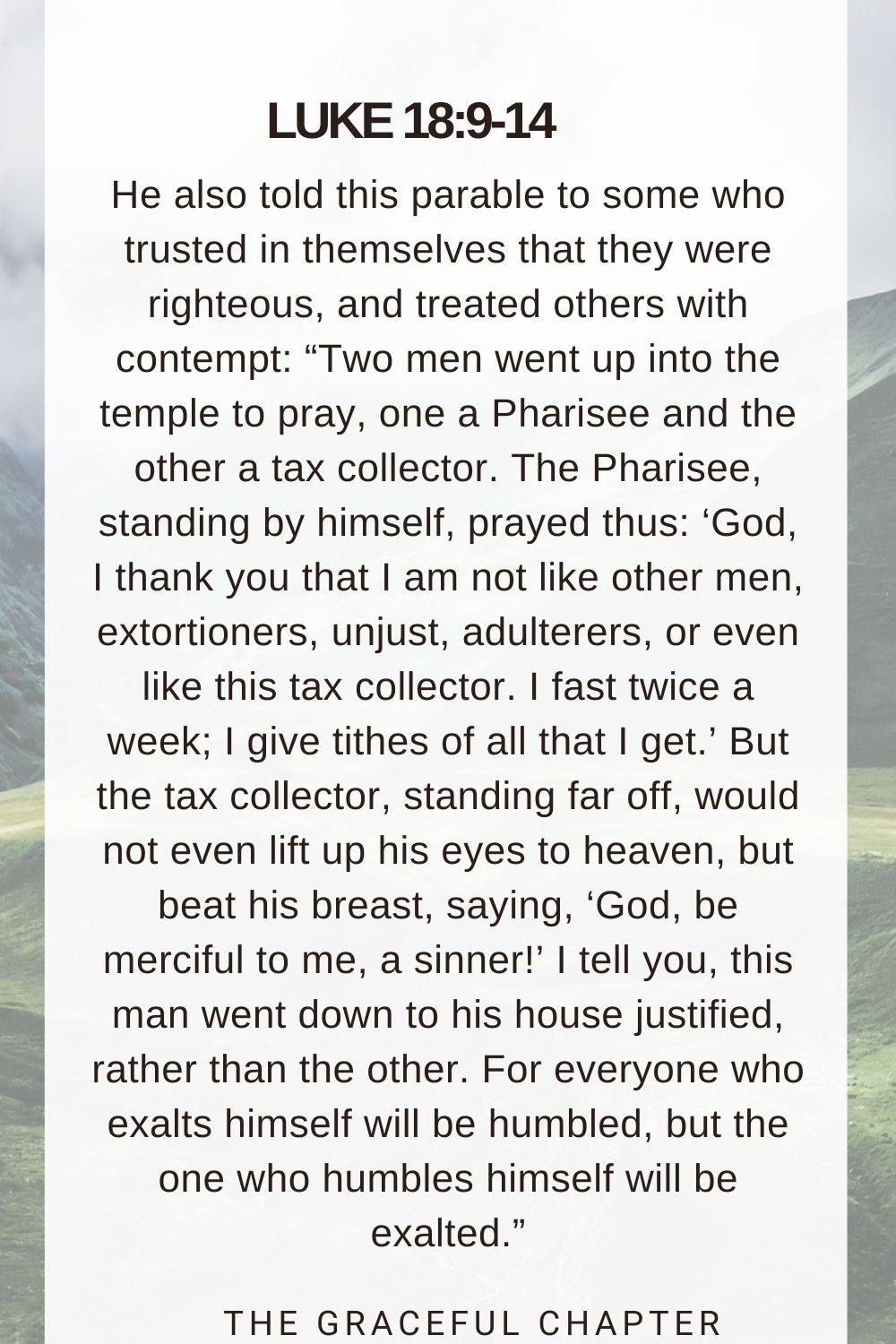 Luke 18:9-14
He also told this parable to some who trusted in themselves that they were righteous, and treated others with contempt: "Two men went up into the temple to pray, one a Pharisee and the other a tax collector. The Pharisee, standing by himself, prayed thus: 'God, I thank you that I am not like other men, extortioners, unjust, adulterers, or even like this tax collector. I fast twice a week; I give tithes of all that I get.' But the tax collector, standing far off, would not even lift up his eyes to heaven, but beat his breast, saying, 'God, be merciful to me, a sinner!' I tell you, this man went down to his house justified, rather than the other. For everyone who exalts himself will be humbled, but the one who humbles himself will be exalted."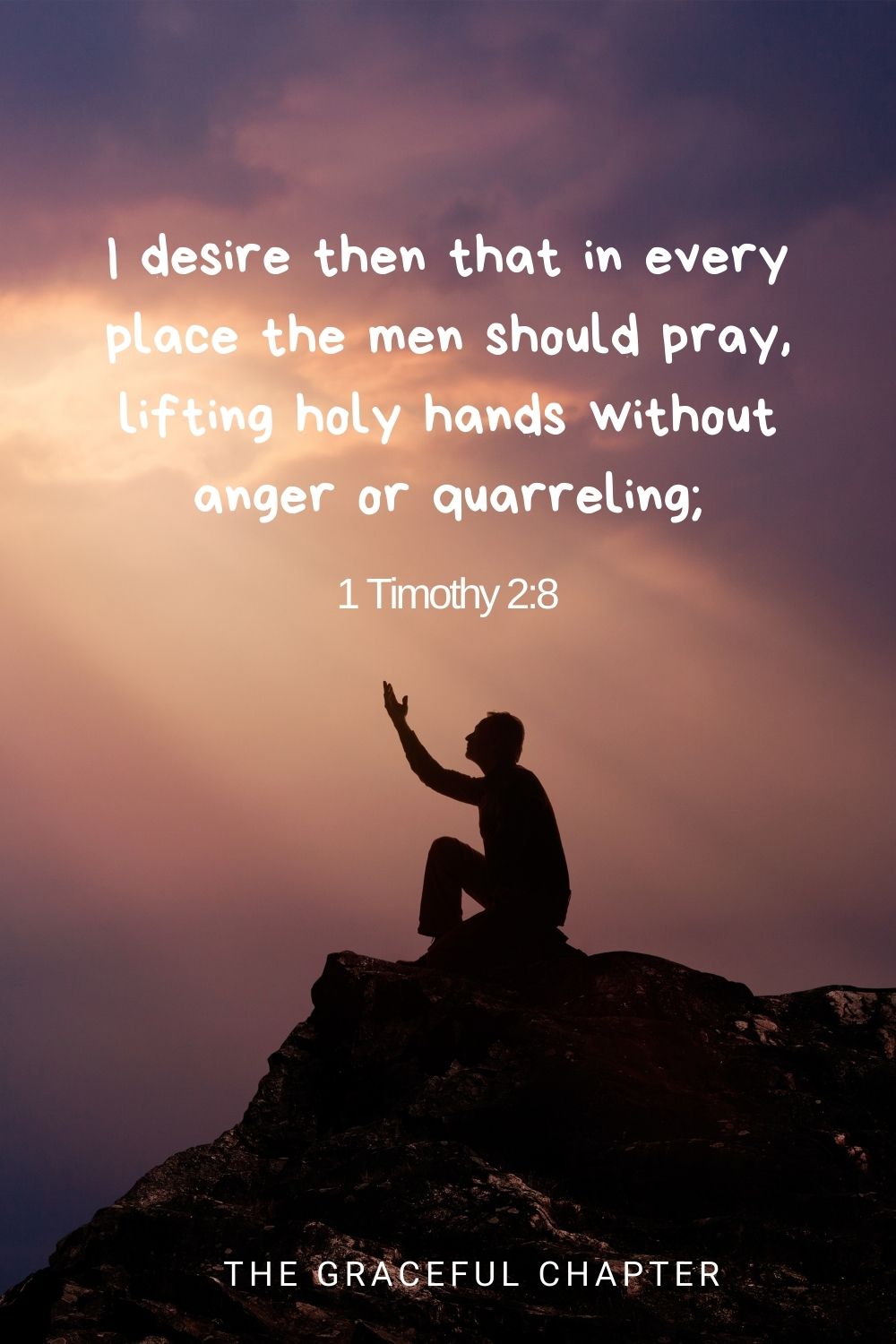 1 Timothy 2:8
I desire then that in every place the men should pray, lifting holy hands without anger or quarreling;

Jeremiah 29:12
Then you will call upon me and come and pray to me, and I will hear you.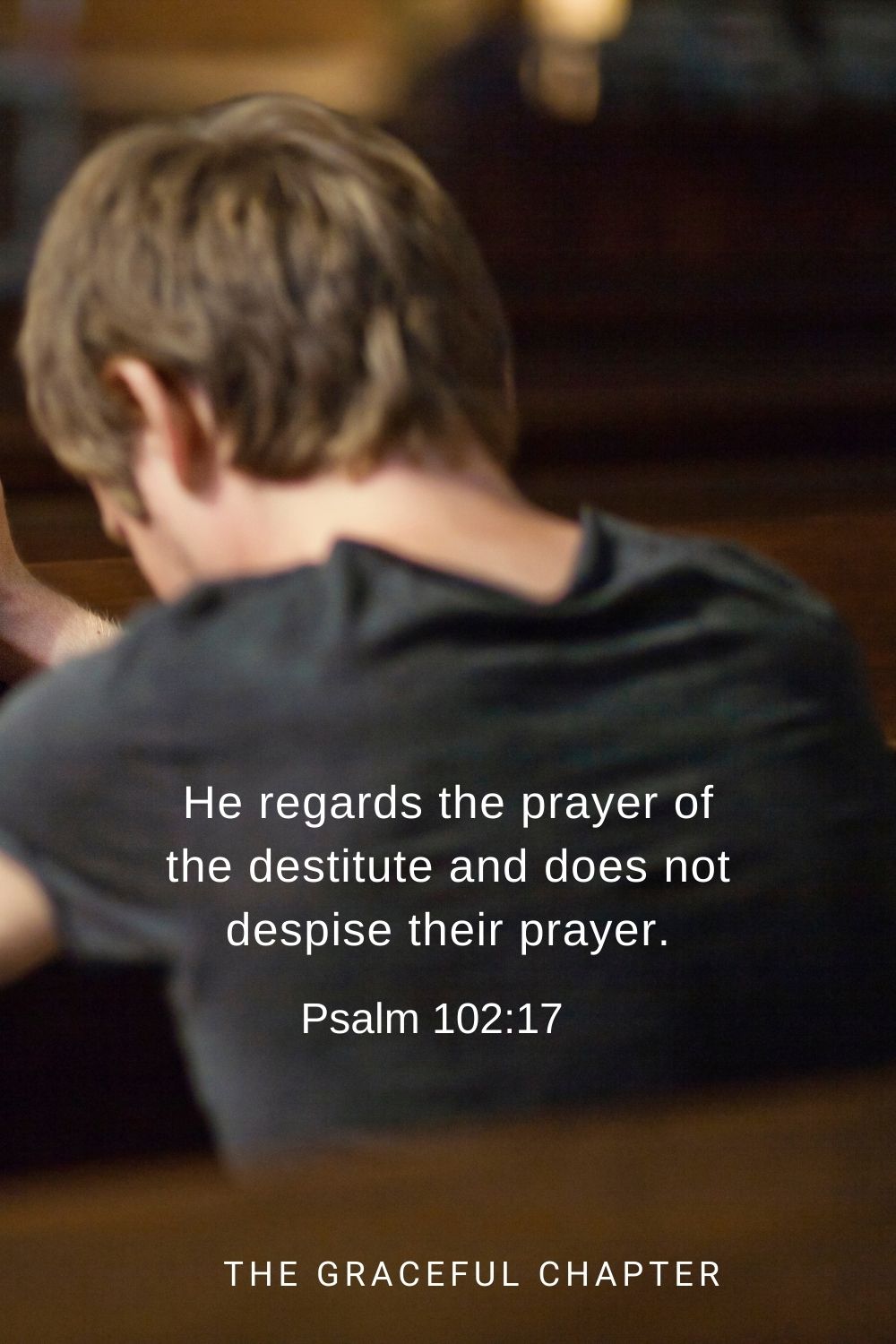 Psalm 102:17
He regards the prayer of the destitute and does not despise their prayer.

John 15:7
If you abide in me, and my words abide in you, ask whatever you wish, and it will be done for you.

Philippians 4:6
Do not be anxious about anything, but in everything by prayer and supplication with thanksgiving let your requests be made known to God.

James 5:16
 Therefore, confess your sins to one another and pray for one another, that you may be healed. The prayer of a righteous person has great power as it is working.

Matthew 26:41
 Watch and pray that you may not enter into temptation. The spirit indeed is willing, but the flesh is weak."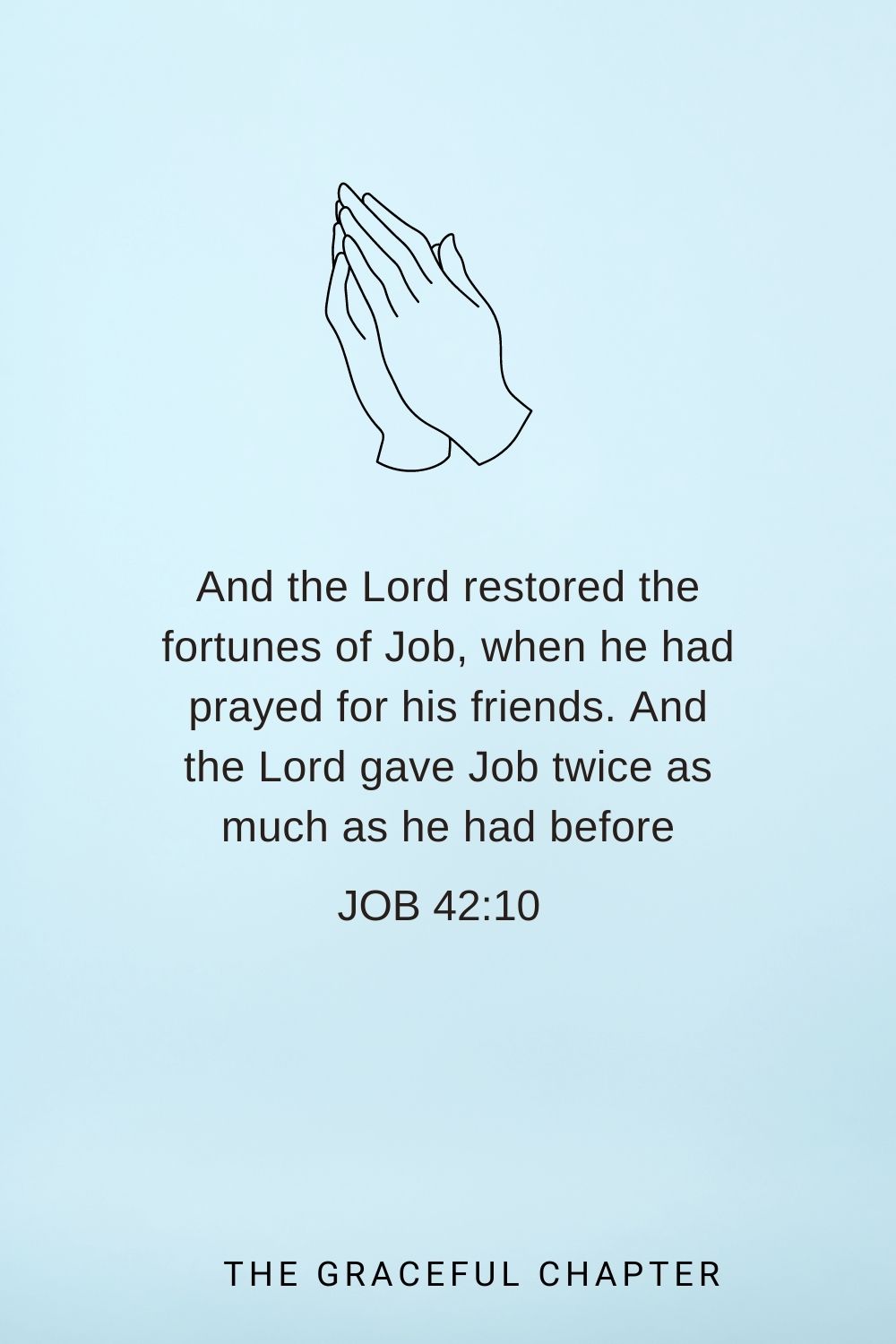 Job 42:10
And the Lord restored the fortunes of Job, when he had prayed for his friends. And the Lord gave Job twice as much as he had before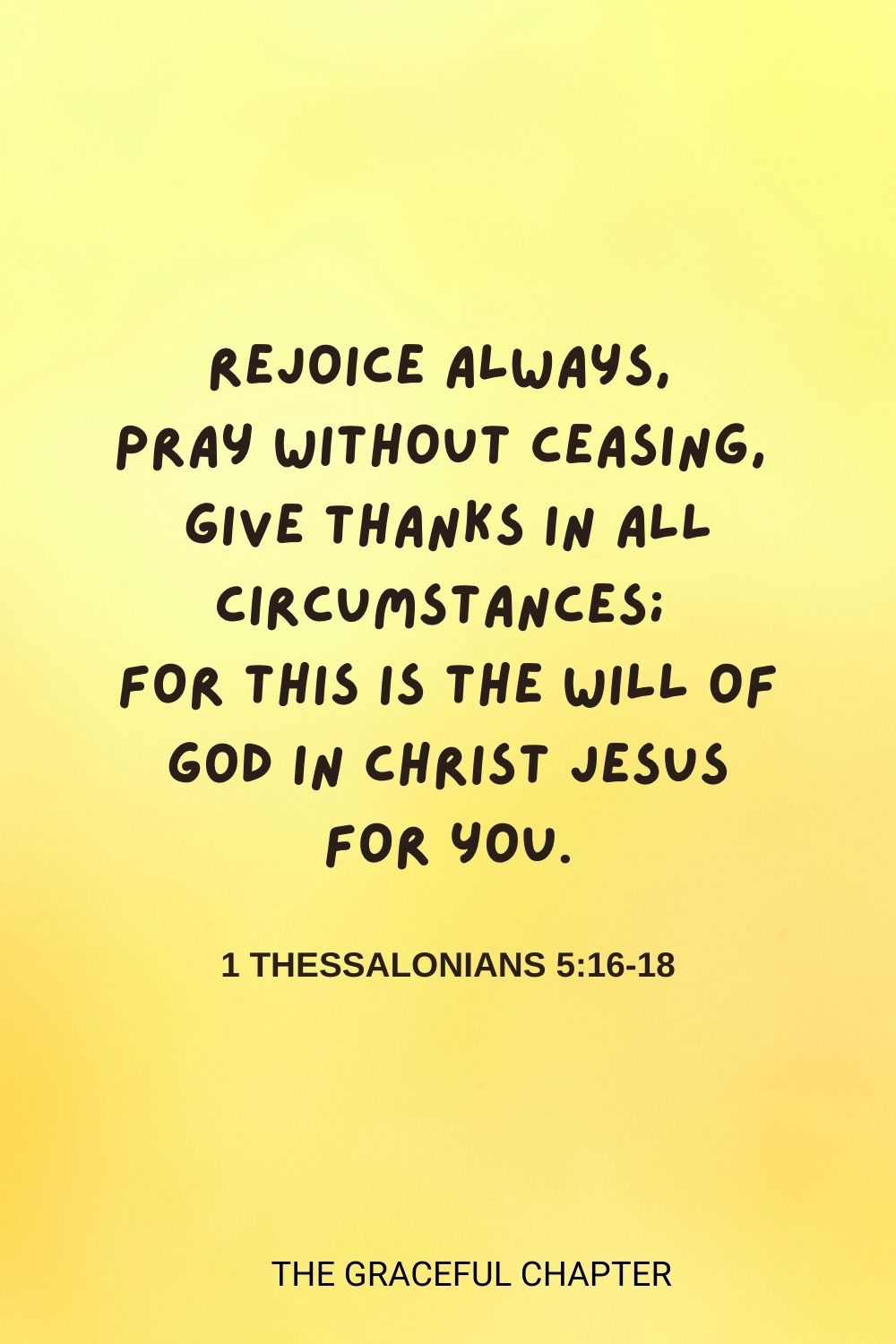 1 Thessalonians 5:16-18
Rejoice always, pray without ceasing,  give thanks in all circumstances; for this is the will of God in Christ Jesus for you.

Matthew 6:6
 But when you pray, go into your room and shut the door and pray to your Father who is in secret. And your Father who sees in secret will reward you.

Acts 2:21
And it shall come to pass that everyone who calls upon the name of the Lord shall be saved.'

Luke 6:27-28
But I say to you who hear, Love your enemies, do good to those who hate you, bless those who curse you, pray for those who abuse you.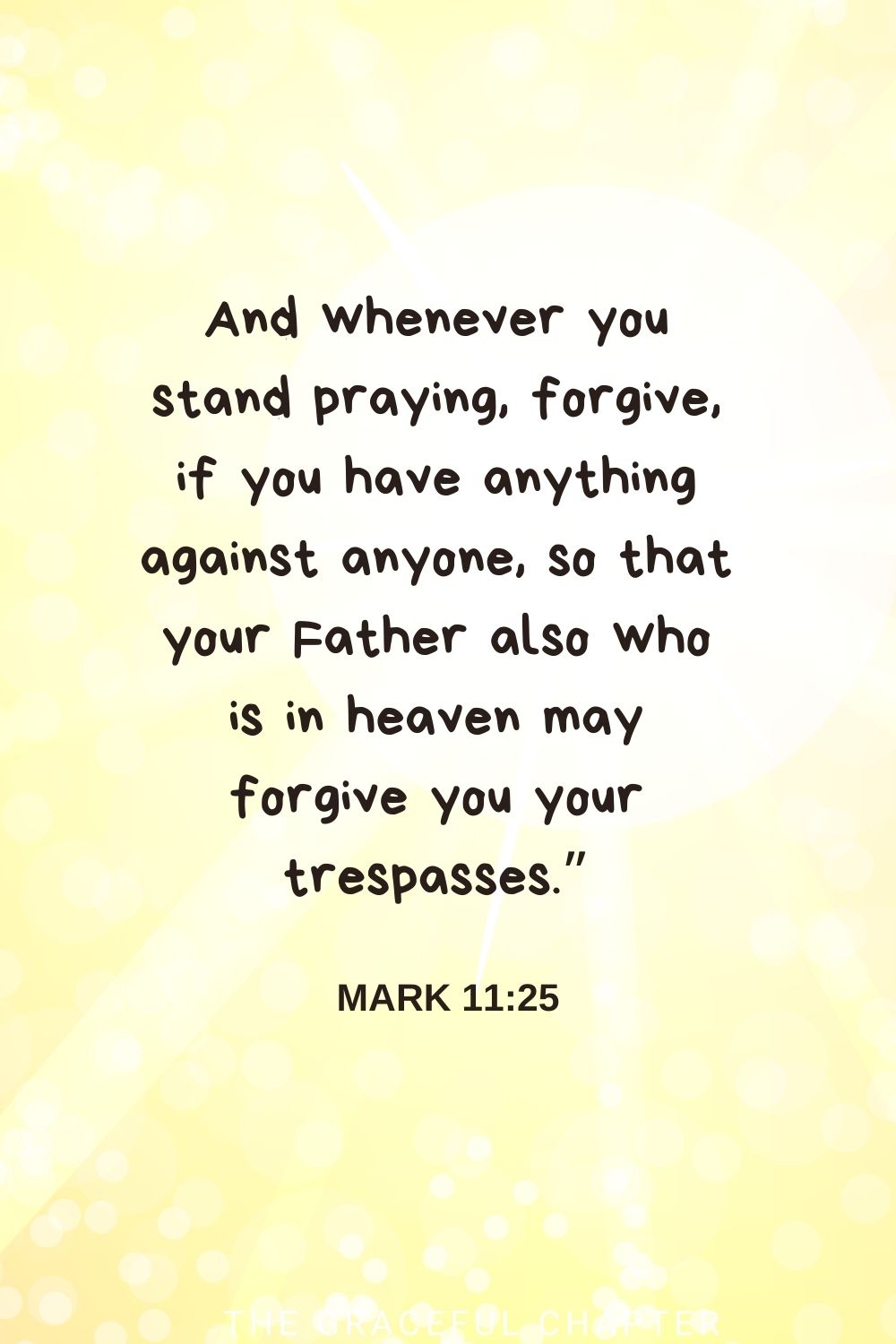 Mark 11:25
And whenever you stand praying, forgive, if you have anything against anyone, so that your Father also who is in heaven may forgive you your trespasses."

1 John 1:9
If we confess our sins, he is faithful and just to forgive us our sins and to cleanse us from all unrighteousness.

Related Posts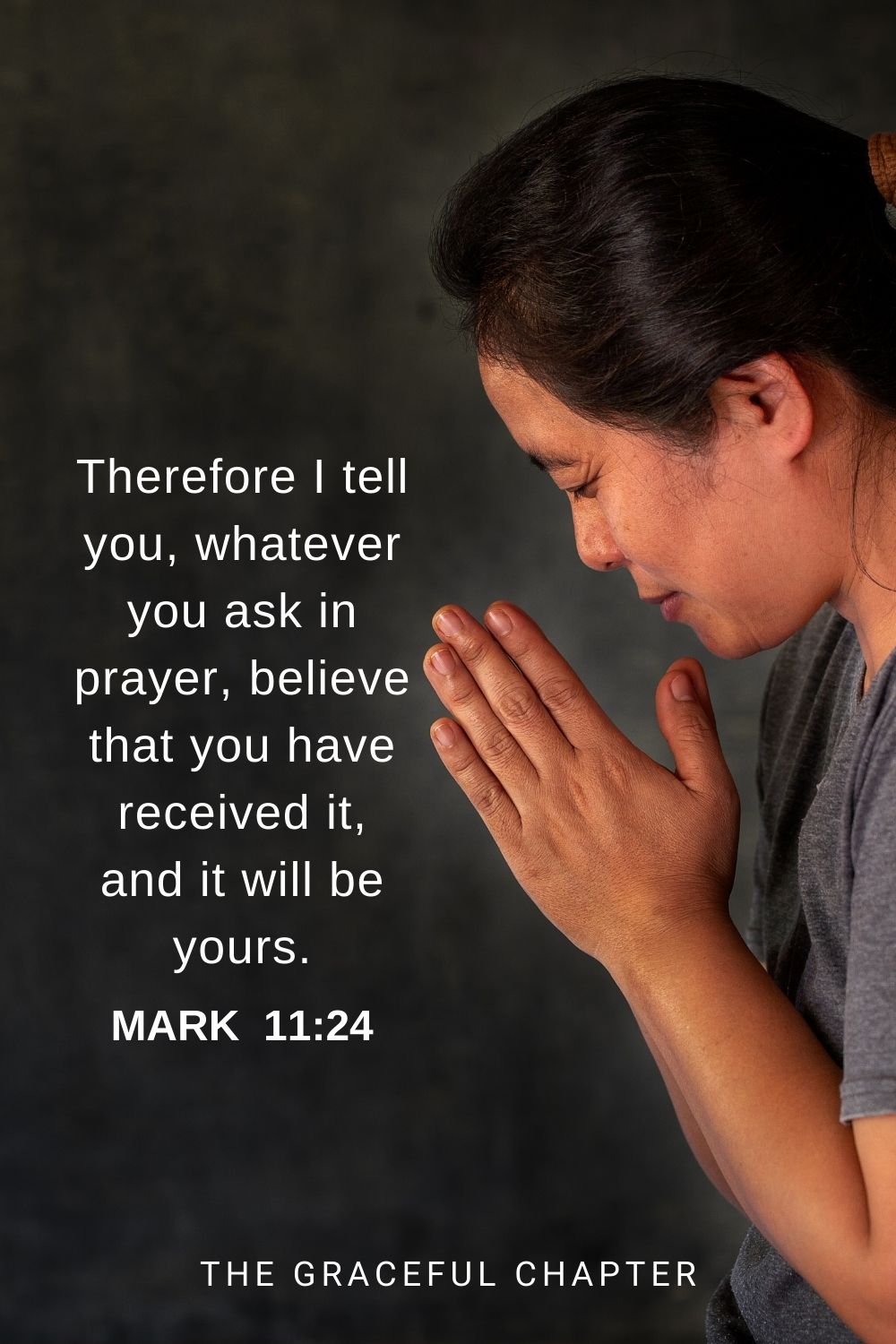 Mark 11:24
 Therefore I tell you, whatever you ask in prayer, believe that you have received it, and it will be yours.

Job 22:27
You will make your prayer to him, and he will hear you, and you will pay your vows.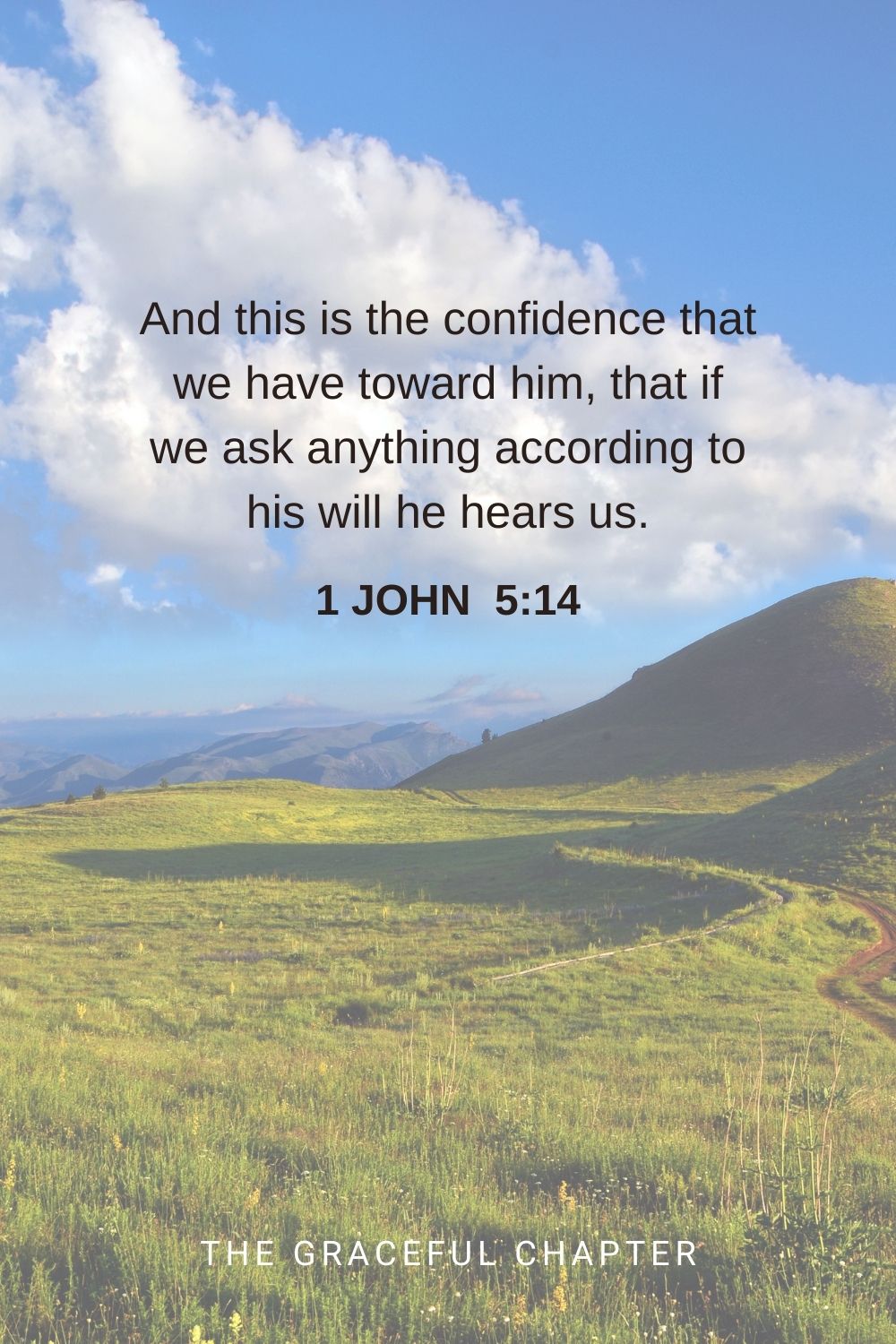 1 John 5:14
And this is the confidence that we have toward him, that if we ask anything according to his will he hears us.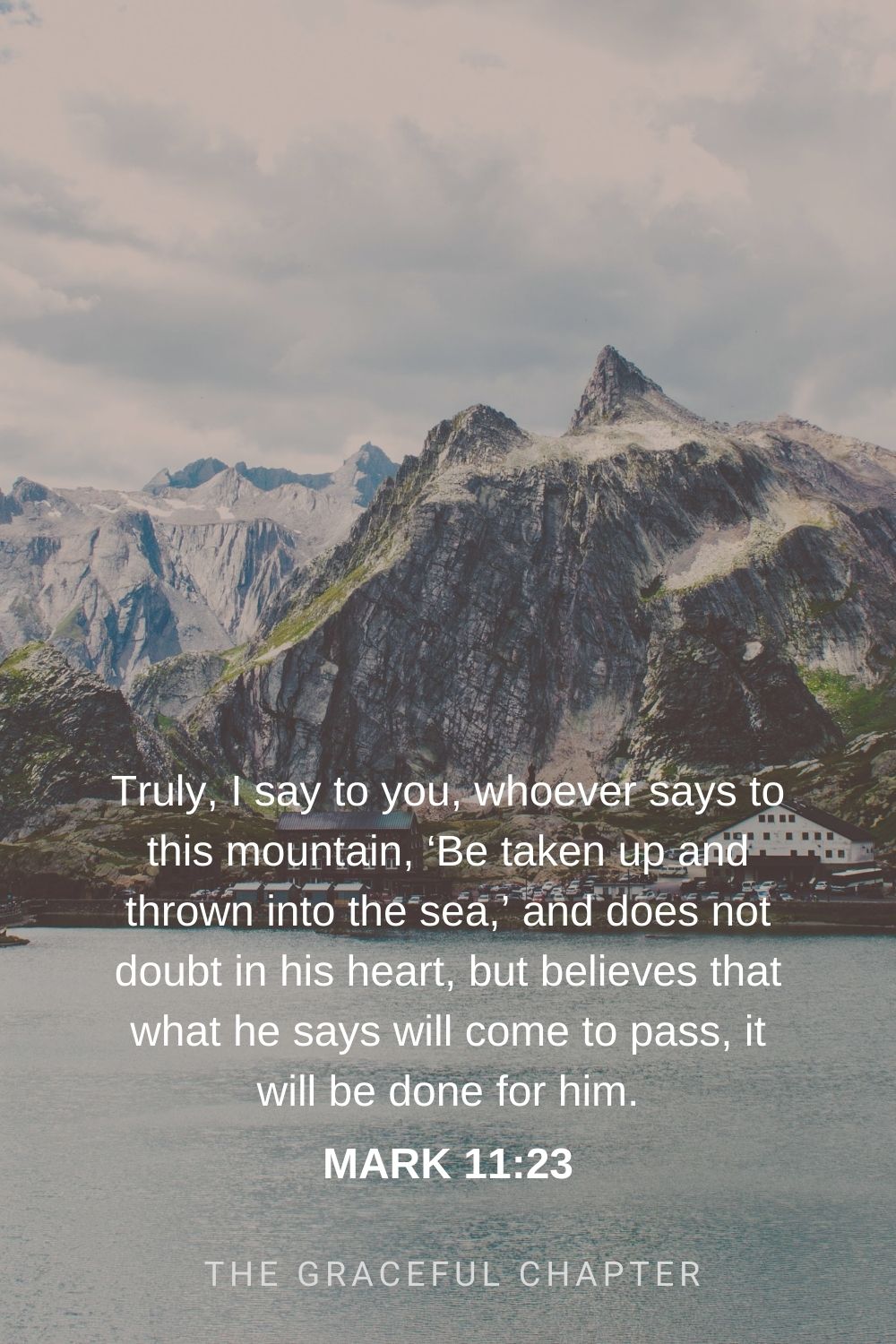 Mark 11:23
Truly, I say to you, whoever says to this mountain, 'Be taken up and thrown into the sea,' and does not doubt in his heart, but believes that what he says will come to pass, it will be done for him.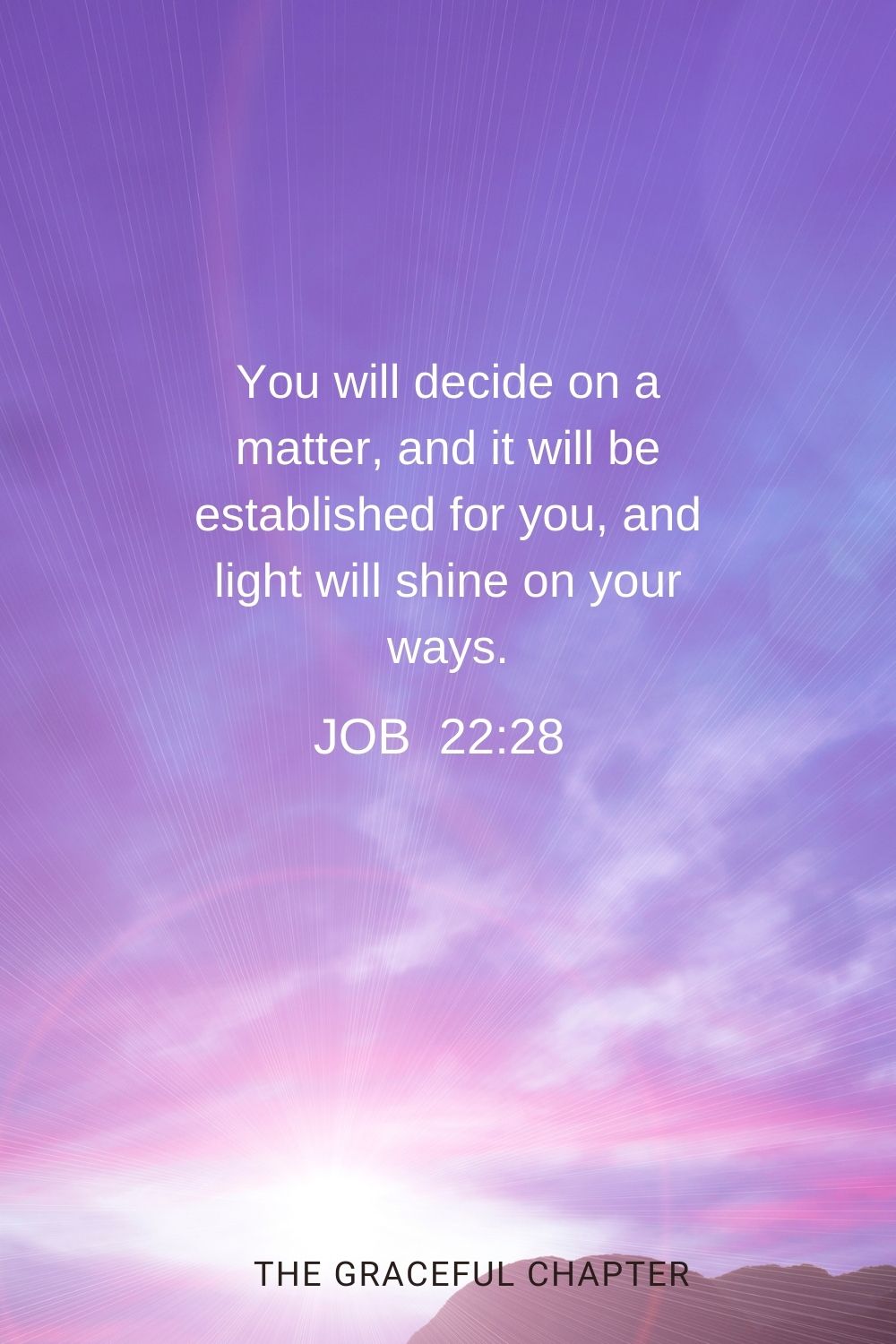 Job 22:28
You will decide on a matter, and it will be established for you, and light will shine on your ways.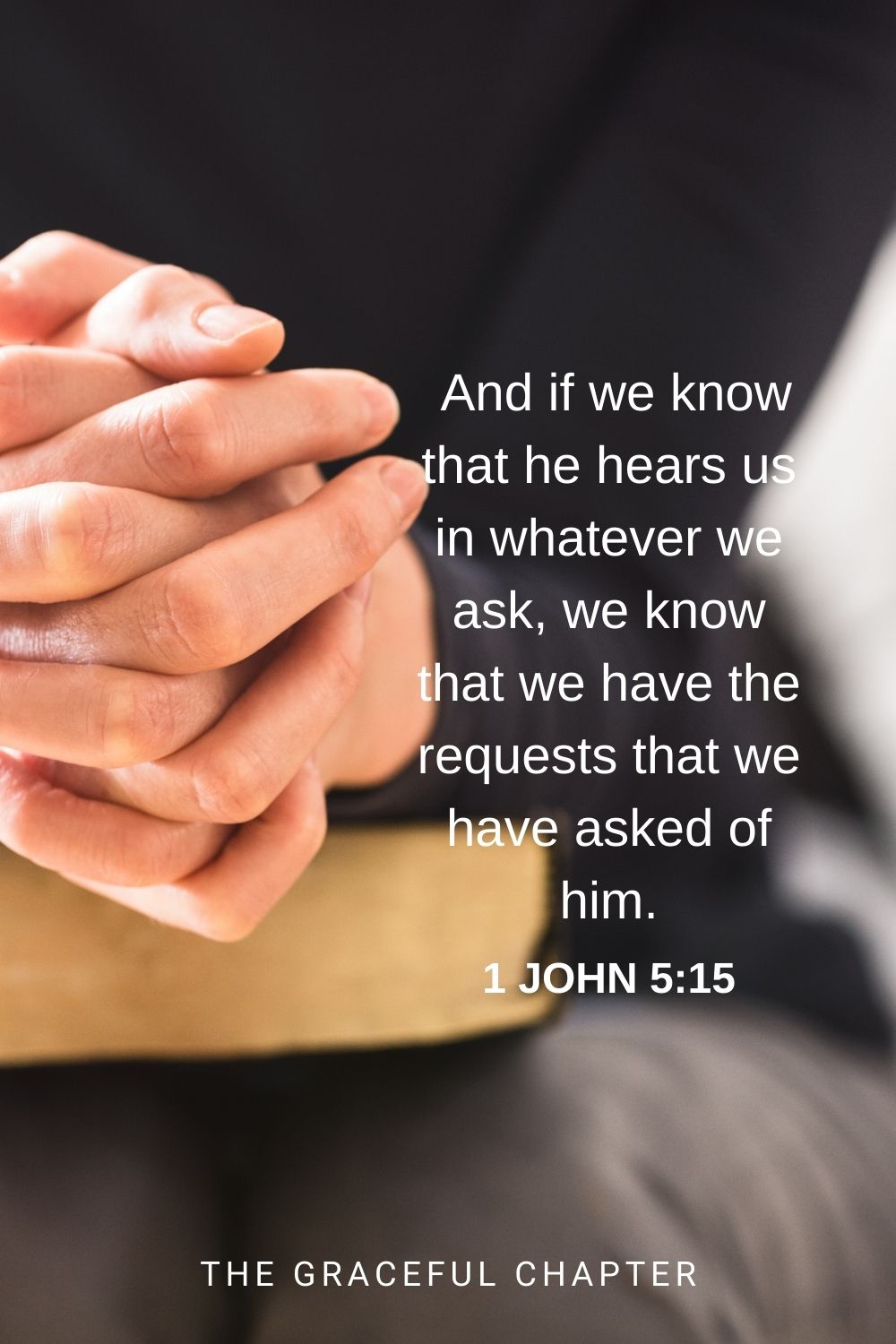 1 John 5:15
 And if we know that he hears us in whatever we ask, we know that we have the requests that we have asked of him.
1 John 5:15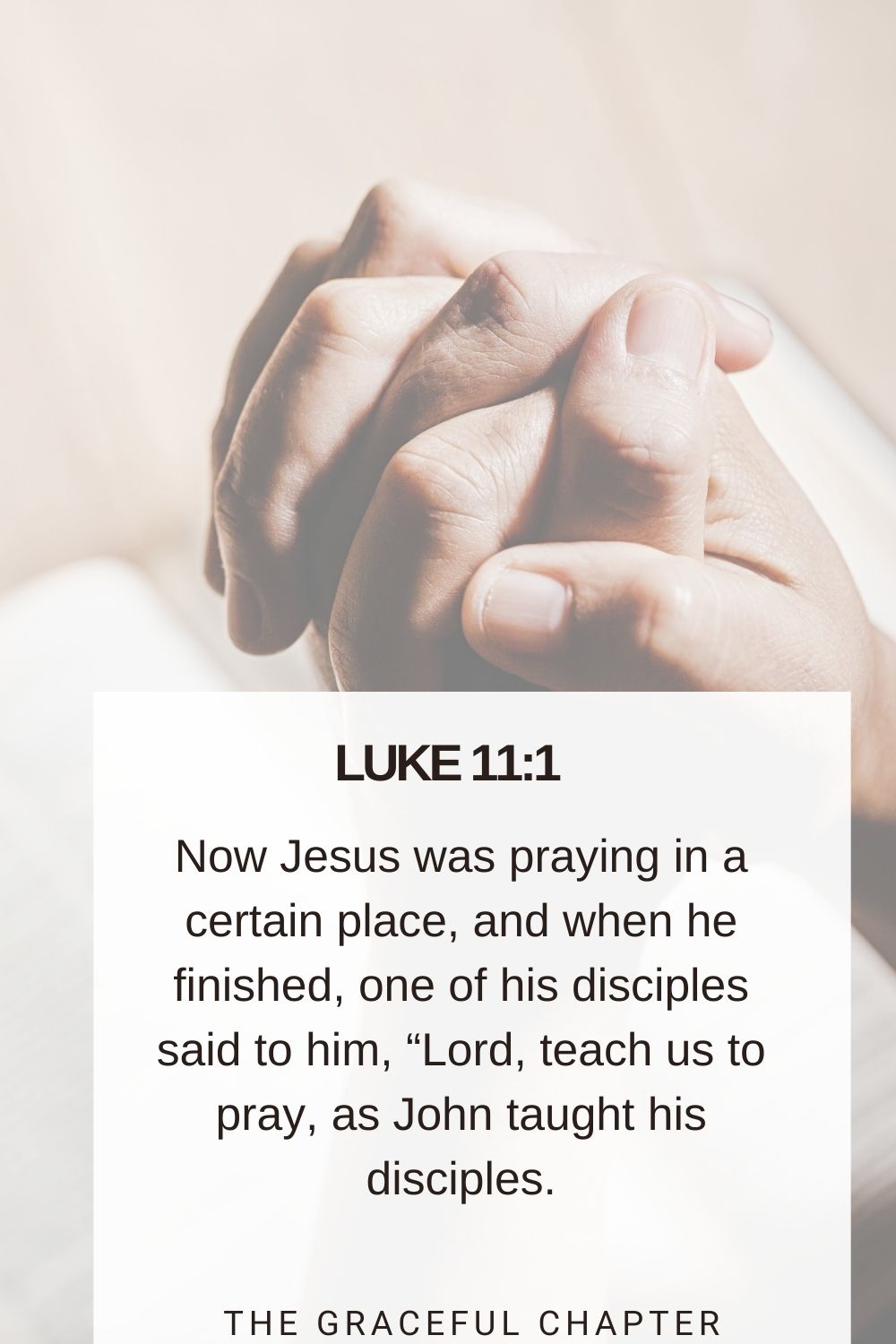 Luke 11:1
Now Jesus was praying in a certain place, and when he finished, one of his disciples said to him, "Lord, teach us to pray, as John taught his disciples.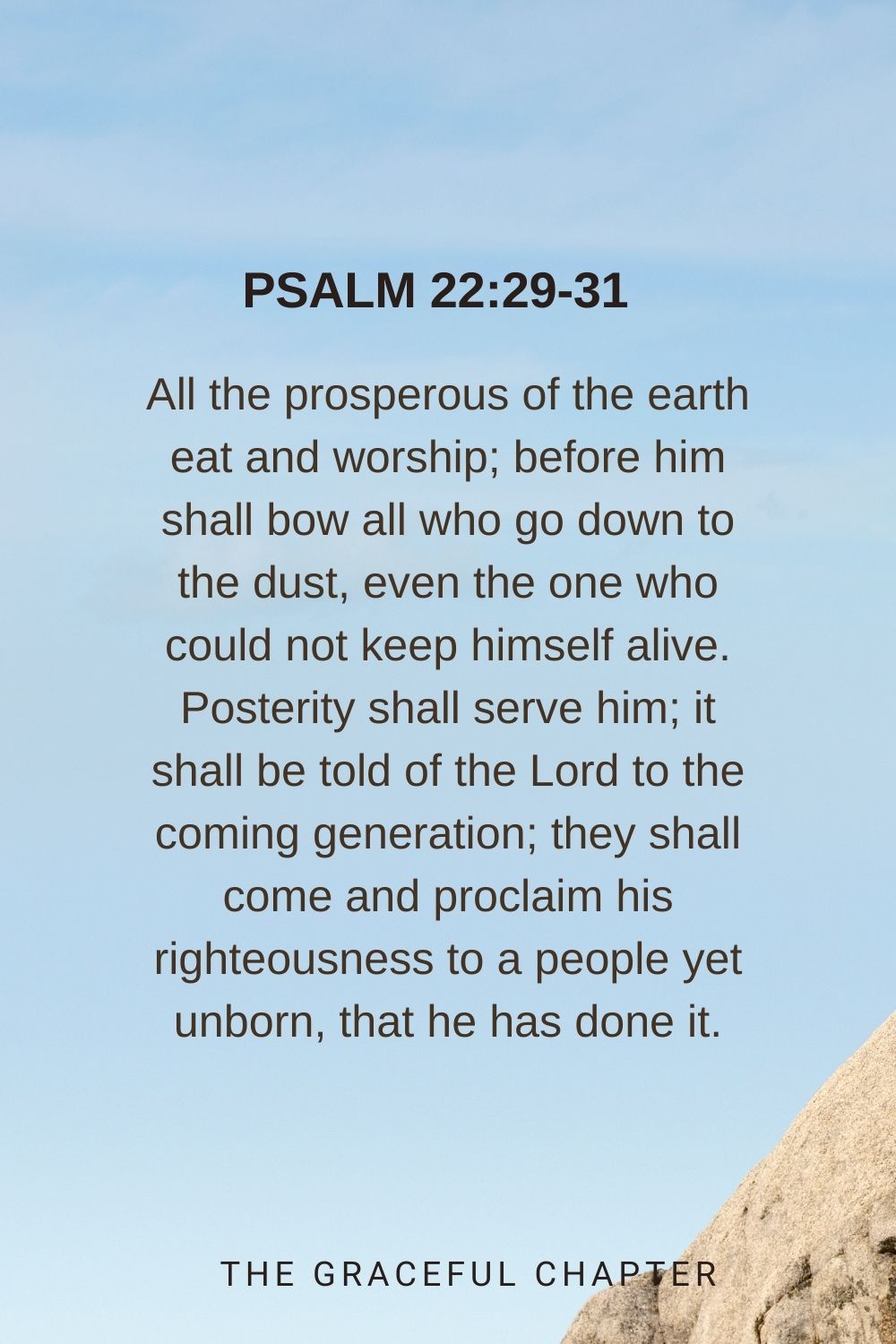 Psalm 22:29-31
All the prosperous of the earth eat and worship; before him shall bow all who go down to the dust, even the one who could not keep himself alive. Posterity shall serve him; it shall be told of the Lord to the coming generation; they shall come and proclaim his righteousness to a people yet unborn, that he has done it.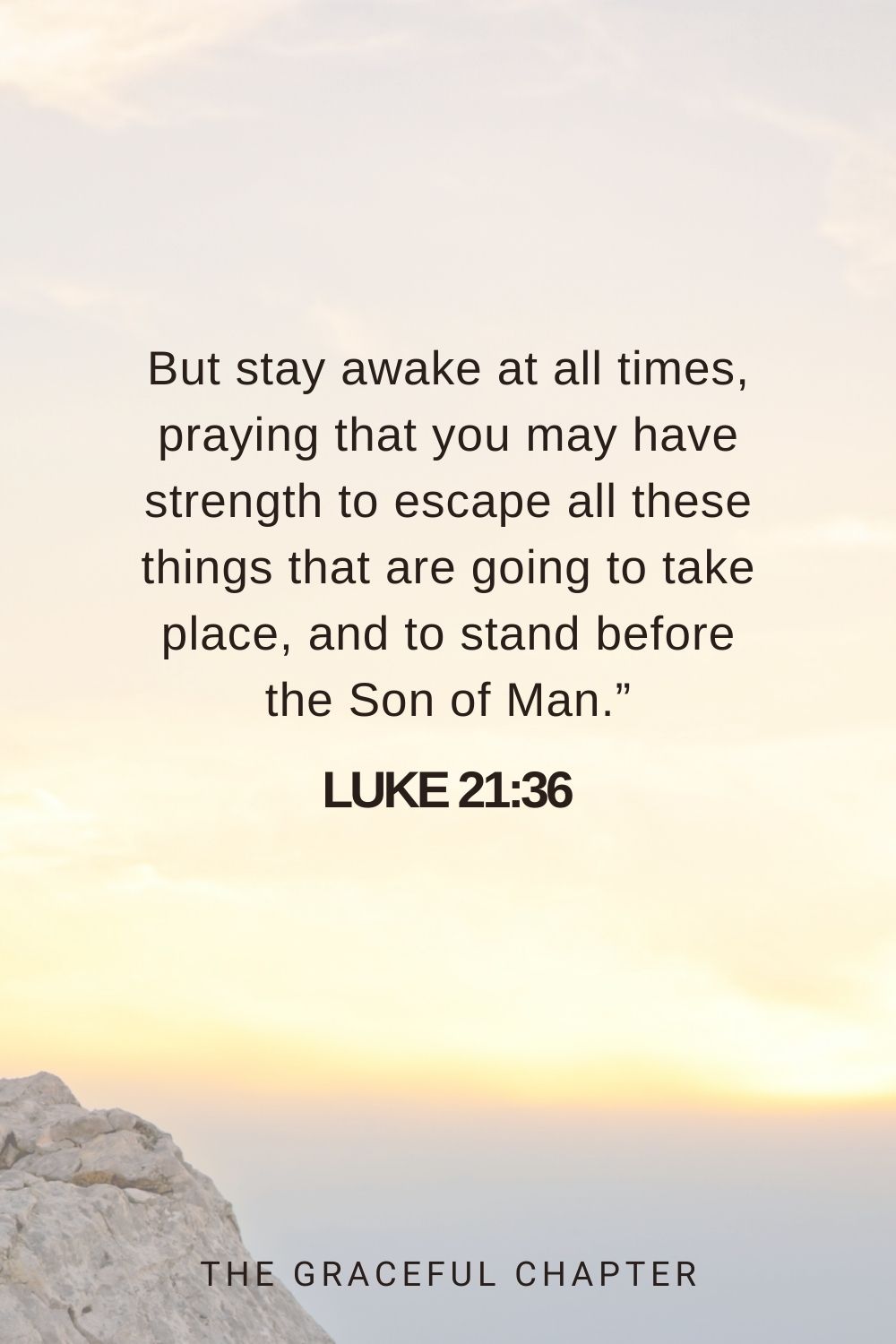 Luke 21:36
 But stay awake at all times, praying that you may have strength to escape all these things that are going to take place, and to stand before the Son of Man.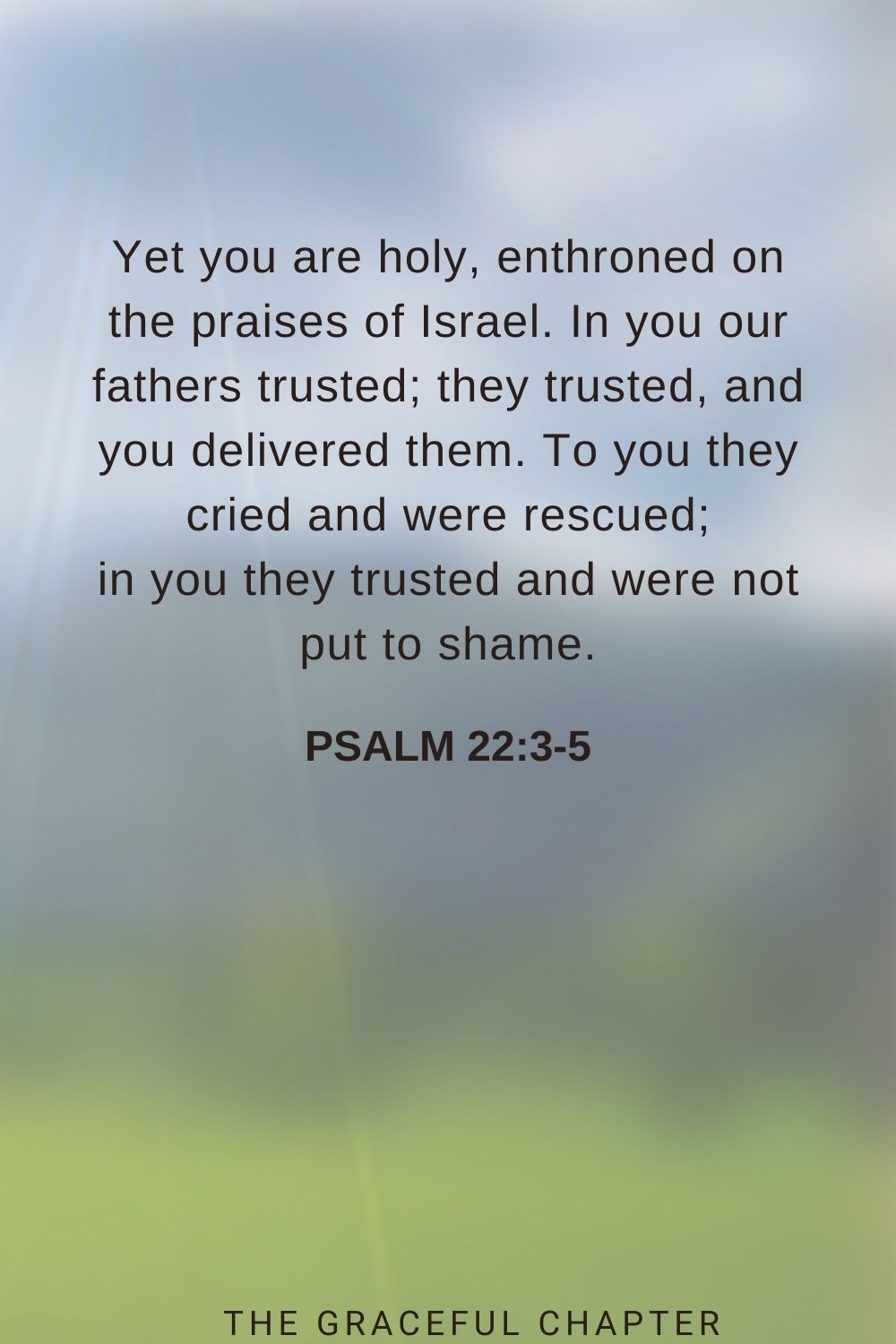 Psalm 22:3-5
Yet you are holy, enthroned on the praises of Israel. In you our fathers trusted; they trusted, and you delivered them. To you they cried and were rescued; in you they trusted and were not put to shame.