Many of Jesus' miracles involved him placing his hands on people and healing them. In this scenario, however, Jesus did not place his hands on the woman; rather, the woman laid her hands on Jesus, and she received her healing?
Yes, as a Christian, it is best to wait on God's timing, but sometimes, instead of just staying at one place with your problems, thinking when it's time God will do it, you should be like the bleeding woman, go to God. The woman didn't wait for Jesus to place his hands on her, she touched Jesus and she received her miracle.
There are so many instances in the bible that encourages us to go to God with our problems. It encourages us to ask and we shall receive. You can't really say God isn't doing anything in your life if you never ask.
So what are you waiting on God for? Have you tried asking? Not just asking but asking in faith. When the woman touched Jesus, she had faith that just a touch of his garment can heal her and it did. Her faith healed her.
Faith is a very powerful tool for a Christian, so when you ask, ask in faith and you shall receive what you asked for. Below are some bible verses that encourage you to ask and you shall receive.
May the Lord hear you and grant you all your heart desires.
Bible verses about ask and you shall receive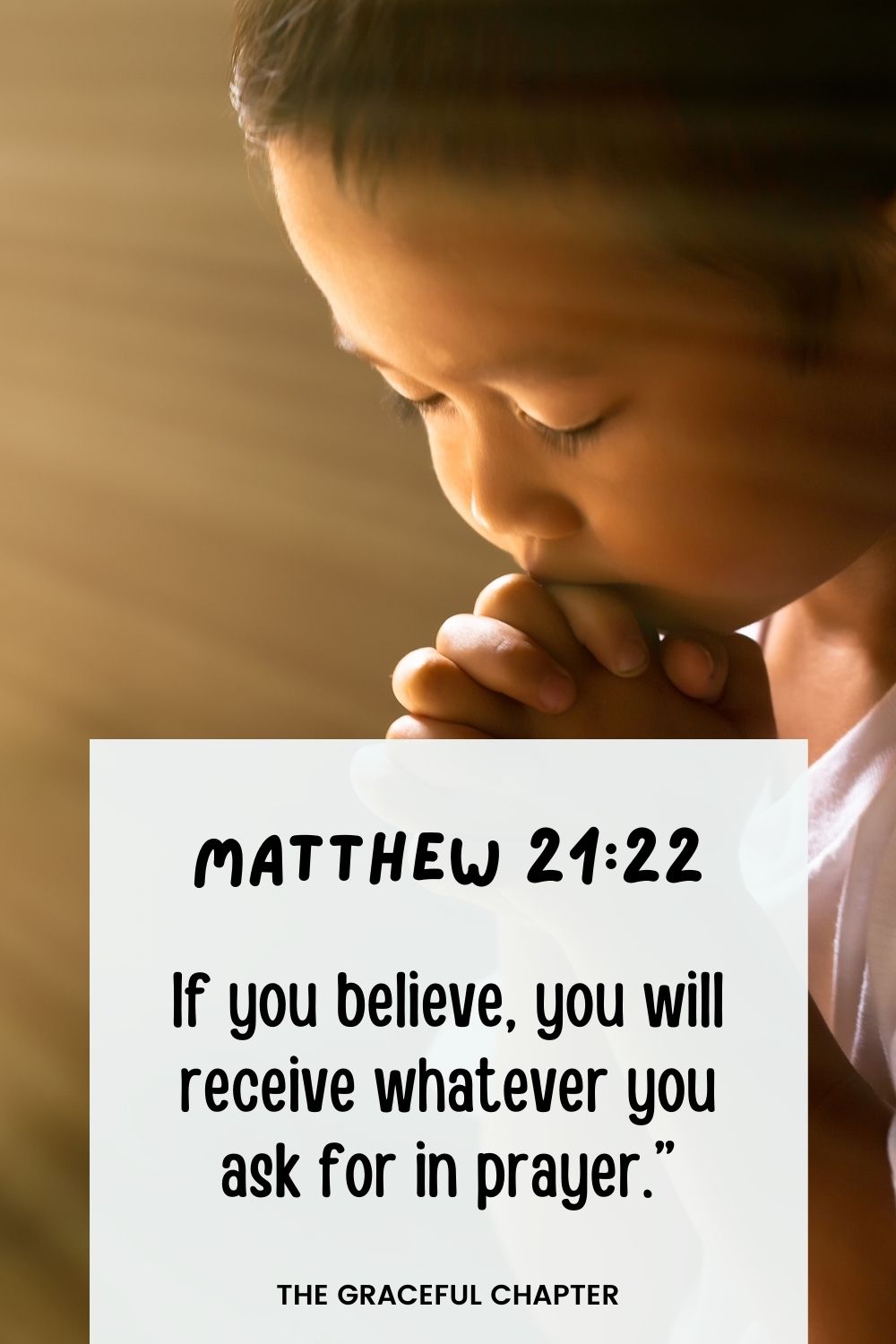 Matthew 21:22
If you believe, you will receive whatever you ask for in prayer.

Matthew 7:7
Ask and it will be given to you; seek and you will find; knock and the door will be opened to you.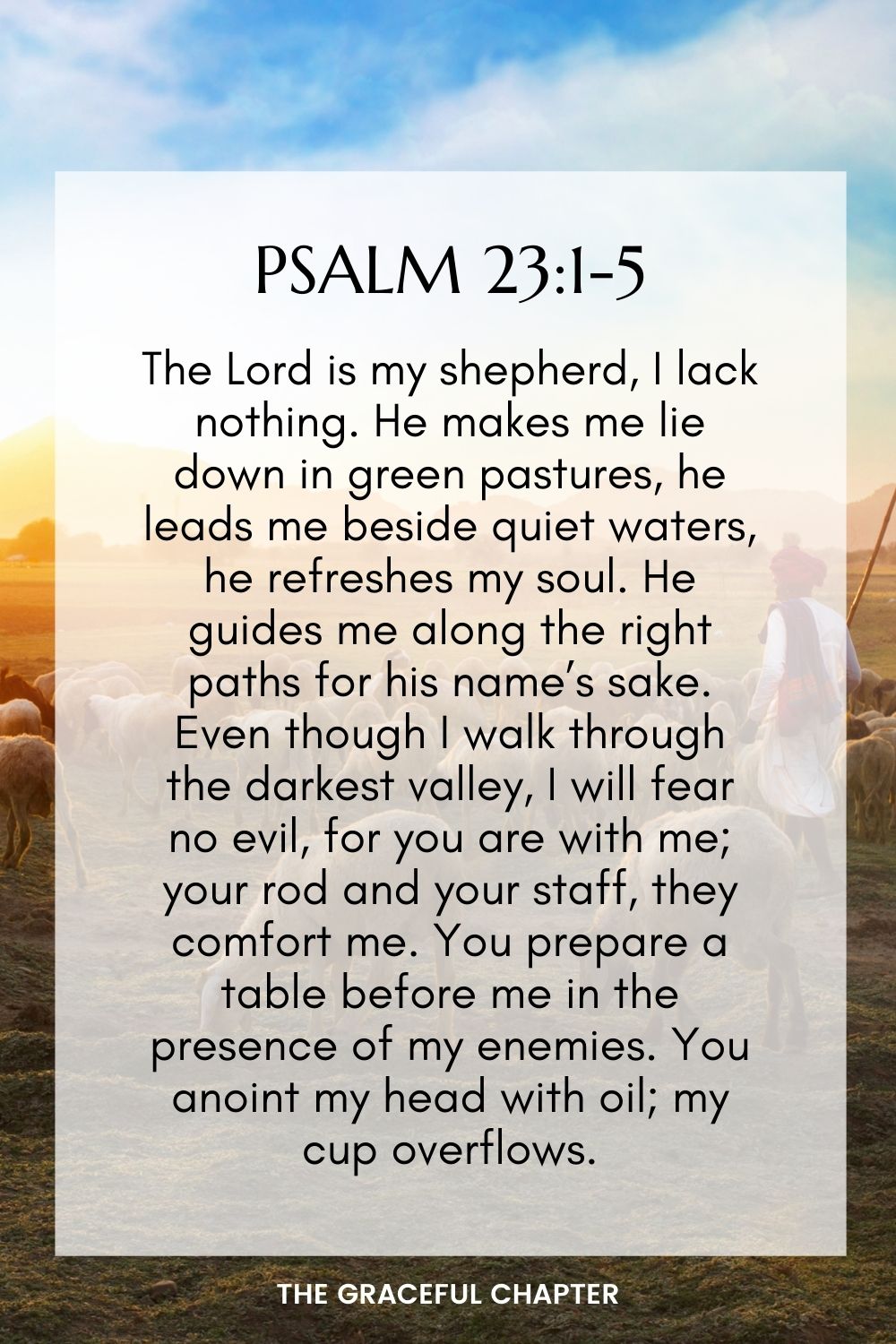 Psalm 23:1-5
The Lord is my shepherd, I lack nothing.
 He makes me lie down in green pastures,
he leads me beside quiet waters, he refreshes my soul. He guides me along the right paths for his name's sake. Even though I walk through the darkest valley, I will fear no evil, for you are with me; your rod and your staff, they comfort me. You prepare a table before me in the presence of my enemies. You anoint my head with oil; my cup overflows.

John 15:7
If you remain in me and my words remain in you, ask whatever you wish, and it will be done for you.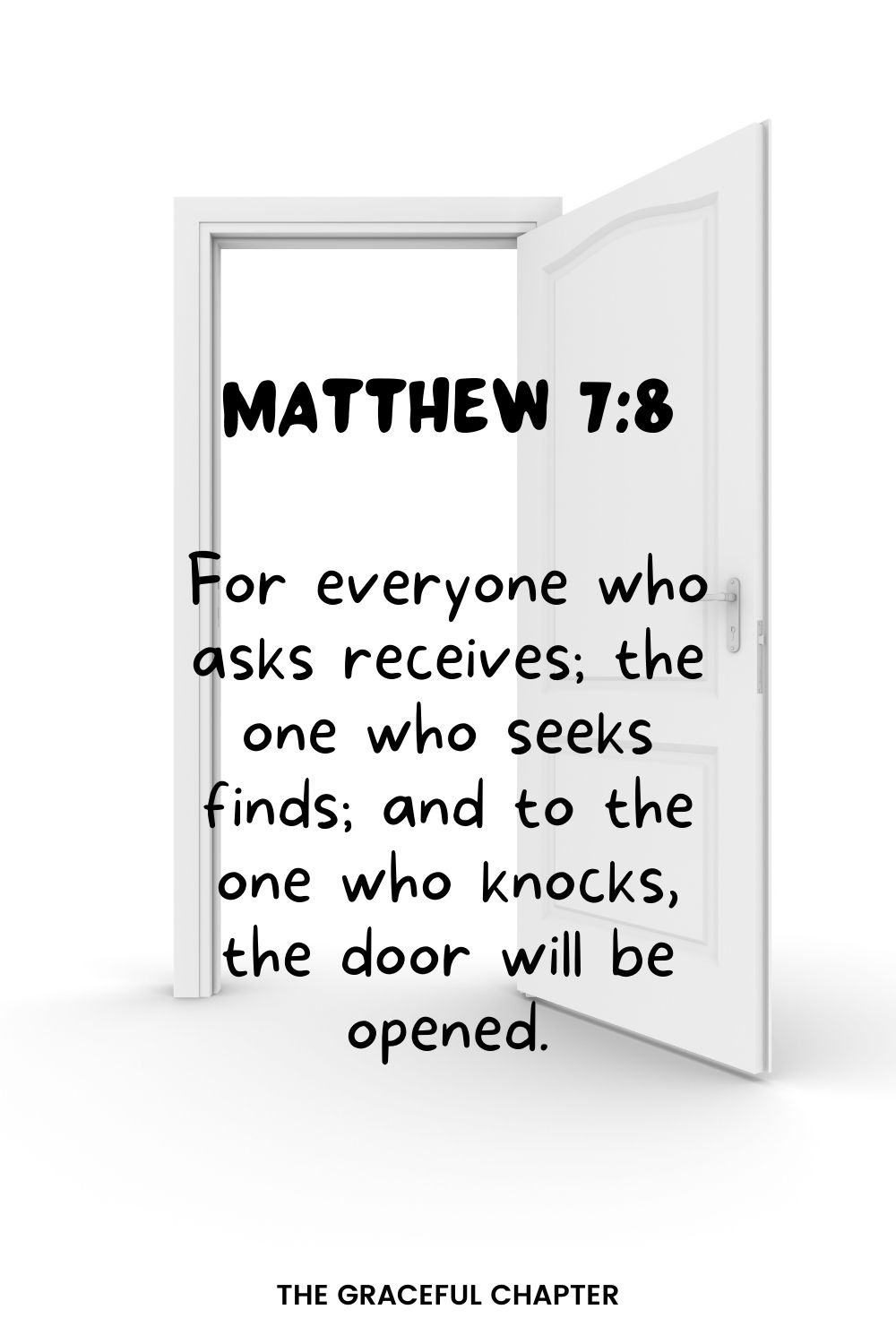 Matthew 7:8
For everyone who asks receives; the one who seeks finds; and to the one who knocks, the door will be opened.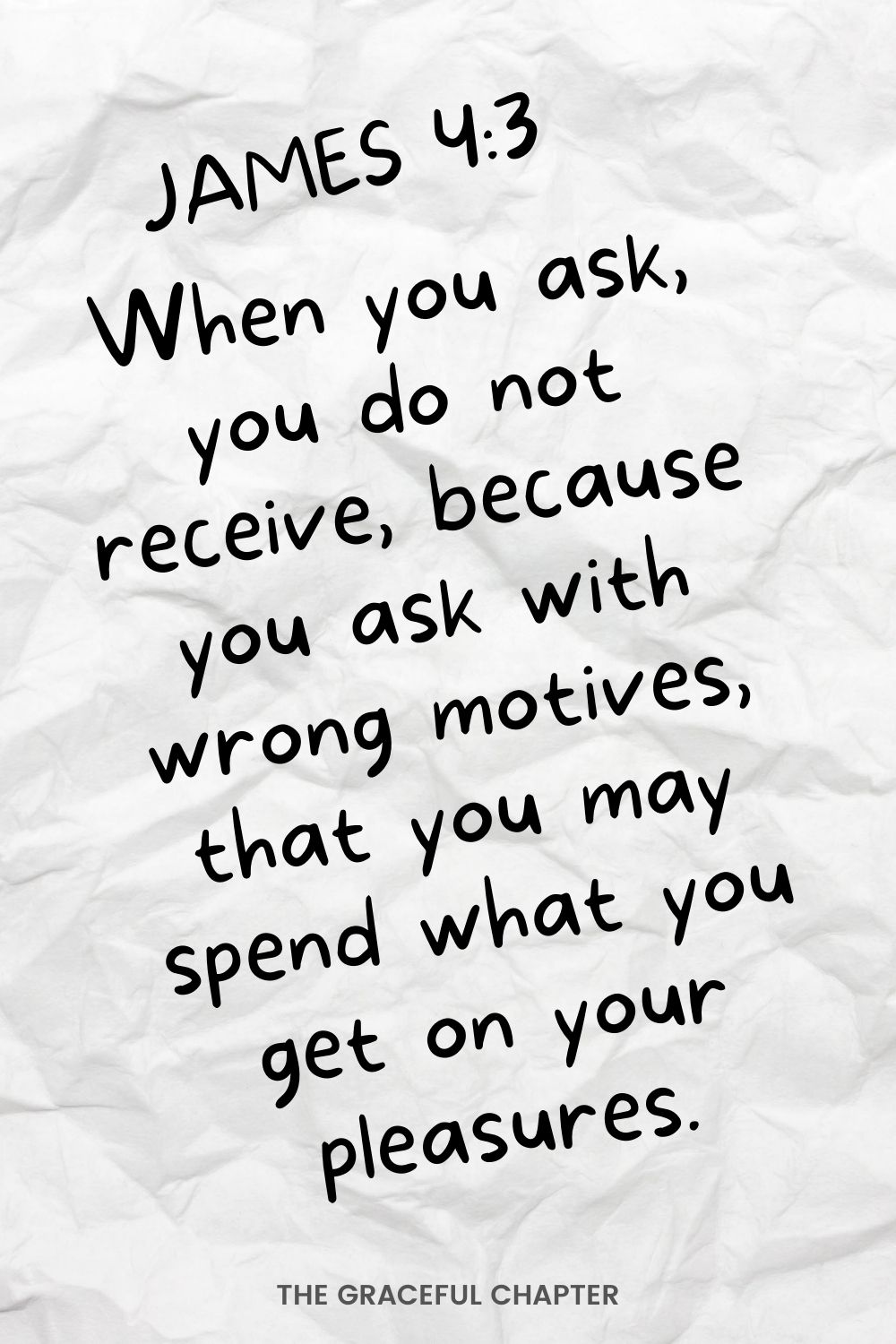 James 4:3
When you ask, you do not receive, because you ask with wrong motives, that you may spend what you get on your pleasures.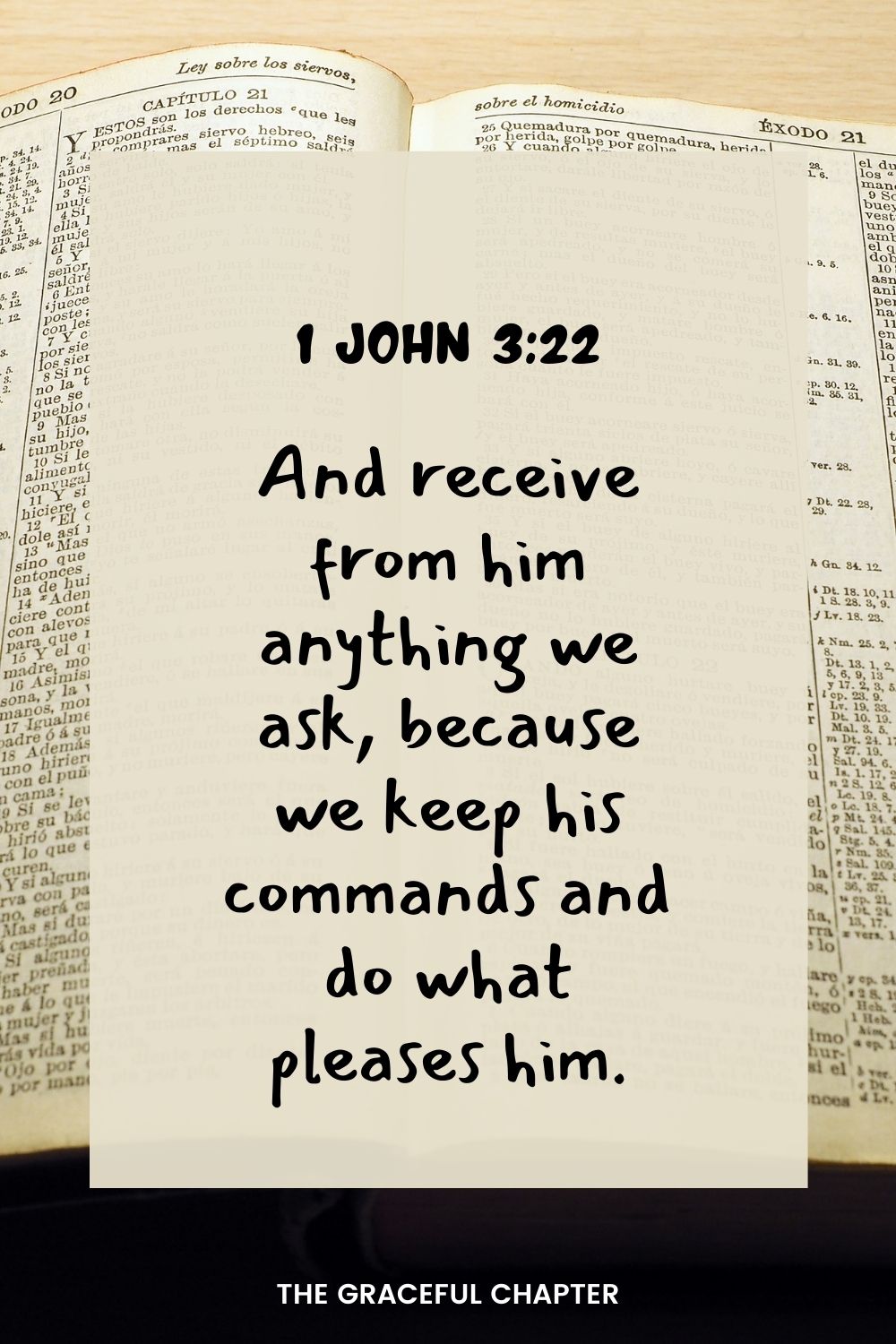 1 John 3:22
And receive from him anything we ask, because we keep his commands and do what pleases him.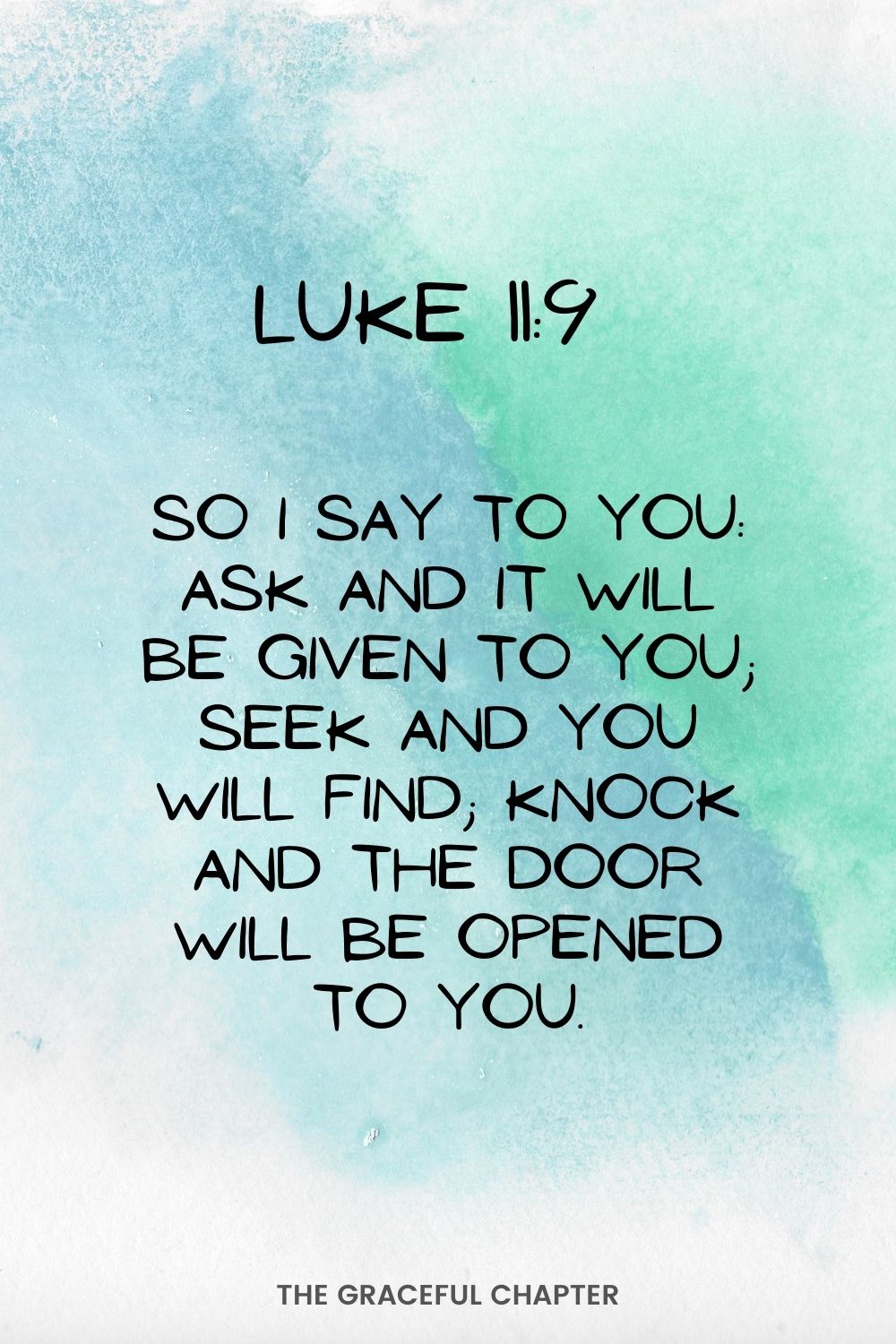 Luke11:9
So I say to you: Ask and it will be given to you; seek and you will find; knock and the door will be opened to you.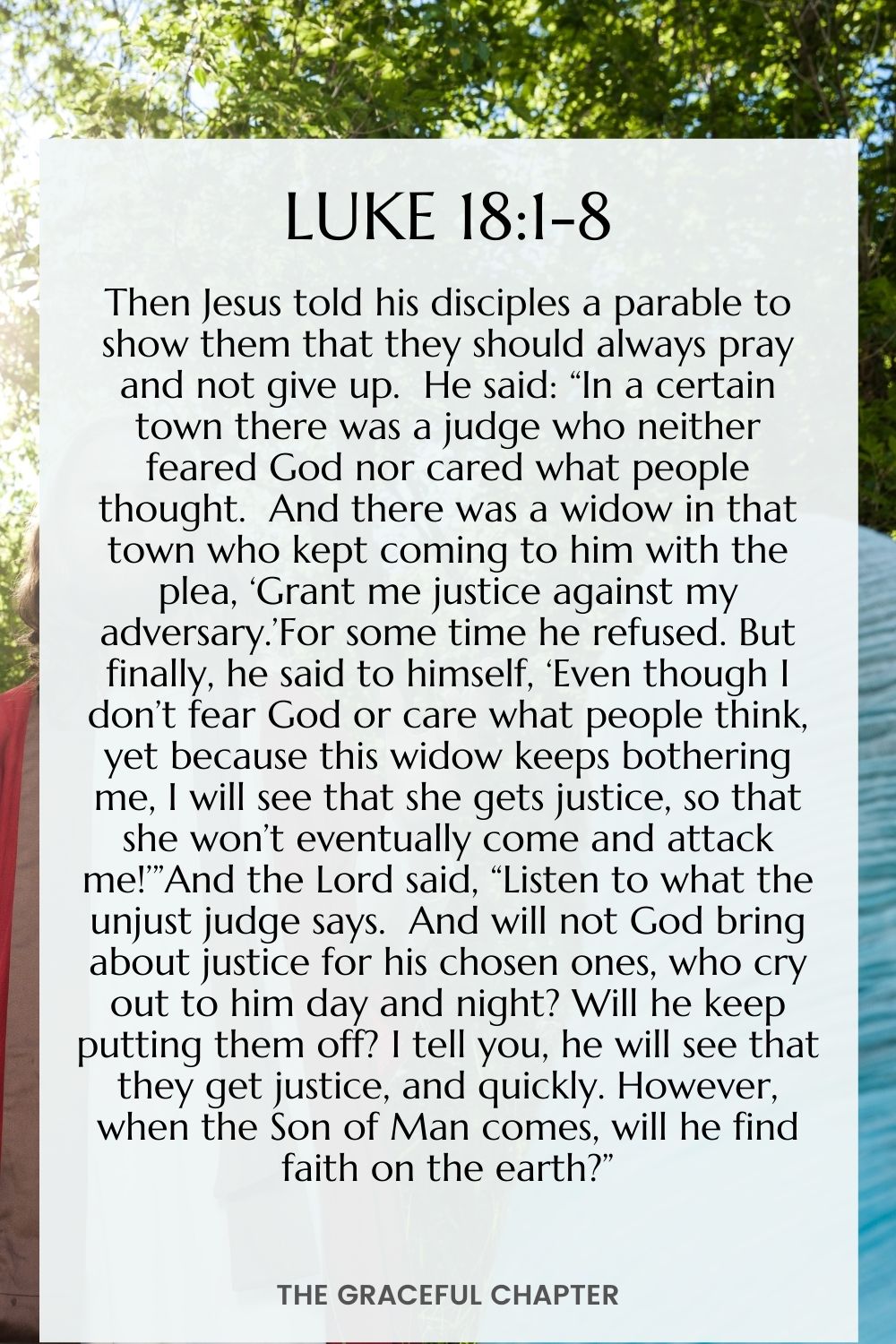 Luke 18:1-8
Then Jesus told his disciples a parable to show them that they should always pray and not give up.  He said: "In a certain town there was a judge who neither feared God nor cared what people thought.  And there was a widow in that town who kept coming to him with the plea, 'Grant me justice against my adversary.'For some time he refused. But finally, he said to himself, 'Even though I don't fear God or care what people think, yet because this widow keeps bothering me, I will see that she gets justice so that she won't eventually come and attack me!'"And the Lord said, "Listen to what the unjust judge says.  And will not God bring about justice for his chosen ones, who cry out to him day and night? Will he keep putting them off? I tell you, he will see that they get justice, and quickly. However, when the Son of Man comes, will he find faith on the earth?"

John 14:14
You may ask me for anything in my name, and I will do it.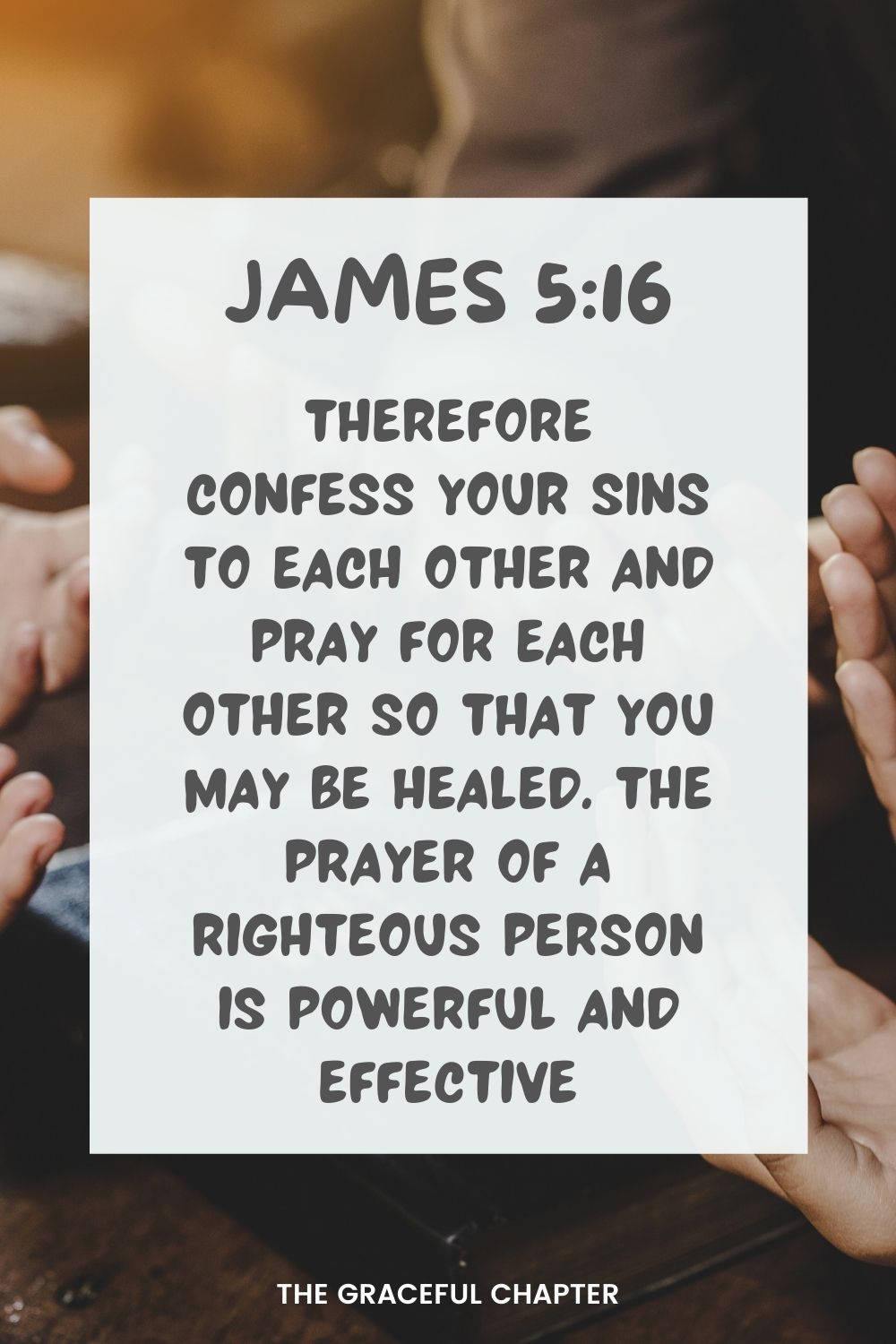 James 5:16
Therefore confess your sins to each other and pray for each other so that you may be healed. The prayer of a righteous person is powerful and effective.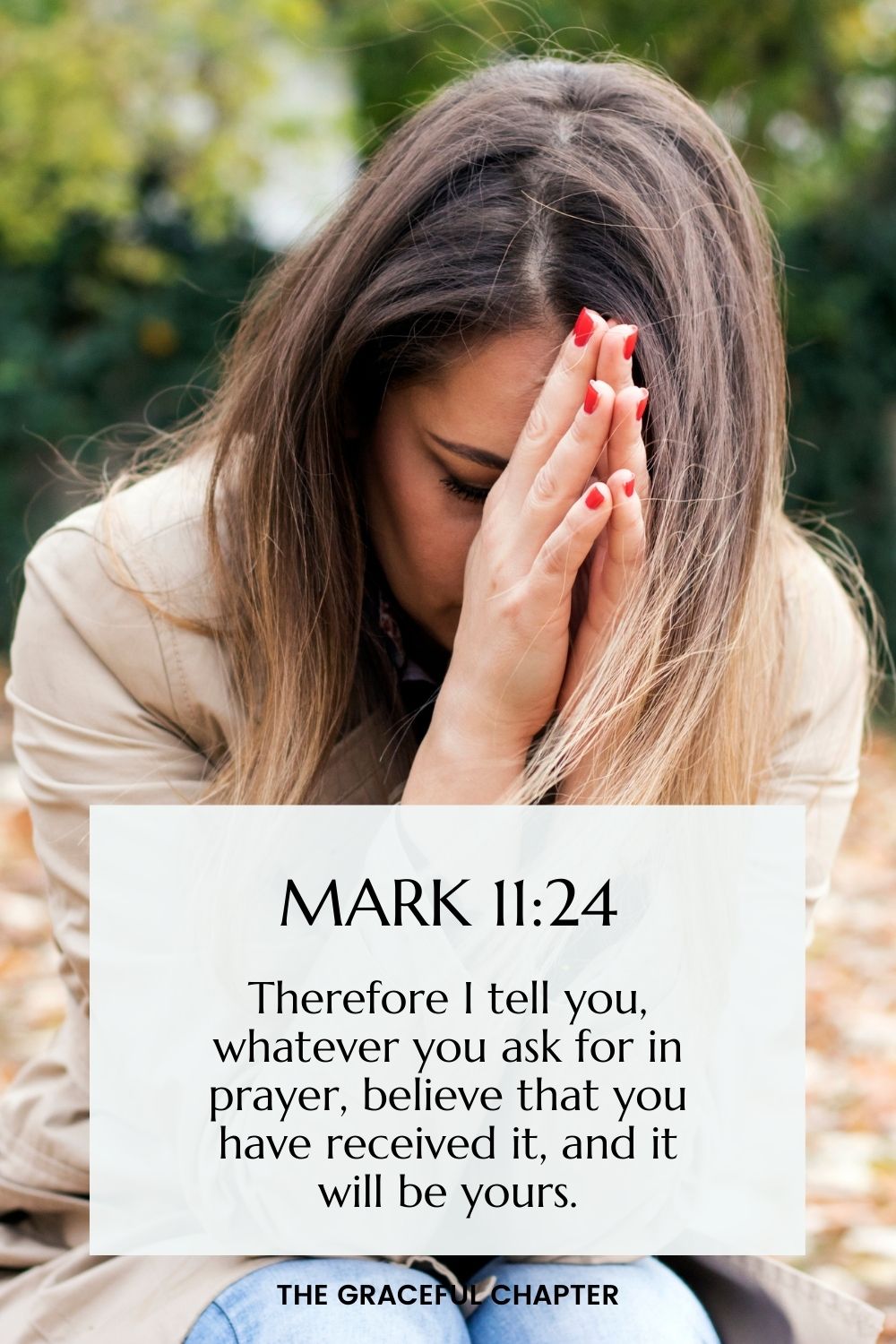 Mark 11:24
Therefore I tell you, whatever you ask for in prayer, believe that you have received it, and it will be yours.
Matthew 7:11
If you, then, though you are evil, know how to give good gifts to your children, how much more will your Father in heaven give good gifts to those who ask him!

Related Posts
Psalm 126:1-6
When the Lord restored the fortunes of Zion, we were like those who dreamed. Our mouths were filled with laughter, our tongues with songs of joy.
Then it was said among the nations, The Lord has done great things for them." The Lord has done great things for us, and we are filled with joy. Restore our fortunes, Lord, like streams in the Negev. Those who sow with tears will reap with songs of joy. Those who go out weeping, carrying seed to sow, will return with songs of joy, carrying sheaves with them.

John 16:24
Until now you have not asked for anything in my name. Ask and you will receive, and your joy will be complete.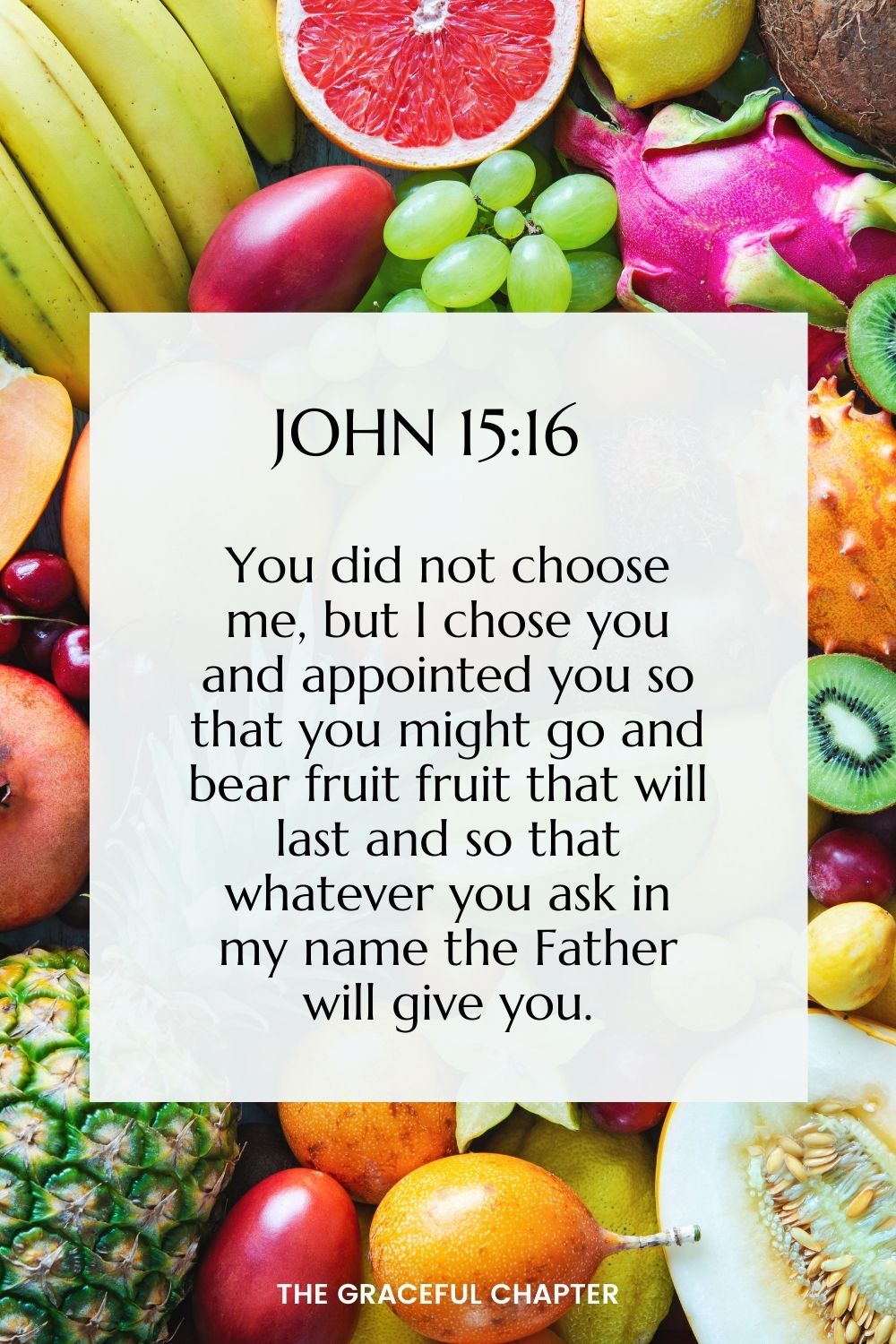 John 15:16
You did not choose me, but I chose you and appointed you so that you might go and bear fruit, fruit that will last and so that whatever you ask in my name the Father will give you.

Psalm 2:8
Ask me, and I will make the nations your inheritance, the ends of the earth your possession.

James 1:5
If any of you lacks wisdom, you should ask God, who gives generously to all without finding fault, and it will be given to you.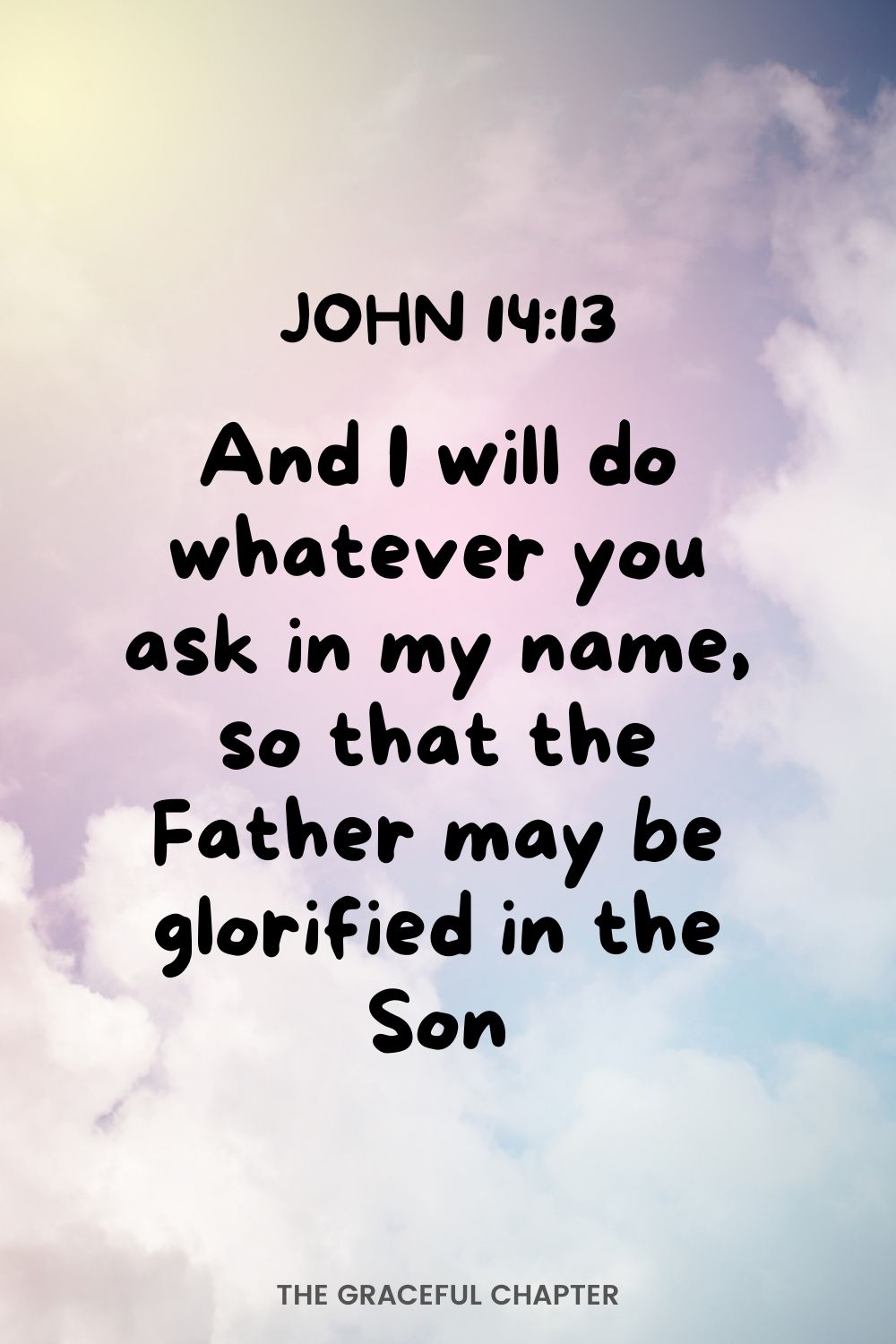 John 14:13
And I will do whatever you ask in my name, so that the Father may be glorified in the Son.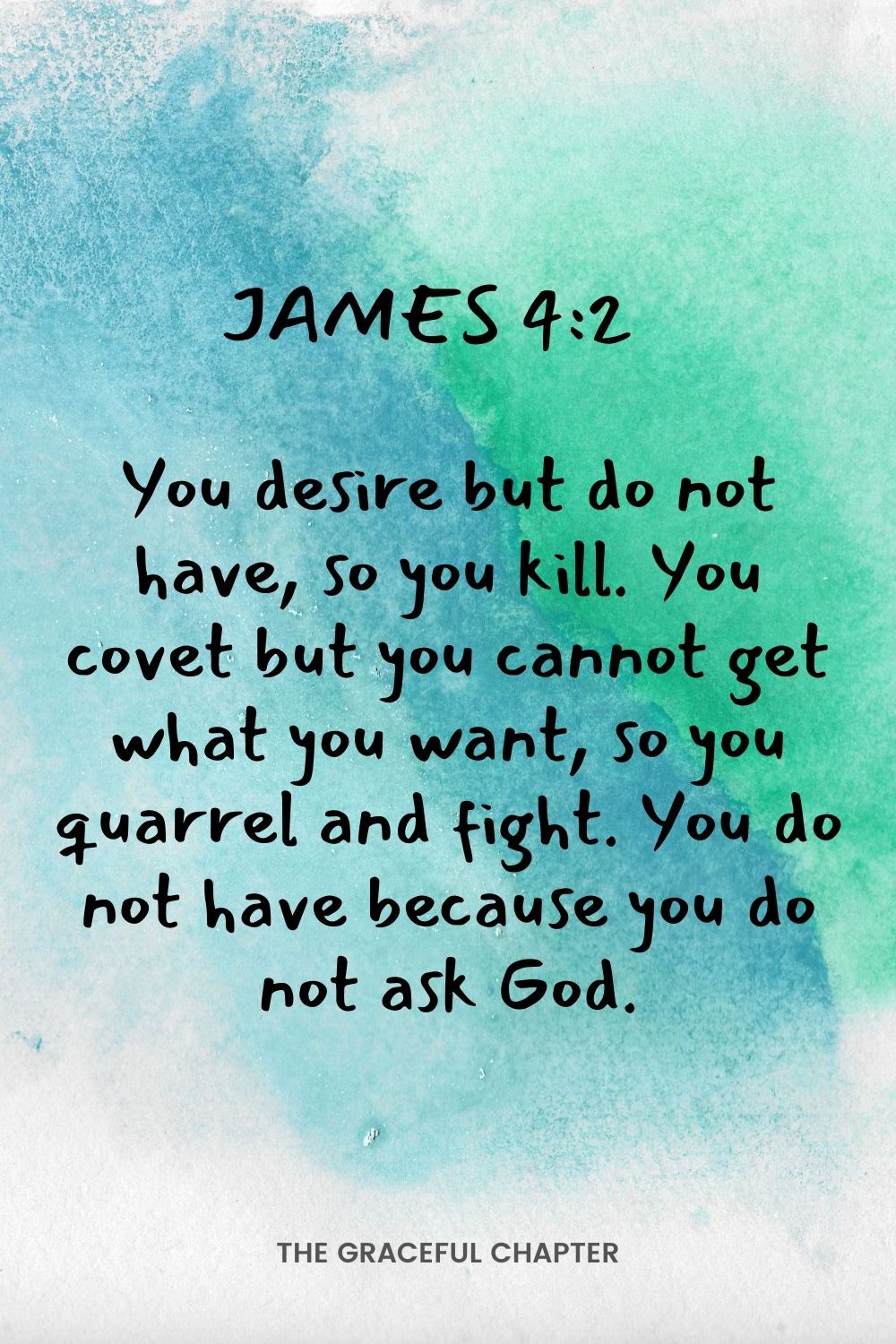 James 4:2
You desire but do not have, so you kill. You covet but you cannot get what you want, so you quarrel and fight. You do not have because you do not ask God.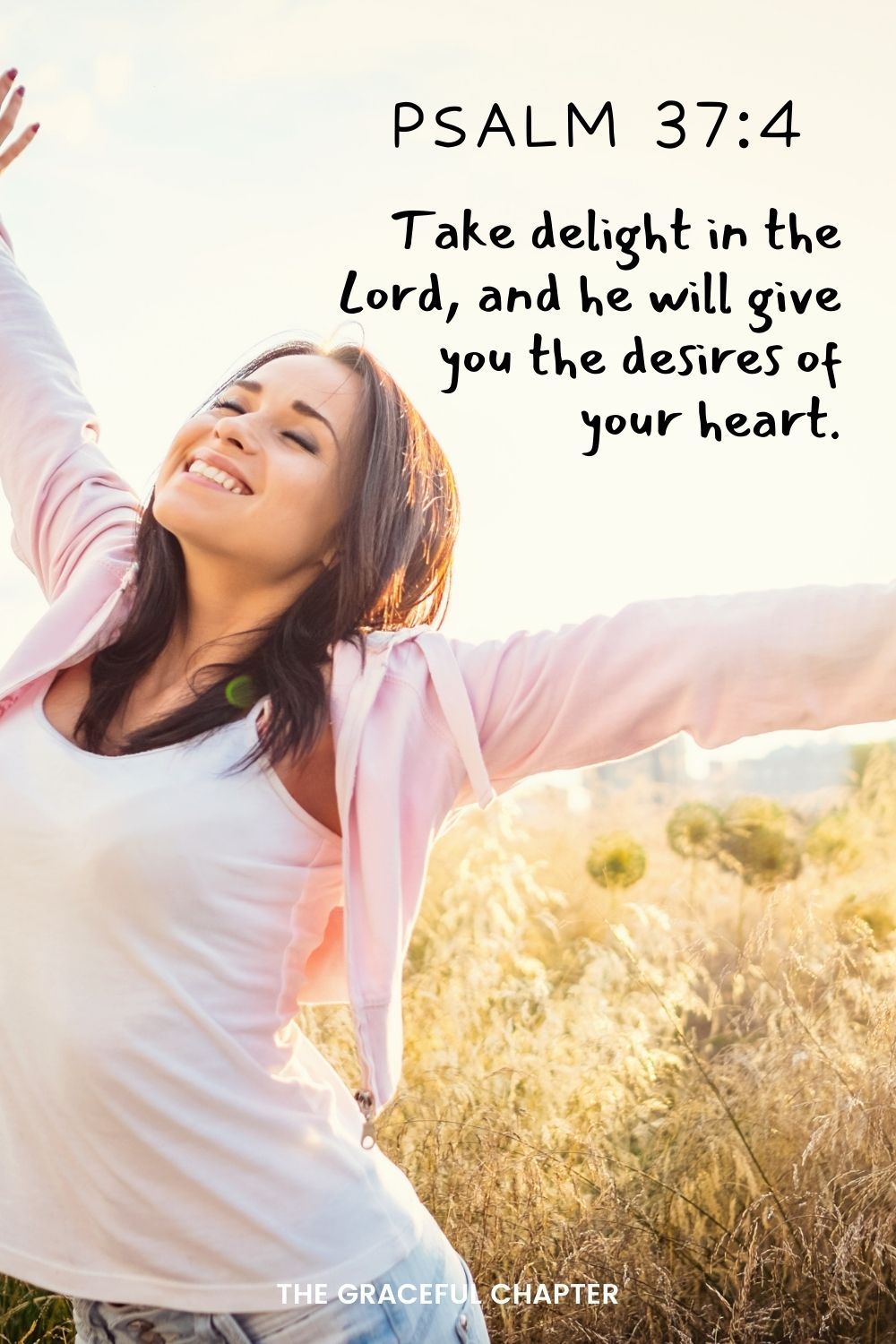 Psalm 37:4
Take delight in the Lord, and he will give you the desires of your heart.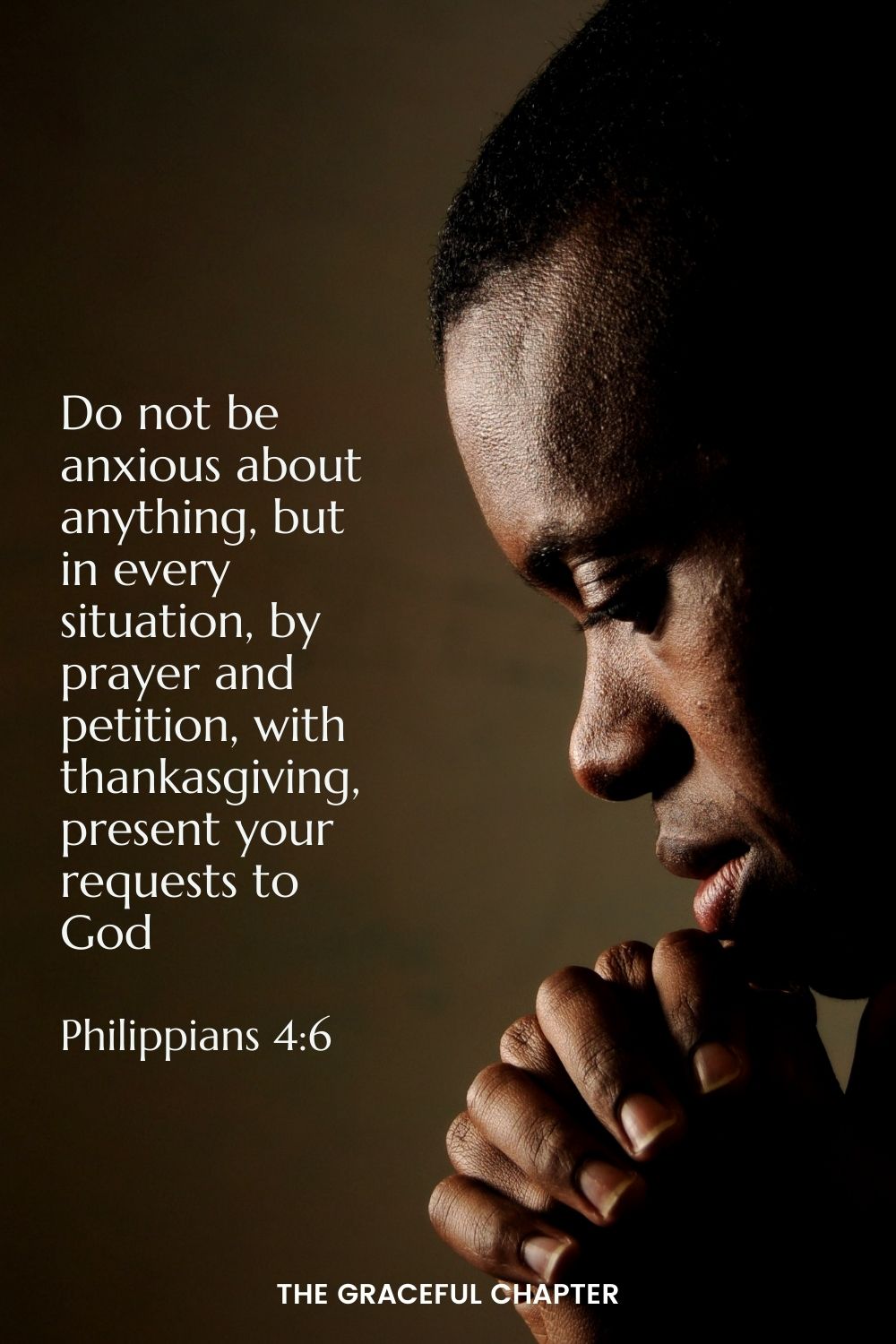 Philippians 4:6
Do not be anxious about anything, but in every situation, by prayer and petition, with thanksgiving, present your requests to God.

Acts 2:38-39
Peter replied, "Repent and be baptized, every one of you, in the name of Jesus Christ for the forgiveness of your sins. And you will receive the gift of the Holy Spirit. The promise is for you and your children and for all who are far off for all whom the Lord our God will call."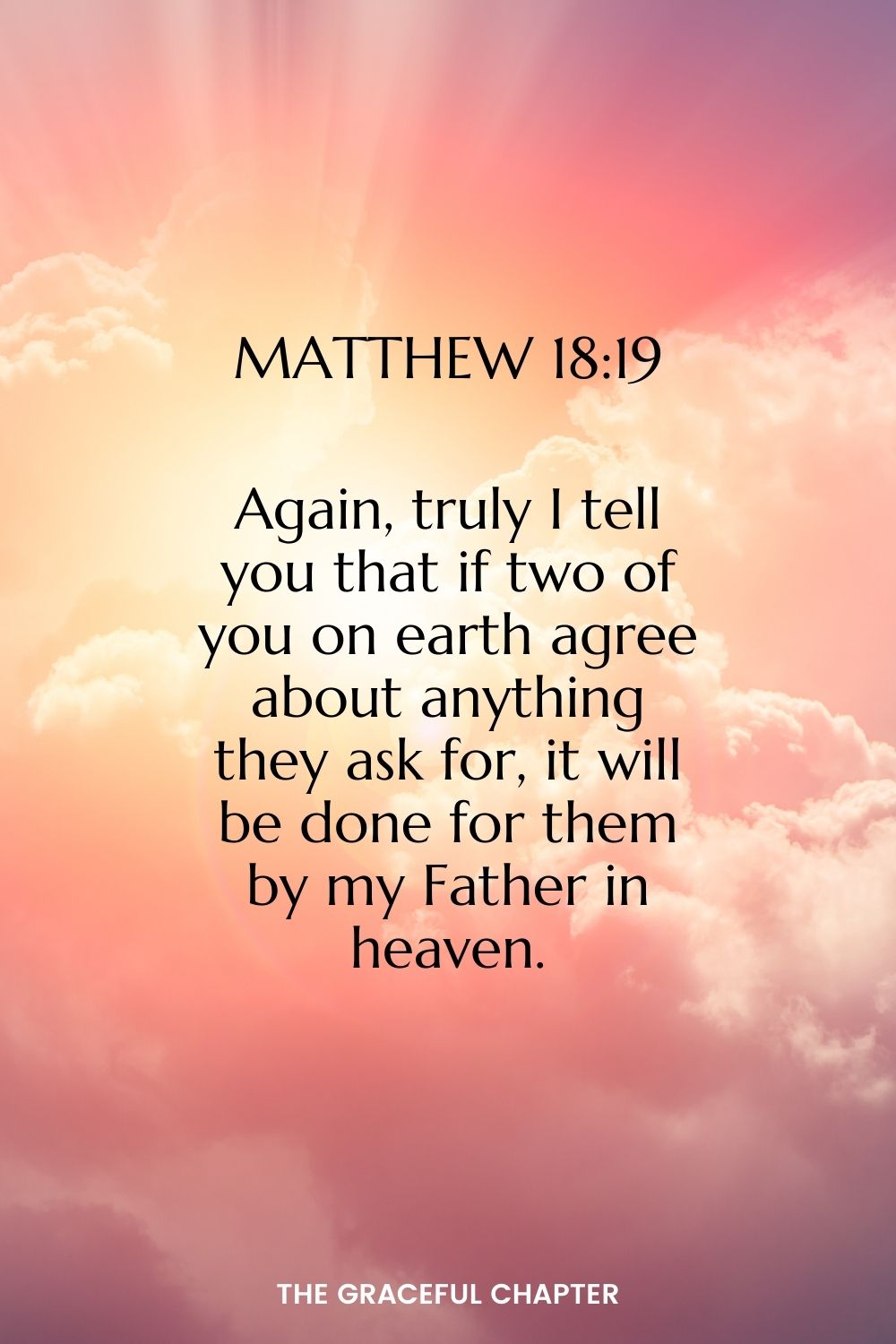 Matthew 18:19
Again, truly I tell you that if two of you on earth agree about anything they ask for, it will be done for them by my Father in heaven.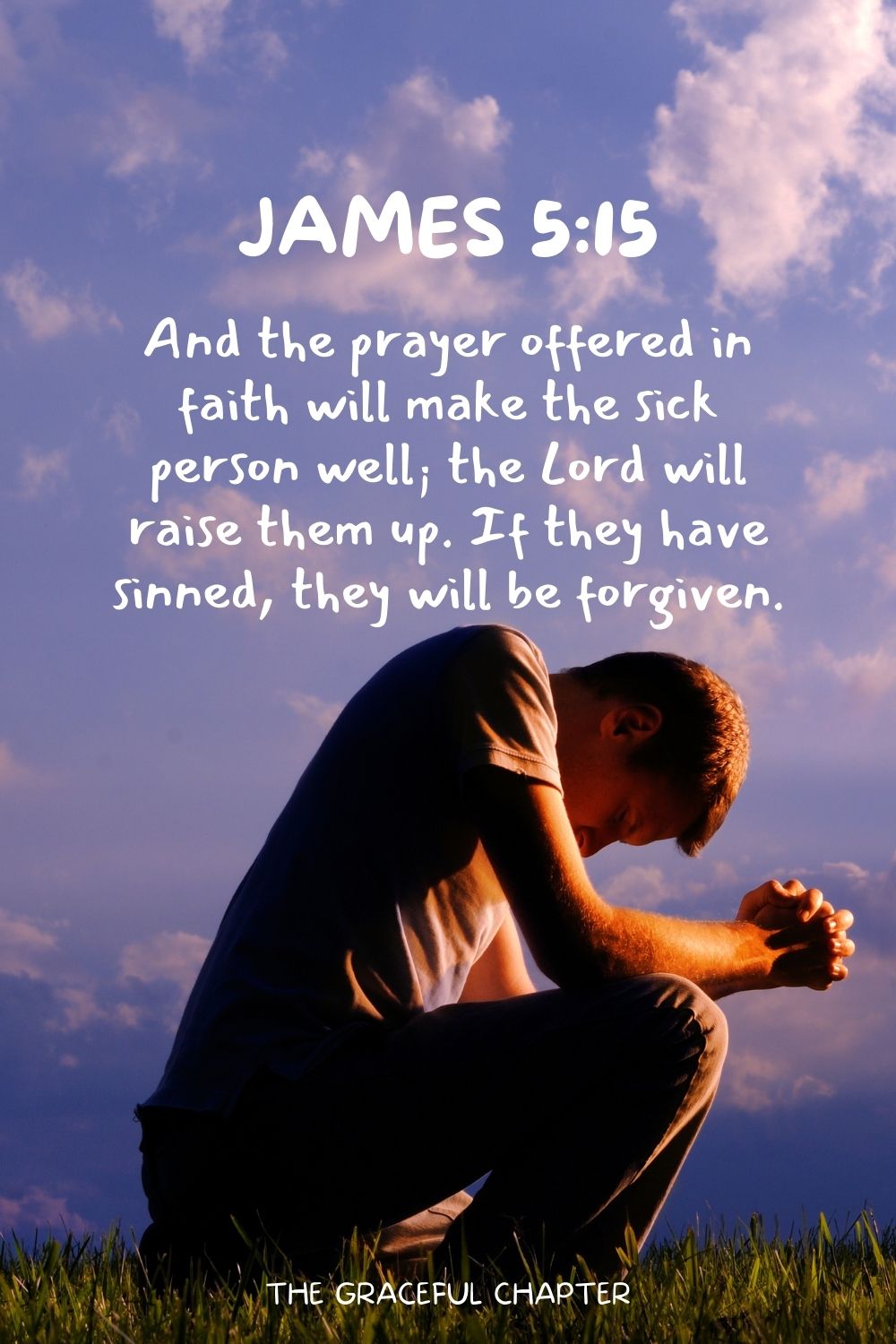 James 5:15
And the prayer offered in faith will make the sick person well; the Lord will raise them up. If they have sinned, they will be forgiven.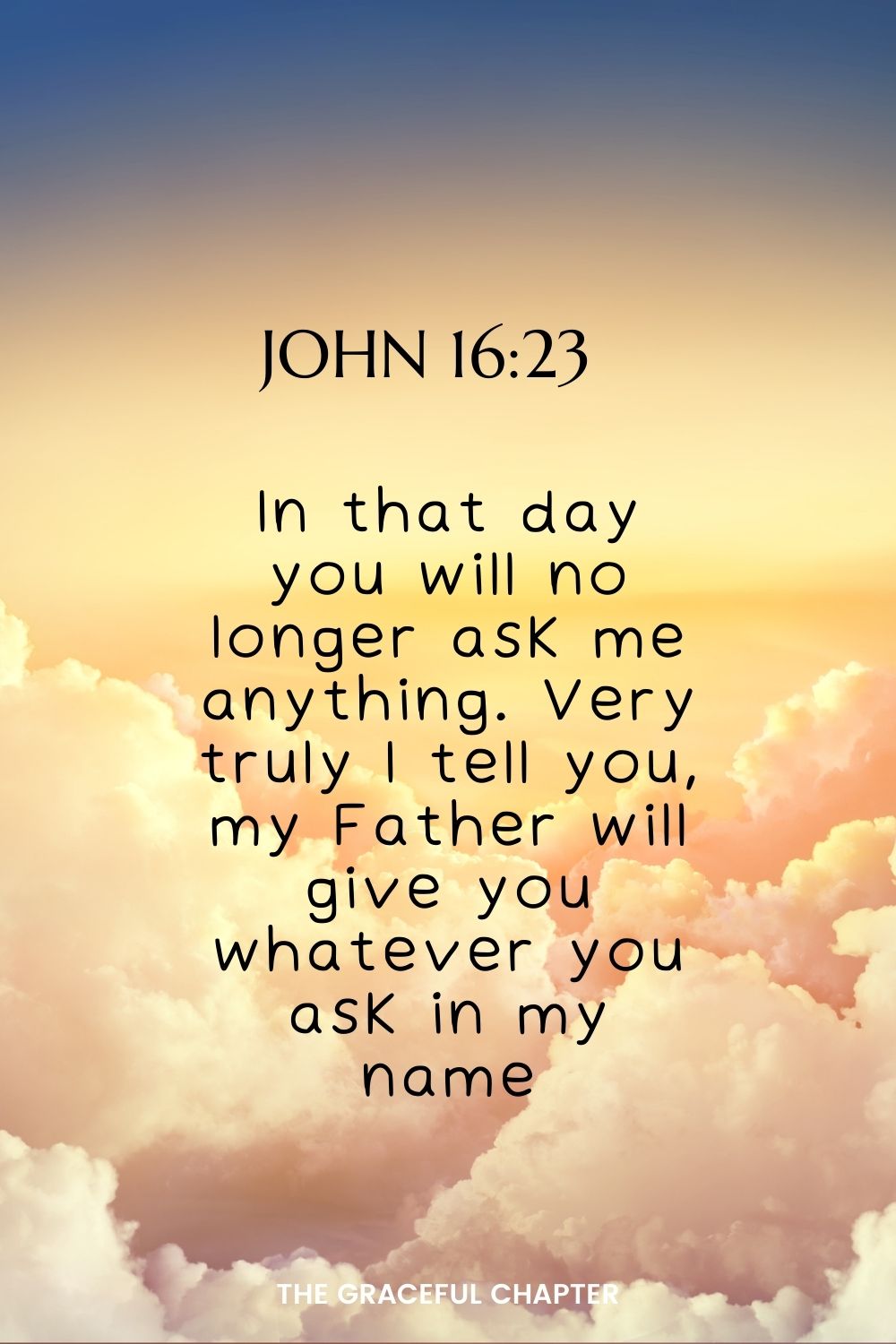 John 16:23
In that day you will no longer ask me anything. Very truly I tell you, my Father will give you whatever you ask in my name.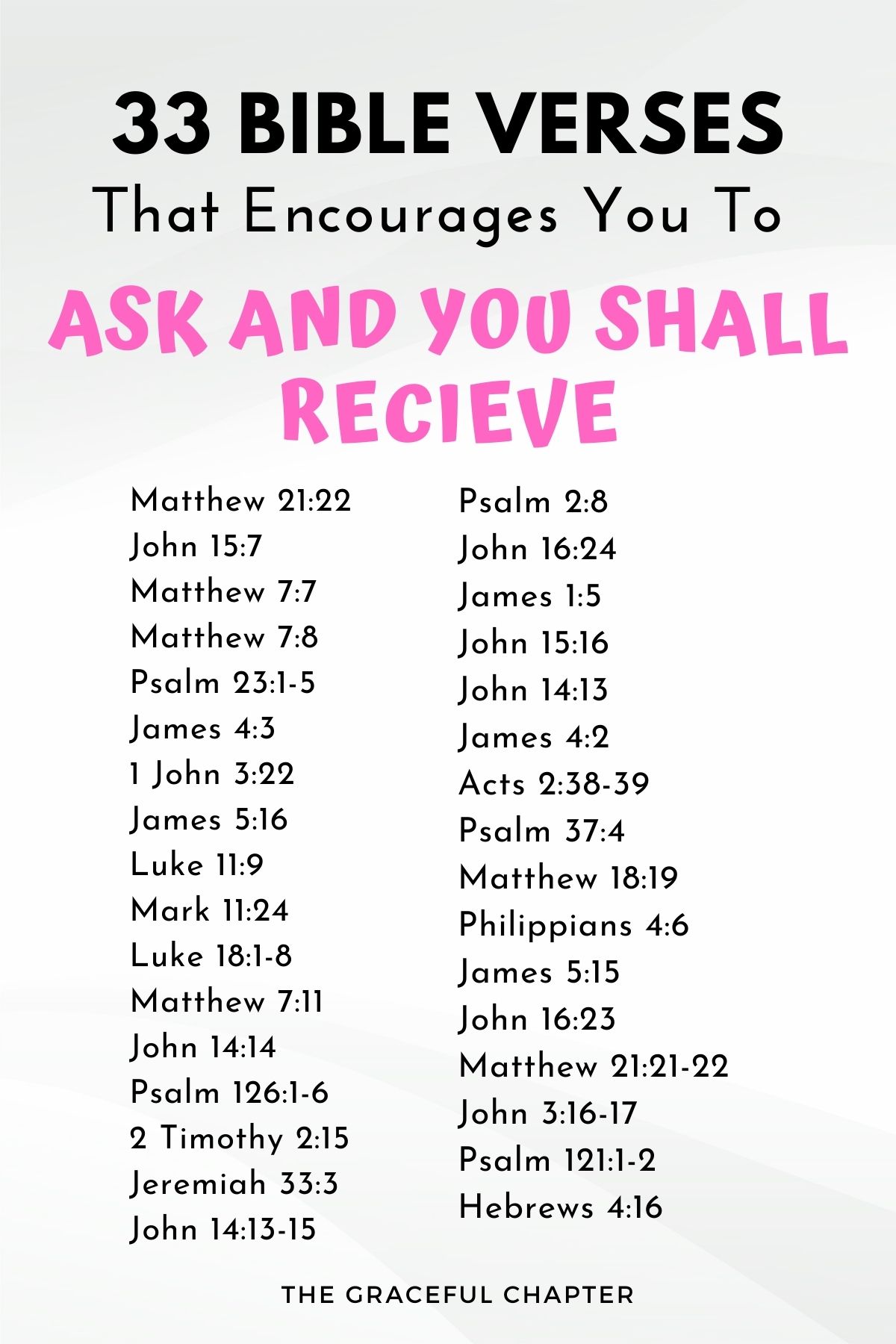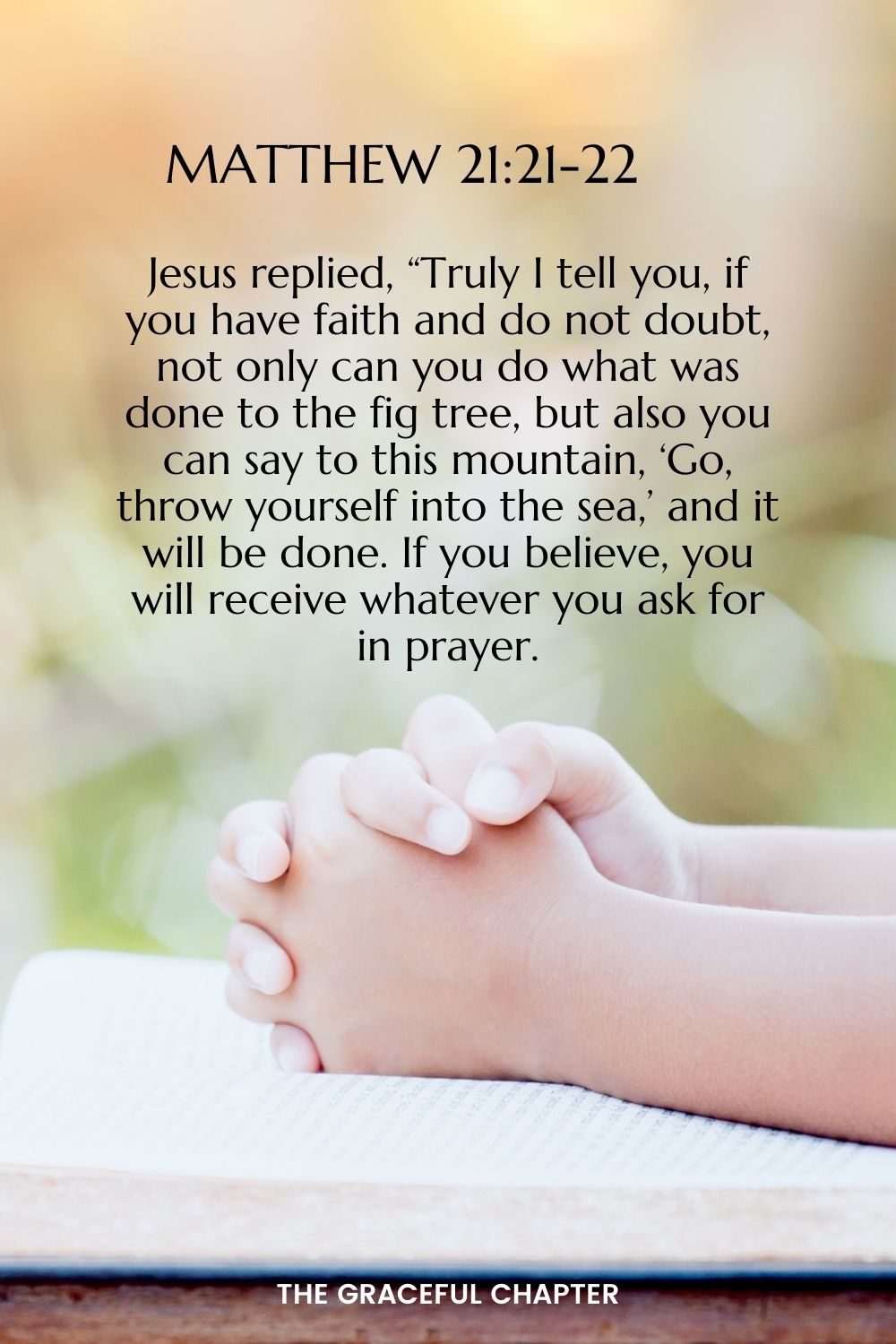 Jesus replied, "Truly I tell you, if you have faith and do not doubt, not only can you do what was done to the fig tree, but also you can say to this mountain, 'Go, throw yourself into the sea,' and it will be done.  If you believe, you will receive whatever you ask for in prayer."
Matthew 21:21-22
For God so loved the world that he gave his one and only Son, that whoever believes in him shall not perish but have eternal life. For God did not send his Son into the world to condemn the world, but to save the world through him.
John 3:16-17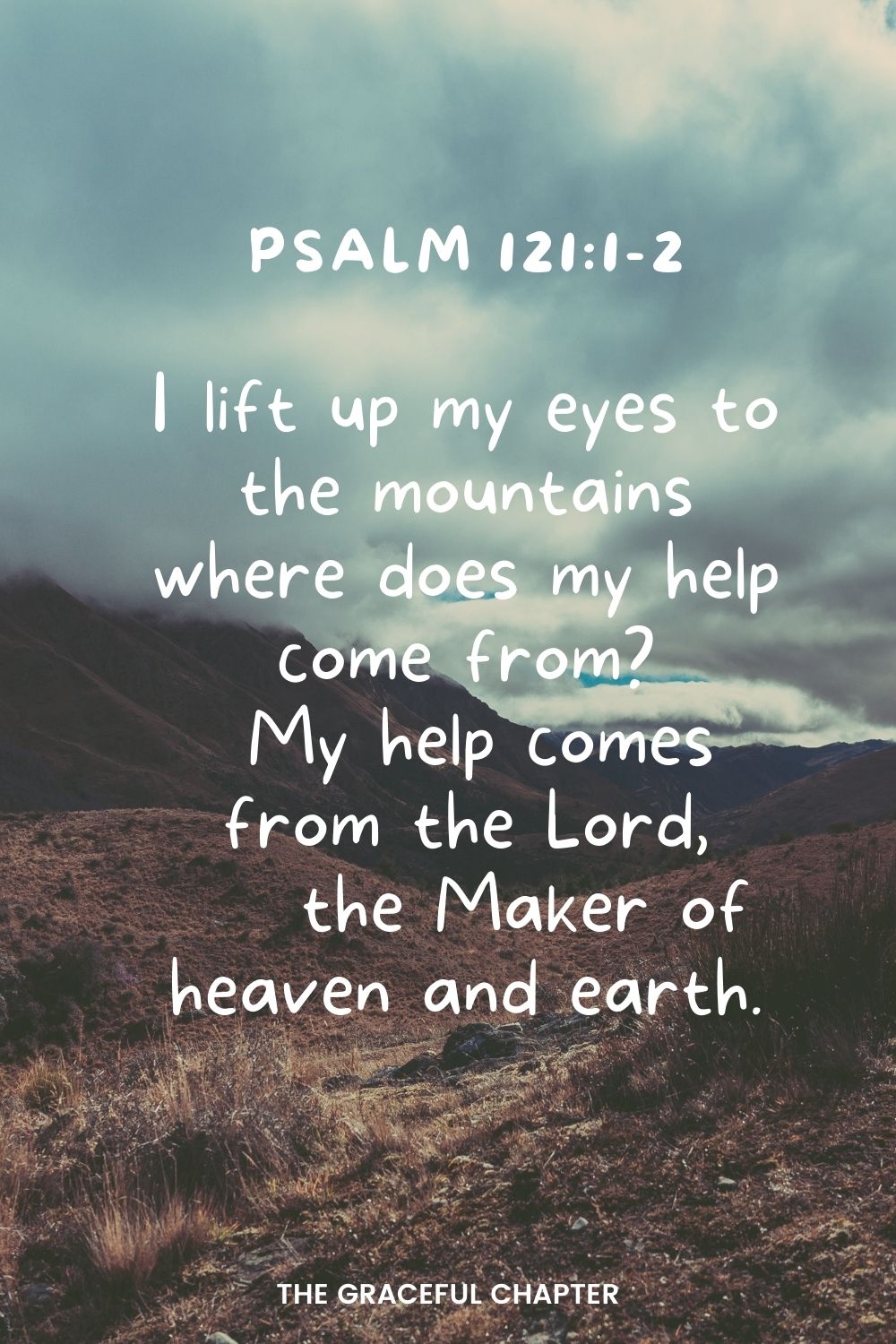 I lift up my eyes to the mountains where does my help come from?
 My help comes from the Lord,
 the Maker of heaven and earth.
Psalm 121:1-2
Do your best to present yourself to God as one approved, a worker who does not need to be ashamed and who correctly handles the word of truth.
2 Timothy 2:15
And I will do whatever you ask in my name, so that the Father may be glorified in the Son.  You may ask me for anything in my name, and I will do it."If you love me, keep my commands.
John 14:13-15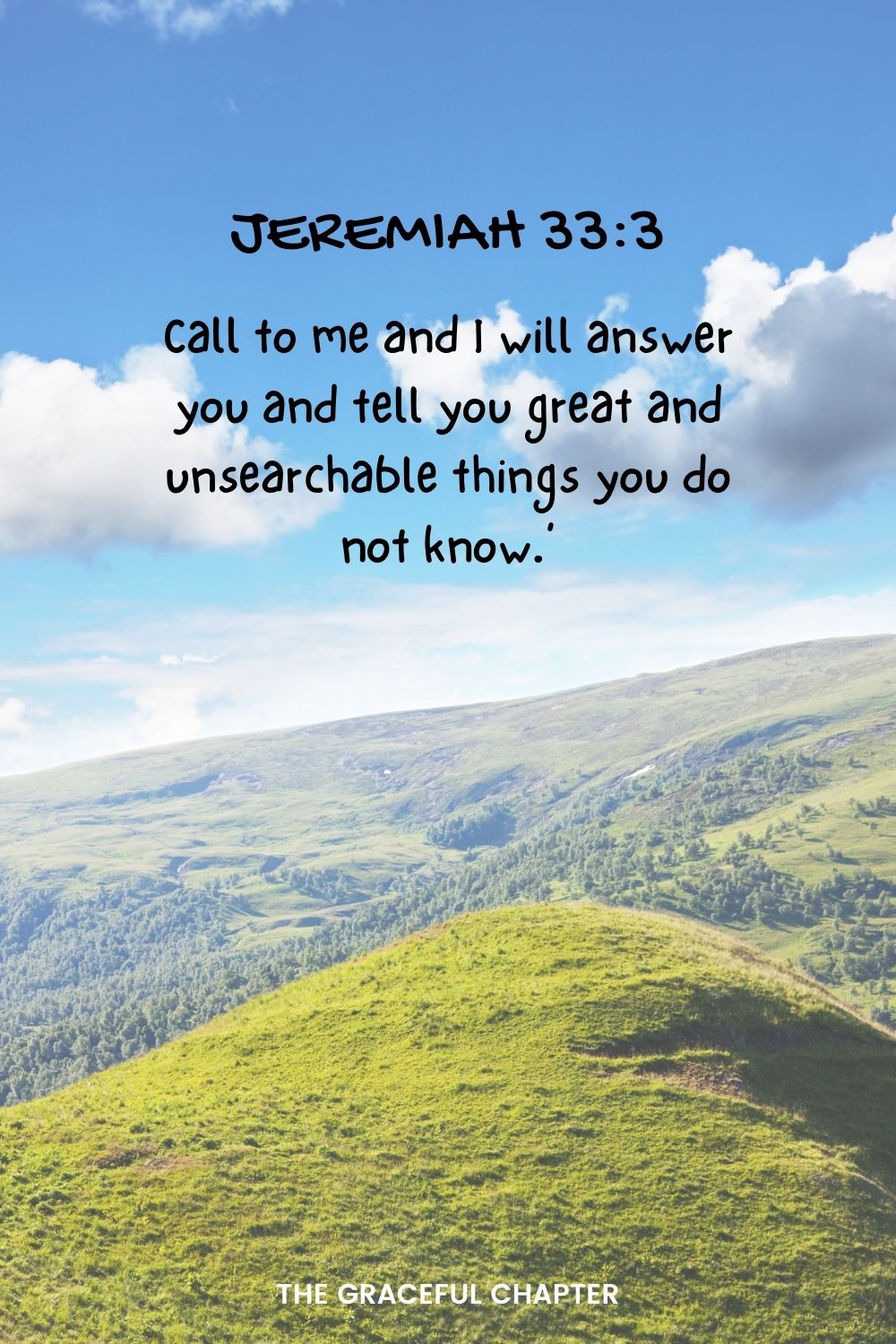 Call to me and I will answer you and tell you great and unsearchable things you do not know.'
Jeremiah 33:3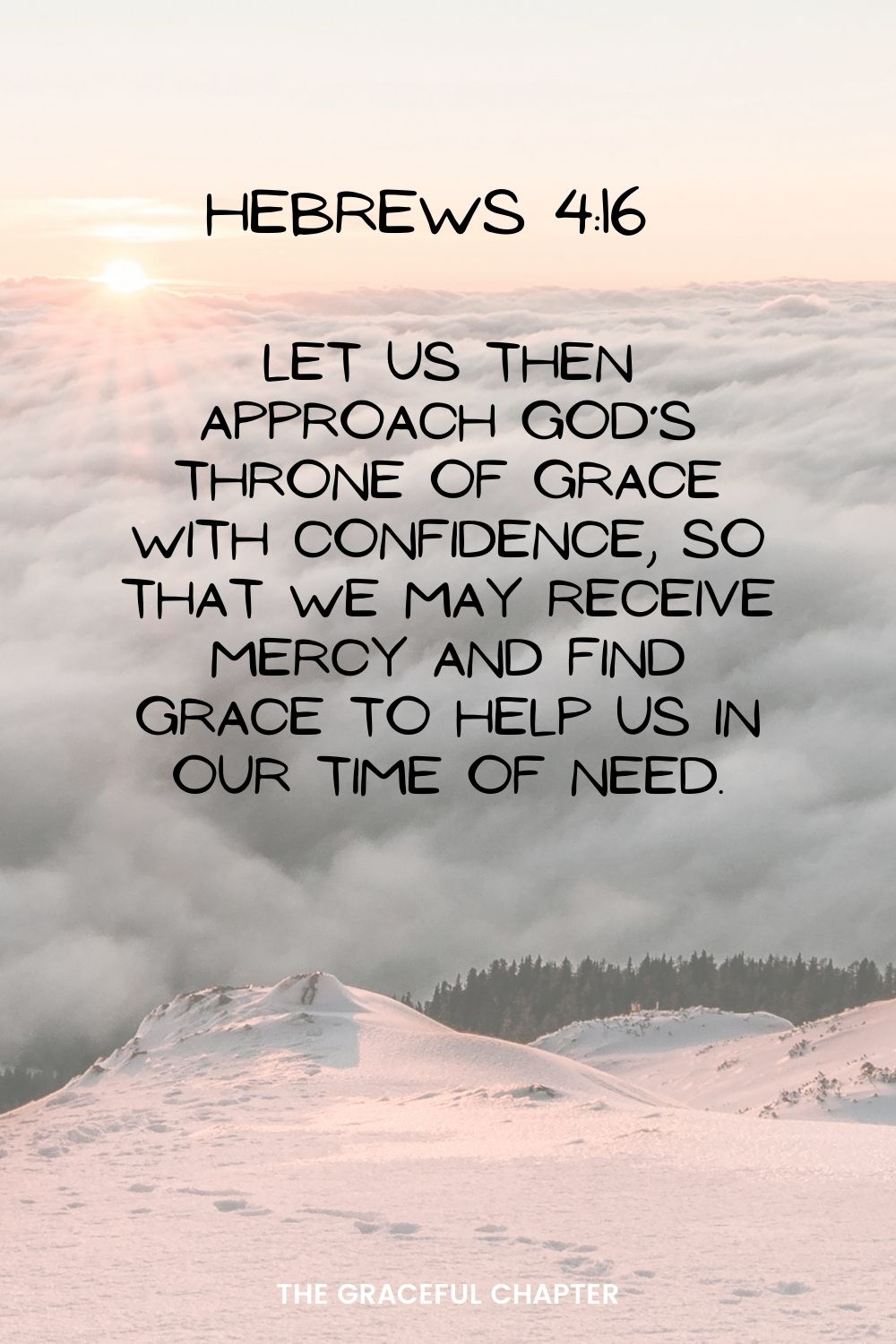 Let us then approach God's throne of grace with confidence, so that we may receive mercy and find grace to help us in our time of need.
Hebrews 4:16
Prayer – God, grant my heart desires
Gracious Lord,
I thank you for my life and that of my family
Thank you for your love and mercy in our lives
Thank you for always being with us and never forsaking us
Thank you for loving us and for forgiving us our sins.
Lord, today, I come before you in faith and confidence
that you grant my heart desires according to your will
I believe that you want to bless me, Lord,
So please take charge over me and show me the right path in life
Lead me to the life that you have planned for me in Jesus name I pray,
Amen