Money can be a difficult item to manage, but it is central to our lives. You need money to buy meals when you get up in the morning. You'll need money for transportation, clothing, your family, health, shelter, and everything else.
Money is a source of stress for many people, and it can even lead to anxiety and depression. The good news is that there are numerous bible verses about money that can be of assistance to us. There are passages that will encourage you when you are facing financial difficulties, as well as verses that will teach you how to handle your money.
The bible is indeed a very resourceful book and can help you throughout every stage of your life. So here are some bible verses about money, to help encourage you during hard times and also to help you understand how better to deal with money.
Bible verses about money
Matthew 6:21.
For where your treasure is, there your heart will be also
Ecclesiastes 5:10
He who loves silver will not be satisfied with silver;
Nor he who loves abundance, with increase.
This also is vanity.

Psalm 37:16-17
A little that a righteous man has
Is better than the riches of many wicked.
For the arms of the wicked shall be broken,
But the Lord upholds the righteous.

Hebrews 13: 5
Let your conduct be without covetousness; be content with such things as you have. For He Himself has said, "I will never leave you nor forsake you."

Malachi 3:10
Bring all the tithes into the storehouse,
That there may be food in My house,
And try Me now in this,"
Says the Lord of hosts,
"If I will not open for you the windows of heaven
And pour out for you such blessing
That there will not be room enough to receive it.

.Romans 13:8
Owe no one anything except to love one another, for he who loves another has fulfilled the law

Proverbs 13:11
Wealth gained by dishonesty will be diminished,
But he who gathers by labor will increase.

Matthew 19:21
Jesus said to him, "If you want to be perfect, go, sell what you have and give to the poor, and you will have treasure in heaven; and come, follow Me."

"
1 Timothy 6:10
For the love of money is a root of all kinds of evil, for which some have strayed from the faith in their greediness, and pierced themselves through with many sorrows.

Matthew 21:12-13
Then Jesus went into the temple of God and drove out all those who bought and sold in the temple, and overturned the tables of the money changers and the seats of those who sold doves.  And He said to them, "It is written, 'My house shall be called a house of prayer,' but you have made it a 'den of thieves.' "

Luke 12:33
Sell what you have and give alms; provide yourselves money bags which do not grow old, a treasure in the heavens that does not fail, where no thief approaches nor moth destroys.

Matthew 6:1-4
Take heed that you do not do your charitable deeds before men, to be seen by them. Otherwise you have no reward from your Father in heaven.  Therefore, when you do a charitable deed, do not sound a trumpet before you as the hypocrites do in the synagogues and in the streets, that they may have glory from men. Assuredly, I say to you, they have their reward.  But when you do a charitable deed, do not let your left hand know what your right hand is doing,  that your charitable deed may be in secret; and your Father who sees in secret will Himself reward you openly.

Deuteronomy 23:19
"You shall not charge interest to your brother interest on money or food or anything that is lent out at interest.

1 Timothy 6:17-19
Command those who are rich in this present age not to be haughty, nor to trust in uncertain riches but in the living God, who gives us richly all things to enjoy. 18 Let them do good, that they be rich in good works, ready to give, willing to share, 19 storing up for themselves a good foundation for the time to come, that they may lay hold on eternal life.

Deuteronomy 15:7
If there is among you a poor man of your brethren, within any of the gates in your land which the Lord your God is giving you, you shall not harden your heart nor shut your hand from your poor brother,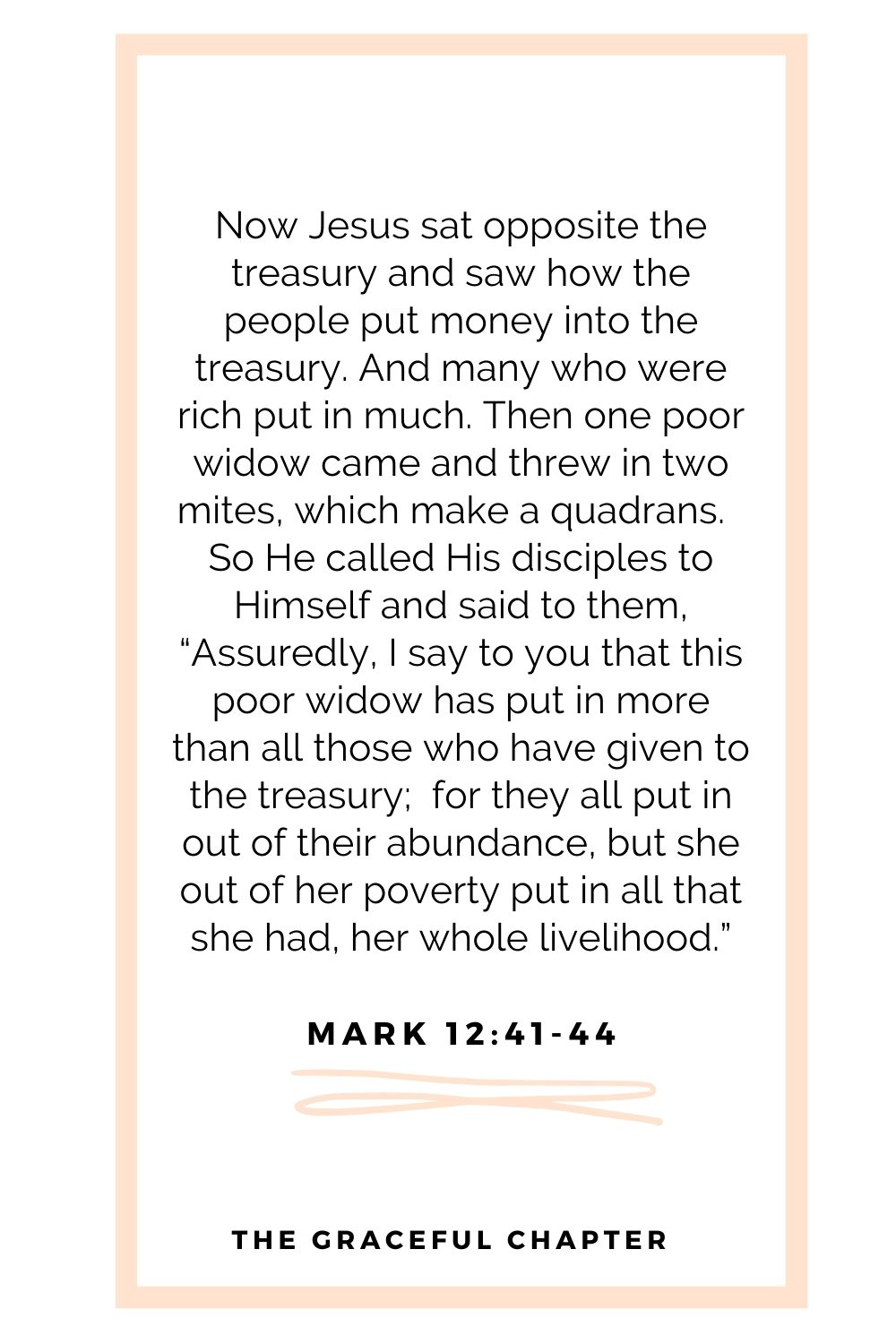 Mark 12:41-44
Now Jesus sat opposite the treasury and saw how the people put money into the treasury. And many who were rich put in much. Then one poor widow came and threw in two mites, which make a quadrans.  So He called His disciples to Himself and said to them, "Assuredly, I say to you that this poor widow has put in more than all those who have given to the treasury;  for they all put in out of their abundance, but she out of her poverty put in all that she had, her whole livelihood."

2 Chronicles 1:11-12
Then God said to Solomon: "Because this was in your heart, and you have not asked riches or wealth or honor or the life of your enemies, nor have you asked long life but have asked wisdom and knowledge for yourself, that you may judge My people over whom I have made you king  wisdom and knowledge are granted to you; and I will give you riches and wealth and honor, such as none of the kings have had who were before you, nor shall any after you have the like."

1 Peter 5:2-3
Shepherd the flock of God which is among you, serving as overseers, not by compulsion but willingly, not for dishonest gain but eagerly;  nor as being lords over those entrusted to you, but being examples to the flock;

Proverbs 3:9
Honor the Lord with your possessions,
And with the first fruits of all your increase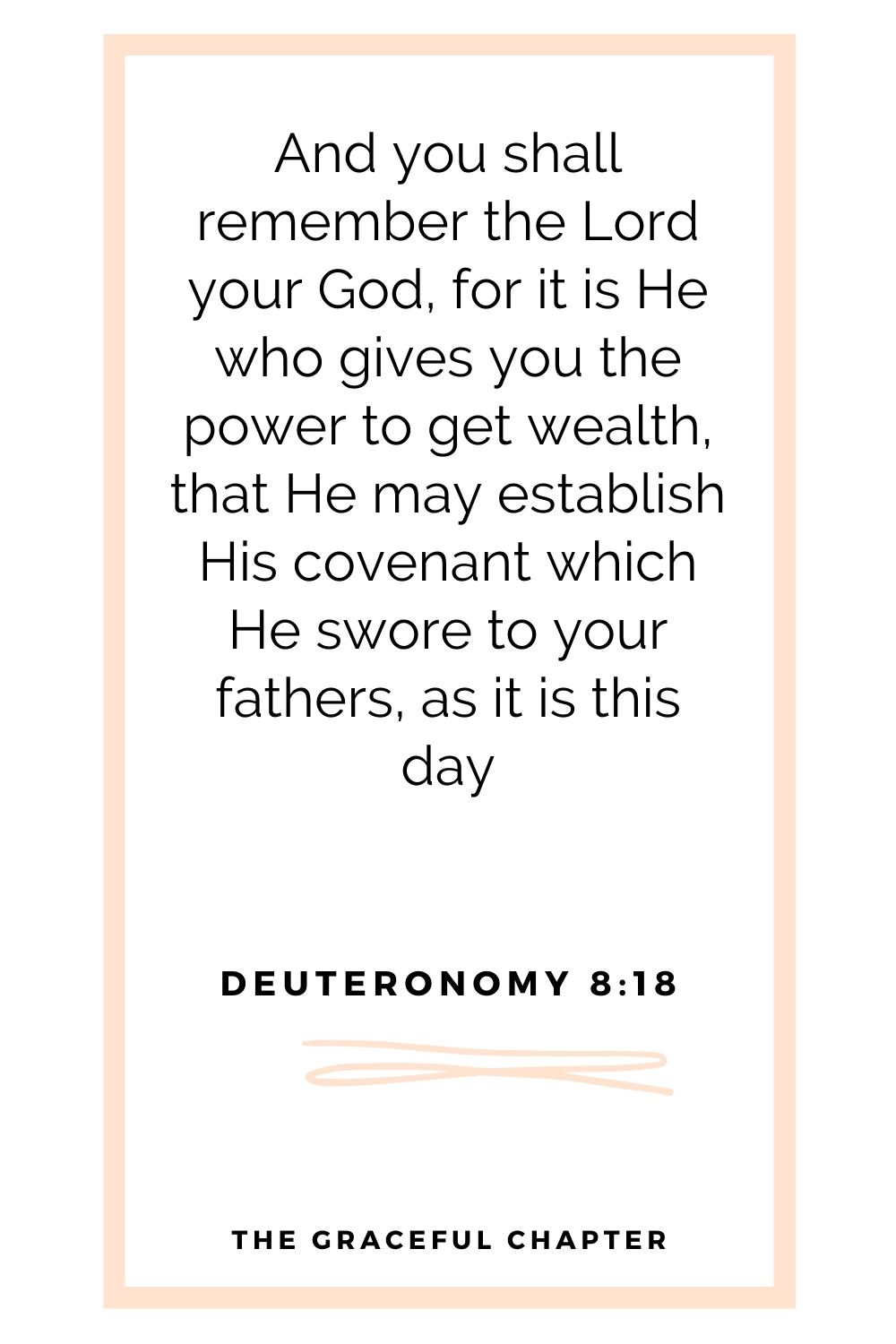 Deuteronomy 8:18
And you shall remember the Lord your God, for it is He who gives you the power to get wealth, that He may establish His covenant which He swore to your fathers, as it is this day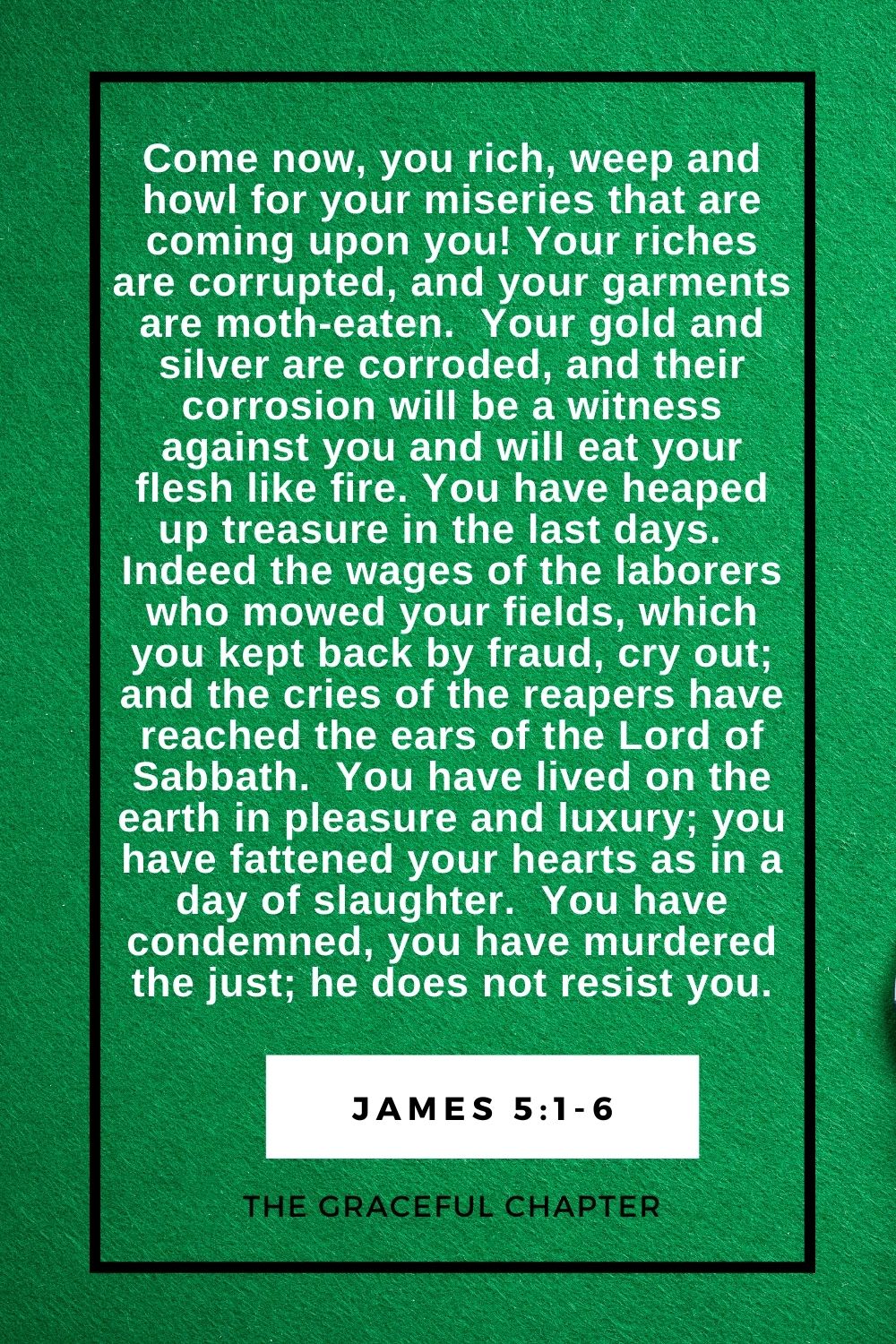 James 5:1-6
Come now, you rich, weep and howl for your miseries that are coming upon you! Your riches are corrupted, and your garments are moth-eaten.  Your gold and silver are corroded, and their corrosion will be a witness against you and will eat your flesh like fire. You have heaped up treasure in the last days.  Indeed the wages of the laborers who mowed your fields, which you kept back by fraud, cry out; and the cries of the reapers have reached the ears of the Lord of Sabbath.  You have lived on the earth in pleasure and luxury; you have fattened your hearts as in a day of slaughter.  You have condemned, you have murdered the just; he does not resist you.

Deuteronomy 28:12
The Lord will open to you His good treasure, the heavens, to give the rain to your land in its season, and to bless all the work of your hand. You shall lend to many nations, but you shall not borrow.

Matthew 13:44
Again, the kingdom of heaven is like treasure hidden in a field, which a man found and hid; and for joy over it he goes and sells all that he has and buys that field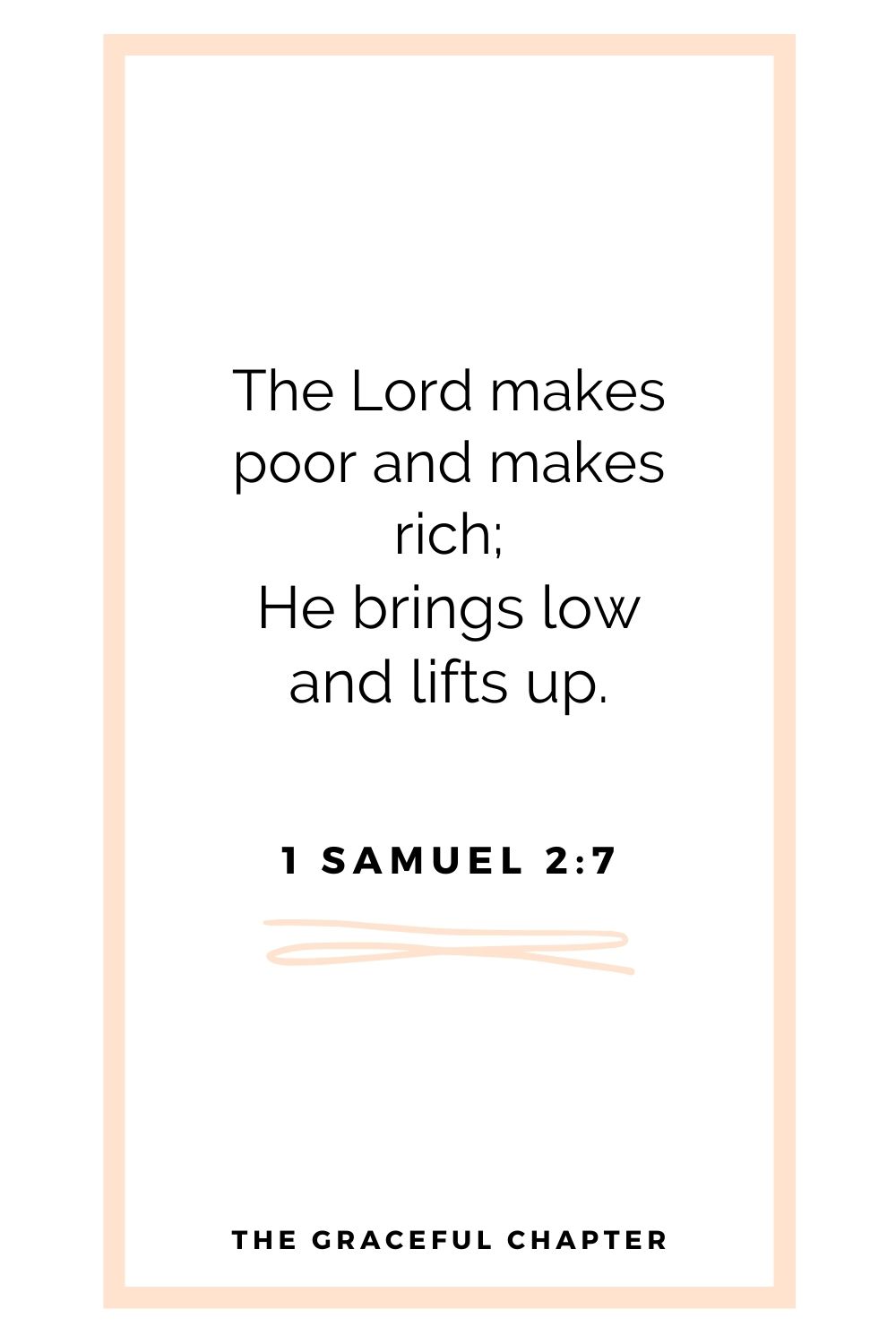 1 Samuel 2:7
The Lord makes poor and makes rich;
He brings low and lifts up.

Luke 3:14
Likewise, the soldiers asked him, saying, "And what shall we do?"So he said to them, "Do not intimidate anyone or accuse falsely, and be content with your wages."

Matthew 13:22
Now he who received seed among the thorns is he who hears the word, and the cares of this world and the deceitfulness of riches choke the word, and he becomes unfruitful.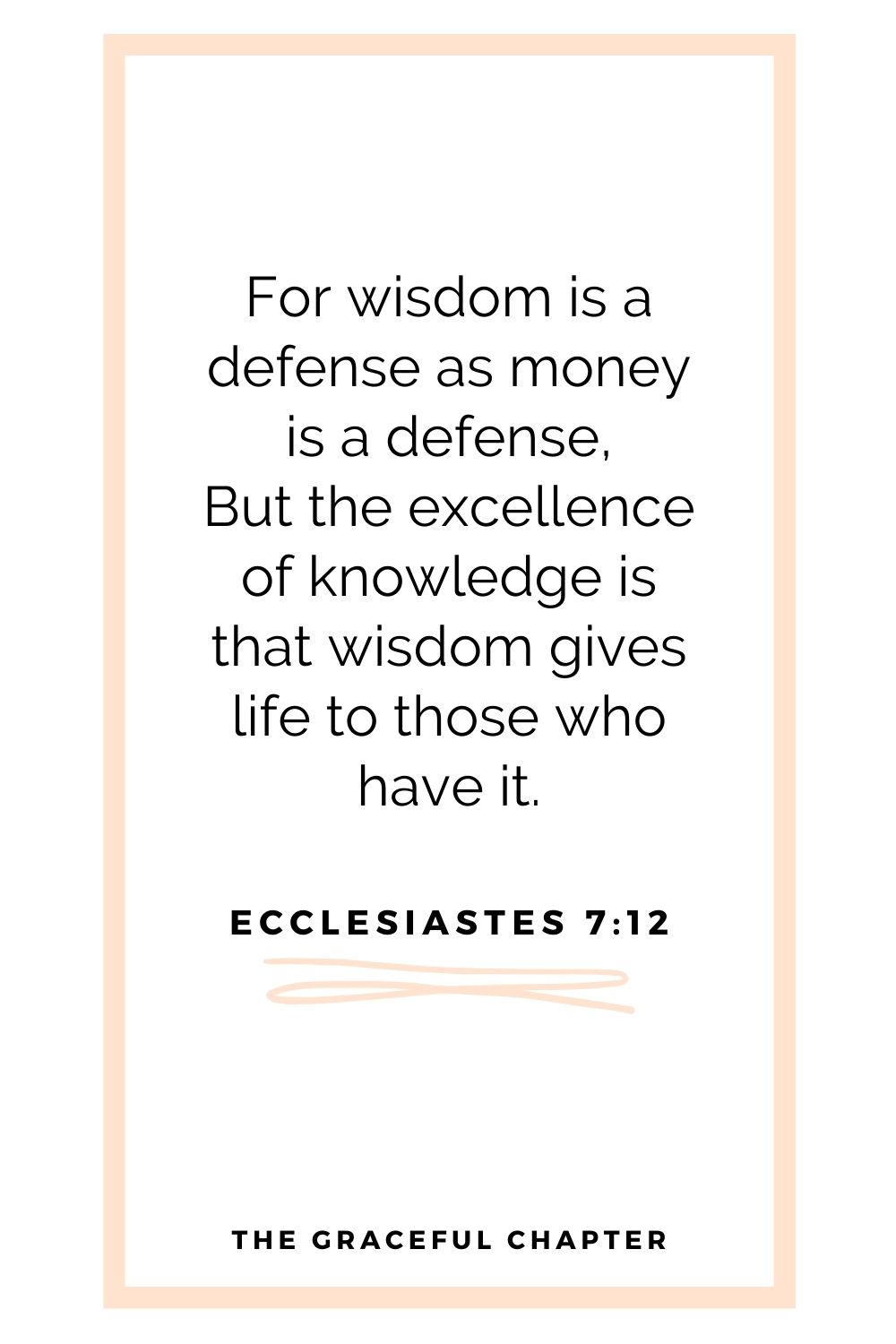 Ecclesiastes 7:12
For wisdom is a defense as money is a defense,
But the excellence of knowledge is that wisdom gives life to those who have it.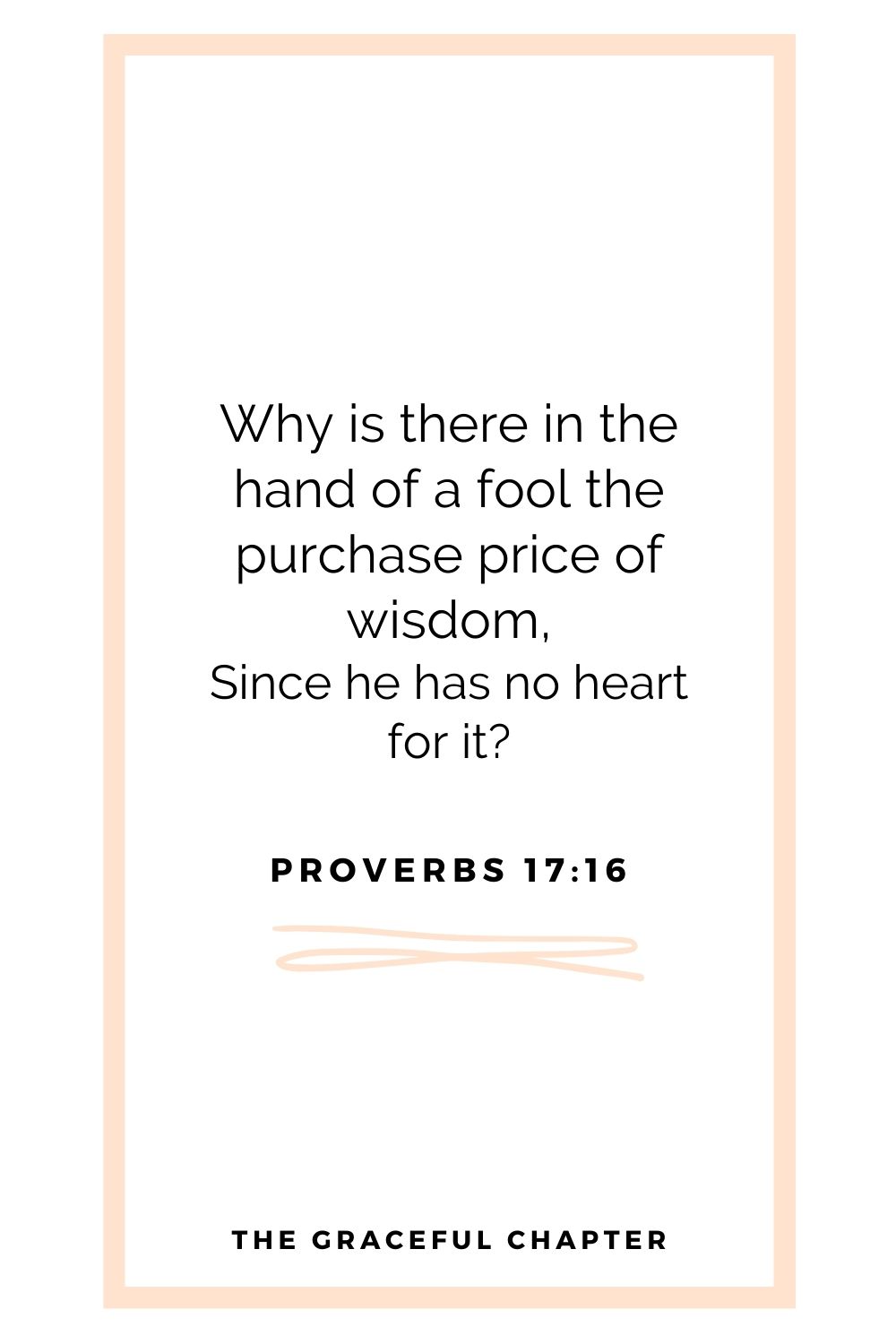 Proverbs 17:16
Why is there in the hand of a fool the purchase price of wisdom,
Since he has no heart for it?

Exodus 22:25
If you lend money to any of My people who are poor among you, you shall not be like a moneylender to him; you shall not charge him interest.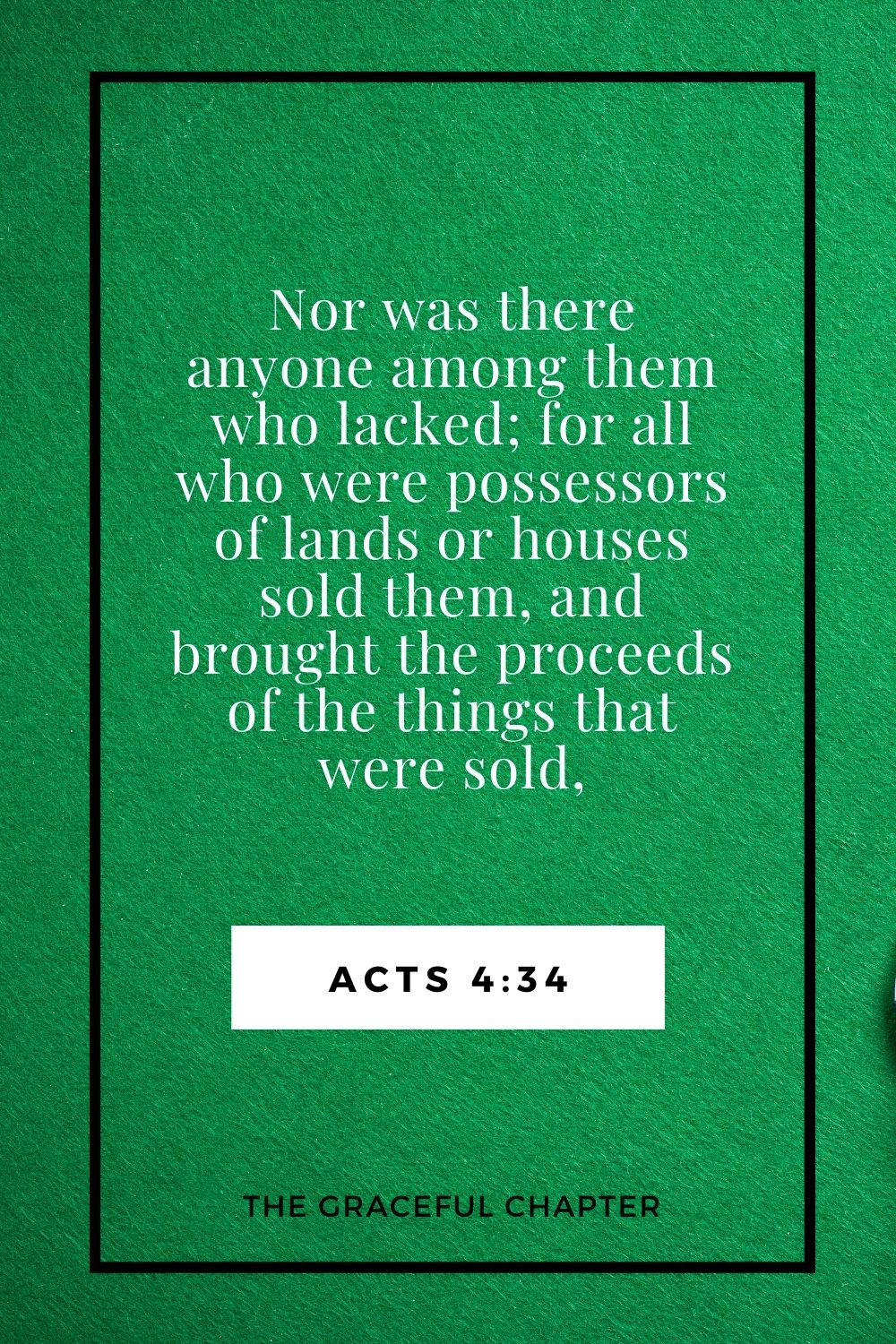 Acts 4:34
Nor was there anyone among them who lacked; for all who were possessors of lands or houses sold them, and brought the proceeds of the things that were sold,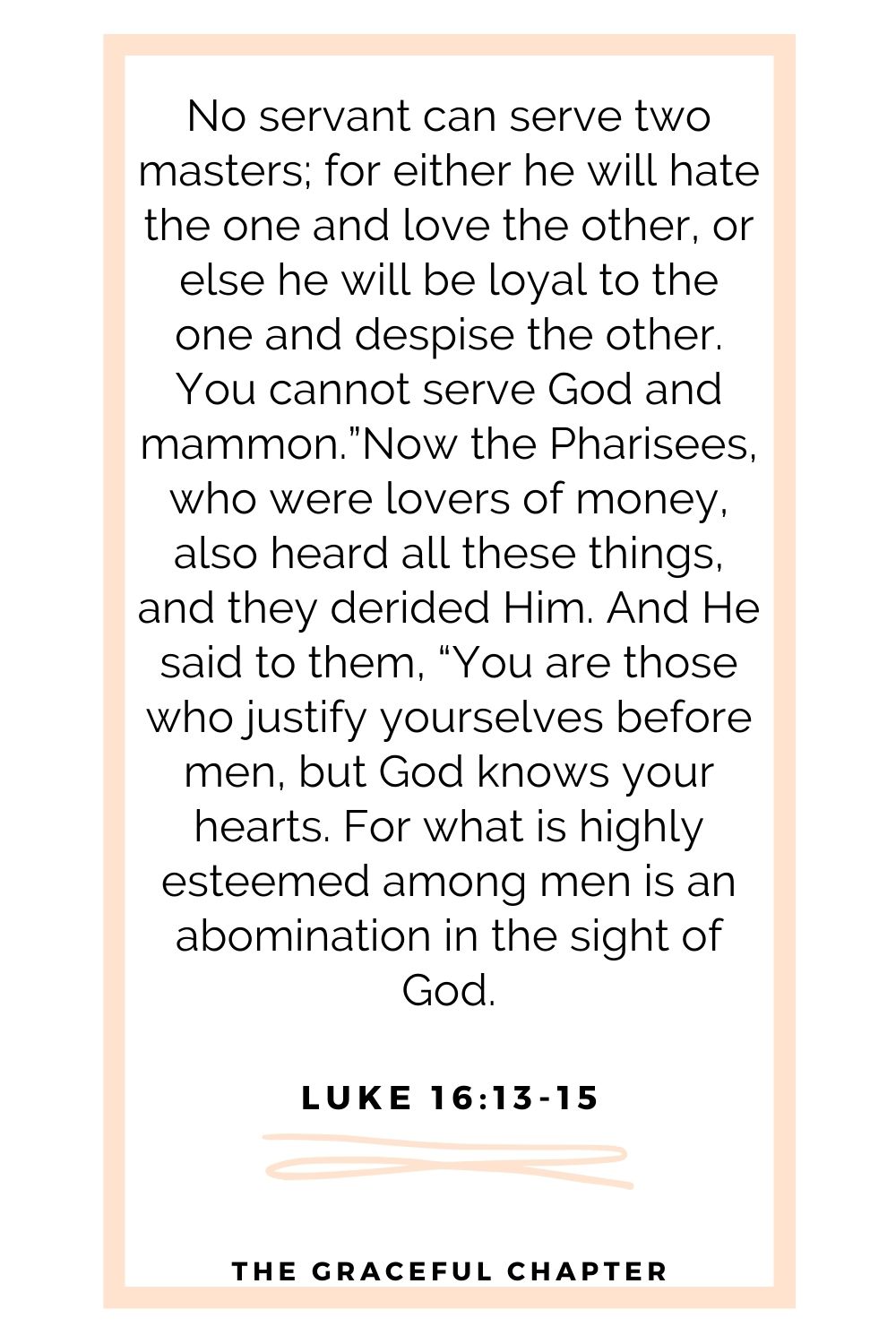 Luke 16:13-15
No servant can serve two masters; for either he will hate the one and love the other, or else he will be loyal to the one and despise the other. You cannot serve God and mammon."Now the Pharisees, who were lovers of money, also heard all these things, and they derided Him. And He said to them, "You are those who justify yourselves before men, but God knows your hearts. For what is highly esteemed among men is an abomination in the sight of God.

Matthew 6:24
No one can serve two masters; for either he will hate the one and love the other, or else he will be loyal to the one and despise the other. You cannot serve God and mammon.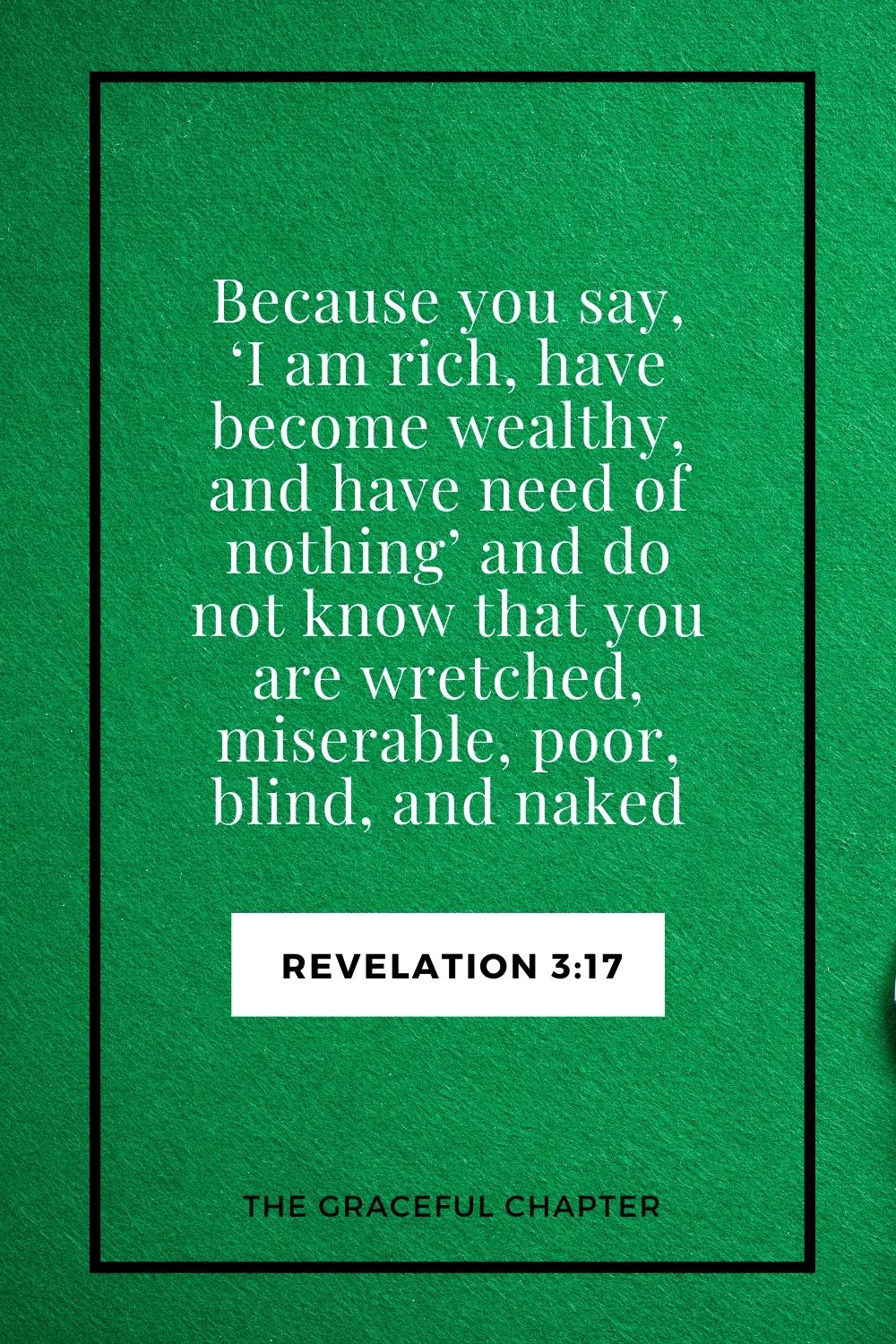 Revelation 3:17
Because you say, 'I am rich, have become wealthy, and have need of nothing—and do not know that you are wretched, miserable, poor, blind, and naked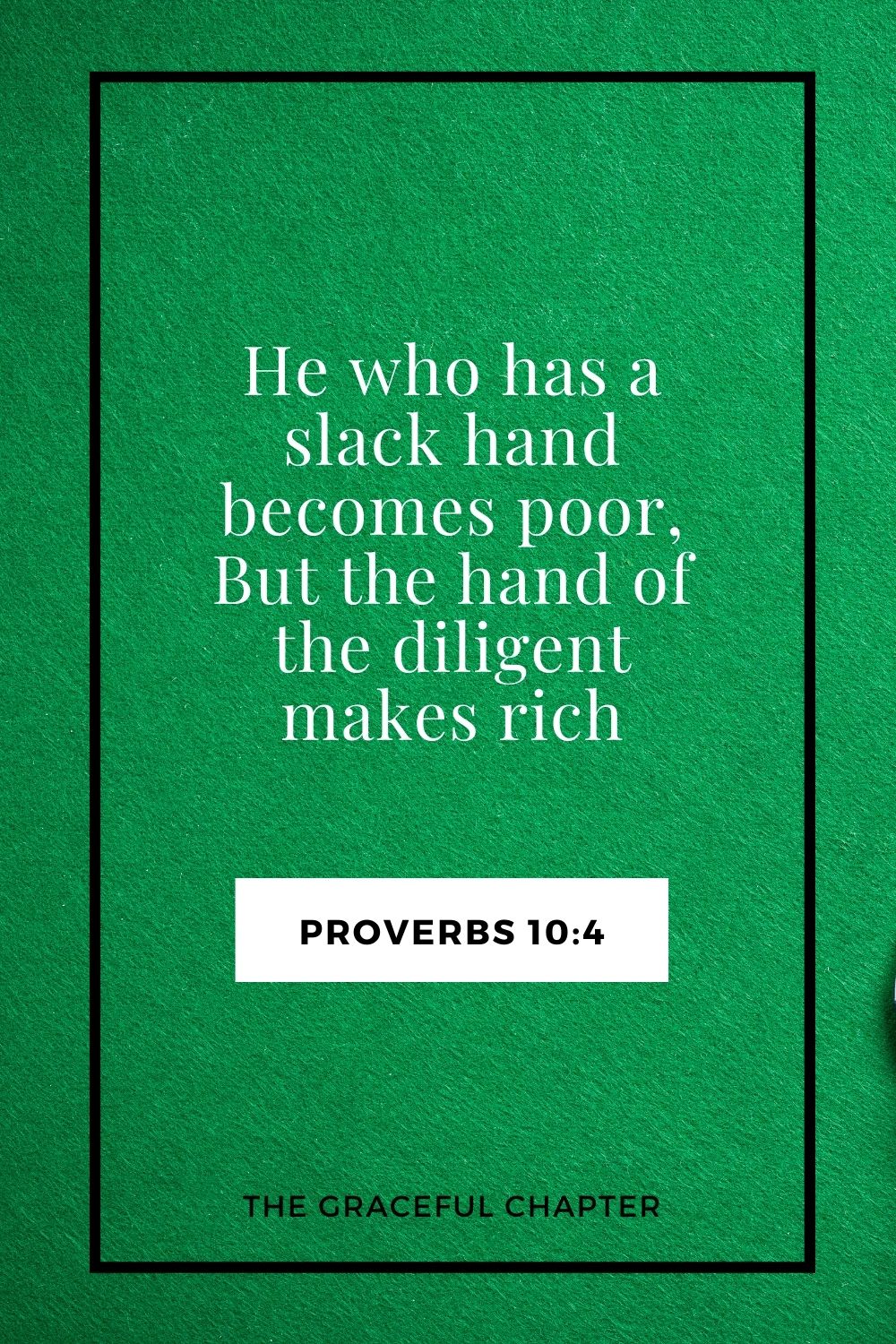 Proverbs 10:4
He who has a slack hand becomes poor,
But the hand of the diligent makes rich

Genesis 28:20-22
Then Jacob made a vow, saying, If God will be with me, and keep me in this way that I am going, and give me bread to eat and clothing to put on, so that I come back to my father's house in peace, then the Lord shall be my God.And this stone which I have set as a pillar shall be God's house, and of all that You give me I will surely give a tenth to You.

James 5:4-6
Indeed the wages of the laborers who mowed your fields, which you kept back by fraud, cry out; and the cries of the reapers have reached the ears of the Lord of Sabbath. You have lived on the earth in pleasure and luxury; you have fattened your hearts as in a day of slaughter. You have condemned, you have murdered the just; he does not resist you

Luke 14:28
For which of you, intending to build a tower, does not sit down first and count the cost, whether he has enough to finish it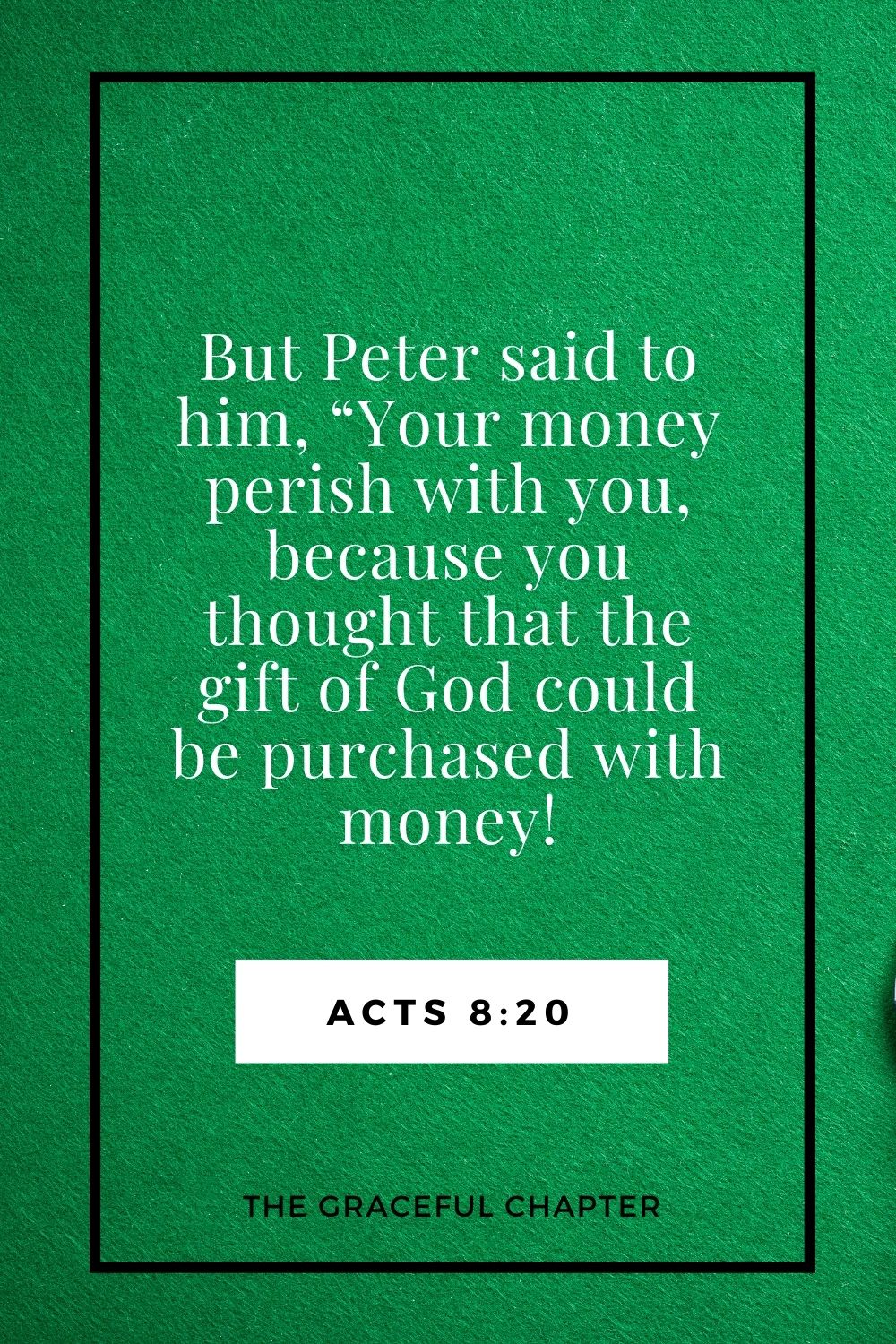 Acts 8:20
But Peter said to him, "Your money perish with you because you thought that the gift of God could be purchased with money!

Nehemiah 10:35
And we made ordinances to bring the first fruits of our ground and the first fruits of all fruit of all trees, year by year, to the house of the Lord;

2 Corinthians 9:6-8
But this I say: He who sows sparingly will also reap sparingly, and he who sows bountifully will also reap bountifully. So let each one give as he purposes in his heart, not grudgingly or of necessity; for God loves a cheerful giver. And God is able to make all grace abound toward you, that you, always having all sufficiency in all things, may have an abundance for every good work

Prayer for your finances
Merciful Lord,
I come before you today to pray about my finances
Thank you for your love and goodness in my life
Please give me the strength and wisdom to do my work right
So that it may lead to success and prosperity.
Please open doors of blessings and possibilities in my life.
And give me the wisdom on how to use these opportunities to better my life
Help me to hold on to my faith in you as my provider
And grant me the fortitude to wait for my blessings from you.
Father, please bestow upon me the wisdom to be able to handle money
Help me not to waste money on things that aren't important
Thank you for hearing my prayer, through Jesus Christ, our Lord,
Amen