The Bible made us know that when sin entered the world, it brought death into the world (For the wages of sin is death Romans 6:23). But because God loves mankind and wanted us to be saved, he brought down his son Jesus Christ, to pay the price of our sins. So Jesus died so that we can be saved and have a chance at eternity.
God has given each and every one of us eternal life through his Son, Jesus Christ. So by accepting Jesus Christ as your Lord and personal Savior, you will have eternal life.
So because of that, we know that life doesn't end in death. Just as Christ died and resurrected, we know that even when we die, we'll be resurrected when Jesus Christ comes.
See below for more bible verses on eternal life. Read and meditate on these verses and let them reassure you of the eternal life that God has given us.
Bible verses about eternal life
For God so loved the world that He gave His only begotten Son, that whoever believes in Him should not perish but have everlasting life.
John 3:16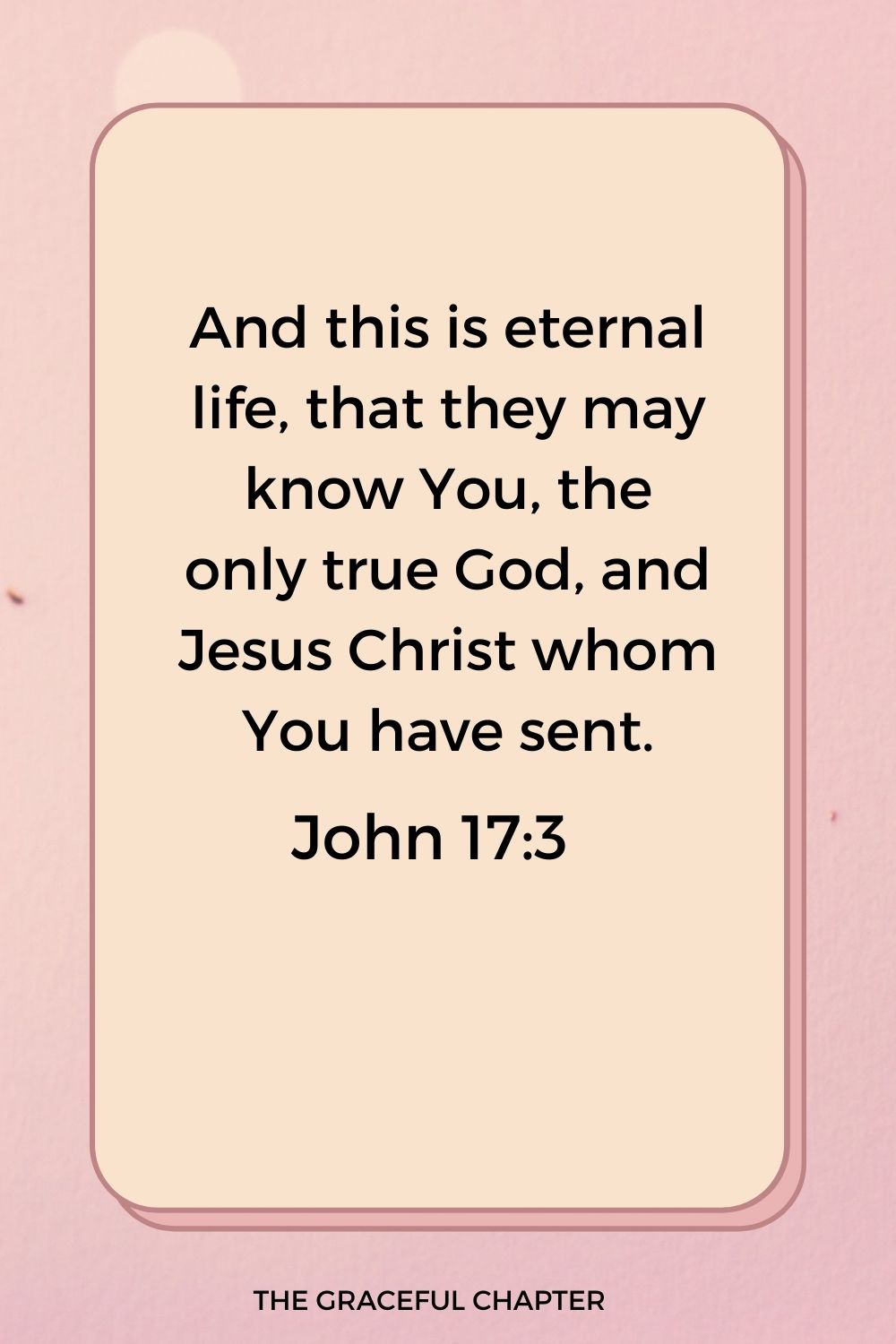 And this is eternal life, that they may know You, the only true God, and Jesus Christ whom You have sent.
John 17:3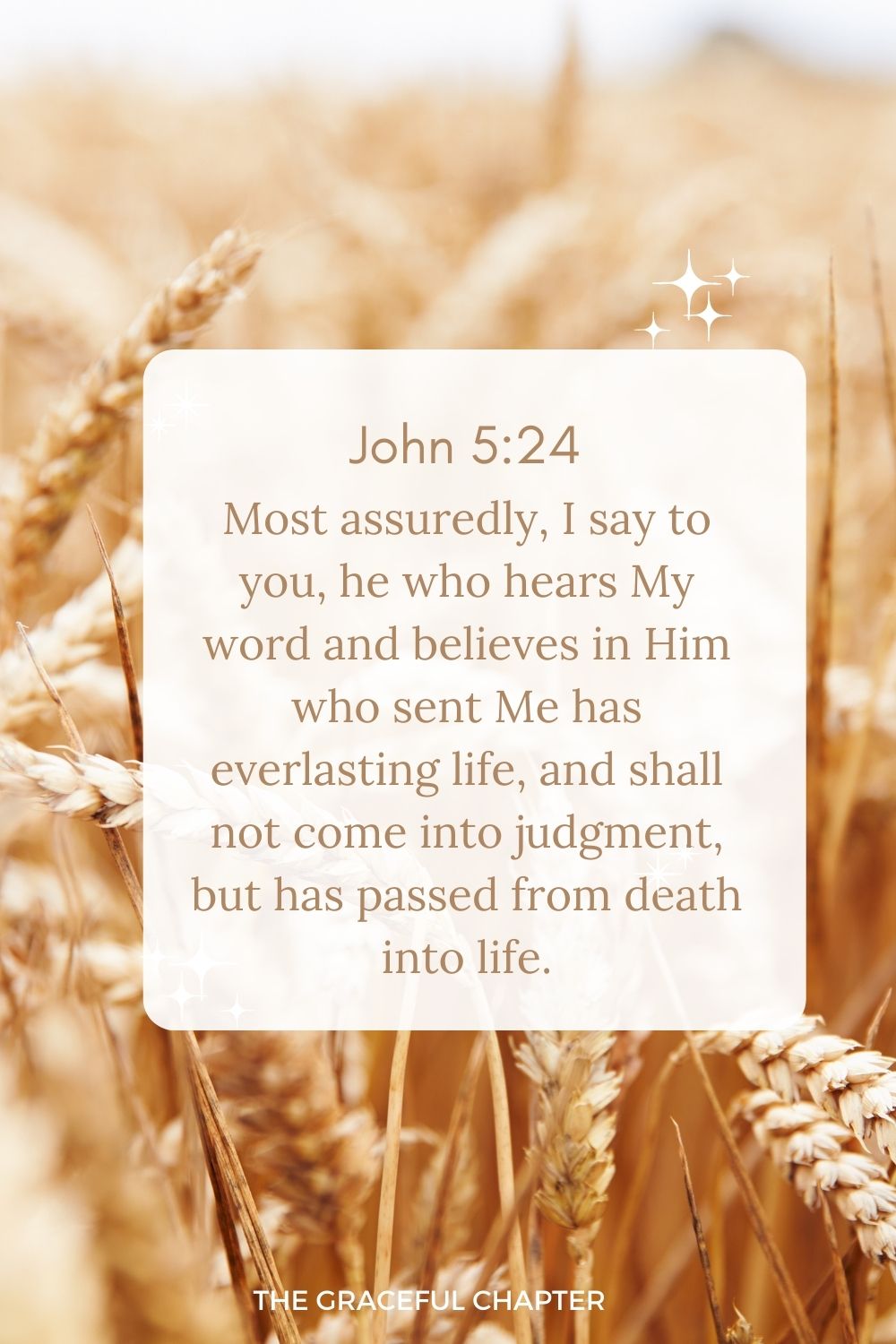 Most assuredly, I say to you, he who hears My word and believes in Him who sent Me has everlasting life, and shall not come into judgment, but has passed from death into life.
John 5:24
For the wages of sin is death, but the gift of God is eternal life in Christ Jesus our Lord.
Romans 6:23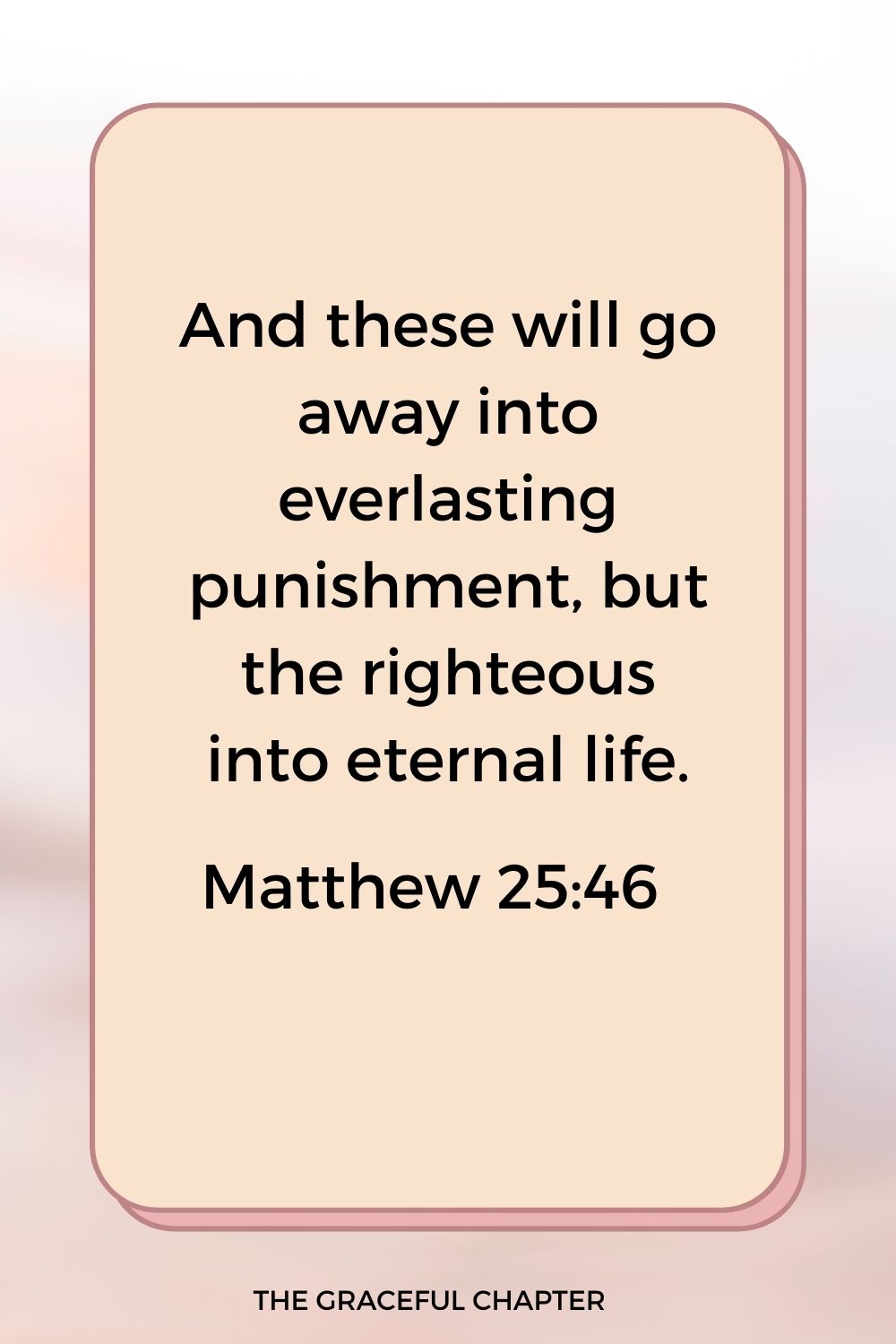 And these will go away into everlasting punishment, but the righteous into eternal life.
Matthew 25:46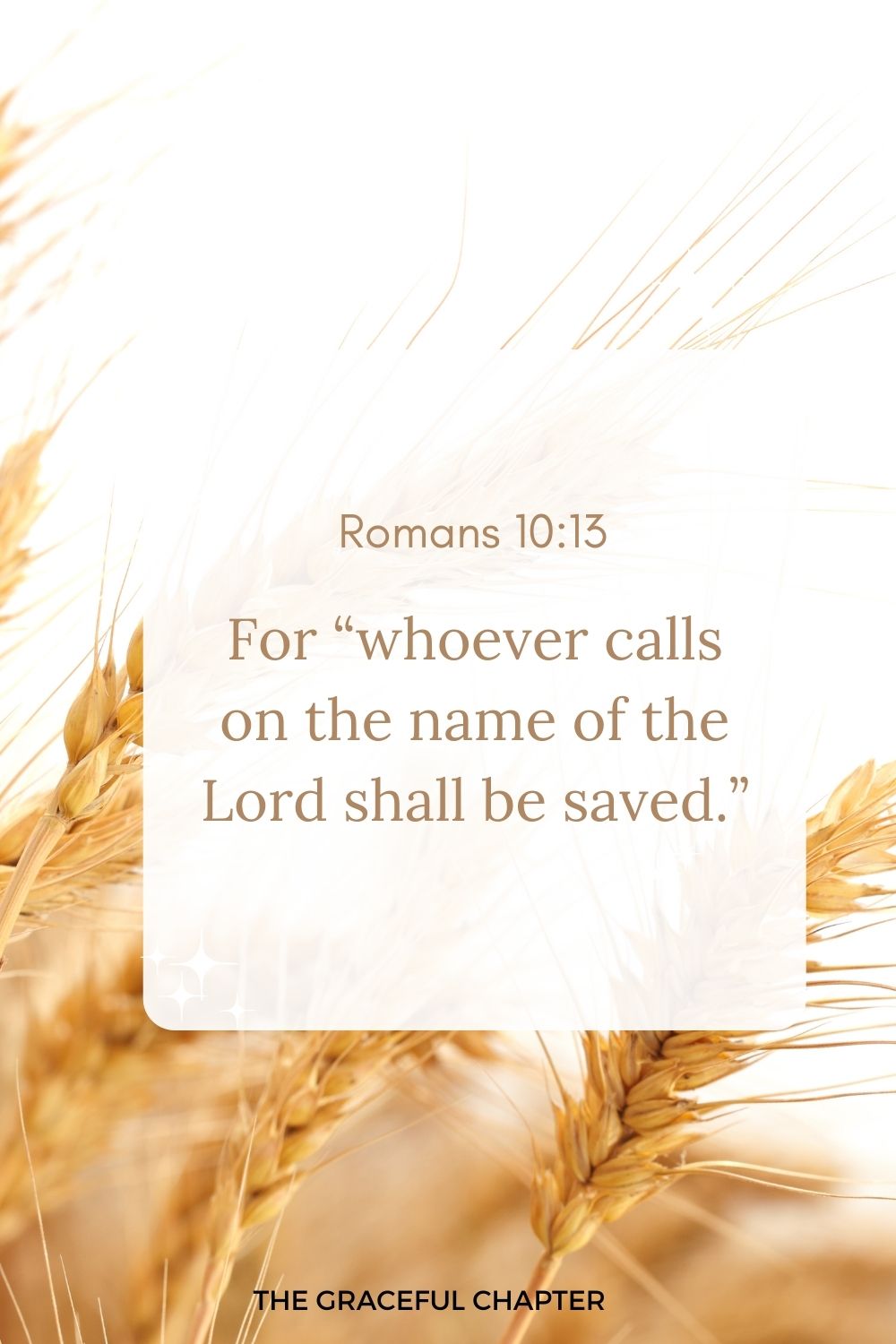 For "whoever calls on the name of the Lord shall be saved."
Romans 10:13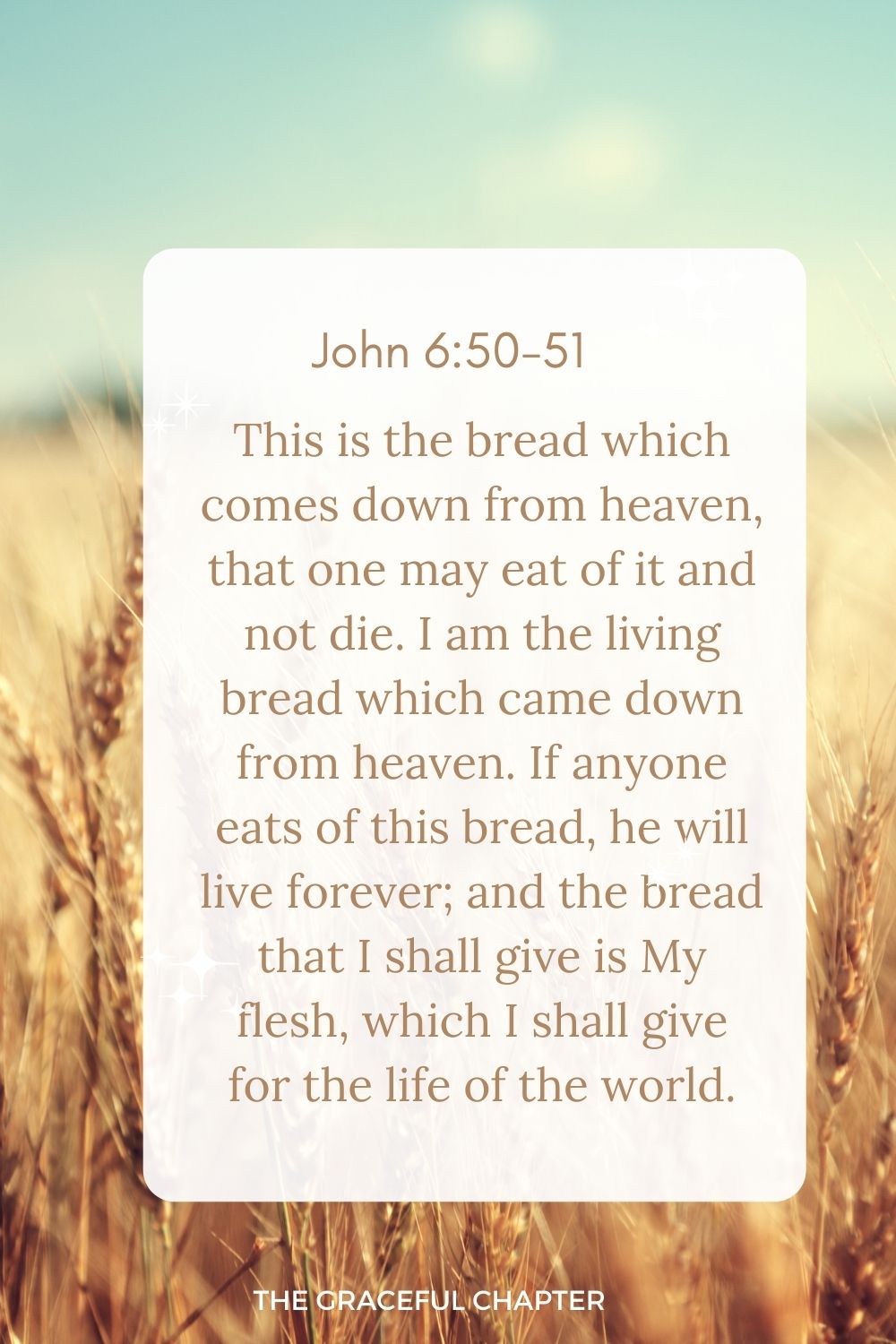 This is the bread which comes down from heaven, that one may eat of it and not die. I am the living bread which came down from heaven. If anyone eats of this bread, he will live forever; and the bread that I shall give is My flesh, which I shall give for the life of the world."
John 6:50-51
 If we confess our sins, He is faithful and just to forgive us our sins and to cleanse us from all unrighteousness.
1 John 1:9
And Jesus said to him, "Assuredly, I say to you, today you will be with Me in Paradise."
Luke 23:43
Who "will render to each one according to his deeds": eternal life to those who by patient continuance in doing good seek for glory, honor, and immortality; but to those who are self-seeking and do not obey the truth, but obey unrighteousness indignation and wrath.
Romans 2:6-8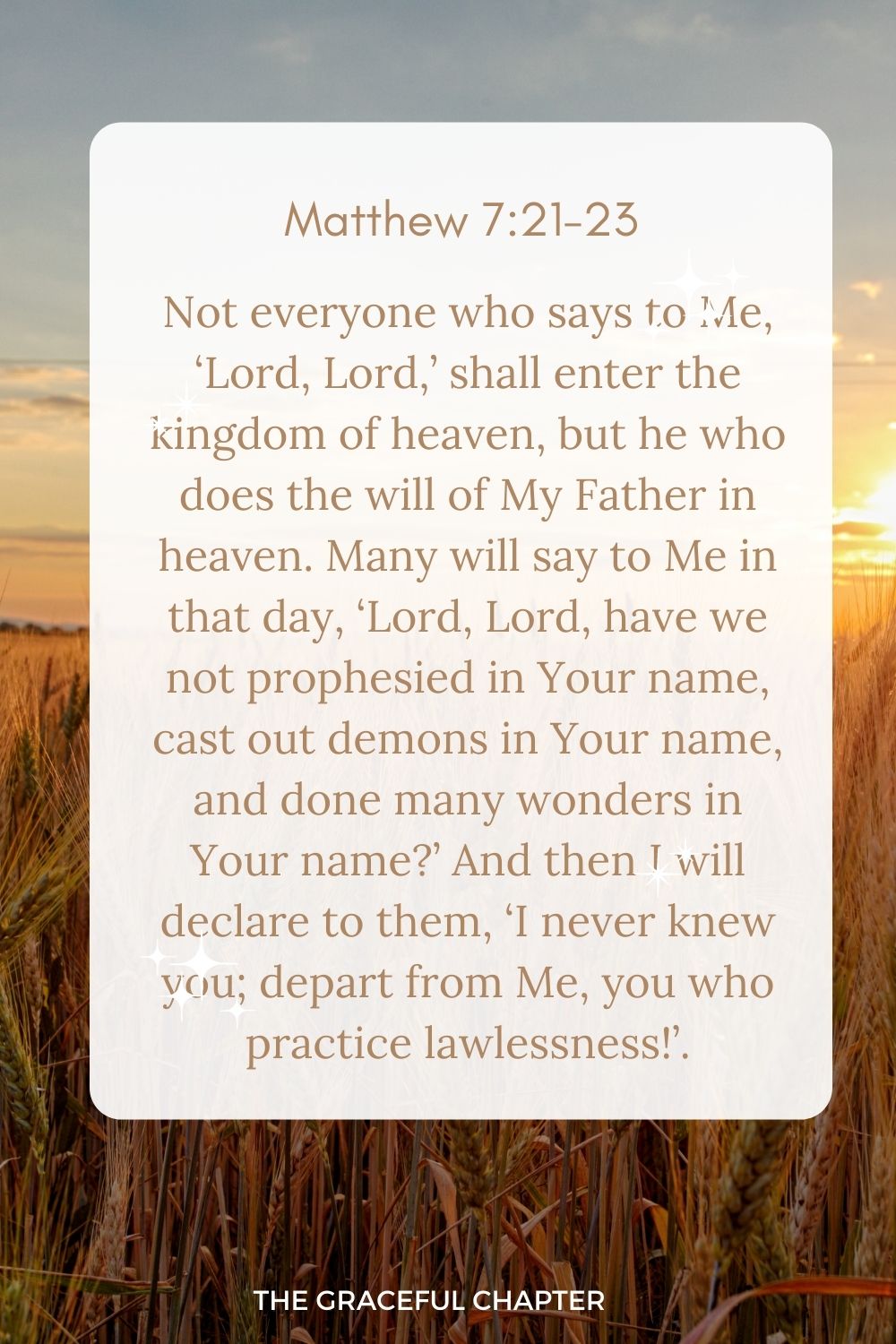 Not everyone who says to Me, 'Lord, Lord,' shall enter the kingdom of heaven, but he who does the will of My Father in heaven. Many will say to Me in that day, 'Lord, Lord, have we not prophesied in Your name, cast out demons in Your name, and done many wonders in Your name?' And then I will declare to them, 'I never knew you; depart from Me, you who practice lawlessness!'.
Matthew 7:21-23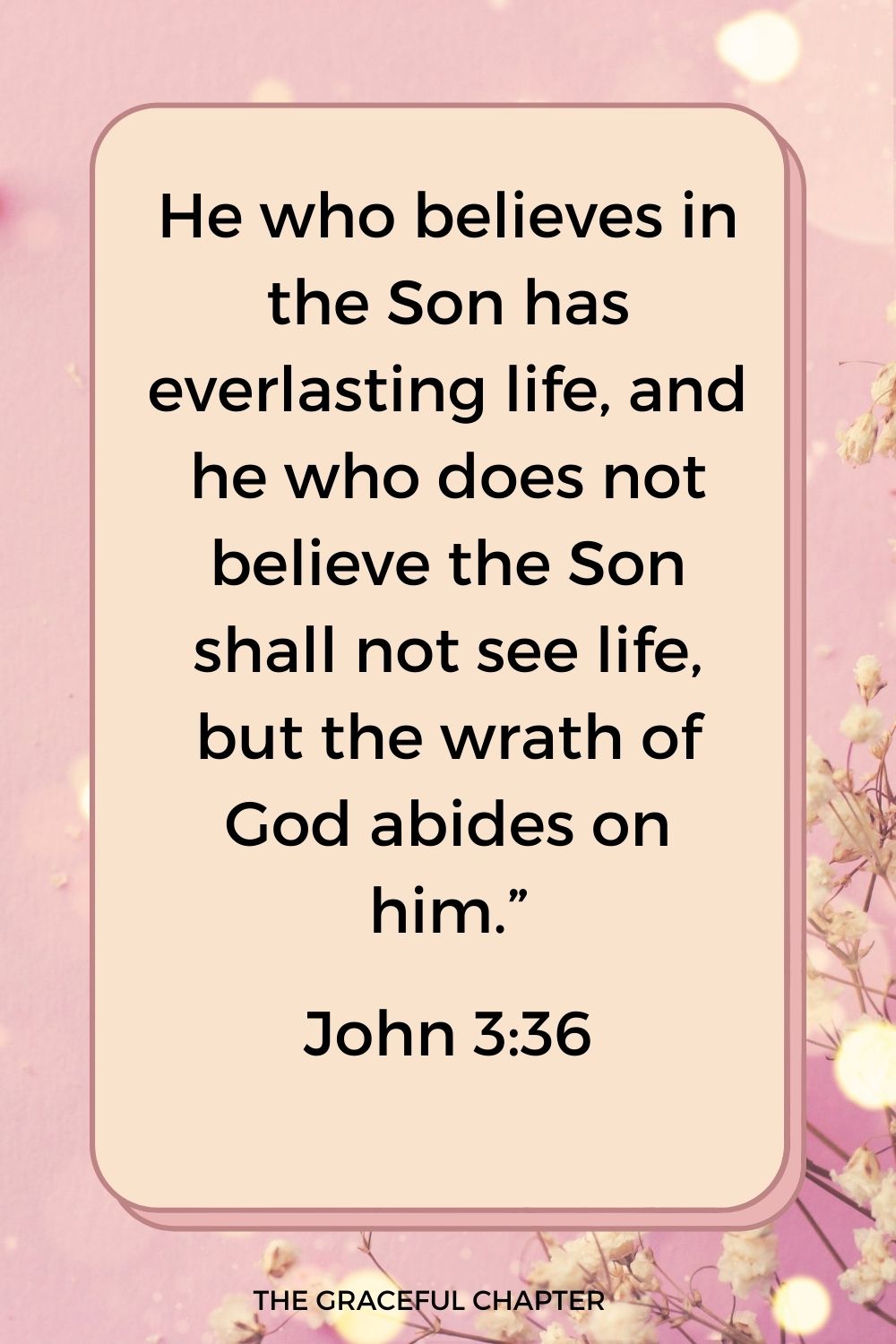 He who believes in the Son has everlasting life, and he who does not believe the Son shall not see life, but the wrath of God abides on him."
John 3:36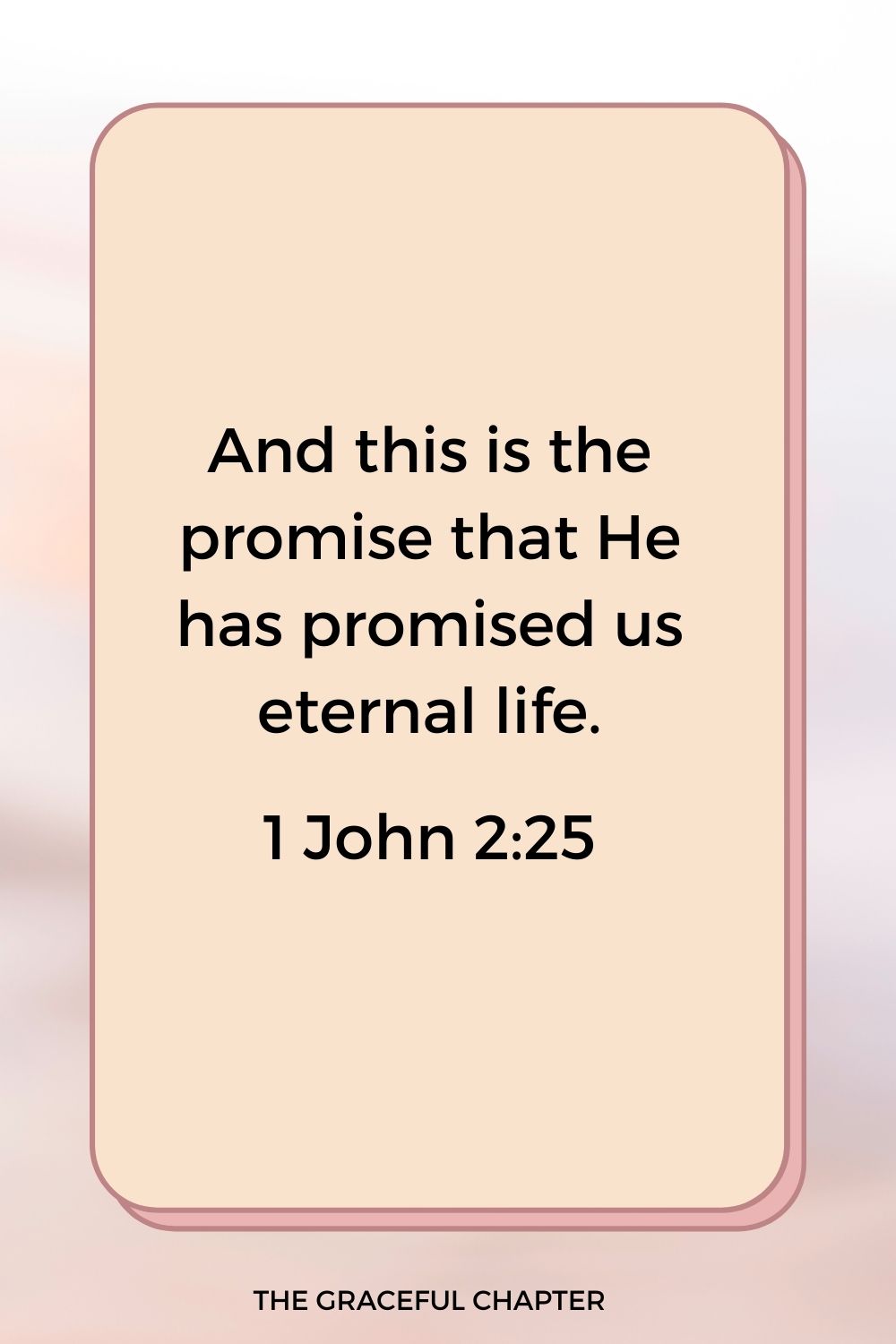 And this is the promise that He has promised us eternal life.
1 John 2:25
Do not be deceived, God is not mocked; for whatever a man sows, that he will also reap. For he who sows to his flesh will of the flesh reap corruption, but he who sows to the Spirit will of the Spirit reap everlasting life.
Galatians 6:7-8
 But the cowardly, unbelieving, abominable, murderers, sexually immoral, sorcerers, idolaters, and all liars shall have their part in the lake which burns with fire and brimstone, which is the second death."
Revelation 21:8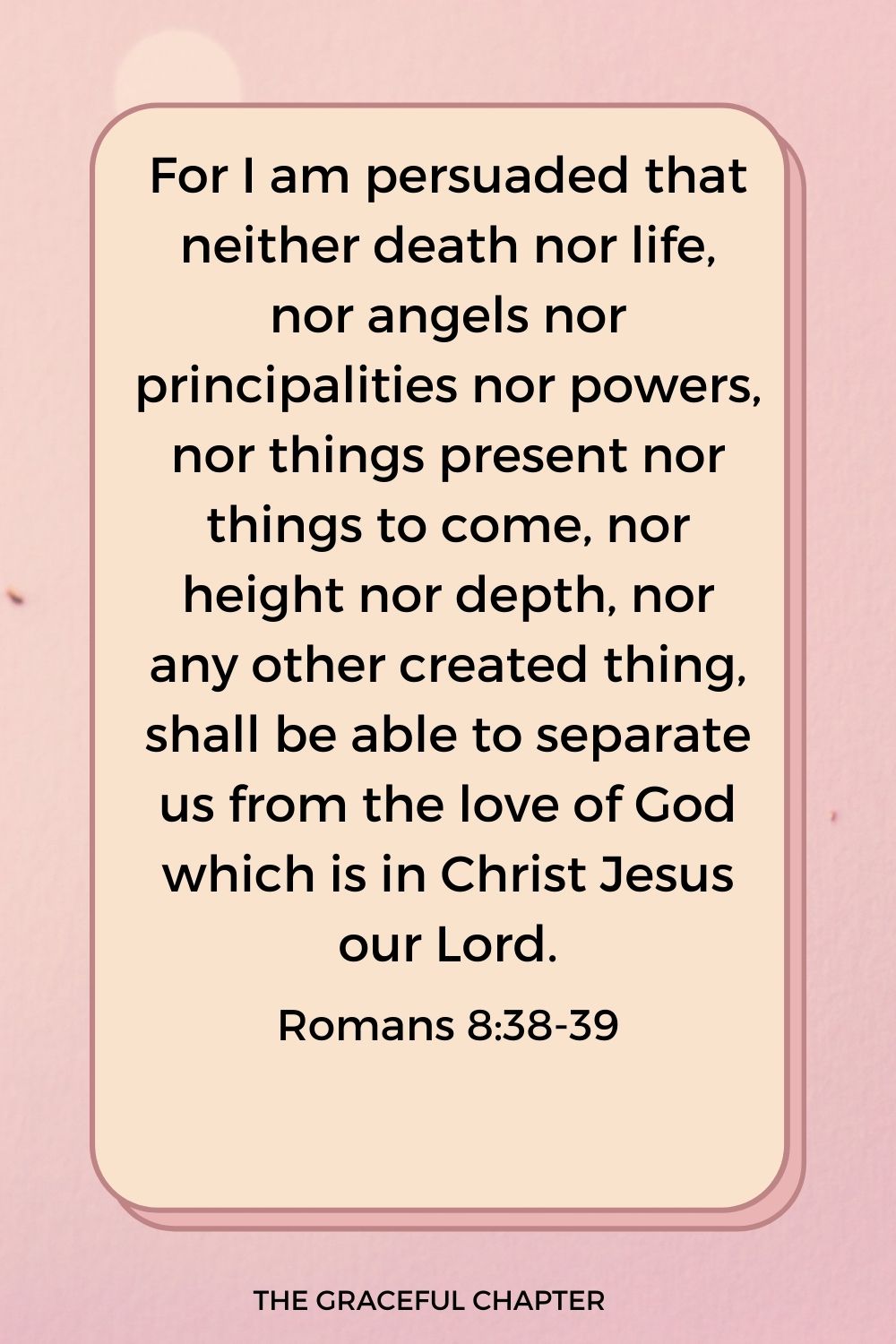 For I am persuaded that neither death nor life, nor angels nor principalities nor powers, nor things present nor things to come, nor height nor depth, nor any other created thing, shall be able to separate us from the love of God which is in Christ Jesus our Lord.
Romans 8:38-39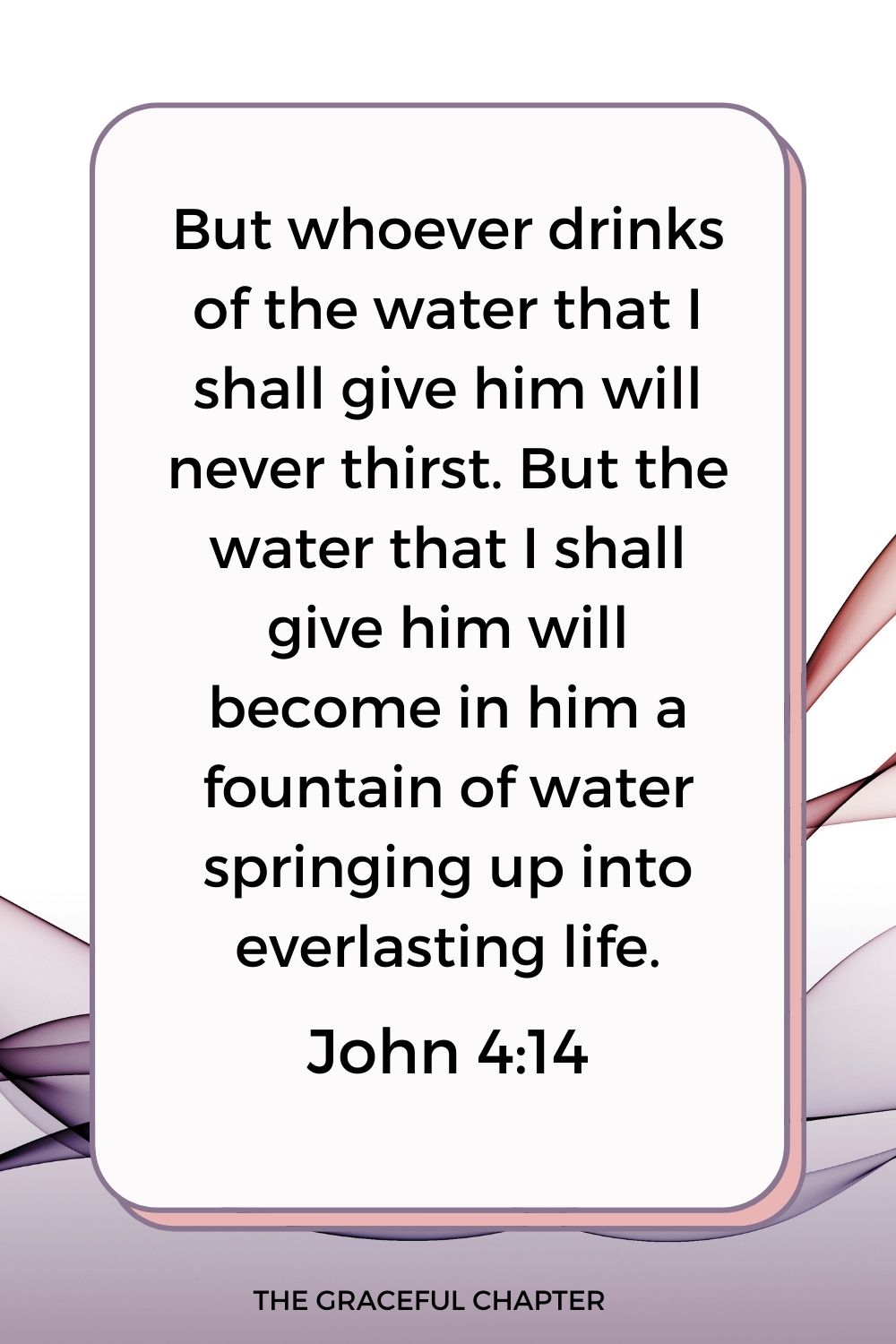 But whoever drinks of the water that I shall give him will never thirst. But the water that I shall give him will become in him a fountain of water springing up into everlasting life.
John 4:14
For by grace you have been saved through faith, and that not of yourselves; it is the gift of God, not of works, lest anyone should boast.
Ephesians 2:8-9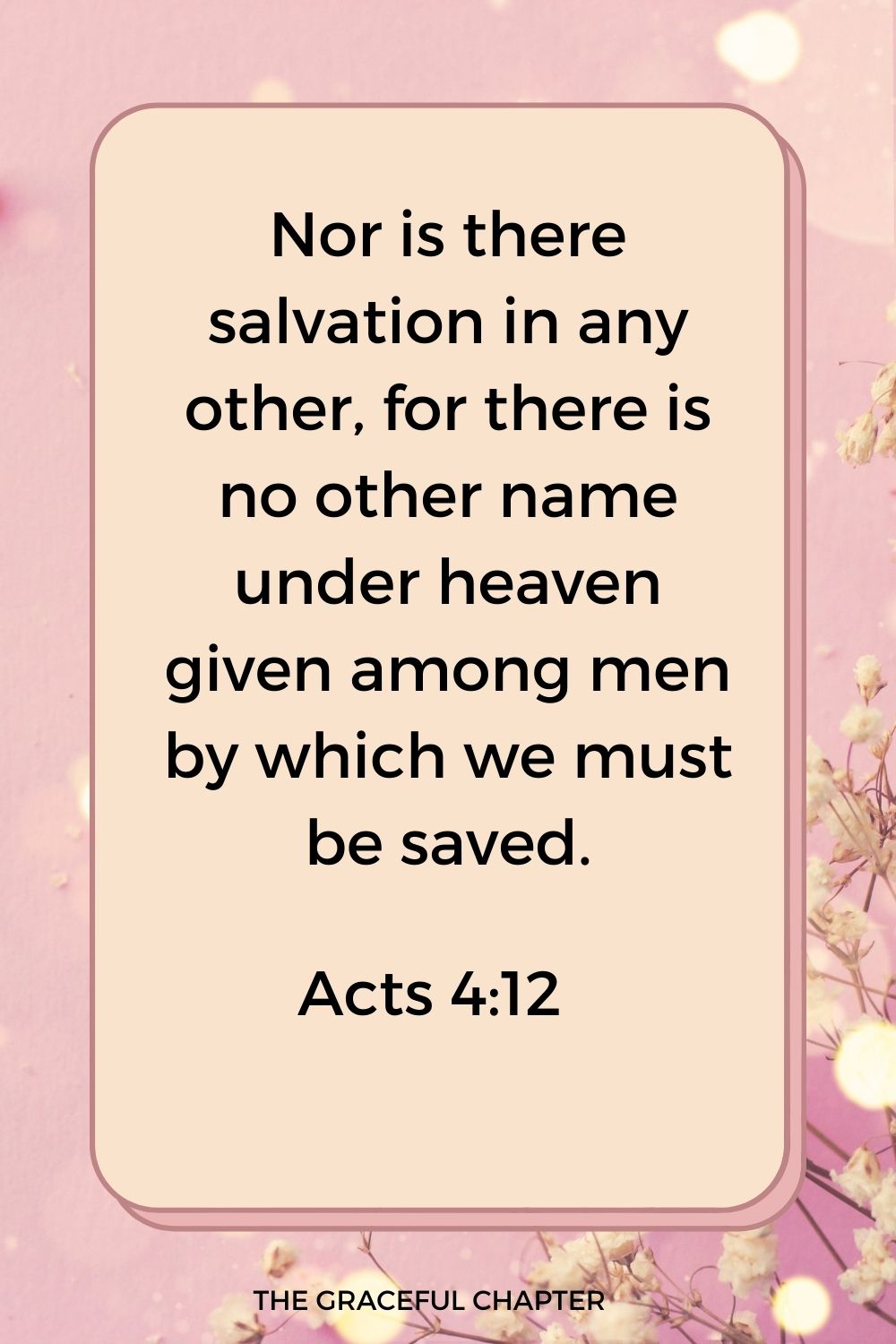 Nor is there salvation in any other, for there is no other name under heaven given among men by which we must be saved.
Acts 4:12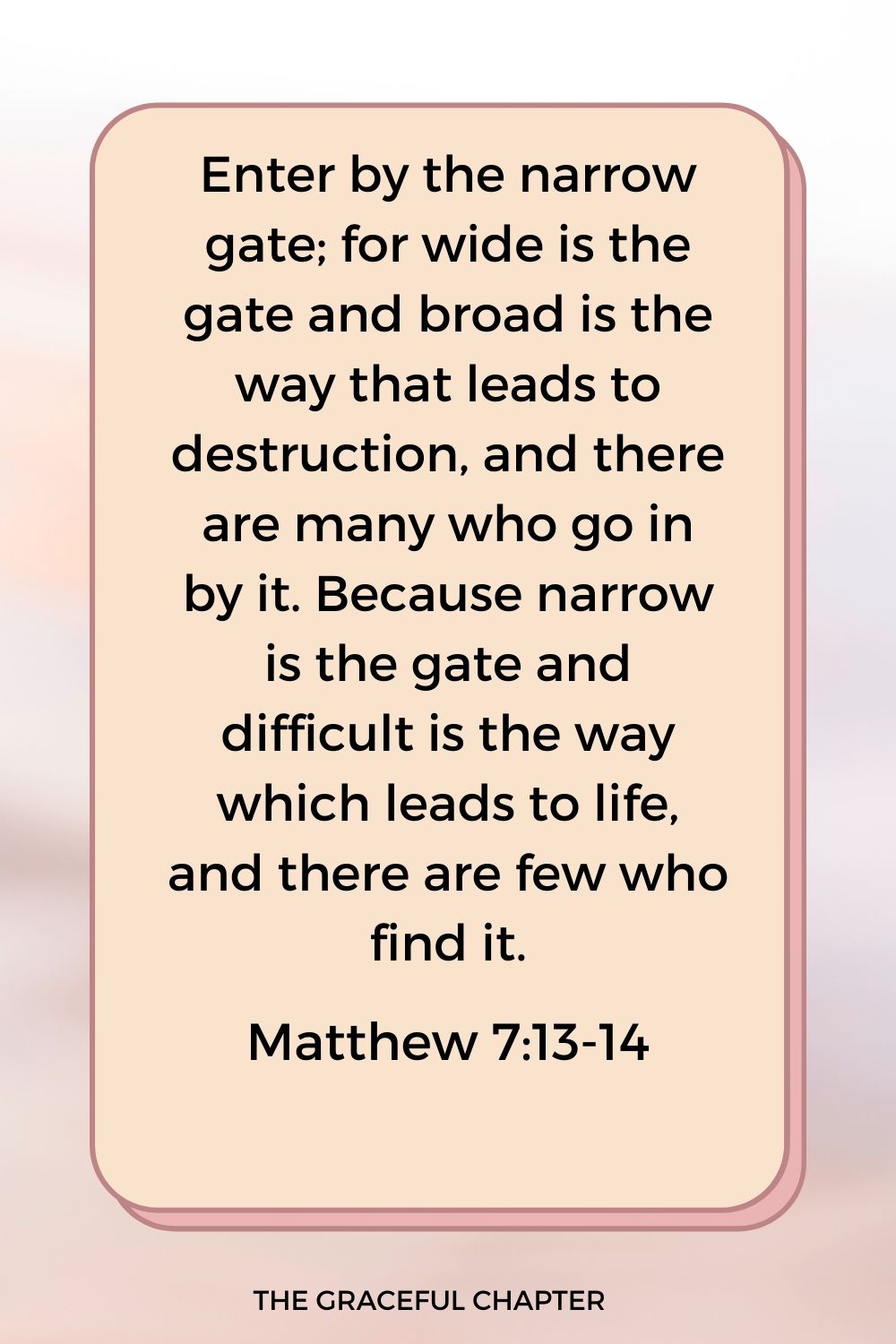 Enter by the narrow gate; for wide is the gate and broad is the way that leads to destruction, and there are many who go in by it. Because narrow is the gate and difficult is the way which leads to life, and there are few who find it.
Matthew 7:13-14
Related Posts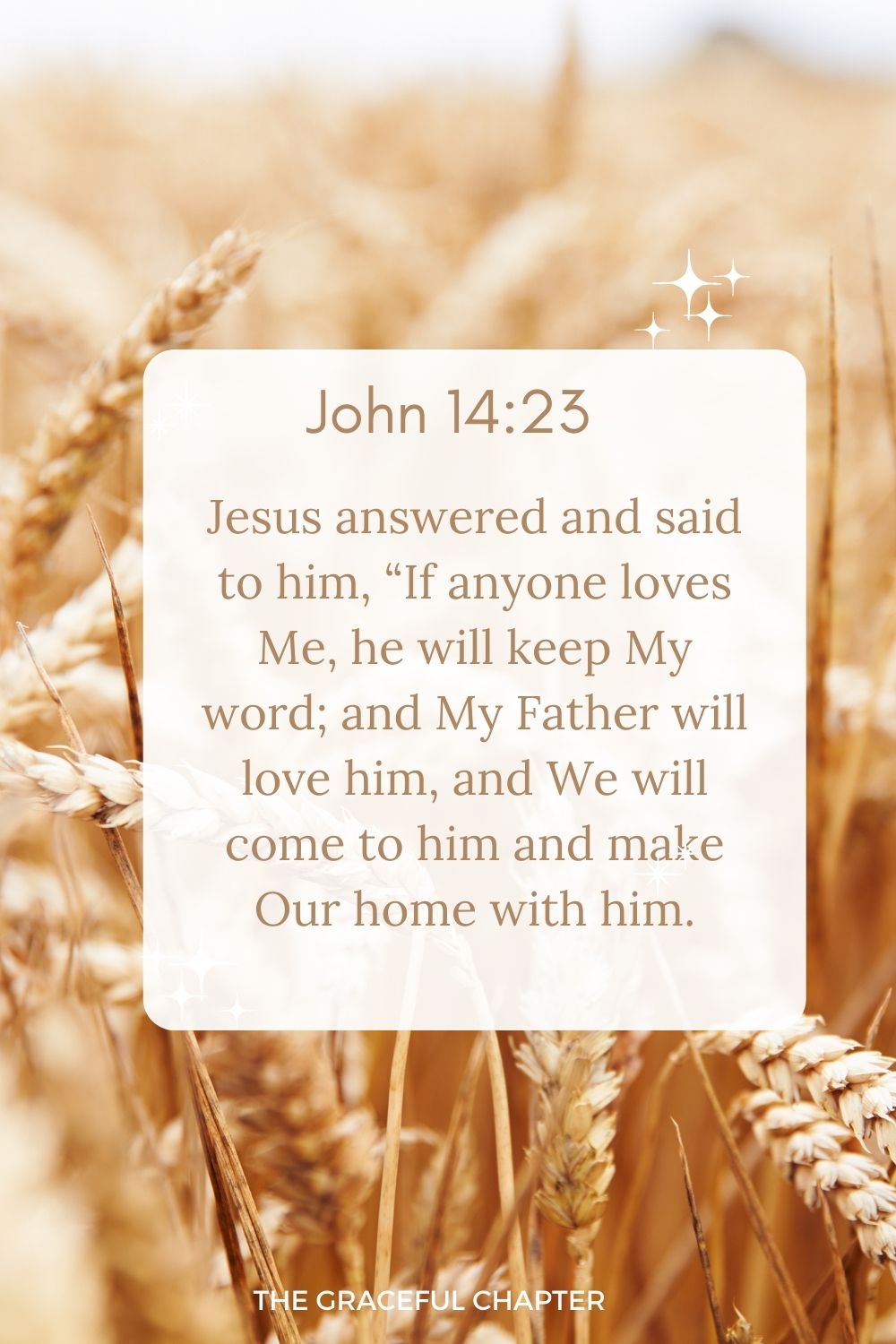 Jesus answered and said to him, "If anyone loves Me, he will keep My word; and My Father will love him, and We will come to him and make Our home with him.
John 14:23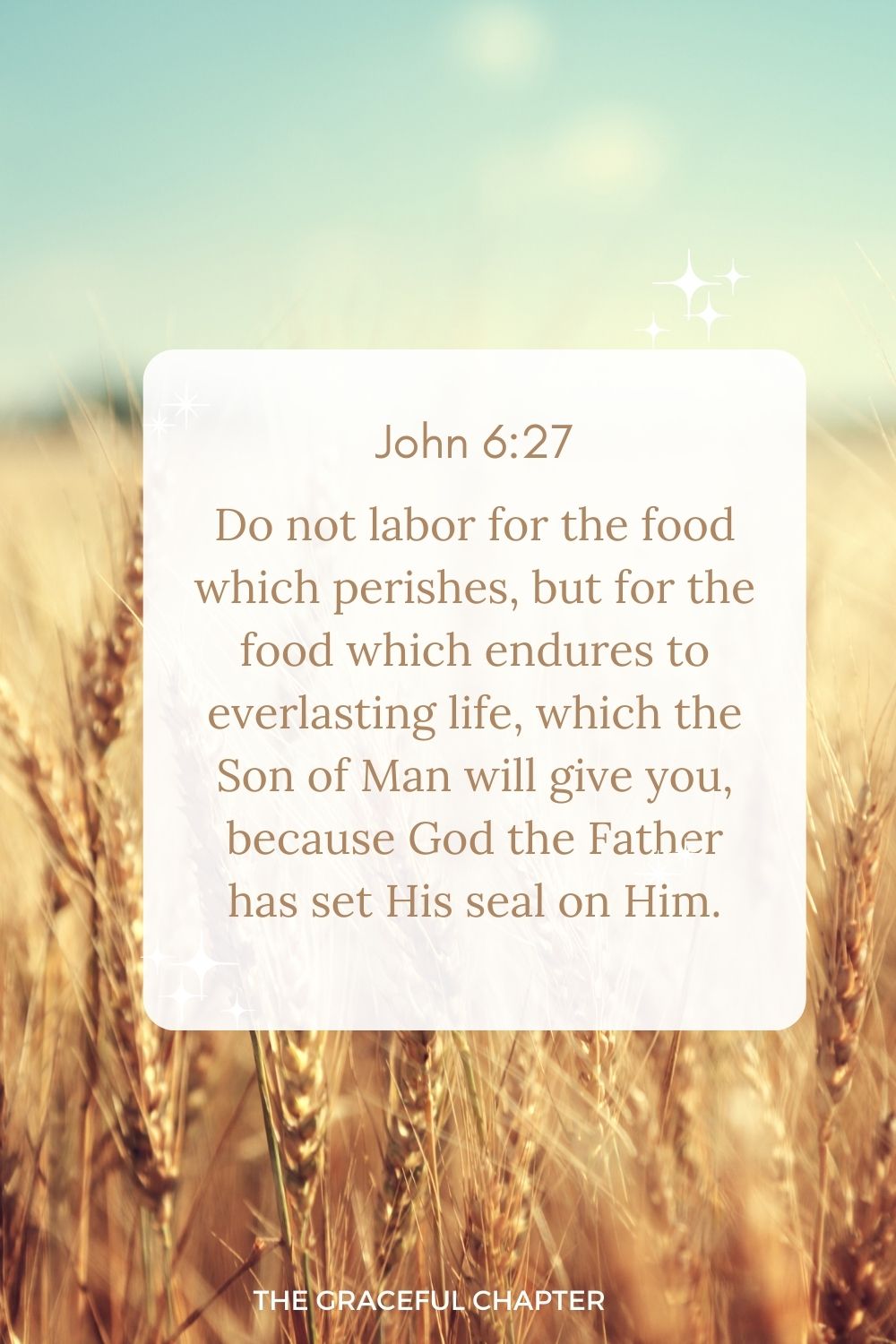 Do not labor for the food which perishes, but for the food which endures to everlasting life, which the Son of Man will give you, because God the Father has set His seal on Him.
John 6:27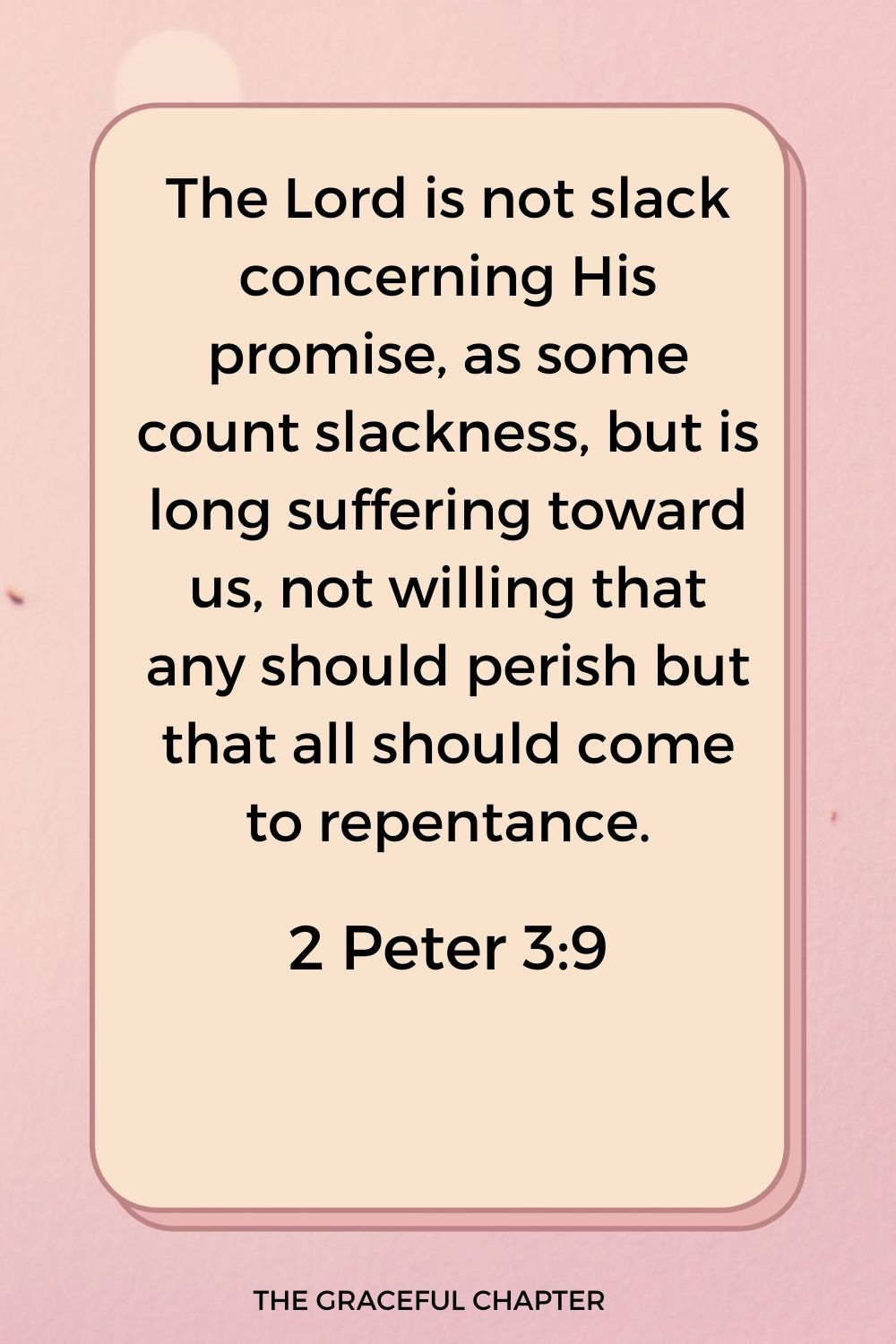 The Lord is not slack concerning His promise, as some count slackness, but is long suffering toward us, not willing that any should perish but that all should come to repentance.
2 Peter 3:9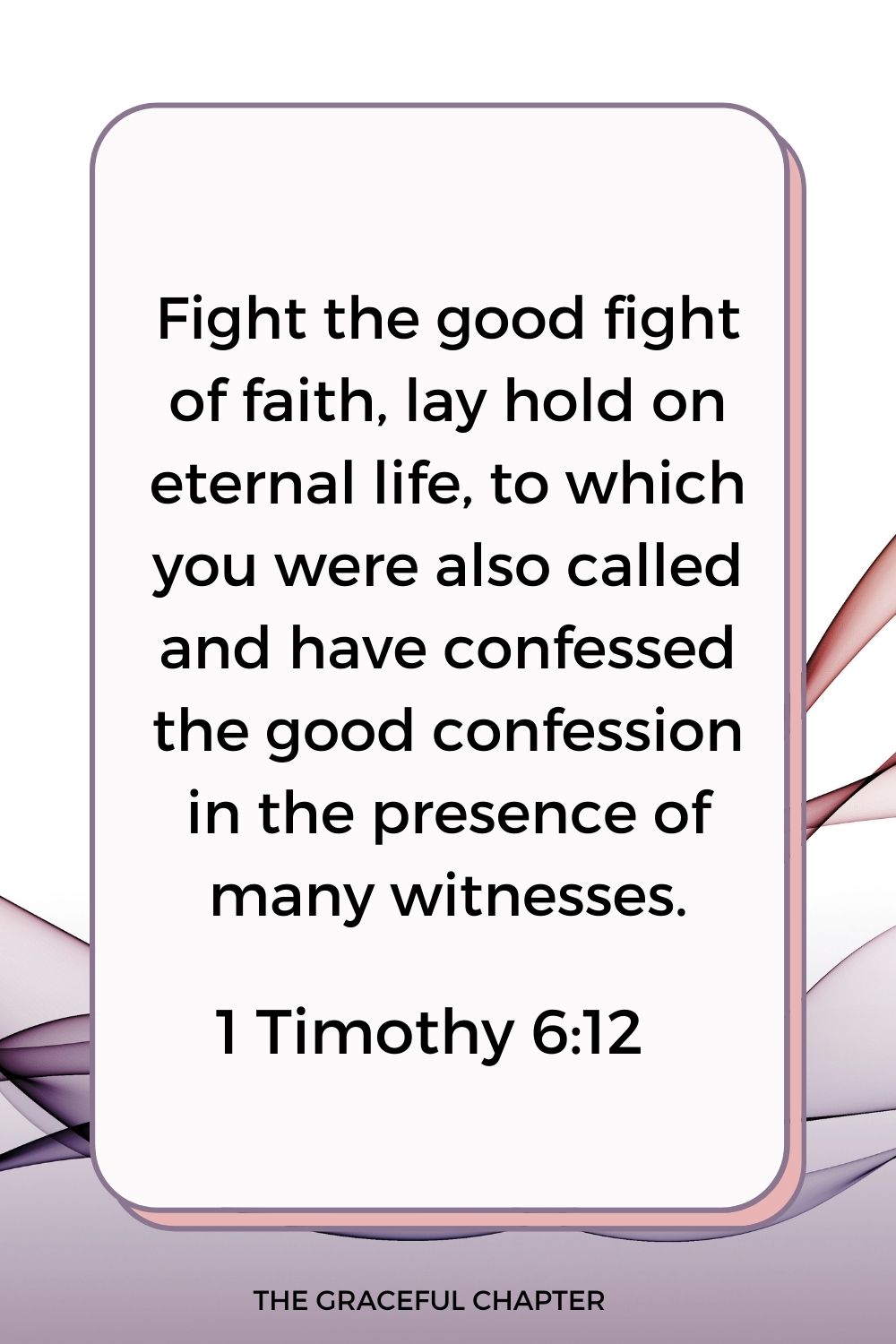 Fight the good fight of faith, lay hold on eternal life, to which you were also called and have confessed the good confession in the presence of many witnesses.
1 Timothy 6:12
Jesus said to him, "I am the way, the truth, and the life. No one comes to the Father except through Me.
John 14:6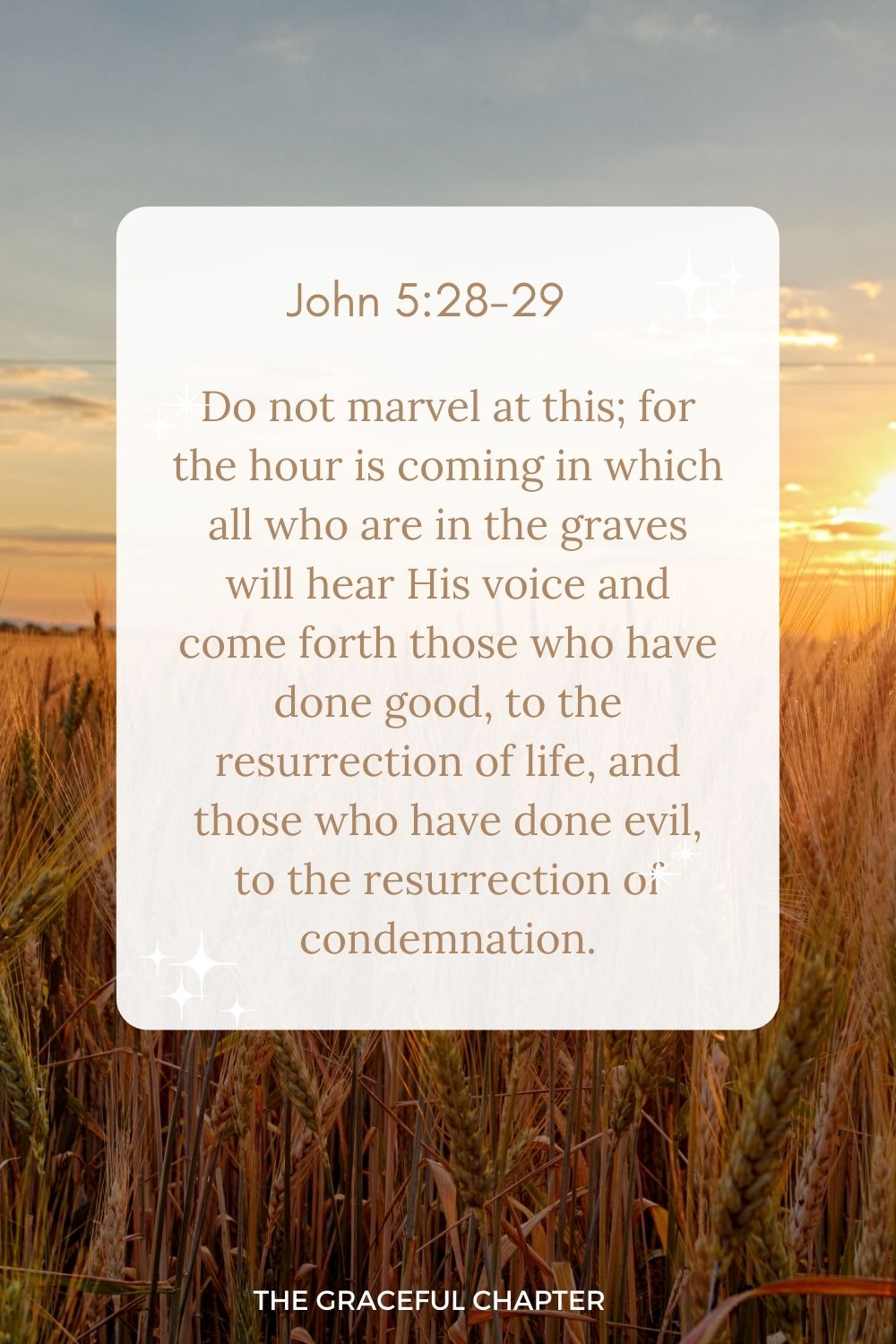 Do not marvel at this; for the hour is coming in which all who are in the graves will hear His voice and come forth those who have done good, to the resurrection of life, and those who have done evil, to the resurrection of condemnation.
John 5:28-29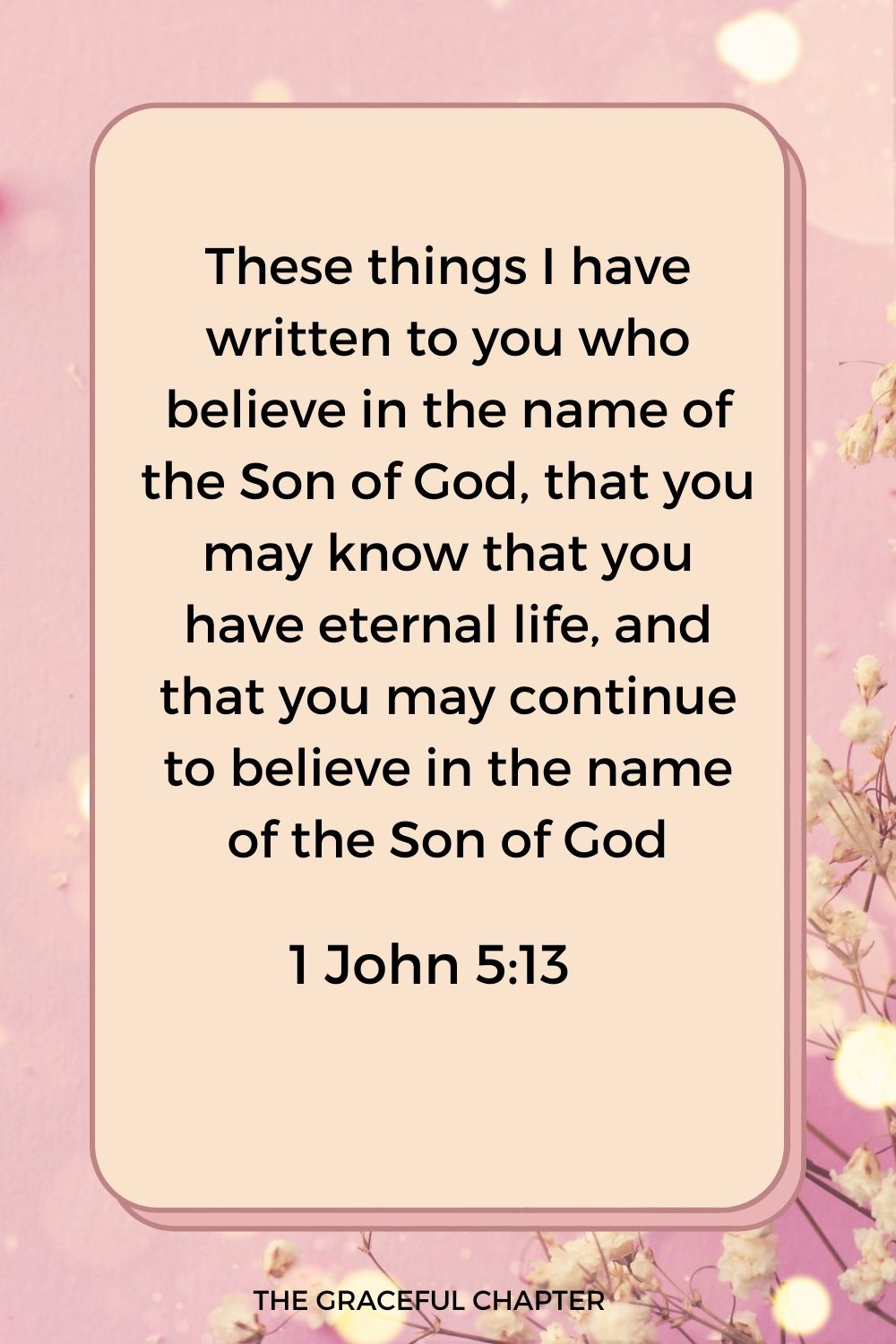 These things I have written to you who believe in the name of the Son of God, that you may know that you have eternal life, and that you may continue to believe in the name of the Son of God.
1 John 5:13
However, for this reason I obtained mercy, that in me first Jesus Christ might show all long suffering, as a pattern to those who are going to believe on Him for everlasting life.
1 Timothy 1:16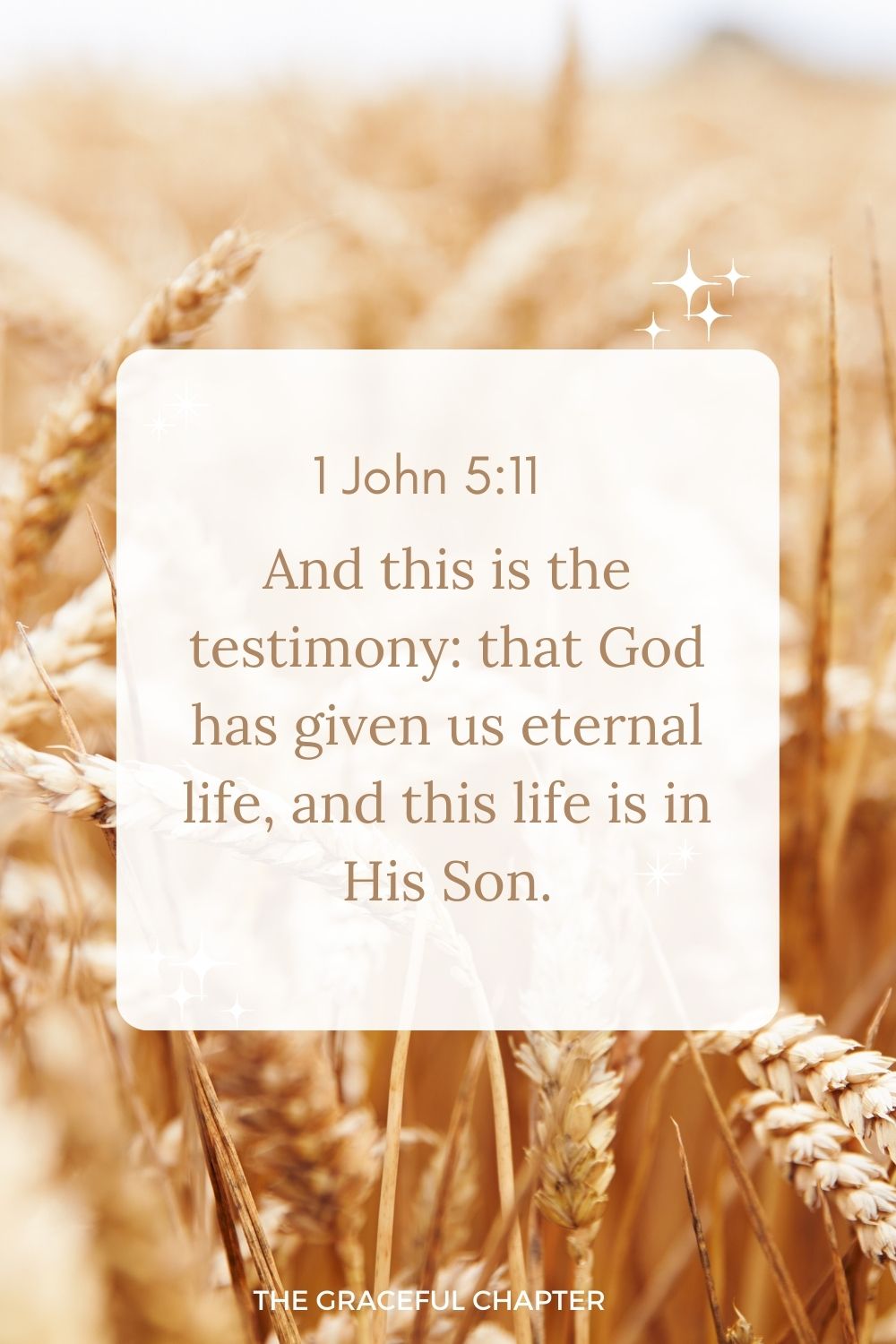 And this is the testimony: that God has given us eternal life, and this life is in His Son.
1 John 5:11
 My sheep hear My voice, and I know them, and they follow Me. And I give them eternal life, and they shall never perish; neither shall anyone snatch them out of My hand.
John 10:27-28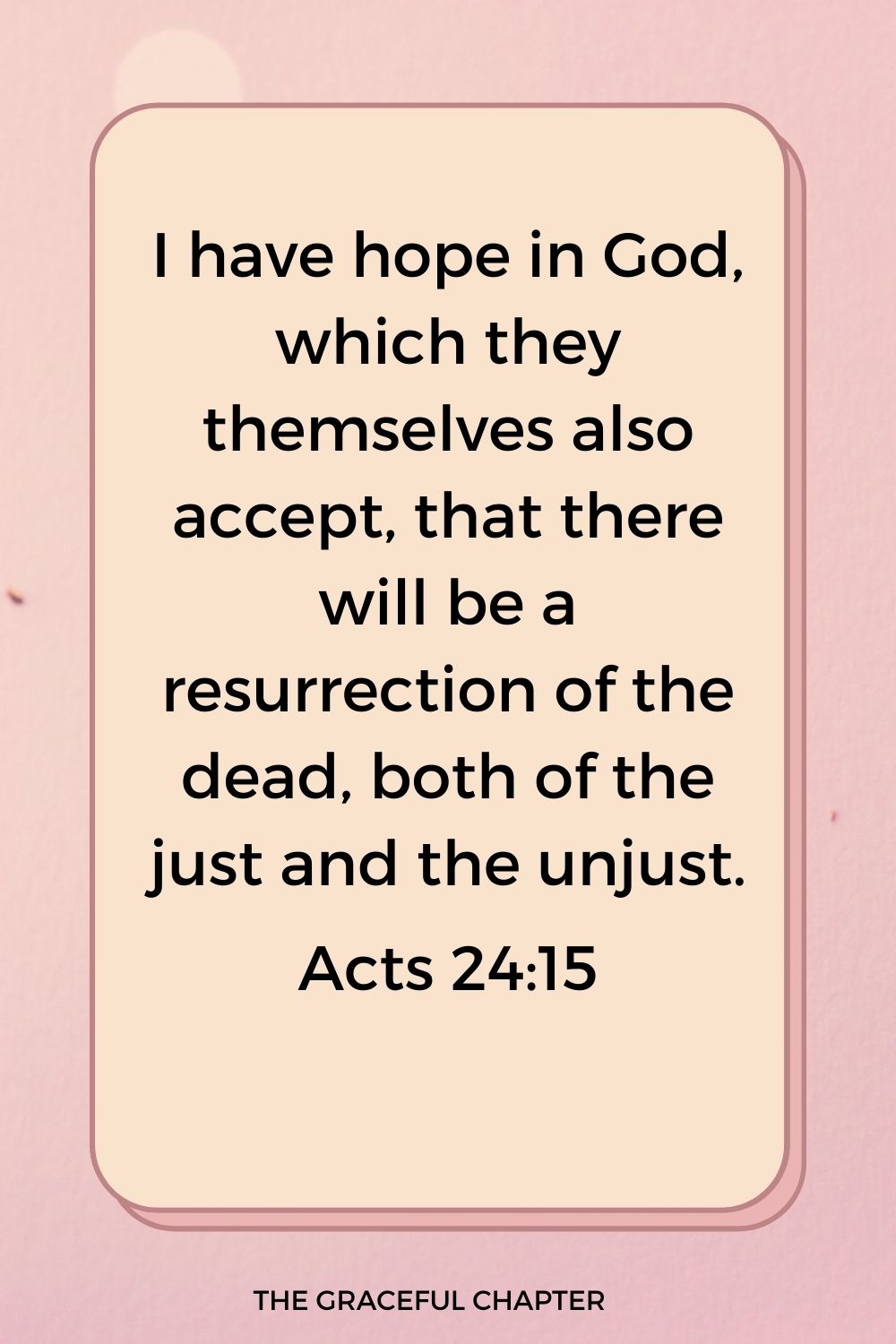 I have hope in God, which they themselves also accept, that there will be a resurrection of the dead, both of the just and the unjust.
Acts 24:15
So that as sin reigned in death, even so grace might reign through righteousness to eternal life through Jesus Christ our Lord.
Romans 5:21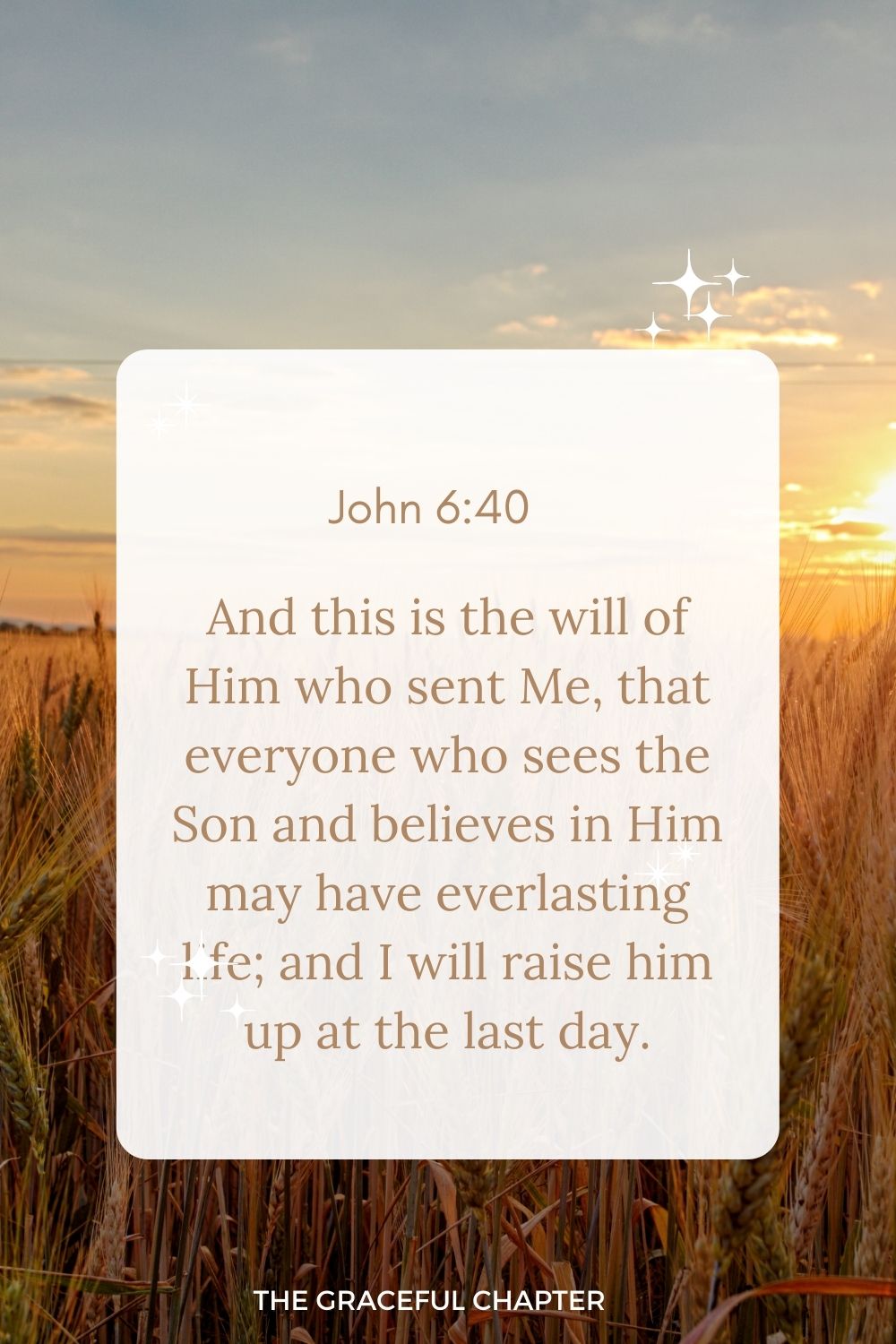 And this is the will of Him who sent Me, that everyone who sees the Son and believes in Him may have everlasting life; and I will raise him up at the last day.
John 6:40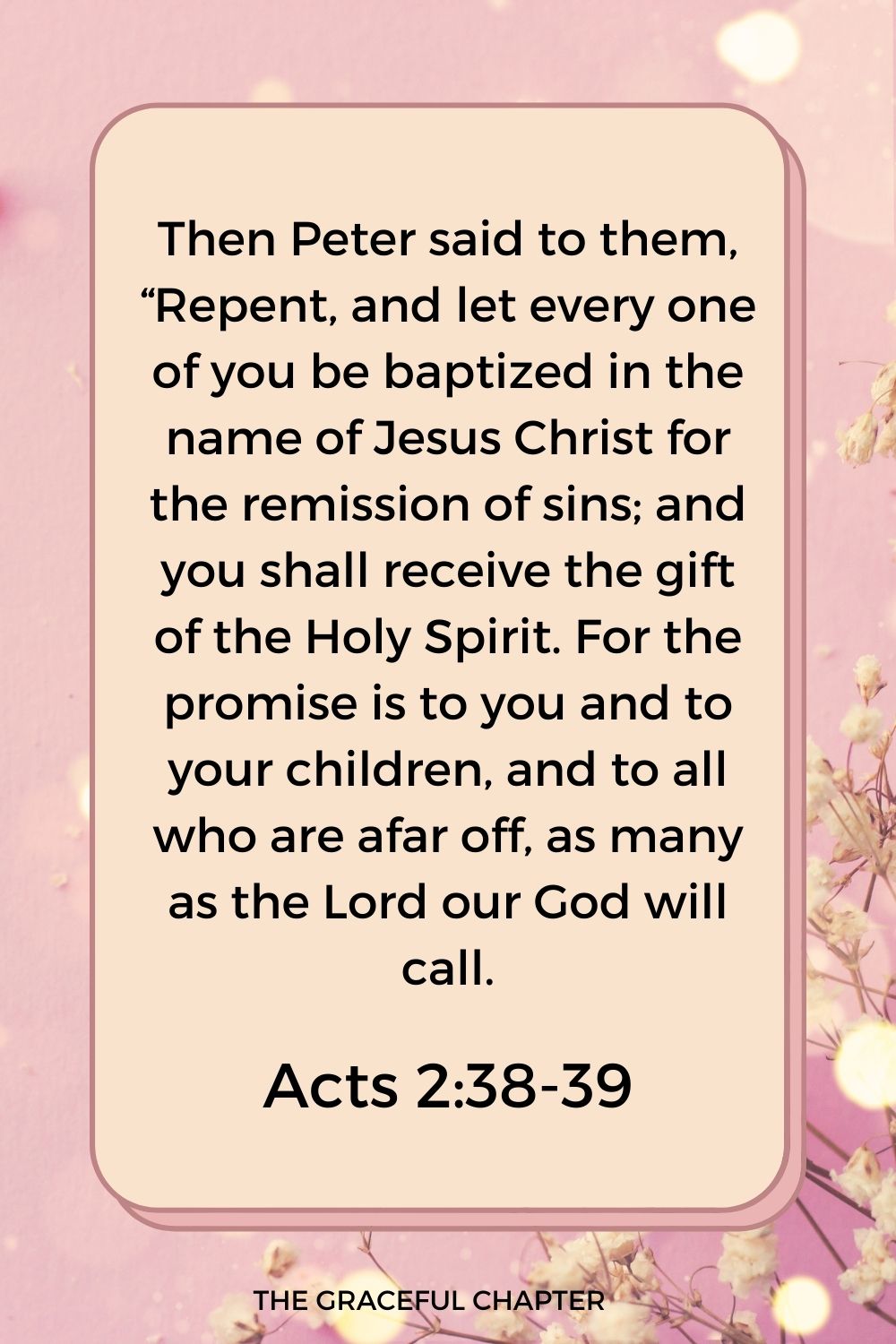 Then Peter said to them, "Repent, and let every one of you be baptized in the name of Jesus Christ for the remission of sins; and you shall receive the gift of the Holy Spirit. For the promise is to you and to your children, and to all who are afar off, as many as the Lord our God will call.
Acts 2:38-39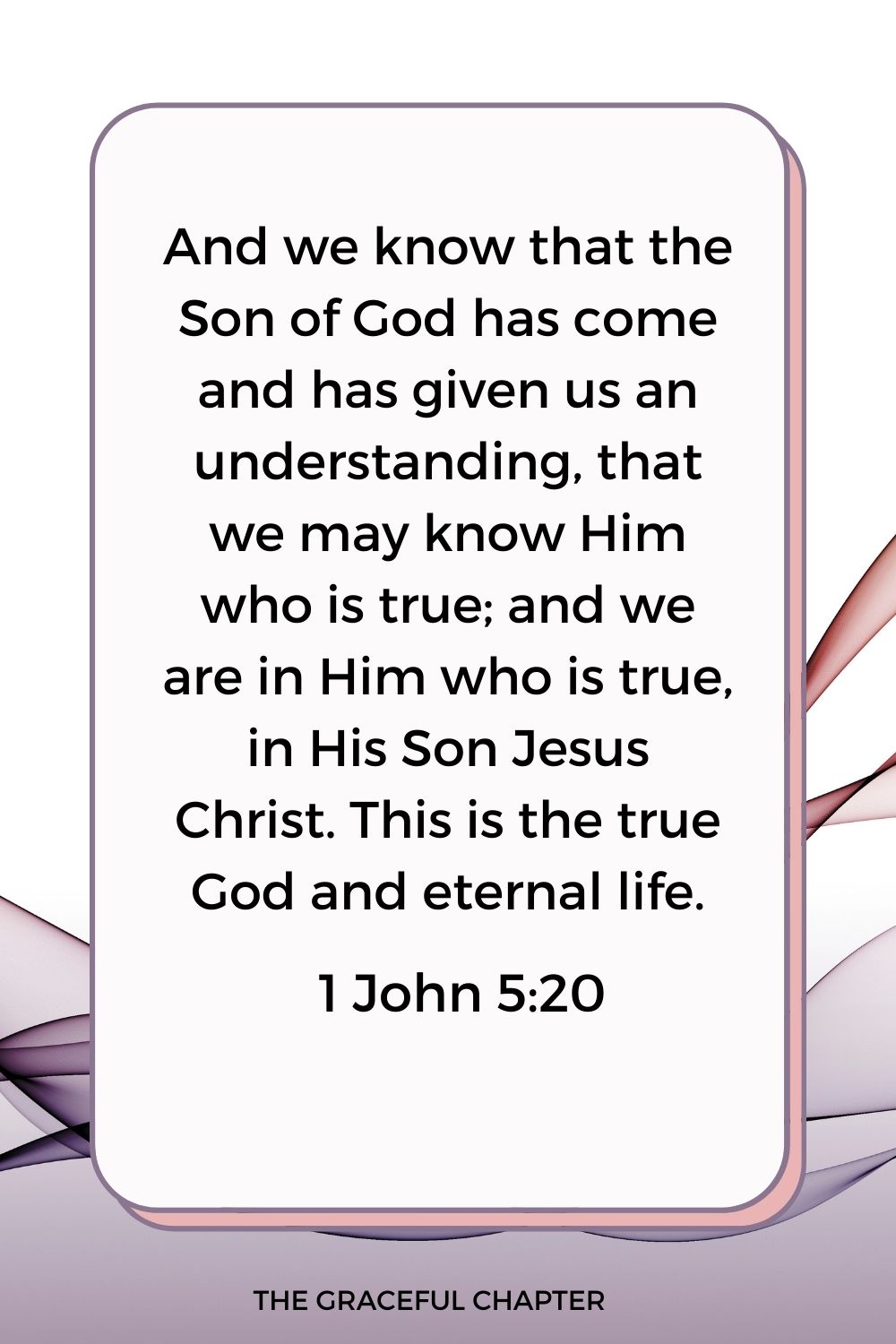 And we know that the Son of God has come and has given us an understanding, that we may know Him who is true; and we are in Him who is true, in His Son Jesus Christ. This is the true God and eternal life.
1 John 5:20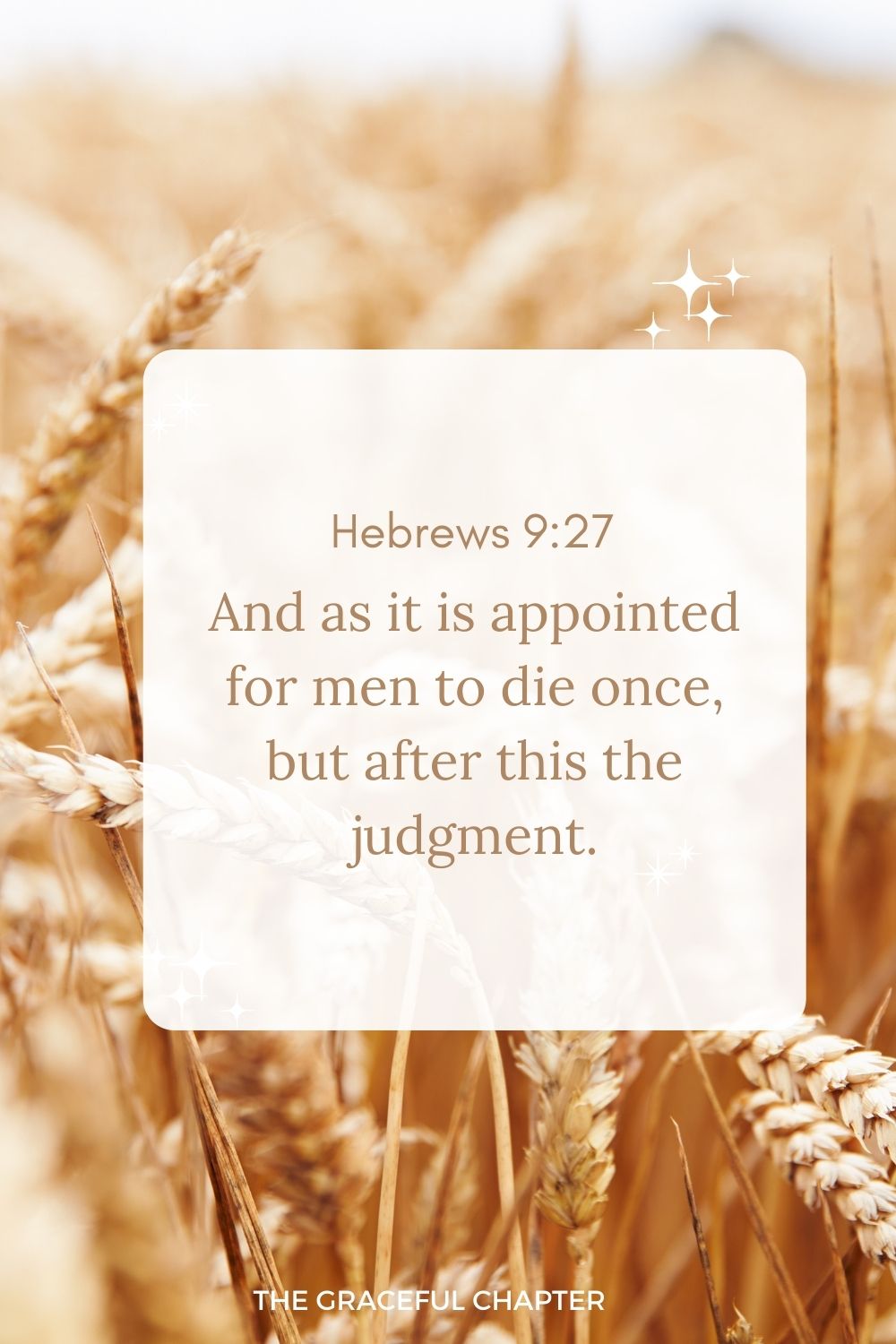 And as it is appointed for men to die once, but after this the judgment.
Hebrews 9:27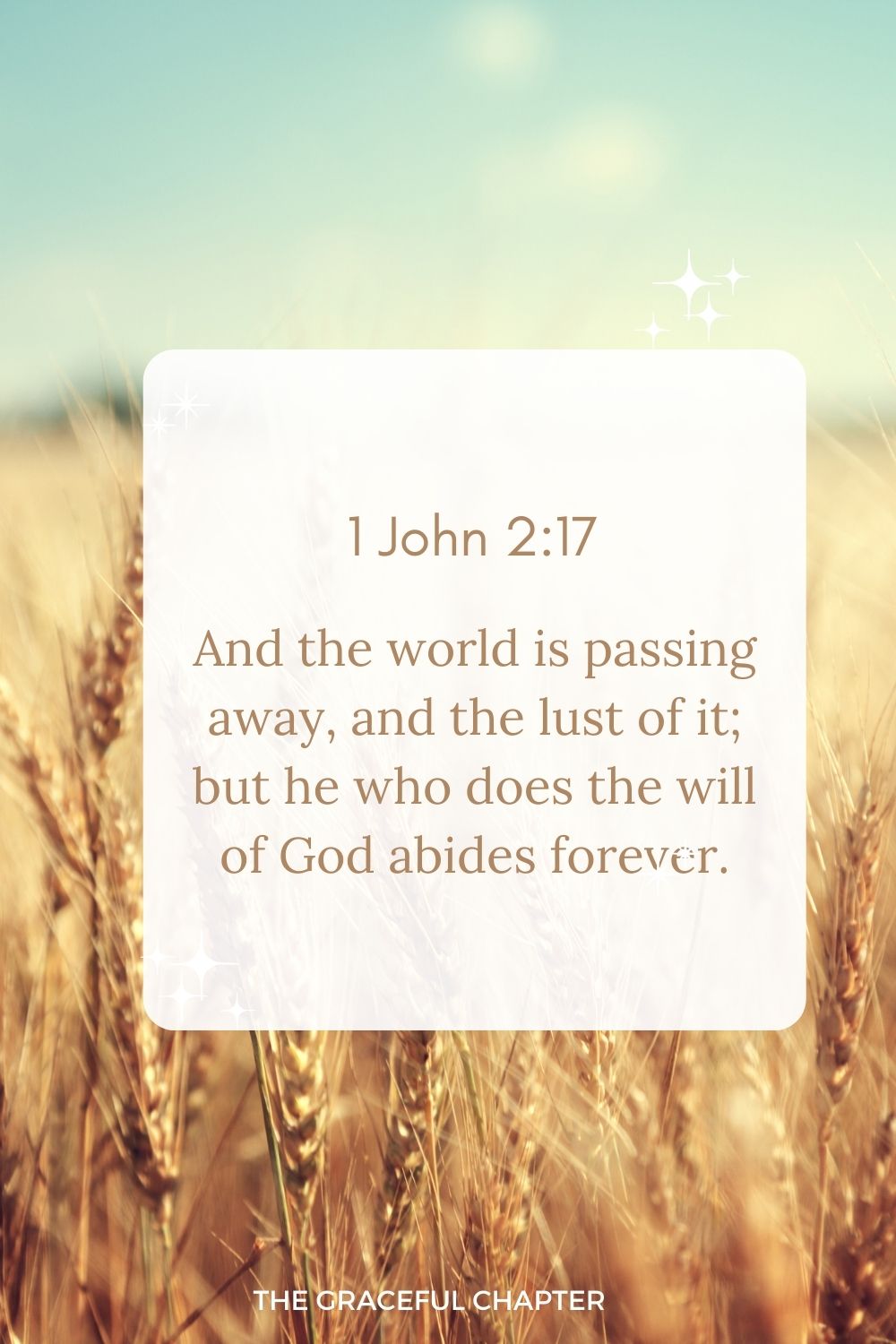 And the world is passing away, and the lust of it; but he who does the will of God abides forever.
1 John 2:17
Jesus said to her, "I am the resurrection and the life. He who believes in Me, though he may die, he shall live. And whoever lives and believes in Me shall never die. Do you believe this?
John 11:25-26
Most assuredly, I say to you, he who believes in Me has everlasting life.
John 6:47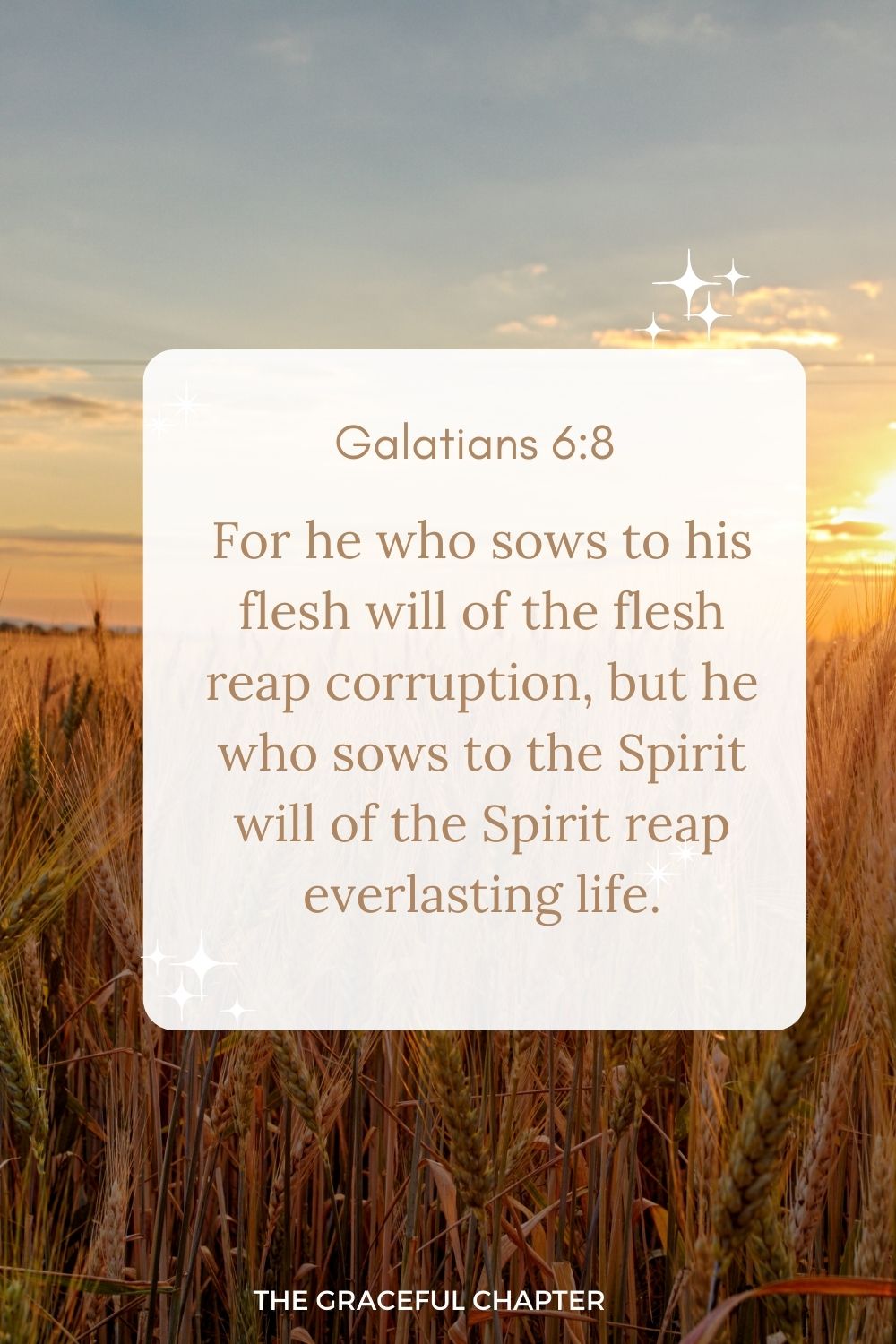 For he who sows to his flesh will of the flesh reap corruption, but he who sows to the Spirit will of the Spirit reap everlasting life.
Galatians 6:8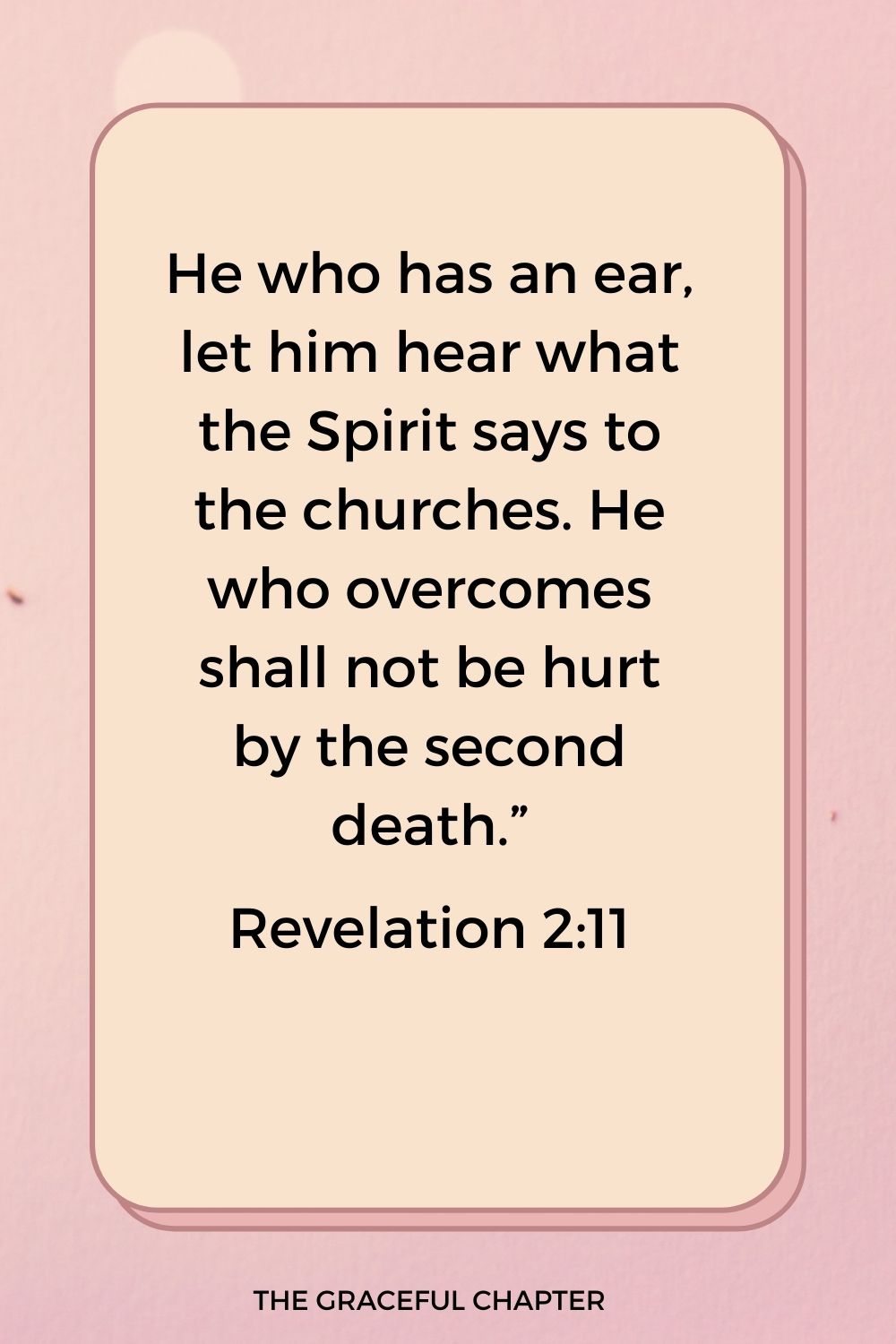 He who has an ear, let him hear what the Spirit says to the churches. He who overcomes shall not be hurt by the second death."
Revelation 2:11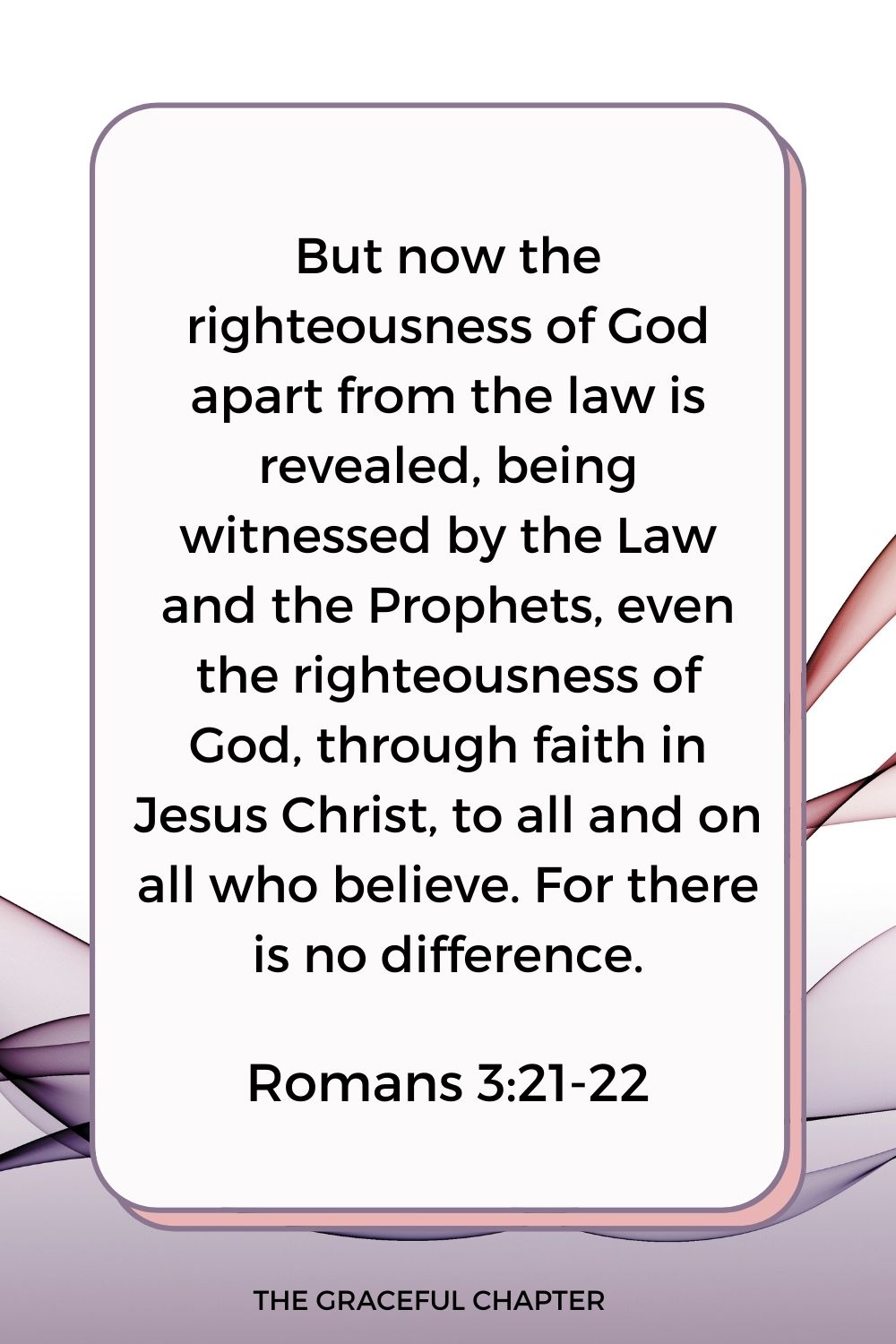 But now the righteousness of God apart from the law is revealed, being witnessed by the Law and the Prophets, even the righteousness of God, through faith in Jesus Christ, to all and on all who believe. For there is no difference.
Romans 3:21-22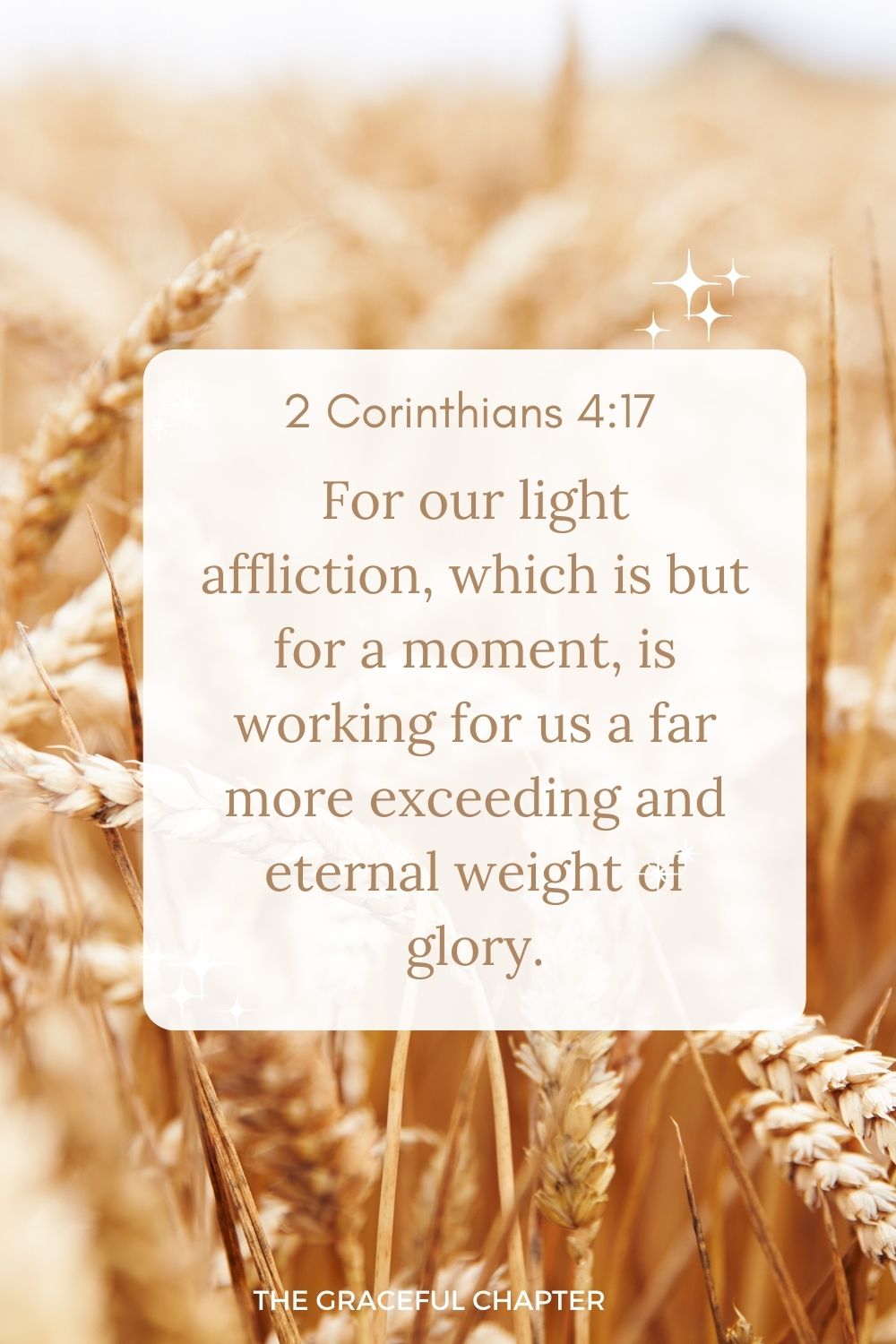 For our light affliction, which is but for a moment, is working for us a far more exceeding and eternal weight of glory.
2 Corinthians 4:17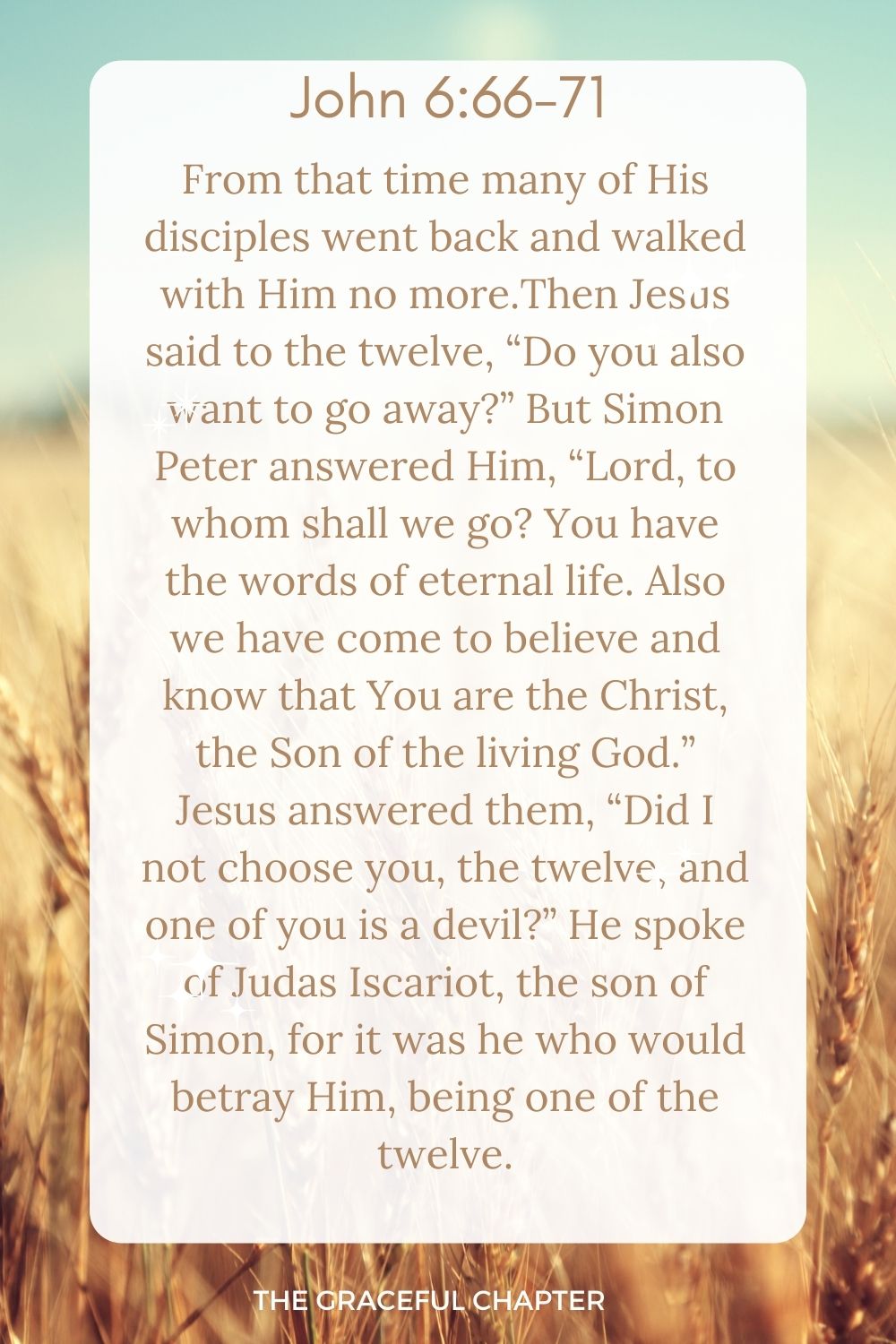 From that time many of His disciples went back and walked with Him no more.Then Jesus said to the twelve, "Do you also want to go away?" But Simon Peter answered Him, "Lord, to whom shall we go? You have the words of eternal life. Also we have come to believe and know that You are the Christ, the Son of the living God." Jesus answered them, "Did I not choose you, the twelve, and one of you is a devil?" He spoke of Judas Iscariot, the son of Simon, for it was he who would betray Him, being one of the twelve.
John 6:66-71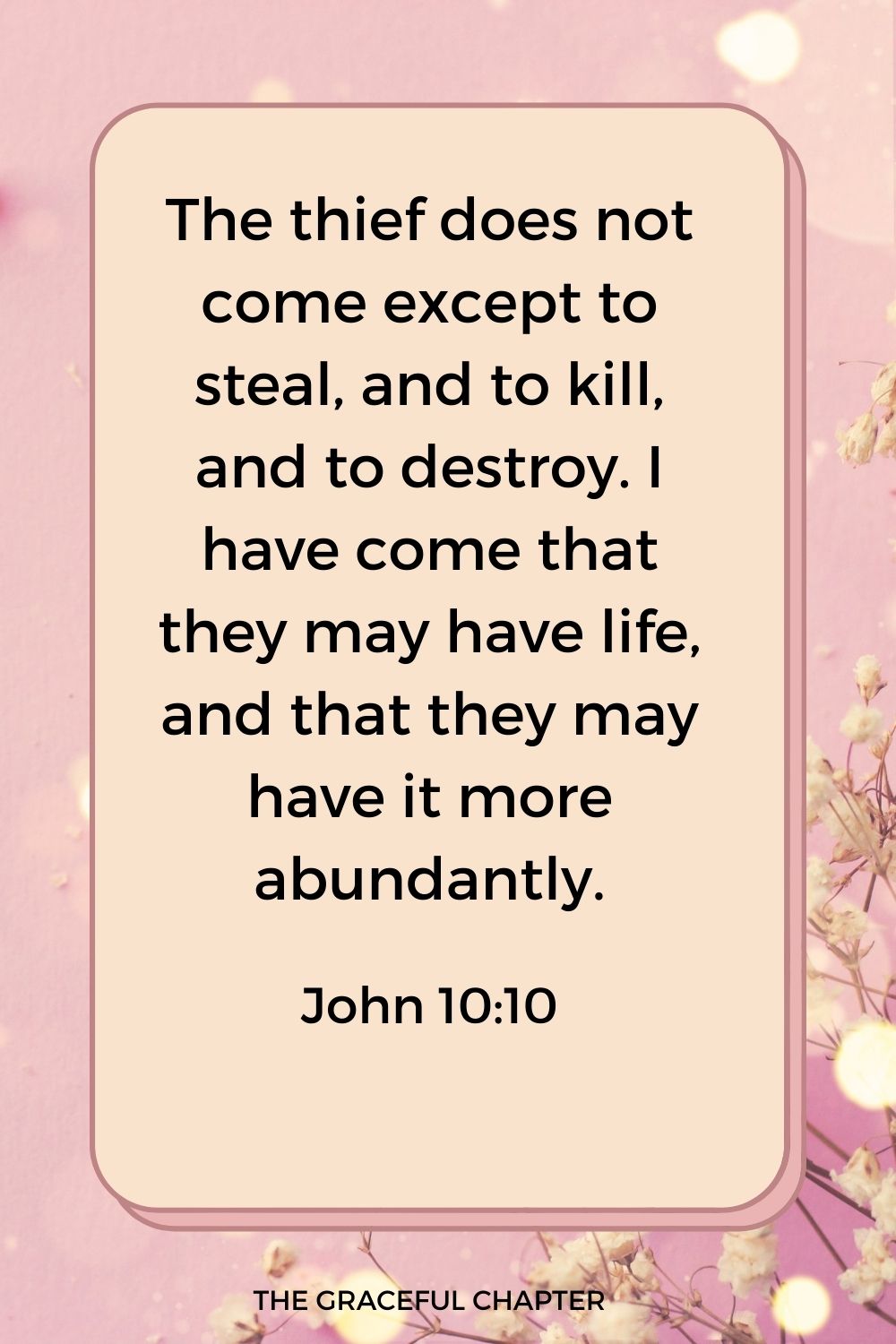 The thief does not come except to steal, and to kill, and to destroy. I have come that they may have life, and that they may have it more abundantly.
John 10:10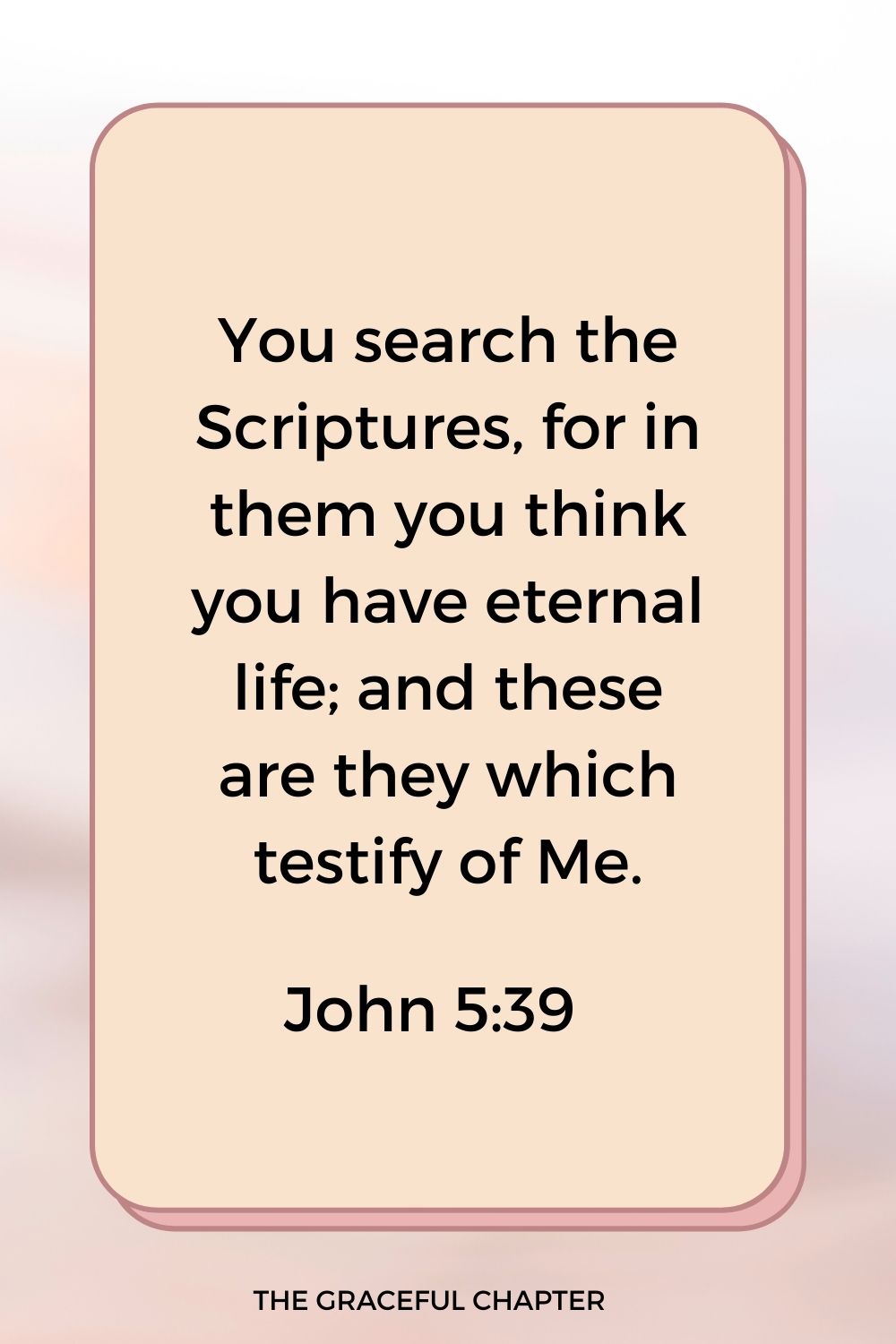 You search the Scriptures, for in them you think you have eternal life; and these are they which testify of Me.
John 5:39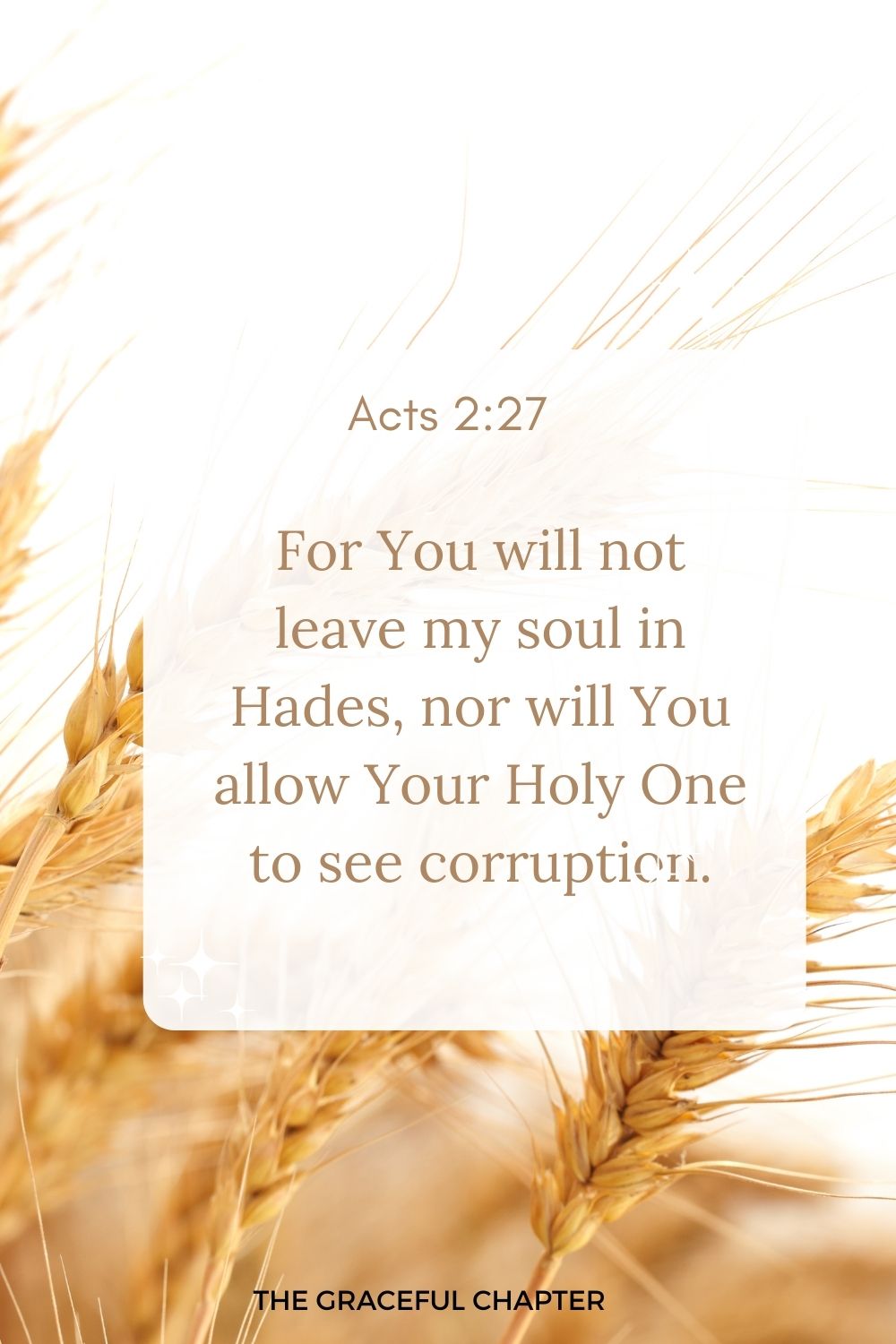 For You will not leave my soul in Hades, nor will You allow Your Holy One to see corruption.
Acts 2:27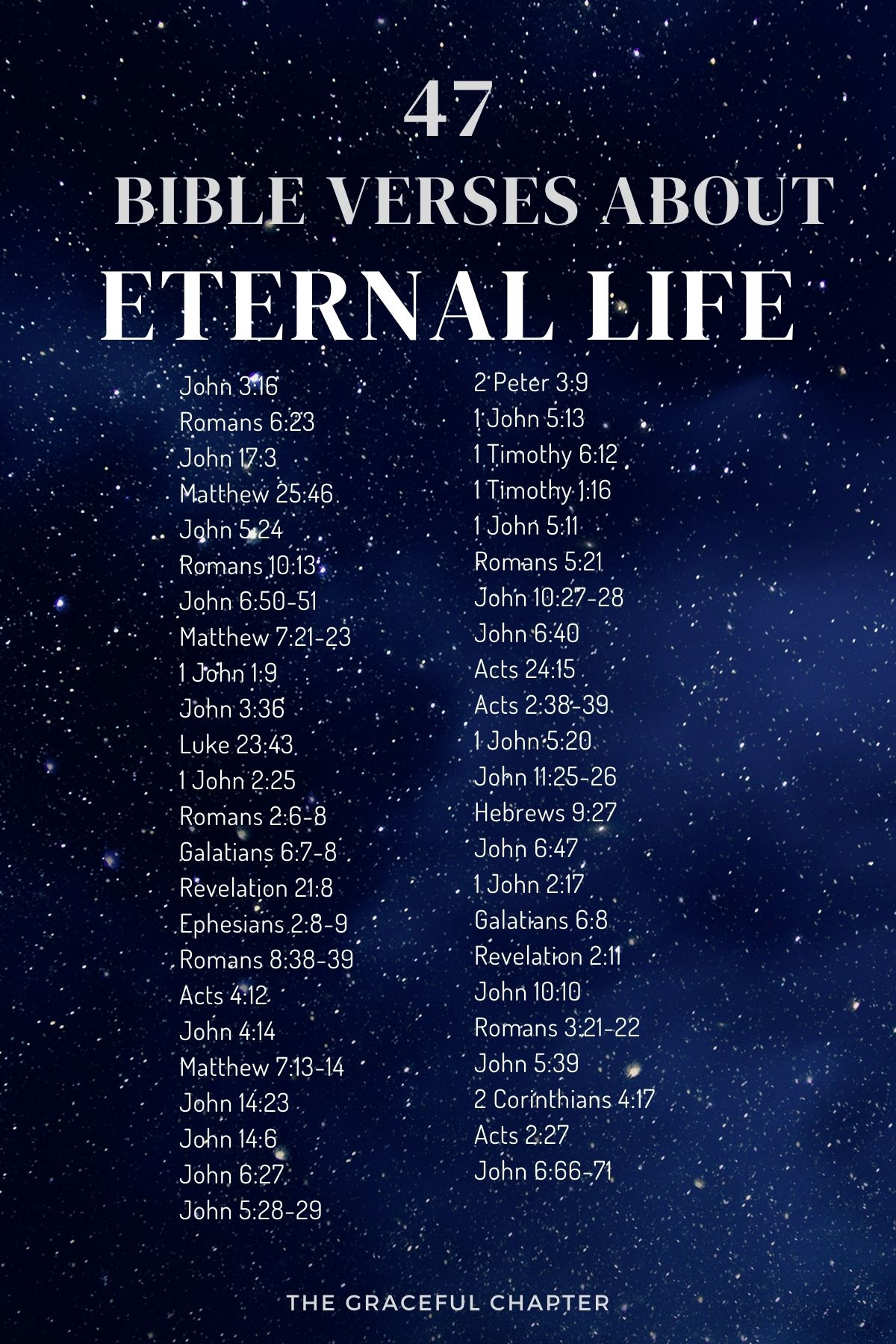 Prayer for salvation
Merciful Father,
I thank you for the life you have given to me
Thank you for your goodness in my life
Father, I come to you in prayer today because I'm a sinner
But I don't want to live a life of sin anymore
I want to let go of my sins and live a life that is pleasing to you
So I pray that you save me from my sins
Please forgive me my sins and save me
Father, I believe that you gave us your son, so that we may be saved
Thank you for this generous act
I have faith that through Jesus Christ, I am saved
I pray that Jesus Christ will come and take control of my life and my heart
I proclaim Jesus Christ, as my Lord and personal Savior
Thank you for giving me the chance to stand before your holy presence even with my shortcomings
Thank you for loving me
Thank you for accepting me
Thank you for saving me
Thank you for the gift of eternal life, through Jesus Christ, our Lord,
Amen