Mothers are a blessing in life and it's quite unfortunate that not everyone gets to grow up with a mom. Some people lose their mothers at a very tender age and some are lucky enough to find a replacement mom who fills the hole in their heart and loves and cares for them just as a mother would.
If you are fortunate enough to have a mom, don't hesitate to say a prayer for her everyday. Whether it's your biological mom, a foster mom, an adoptive mom or just an older woman who plays the role of a mother in your life, you should always make it a point to say a prayer for them.
Some people are raised by their aunts, their grandmothers or even their big sisters. Although these people aren't your mothers, they have taken up your mom's role in your life so you should also pray for them just as you would pray for your mom.
Life can be tough and raising a child is not easy either, so you have to pray to God for strength and wisdom for your mom. Pray for God's grace to sustain her as she's raising you. Also pray for her finances, so she can provide for you and take care of you. Below are some prayers you can say for your mom.
Prayers for my mom
Let her enjoy her old years
Dear Lord,
I thank you for my mother's life.
Thank you for her womb that carried me.
Thank your her nursing me and raising me.
Thank you for the love she showed me throughout my life.
I know others were not this lucky to have a mother growing up.
I pray that you bless her in her old age.
Grant her a long and healthy life.
Give her back all she lost raising me.
Fill her heart with joy and laughter.
Give her all her heart desires.
Let her enjoy her old years.
Help me reflect well on her.
Help me repay all the faith she's shown in me.
Take away her fears and burdens and fill her with everlasting peace and tranquillity.
Thank you for answering me, dear Lord.
Amen.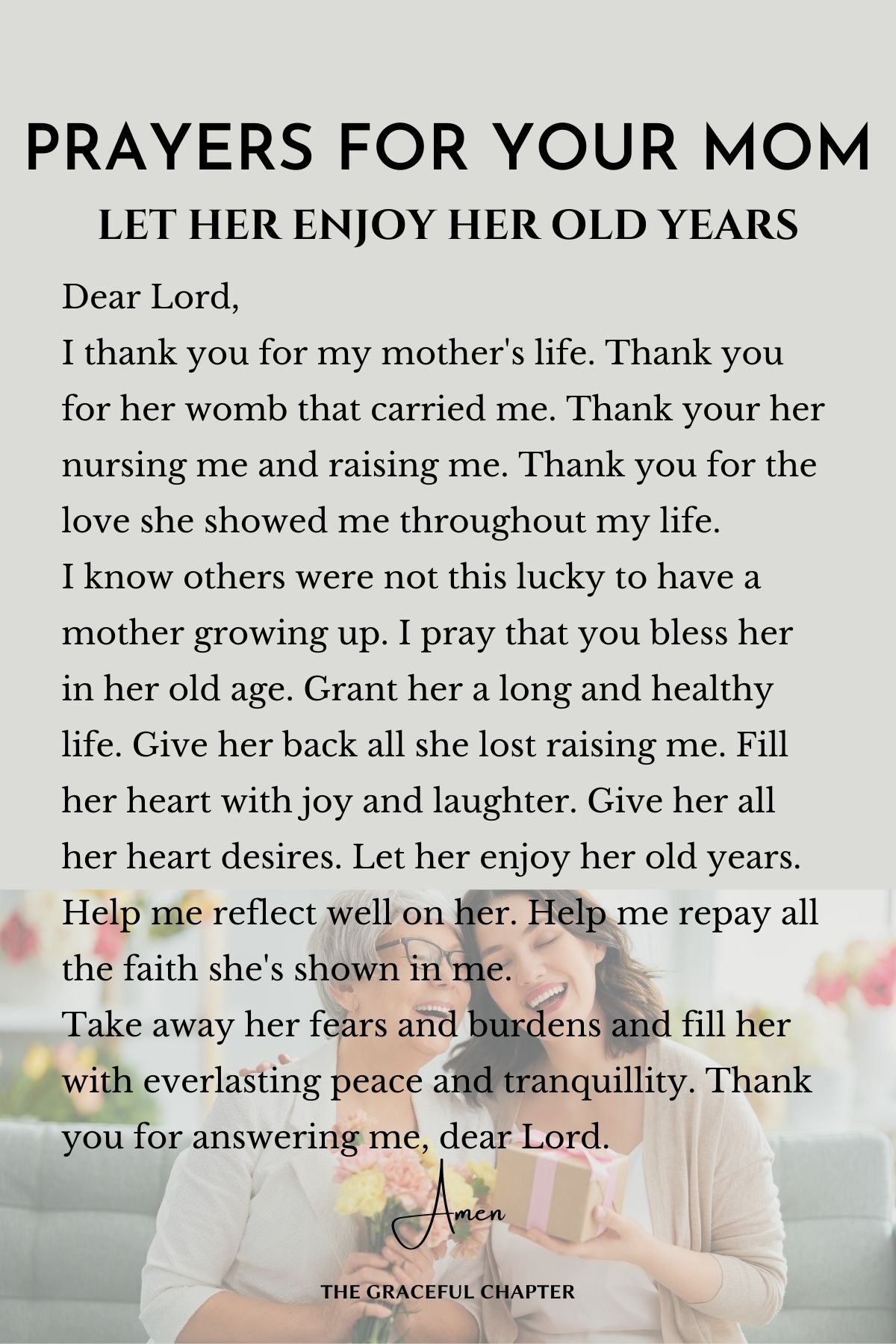 Prayers for my mom – Bless her with a long and healthy life
Dear God,
Thank you for the life of my mom
I'm grateful for giving me this special woman as my mom.
Please bless her with a long and healthy life.
Guide her with your wisdom and protect her from all evil.
Please keep her safe for me Lord, so she enjoys the fruit of her labor.
In Jesus name, I pray
Amen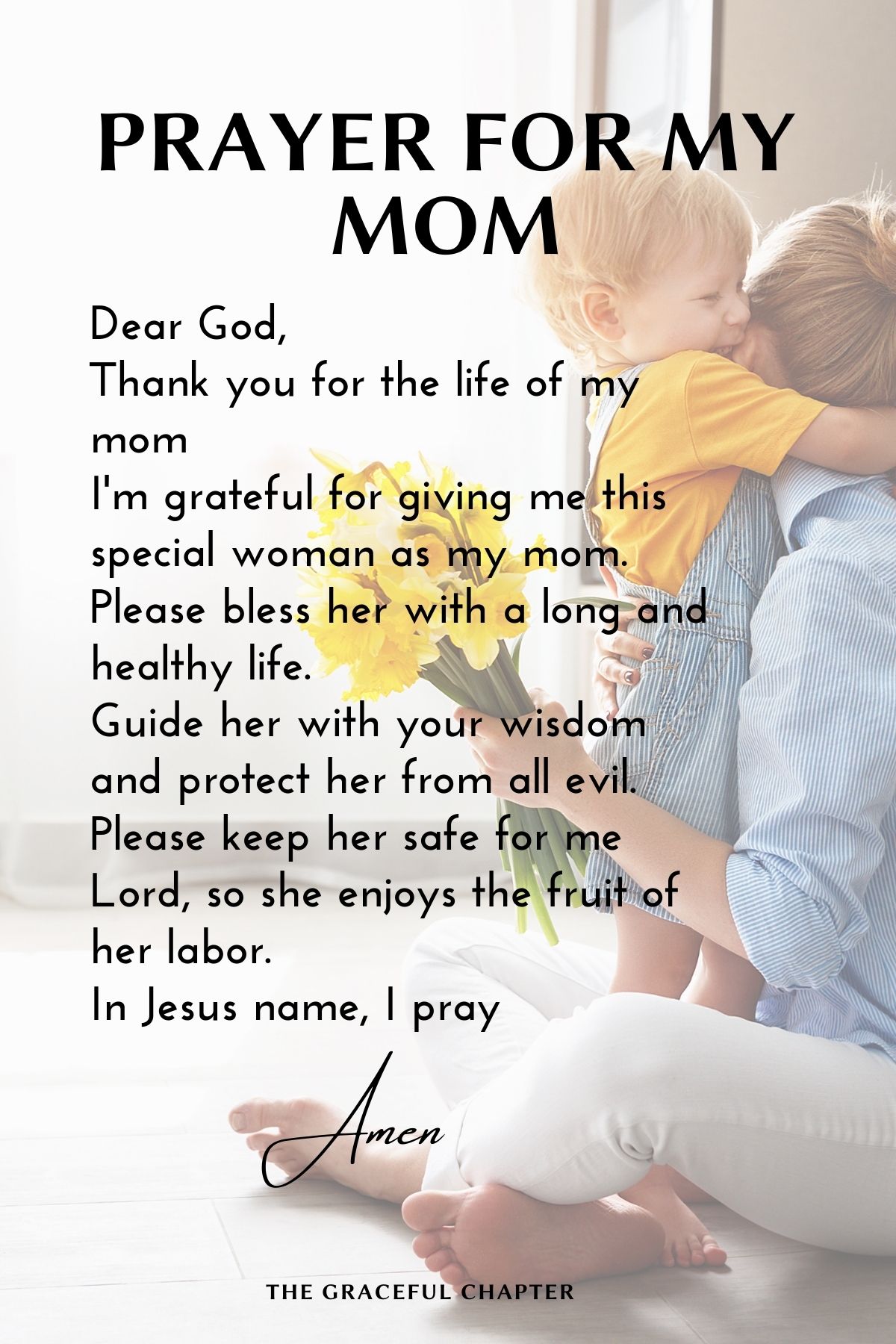 Prayers for my mom – Let her know that she is loved
Heavenly Father,
Thank you for giving me such an incredible gift, as my mom
She's always kind and encouraging to her children and everyone around her
She's been an ultimate example of what selfless love is in my life
And I pray that you let her know that she is loved too
Please guide and protect her, just as she protects me
Please let her grow in wisdom so that she can continue to guide me with that wisdom
I pray for happiness and good health for her
Let her live longer to watch me grow up and enjoy the fruit of her labor
In Jesus name, I pray,
Amen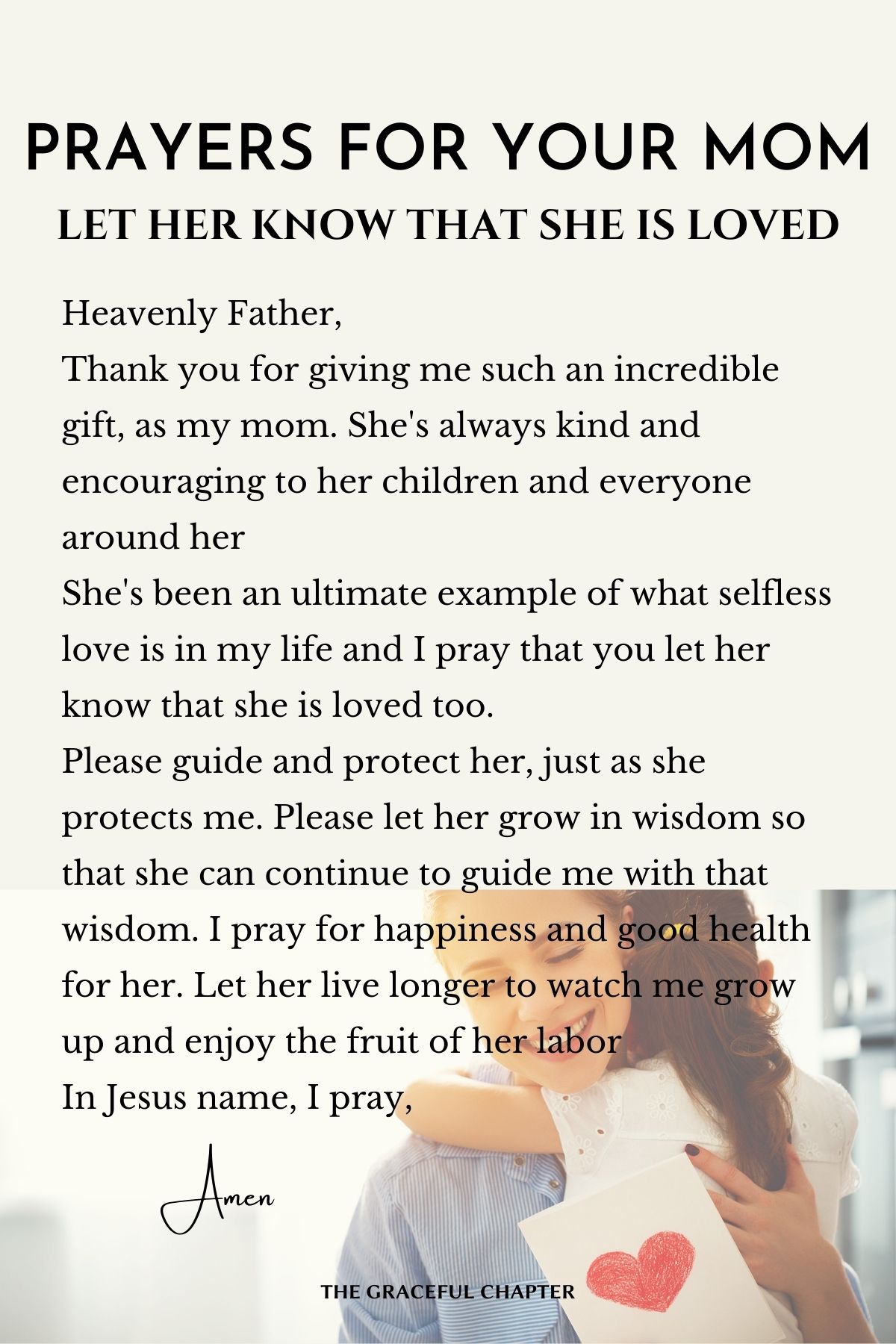 Prayer for strength for my mom
Loving Father,
I come before your throne on behalf of my mother
I thank you for the life you've given to her and all the great things you keep doing in her life
Lord, I pray for strength for my mom.
Life with its uncertainties can be so challenging and overwhelming for my mom,
So I pray that you give her the strength and courage to move forward in life
Strengthen her faith in you Lord and remind her that you are by her side through it all
Thank you Lord, for hearing my prayer in Jesus name,
Amen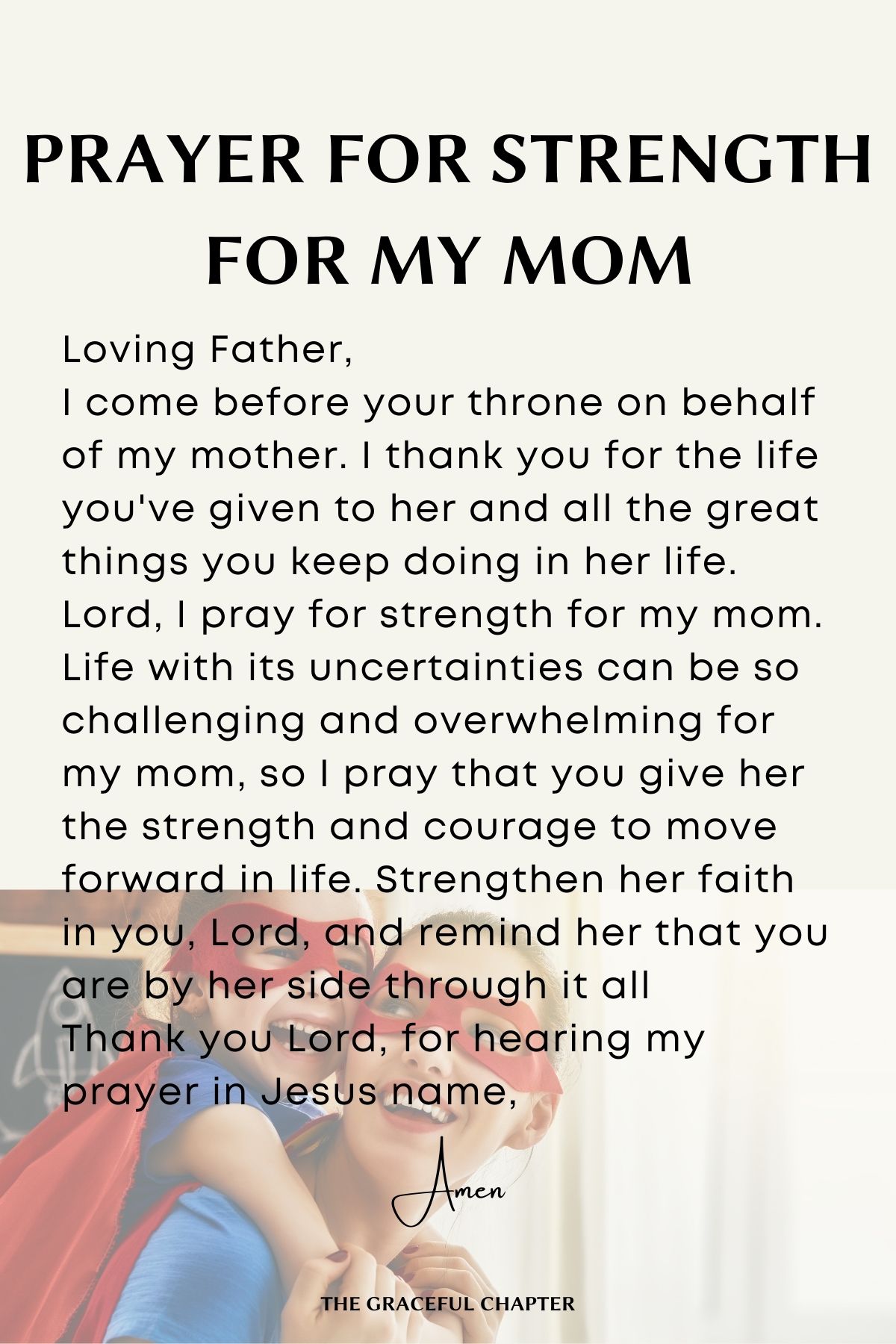 Prayers for my mom – Bless her work
Gracious Lord,
I thank you for my mom
Thank you for your goodness and mercies in her life
I pray that you bless her and everything she does
Please help her to be successful in her work
So that she can afford to take care of me and my siblings
Even though she never complains or say anything to us,
I can see that the burden of having to take care of all of us weighs on her sometimes
So I pray that you take her burden and give her peace
Let her be prosperous in all she does
Give her long life with good health and fill her days with joy and happiness.
In Jesus name, I pray,
Amen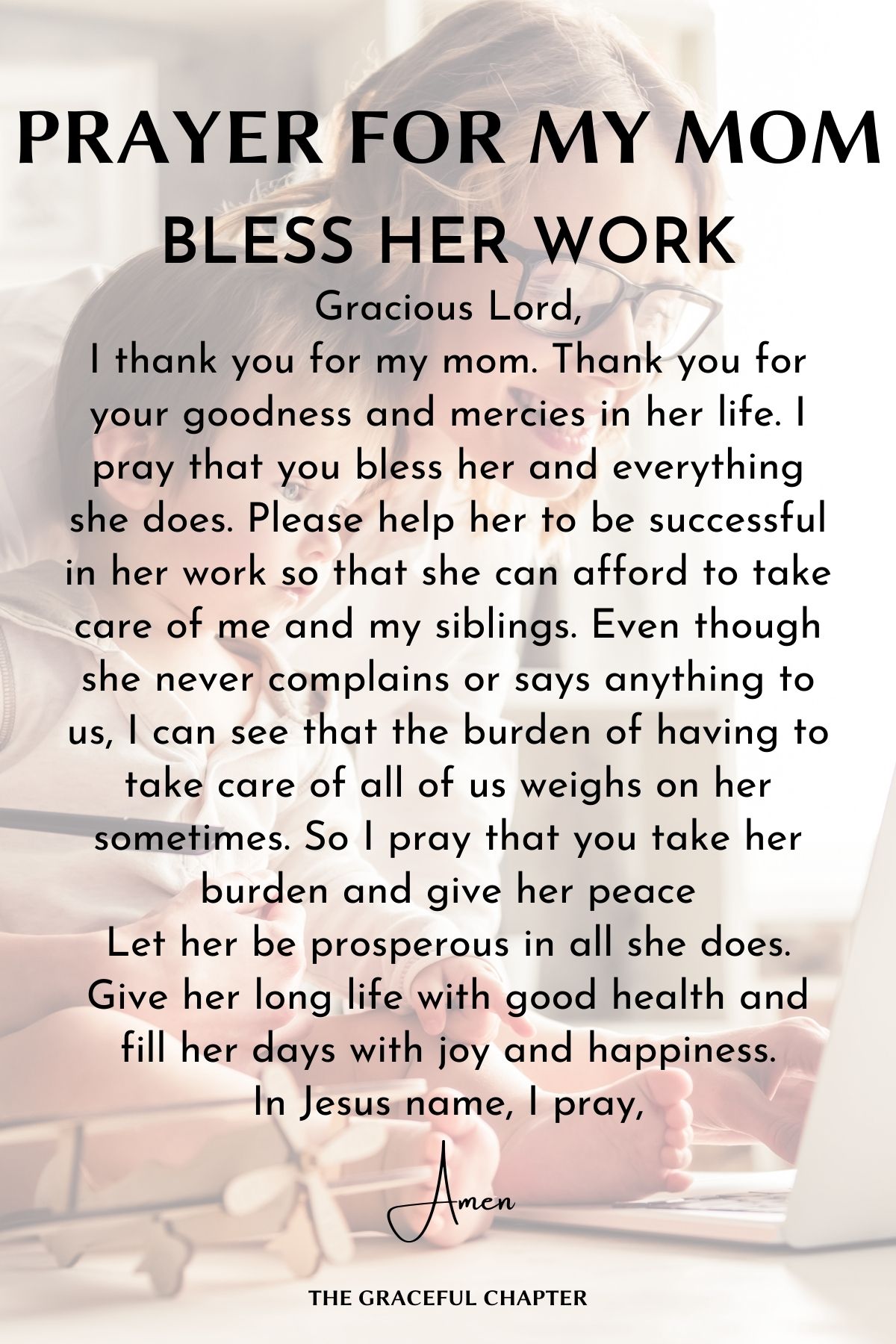 Prayer to repair broken relationship with mom
Everlasting Father,
I am very grateful for my mom
I pray that you continue to guide and protect her
Forgive me for all the times that I caused her pain with my words and my actions
Please help us to make amends and repair our relationship
Let her find a place in her heart to forgive me and love me
Help me to be a good child to my mom
Help me to live a life that will make my mom happy
Give her patience for me as I learn to correct my ways
Help me to make the right decisions in my life so my mom can be at peace
Bless her Lord and grant her all her heart desires,
In Jesus name,
Amen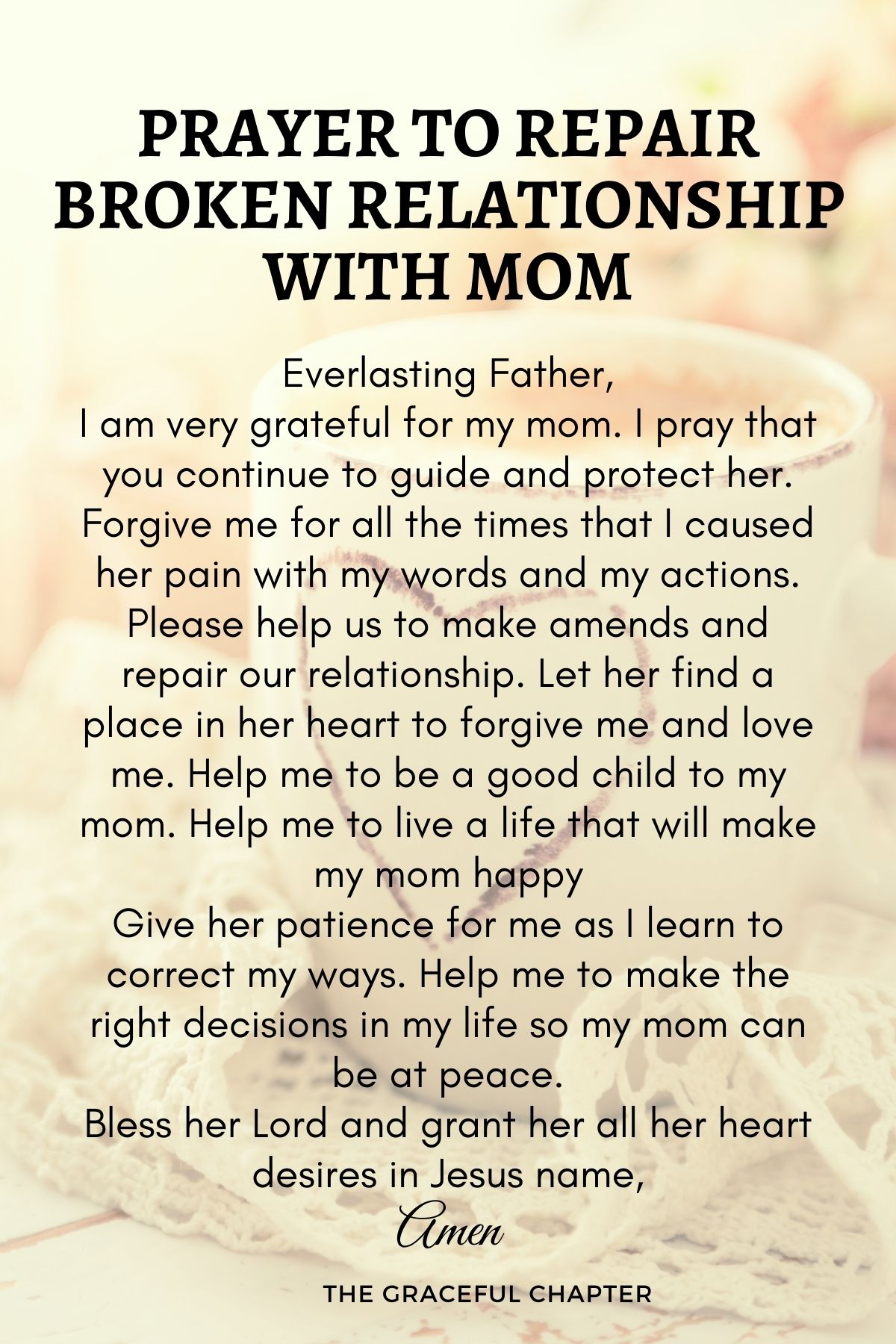 Related Posts
Prayer for mother and child's relationship
Dear God,
I come before you to pray about my mom and me
Father, we've been arguing a lot lately and I know it saddens her heart
Our difference in opinions seems to be causing more harm than good to our relationship
Please grant us understanding for each other
Help us to work through our differences
Help us to love each other even more
And help my mom to know that even when we don't agree on everything,
I still value her opinion and love her very much
Help us to live together in peace and harmony
Let your blessings abound in her life and turn her sadness into happiness
In Jesus name,
Amen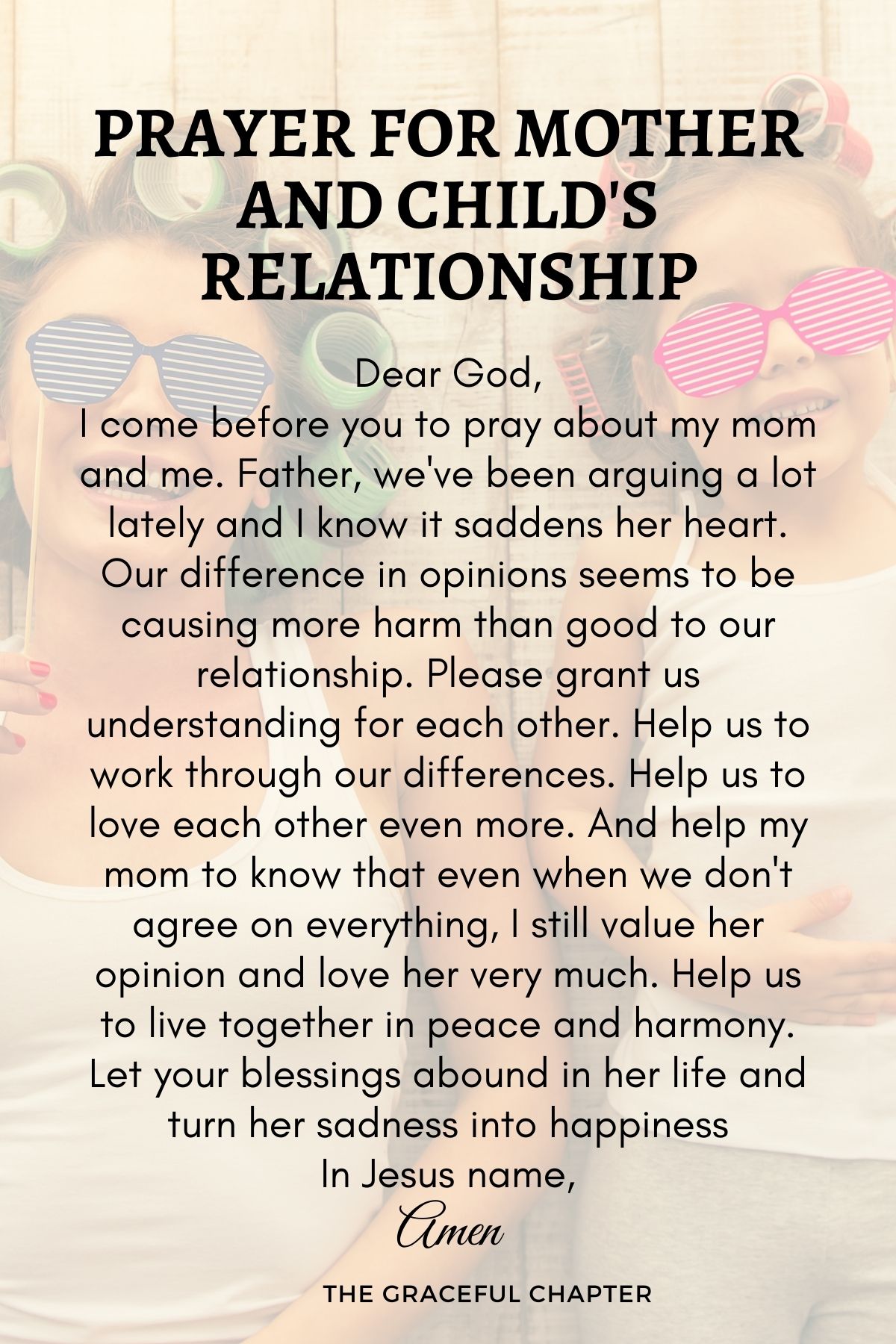 Prayer for my mother to be healed
Father,
I bow before you to humbly ask that you heal my mom
She's been sick for days and she's in so much pain
Please have mercy on her and fill her with your healing power
Stretch forth your powerful hands on her and heal whatever ails her
Comfort her in her sufferings and take away any fears and anxieties she may have
Sustain her by your grace and help her to rely on you
Give her strength and courage as she waits on you for her divine healing
In Jesus name,
Amen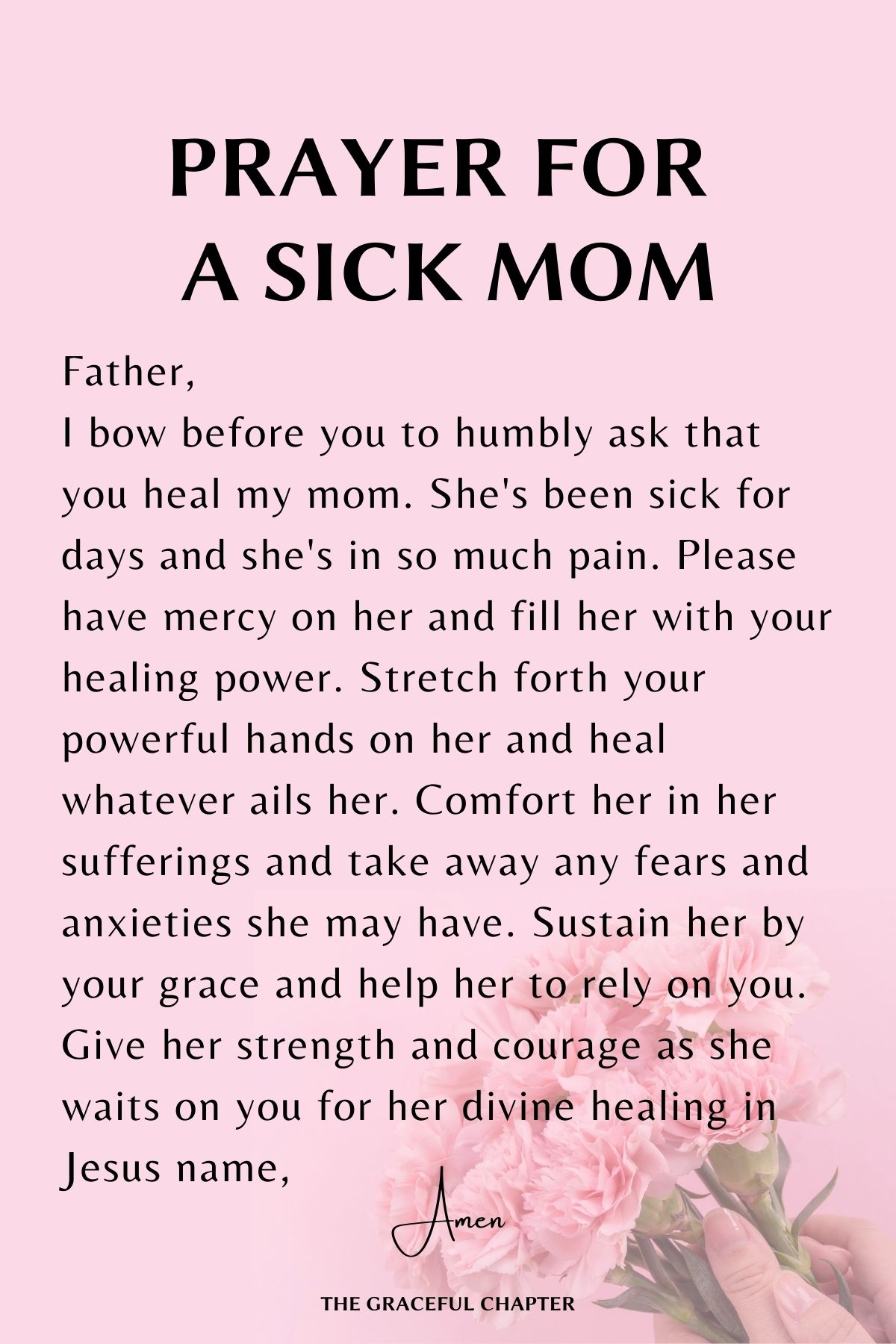 Prayer for good health and long life
Gracious Lord,
I come before you today to ask for good health and long life for my mom
My mom has been my support all my life
She's loving, understanding, kind-hearted, and nurturing
She's been my moral compass and taught me right from wrong
And she's always there for me when I need someone to count on
I pray that just as she has cared for me and protected me,
You also care for her and protect her
Bless her with good health and a long life
So that she can live long enough to reap the rewards of all the amazing things she's done for me
Thank you, Lord, for the life of my mom,
Amen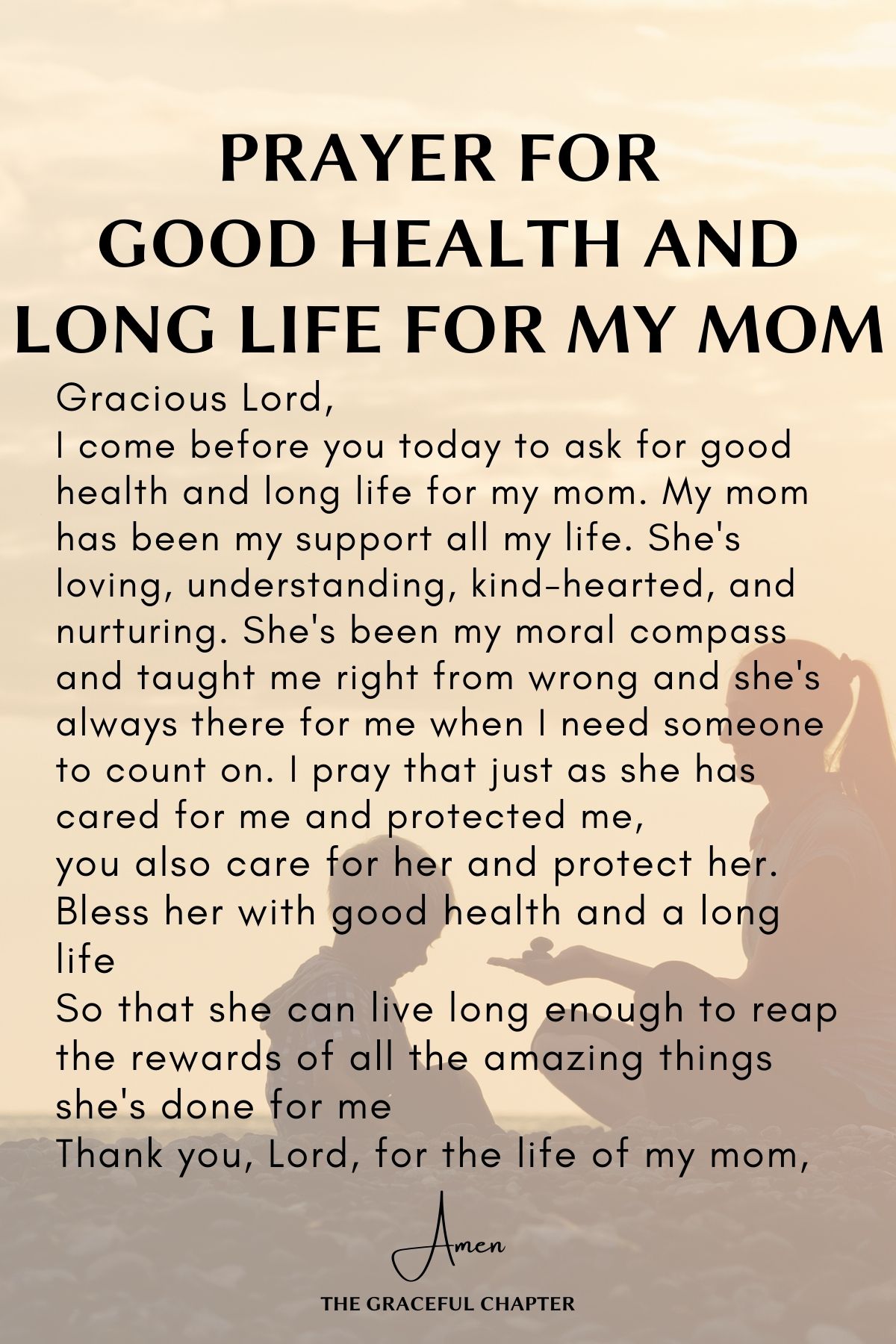 Blessings for my mom
Dear God,
Thank you for my mother
I pray for your goodness and mercies to abound in her life
Bless her and bless whatever she does
Let your grace and divine favor follow her wherever she goes
Give her the strength and courage to overcome whatever obstacles she may encounter
Shine your face on her and fill her heart with joy
Surround her with love and happiness
Grant her good health, strength, and prosperity
In Jesus' name, I pray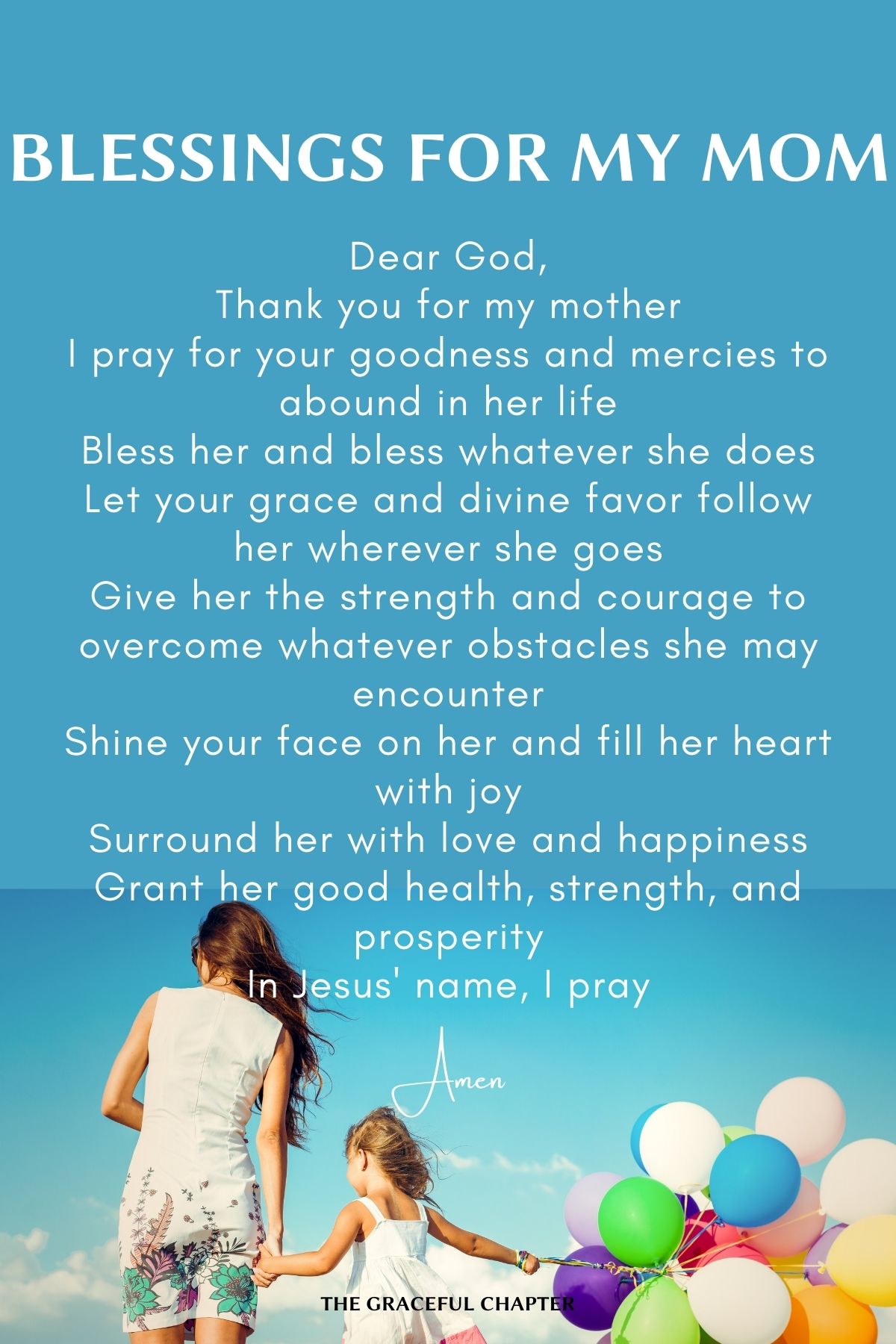 Help me to open up my mind to my mom
Dear God,
I thank you for my life and that of my mom's
I pray that you continue to guide and protect us
Father, I know that my mom is the person you've given to help raise and nurture me
I pray that you give her the strength and wisdom to be able to guide and protect me
Help me to open up my mind to my mom and her plans for me
Give me an understanding for her and grant me patience for times when I don't understand her
Help me not to take her for granted and instead open my heart to her
To let her know that she is loved and appreciated for all that she does for me
Amen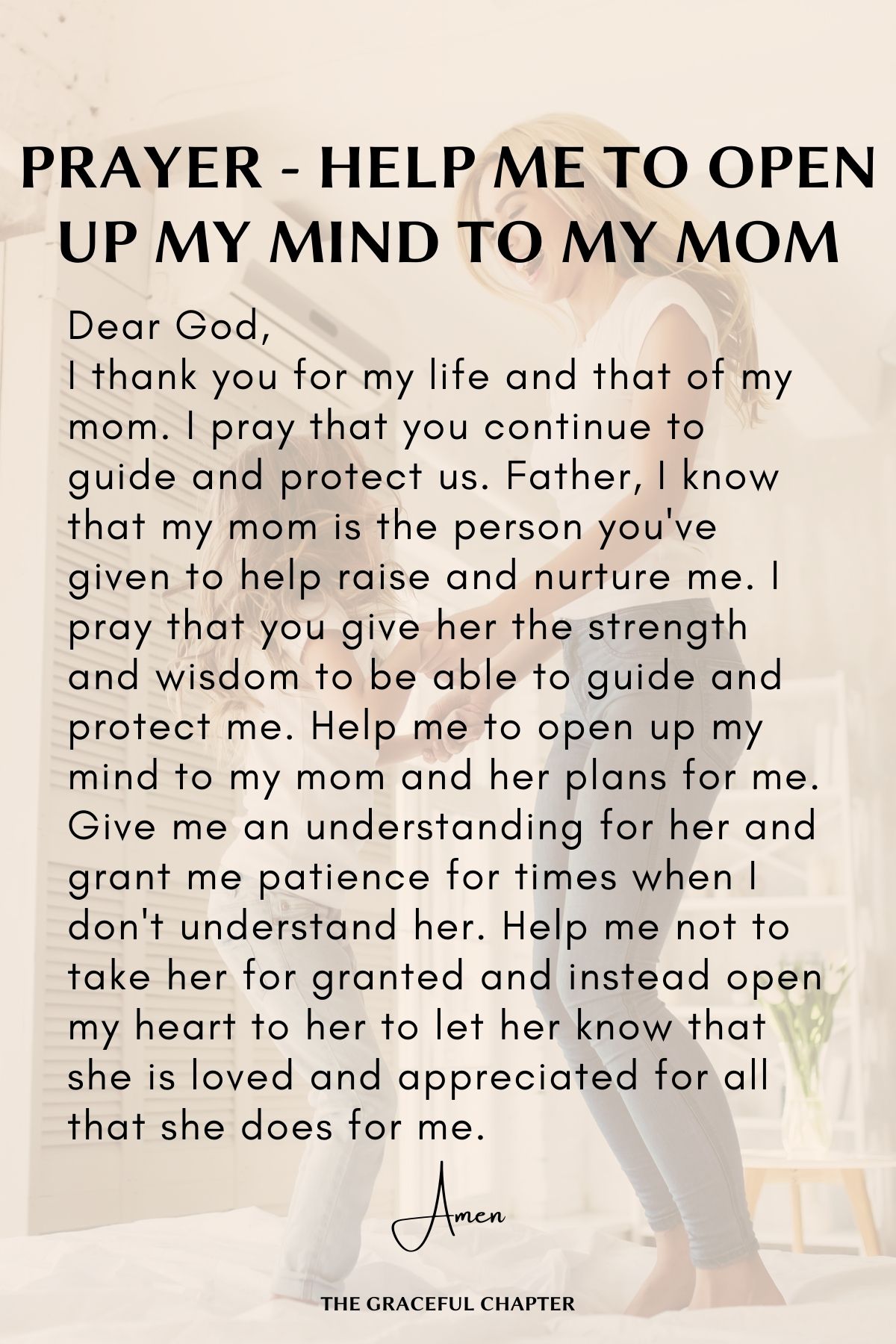 Prayer for wisdom for my mom
Gracious Lord,
I come before you today to pray for my mom
Thank you for blessing me with a mom to guide me in life
Lord, I pray for wisdom for my mom
Please be her guide and teach her what is right
Father, you said that as children, we should our parents
So I humbly ask that you grant my mom wisdom for her guidance
So that obeying her will mean that whatever I do will be in accordance with your will
Show her how to teach and guide me
And grant her patience and understanding for me in Jesus name I pray,
Amen