Everyone at a point in their life is going to feel like they can't do something and that's okay. We are only human and that means that our strengths and abilities can fail at times. But the good news is that as Christians our confidence is not in ourselves and our strengths and our abilities. Instead, our confidence is in the Lord.
So that no matter what comes your way, you can know and believe that you can overcome, not because you are confident in yourself, but because you are confident that God will empower you to do what needs to be done. So in God, we can have the strength and courage to face life.
Everybody has been there, sometimes our lack of confidence holds us back and keeps us from trying, and even when we do try in spite of our fears, we do not give it our all because we don't believe that it will work out. God wants you to be confident, not because you are capable but because you serve an Almighty God, and in Him, there is strength and courage.
So that no matter what you do, have faith that God has equipped and empowered you to do it and so you are going to be victorious no matter what. Below are some bible verses about confidence you can turn to when you need to boost your confidence in life.
Bible verses about confidence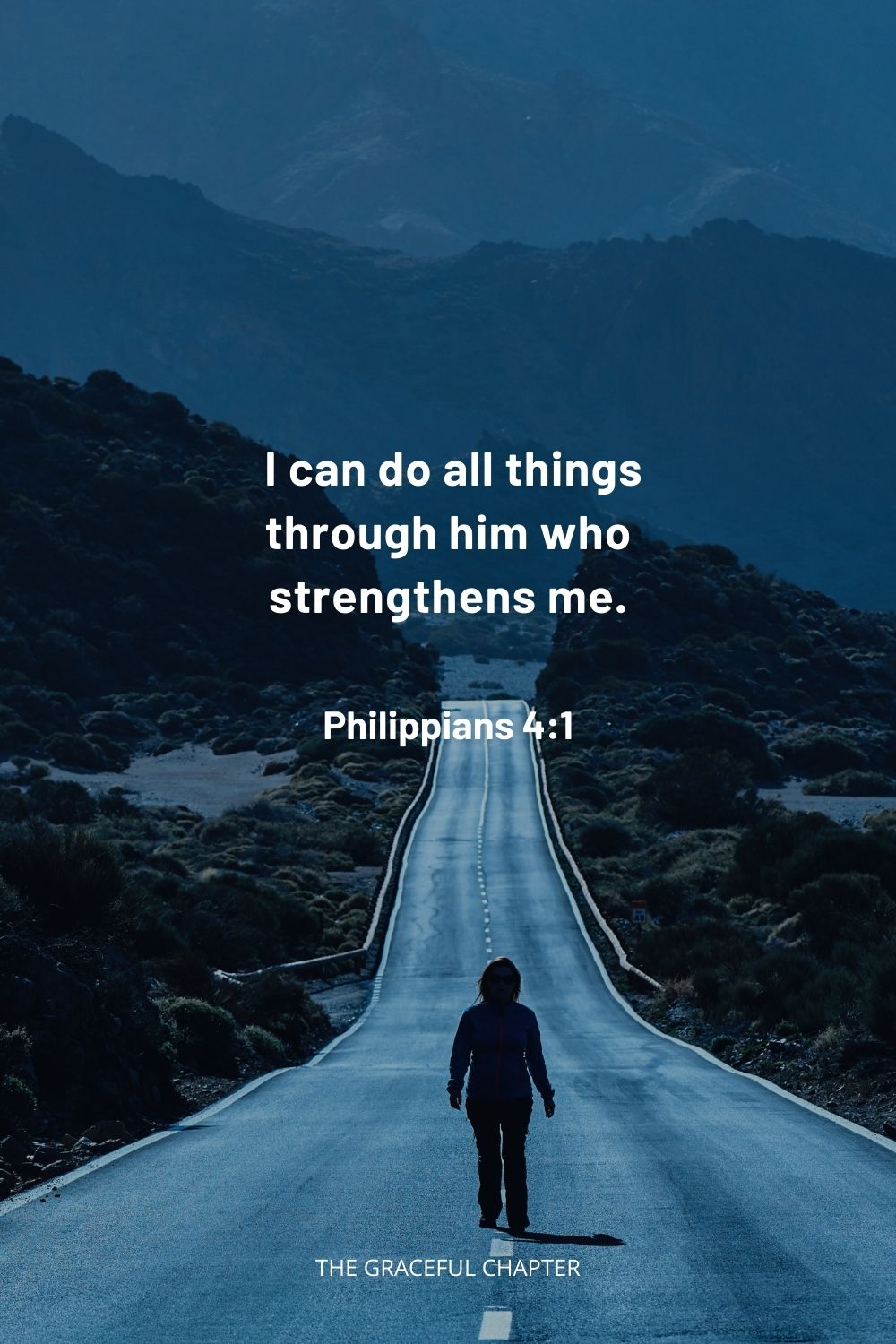 Philippians 4:1
 I can do all things through him who strengthens me.

Hebrews 10:35-36
Therefore do not throw away your confidence, which has a great reward. For you have need of endurance, so that when you have done the will of God you may receive what is promised.

Hebrews 13:6
 So we can confidently say, The Lord is my helper; I will not fear; what can man do to me?

2 Timothy 1:7
For God gave us a spirit not of fear but of power and love and self-control.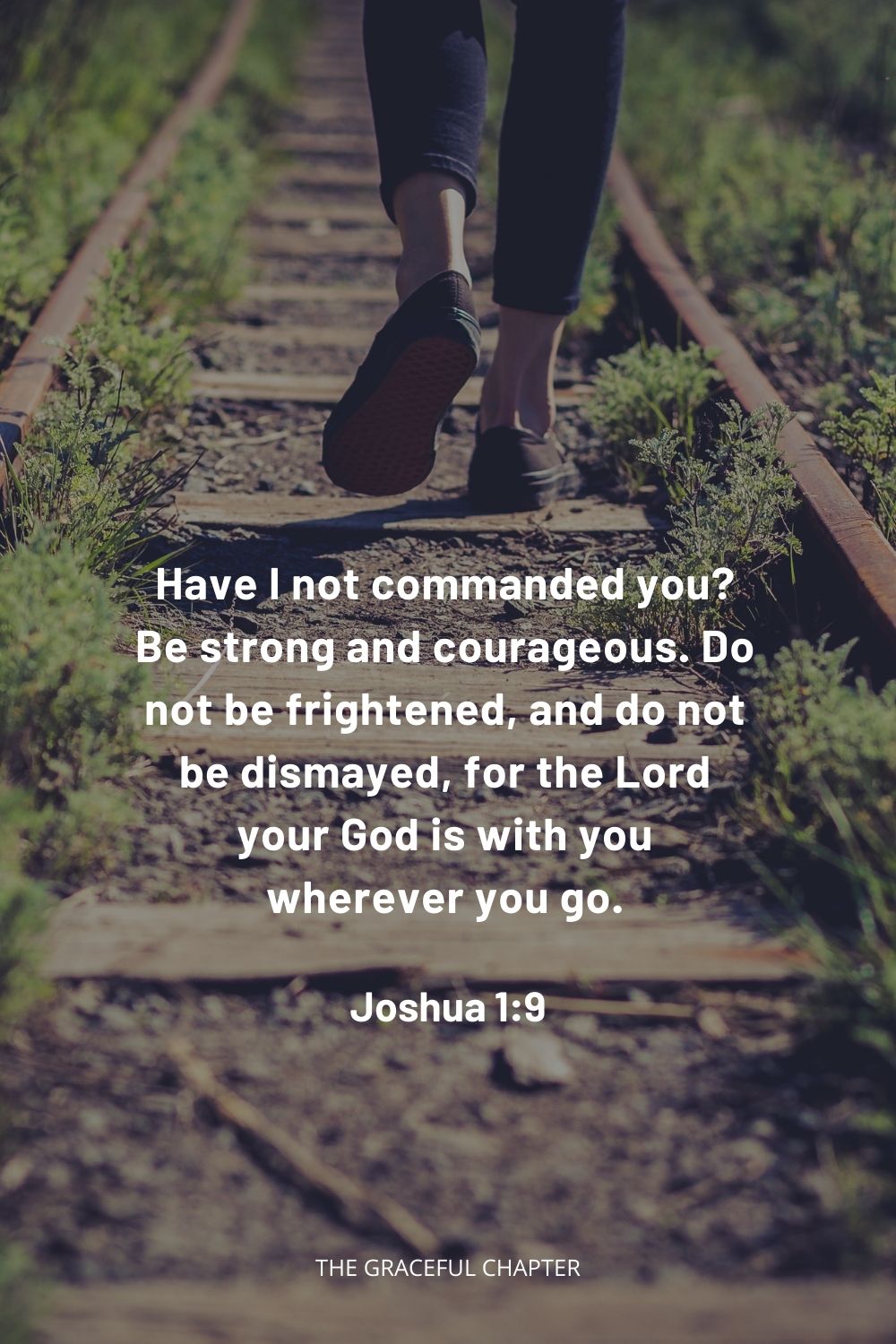 Joshua 1:9
Have I not commanded you? Be strong and courageous. Do not be frightened, and do not be dismayed, for the Lord your God is with you wherever you go.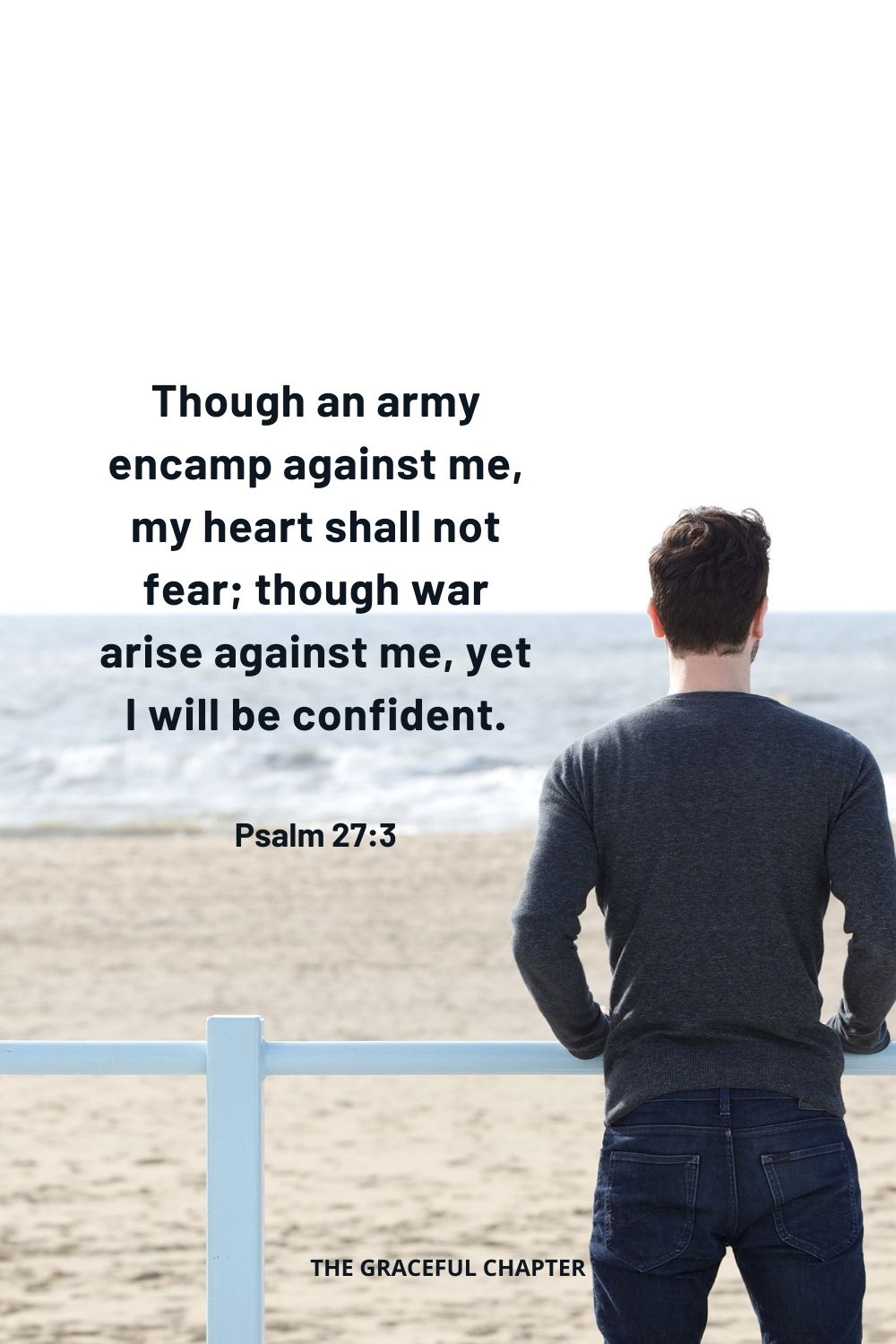 Psalm 27:3
Though an army encamp against me, my heart shall not fear; though war arise against me, yet I will be confident.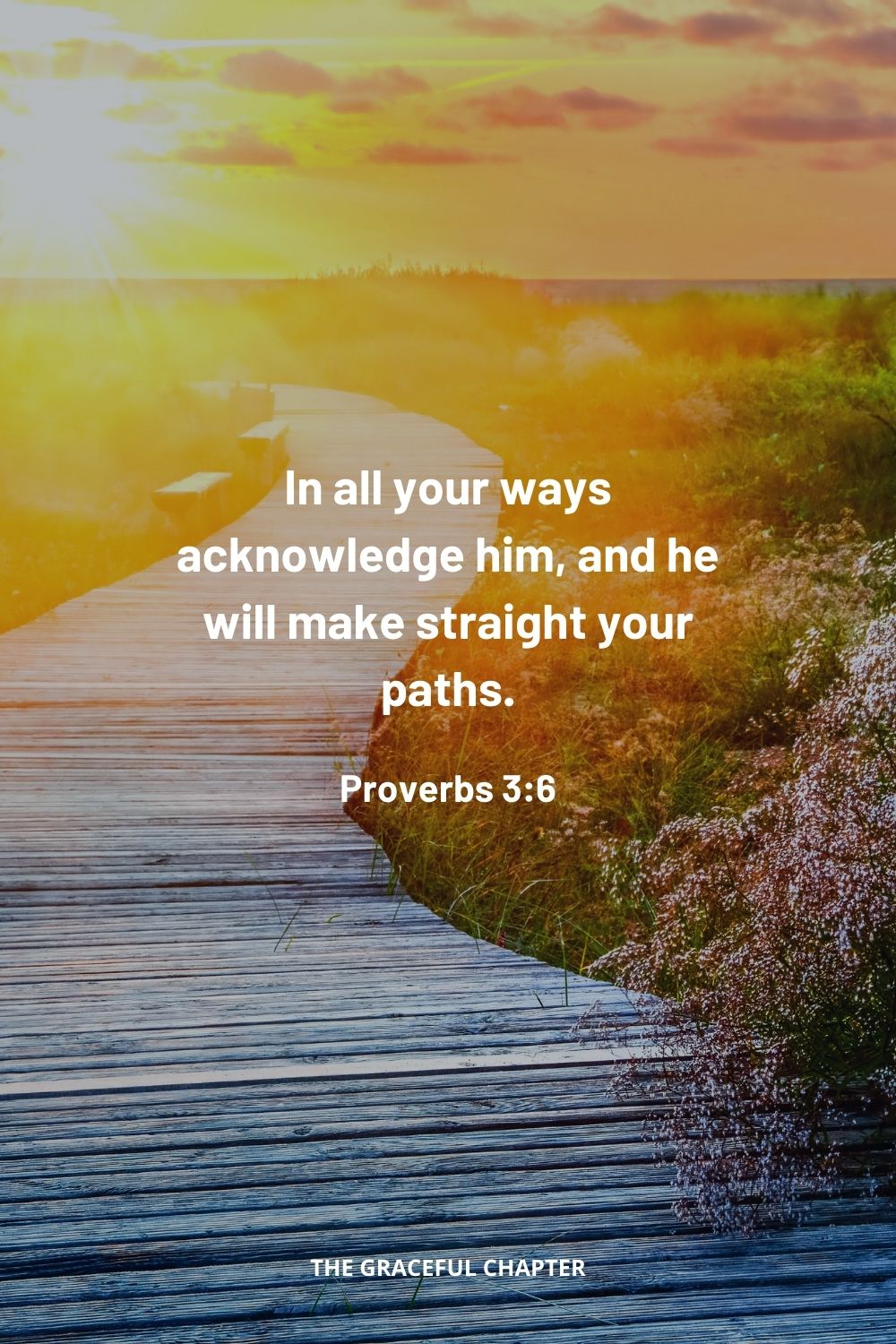 Proverbs 3:6
In all your ways acknowledge him, and he will make straight your paths.

Ephesians 4:29
Let no corrupting talk come out of your mouths, but only such as is good for building up, as fits the occasion, that it may give grace to those who hear.

Philippians 4:4-7
 Rejoice in the Lord always; again I will say, rejoice. Let your reasonableness be known to everyone. The Lord is at hand; do not be anxious about anything, but in everything by prayer and supplication with thanksgiving let your requests be made known to God. And the peace of God, which surpasses all understanding, will guard your hearts and your minds in Christ Jesus.

Hebrews 4:16
Let us then with confidence draw near to the throne of grace, that we may receive mercy and find grace to help in time of need.

1 John 4:18
 There is no fear in love, but perfect love casts out fear. For fear has to do with punishment, and whoever fears has not been perfected in love.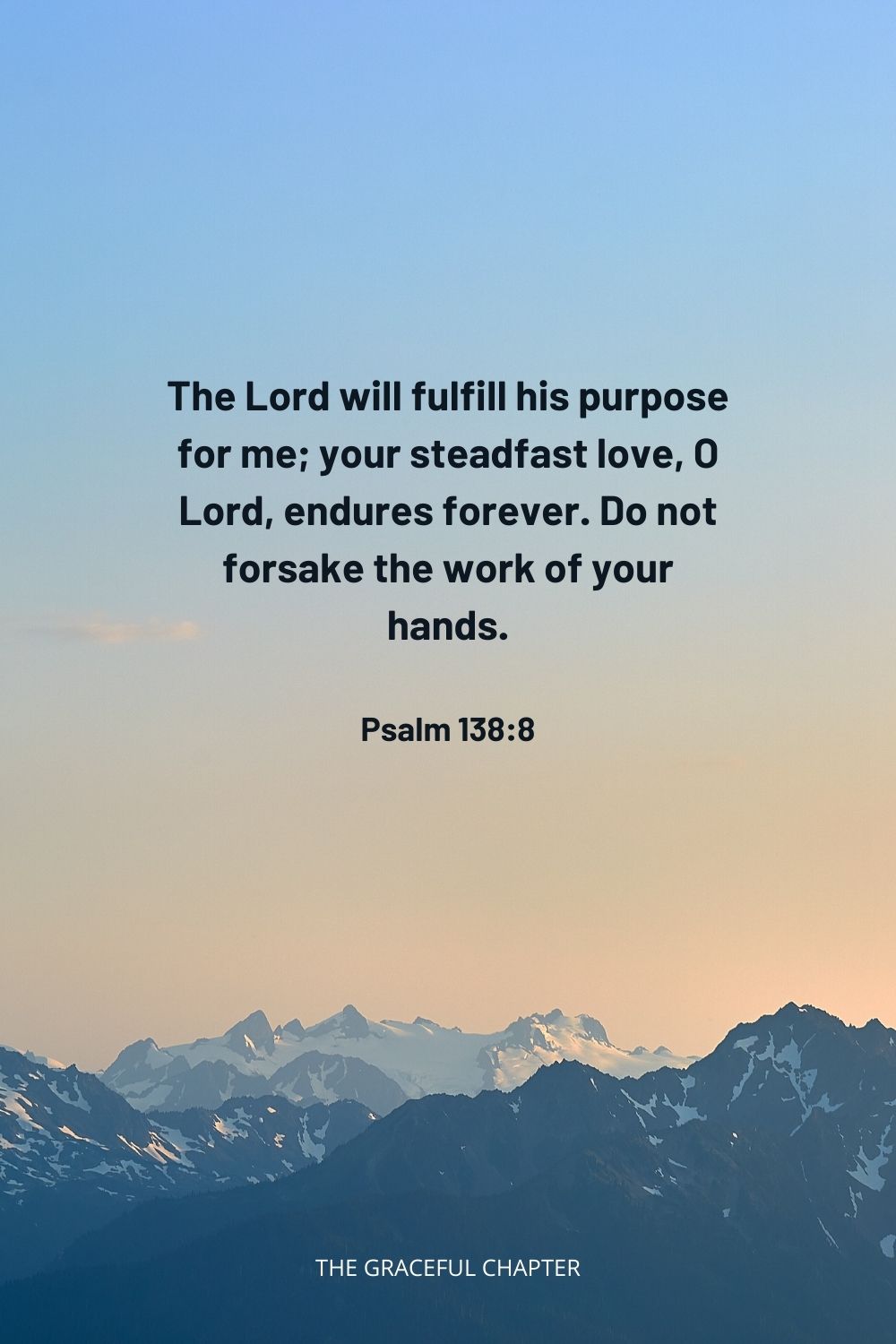 Psalm 138:8
The Lord will fulfill his purpose for me; your steadfast love, O Lord, endures forever. Do not forsake the work of your hands.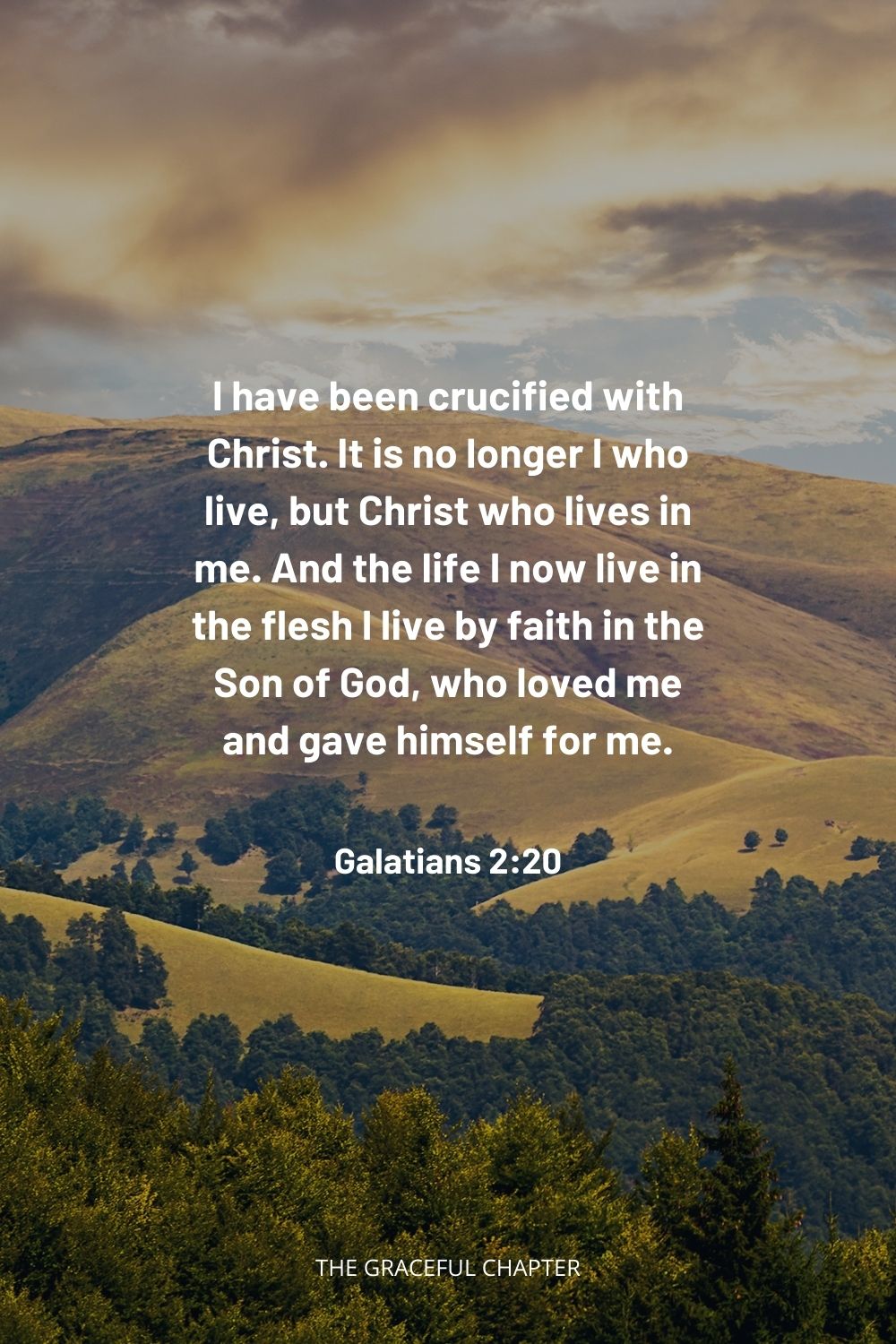 Galatians 2:20
I have been crucified with Christ. It is no longer I who live, but Christ who lives in me. And the life I now live in the flesh I live by faith in the Son of God, who loved me and gave himself for me.

Matthew 6:34
Therefore do not be anxious about tomorrow, for tomorrow will be anxious for itself. Sufficient for the day is its own trouble.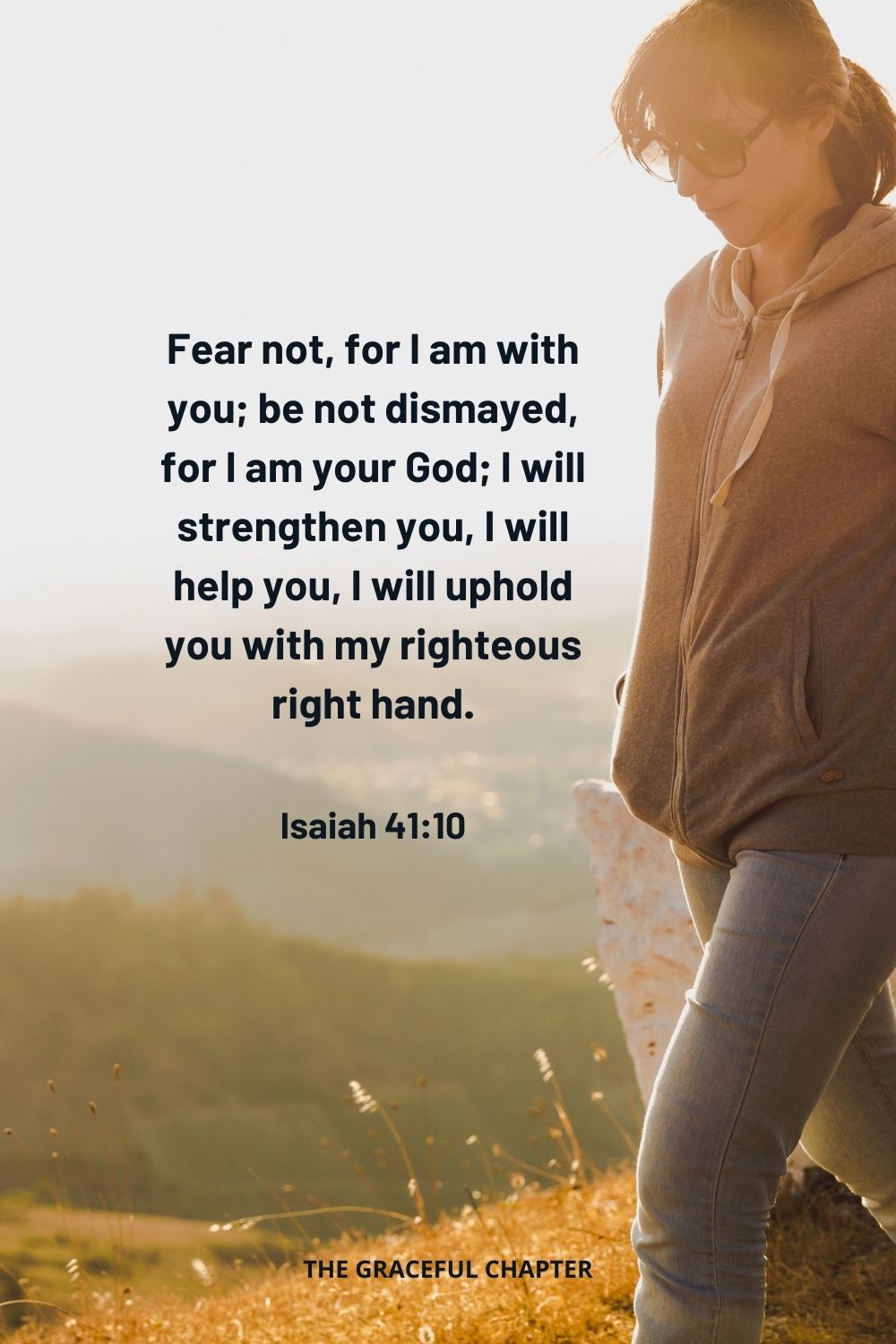 Isaiah 41:10
Fear not, for I am with you; be not dismayed, for I am your God; I will strengthen you, I will help you, I will uphold you with my righteous right hand.

2 Corinthians 12:9
But he said to me, My grace is sufficient for you, for my power is made perfect in weakness. Therefore I will boast all the more gladly of my weaknesses, so that the power of Christ may rest upon me.

Romans 8:28
And we know that for those who love God all things work together for good, for those who are called according to his purpose.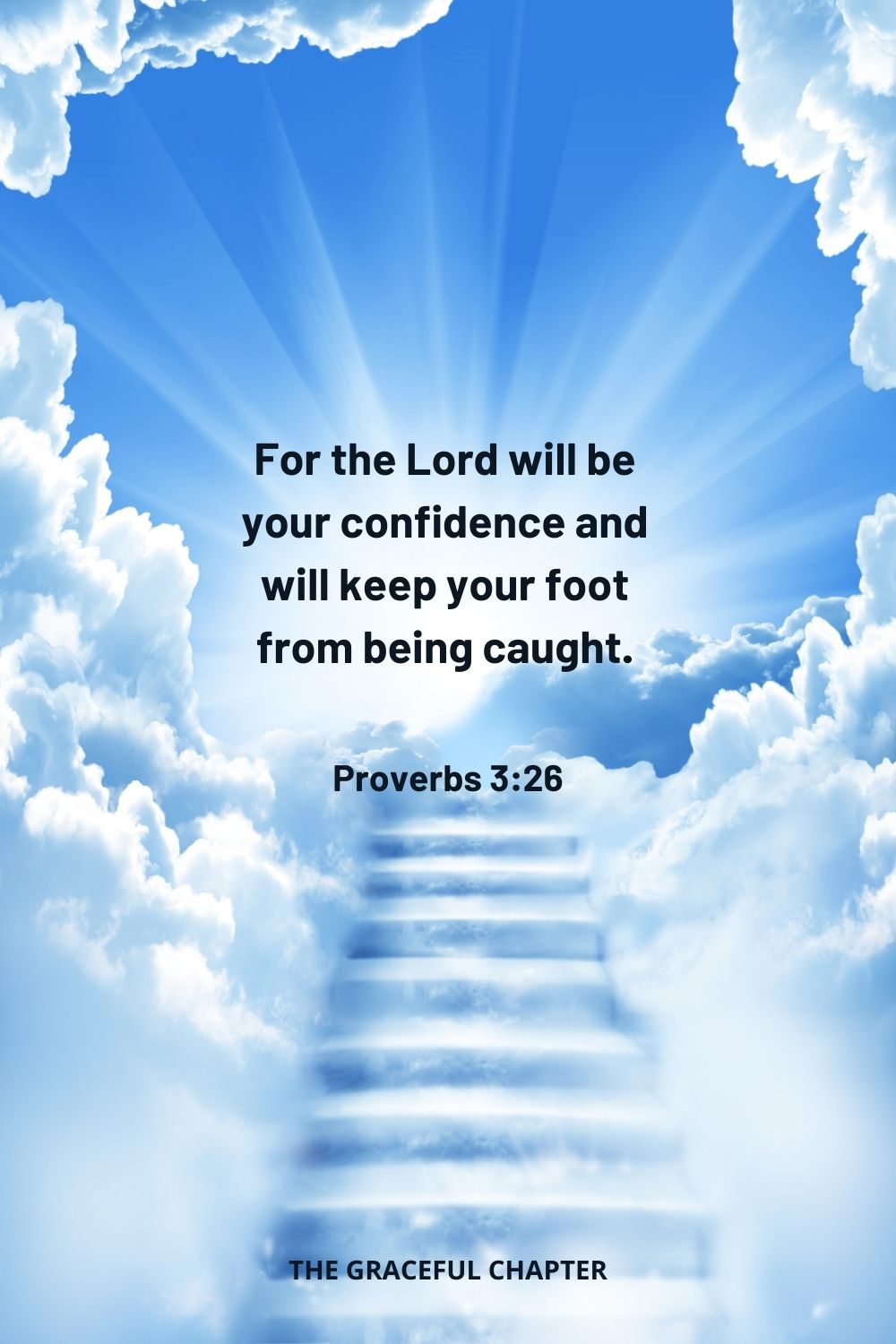 Proverbs 3:26
For the Lord will be your confidence and will keep your foot from being caught.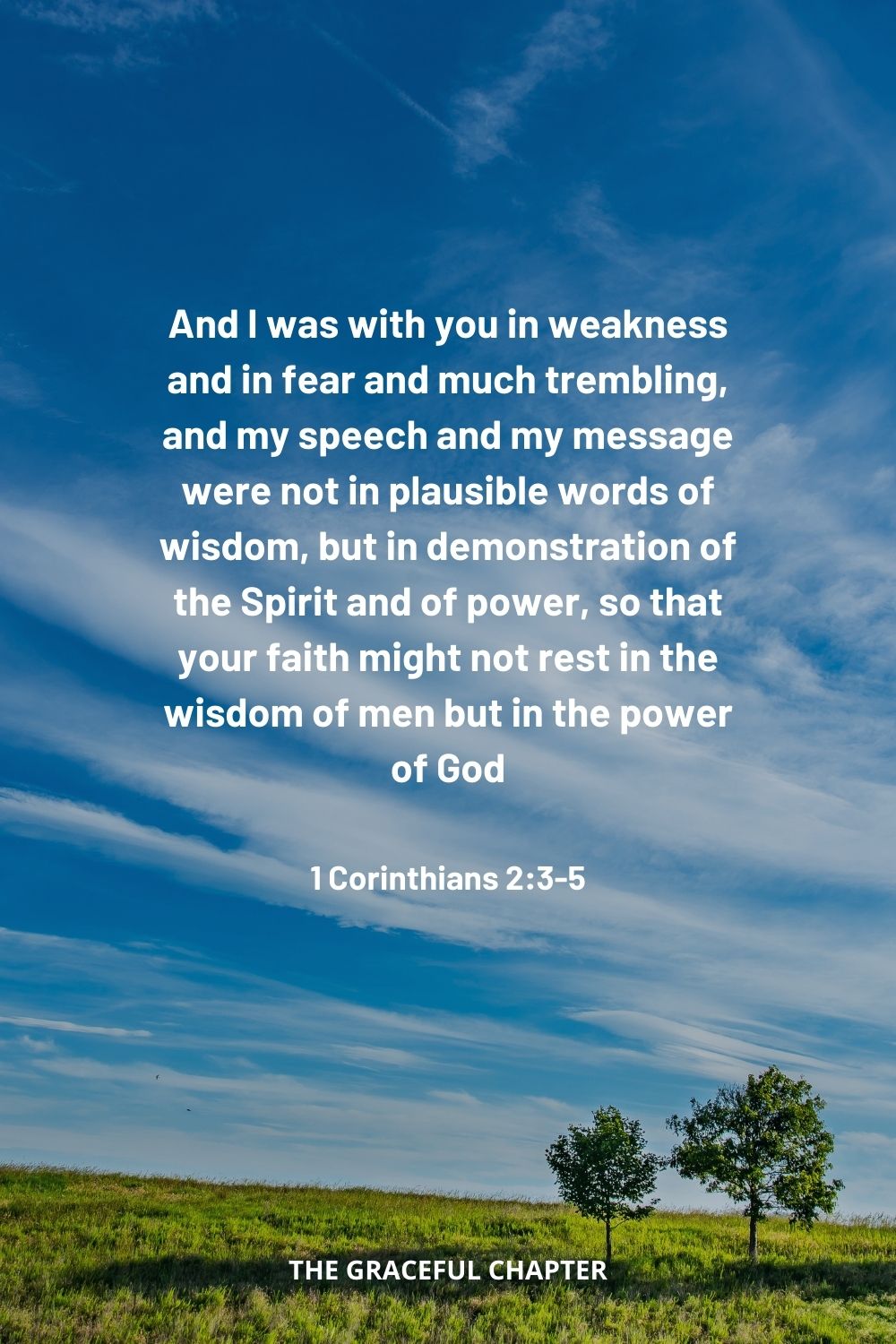 1 Corinthians 2:3-5
And I was with you in weakness and in fear and much trembling, and my speech and my message were not in plausible words of wisdom, but in demonstration of the Spirit and of power, so that your faith might not rest in the wisdom of men but in the power of God.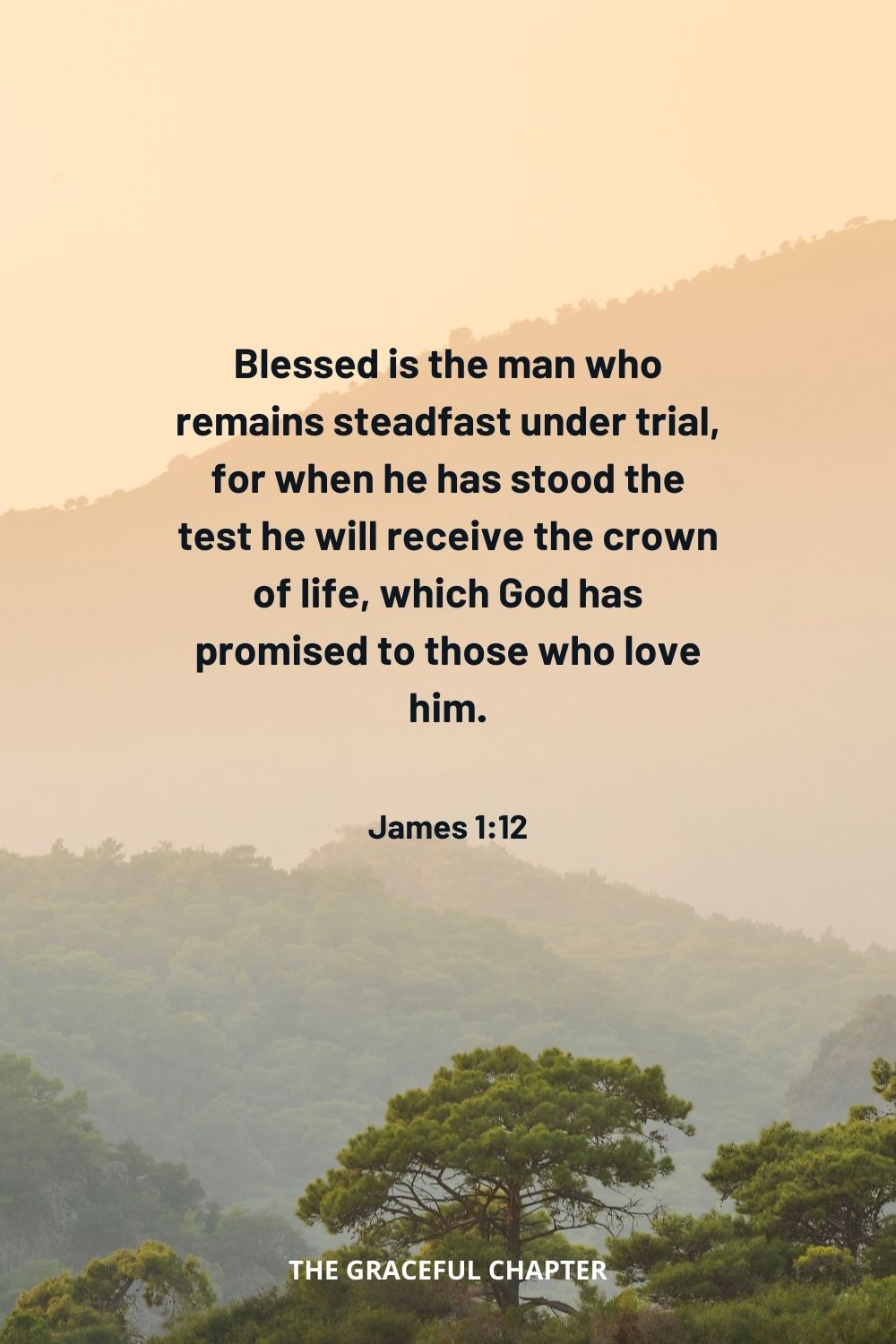 James 1:12
Blessed is the man who remains steadfast under trial, for when he has stood the test he will receive the crown of life, which God has promised to those who love him.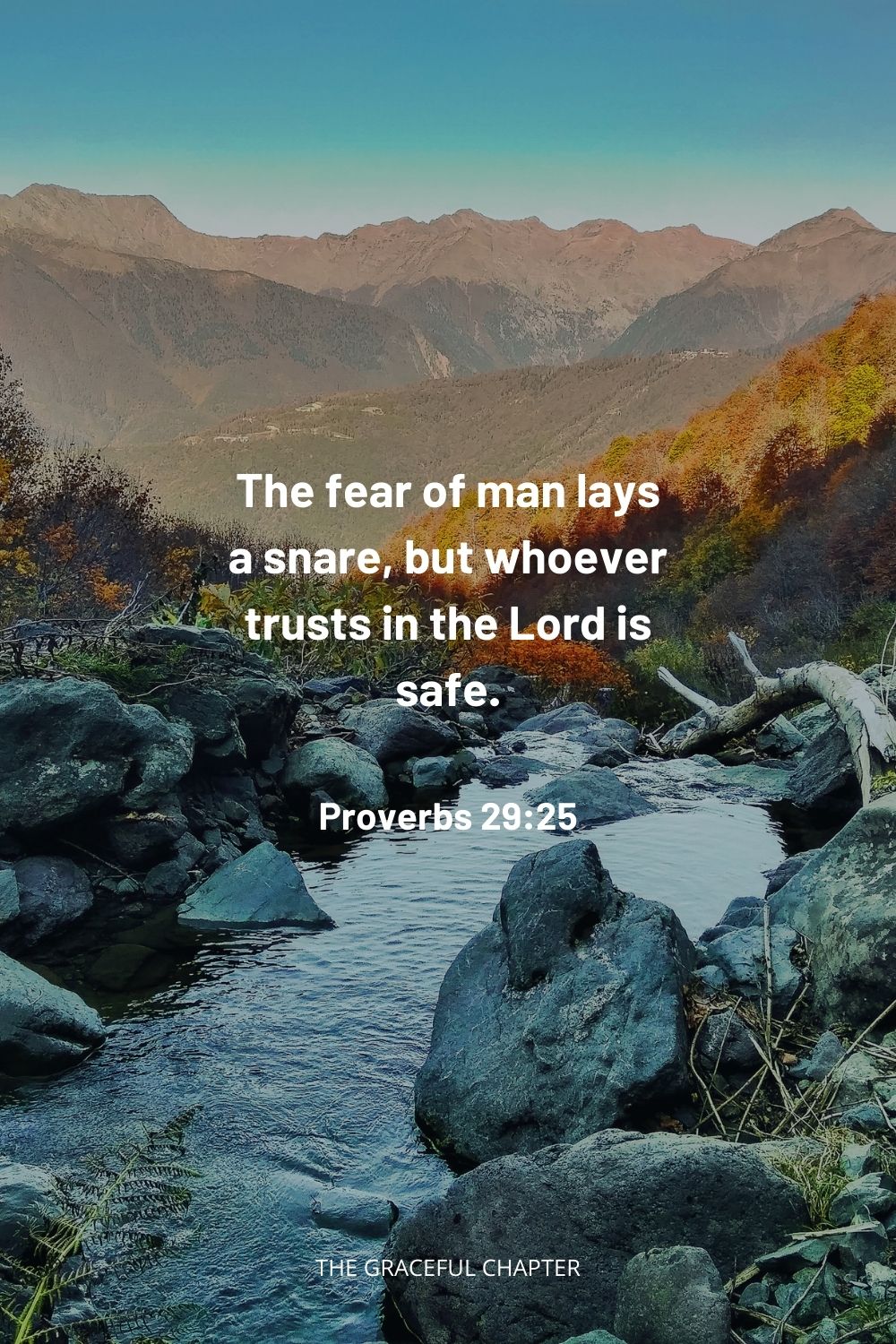 Proverbs 29:25
The fear of man lays a snare, but whoever trusts in the Lord is safe.

1 Timothy 4:12
Let no one despise you for your youth, but set the believers an example in speech, in conduct, in love, in faith, in purity.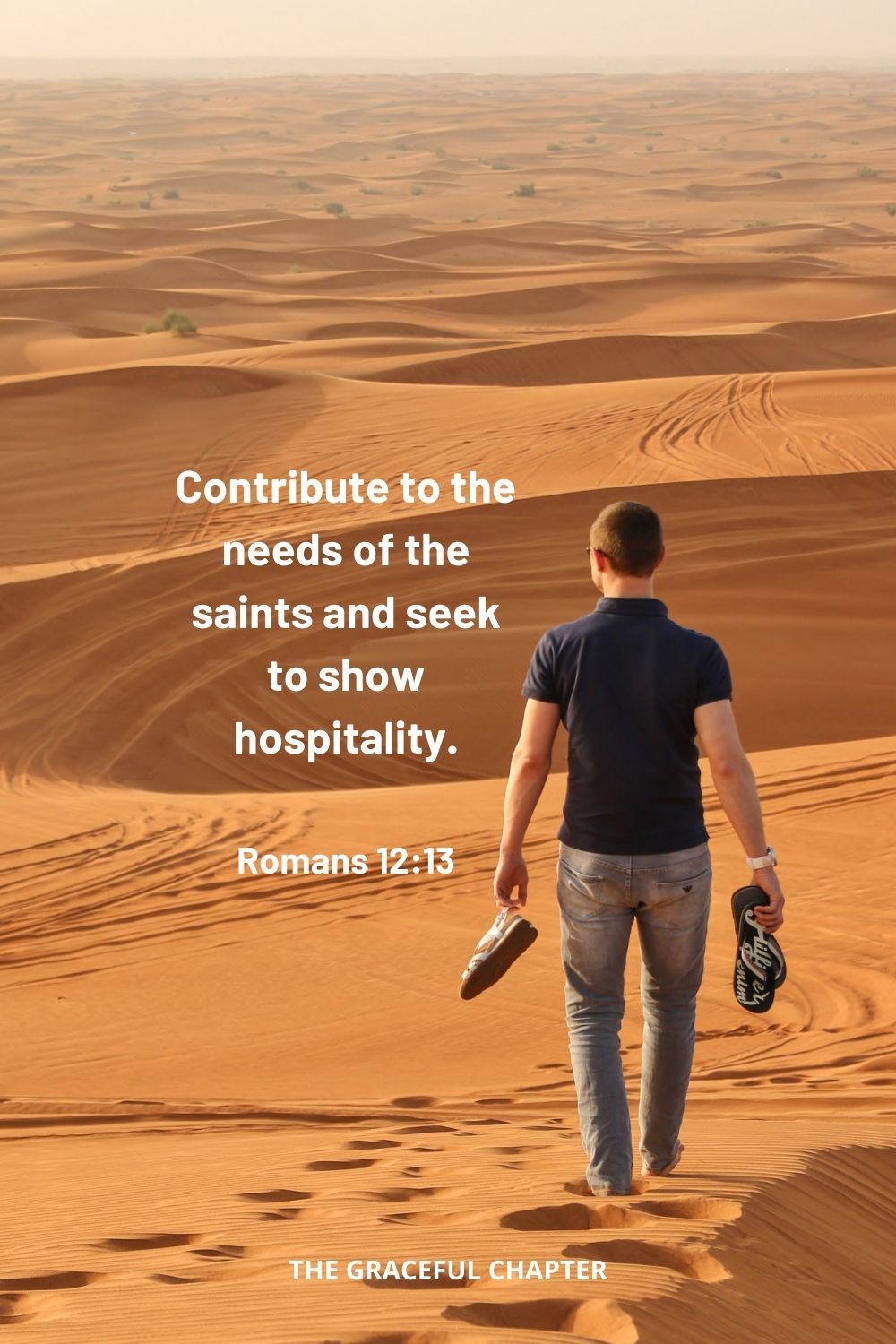 Romans 12:13
Contribute to the needs of the saints and seek to show hospitality.

2 Timothy 2:1
You then, my child, be strengthened by the grace that is in Christ Jesus.

Isaiah 40:31
But they who wait for the Lord shall renew their strength they shall mount up with wings like eagles; they shall run and not be weary; they shall walk and not faint.

Jeremiah 17:7-8
Blessed is the man who trusts in the Lord, whose trust is the Lord. He is like a tree planted by water, that sends out its roots by the stream, and does not fear when heat comes, for its leaves remain green, and is not anxious in the year of drought, for it does not cease to bear fruit.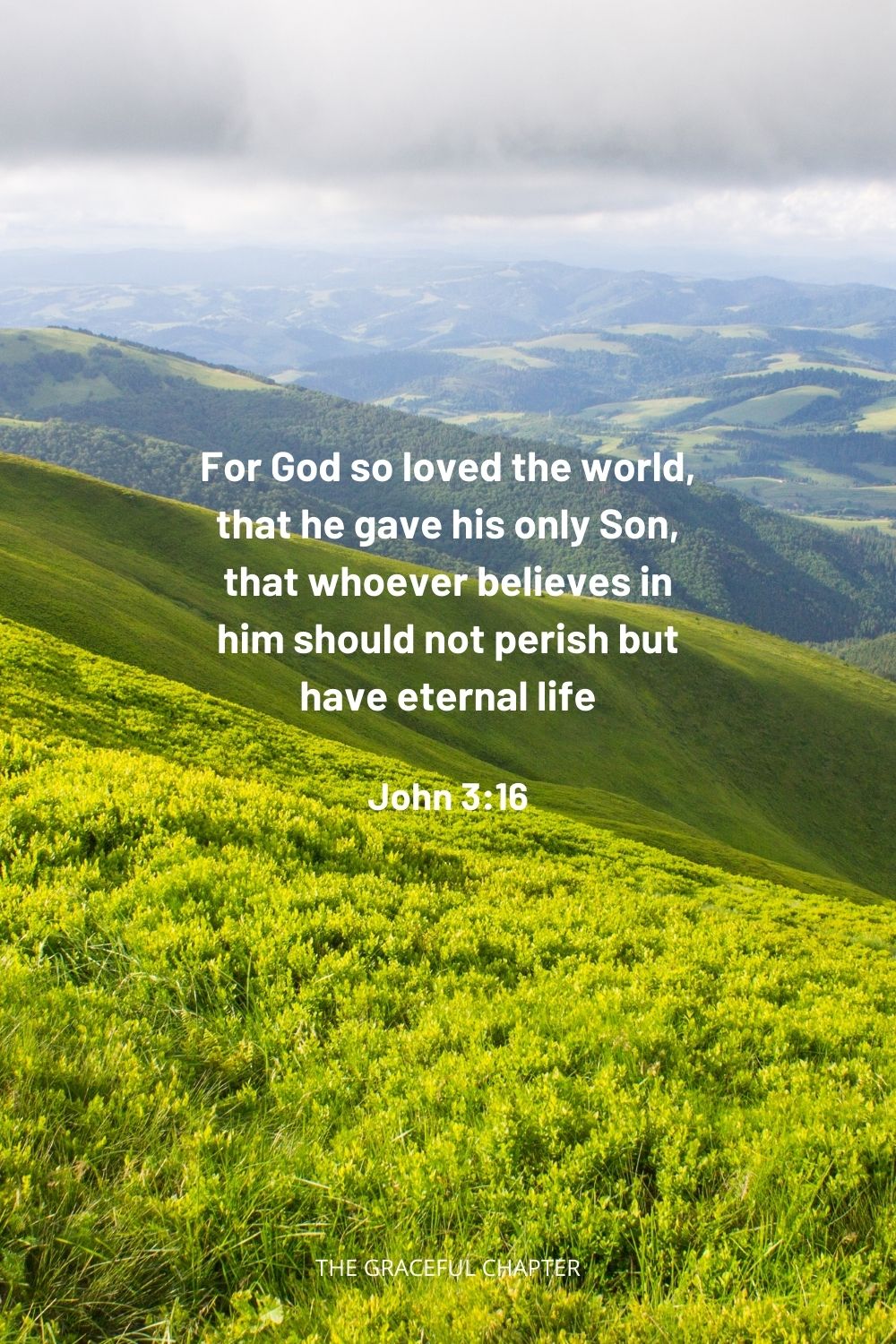 John 3:16
For God so loved the world, that he gave his only Son, that whoever believes in him should not perish but have eternal life

Philippians 3:3
For we are the circumcision, who worship by the Spirit of God and glory in Christ Jesus and put no confidence in the flesh

1 John 5:14
And this is the confidence that we have toward him, that if we ask anything according to his will he hears us.

Psalm 139:14
I praise you, for I am fearfully and wonderfully made.
Wonderful are your works; my soul knows it very well.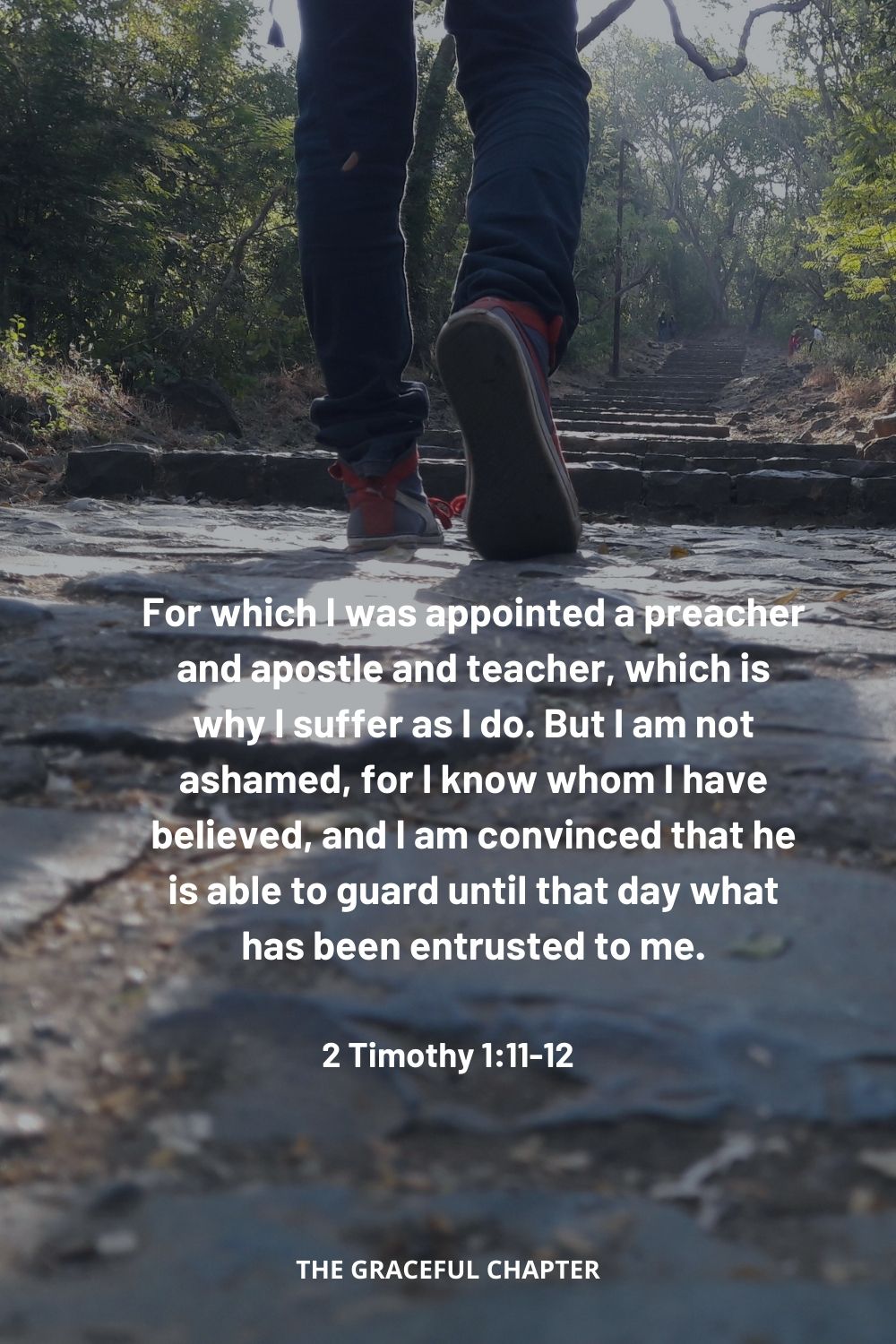 2 Timothy 1:11-12
For which I was appointed a preacher and apostle and teacher, which is why I suffer as I do. But I am not ashamed, for I know whom I have believed, and I am convinced that he is able to guard until that day what has been entrusted to me.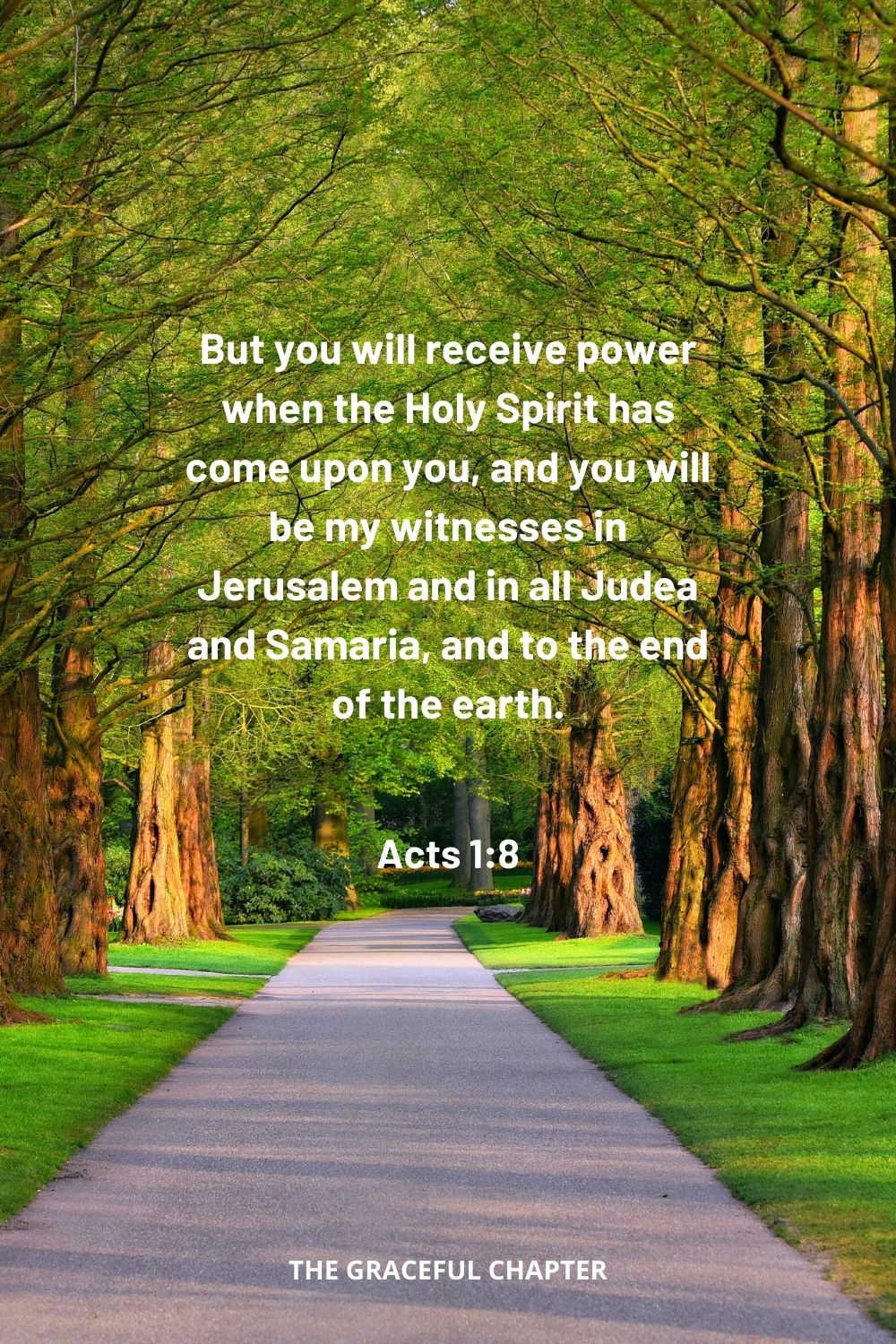 Acts 1:8
But you will receive power when the Holy Spirit has come upon you, and you will be my witnesses in Jerusalem and in all Judea and Samaria, and to the end of the earth.

2 Peter 1:3
His divine power has granted to us all things that pertain to life and godliness, through the knowledge of him who called us to his own glory and excellence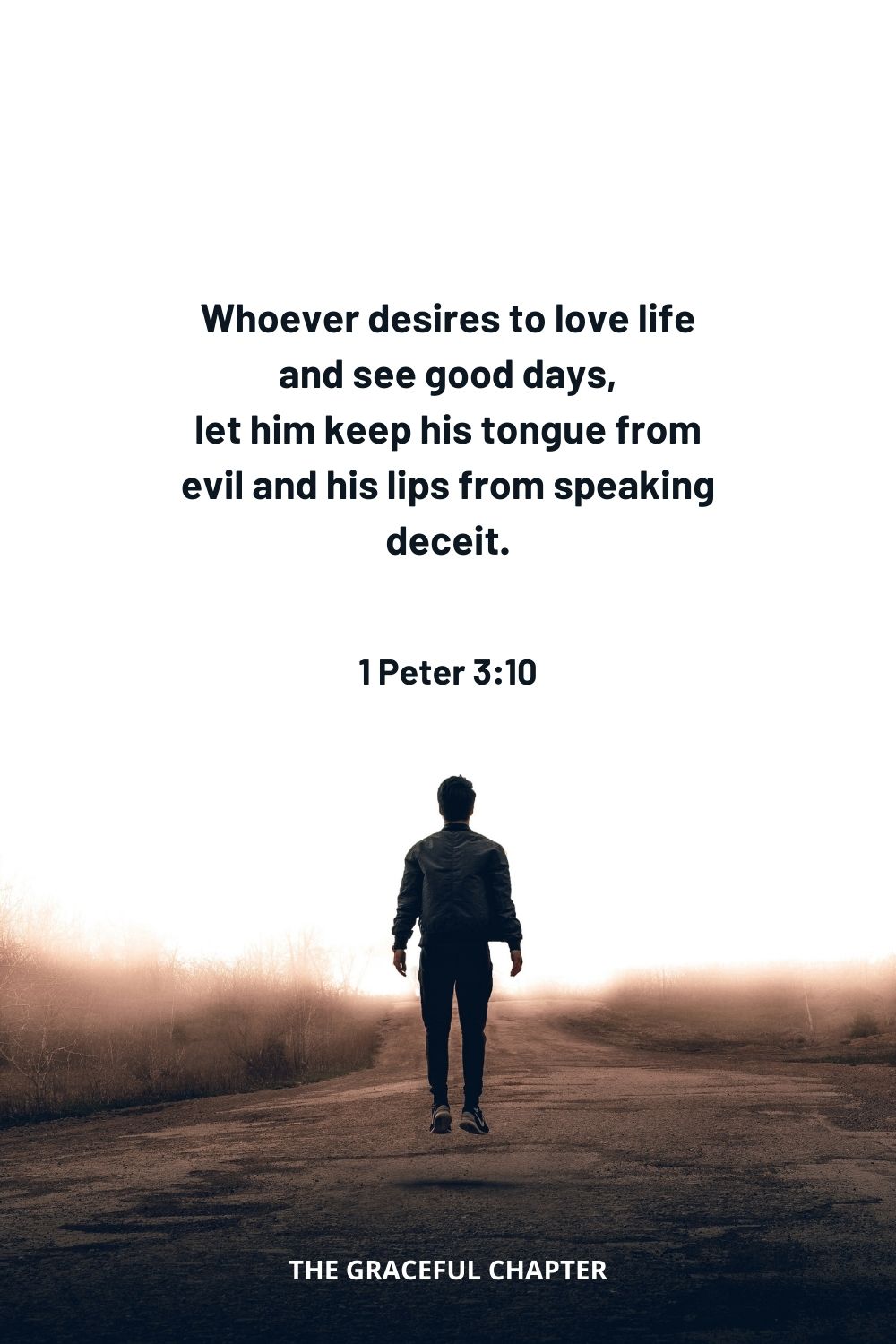 1 Peter 3:10
Whoever desires to love life and see good days,
let him keep his tongue from evil and his lips from speaking deceit.

Related Posts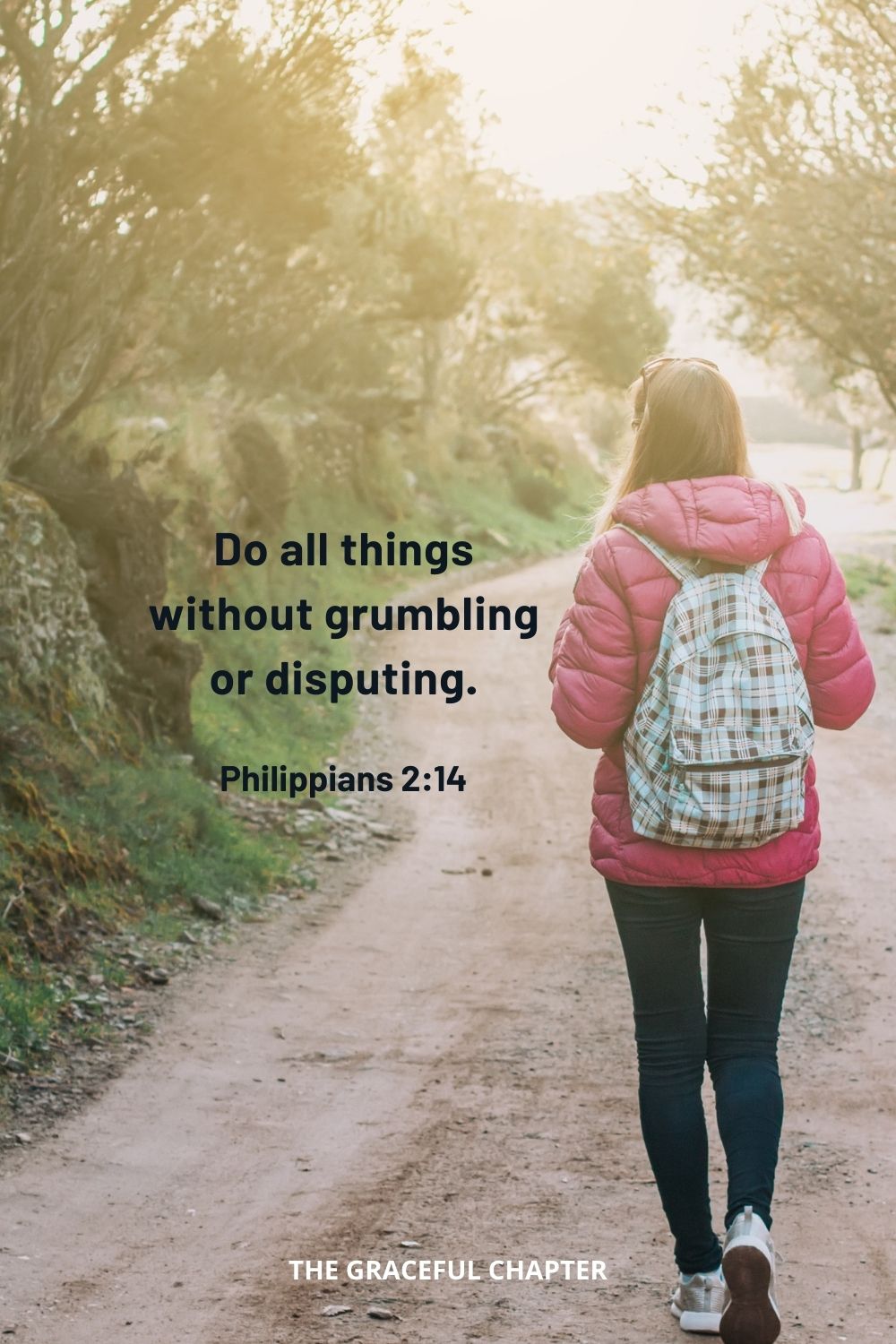 Philippians 2:14
Do all things without grumbling or disputing.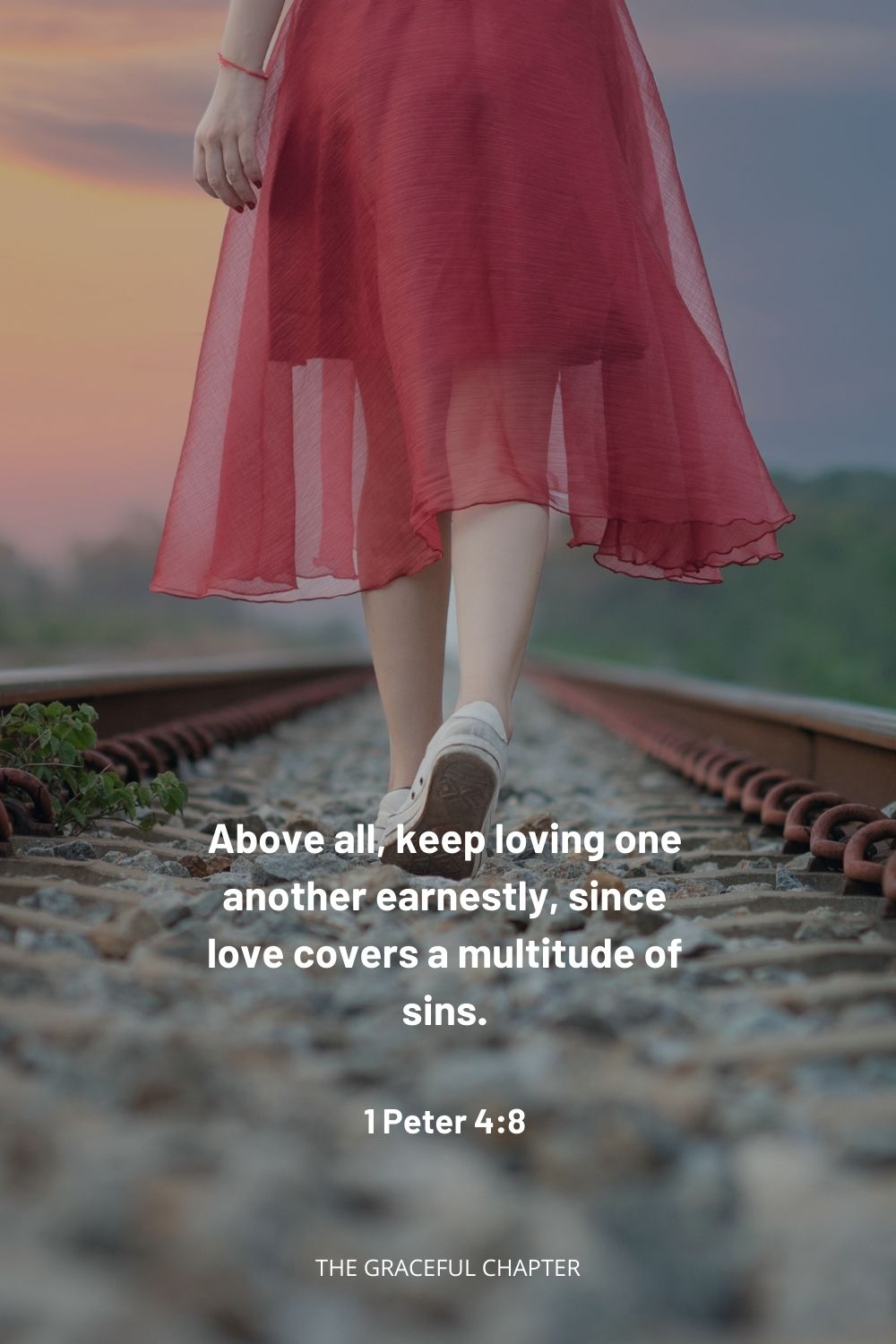 1 Peter 4:8
Above all, keep loving one another earnestly, since love covers a multitude of sins.

Proverbs 14:26
In the fear of the Lord, one has strong confidence, and his children will have a refuge.

2 Corinthians 5:17
 Therefore, if anyone is in Christ, he is a new creation. The old has passed away; behold, the new has come.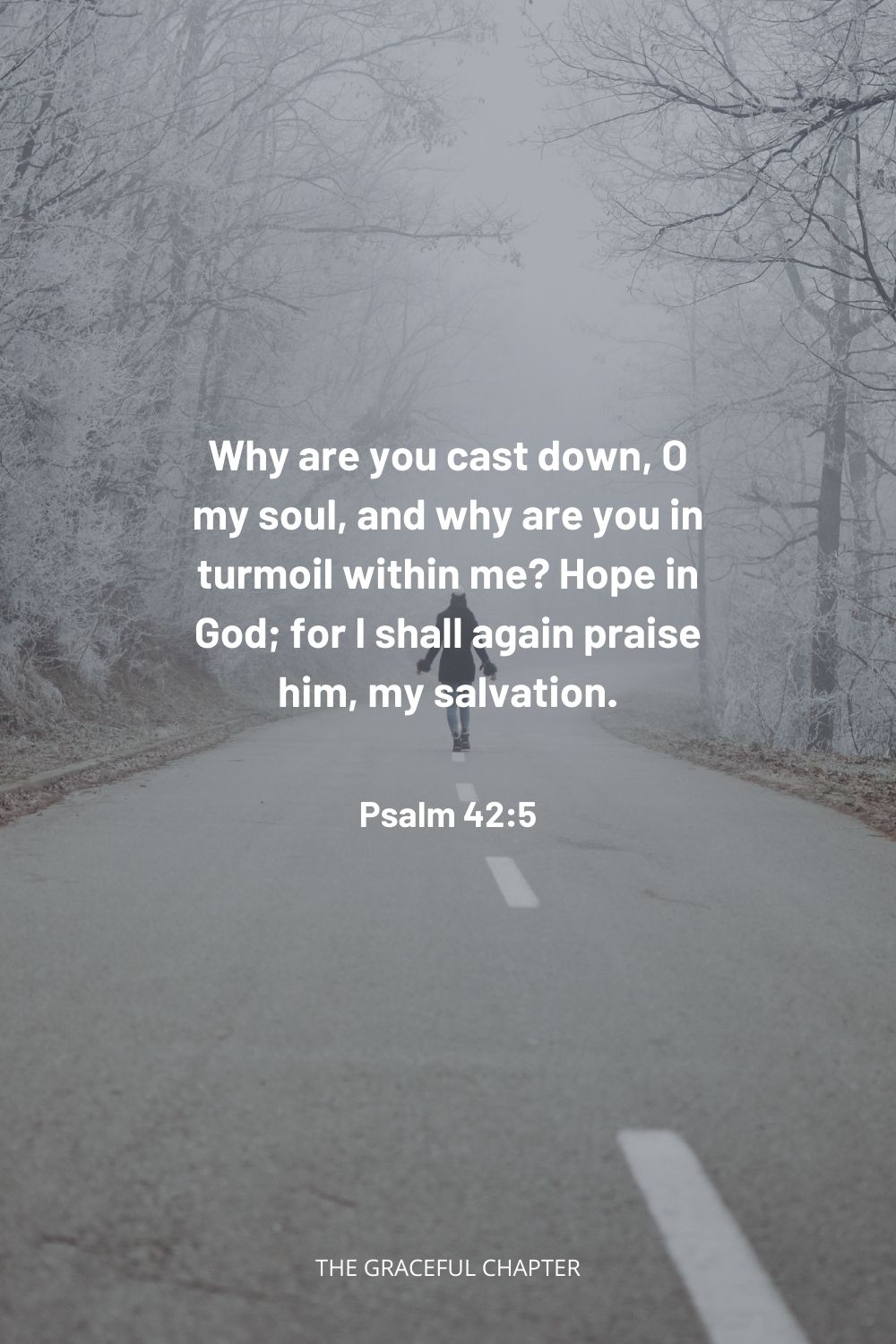 Psalm 42:5
Why are you cast down, O my soul, and why are you in turmoil within me? Hope in God; for I shall again praise him, my salvation.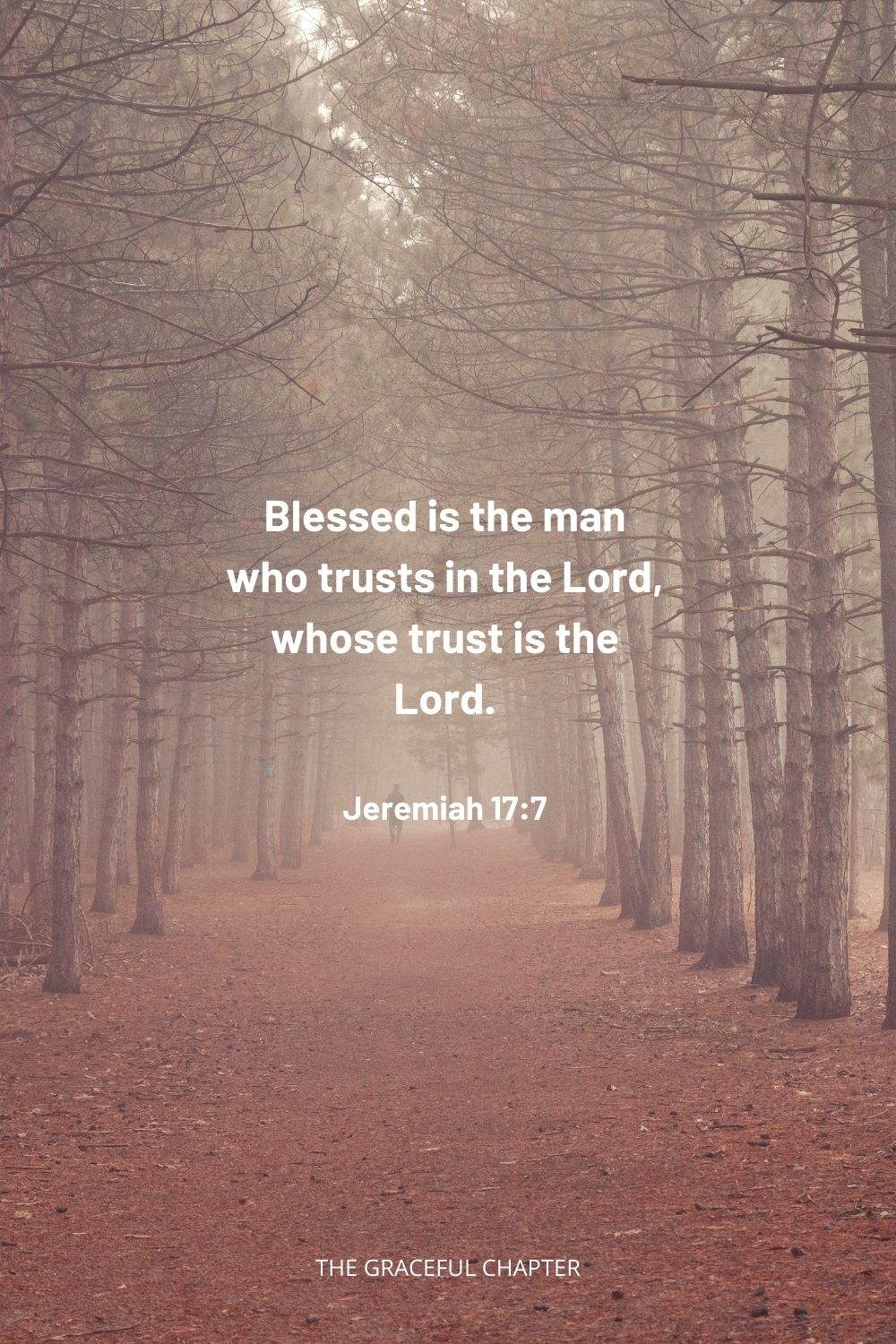 Jeremiah 17:7
Blessed is the man who trusts in the Lord, whose trust is the Lord.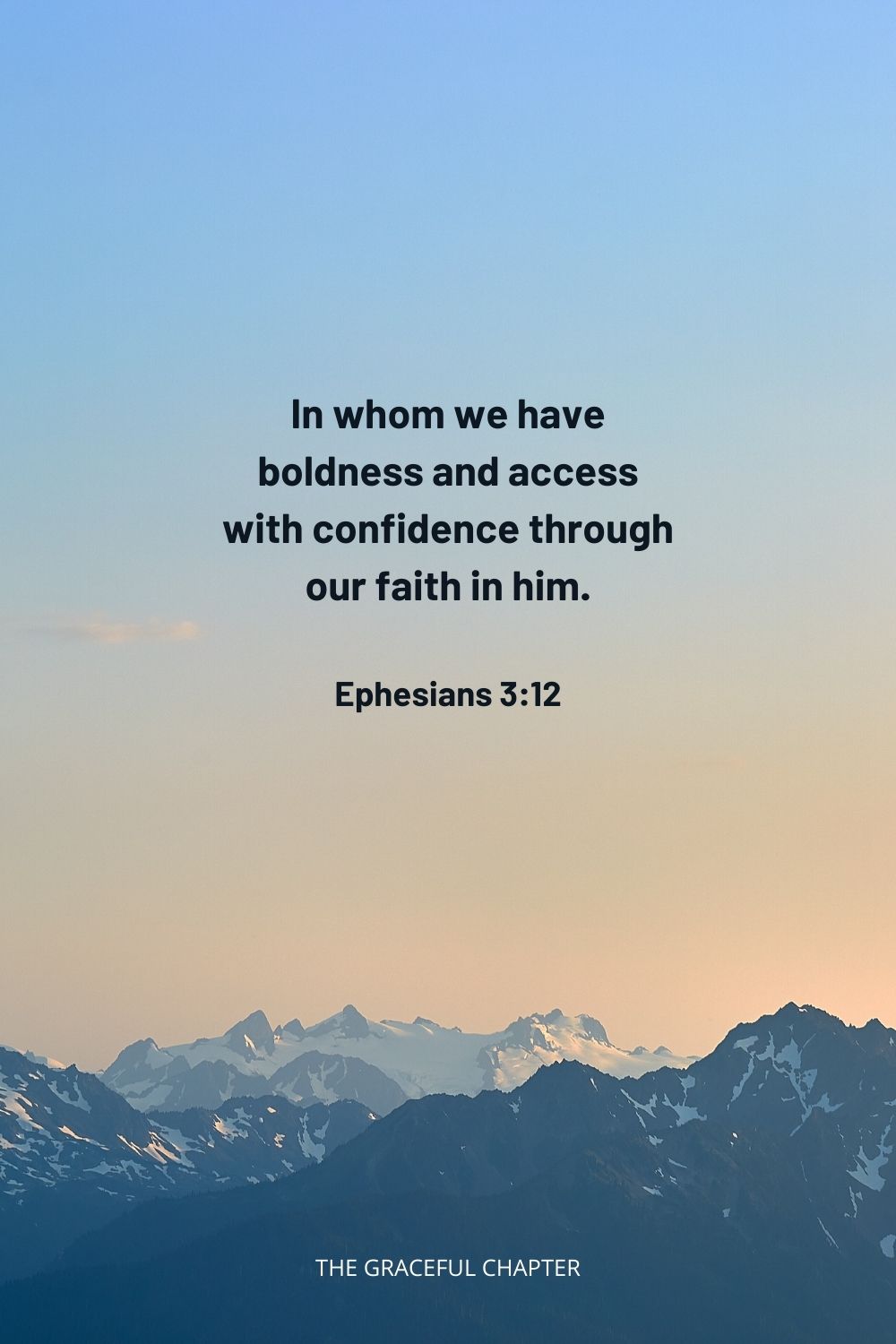 Ephesians 3:12
 In whom we have boldness and access with confidence through our faith in him.

Galatians 5:10
I have confidence in the Lord that you will take no other view, and the one who is troubling you will bear the penalty, whoever he is.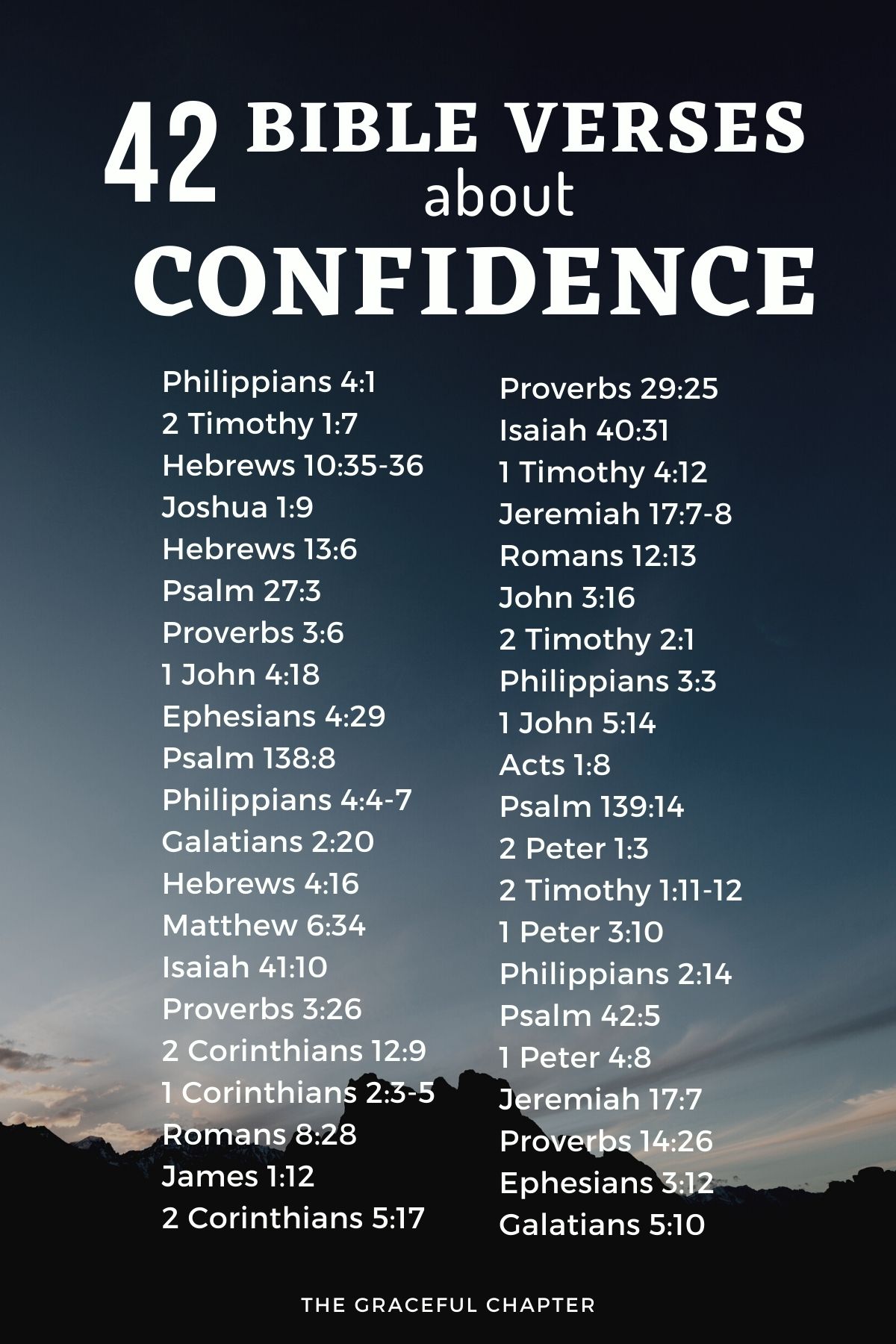 Prayer for confidence
Almighty Father,
Thank you for all that you are and all that you do for me
I praise your name because you are the Most High and there is no other god like you
Lord, I've come to you in prayer for confidence.
I pray that you, Oh Lord, will fill me with your Holy Spirit
Let your spirit be my strength and courage in all I do
When I begin to feel like I'm not good enough,
Please remind me that it is not by my own might, but it is by your spirit
When I begin to doubt my self-worth,
Please remind me that I am who you say I am and you say I am fearfully and wonderfully made
When I begin to lack self-esteem
Please remind me that you have equipped me to do your works
Crown me with confidence and let me live my days believing not in who I think I am,
But in who I am in You.
Amen