Thanksgiving day is a very special day. It's a day to reflect on all the good things and people in your life and give thanks to God. 
Whether you are able to make it to a family gathering or you couldn't and have to spend the day alone, it is still a day you can spend alone and reflect on all the things to be thankful for.
But Thanksgiving day isn't the only day to give thanks, practicing gratitude every day is actually a good thing and there is something to be thankful for every day.
If not for anything,  you can be thankful for the breath of life and for waking up to see a new day.
One common Thanksgiving day ritual is gathering with family and friends to wine and dine whiles talking about everything we are grateful for.
Throughout the year, it is not easy to get the whole family together because of work and different schedules but on Thanksgiving day, everybody gets to be together with their family and that is definitely another thing to be thankful for. 
Thanksgiving prayer points 
The thing about thanksgiving prayer is that it is not a prayer for just one day. It is a prayer that can be said all year round. 
So whether you want to say a prayer at the table this Thanksgiving day or you want a thanksgiving prayer you can say every day, these thanksgiving prayers can be used.
If you also want to make up your own thanksgiving prayer, here's how to do it.
1. Thank God for your immediate blessings
The first thing to do is to say thank you to God for the blessings around you at the moment. This can be for waking up, for your family and friends around you, and for the dinner you are all about to eat together.
2. Thank God for everything He's done all year round
God is good and His grace is abundant for us all year round. This means that aside from everything and everyone around you right now, there are also things that happened that you should be thankful for.
This can be anything that happened in the course of the year that you are grateful for. Things like a promotion at work, recovery from sickness, buying a new house, graduating from school, or welcoming a new member to the family are all things to be thankful for.
If you are saying this prayer at a Thanksgiving dinner, remember to include things that happened in others' lives too, and the whole family as a whole, not just things that happened in your life.
3. Ask for continuous blessings 
Now that you've thanked God for all that He has done, the next thing to do is to ask God to keep blessing you and your family.
Ask Him for guidance and protection for each and every one of you. Ask Him to bless everyone present and grant them their heart desires.
Pray that God gives you all good health and long life so that you can all be gathered there again in the coming year to say other thanks to Him for everything.
Below are some thanksgiving dinner prayers you can say at the table.
Thanksgiving dinner prayers
Almighty Father,
We thank you that we are all gathered here today.
Thank You for Your guidance and blessings throughout the year.
Thank You for this meal on our table
Help us to remember the less fortunate and be there for them
just as you are here for us.
Please bless this family and our friends.
Grant us long life and good health.
In Jesus' name, we pray
Amen
Lord God,
On this Thanksgiving day,
We thank You for all that you are and all that you do for us.
We thank You for Your gifts of good health and safety.
We thank You for our friends, the roof over our heads, and the meal we are about to eat.
Guide and protect each and every one of us.
Fill us with joy and happiness and
let Your will be done in our lives.
Through Jesus Christ, we pray
Amen
Our Heavenly Father,
We are thankful for all Your blessings, goodness, and mercy on us.
We are thankful for all the people in our lives who make our life meaningful and beautiful.
Thank You for watching over us and getting us all here safely.
Let Your blessings be upon everyone here today
May we be protected and all our prayers be answered.
In Jesus mighty name
Amen
Related Posts
Oh Gracious Lord,
We thank You for this beautiful day.
We thank You for the gift of life for everyone present here today.
We thank You for your goodness and mercies in all we do
Guide our ways, deliver us from evil
Fill our hearts with love and understanding for each other.
Help us to be blessings to each other and to the people around us.
And bless this meal that we are all about to eat
In Jesus' name, we pray
Amen

Dear Lord,
We are all gathered at this table with grateful hearts for all that you have done for us.
It's not been an easy year but You have been with us through it all and given us the strength and courage to pull through all the trials and hard times. And for that, we are so very grateful.
Thank You for the breath of life, thank You for hope, thank You for Your love, and thank You for Your kindness and Your works in our lives.
We dedicate the coming year to You,
Bless each and every one of us. Let Your divine favor be upon us and everything we do.
Fill our hearts with joy and laughter and let Your peace reign in our lives.
In Jesus Mighty Name we pray,
Amen
Dear Loving Father,
We thank You for the lives of everyone present here,
We thank You for the goodness and blessings over our lives
We thank You for all our achievements and our accomplishments
We thank You for new relationships and all the new things you do for us every day
We commit ourselves into Your mighty hands
Bless the works of our hands
May we experience your goodness in greater proportions than we can imagine
Grant us our heart desires and let Your favor be upon us this day and all the day of our lives through Jesus Christ our Lord, Amen.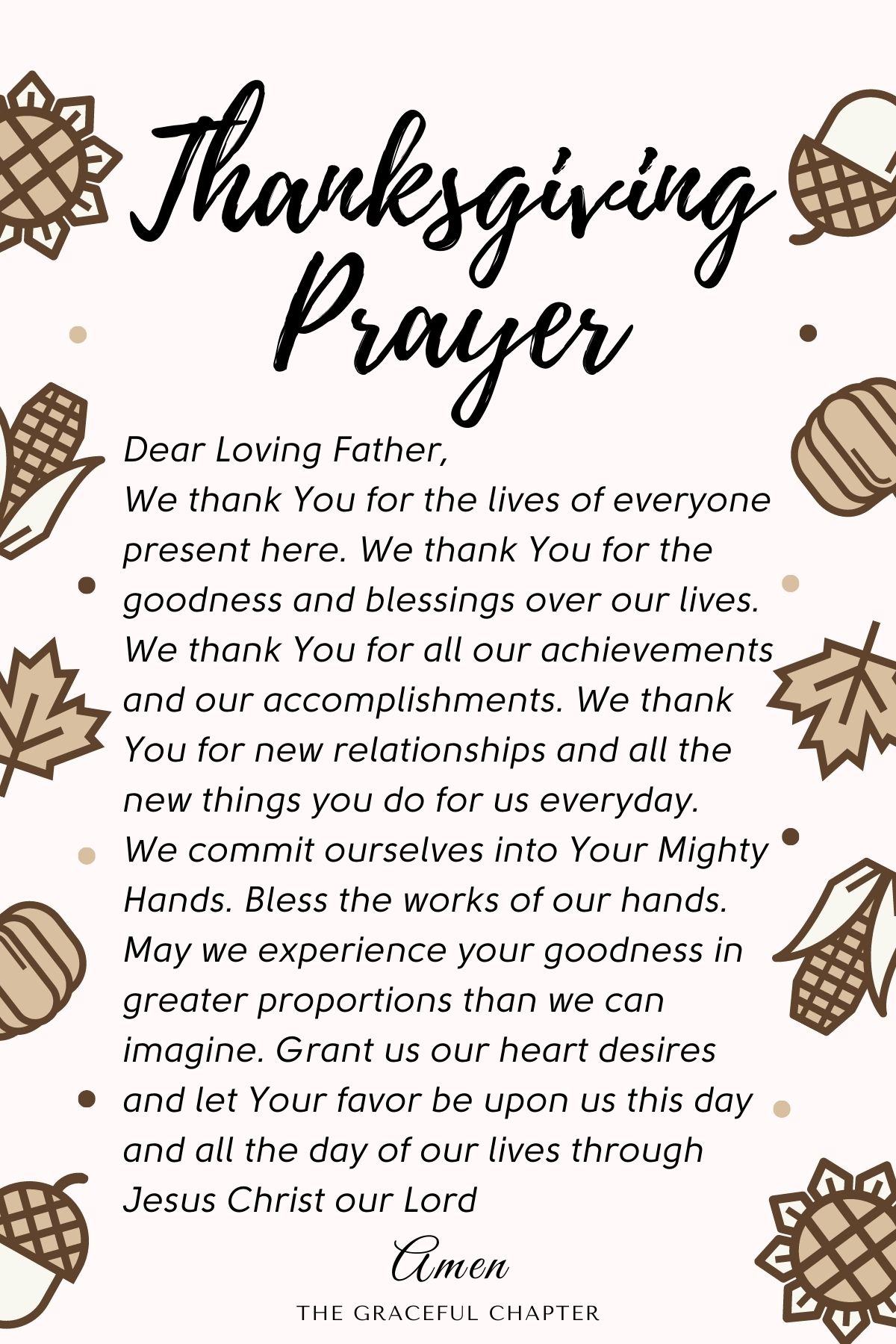 Almighty Lord,
Thank you for your love and grace in our lives
Thank you for bringing us all together
We pray that you will bless each and everyone present here today
As we are all gathered here, we remember those who are not with us anymore
We pray that you keep their soul safe
We thank you for all that you have done for us throughout the year
And we thank you for this meal that we are about to eat
Give us good health and strength
And fill our hearts with joy and love
In Jesus' name,
Amen
Heavenly Father,
We thank you for this day
We thank you for providing us with shelter, and good health,
We thank you for all the blessings you shower us with
We thank you for this meal we are about to enjoy
We pray for the less fortunate, we ask that you have mercy on them too
And give them a reason to be thankful
Fill our hearts with joy and laughter
And guide us to live a righteous life always
Amen

Gracious Lord,
On this Thanksgiving Day, we say you deserve the glory
Lord you deserve, all the praises and adorations
You've been good to us and we are thankful
We are thankful for our lives, our jobs, and our health
We are thankful for our friends and our neighbors
We commit the coming year into your hands
We pray that you keep watch over us and deliver us from all evil
Thank you, Lord, for this meal that we are all about to enjoy
Amen
Everlasting Father,
Thank you for all that you are and all that you do for us
Thank you for your grace and faithfulness throughout the year
Thank you for making it possible for us all to gather here today
We pray for your guidance, please light our path and teach us to do the right thing
Bless us, protect us and answer all of our silent prayers in Jesus' name,
Amen