Fornication is a sexually intimate relationship between two persons who are not married. This is a sin in the eyes of the Lord. Fornication is the act of a person's sexual lust manifesting itself. This is a terrible sin because it allows all types of demonic misery and diabolical manipulation to take place in the body.
The world we live in now makes certain things that the Bible speaks against seem like normal acts. When society accepts an act, it can be easy to get drawn in and do the same thing too. This is why it is important to read your bible often so as to know what exactly the Bible says about everything.
The Bible says in James that we shouldn't only be hearers of the word, but we should also be doers of the word. So just knowing what the Bible says about fornication is not enough, you have to do as it says.
These bible verses about fornication will help you know and understand what the bible says about fornication and why it is important for you to stay away from sexual immorality. May the Lord be your strength and help you to stay sexually pure. Amen
Bible verses on fornication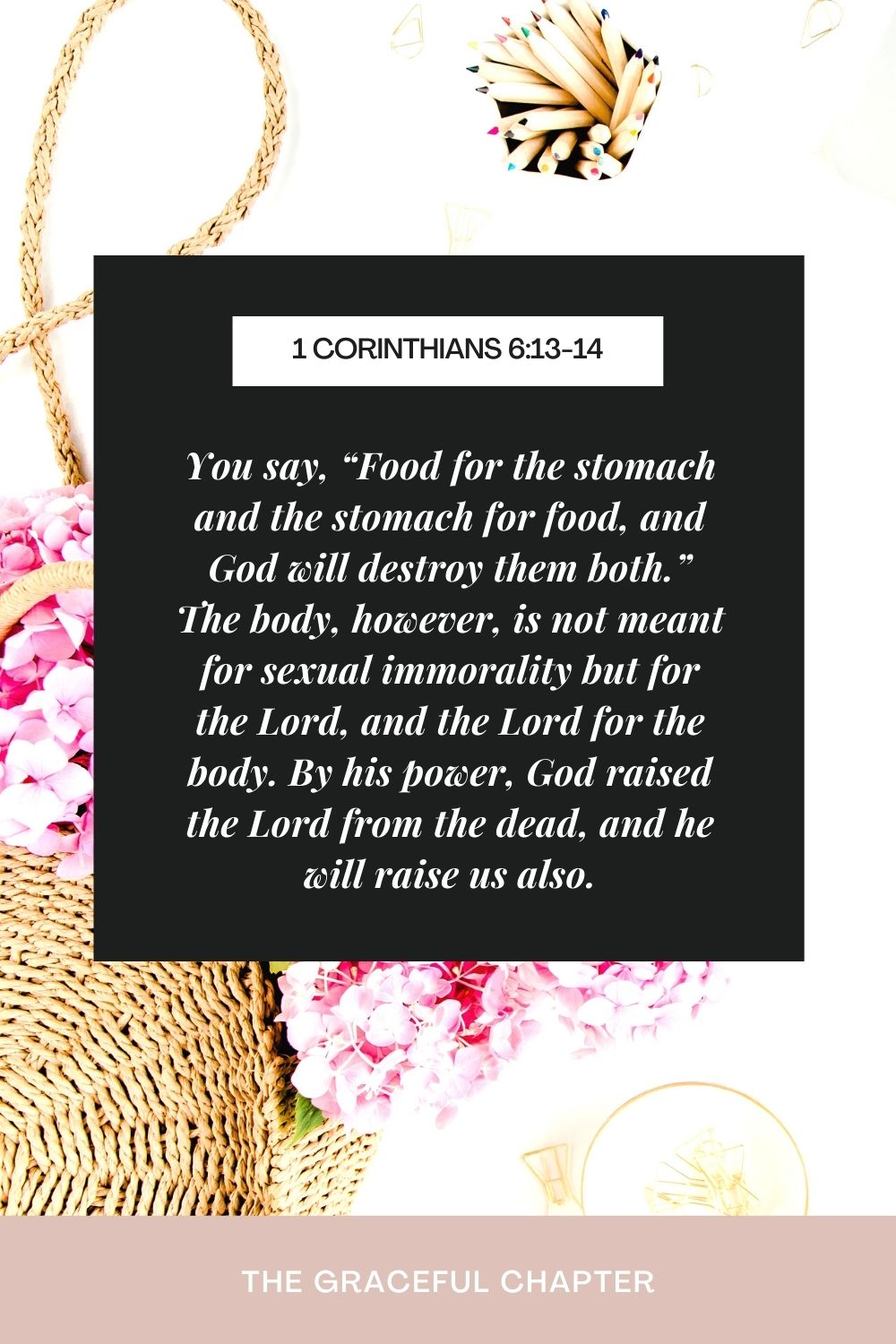 1 Corinthians 6:13-14
You say, "Food for the stomach and the stomach for food, and God will destroy them both." The body, however, is not meant for sexual immorality but for the Lord, and the Lord for the body. By his power, God raised the Lord from the dead, and he will raise us also.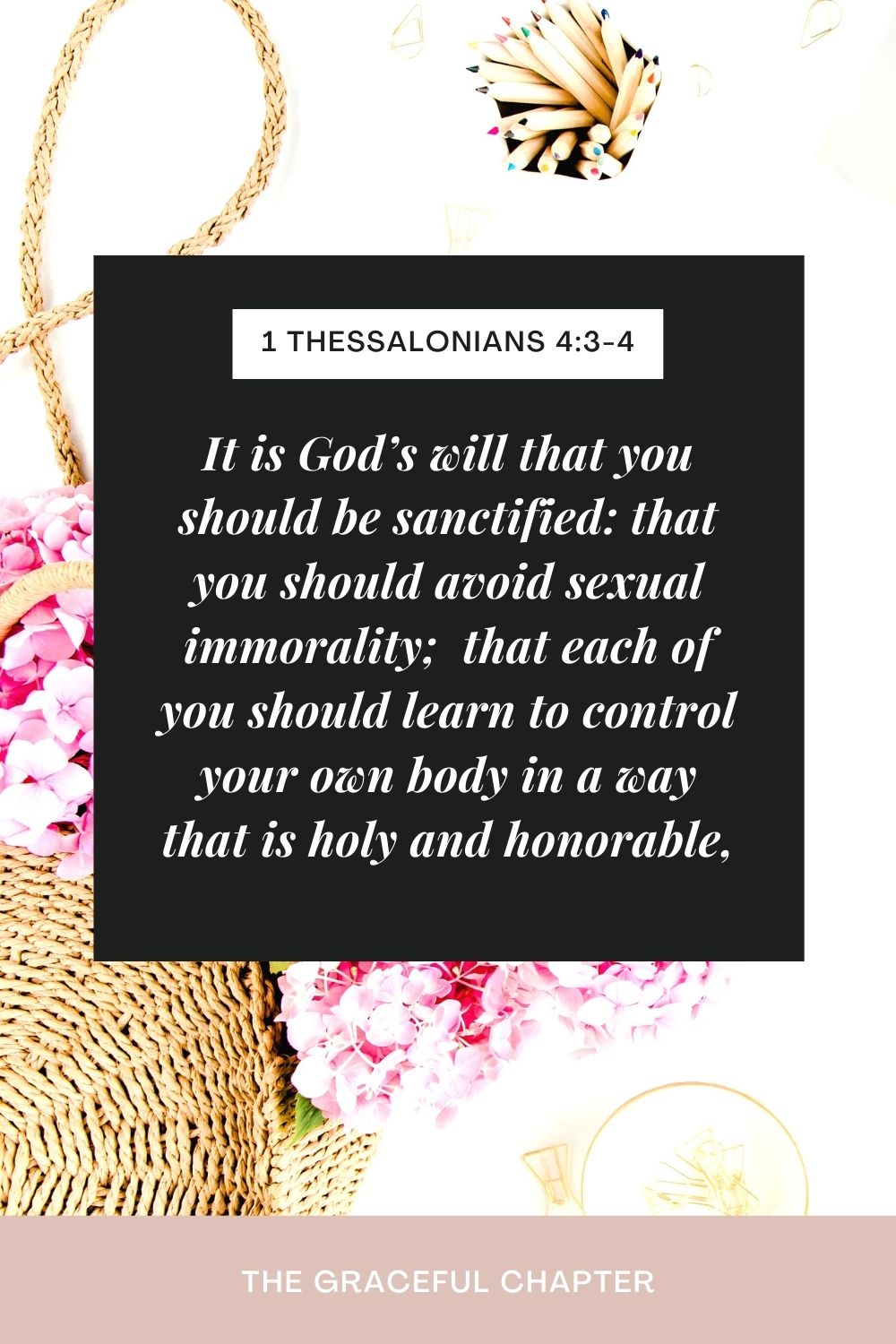 1 Thessalonians 4:3-4
It is God's will that you should be sanctified: that you should avoid sexual immorality;  that each of you should learn to control your own body in a way that is holy and honorable,

Hebrews 13:4
Marriage should be honored by all, and the marriage bed kept pure, for God will judge the adulterer and all the sexually immoral.
Hebrews 13:4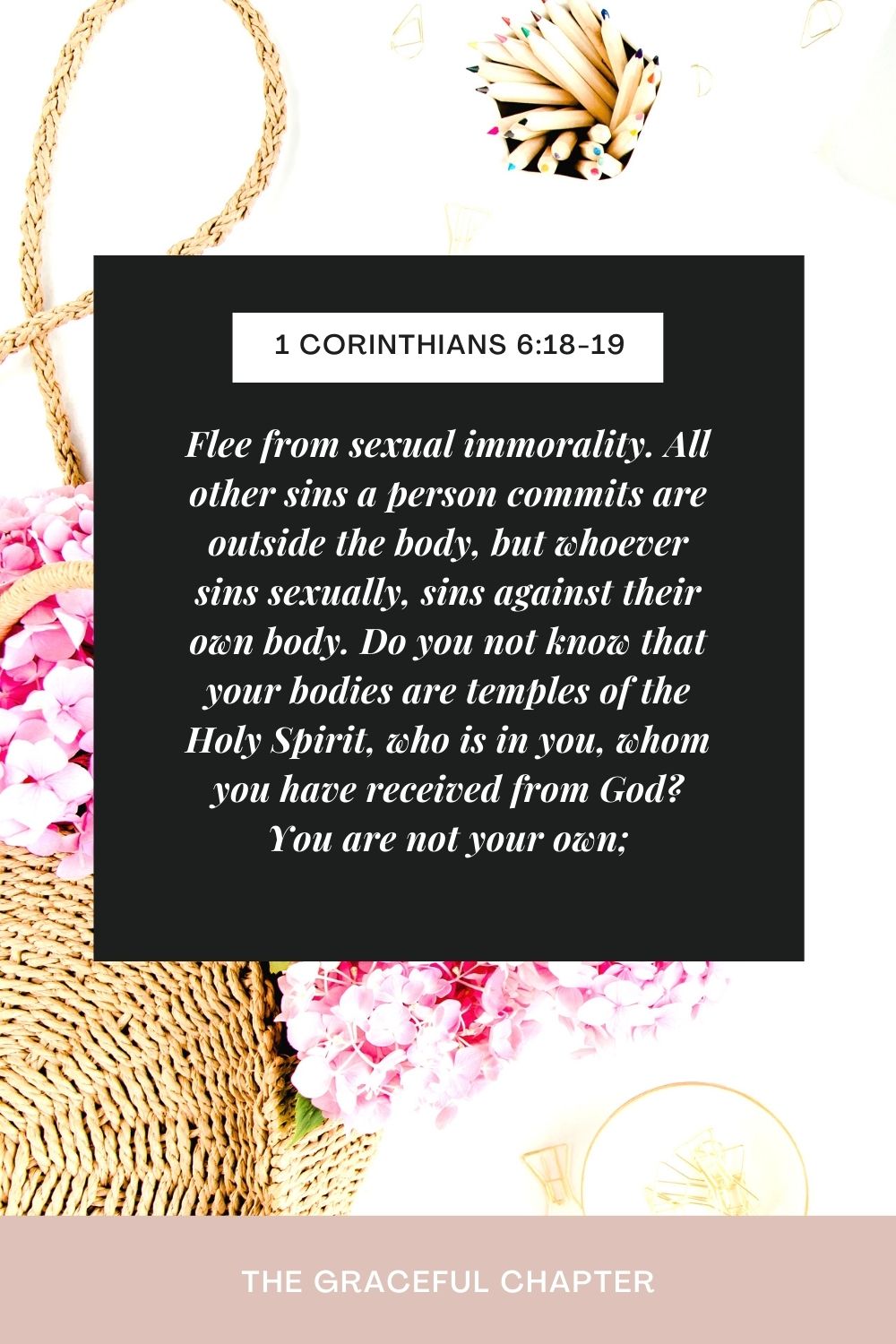 1 Corinthians 6:18-19
Flee from sexual immorality. All other sins a person commits are outside the body, but whoever sins sexually, sins against their own body. Do you not know that your bodies are temples of the Holy Spirit, who is in you, whom you have received from God? You are not your own;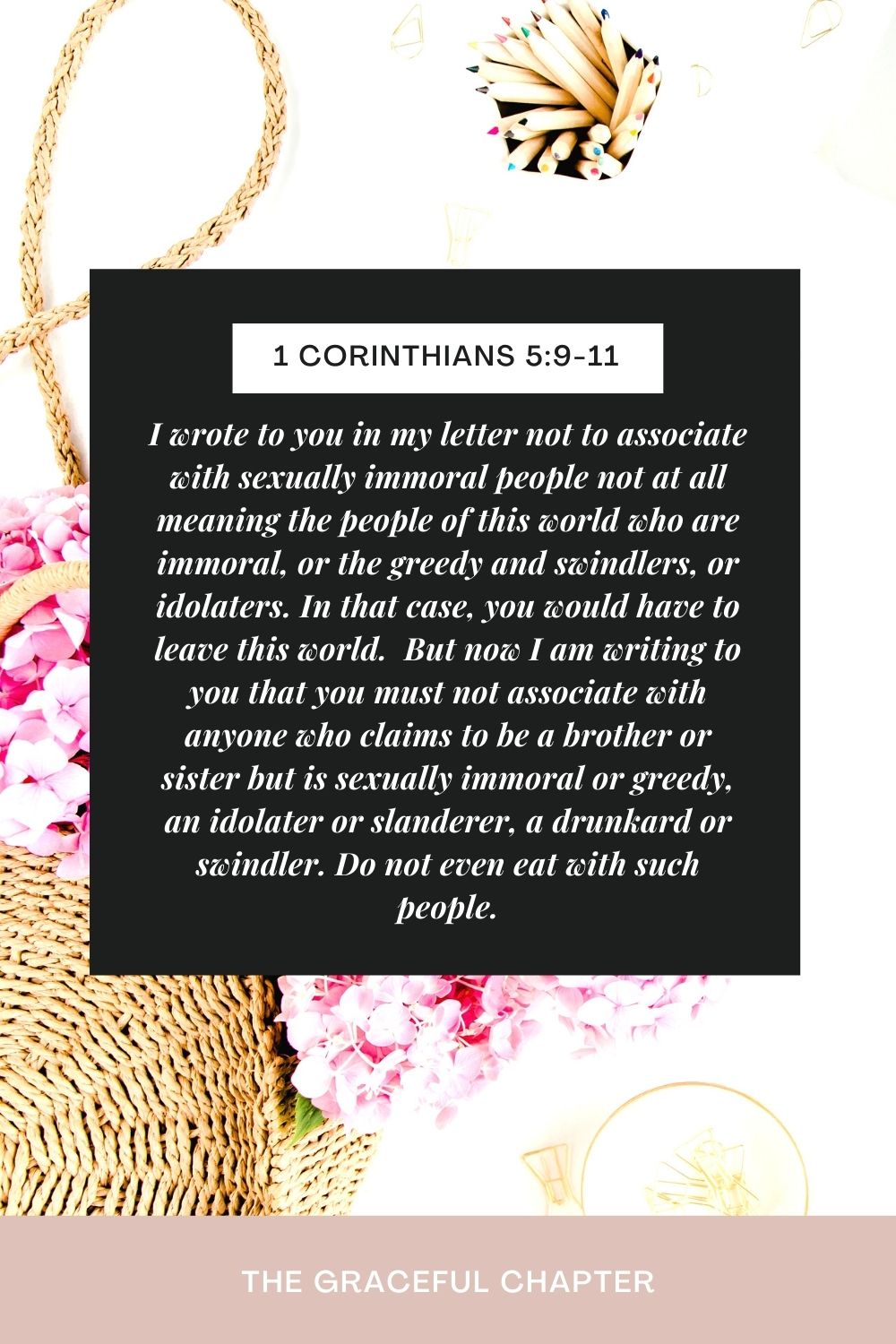 1 Corinthians 5:9-11
I wrote to you in my letter not to associate with sexually immoral peoplenot at all meaning the people of this world who are immoral, or the greedy and swindlers, or idolaters. In that case, you would have to leave this world.  But now I am writing to you that you must not associate with anyone who claims to be a brother or sister but is sexually immoral or greedy, an idolater or slanderer, a drunkard or swindler. Do not even eat with such people.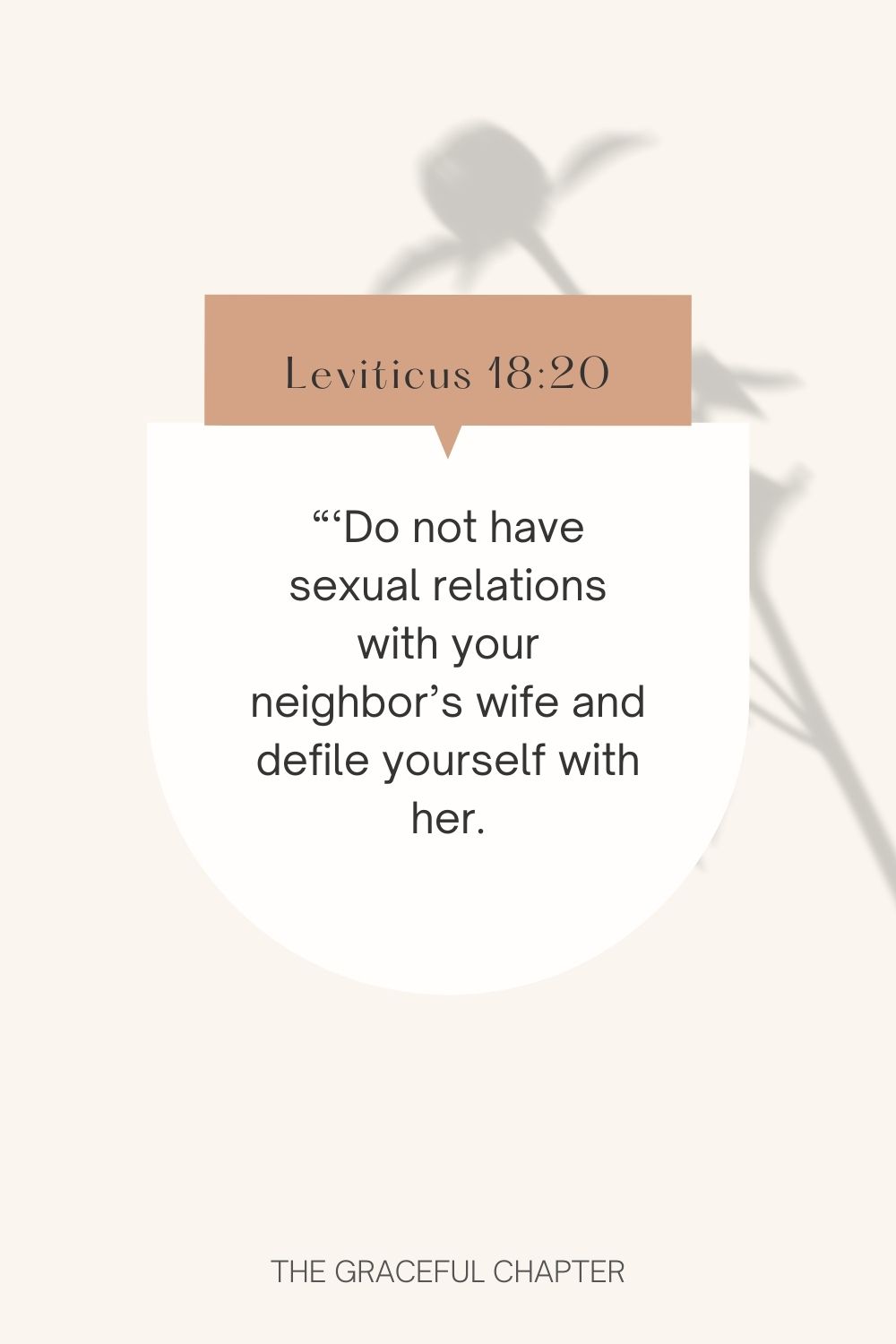 Leviticus 18:20
"'Do not have sexual relations with your neighbor's wife and defile yourself with her.

1 Corinthians 6:18
Flee from sexual immorality. All other sins a person commits are outside the body, but whoever sins sexually, sins against their own body.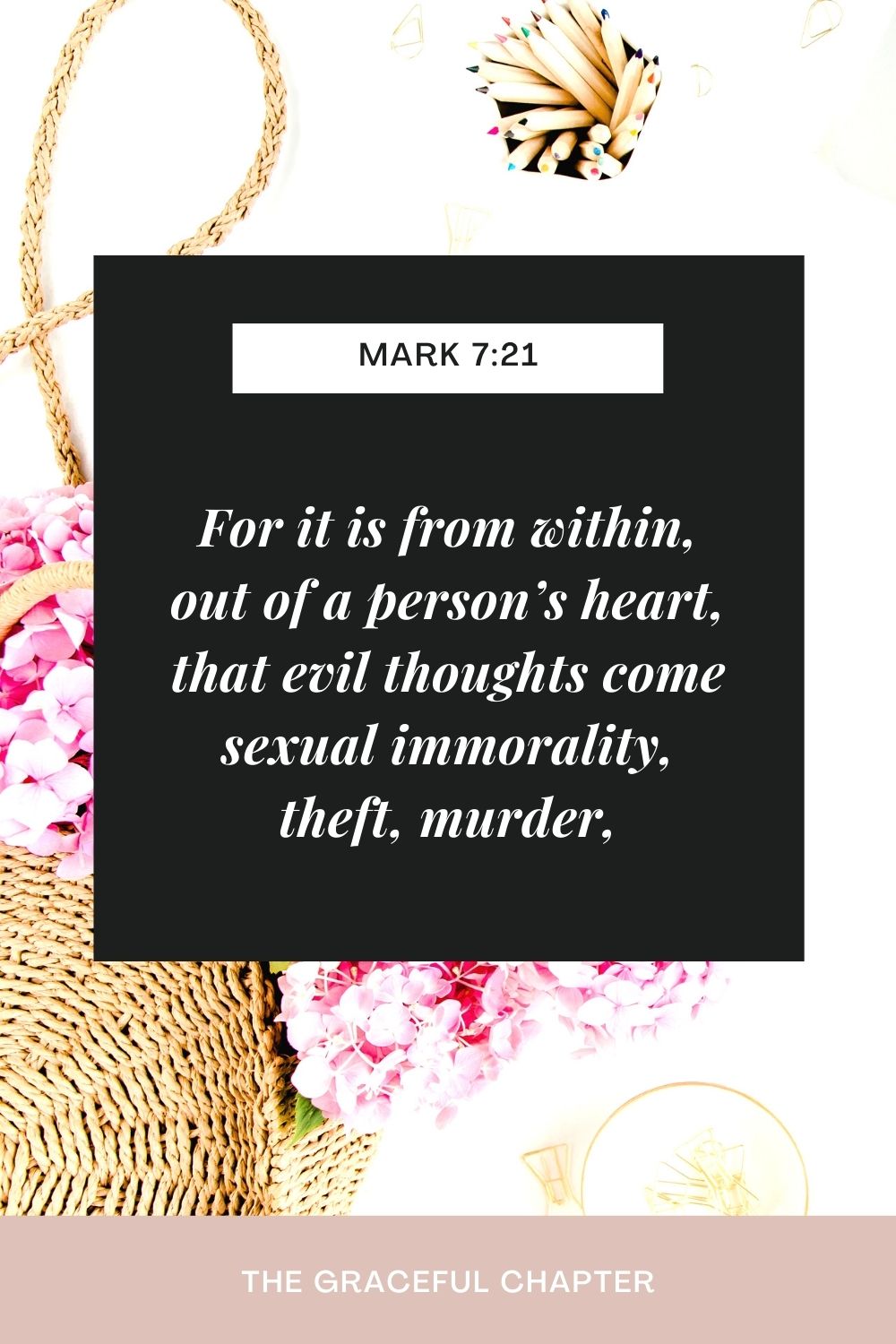 Mark 7:21
For it is from within, out of a person's heart, that evil thoughts come sexual immorality, theft, murder,

Hebrews 12:16
See that no one is sexually immoral, or is godless like Esau, who for a single meal sold his inheritance rights as the oldest son.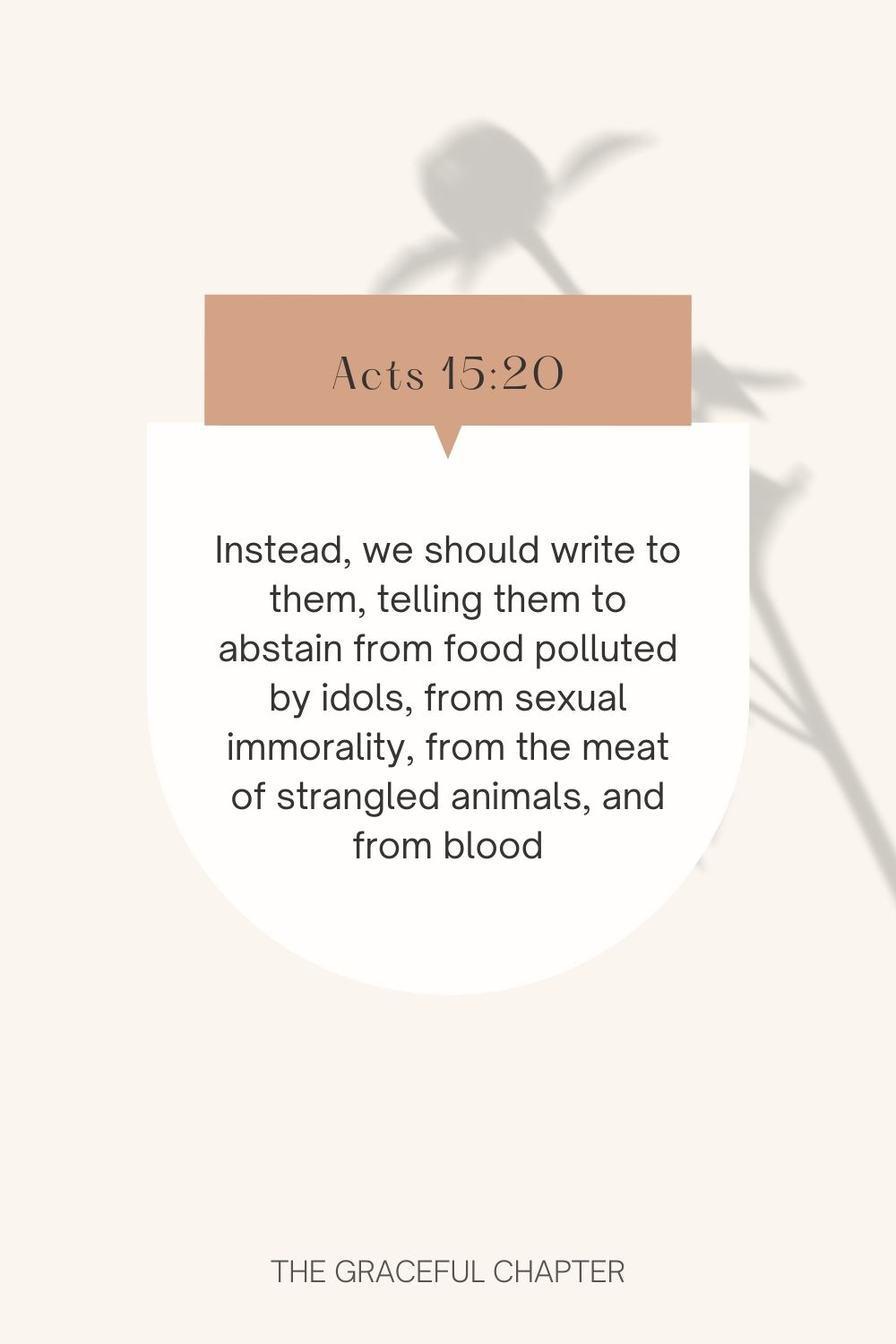 Acts 15:20
Instead, we should write to them, telling them to abstain from food polluted by idols, from sexual immorality, from the meat of strangled animals, and from blood.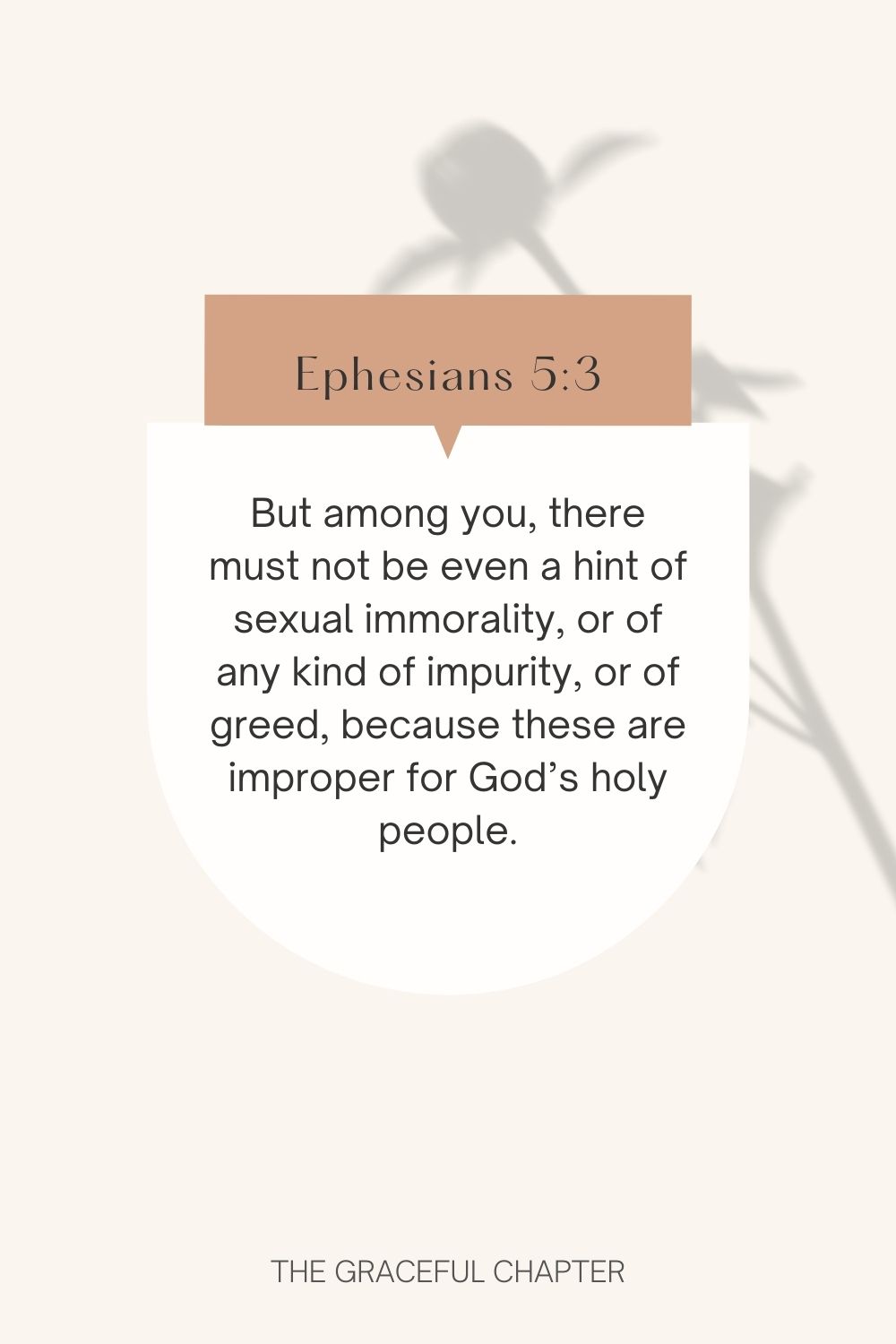 Ephesians 5:3
But among you, there must not be even a hint of sexual immorality, or of any kind of impurity, or of greed, because these are improper for God's holy people.

1 Corinthians 10:8
We should not commit sexual immorality, as some of them did and in one day twenty-three thousand of them died.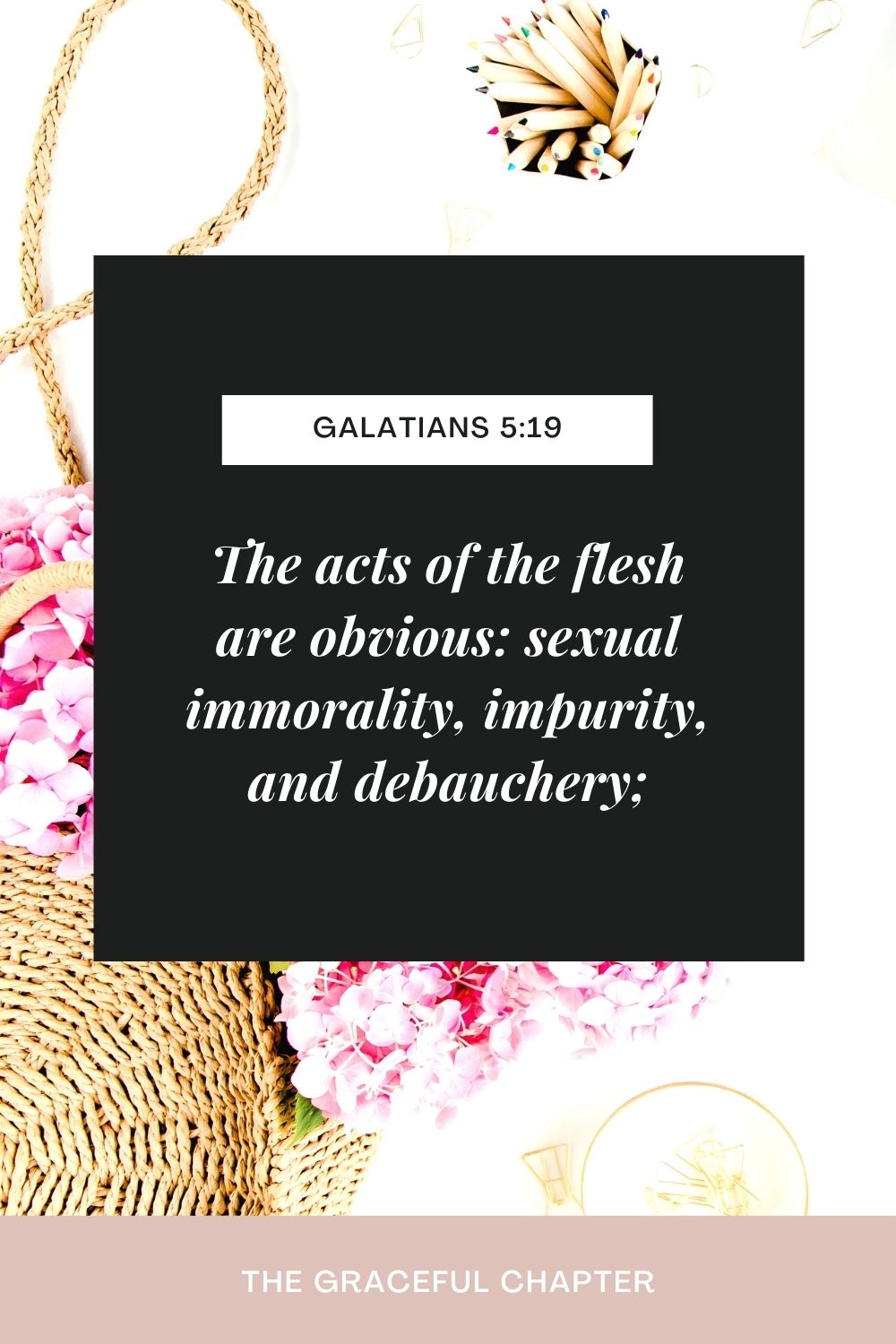 Galatians 5:19
The acts of the flesh are obvious: sexual immorality, impurity, and debauchery;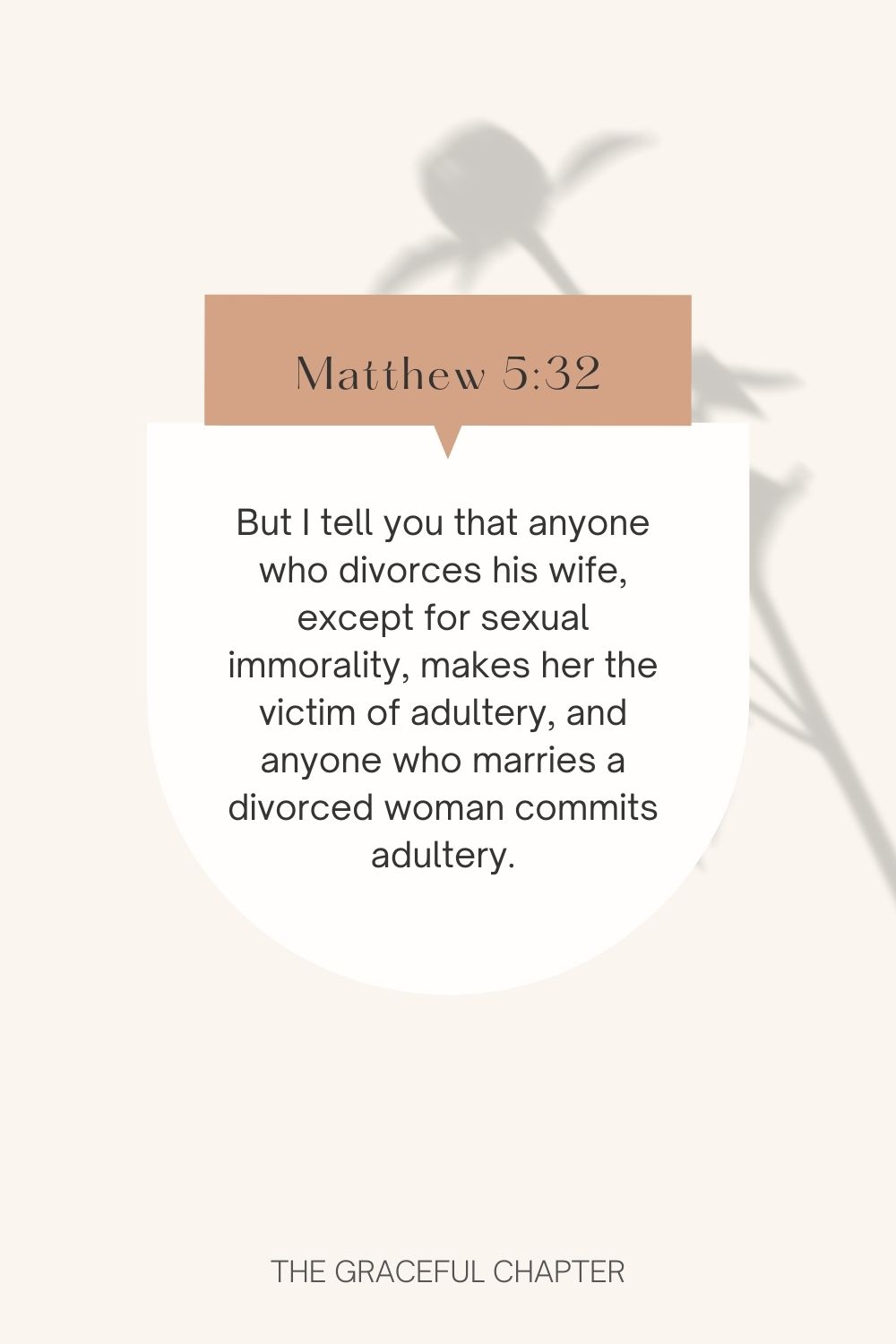 Matthew 5:32
But I tell you that anyone who divorces his wife, except for sexual immorality, makes her the victim of adultery, and anyone who marries a divorced woman commits adultery.

Related Posts
Acts 21:25
As for the Gentile believers, we have written to them our decision that they should abstain from food sacrificed to idols, from blood, from the meat of strangled animals, and from sexual immorality."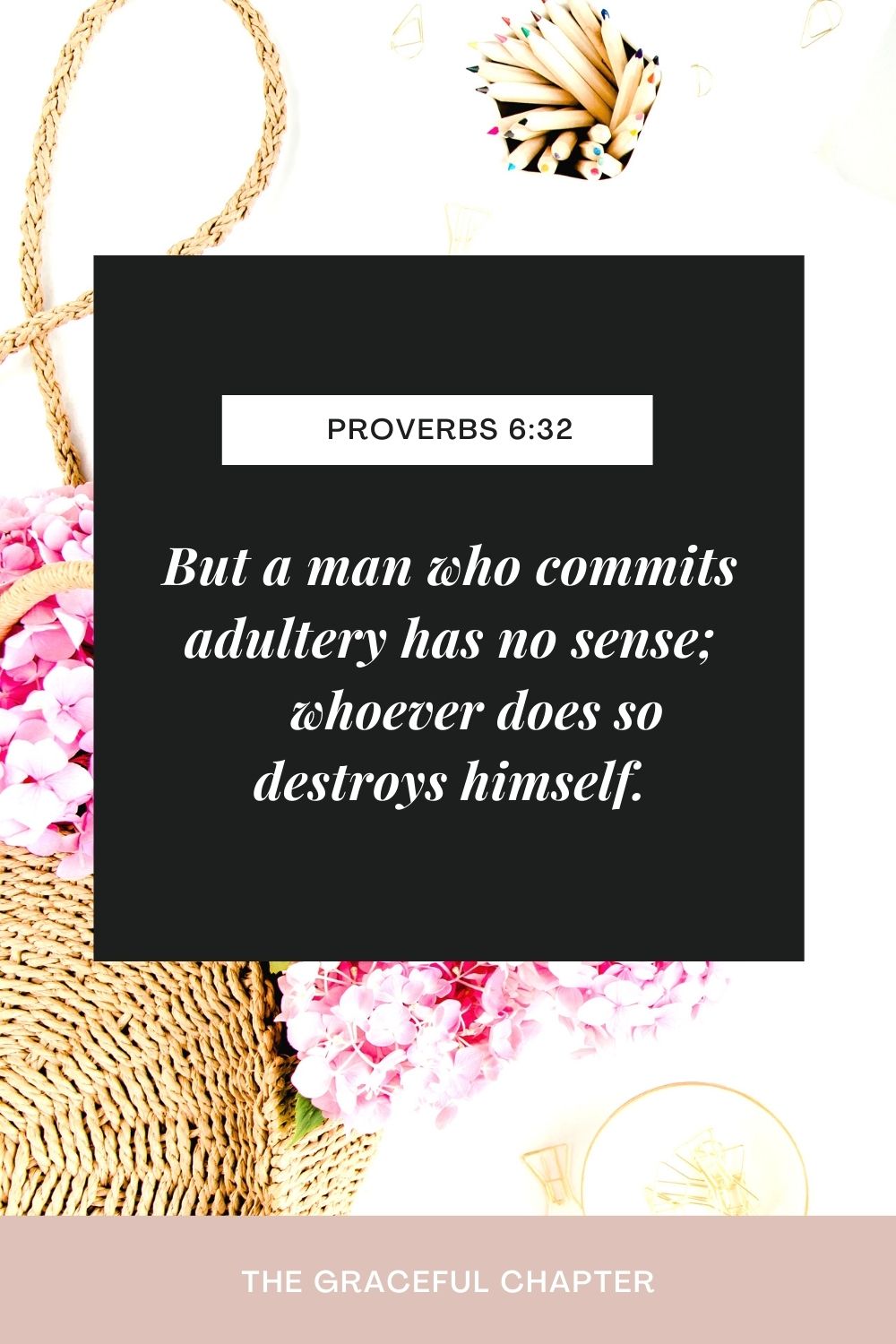 Proverbs 6:32
But a man who commits adultery has no sense;
    whoever does so destroys himself.

Proverbs 1:15
My son, do not go along with them,
    do not set foot on their paths;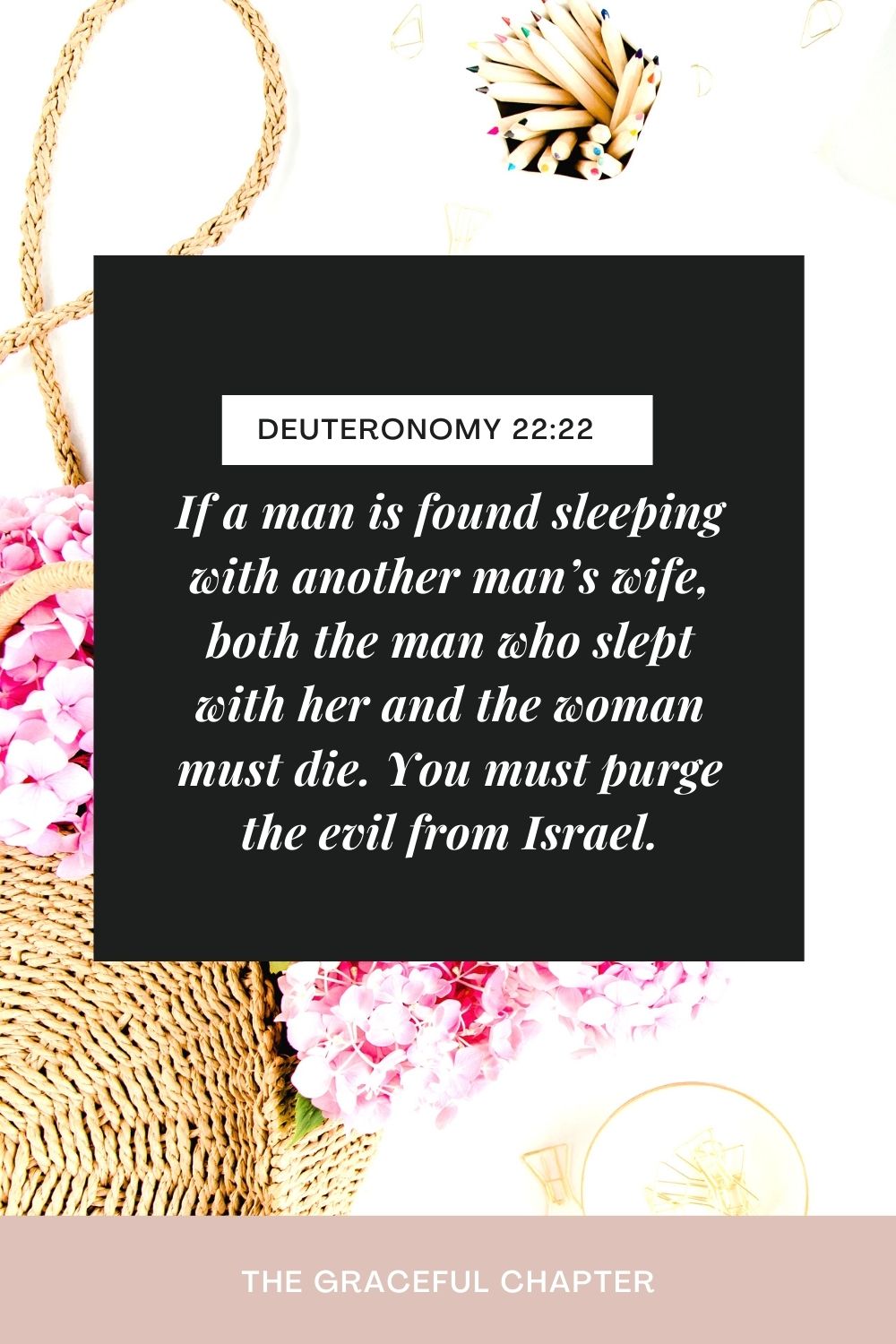 Deuteronomy 22:22
If a man is found sleeping with another man's wife, both the man who slept with her and the woman must die. You must purge the evil from Israel.

Romans 12:2
Do not conform to the pattern of this world, but be transformed by the renewing of your mind. Then you will be able to test and approve what God's will is his good, pleasing and perfect will.

1 John 2:3-4
We know that we have come to know him if we keep his commands.  Whoever says, "I know him," but does not do what he commands is a liar, and the truth is not in that person.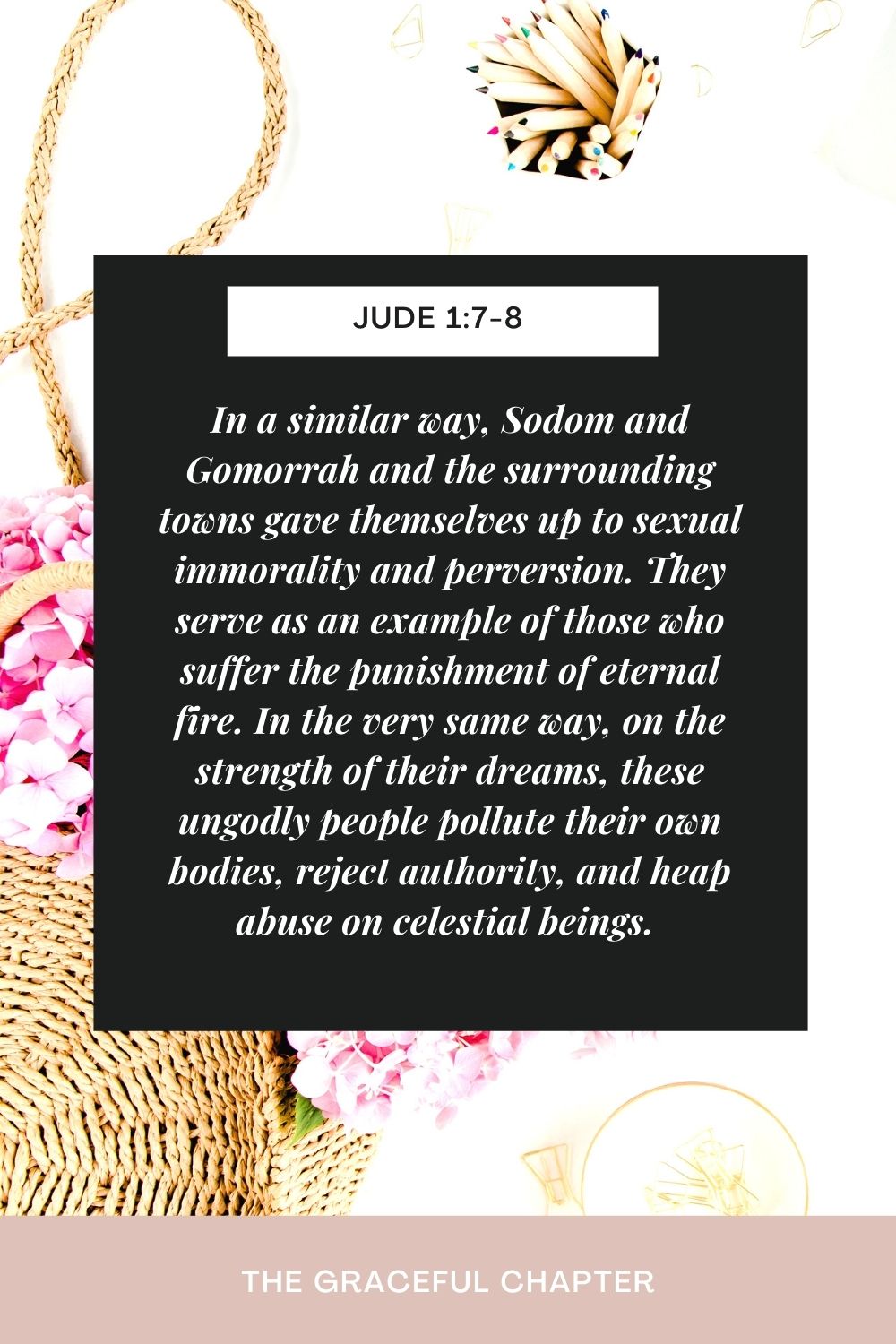 Jude 1:7-8
In a similar way, Sodom and Gomorrah and the surrounding towns gave themselves up to sexual immorality and perversion. They serve as an example of those who suffer the punishment of eternal fire. In the very same way, on the strength of their dreams, these ungodly people pollute their own bodies, reject authority, and heap abuse on celestial beings.

Revelation 22:14-15
Blessed are those who wash their robes, that they may have the right to the tree of life and may go through the gates into the city. Outside are the dogs, those who practice magic arts, the sexually immoral, the murderers, the idolaters and everyone who loves and practices falsehood. Outside are the dogs, those who practice magic arts, the sexually immoral, the murderers, the idolaters, and everyone who loves and practices falsehood.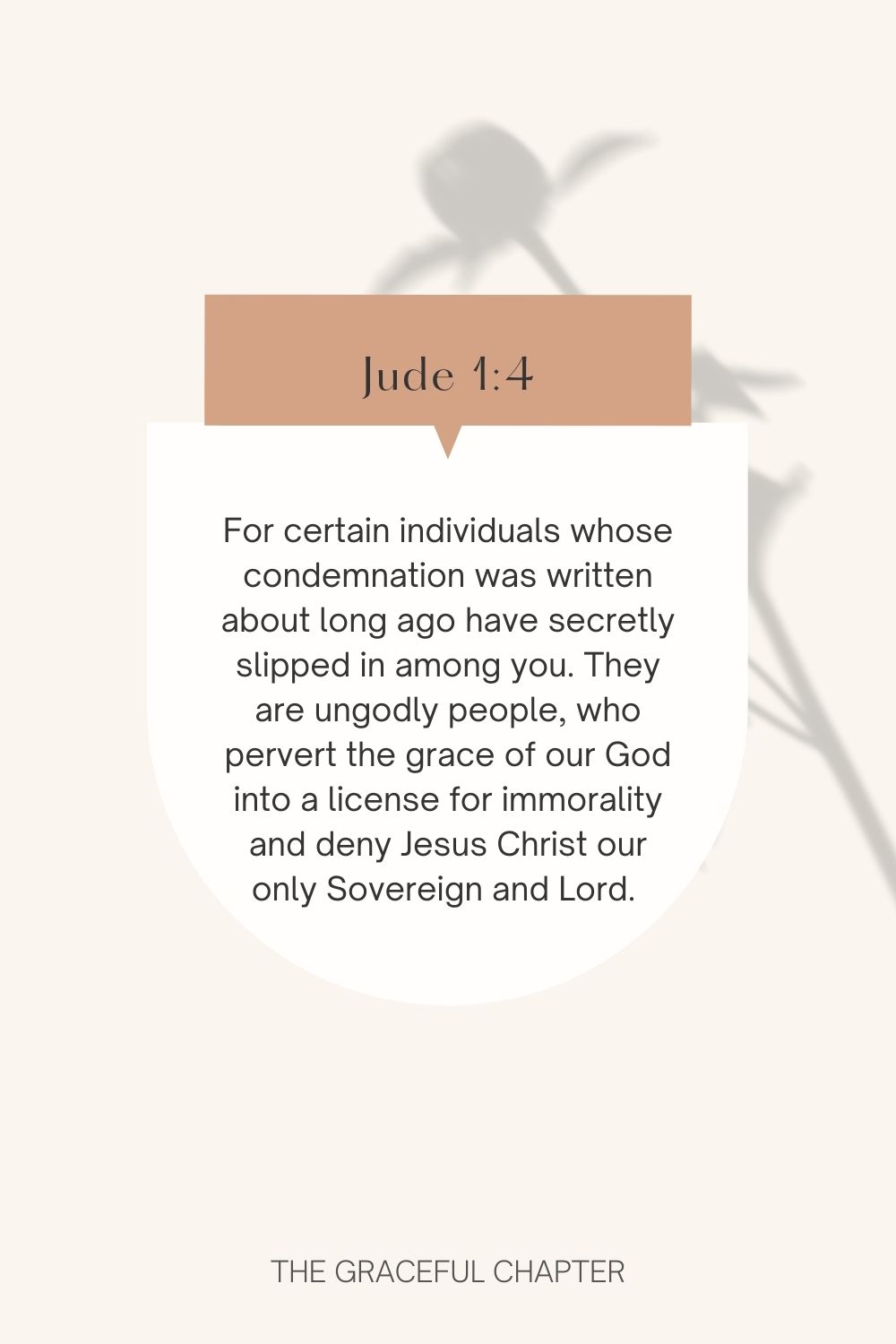 Jude 1:4
For certain individuals whose condemnation was written about long ago have secretly slipped in among you. They are ungodly people, who pervert the grace of our God into a license for immorality and deny Jesus Christ our only Sovereign and Lord.

Ephesians 2:10
For we are God's handiwork, created in Christ Jesus to do good works, which God prepared in advance for us to do.

1 Corinthians 6:9
Or do you not know that wrongdoers will not inherit the kingdom of God? Do not be deceived: Neither the sexually immoral nor idolaters nor adulterers nor men who have sex with men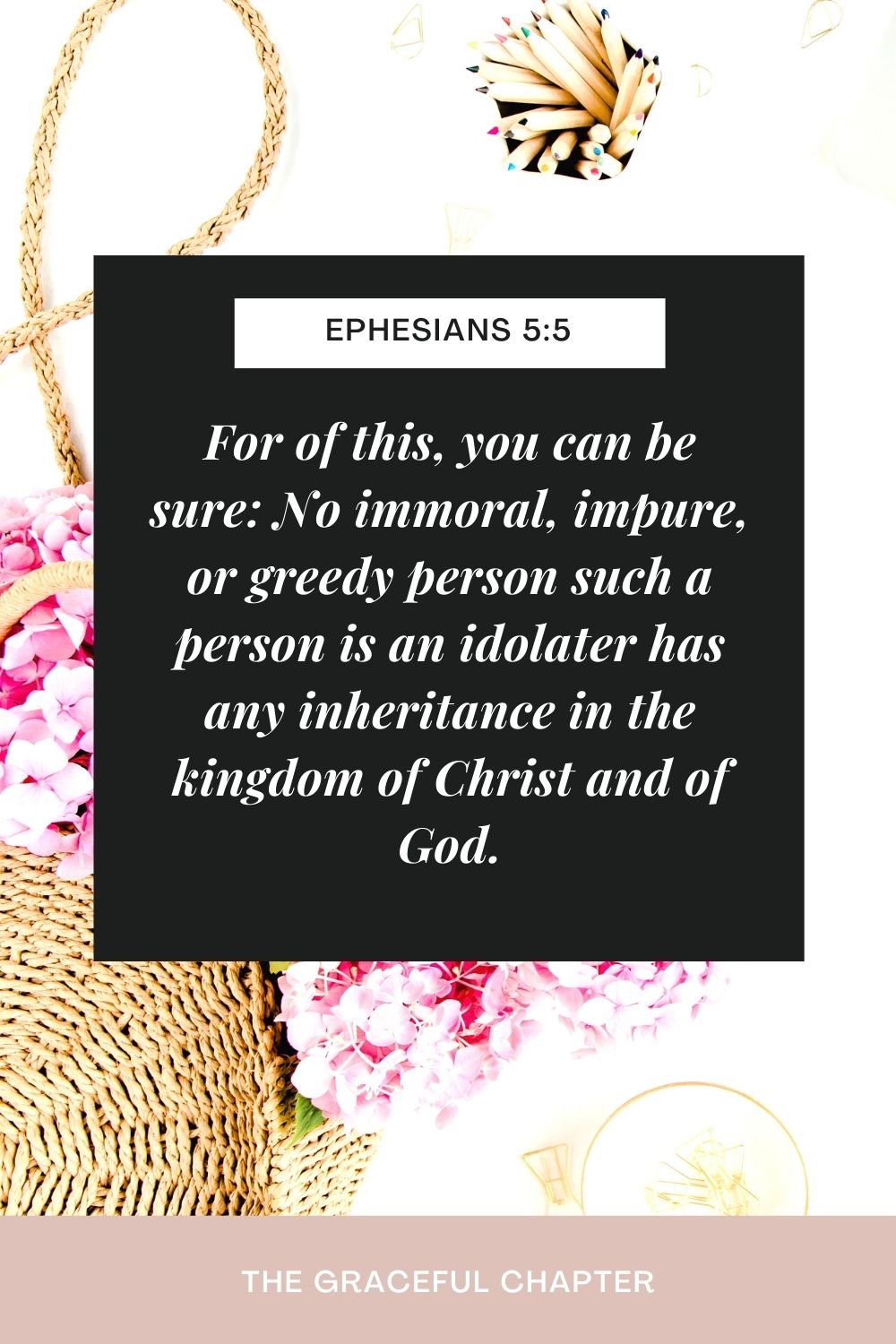 Ephesians 5:5
For of this, you can be sure: No immoral, impure, or greedy person such a person is an idolater has any inheritance in the kingdom of Christ and of God.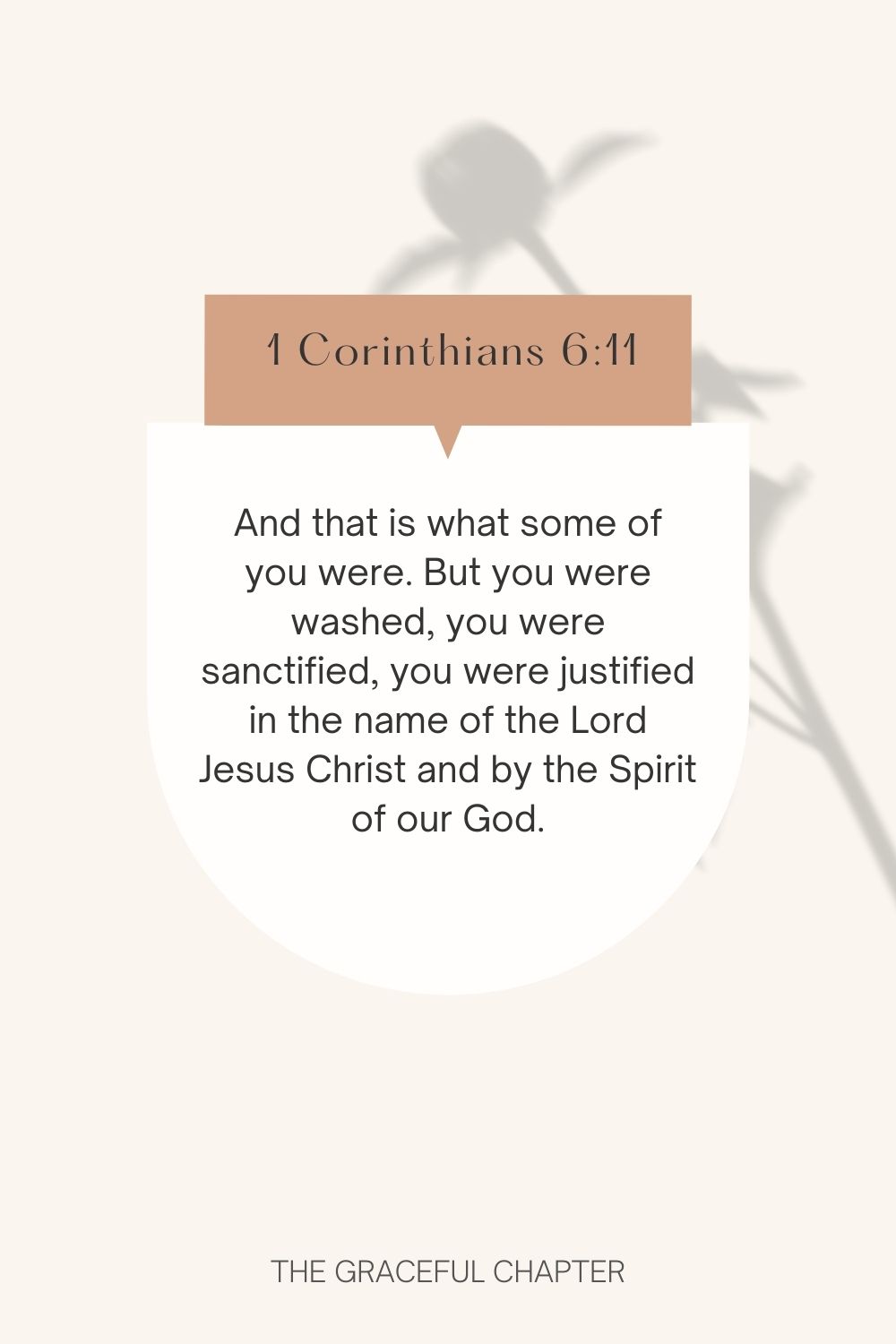 1 Corinthians 6:11
And that is what some of you were. But you were washed, you were sanctified, you were justified in the name of the Lord Jesus Christ and by the Spirit of our God.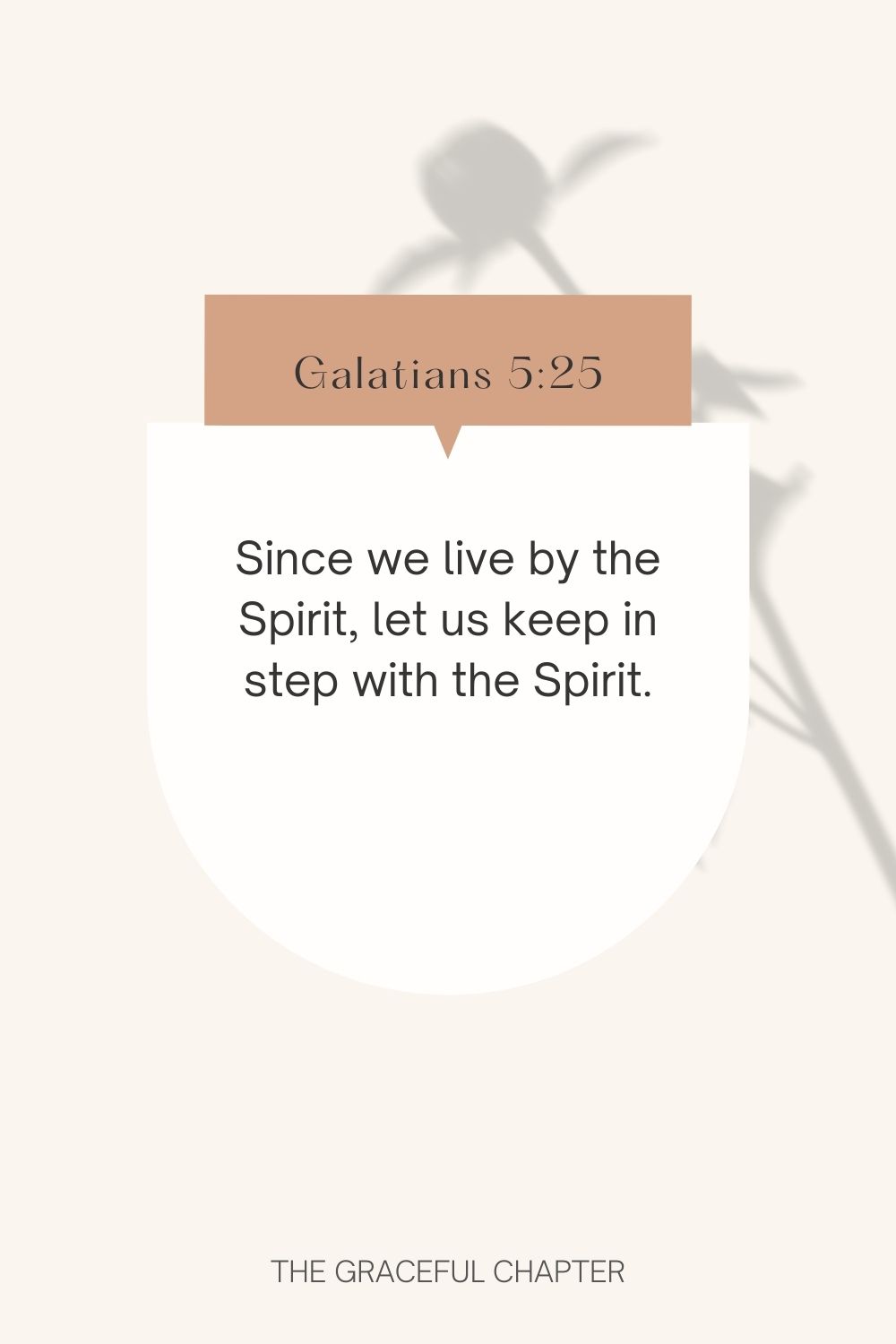 Galatians 5:25
Since we live by the Spirit, let us keep in step with the Spirit.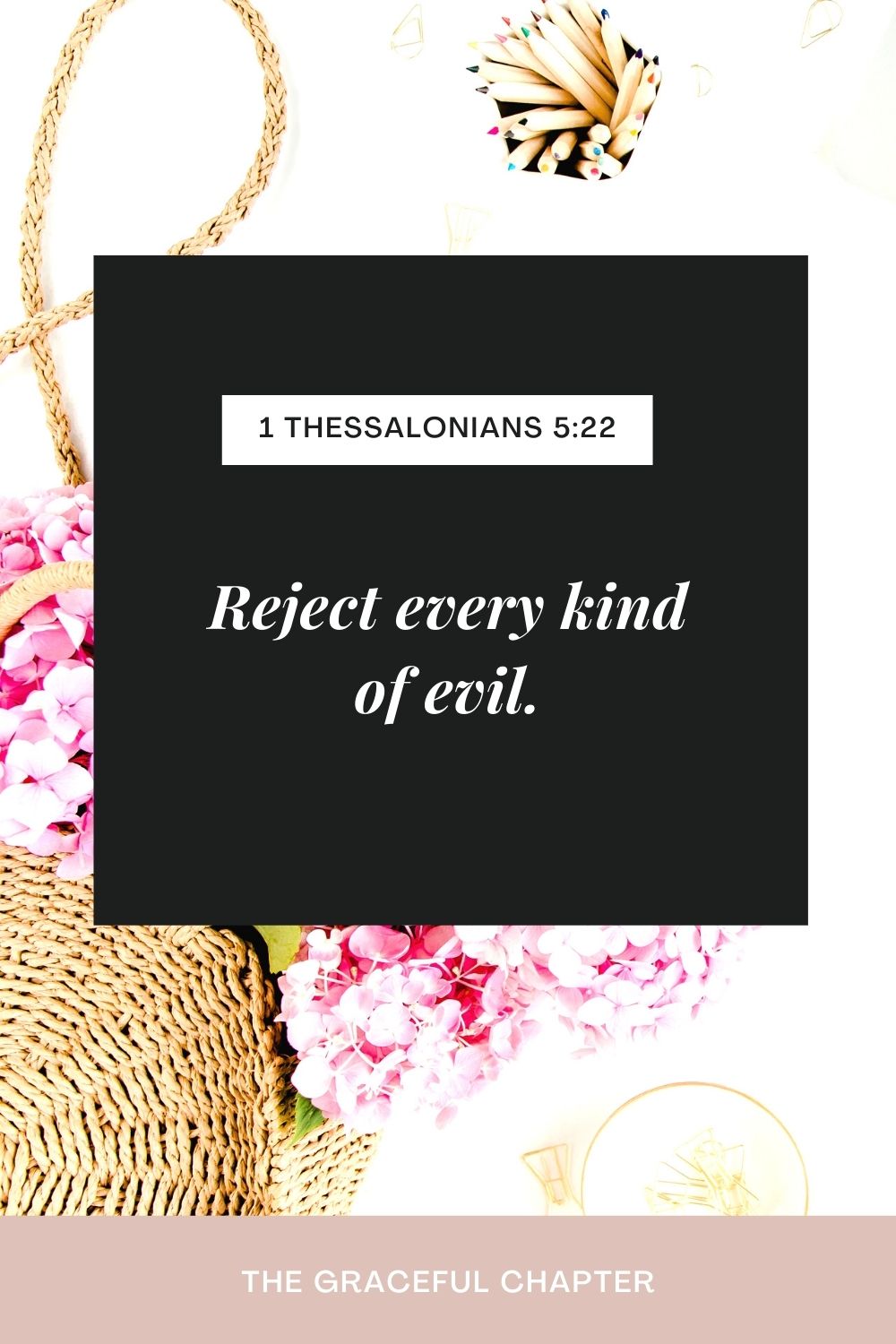 1 Thessalonians 5:22
Reject every kind of evil.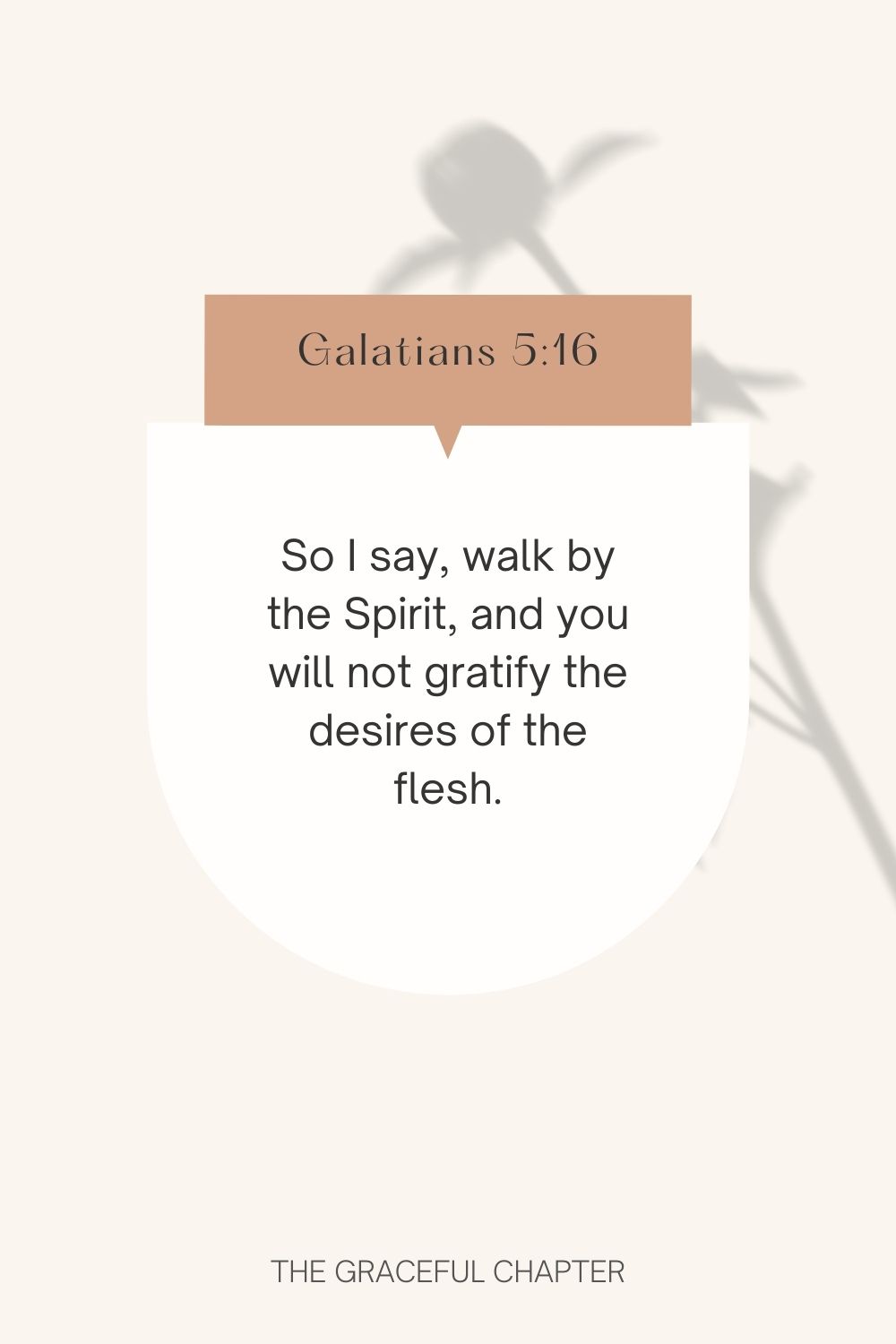 Galatians 5:16
So I say, walk by the Spirit, and you will not gratify the desires of the flesh.

Ephesians 6:11-12
Put on the full armor of God, so that you can take your stand against the devil's schemes.  For our struggle is not against flesh and blood, but against the rulers, against the authorities, against the powers of this dark world, and against the spiritual forces of evil in the heavenly realms.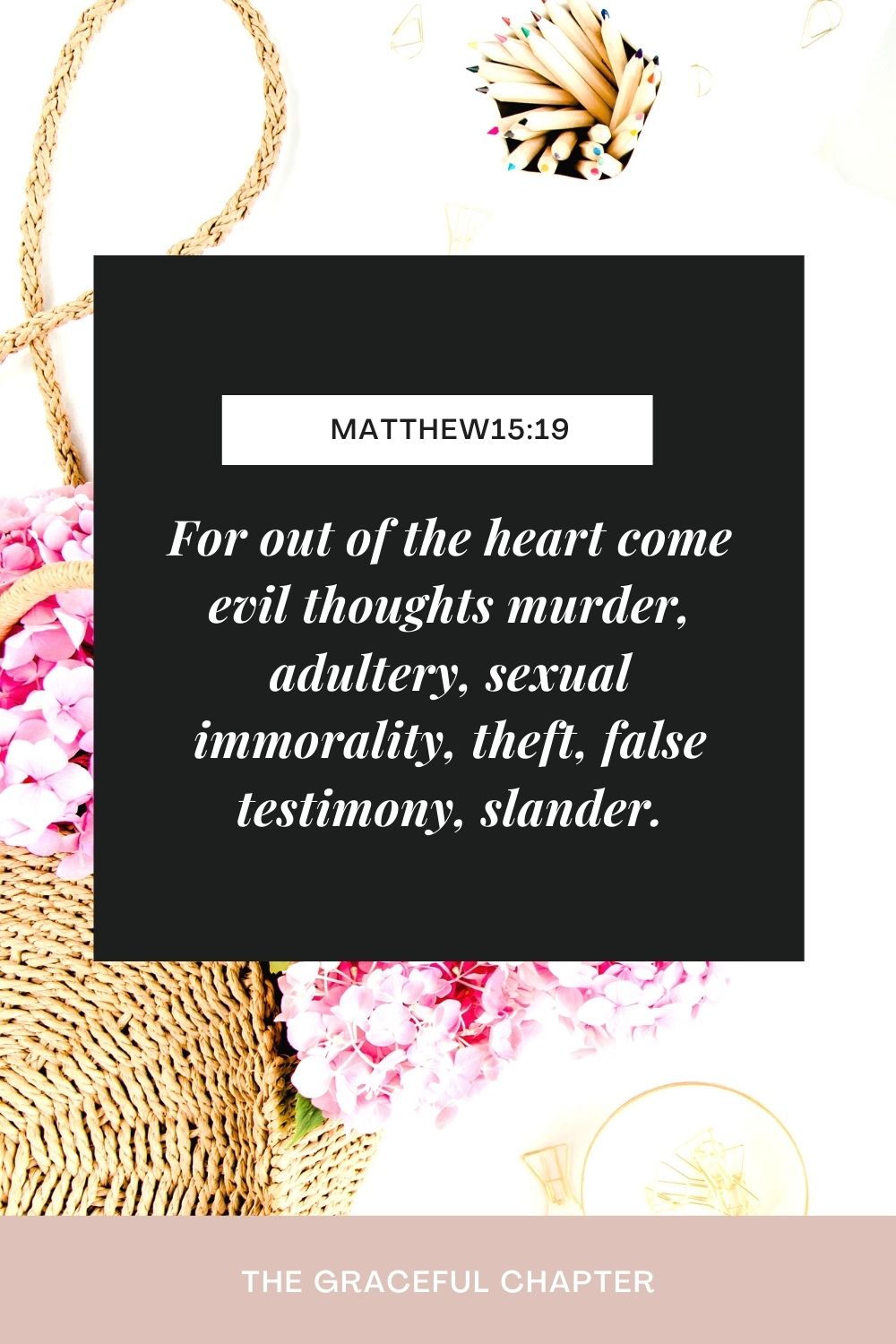 Matthew15:19
For out of the heart come evil thoughts murder, adultery, sexual immorality, theft, false testimony, slander.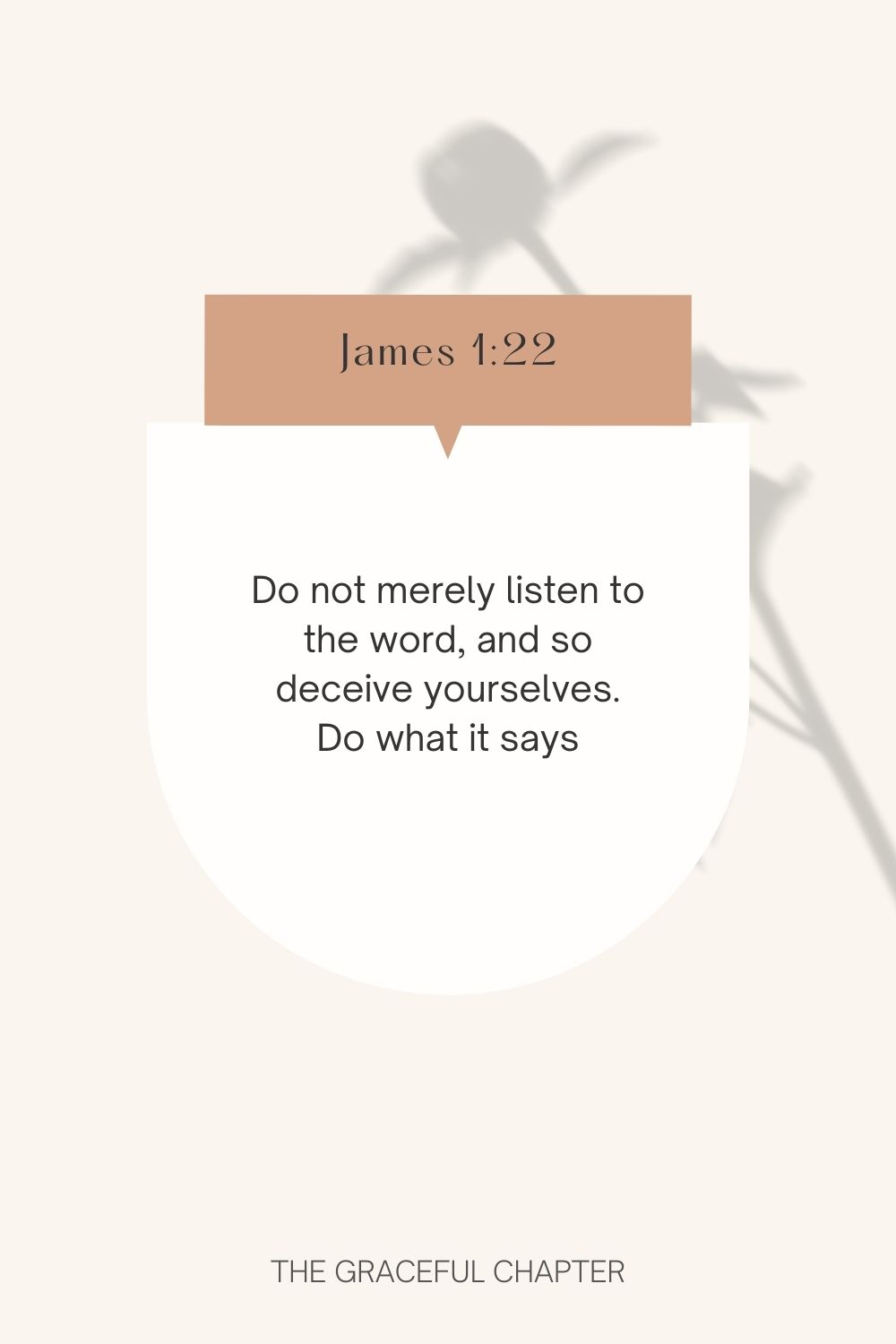 James 1:22
Do not merely listen to the word, and so deceive yourselves. Do what it says.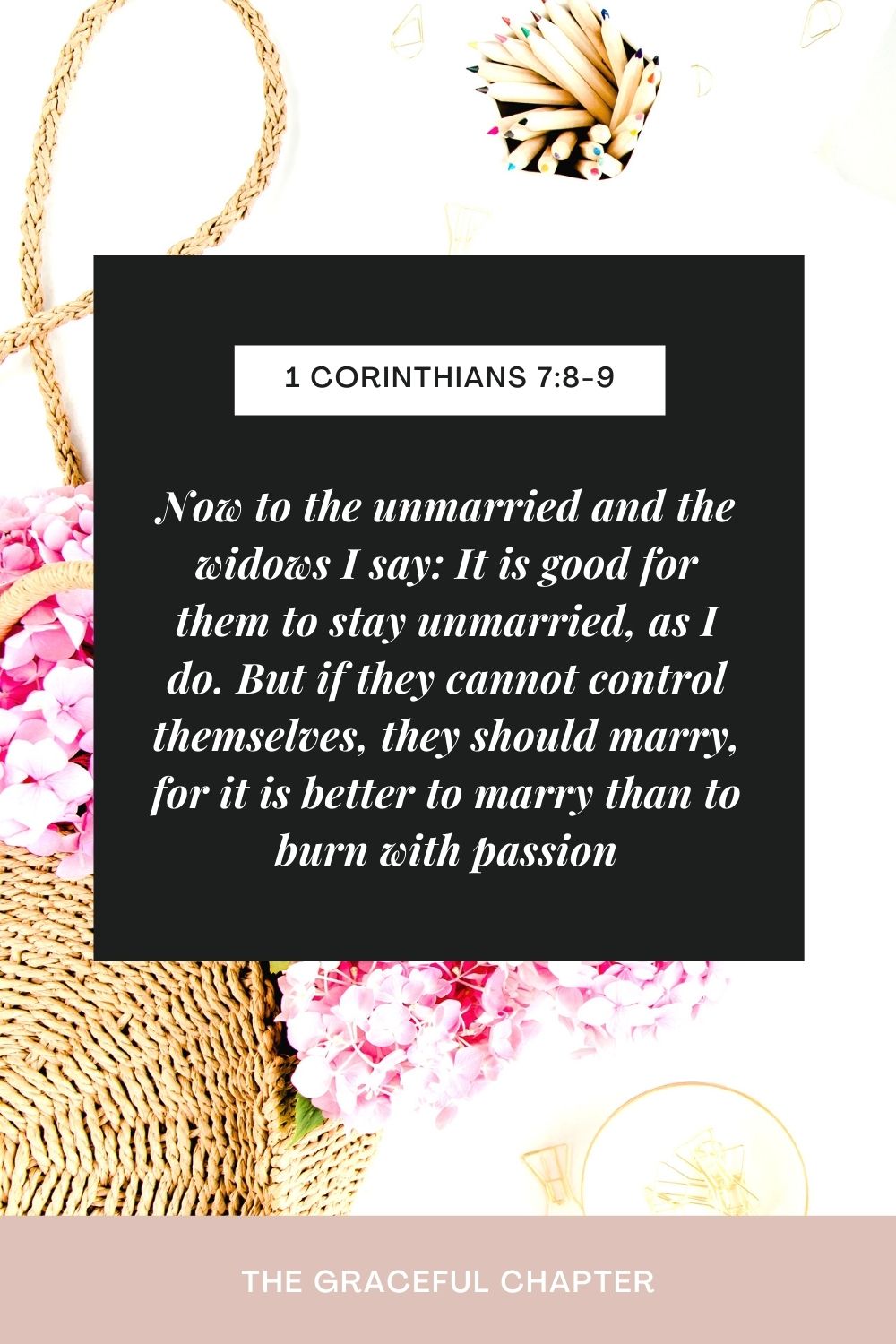 1 Corinthians 7:8-9
Now to the unmarried and the widows I say: It is good for them to stay unmarried, as I do. But if they cannot control themselves, they should marry, for it is better to marry than to burn with passion.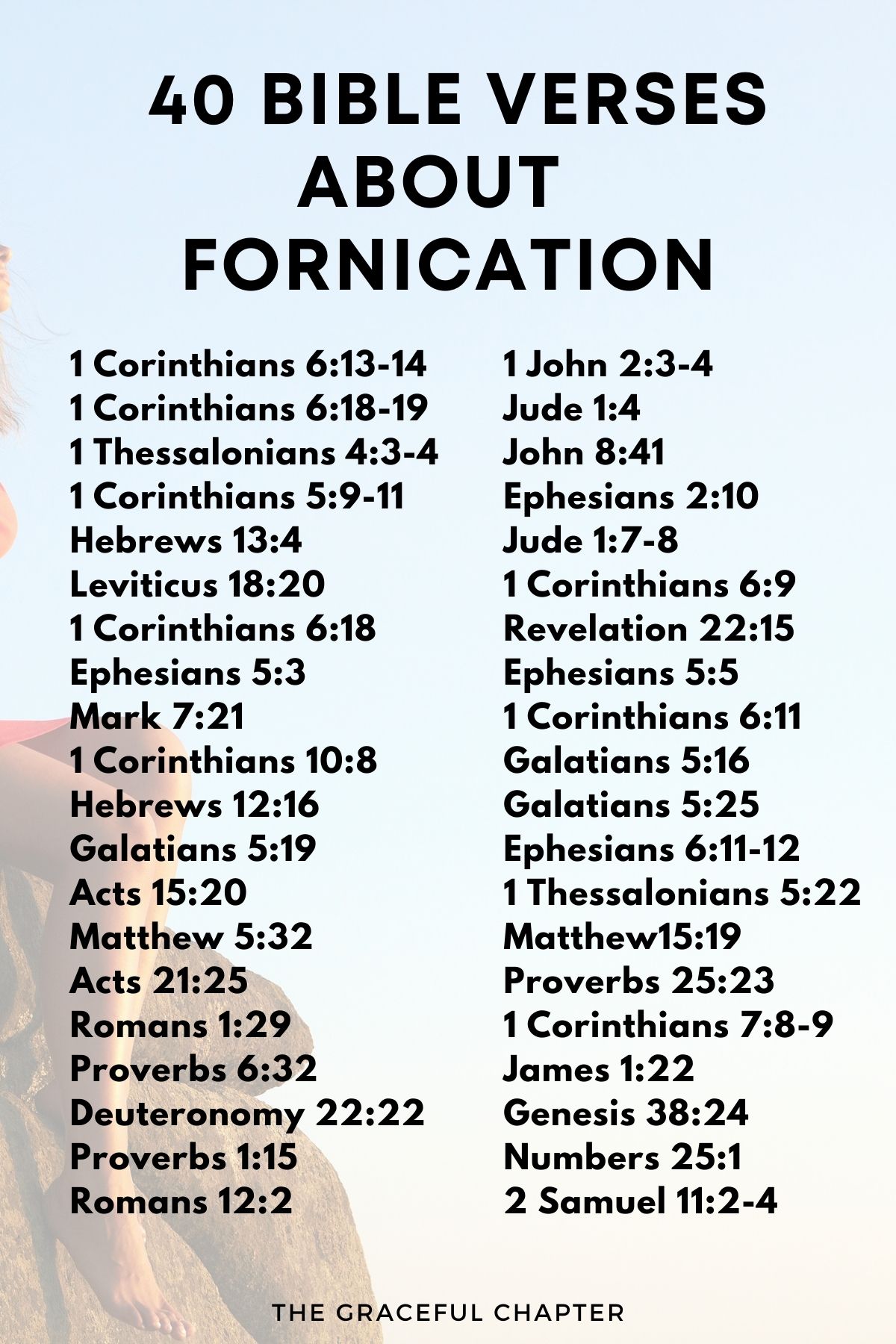 Prayer to overcome sexual immorality
Dear God,
Thank you for the life you've given me
Thank you for offering me total forgiveness through Jesus Christ our Lord
I recognize that I am not perfect and that I have gone against your will.
I've resolved to change my ways now and so I pray for your strength.
Please keep me from committing sexual sins.
Assist me in resisting sexual sins consciously.
Give me the strength to be self-disciplined and to refuse any sexual temptations.
Help me to live a pure life that is acceptable in your eyes
Help me to pursue a pure relationship with you
Don't let me succumb to temptations
Instead, empower me to keep my body holy so that I can serve you wholely
In Jesus name, I pray,
Amen