The world would be a whole lot better if we all genuinely loved each other. Just imagine a world where everyone truly loves and cares for one another. 
A world where love doesn't discriminate and everyone is loved right. Imagine a world where we all did everything in love. (1 Corinthians 16:14)
There would be no wars, no crime, no chaos. Just peace, joy, and living in harmony- It would be like paradise on earth.
What can you do to make our world better? – It starts with loving right.
To be able to help make the world a better place, you need to learn to love and accept others. So these Bible verses on love are meant to help you understand God's love for you and the importance of love and how you can love others (1 John 4:19)
Check out our 30 day Bible study plan on how to love right and download for free.
Bible verses on God's Love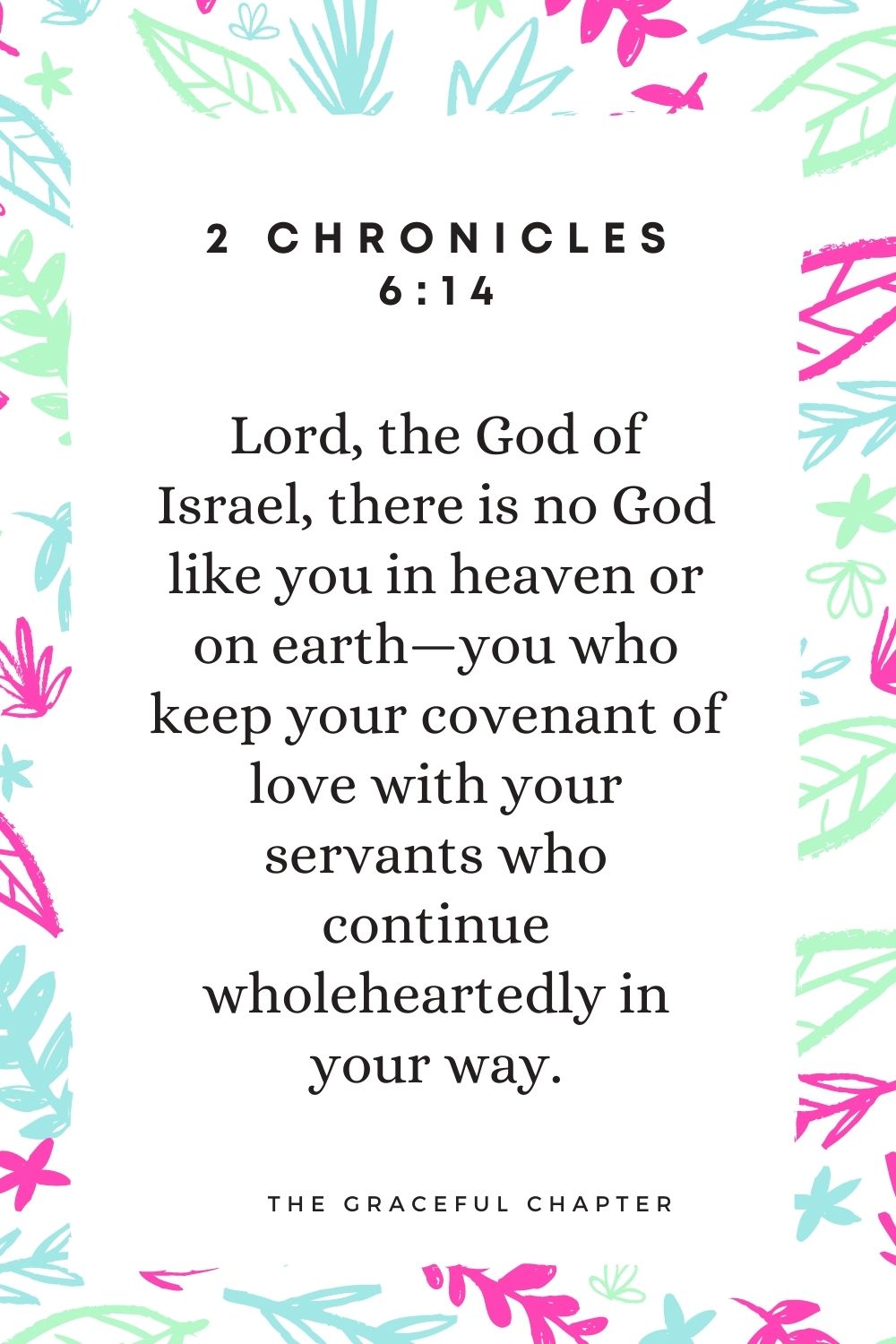 "Lord, the God of Israel, there is no God like you in heaven or on earth—you who keep your covenant of love with your servants who continue wholeheartedly in your way.
2 Chronicles 6:14
For God so loved the world that he gave his one and only Son, that whoever believes in him shall not perish but have eternal life.
John 3:16
This is how God showed his love among us: He sent his one and only Son into the world that we might live through him. This is love: not that we loved God, but that he loved us and sent his Son as an atoning sacrifice for our sins.
1 John 4:9-10
And so we know and rely on the love God has for us.
God is love. Whoever lives in love lives in God, and God in them.
1 John 4:16
No, in all these things we are more than conquerors through him who loved us. For I am convinced that neither death nor life, neither angels nor demons, neither the present nor the future, nor any powers, neither height nor depth, nor anything else in all creation, will be able to separate us from the love of God that is in Christ Jesus our Lord.
Romans 8:37-39
Though the mountains be shaken and the hills be removed, yet my unfailing love for you will not be shaken nor my covenant of peace be removed," says the Lord, who has compassion on you.
Isaiah 54:10
As the Father has loved me, so have I loved you. Now remain in my love.
John 15:9
But God demonstrates his own love for us in this: While we were still sinners, Christ died for us.
Romans 5:8
No, the Father himself loves you because you have loved me and have believed that I came from God.
John 16:27
But because of his great love for us, God, who is rich in mercy, made us alive with Christ even when we were dead in transgressions—it is by grace you have been saved.
Ephesians 2:4-5
See what great love the Father has lavished on us, that we should be called children of God! And that is what we are! The reason the world does not know us is that it did not know him.
1 John 3:1
The Lord appeared to us in the past, saying "I have loved you with an everlasting love; I have drawn you with unfailing kindness.
Jeremiah 31:3
Greater love has no one than this: to lay down one's life for one's friends.
John 15:13
But you, Lord, are a compassionate and gracious God, slow to anger, abounding in love and faithfulness."
Psalm 86:15
Give thanks to the God of heaven. His love endures forever.
Psalm 136:26
Know therefore that the Lord your God is God; he is the faithful God, keeping his covenant of love to a thousand generations of those who love him and keep his commandments.
Deuteronomy 7:9
Related Posts
Bible verses on loving others
And you shall love the Lord your God with all your heart, with all your soul, with all your mind, and with all your strength.' This is the first commandment.
Mark 12:30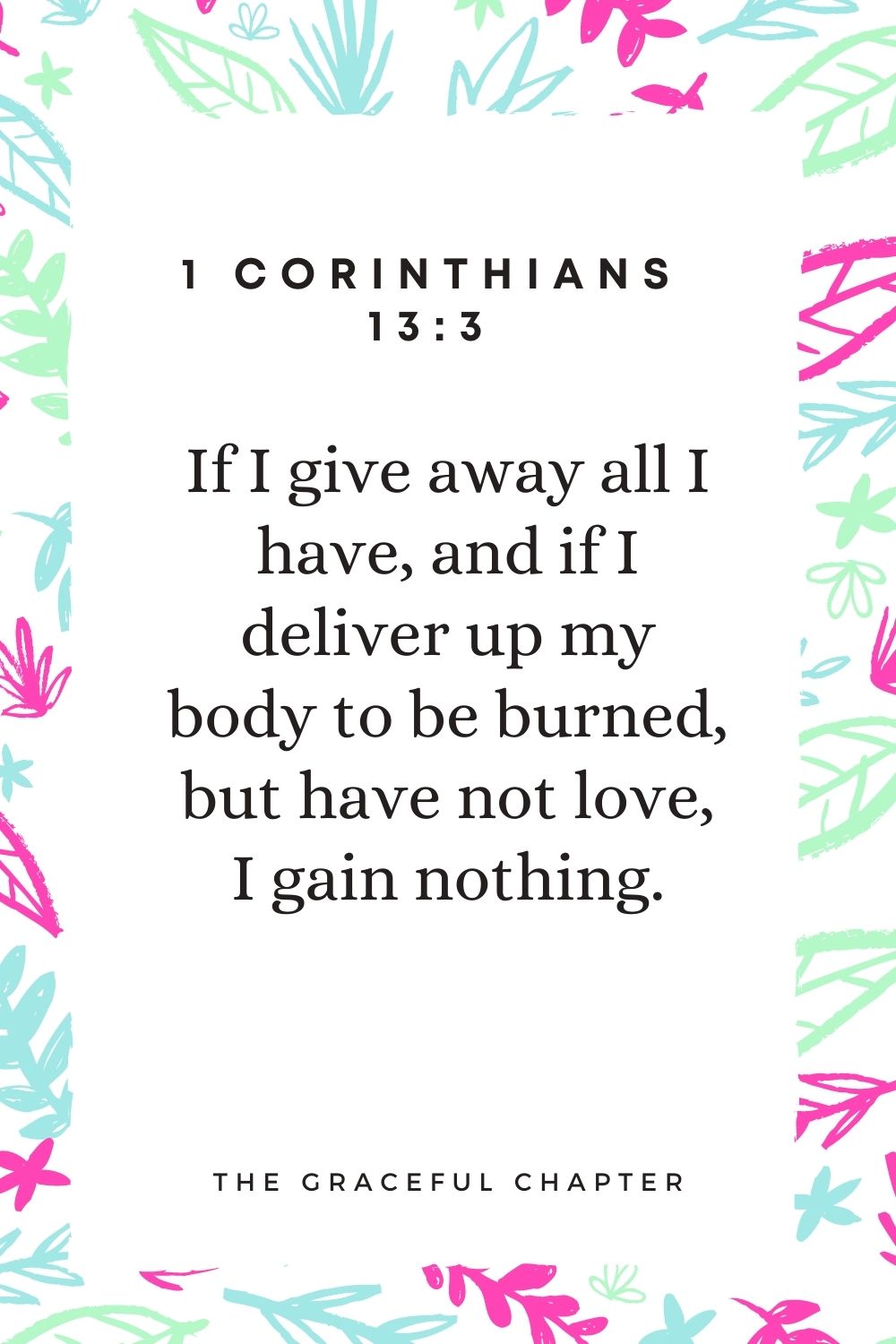 If I give away all I have, and if I deliver up my body to be burned, but have not love, I gain nothing.
1 Corinthians 13:3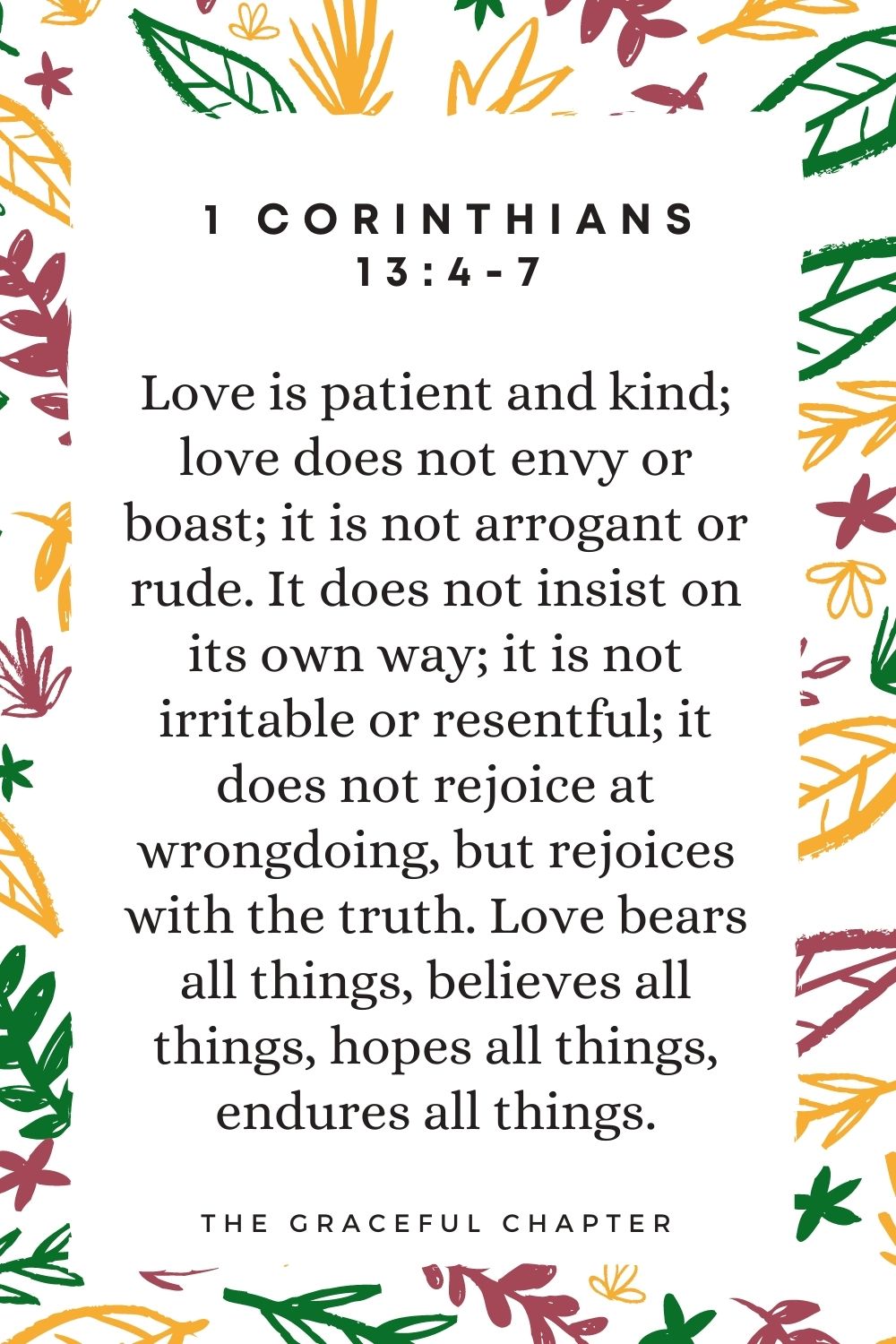 Love is patient and kind; love does not envy or boast; it is not arrogant or rude. It does not insist on its own way; it is not irritable or resentful; it does not rejoice at wrongdoing, but rejoices with the truth. Love bears all things, believes all things, hopes all things, endures all things.
1 Corinthians 13:4-7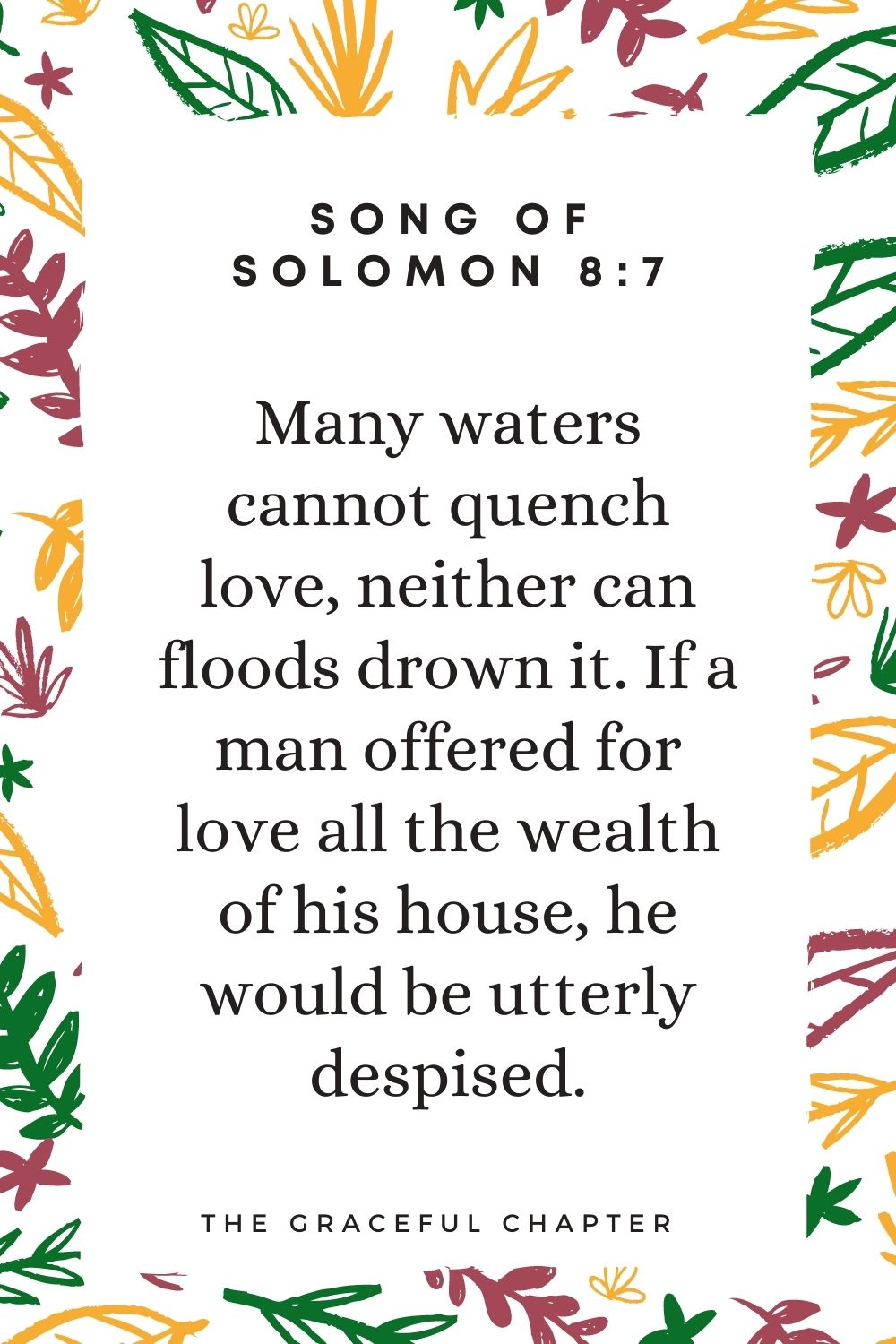 Many waters cannot quench love, neither can floods drown it.If a man offered for love all the wealth of his house, he would be utterly despised.
Song Of Solomon 8:7
Let all that you do be done in love.
1 Corinthians 16:14
We love because He first loved us
1 John 4:19
And this commandment we have from him: whoever loves God must also love his brother.
1 John 4:21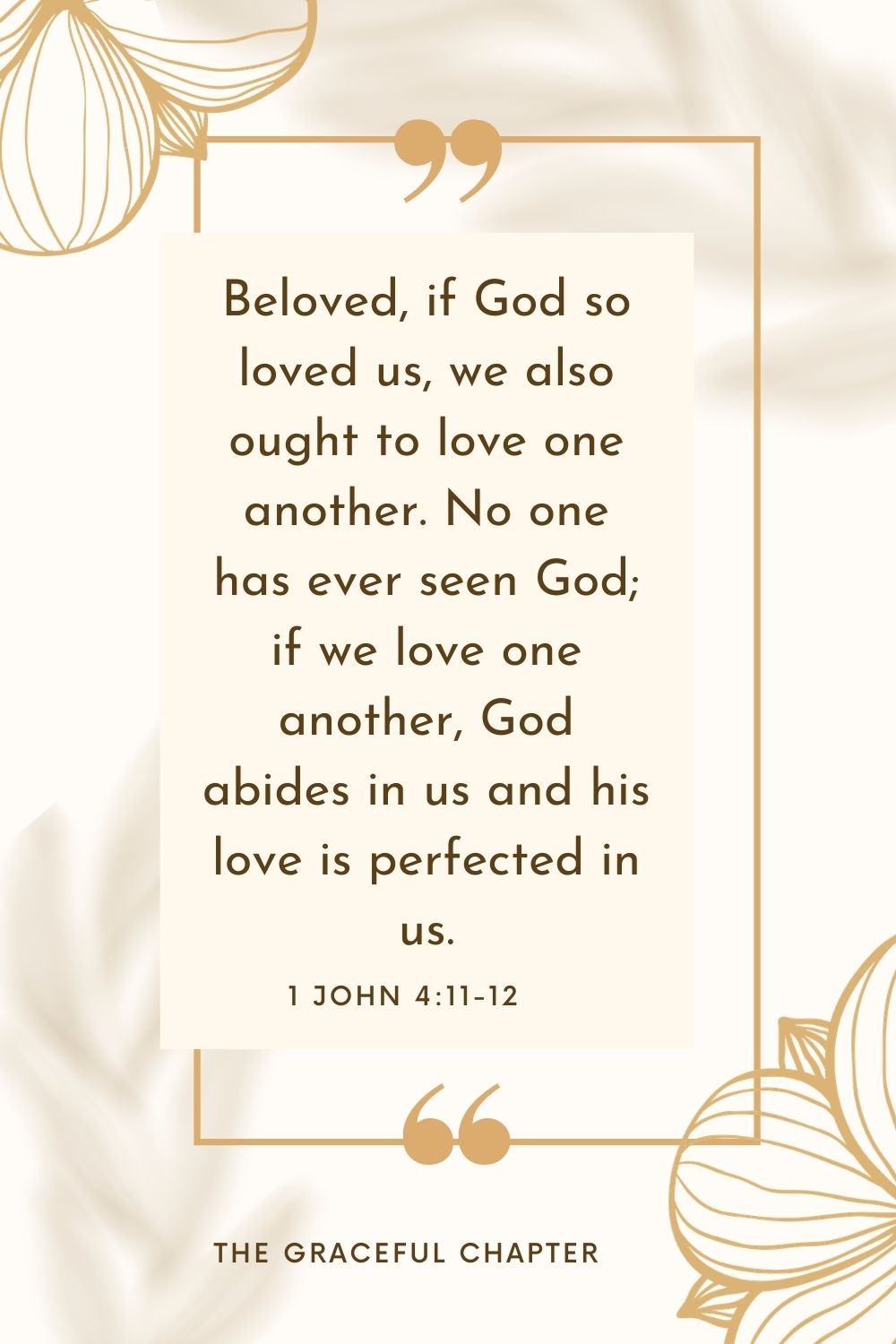 Beloved, if God so loved us, we also ought to love one another. No one has ever seen God; if we love one another, God abides in us and his love is perfected in us.
1 John 4:11-12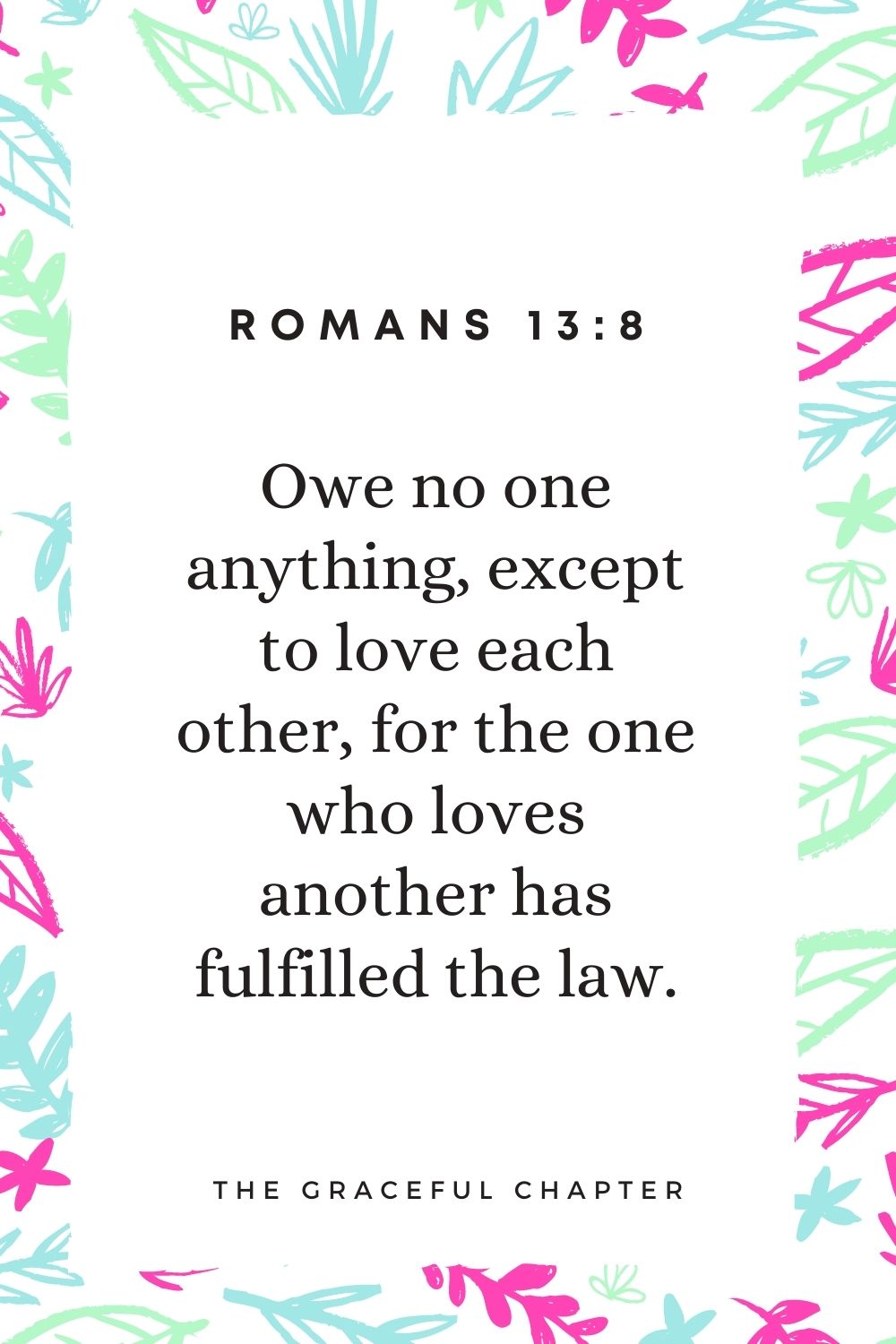 Owe no one anything, except to love each other, for the one who loves another has fulfilled the law.
Romans 13:8
Let not steadfast love and faithfulness forsake you; bind them around your neck; write them on the tablet of your heart.
Proverbs 3:3
Be kind to one another, tenderhearted, forgiving one another, as God in Christ forgave you.
Ephesians 4:32
Let love be genuine. Abhor what is evil; hold fast to what is good. Love one another with brotherly affection. Outdo one another in showing honor.
Romans 12:9-10
By this we know love, that he laid down his life for us, and we ought to lay down our lives for the brothers.
1 John 3:16
Whoever pursues righteousness and kindness  will find life, righteousness, and honor.
Proverbs 21:21
But I say to you, Love your enemies and pray for those who persecute you.
Matthew 5:44
This is my commandment, that you love one another as I have loved you. 
John 15:12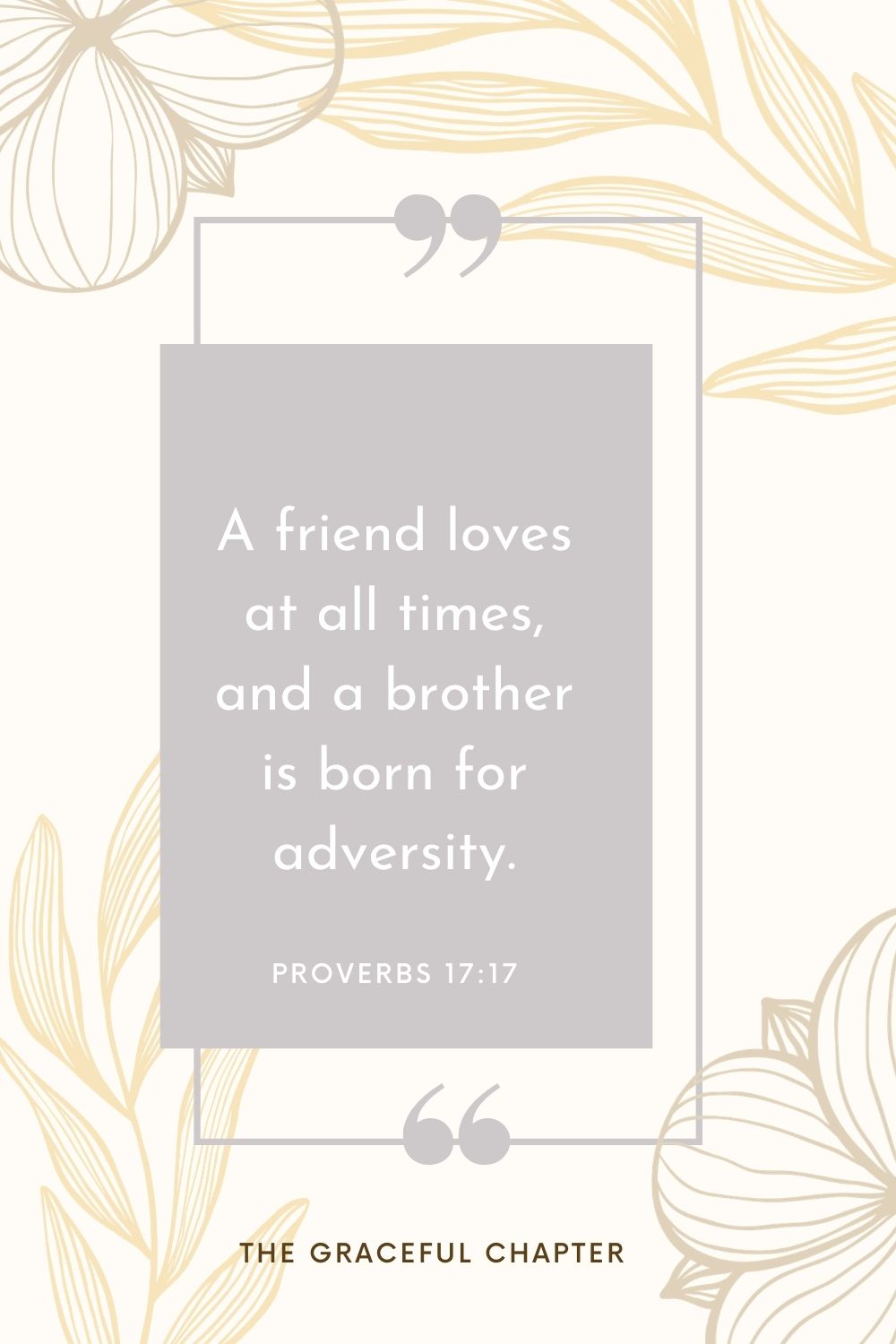 A friend loves at all times, and a brother is born for adversity.
Proverbs 17:17
So now faith, hope, and love abide, these three; but the greatest of these is love.
1 Corinthians 13:13
But love your enemies, and do good, and lend, expecting nothing in return, and your reward will be great, and you will be sons of the Most High, for He is kind to the ungrateful and the evil.
Luke 6:35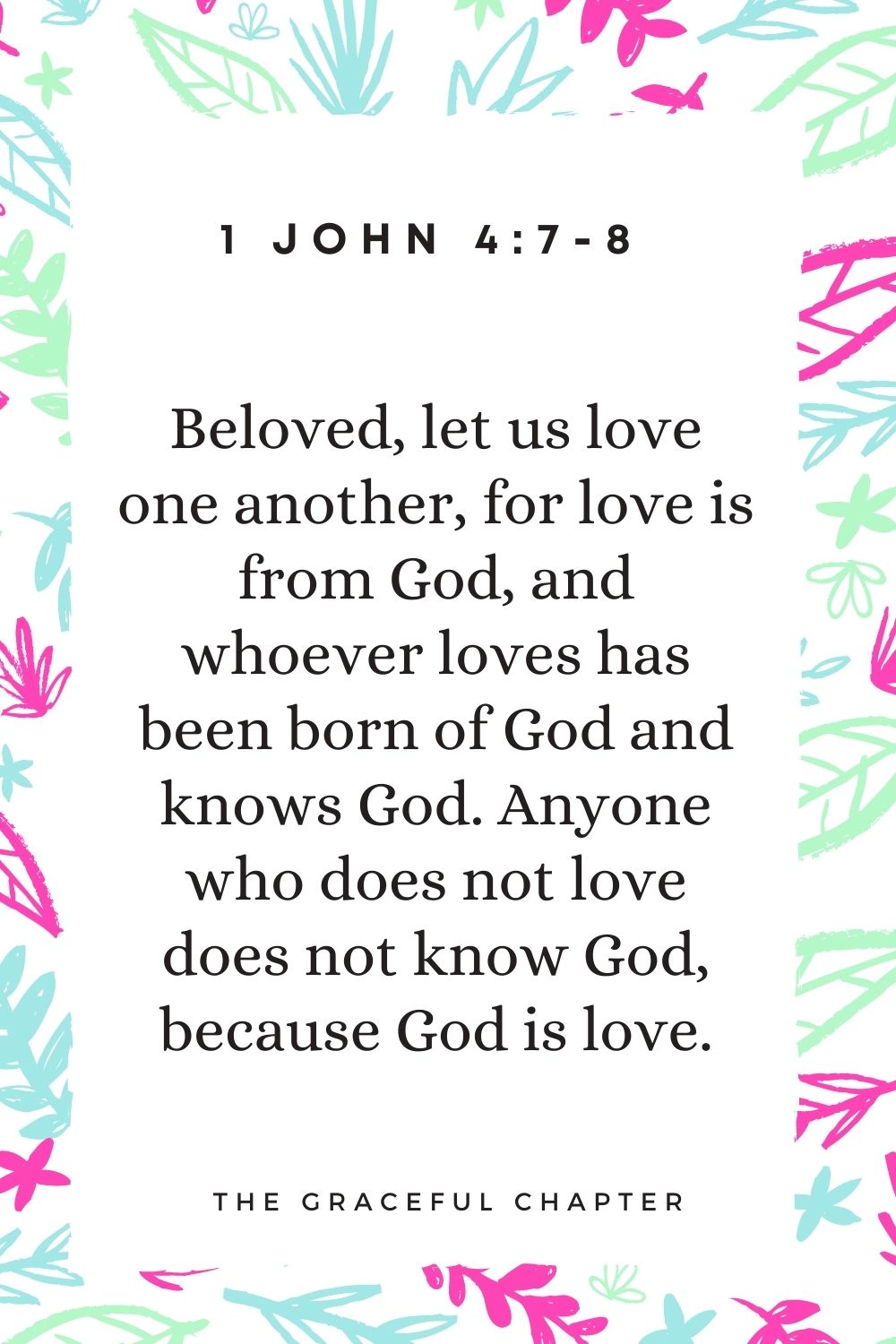 Beloved, let us love one another, for love is from God, and whoever loves has been born of God and knows God. Anyone who does not love does not know God, because God is love.
1 John 4:7-8
Above all, keep loving one another earnestly, since love covers a multitude of sins.
1 Peter 4:8
And above all these put on love, which binds everything together in perfect harmony.
Colossians 3:14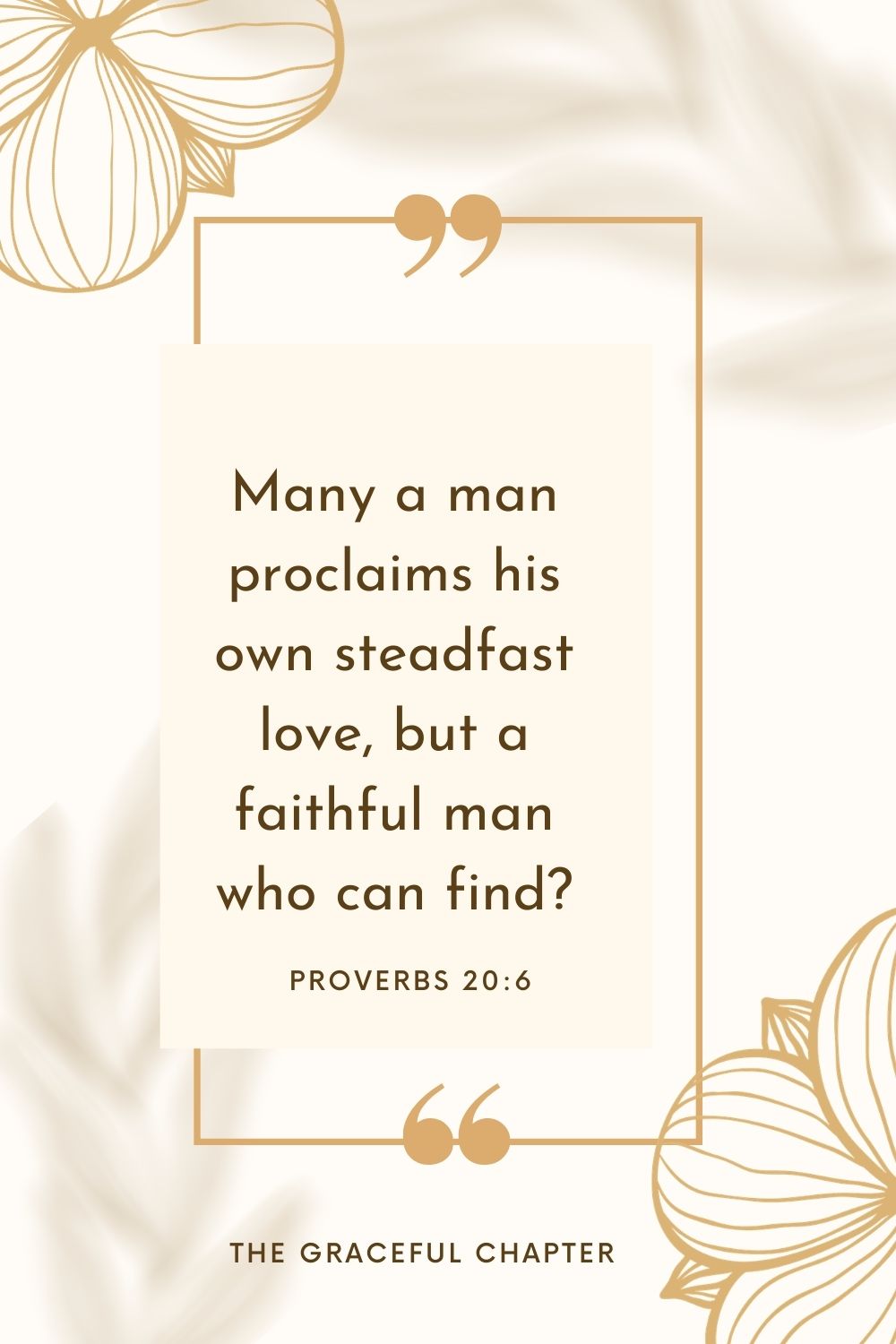 Many a man proclaims his own steadfast love, but a faithful man who can find?
Proverbs 20:6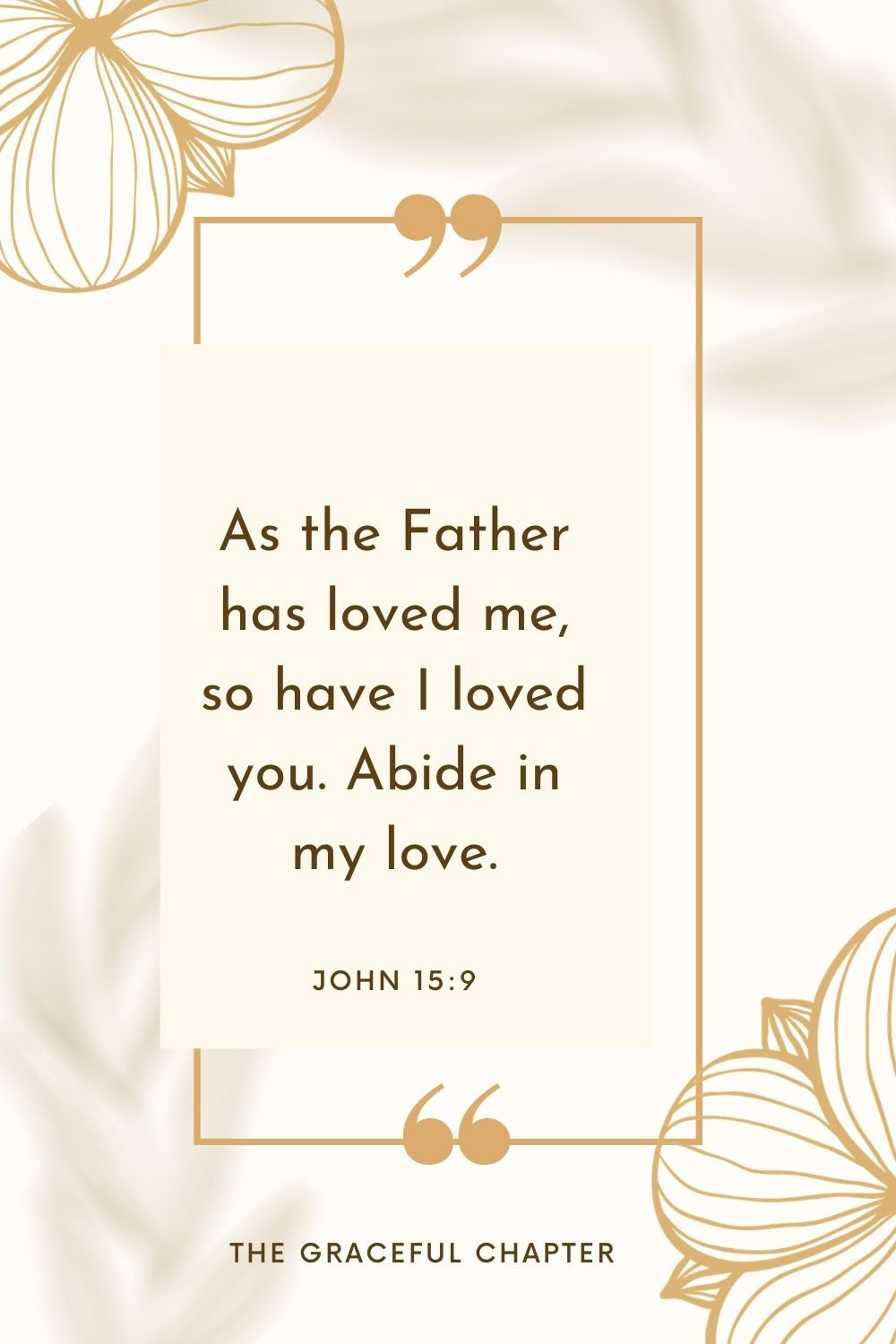 As the Father has loved me, so have I loved you. Abide in my love.
John 15:9
Hatred stirs up strife,  but love covers all offenses.
Proverbs 10:12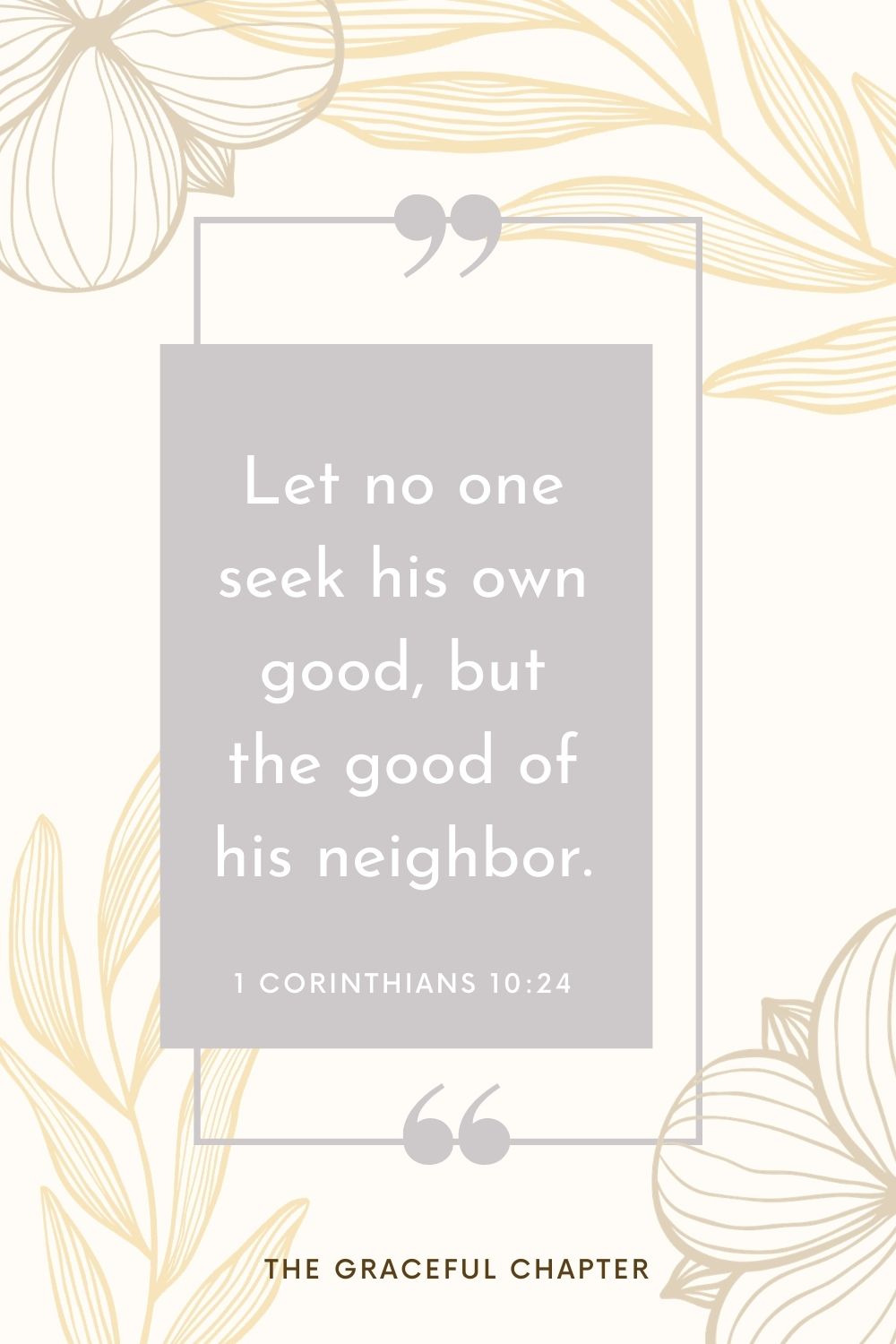 Let no one seek his own good, but the good of his neighbor.
1 Corinthians 10:24
Love does no wrong to a neighbor; therefore love is the fulfilling of the law.
Romans 13:10
For the whole law is fulfilled in one word: "You shall love your neighbor as yourself
Galatians 5:14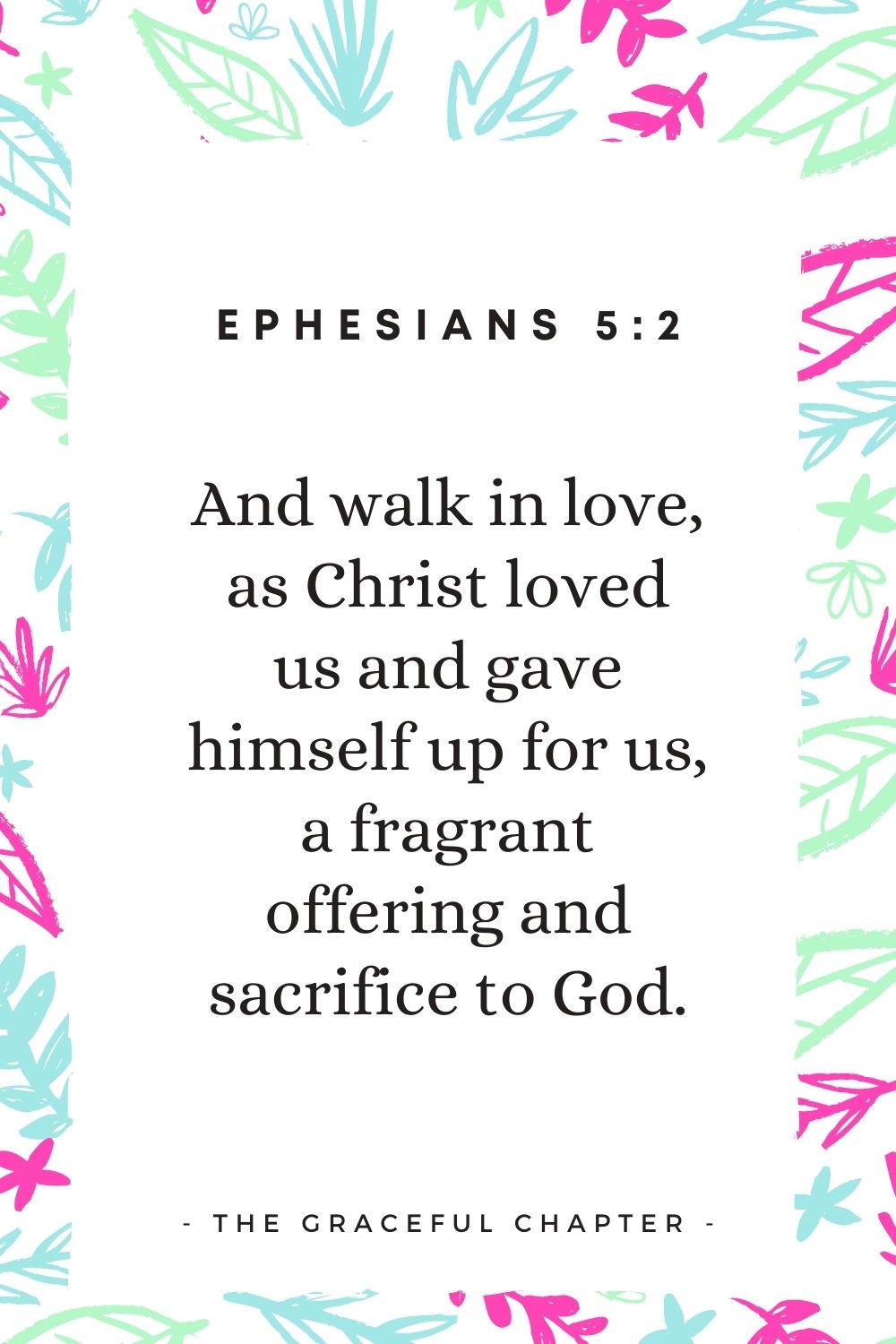 And walk in love, as Christ loved us and gave himself up for us, a fragrant offering and sacrifice to God.
Ephesians 5:2
Let brotherly love continue. Do not neglect to show hospitality to strangers, for thereby some have entertained angels unawares.
Hebrews 13:1-2
Prayer about loving others
Dear God,
Thank you for this beautiful day.
Thank you for loving me with all my imperfections and my mistakes.
Thank you for not forsaking me because of my sins.
Fill me with Your grace and Your Loving Spirit, that I may be able to love others just as You love me.
Help me to forgive those who wrong me, just as You forgive me.
Help me not to hold grudges against people who offend me.
Help me to notice and appreciate the things and people around me.
Thank you for hearing my prayer.
In Jesus name, I pray with thanksgiving.
Amen