There's nothing more beautiful than people living together in love and unity. Where there is togetherness, there is love and happiness abound. But sadly, this is not usually the case for most people in their homes, their workplaces, or wherever they find themselves.
Things happen in life that cause division in families, relationships, neighborhoods, workplaces, etc. But as Christians, we have been called to unity and togetherness. The bible encourages us to live in peace and harmony with each other.
So that even if we make mistakes or we hurt each other, we must try to let love and togetherness reign by forgiving. Virtues like forgiving, tolerance, patience, love, meekness, humility, help us to live together peacefully.
So, if for any reason there is a strain on the relationship between you and someone, it's time to let go and make peace with them. It's time to forgive them and let togetherness reign.
If for any reason, you find it hard to forgive them, check out our book "When forgiving is too hard", this is a 31-day Bible study workbook on forgiveness equipped to help you forgive anyone for any reason.
Below are some bible verses on togetherness to help you understand what the bible says about togetherness and why you should let peace and unity reign always.
Bible verses about togetherness
1 Peter 4:8
Above all, love each other deeply, because love covers over a multitude of sins.

Matthew 18:20
For where two or three gather in my name, there am I with them.

Psalm 95:6
Come, let us bow down in worship, let us kneel before the Lord our Maker.

Philippians 2:2
Then make my joy complete by being like minded, having the same love, being one in spirit and of one mind.

John 13:34
A new command I give you: Love one another. As I have loved you, so you must love one another.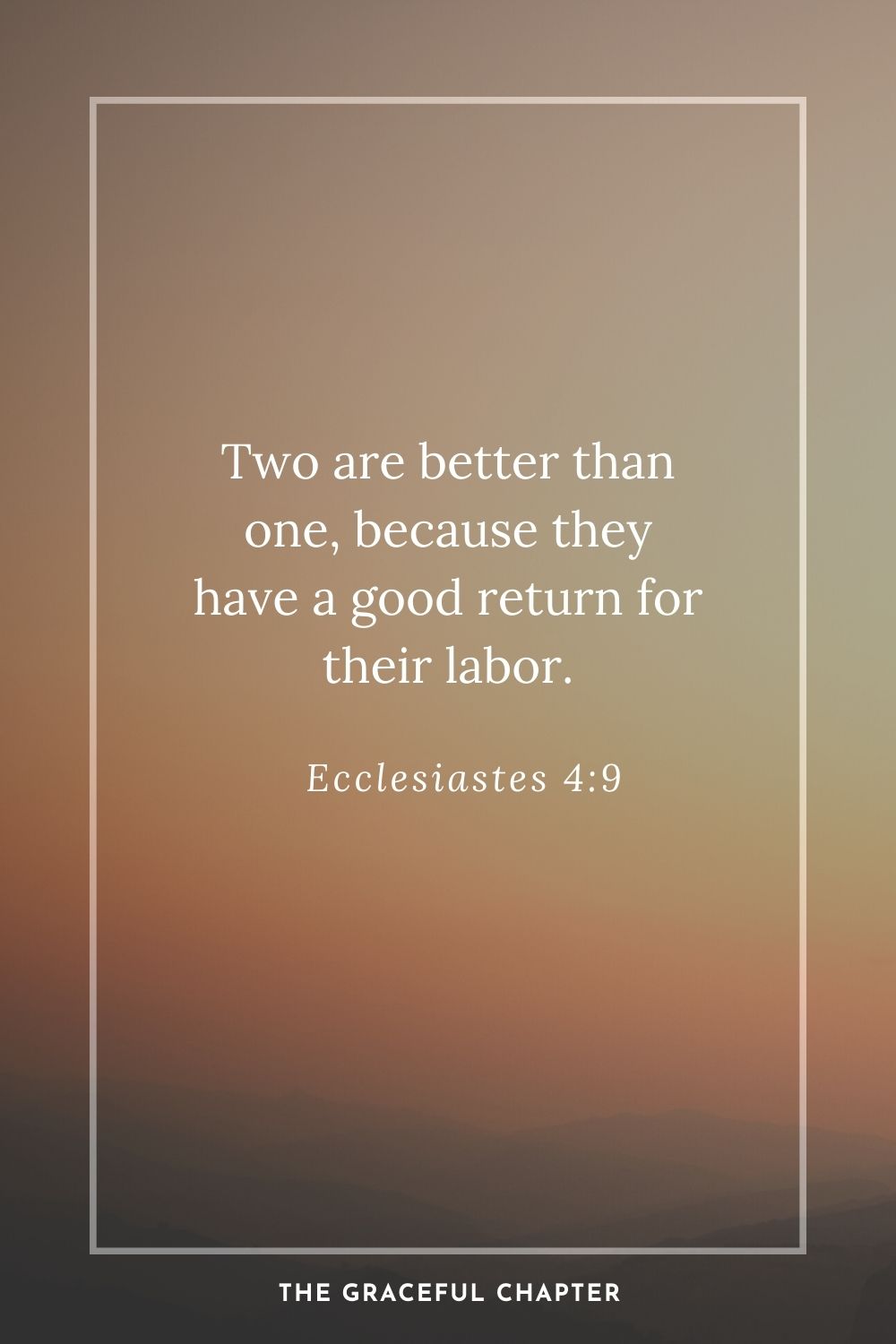 Ecclesiastes 4:9
Two are better than one, because they have a good return for their labor.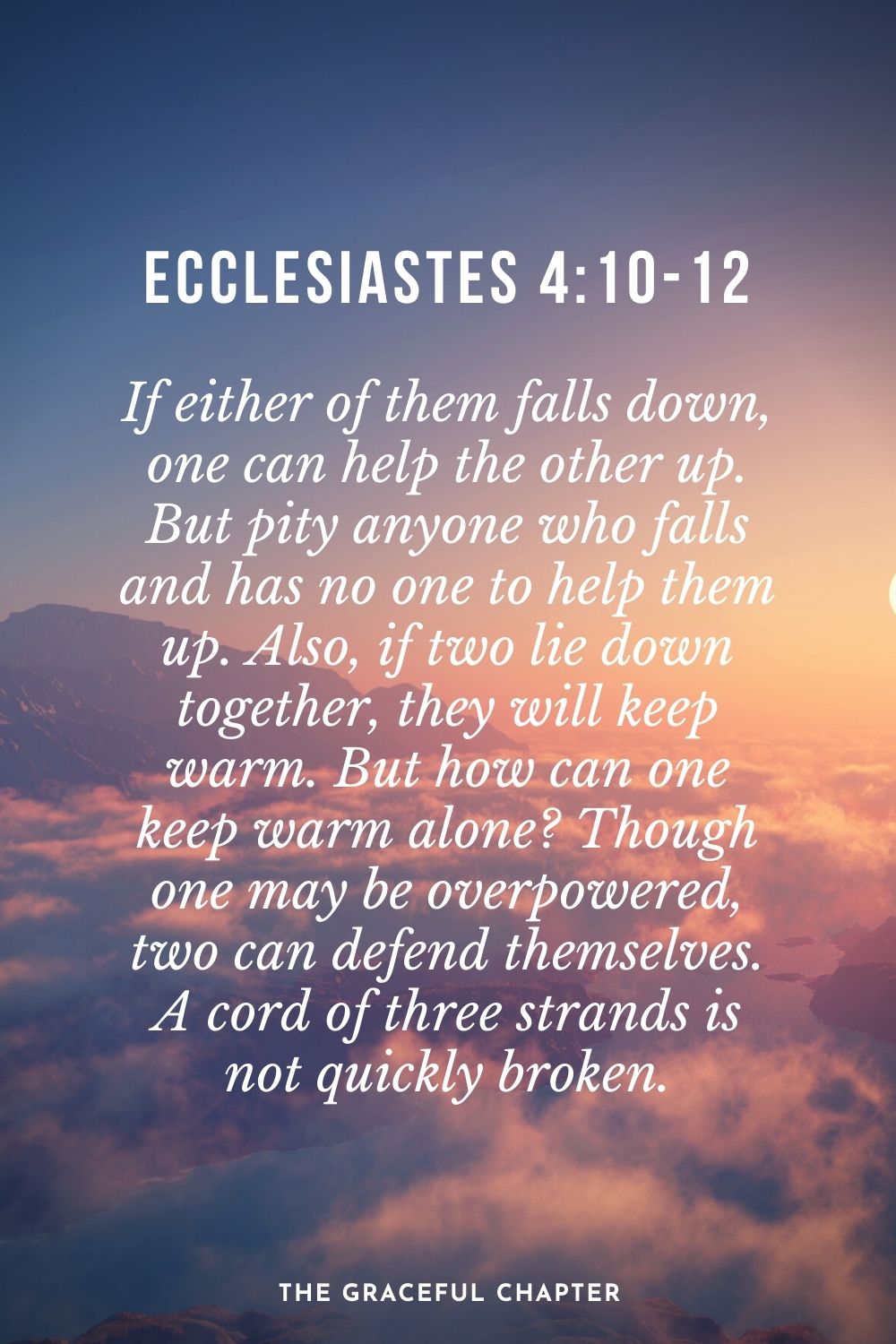 Ecclesiastes 4:10-12
If either of them falls down, one can help the other up.
But pity anyone who falls and has no one to help them up. Also, if two lie down together, they will keep warm. But how can one keep warm alone? Though one may be overpowered, two can defend themselves. A cord of three strands is not quickly broken.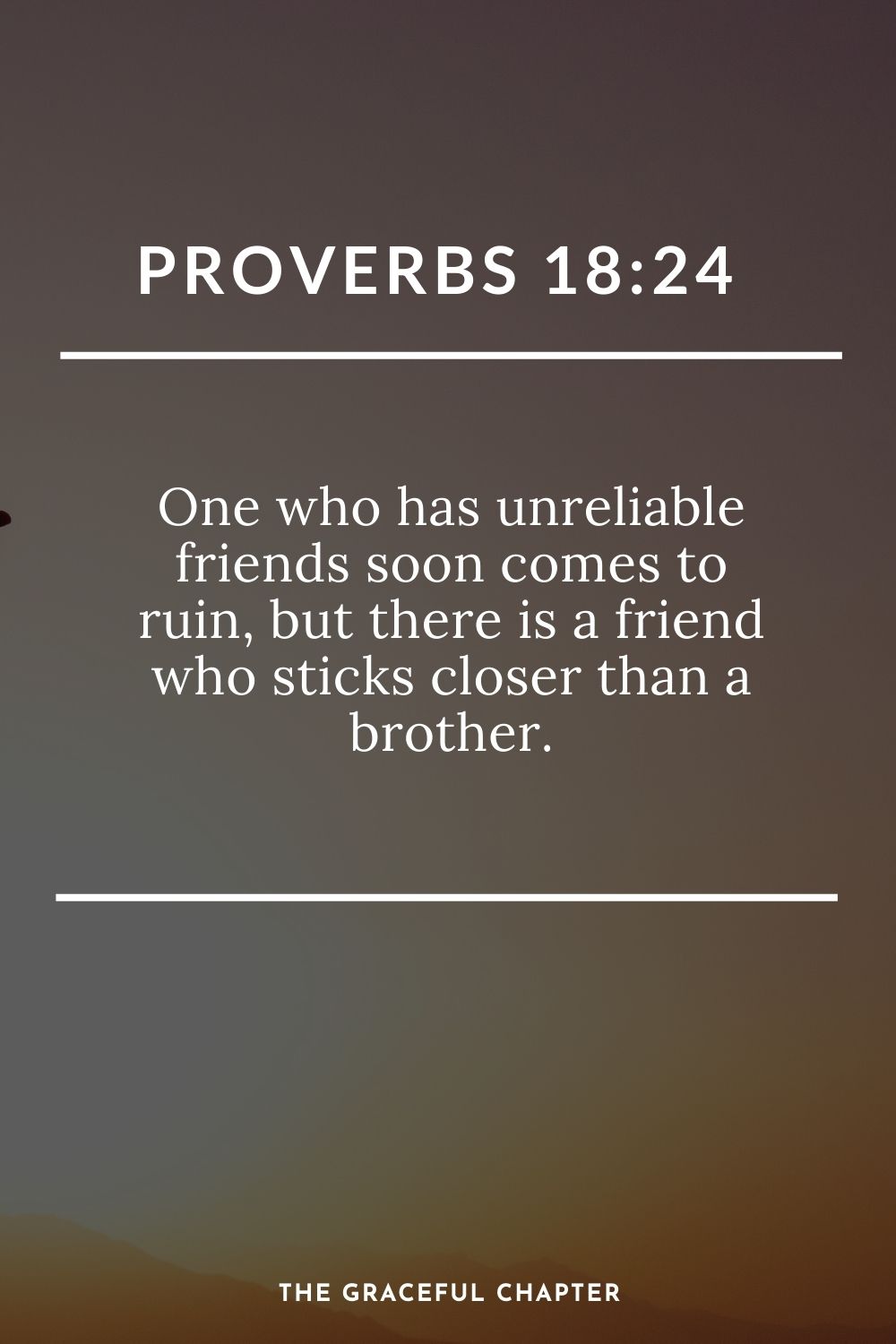 Proverbs 18:24
One who has unreliable friends soon comes to ruin, but there is a friend who sticks closer than a brother.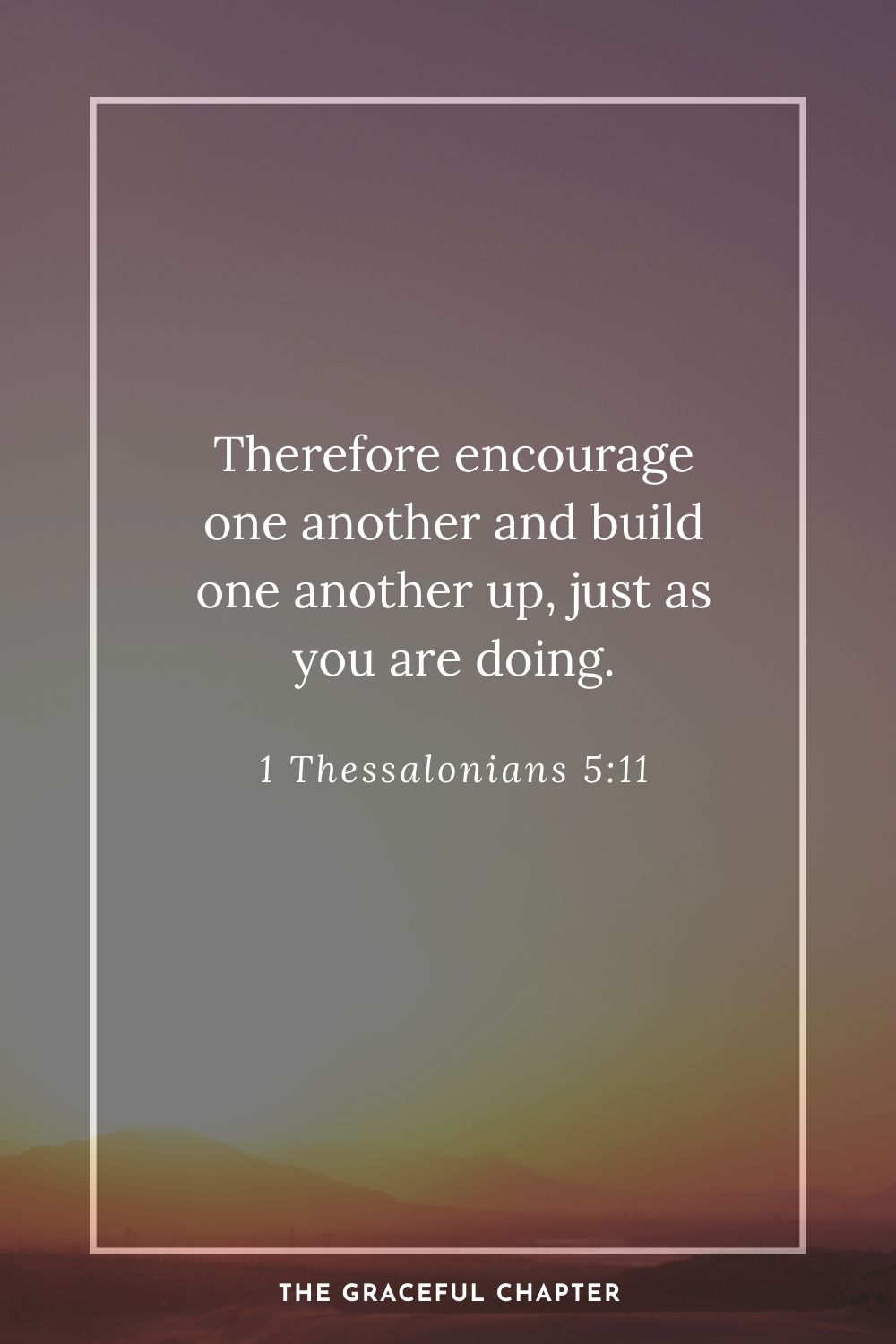 1 Thessalonians 5:11
Therefore encourage one another and build one another up, just as you are doing.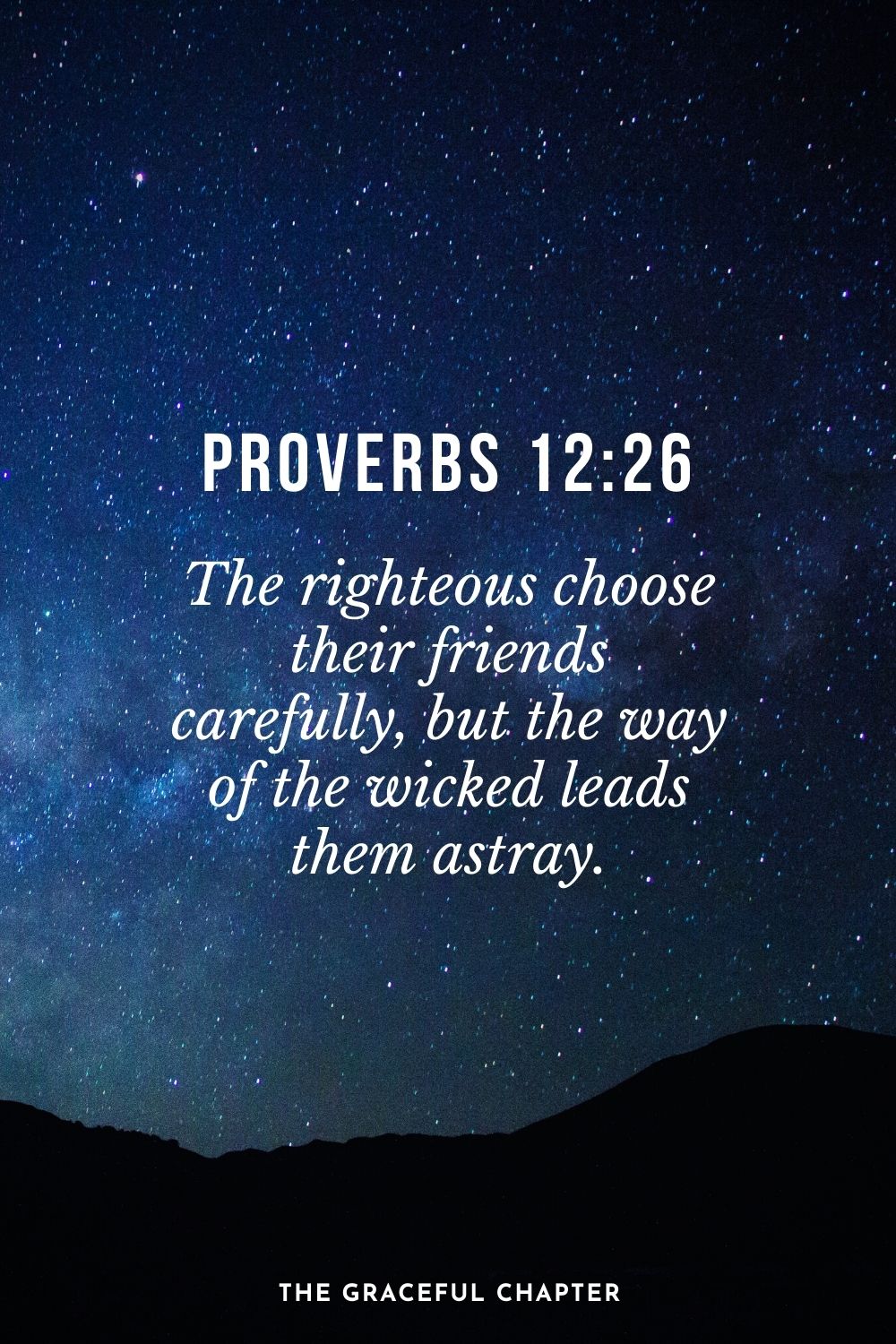 Proverbs 12:26
The righteous choose their friends carefully, but the way of the wicked leads them astray.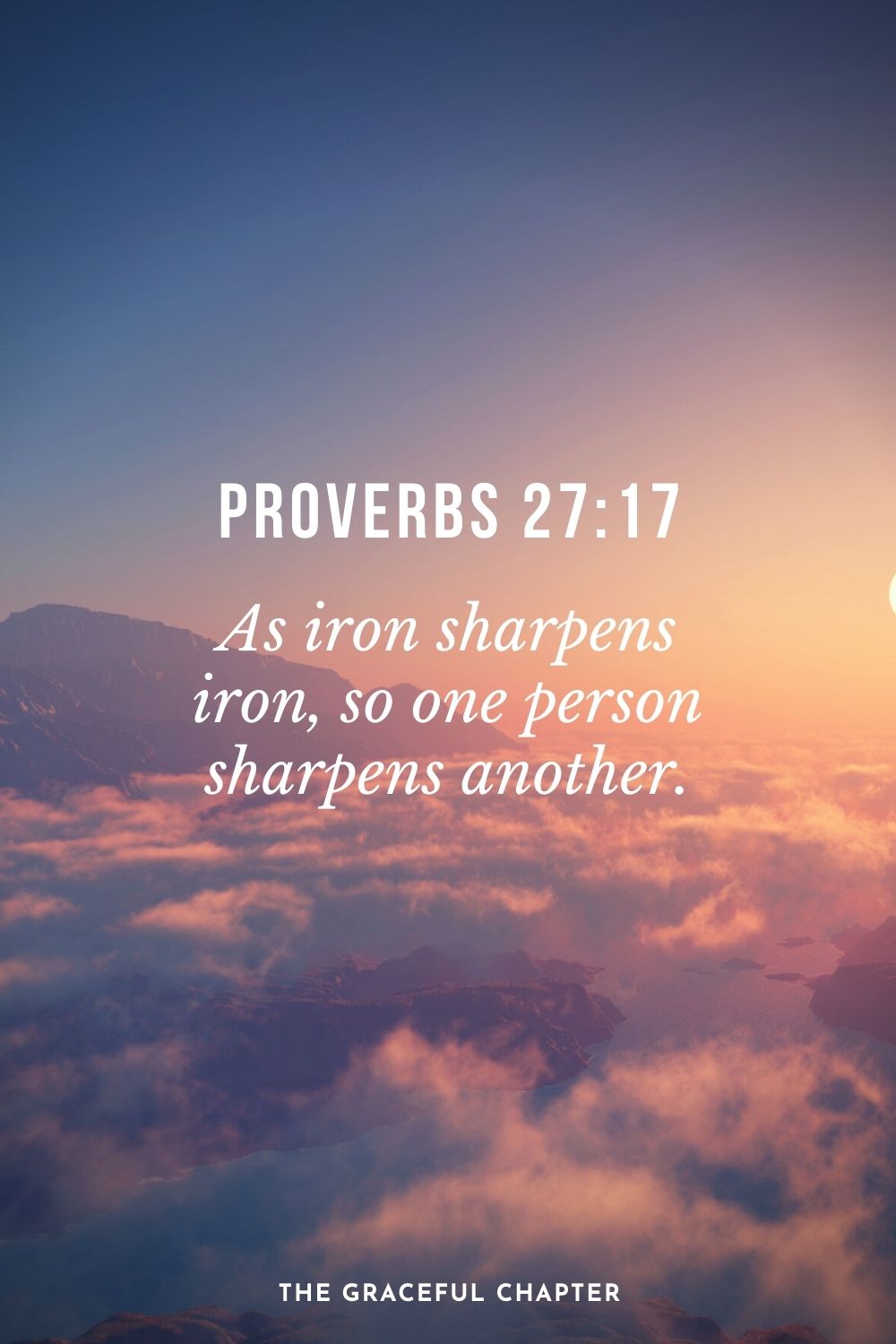 Proverbs 27:17
As iron sharpens iron, so one person sharpens another.

John 15:4-5
Remain in me, as I also remain in you. No branch can bear fruit by itself; it must remain in the vine. Neither can you bear fruit unless you remain in me. I am the vine; you are the branches. If you remain in me and I in you, you will bear much fruit; apart from me you can do nothing.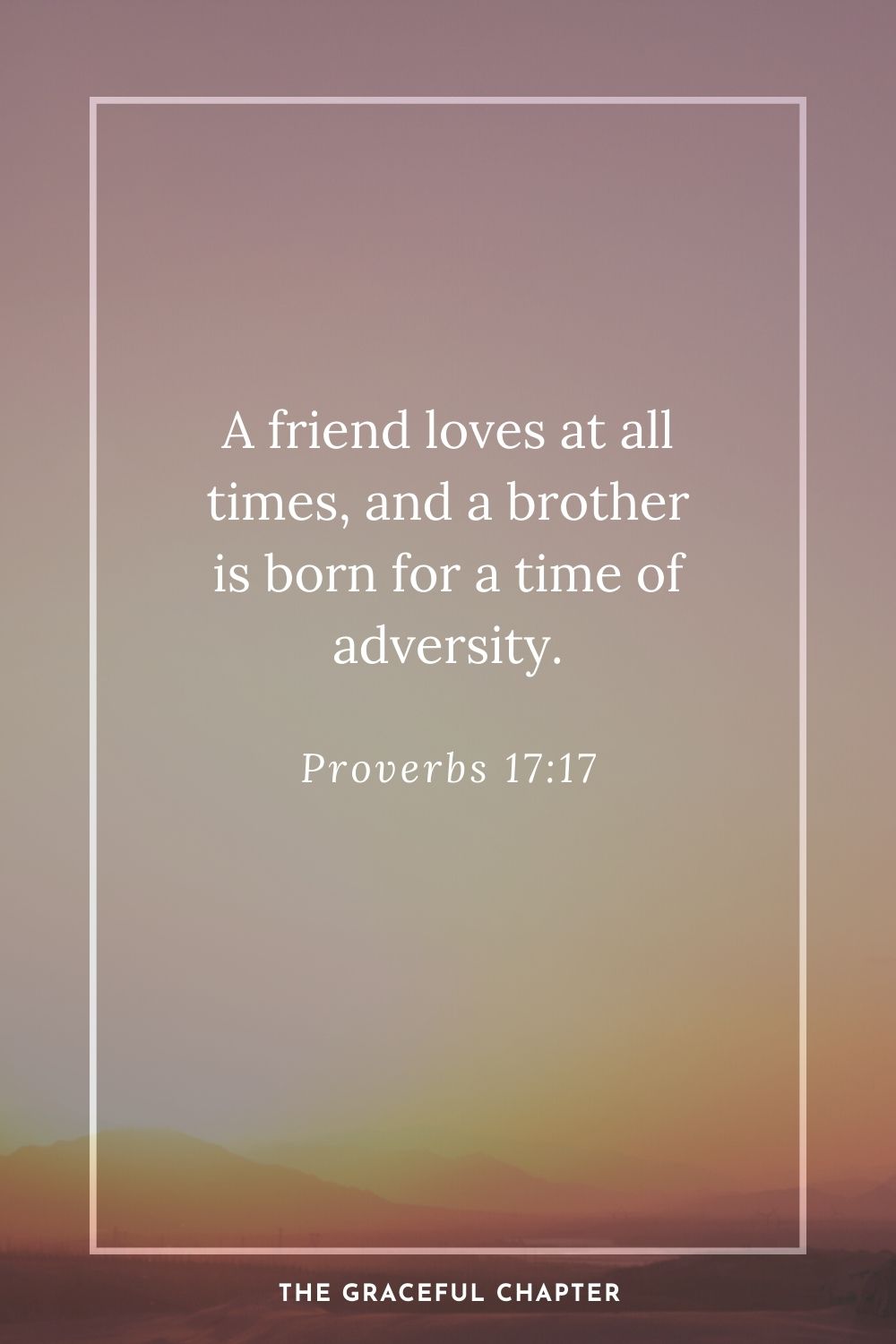 Proverbs 17:17
A friend loves at all times, and a brother is born for a time of adversity.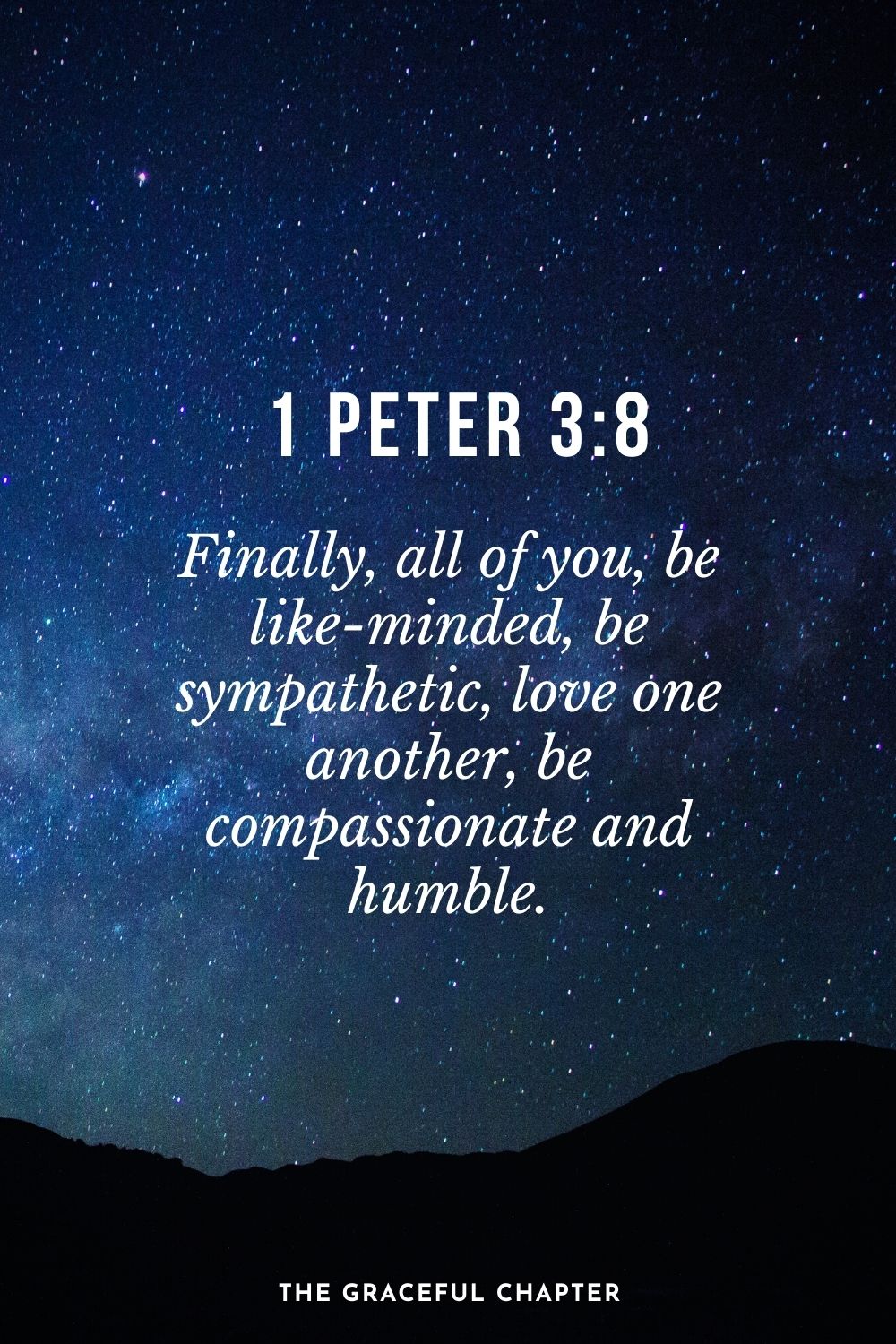 1 Peter 3:8
Finally, all of you, be like-minded, be sympathetic, love one another, be compassionate and humble.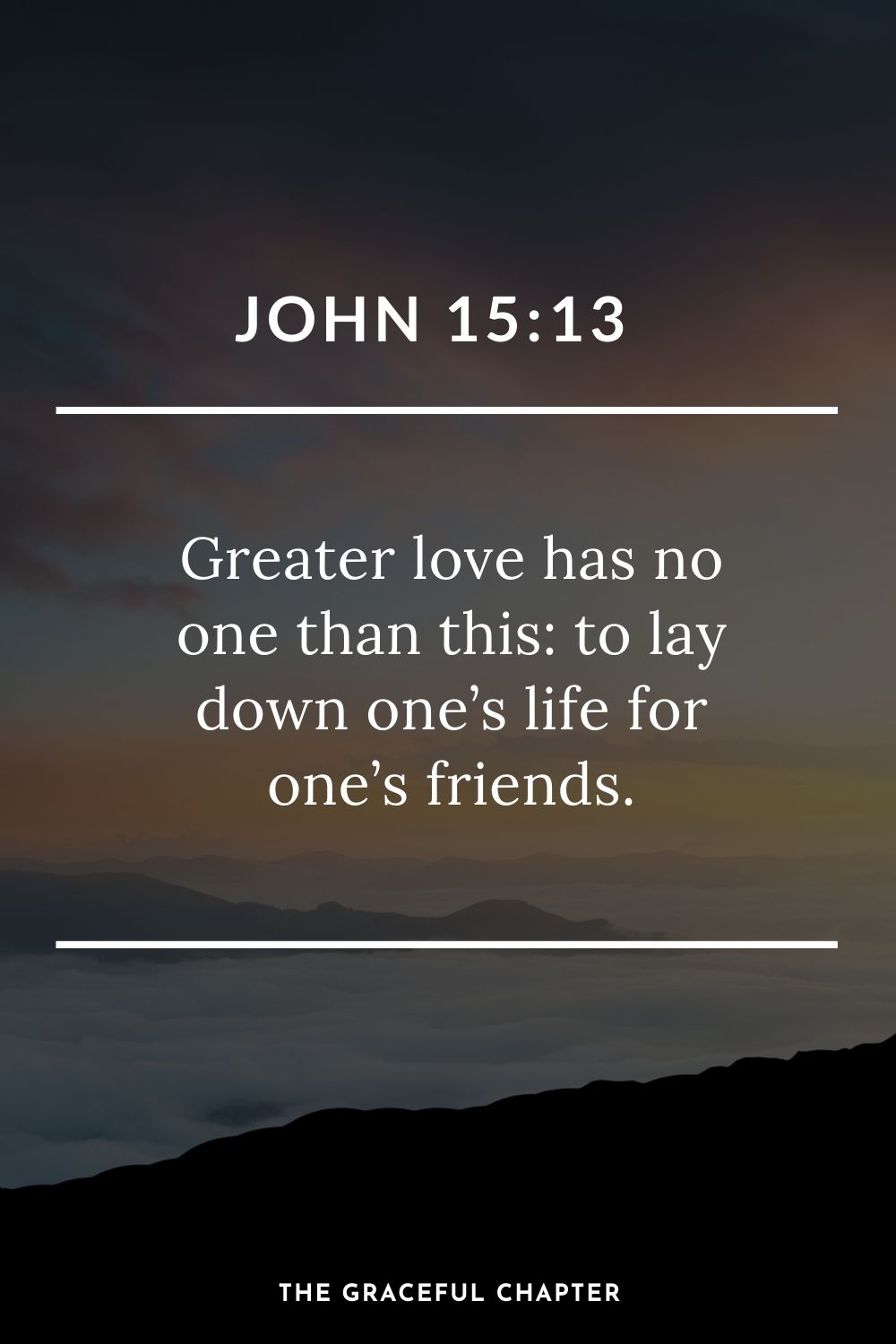 John 15:13
 Greater love has no one than this: to lay down one's life for one's friends.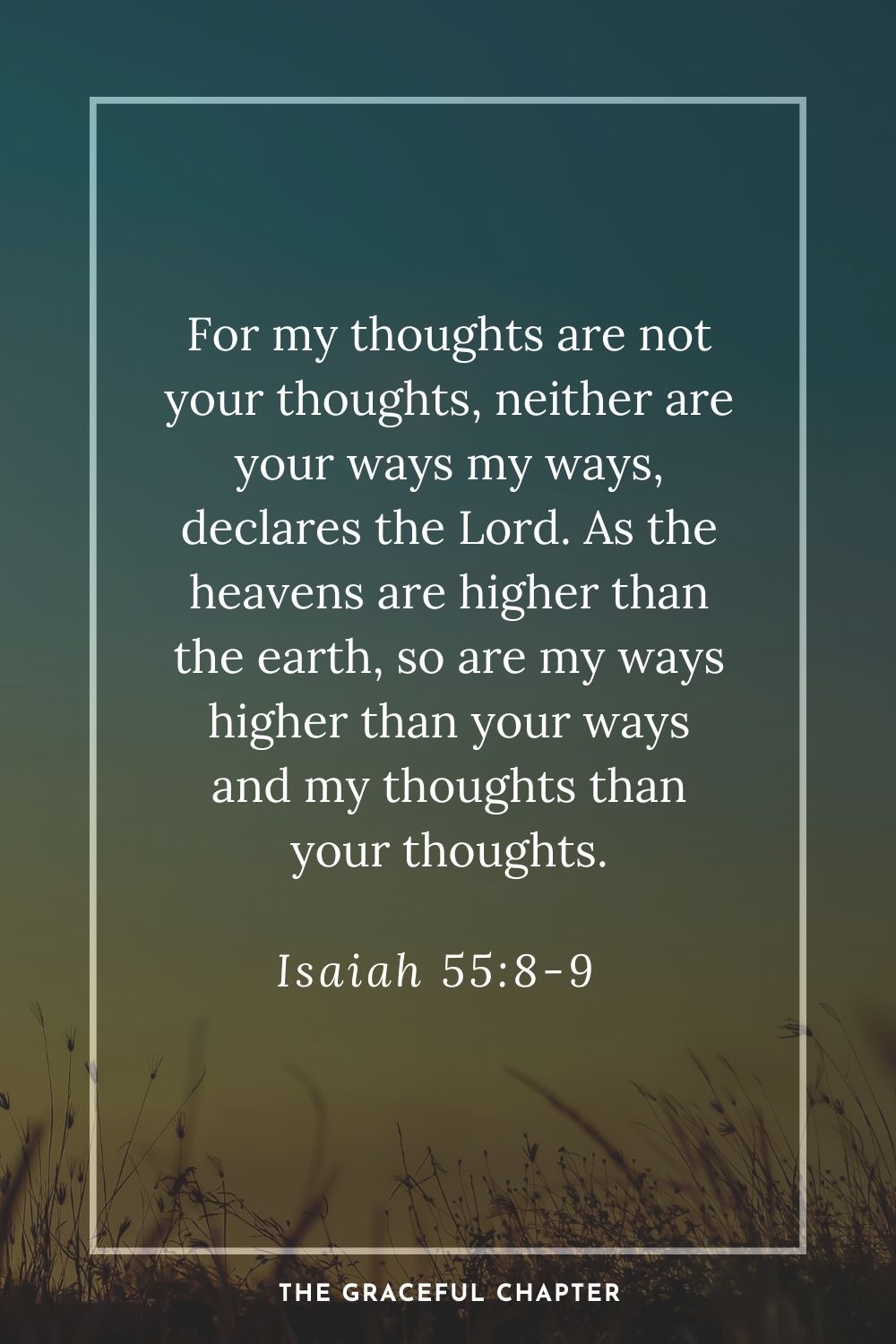 Isaiah 55:8-9
For my thoughts are not your thoughts, neither are your ways my ways, declares the Lord. As the heavens are higher than the earth, so are my ways higher than your ways and my thoughts than your thoughts.

1 Corinthians 15:33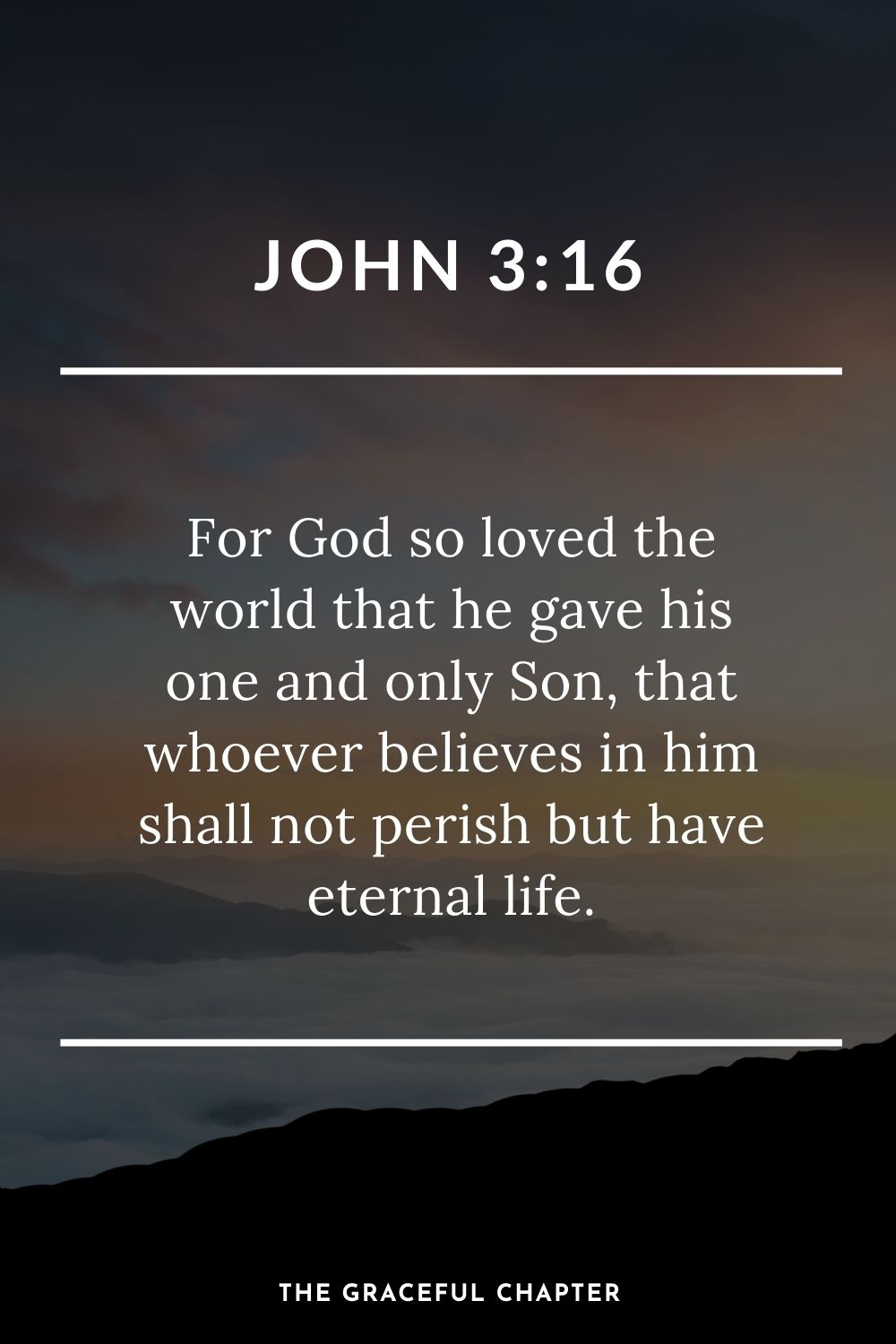 John 3:16
For God so loved the world that he gave his one and only Son, that whoever believes in him shall not perish but have eternal life.

Psalm 133:1-3
How good and pleasant it is when God's people live together in unity! It is like precious oil poured on the head, running down on the beard, running down on Aaron's beard, down on the collar of his robe. It is as if the dew of Hermon were falling on Mount Zion.
For there the Lord bestows his blessing, even life forevermore.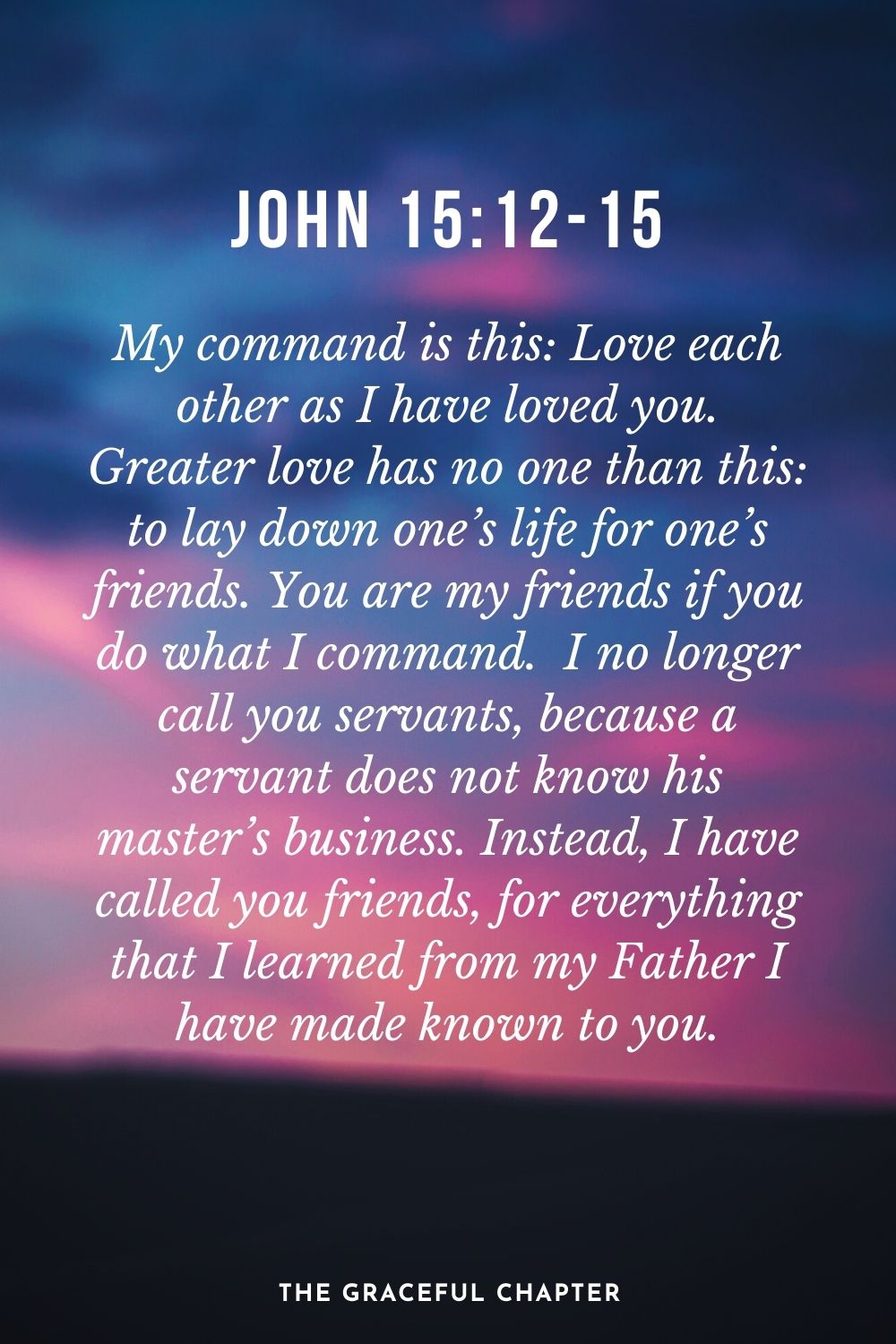 John 15:12-15
My command is this: Love each other as I have loved you. Greater love has no one than this: to lay down one's life for one's friends. You are my friends if you do what I command.  I no longer call you servants, because a servant does not know his master's business. Instead, I have called you friends, for everything that I learned from my Father I have made known to you.

Related Posts
Proverbs 13:20
Walk with the wise and become wise, for a companion of fools suffers harm.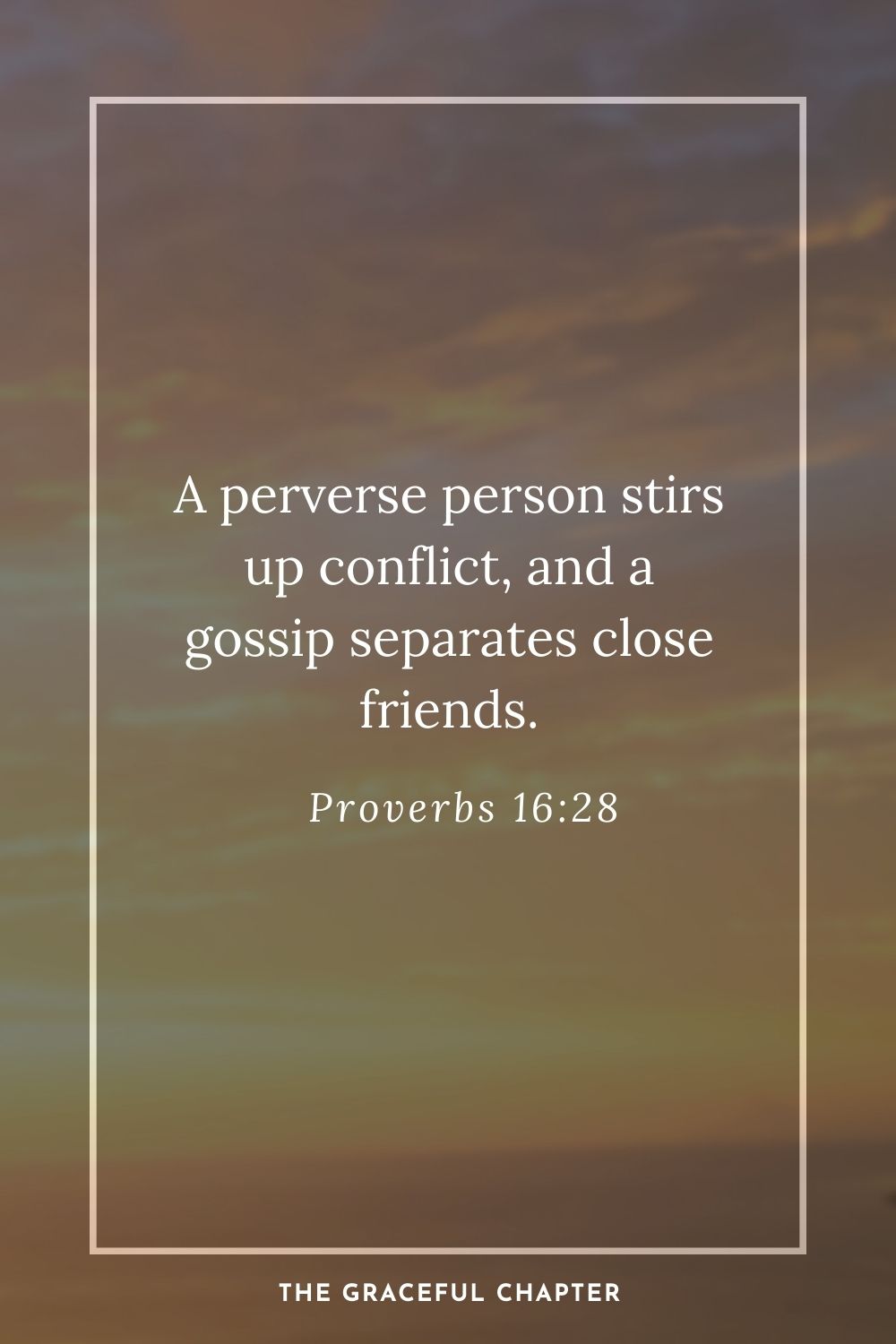 Proverbs 16:28
A perverse person stirs up conflict, and a gossip separates close friends.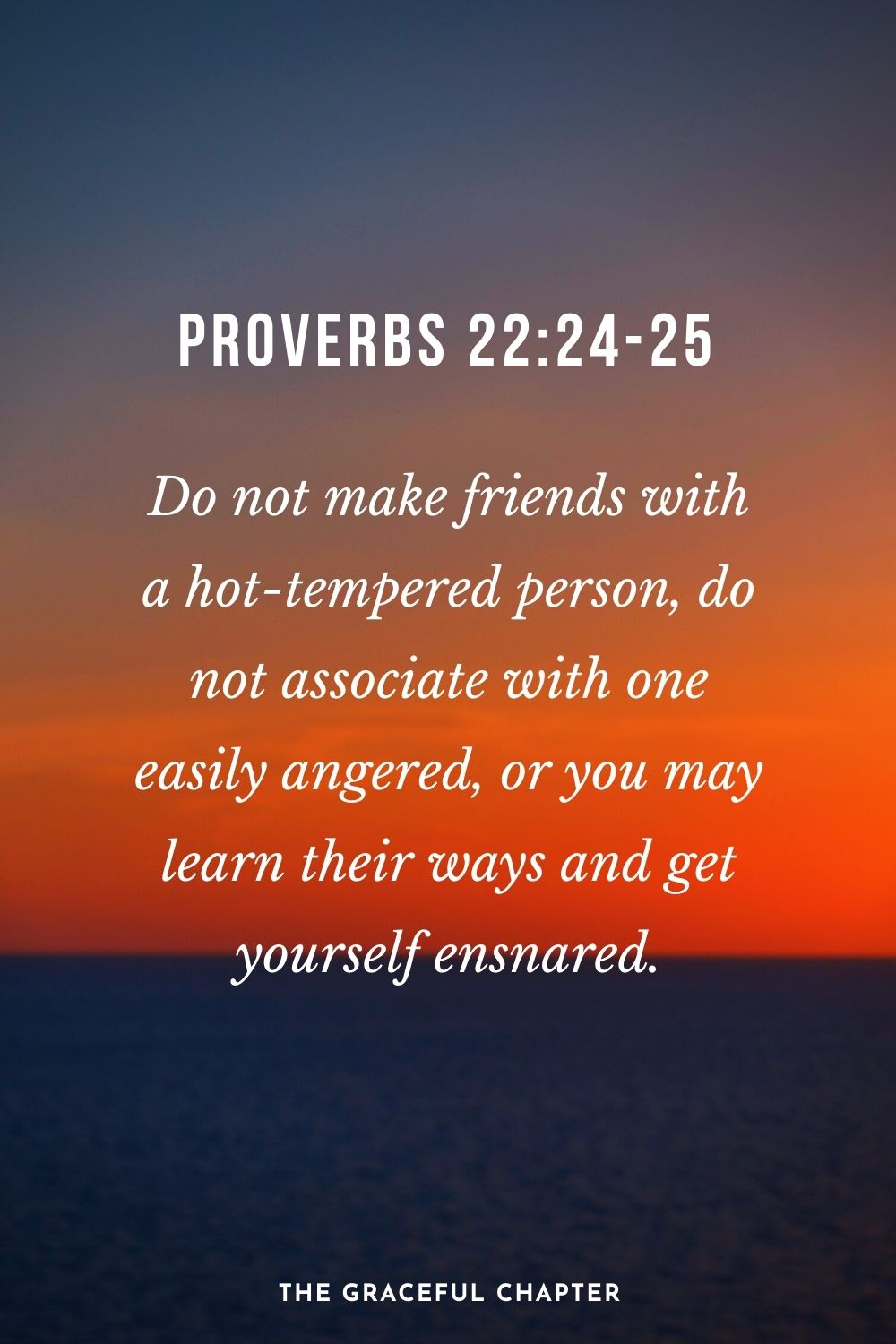 Proverbs 22:24-25
Do not make friends with a hot-tempered person, do not associate with one easily angered, or you may learn their ways and get yourself ensnared.

1 Corinthians 1:10
I appeal to you, brothers and sisters, in the name of our Lord Jesus Christ, that all of you agree with one another in what you say and that there be no divisions among you, but that you be perfectly united in mind and thought.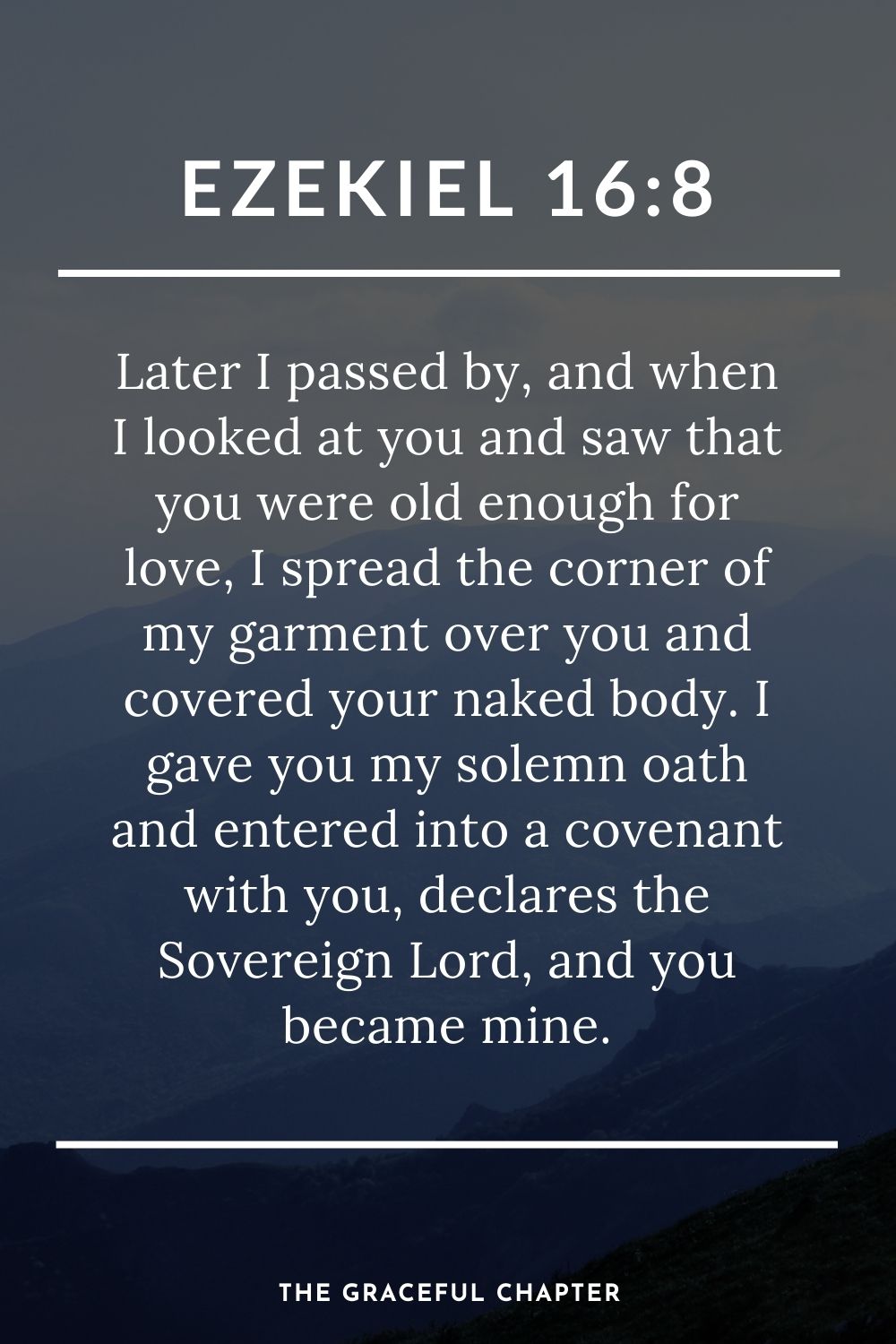 Ezekiel 16:8
Later I passed by, and when I looked at you and saw that you were old enough for love, I spread the corner of my garment over you and covered your naked body. I gave you my solemn oath and entered into a covenant with you, declares the Sovereign Lord, and you became mine.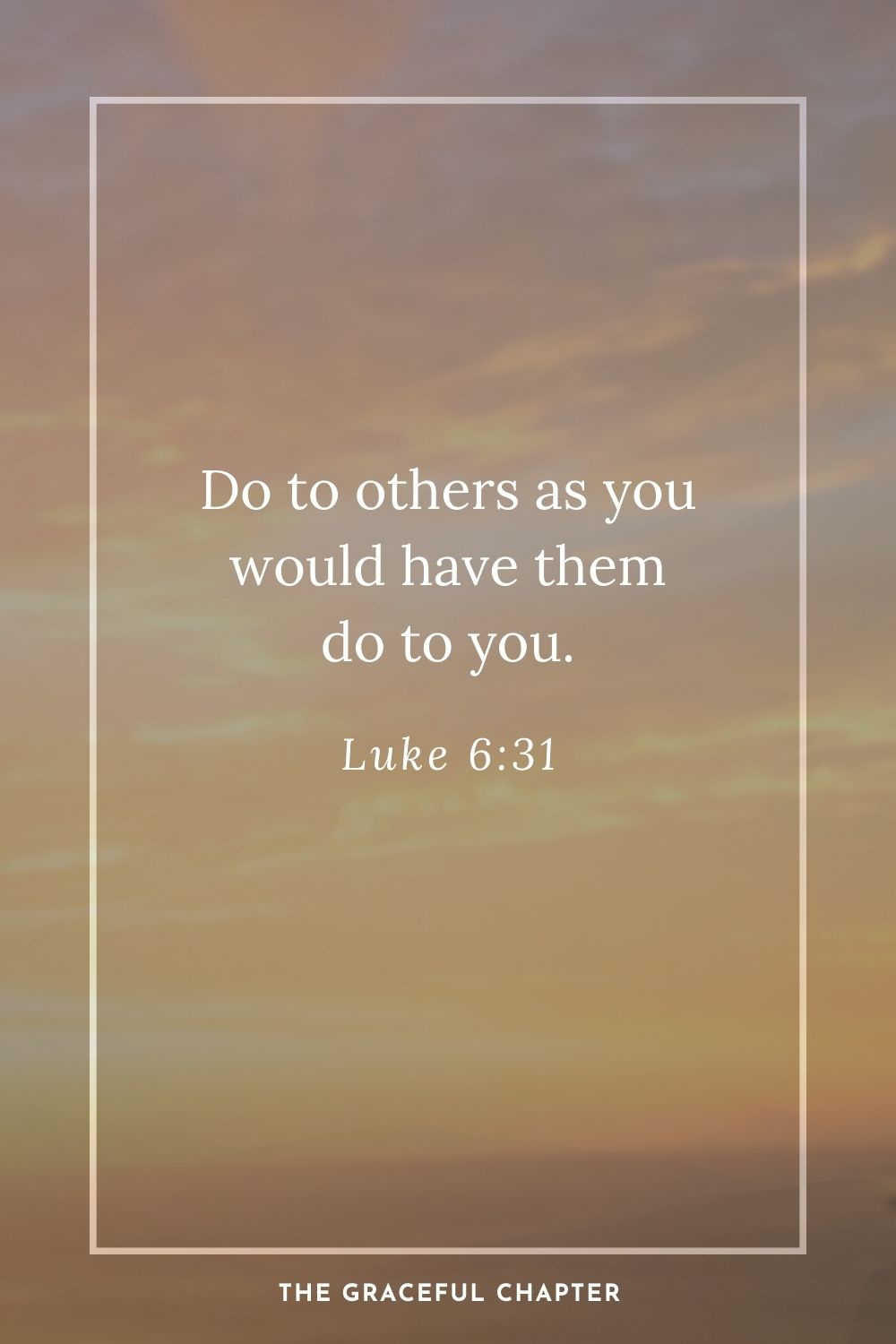 Luke 6:31
 Do to others as you would have them do to you.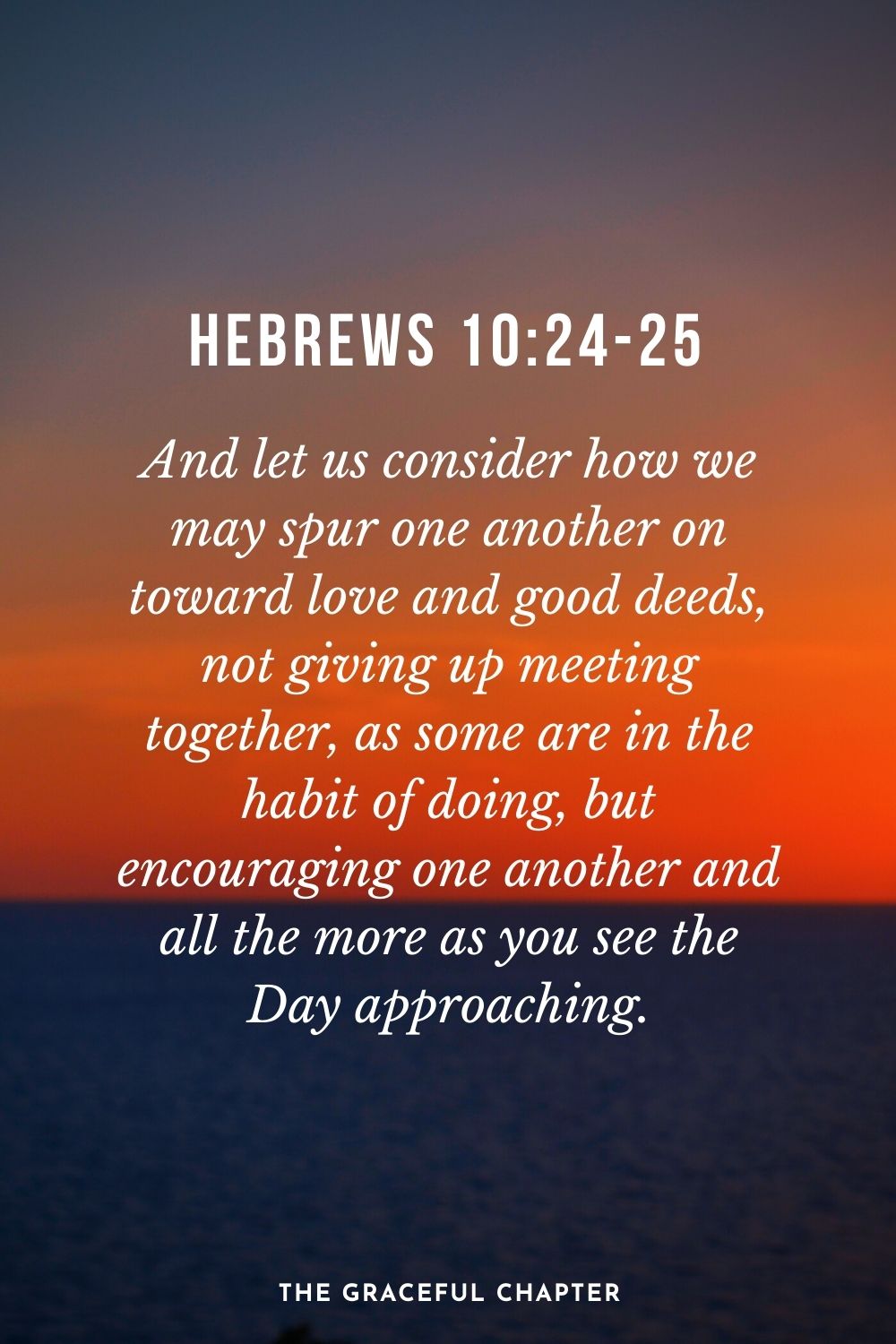 Hebrews 10:24-25
And let us consider how we may spur one another on toward love and good deeds, not giving up meeting together, as some are in the habit of doing, but encouraging one another and all the more as you see the Day approaching.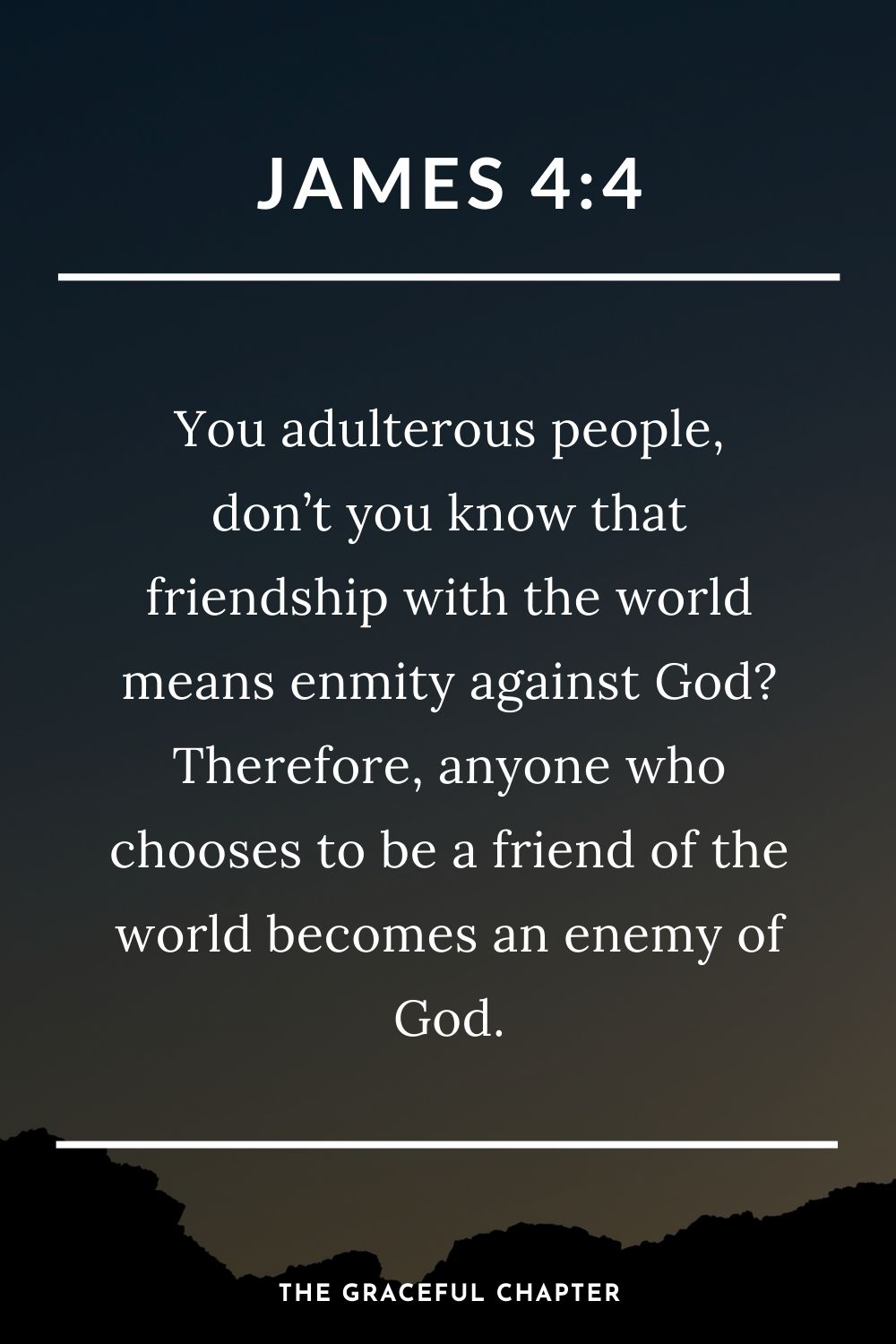 James 4:4
You adulterous people, don't you know that friendship with the world means enmity against God? Therefore, anyone who chooses to be a friend of the world becomes an enemy of God.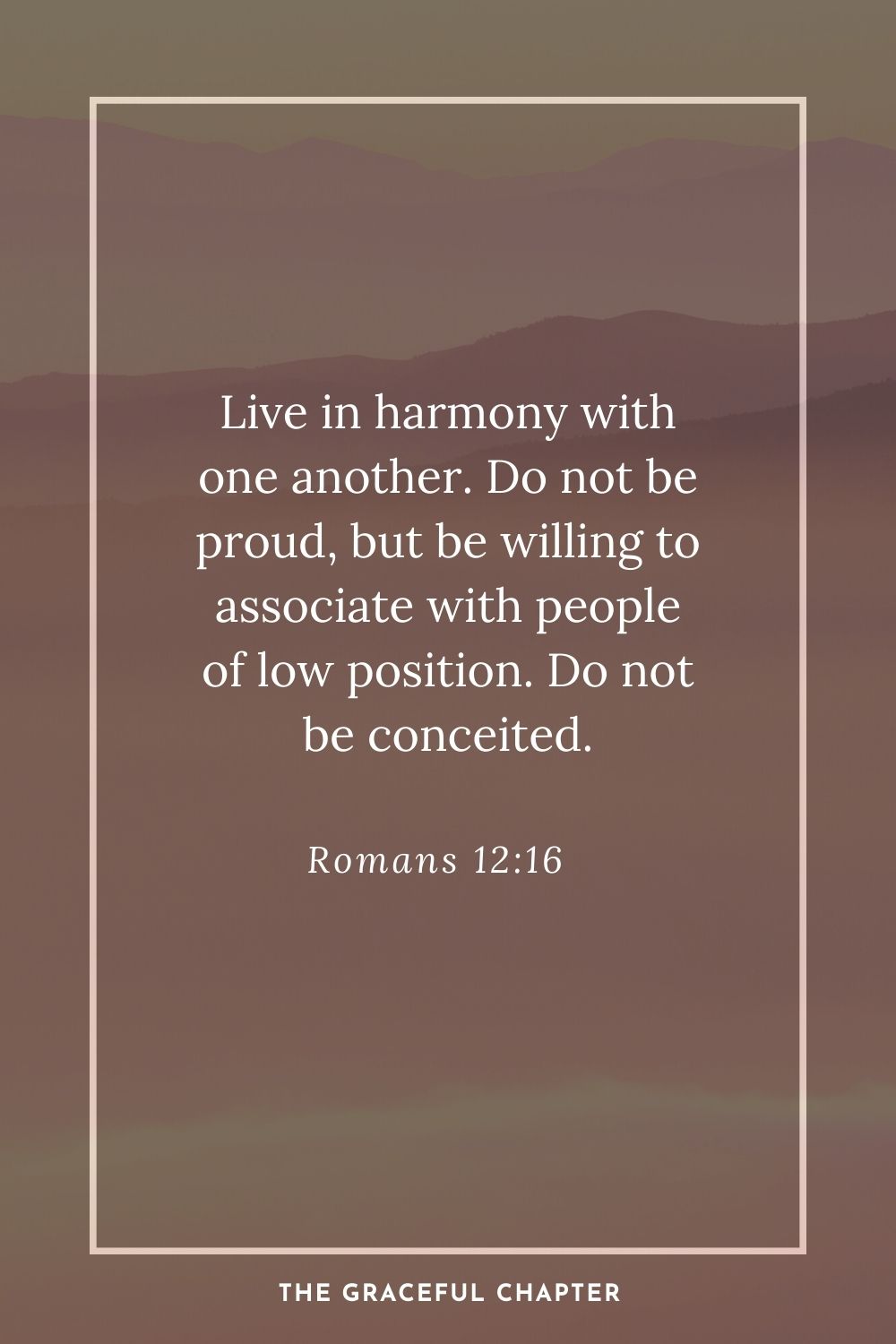 Romans 12:16
Live in harmony with one another. Do not be proud, but be willing to associate with people of low position. Do not be conceited.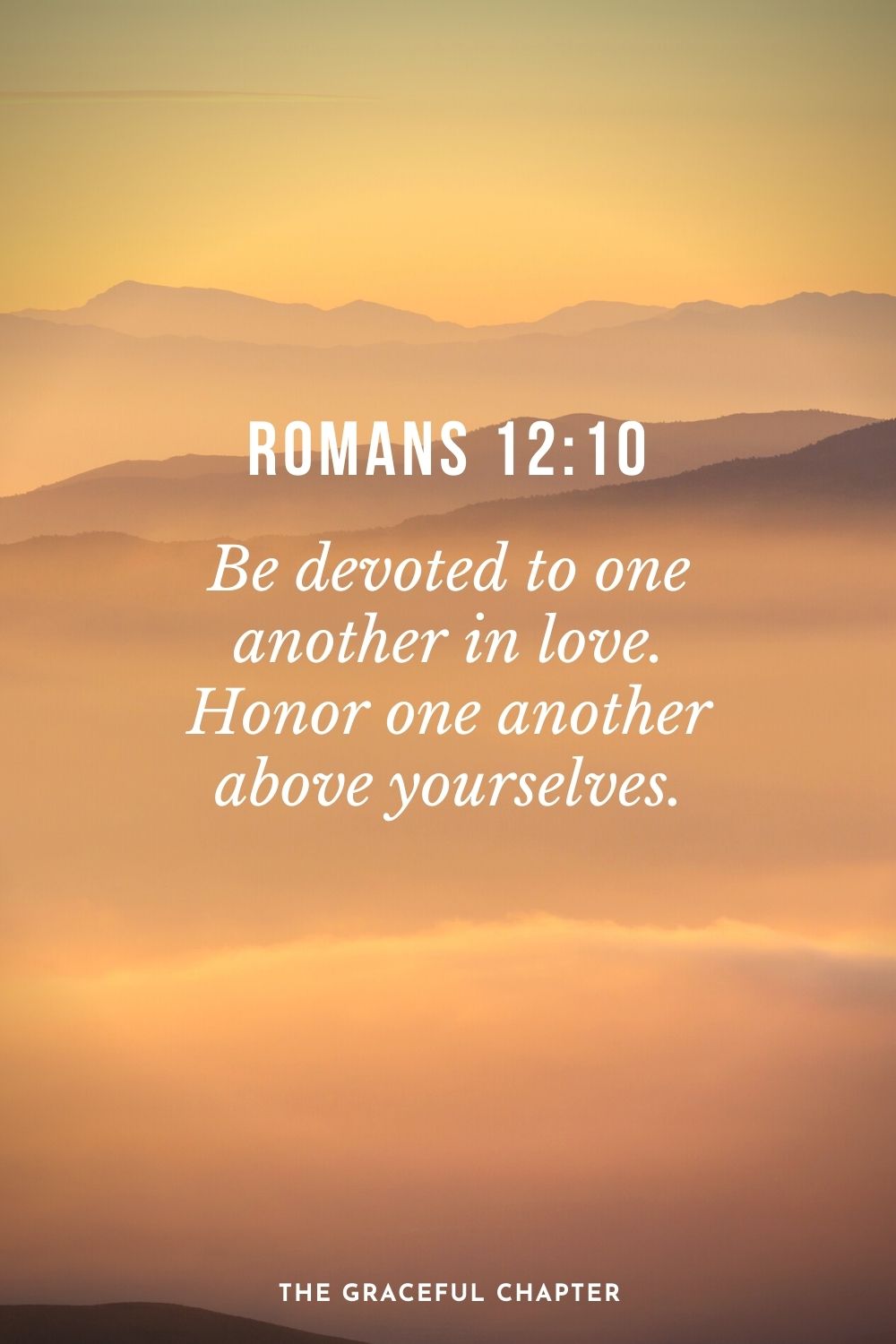 Romans 12:10
 Be devoted to one another in love. Honor one another above yourselves.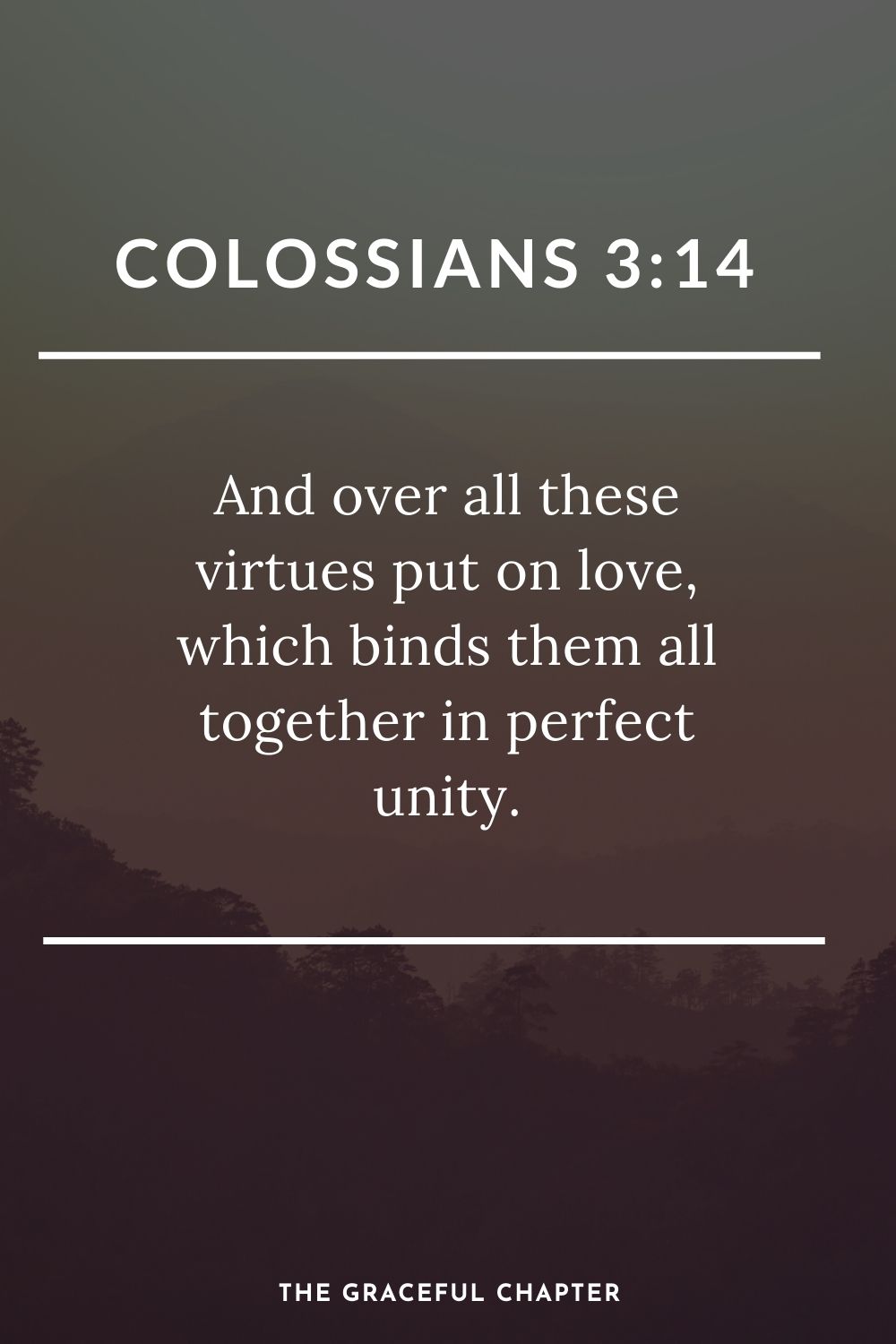 Colossians 3:14
And over all these virtues put on love, which binds them all together in perfect unity.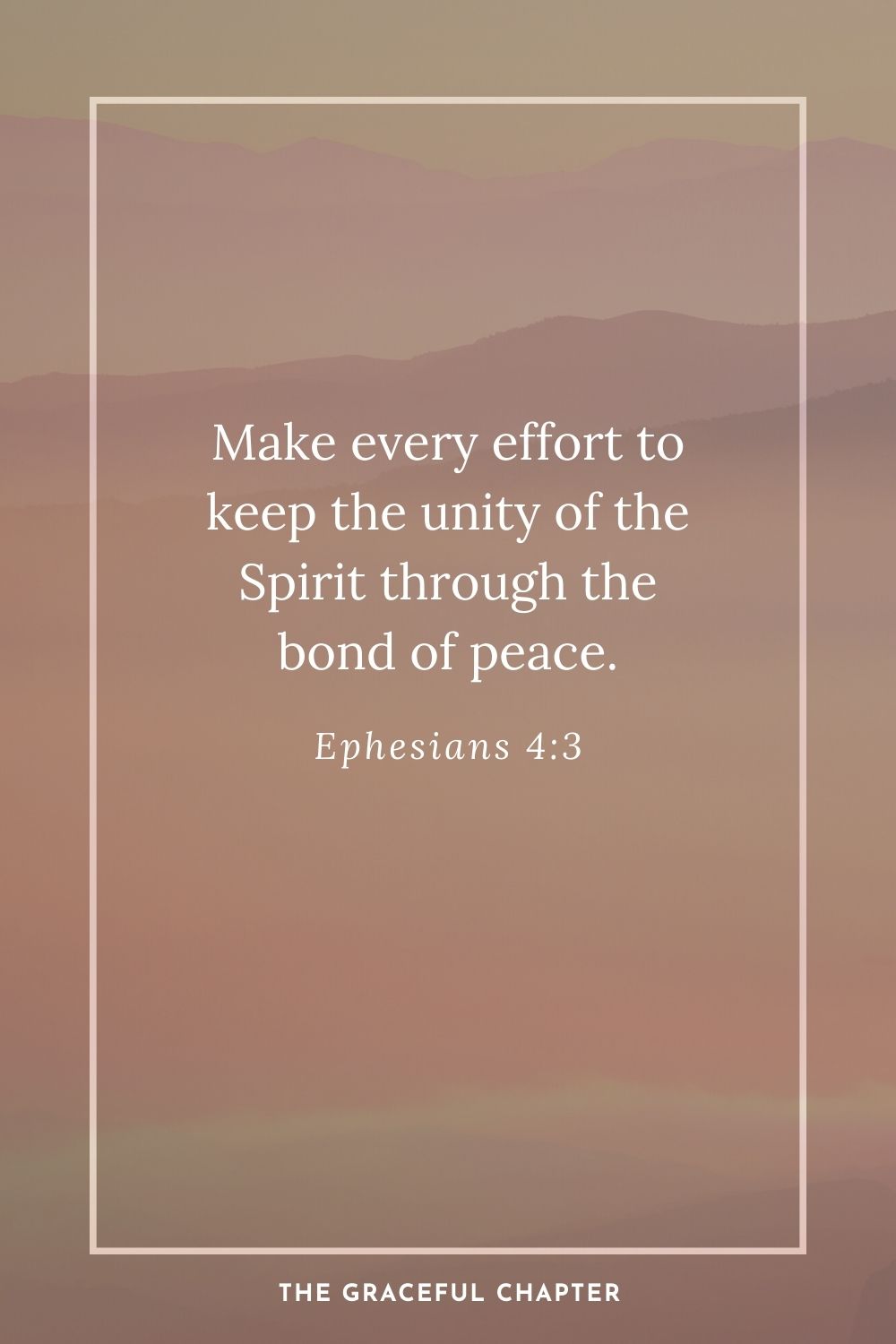 Ephesians 4:3
Make every effort to keep the unity of the Spirit through the bond of peace.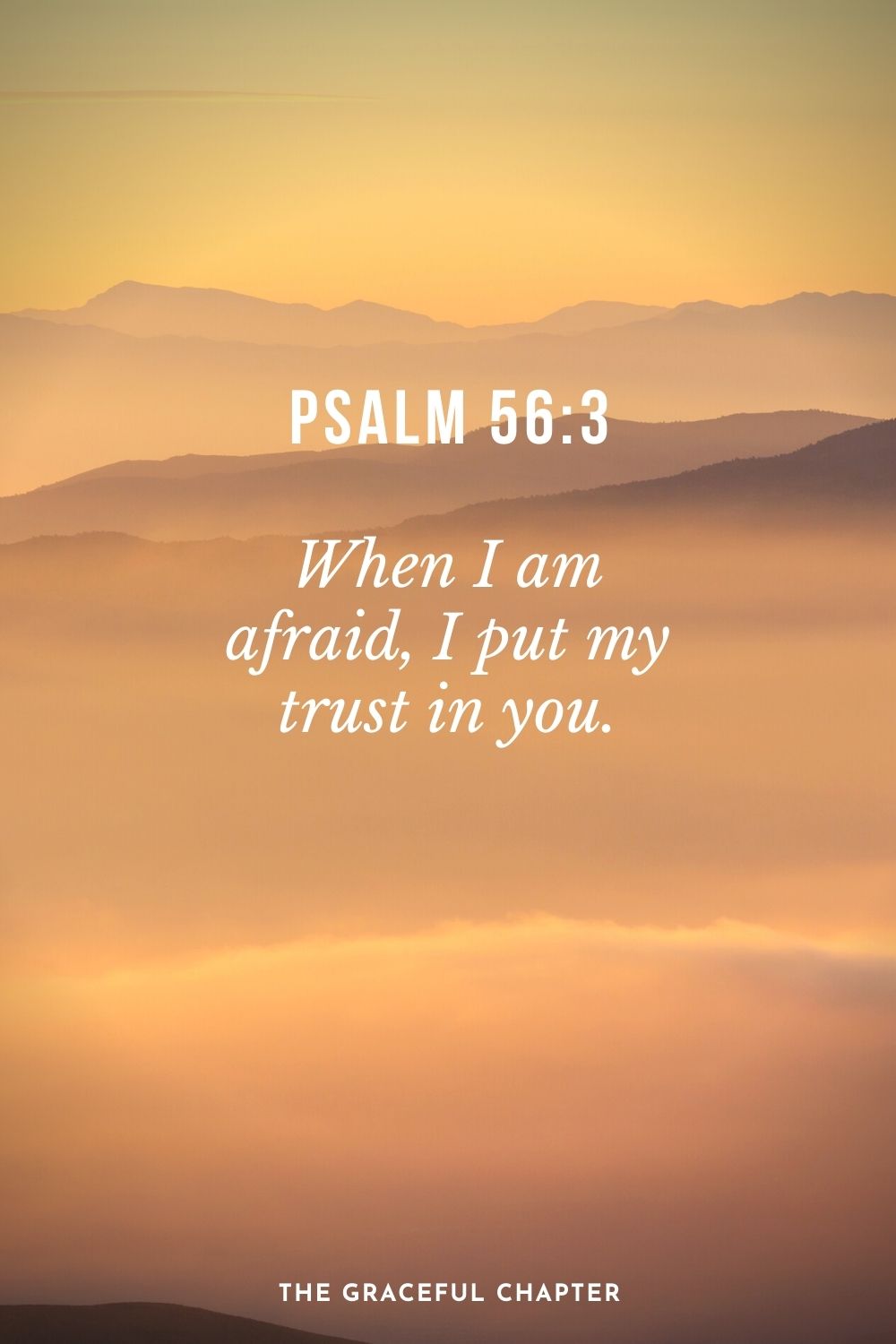 Psalm 56:3
When I am afraid, I put my trust in you.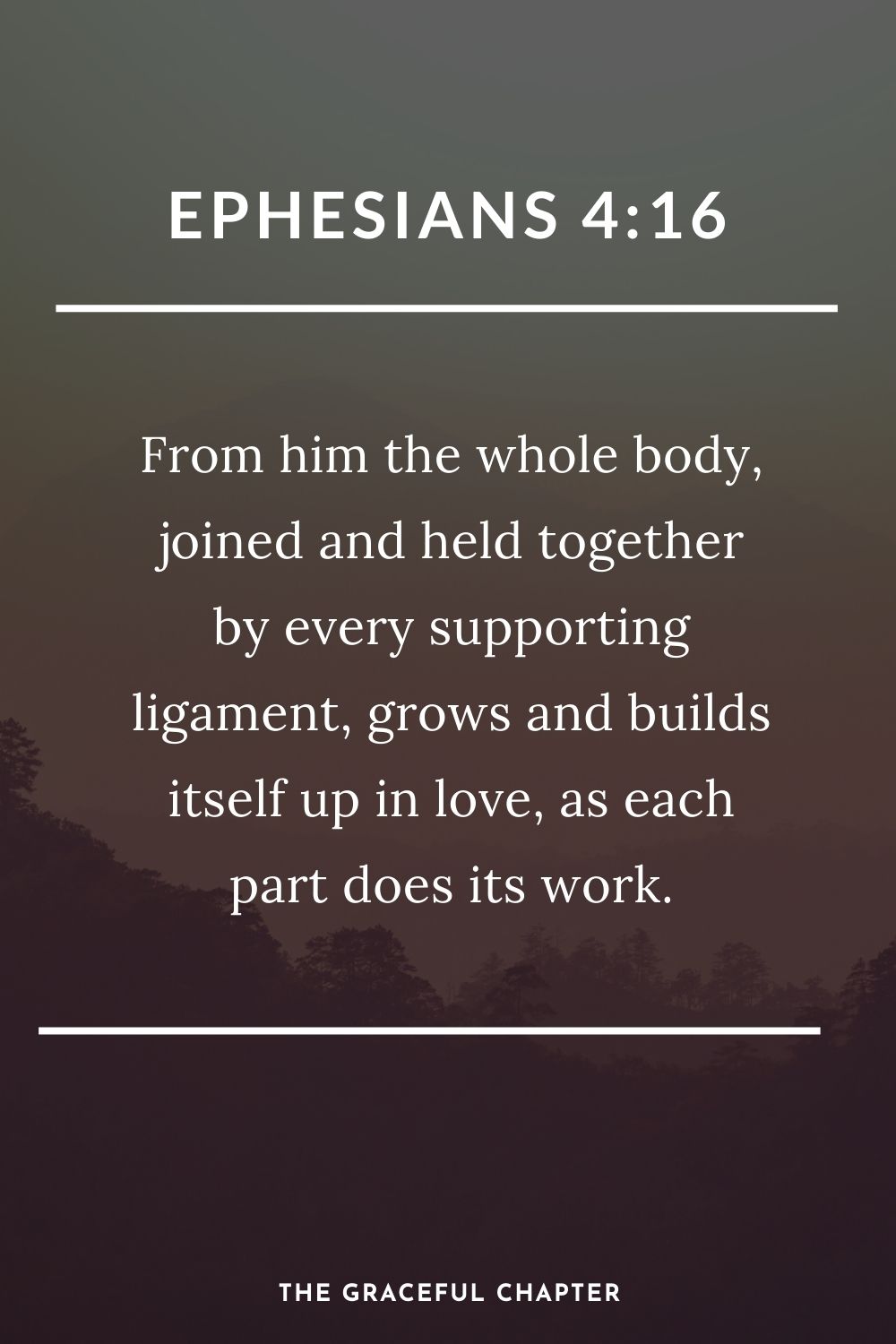 Ephesians 4:16
From him the whole body, joined and held together by every supporting ligament, grows and builds itself up in love, as each part does its work.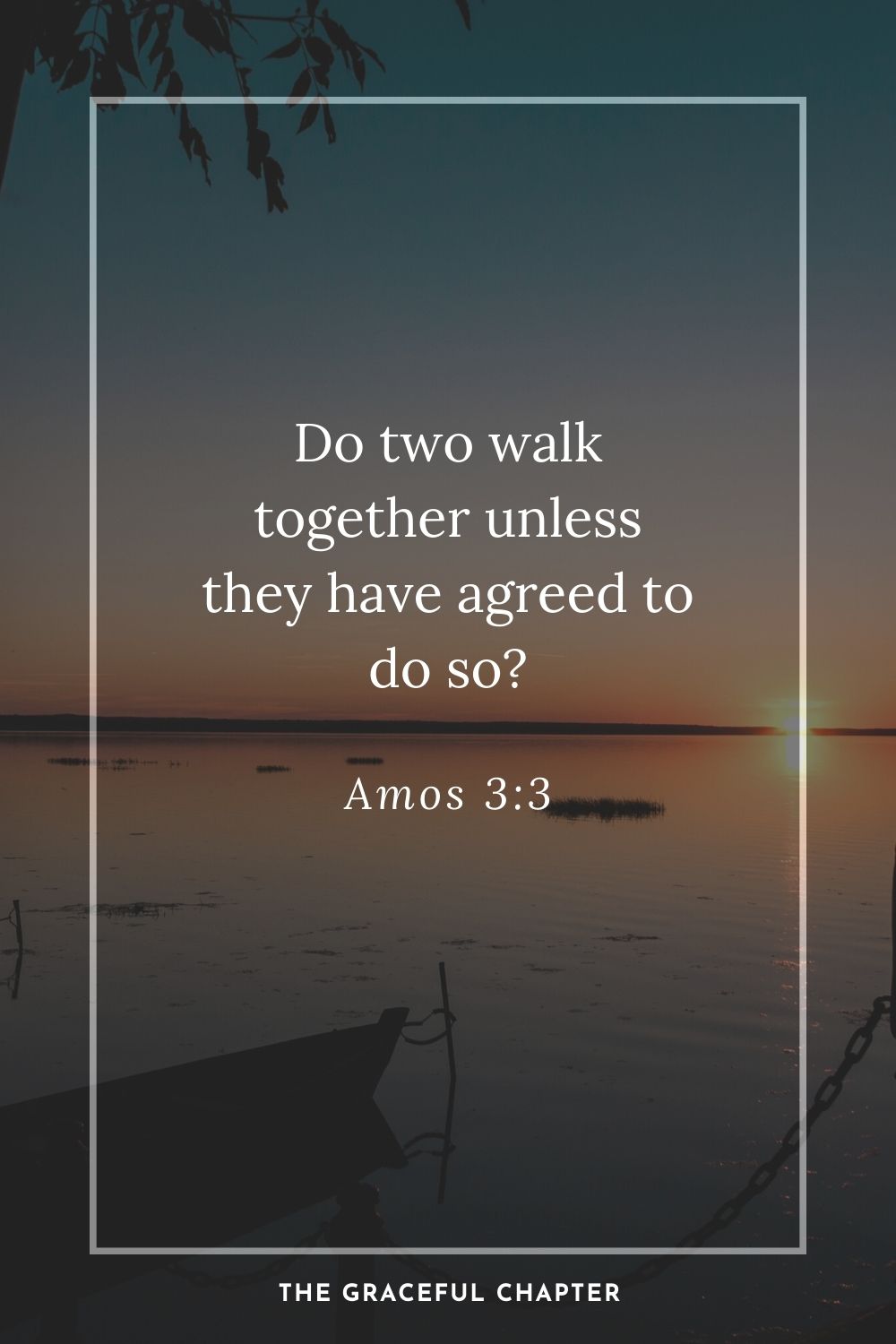 Amos 3:3
Do two walk together unless they have agreed to do so?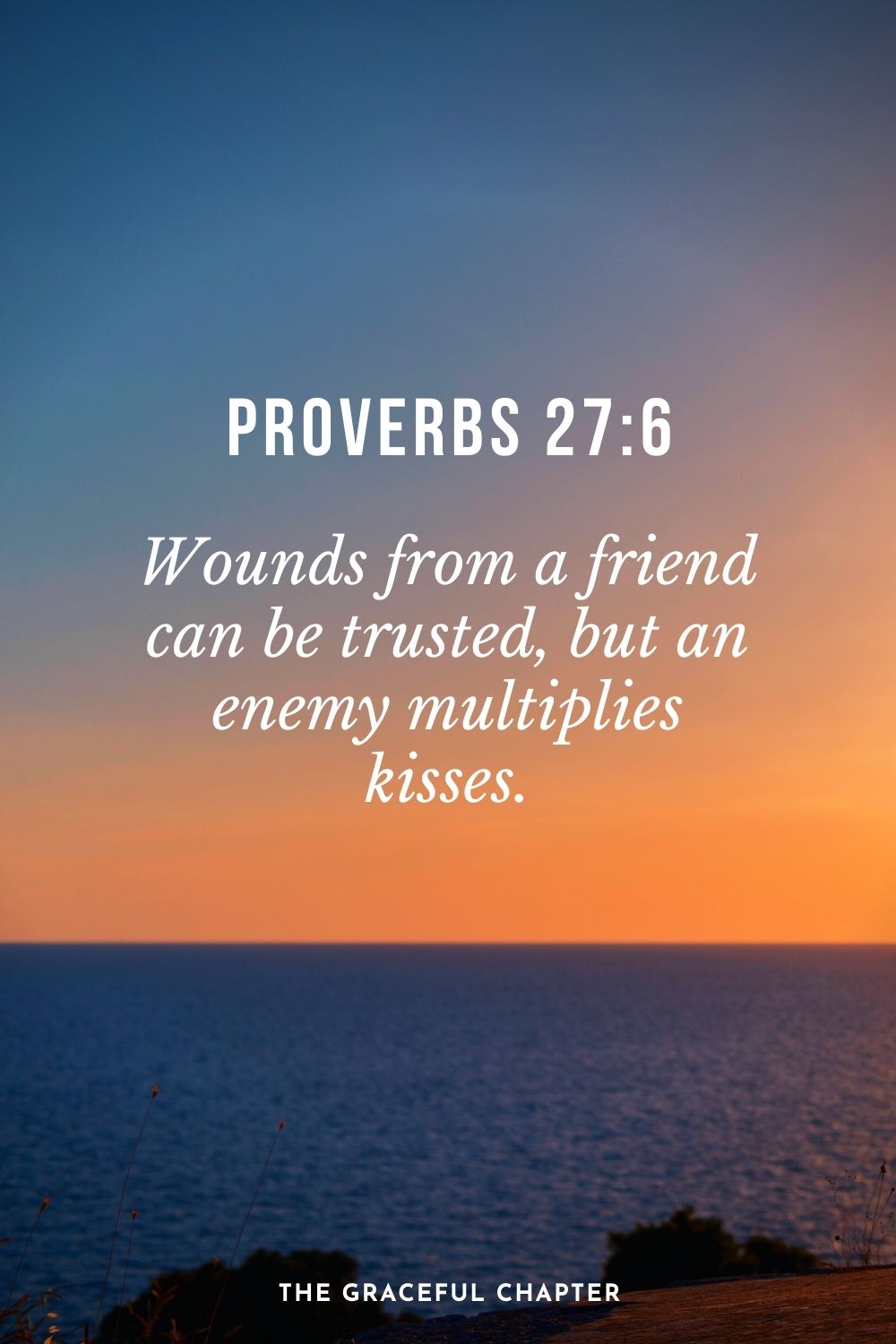 Proverbs 27:6
Wounds from a friend can be trusted, but an enemy multiplies kisses.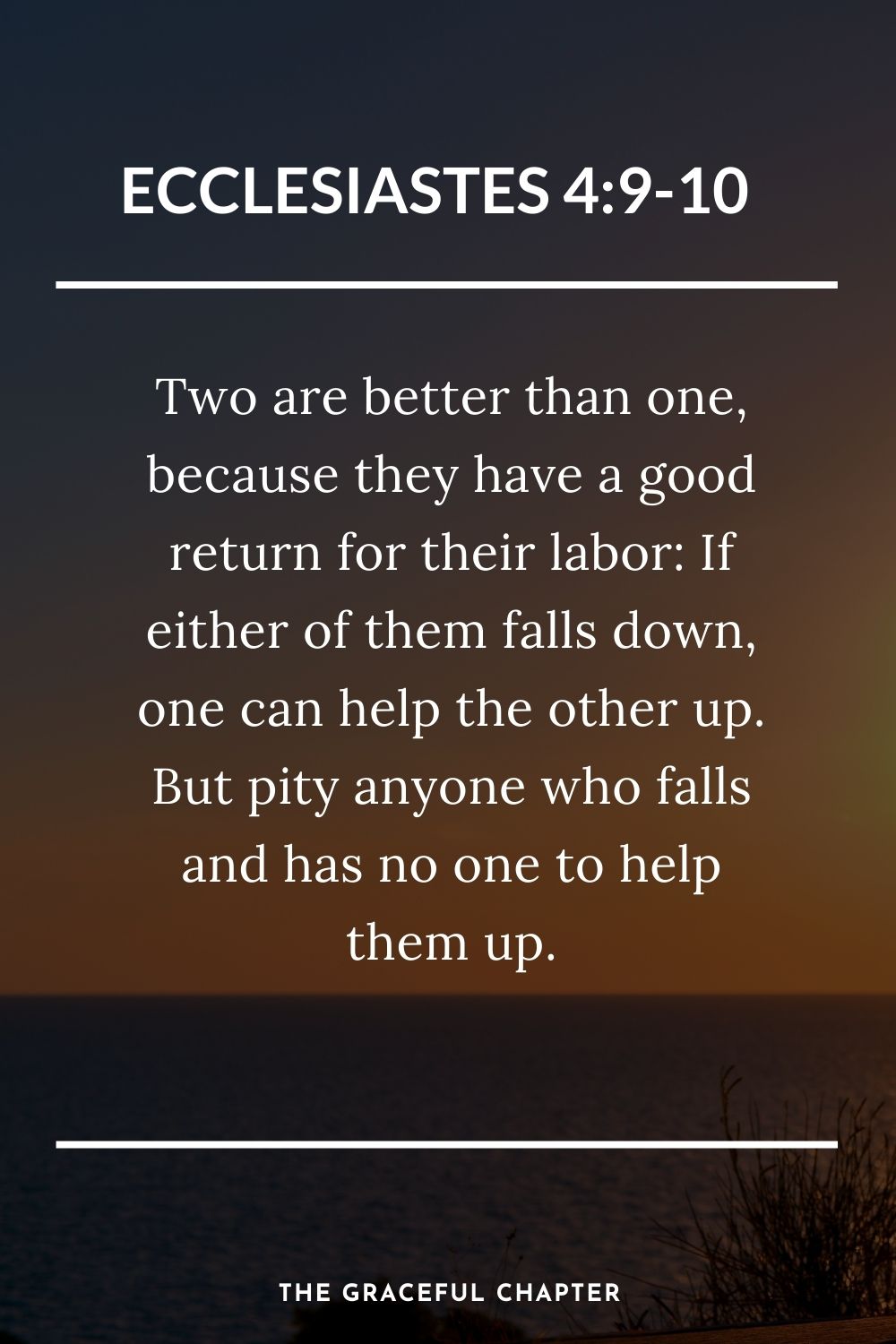 Ecclesiastes 4:9-10
Two are better than one, because they have a good return for their labor: If either of them falls down, one can help the other up. But pity anyone who falls and has no one to help them up.

Proverbs 27:9
Perfume and incense bring joy to the heart, and the pleasantness of a friend springs from their heartfelt advice.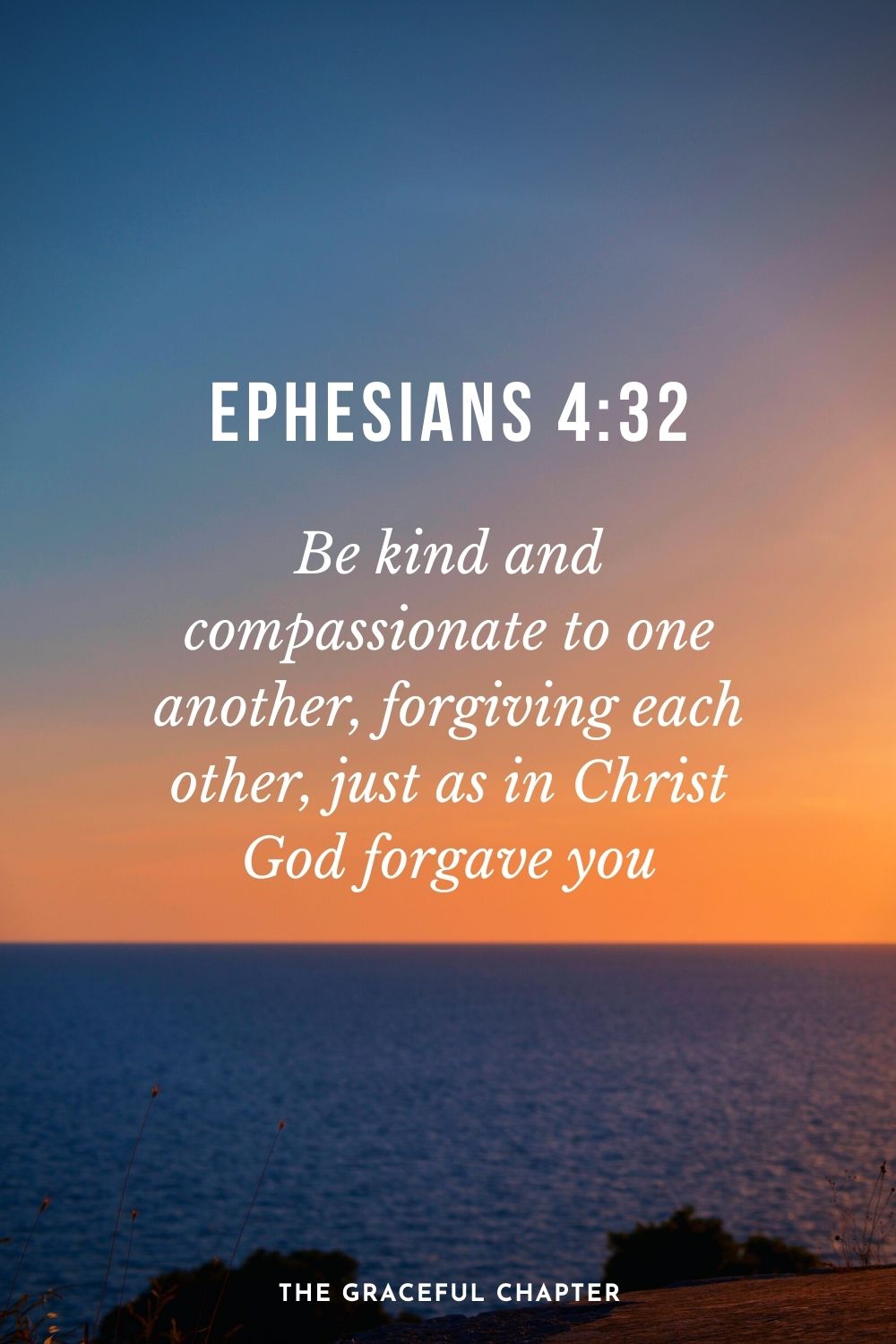 Ephesians 4:32
Be kind and compassionate to one another, forgiving each other, just as in Christ God forgave you.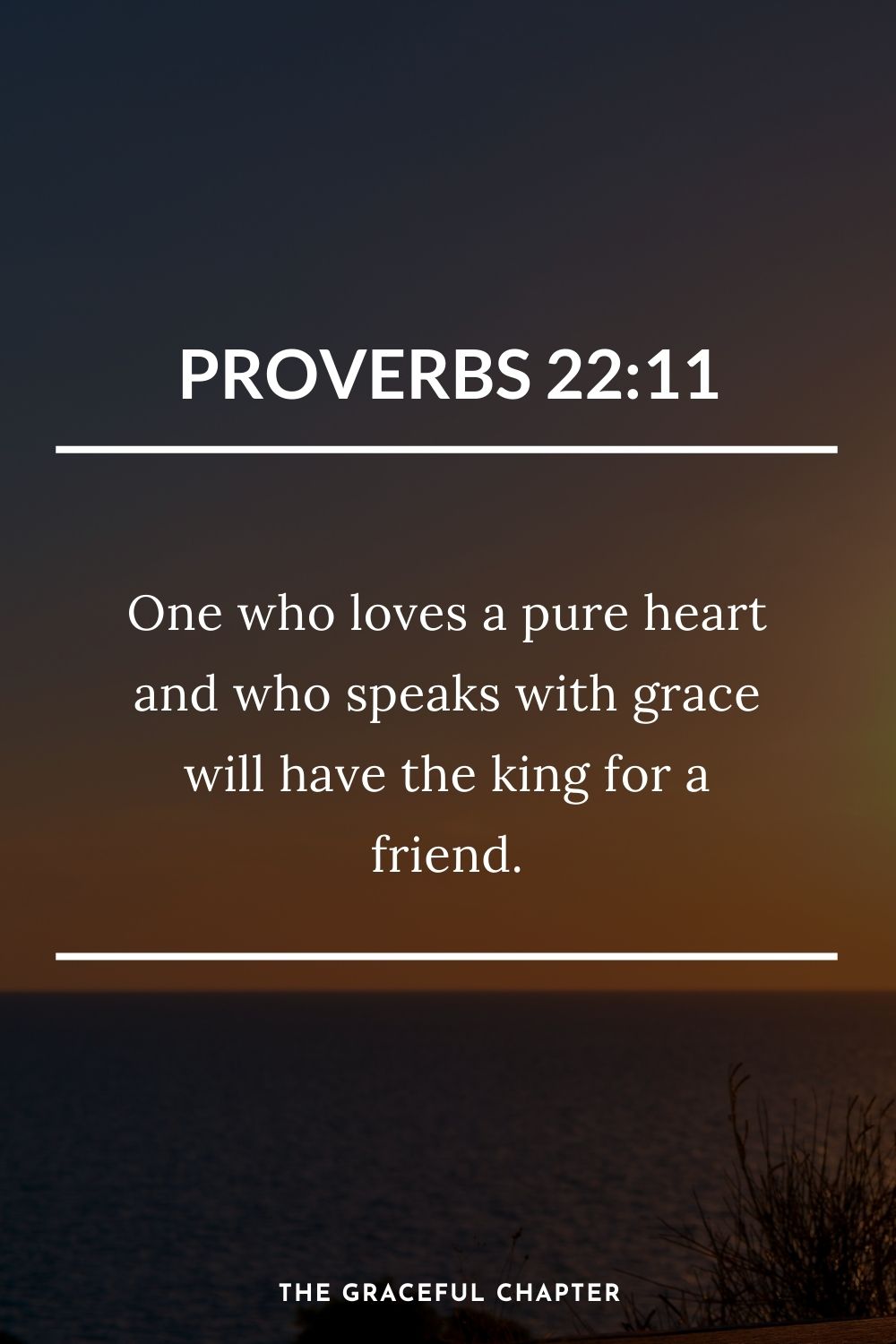 Proverbs 22:11
One who loves a pure heart and who speaks with grace
will have the king for a friend.

Prayer for togetherness
Dear God,
Thank you for your beautiful creation
Thank you for the lovely people you have surrounded me with
I pray that you will help me to live peacefully with everybody
Fill my heart with compassion and understanding for everybody
Help us to be patient and tolerant with each other
Grant us forgiving and loving hearts to not hold grudges against each other
Help us to accept each other with all our differences and our shortcomings
Let us all live together in peace and harmony, forgiving one another and loving one another in Christ,
Amen