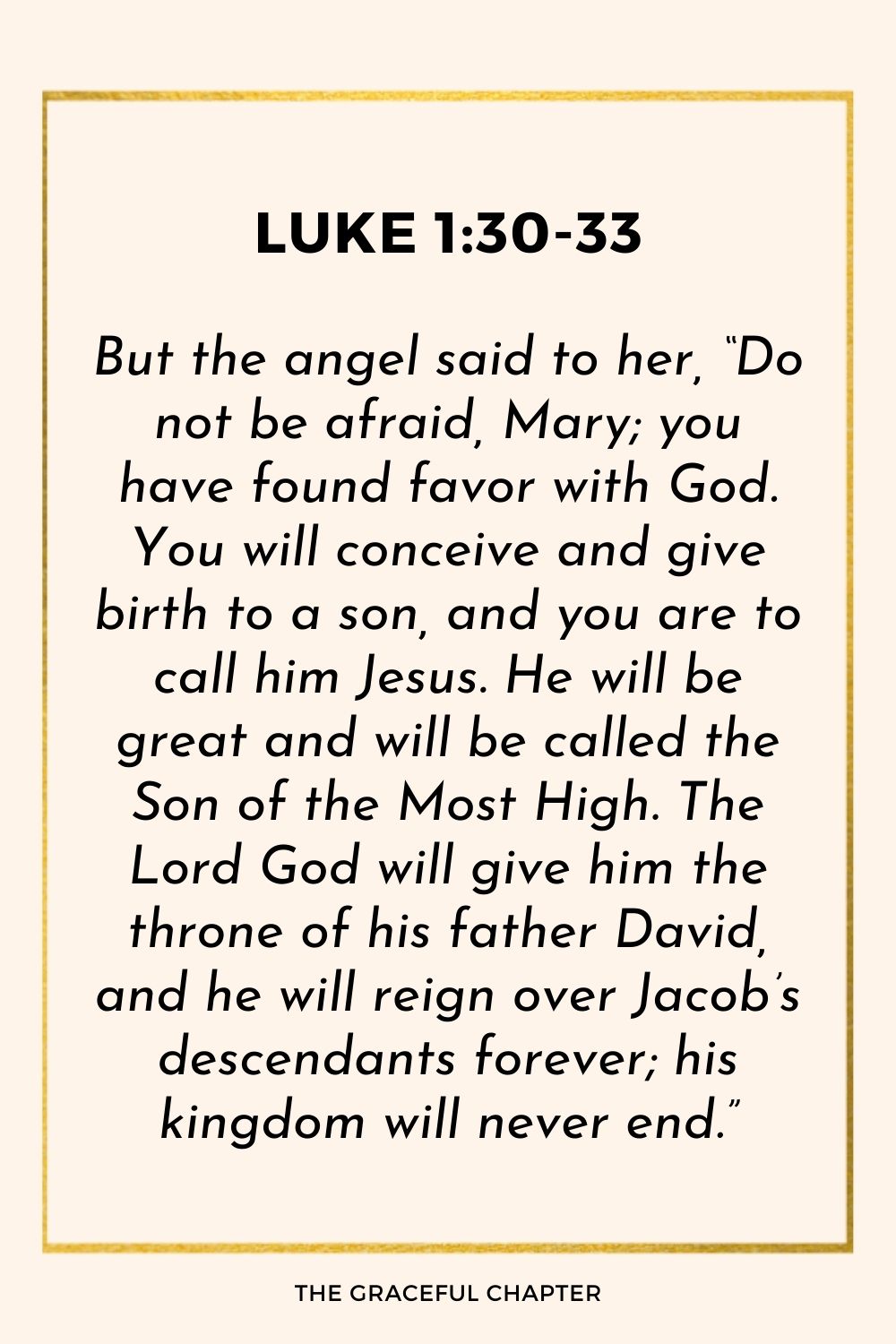 Verse – Luke 1:30-33
But the angel said to her, "Do not be afraid, Mary; you have found favor with God. You will conceive and give birth to a son, and you are to call him Jesus. He will be great and will be called the Son of the Most High. The Lord God will give him the throne of his father David, and he will reign over Jacob's descendants forever; his kingdom will never end."
Bible Reflection – Luke 1:30-33 – Favor with God
Mary found favor with God. God chose Mary not because of anything she had done previously. Yes, she was a virgin but she wasn't the only virgin around then. She wasn't rich or from a royal background. She wasn't viewed by her peers as anyone special. She simply found favor in God's eyes and was chosen to conceive the Messiah.
When you look around you today, you may not think yourself worthy. You may think that you are nobody and do not deserve the grace or the favor of God. Well, that's not for you to decide. You may think of yourself as an outcast, a thief, a murderer, or a sinner who can never be redeemed by God.
That could not be further from the truth. God chooses those who find favor in his eyes and he uses them to accomplish his plans. Never give up on yourself. See yourself as a legitimate child of God and be pure in your heart and God can choose you for anything.
Related Posts
Declaration
I humbly wait on you, Father. Let me find favor in your eyes. I avail myself to you. Use me for your purpose and I will follow you wherever you go.
Prayer
Heavenly Father
Thank you for your guidance and protection upon my life
Thank you for where I am today
Grant me the wisdom to know what you plan for me
Let me find favor in your eyes
Let me seize your blessings and goodness upon my life
Use me for your purpose
and grant me the strength to work for your glory
Amen