Then came Peter to him, and said, Lord, how oft shall my brother sin against me, and I forgive him? till seven times? Jesus saith unto him, I say not unto thee, Until seven times: but, Until seventy times seven.

Matthew 18:21, 22
Jesus's reply to Peter meant that he knew what the old laws had said. He knew it was once said 'an eye for an eye and a tooth for a tooth.' He also knew that the need for forgiveness would always be there because people are not perfect. It is impossible for people not to do you wrong from time to time.
Peter had heard Jesus teach lots of times but this thought bothered him and he wanted the son of God to answer whether there would ever come a point where it is impossible to forgive. Is it possible to forgive 70 wrongs in a day? Imagine forgiving 70 times each day for 7 days. Christ meant to tell Peter to forgive as many times as there was an opportunity to do so.
There are many who believe that forgiveness is for the wrong. This is not the case. Forgiveness is for the wronged. If one is unable to forgive, there is a burden of hate, pain, anxiety, and bitterness that hangs over them. The devil uses these tools to cause stress in your body which gives way to demonic diseases that destroy you inwardly.
When you forgive someone who wronged you, you close the door to the bile that tortured you and releases your mind and body from any emotional and mental hold that the person's actions had on you.
But if you do not forgive others their sins, your Father will not forgive your sins.

Matthew 6:15.
An unforgiving wrong is like an open wound on your body. If it isn't treated and covered it will not be able to heal. When it is exposed to dirty elements, it will get infected and cause more pain than it should have in the first place.
When you forgive and forget, you cover all open wounds and treat them in a way that causes them to close by themselves. There are some wounds that do not even leave scars on your body because you covered them and treated them so well.
Forgiveness is godly. It makes God look upon you with favor. He does not count your sins against you because you don't count others' sins against them. Spiritual doors are open when you forgive and forget. Opportunities arrive for you to go to different levels in life because God knows you can handle them through your ability to let things go.
Do not dwell on the past mistakes of others. Rather embrace every opportunity to forgive. Don't allow bitterness to overcome you or you might lose the blessings God has in store for you.
Recommended Resources
Prayers for forgiveness
Forgiveness prayer for betrayal
Heavenly Father
I pray that you help me forgive this betrayal
I counted on someone to be my friend at all times
They let me down when I needed them the most
When I looked left and right, they were nowhere to be found
They caused me so much pain
I felt like I could hate them forever
But please calm my spirits and my soul
Cause me to let go and forgive them
Let me remember what you did for me on the cross
so I can forgive and forget about this betrayal
In Jesus' name,
Amen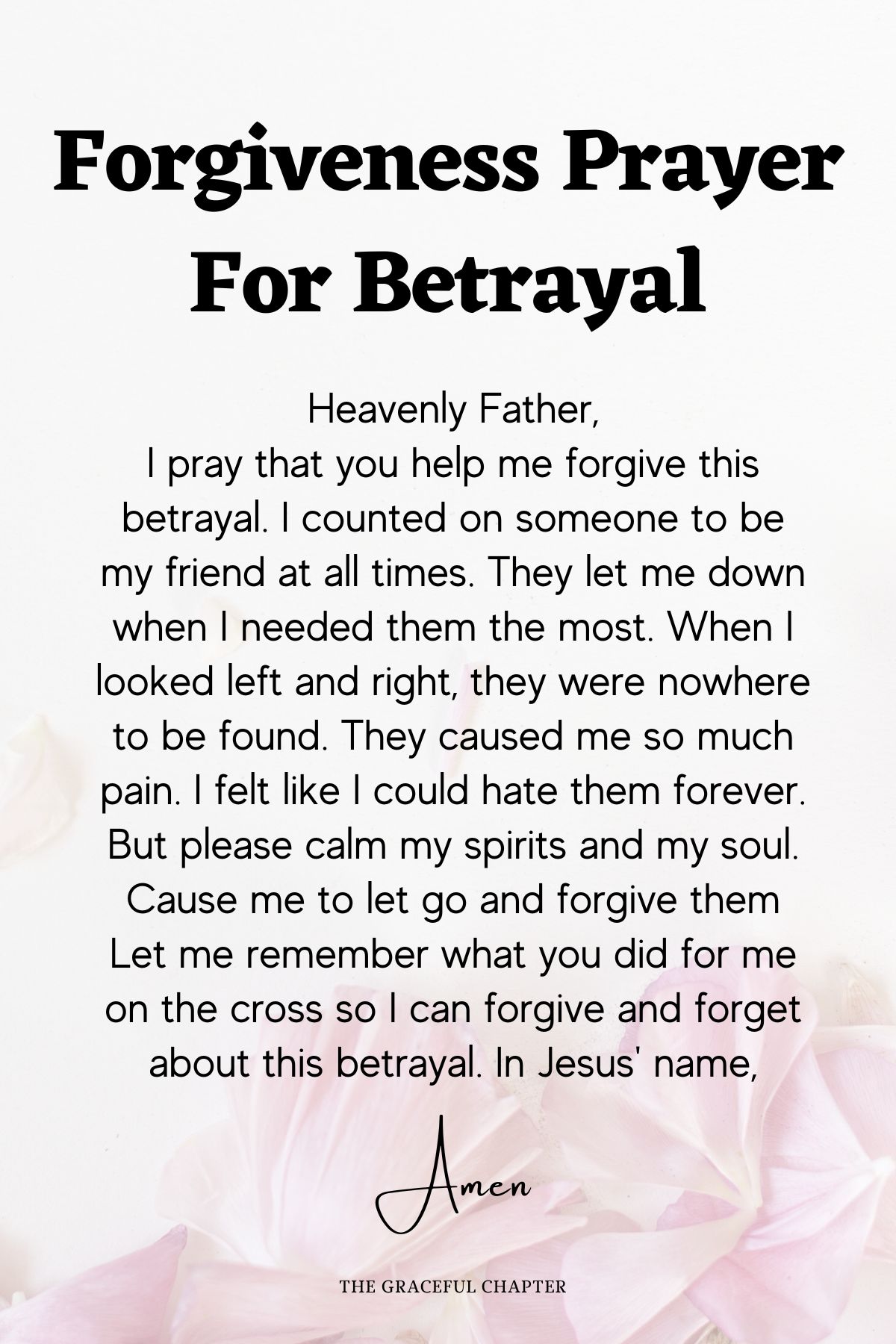 Forgiveness prayer for stealing
Dear Lord in heaven
I have brought disgrace upon myself and my family
I have been greedy and my greed has led me to sin
I have broken the trust of those who care for me
I have allowed myself to be weakened by a worldly possession
I ask that you forgive my transgression
Please remember this deed no more and strike it from my record
Help me gain the trust of my loved ones again
Let this unfortunate incident be remembered no more
and wash me in your fountain of redemption
Amen
Forgiveness prayer for causing heartbreak
Father Lord in heaven
I pray to ask for forgiveness today
I ask that you help me apologize for hurting someone dear to me
Touch their hearts and make them soft
heal their wounds so they are able to move on
Strengthen them so they fight through this
Let them know that I am truly sorry and meant no harm to them
Let your healing spirit fix our relationship and bring us together again
Let us not dwell on my mistake but grant us a loving future
Amen
Forgiveness prayer for being neglectful
Dear lord in heaven
I have neglected those who needed me
I have been selfish with my life
I have abandoned my responsibilities
I know now that I was in the wrong
I have lost so many years of love because of this
My kids have grown without me
I haven't done my job as a parent and a family member
I have taken the gifts you gave me for granted
I ask that you forgive me
Touch their hearts and make it warm and tender so they forgive me too
Thank you for answering my prayer, dear Lord
Amen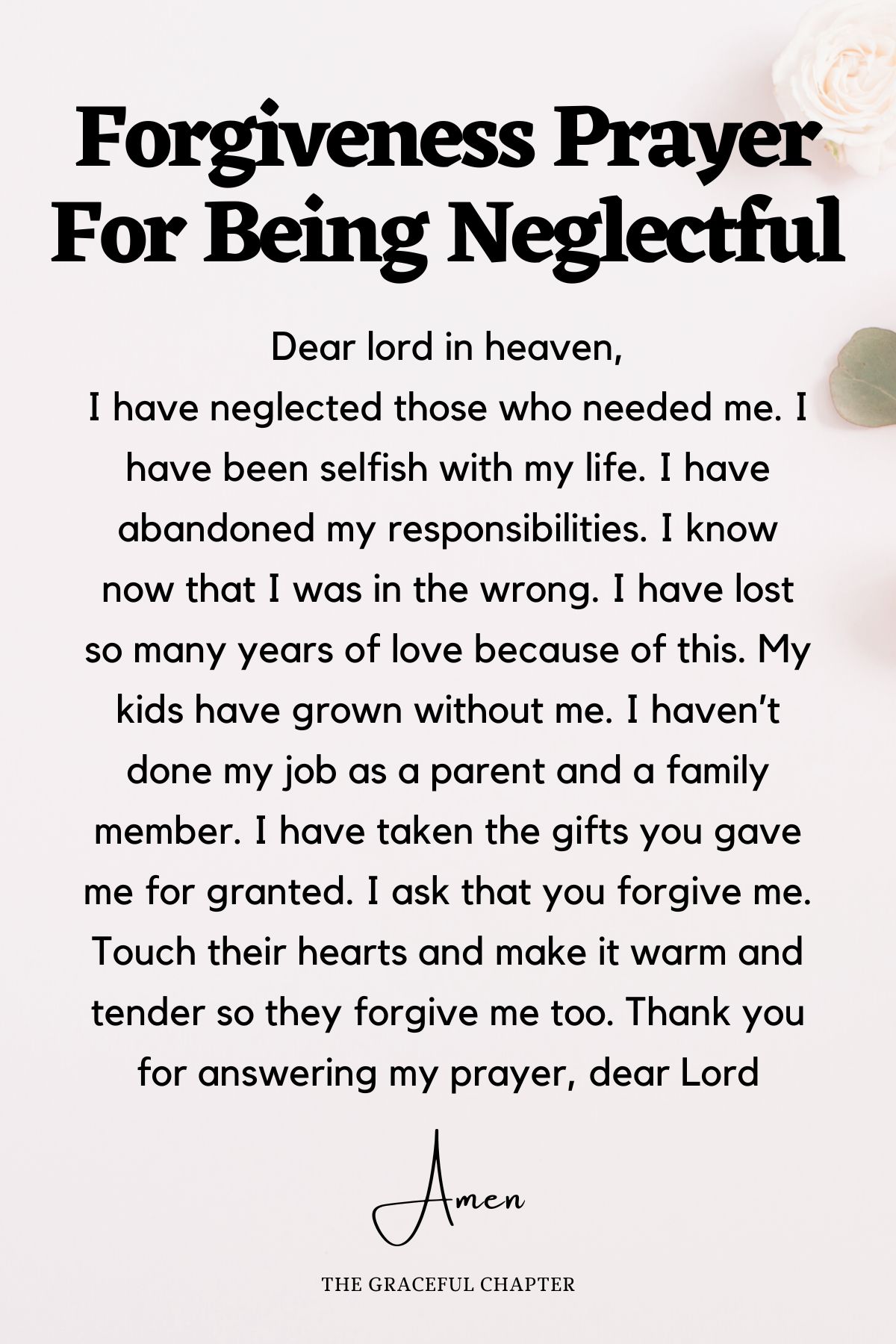 Forgiveness prayer for telling lies
Father Lord
Please forgive my lying tongue
I have caused a lot of pain with it
I have testified falsely to put others in trouble
I have deceived others to get an advantage
I have falsified documents to get what I want
I am truly repentant and sorry, Lord
Like Zacchaeus, I'm ready to make amends
I'm ready to forgo all I gained in exchange for your redemption
Sanctify me Lord and make me a new person
Take out my deceitful tongue and replace it with a tongue of truth
In Jesus' name, I've prayed,
Amen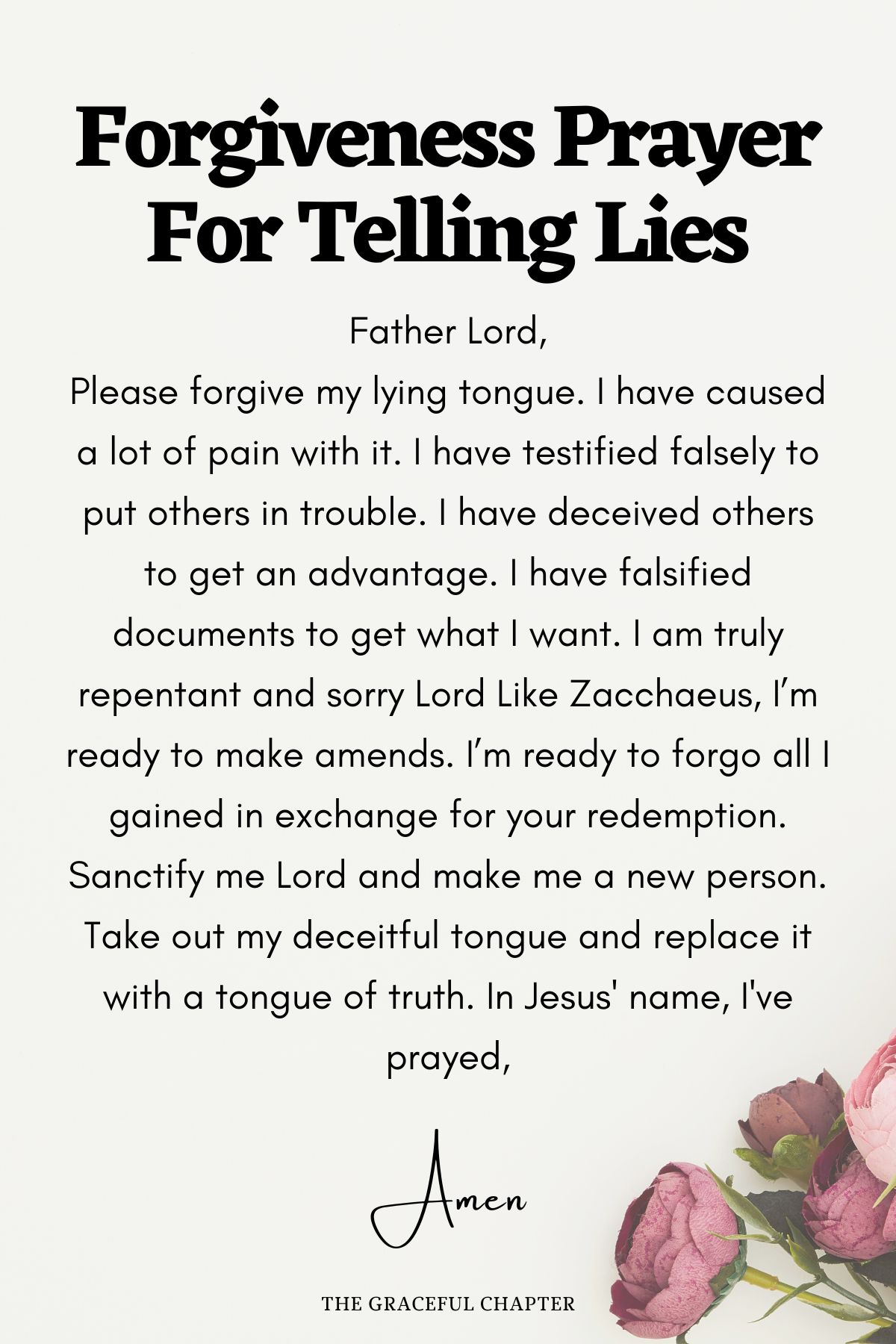 Forgiveness prayer for gossiping
Father Lord in heaven
I have spread gossip and caused confusion
I have opened my mouth when it was not needed
I have broken the trust of friends and family
I have revealed secrets that were not mine to reveal
I have broken families and unions
I ask that you pardon me, dear Lord
Help restore the bond I once had with those I wronged
Remove any grudges that exist between me and my family
and help us reunite under your strength
Amen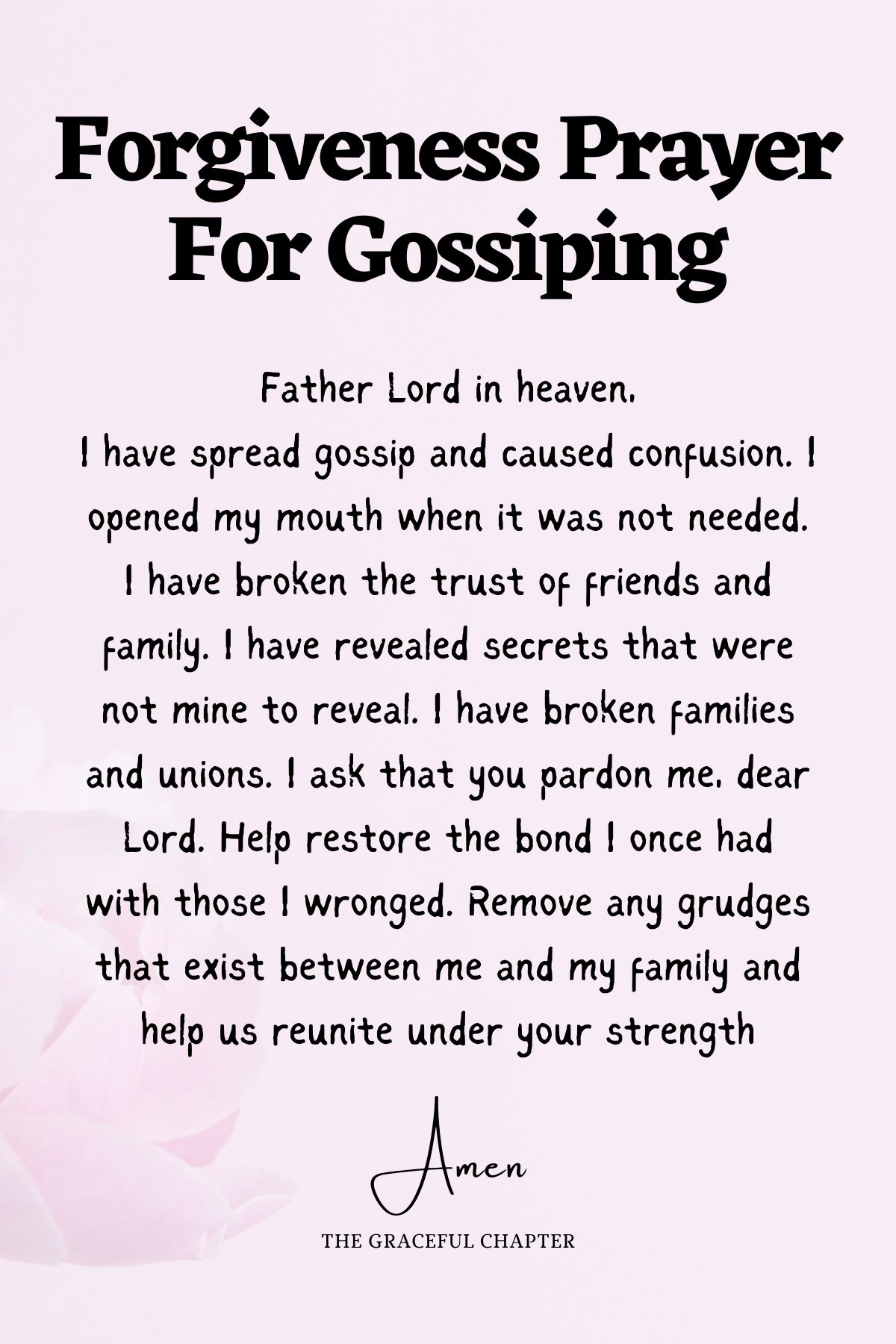 Forgiveness prayer for jealousy
Dear Lord in heaven
I have sinned against my neighbor
I have coveted their possessions
and it has driven me to hate them
Jealousy has consumed me and
I have spread vile about them
Please forgive me for this sin
Help me overcome this vice
Let peace return between us
Let me work hard for my own things
Help me not covet anymore
and give me the strength to ask them for forgiveness
Amen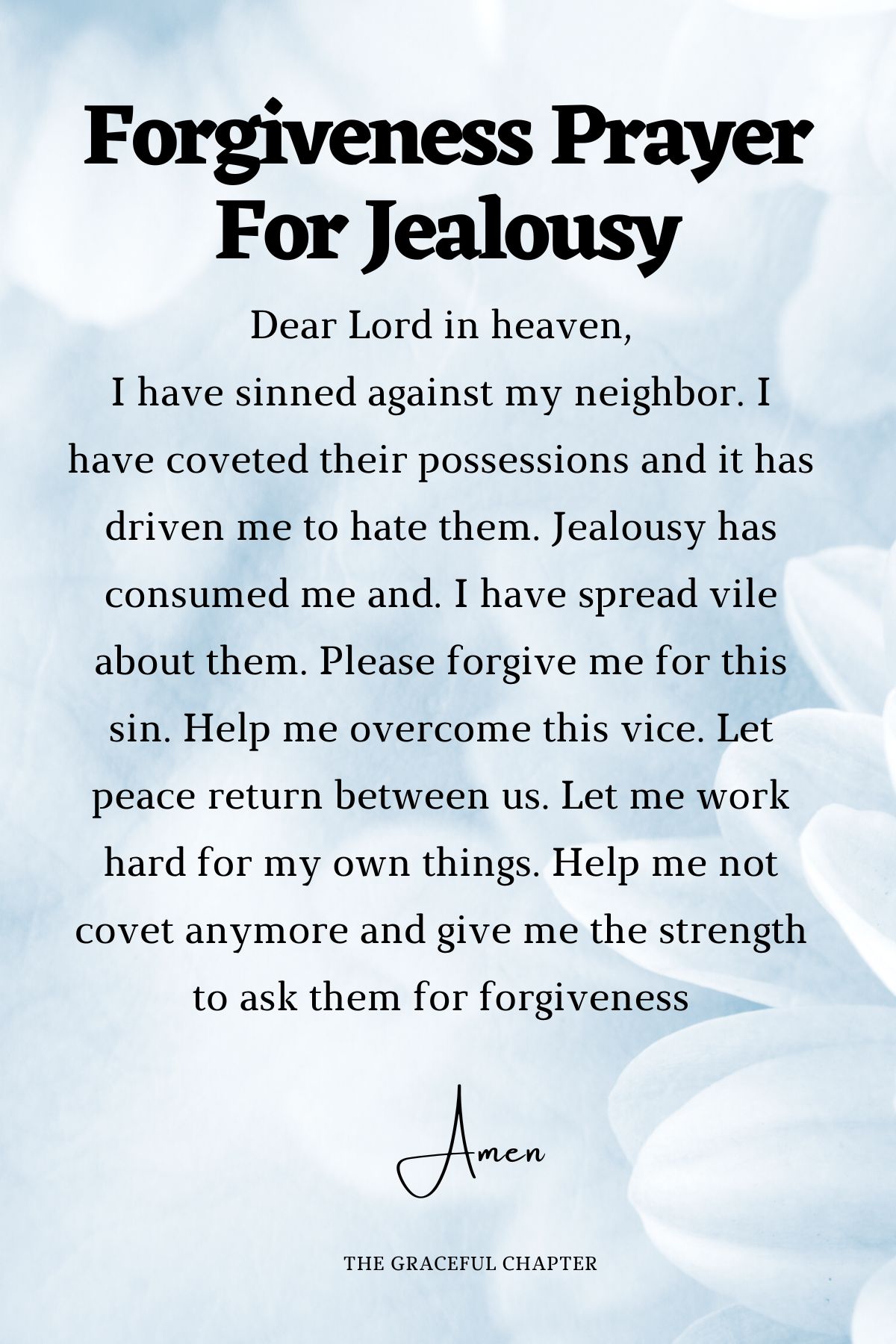 Forgiveness prayer for causing separation
Dear Lord
Please forgive my transgression
I have come between a man and his wife
I have broken a family
It was not my intention to do so
I am wrapped with guilt
I ask that you forgive me for this
I have put asunder what you put together
Do not let this family be lost because of me
Please watch over the family
do not let my shameful act cause any more harm
Help the people I hurt to get over this
and restore all that has been lost in Jesus' name
Amen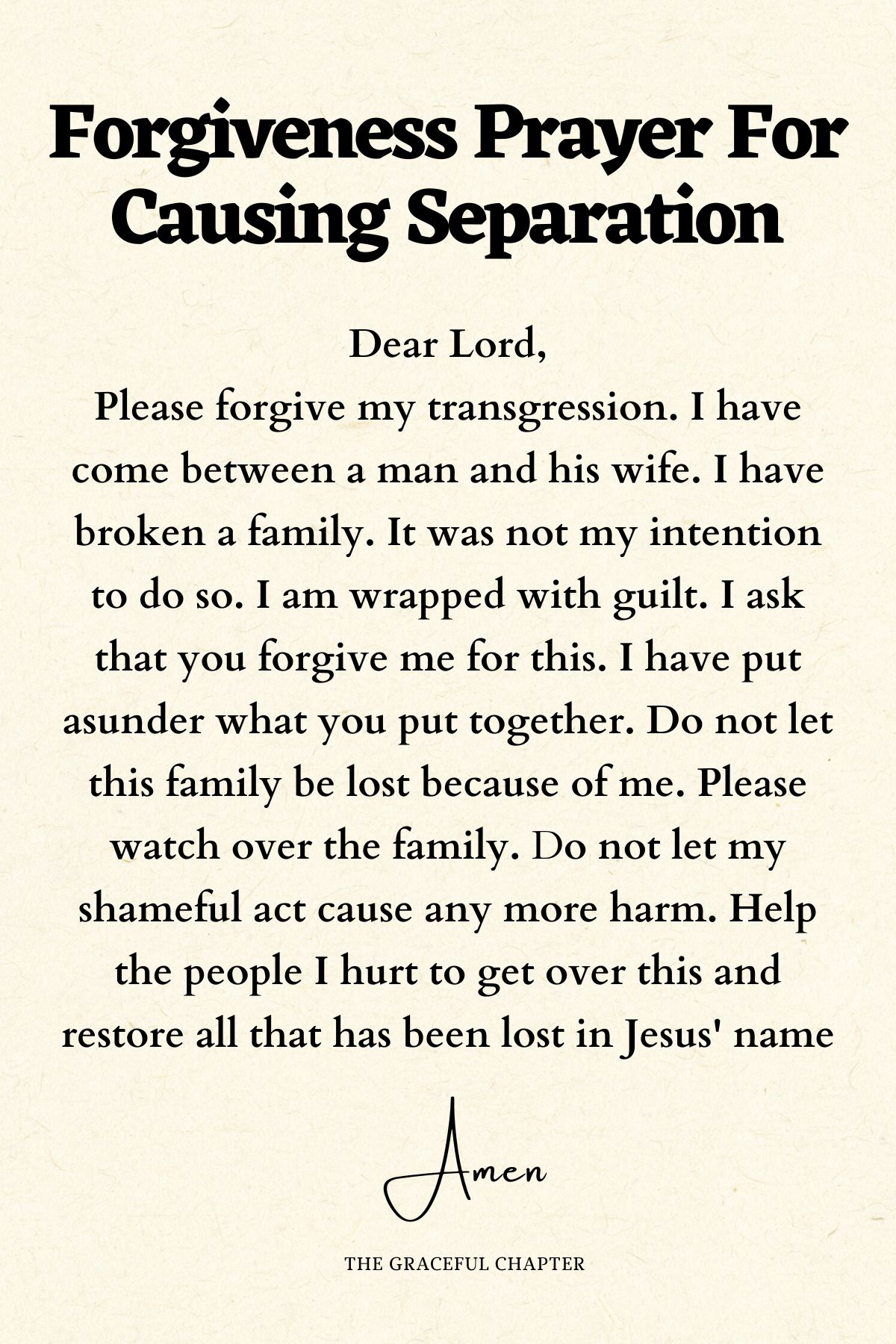 Forgiveness prayer for cheating
Dear Lord in Heaven
I have cheated others for my own gain
I have led others down blind alleys and caused them distress
I have cheated them out of their money and inheritance
I have ruined a lot of lives
I have repented and I need your forgiveness
Grant me the strength and courage to go to each of them
Let them see my regret and forgive me
Give them the strength to look away from my faults
Let them not remember the wrongs I wronged them
Open their hearts to kindness
and help restore all I cheated out of them
Amen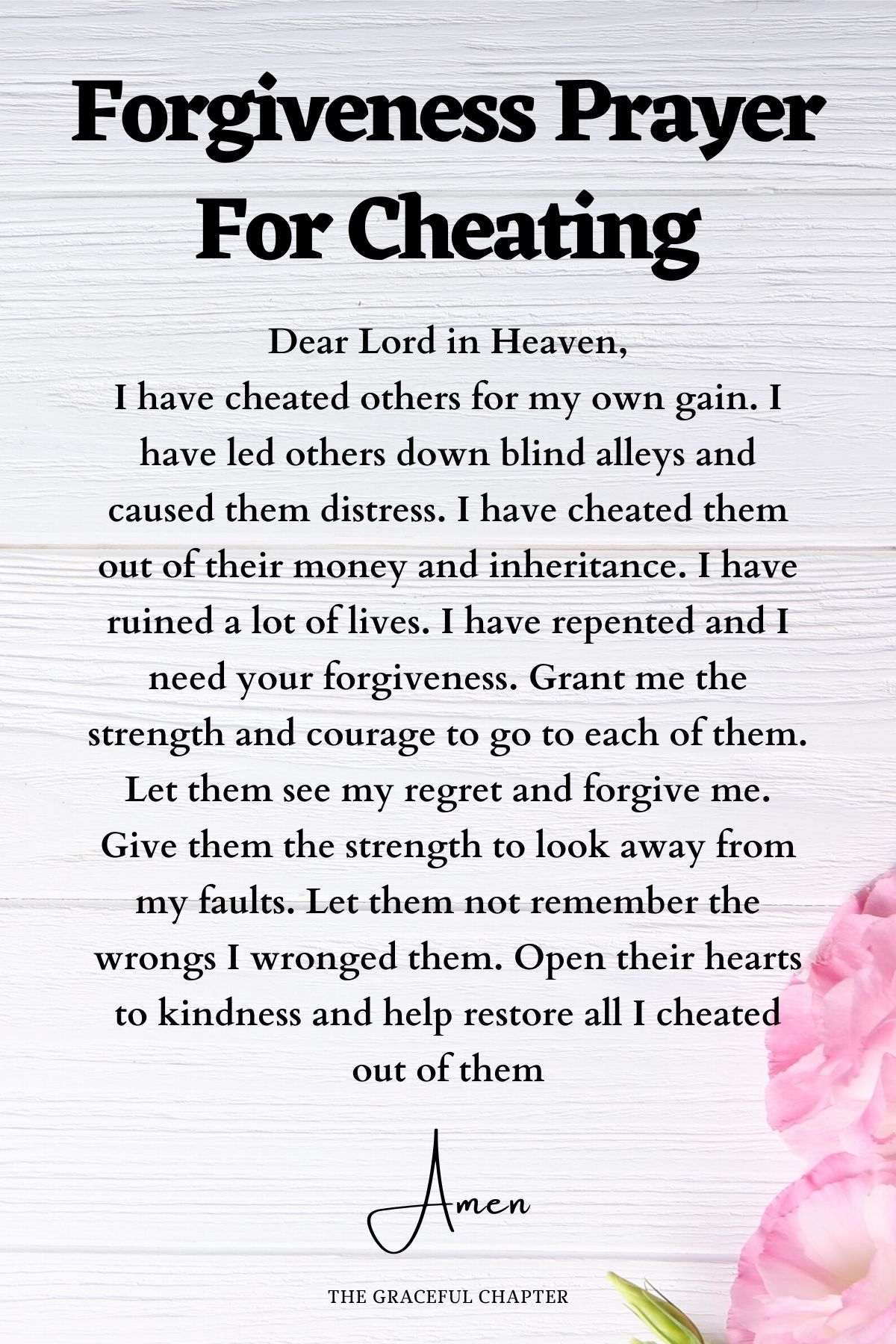 Forgiveness prayer for sins against God
Father Lord in heaven
I have sinned against you
I have been too far away from you
I have not followed your principles
I have lived according to my own will
I have led others away from you
I have taken advantage of your children
Please cover my shame
Do not let your wrath come upon me
Please redeem me
Let your love save me
and restore me to your flock
Amen
We have all sinned and fallen short of God's glory but the death and resurrection of Christ put us on the path of righteousness. This means we no longer stand guilty in the sight of God. Whatever wrongs you did in the past will be forgiven if you repent them and confess them to God. He will not hold it against you.
He is always faithful enough to come to our aid when we need him. Do not let what you've done in the past derail your relationship with God but rather ask him for forgiveness and know in your heart that you have a clean slate.
Come now, let us settle the matter," says the Lord. "Though your sins are like scarlet, they shall be as white as snow; though they are red as crimson, they shall be like wool.

Isaiah 1:18