Did you know that the Bible is filled with God's promises and blessings over our lives? Life is not always easy and sometimes it can be very scary and frustrating. But no matter what life throws at you, it is important that you lean on the word of God and trust in his words.
God is a faithful God and his promises never fail. So your part is just to believe. And in order to believe you must know what He promises. Below are some bible verses about blessings to remind you of God's promises and His love for you.
Bible verses about blessings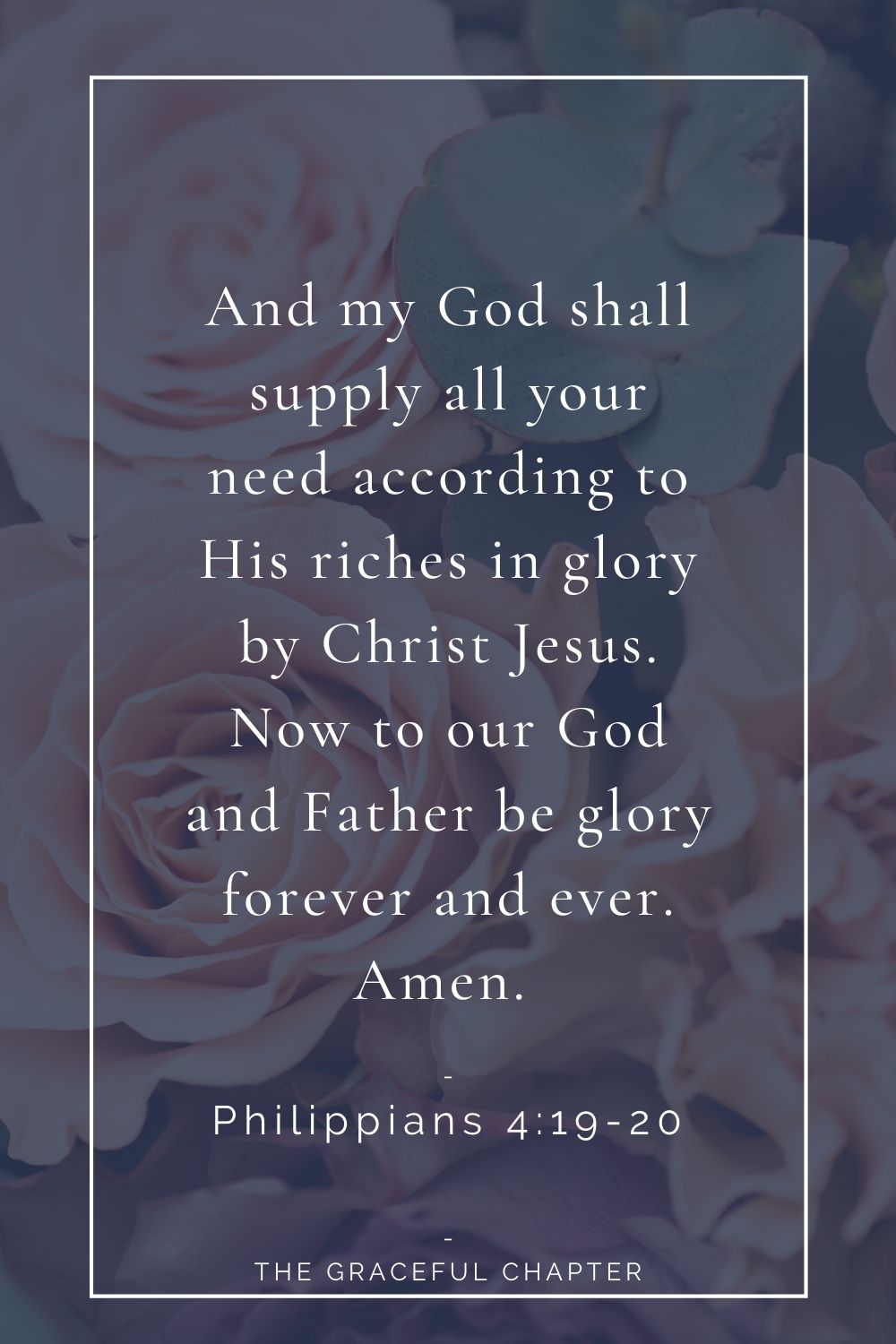 Philippians 4:19-20
And my God shall supply all your need according to His riches in glory by Christ Jesus. Now to our God and Father be glory forever and ever. Amen.

Luke 6:38-40
Give, and it will be given to you: good measure, pressed down, shaken together, and running over will be put into your bosom. For with the same measure that you use, it will be measured back to you." And He spoke a parable to them: "Can the blind lead the blind? Will they, not both fall into the ditch? A disciple is not above his teacher, but everyone who is perfectly trained will be like his teacher.

James 1:17-18
Every good gift and every perfect gift is from above and comes down from the Father of lights, with whom there is no variation or shadow of turning. Of His own will He brought us forth by the word of truth, that we might be a kind of first fruits of His creatures.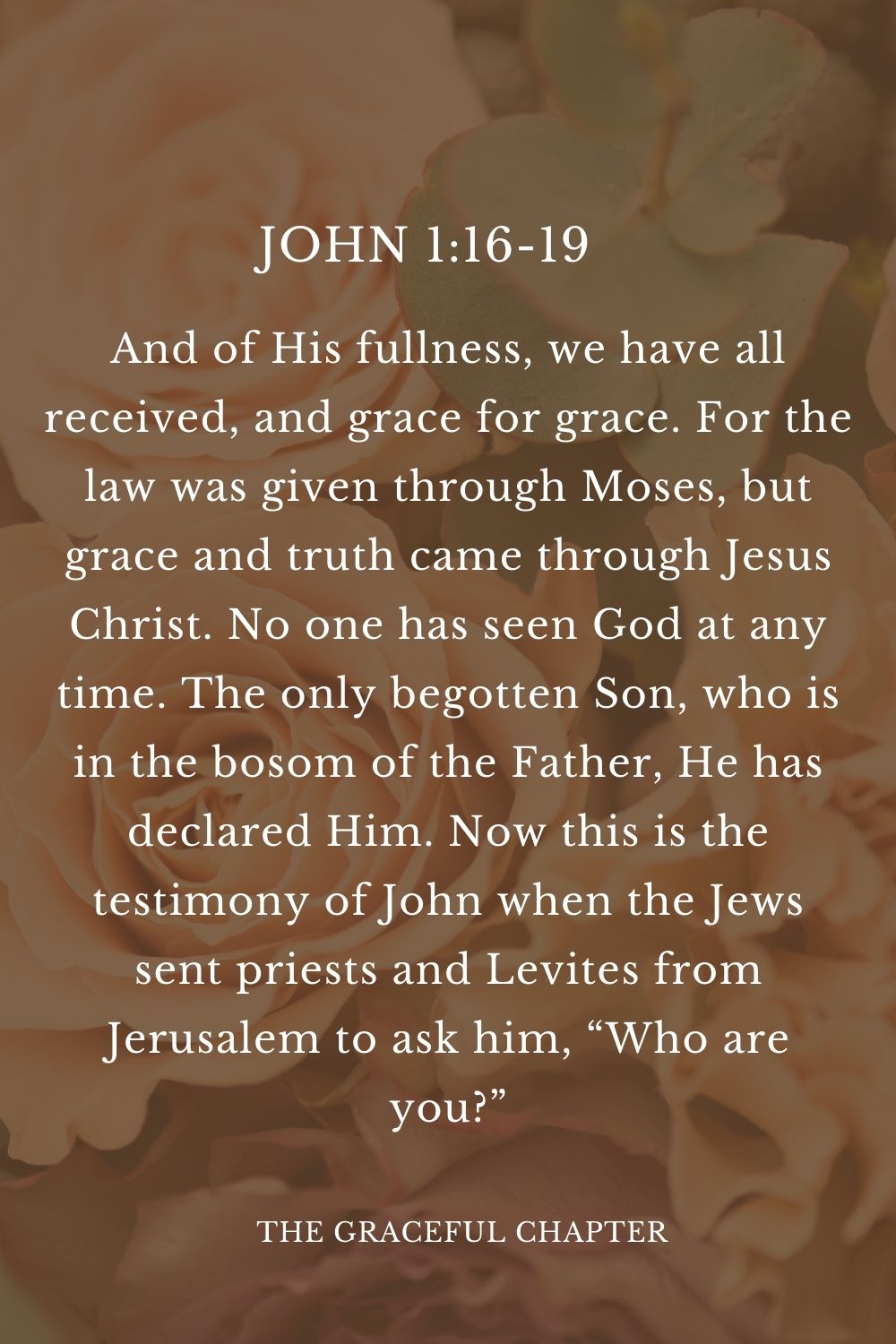 John 1:16-19
And of His fullness, we have all received, and grace for grace. For the law was given through Moses, but grace and truth came through Jesus Christ. No one has seen God at any time. The only begotten Son, who is in the bosom of the Father, He has declared Him. Now this is the testimony of John when the Jews sent priests and Levites from Jerusalem to ask him, "Who are you?"

Numbers 6:24-26
"The Lord bless you and keep you. The Lord make His face shine upon you. And be gracious to you. The Lord lift up His countenance upon you and give you peace."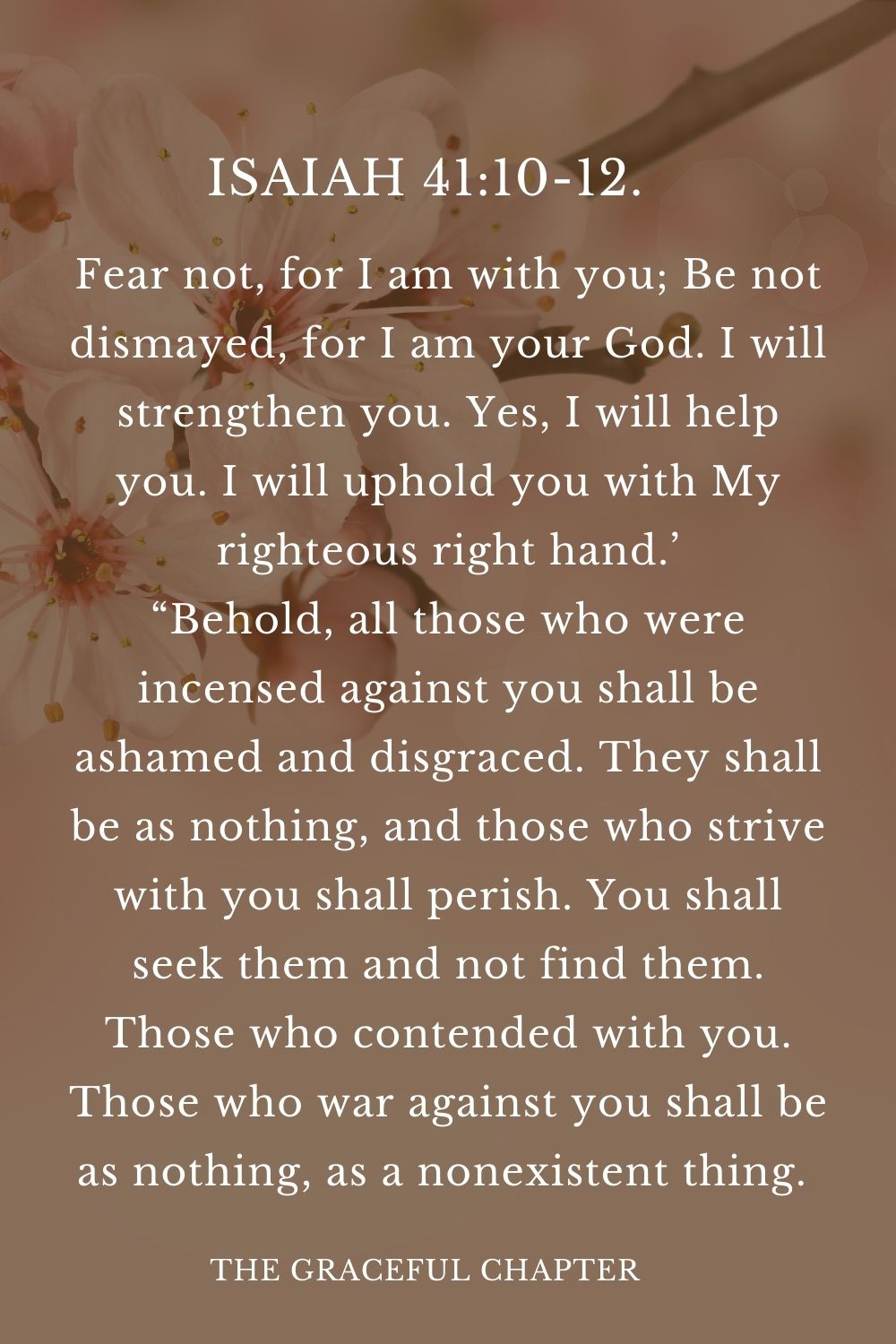 Isaiah 41:10-12.
Fear not, for I am with you; Be not dismayed, for I am your God. I will strengthen you. Yes, I will help you. I will uphold you with My righteous right hand.' Behold, all those who were incensed against you shall be ashamed and disgraced. They shall be as nothing, and those who strive with you shall perish. You shall seek them and not find them. Those who contended with you.
Those who war against you shall be as nothing, as a nonexistent thing.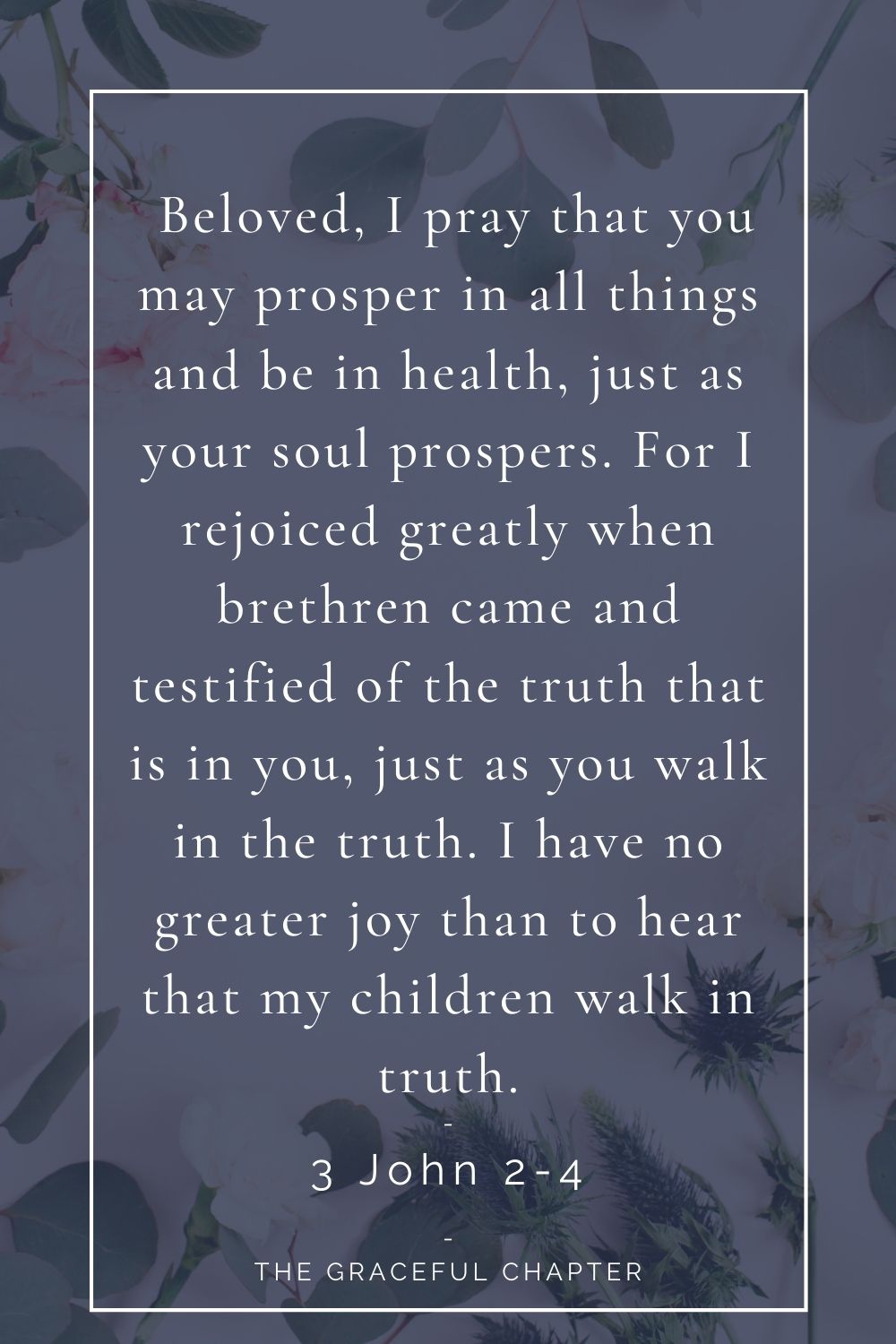 3 John 2-4
 Beloved, I pray that you may prosper in all things and be in health, just as your soul prospers. For I rejoiced greatly when brethren came and testified of the truth that is in you, just as you walk in the truth. I have no greater joy than to hear that my children walk in truth.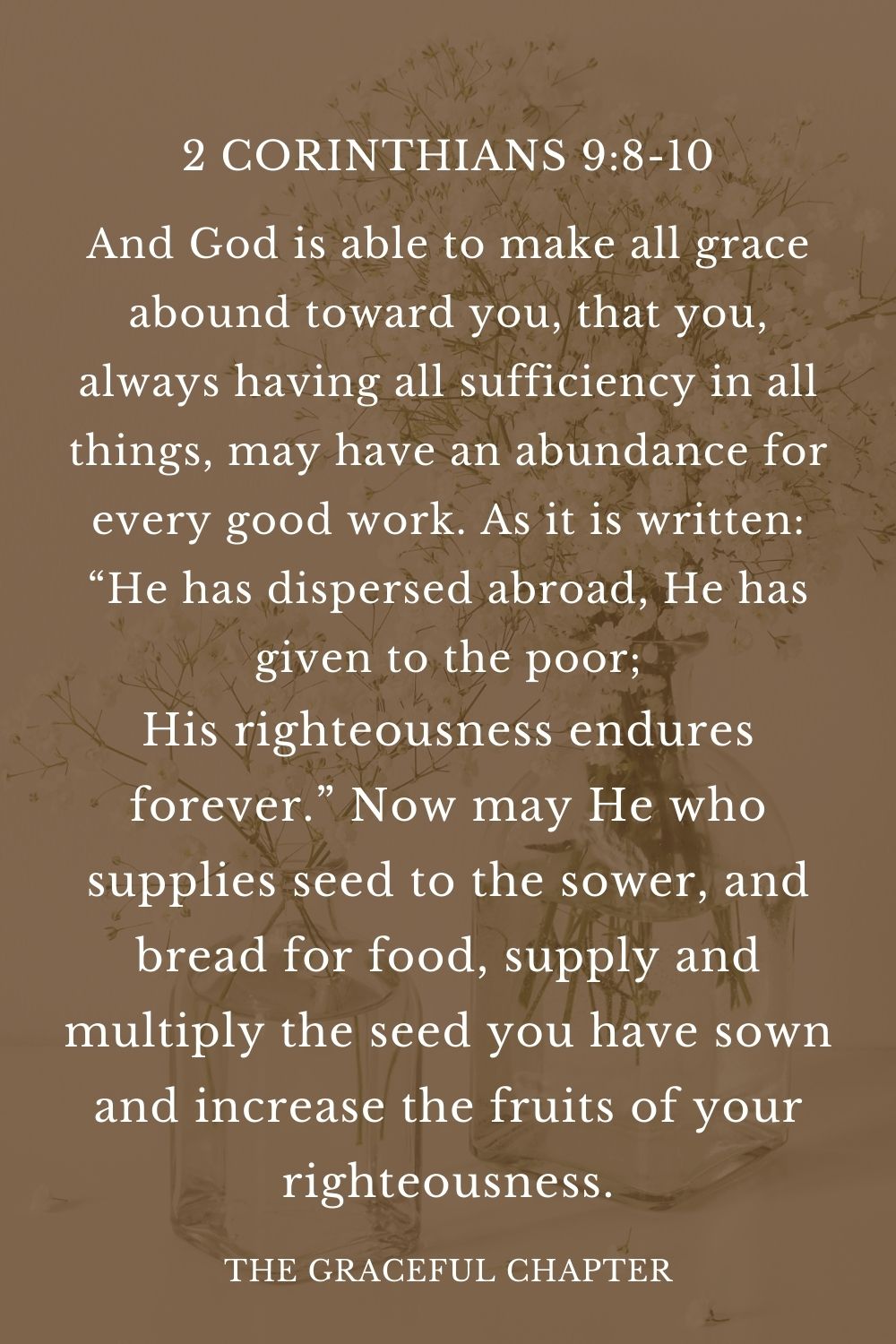 2 Corinthians 9:8-10
And God is able to make all grace abound toward you, that you, always having all sufficiency in all things, may have an abundance for every good work. As it is written: "He has dispersed abroad, He has given to the poor; His righteousness endures forever." Now may He who supplies seed to the sower, and bread for food, supply and multiply the seed you have sown and increase the fruits of your righteousness.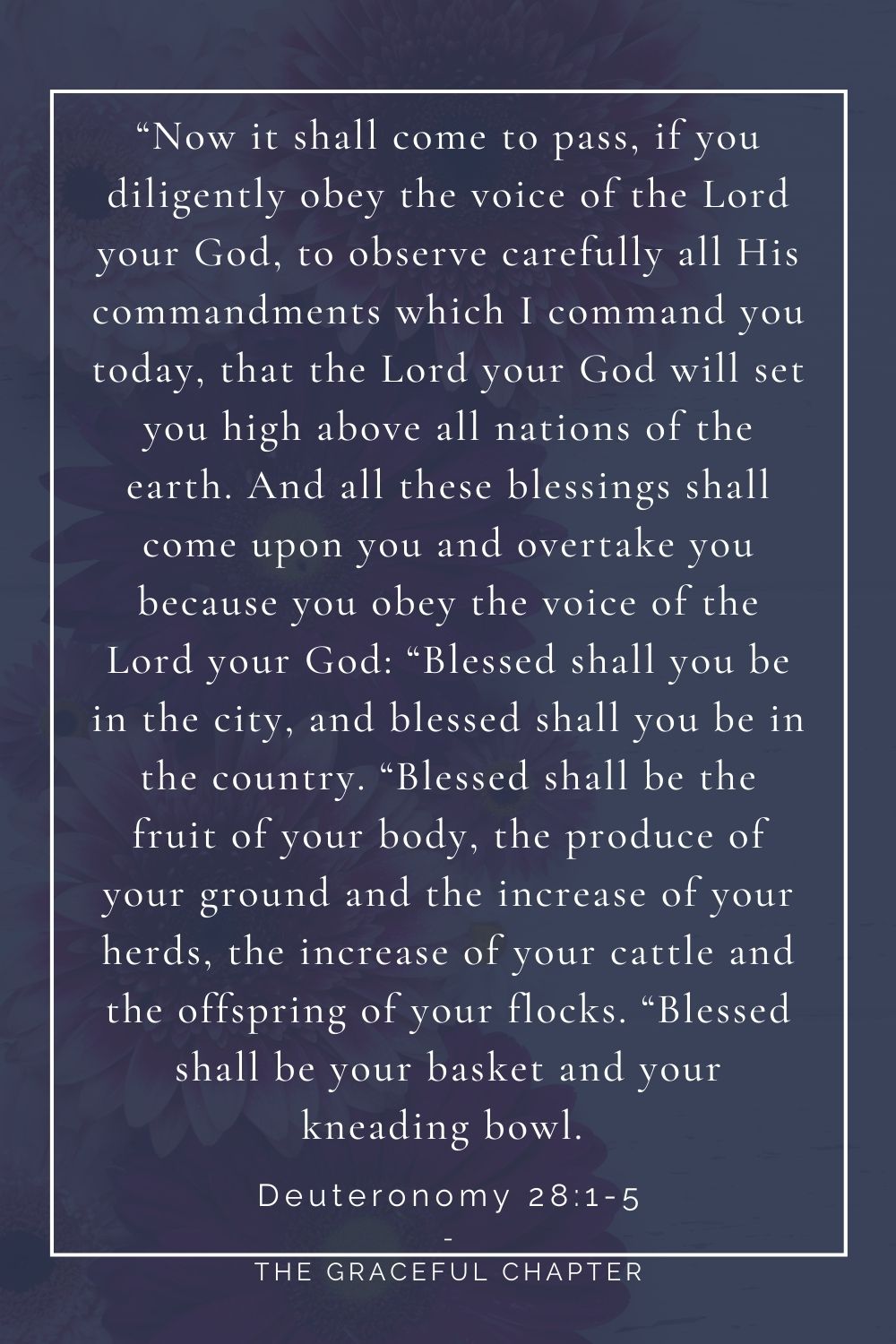 Deuteronomy 28:1-5
"Now it shall come to pass, if you diligently obey the voice of the Lord your God, to observe carefully all His commandments which I command you today, that the Lord your God will set you high above all nations of the earth. And all these blessings shall come upon you and overtake you because you obey the voice of the Lord your God: "Blessed shall you be in the city, and blessed shall you be in the country. "Blessed shall be the fruit of your body, the produce of your ground and the increase of your herds, the increase of your cattle and the offspring of your flocks. "Blessed shall be your basket and your kneading bowl.

Philippians 4:7
And the peace of God, which transcends all understanding, will guard your hearts and your minds in Christ Jesus.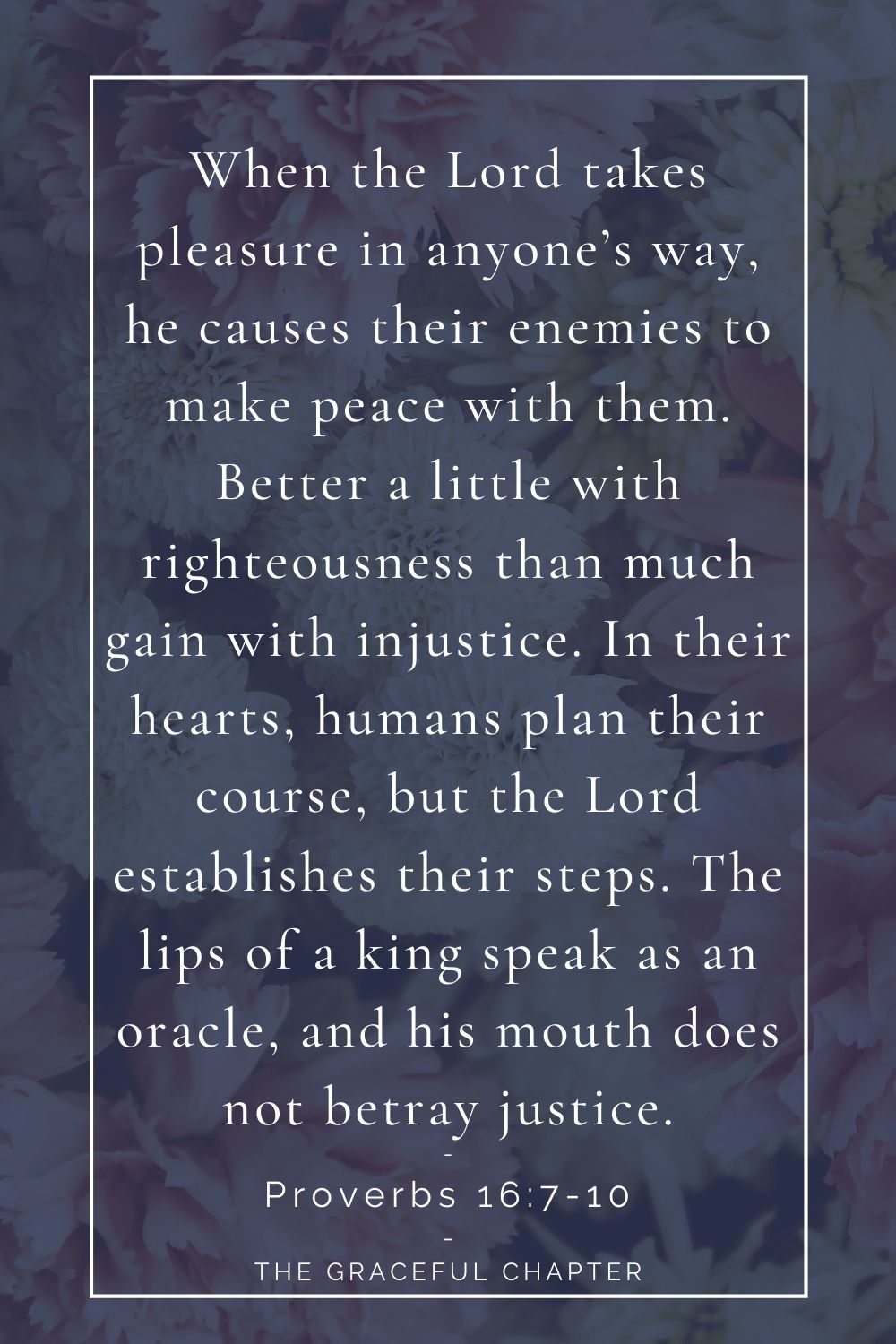 Proverbs 16:7-10
When the Lord takes pleasure in anyone's way,
he causes their enemies to make peace with them. Better a little with righteousness than much gain with injustice. In their hearts, humans plan their course, but the Lord establishes their steps. The lips of a king speak as an oracle, and his mouth does not betray justice.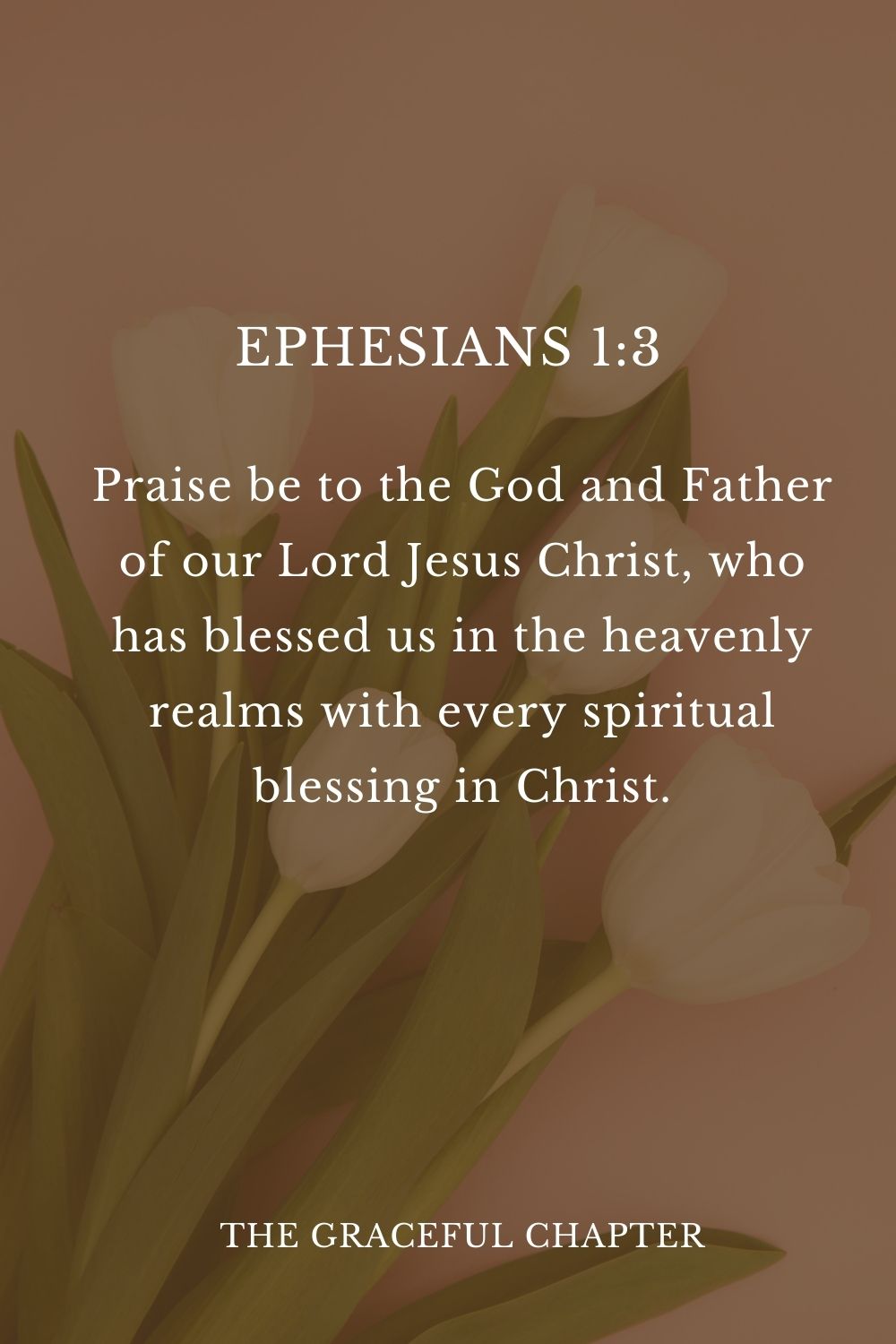 Ephesians 1:3
Praise be to the God and Father of our Lord Jesus Christ, who has blessed us in the heavenly realms with every spiritual blessing in Christ.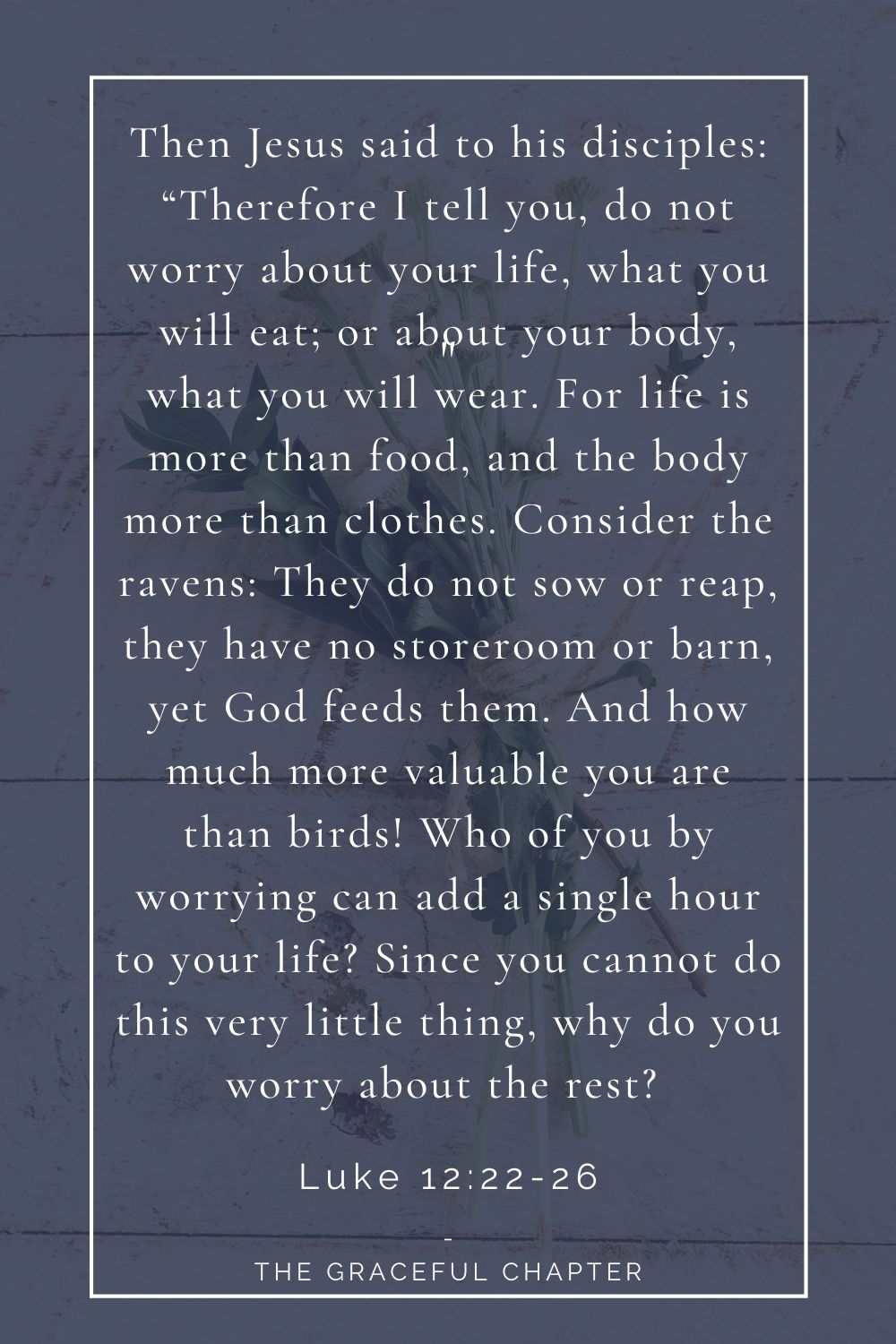 Luke 12:22-26
Then Jesus said to his disciples: "Therefore I tell you, do not worry about your life, what you will eat; or about your body, what you will wear. For life is more than food, and the body more than clothes. Consider the ravens: They do not sow or reap, they have no storeroom or barn, yet God feeds them. And how much more valuable you are than birds! Who of you by worrying can add a single hour to your life? Since you cannot do this very little thing, why do you worry about the rest?

Philippians 2:13
For it is God who works in you to will and to act in order to fulfill his good purpose.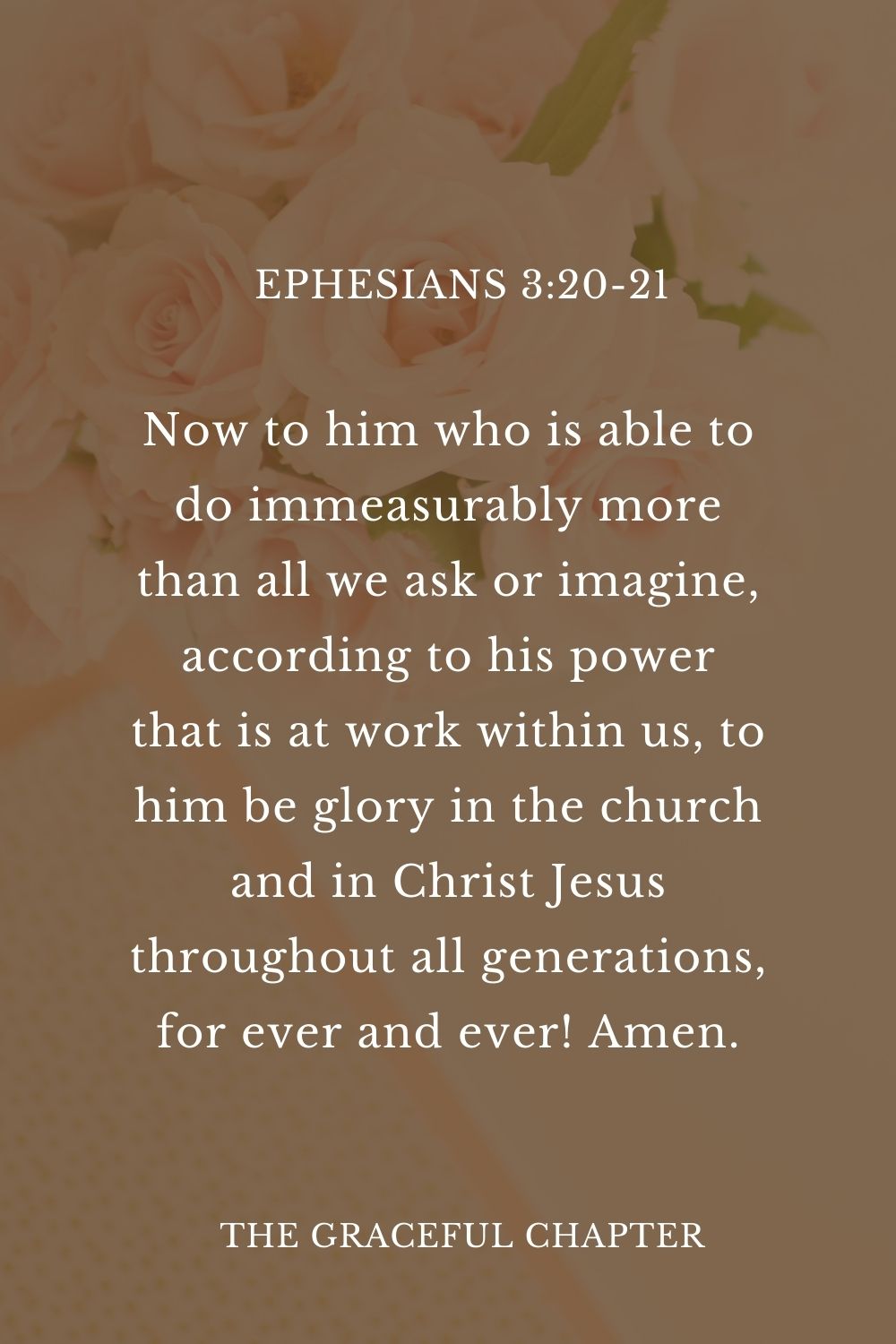 Ephesians 3:20-21
Now to him who is able to do immeasurably more than all we ask or imagine, according to his power that is at work within us, to him be glory in the church and in Christ Jesus throughout all generations, for ever and ever! Amen.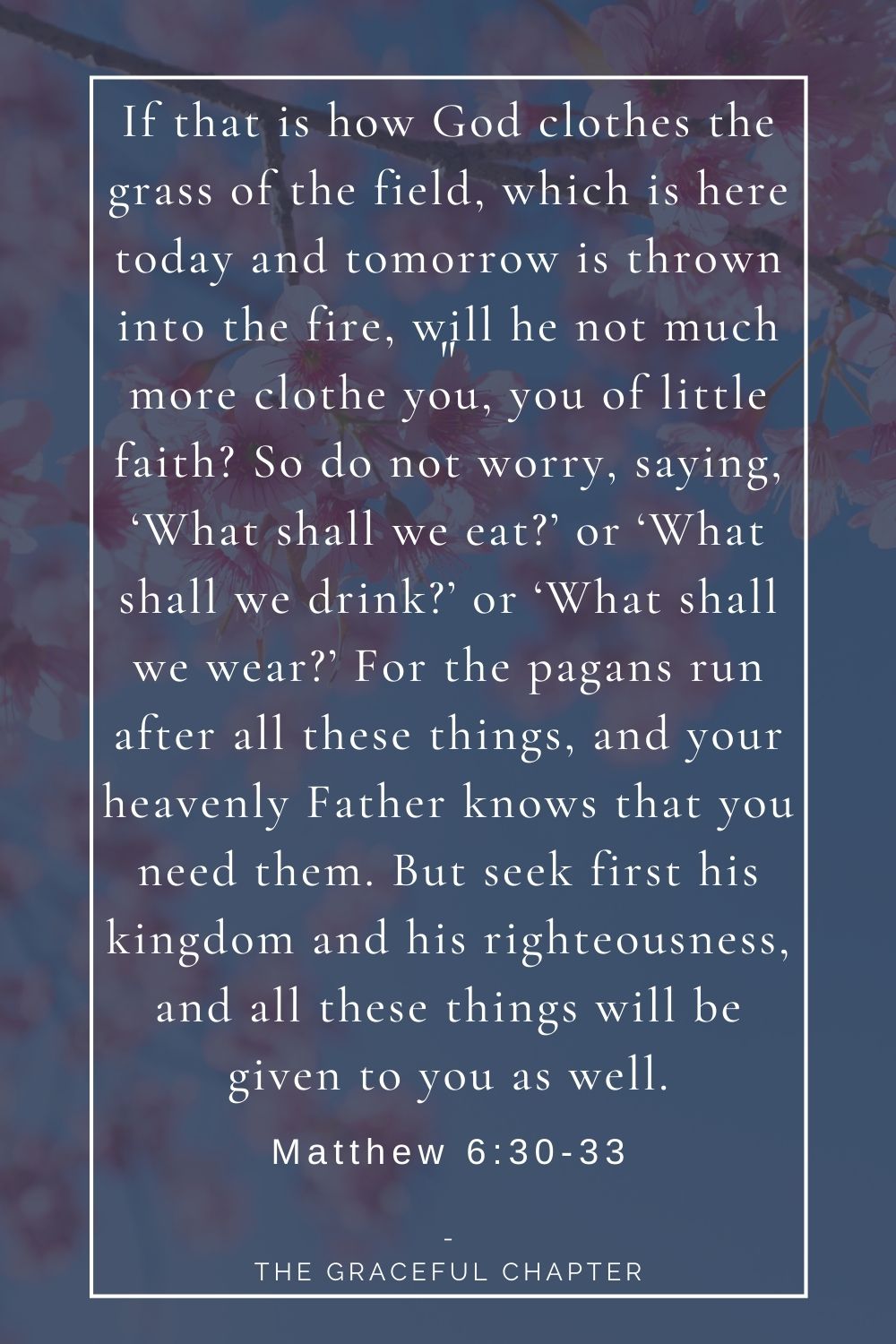 Matthew 6:30-33
If that is how God clothes the grass of the field, which is here today and tomorrow is thrown into the fire, will he not much more clothe you, you of little faith? So do not worry, saying, 'What shall we eat?' or 'What shall we drink?' or 'What shall we wear?' For the pagans run after all these things, and your heavenly Father knows that you need them. But seek first his kingdom and his righteousness, and all these things will be given to you as well.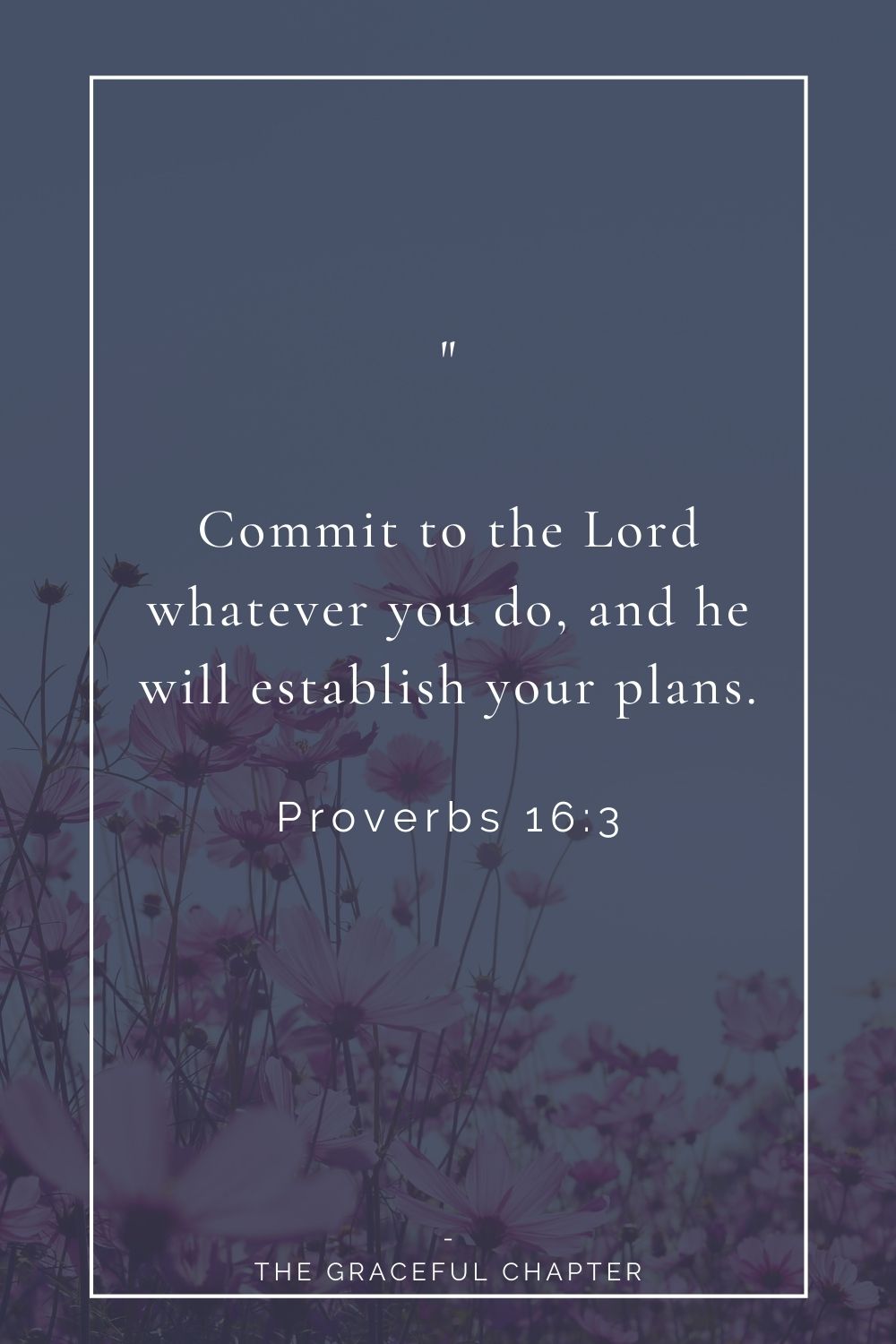 Proverbs 16:3
Commit to the Lord whatever you do, and he will establish your plans.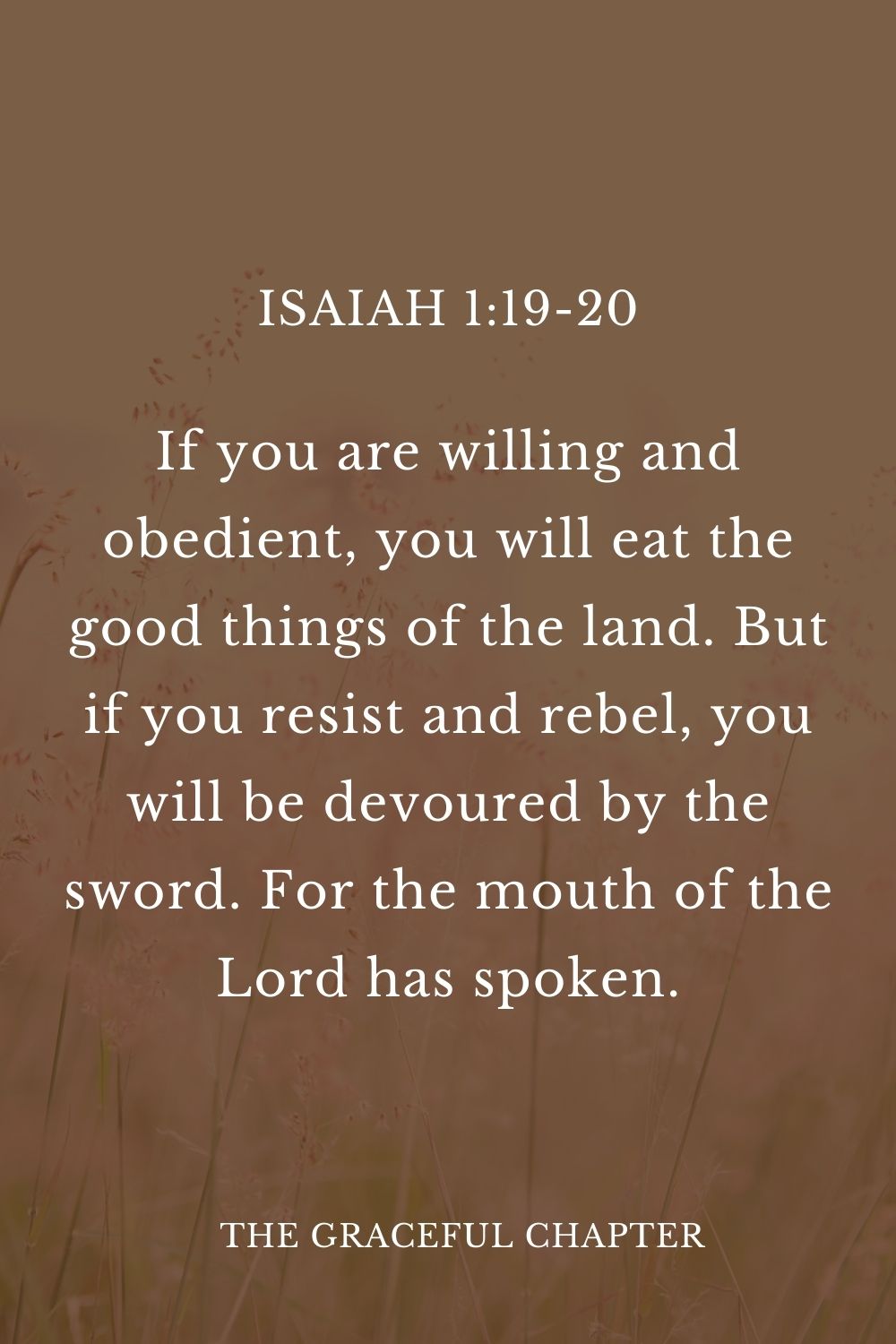 Isaiah 1:19-20
If you are willing and obedient, you will eat the good things of the land. But if you resist and rebel, you will be devoured by the sword. For the mouth of the Lord has spoken.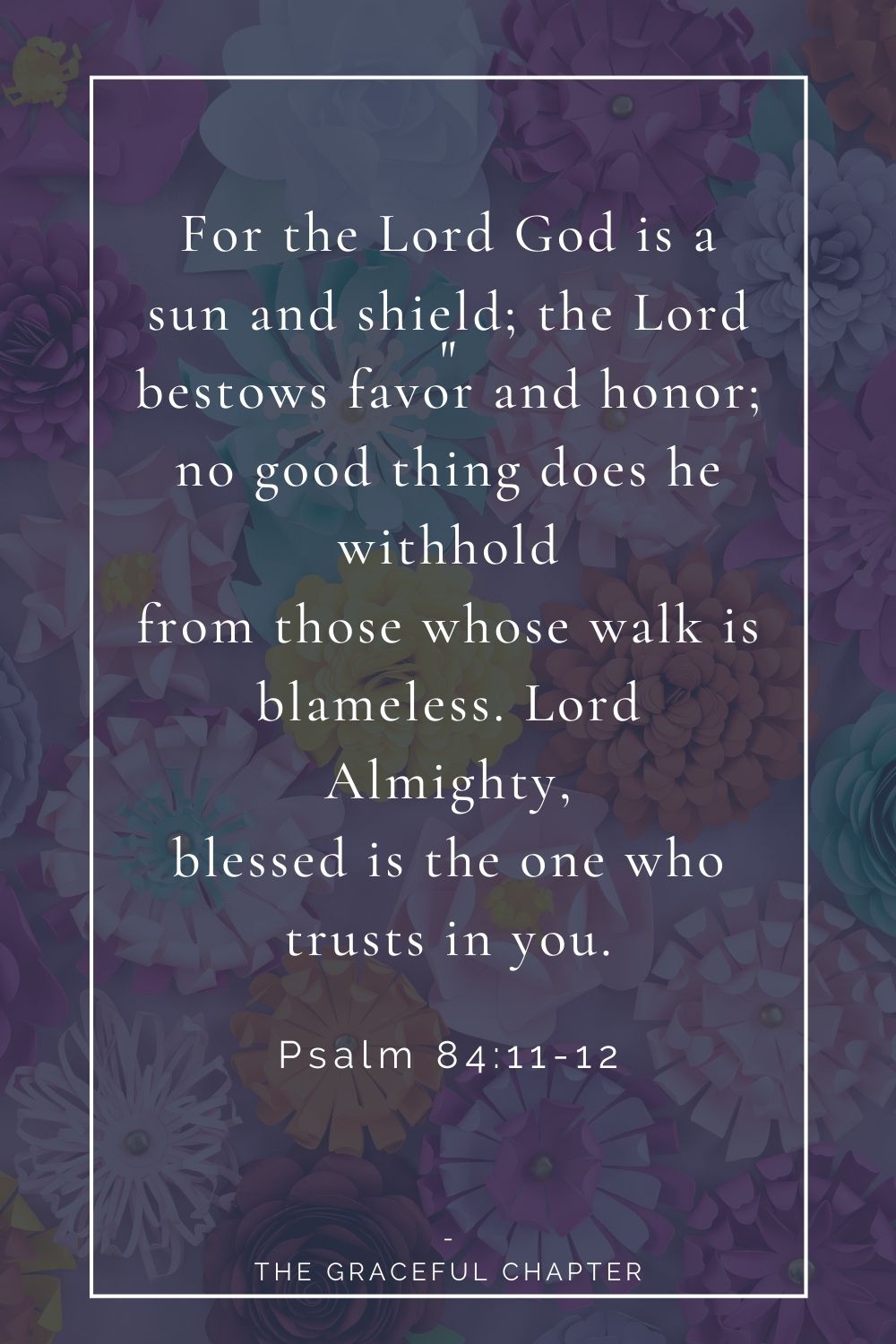 Psalm 84:11-12
For the Lord God is a sun and shield; the Lord bestows favor and honor; no good thing does he withhold from those whose walk is blameless. Lord Almighty, blessed is the one who trusts in you.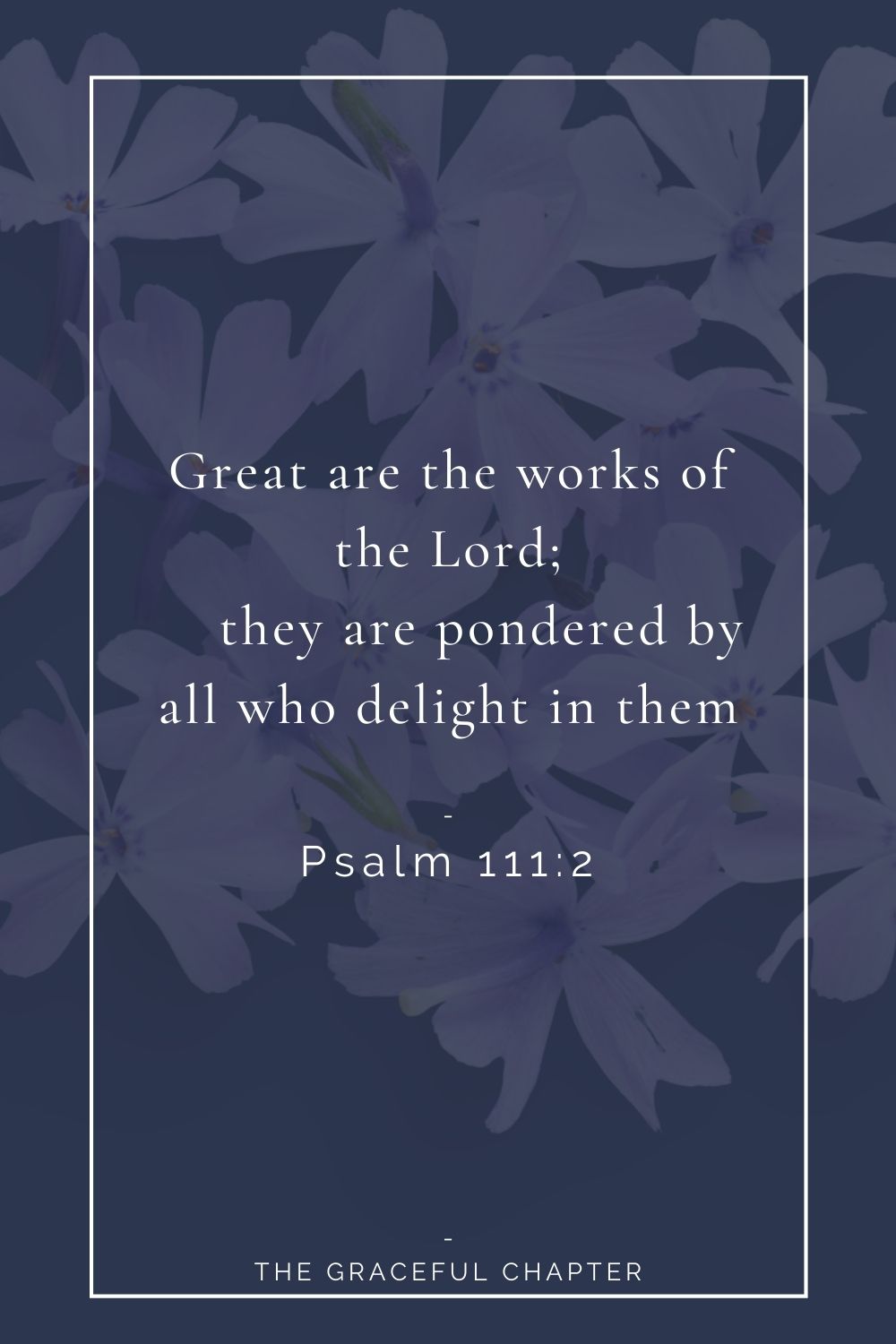 Psalm 111:2
Great are the works of the Lord; they are pondered by all who delight in them.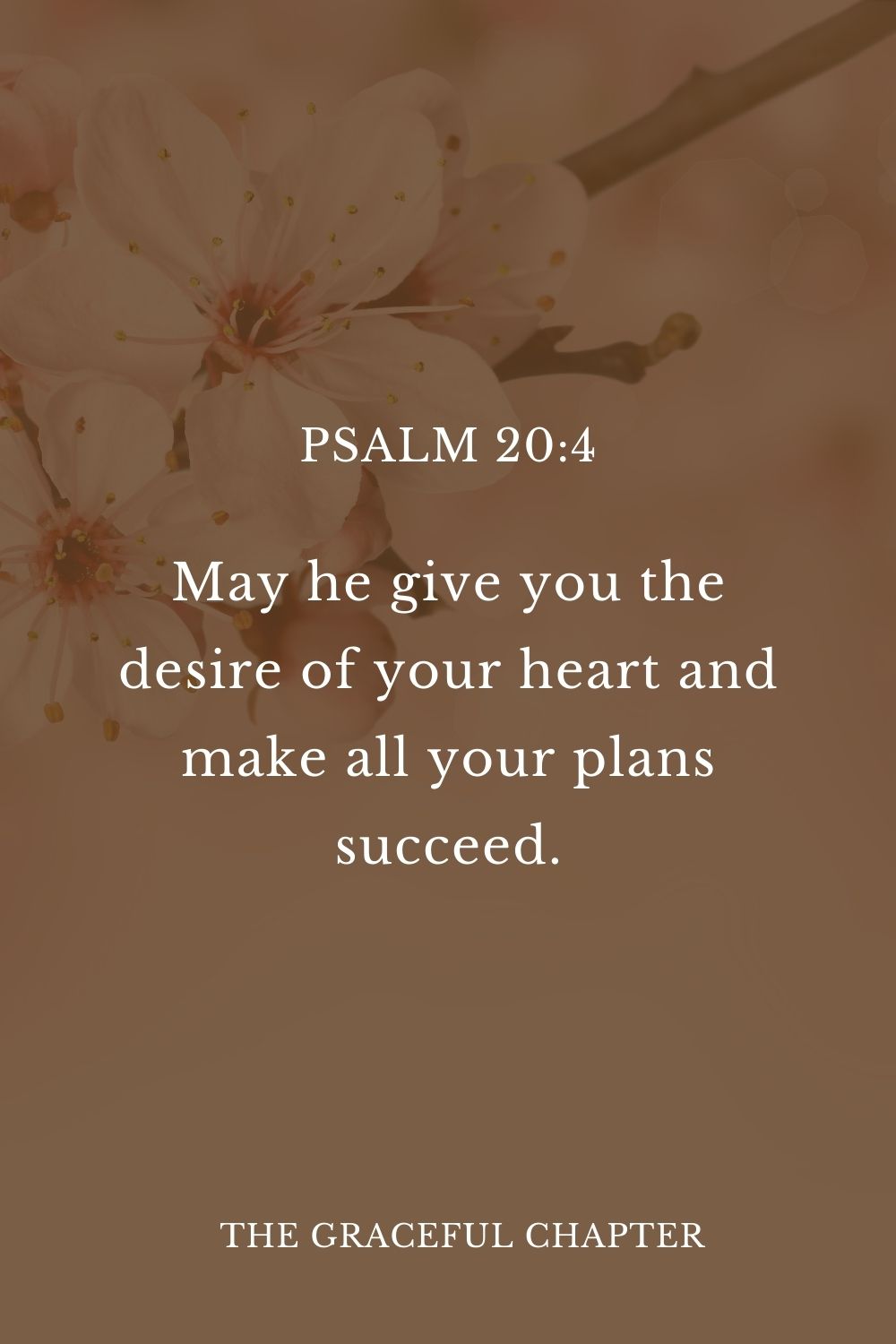 Psalm 20:4
May he give you the desire of your heart and make all your plans succeed.

Jeremiah 29:11
For I know the plans I have for you," declares the Lord, "plans to prosper you and not to harm you, plans to give you hope and a future.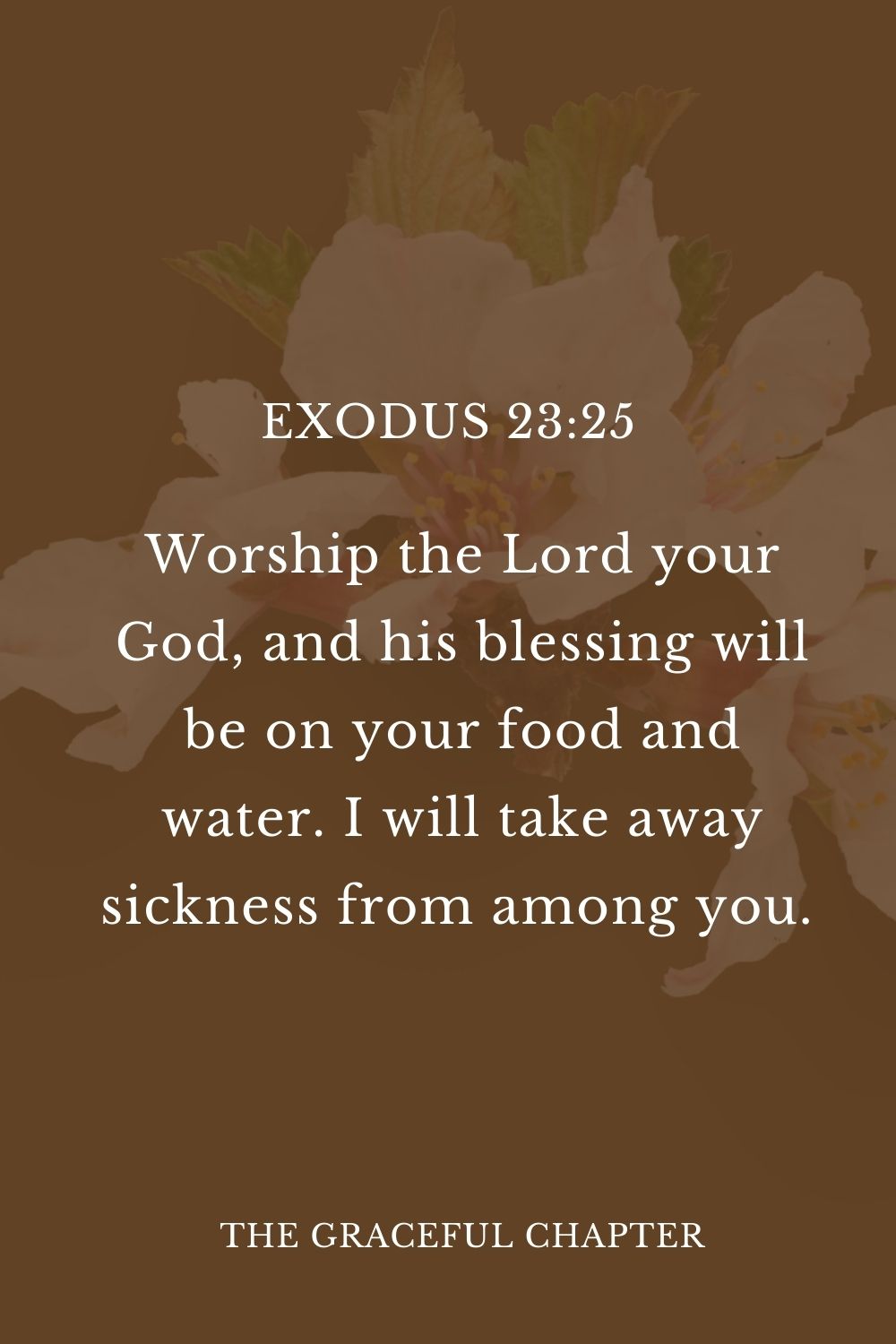 Exodus 23:25
Worship the Lord your God, and his blessing will be on your food and water. I will take away sickness from among you.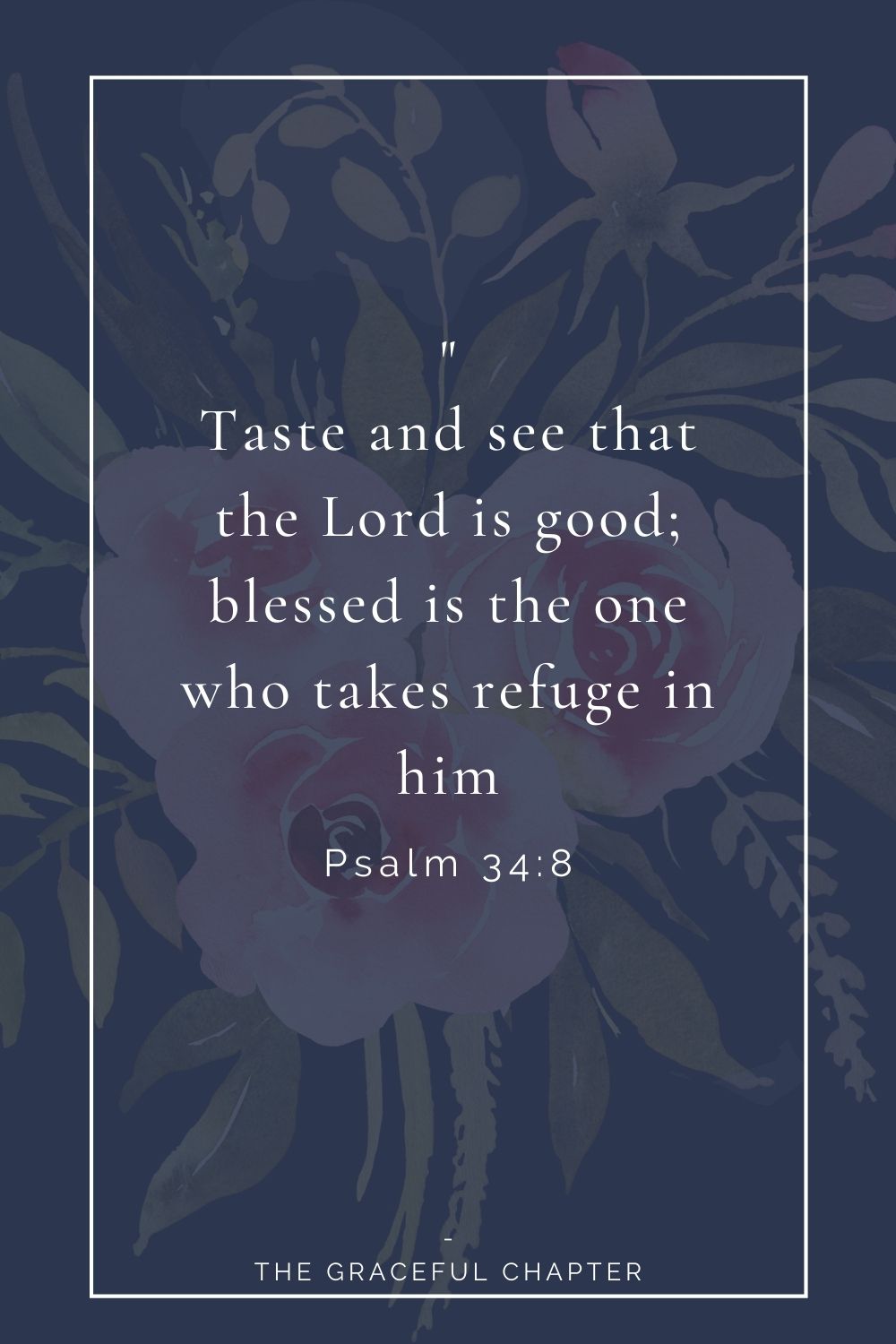 Psalm 34:8
Taste and see that the Lord is good; blessed is the one who takes refuge in him.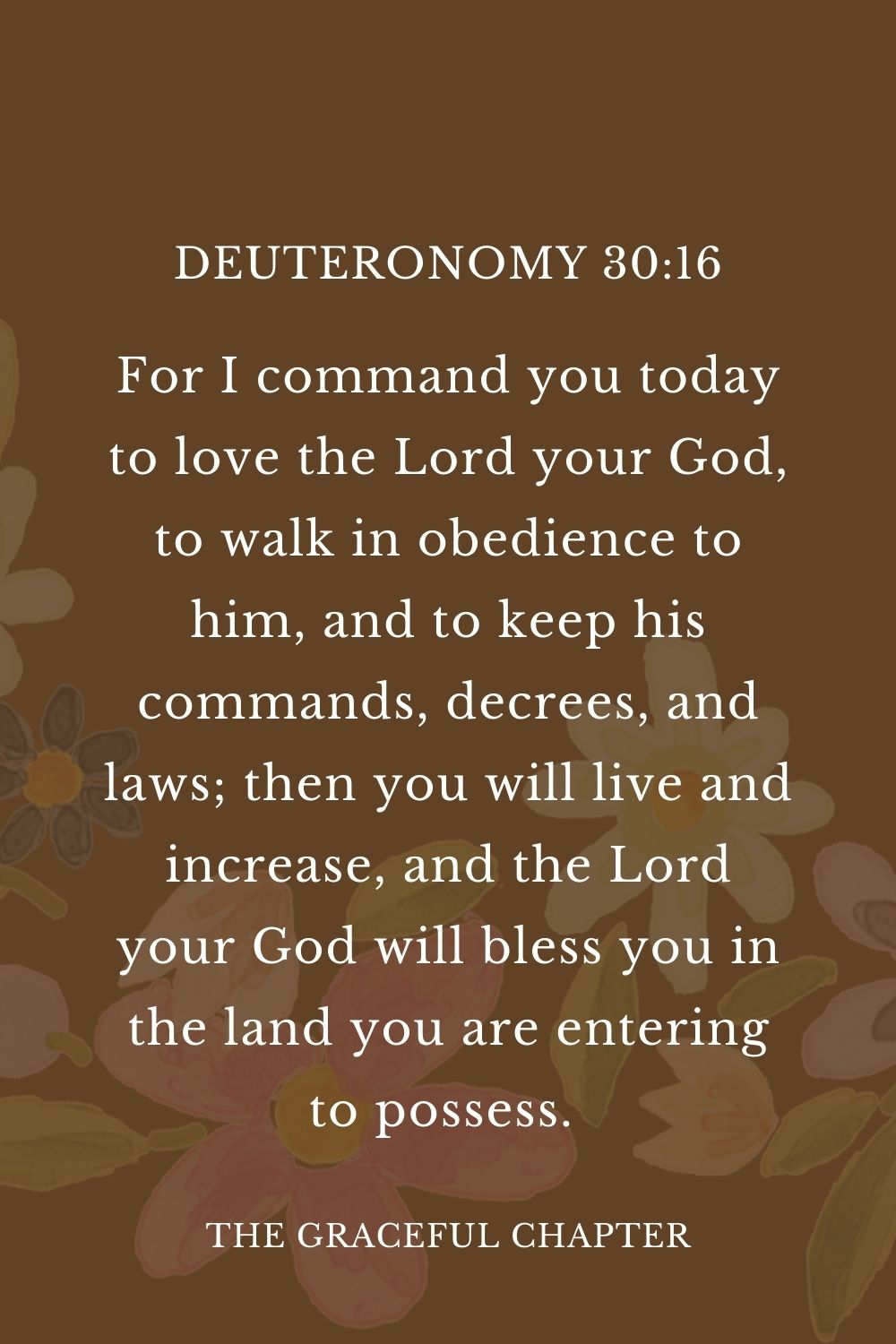 Deuteronomy 30:16
For I command you today to love the Lord your God, to walk in obedience to him, and to keep his commands, decrees, and laws; then you will live and increase, and the Lord your God will bless you in the land you are entering to possess.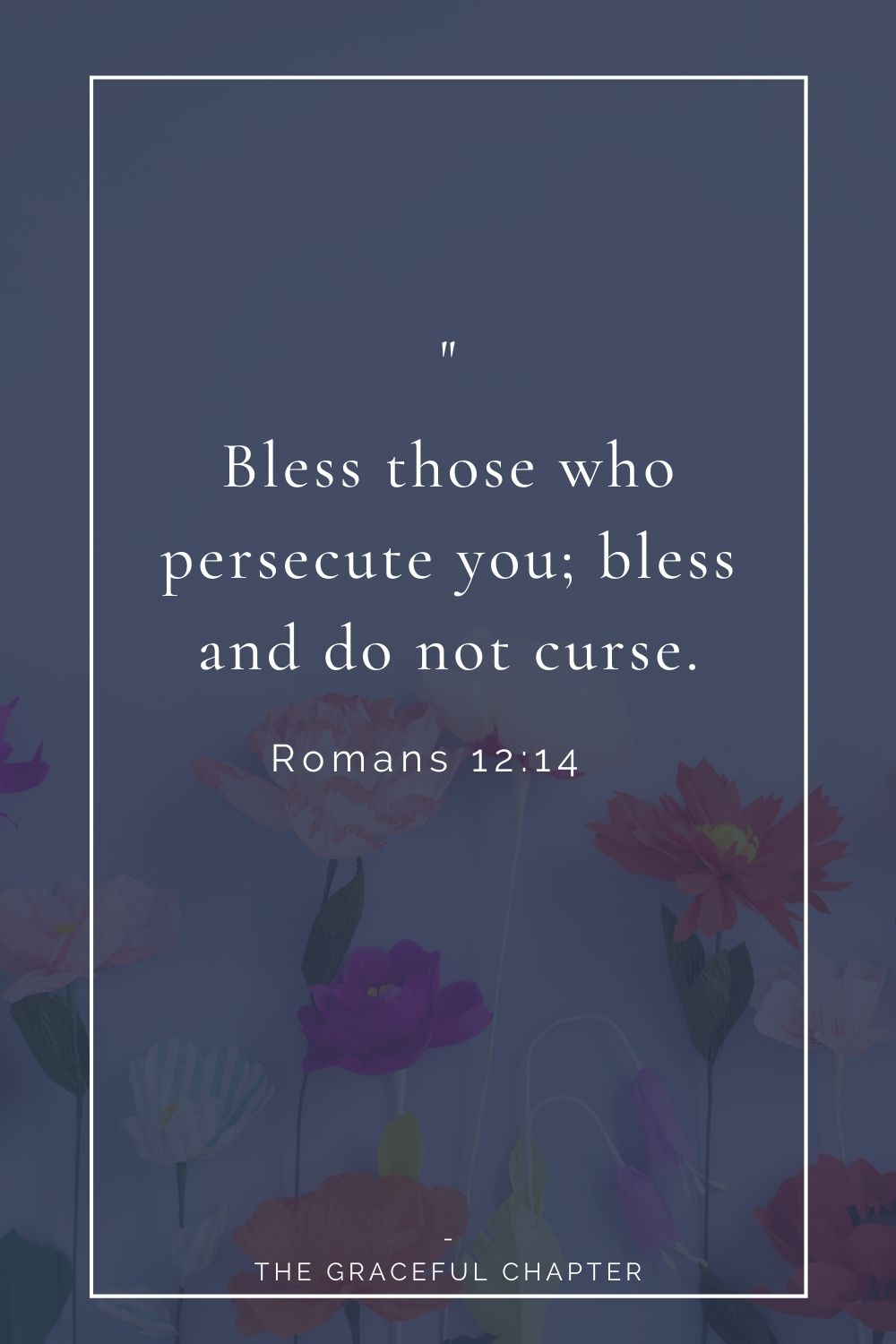 Romans 12:14
Bless those who persecute you; bless and do not curse.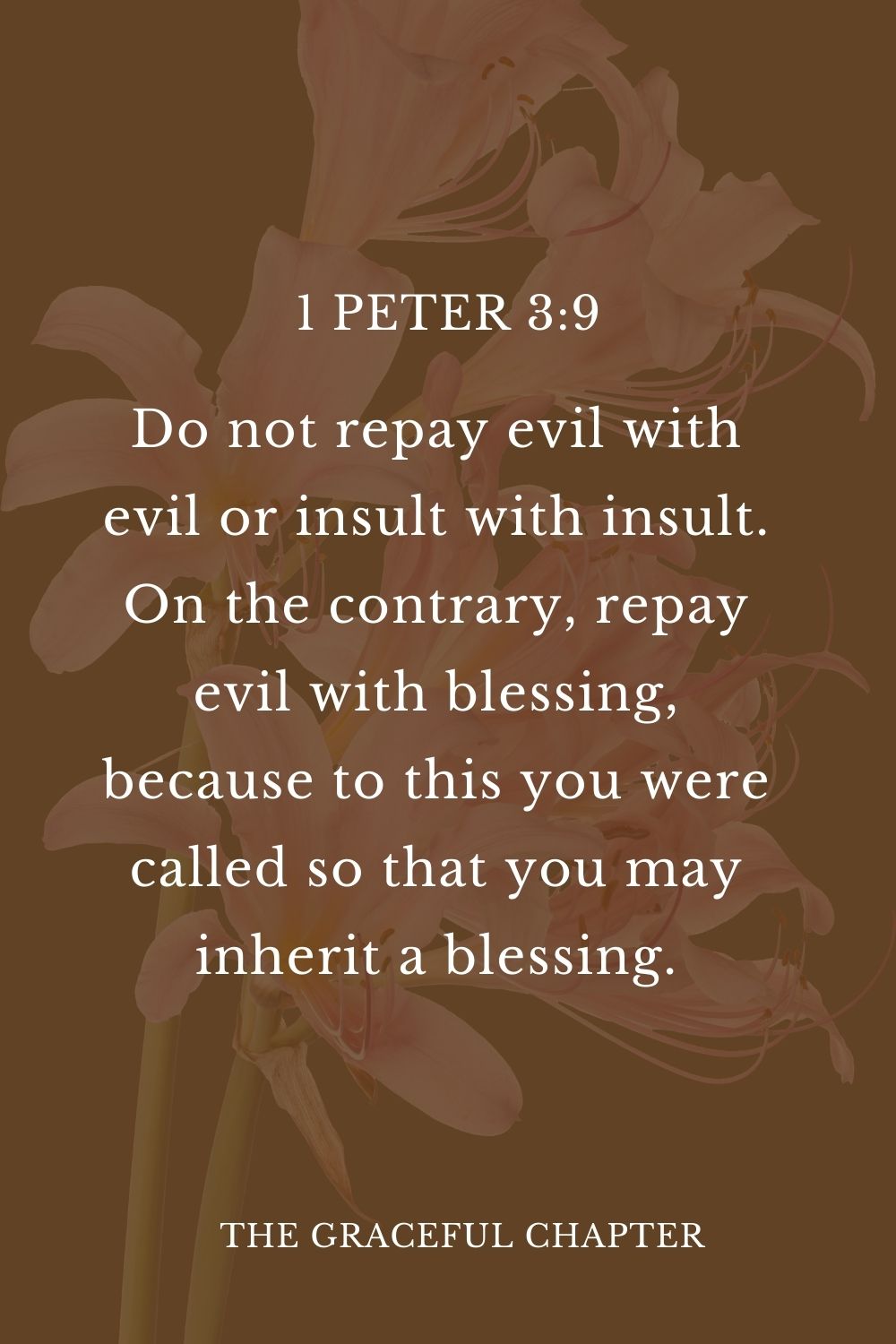 1 Peter 3:9
Do not repay evil with evil or insult with insult. On the contrary, repay evil with blessing, because to this you were called so that you may inherit a blessing.

Malachi 3:10
Bring the whole tithe into the storehouse, that there may be food in my house. Test me in this," says the Lord Almighty, "and see if I will not throw open the floodgates of heaven and pour out so much blessing that there will not be room enough to store it.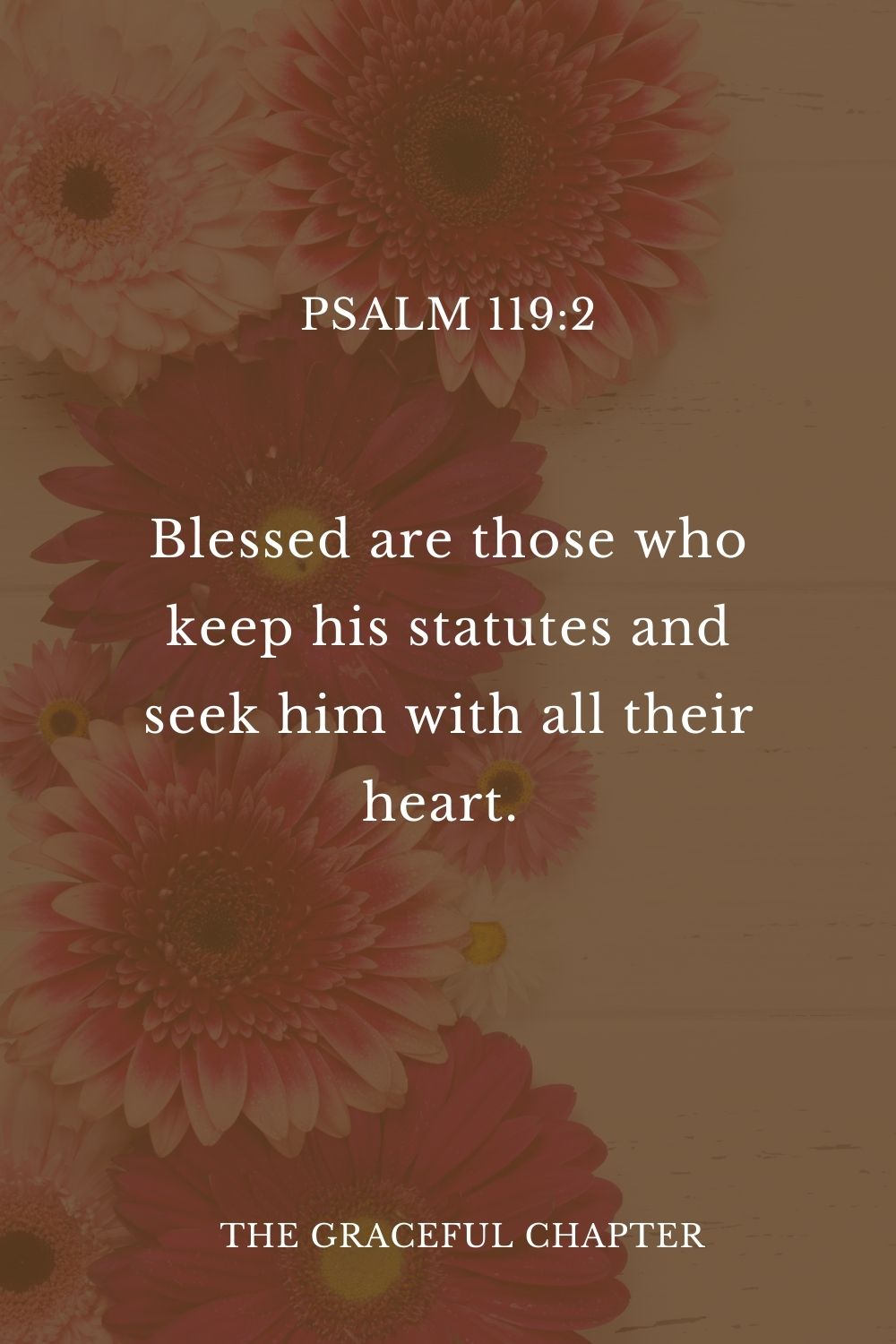 Psalm 119:2
Blessed are those who keep his statutes and seek him with all their heart.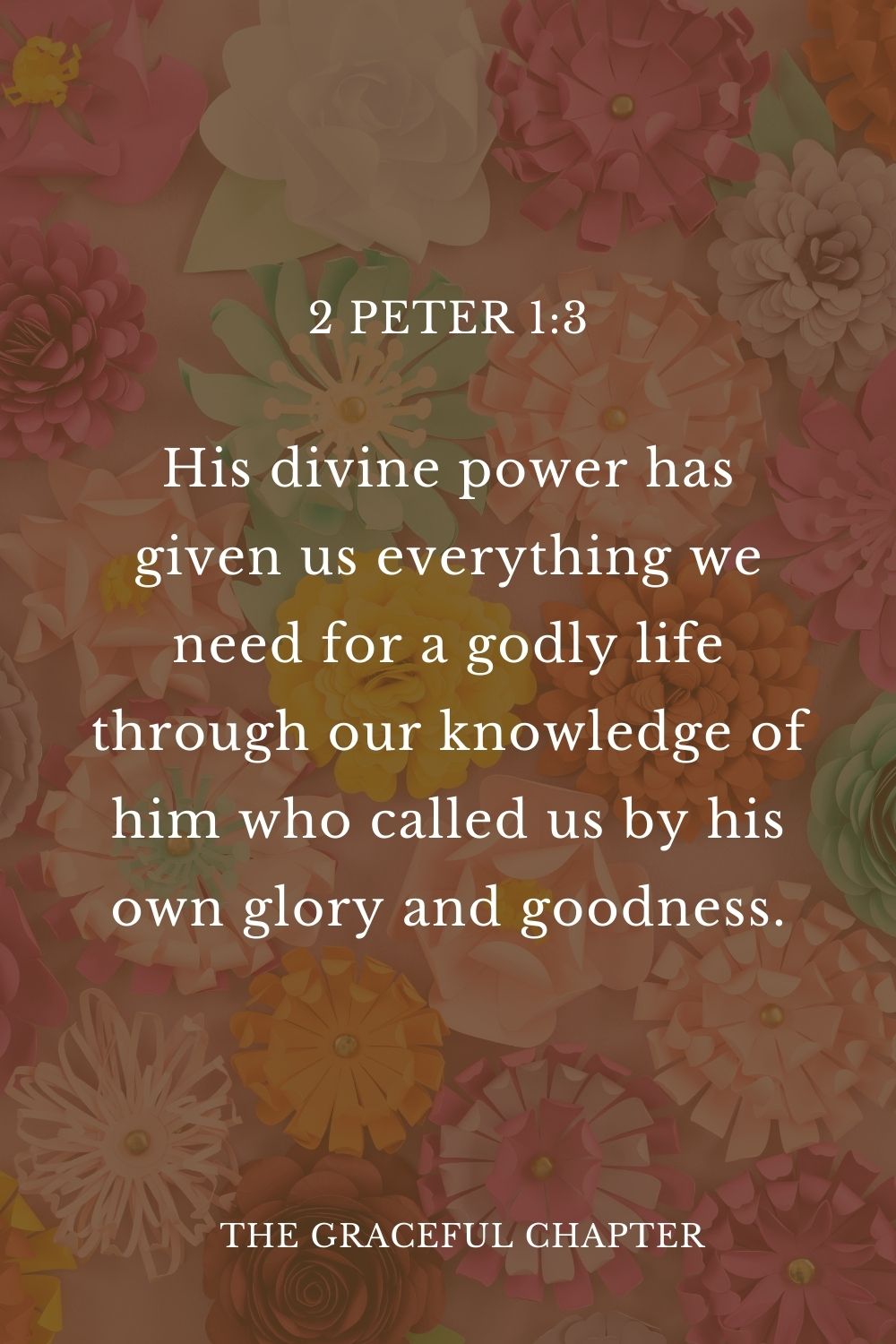 2 Peter 1:3
His divine power has given us everything we need for a godly life through our knowledge of him who called us by his own glory and goodness.

Luke 6:45
A good man brings good things out of the good stored up in his heart, and an evil man brings evil things out of the evil stored up in his heart. For the mouth speaks what the heart is full of.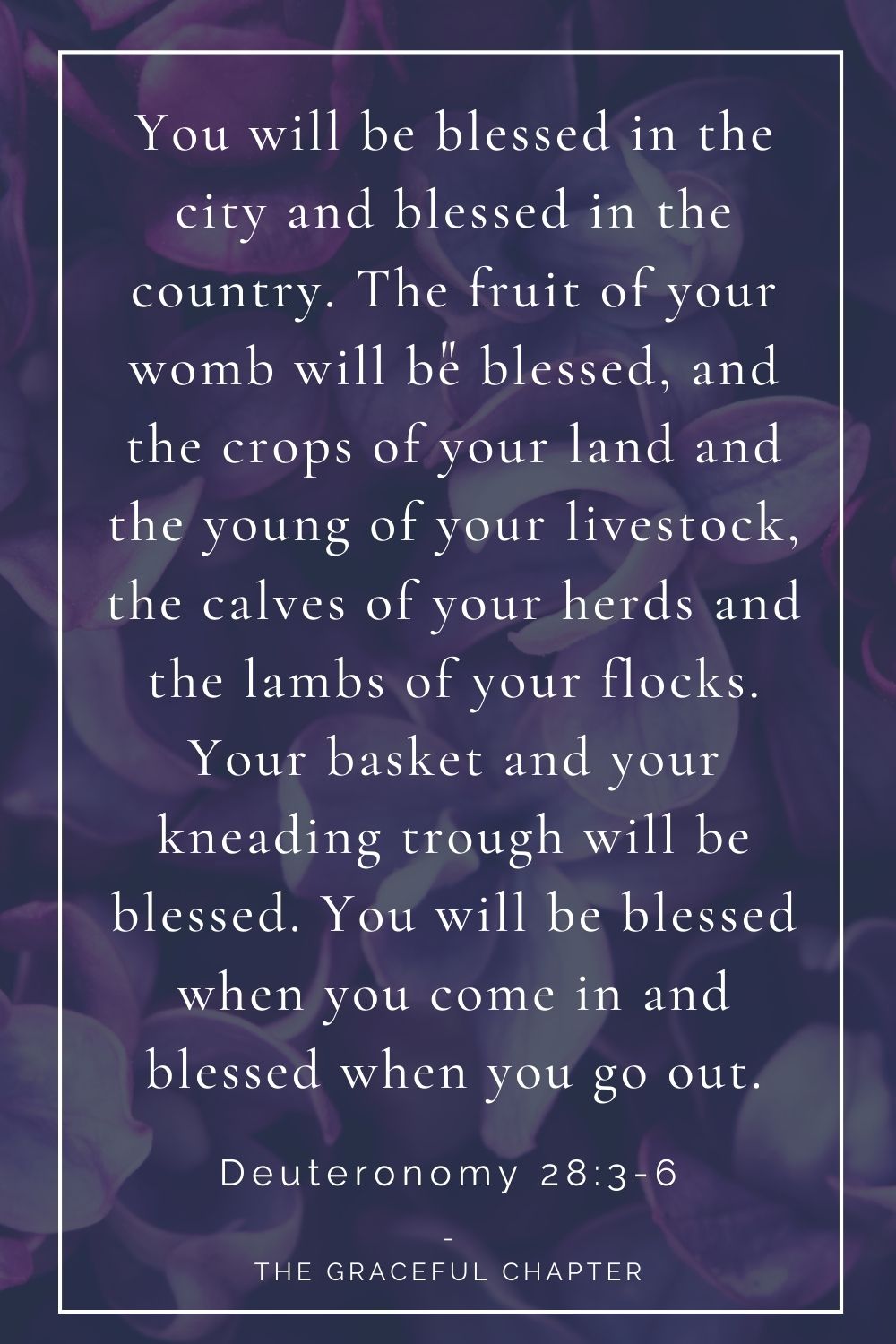 Deuteronomy 28:3-6
You will be blessed in the city and blessed in the country. The fruit of your womb will be blessed, and the crops of your land and the young of your livestock, the calves of your herds and the lambs of your flocks. Your basket and your kneading trough will be blessed. You will be blessed when you come in and blessed when you go out.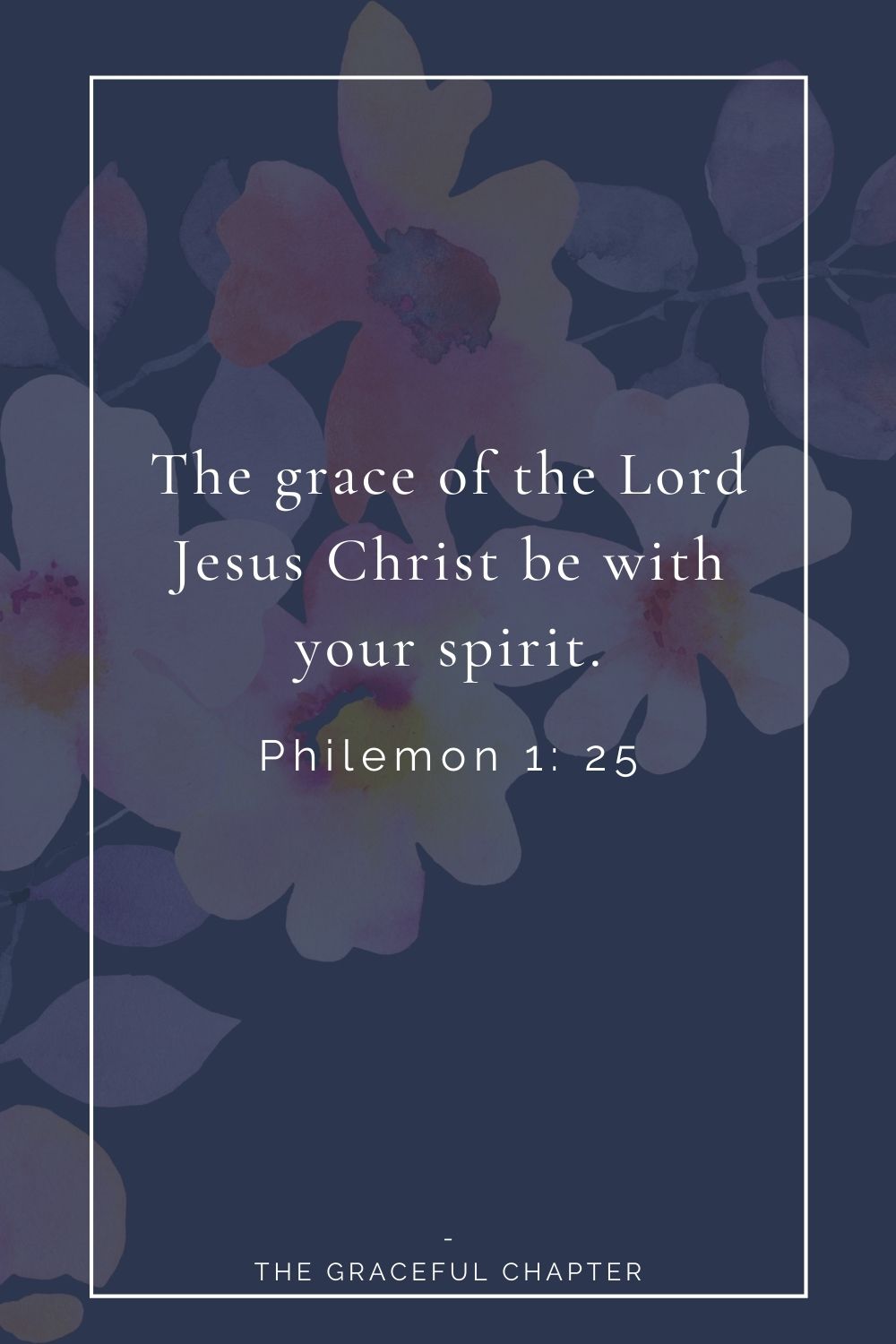 Philemon 1: 25
The grace of the Lord Jesus Christ be with your spirit.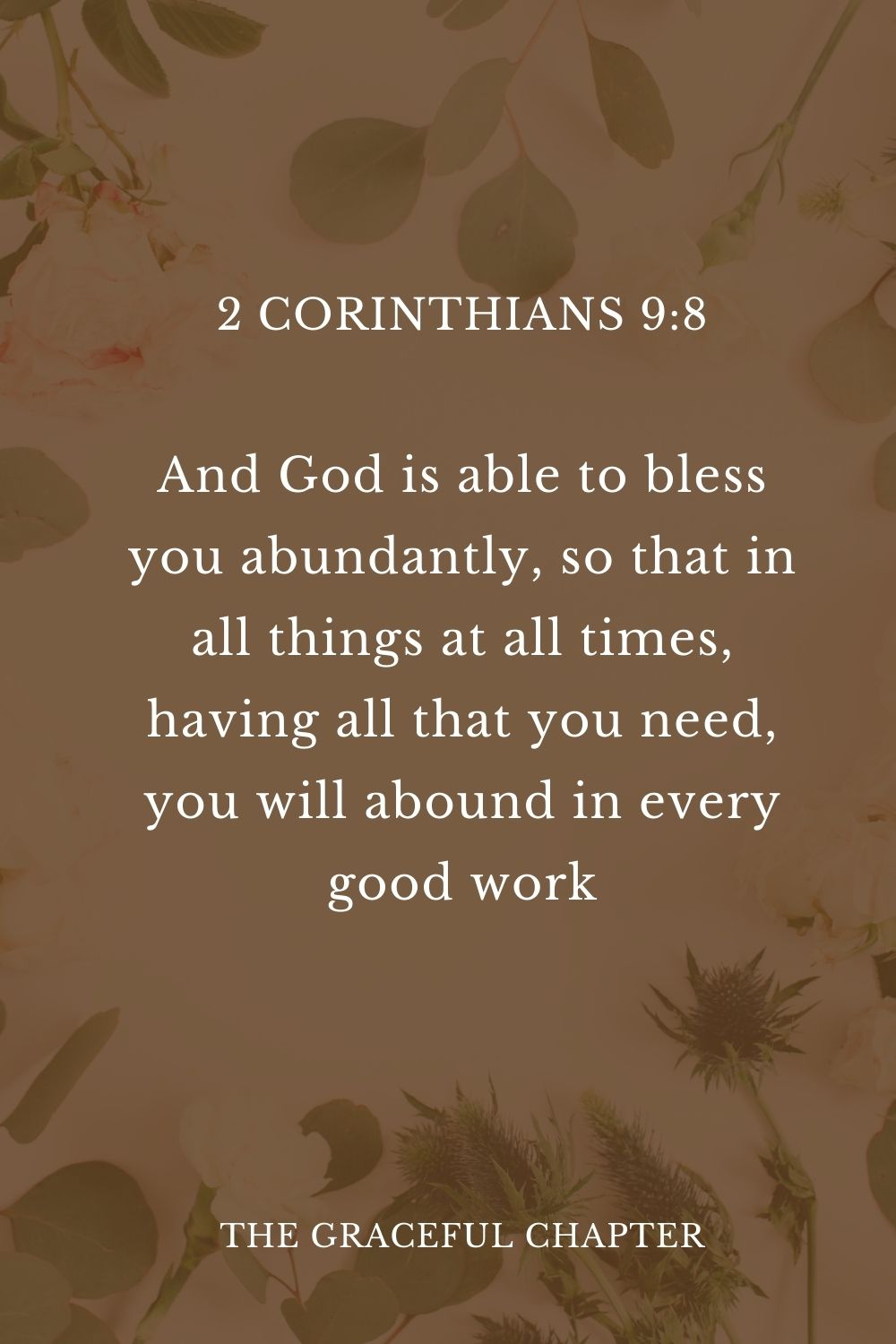 2 Corinthians 9:8
And God is able to bless you abundantly, so that in all things at all times, having all that you need, you will abound in every good work.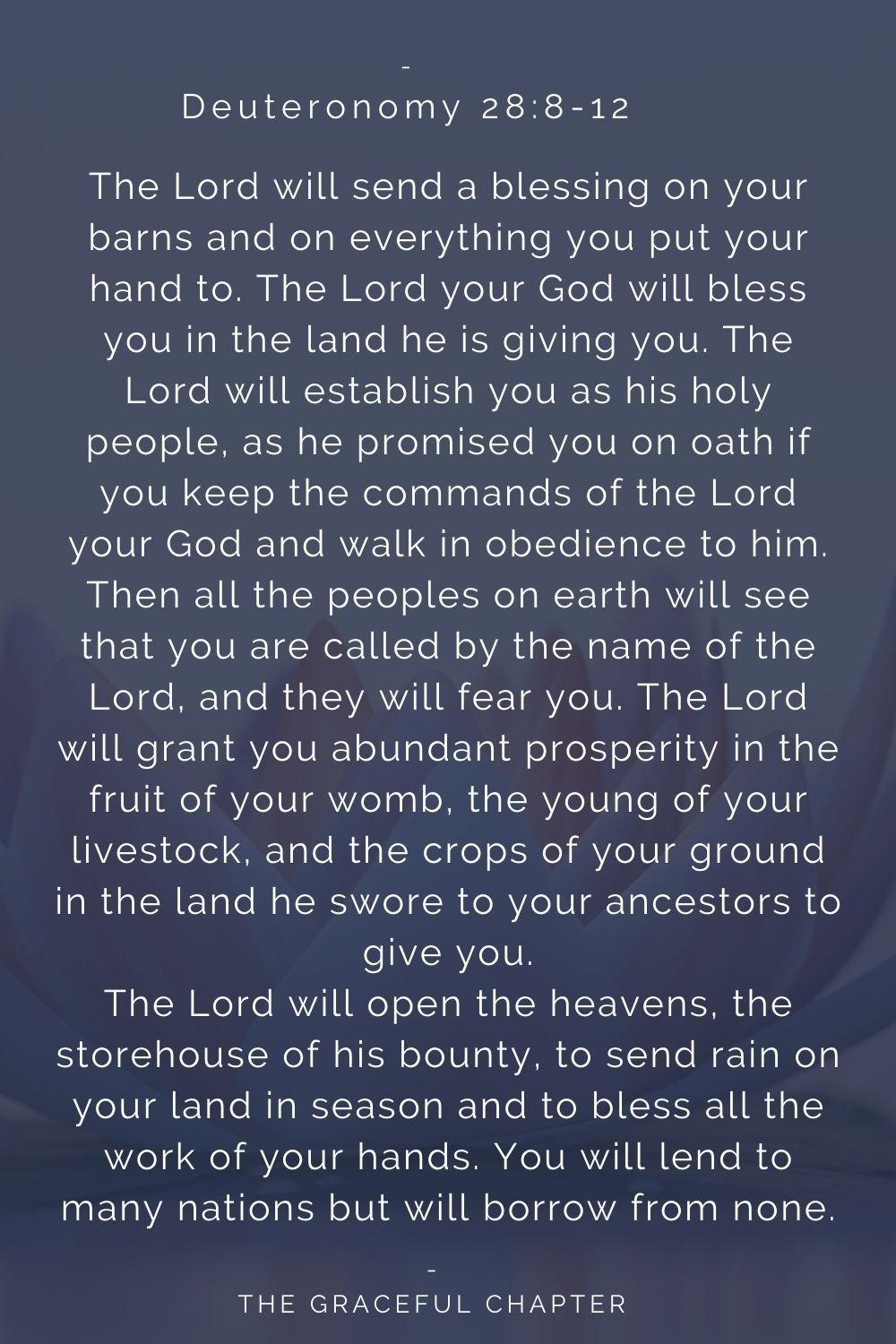 Deuteronomy 28:8-12
The Lord will send a blessing on your barns and on everything you put your hand to. The Lord your God will bless you in the land he is giving you. The Lord will establish you as his holy people, as he promised you on oath if you keep the commands of the Lord your God and walk in obedience to him. Then all the peoples on earth will see that you are called by the name of the Lord, and they will fear you. The Lord will grant you abundant prosperity in the fruit of your womb, the young of your livestock, and the crops of your ground in the land he swore to your ancestors to give you. The Lord will open the heavens, the storehouse of his bounty, to send rain on your land in season and to bless all the work of your hands. You will lend to many nations but will borrow from none.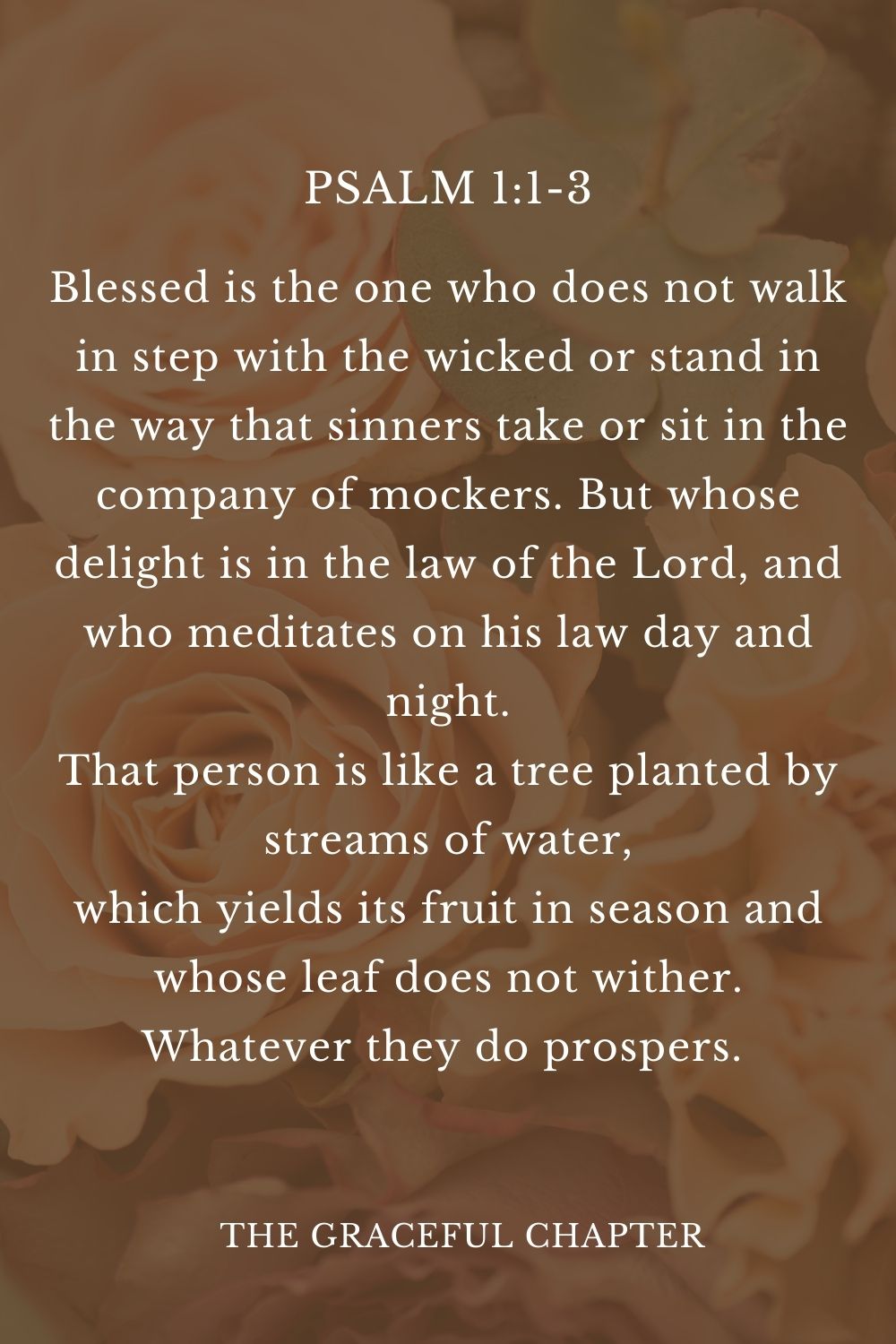 Psalm 1:1-3
Blessed is the one who does not walk in step with the wicked or stand in the way that sinners take or sit in the company of mockers. But whose delight is in the law of the Lord, and who meditates on his law day and night. That person is like a tree planted by streams of water, which yields its fruit in season and whose leaf does not wither. Whatever they do prospers.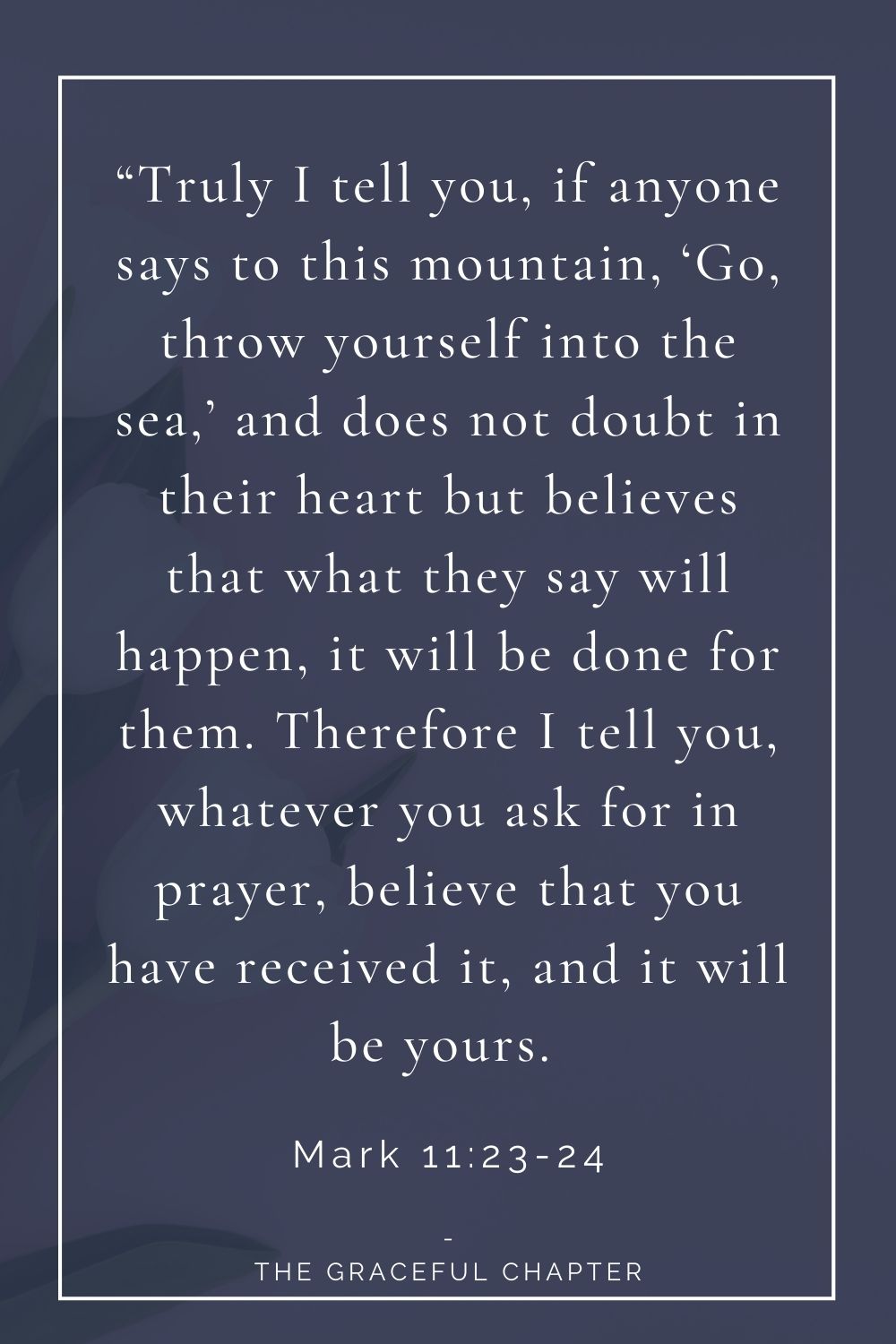 Mark 11:23-24
Truly I tell you, if anyone says to this mountain, 'Go, throw yourself into the sea,' and does not doubt in their heart but believes that what they say will happen, it will be done for them. Therefore I tell you, whatever you ask for in prayer, believe that you have received it, and it will be yours.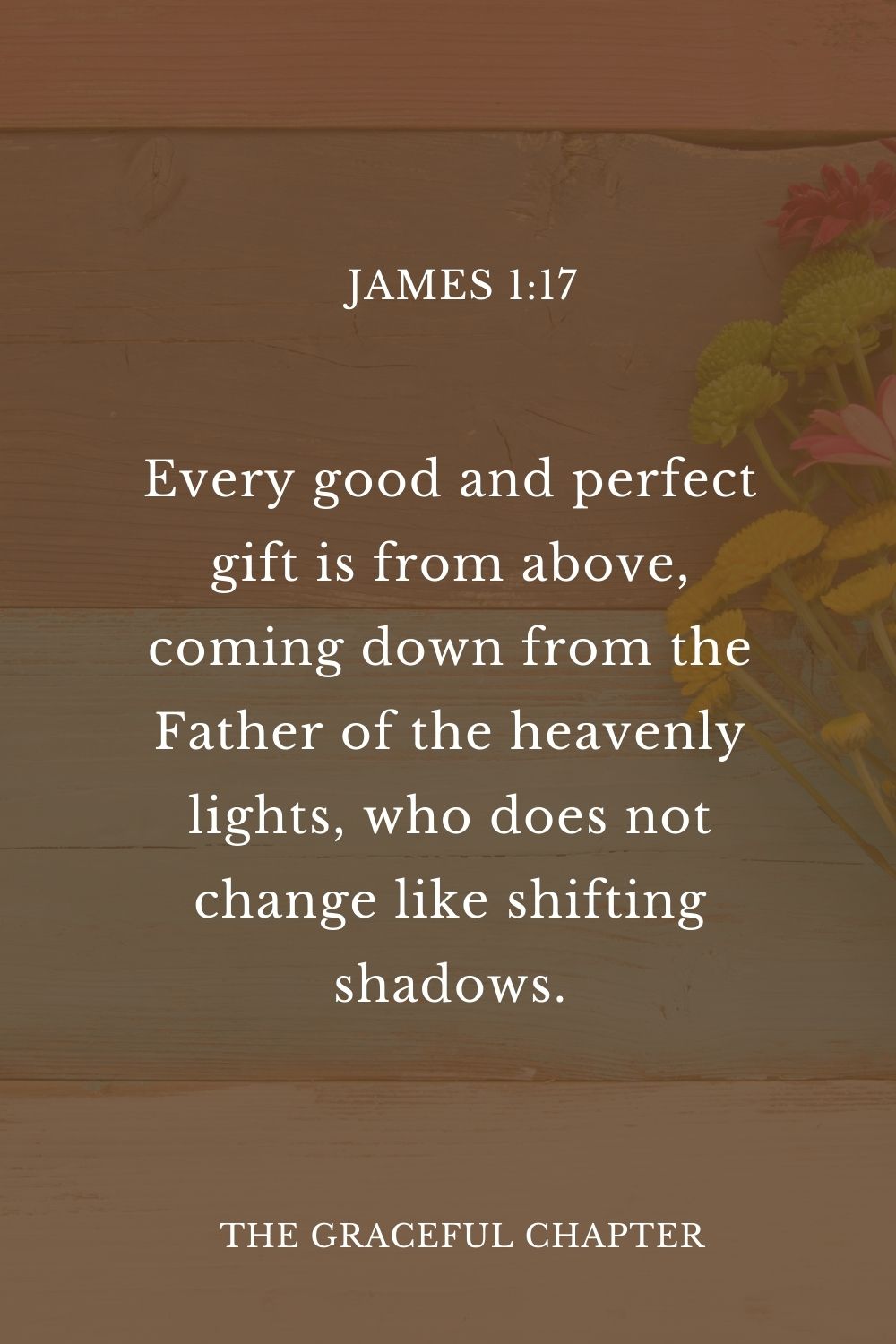 James 1:17
Every good and perfect gift is from above, coming down from the Father of the heavenly lights, who does not change like shifting shadows.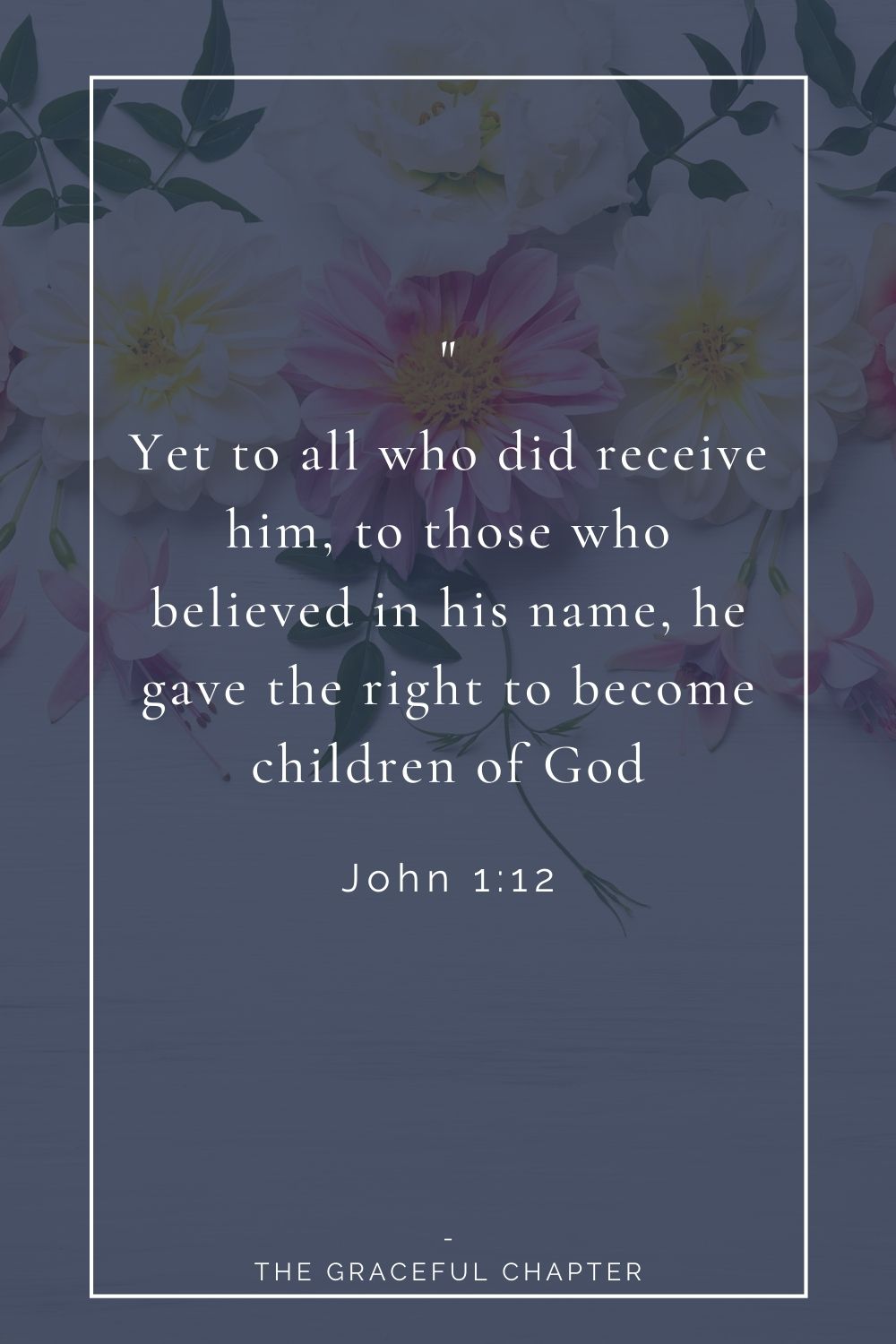 John 1:12
Yet to all who did receive him, to those who believed in his name, he gave the right to become children of God.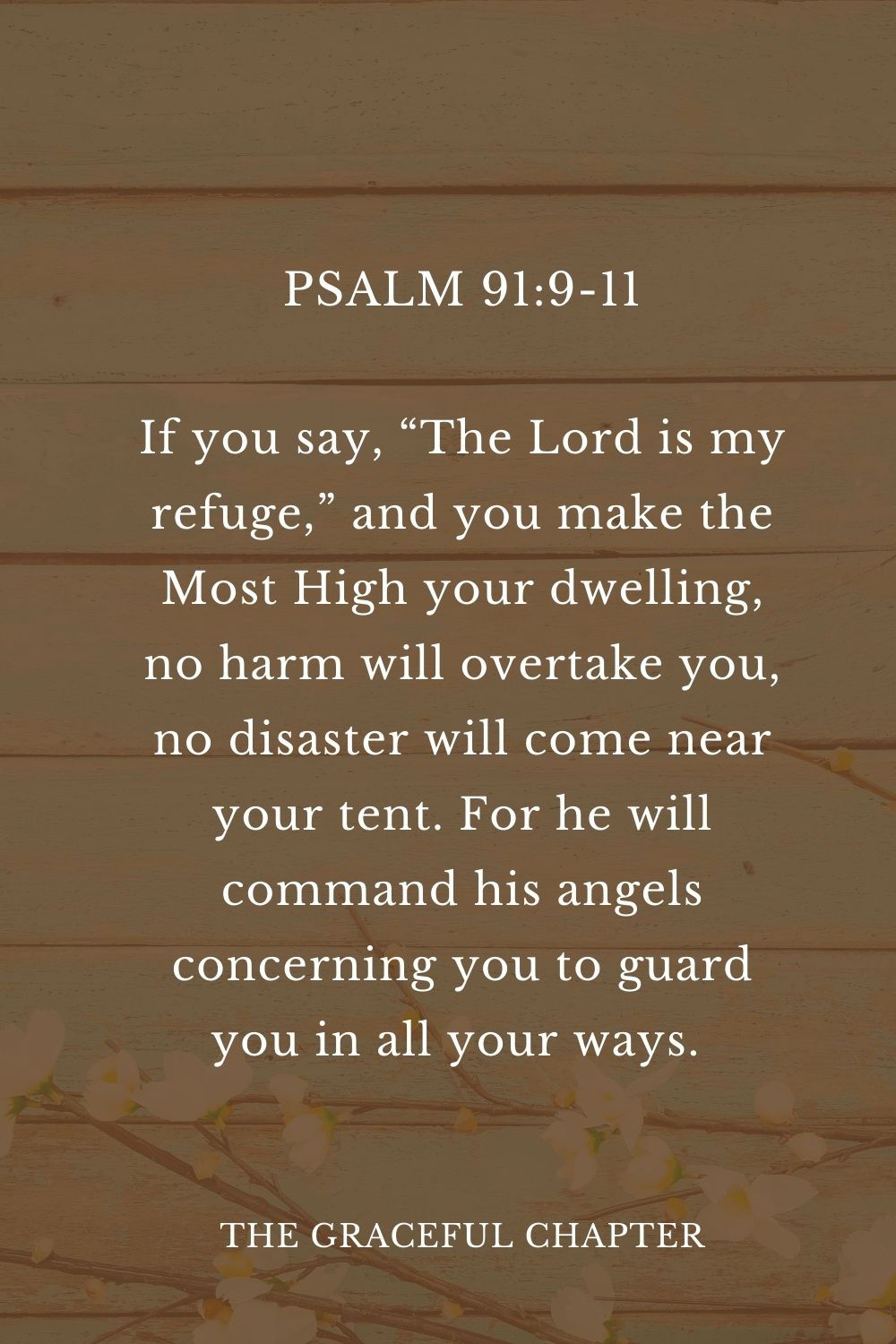 Psalm 91:9-11
If you say, "The Lord is my refuge," and you make the Most High your dwelling, no harm will overtake you, no disaster will come near your tent. For he will command his angels concerning you to guard you in all your ways.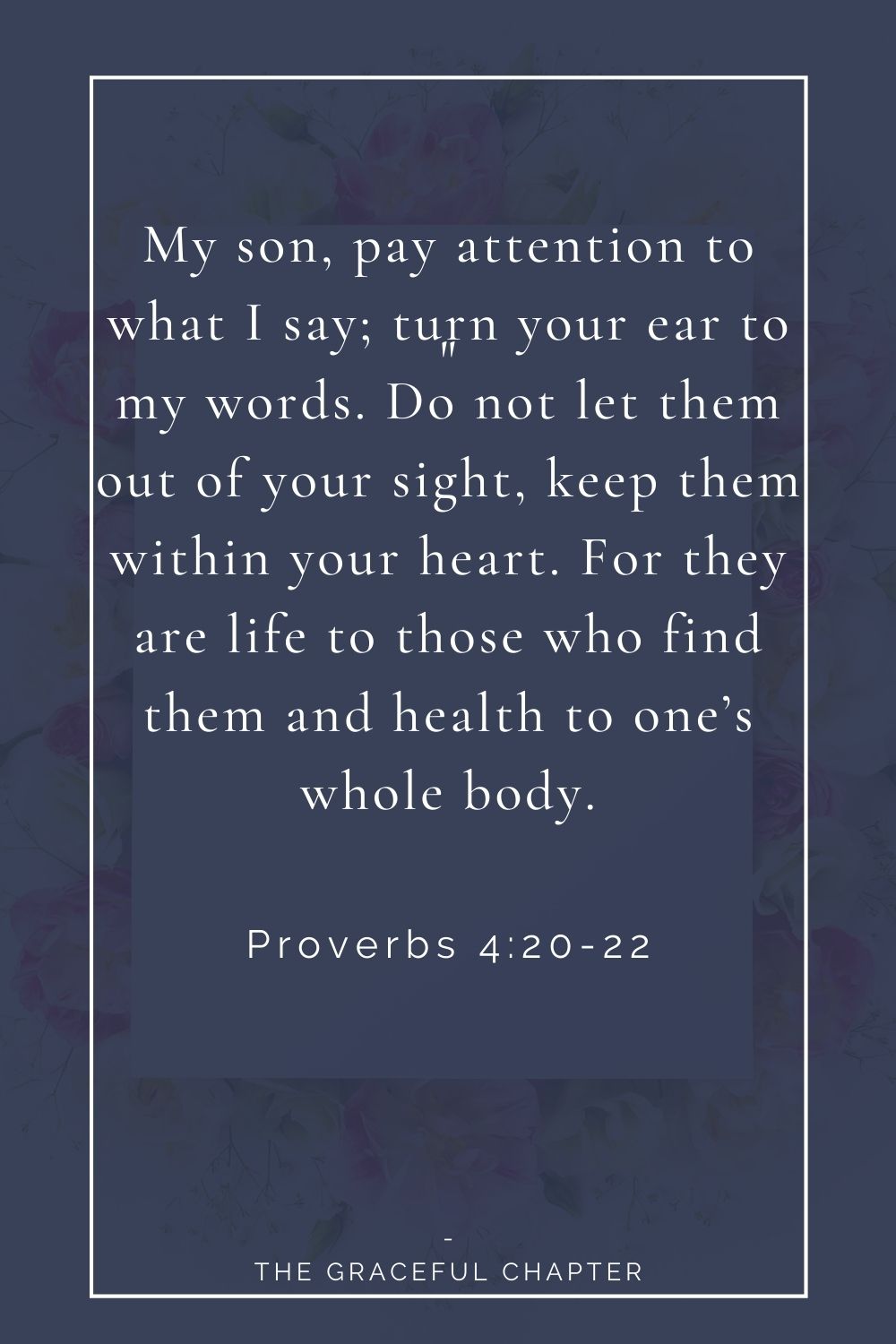 Proverbs 4:20-22
My son, pay attention to what I say; turn your ear to my words. Do not let them out of your sight, keep them within your heart. For they are life to those who find them and health to one's whole body.

Psalm 138:7
Though I walk in the midst of trouble, you preserve my life. You stretch out your hand against the anger of my foes. With your right hand, you save me.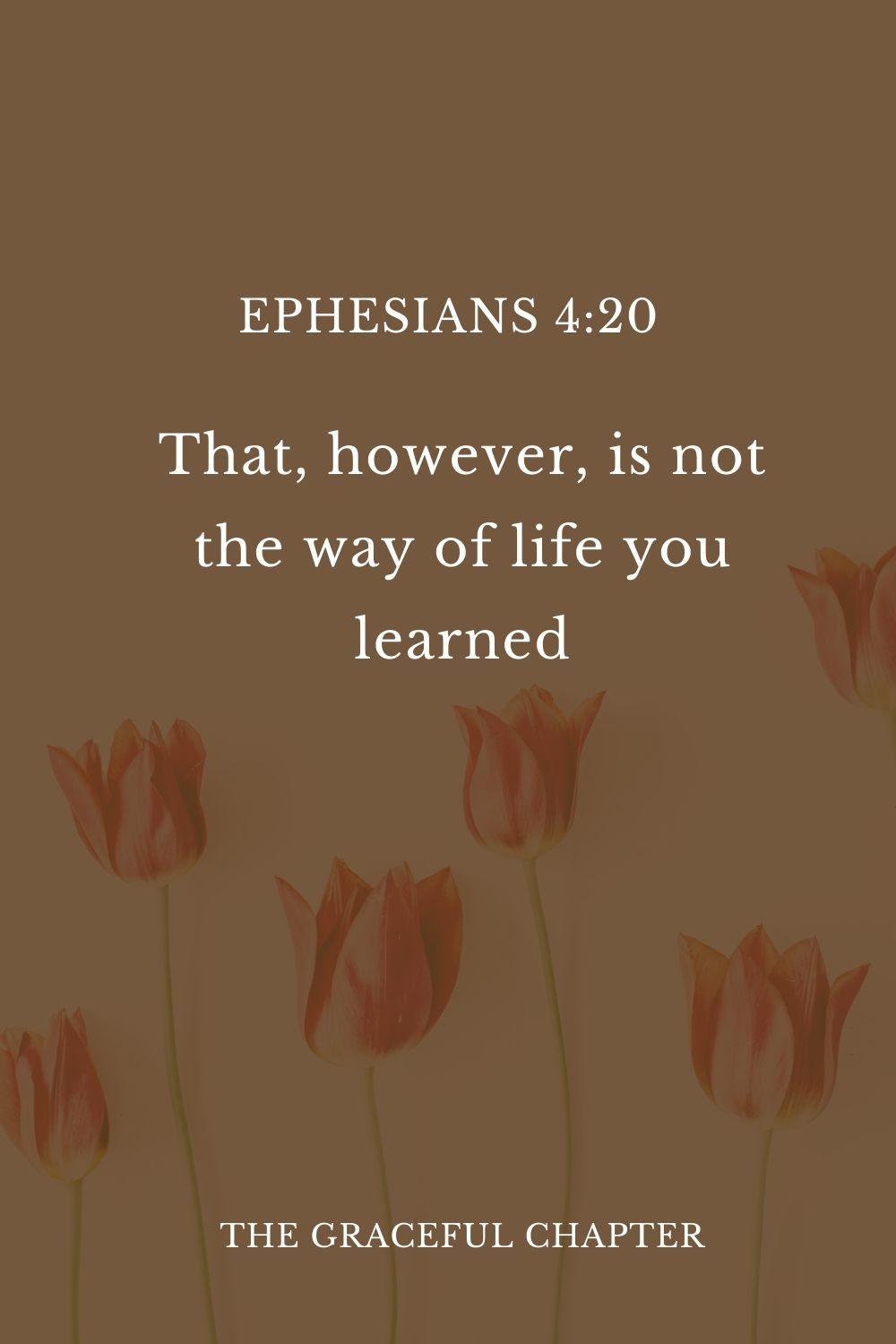 Ephesians 4:20
That, however, is not the way of life you learned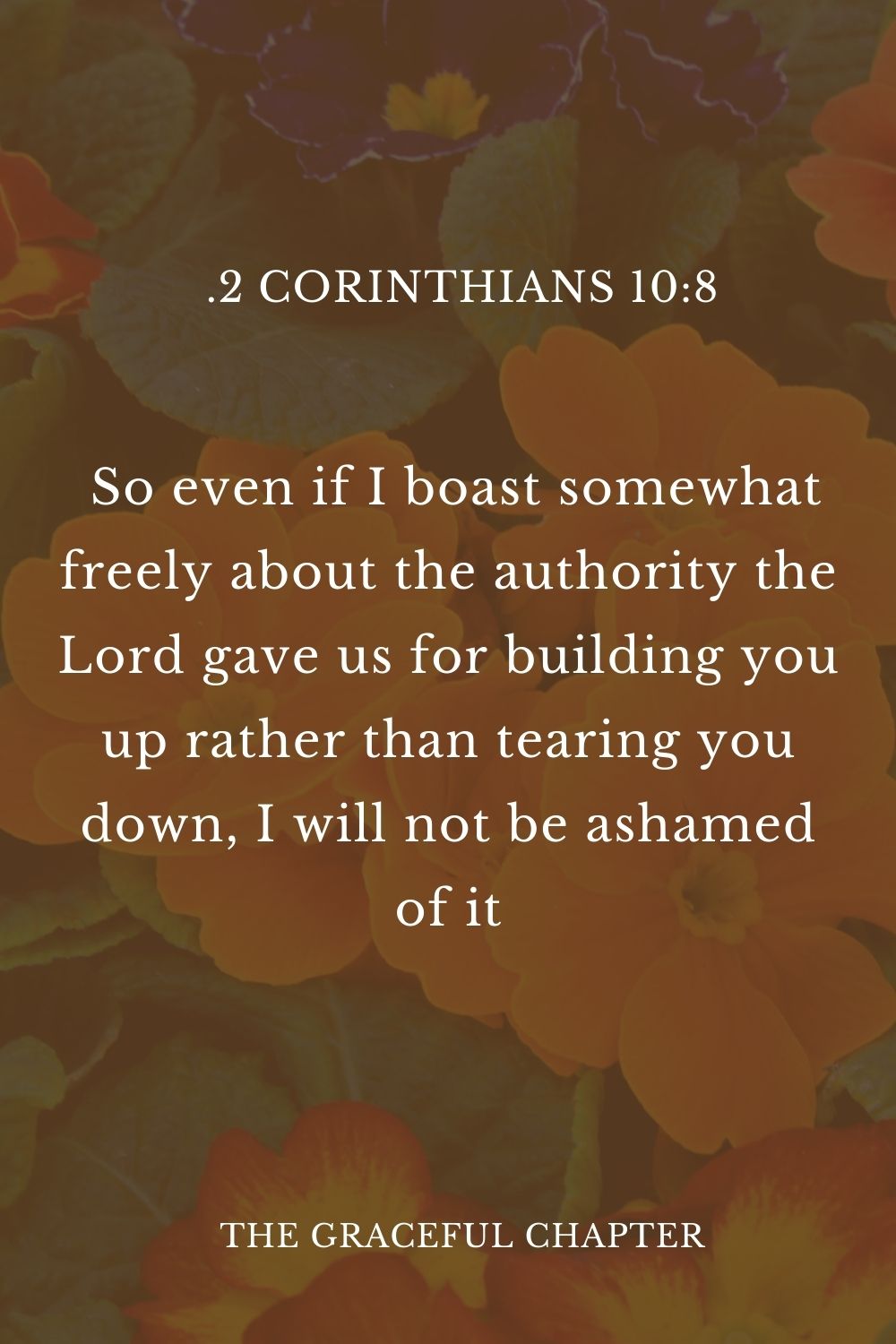 2 Corinthians 10:8
So even if I boast somewhat freely about the authority the Lord gave us for building you up rather than tearing you down, I will not be ashamed of it.

Prayer for abundant blessings
Gracious Lord,
I come before you today to glorify your name and exalt you for all that you do for me
I pray for divine favor and grace upon my life
I pray for blessings over my life and all that I do
I place my trust in you Lord
Shine your face on me and show me your love
Let everything I do be a blessing
Let your favor follow me wherever I go
Let me see abundance in my life
Open doors of opportunities for me and give me wisdom on how to go through them.
You are my Lord, it is in you that I put all my trust
Help me to continue leaning on you all my life
In Jesus name I pray,
Amen