Verse – Matthew 21:12-13
Then Jesus went into the temple of God and drove out all those who bought and sold in the temple and overturned the tables of the money changers and the seats of those who sold doves. And He said to them, "It is written, 'My house shall be called a house of prayer,' but you have made it a 'den of thieves.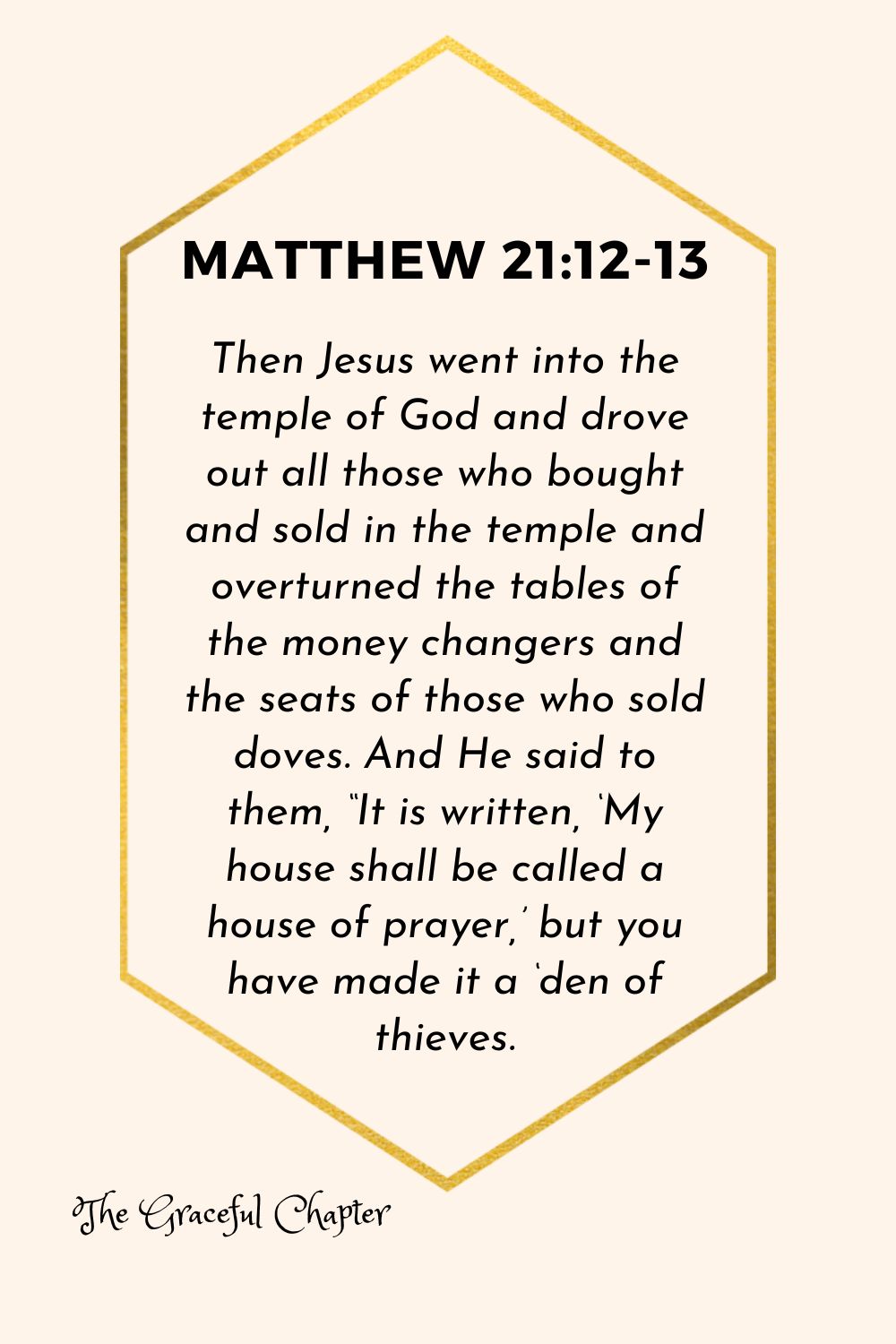 Reflection – Matthew 21:12-13 – Preserve Your Temple
God's temple built by Solomon was his holy abode. It stood for God's power and his might and a place of reverence. It hurt Jesus deeply to see it being cheapened into a place of marketing where thieves and sinners flanked daily.
Today God's temple is your body. How do you treat it? Do you use it to glorify and give reverence to Him? God's holy temple must not be defiled with sin and unrighteousness. It must be preserved and used as a holy place of worship.
Use your body to draw others close to the Lord. Let it represent a holy attraction for his goodness, love, and mercy. Do not exchange your body for evil and unholy things. Your body was specially made in his image and it represents his presence here on earth. Let your temple be a source of miracles and admonishing for others who need it.
Remove all impurities and evil from your temple. Burn down all cobwebs of the past. Cleanse it of all sinfulness and ungodliness. Make it a sacred place for the Lord to dwell. That was what Christ tried to remind them of.
Do not reduce his temple to unrighteous behavior. Stand guard at the gate of the temple and make sure nothing impure makes its way in. Preserve God's temple with all your strength and might and he will dwell in that holy place always.
Declaration
I will keep my temple pure for you.
Related Posts
Prayer
Dear Lord,
Thank you for creating me
I know that I am wonderfully made
Help me live always to please you
Help me resist all impurities
Let me not be conformed to this world
Purify my place of worship every day with your spirit
Help me stay strong through all tests and tribulations
And let my temple be acceptable unto you.
Amen