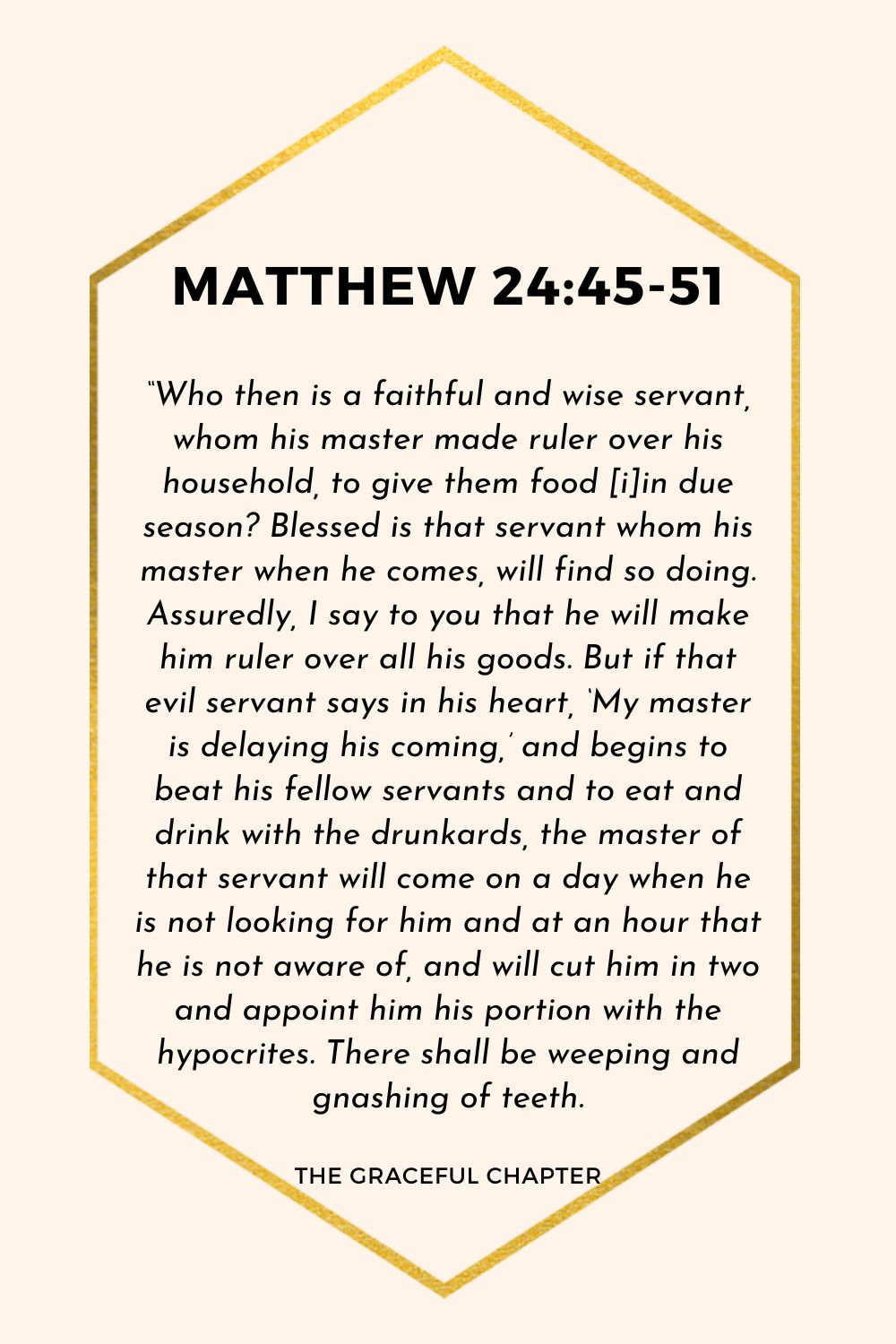 Verse – Matthew 24:45-51
"Who then is a faithful and wise servant, whom his master made ruler over his household, to give them food in due season? Blessed is that servant whom his master when he comes, will find so doing. Assuredly, I say to you that he will make him ruler over all his goods.
But if that evil servant says in his heart, 'My master is delaying his coming,' and begins to beat his fellow servants and to eat and drink with the drunkards, the master of that servant will come on a day when he is not looking for him and at an hour that he is not aware of, and will cut him in two and appoint him his portion with the hypocrites. There shall be weeping and gnashing of teeth.
Reflection – Matthew 24:45-51 – Always Be Ready
Both servants here do not know when the master will come. Normally it is what you do when no one can see you that defines who you are.
People are normally composed and angelic when there are eyes on them. When they know the whole world is watching them they dress better, talk better, and react better to anything that is thrown at them. They do this because they want to retain the respect of the millions that may be watching them at that time.
The true character of a person comes out when they think no one is watching them. Because there is no apparent scrutiny on them, they allow themselves to be free and exhibit their true colors. This is the time the Lord pays attention though. The master will not tell the servants his return date because the wants to come and see what their true characters are.
If he were to tell them both, they would put things in order and pretend like everything is wonderful and he'd have nothing to worry about leaving precious things in their care. The kingdom of God only wants faithful servants.
As faithful servants, you must do the right thing all of the time and not only when you think someone is watching you. You must comport yourself always and be prepared for the coming of your master because you simply do not know when the time of his coming will be.
Do not be caught misbehaving like the unfaithful servant because the master will cast you out of his kingdom.
Related Posts
Declaration:
I will always be ready for the coming of my Lord.
Prayer
Dear Lord,
Thank you for giving me this call.
Thank you for showing me that you trust me.
Help me live always to please you.
Let me not neglect the duties you have given me.
Let me not be distracted by the ways of the world.
Let me always remember why you sent me.
Give me the strength to always do what is acceptable to you.
And let me be accepted into your kingdom when you come.
Amen