Verse – Daniel 12:2
Multitudes who sleep in the dust of the earth will awake: some to everlasting life, others to shame and everlasting contempt."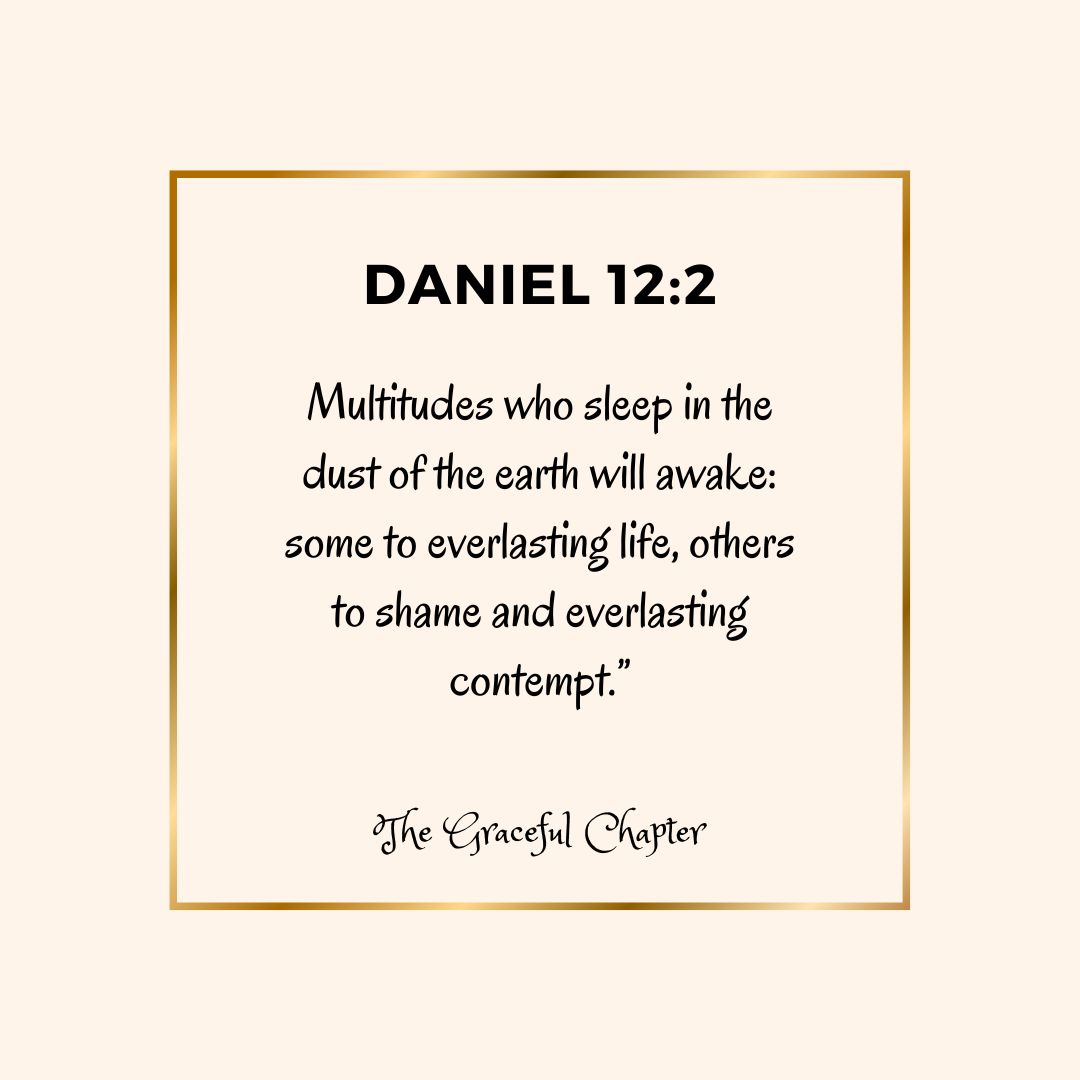 Reflection – Daniel 12:2 – Sleep Well
Daniel the prophet is warning his people of the end times and what to expect. He prophesies that those who sleep in the dust will awaken to two different fates. The fate that meets them will depend on how they fell asleep.
More often than not, where you fall asleep at night will determine where you wake up by morning. If you fall asleep in a fancy hotel, with a very comfortable bed, and a luxurious room, you will most likely wake up to a wonderful breakfast and expensive spa treatments.
But if you are drunk and reckless with no house at night and you fall asleep without knowing where you are, you may wake up in the morning missing some of your belongings, body parts, or worse.
This is why you must be where you belong before you fall asleep to avoid the risks of waking up in an unknown place like a prison or an unfamiliar environment. You may find yourself in distress and regretting the choices you made the night before. It will be too late then for you to change what you did because the consequences will already be upon you.
The sleep prophet Daniel is referring to is permanent sleep. Death is not something we can plan for because it normally comes when we do not expect it. Death is different from sleep because, in the morning after death, your fate is already one of two. Heaven or hell.
Daniel warns that we die knowing that in the morning we shall be with the Lord. Fortunately, you can choose how you live your life before death so that when you wake from it, you will be in the right place.
All Christians and people in the world will meet their deaths at a preordained time. You can be certain you will wake up with the right fate by accepting Christ as your Lord and Savior, believing in your heart that he is your only hope of being with God, and proclaiming with your mouth for others to come to the same realization, therefore, saving their souls.
Declaration
I will die knowing that my place in the Lord's house is a certainty in the morning.
Related Posts
Prayer
Dear Lord,
Thank you for teaching me your word today
Help me live well so I can sleep well
Let my name be in your books of life
Help me proclaim your name to others
Let my faith never wane
Let me put my trust in you
Help me to not live recklessly
and let me wake up in your bosom after my sleep in the dust
Amen