Consider the ravens: for they neither sow nor reap; which neither have storehouse nor barn; and God feedeth them: how much more are ye better than the fowls?

Luke 12:24
We choose Jesus's example here to speak about pets in general. He was trying to make the point to his disciples about God's love for them and his willingness to always take care of them. The birds of the skies aren't fed or clothed by anybody however they are able to fend for themselves and survive the harsh conditions of this life.
Owning a pet is a way of taking responsibility for the life of God's wonderfully made creature. In other words, you decide to become the caregiver, and provider for this little creature. You become the representative of God on earth for this pet the moment you bring them into your life.
Having a pet is like having a child. The way you care for a pet should be similar to how you would care for your own child. It is your way of showing God that you can take very good care of his creation. When you do this, he also blesses and keeps you.
In Psalm 23, David refers to the Lord as his shepherd and outlines all the things the Lord does for him. A good shepherd does not let evil befall his sheep. He protects his sheep from all evil even if it means losing his own life. A good shepherd will leave ninety-nine sheep behind to find one missing sheep. These are the qualities of a good shepherd.
Be a good shepherd to your pet just as you want the Lord to be a good shepherd to you. Care for them when they are sick, feed them when they are hungry, shield them from the cold, and keep them away from being devoured by predators.
8 Prayers for pets
Prayer for a sick pet
Father Lord in Heaven,
Thank you for the life of my pet
It has not been well lately
It has not been its normal self
The doctors have tried to cure it but to no avail
I commit it to your hands
Make it whole again
Let it reclaim its strength in your name
Give it all it needs to be well again
and let us rejoice in your miracles one more
Amen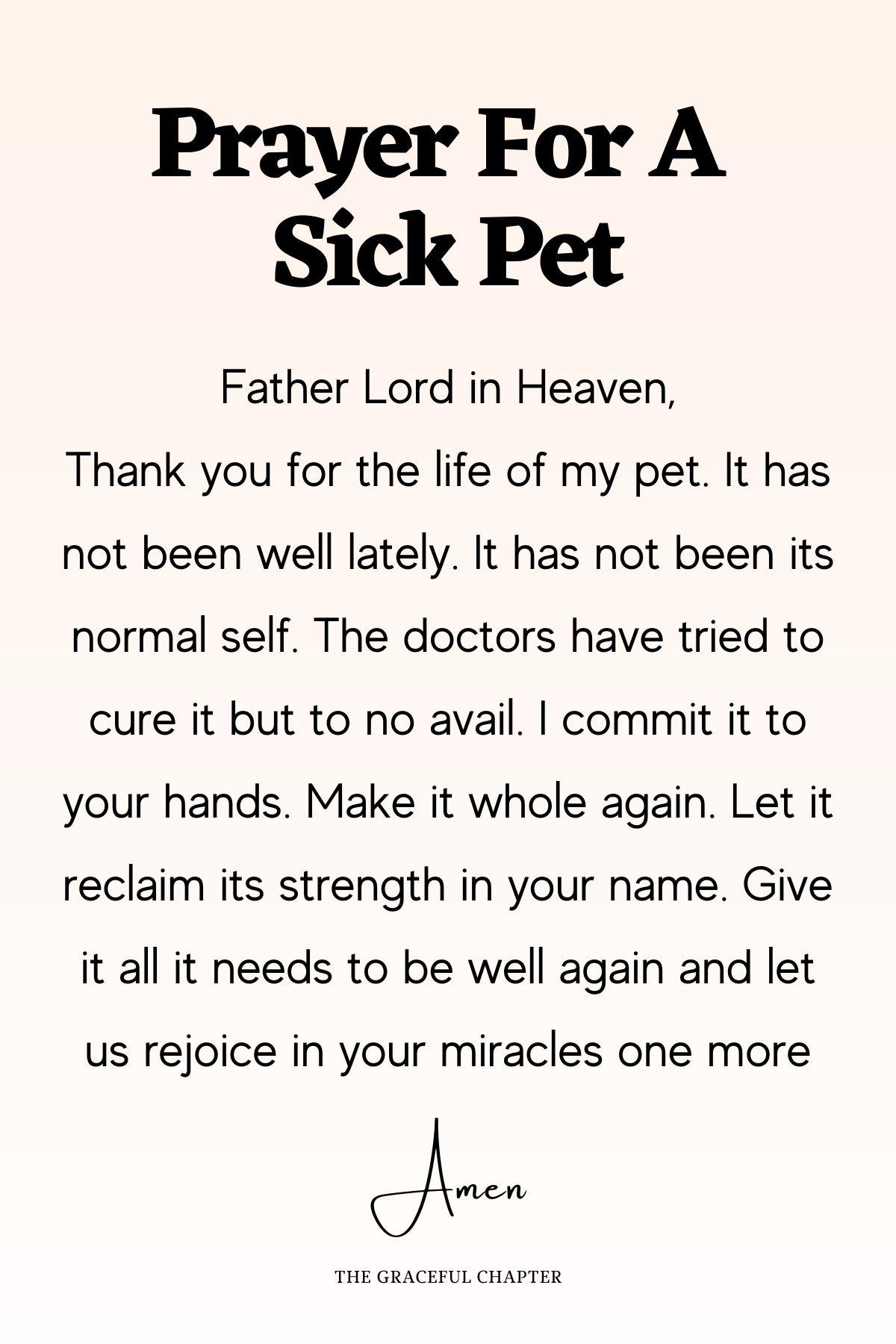 Prayer for adopting a pet
Dear Lord in Heaven,
Thank you for our family
Thank you for all you do for us
We are going to adopt a pet to add to our family
We pray that you help us choose the right one
Guide us in making the right choice
Let us not follow our own desires but let us hear your voice
Give us a pet that will add value to this home
A pet that will bring happiness to us all
Let this decision be one that we will remember for the right reasons
in Jesus' name, we pray
Amen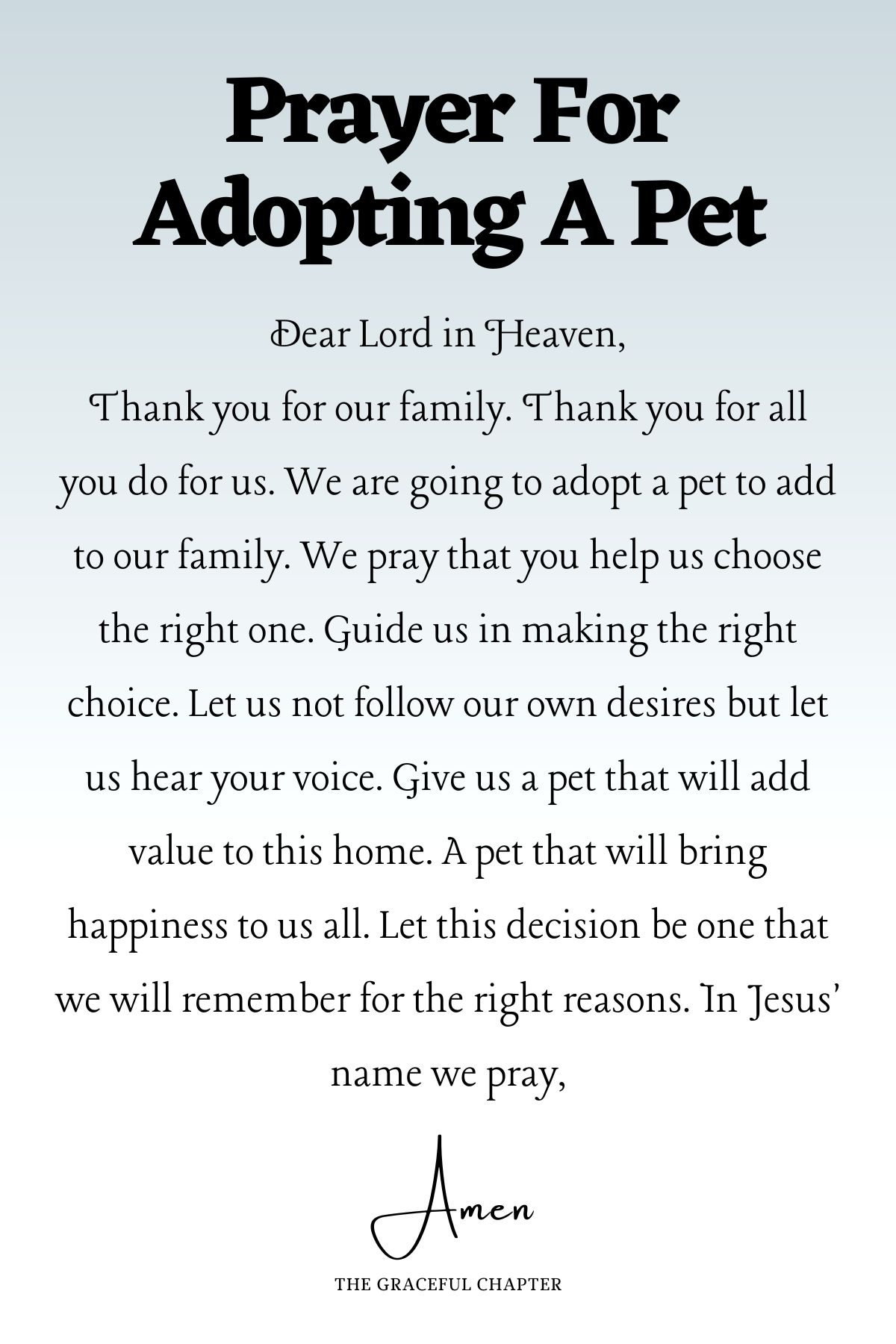 Prayer against possessed pet
Dear Lord,
We come against any demonic possession in our pet
We destroy all evil plans of the devil concerning this family
We remove this pet from all evil mechanisms of the devil
Sanctify our home, dear Lord
Cleanse this pet of all evil
Let the evil that people plan for us fall on their own heads
Touch this pet with your divine hands
Fetch it from the depths of hell
Release it from the shackles of the evil one
let the curses meant for us turn into blessings
and let us sing of your goodness in our lives from now onward
Amen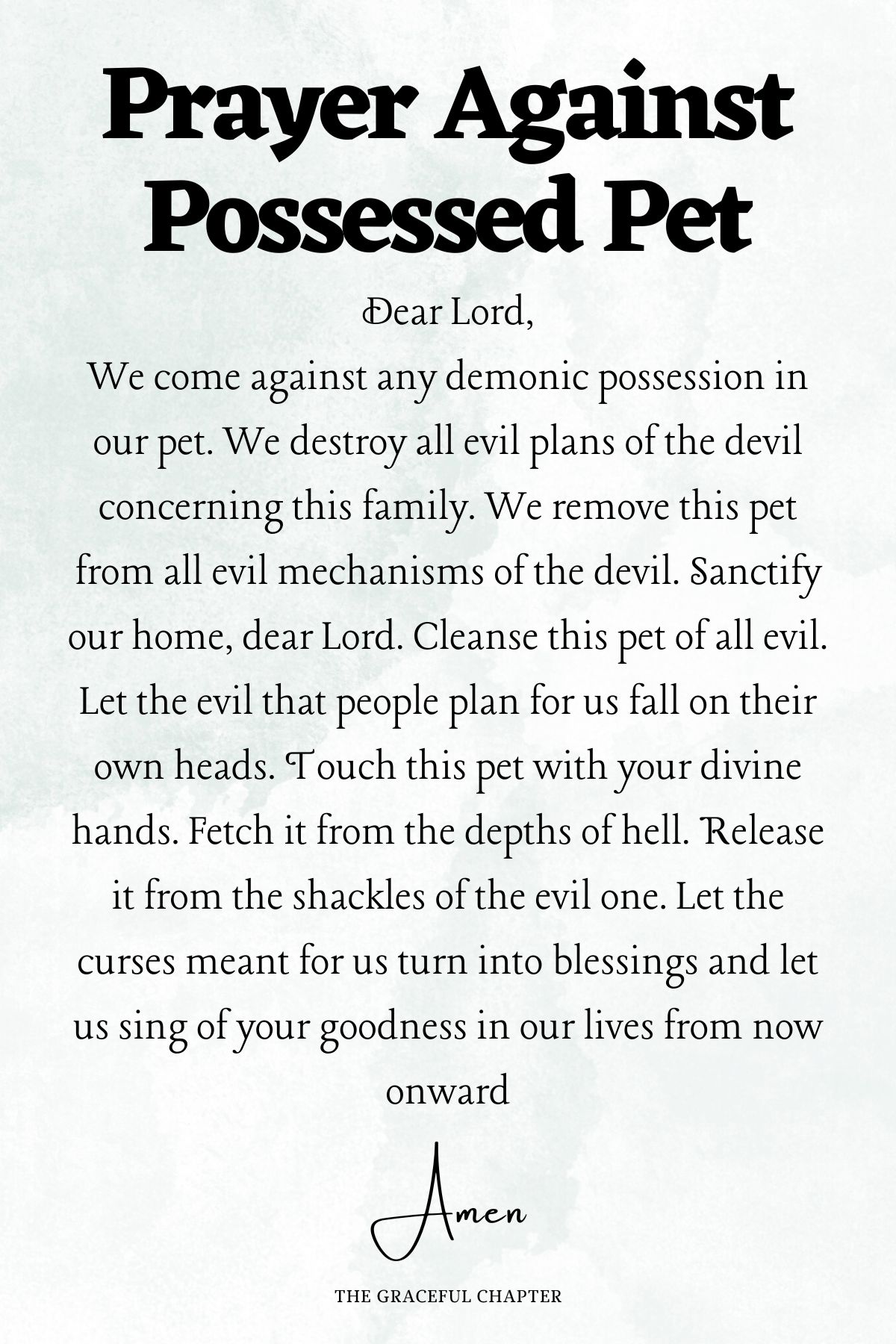 Prayer for a wounded pet
Dear Lord in Heaven
Please help my wounded pet
Heal it from its wounds
I prevent any infections in Jesus' name
I pray that you restore its strength
Let the doctors and medications all work to perfection
Fill it with the strength to resist the pain
Strengthen its spirit to be able to get through this
Bless it with fortitude and determination
Let the days ahead be days of healing
and bring back the joy it once felt
Amen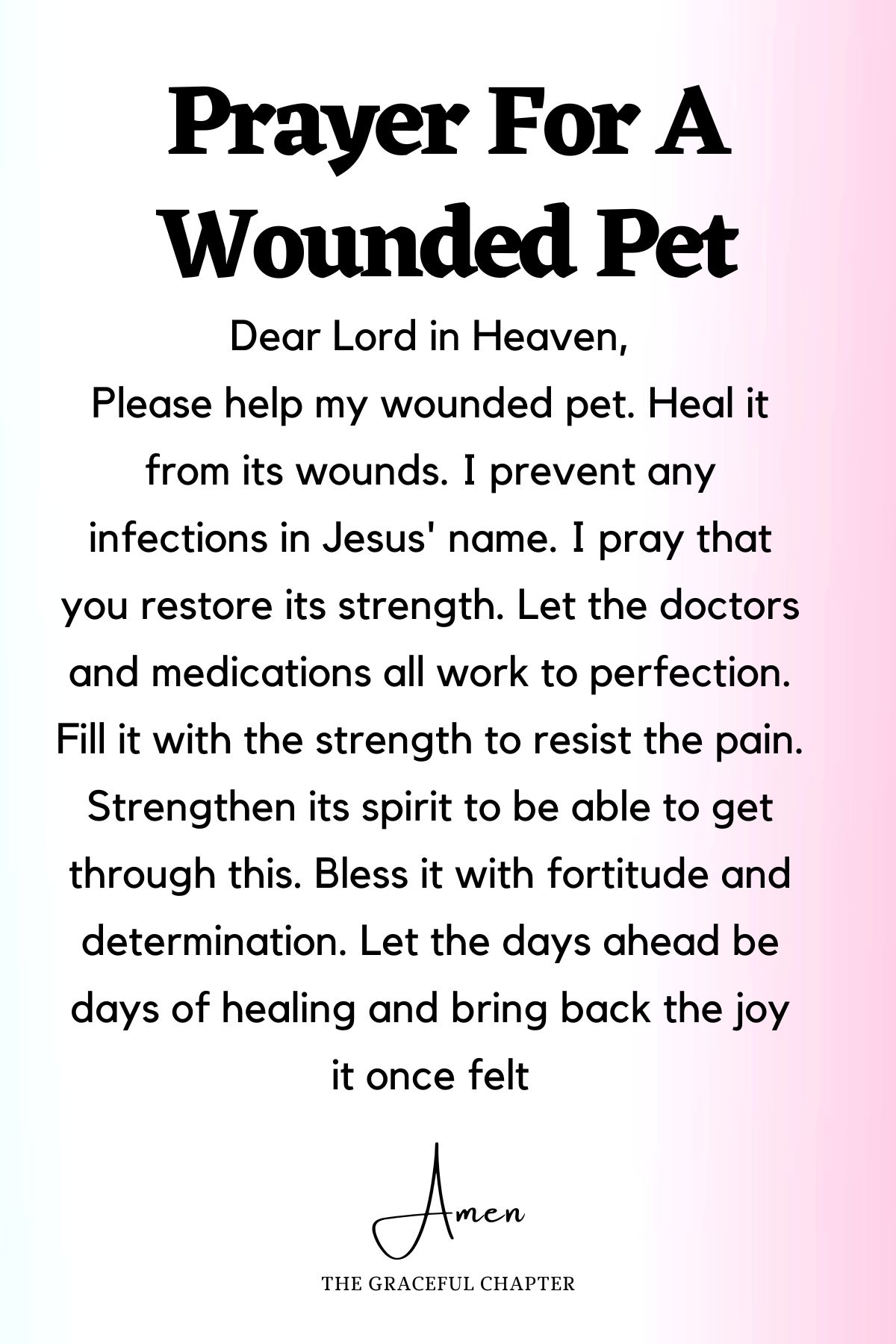 Prayer for a traumatized pet
Father Lord in Heaven,
I pray for my traumatized pet
I pray that you fill it with bravery to overcome whatever it has been through
restore the calm and gentle spirit it had
Give it the courage to move on
Do not let this experience break its spirit
Let it stand strong in the midst of this confusing period
Let me be able to reach out to it
Help me connect with it so it gets through this
Let our family be happy once again
Help us forget this period and move on from this with strength and the fullness of life
Amen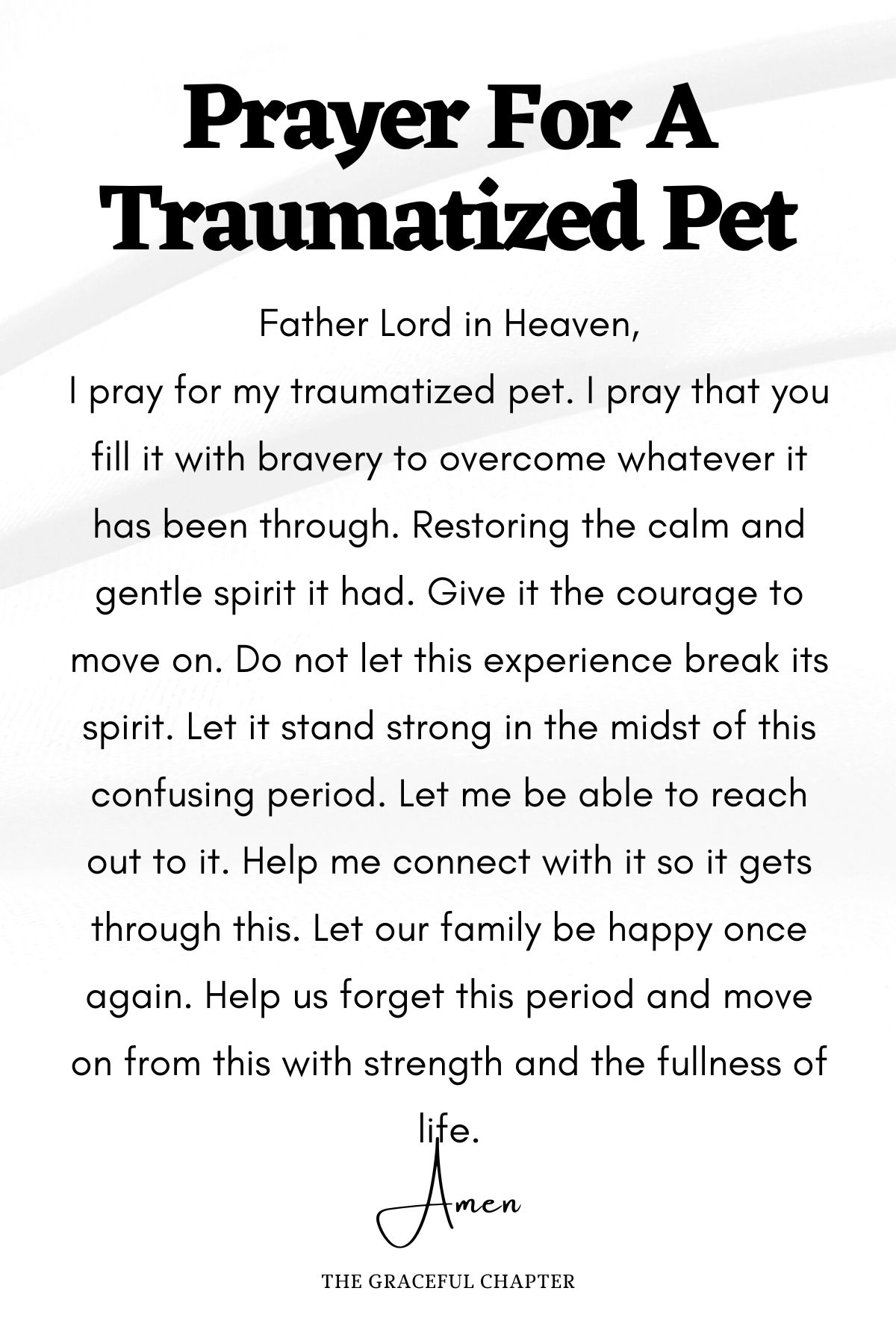 Related Posts
Prayer for a dying pet
Heavenly Father,
I pray that you restore the strength of my dying pet
I have made peace with this situation for a while now
I know that this is what is best for it
it doesn't make it any easier though
I ask that you find a better place for it
Let its transition be a peaceful and calming one
Console us and make us strong
Thank you for the time we got to spend with it
Thank you for all the help we got from it
Let the memories we shared forever be in our hearts
and comfort our spirits through these difficult times
Amen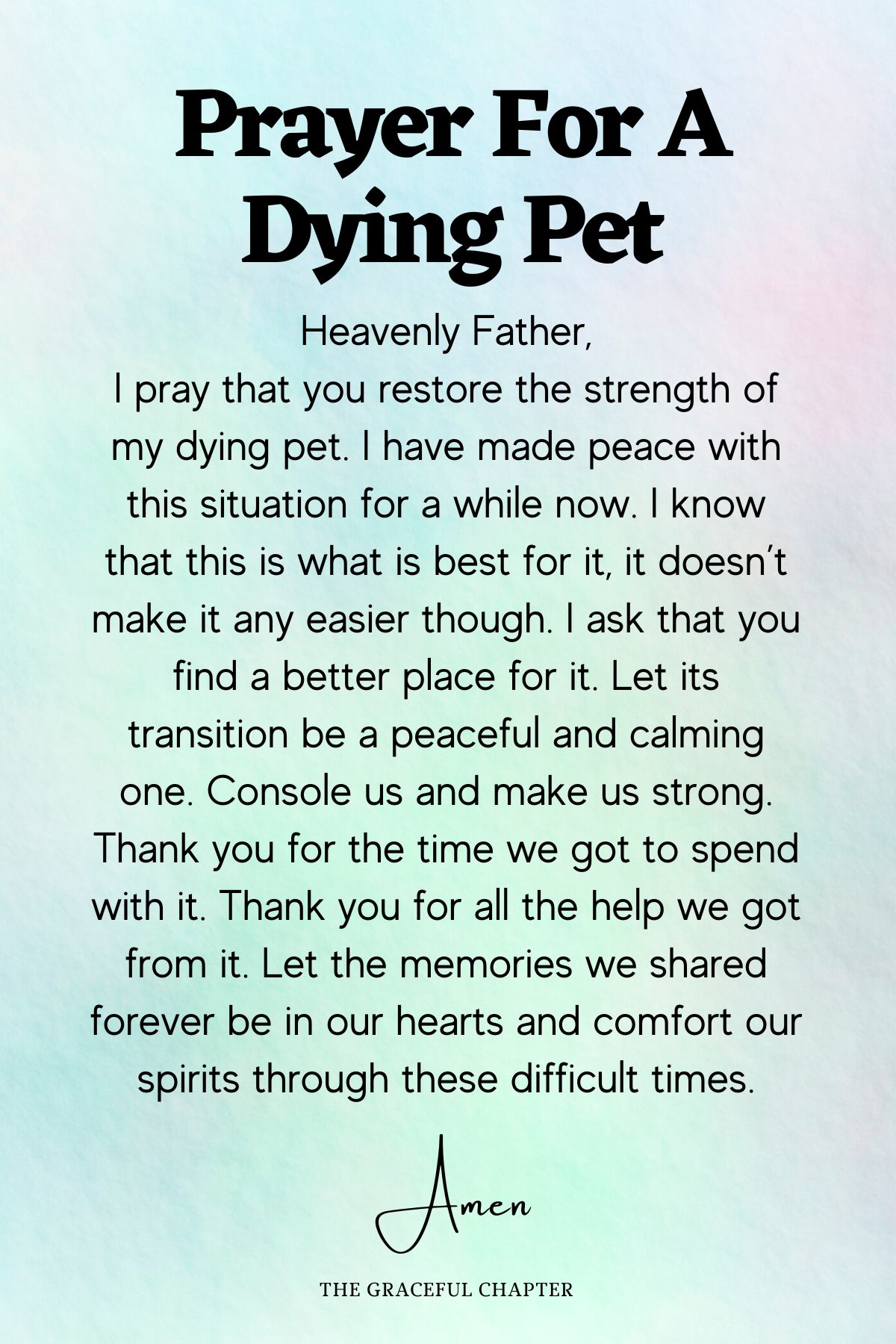 Prayer for a lost pet
Dear Lord in Heaven,
Please keep my pet safe
It has been a while since I saw it
I have searched everywhere
I have hanged posters everywhere
I ask that you bring it home safe
Help me find it
Protect it from all evil
Save it from destruction
Help it find its way home to me
Do not let it fall into the wrong hands
Please protect it from death and disease
and let me hold it in my arms once again
Amen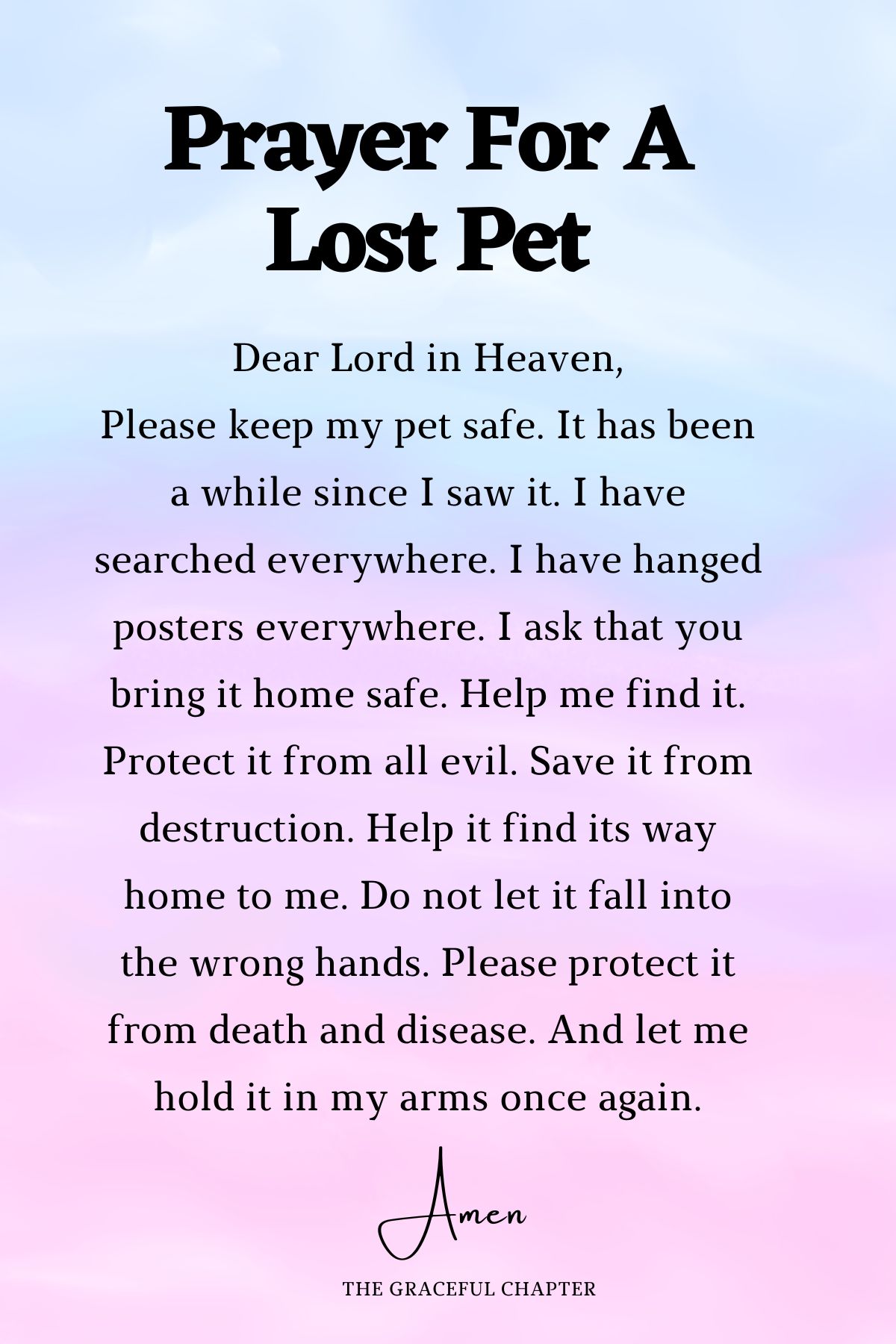 Prayer for a disabled pet
Father Lord in Heaven,
I pray that you carry my pet on your wings of love
Its life has changed dramatically since the accident
I pray that you give it a strong will to live
Help it overcome this emotional and physical turmoil
Grant it hopes of a better life after this
Let it find happiness in you
Give us the strength to love it and fill it with hope
Bless it with grace abundantly
And let it rejoice in the life that it has
Amen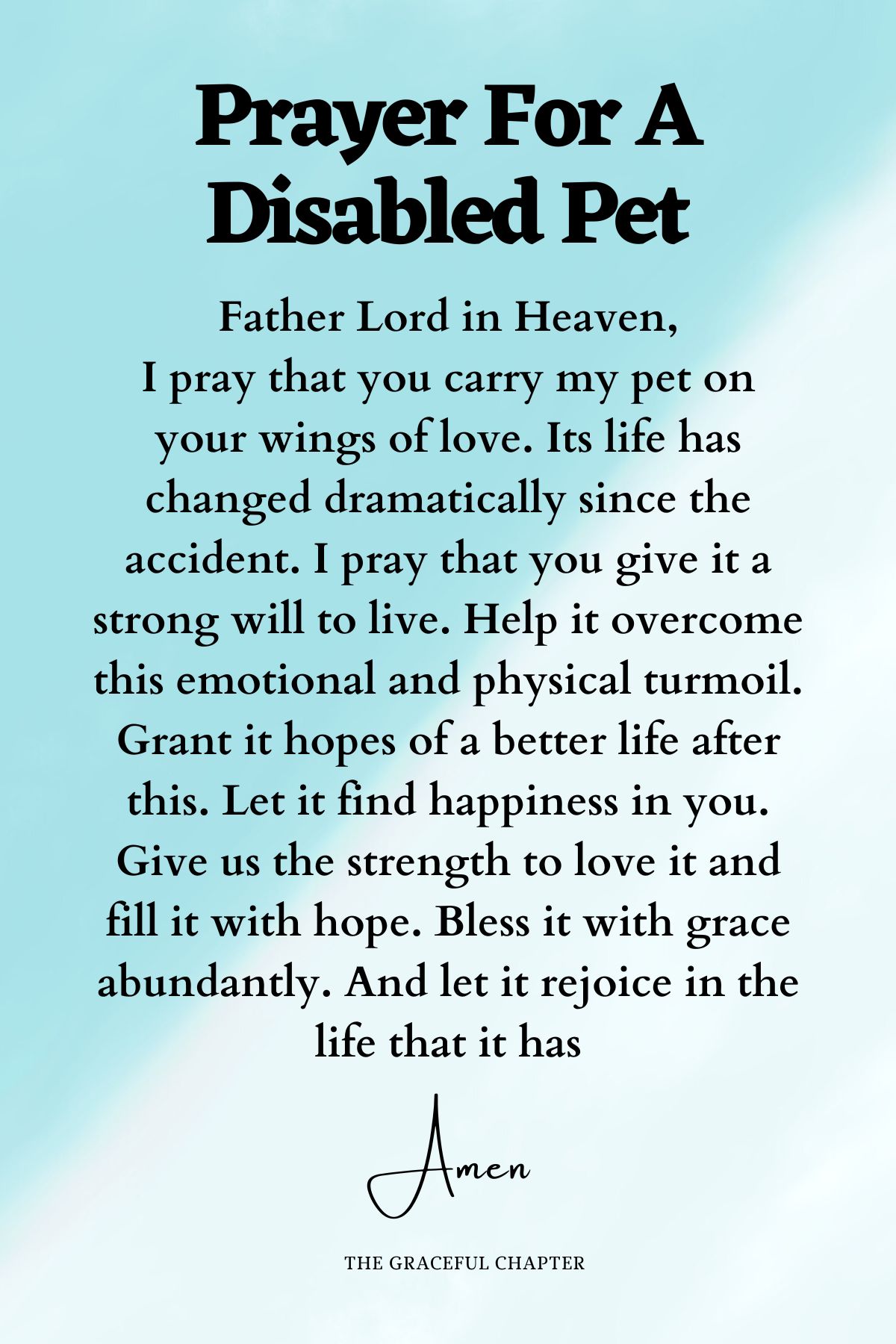 Pets are God's way of giving us dominion and responsibility over his wonderful creation. You must accept this responsibility and protect them from all evil. Care for them like the treasure that they are. Do not take them for granted or abuse them. Give them a good home and receive blessings from God. Pray for them when needed and do not treat them as unwanted. They are very spiritual and strong. They can enrich your life in ways you could not even imagine.
A righteous man regardeth the life of his beast: but the tender mercies of the wicked are cruel.

Proverbs 12:10