One reason why we all work hard is so that we can succeed. When everyone puts in the hard work, working all day, giving it their all, it is because they are looking forward to the day when their hard work will finally pay off and they can have what they've been working towards.
It is just like sowing. You sow seeds, water them, weed, get rid of pests, do all you have to do as you wait for the time to reap what you have sown. Harvest time is a time that makes everyone glad.
No matter what you sow, whether you literally sow seeds in soil or you work so hard towards something, you look forward to harvesting time and when it finally arrives, you can't help but celebrate. Read on to find some bible verses about harvest time.
Bible verses about harvest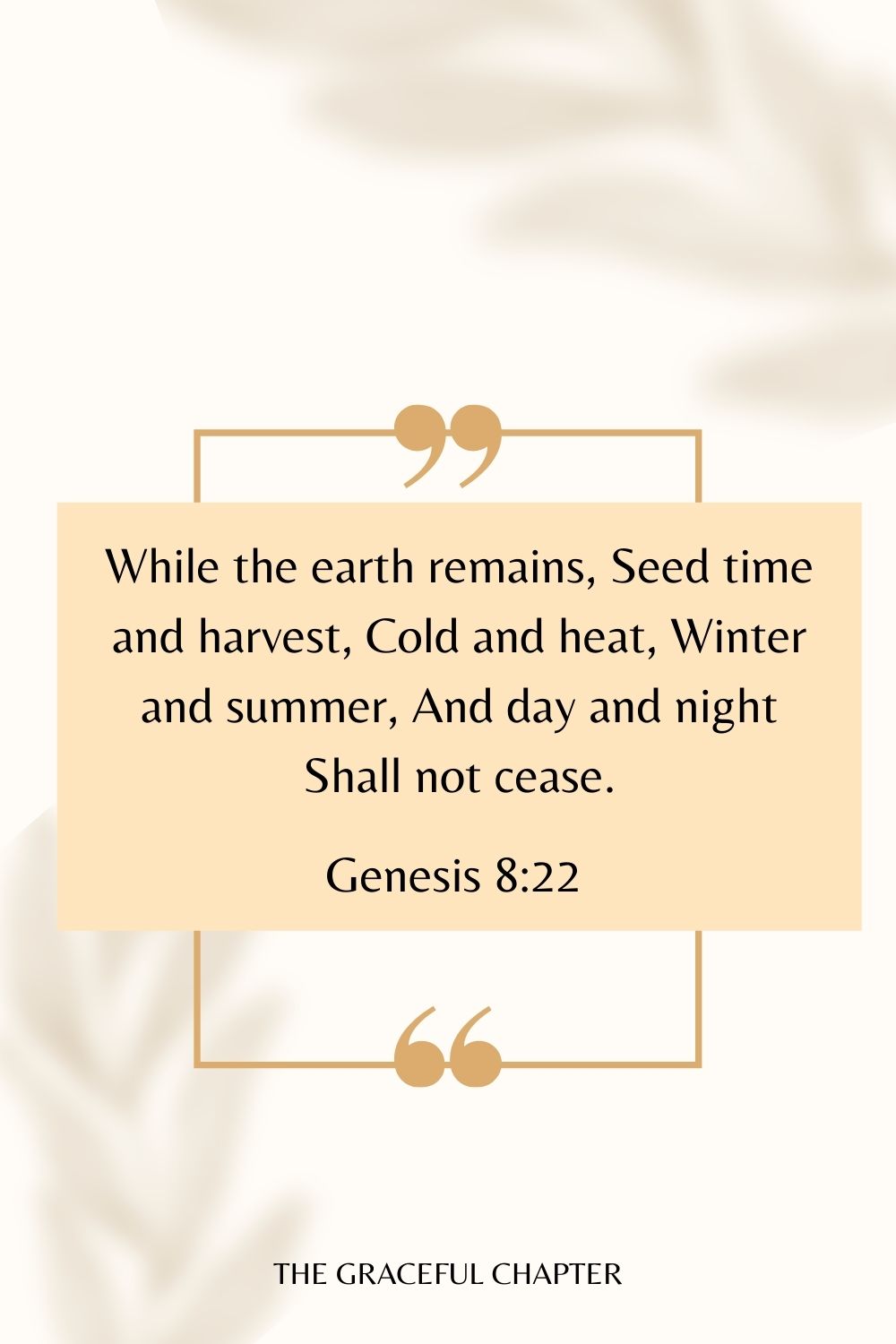 While the earth remains, Seed time and harvest,
Cold and heat, Winter and summer, And day and night
Shall not cease.
Genesis 8:22
For these two years the famine has been in the land, and there are still five years in which there will be neither plowing nor harvesting.
Genesis 45:6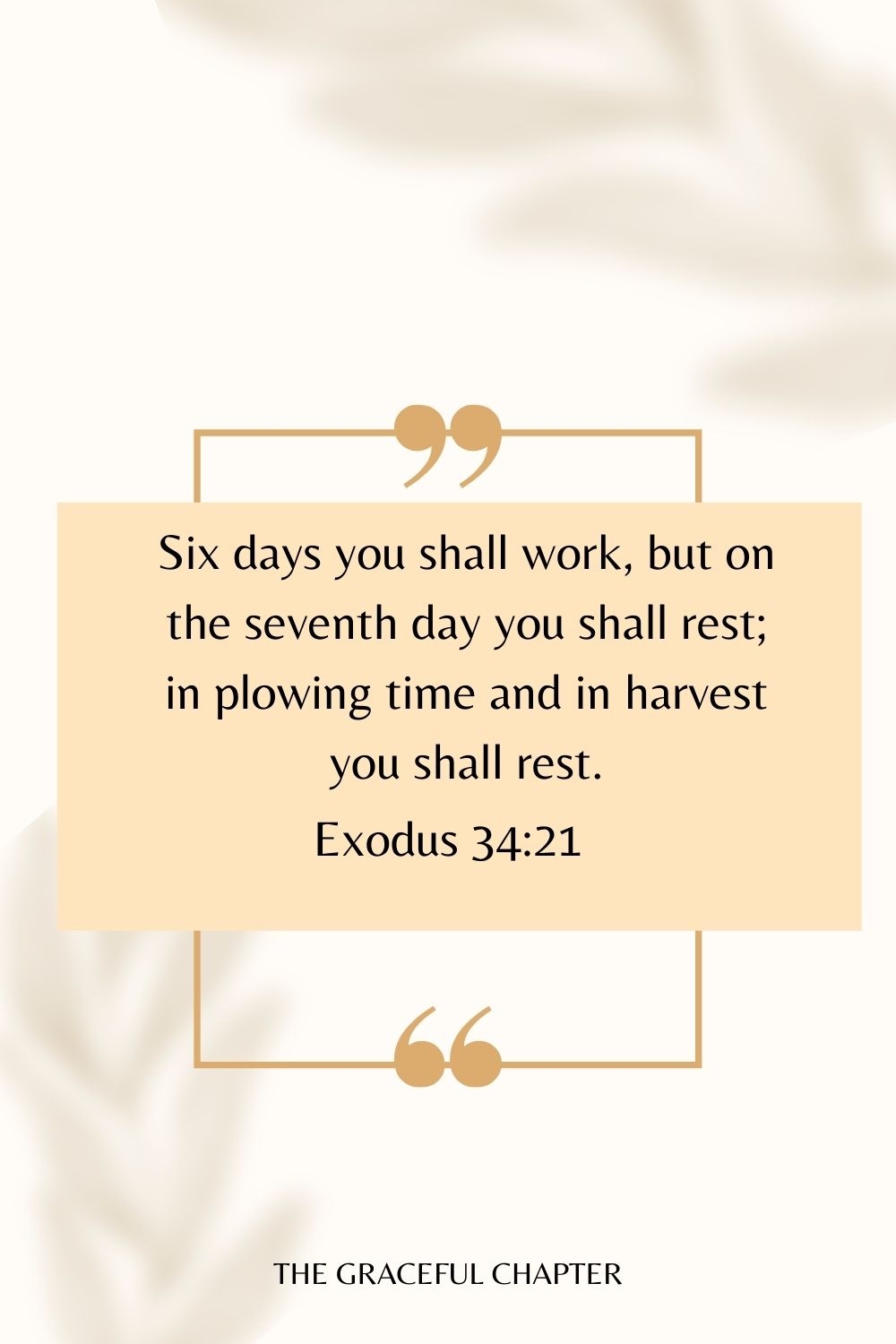 Six days you shall work, but on the seventh day you shall rest; in plowing time and in harvest you shall rest.
Exodus 34:21
Now Reuben went in the days of wheat harvest and found mandrakes in the field, and brought them to his mother Leah. Then Rachel said to Leah, "Please give me some of your son's mandrakes."
Genesis 30:14
And the Feast of Harvest, the first fruits of your labors which you have sown in the field; and the Feast of In gathering at the end of the year, when you have gathered in the fruit of your labors from the field.
Exodus 23:16
And you shall observe the Feast of Weeks, of the first fruits of wheat harvest, and the Feast of In gathering at the year's end.
Exodus 34:22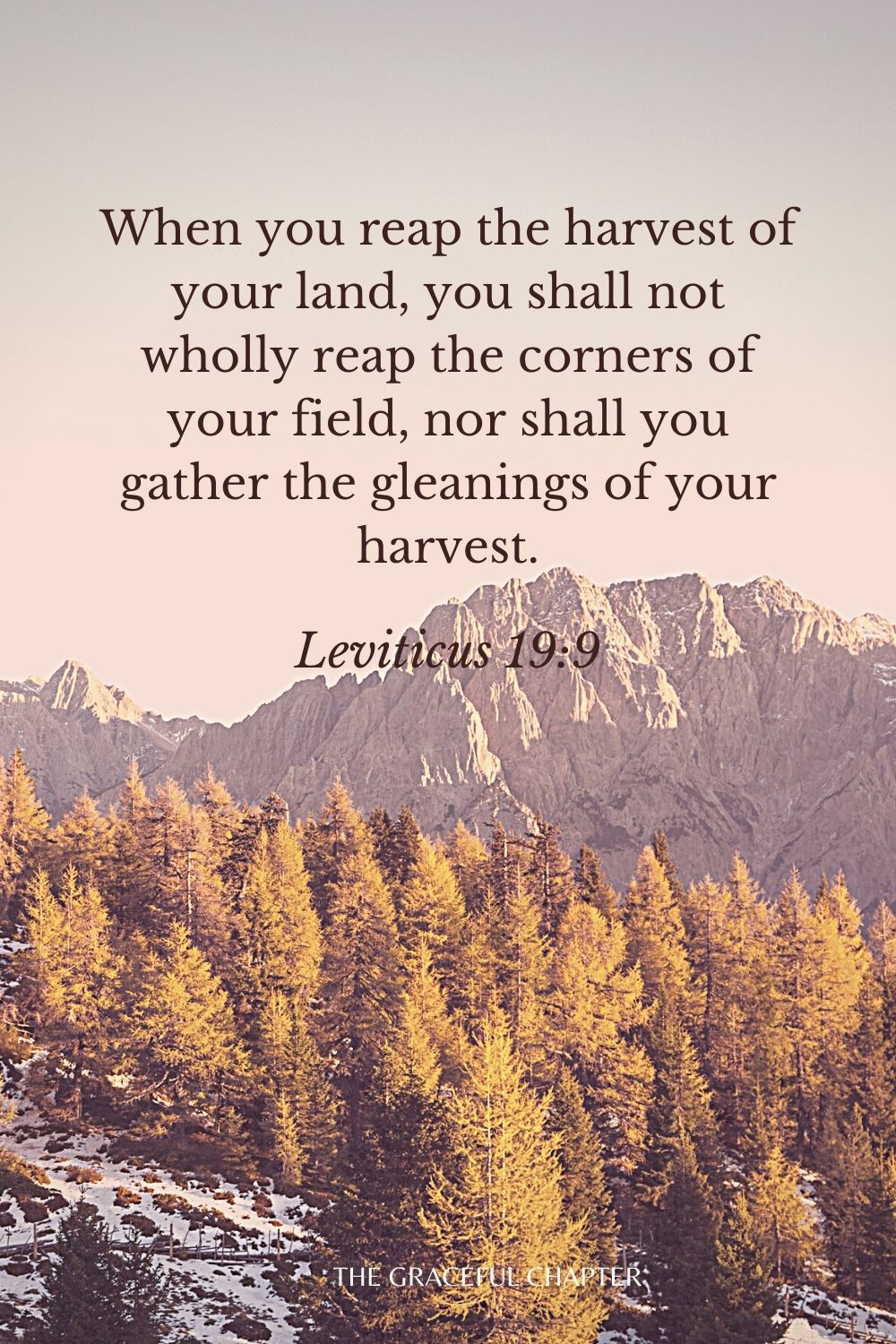 When you reap the harvest of your land, you shall not wholly reap the corners of your field, nor shall you gather the gleanings of your harvest.
Leviticus 19:9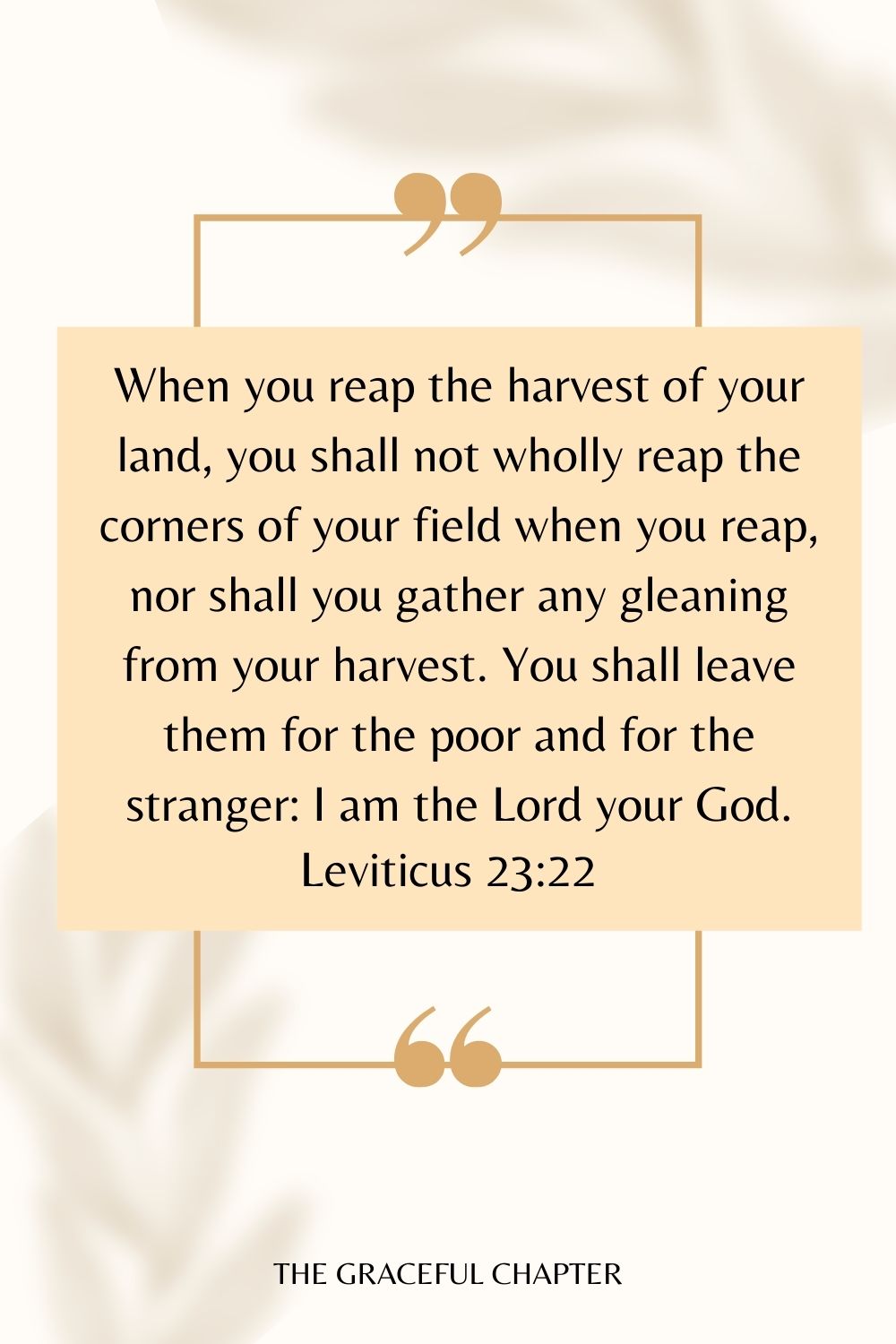 When you reap the harvest of your land, you shall not wholly reap the corners of your field when you reap, nor shall you gather any gleaning from your harvest. You shall leave them for the poor and for the stranger: I am the Lord your God.
Leviticus 23:22
Now may He who supplies seed to the sower, and bread for food, supply and multiply the seed you have sown and increase the fruits of your righteousness.
2 Corinthians 9:10
Then the earth shall yield her increase;
God, our own God, shall bless us.
Psalm 67:6

Speak to the children of Israel, and say to them: 'When you come into the land which I give to you, and reap its harvest, then you shall bring a sheaf of the first fruits of your harvest to the priest.
Leviticus 23:10
Then He said to His disciples, "The harvest truly is plentiful, but the laborers are few.
Matthew 9:37
Your threshing shall last till the time of vintage, and the vintage shall last till the time of sowing; you shall eat your bread to the full, and dwell in your land safely.
Leviticus 26:5
Yes, the Lord will give what is good;
And our land will yield its increase.
Psalm 85:12
Six years you shall sow your land and gather in its produce, but the seventh year you shall let it rest and lie fallow, that the poor of your people may eat; and what they leave, the beasts of the field may eat. In like manner, you shall do with your vineyard and your olive grove.
Exodus 23:10-11
And sow fields and plant vineyards,
That they may yield a fruitful harvest.
Psalm 107:37
They do not say in their heart, Let us now fear the Lord our God, Who gives rain, both the former and the latter, in its season. He reserves for us the appointed weeks of the harvest.
Jeremiah 5:24
The Lord has sworn by His right hand And by the arm of His strength: Surely I will no longer give your grain As food for your enemies; And the sons of the foreigner shall not drink your new wine, For which you have labored. But those who have gathered it shall eat it,
And praise the Lord; Those who have brought it together shall drink it in My holy courts.
Isaiah 62:8-9
In a year and some days You will be troubled, you complacent women; For the vintage will fail, The gathering will not come.
Isaiah 32:10
When you reap the harvest of your land, you shall not wholly reap the corners of your field, nor shall you gather the gleanings of your harvest.
Leviticus 19:9
You shall observe the Feast of Tabernacles seven days, when you have gathered from your threshing floor and from your wine press. And you shall rejoice in your feast, you and your son and your daughter, your male servant and your female servant and the Levite, the stranger and the fatherless and the widow, who are within your gates. Seven days you shall keep a sacred feast to the Lord your God in the place which the Lord chooses, because the Lord your God will bless you in all your produce and in all the work of your hands, so that you surely rejoice.
Deuteronomy 16:13-15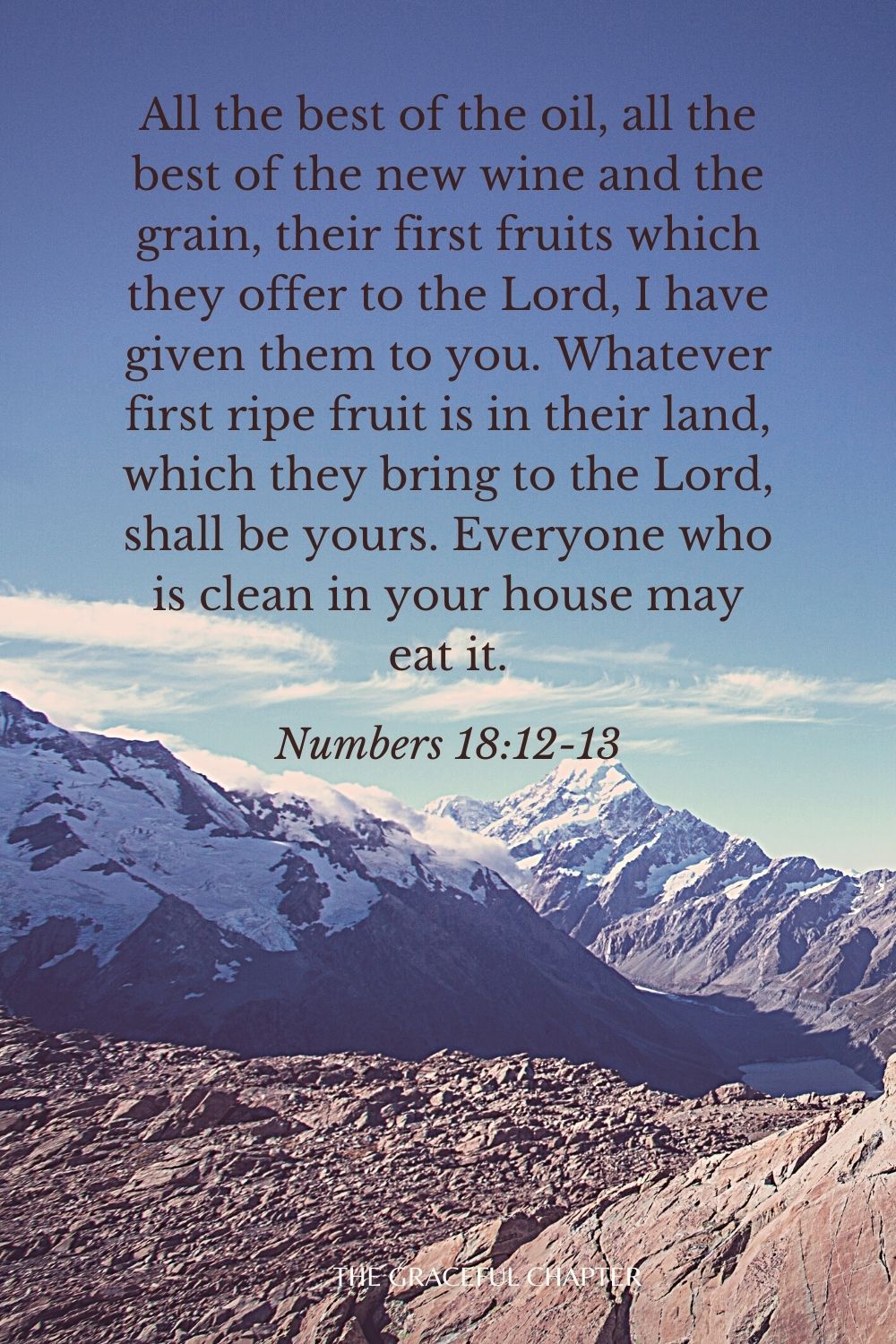 All the best of the oil, all the best of the new wine and the grain, their first fruits which they offer to the Lord, I have given them to you. Whatever first ripe fruit is in their land, which they bring to the Lord, shall be yours. Everyone who is clean in your house may eat it.
Numbers 18:12-13
And as those who bore the ark came to the Jordan, and the feet of the priests who bore the ark dipped in the edge of the water (for the Jordan overflows all its banks during the whole time of harvest).
Joshua 3:15
When you reap your harvest in your field, and forget a sheaf in the field, you shall not go back to get it; it shall be for the stranger, the fatherless, and the widow, that the Lord your God may bless you in all the work of your hands. When you beat your olive trees, you shall not go over the boughs again; it shall be for the stranger, the fatherless, and the widow.When you gather the grapes of your vineyard, you shall not glean it afterward; it shall be for the stranger, the fatherless, and the widow.
Deuteronomy 24:19-21
But in the seventh year there shall be a sabbath of solemn rest for the land, a sabbath to the Lord. You shall neither sow your field nor prune your vineyard. What grows of its own accord of your harvest you shall not reap, nor gather the grapes of your untended vine, for it is a year of rest for the land.
Leviticus 25:4-5
Because you have forgotten the God of your salvation, And have not been mindful of the Rock of your stronghold, Therefore you will plant pleasant plants
And set out foreign seedlings; In the day you will make your plant to grow, And in the morning you will make your seed to flourish; But the harvest will be a heap of ruins In the day of grief and desperate sorrow.
Isaiah 17:10-11
Related Posts
Now the people of Beth Shemesh were reaping their wheat harvest in the valley; and they lifted their eyes and saw the ark, and rejoiced to see it.
1 Samuel 6:13
You have multiplied the nation And increased its joy;
They rejoice before You According to the joy of harvest,
As men rejoice when they divide the spoil.
Isaiah 9:3
Is today not the wheat harvest? I will call to the Lord, and He will send thunder and rain, that you may perceive and see that your wickedness is great, which you have done in the sight of the Lord, in asking a king for yourselves.
1 Samuel 12:17
And they shall eat up your harvest and your bread, Which your sons and daughters should eat. They shall eat up your flocks and your herds; They shall eat up your vines and your fig trees; They shall destroy your fortified cities, In which you trust, with the sword.
Jeremiah 5:17
Those who sow in tears Shall reap in joy. He who continually goes forth weeping, Bearing seed for sowing,
Shall doubtless come again with rejoicing, Bringing his sheaves with him.
Psalm 126:5-6
He who gathers in summer is a wise son;
He who sleeps in harvest is a son who causes shame.
Proverbs 10:5
The lazy man will not plow because of winter; He will beg during harvest and have nothing.
Proverbs 20:4
Therefore I will bewail the vine of Sibmah, With the weeping of Jazer; I will drench you with my tears, O Heshbon and Elealeh; For battle cries have fallen
Over your summer fruits and your harvest.
Isaiah 16:9
Where no oxen are, the trough is clean; But much increase comes by the strength of an ox.
Proverbs 14:4
They have sown wheat but reaped thorns; They have put themselves to pain but do not profit. But be ashamed of your harvest Because of the fierce anger of the Lord.
Jeremiah 12:13
I also withheld rain from you, When there were still three months to the harvest. I made it rain on one city, I withheld rain from another city. One part was rained upon, And where it did not rain the part withered.
Amos 4:7
You have sown much, and bring in little; You eat, but do not have enough; You drink, but you are not filled with drink; You clothe yourselves, but no one is warm;
And he who earns wages, Earns wages to put into a bag with holes.
Haggai 1:6
Be ashamed, you farmers, Wail, you vine dressers,
For the wheat and the barley; Because the harvest of the field has perished.
Joel 1:11
You shall sow, but not reap; You shall tread the olives, but not anoint yourselves with oil; And make sweet wine, but not drink wine.
Micah 6:15