Seen how difficult it is to get things done in the dark? Light is one of God's gift to mankind that we should never take for granted. Imagine what the world would have been like if God had left it dark? Even now that we have day time with the sun and electricity to light up our homes and streets, see how many evil goes on when it's dark.
Light brightens our path and gives us a sense of confidence. When a place is dark, you get scared to go there and even when you are there, you can't do anything in the dark. All you feel in the dark is fear and anxiety. But it's not like that when there is light.
When there is light, you can gladly and confidently walk into a room and you are able to get things done because you can see. That is what knowing God and his word does for us.
Not knowing God and his word is like living in the dark – all you feel is lost and scared because you are in the dark. But once you come to know God and you get to know his word, you get in the light and that brings you a sense of peace and confidence to go through life.
Below, we'll take a look at some bible verses about light and its significance in our lives.
Bible verses about light
Matthew 5:14
You are the light of the world. A city that is set on a hill cannot be hidden
Proverbs 4:18
But the path of the just is like the shining sun,
That shines ever brighter unto the perfect day.
Luke 16:8
So the master commended the unjust steward because he had dealt shrewdly. For the sons of this world are more shrewd in their generation than the sons of light.
Genesis 1:3
Then God said, "Let there be light"; and there was light.
John 3:21
But he who does the truth comes to the light, that his deeds may be clearly seen, that they have been done in God."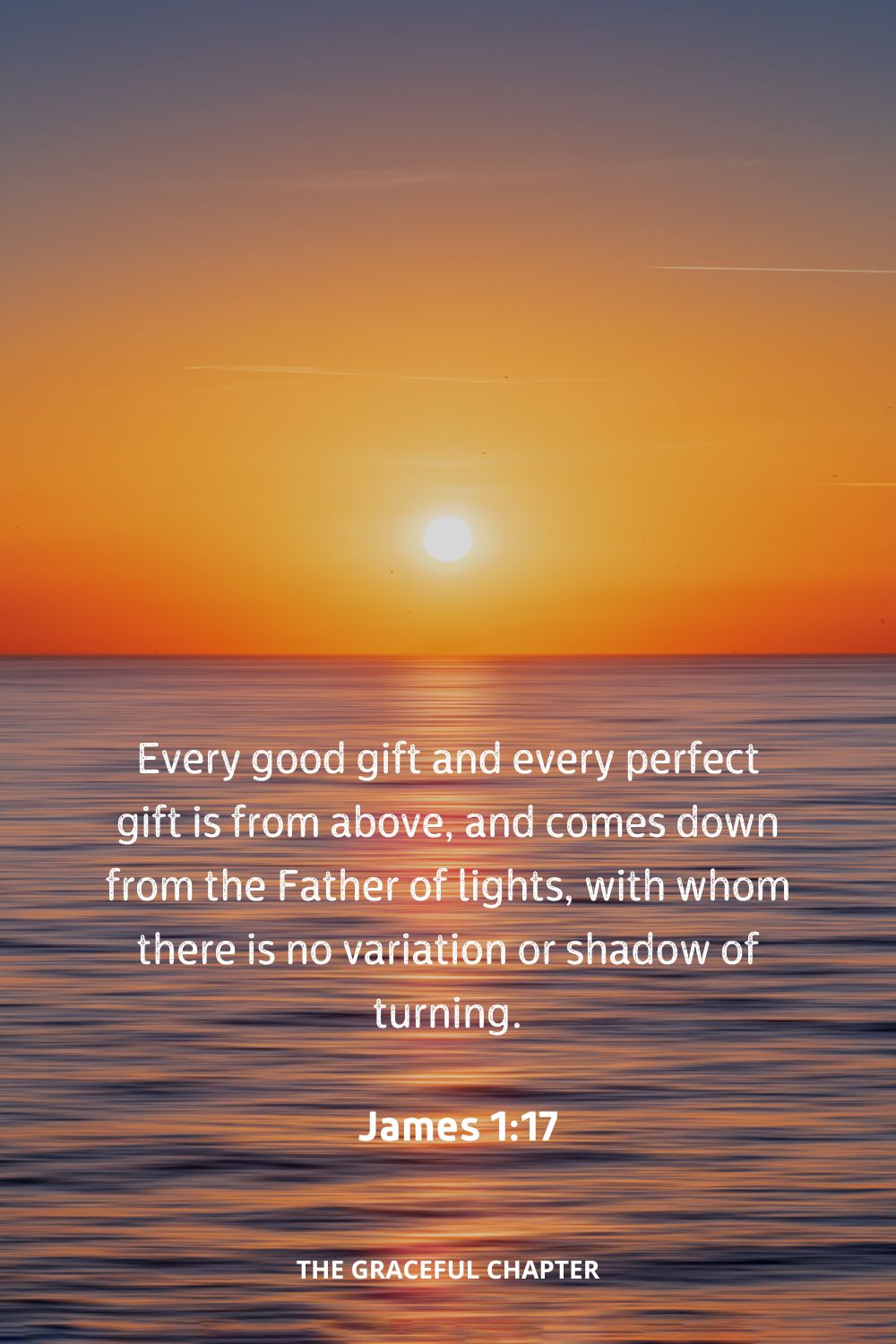 James 1:17
Every good gift and every perfect gift is from above, and comes down from the Father of lights, with whom there is no variation or shadow of turning.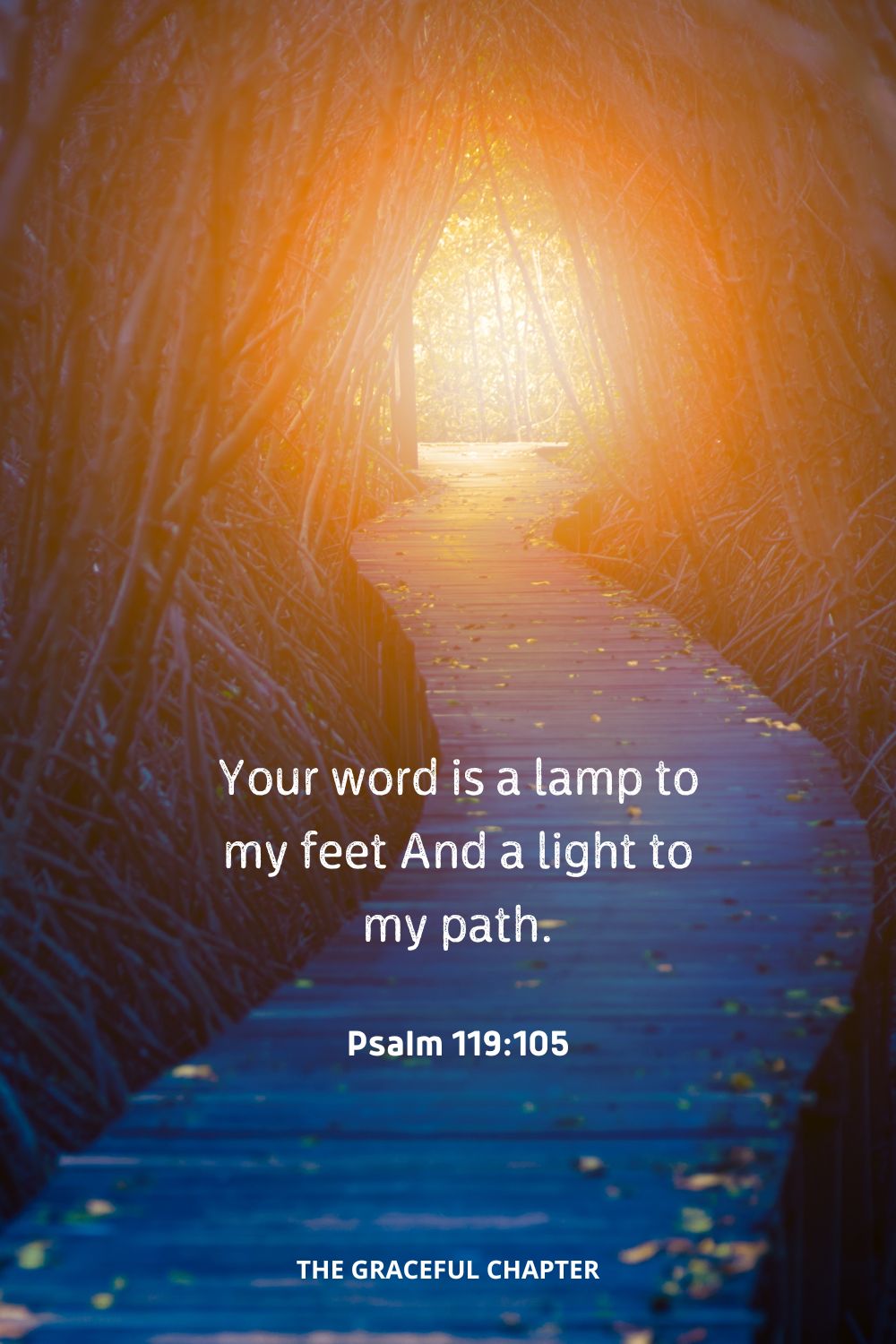 Psalm 119:105
Your word is a lamp to my feet And a light to my path.
Luke 11:34
The lamp of the body is the eye. Therefore, when your eye is good, your whole body also is full of light. But when your eye is bad, your body also is full of darkness.
Galatians 5:22-23
But the fruit of the Spirit is love, joy, peace, longsuffering, kindness, goodness, faithfulness, gentleness, self-control. Against such there is no law.
Job 12:22
He uncovers deep things out of darkness,
And brings the shadow of death to light.
Job 11:6
That He would show you the secrets of wisdom! For they would double your prudence. Know therefore that God exacts from you Less than your iniquity deserves.
Habakkuk 3:4
His brightness was like the light; He had rays flashing from His hand, And there His power was hidden.
Psalm 18:28
For You will light my lamp; The Lord my God will enlighten my darkness.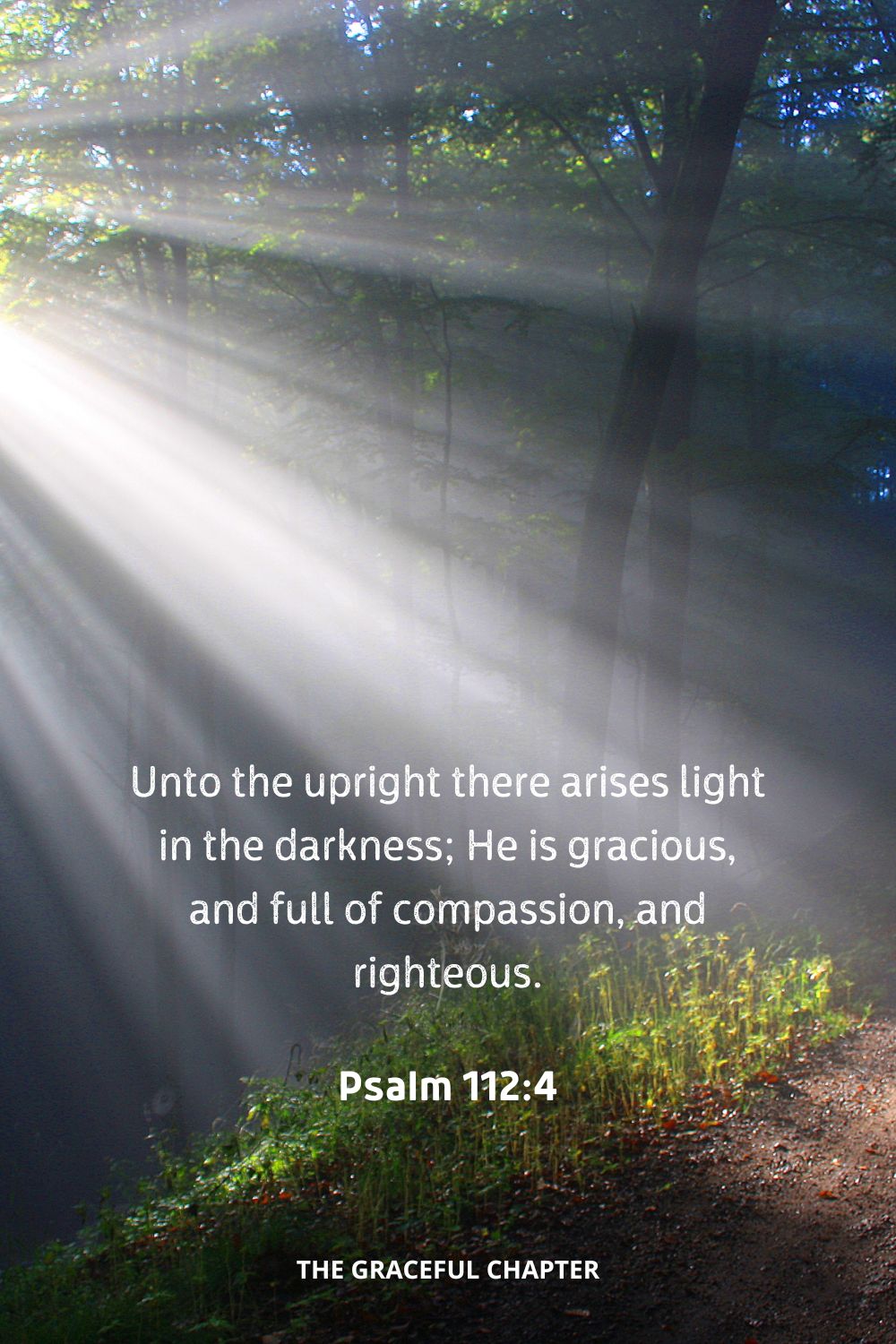 Psalm 112:4
Unto the upright there arises light in the darkness; He is gracious, and full of compassion, and righteous.
1 Peter 2:9
But you are a chosen generation, a royal priesthood, a holy nation, His own special people, that you may proclaim the praises of Him who called you out of darkness into His marvelous light;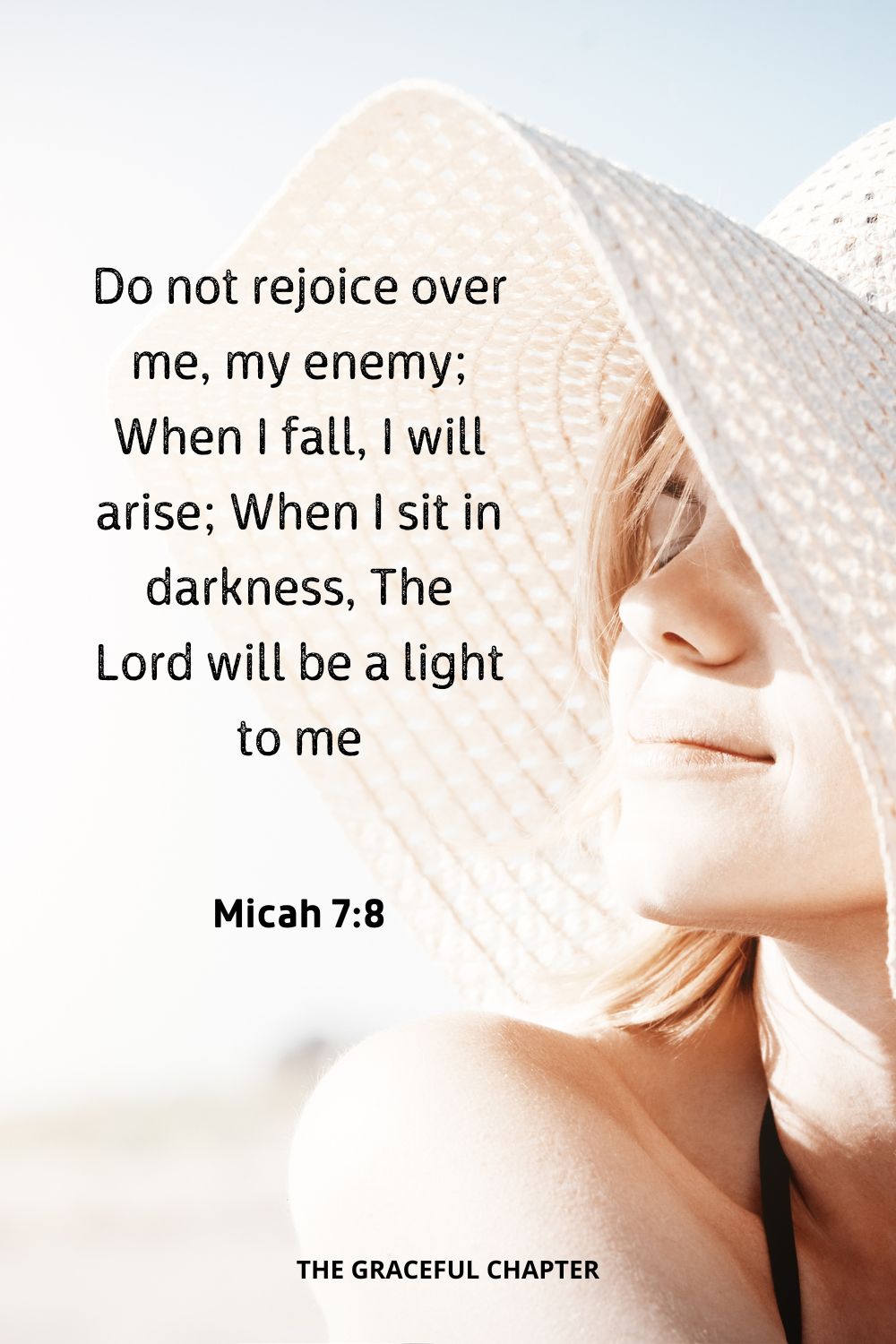 Micah 7:8
Do not rejoice over me, my enemy; When I fall, I will arise; When I sit in darkness, The Lord will be a light to me
Related Posts
John 12:46
I have come as a light into the world, that whoever believes in Me should not abide in darkness.
Isaiah 8:20
To the law and to the testimony! If they do not speak according to this word, it is because there is no light in them.
Proverbs 6:23
For the commandment is a lamp, And the law a light; Reproofs of instruction are the way of life,
Isaiah 60:1
Arise, shine; For your light has come! And the glory of the Lord is risen upon you.
Isaiah 60:19
The sun shall no longer be your light by day, Nor for brightness shall the moon give light to you;
But the Lord will be to you an everlasting light,
And your God your glory.
Isaiah 52:1-2
Awake, awake! Put on your strength, O Zion; Put on your beautiful garments, O Jerusalem, the holy city For the uncircumcised and the unclean Shall no longer come to you. Shake yourself from the dust, arise; Sit down, O Jerusalem! Loose yourself from the bonds of your neck, O captive daughter of Zion!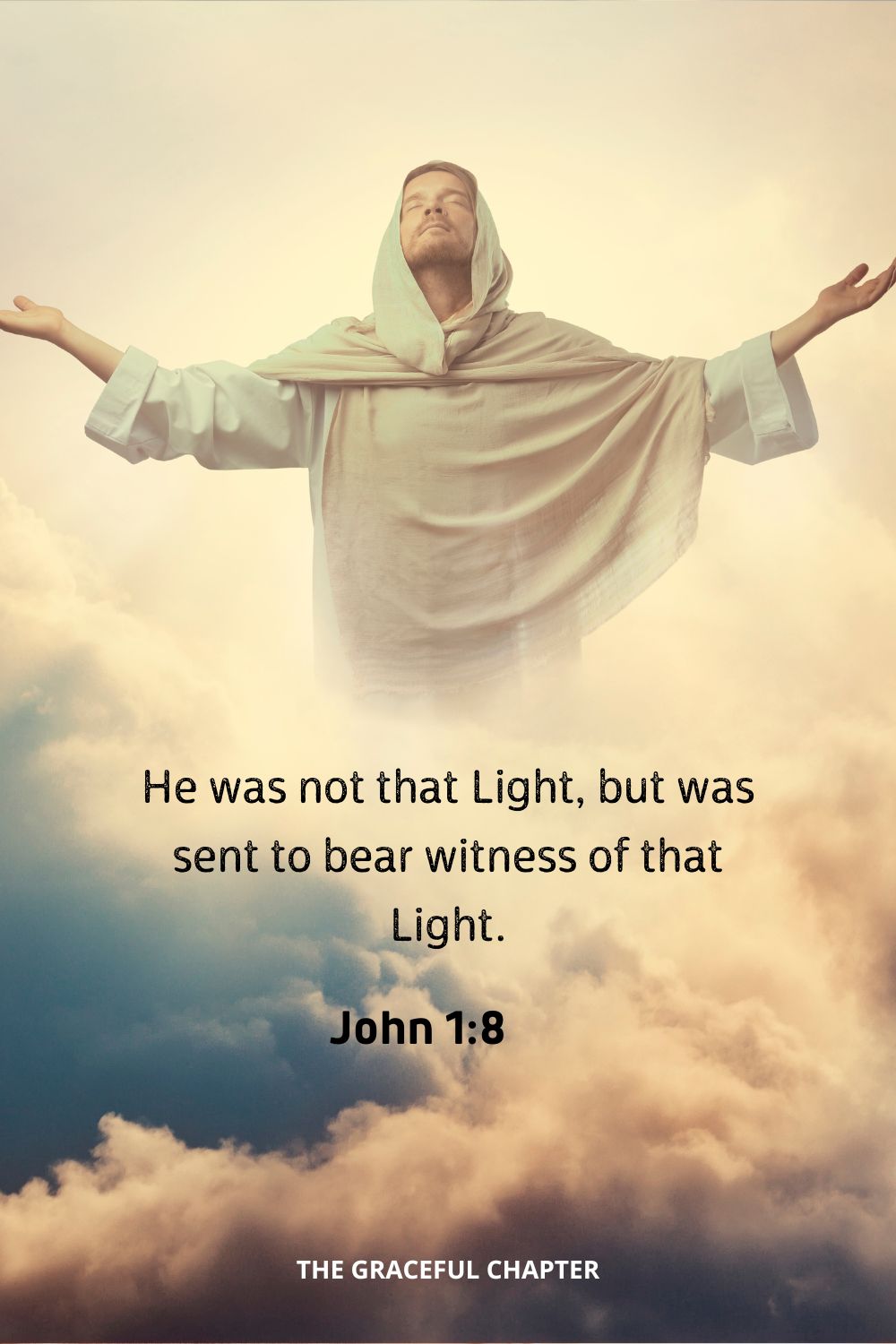 John 1:8
He was not that Light, but was sent to bear witness of that Light.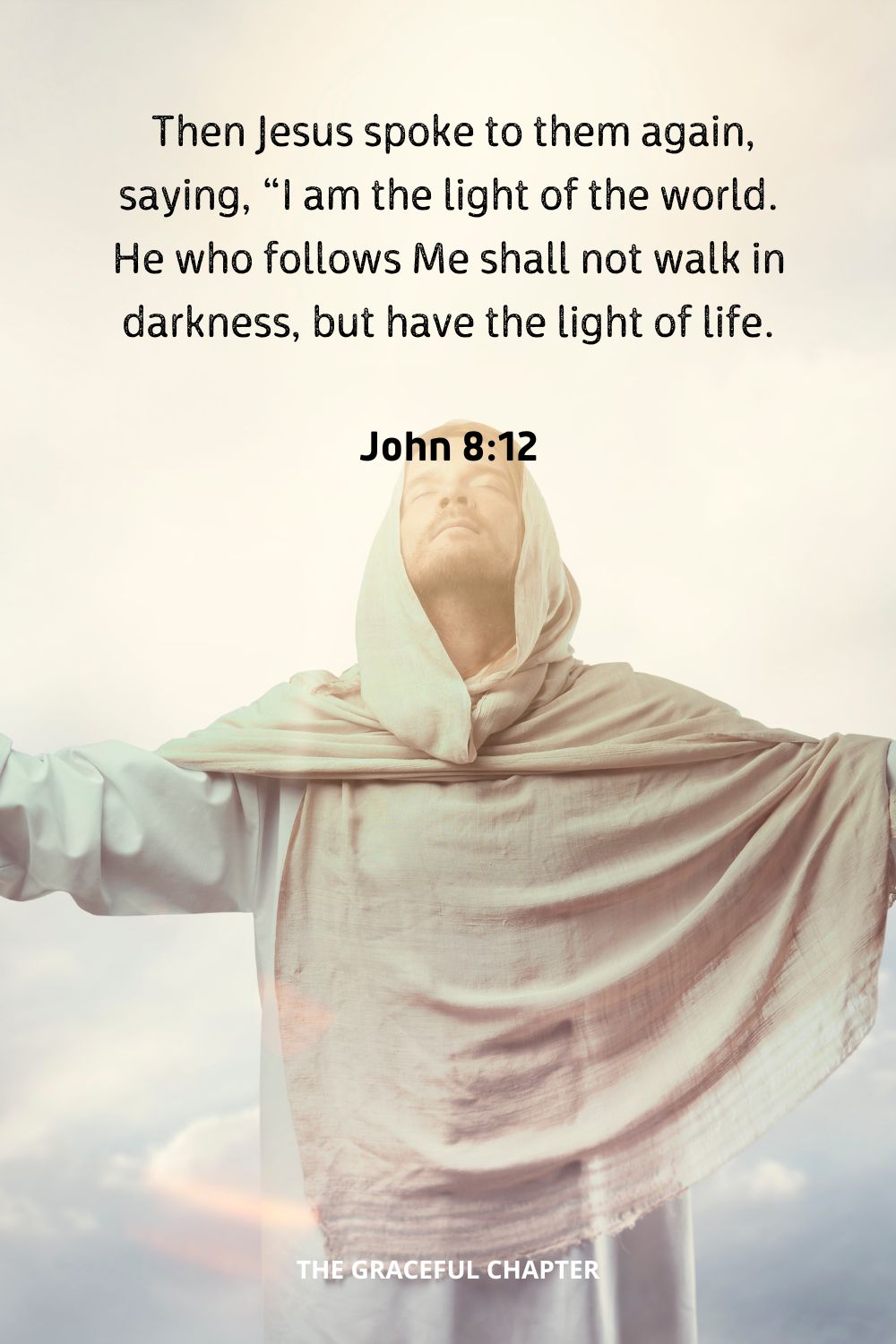 John 8:12
 Then Jesus spoke to them again, saying, "I am the light of the world. He who follows Me shall not walk in darkness, but have the light of life."
2 Samuel 23:4
And he shall be like the light of the morning when the sun rises, A morning without clouds, Like the tender grass springing out of the earth, By clear shining after rain.'
Romans 2:1
And are confident that you yourself are a guide to the blind, a light to those who are in darkness
John 3:19
And this is the condemnation, that the light has come into the world, and men loved darkness rather than light, because their deeds were evil.
John 9:5
As long as I am in the world, I am the light of the world."
John 1:4
In Him was life, and the life was the light of men.  And the light shines in the darkness, and the darkness did not comprehend it.
1 John 3:14
 We know that we have passed from death to life, because we love the brethren. He who does not love his brother abides in death.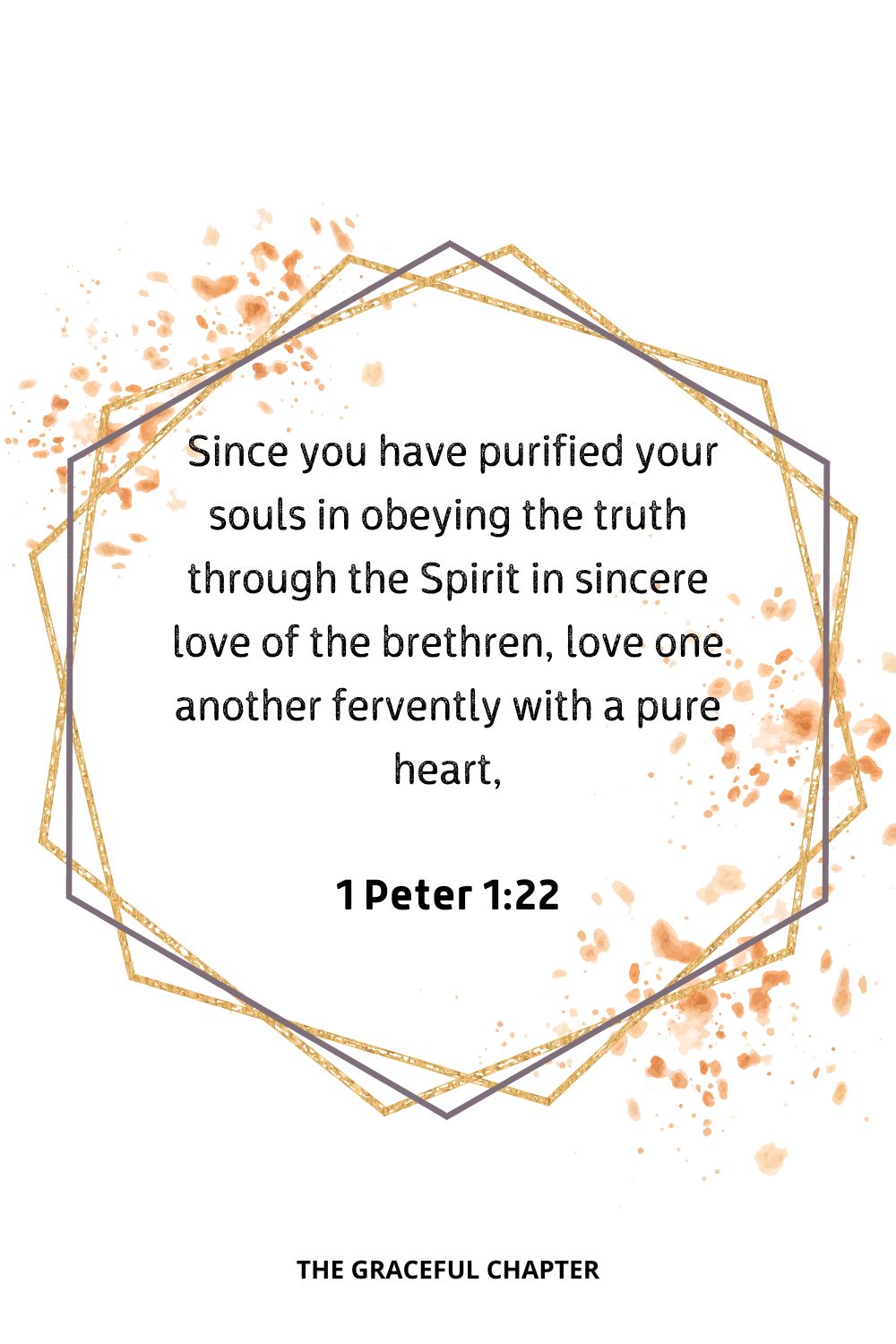 1 Peter 1:22
 Since you have purified your souls in obeying the truth through the Spirit in sincere love of the brethren, love one another fervently with a pure heart,
Philippians 4:1
Therefore, my beloved and longed-for brethren, my joy and crown, so stand fast in the Lord, beloved.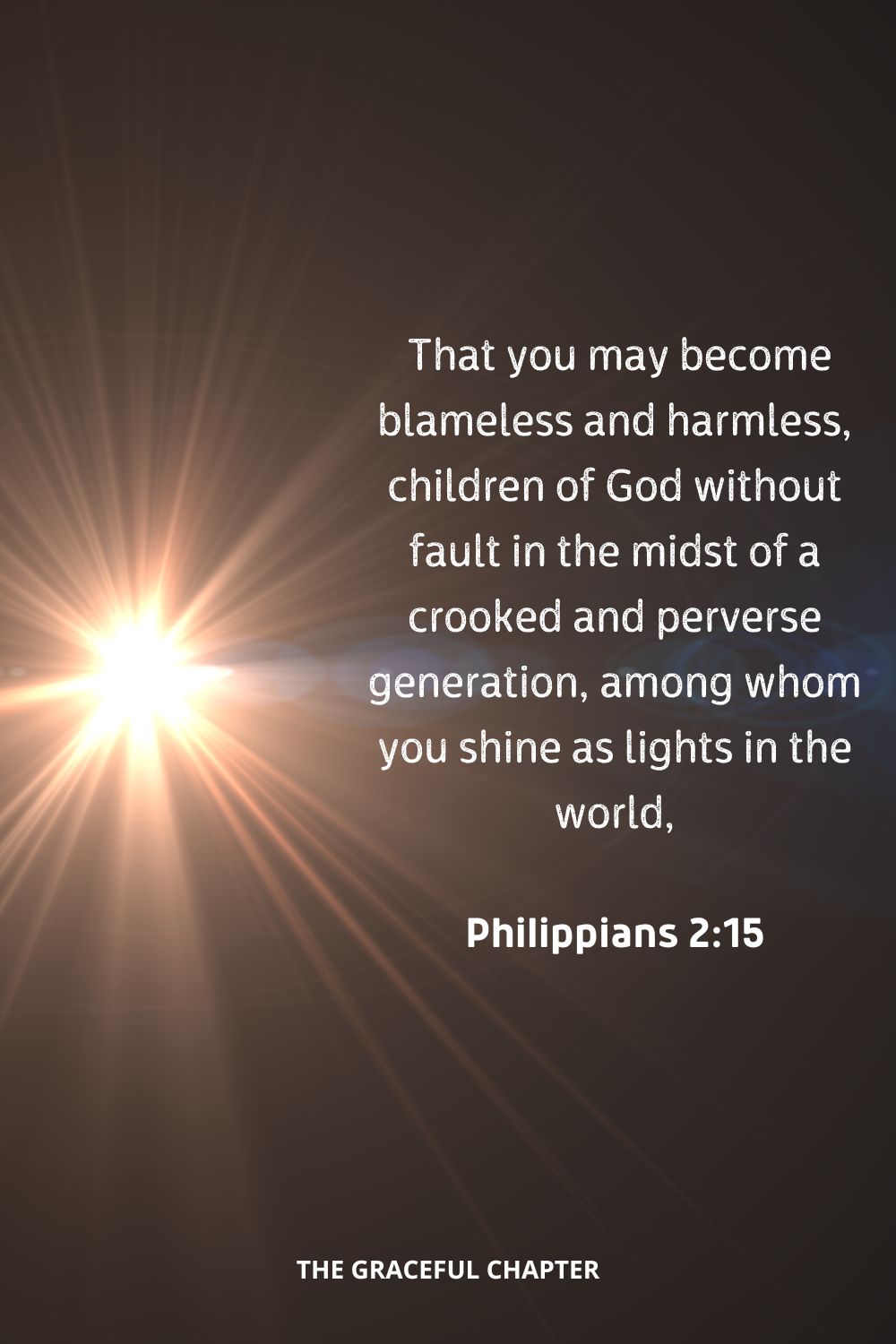 Philippians 2:15
 That you may become blameless and harmless, children of God without fault in the midst of a crooked and perverse generation, among whom you shine as lights in the world,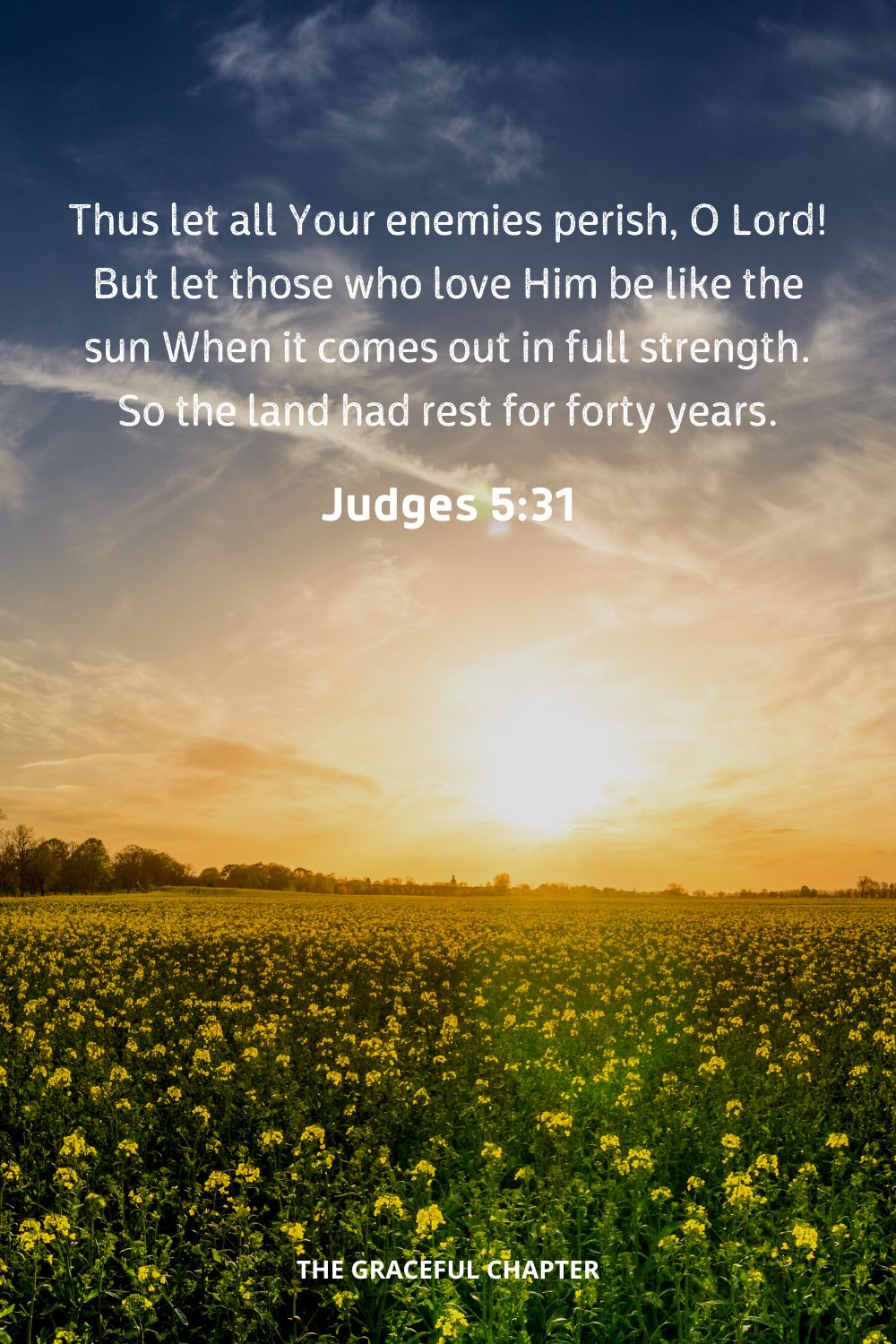 Judges 5:31
Thus let all Your enemies perish, O Lord! But let those who love Him be like the sun When it comes out in full strength." So the land had rest for forty years.
Isaiah 62:1
For Zion's sake I will not hold My peace, And for Jerusalem's sake I will not rest, Until her righteousness goes forth as brightness, And her salvation as a lamp that burns.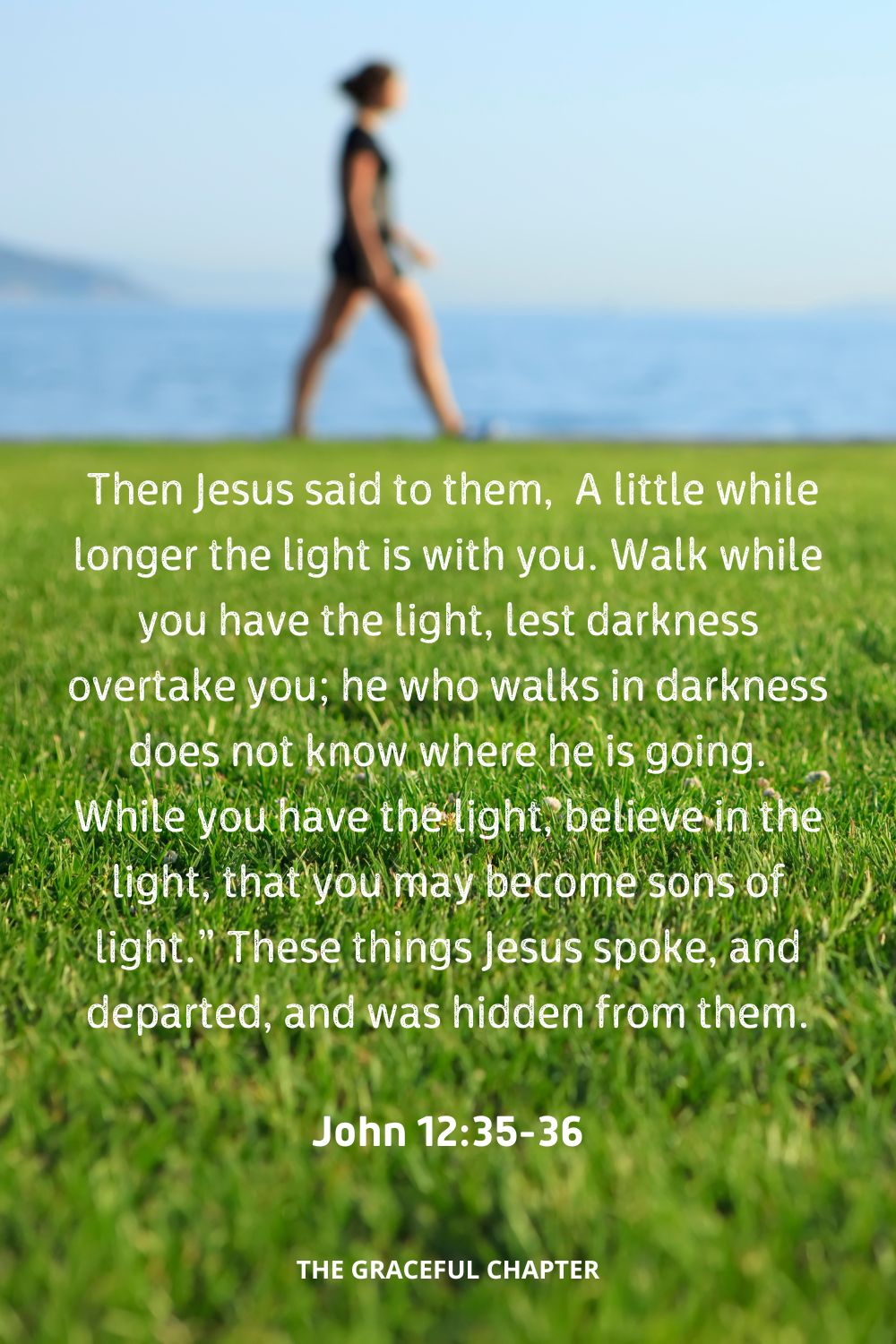 John 12:35-36
 Then Jesus said to them, "A little while longer the light is with you. Walk while you have the light, lest darkness overtake you; he who walks in darkness does not know where he is going. While you have the light, believe in the light, that you may become sons of light." These things Jesus spoke, and departed, and was hidden from them.