Hatred is a strong dislike for something or someone. It is an intense feeling of hostility and aversion towards something or someone. This feeling can be triggered by fear, anger, or a sense of injury.
Now hatred can be good or bad, depending on the object of our hatred. The bible encourages us to love one another (John 13:34) and to hate evil (Psalm 97:10). This means that hate isn't always a bad thing. But that depends on what you are hating.
Everyone is going to feel hate towards something at a point, but you have to make sure that the object of your hatred is in accordance with the bible. So that you only hate evil and ungodly acts. And you love everyone.
The bible encourages us to even love those who hate us (Matthew 5:44). This shows how important loving each other is to God. One important thing that can help you to love all is to learn to forgive.
Most hatred for people stems from a lack of forgiveness. They hurt you, they betrayed you, they did you dirty and you can't forgive them, so you hate them for what they did to you. So learning to let go and forgive will help you to be a more loving person.
Below are some bible verses about hatred to help you know and understand what the bible says to hate and what the bible says not to hate.
Bible verses about hatred
But if anyone hates his neighbor and lies in wait for him and attacks him and strikes him fatally so that he dies, and he flees into one of these cities, then the elders of his city shall send and take him from there, and hand him over to the avenger of blood, so that he may die.
Deuteronomy 19:11-12
Better is a dinner of herbs where love is than a fattened ox and hatred with it.
Proverbs 15:17
For we ourselves were once foolish, disobedient, led astray, slaves to various passions and pleasures, passing our days in malice and envy, hated by others and hating one another.
Titus 3:3
And the Lord will take away from you all sickness, and none of the evil diseases of Egypt, which you knew, will he inflict on you, but he will lay them on all who hate you.
Deuteronomy 7:15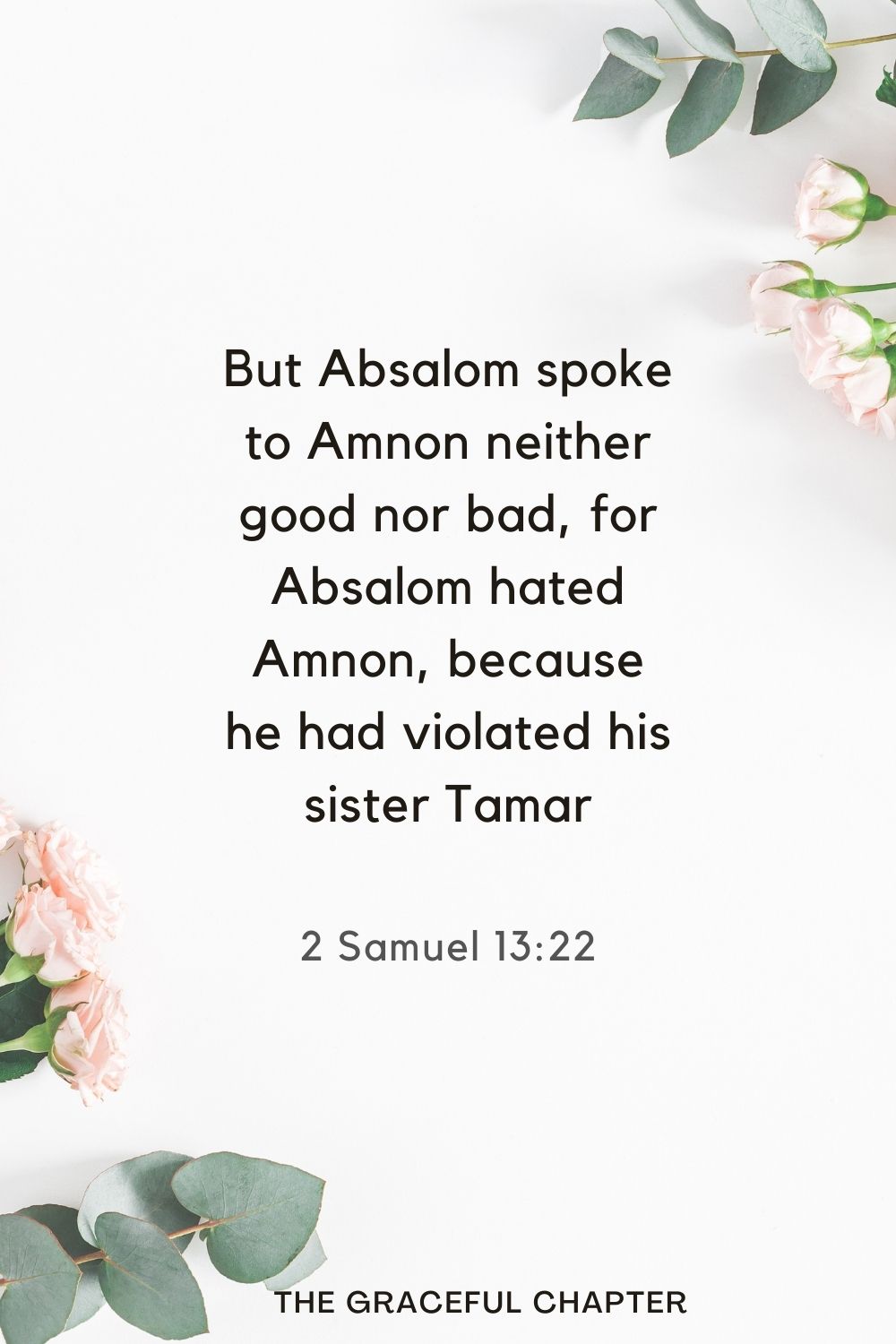 But Absalom spoke to Amnon neither good nor bad, for Absalom hated Amnon, because he had violated his sister Tamar.
2 Samuel 13:22
But my foes are vigorous, they are mighty, and many are those who hate me wrongfully.
Psalms 38:19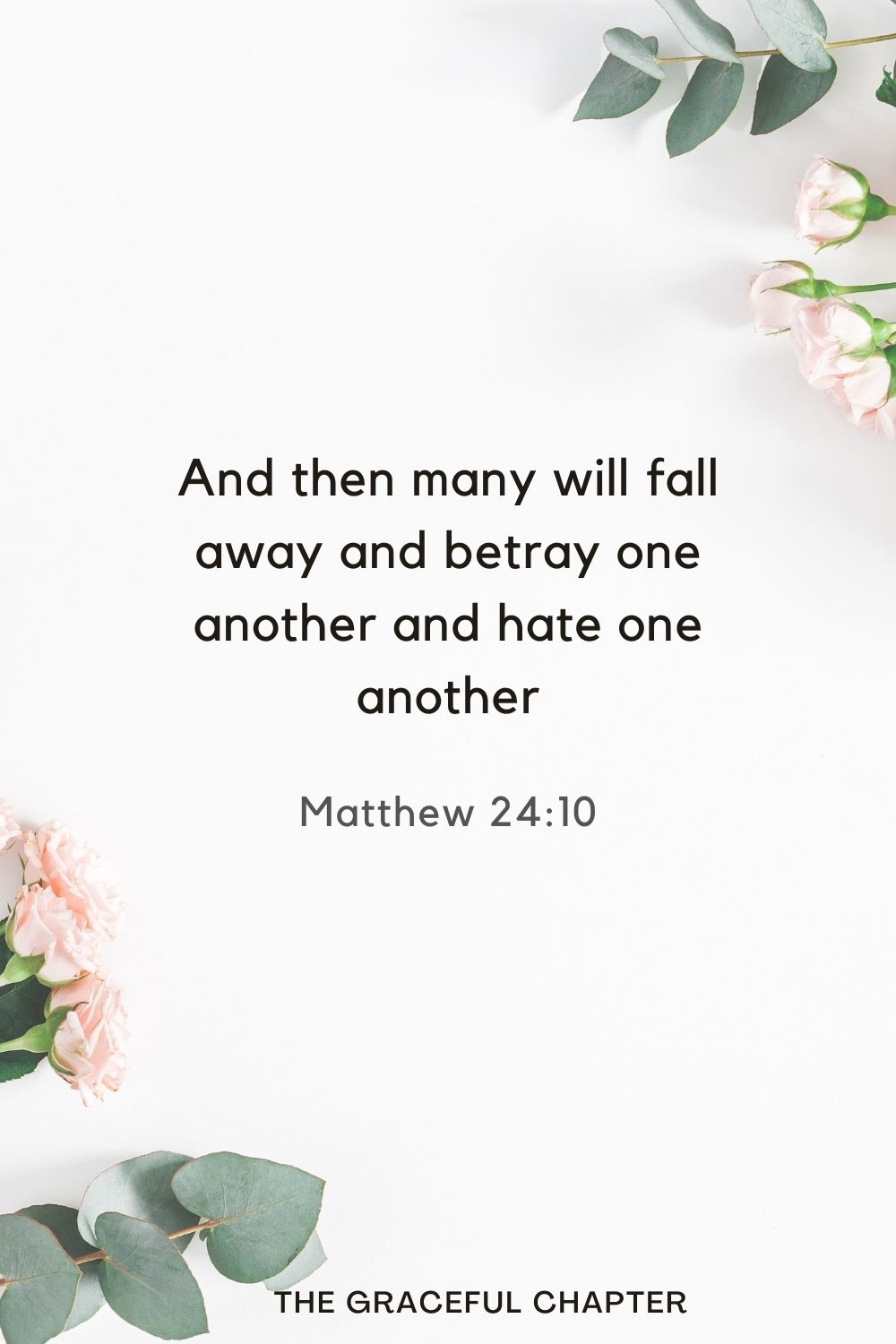 And then many will fall away and betray one another and hate one another.
Matthew 24:10
Whoever says he is in the light and hates his brother is still in darkness. Whoever loves his brother abides in the light, and in him there is no cause for stumbling. But whoever hates his brother is in the darkness and walks in the darkness, and does not know where he is going, because the darkness has blinded his eyes.
1 John 2:9-11
Consider how many are my foes, and with what violent hatred they hate me.
Psalm 25:19
Hatred stirs up strife, but love covers all offenses.
Proverbs 10:12
Now the works of the flesh are evident: sexual immorality, impurity, sensuality, idolatry, sorcery, enmity, strife, jealousy, fits of anger, rivalries, dissensions, divisions,
Galatians 5:19-20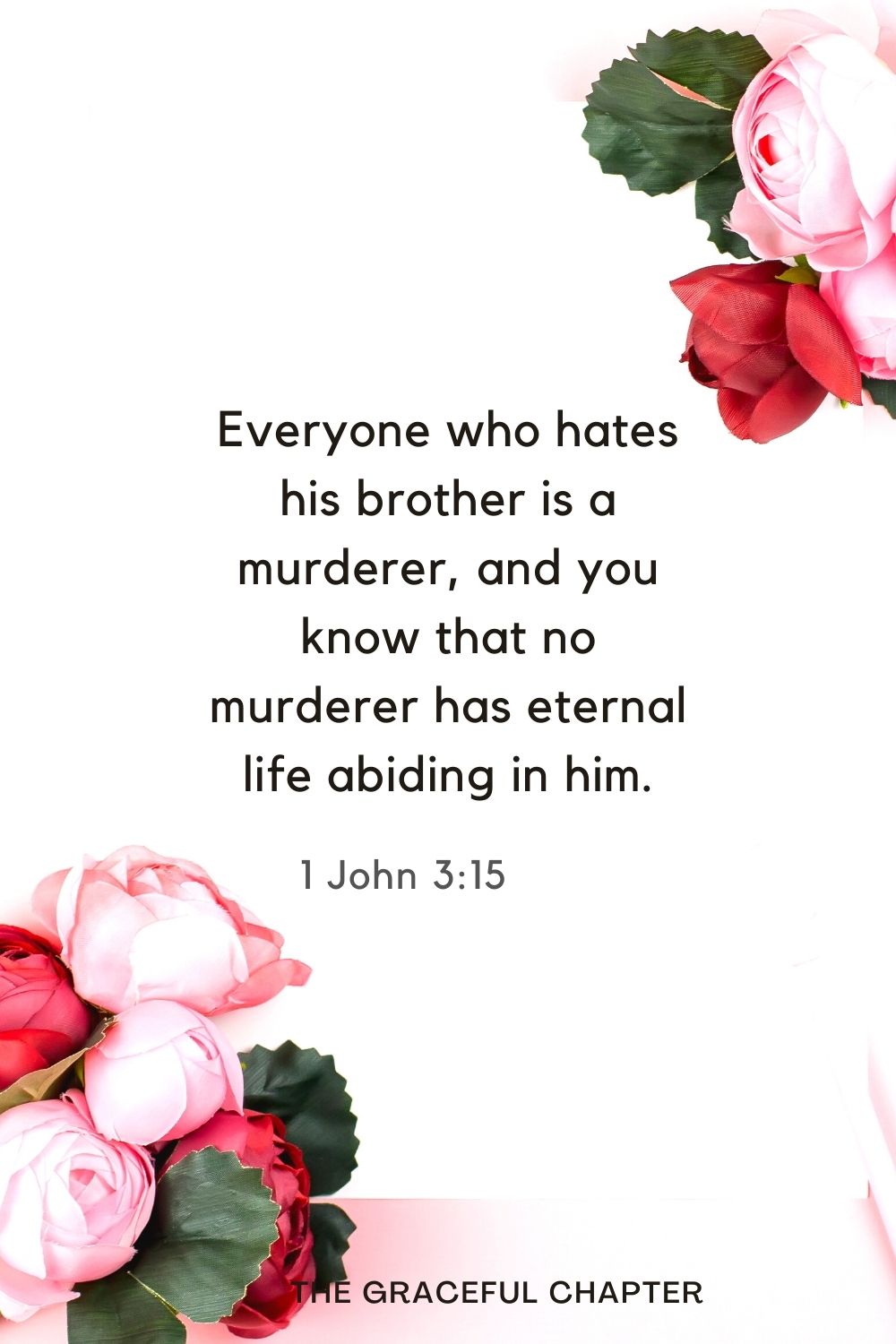 Everyone who hates his brother is a murderer, and you know that no murderer has eternal life abiding in him.
1 John 3:15
If anyone says, "I love God," and hates his brother, he is a liar; for he who does not love his brother whom he has seen cannot love God whom he has not seen.
1 John 4:20
They were filled with all manner of unrighteousness, evil, covetousness, malice. They are full of envy, murder, strife, deceit, maliciousness. They are gossips, slanderers, haters of God, insolent, haughty, boastful, inventors of evil, disobedient to parents, foolish, faithless, heartless, ruthless.
Romans 1:29-31
 And repays to their face those who hate him, by destroying them. He will not be slack with one who hates him. He will repay him to his face.
Deuteronomy 7:10
Those who hate the Lord would cringe toward him,
and their fate would last forever.
Psalm 81:15
 You shall not bow down to them or serve them, for I the Lord your God am a jealous God, visiting the iniquity of the fathers on the children to the third and the fourth generation of those who hate me,
Exodus 20:5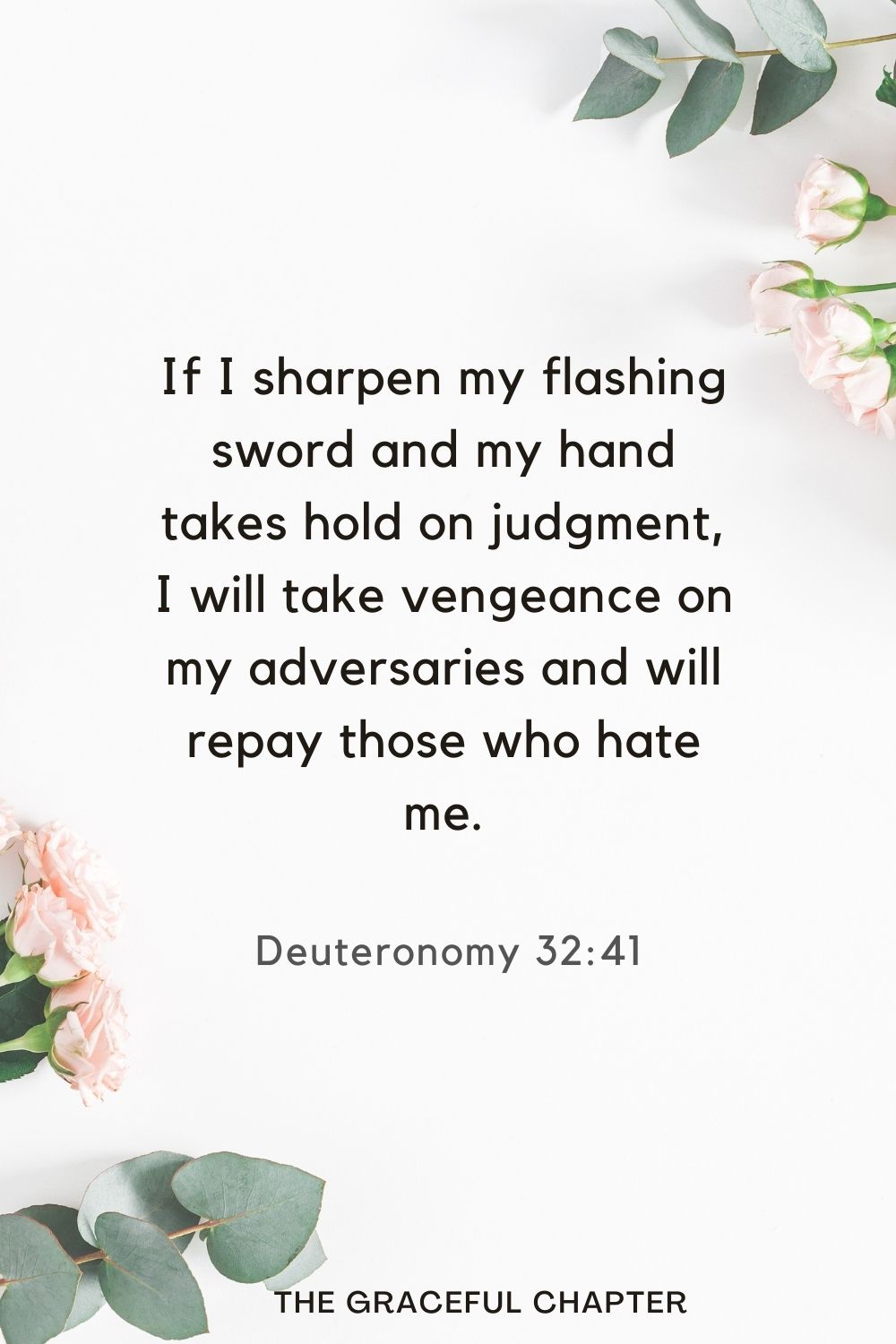 If I sharpen my flashing sword and my hand takes hold on judgment,
I will take vengeance on my adversaries and will repay those who hate me.
Deuteronomy 32:41
Related Posts
 But Jehu the son of Hanani the seer went out to meet him and said to King Jehoshaphat, "Should you help the wicked and love those who hate the Lord? Because of this, wrath has gone out against you from the Lord.
2 Chronicles 19:2
Because they hated knowledge and did not choose the fear of the Lord,
Proverbs 1:29
 Whoever hates me hates my Father also. If I had not done among them the works that no one else did, they would not be guilty of sin, but now they have seen and hated both me and my Father. But the word that is written in their Law must be fulfilled: 'They hated me without a cause.'
John 15:23-25
The world cannot hate you, but it hates me because I testify about it that its works are evil.
John 7:7
For you hate discipline, and you cast my words behind you.
Psalm 50:17
For everyone who does wicked things hates the light and does not come to the light, lest his works should be exposed.
John 3:20
 You adulterous people! Do you not know that friendship with the world is enmity with God? Therefore whoever wishes to be a friend of the world makes himself an enemy of God.
James 4:4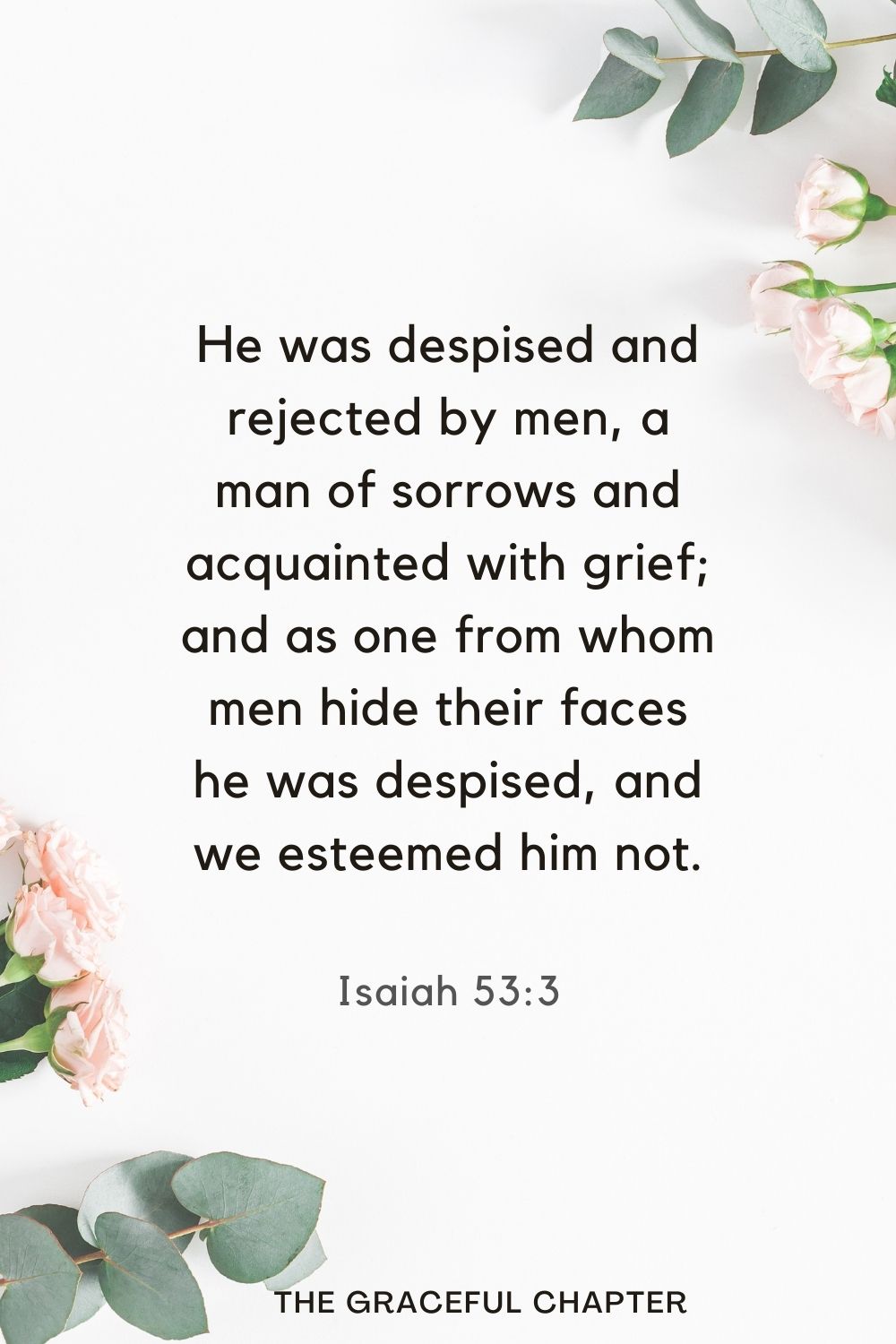 He was despised and rejected by men, a man of sorrows and acquainted with grief; and as one from whom men hide their faces he was despised, and we esteemed him not.
Isaiah 53:3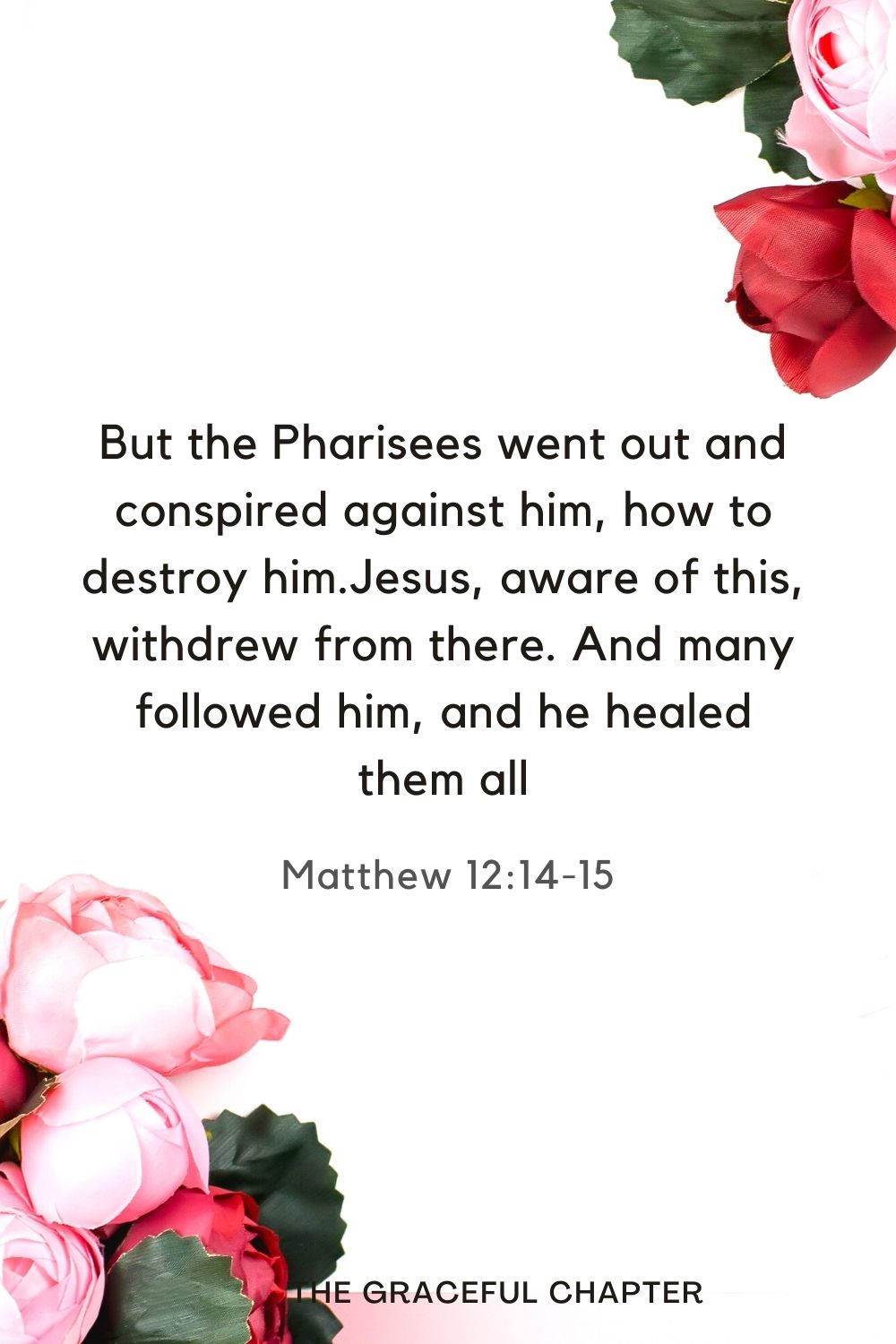 But the Pharisees went out and conspired against him, how to destroy him.Jesus, aware of this, withdrew from there. And many followed him, and he healed them all
Matthew 12:14-15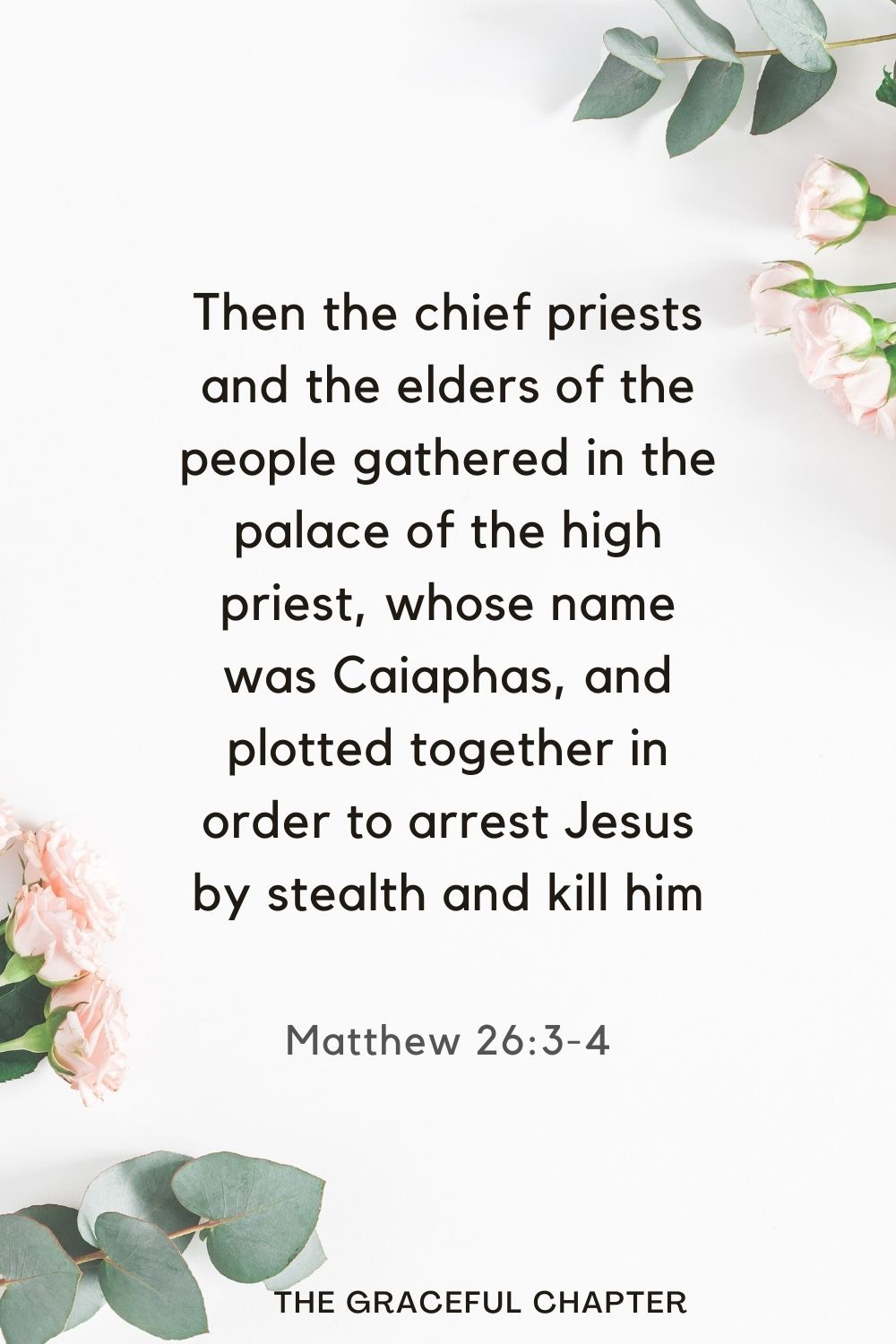 Then the chief priests and the elders of the people gathered in the palace of the high priest, whose name was Caiaphas, and plotted together in order to arrest Jesus by stealth and kill him.
Matthew 26:3-4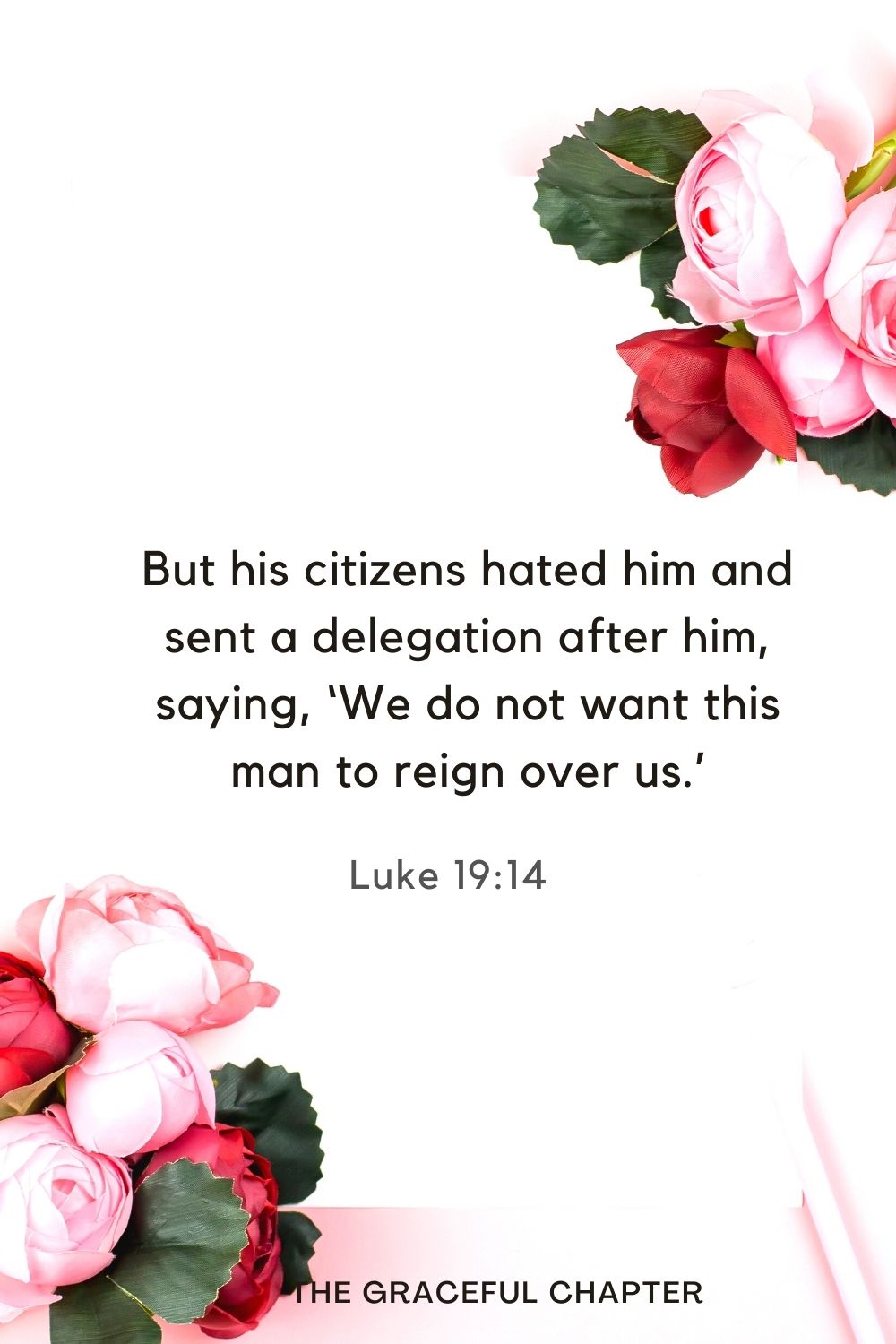 But his citizens hated him and sent a delegation after him, saying, 'We do not want this man to reign over us.'
Luke 19:14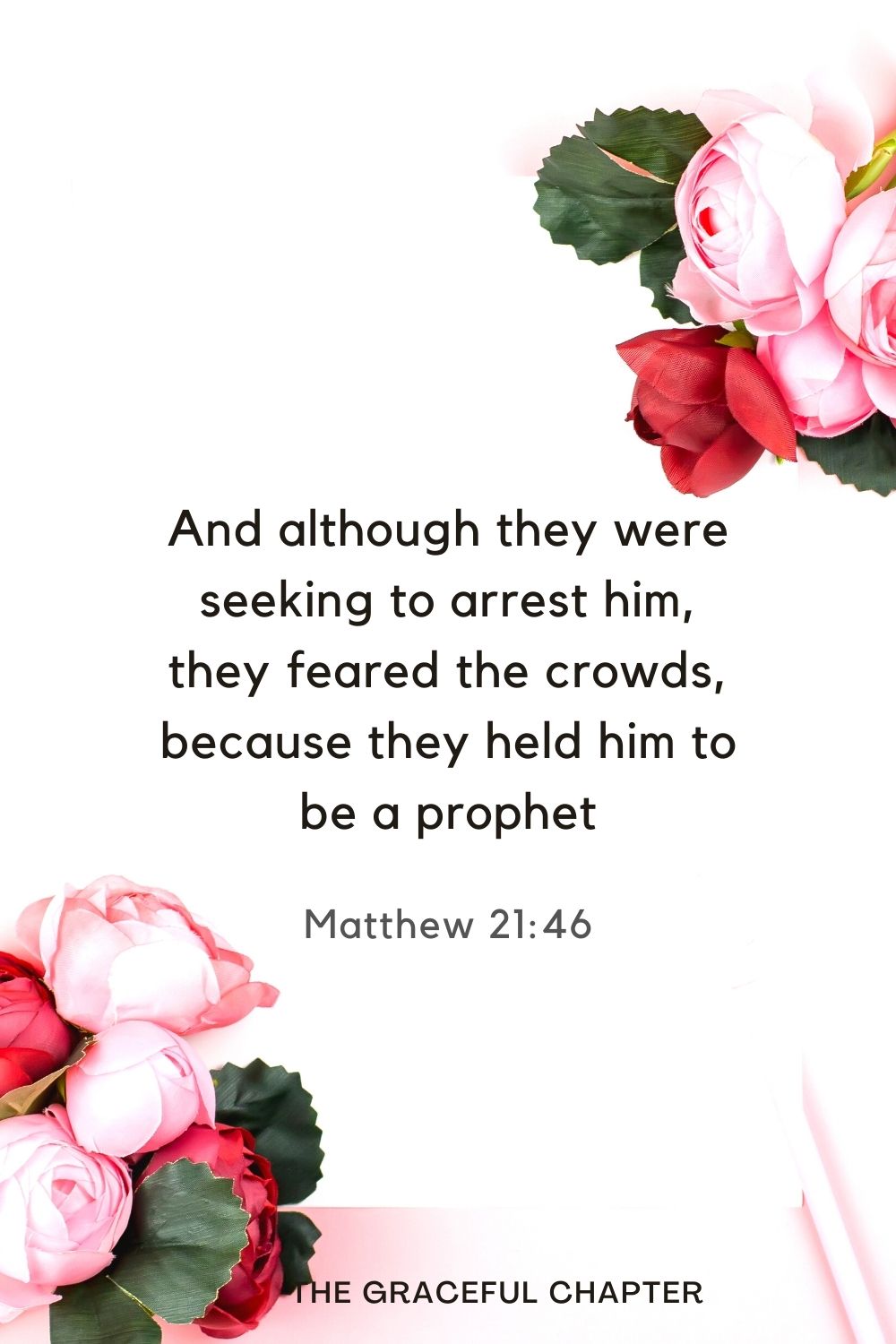 And although they were seeking to arrest him, they feared the crowds, because they held him to be a prophet
Matthew 21:46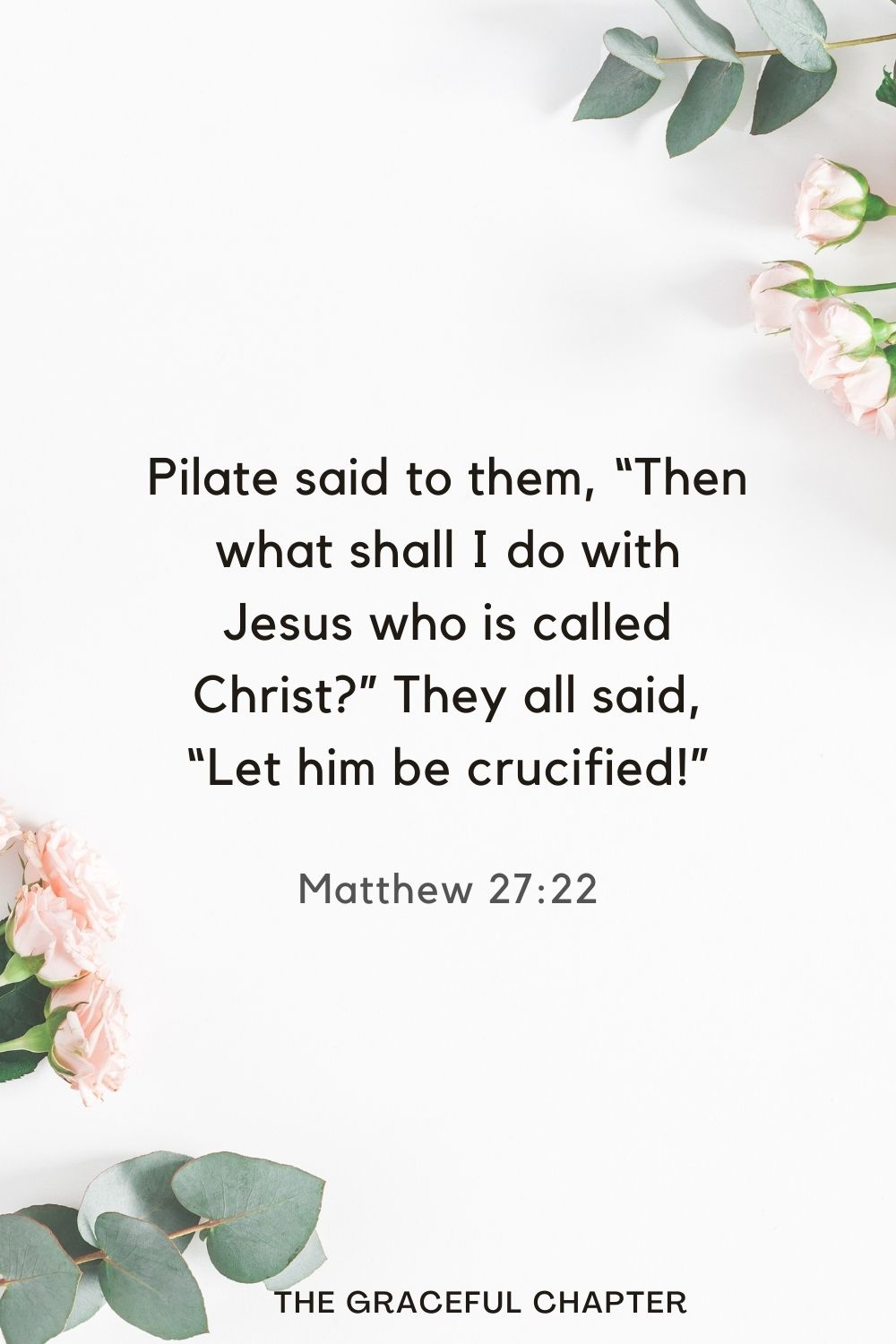 Pilate said to them, "Then what shall I do with Jesus who is called Christ?" They all said, "Let him be crucified!"
Matthew 27:22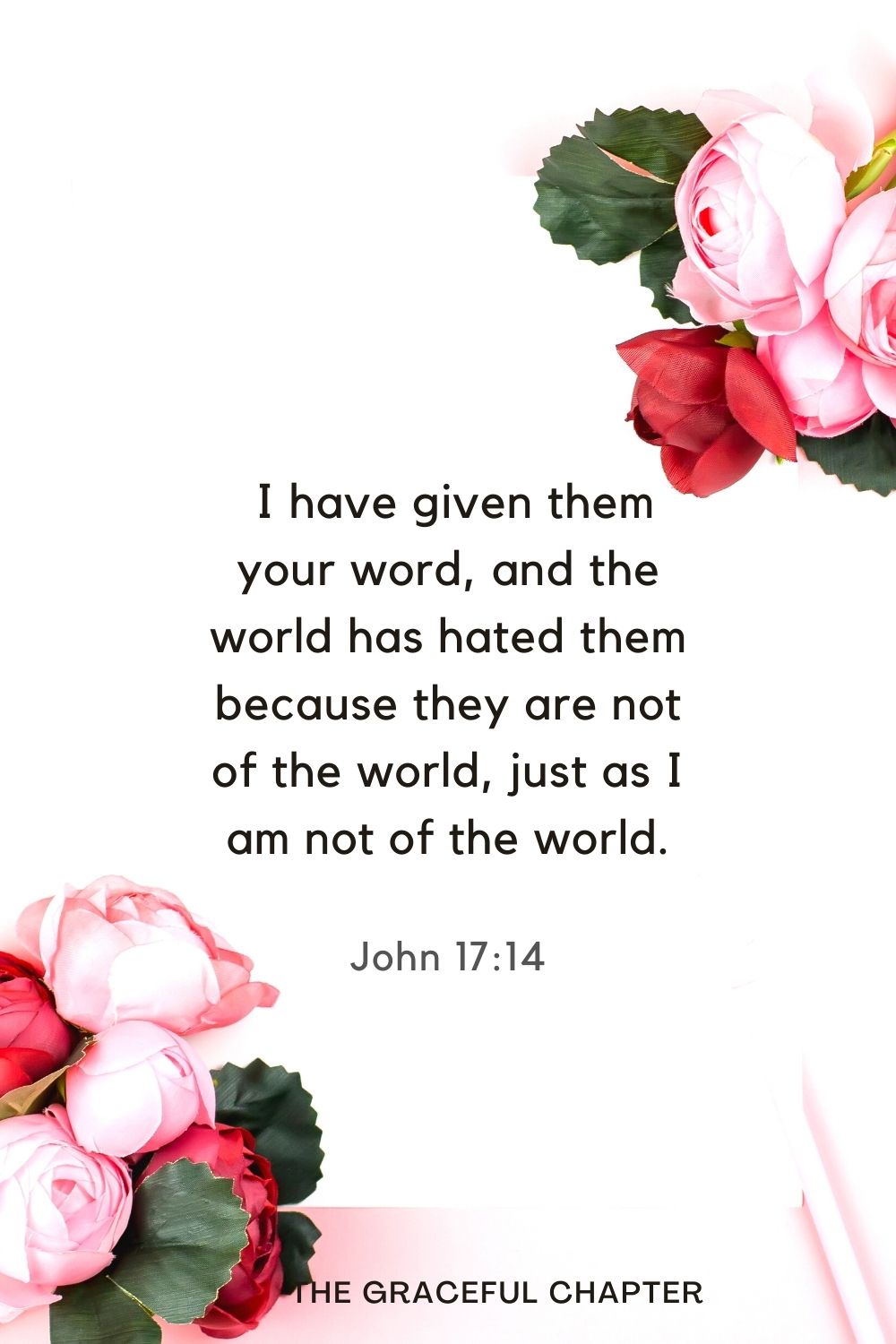 I have given them your word, and the world has hated them because they are not of the world, just as I am not of the world.
John 17:14
And the king of Israel said to Jehoshaphat, "There is yet one man by whom we may inquire of the Lord, Micaiah the son of Imlah, but I hate him, for he never prophesies good concerning me, but evil." And Jehoshaphat said, "Let not the king say so."
1 Kings 22:8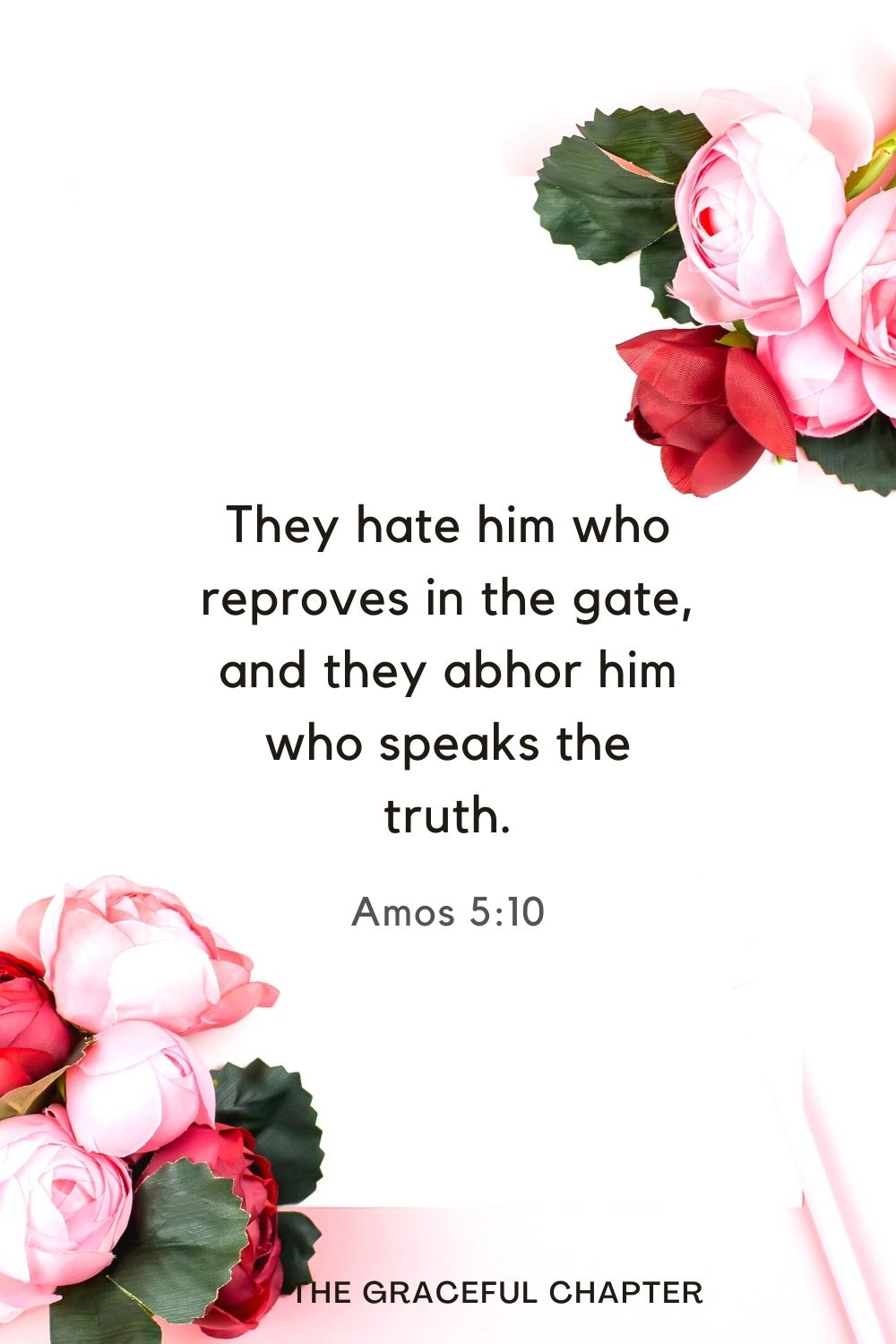 They hate him who reproves in the gate, and they abhor him who speaks the truth.
Amos 5:10
Yet this you have: you hate the works of the Nicolaitans, which I also hate.
Revelation 2:6
And you will be hated by all for my name's sake. But the one who endures to the end will be saved.
Matthew 10:22
For the man who does not love his wife but divorces her, says the Lord, the God of Israel, covers his garment with violence, says the Lord of hosts. So guard yourselves in your spirit, and do not be faithless."
Malachi 2:16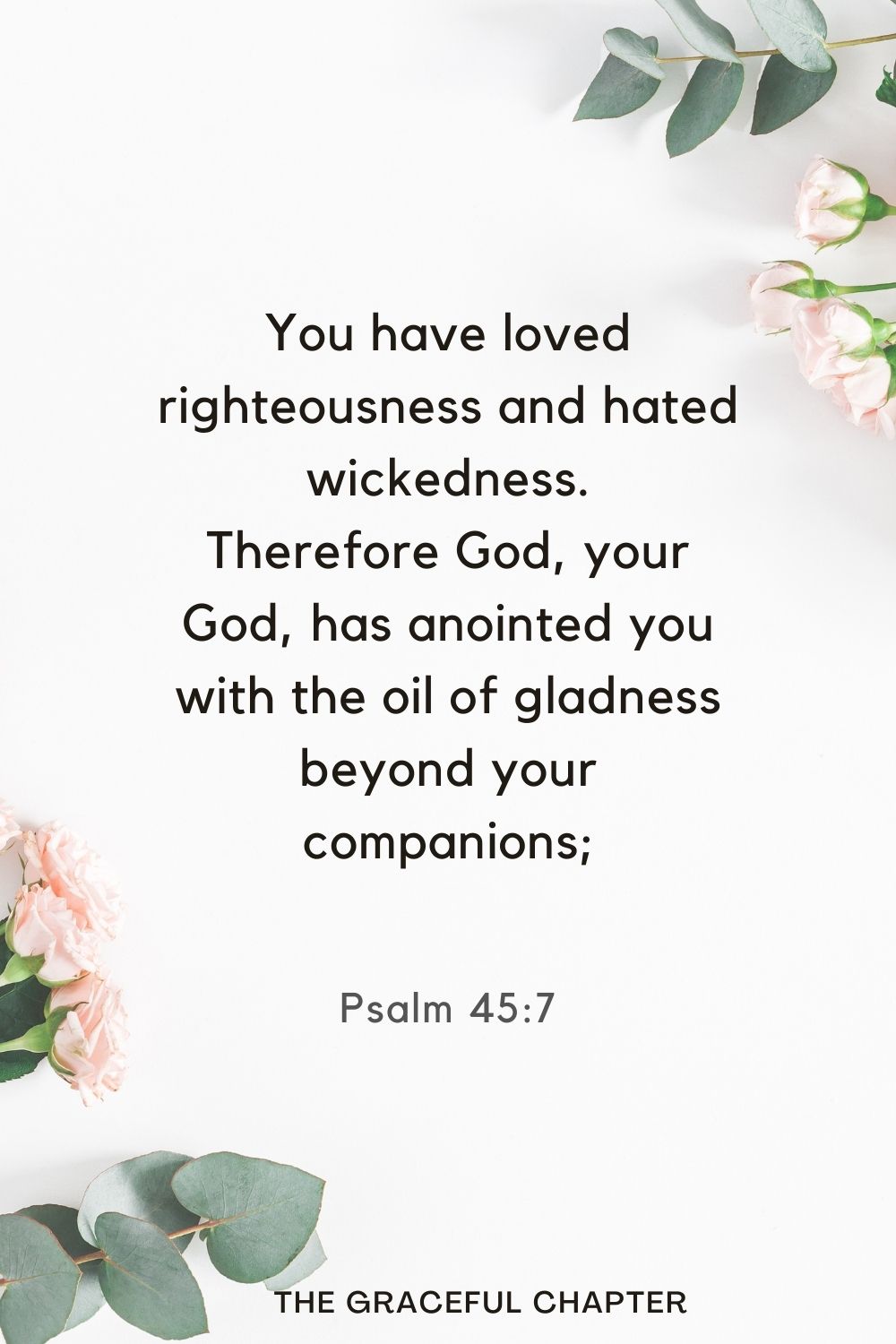 You have loved righteousness and hated wickedness.
Therefore God, your God, has anointed you with the oil of gladness beyond your companions;
Psalm 45:7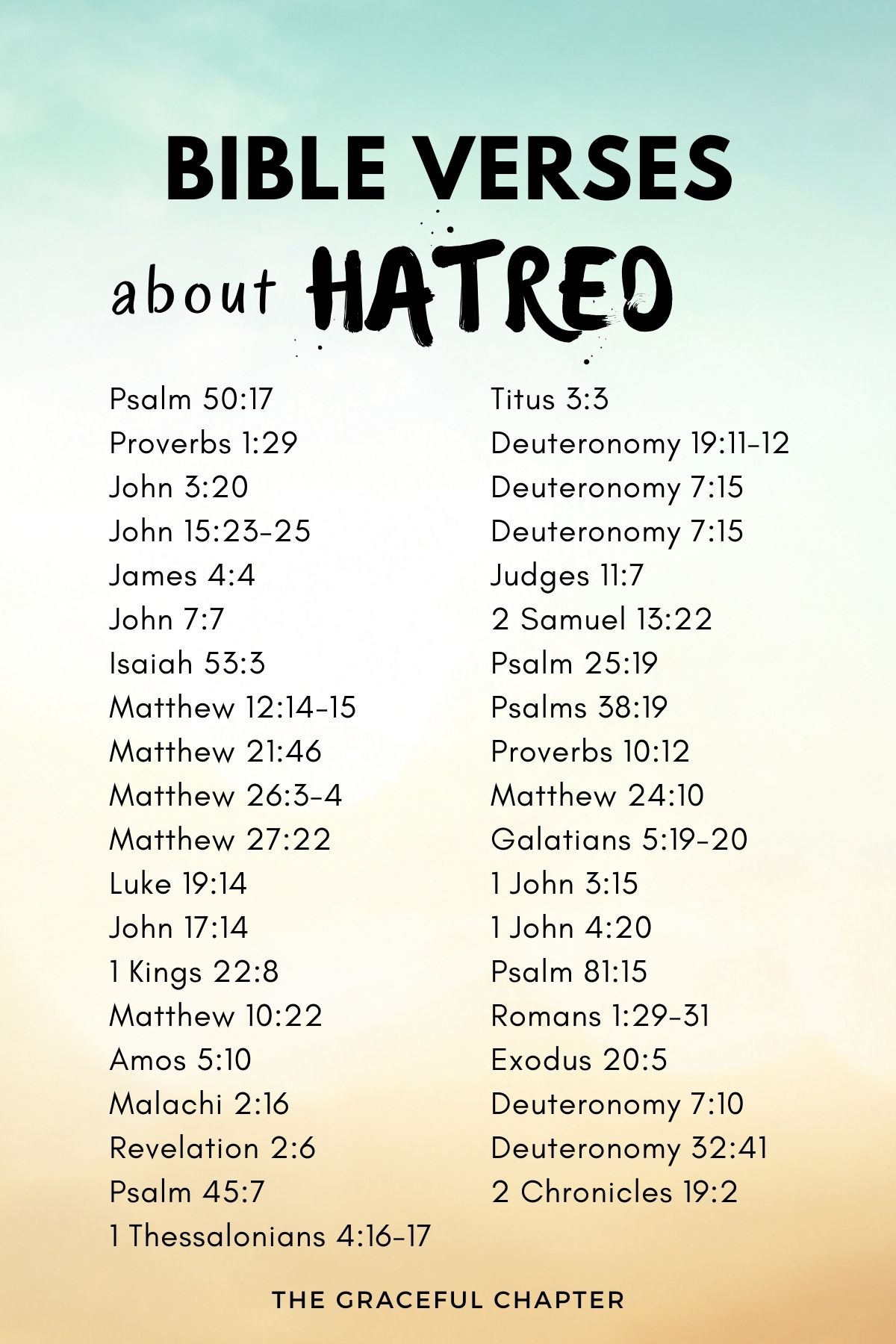 Prayer to overcome hatred
Dear God,
I come to you in prayer today for the renewal of my heart
I pray that you, Oh Lord will sanctify my heart and make it holy
Please cleanse me of any form of hatred that I feel towards anyone
Fill my heart with love and compassion for others
Teach me to let go of anger
Teach me to let go of pain and hurt
Teach me to forgive
Teach me to love others just as you love me
Cast out any spirit that tempts me to look upon others with hatred and enmity
Weed out any seeds of discord and bitterness in my heart
Let seeds of love and forgiveness sprout in my heart
In Jesus' name, I pray,
Amen