Angels are heavenly hosts who were created by God. They worship God and they also keep watch over us. Although the Bible describes angels as very powerful beings, they only act when God asks them to.
Immediately one hears the word angel, the first thing that comes to mind is a person with wings. But the Bible describes angels to let us know what they actually look like. It also lets us know that there are different types of angels and they all have their duties.
Below, we'll take a look at some bible verses to help us know more about angels in the bible, what they look like, and their various duties.
Bible verses about angels
Psalm 91:11
For he will command his angels concerning you
to guard you in all your ways.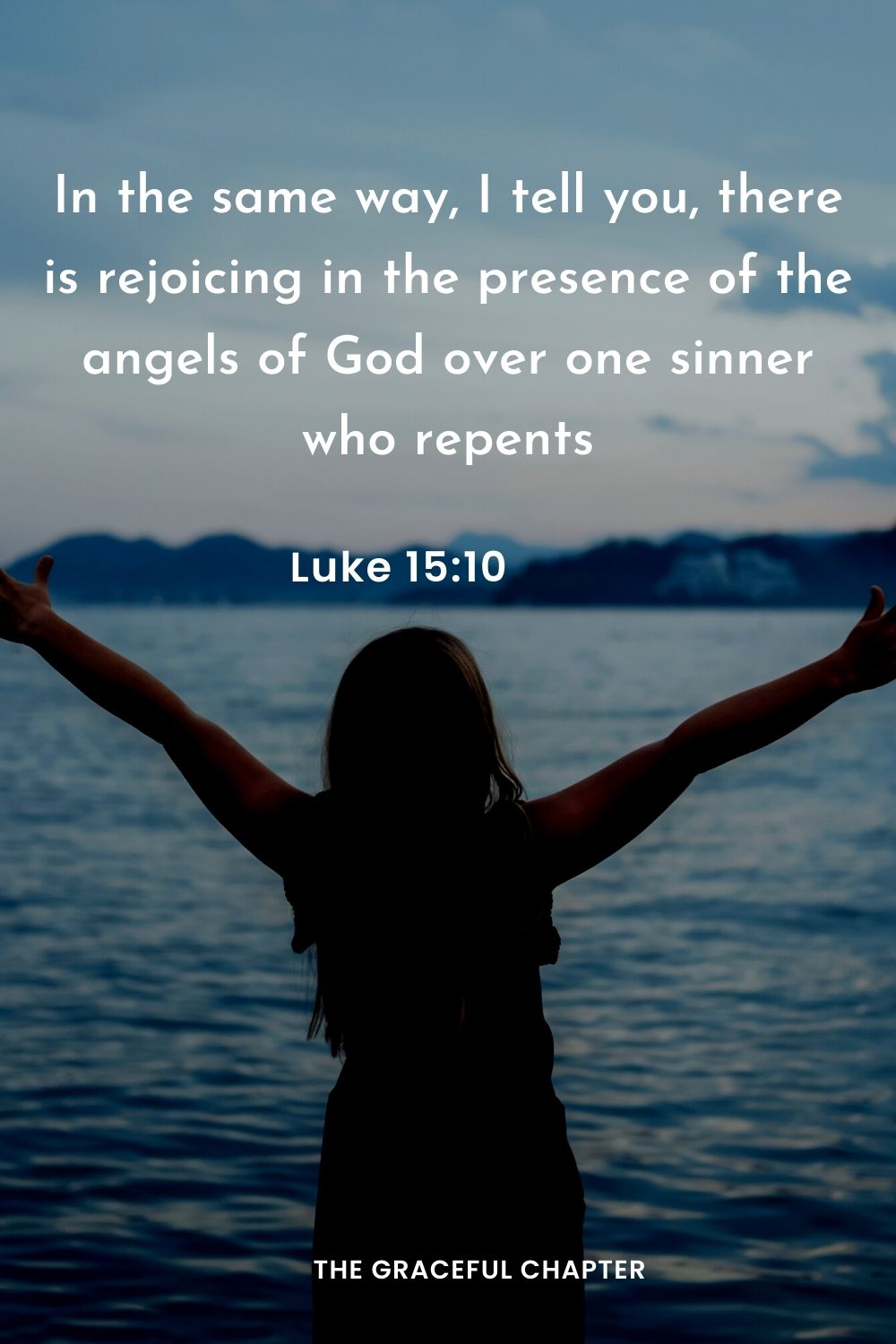 Luke 15:10
In the same way, I tell you, there is rejoicing in the presence of the angels of God over one sinner who repents

Psalm 103:20
Praise the Lord, you his angels, you mighty ones who do his bidding, who obey his word.

Psalm 34:7
The angel of the Lord encamps around those who fear him, and he delivers them.

Hebrews 13:2
Do not forget to show hospitality to strangers, for by so doing some people have shown hospitality to angels without knowing it.

Isaiah 6:2
Above him were seraphim, each with six wings: With two wings they covered their faces, with two they covered their feet, and with two they were flying.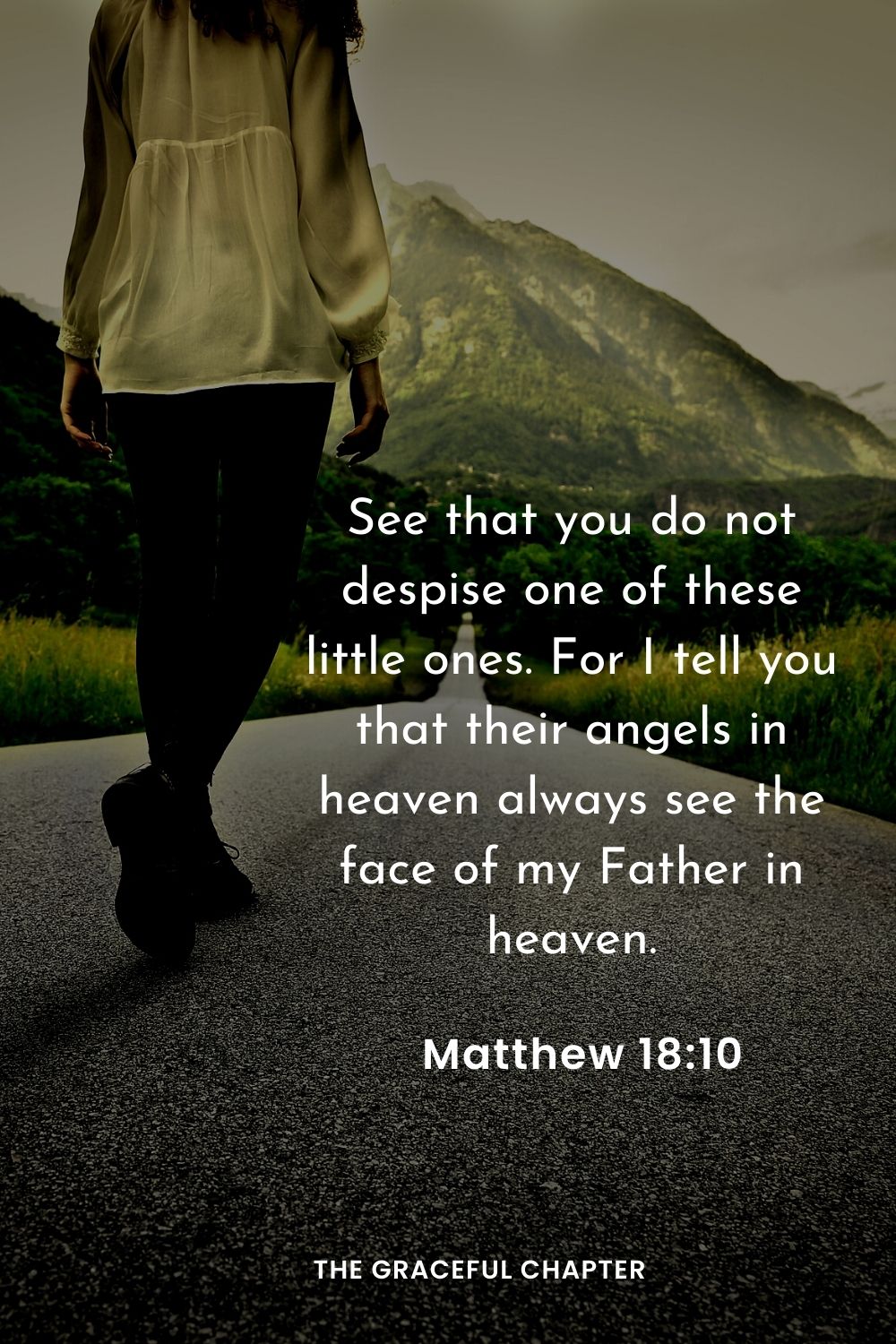 Matthew 18:10
See that you do not despise one of these little ones. For I tell you that their angels in heaven always see the face of my Father in heaven.

Exodus 23:20
See, I am sending an angel ahead of you to guard you along the way and to bring you to the place I have prepared.
Revelation 19:10
At this I fell at his feet to worship him. But he said to me, Don't do that! I am a fellow servant with you and with your brothers and sisters who hold to the testimony of Jesus. Worship God! For it is the Spirit of prophecy who bears testimony to Jesus.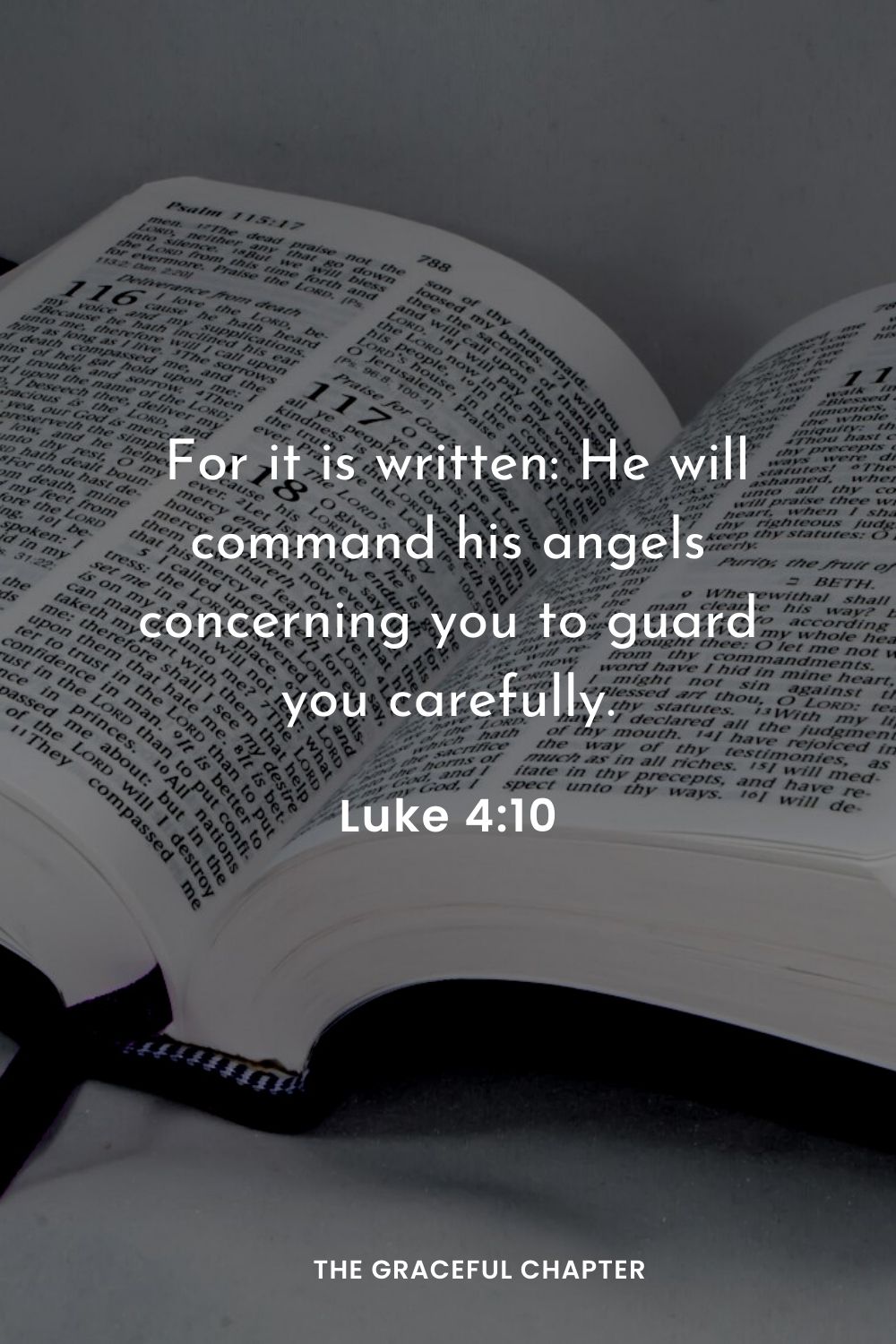 Luke 4:10
 For it is written: He will command his angels concerning you to guard you carefully.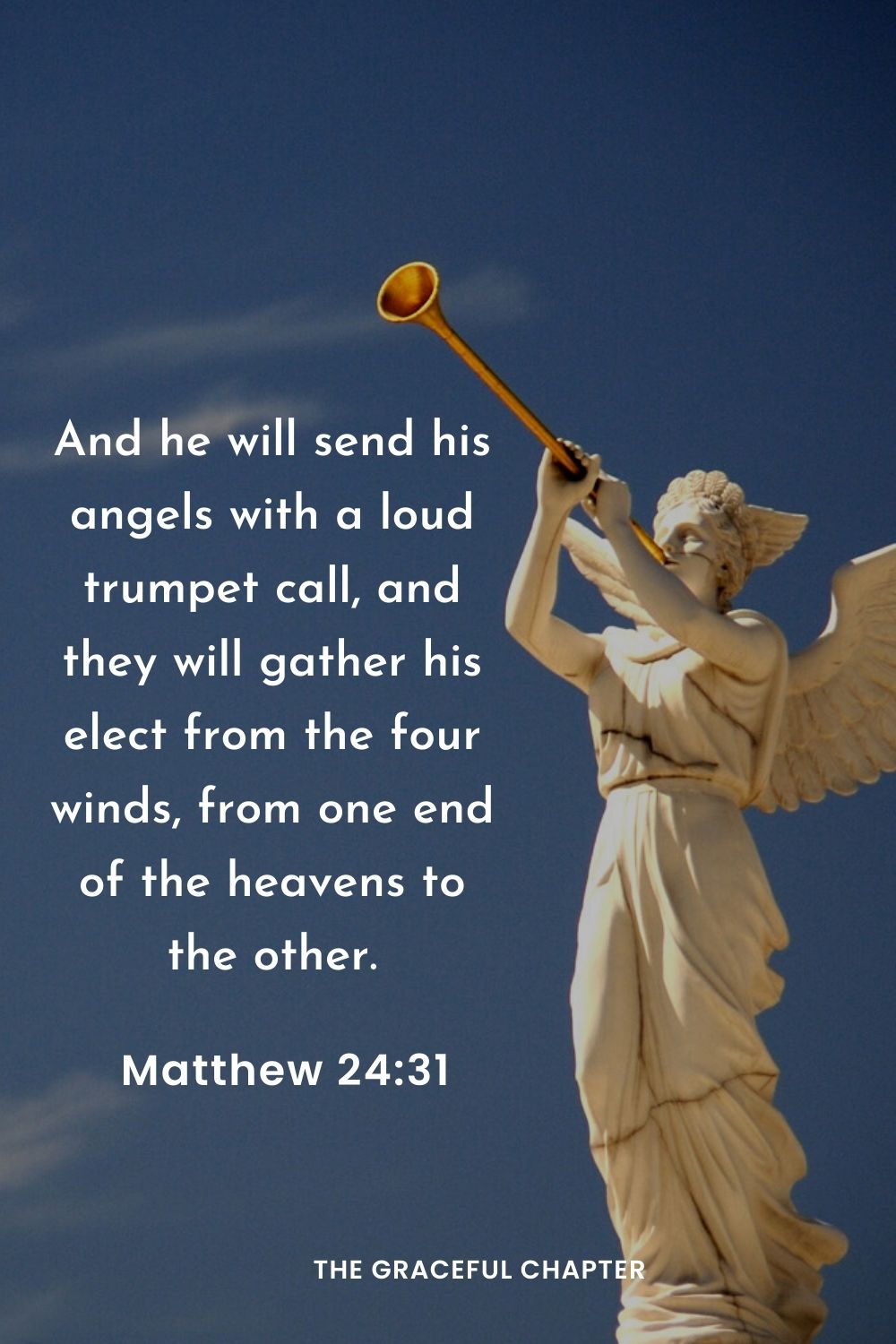 Matthew 24:31
And he will send his angels with a loud trumpet call, and they will gather his elect from the four winds, from one end of the heavens to the other.

Matthew 22:30
At the resurrection people will neither marry nor be given in marriage; they will be like the angels in heaven.
1 Peter 1:12
It was revealed to them that they were not serving themselves but you, when they spoke of the things that have now been told you by those who have preached the gospel to you by the Holy Spirit sent from heaven. Even angels long to look into these things.

Acts 27:23
Last night an angel of the God to whom I belong and whom I serve stood beside me

Hebrews 1:13-14
To which of the angels did God ever say, Sit at my right hand until I make your enemies, a footstool for your feet. Are not all angels ministering spirits sent to serve those who will inherit salvation?

Daniel 6:22
My God sent his angel, and he shut the mouths of the lions. They have not hurt me, because I was found innocent in his sight. Nor have I ever done any wrong before you, Your Majesty.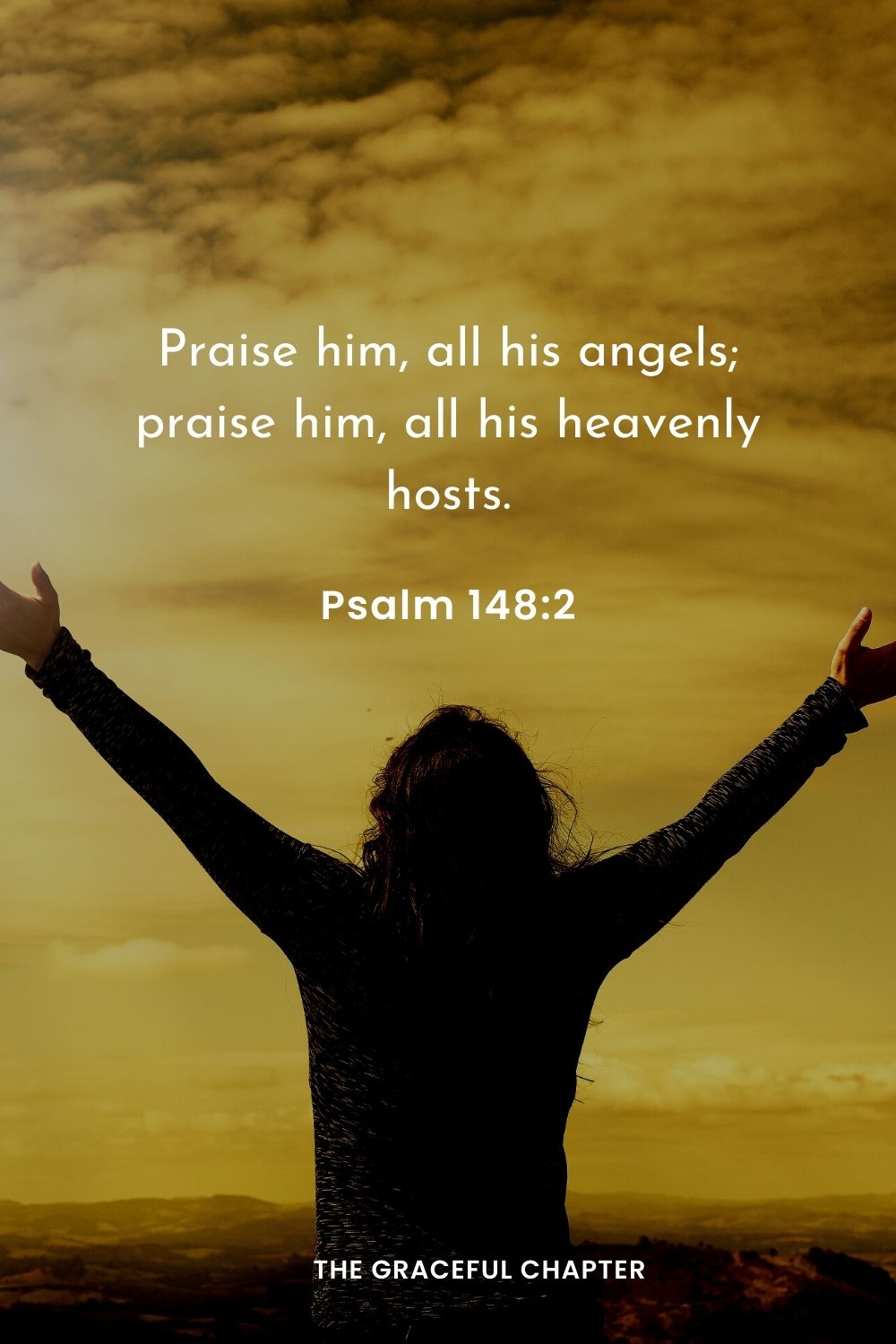 Psalm 148:2
Praise him, all his angels; praise him, all his heavenly hosts.
Colossians 2:18
Do not let anyone who delights in false humility and the worship of angels disqualify you. Such a person also goes into great detail about what they have seen; they are puffed up with idle notions by their unspiritual mind.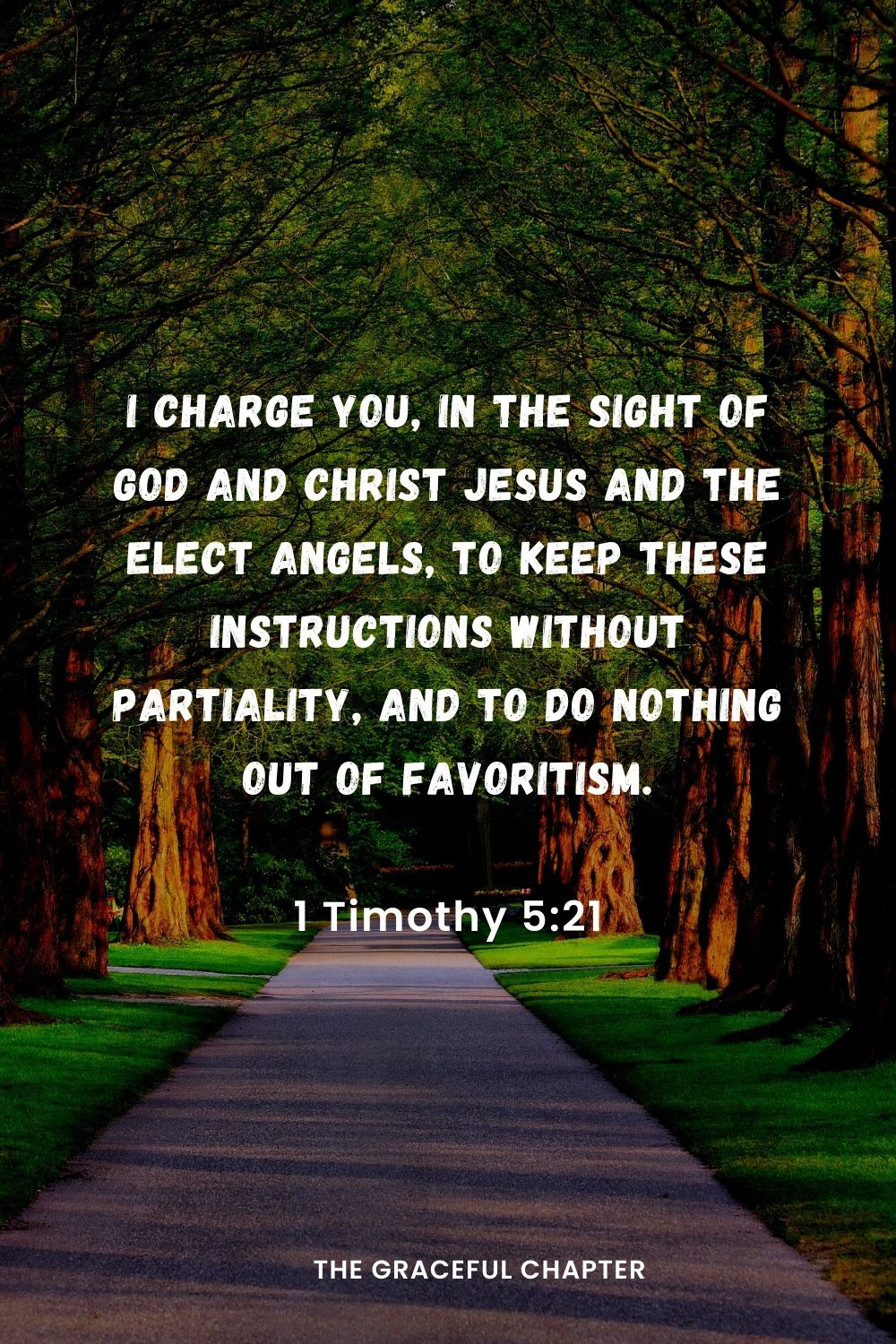 1 Timothy 5:21
I charge you, in the sight of God and Christ Jesus and the elect angels, to keep these instructions without partiality, and to do nothing out of favoritism.

Matthew 24:36
But about that day or hour no one knows, not even the angels in heaven, nor the Son, but only the Father.

Mark 8:38
 If anyone is ashamed of me and my words in this adulterous and sinful generation, the Son of Man will be ashamed of them when he comes in his Father's glory with the holy angels.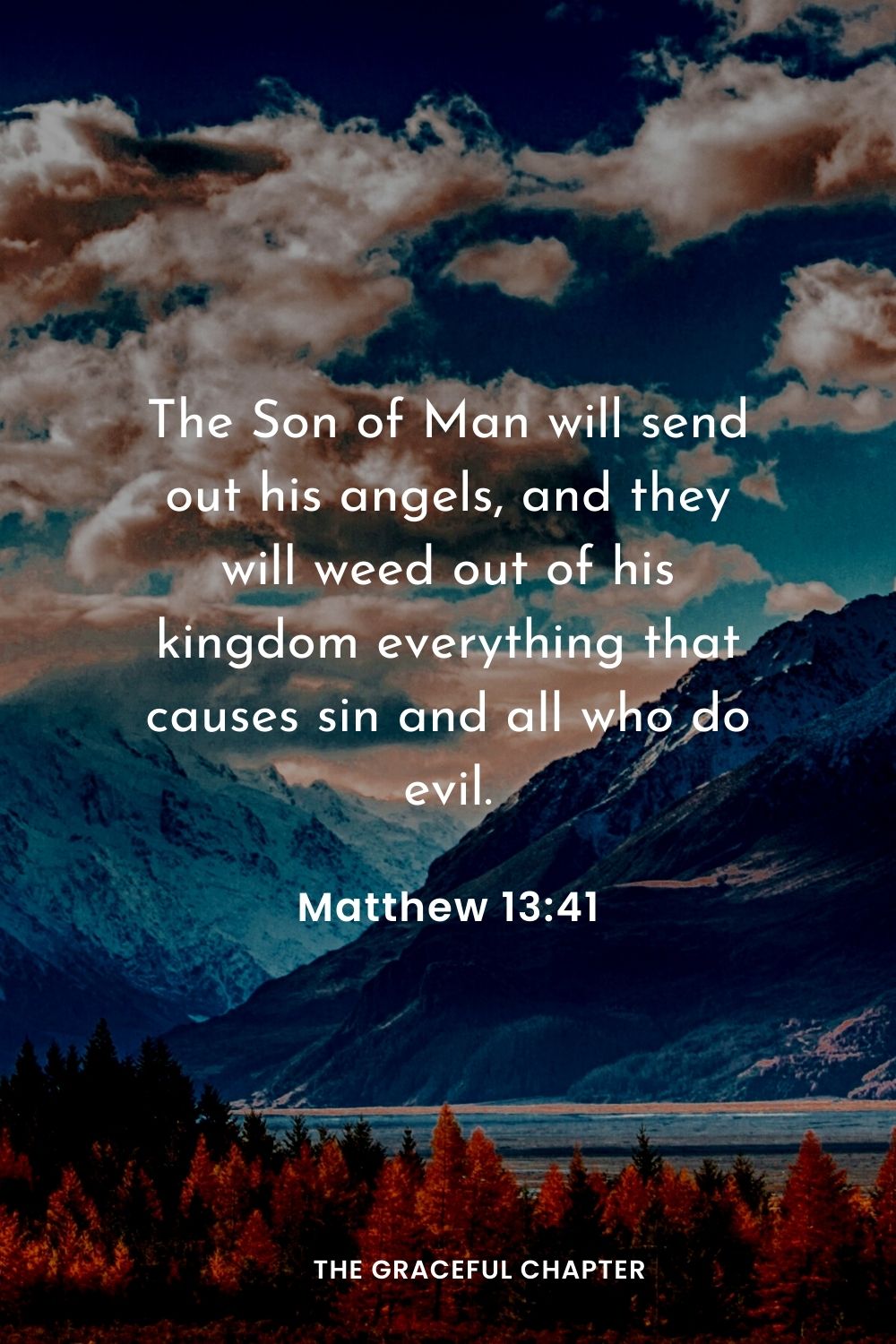 Matthew 13:41
The Son of Man will send out his angels, and they will weed out of his kingdom everything that causes sin and all who do evil.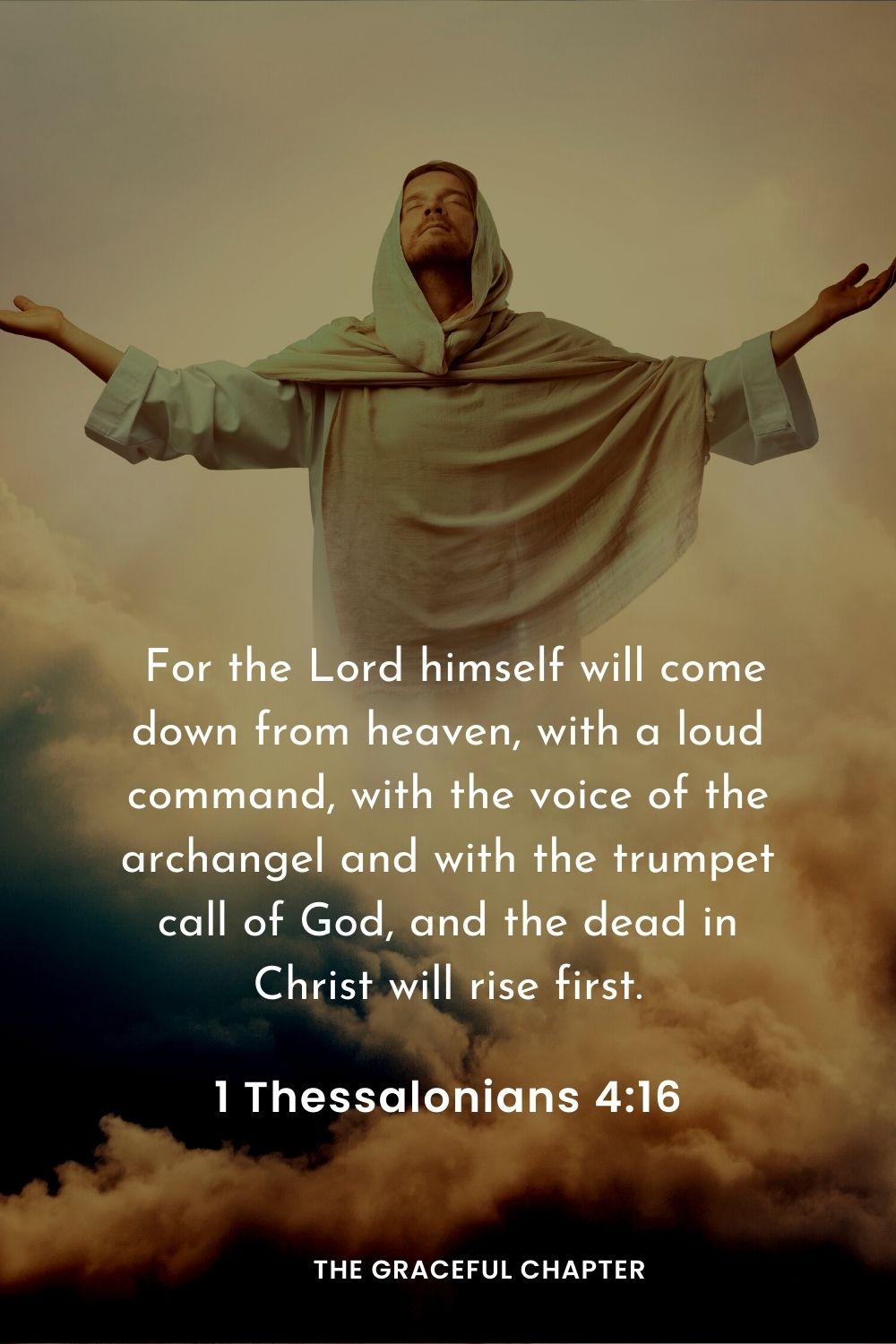 1 Thessalonians 4:16
 For the Lord himself will come down from heaven, with a loud command, with the voice of the archangel and with the trumpet call of God, and the dead in Christ will rise first.

Revelation 5:11-12
Then I looked and heard the voice of many angels, numbering thousands upon thousands, and ten thousand times ten thousand. They encircled the throne and the living creatures and the elders. In a loud voice they were saying: Worthy is the Lamb, who was slain, to receive power and wealth and wisdom and strength and honor and glory and praise!

Revelation 22:6
The angel said to me, "These words are trustworthy and true. The Lord, the God who inspires the prophets, sent his angel to show his servants the things that must soon take place.

Matthew 25:31
When the Son of Man comes in his glory, and all the angels with him, he will sit on his glorious throne.

Acts 7:53-54
You who have received the law that was given through angels but have not obeyed it. When the members of the Sanhedrin heard this, they were furious and gnashed their teeth at him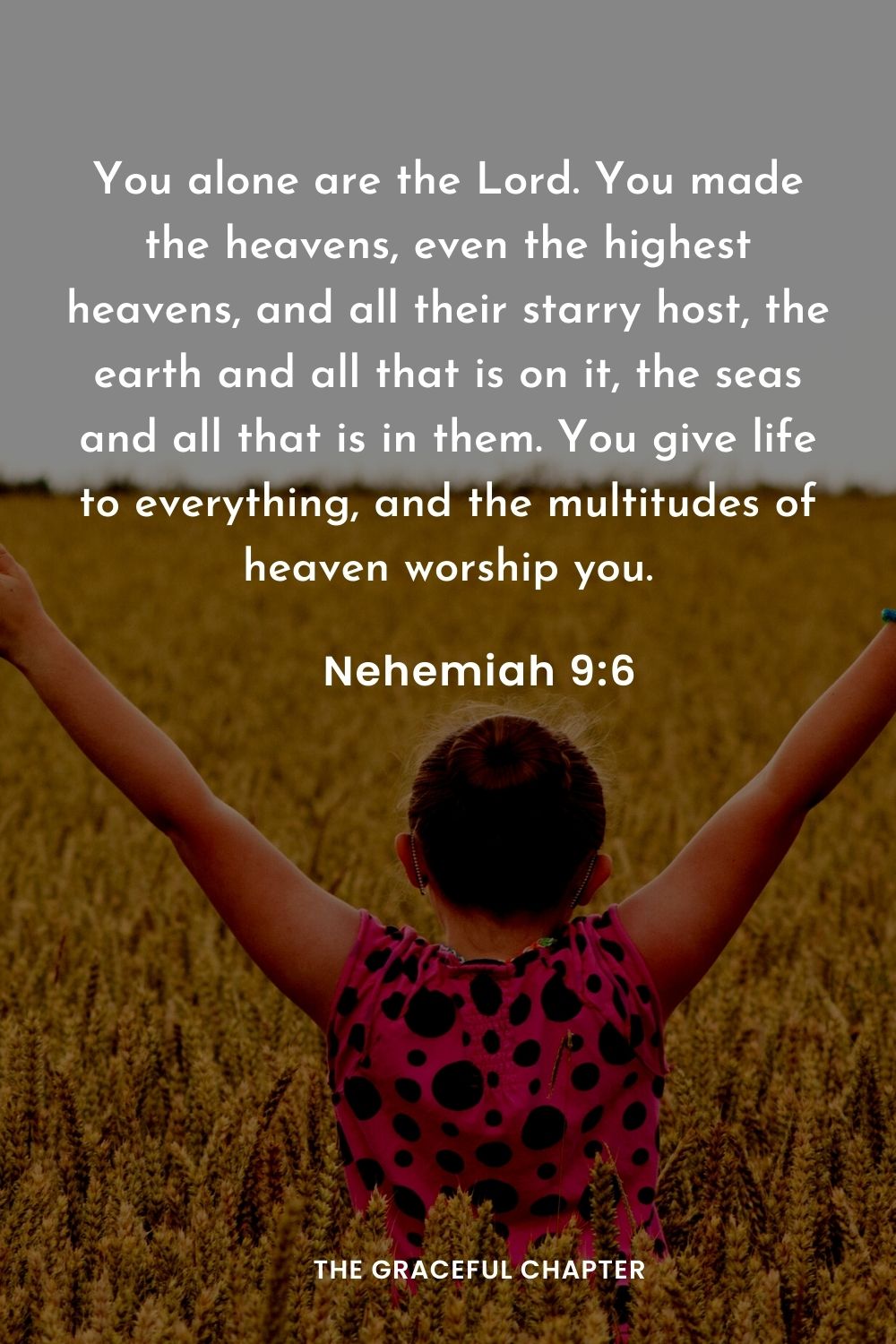 Nehemiah 9:6
You alone are the Lord. You made the heavens, even the highest heavens, and all their starry host, the earth and all that is on it, the seas and all that is in them. You give life to everything, and the multitudes of heaven worship you.
Related Posts
Matthew 25:41
Then he will say to those on his left, 'Depart from me, you who are cursed, into the eternal fire prepared for the devil and his angels.

John 1:51
He then added, "Very truly I tell you, you will see 'heaven open, and the angels of God ascending and descending on' the Son of Man.

Matthew 16:27
For the Son of Man is going to come in his Father's glory with his angels, and then he will reward each person according to what they have done.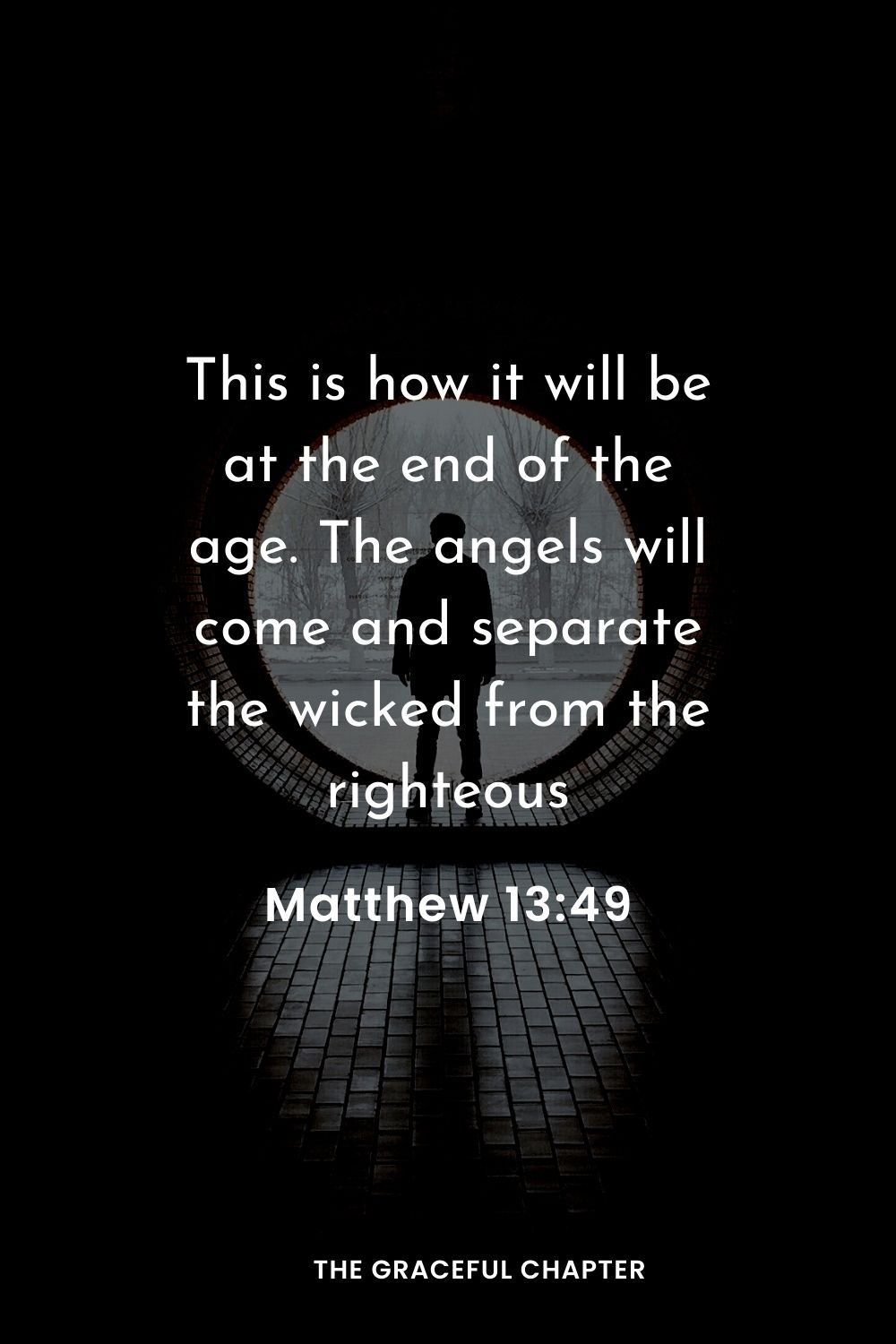 Matthew 13:49
This is how it will be at the end of the age. The angels will come and separate the wicked from the righteous

2 Peter 2:11
Yet even angels, although they are stronger and more powerful, do not heap abuse on such beings when bringing judgment on them from the Lord.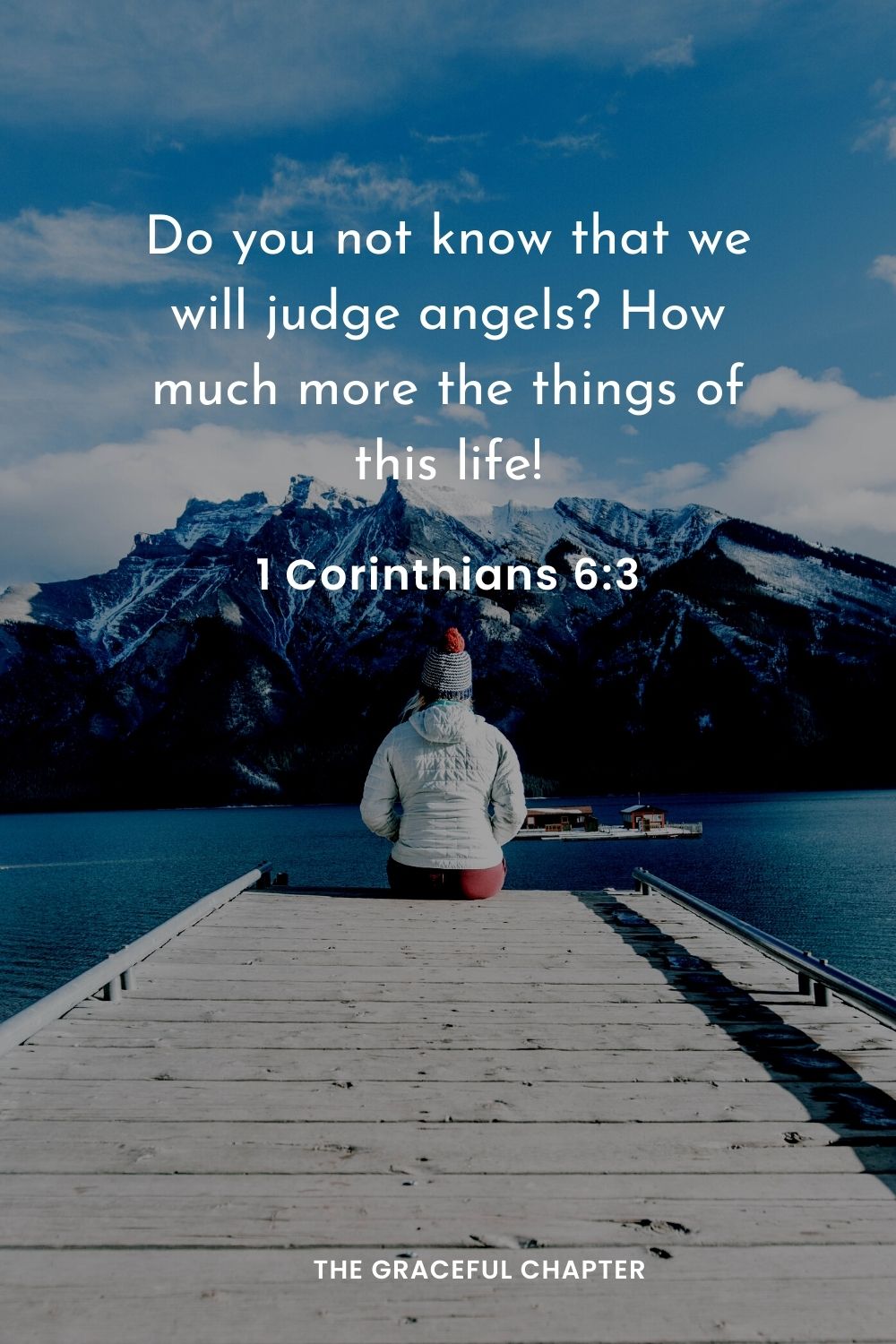 1 Corinthians 6:3
Do you not know that we will judge angels? How much more the things of this life!

Genesis 3:19
By the sweat of your brow you will eat your food
until you return to the ground, since from it you were taken; for dust you are and to dust you will return.

Ephesians 6:12
For our struggle is not against flesh and blood, but against the rulers, against the authorities, against the powers of this dark world and against the spiritual forces of evil in the heavenly realms.

2 Samuel 22:33
It is God who arms me with strength and keeps my way secure.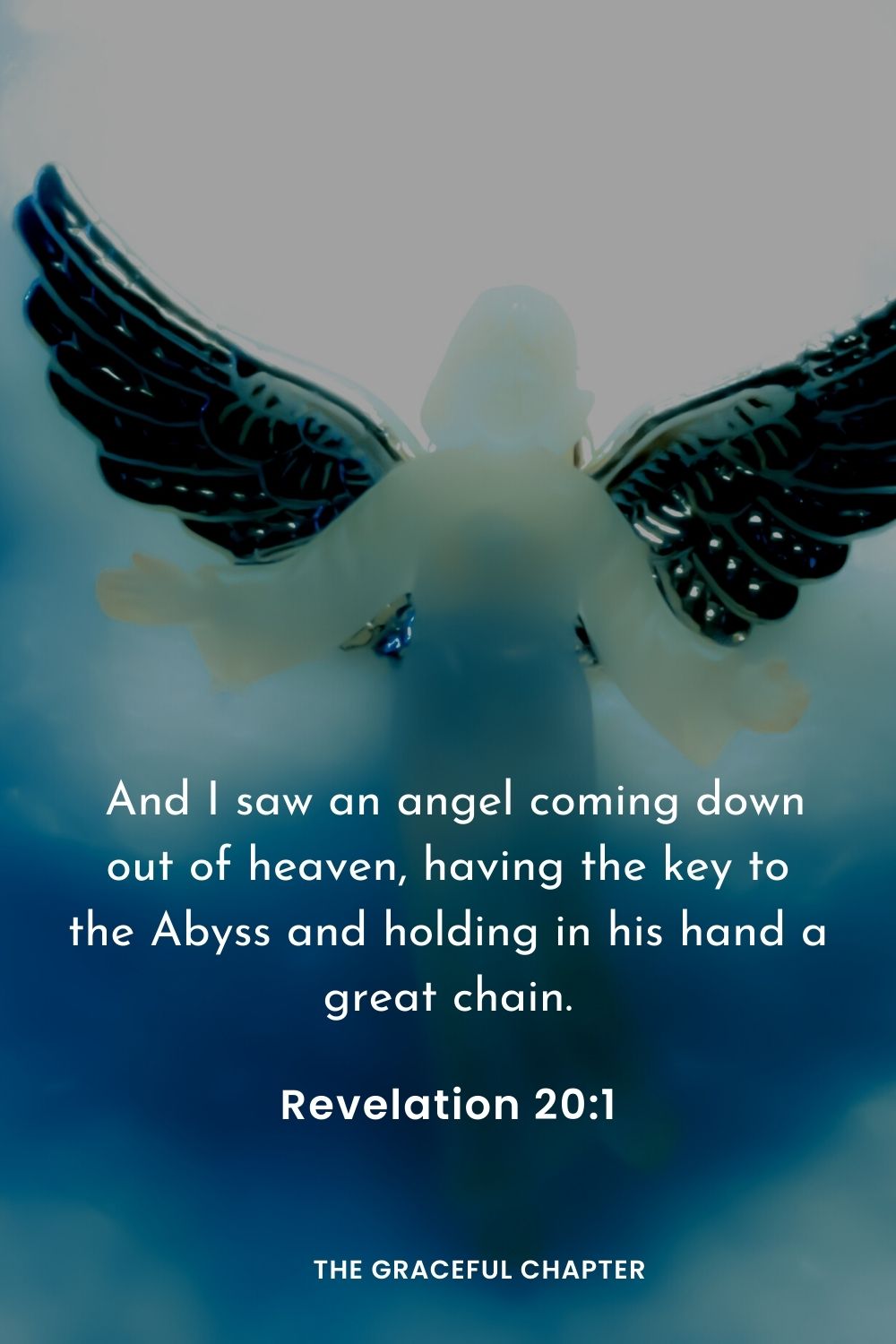 Revelation 20:1
 And I saw an angel coming down out of heaven, having the key to the Abyss and holding in his hand a great chain.

Luke 2:13-14
 Suddenly a great company of the heavenly host appeared with the angel, praising God and saying, Glory to God in the highest heaven, and on earth peace to those on whom his favor rests.

Matthew 1:20
But after he had considered this, an angel of the Lord appeared to him in a dream and said, Joseph son of David, do not be afraid to take Mary home as your wife, because what is conceived in her is from the Holy Spirit.

Psalm 103:21
Praise the Lord, all his heavenly hosts, you his servants who do his will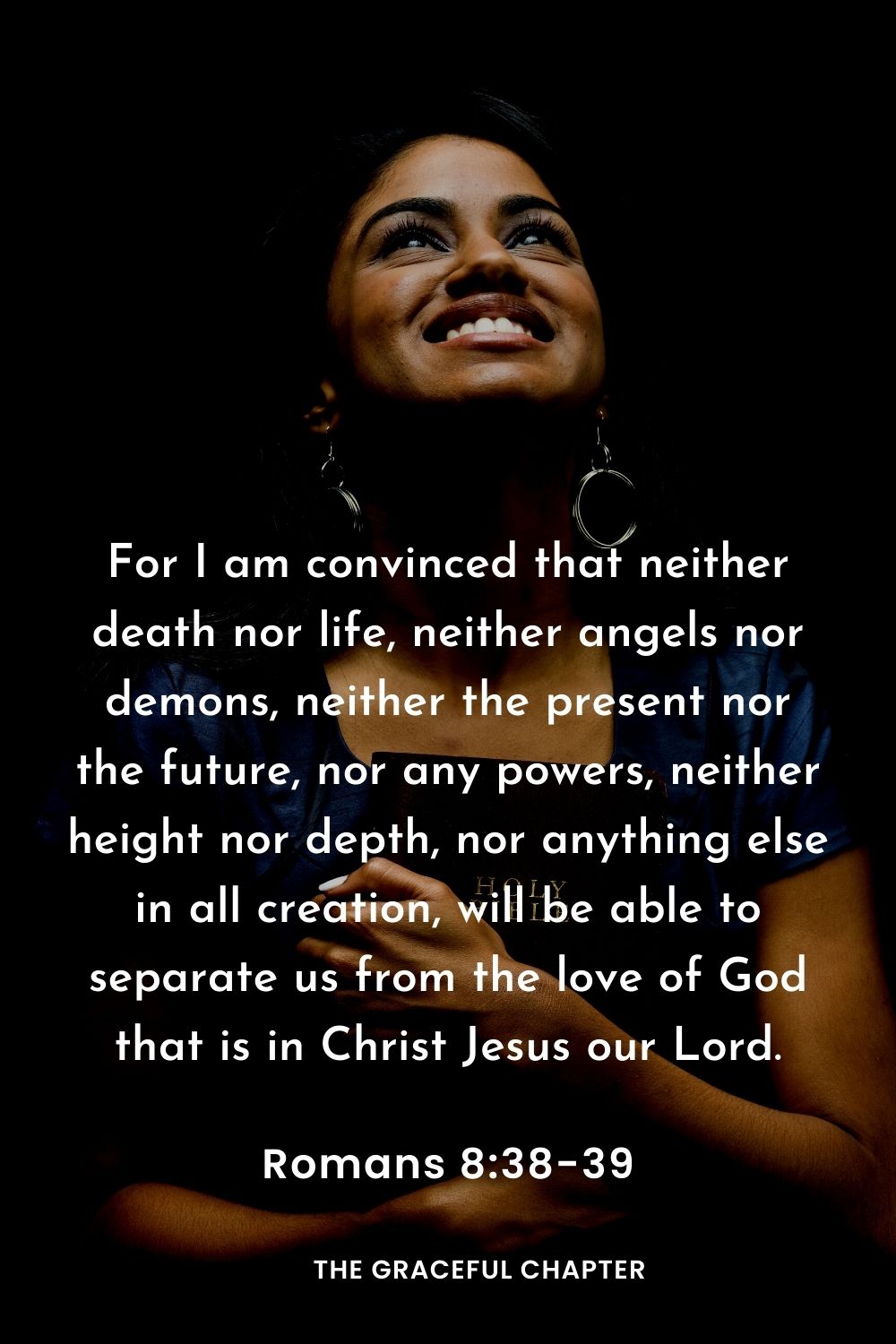 Romans 8:38-39
For I am convinced that neither death nor life, neither angels nor demons, neither the present nor the future, nor any powers, neither height nor depth, nor anything else in all creation, will be able to separate us from the love of God that is in Christ Jesus our Lord.