Christmas is such a beautiful time. We get to decorate our homes with beautiful Christmas decor pieces, Christmas trees, and lights. Not just our homes, almost everywhere you pass has a beautiful Christmas decor.
Whether you are in town, going shopping, taking a stroll around your neighborhood, everywhere looks bright and beautiful. And oh, the Christmas songs and jingles…tis indeed the season to be jolly.
We also get to make Christmas meals and gather with our family and loved ones to wine and dine as we celebrate Christmas.
But in doing all these, it is easy to forget about why we are even celebrating Christmas and what Christmas is truly about.
That is why it is important that during this busy time of the year, you still make time for the word of God to remind yourself of God's love and what Christmas is truly about.
So this Joy to the world Christmas Bible Study toolkit is made to help you read and learn about the birth of Jesus Christ and his purpose for being born.
This Christmas Bible study toolkit is meant to;
Teach you about the birth of Christ.
Help you understand why Jesus Christ was born
Remind you of God's love for mankind.
Help you understand what Christmas is all about.
This 69 page Christmas Bible study toolkit contains;
A 30 Day Christmas Bible Reading Plan
Verse study sheets to help you gain a better understanding of the verses
Bible study journal with enough space to write down your thoughts on the scripture and the lessons you've learnt from the birth of Jesus Christ.
11 Printable Scripture cards about the birth of Jesus Christ.
A printable Christmas prayer to serve as a guide when praying this Christmas.
Related Posts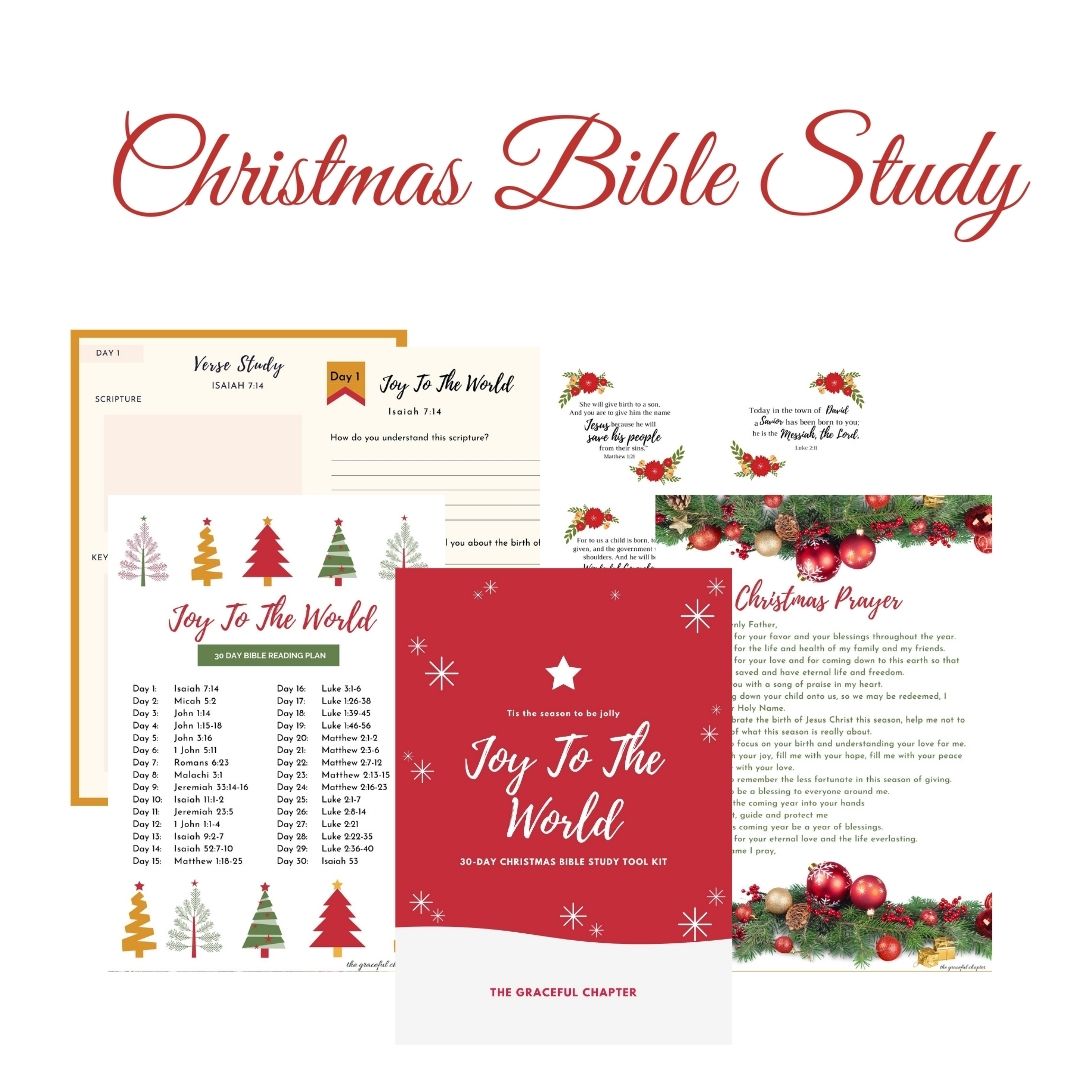 How To Use This Bible Study Plan For Maximum Impact
This Christmas Bible study toolkit includes;
Bible reading plan
Verse study sheets
Bible study journal
A prayer
Scripture cards
How To Use The Verse Study Sheet
Read the verse carefully and write it down
Write down the keywords that stand out to you and what they mean to you.
Note the concept of the verse (Is it a promise, advice, or encouragement).
In order to better understand the verse, it is important to read the verses before and after it.
If you don't understand the scripture, try reading other Bible versions and translations. (NKJV, GNB, ESV, KJV, NIV, etc)
How To Use The Bible Study Journal
Read the scripture again carefully. After reflecting and meditating on the verse, write it down as you understand it. (In your own words).
Write down what the scripture is trying to tell you about the birth of Jesus Christ.
Write down the lessons you can learn from the scripture.
Write down your prayer. This can be based on the lesson learnt from the scripture.
Say your prayer to God.
How to use the scripture cards
Print out the scripture cards and cut them out to keep them handy, (it will be best if laminated)
You can keep them in your purse or wallet or stick them to where you will see them every day.
This will remind you of what the Bible says about the birth of Jesus Christ and God's love for mankind.