When God created the world, he made mankind in His likeness and had a very close relationship with mankind as man was without sin. But after sin entered the world, it separated man from God.
So being born again refers to a spiritual rebirth where man lets go of sin and accept Jesus Christ as his Lord and Personal Saviour, as doing this will bring man closer to God again just as it was in the beginning.
So being born again, doesn't mean you literally have to be born as a baby again, it just means you should accept Jesus Christ as your Lord and Personal Saviour and turn your back on sin. See below for some bible verses about being born again to help you better understand being born again.
Bible verses about being born again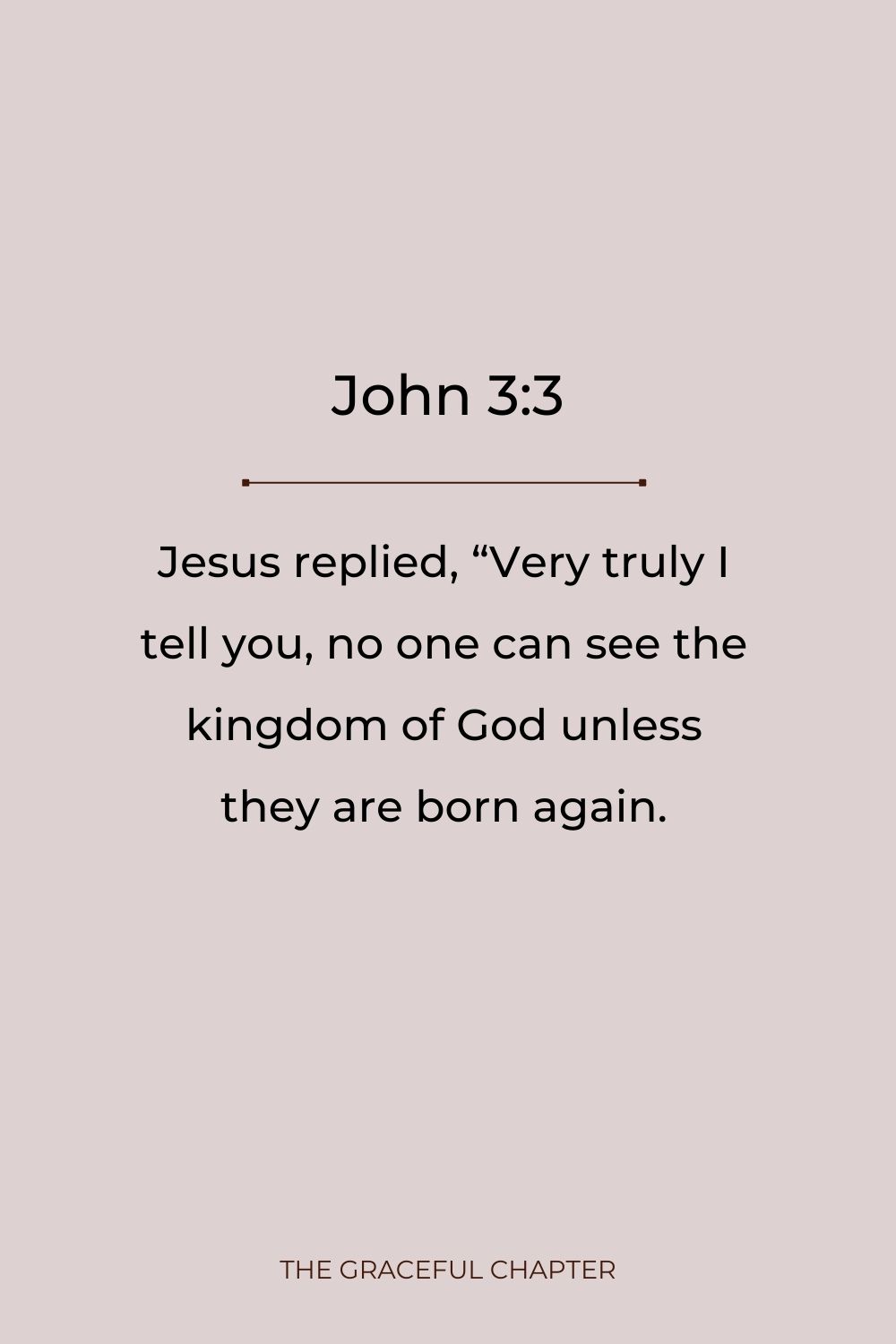 Jesus replied, "Very truly I tell you, no one can see the kingdom of God unless they are born again.
John 3:3
For you have been born again, not of perishable seed, but of imperishable, through the living and enduring word of God.
1 Peter 1:23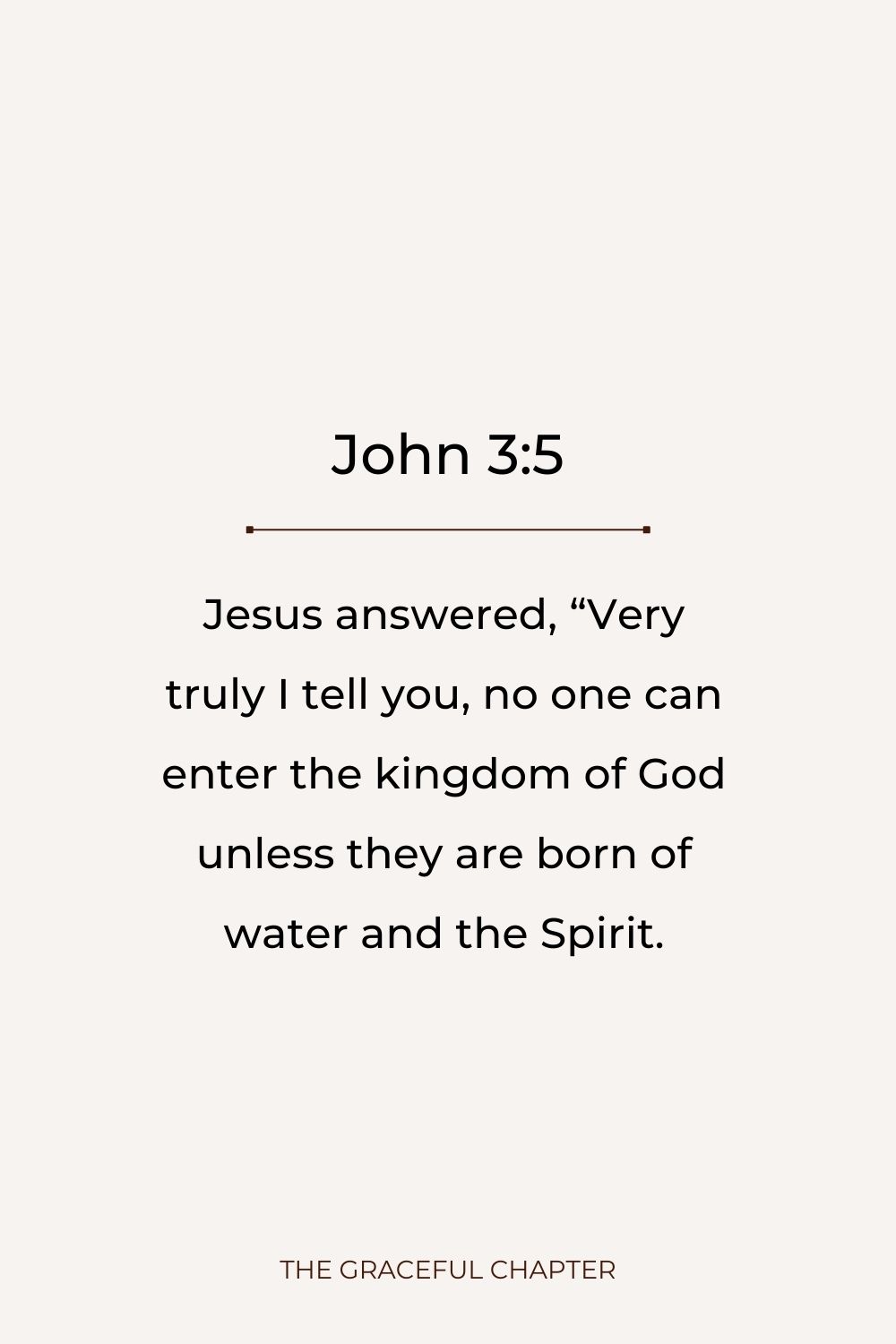 Jesus answered, "Very truly I tell you, no one can enter the kingdom of God unless they are born of water and the Spirit.
John 3:5
Therefore, if anyone is in Christ, the new creation has come: The old has gone, the new is here!
2 Corinthians 5:17
 For God so loved the world that he gave his one and only Son, that whoever believes in him shall not perish but have eternal life.
John 3:16
For the wages of sin is death, but the gift of God is eternal life in Christ Jesus our Lord.
Romans 6:23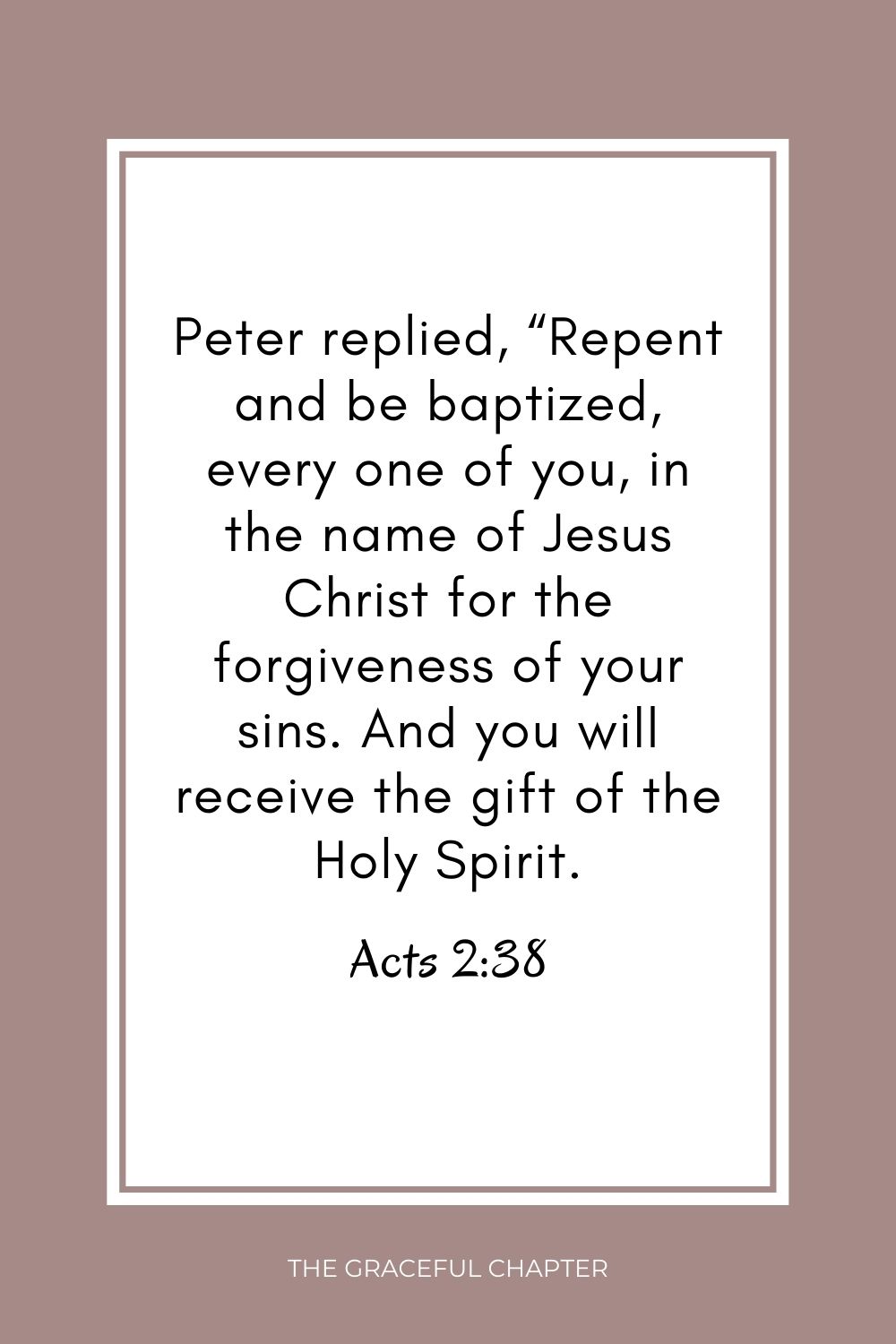 Peter replied, "Repent and be baptized, every one of you, in the name of Jesus Christ for the forgiveness of your sins. And you will receive the gift of the Holy Spirit.
Acts 2:38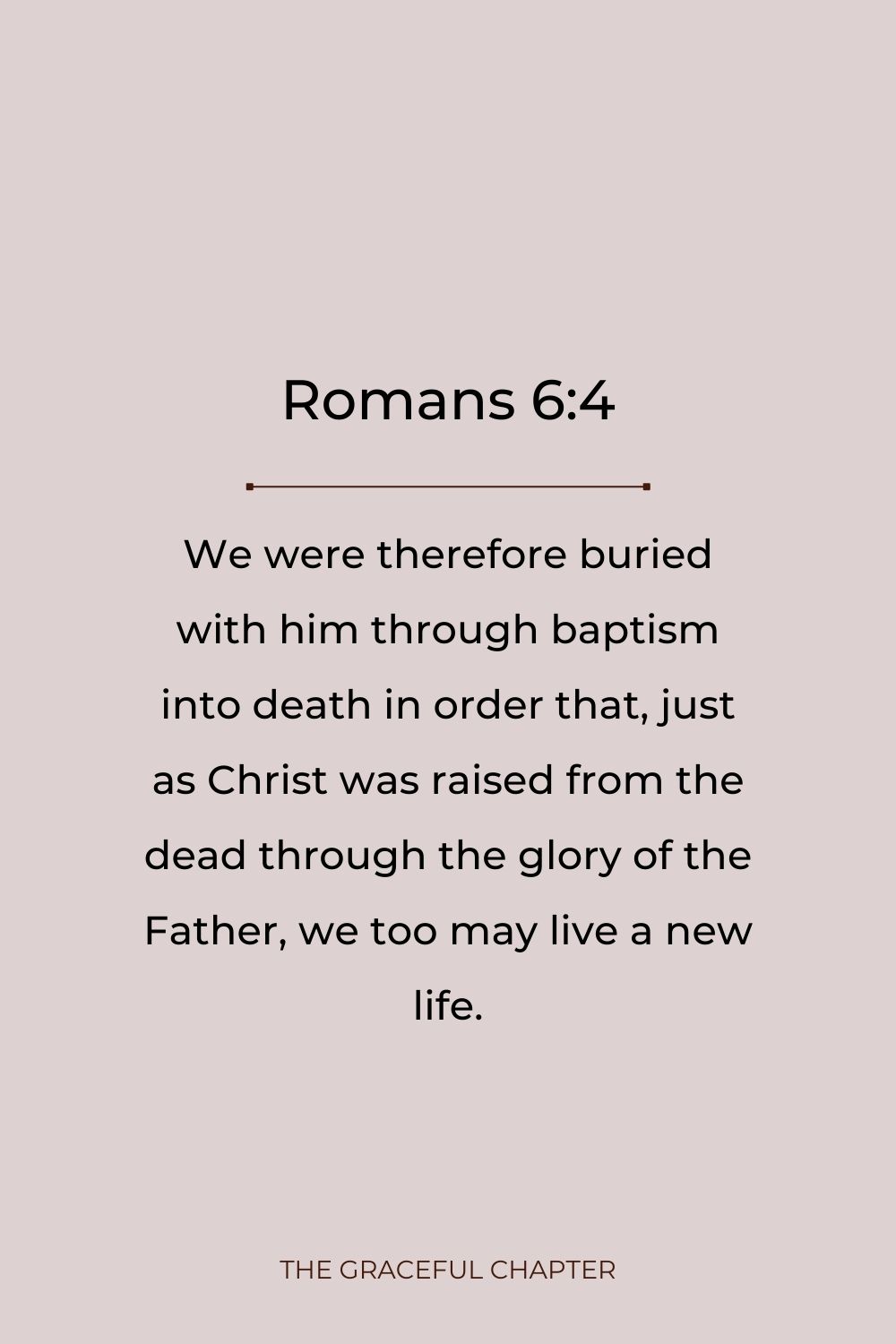 We were therefore buried with him through baptism into death in order that, just as Christ was raised from the dead through the glory of the Father, we too may live a new life.
Romans 6:4
For it is by grace you have been saved, through faith and this is not from yourselves, it is the gift of God not by works, so that no one can boast.
Ephesians 2:8-9
The wind blows wherever it pleases. You hear its sound, but you cannot tell where it comes from or where it is going. So it is with everyone born of the Spirit.
John 3:8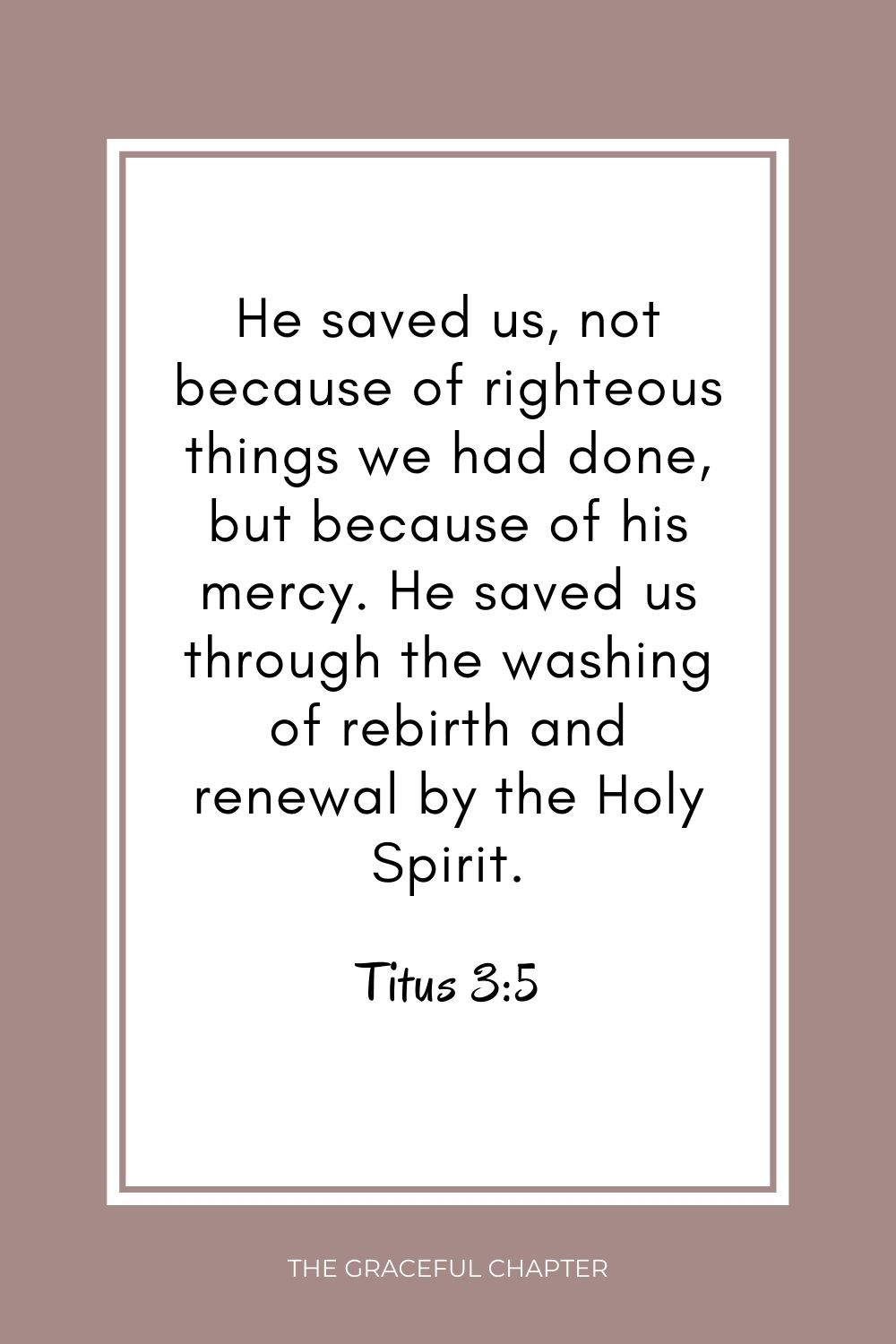 He saved us, not because of righteous things we had done, but because of his mercy. He saved us through the washing of rebirth and renewal by the Holy Spirit.
Titus 3:5
Praise be to the God and Father of our Lord Jesus Christ! In his great mercy he has given us new birth into a living hope through the resurrection of Jesus Christ from the dead.
1 Peter 1:3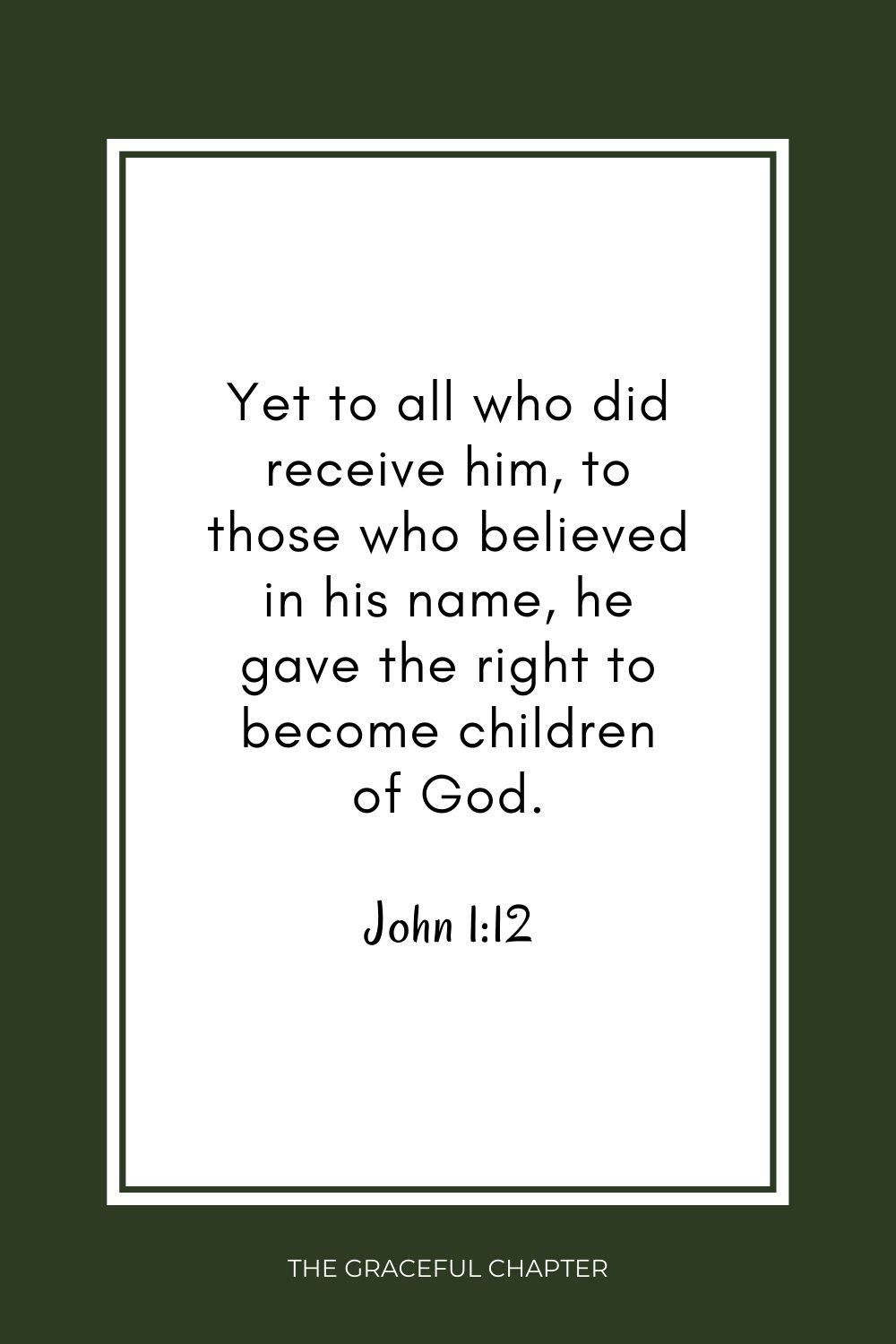 Yet to all who did receive him, to those who believed in his name, he gave the right to become children of God.
John 1:12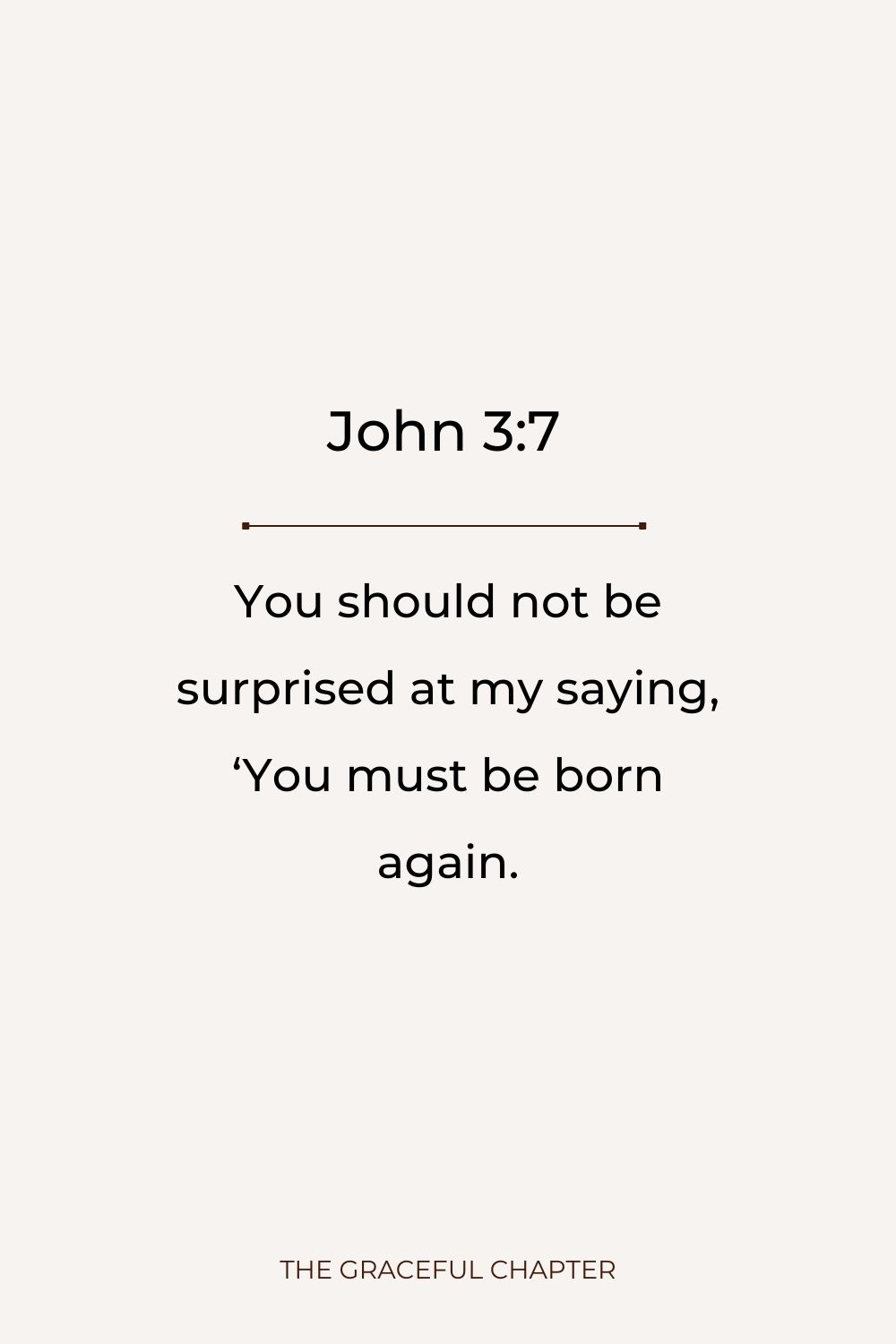 You should not be surprised at my saying, 'You must be born again.
John 3:7
 If you declare with your mouth, "Jesus is Lord," and believe in your heart that God raised him from the dead, you will be saved.  For it is with your heart that you believe and are justified, and it is with your mouth that you profess your faith and are saved.
Romans 10:9-10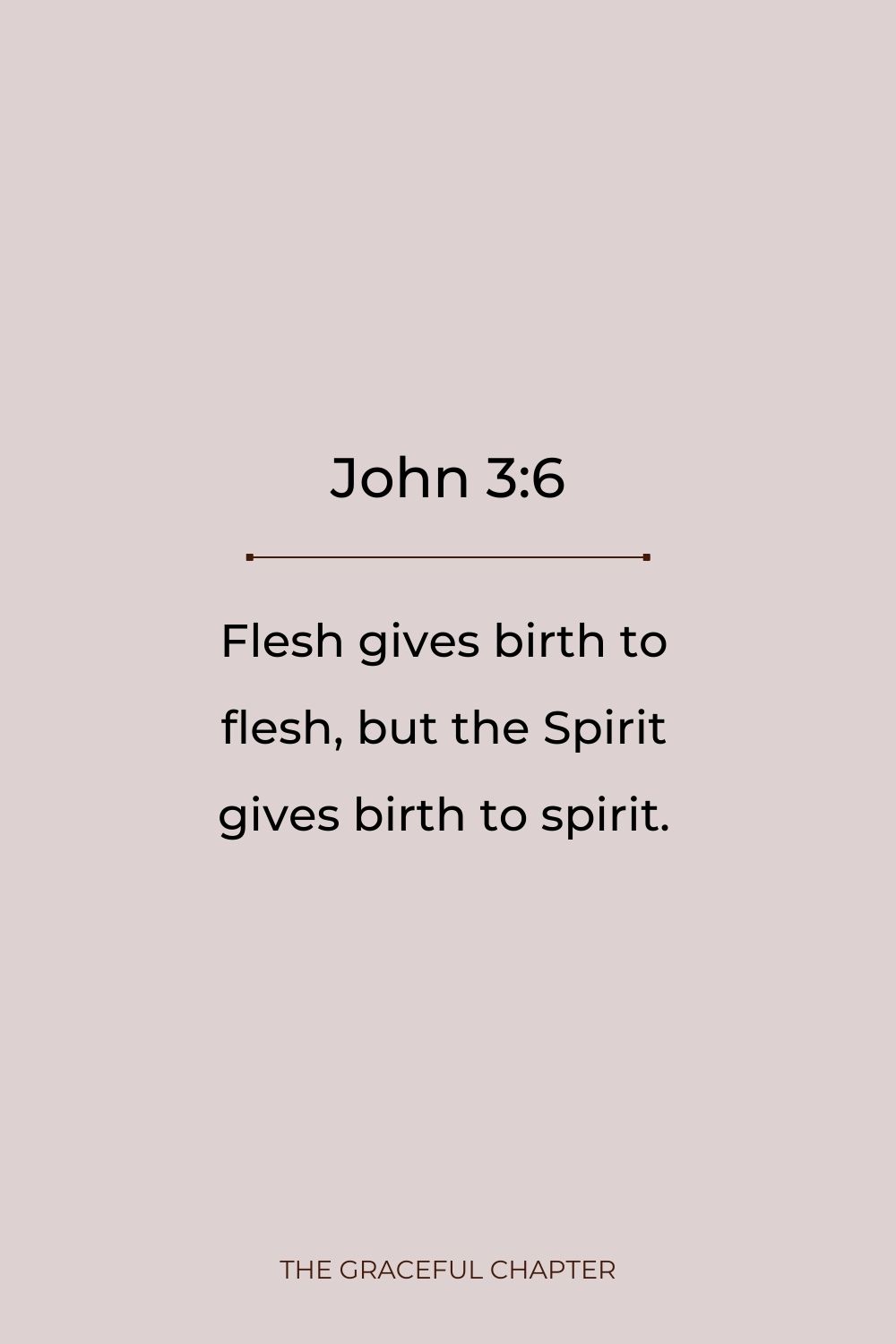 Flesh gives birth to flesh, but the Spirit gives birth to spirit.
John 3:6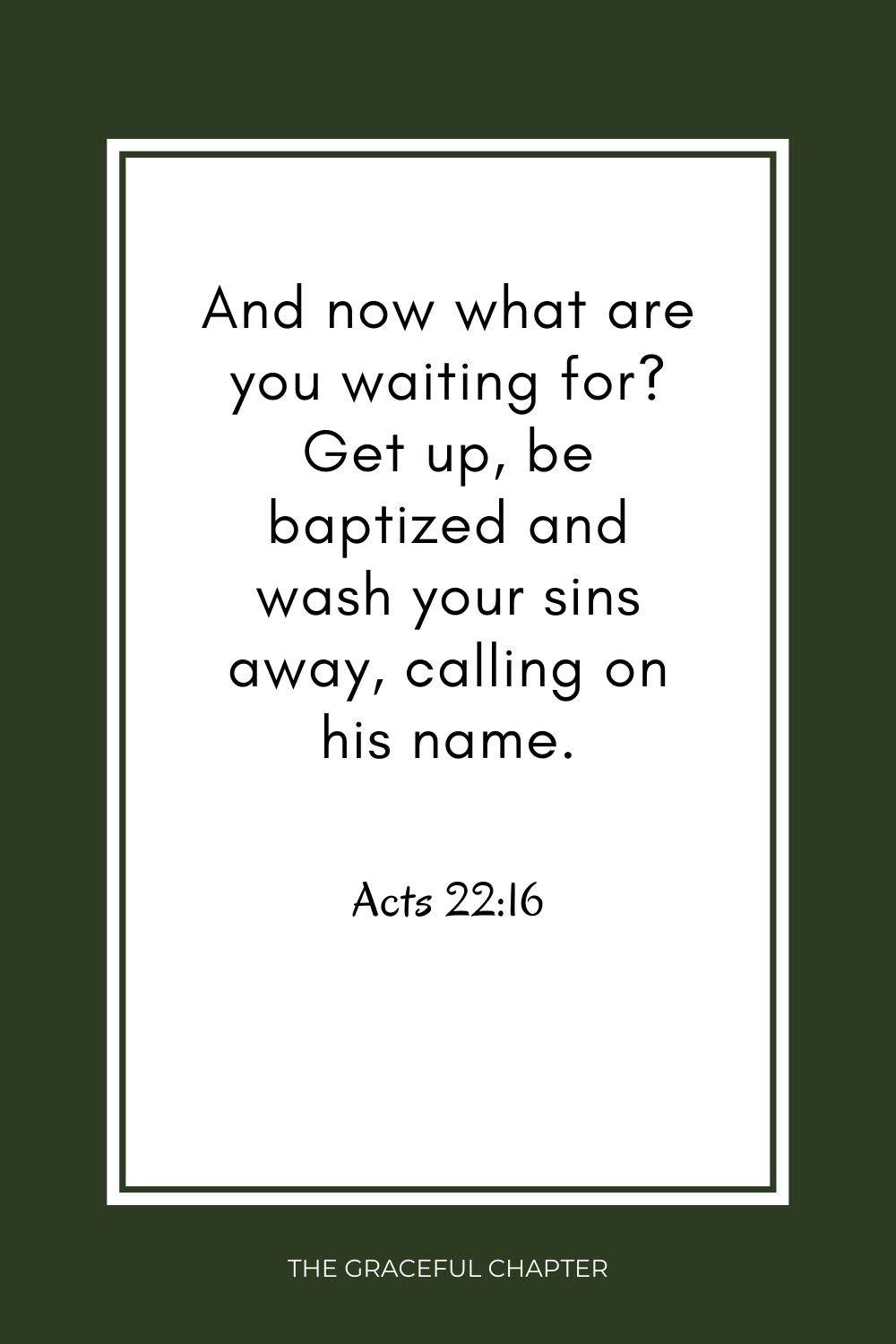 And now what are you waiting for? Get up, be baptized and wash your sins away, calling on his name.
Acts 22:16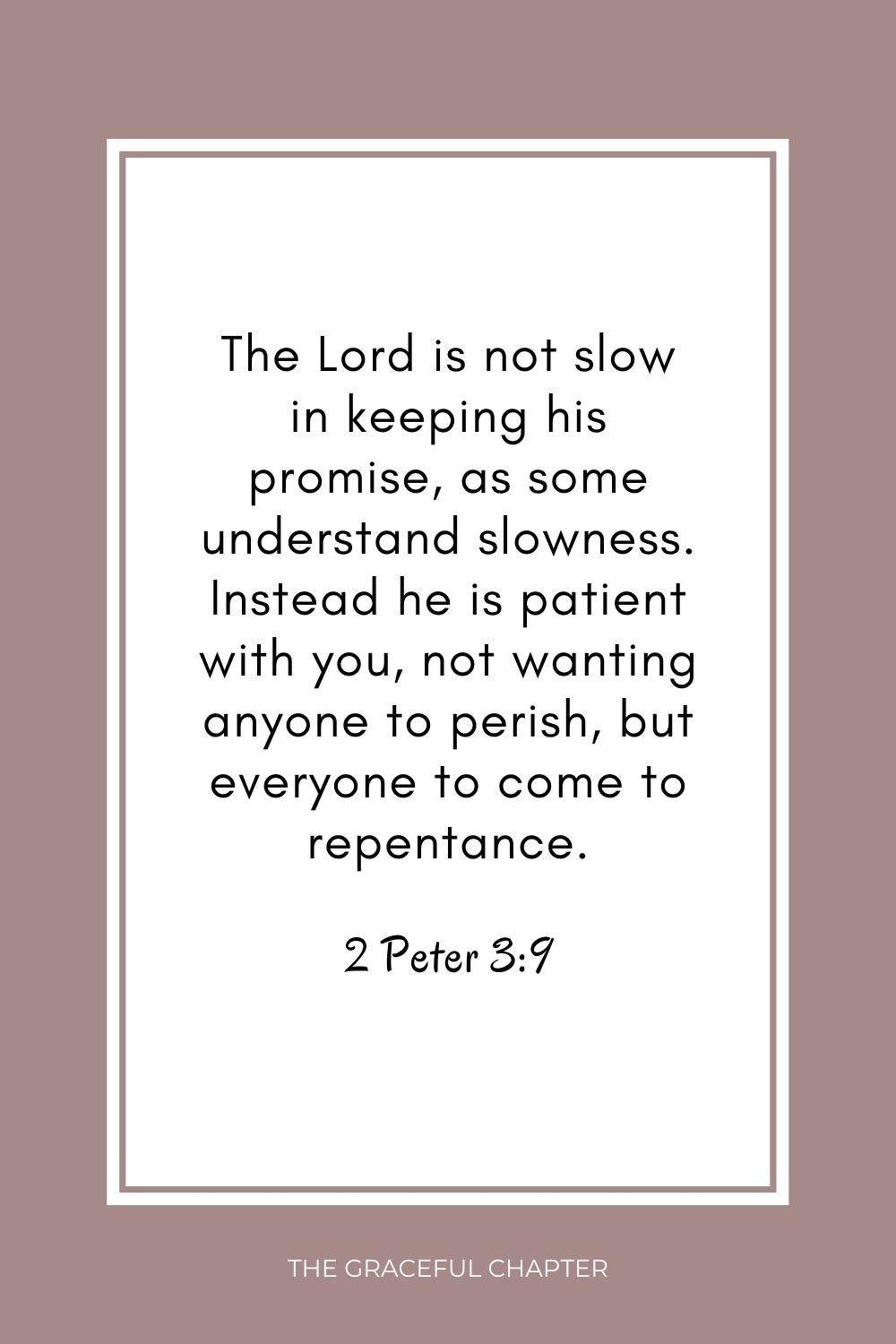 The Lord is not slow in keeping his promise, as some understand slowness. Instead he is patient with you, not wanting anyone to perish, but everyone to come to repentance.
2 Peter 3:9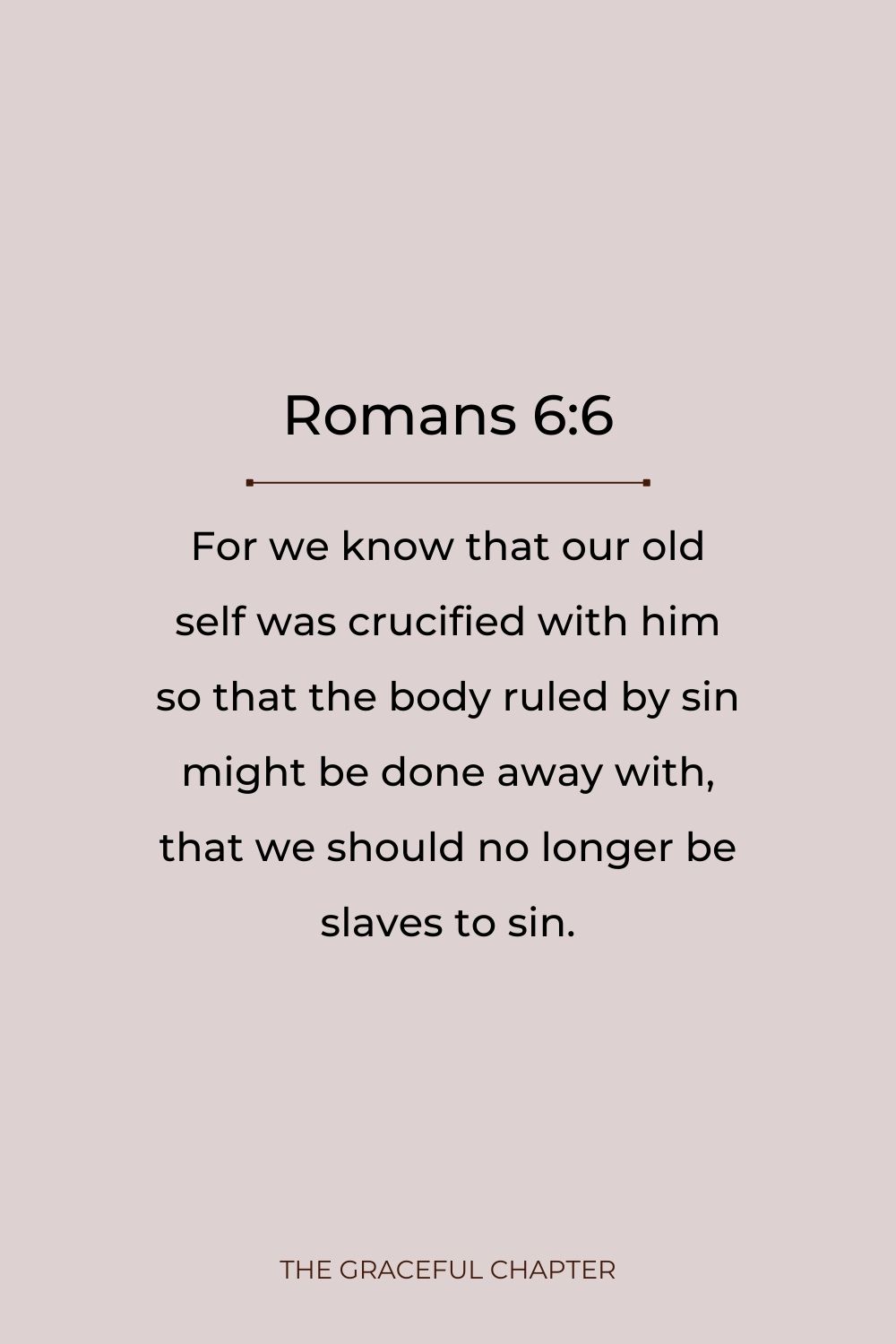 For we know that our old self was crucified with him so that the body ruled by sin might be done away with, that we should no longer be slaves to sin.
Romans 6:6
He chose to give us birth through the word of truth, that we might be a kind of first fruits of all he created.
James 1:18
Related Posts
Whoever believes and is baptized will be saved, but whoever does not believe will be condemned.
Mark 16:16
 For all have sinned and fall short of the glory of God.
Romans 3:23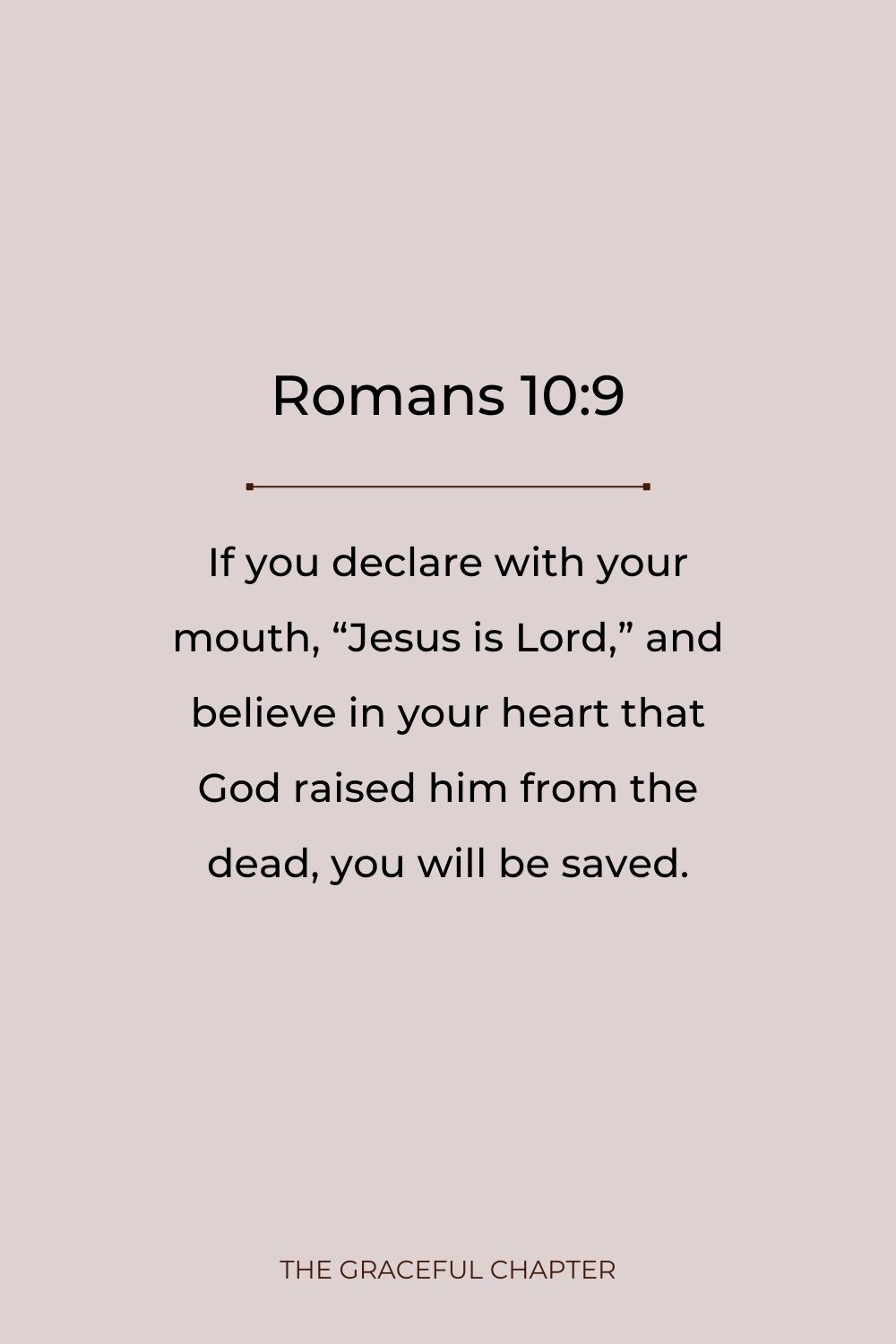 If you declare with your mouth, "Jesus is Lord," and believe in your heart that God raised him from the dead, you will be saved.
Romans 10:9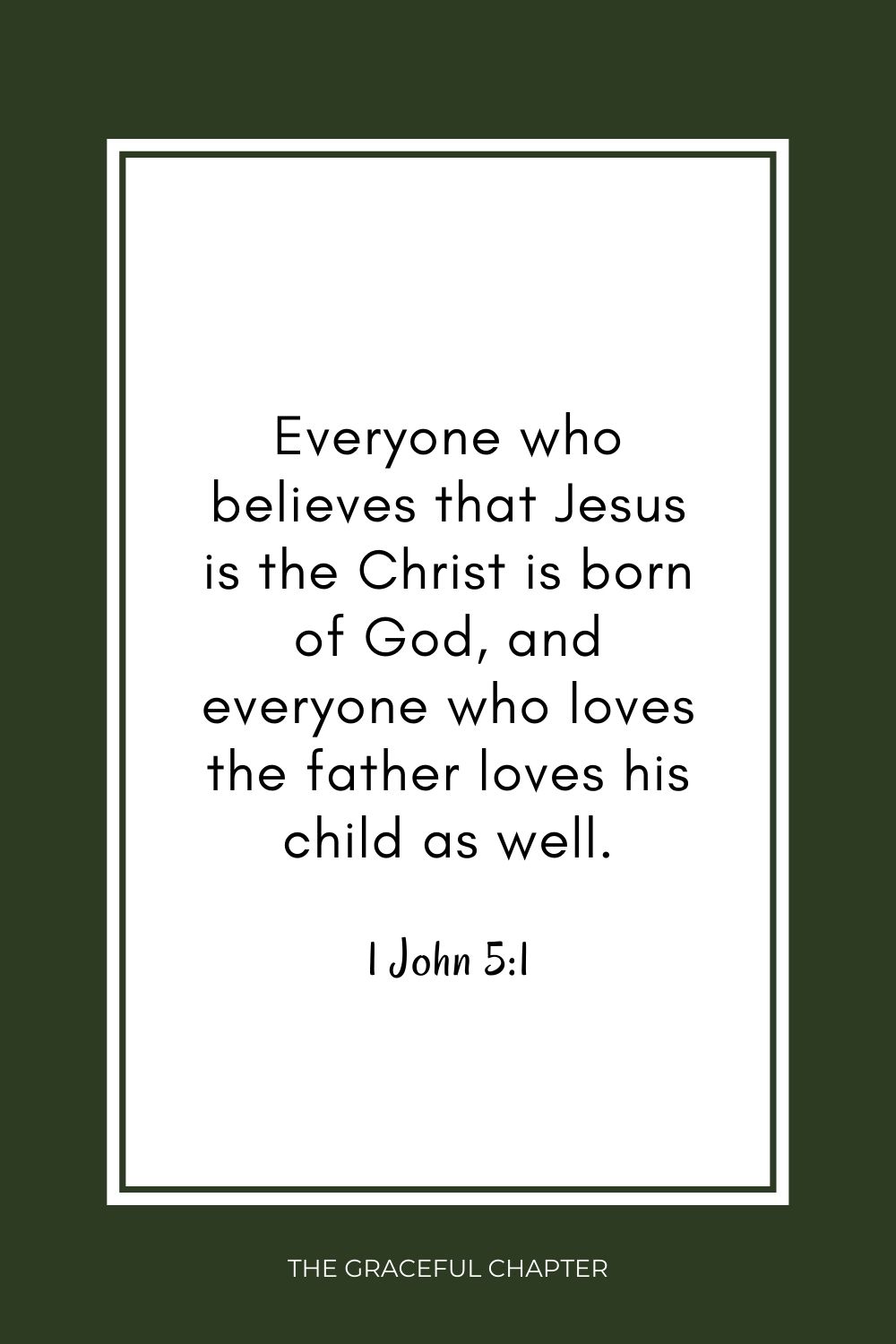 Everyone who believes that Jesus is the Christ is born of God, and everyone who loves the father loves his child as well.
1 John 5:1
Whoever believes in the Son has eternal life, but whoever rejects the Son will not see life, for God's wrath remains on them.
John 3:36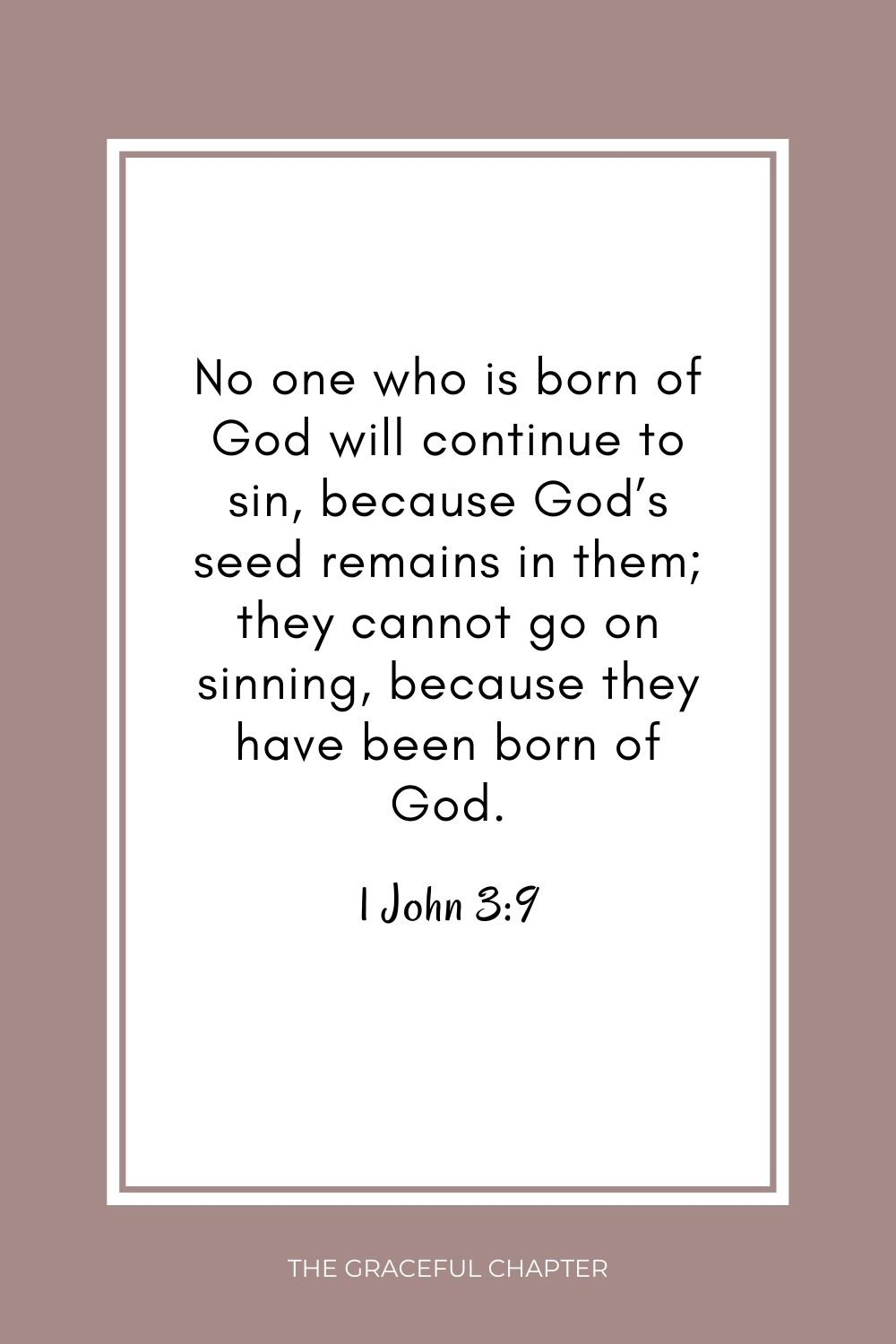 No one who is born of God will continue to sin, because God's seed remains in them; they cannot go on sinning, because they have been born of God.
1 John 3:9
Jesus answered, "I am the way and the truth and the life. No one comes to the Father except through me.
John 14:6
Now that you have purified yourselves by obeying the truth so that you have sincere love for each other, love one another deeply, from the heart. For you have been born again, not of perishable seed, but of imperishable, through the living and enduring word of God.
1 Peter 1:22-23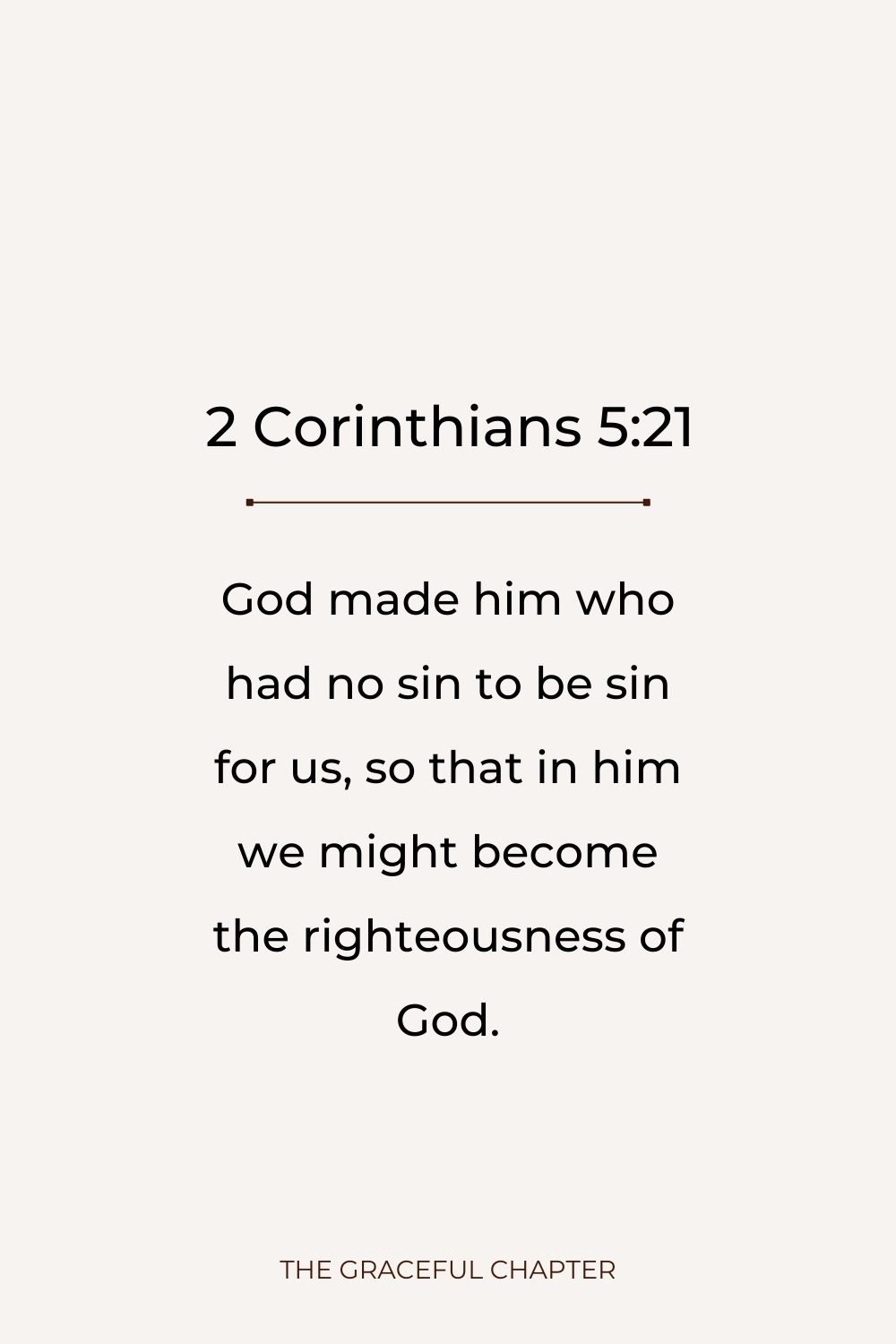 God made him who had no sin to be sin for us, so that in him we might become the righteousness of God.
2 Corinthians 5:21
Do not conform to the pattern of this world, but be transformed by the renewing of your mind. Then you will be able to test and approve what God's will is his good, pleasing and perfect will.
Romans 12:2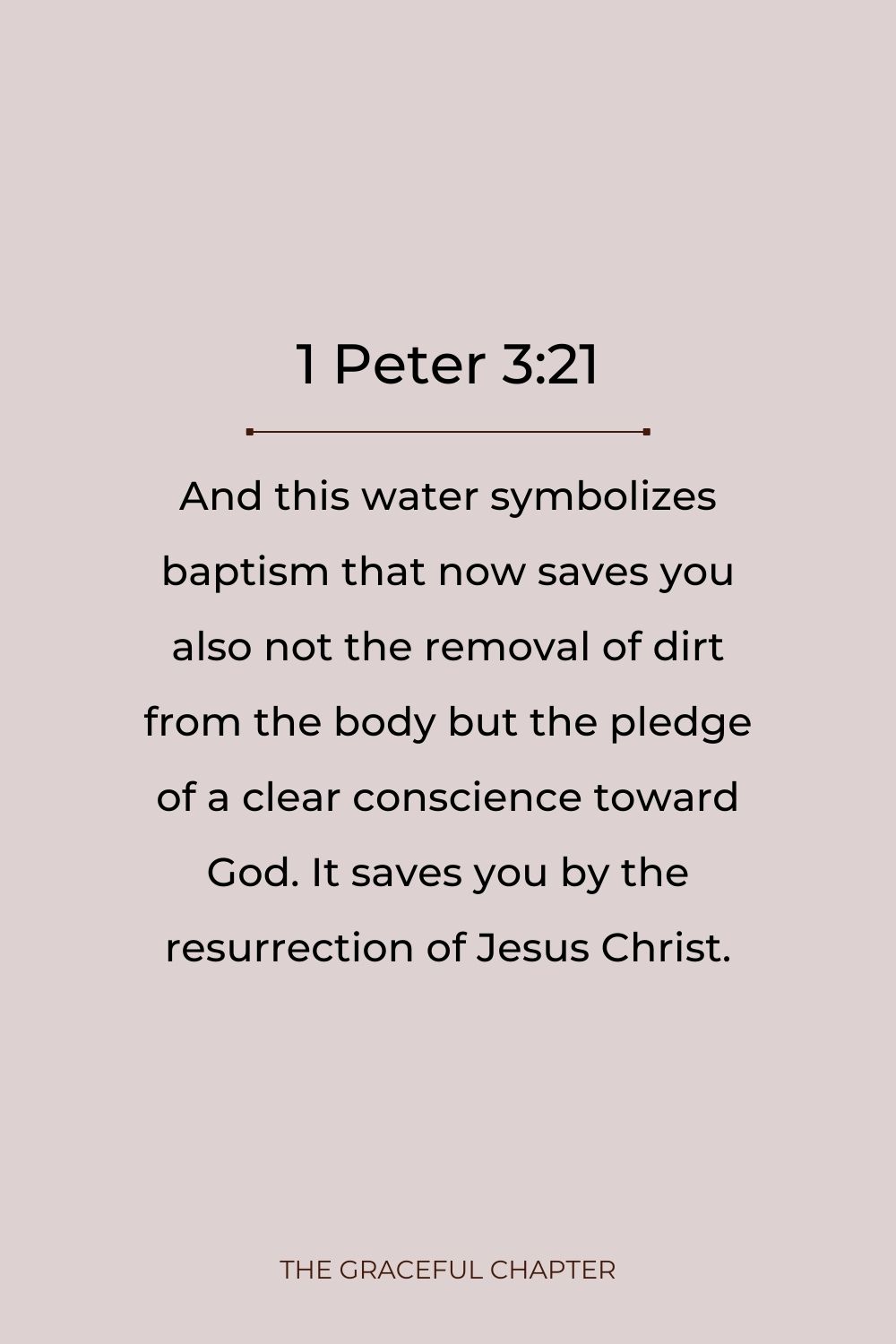 And this water symbolizes baptism that now saves you also not the removal of dirt from the body but the pledge of a clear conscience toward God. It saves you by the resurrection of Jesus Christ.
1 Peter 3:21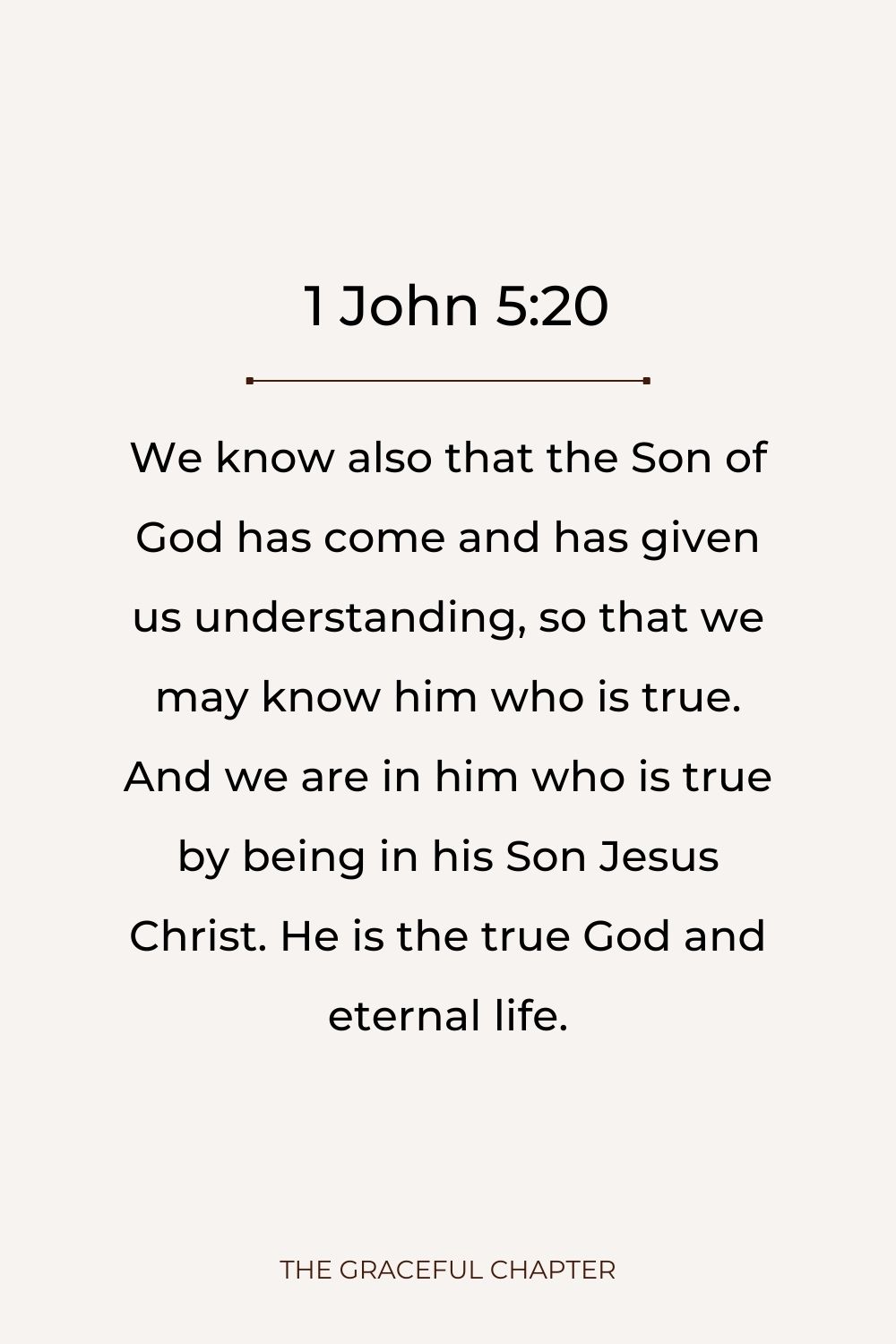 We know also that the Son of God has come and has given us understanding, so that we may know him who is true. And we are in him who is true by being in his Son Jesus Christ. He is the true God and eternal life.
1 John 5:20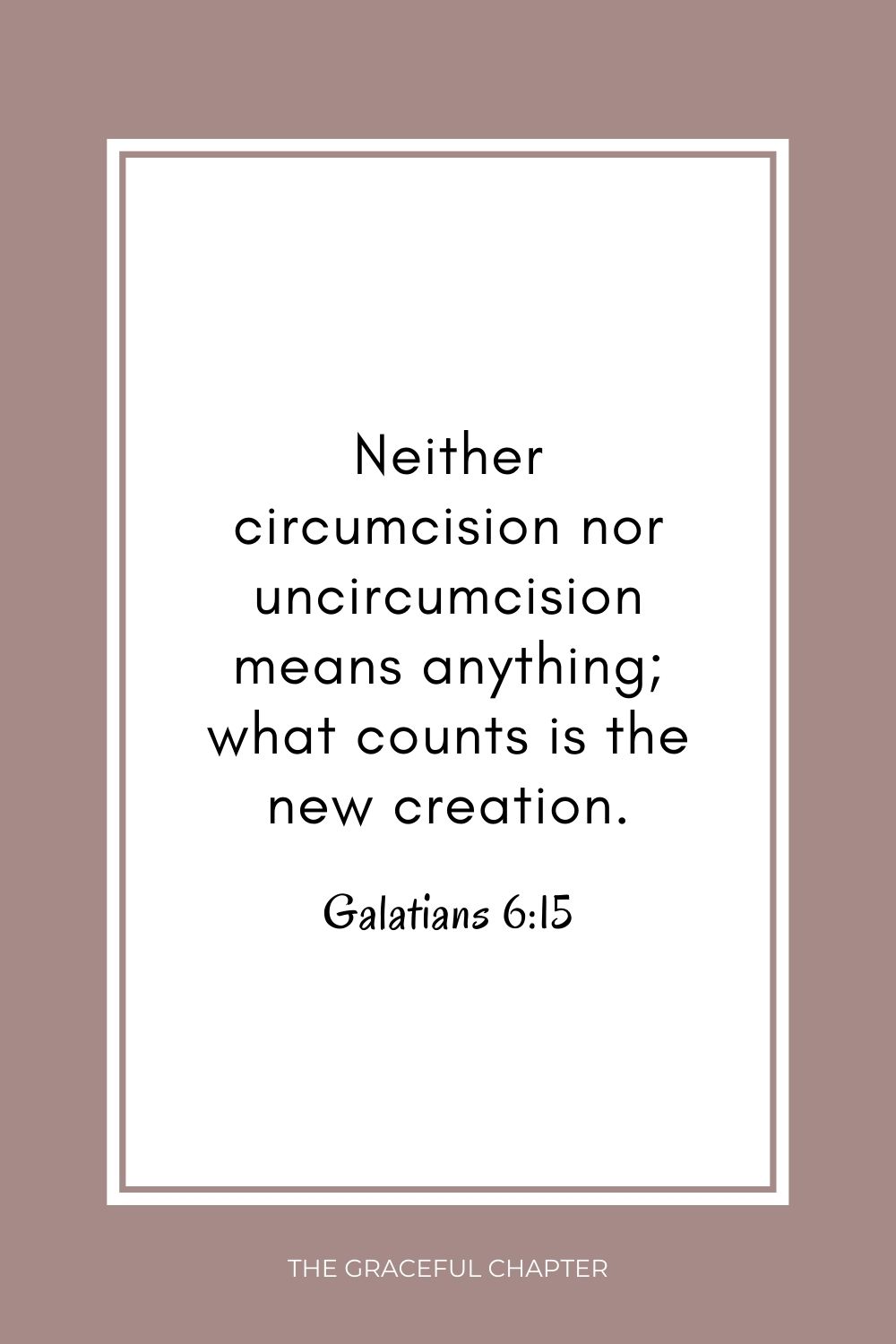 Neither circumcision nor uncircumcision means anything; what counts is the new creation.
Galatians 6:15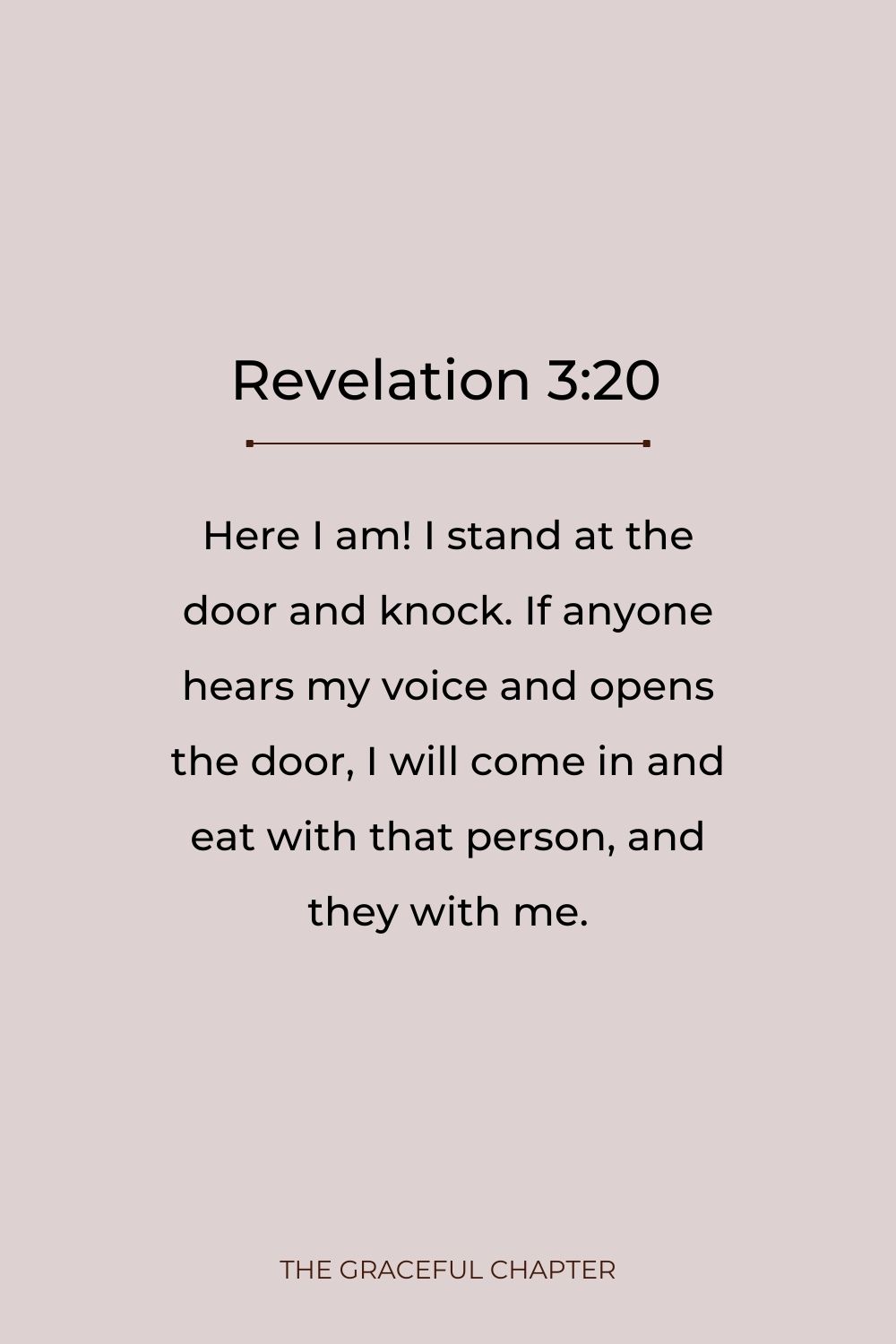 Here I am! I stand at the door and knock. If anyone hears my voice and opens the door, I will come in and eat with that person, and they with me.
Revelation 3:20
But if we walk in the light, as he is in the light, we have fellowship with one another, and the blood of Jesus, his Son, purifies us from all sin.
1 John 1:7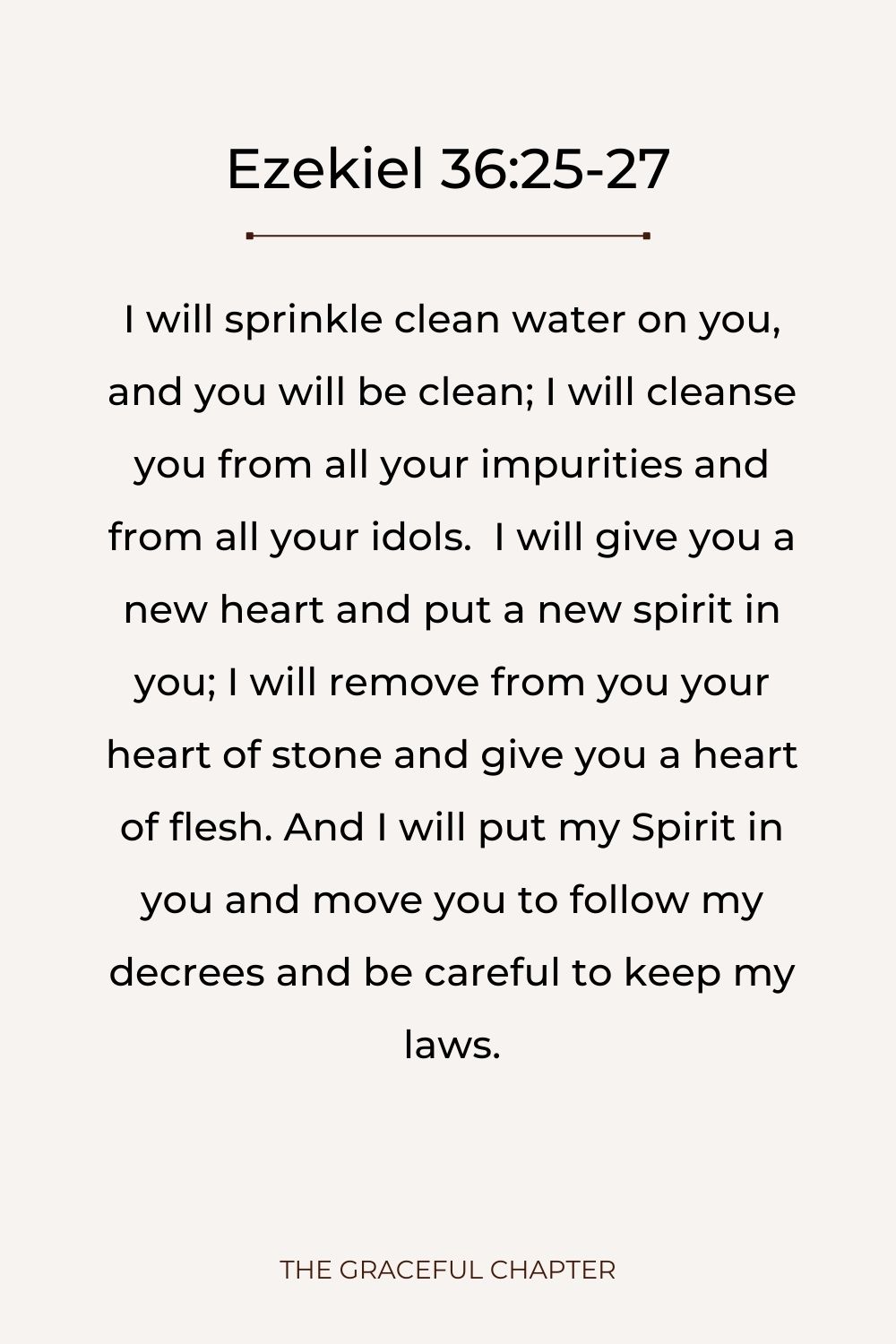 I will sprinkle clean water on you, and you will be clean; I will cleanse you from all your impurities and from all your idols.  I will give you a new heart and put a new spirit in you; I will remove from you your heart of stone and give you a heart of flesh. And I will put my Spirit in you and move you to follow my decrees and be careful to keep my laws.
Ezekiel 36:25-27
For it is written: "Be holy, because I am holy.
1 Peter 1:16
But you know that he appeared so that he might take away our sins. And in him is no sin.
1 John 3:5
 For God did not send his Son into the world to condemn the world, but to save the world through him.
John 3:17
They replied, "Believe in the Lord Jesus, and you will be saved you and your household.
Acts 16:31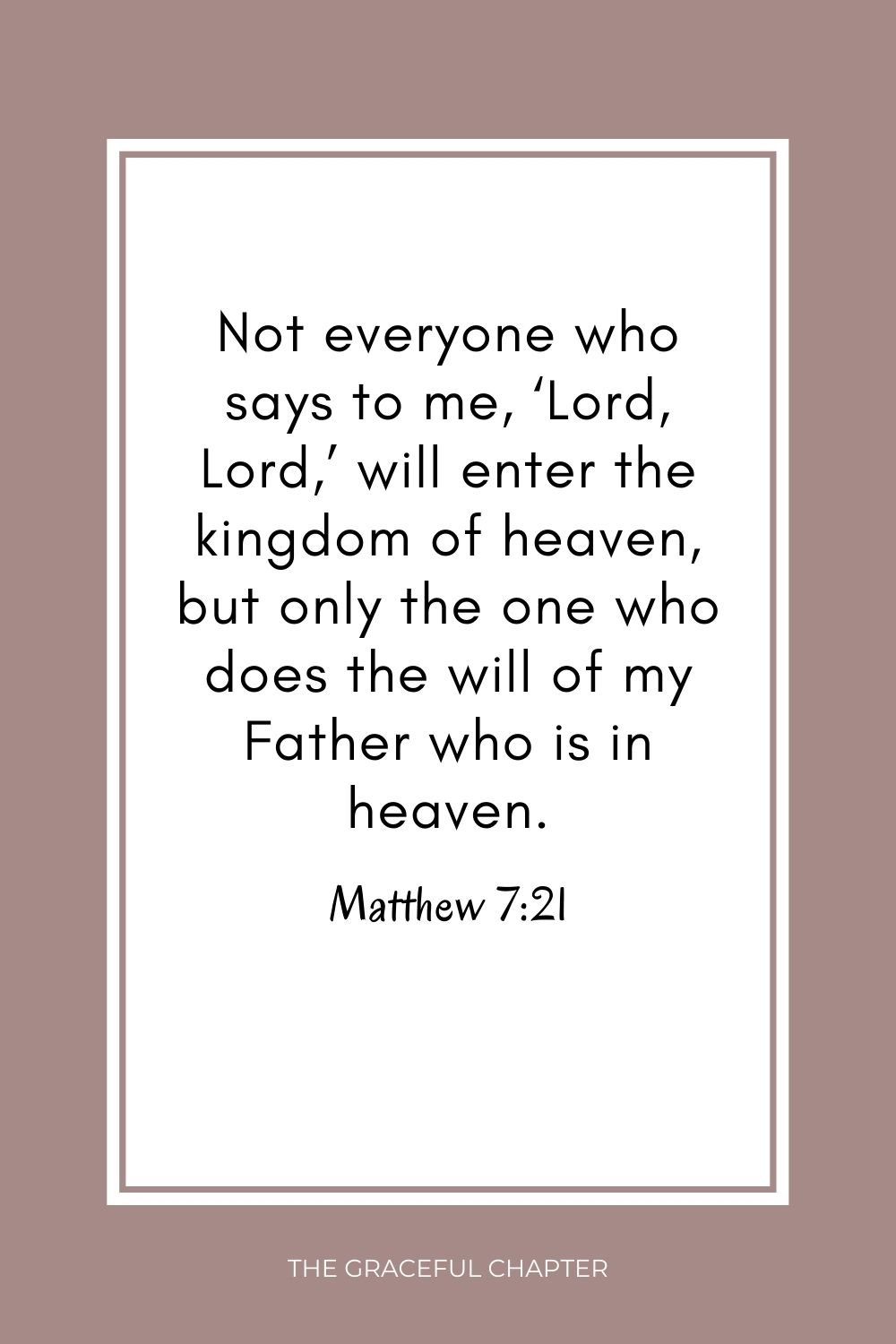 Not everyone who says to me, 'Lord, Lord,' will enter the kingdom of heaven, but only the one who does the will of my Father who is in heaven.
Matthew 7:21
I myself did not know him, but he who sent me to baptize with water said to me, 'He on whom you see the Spirit descend and remain, this is he who baptizes with the Holy Spirit.
John 1:33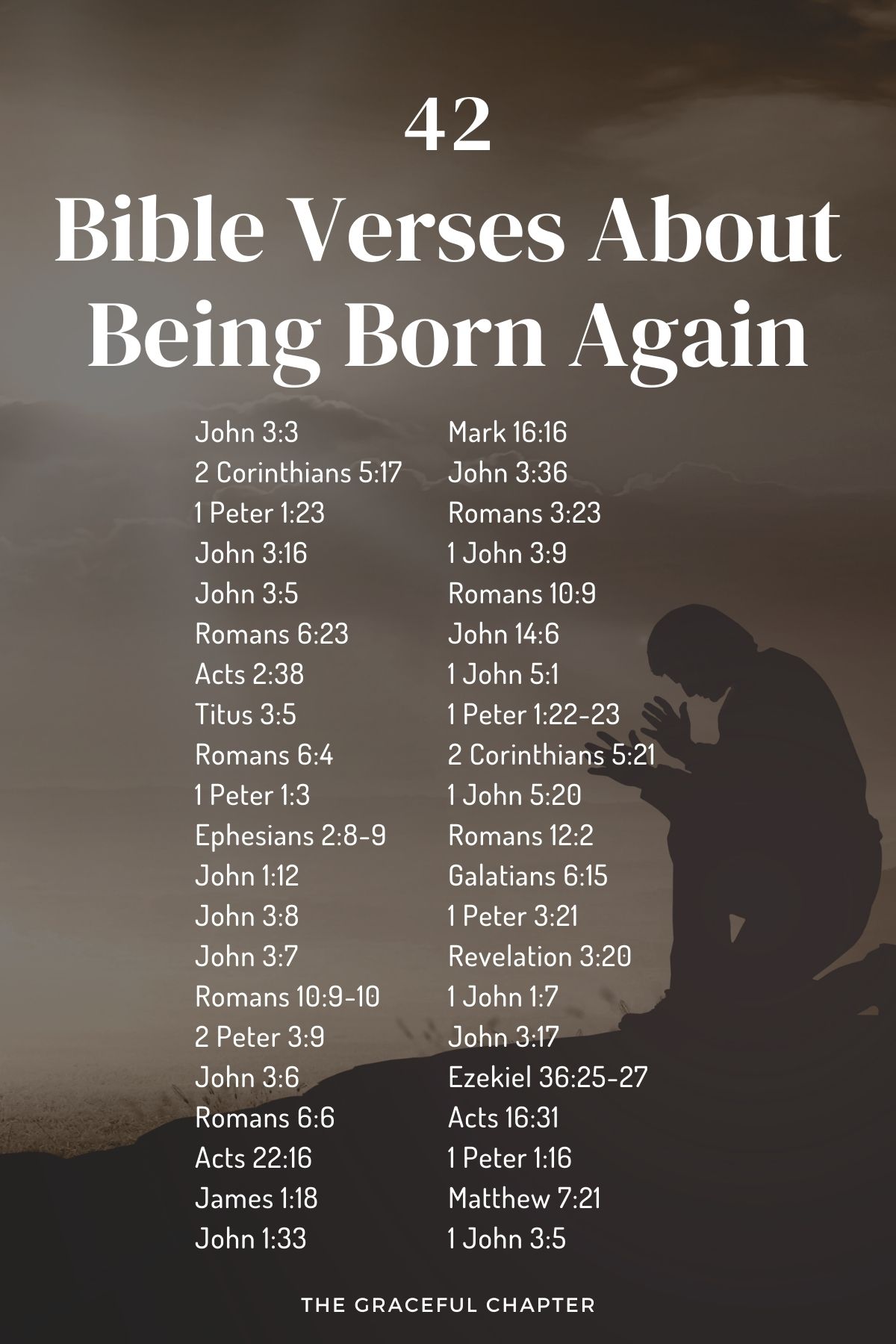 Prayer to be born again
Graceful Lord,
I come before you today for a change of heart
Lord, I am a sinner and I haven't lived a life that is worthy of you
But I want to change, I am ready to change
I want to live my life for you
So, please forgive me all my sins and help me turn away from the life of sin
Thank you for the gift of Jesus Christ
Thank you that you sent him to come and die for me, so that I can be saved
Because of this sacrifice, I can come close to you
Because of his sacrifice, my past sins have no hold over me
Henceforth, I want to live for you
I accept Jesus Christ as my Lord and I invite you to come and live in me
and reign in my heart
Help me to live a life that will honor your Holy Name
Thank you for the gift of eternal life
Thank you for seeing me worthy of being saved
through Jesus Christ, my Lord and Savior,
Amen