We all get to a point in life where things seem so scary and we can help but be afraid. There are so many things in our daily lives that can make us feel scared. Could be due to an illness or disease, even a loved one getting sick can cause us to be scared.
It could be the fear of something impending that we know we have to face, it could be the fear of survival because we are broke and jobless and so many other things.
But no matter what happens in life, no matter what comes your way, you have to be courageous and move forward? But how do you get courage? The truth is, you are only human, and relying on yourself can't give you the courage you need to go on in life.
Self-confidence is a good thing, I know and it will take you far. But as a human, it doesn't matter how confident you are in yourself, there is going to be something greater than you. So true courage comes from God. God is the Almighty. There is nothing He can't do.
So you can only truly be courageous in life if you believe in God, not in yourself. So having courage in God, it's all about your faith in Him. It's about trusting that He is there for you. It's about trusting that He won't let evil come to you. It's about trusting that He will overcome all.
So when life gets hard and you feel scared, don't focus on your challenges, focus on God. Trust in Him. Look up to Him, and He will deliver you. Here are over 30 bible verses about courage, to remind you that God is always there for you so you need not be afraid.
Bible verses about courage
Have I not commanded you? Be strong and of good courage; do not be afraid, nor be dismayed, for the Lord your God is with you wherever you go."
Joshua 1:9
Be strong and of good courage, do not fear nor be afraid of them; for the Lord your God, He is the One who goes with you. He will not leave you nor forsake you."
Deuteronomy 31:6
Be strong and of good courage, for to this people you shall divide as an inheritance the land which I swore to their fathers to give them.
Joshua 1:6
Wait on the Lord; Be of good courage,
And He shall strengthen your heart; Wait, I say, on the Lord!
Psalm 27:14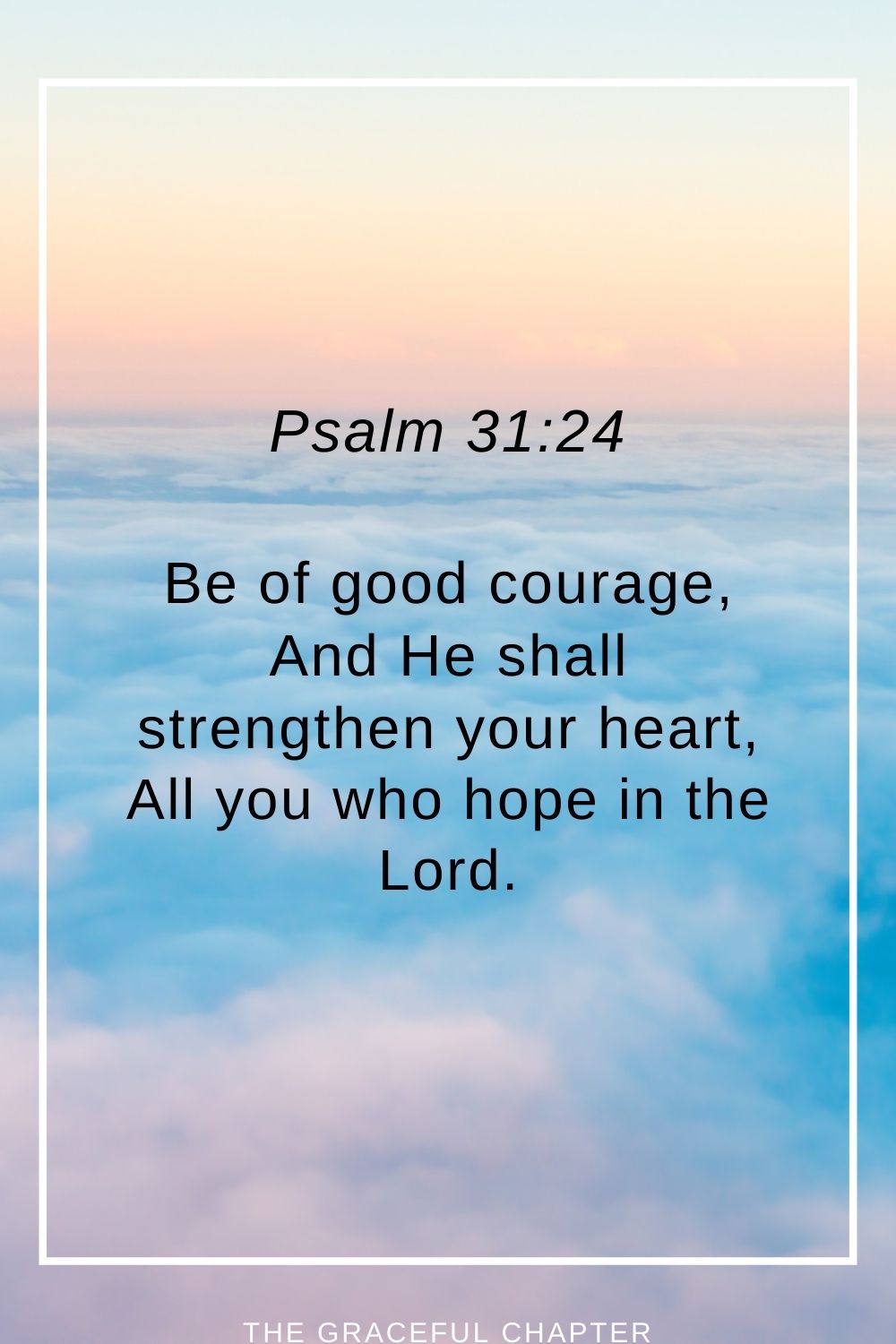 Be of good courage, And He shall strengthen your heart,
All you who hope in the Lord.
Psalm 31:24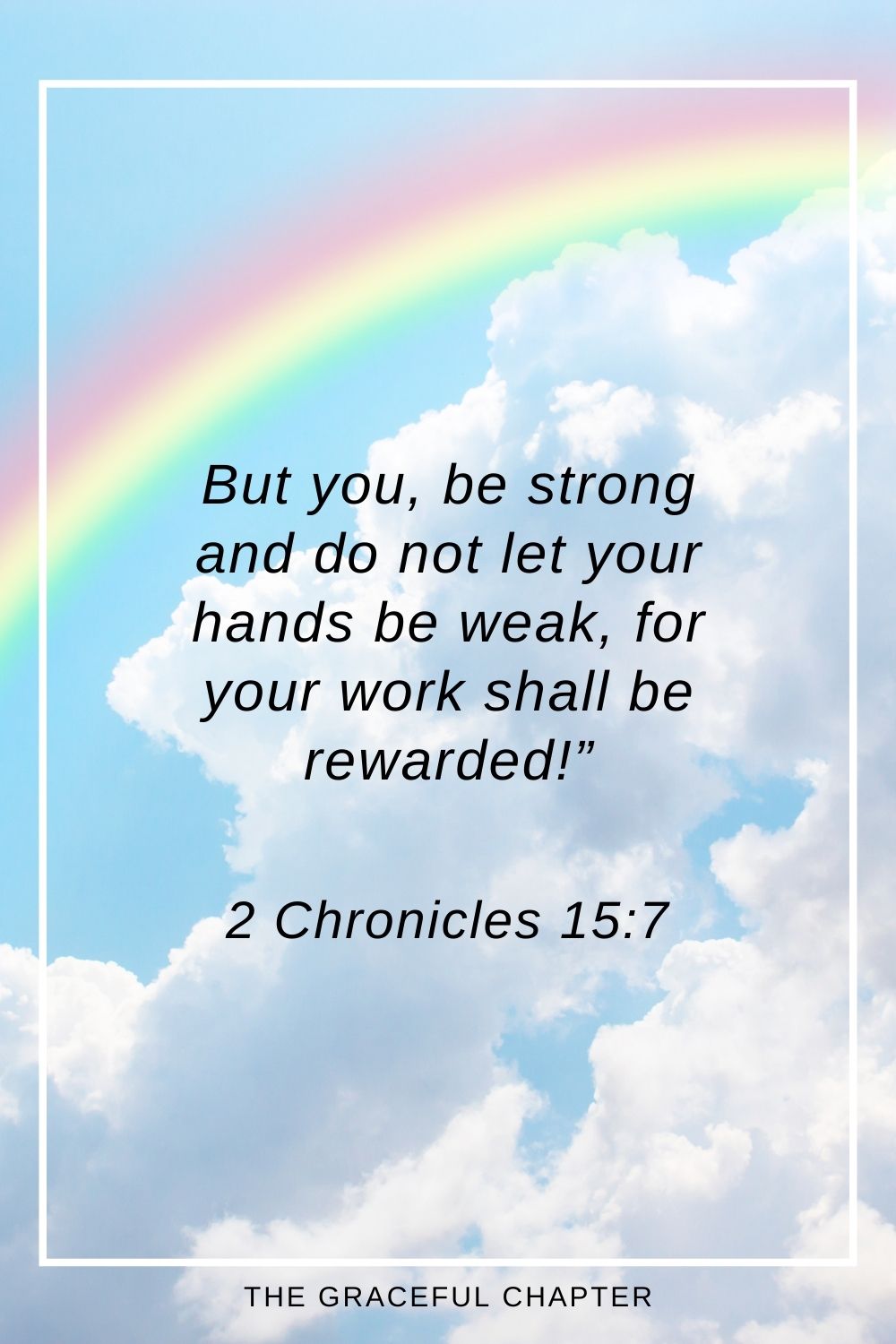 But you, be strong and do not let your hands be weak, for your work shall be rewarded!"
2 Chronicles 15:7
Only be strong and very courageous, that you may observe to do according to all the law which Moses My servant commanded you; do not turn from it to the right hand or to the left, that you may prosper wherever you go.
Joshua 1:7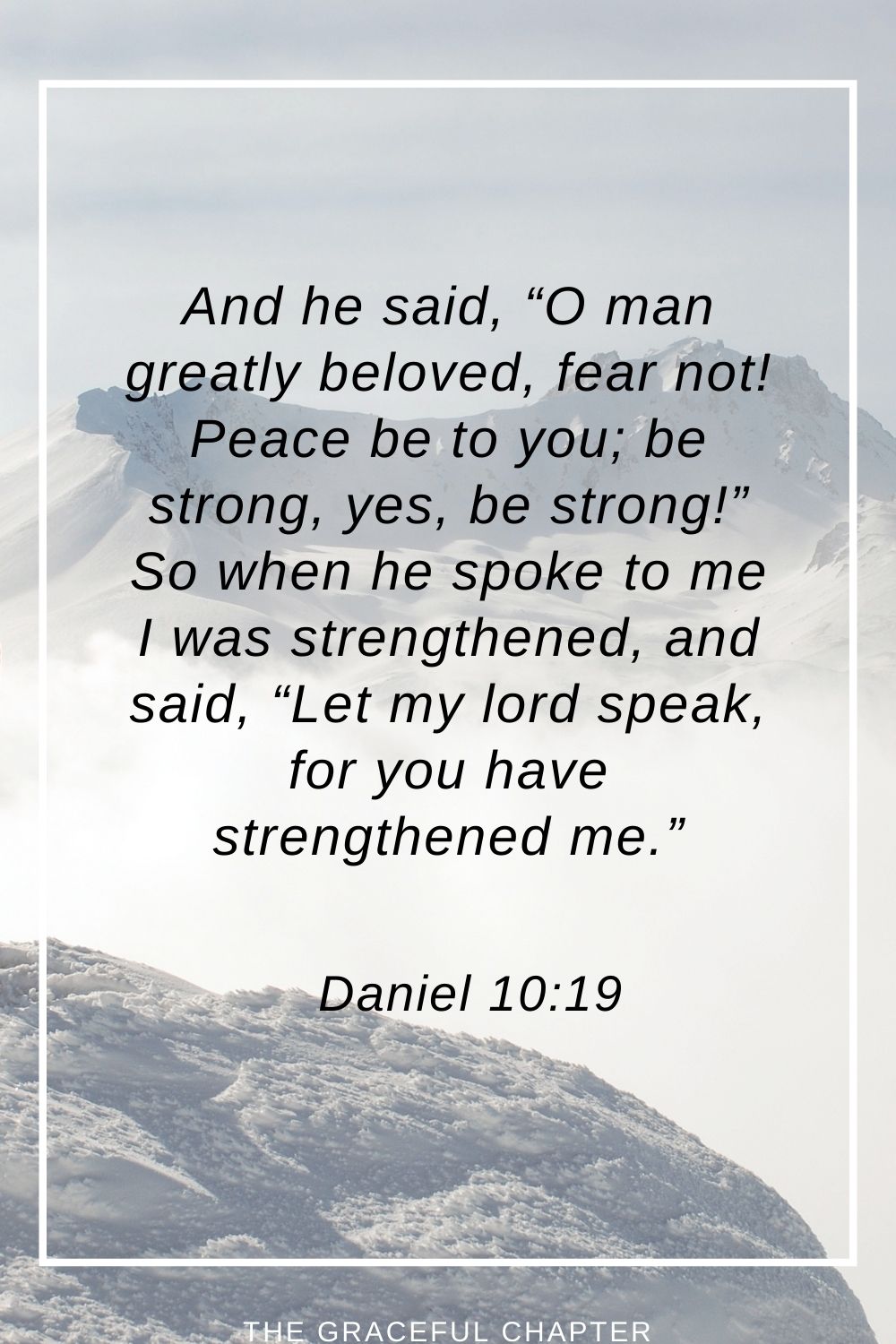 And he said, "O man greatly beloved, fear not! Peace be to you; be strong, yes, be strong!" So when he spoke to me I was strengthened, and said, "Let my lord speak, for you have strengthened me."
Daniel 10:19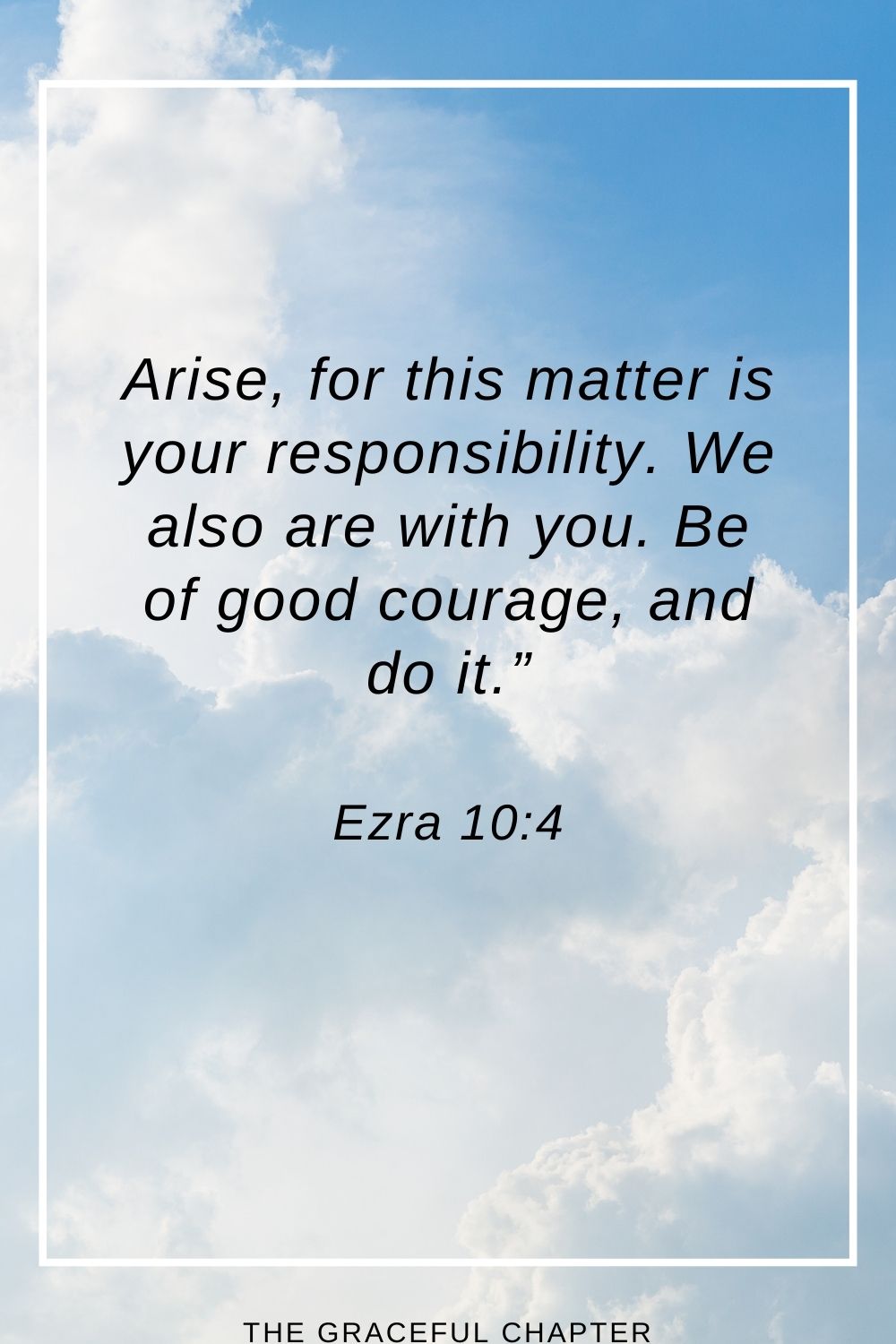 Arise, for this matter is your responsibility. We also are with you. Be of good courage, and do it."
Ezra 10:4
Say to those who are fearful-hearted, Be strong, do not fear! Behold, your God will come with vengeance,
With the recompense of God; He will come and save you."
Isaiah 35:4
Immediately Jesus spoke to them, saying, Be of good cheer! It is I; do not be afraid."
Matthew 14:27
And David said to his son Solomon, "Be strong and of good courage, and do it; do not fear nor be dismayed, for the Lord God, my God will be with you. He will not leave you nor forsake you, until you have finished all the work for the service of the house of the Lord.
1 Chronicles 28:20
Be of good courage, and let us be strong for our people and for the cities of our God. And may the Lord do what is good in His sight."
2 Samuel 10:12
We are confident, yes, well pleased rather to be absent from the body and to be present with the Lord.
2 Corinthians 5:8
These things I have spoken to you, that in Me you may have peace. In the world you will have tribulation; but be of good cheer, I have overcome the world."
John 16:33
Then Joshua said to them, "Do not be afraid, nor be dismayed; be strong and of good courage, for thus the Lord will do to all your enemies against whom you fight."
Joshua 10:25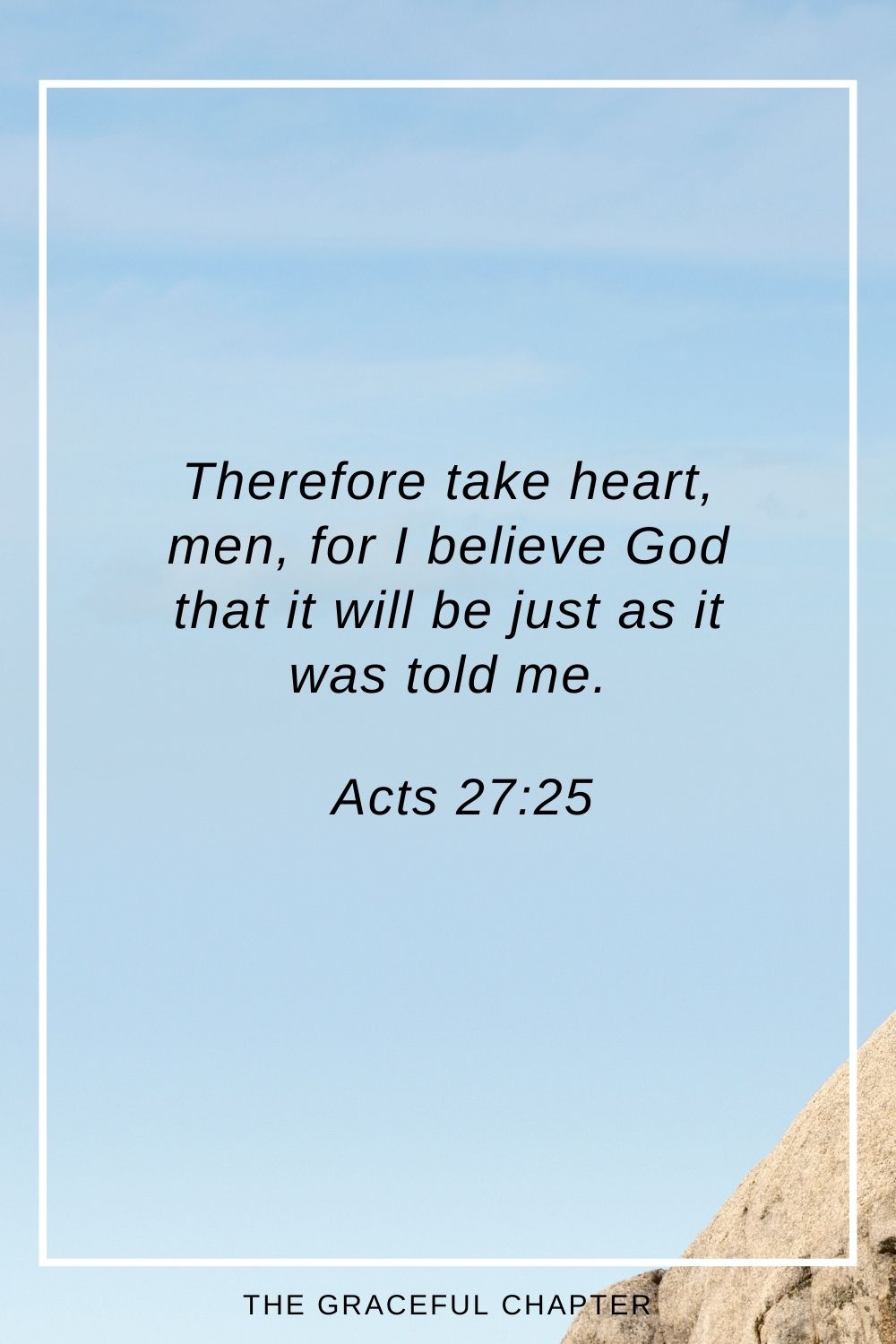 Therefore take heart, men, for I believe God that it will be just as it was told me.
Acts 27:25
So we may boldly say: The Lord is my helper;
I will not fear. What can man do to me?"
Hebrews 13:6
For You have armed me with strength for the battle;
You have subdued under me those who rose up against me.
Psalm 18:39
Whoever rebels against your command and does not heed your words, in all that you command him, shall be put to death. Only be strong and of good courage."
Joshua 1:18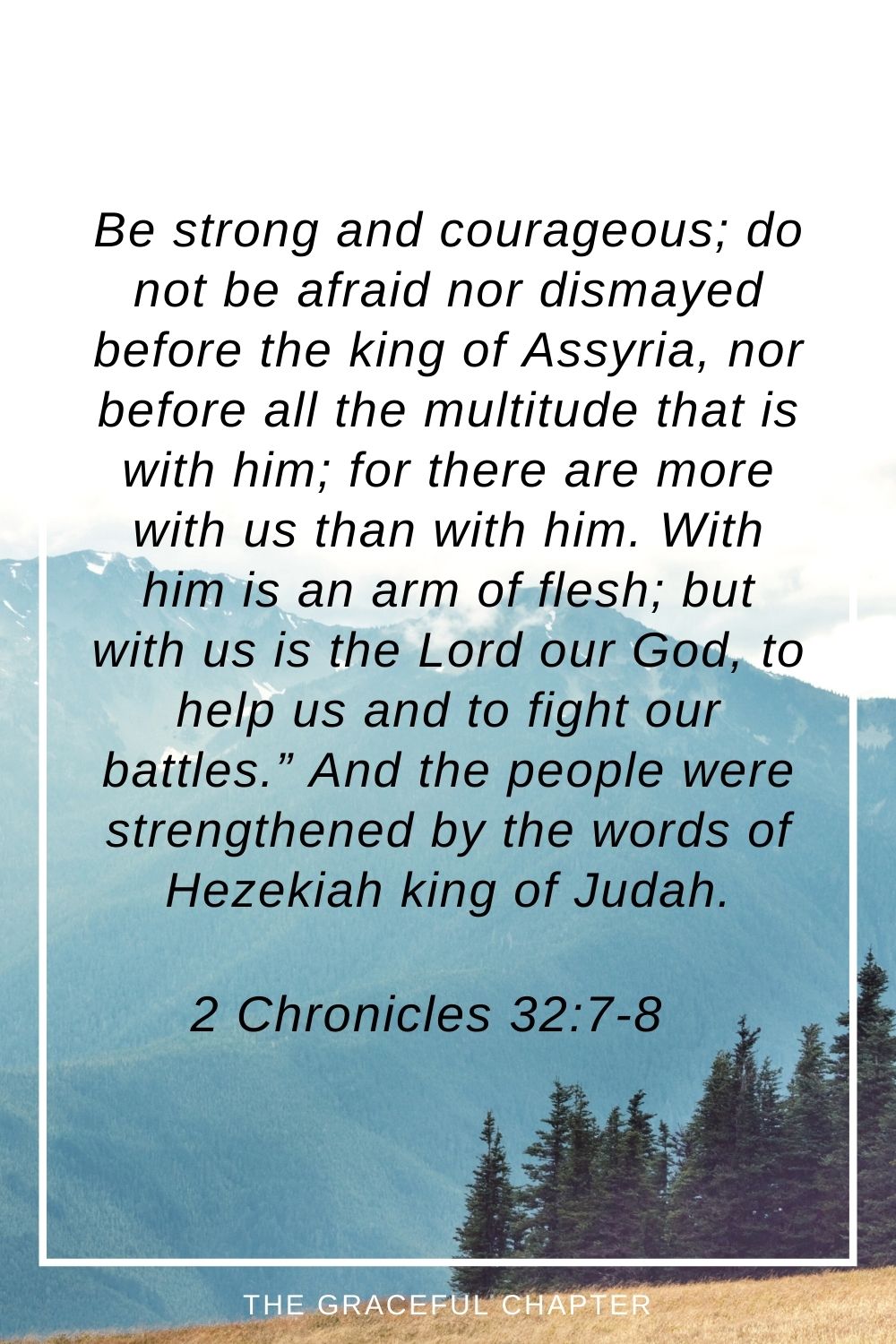 "Be strong and courageous; do not be afraid nor dismayed before the king of Assyria, nor before all the multitude that is with him; for there are more with us than with him. With him is an arm of flesh; but with us is the Lord our God, to help us and to fight our battles." And the people were strengthened by the words of Hezekiah king of Judah.
2 Chronicles 32:7-8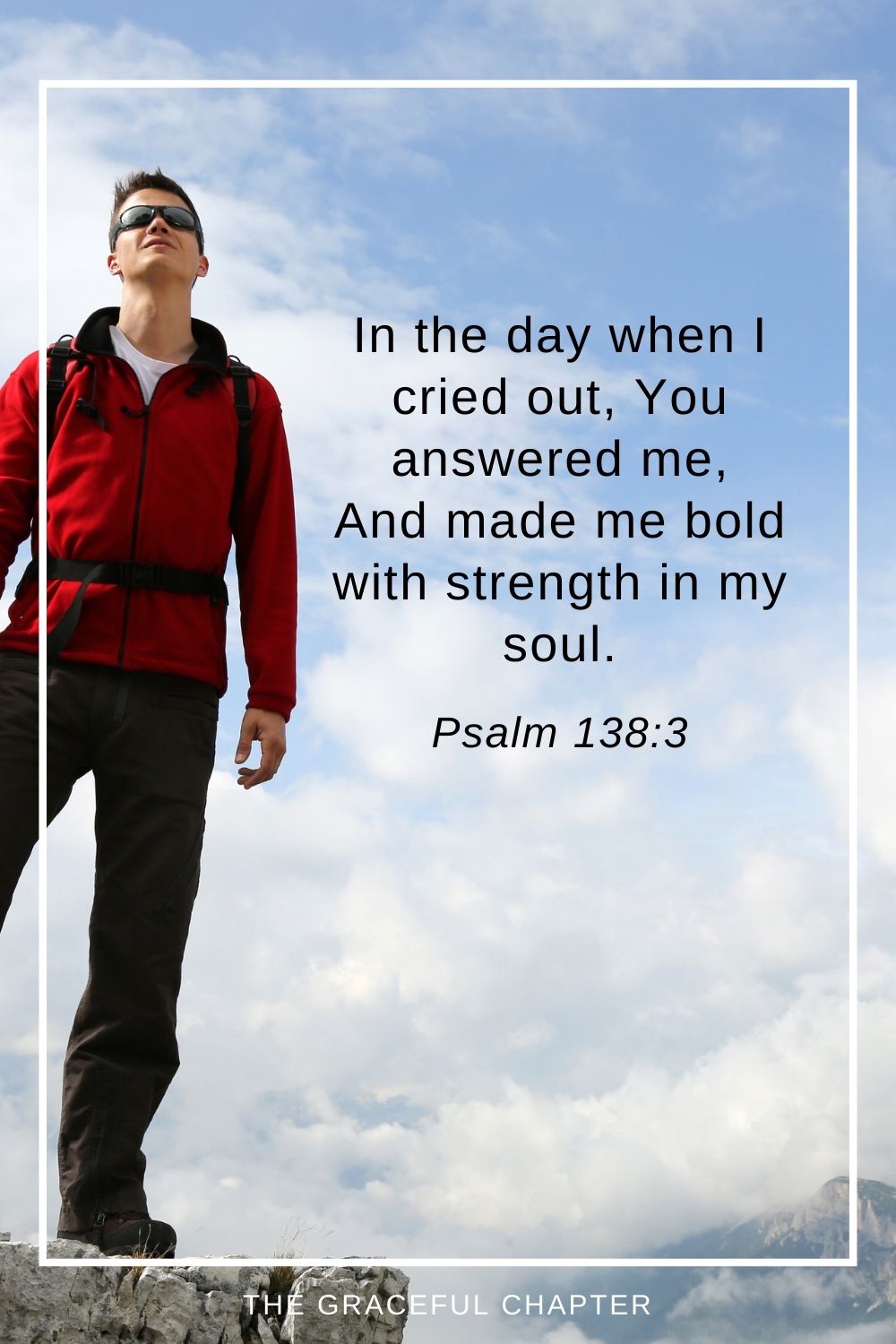 In the day when I cried out, You answered me,
And made me bold with strength in my soul.
Psalm 138:3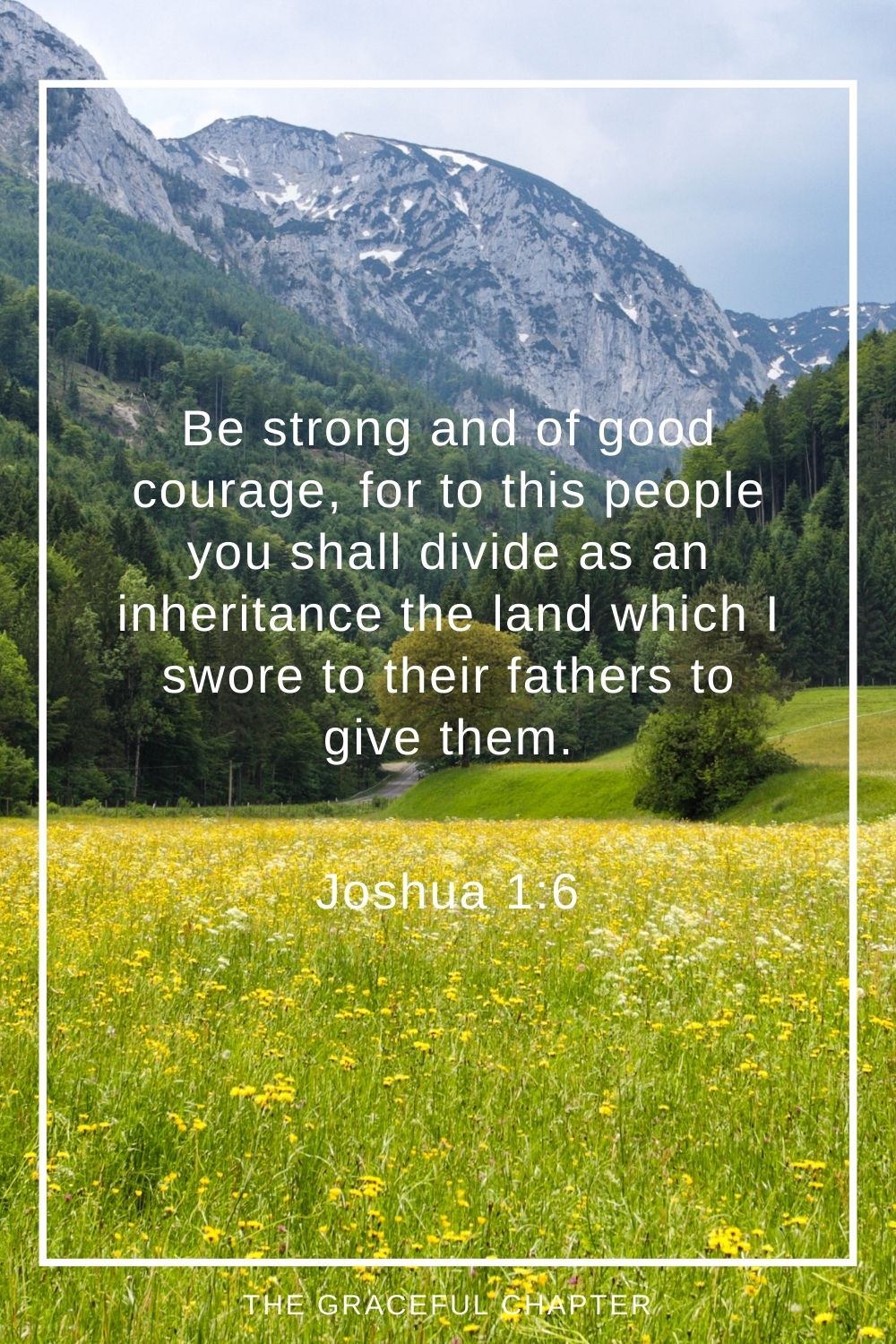 Be strong and of good courage, for to this people you shall divide as an inheritance the land which I swore to their fathers to give them.
Joshua 1:6
Therefore be very courageous to keep and to do all that is written in the Book of the Law of Moses, lest you turn aside from it to the right hand or to the left
Joshua 23:6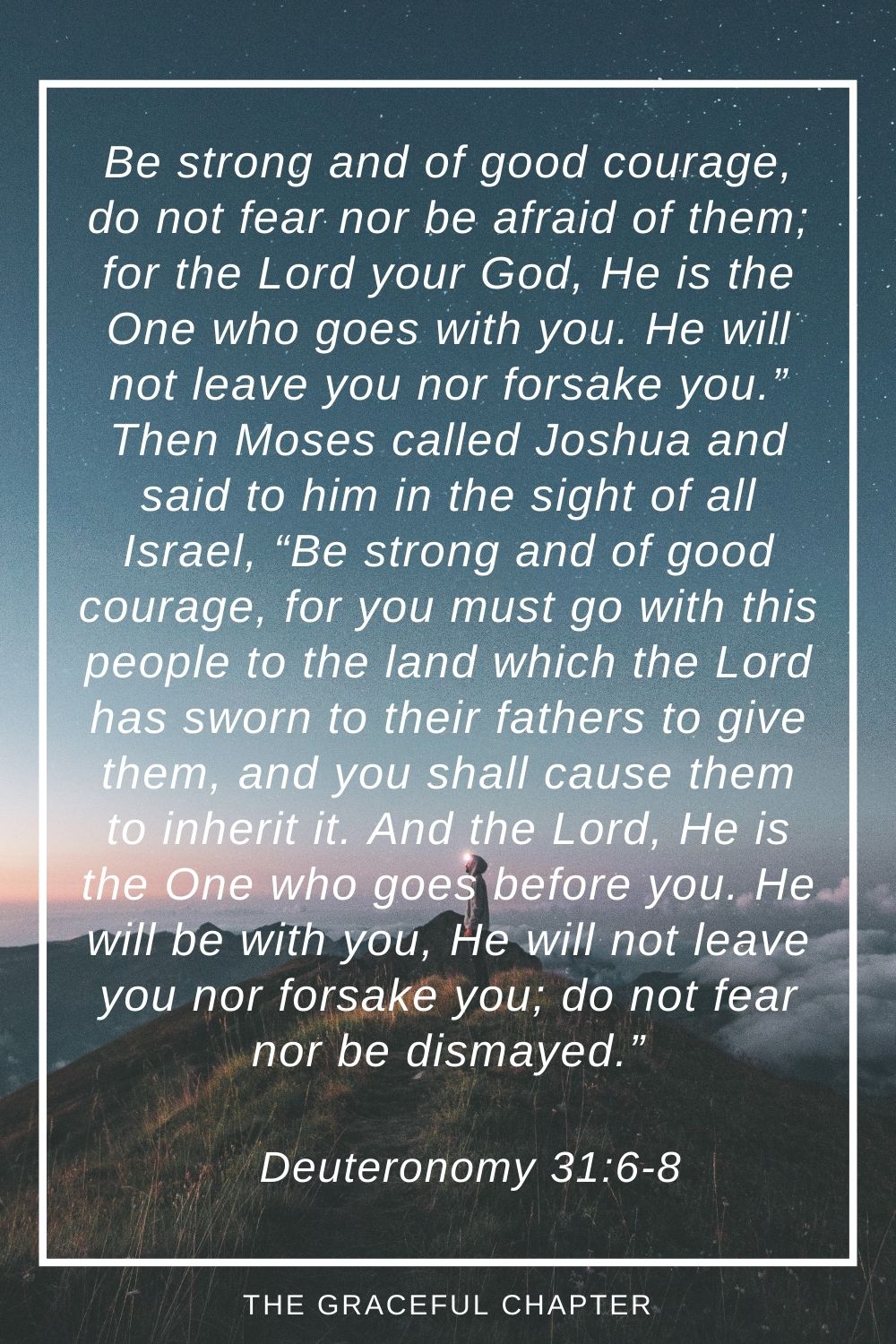 Be strong and of good courage, do not fear nor be afraid of them; for the Lord your God, He is the One who goes with you. He will not leave you nor forsake you." Then Moses called Joshua and said to him in the sight of all Israel, "Be strong and of good courage, for you must go with this people to the land which the Lord has sworn to their fathers to give them, and you shall cause them to inherit it. And the Lord, He is the One who goes before you. He will be with you, He will not leave you nor forsake you; do not fear nor be dismayed."
Deuteronomy 31:6-8
 Only be strong and very courageous, that you may observe to do according to all the law which Moses My servant commanded you; do not turn from it to the right hand or to the left, that you may prosper wherever you go.
Joshua 1:7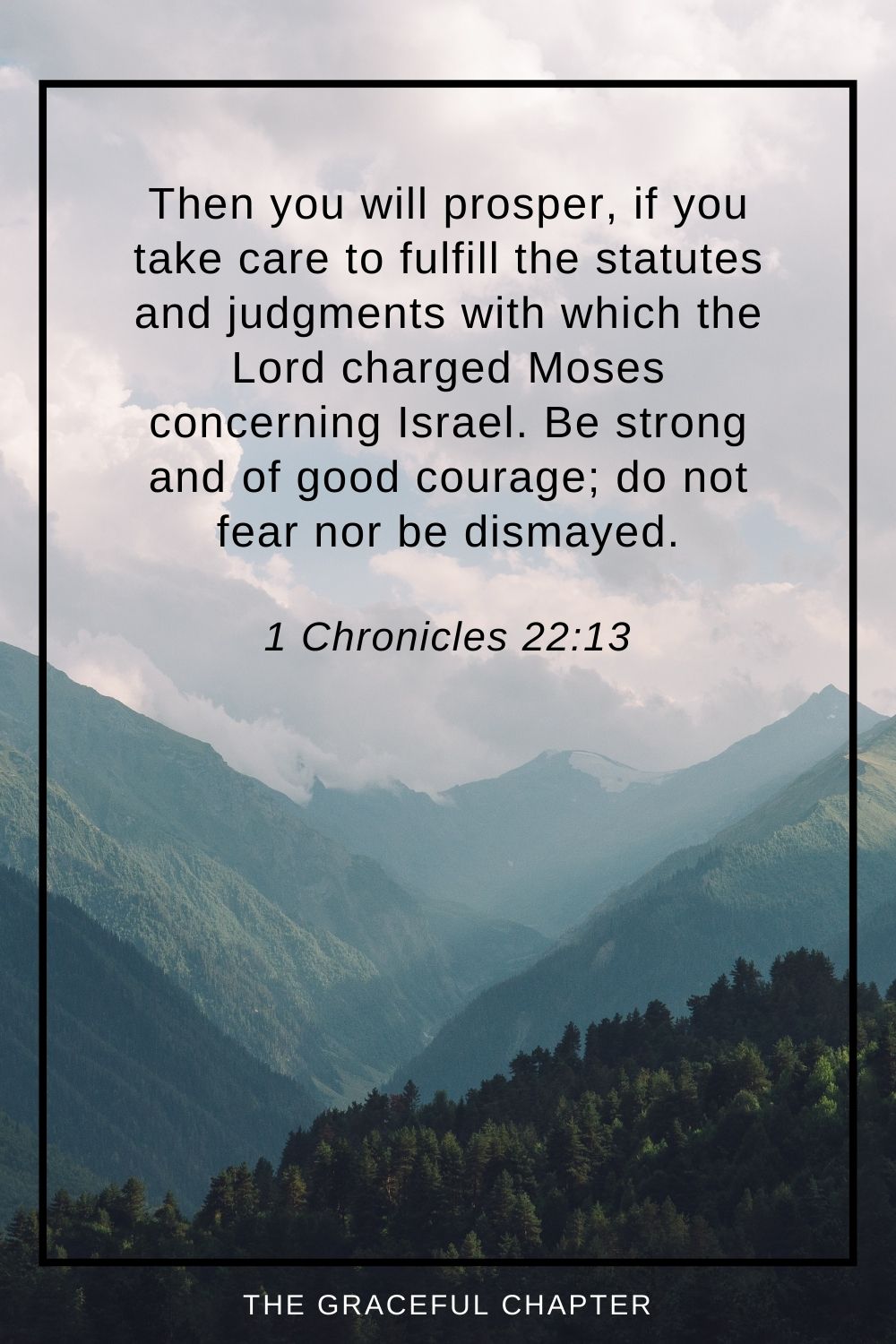 Then you will prosper, if you take care to fulfill the statutes and judgments with which the Lord charged Moses concerning Israel. Be strong and of good courage; do not fear nor be dismayed.
1 Chronicles 22:13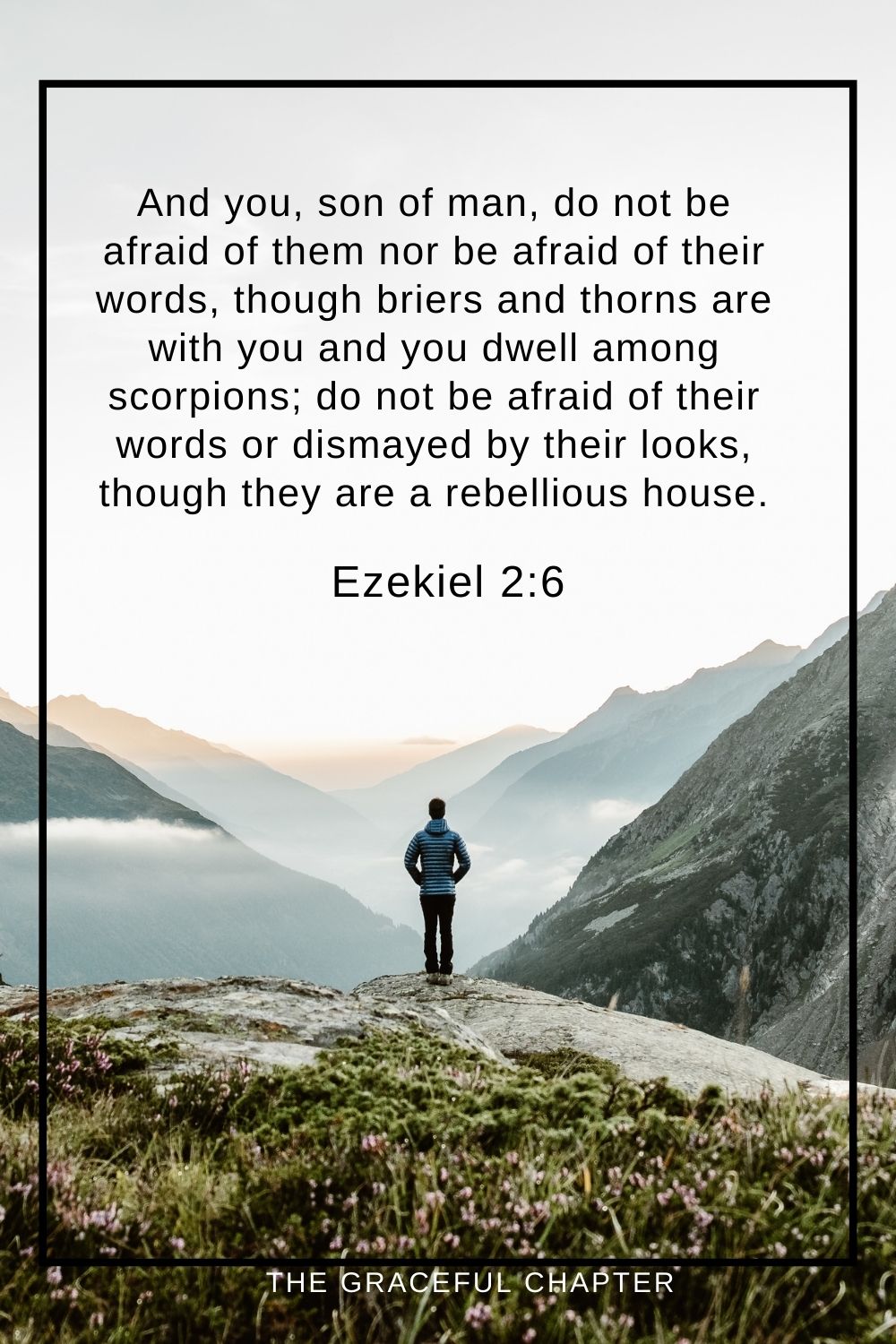 And you, son of man, do not be afraid of them nor be afraid of their words, though briers and thorns are with you and you dwell among scorpions; do not be afraid of their words or dismayed by their looks, though they are a rebellious house.
Ezekiel 2:6
Related Posts
Be strong and courageous; do not be afraid nor dismayed before the king of Assyria, nor before all the multitude that is with him; for there are more with us than with him. With him is an arm of flesh; but with us is the Lord our God, to help us and to fight our battles." And the people were strengthened by the words of Hezekiah king of Judah.
2 Chronicles 32:7-8
Fear not, for I am with you; Be not dismayed, for I am your God. I will strengthen you, Yes, I will help you,
I will uphold you with My righteous right hand.'
Isaiah 41:10
And do not fear those who kill the body but cannot kill the soul. But rather fear Him who is able to destroy both soul and body in hell.
Matthew 10:28
For I, the Lord your God, will hold your right hand,
Saying to you, 'Fear not, I will help you.'
Isaiah 41:13
 Let your conduct be without covetousness; be content with such things as you have. For He Himself has said, "I will never leave you nor forsake you." So we may boldly say: The Lord is my helper; I will not fear. What can man do to me?"
Hebrews 13:5-6
The Lord is my light and my salvation; Whom shall I fear?
The Lord is the strength of my life; Of whom shall I be afraid?
Psalm 27:1
Whenever I am afraid, I will trust in You. In God (I will praise His word), In God I have put my trust;
I will not fear. What can flesh do to me?
Psalm 56:3-4
Trust in the Lord with all your heart, And lean not on your own understanding; In all your ways acknowledge Him, And He shall direct your paths.
Proverbs 3:5-6
Watch, stand fast in the faith, be brave, be strong
1 Corinthians 16:13
Therefore, my beloved brethren, be steadfast, immovable, always abounding in the work of the Lord, knowing that your labor is not in vain in the Lord.
1 Corinthians 15:58
Finally, my brethren, be strong in the Lord and in the power of His might.
Ephesians 6:10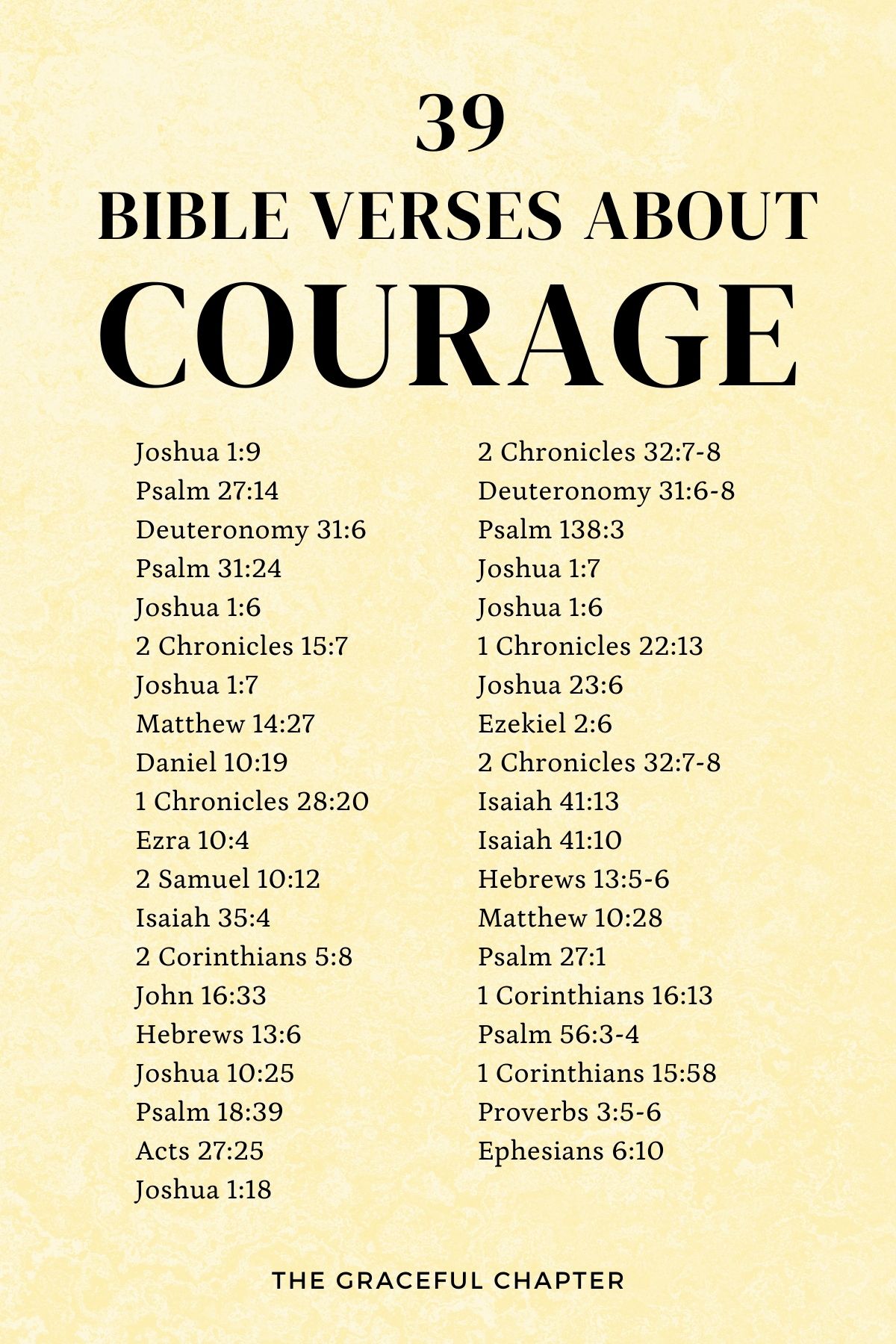 Prayer for courage
Heavenly Father,
Thank you for your guidance and protection
Thank you for always being there for me
Please forgive me for all the times that I forgot you were in charge and I let fear in
When situations in life cause me to be afraid, please remind me that you are with me
When my heart begins to despair, please remind me that you will not forsake me
I surrender my heart, my mind, and my life to you, Father
Help me to focus on you and how great you are instead of my problems
Strengthen my faith in you, Lord
Teach me to trust in you completely
Grant me strength and courage and fill my heart with peace
In Jesus' mighty name,
Amen