Being a young couple and getting your first family house can be an exciting journey. You have the opportunity to explore vast possibilities, develop meaningful relationships with real estate agents, and navigate through the ever-changing market trends – all while potentially realizing your dream of home ownership.
The challenges you may face on this long journey may seem daunting at times; however, with proper diligence, preparation, and an understanding of the available resources it is certainly possible to become a homeowner as a young couple. 
In this blog post, we will look into what it takes for couples to successfully buy their first family house by breaking down common misconceptions about home ownership and discussing specific steps that need to be taken in order to secure financing for a purchase.
Introducing the concept – why it's important to consider buying a family house as a young couple 
Whether you have children on the horizon or you're just considering your future, owning a family house opens up your range of options. You'll have more room in which to grow, from raising children to entertaining family members or hosting friends for dinner parties, and it can provide greater peace of mind security-wise.
Furthermore, your home can help with retirement planning—it may appreciate over time and give you the flexibility to make the most of investments throughout the years. 
There's much to consider before taking that first step down the home-buying path, so exploring all options thoroughly will ensure investing in a family house feels like the right decision for your future.
Related Posts
The Benefits of Owning a Family Home Young 
For young couples looking to take the next step in their relationship, buying a family home can be the perfect way to lay roots and build a future together. There are several benefits of deciding to purchase a home while you're still young. Low mortgage rates and a wide selection of properties make it easier to find an affordable home that meets your needs.
Additionally, investing in real estate builds financial stability as you collect equity over time — ultimately strengthening your finances for years to come. 
It's no wonder so many young couples are choosing to invest their hard work into the certainty of owning a home now, rather than waiting for retirement years down the line.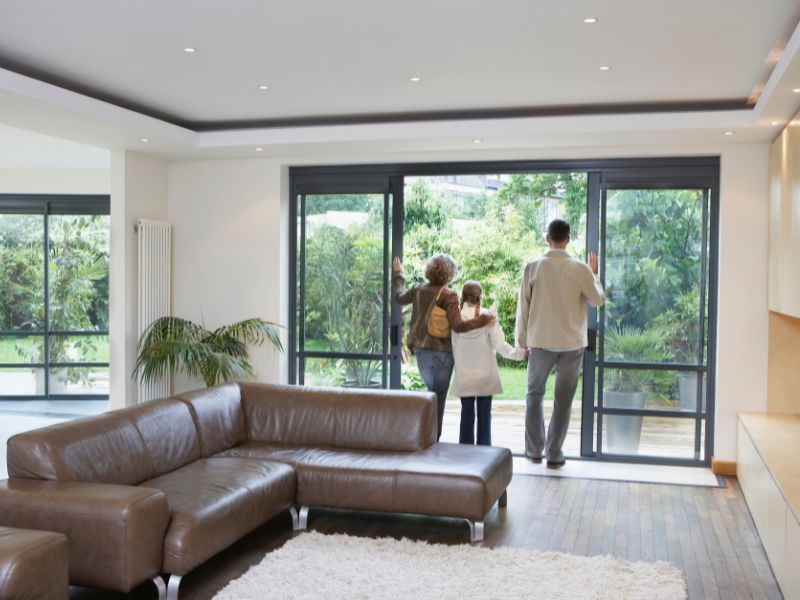 Tips for Financing Your Dream Home 
As early as possible, start tidying up your credit profile by looking at both of your credit scores, paying down any existing debts, and correcting errors if necessary.
To get pre-approved for a mortgage loan, you'll need just enough money saved up in assets such as a 401(k) or IRA to show lenders that you have a steady income and the ability to make payments. It is also beneficial to read a guide about renewing your mortgage when it comes time to review your loan.
Finally, before making an offer on a house, research lenders in the area to do some comparison shopping for interest rates—this could end up saving you thousands of dollars in the long run! Making wise financial decisions now can ultimately help bring your family closer—into the home of your dreams.
How to Shop for the Right House 
You have to consider things like the size of the house, its location, and whether or not it meets your needs as well as any potential limitations. This means doing your research – thoroughly scope out neighborhoods, study the home's history, and ask questions. Visiting houses in person will also be important – check out each room's layout, get an understanding of what you can afford, and talk to people in the area about their experience with the neighborhood. Taking your time and going over everything carefully is key to choosing a family home that will serve you for many years to come.
Strategies for Saving Money and Boosting Your Credit Score 
While it may seem daunting to begin, establishing good spending and savings habits early on can make reaching your financial goals far easier.
To begin with, it is important to regularly assess and adjust your budget according to what works best for you as a couple. Cutting down on monthly expenses and bringing out the calculators to track spending are excellent first steps.
If possible, you should also strive towards setting aside money every month into an emergency fund in case of any unexpected emergencies that may arise. Additionally, creating a plan to pay off existing debts may help improve your credit score over time. With consistent dedication and effort, these few strategies can help bring you one step closer to making the dream of having a family home come true!
Building Long-Term Equity with Your Home Purchase
Not only is there potential for building equity through investments, but it's also a symbol of commitment and stability for young couples starting out a life together. Before making the big step, though, make sure to thoroughly consider your goals and needs not just now but well into the future.
Take special care when deciding on a mortgage type as this inherently affects the amount of equity that will be built over time. With some smart decisions, putting down roots can lead to greater financial stability down the road.
Nevertheless, taking these steps today can ensure your family home will bring you joy for years to come. Building a budget, setting financial goals, researching neighborhoods and mortgages, and shopping around for the best rates are all important considerations that can help make the process smoother.
With dedication, patience, and discipline, young couples have the potential to build long-term equity by owning a home together. In the end, making wise financial decisions now can ultimately help bring your family closer—into the home of your dreams.