But blessed is the one who trusts in the LORD, whose confidence is in him. They will be like a tree planted by the water that sends out its roots by the stream. It does not fear when heat comes; its leaves are always green. It has no worries in a year of drought and never fails to bear fruit.

Jeremiah 17:7, 8
A new marriage is like a newly planted tree. Whether or not the tree gains enough strength to withstand different adverse environmental and weather conditions depends on how we care for and nurture the tree.
Some marriages do not survive a year. Others survive for a while but are completely destroyed when there is the slightest form of adversity. Others grow in strength and stature as time goes on. They are strong enough to resist any pressures, earthquakes, rainstorms, scorching heat, bad influences, pests, and fire.
Adverse conditions in a marriage may include financial trouble, job loss, sickness, unfaithfulness, lack of respect, betrayal, and lack of trust. All these issues can cause a weak marriage to collapse. What makes a marriage weak can be linked to the same thing that makes a planted tree weak.
The text compares those who trust and have confidence in the Lord to trees planted by the water. These trees grow stronger and stronger no matter what weather conditions it is subjected to.
When God is at the center of a marriage, it can only go one way. It is always strong and its leaves do not wilt or dry up. There is always joy and happiness in those marriages because the core values that guide and govern that marriage are of God and spirit and not of the flesh.
If God is in control of your marriage, the faith in Him causes the couples to withstand any negative interventions that threaten to destroy their relationship. Problems in marriages are inevitable. However, how you deal with said problem determines whether the marriage will survive or not.
Did you know we are on youtube? Kindly subscribe to our channel
After a rainstorm people normally look at the weak parts of their buildings and strengthen them to be able to protect them against the next storm. Similarly, a strong marriage takes lessons from problems they face so they don't repeat their mistakes.
A tree planted by water keeps digging its roots in the water source so it can keep increasing in strength to resist any negative influence. We must let God into our marriages and use his word as our light; this is the only way our marriages will last.
Prayers for marriage restoration
Prayer to forgive an unfaithful husband
Dear Lord
Today, I pray for this marriage
I am trying my hardest to forgive my husband and forget about what he has done
But it gets harder every time I look at him
When I remember what he did, I get angrier
I don't want my marriage to break up
Please come and heal my heart
Help me let go of the hurt that I have been caused
I ask for your healing spirit to mend the broken bridges in this marriage
Take us back to the way things used to be
and let us appreciate what we have and what we have built
Amen
Prayer against financial stress in marriage
Heavenly Father,
Our marriage is suffering
We are struggling to make ends meet and this is causing a lot of tension in our marriage
It wasn't like this before
Things have gotten difficult and now we tear each other apart over the slightest provocation
The stress is getting too hard to bear
Please intervene for us
Remind us of the love we shared and why we are together
Guide us with your loving hand and help us out of this difficult period
Fill our empty coffers with coins and redeem our marriage in Jesus' name
Amen
Prayer for a childless marriage
Father Lord in heaven
Please save our marriage
We love each other and we want to be together
But we can't ignore the lack of children in our marriage
We have tried a means to be able to conceive but it is not working out
Please touch our bodies and remove any hindrances preventing this from happening
Open her womb and let it receive the gift of life
We find ourselves always arguing and blaming each other for this misfortune
but I know you are the God who creates
Restore our happiness and give us our heart's desire in Jesus' name
Amen
Prayer against lack of mutual respect in marriage
Dear Lord in heaven
Please bring back the humility in our marriage
We no longer listen to and appreciate each other
We are making selfish decisions and we don't care how they influence each other
We take advice from strangers and no longer share anything together
We don't respect each other's opinions anymore
Please help us overcome this bad attitude
Let us see the good values in each other
Help us love each other for who we are
Bless this marriage Lord and restore its strong foundations
Amen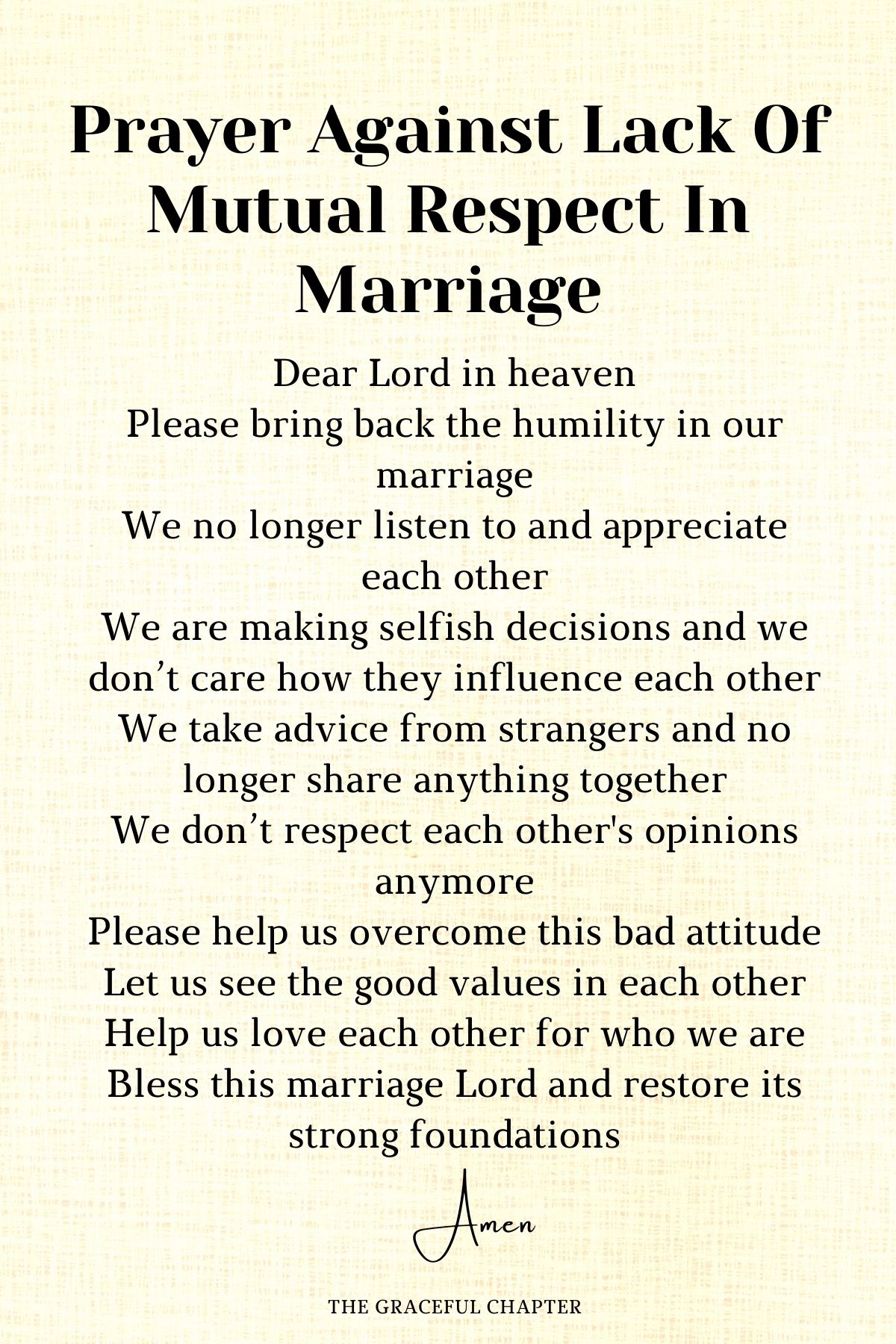 Prayers against trust issues in marriage
Dear Lord
I don't trust my husband anymore
After how he lied to and betrayed me,
I find it hard to accept anything he tells me anymore
I want a forgiving heart, oh Lord
Help me soften my heart and move on from this
I want us to have a future together
Right now, it doesn't seem like we can because I don't believe he won't lie to me again
Please restore the trust we once shared
Help me break the walls of doubt
Clear our path to happiness and grant us the relief of this pain
Amen
Related Posts
Prayer against lack of intimacy in marriage
Heavenly Father,
My marriage is suffering
We are no longer attracted to each other
Our intimacy is non-existent
We are not connected anymore
When we try to touch each other, there is no connection
We don't look forward to seeing each other anymore
We seem happier when we are alone than when we are in each other's company
We want it back, Lord.
We want things as they used to be
Give us the spark again
Reignite the passions that drew us together
Rekindle the light that burns strongly to bring us together
In Jesus' name, I pray
Amen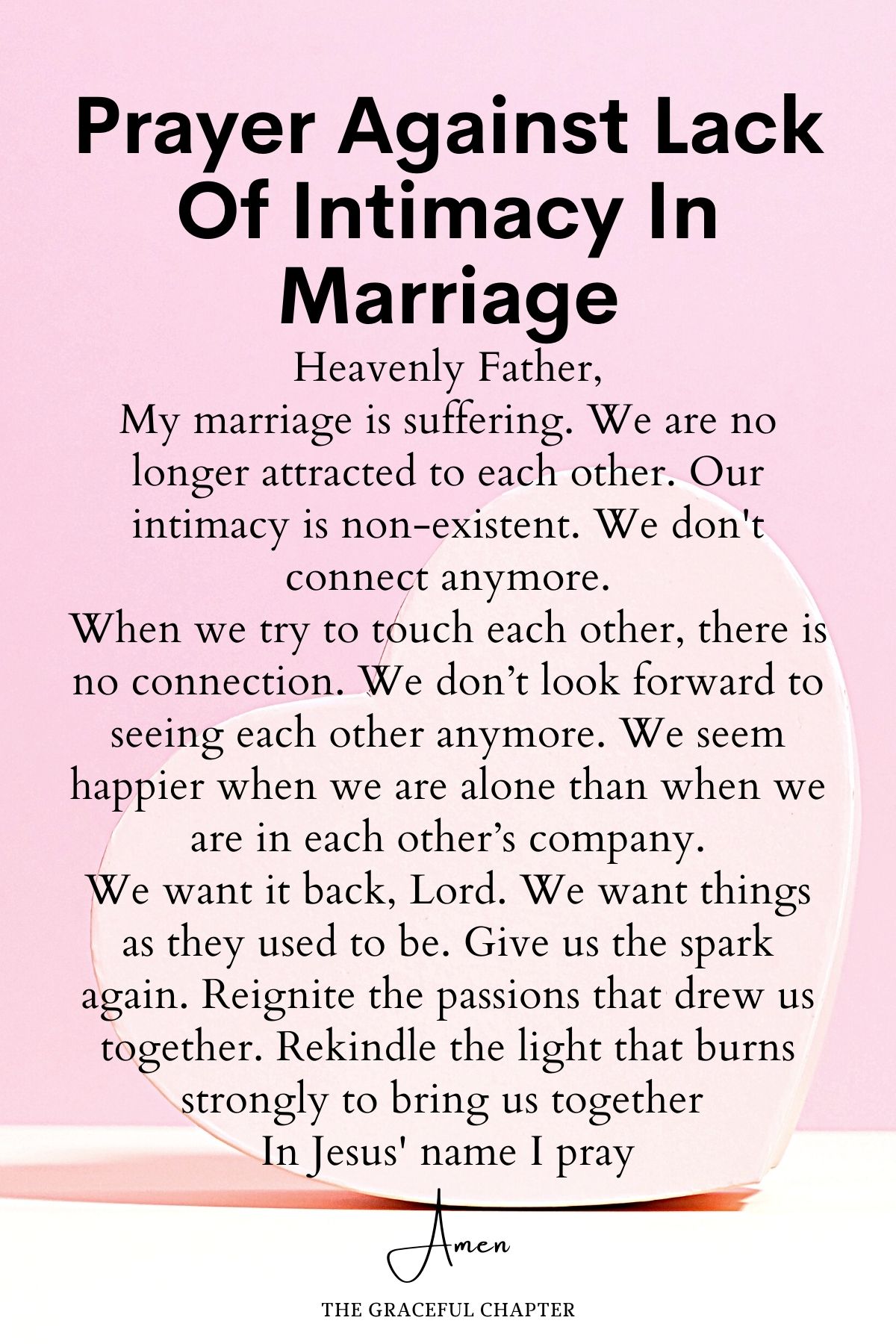 Prayer against external pressures in marriage
Father Lord,
Please watch over our marriage
Some people are not happy with us together
They have made it their aim to break us apart
They spread lies about us and curse us to face problems
They sow seeds of doubt in our minds, so we can hate and disrespect each other
But we know you put together this marriage
and no one can separate us
Please strengthen us to resist evil eyes and thoughts about us
Help us trust and love each other even in uncertain times
Give us grace and favor and help us love each other forever
Amen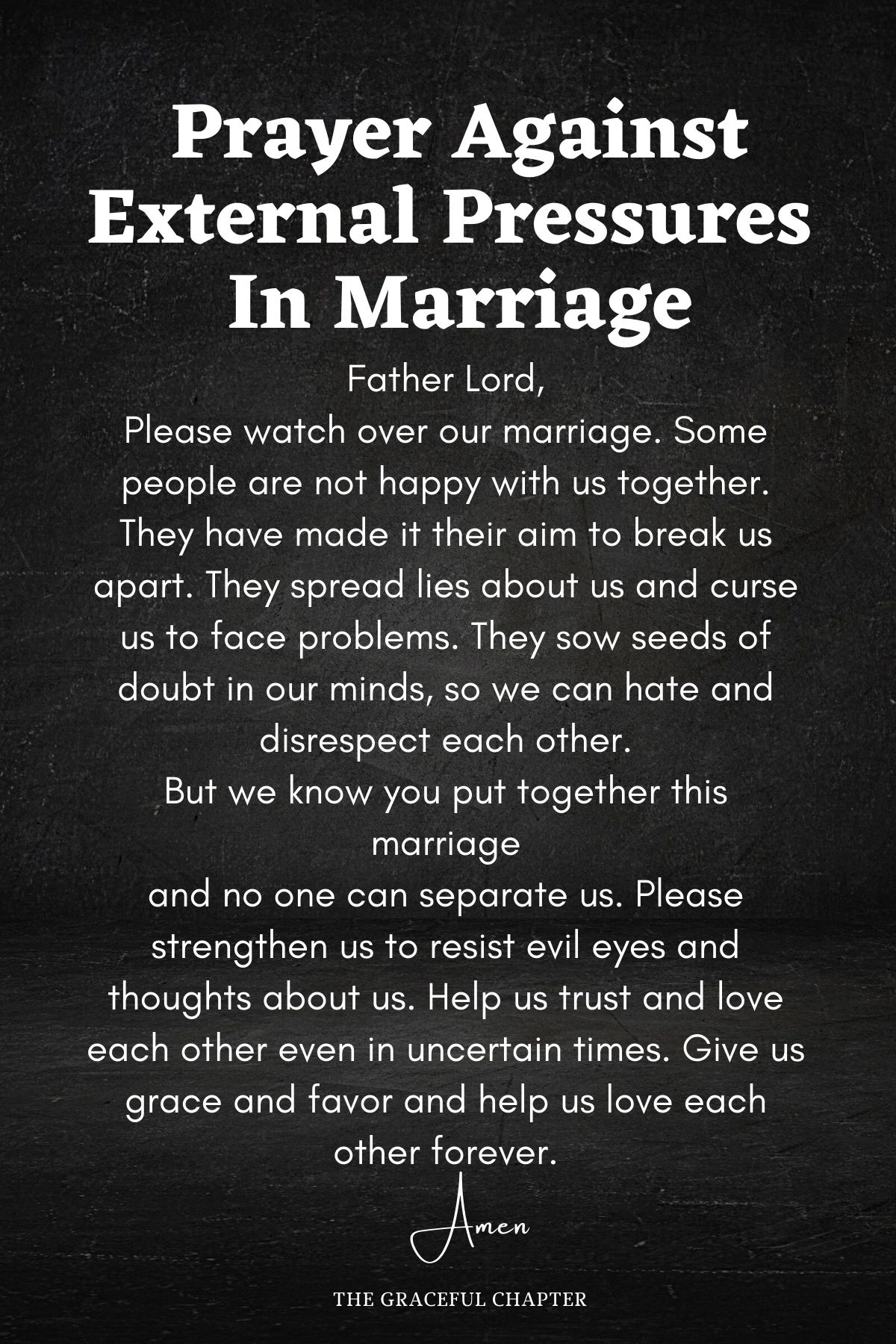 Prayer for understanding in marriage
Heavenly Father,
Please be our mediator in this marriage
We seem to be traveling on different roads
I want one thing and he wants another
Its causing problems between us and we are fighting a lot
His plans and ambitions look like they may cause us to separate
Please help us find a solution to this
Let us be happy together despite our differences
Let us find a way to make this work
Give us a peaceful heart to be able to understand each other
Let us listen more and scream less
Help us find a solution soon in Jesus' name, I pray
Amen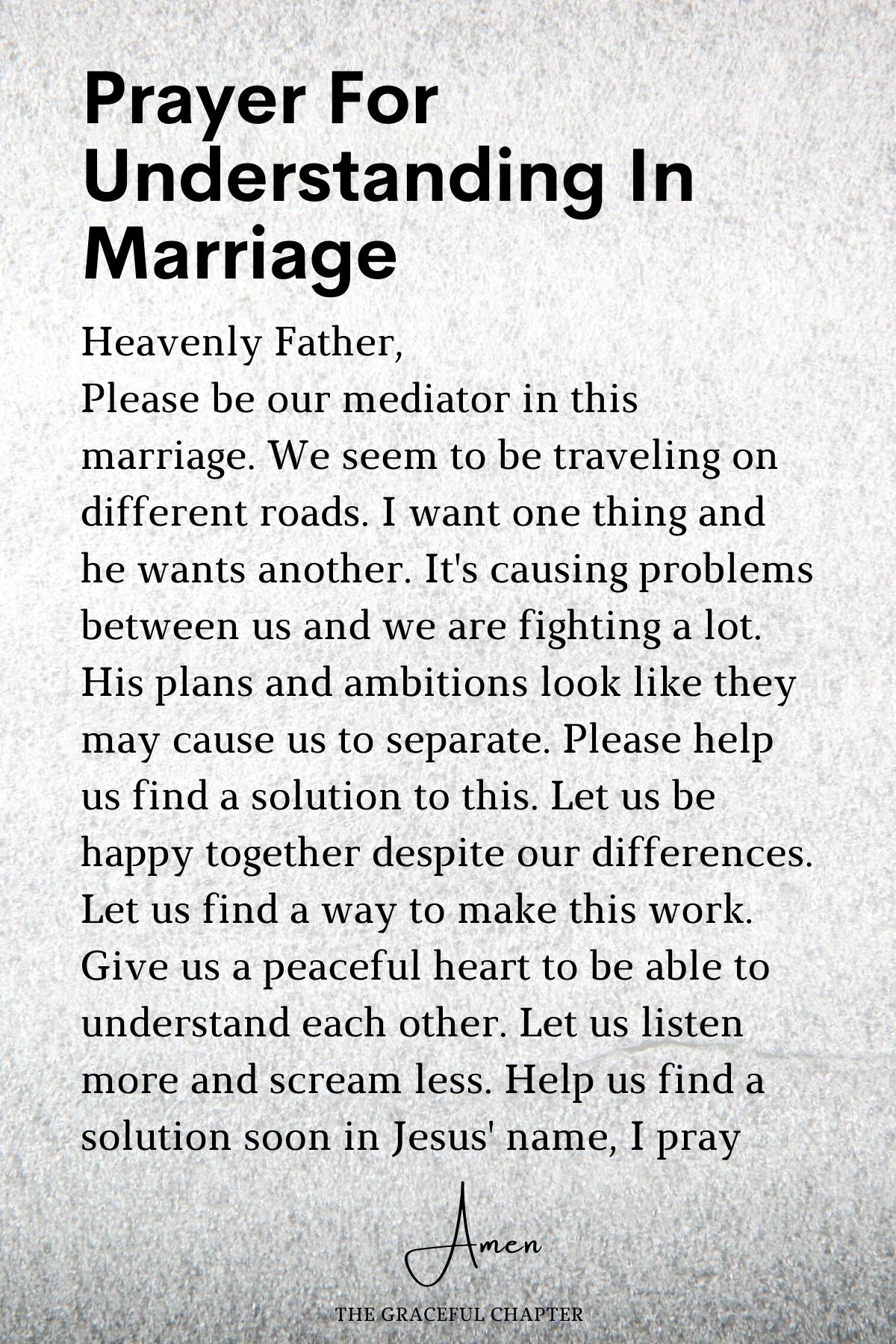 Make sure your marriage is grounded in the Lord. Let him be your source of nourishment and your marriage can withstand any problem. He knows our hearts and he does not want to see us in pain. He loves us very much and wants to see us happy.
Whenever you are going through a shaky patch, reach out to him for answers and he will deliver you. Do not wash your dirty linens in public because that only sabotages and undermines your marriage. Seek the Lord's help and he will be your solution.
Trust in the Lord and do good; dwell in the land and enjoy safe pasture

Psalm 37:3